Lee Joo-seung faces off against Oh Ji-ho in Showdown

Lee Joo-seung, Oh Ji-ho
I like the cast and the premise of Showdown sounds punchy and fun — sort of what would happen if Fight Club and Street Fighter got together in Korea and had a love child. In the film, gamers turn online battles into real ones and go head-to-head offline. Remember that time you got really pissed off at the faceless jerk on the opposite side of your screen? Had an uncontrollable urge to take him or her down? Now you can duke it out in person.
Lee Joo-seung (The Time I've Loved You, The Producers) is leading his first commercial film, and he's a character who hasn't had a real job in years. The black sheep of the family, he earns money by operating a site where gamers connect to trade their online smacktalk for real-life fisticuffs. Lee will get in on the action himself, because in order to revenge his hyung (we're not told why), Lee will learn Zui Quan and become a Kung Fu master.
Oh Ji-ho (Maids) is a self-made man who appears to be an exemplary member of society, but his underprivileged childhood has bred in him an extremely competitive streak. He thrives on the feeling of victory and in a fight, can be pushed to the point of taking an opponent's life. That makes me worry for Lee, because Oh looks like he could easily crush him. I hope the former's drunken fist martial arts are up to snuff.
Lee Jung-jin (Temptation) is the ace detective in the violent crimes division at the Mapo Police, and Shin Jung-geun (also The Time I've Loved You) will provide the comic relief.
The action/comedy begins filming in March and will hit theaters before the end of the year.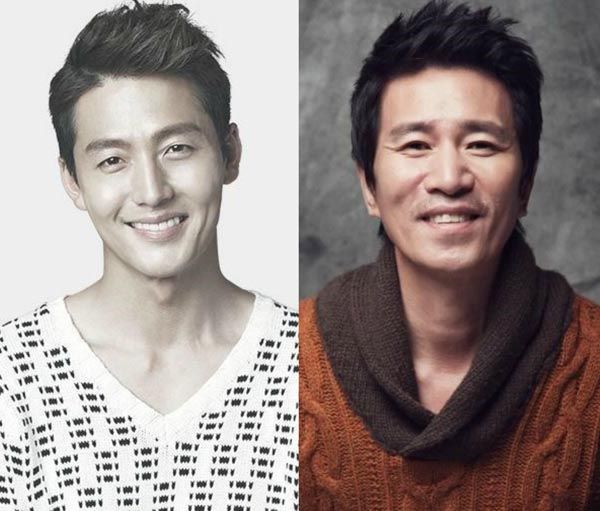 Lee Jung-jin, Shin Jung-geun
Via MT Star News
RELATED POSTS
Tags: Lee Joo-seung, Lee Jung-jin, Oh Ji-ho