One More Happy Ending: Episode 10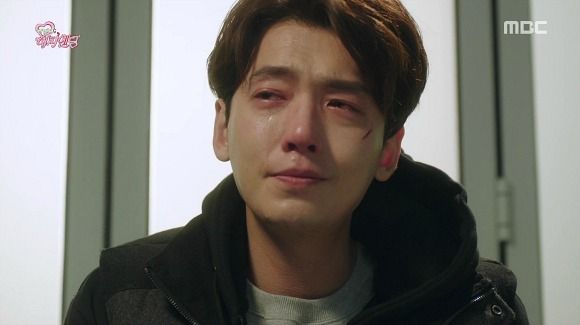 There's little time to think about relationships when suddenly there are careers on the line, for both Mi-mo and Soo-hyuk, and every possible solution seems to only threaten to make things worse. But there's a lesson to be learned even here, that love and understanding can truly solve any problem. After all, if Conan says it, then it must be true.
EPISODE 10 RECAP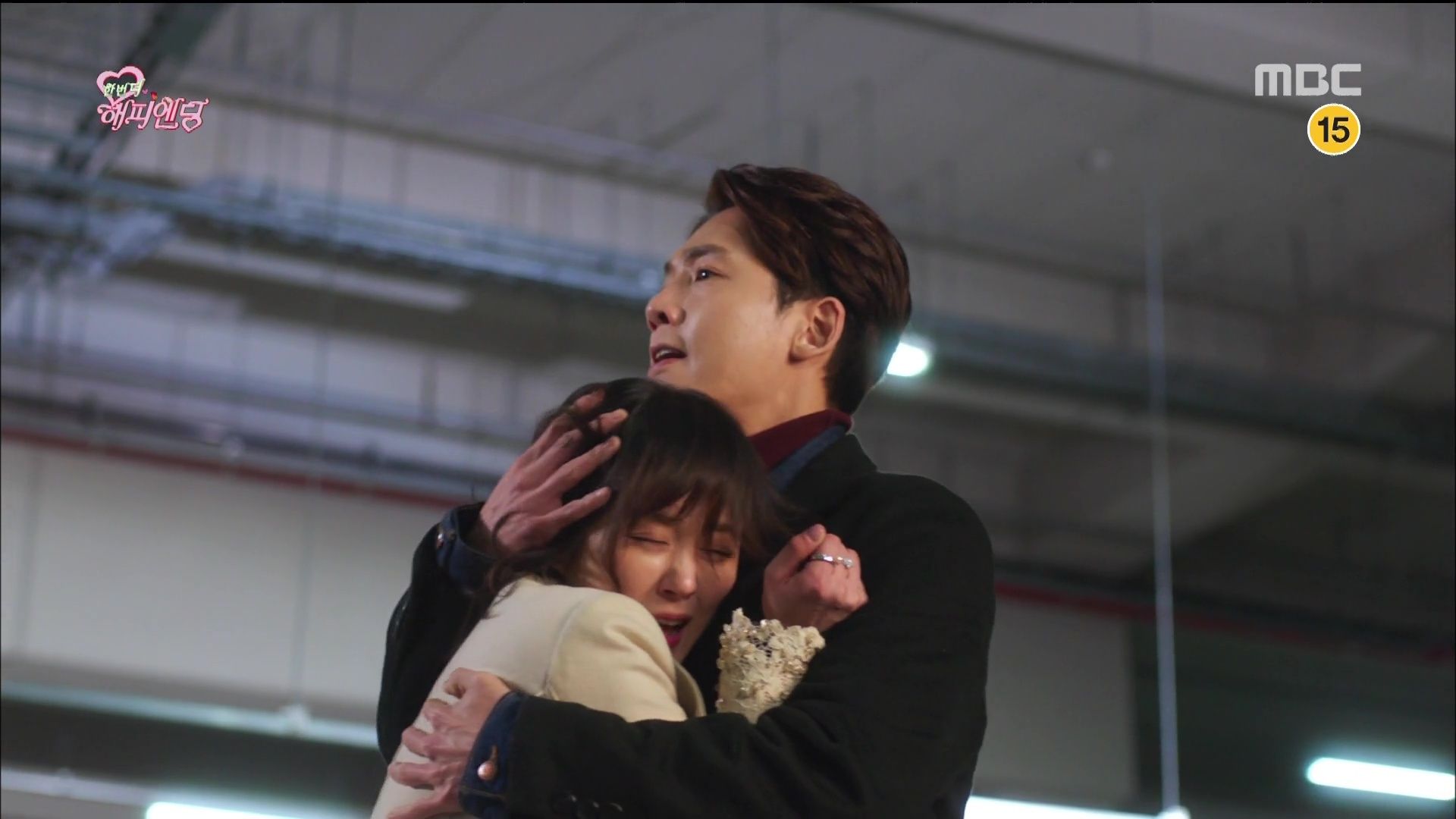 Mi-mo is rushed by a pack of Seul-ah's fans, having misunderstood the news reports to believe that she caused Seul-ah's miscarriage. But before they can harm her, Soo-hyuk puts himself between Mi-mo and the fans, taking the brunt of their attack himself. He stands over her protectively, not moving a muscle even when he's struck in the face with a rock.
She's silent as Soo-hyuk drives her home, and he settles her in with some water and unplugs her television so she can't see any more news articles. He puts away her laptop and turns off her phone, and tells her that just for today, not to look at or listen to anything. Aww, he even brings her Ppoppo to snuggle. It's a lie (and Soo-hyuk knows it) when Mi-mo tells him that he can go because she's fine, but he goes anyway.
Hae-joon hears the rumors at the hospital, but he can't reach Mi-mo since her phone is off. He cancels all of his appointments and rushes to her place.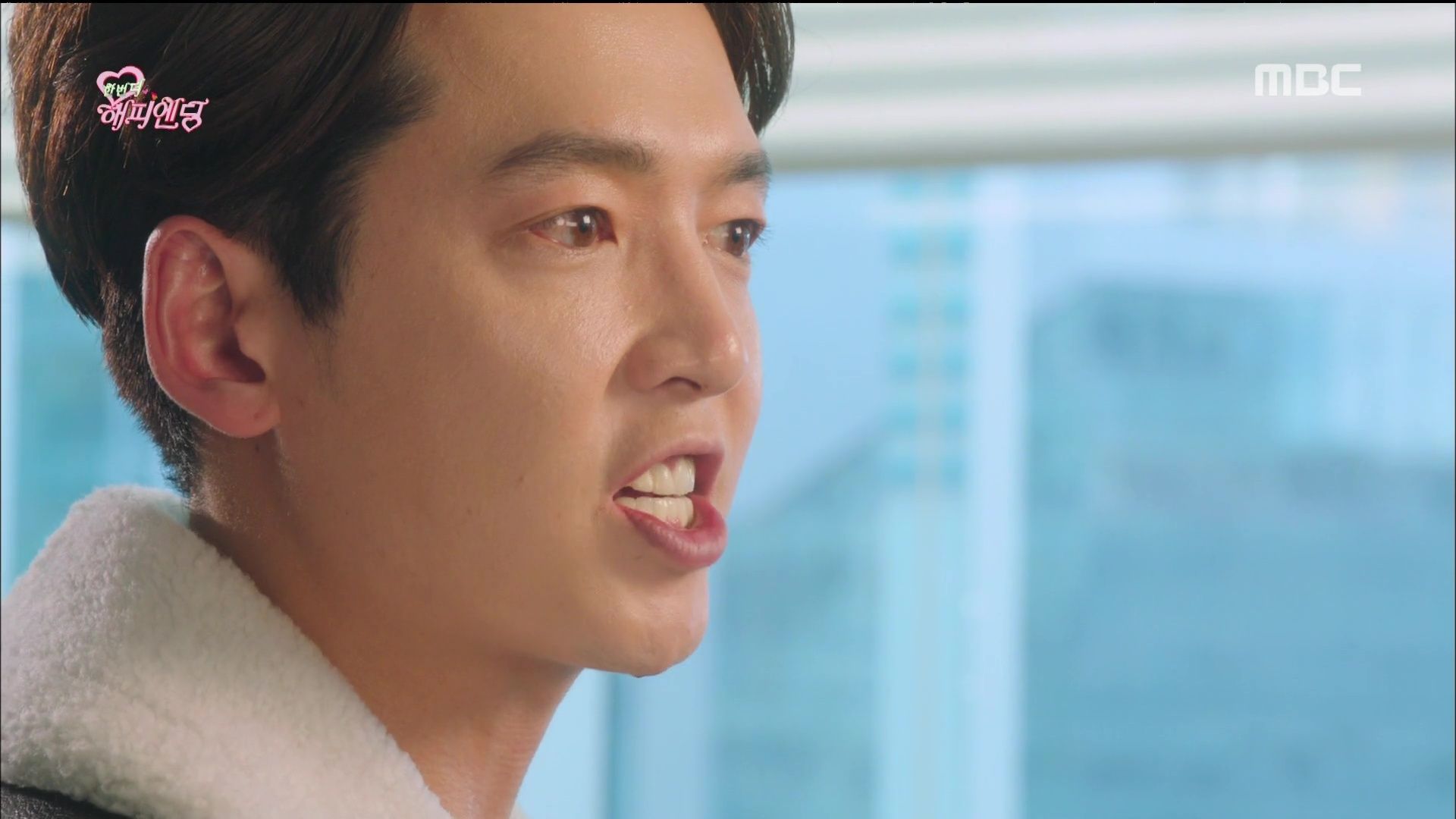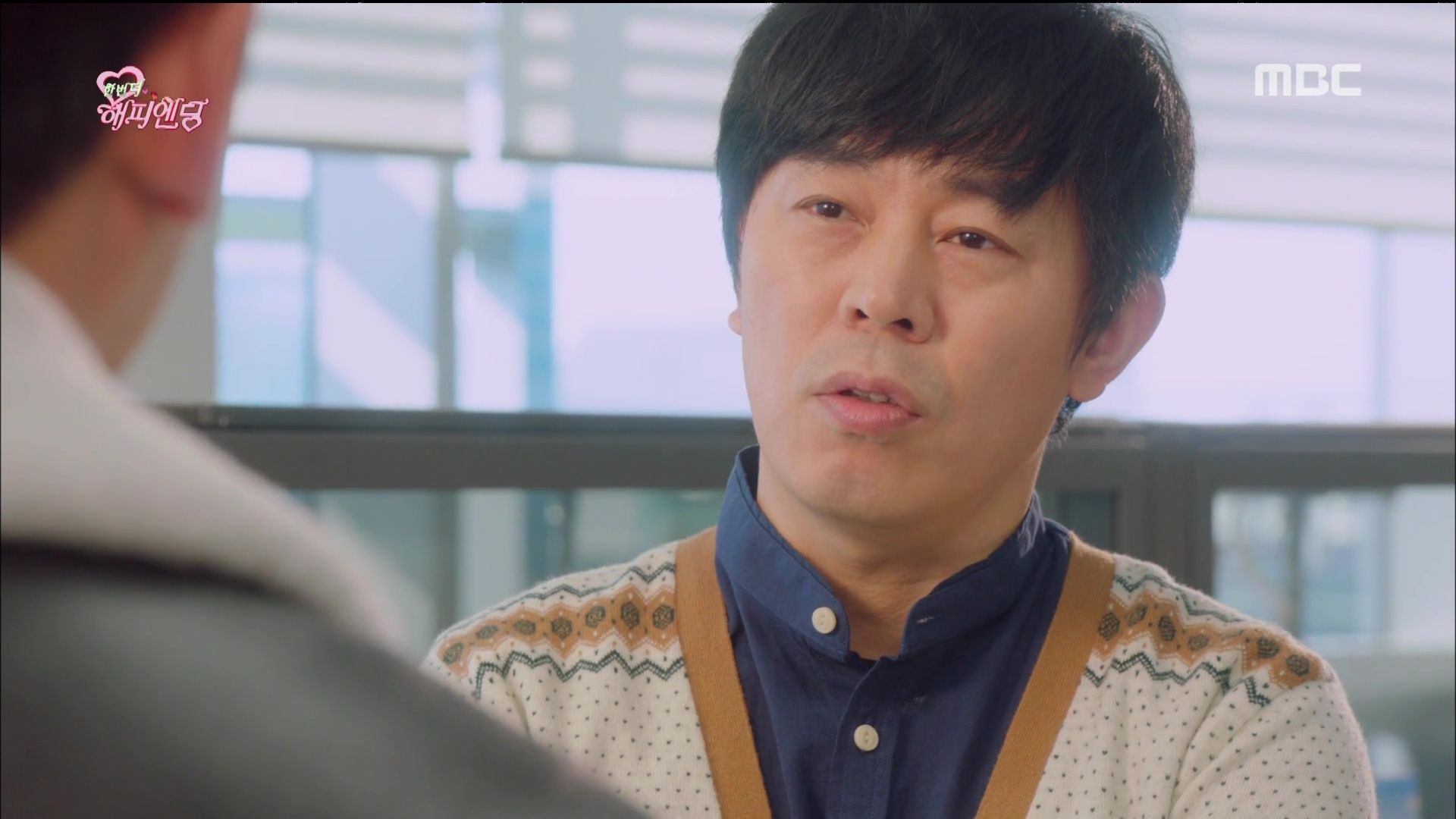 Soo-hyuk goes to his office with murder in his eyes, and finds the reporter who published the story about Mi-mo. He's furious that she dug Ah-ni's story out of the recycle bin on her computer and published it, growling that it was trashed for a reason. Their boss interjects, taking the blame for having the story published.
Soo-hyuk turns his question on the boss: How could he publish an obviously buried story, without even asking if there was a reason for it? Even if it's just bad timing that both stories came out at the same time, now Mi-mo is being viciously attacked, when she didn't even do anything wrong. Ah-ni didn't intend that story to get out — do the reporters have no say in whether their stories are published?
Soo-hyuk's temper flares and he throws a trash can with enough force to mangle it. Damn. He threatens to quit, and storms out. (And if it weren't such an emotionally charged moment, it would be funny that his boss comments that Soo-hyuk's outburst was sexy.)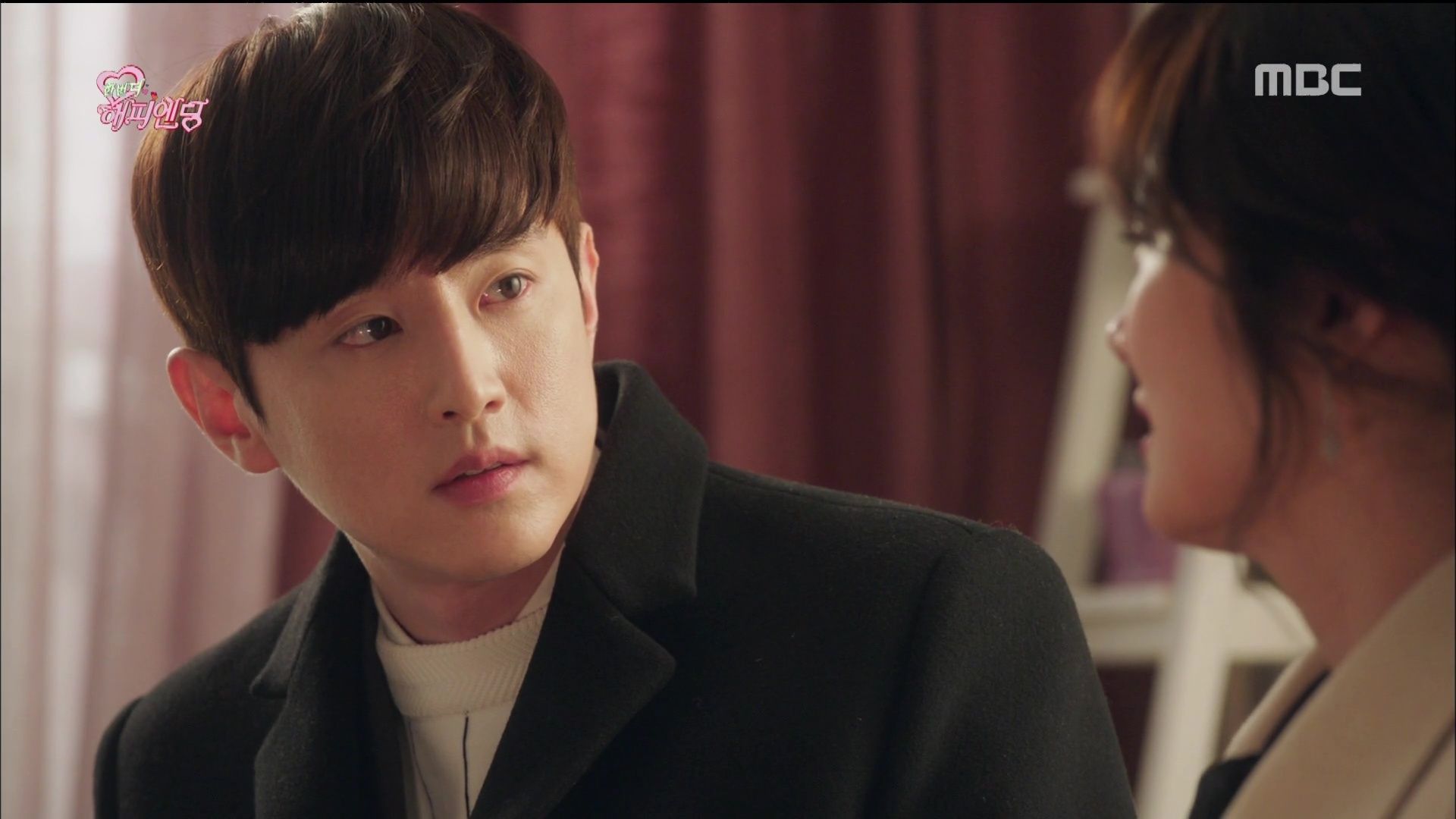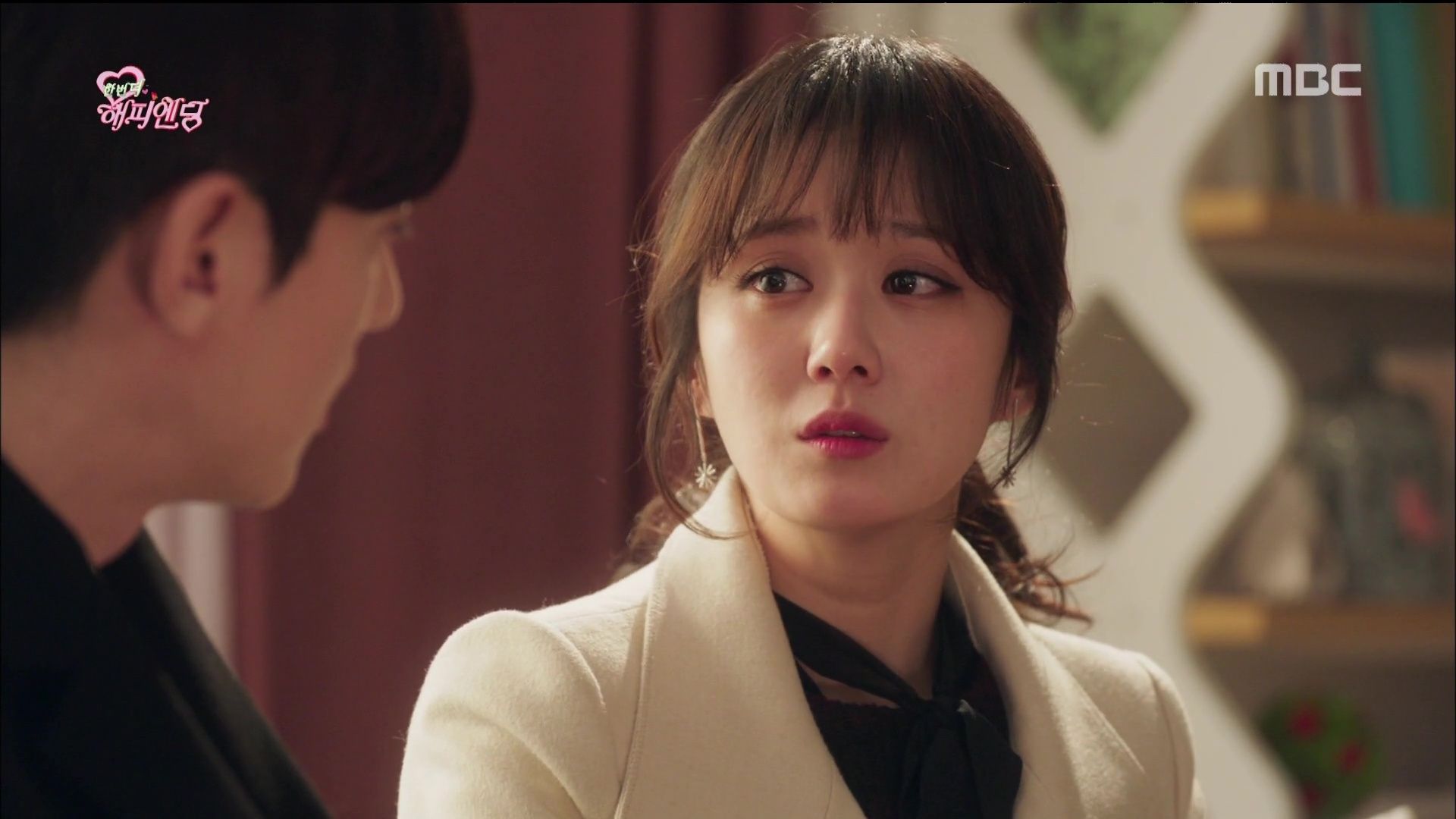 Hae-joon looks worried sick when he gets to Mi-mo's place, though she assures him that she'll be fine with some time. His advice is for her to fight back, and when she says she wants to just wait for things to blow over, he tries to override her. But Mi-mo's been through this sort of thing before, and insists on waiting.
Dong-mi and Ae-ran tell Da-jung what happened, but none of them know the man who whisked Mi-mo away to safety. Da-jung only knows that something's been weighing on Mi-mo's mind, and sends the others to check on her.
Min-woo sees Mi-mo leaving with Hae-joon, so when Dong-mi and Ae-ran show up at Mi-mo's he tells them that she's out with a guy. They talk to him like he's four, asking if they guy she left with was handsome, or if he was cute, and Min-woo deadpans, "Personally I hope she gets with the cute guy. But she left with the handsome guy." HA, I love this kid.
Dong-mi says that she left with "her boyfriend," and once Min-woo is alone, he lets his disappointment show.
Hae-joon takes Mi-mo to a quiet place to look at the stars and relax, and she tells him that the best and worst thing she ever did was joining the Angels. It was difficult when they broke up, though she became stronger because of it. But people still associate her with the Angels even though they disbanded a long time ago, and she just wants to live life as herself.
Soo-hyuk decides to write a story about what really happened the day that Mi-mo confronted Seul-ah and Jung-hoon. Hyun-gi finds him hard at work and they relocate to the pojangmacha, where Hyun-gi asks if it wouldn't be better to just leave it alone. Poking the bear could just make everything worse.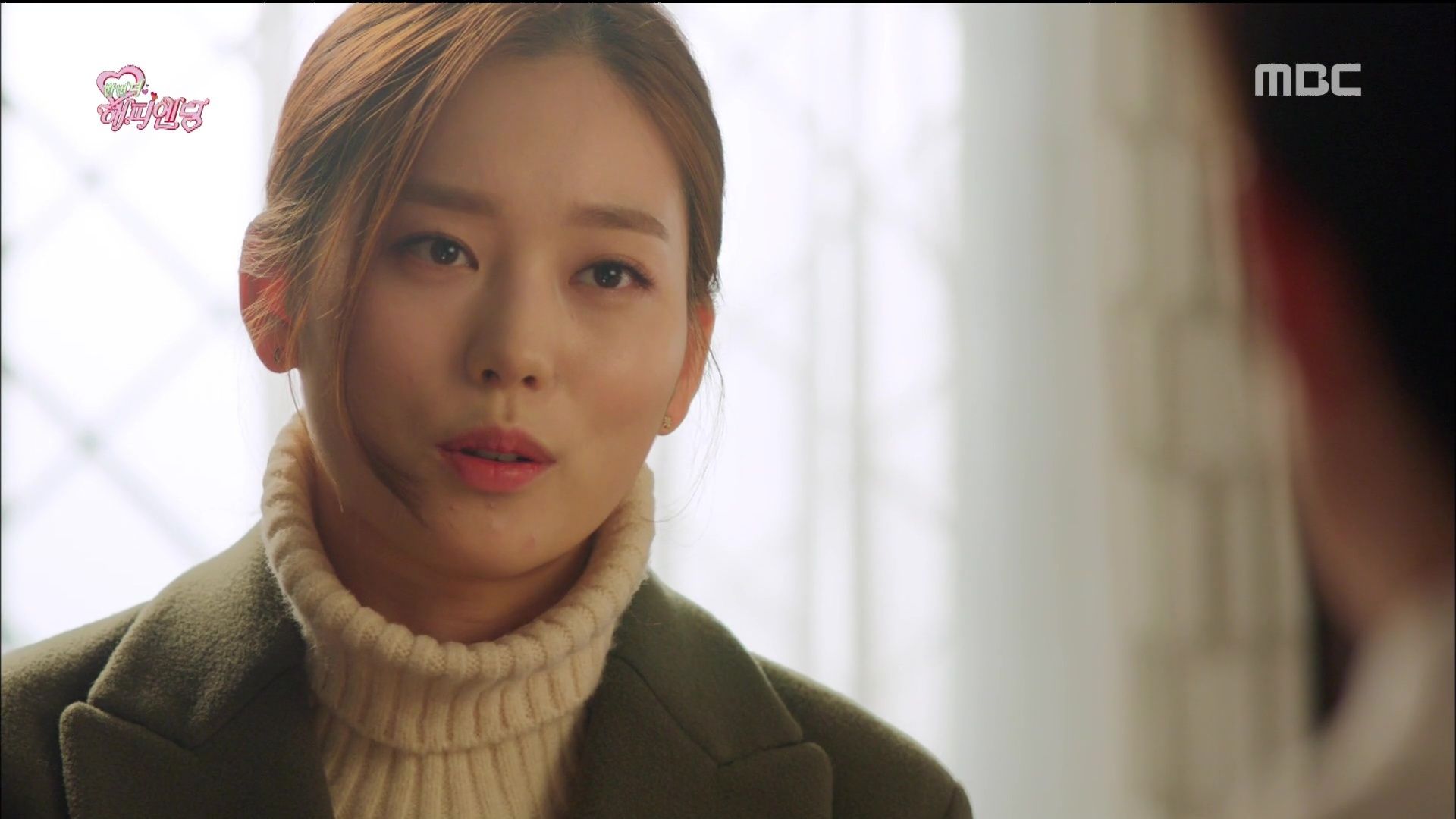 Soo-hyuk counters that he doesn't mind putting himself in the line of fire, even from Seul-ah's big-time agency, if it helps Mi-mo. His only concern is that his article also could also put her in the spotlight, in a bad way.
Mi-mo leaves her phone off until morning, then steels herself to return her many missed calls. There's an emergency at work and she rushes out, brushing aside Soo-hyuk as she goes.
Yeon-soo objects to Hae-joon's avoiding her on Mi-mo's request, and she apologizes for saying that she wants him back. She asks if Hae-joon likes Mi-mo because she used to be in Angels, and Hae-joon answers vaguely, "She makes me smile." He wonders when his "struggle against her halo" will end, remembering all the times he could have kissed her and didn't — wait, is that why he's keeping his distance?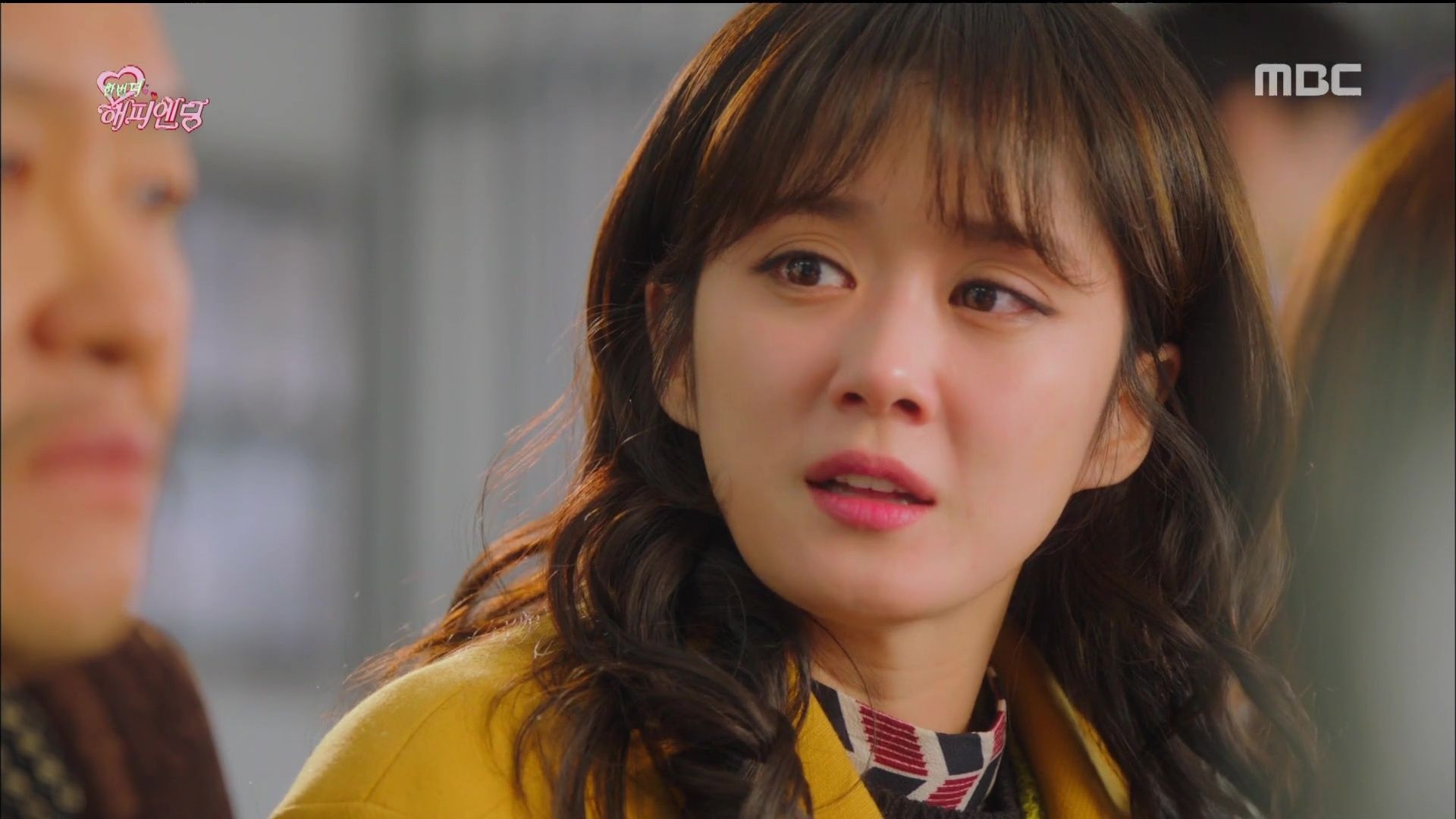 Yeon-soo tells Hae-joon that, as many women as he's dated, he still doesn't know one important thing — how to give, and not just take. When he describes someone as "a woman who makes me smile," he's making himself the most important thing in the relationship. Because of that, he doesn't realize that while he's smiling, the woman is miserable.
Brave Wedding is in trouble, accused of being a broker of fraudulent marriage. The man who nearly attacked Mi-mo at the dating event has decided to make an issue of it, and he's got some pretty damning evidence. He claims that the man his mother (I misunderstood their relationship in the previous episode) married provided Brave Wedding with forged personal information, married the woman he was matched with, then ran off with her money.
Mi-mo insists that Brave Wedding is innocent, but they can still be in trouble for not verifying their clients' identification and documents. And to make matters worse, the client in question made some extra payments, supposedly to thank them for finding him a wife. It looks bad, as if they were taking bribes, or a cut of the money he stole.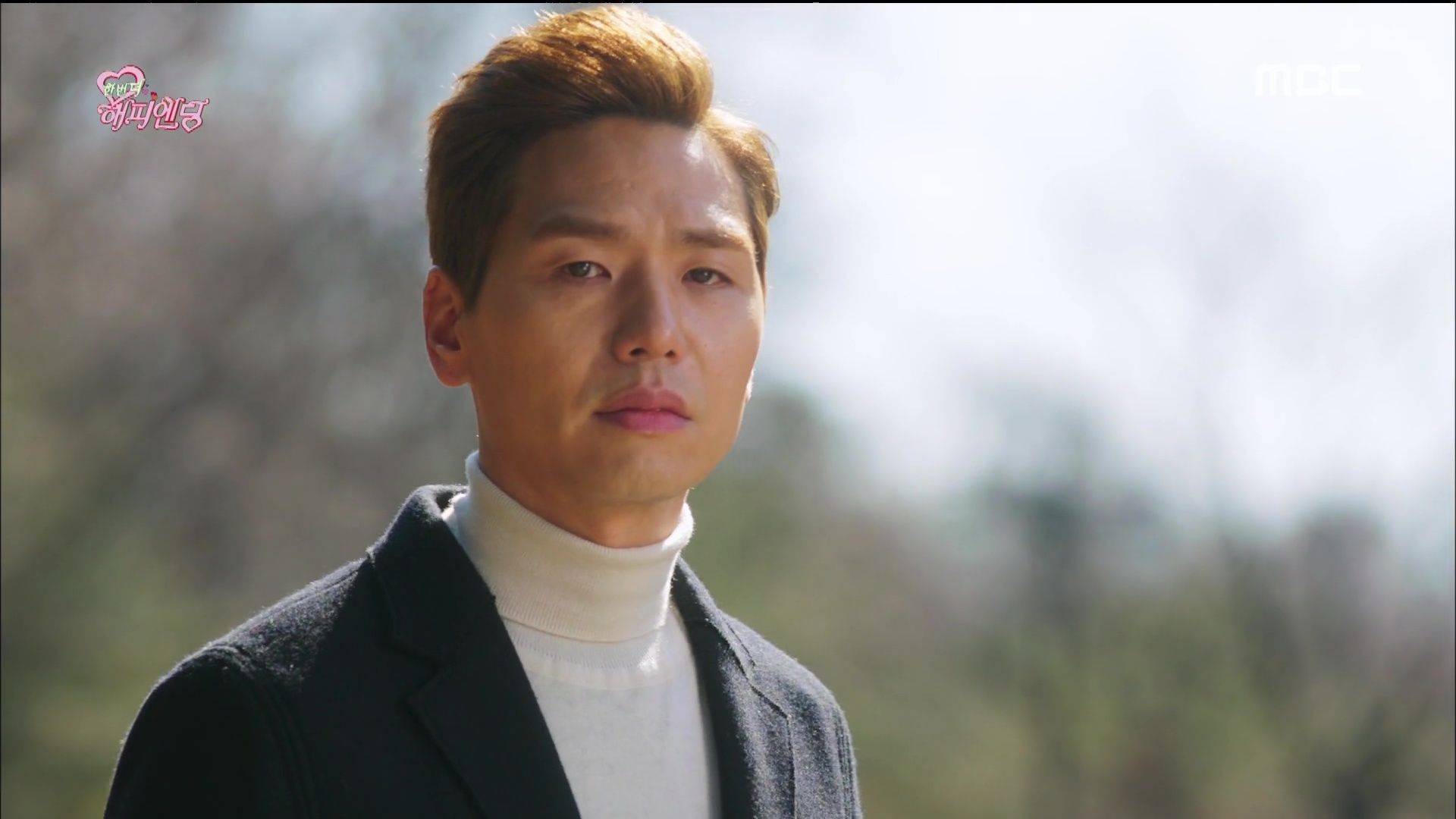 Mi-mo decides not to tell Da-jung about this for fear of setting back her healing, and determines to handle things herself. We see that Soo-hyuk followed her to the police station and heard everything, and he starts making calls.
Mi-mo is recognized on the street outside the police station, and people loudly assume that she was arrested for assaulting Seul-ah and causing her miscarriage. This rumor is really getting out of hand.
Geun-hak watches Da-jung from a distance, remembering when they were engaged and she wanted him to wear couple t-shirts. When he balked, she joked that she wouldn't marry a man who couldn't do this simple thing for her, and he'd indulged her without too much fuss.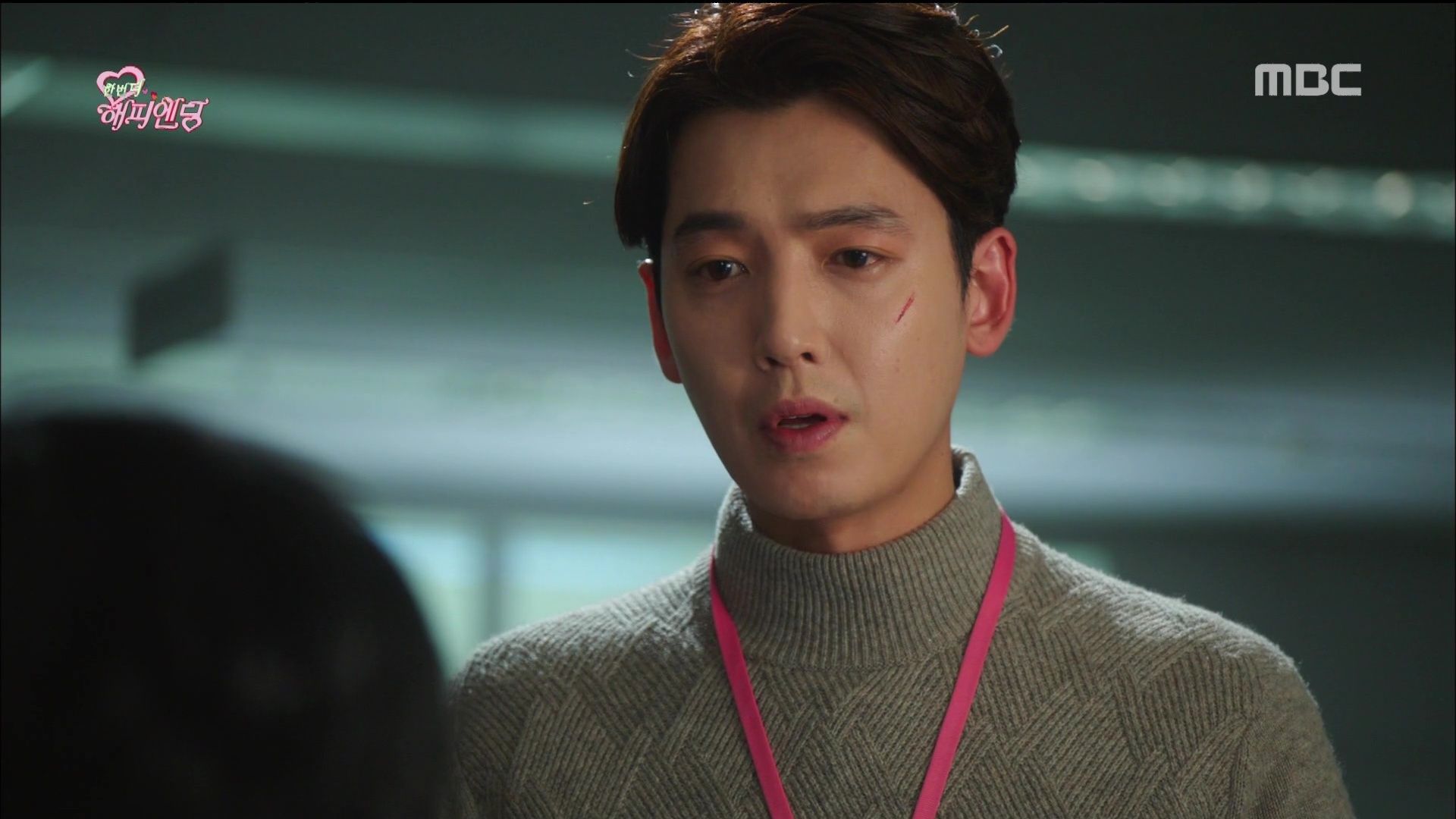 The Brave Wedding office is in an uproar when Mi-mo arrives at work, with clients yelling about being swindled. Mi-mo protests her innocence, but one man screams that the woman he met through their agency ran off with his money, and she's struck silent in shock.
Soo-hyuk is still trying to decide whether to release his story claiming that Mi-mo was actually the victim in the hotel incident. He argues to the boss that this is only necessary because he printed a story that should never have been printed, but tells him that he still hasn't decided whether to publish it.
That night Soo-hyuk finds Mi-mo sitting on the bench outside their building, and he gives her his scarf and sits with her. He gently broaches the subject of his article, warning her that publishing the story will make it necessary to tell the details of her relationship with Jung-hoon.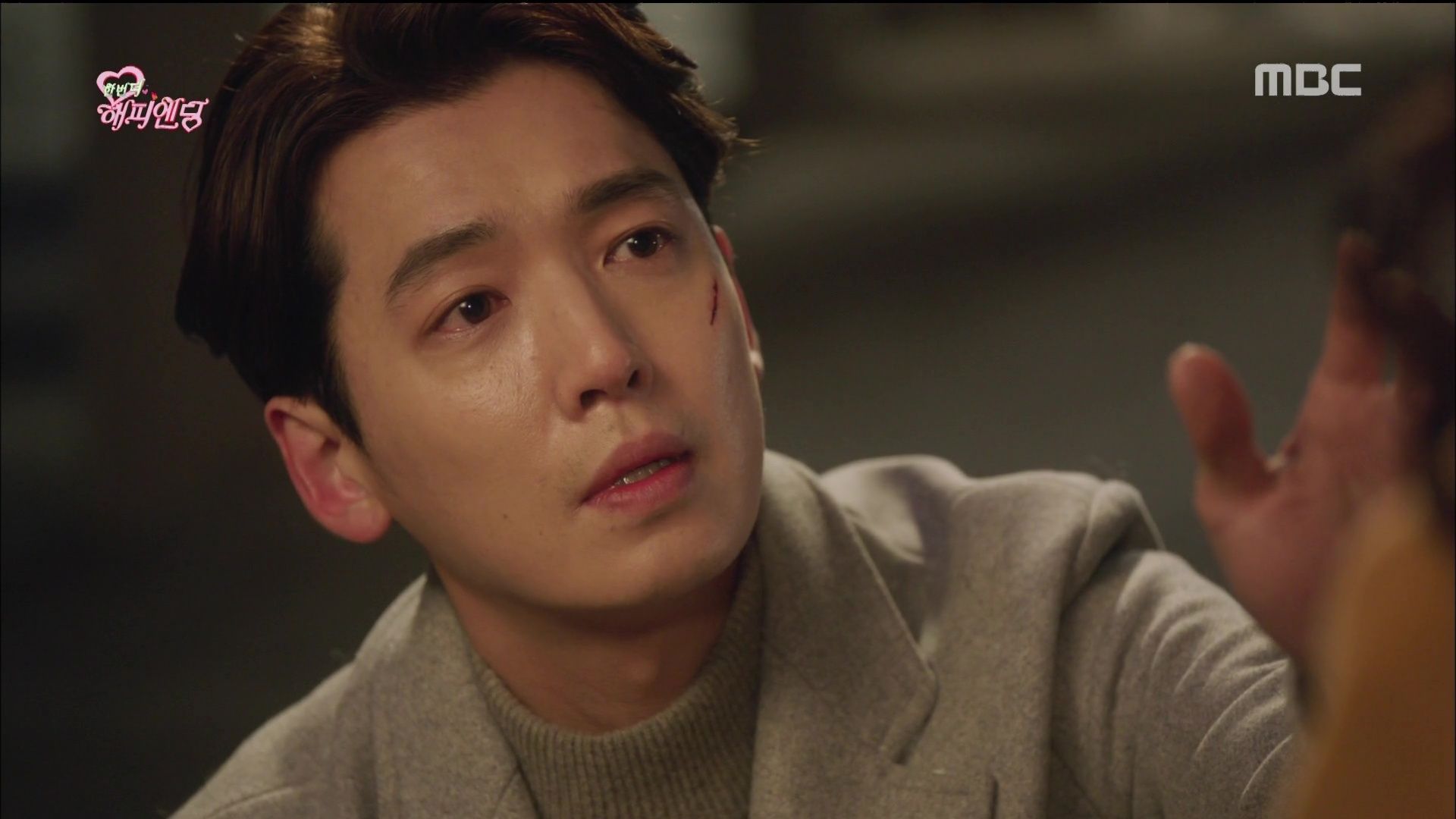 He crouches in front of Mi-mo, and tells her that he never published the original story out of respect for her, and he still feels cautious about publishing this one. He doesn't want to see her hurt, but he's worried that not publishing it will cause this misunderstanding to go on for far too long, which could also hurt her. But he says that it's her decision.
Looking at Soo-hyuk's earnest, honest face as he says all this, Mi-mo starts to cry quietly. She sobs that she doesn't know what to do, and that she's confused. Soo-hyuk reaches up to wipe away her tears, but stops himself before touching her face.
In the elevator, Mi-mo nearly collapses, and Soo-hyuk just barely catches her before she falls. She stumbles again once inside her apartment, and this time she starts to have a panic attack. Gasping for air, she passes out. Oh no, this is her worst nightmare — being alone and in medical distress.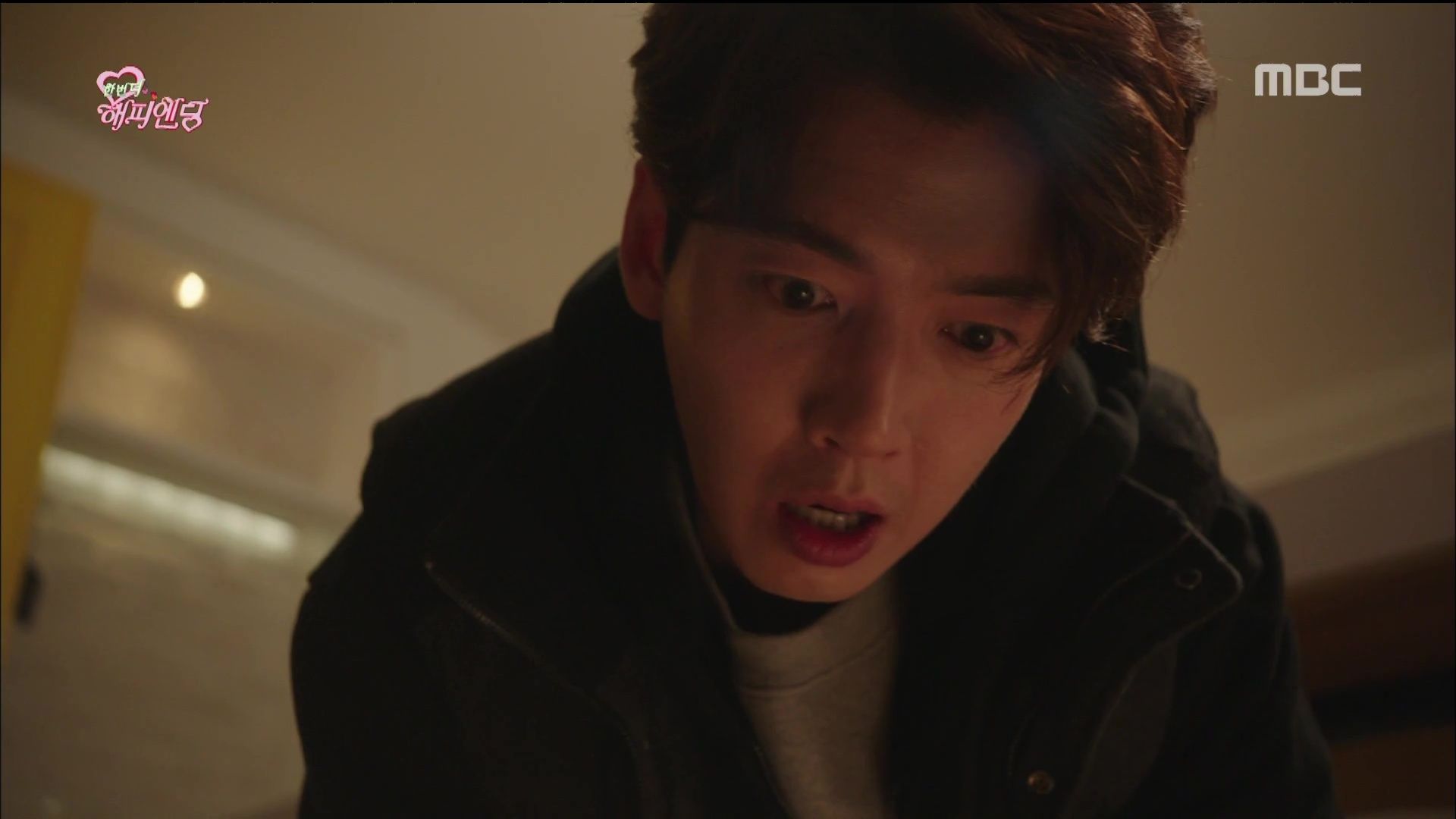 Hyun-gi has done some digging on the Brave Wedding scandal, and he reports to Soo-hyuk that the police to have enough evidence to charge them with fraud. Their only hope is to find the man who forged his paperwork, and make him confess that he acted alone. He's tracked the man to Hong Kong, and Soo-hyuk's only question is to ask how soon he can leave.
He stays up late reading old articles about the Angels' breakup, and sees that Mi-mo took the brunt of the blame back then as well. He goes across the hall to talk to her, and grows worried when she doesn't answer the door or her phone. He gets the security guard to let him in, and finds Mi-mo still unconscious on the floor.
Soo-hyuk is nearly as pale as Mi-mo as she's rushed to the hospital, and he reaches out to take her hand… and has it snatched away by a furious Hae-joon. Hae-joon tells him to go, but this time, Soo-hyuk refuses to comply.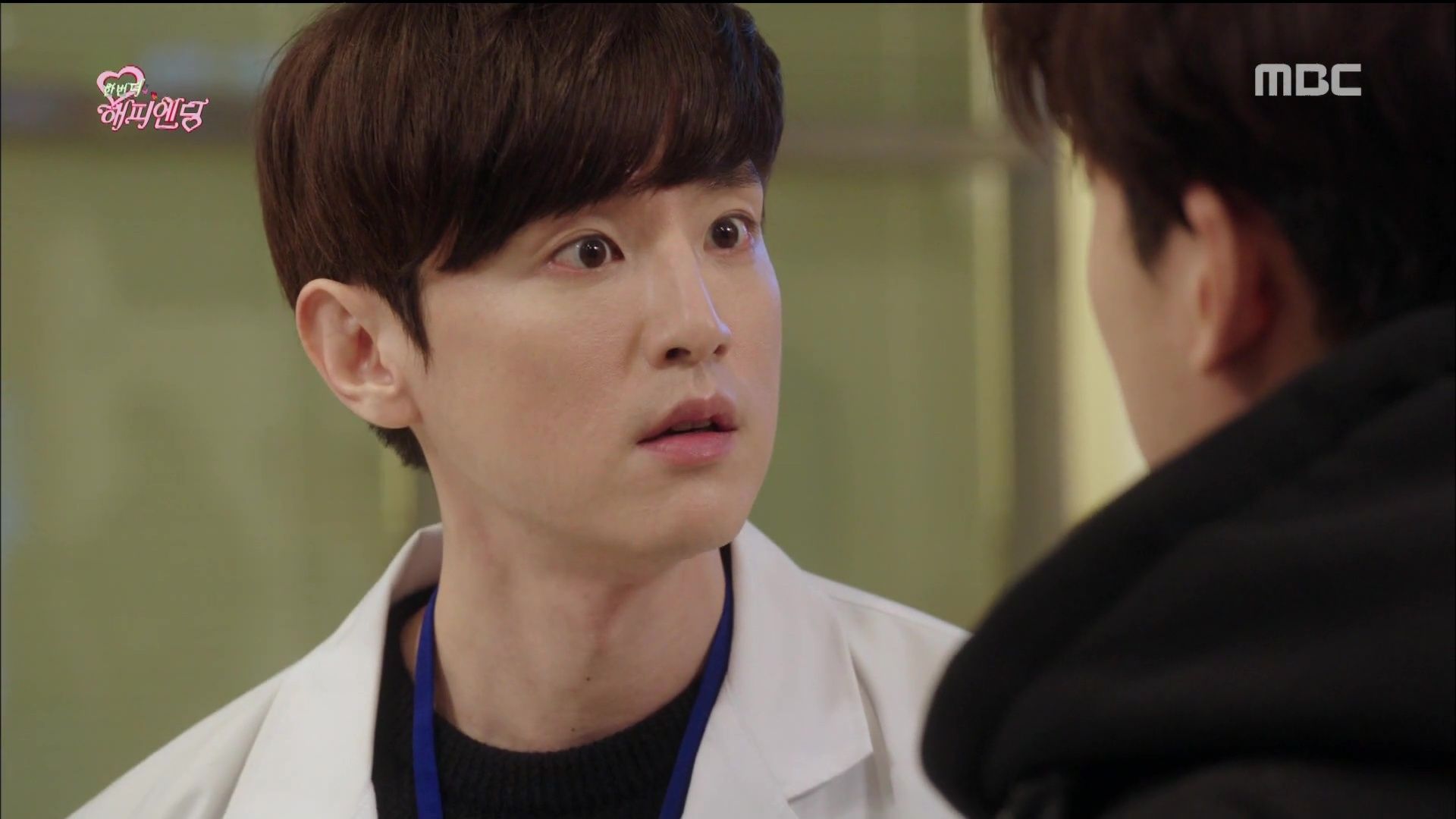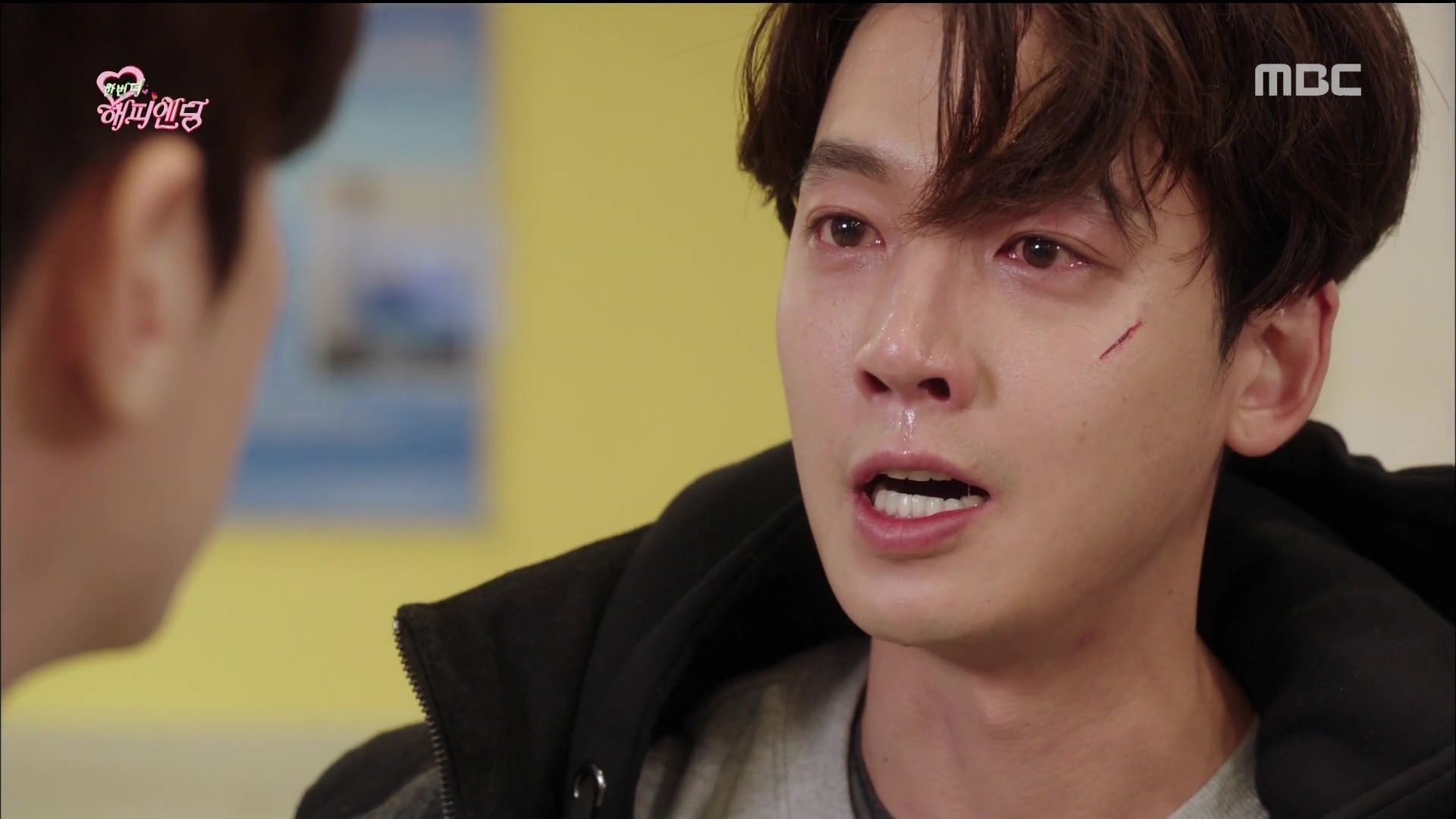 Hae-joon seems itching for a fight, but Soo-hyuk makes it clear that he has no intention of going anywhere – he only cares about Mi-mo right now. That gets through to Hae-joon, and he stops fighting.
Soo-hyuk never leaves Mi-mo's side, and Hae-joon finds him still with her late that night. She's going to be okay, and Hae-joon overhears Soo-hyuk softly thank her for being alright. Soo-hyuk apologizes to Hae-joon for fighting earlier, and asks Hae-joon to take care of Mi-mo.
Hae-joon objects to Soo-hyuk calling it a "favor," as if he has a right to ask that sort of favor in regards to Mi-mo. Soo-hyuk backs down and leaves, but once he's alone, he's overwhelmed with memories of Seon-soo's death, and he cries to himself.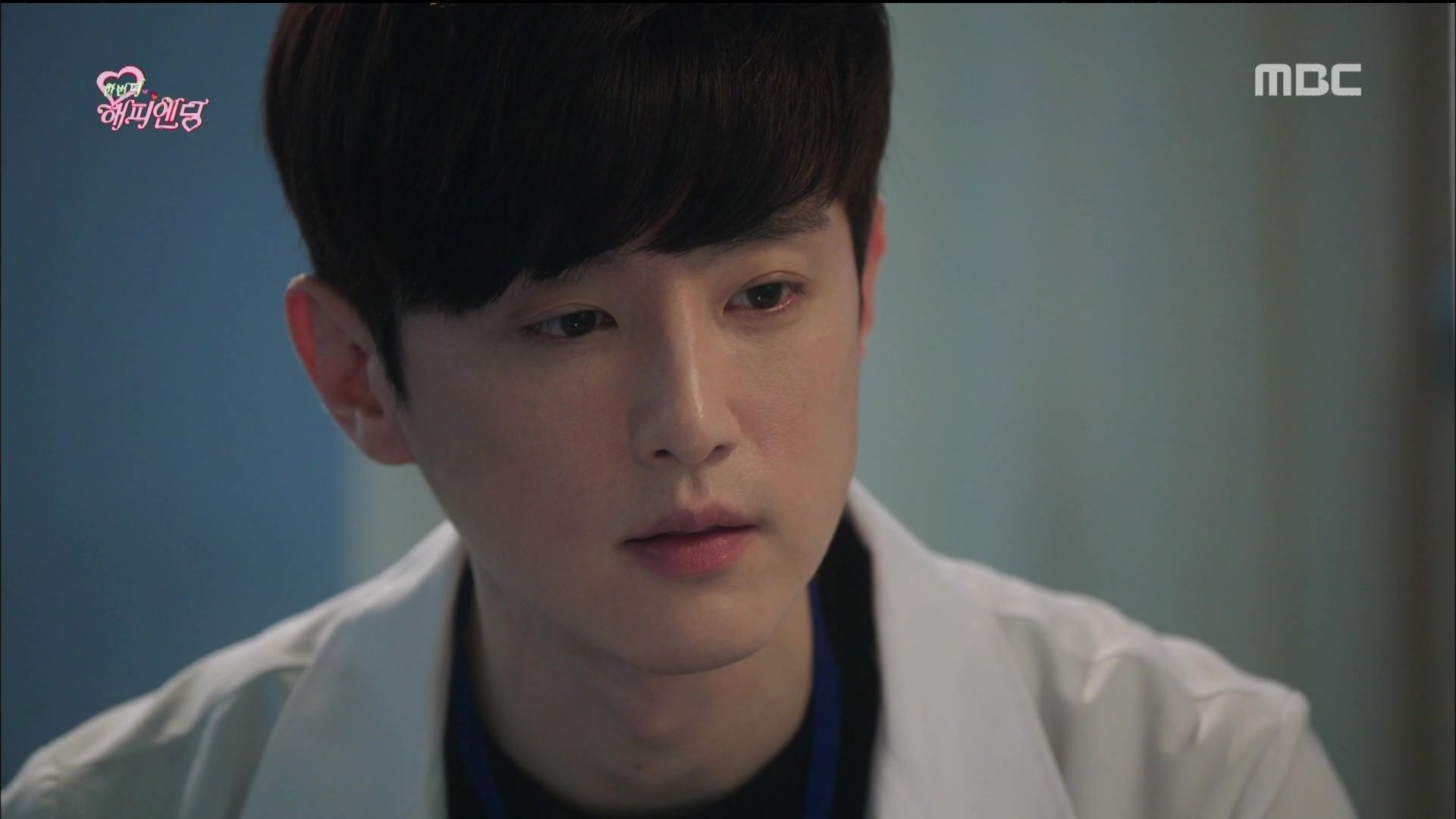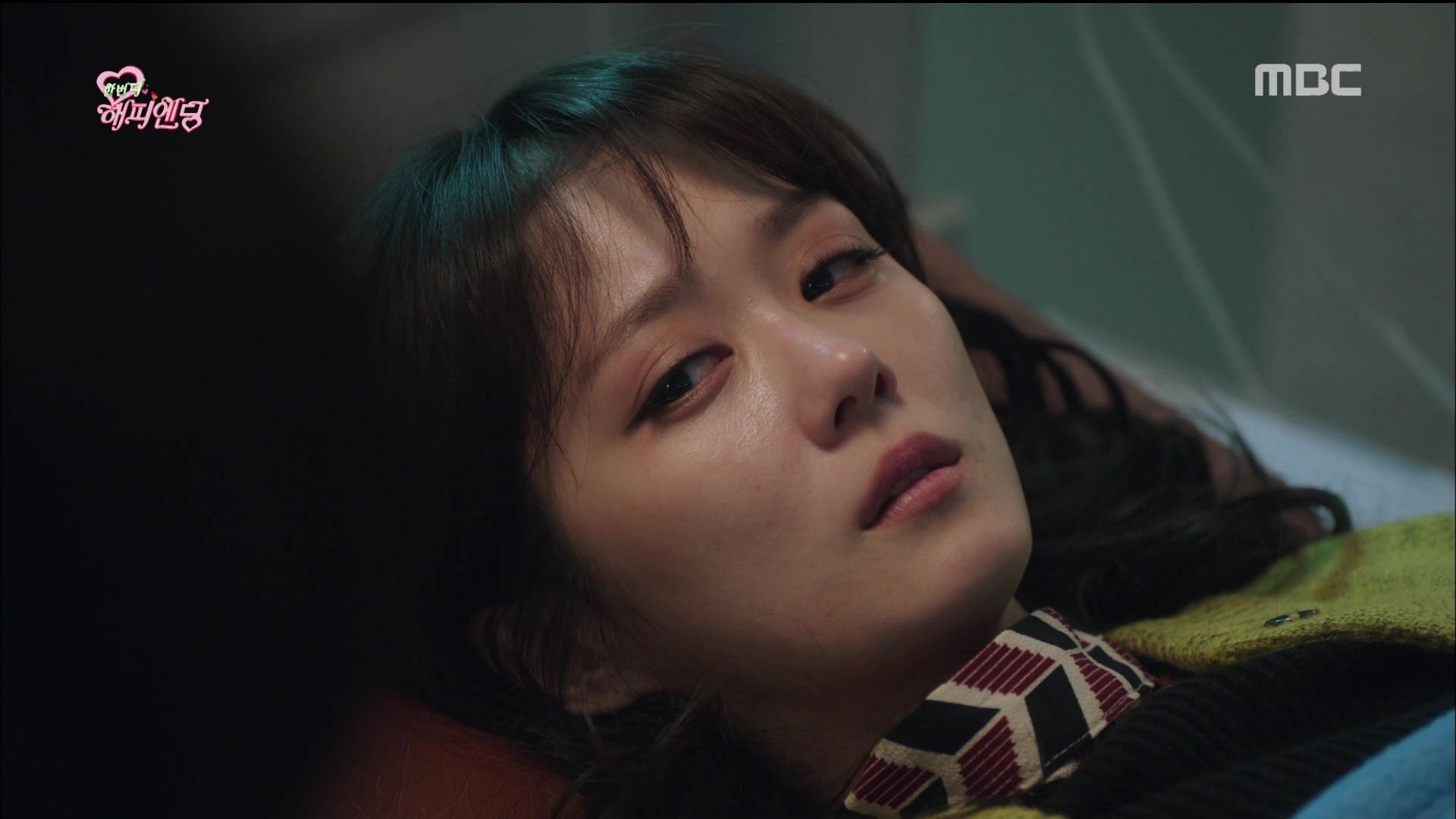 Hae-joon, for his part, seems to be seeing the difference between his feelings for Mi-mo, and Soo-hyuk's. He thinks about how Soo-hyuk was so focused on Mi-mo the night before, and remembers Yeon-soo telling him that he only takes in relationships, and never gives. He's there when Mi-mo wakes, and he's hurt that she didn't tell him how much pain she was in.
Soo-hyuk flies to Hong Kong, leaving Hyun-gi to tell their boss to print his story. The boss isn't keen on the idea, worried that Soo-hyuk will be torn apart by Seul-ah's agency, but Hyun-gi says that he's made up his mind.
So the story goes live, and public opinion starts to turn in Mi-mo's favor. Her friends are impressed with Soo-hyuk's writing, and Mi-mo is so touched that she can't speak, and just bursts into tears.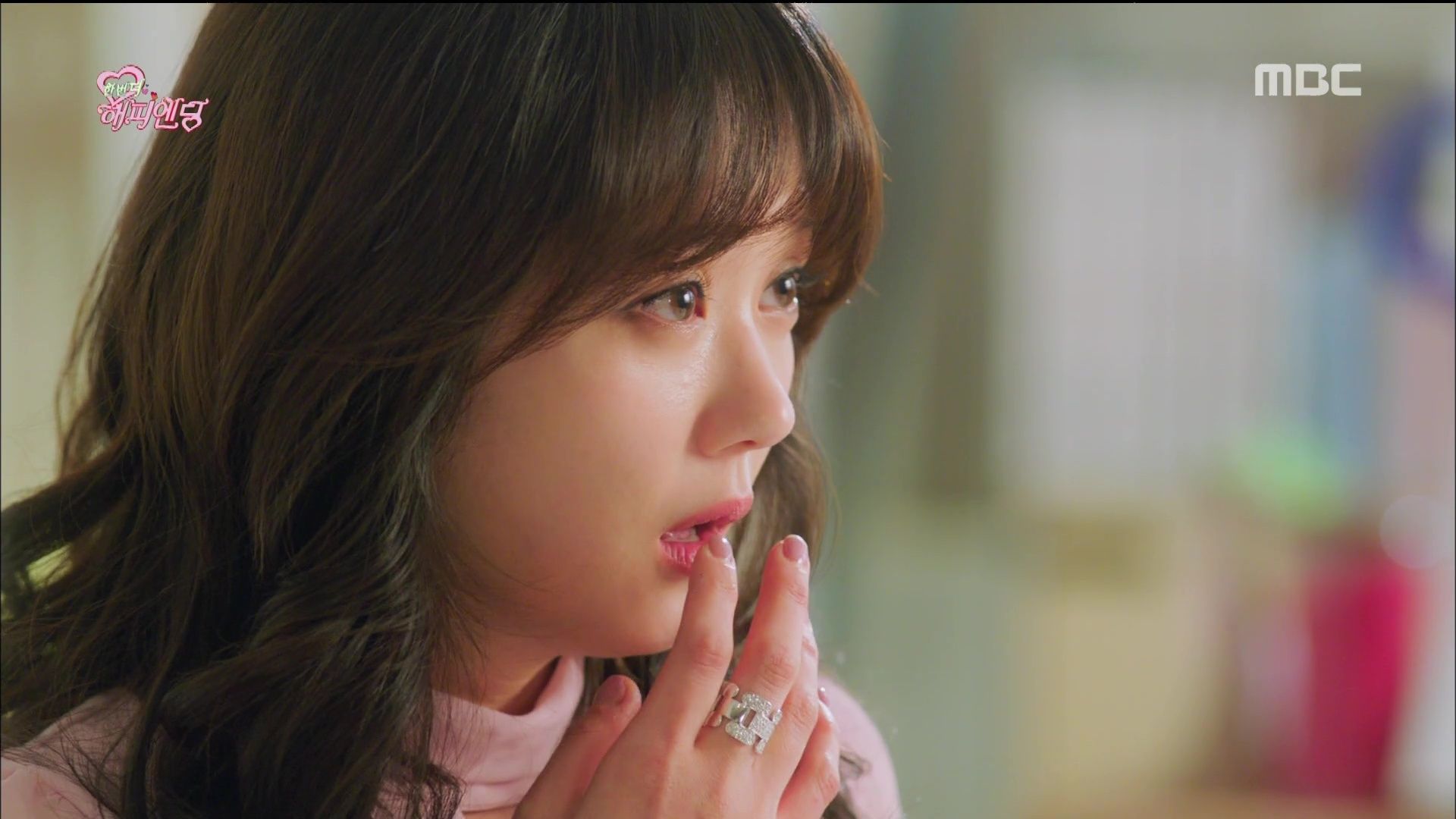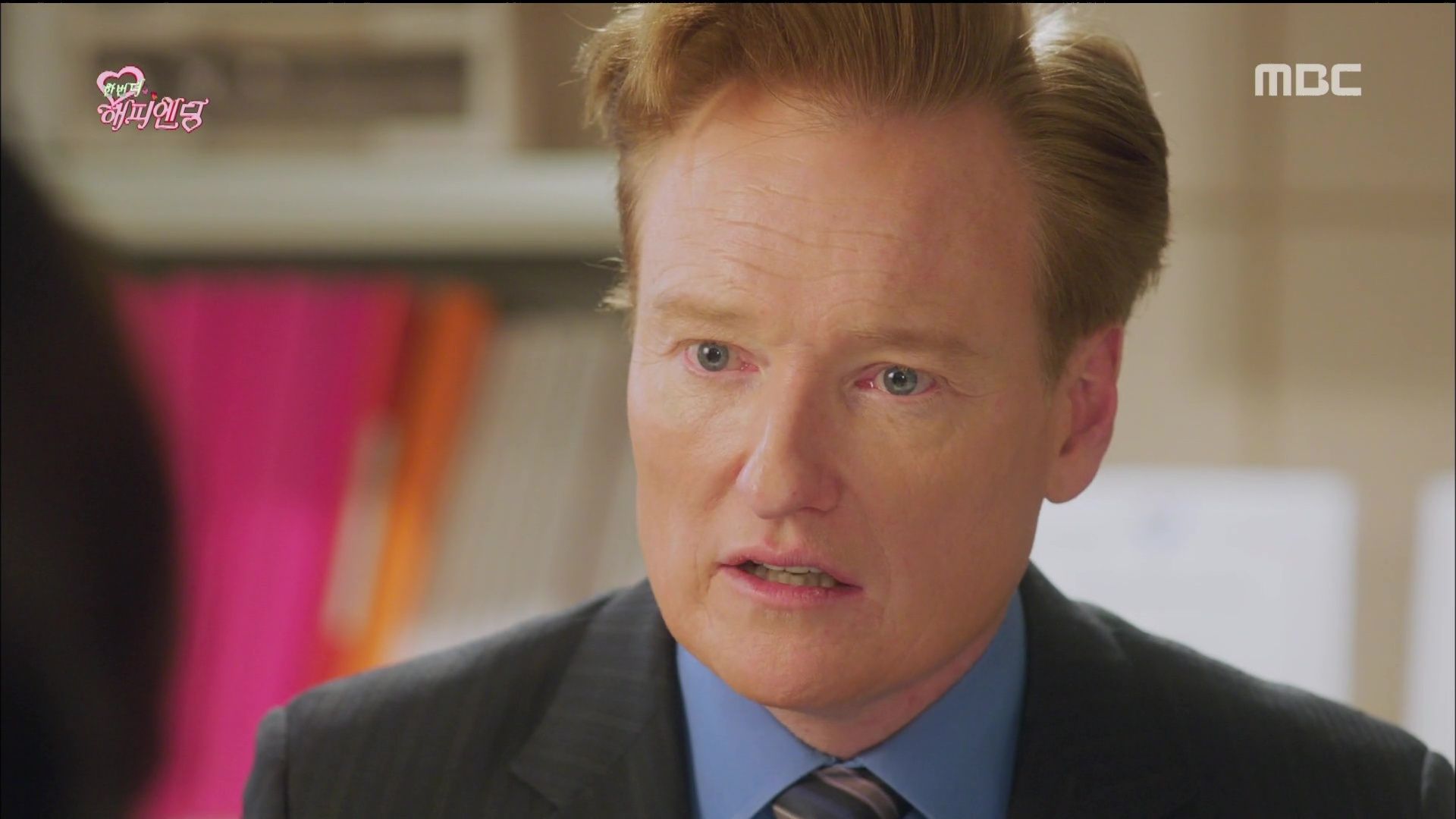 But not everyone is happy about the story, and the Masspunch office gets picketed by Seul-ah supporters. The boss wonders if they should tell Soo-hyuk to just stay in Hong Kong forever, ha.
Mi-mo is unaware that Soo-hyuk is out of the country until she goes across the hall to thank him. She debates calling him, but she's distracted when her assistant brings paperwork proving that Brave Wedding didn't swindle anyone. There's also a foreigner here to meet with her, to talk about being matched — if it's Conan O'Brien again, I'll laugh myself silly.
Of course it is, and he's even playing himself! Unfortunately he seems more than a bit smitten with Mi-mo herself, and he describes his ideal woman by describing Mi-mo perfectly, exactly the same way Soo-hyuk did. He even says, in Korean, "It's you, Goldfish, I'm talking about you," and refuses to become her client. I can't breathe, I'm gonna need a minute…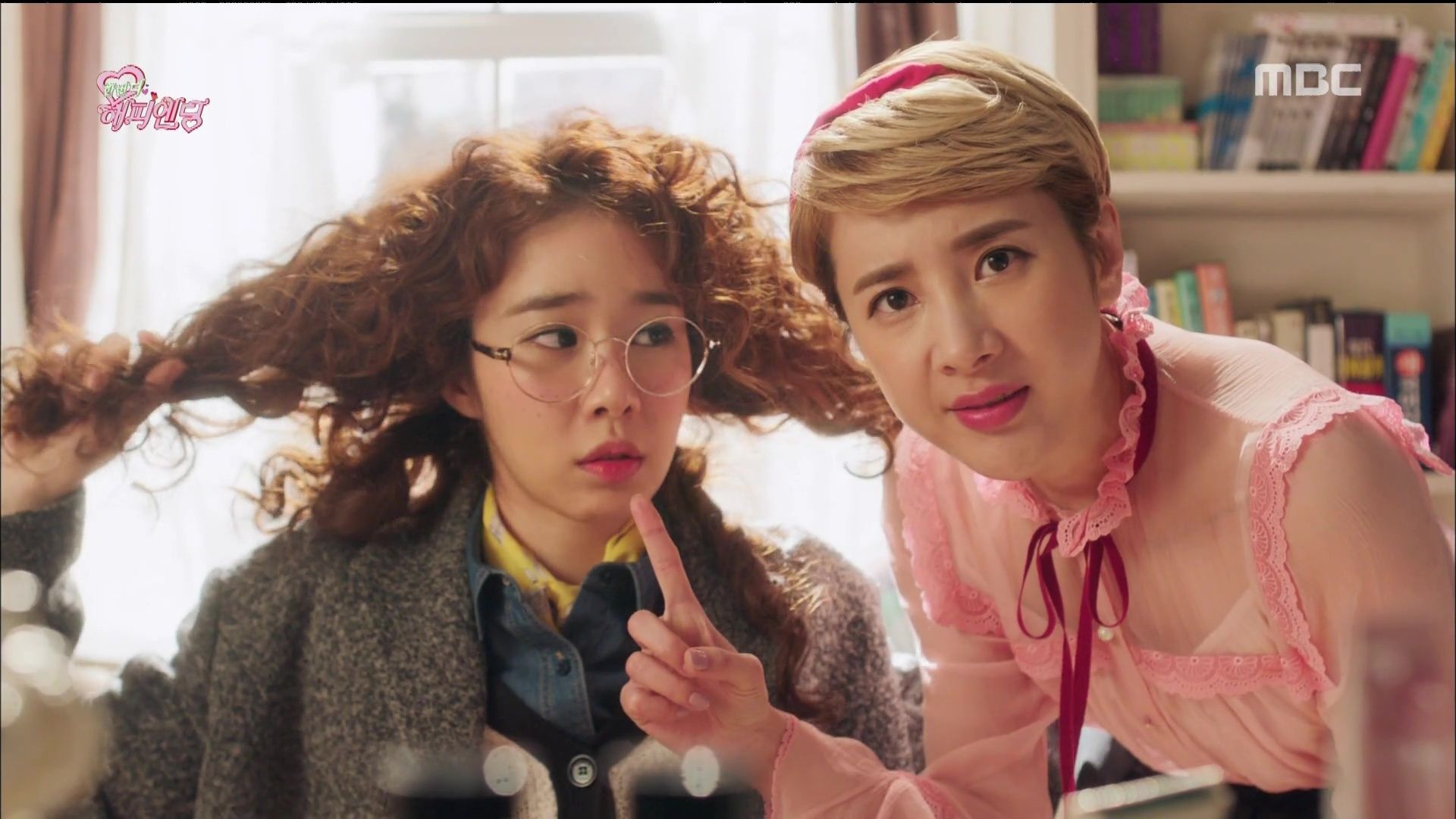 Mi-mo is scandalized, but Conan leaves her with a wink and a word of advice: Love overcomes everything.
Geun-hak arrives at the hospital to find the female patients running around all excited, and a nurse tells him that "he" will be here soon. "He" turns out to be Professor Kim, the sweetheart of the hospital, a doctor who understands women better than anyone else. Geun-hak recalls how Yeon-soo told him that women want to be loved and understood, and their reaction to this doctor seems to prove her point.
Ae-ran preps Dong-mi for her date with the younger man (whose name is Jung-woo), reminding her not to act like a noona or he won't see her in a romantic light. She gives Dong-mi a little makeover — not to change her whole look, but just to make her look like a softer, prettier version of herself. She loans Dong-mi her favorite purse and tells her not to dare bring it back scratched. Dong-mi heads out and aww, her date lights up when he sees her.
Geun-hak sends a rose with little Tae-yong, telling him to give it to his mom and tell her she's beautiful. Tae-yong does the job perfectly, and Da-jung is completely unaware that the flower is from Geun-hak, though her roommate Hye-sun glimpses him watching from the hall.
Ae-ran gets an invitation from Dong-bae to a party at a restaurant, and though she sneers at what a jerk he is, she's too curious not to go. She pulls him aside to ask what this is about, and he says that he doesn't want people to know that they split up right after the wedding. They argue over whether they're even married (they had the ceremony, but never filed the marriage license), grabbing and shoving each other angrily.
Their struggles look hilariously like dancing to the party guests, and they eventually wear each other out. They collapse on a bench, and Dong-bae says that when they were dating, he only cheated because Ae-ran broke his heart so often. Oh, so it's her fault? He asks if she'll come back if he promises to be faithful, and Ae-ran just looks at him.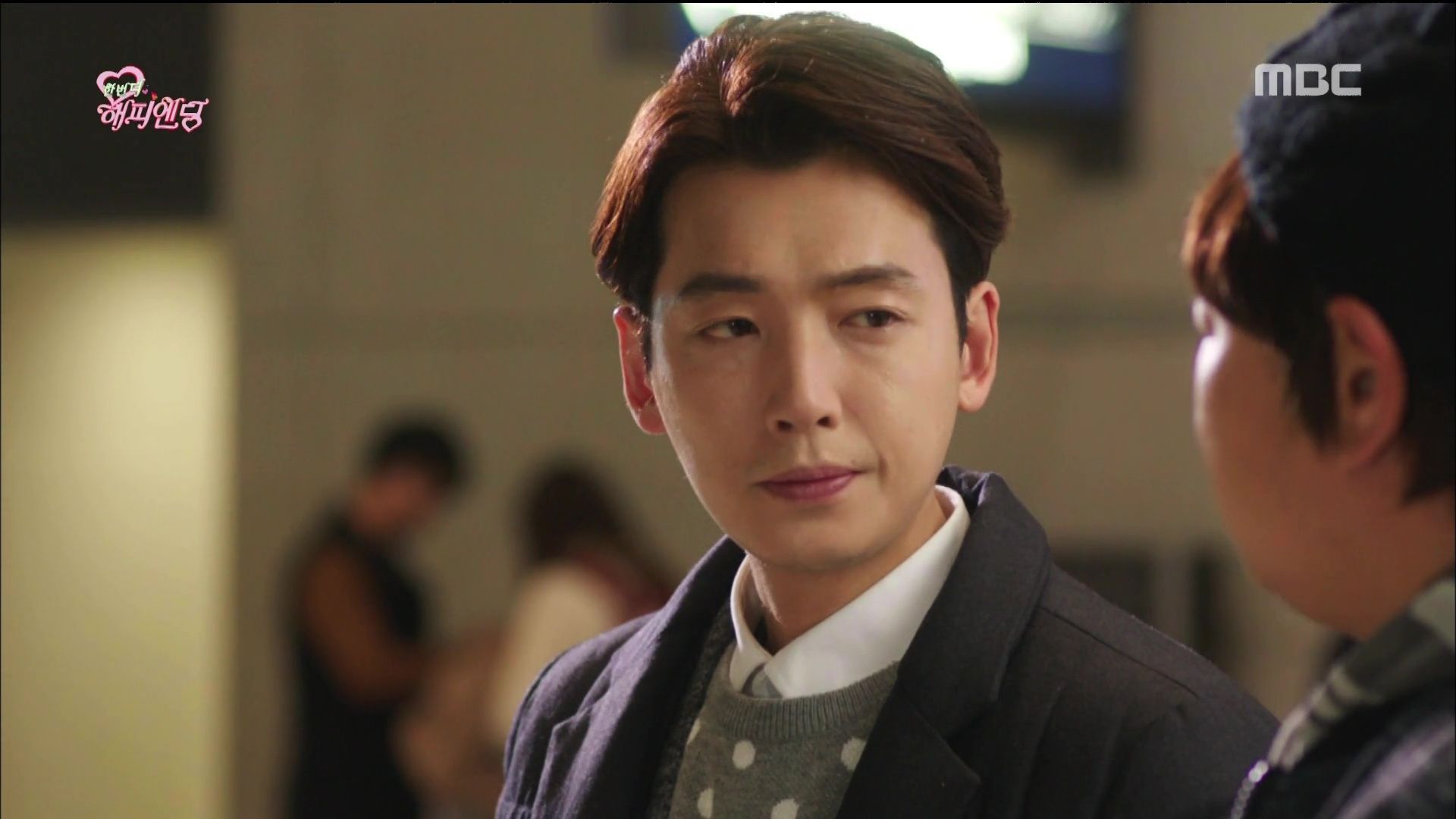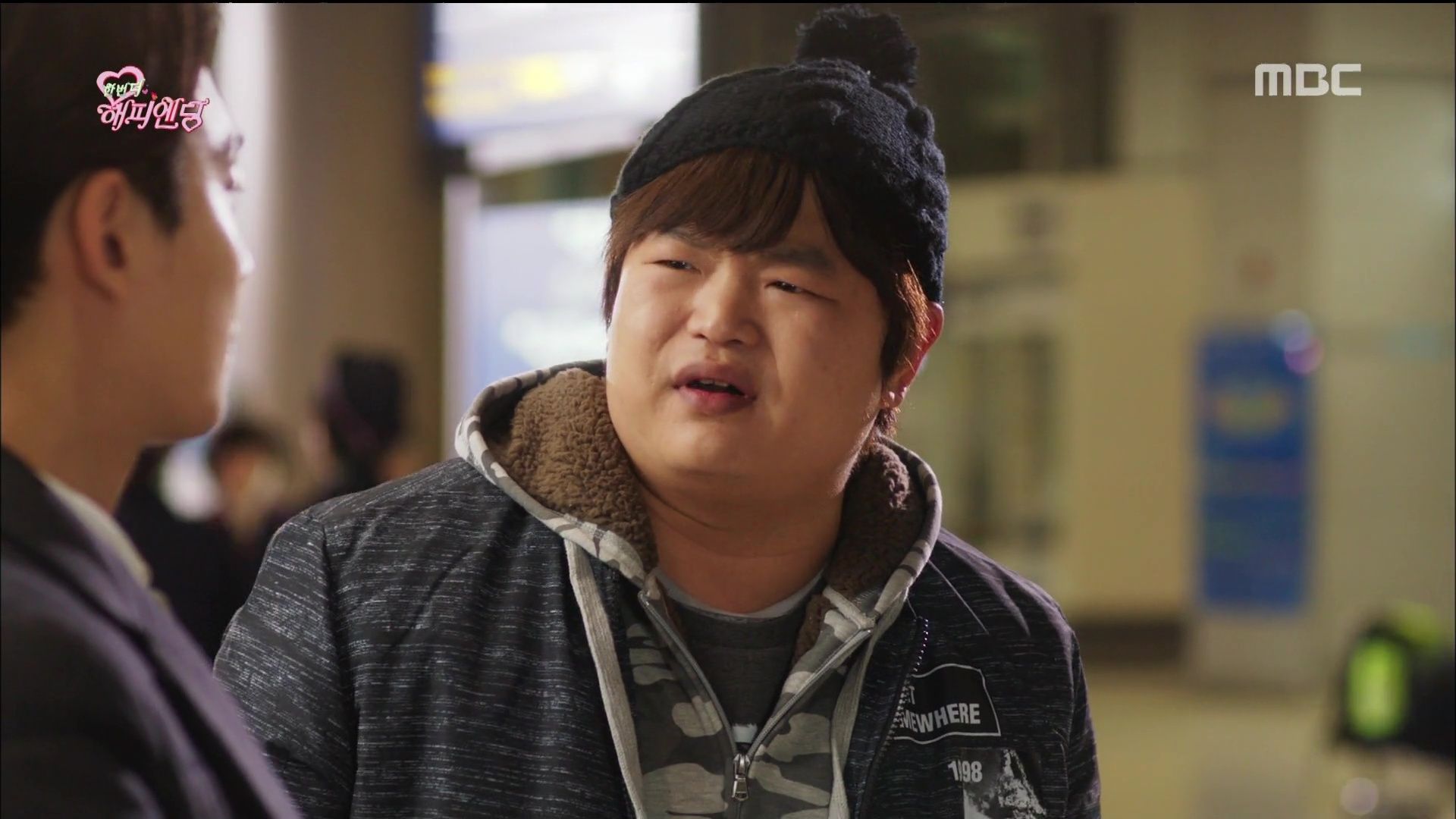 Mi-mo finally screws up her courage to call Soo-hyuk and gets his voicemail, so she tries calling the Masspunch office. Hyun-gi tells her that he's coming back later today, and she asks him exactly when that will be.
Hyun-gi picks Soo-hyuk up at the airport, but he was unable to convince the client to confess, only to promise to think about it. Hyun-gi doesn't understand why he didn't just drag the guy back to Korea, but Soo-hyuk seems tired, and says he'll just wait and have faith.
Mi-mo is visited by Lee So-yeon, the mother of the man who accused her of cheating her customers and the wife of the man who forged his documents. She reminds Mi-mo how she only asked for a man who looks kind, and when she met her now-husband, she knew immediately that he was a kind person.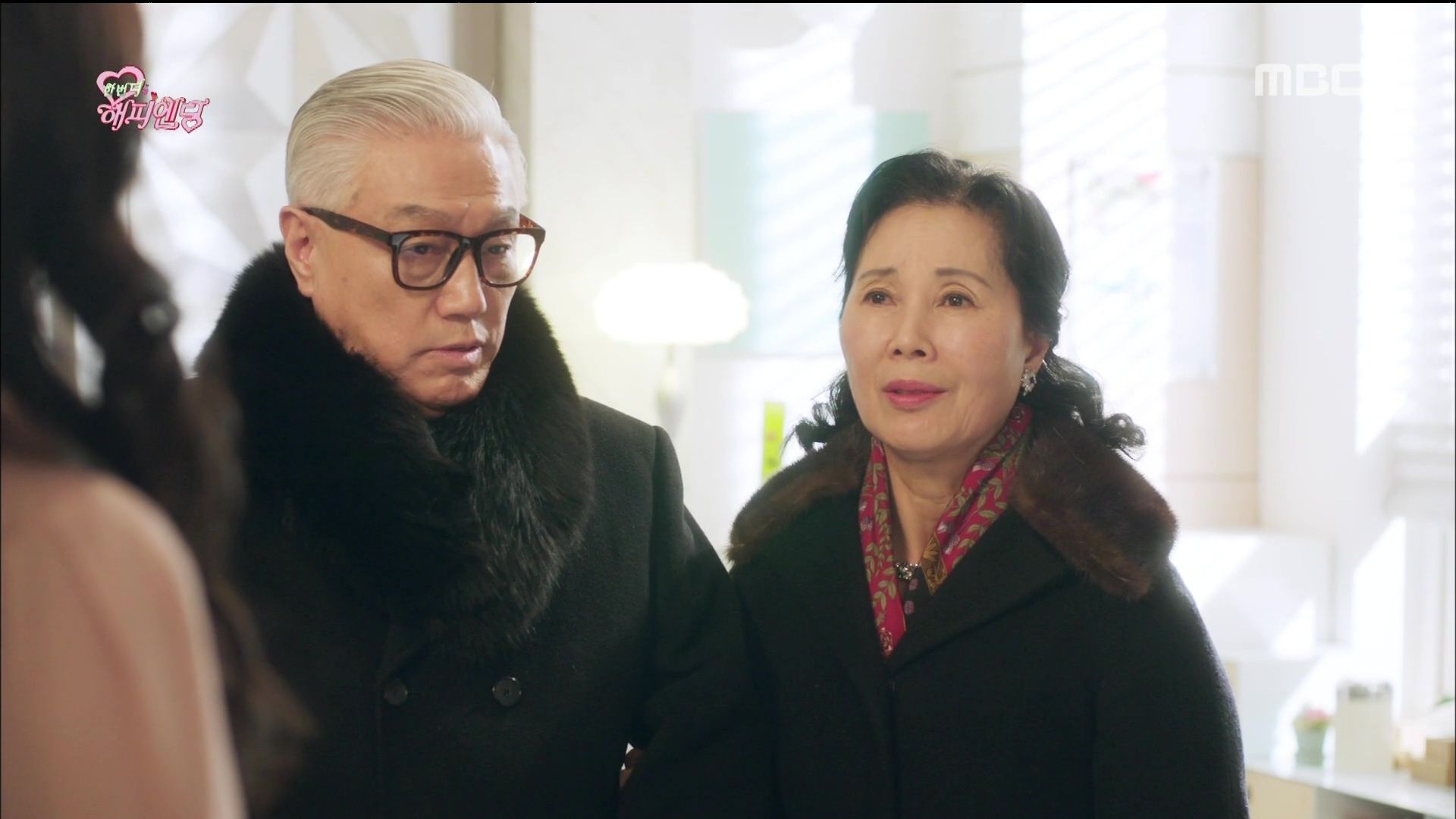 He'd been honest with her from the beginning about his precarious financial situation, and all she cared about was what a good person he is. But her children accused him of plotting to steal her money, so it was actually her idea to forge the documents to make her children back off. He didn't run off with her money — they ran away together.
She feels terrible now, seeing the trouble this has caused for Mi-mo and Brave Wedding, but Mi-mo tells her that happiness is the most important thing in life. She knows what it's like to have failed relationships, but she refuses to give up on love, and she urges So-yeon not to give up either.
Before So-yeon leaves, she tells Mi-mo how impressed she was that her friend traveled all the way to Hong Kong to tell them what was happening. She says how sincere and worried he was about Mi-mo, and how he convinced them to come back and tell the truth.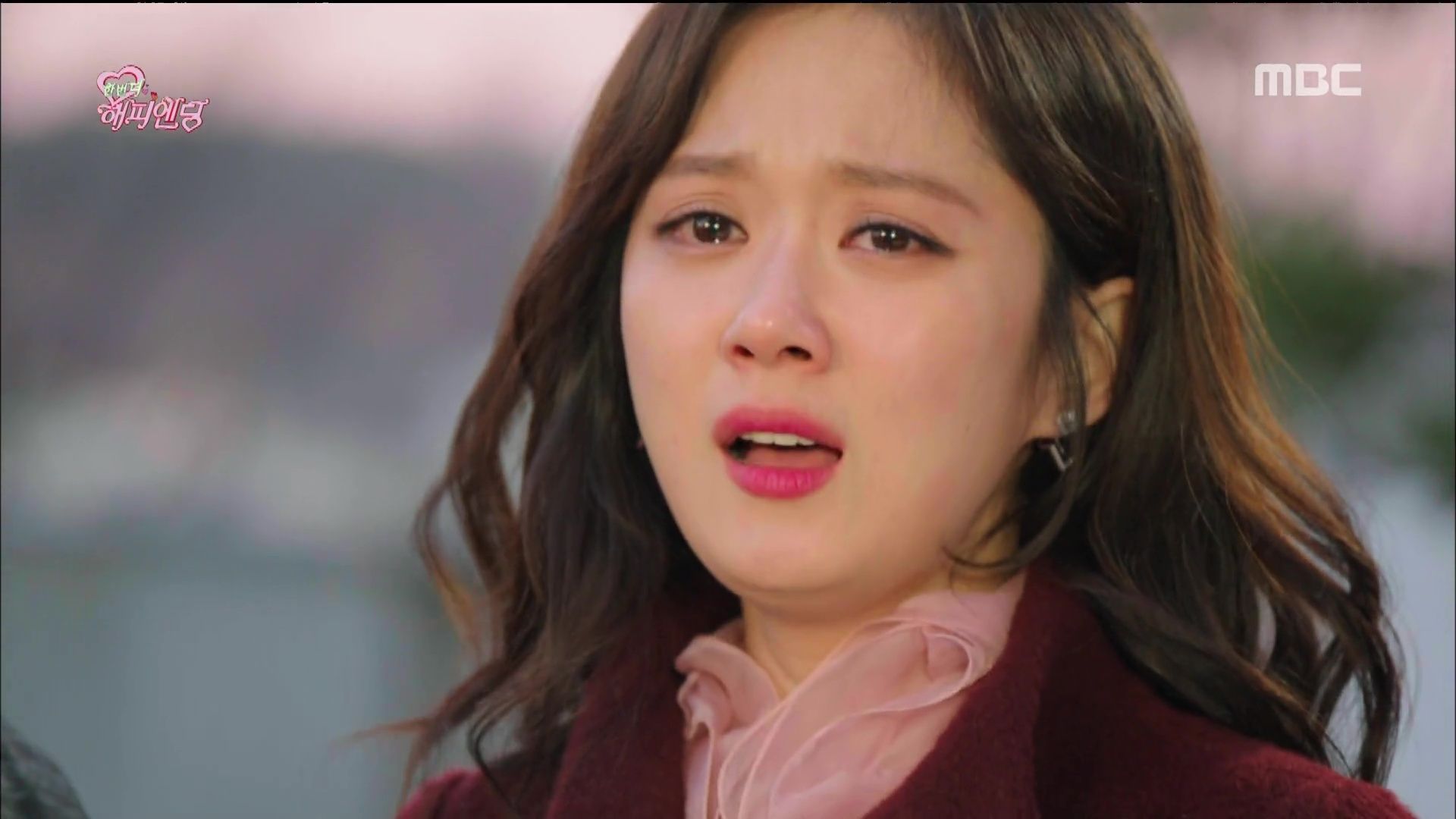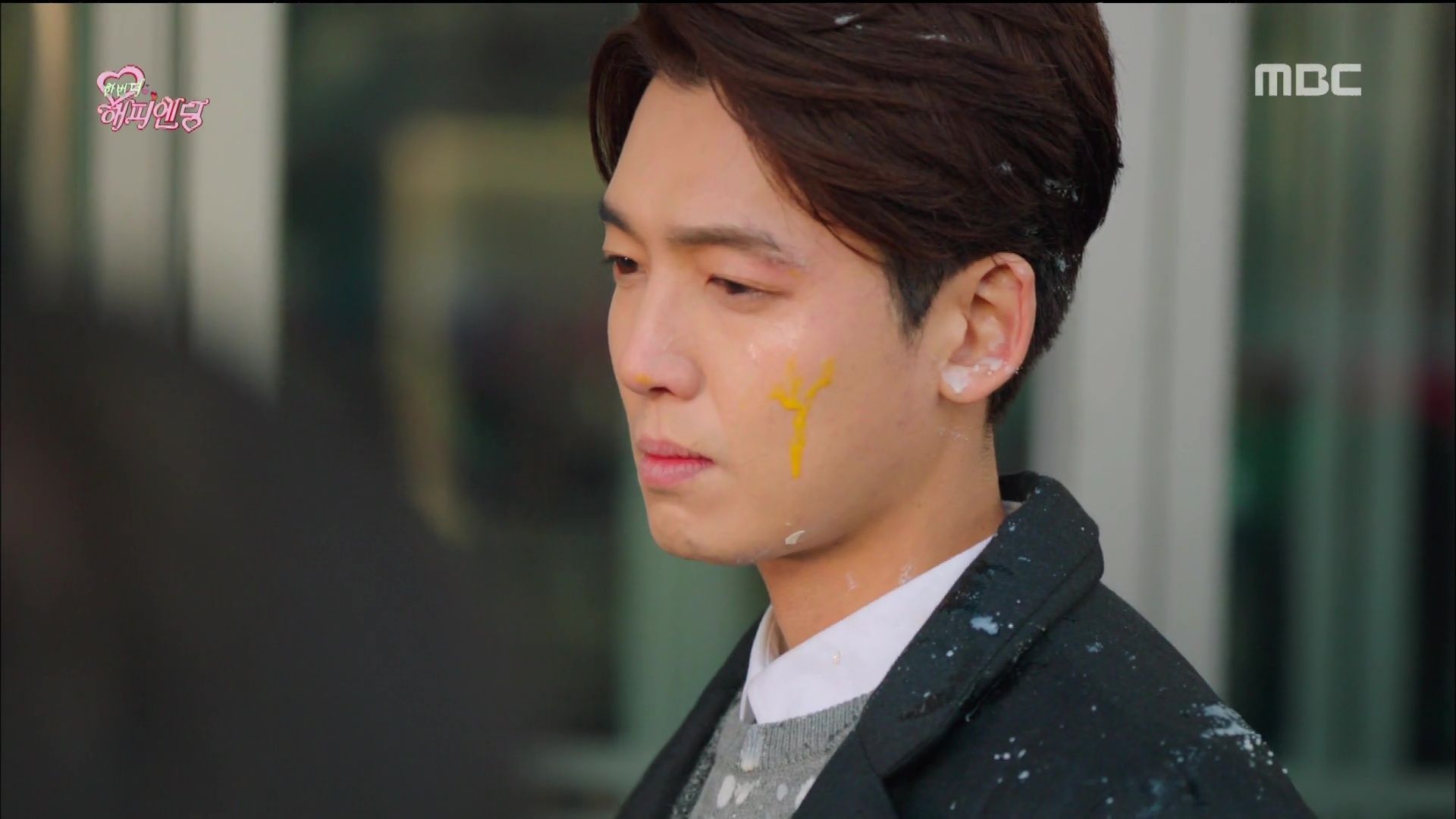 Soo-hyuk is now the one under fire, both from Seul-ah's fans and from her agency. Mi-mo arrives at his office just in time to see him being pelted with eggs and screamed at by the angry mob. Her instinct is to run to him, but Hyun-gi holds her back, saying that will only make it worse and that Soo-hyuk wouldn't want that.
She goes to their bench and cries, remembering how he'd asked her if she wanted the article published. She thinks about his confession at their school, and how he admitted that he bottled his feeling up inside. She even thinks about how he begged her not to touch him or he'd want to take her hand, and how he protected her from her attackers.
All of the clues about his feelings hit Mi-mo at once, and she can't do anything but cry. And then he's just there, silently watching over her, like he always is when she needs him. They look at each other for a long moment, wondering how they got here.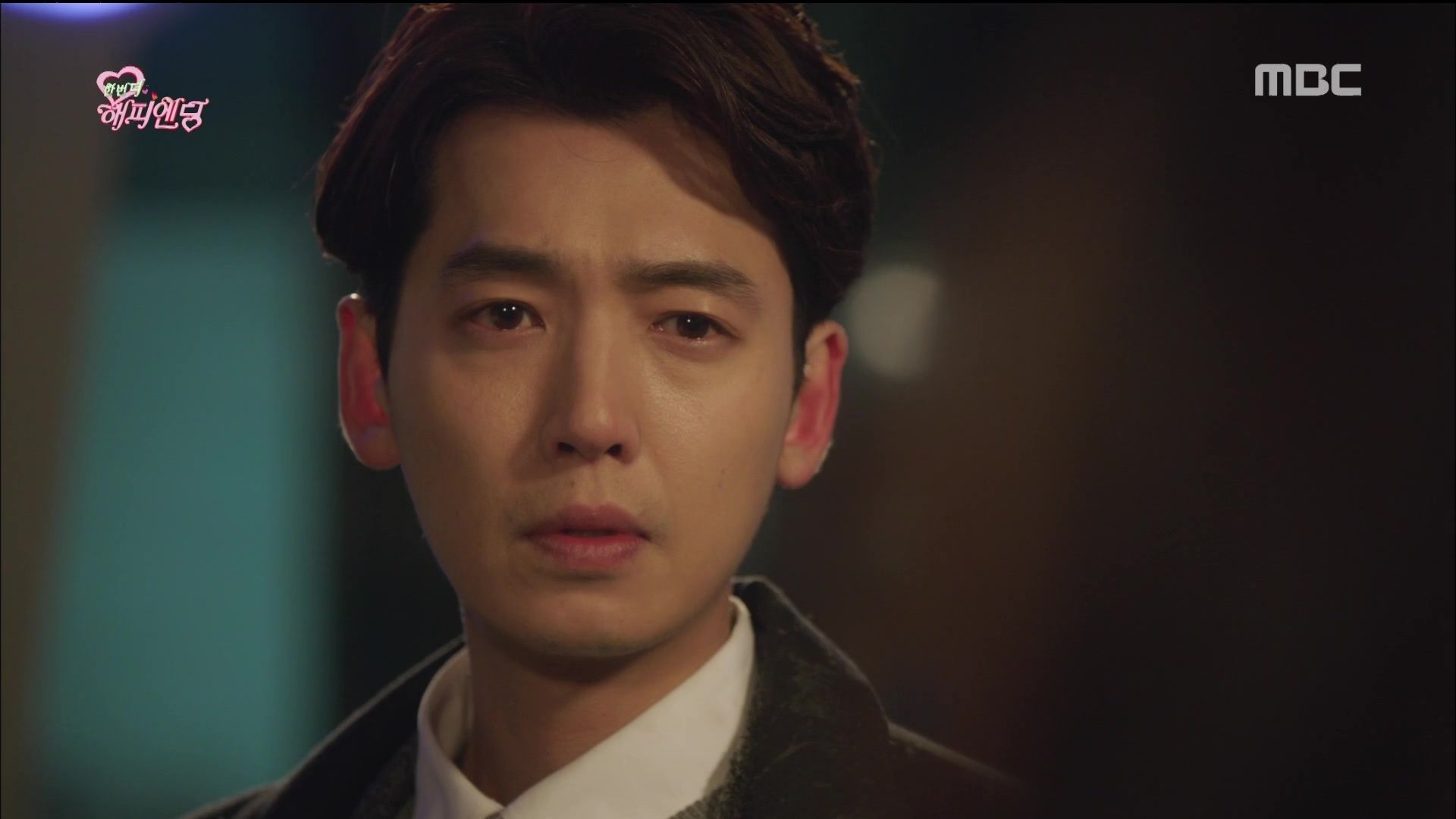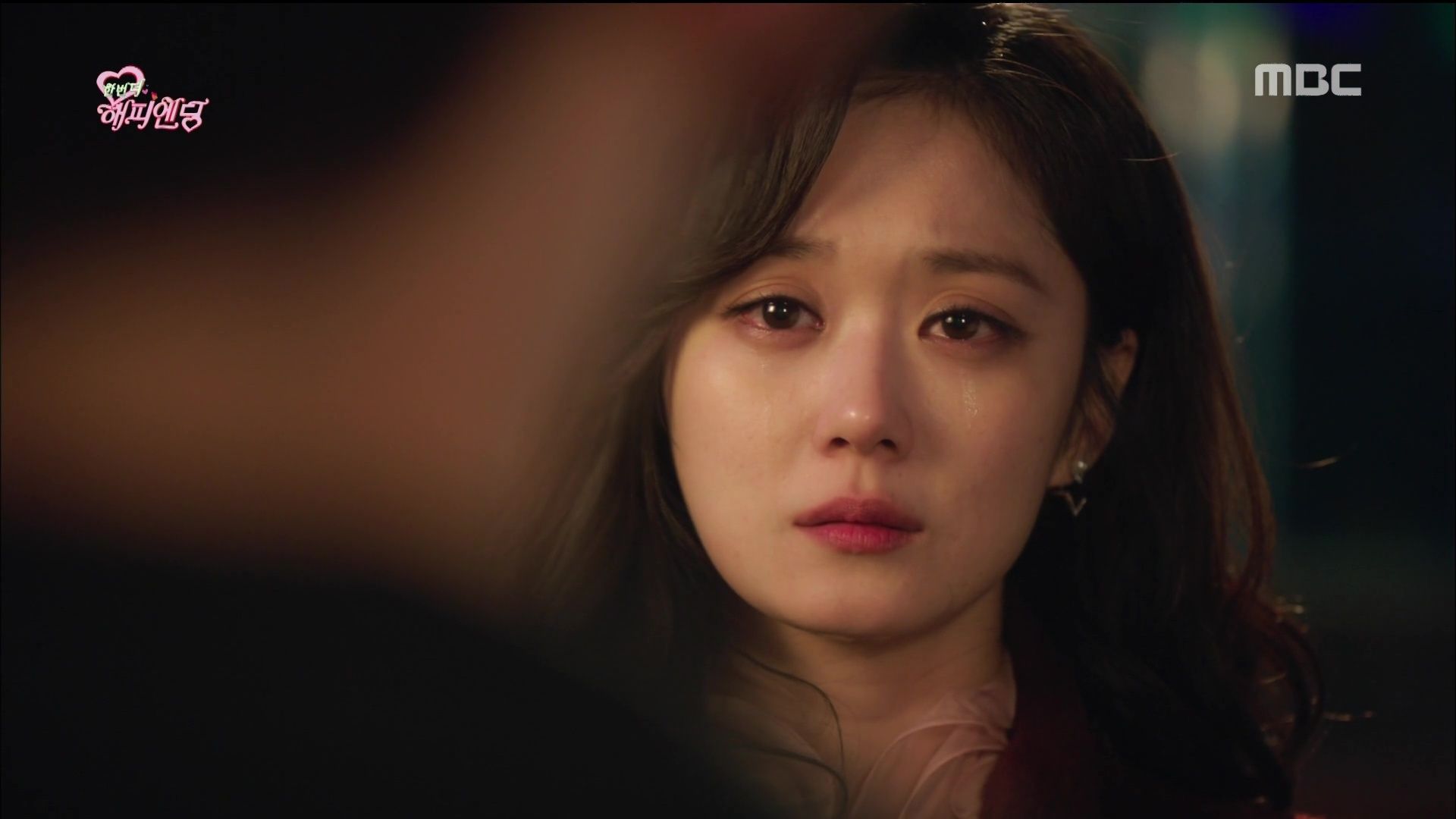 COMMENTS
Well finally, Mi-mo realizes Soo-hyuk's feelings. I can understand how our Goldfish didn't see it before — as I said, she pretty much needs to be bonked over the head with a blunt object before she understands something to be true. But Soo-hyuk has now gone to such lengths to put Mi-mo first, even literally placing himself between her and danger more than once, that even she can't pretend that she doesn't see how much he loves her.
I know I complained about the other three Angels' stories taking up too much time a few weeks back, but that was before I got so invested in Da-jung and Geun-hak's story. I do love their love story (I even think their relationship could have carried a whole drama), and I love watching Geun-hak really do some soul-searching in the last couple of episodes. It's sweet to see him spending time at the hospital without Da-jung's knowledge, remembering what made him fall in love with Da-jung in the first place and trying hard to understand what went wrong. It's always been clear that they still love each other, but their wounds just run so deep that at some point, they stopped being able to open up to each other for fear of being hurt even more. They're also due another happy ending, and I can't wait to see them fall in love all over again.
I did appreciate getting a bit of insight into Hae-joon's feelings in this episode, especially when he wondered how long he'll have to "struggle against her halo." I interpret that to mean that he's struggling with seeing her through the lens of her former idol status — that he sees her as very innocent and pure, which makes it difficult for him to approach her in a physically romantic way. If that's the case, it makes so much sense and I wish we as an audience had been let in on that a few episodes earlier. I still don't like his mind games and manipulation, but if I'd known that he was having a hard time emotionally separating her angelic image in his memories from the reality of her as a regular person, I wouldn't have been so hard on him. If he's just flailing to find a way to connect with her, when his heart objects to anything that might sully her perfect image, then his actions have a much less sinister cast to them. I stand by my statements that he's completely wrong for Mi-mo, as she needs a man who will be straight with her and not play games, but knowing this about him makes me feel less antagonistic towards him, at least.
As much as I love Soo-hyuk and his quiet, steadfast, one-sided love, I'm ready for him to step up and tell Mi-mo how he feels. I don't think he'll do it on his own though, because he's so caught up in respecting what Mi-mo wants, that he's prepared to put his own feelings aside forever. I think that Mi-mo is going to have to speak up first, and while it's a good sign that she now knows how he feels about her, for that to happen she's got to realize how she feels about him. And she can't do that until she discovers that what she's got with Hae-joon isn't love. So I'm afraid that, as promising as the end of this episode seems, we're in for another week or even two of Mi-mo being confused, and Soo-hyuk crying to himself. Not that he's not pretty when he cries, but my poor heart can't take much more of his pain!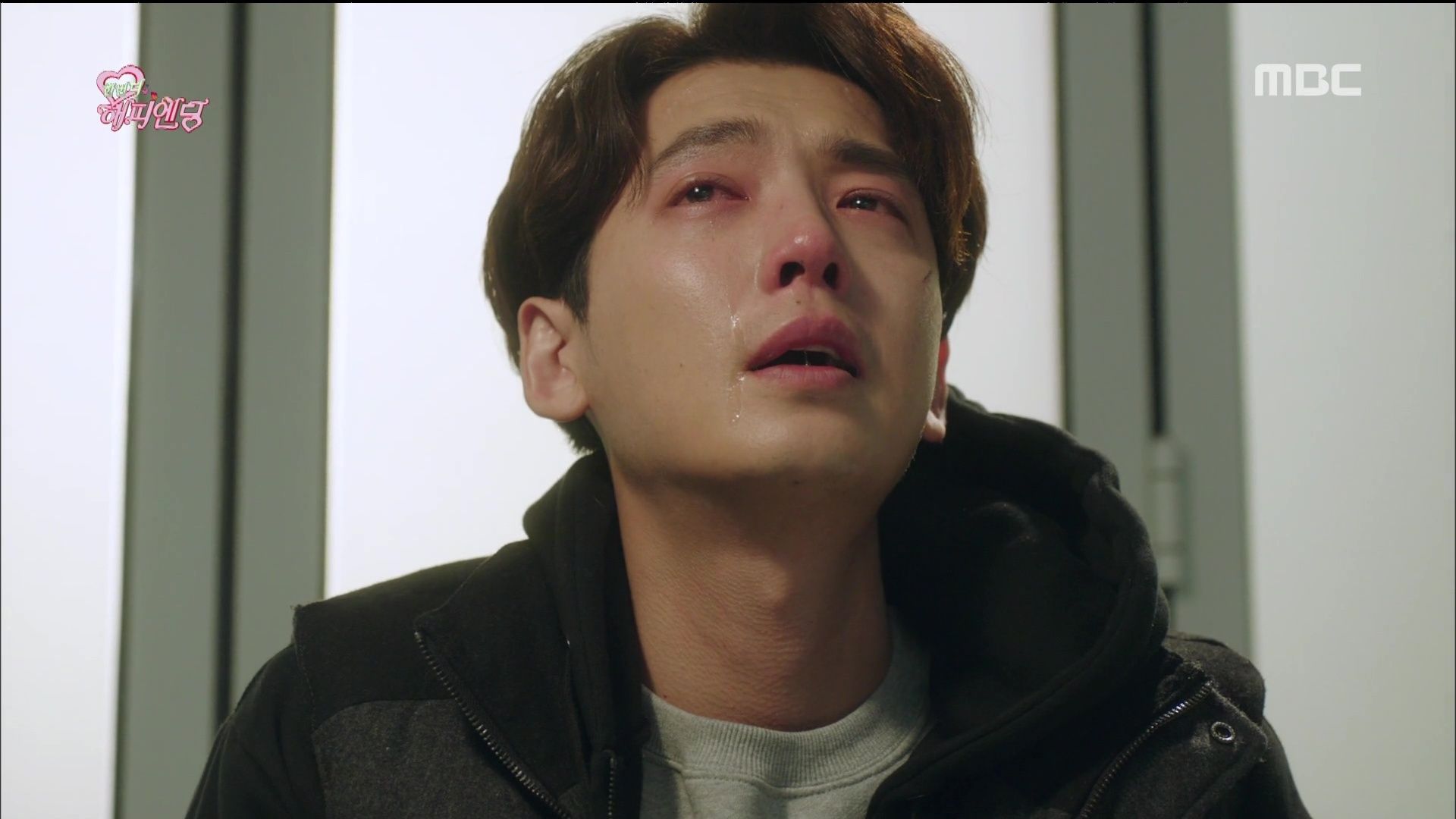 RELATED POSTS
Tags: featured, Jang Nara, Jung Kyung-ho, One More Happy Ending, Yoo Inna