Signal: Episode 11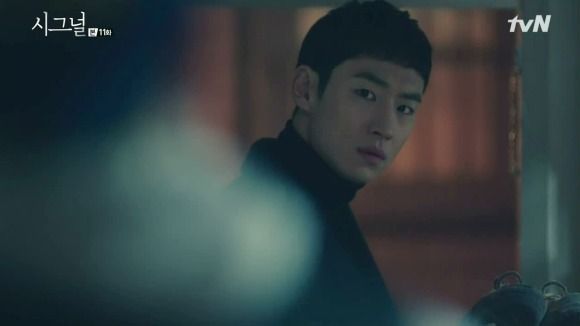 O Signal, how you continue to capture my heart each week. We wrap up the Hongwon-dong case in this episode, and finally dive into the case Hae-young has a personal investment in. What lies ahead is an intricate web of secrets initially spun by a mystery source. It'll be up to Jae-han to get to the bottom of the truth, not only on Hae-young's request, but also because he's just awesome that way.
At least we can rest assured in the idea that our detectives are getting smarter as time passes. Well, for the most part—uncovering secrets in the crime scene may be one challenge, but it's quite another when tackling matters of the heart.
SONG OF THE DAY
Kim Yoon-ah – "길 (The Road)" for the OST [ Download ]
Audio clip: Adobe Flash Player (version 9 or above) is required to play this audio clip. Download the latest version here. You also need to have JavaScript enabled in your browser.
EPISODE 11 RECAP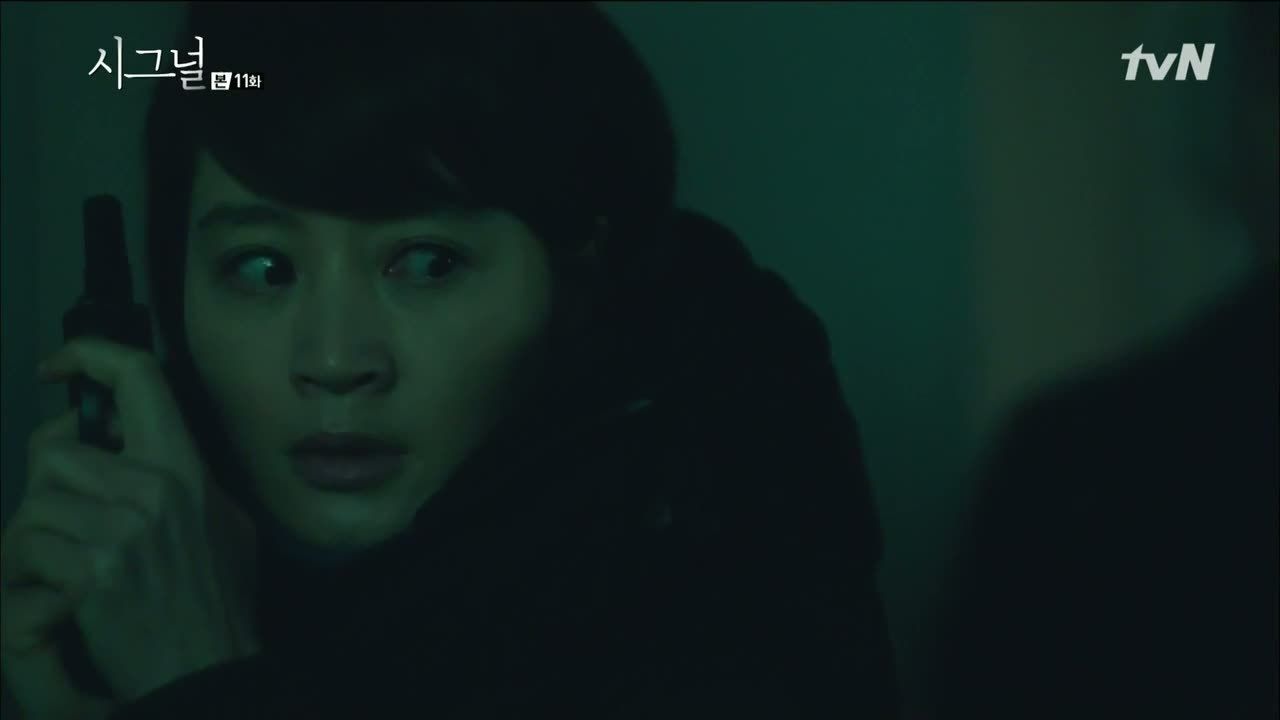 Hae-young obtains the name of the killer: KIM JIN-WOO, a man of few words who seemed especially strange today. Learning that Jin-woo took some cardboard and packing strip with him, he realizes that Jin-woo plans to kill again tonight.
Soo-hyun ventures inside the home, gun in hand. She feels around in the darkness, and every surface she touches brings back memories of the harrowing night of her escape. Breathing heavily, she reaches for the closet door.
She freezes at the sound of approaching footsteps and whirls around when a hand reaches for her shoulder. It's Hae-young, but Soo-hyun is so alarmed that she doesn't recognize him and keeps her gun trained on him.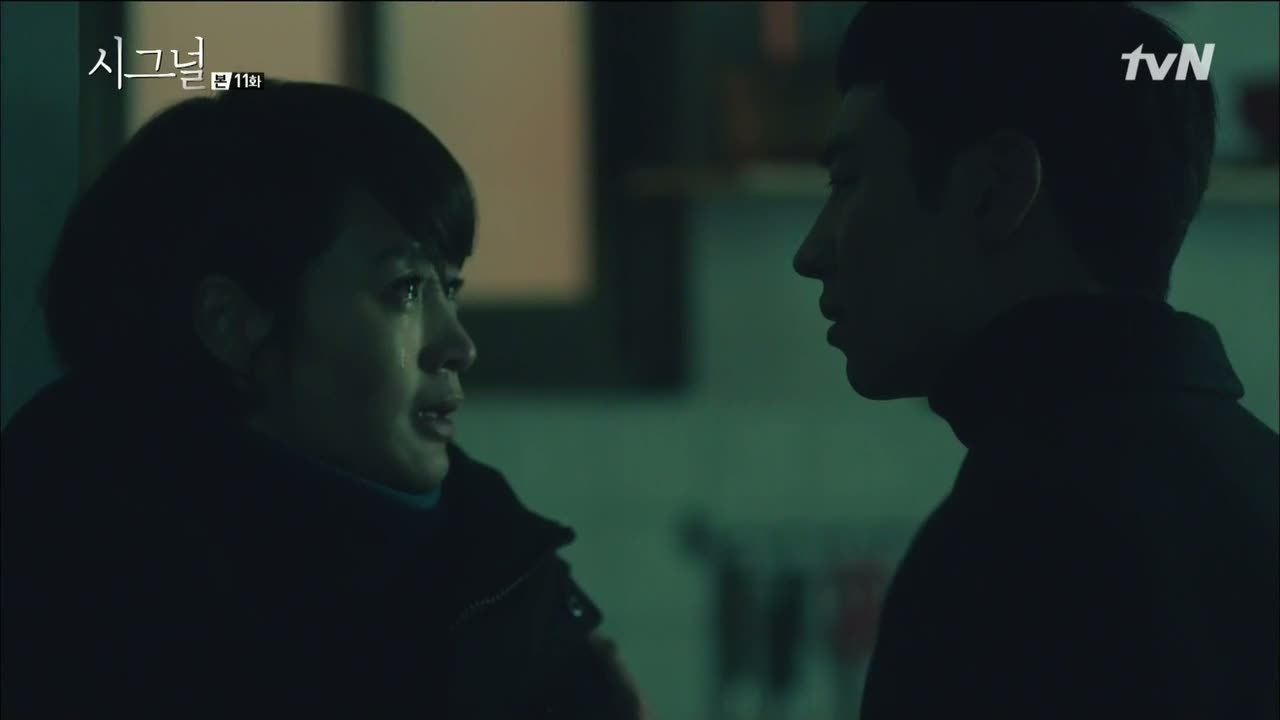 Her guard is still up when he slowly reaches out to her, and she protests instinctively when he touches her. Once he has hold of her, Hae-young instructs her to breathe deeply, and lets out a relieved sigh when she finally recognizes him.
He tells her that she shouldn't have come here alone, even if she's a veteran detective. He fills her in on the details of the killer and stops her from acting on her own again because help is on the way. But Soo-hyun is determined to catch her former kidnapper by her own hands because that's the only surefire way to put an end to this hellish nightmare.
Once the task force arrives, Soo-hyun shows them a box tucked in the closet packed with the victims' belongings. Hae-young realizes that there isn't anything here that belongs to their last known victim, Seung-yeon.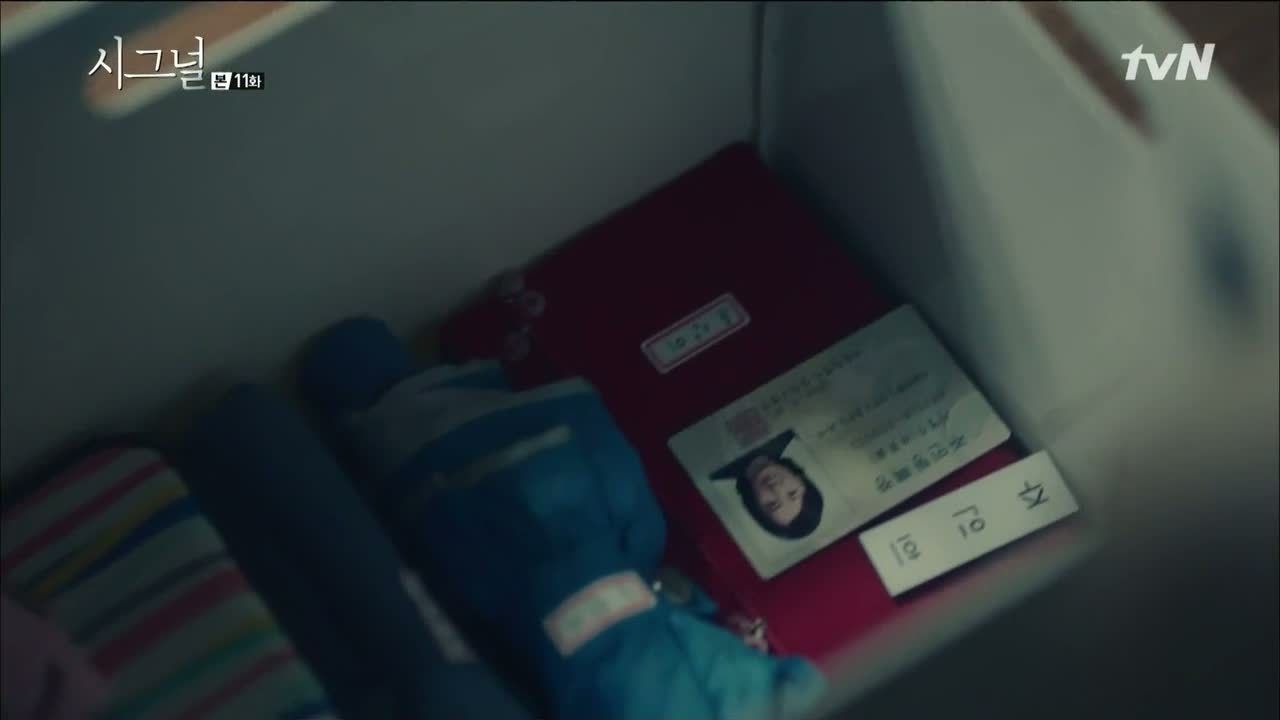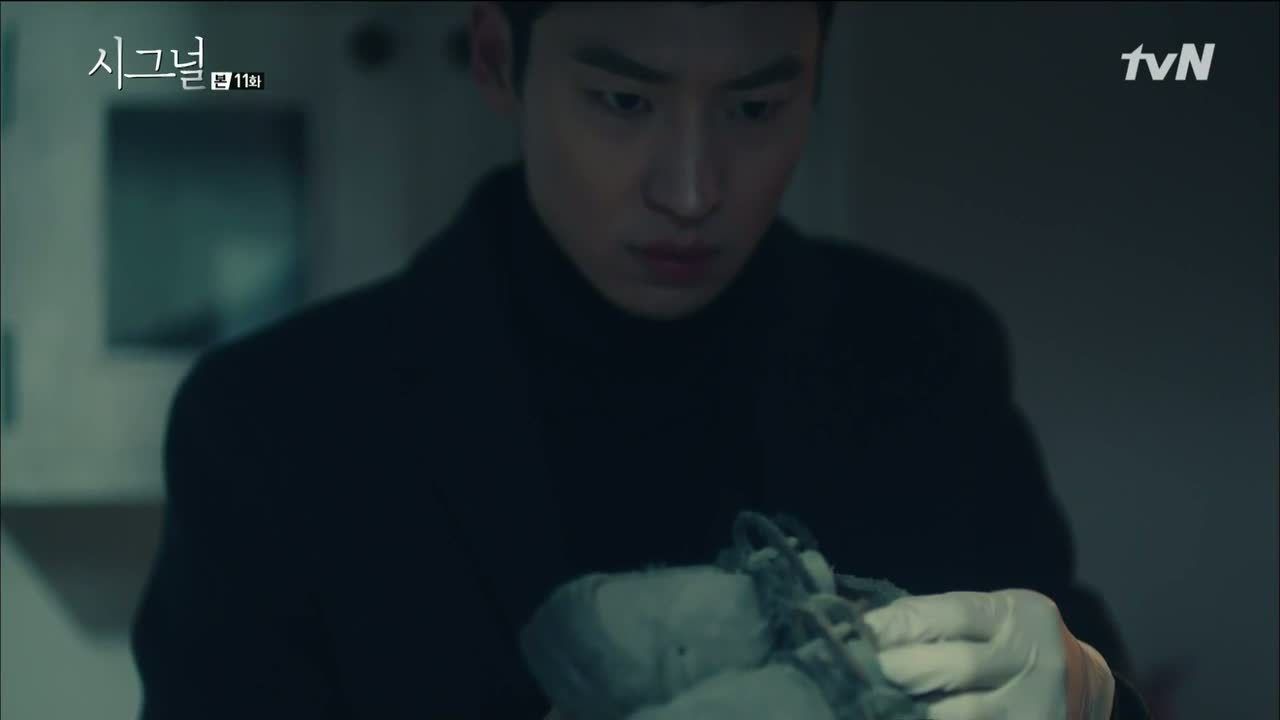 According to Kim Jin-woo's family history, he lived with his mother following his parents' divorce at a young age. Furthermore, the residence is listed under the mother's name. Hae-young finds that odd since there isn't any trace that a woman lives here, but he does open up a cupboard to find a pair of child-sized ratty shoes.
If that wasn't strange enough, Heon-ki discovers a human bone. Oh shit, did Jin-woo kill his own mother too?
A neighboring car's black box captures Jin-woo traveling uphill in the direction of the burial site late last night. Hae-young calls just then to confirm that Soo-hyun's claims to have touched a cold, dead hand in the closet may be right. Hiding a body in the home suggests that the victim's identity needed to remain a secret—what if Jin-woo was harboring his mother's body?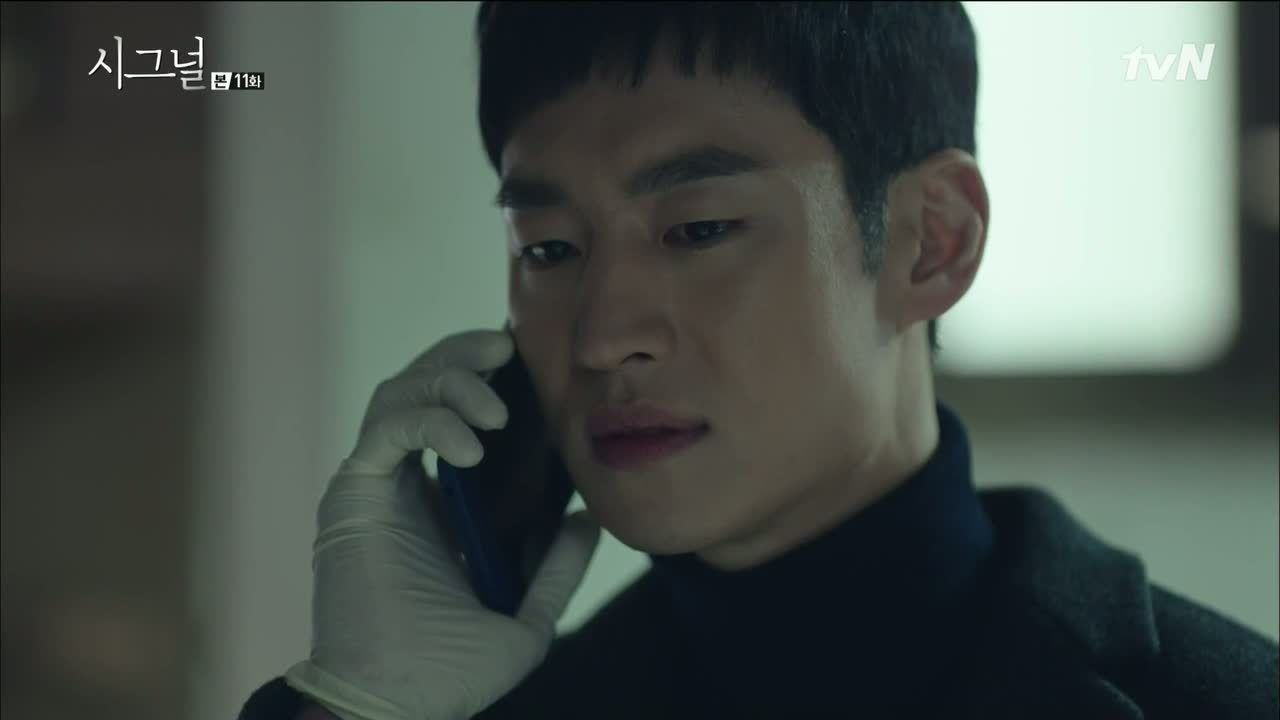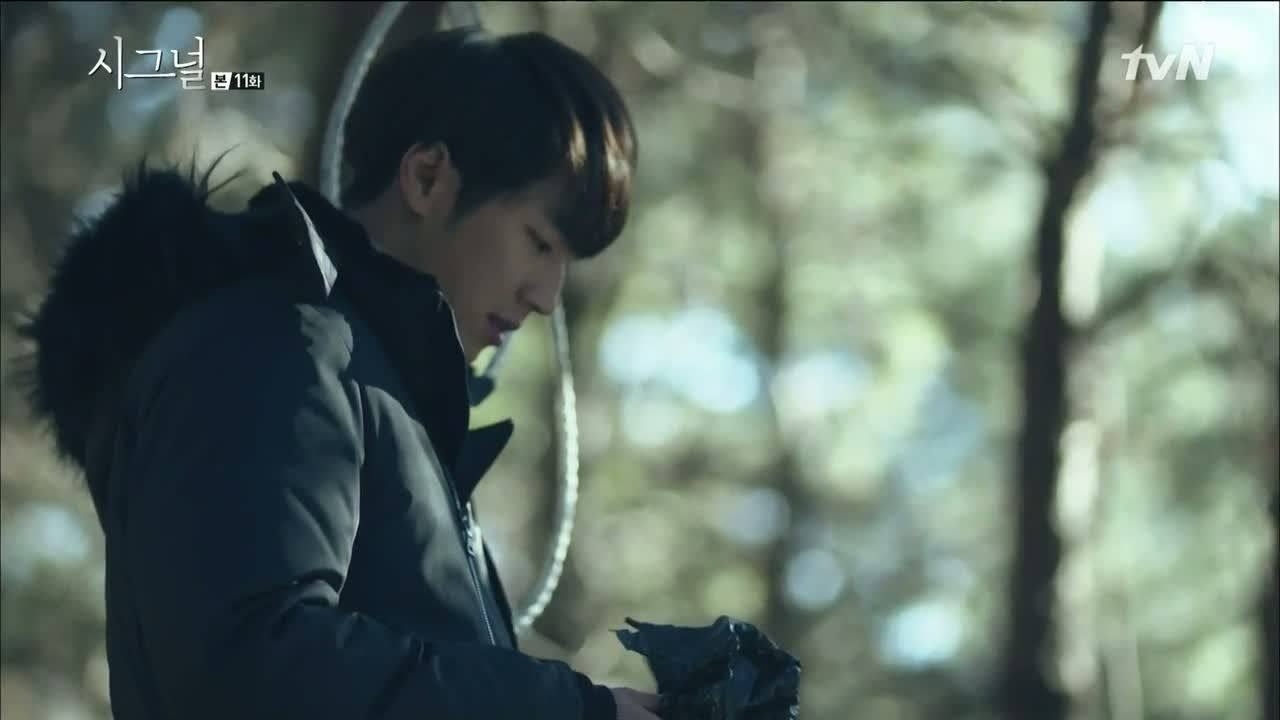 As Jin-woo pats down a fresh grave, Hae-young admits he doesn't know why the killer would bury that body now, but what's important is that something about Jin-woo has changed. A crime scene investigator accidentally turns on the boombox, and Hae-young recognizes the tune—it's the same music Seung-yeon enjoyed.
As Soo-hyun and the other detectives scour the mountain, Jin-woo takes out a black plastic bag and places it over his own head. He's planning to take his own life, as he places the noose around his neck, then kicks the wooden stump underneath him.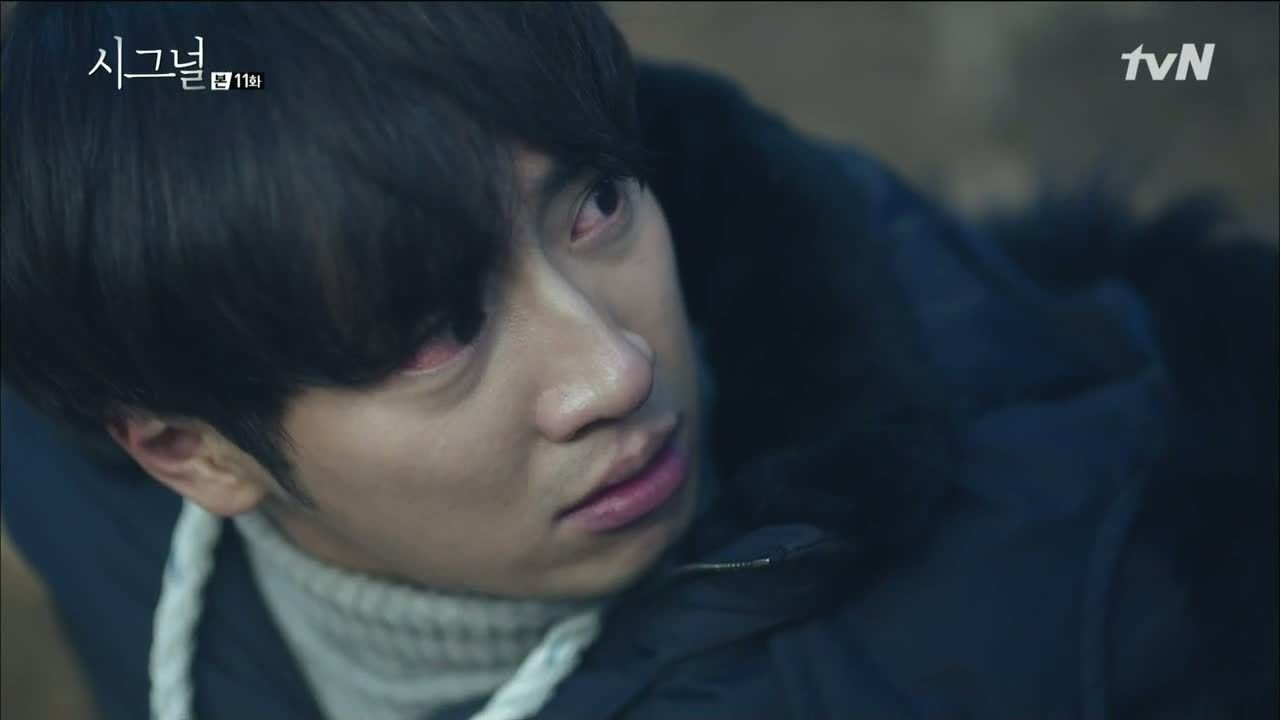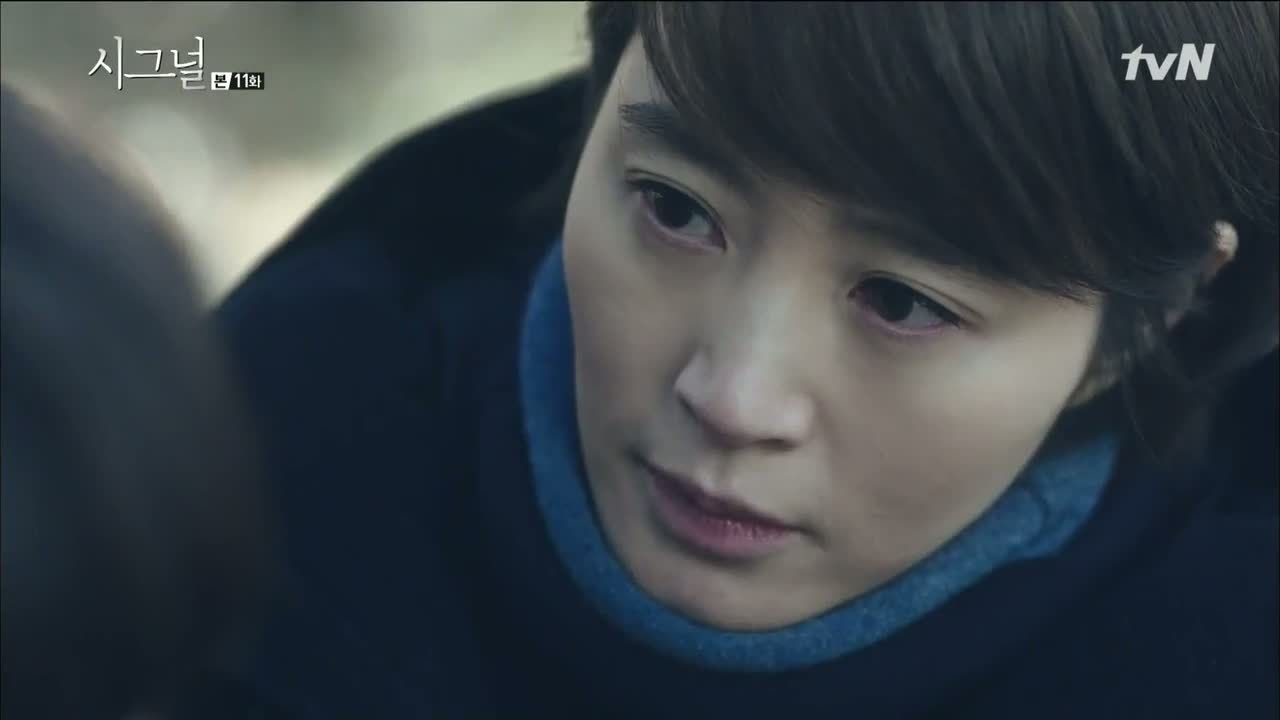 Suddenly a series of shots ring out, and the detectives run over to the noise. It's Soo-hyun who has shot Jin-woo down from the branch. Removing the bag from his head, she softly says, "This time… I'll help you."
She then grabs his hair and sticks her gun at his neck. Shaking, she tells him that he won't be able to end this on his own terms that easily.
Once they return to the precinct, it's confirmed that the skeletal remains belong to Jin-woo's mother, who died of unknown causes before the first murder in 1997 took place. Since there were no signs of trauma, the police believe he didn't kill her.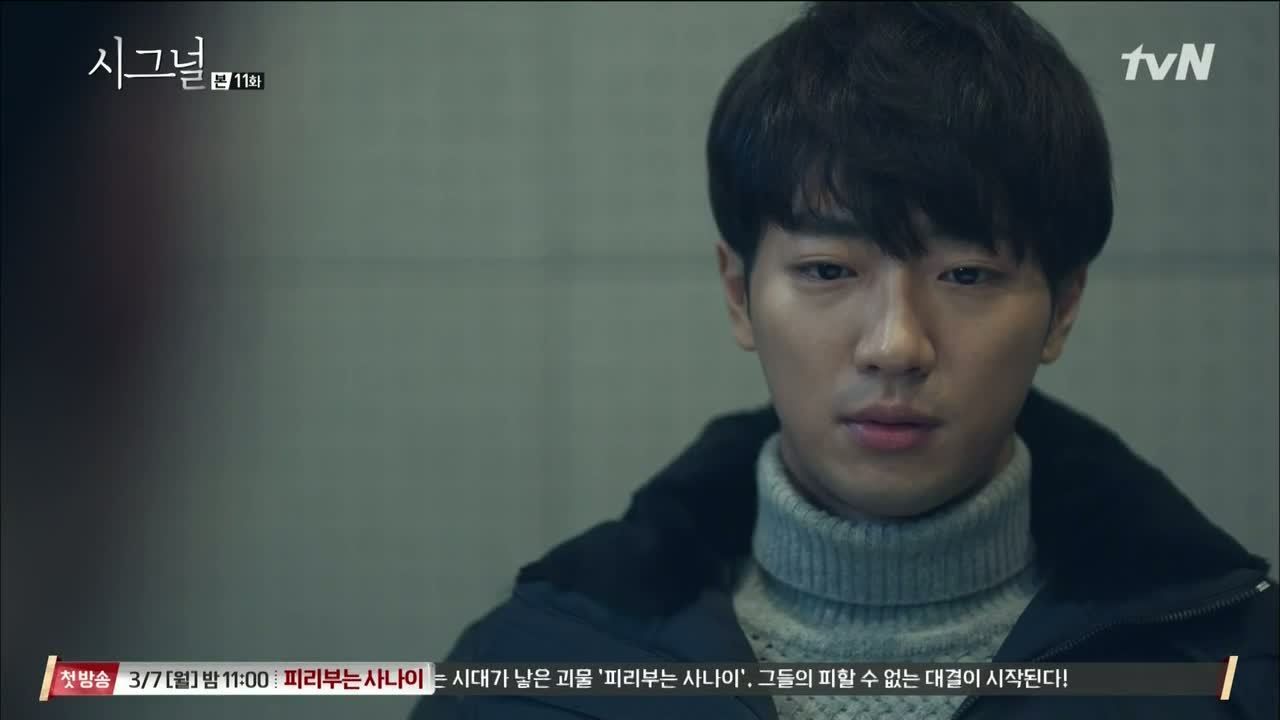 As to why Jin-woo killed all those other women, Soo-hyun believes that his murderous acts is a product of being a child of divorce often neglected and abused by a mother suffering from depression. Hae-young doesn't miss how Director Kim instantly judges a man who turned to murder because of his rough childhood as "crazy piece of trash", and the team is told to wrap up the case.
Once he's alone, Hae-young steps inside the interrogation room with the boombox. He presses the play button to start the music, then asks if this song is what Jin-woo kept of his last victim, Seung-yeon.
He heard Jin-woo had it on replay—did he constantly listen to it for the past year? There was something different about Seung-yeon, wasn't there?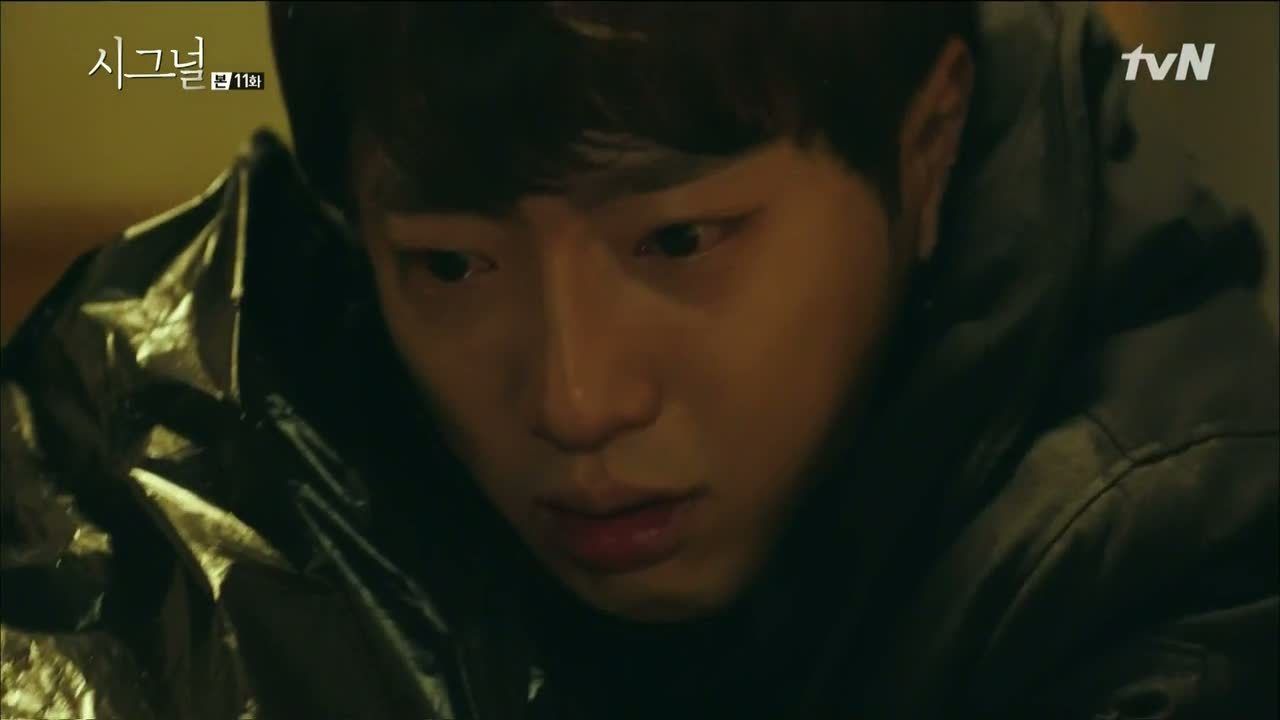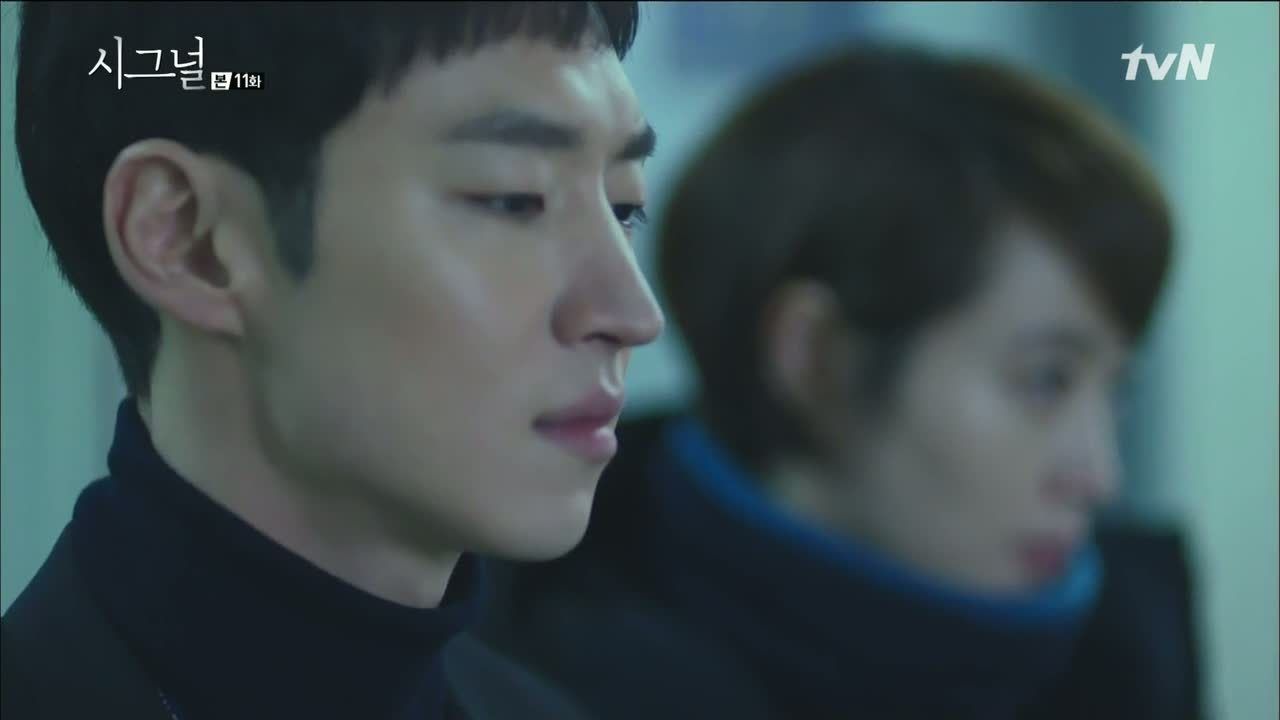 We flash back to that night about a year ago: Seung-yeon is tied up and has a plastic bag over her head just like the others. The song plays from her CD player as Jin-woo first approaches to strangle her from the front, but then hesitates.
Gathering her to him, he promises to help her. He holds her tightly from behind, and she writhes in his arms until her body finally goes limp. A tear falls, and Jin-woo wipes away the others. He catches his teary reflection in the mirror and chokes back another sob.
As Jin-woo is led away, Hae-young explains that the killer probably didn't understand his own growing affection towards the woman he murdered, since no one taught him what those feelings meant. That may be why Jin-woo didn't kill again after that time, and why he tried to take his own life. "Because if he can't kill… then he has no reason to live."
Hae-young asks if she considers Jin-woo as a piece of trash like Director Kim does. Soo-hyun replies that Jin-woo's rough childhood doesn't absolve him for the multiple murders he committed; she has no sympathy for him.
"There are those who are born monsters," Hae-young says, his mind jumping to thoughts of his hyung. "And those whom people turn into monsters. If someone… just one person had held out a helping hand, who knows? Kim Jin-woo, the dead victims could've all been saved."
When the walkie-talkie comes alive that night, Hae-young tells Jae-han that they caught the Hongwon-dong killer. He's reluctant to share who it is because it isn't up to them to lay judgment on other people's lives. Recalling the consequences of their previous meddling, Hae-young says they could easily end up accidentally ruining the wrong person's life.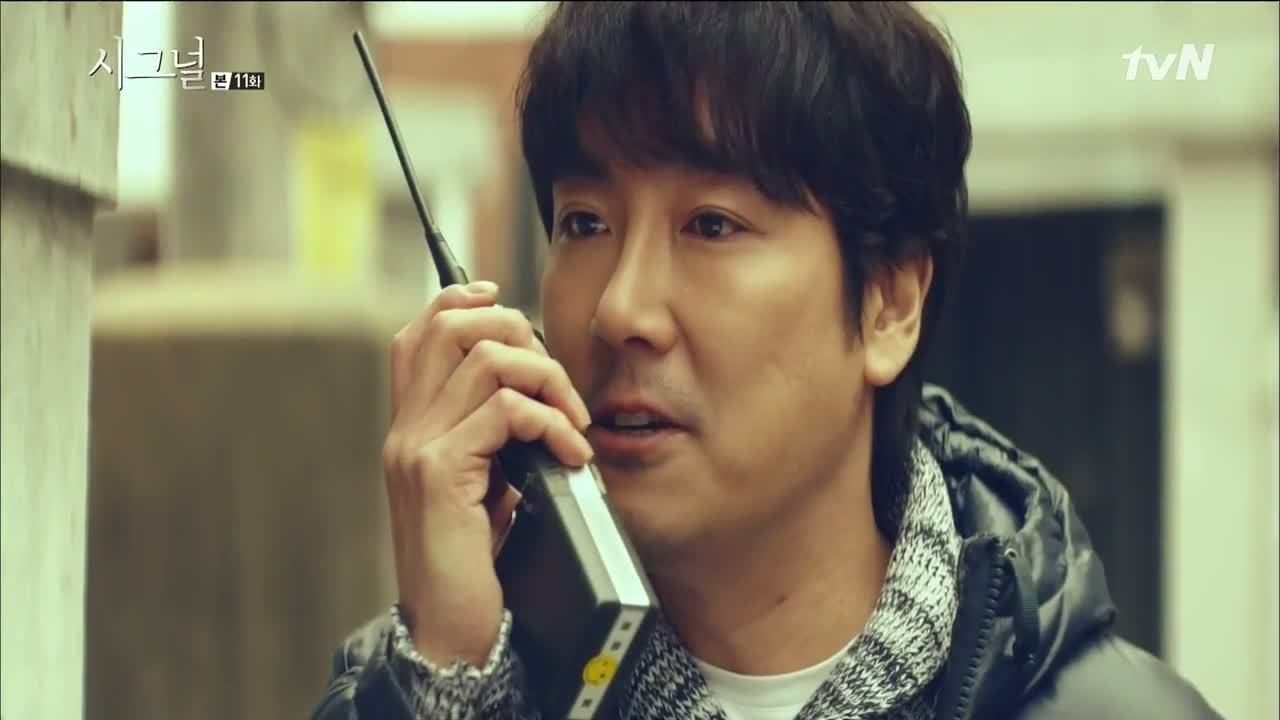 When Jae-han asks if they should stand back and watch people die then, Hae-young says Jae-han once told him to never give up. These cold cases exist because someone did, so he entreats upon Jae-han not to. With that, the transmission ends.
Just like the reports in 2015 state, Jae-han learns that Director Kim has closed the case. The good news is that Soo-hyun has reported back to work.
Over in the present, a gust of wind preludes another change—on the note found in Jae-han's notebook, the 1997 Hongwon-dong case disappears, then reappears again, to Hae-young's surprise.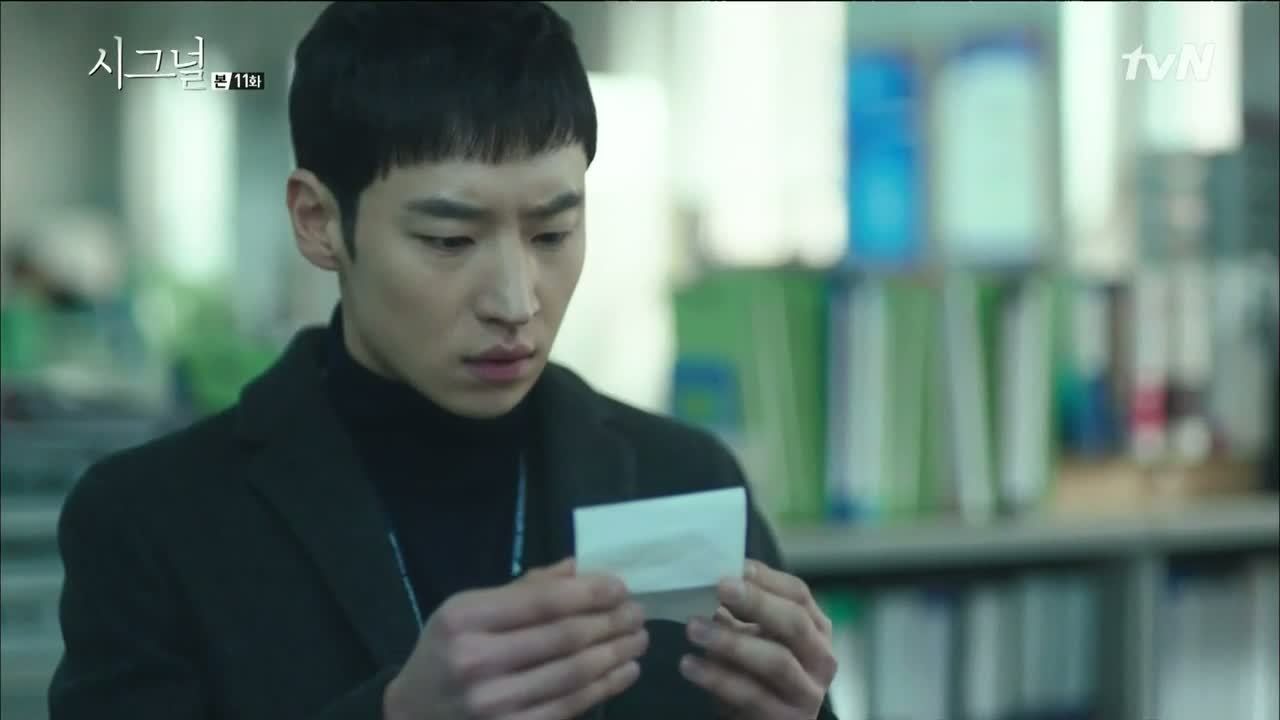 Jae-han takes Soo-hyun down to the morgue so that she can confirm that what she felt in the closet was indeed a corpse. With his encouragement, she touches the body on the slab and nods that she got the same feeling that night.
Jae-han ruminates in his car over why that particular body wasn't disposed of. Could that corpse's discovery compromise the killer's identity? That has him wonder if the killer didn't live alone after all, and follows up with two-person residences.
He stops at a manhole right outside of Jin-woo's home, and coincidentally happens to catch him leaving his house.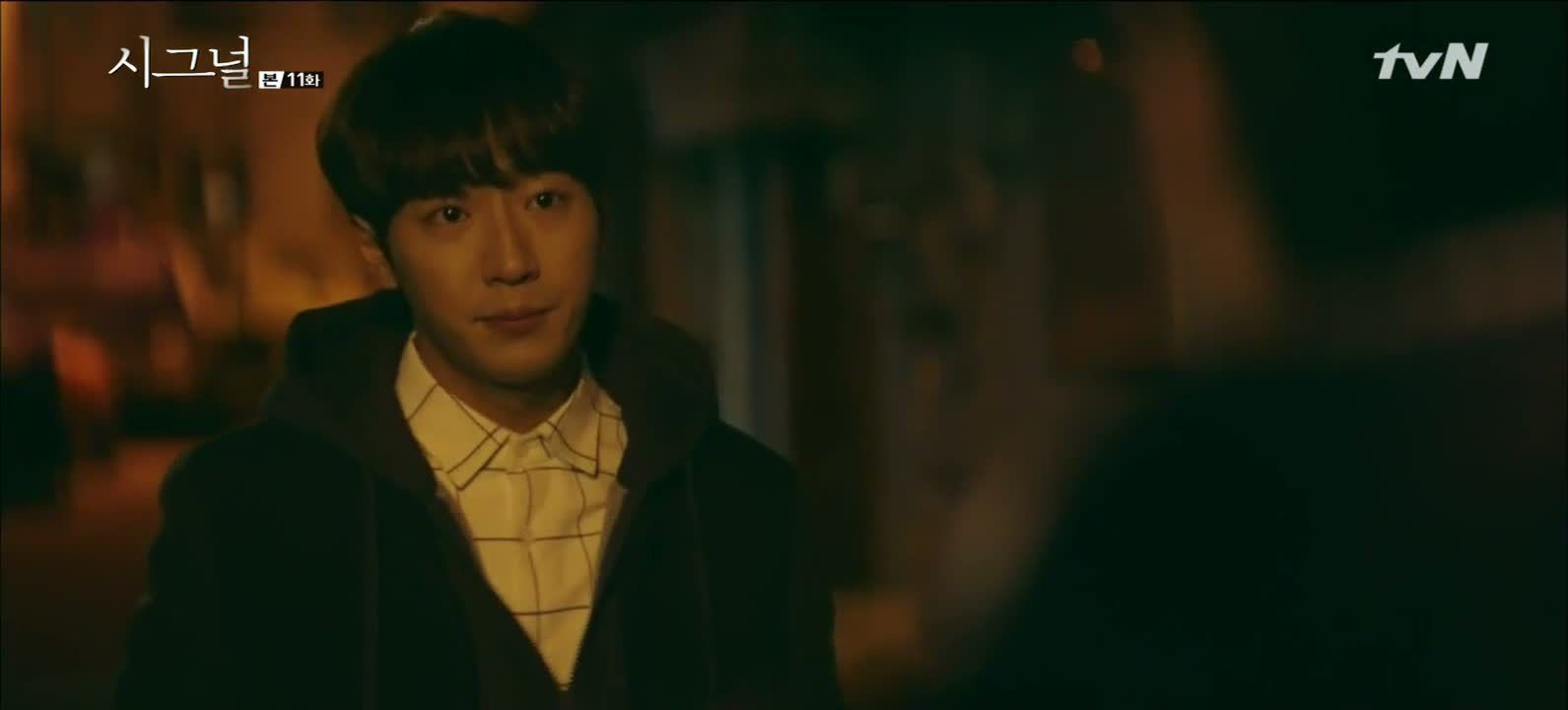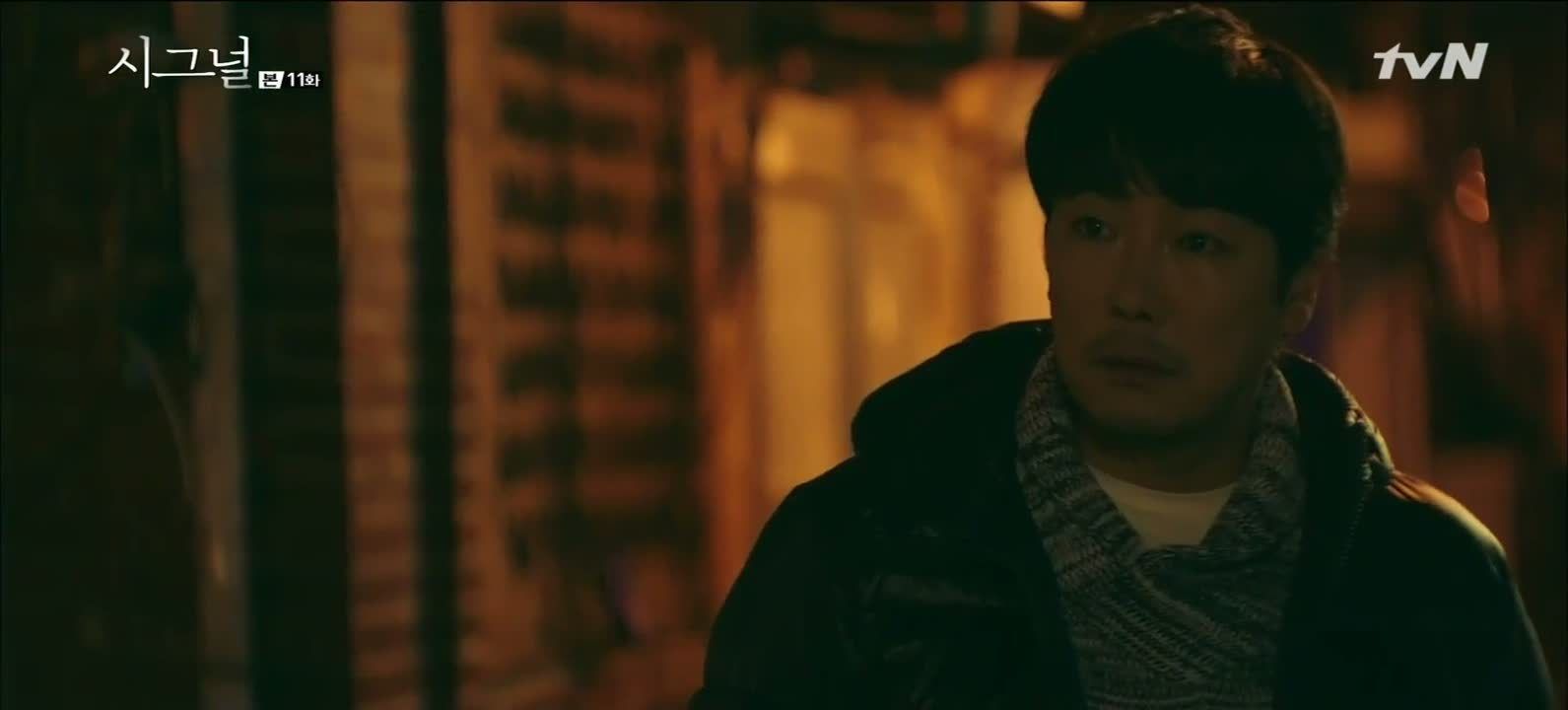 Hae-young, on the other hand, is still staring at the note, which now has no indication of the 1997 Hongwon-dong case. Omo, did Jae-han solve it? Or did something go horribly wrong? He rushes back into the interrogation room, only to find it empty.
So Hae-young looks up the case files and reads that Kim Jin-woo was arrested at his home on January 20, 1998. He follows up on one of the previous victim who is now alive and well, which suggests that every victim post-2000 is alive as well.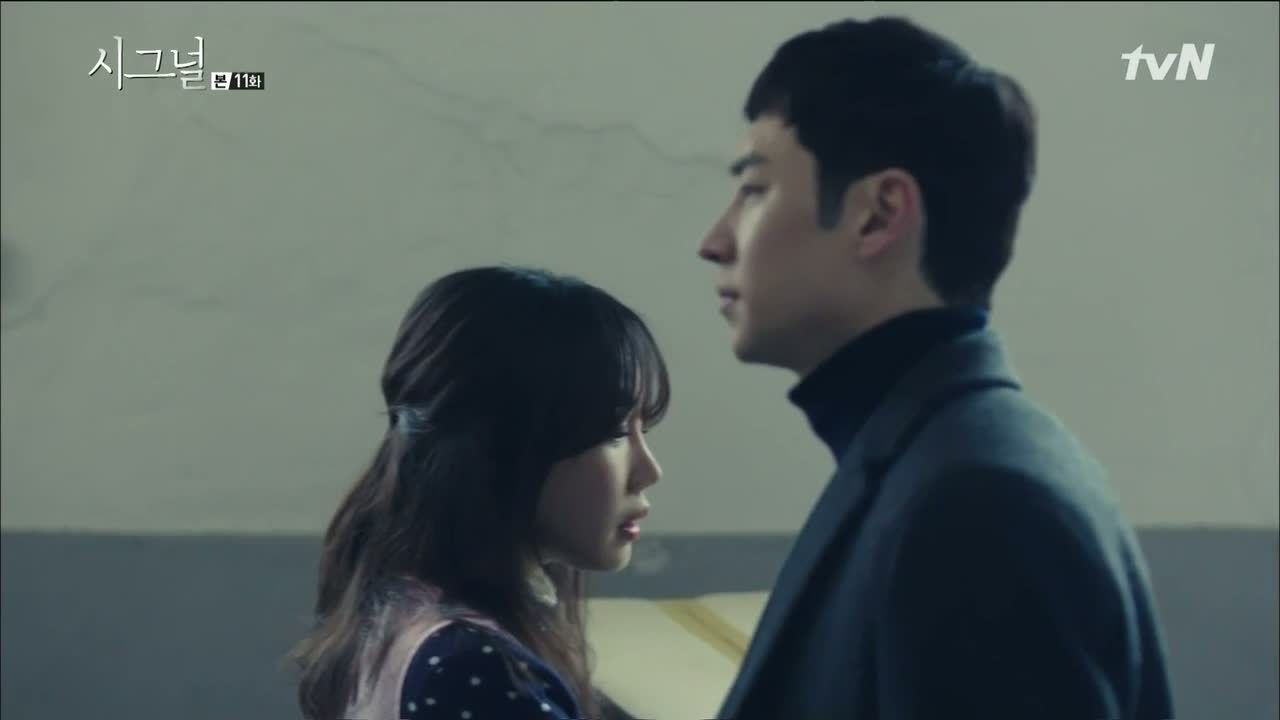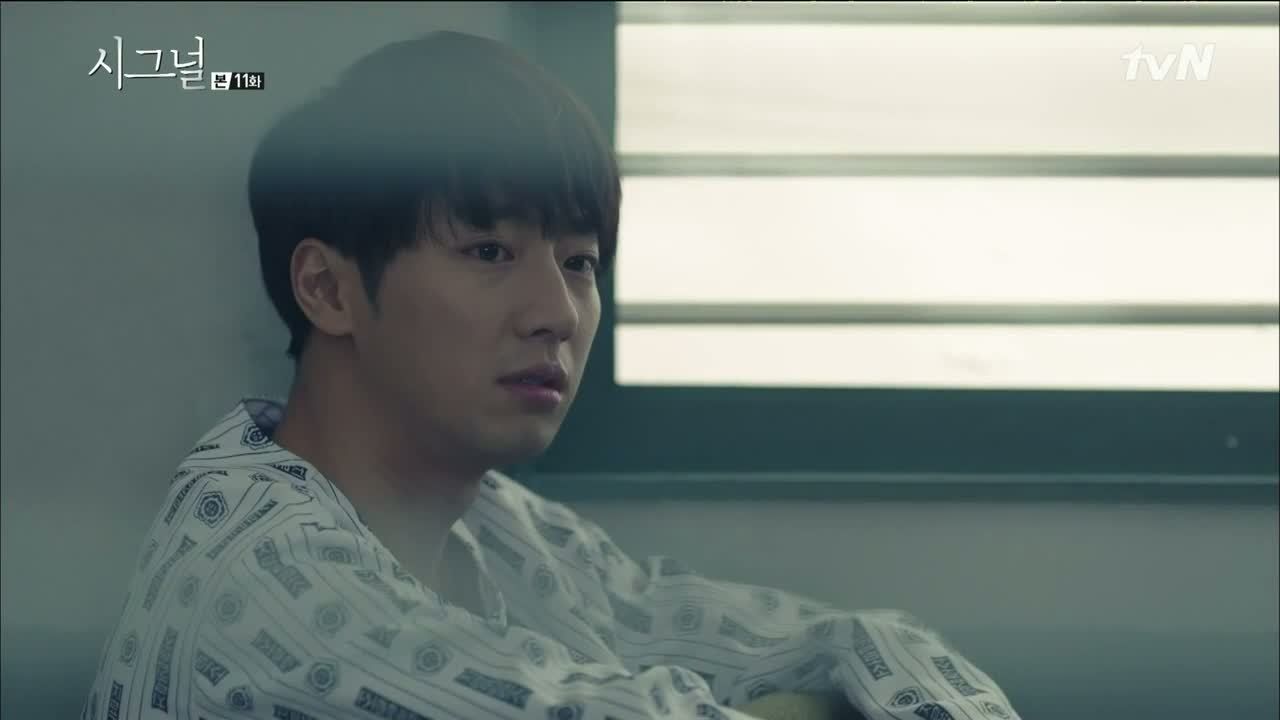 As for Jin-woo, he's currently detained in a psychiatric ward, serving a life sentence given to him in 1998. A group of volunteers pass by as Hae-young steps away… Seung-yeon among them.
Unbeknownst to him, Jin-woo catches a glimpse of her. Hae-young narrates, "In exchange for the lives reclaimed, I may not know what kind of misfortune has started for someone else. But as long as they're alive… as long as they're alive somehow, there's at least a small chance for hope."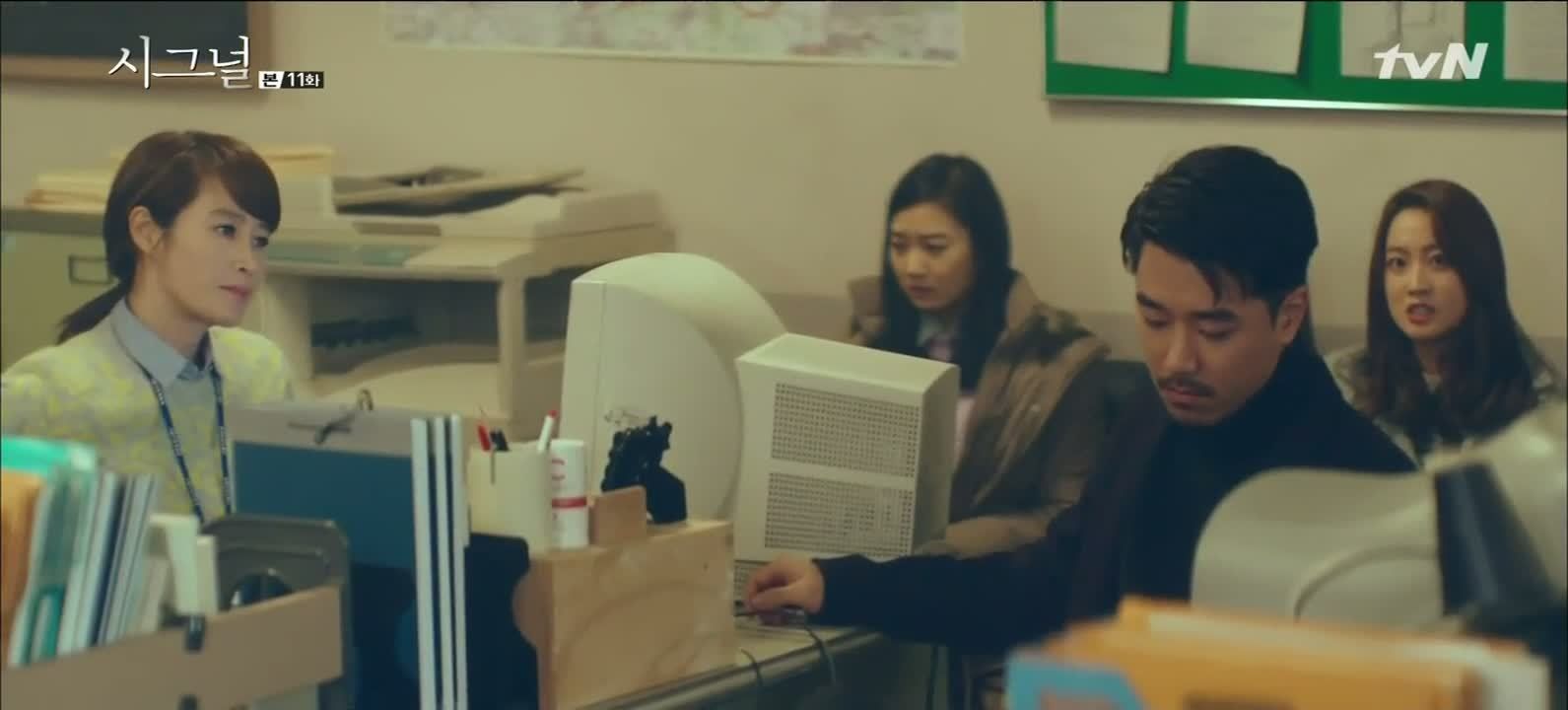 Time for a PPL break: Soo-hyun sits at her vanity while her mother insists that she dress properly—and use specific makeup brands—for her seon. And Hae-young orders a club sandwich at Subway. Hey, whatever pays the bills.
Both, however, rush to the NFS building upon hearing word of the newest skeletal remains. As Hae-young tries taking in the sight of Soo-hyun in her pink outfit, they're told that it's possible these remains could be the ones Soo-hyun has been looking for.
February 12, 1999. Soo-hyun has found her footing as a detective, scolding a man for deceiving multiple women into sleeping with him. She accidentally drops a box out of her bag while trying to pull out some tissues for a crying victim. Thankfully, it seems no one has noticed.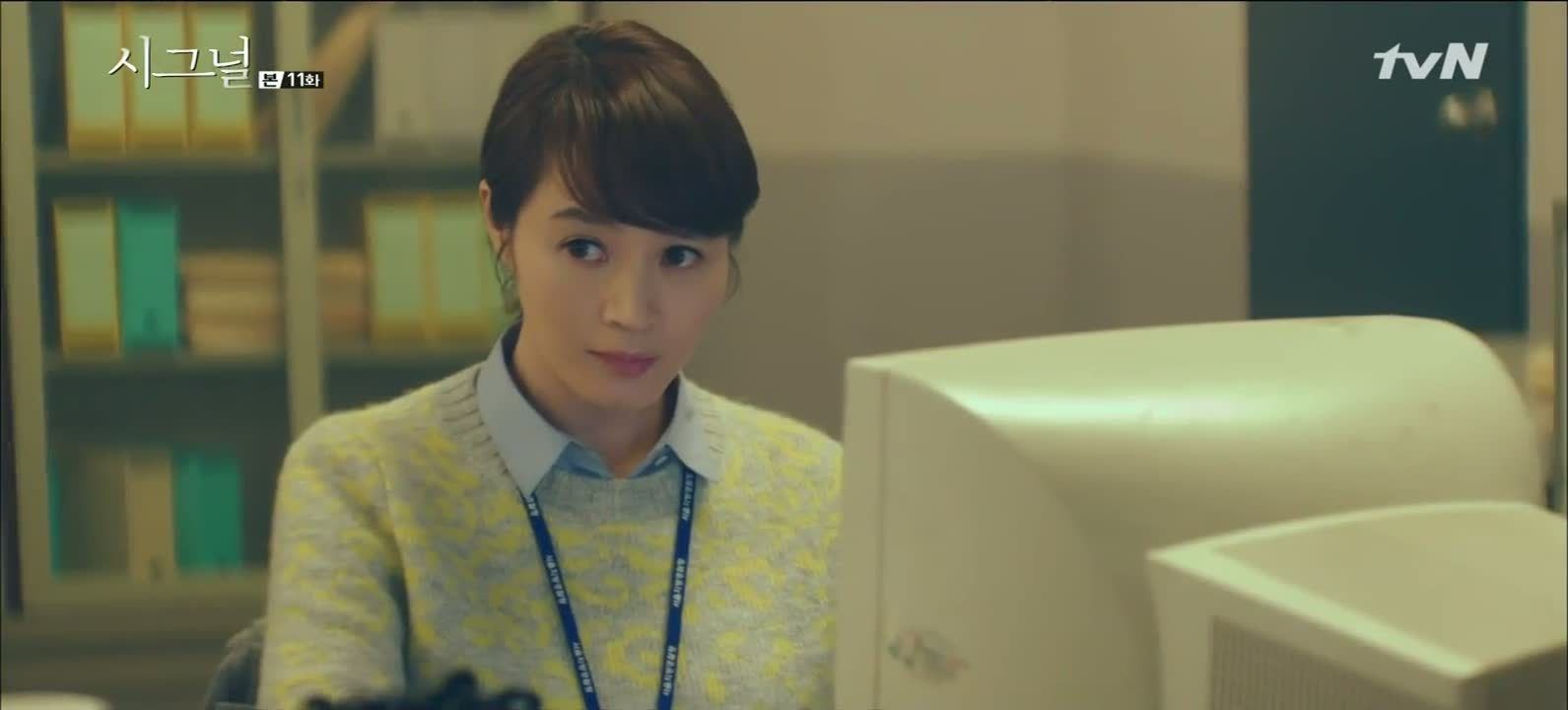 That is, until she leaves the room with the suspect, and all the detectives collectively gossip about the box of chocolates. Everyone but Jae-han knows about Soo-hyun's crush on him, and none of them can understand what she sees in him.
Cue Jae-han, who looks disheveled and half-awake. Since Valentine's Day is coming up, his partner asks if there's anyone who plans to give Jae-han chocolates (in Korea, the women give sweets to men on Valentine's Day in hopes that the men will reciprocate the gesture [and their feelings] on White Day, March 14).
Jae-han hates the whole idea, and you can see the awkwardness plainly written on Soo-hyun's face.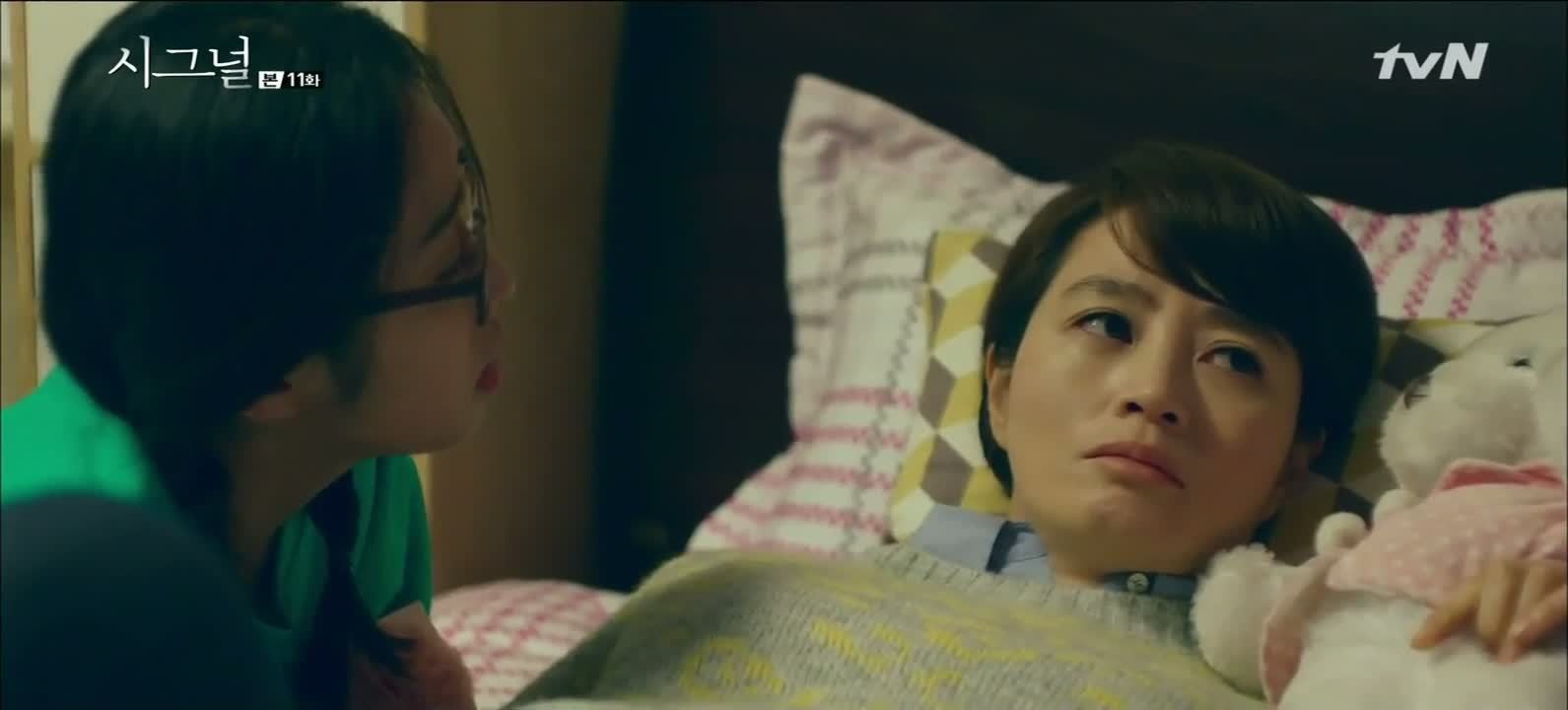 Soo-hyun kicks her sister away when she's asked if she finally confessed her feelings to her crush, and remains tight-lipped about who that special someone is.
Jae-han gets needlessly upset when he finds the entire precinct cleaning for a special visit, and particularly about how a coughing Soo-hyun is resorted to fetching coffee just because she's a woman. Right on.
So imagine everyone's surprise when it's Jae-han who walks in with a tray of coffee and a bright smile. Hahahaha, that's awesome.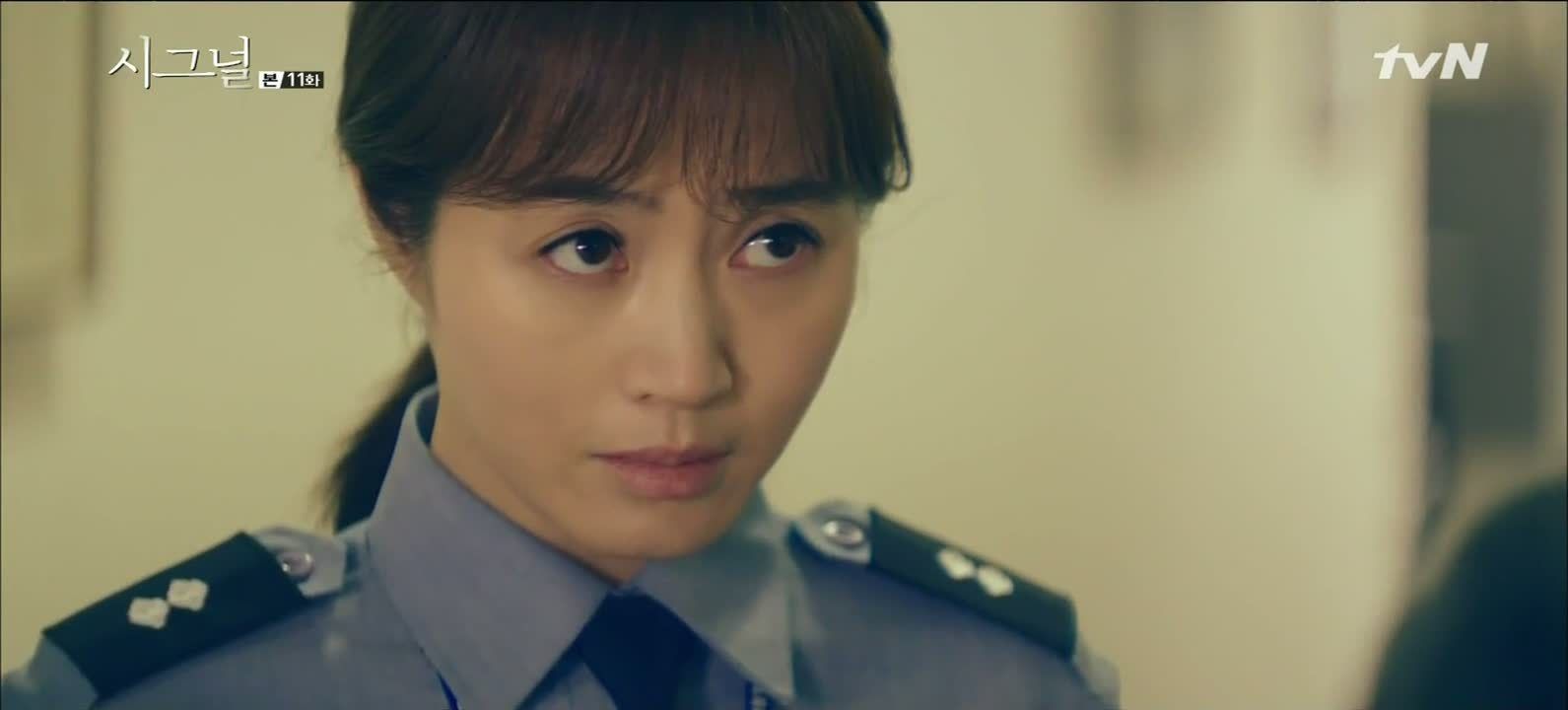 By the time Soo-hyun wakes and runs to the meeting room, Jae-han exits the room. She's touched, and Jae-han takes another opportunity to scold her for always doing people's bidding. When she looks up at him with big, apologetic eyes, Jae-han shouts, "There you go with those big, pretty eyes again!" Omo.
He blames her frailness for falling ill whereas no one else in their unit ever falls ill, and there's a big knowing smile on his partner's face. Jae-han sends her one last look, and Soo-hyun's cheek flush pink. Aw.
This is the memory that makes her smile again, as she giddily rolls around in her bed. In the present, Soo-hyun is told the unfortunate news that this skeleton isn't Jae-han's.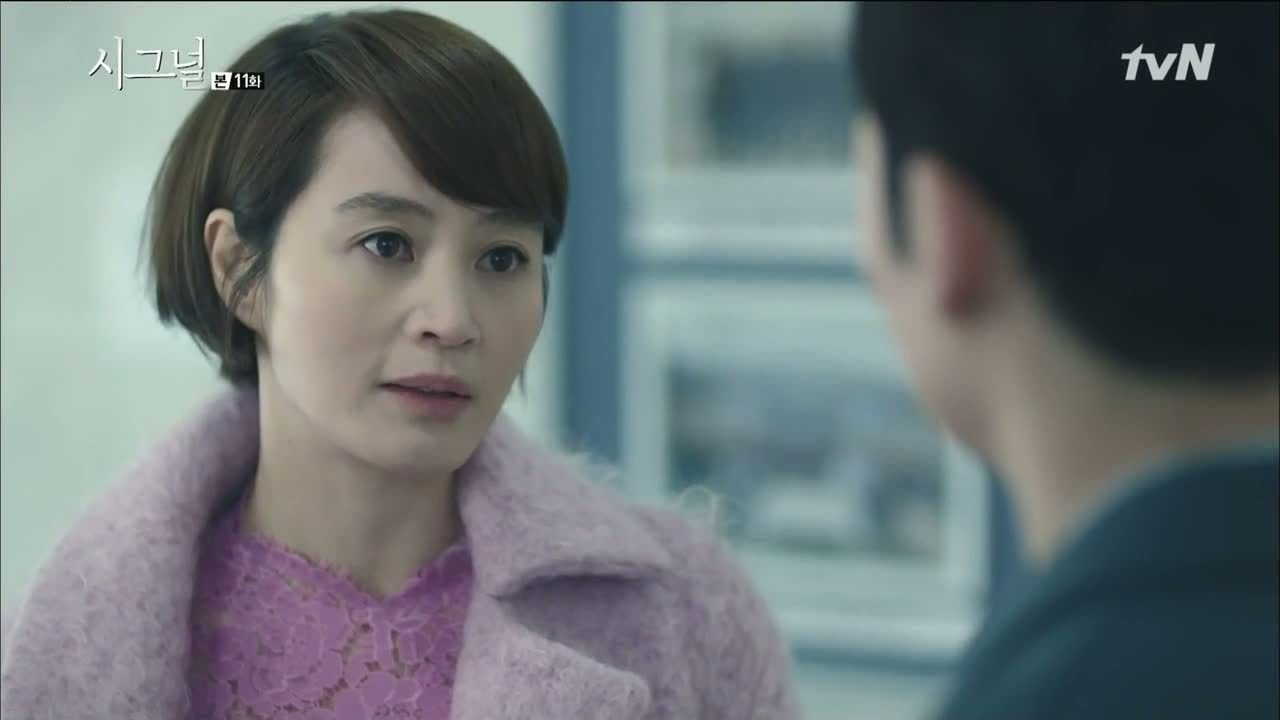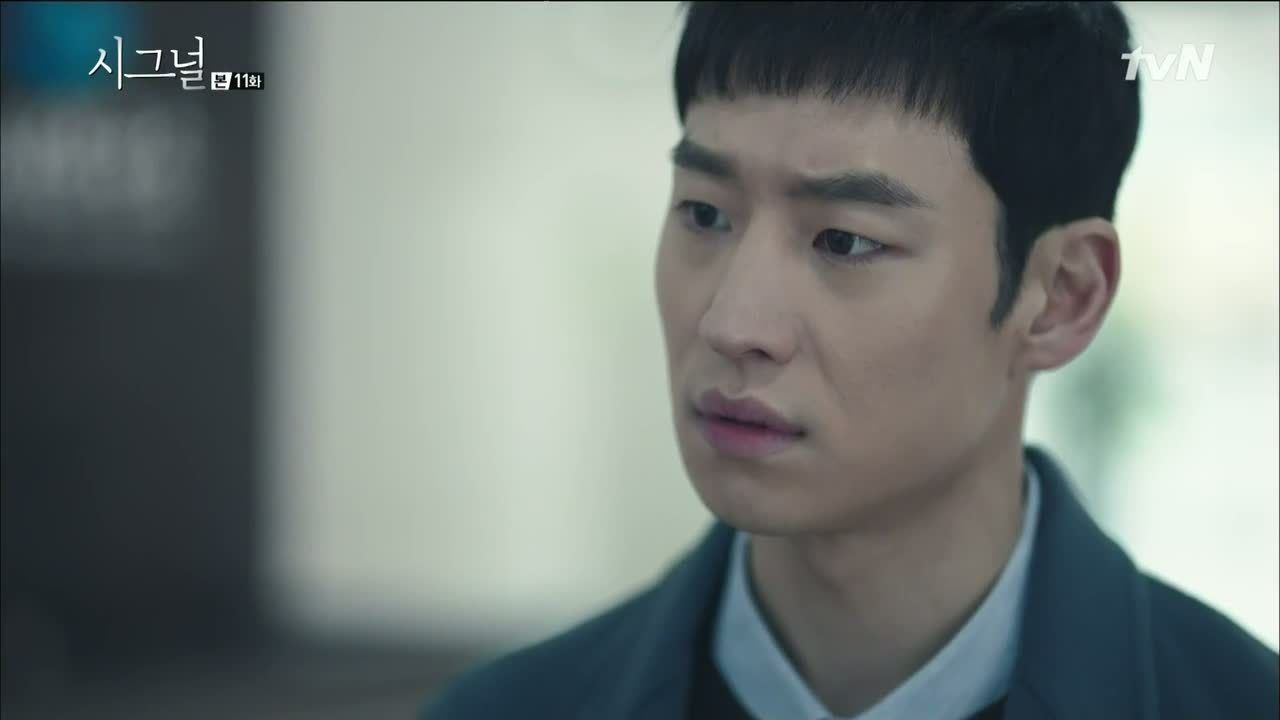 Soo-hyun isn't in the mood when Hae-young inquires about her outfit and whether that means she has marriage on her mind. She turns that right around and asks why he's here on his day off—what is it about Jae-han that makes Hae-young so curious?
She won't have any of his excuses today, to which Hae-young asks if she'll actually believe him if he tells her why. "Do you think you can believe it when I have trouble believing it myself?"
Instead of telling her, Hae-young advises her not to be so callous with men, lest they all run away.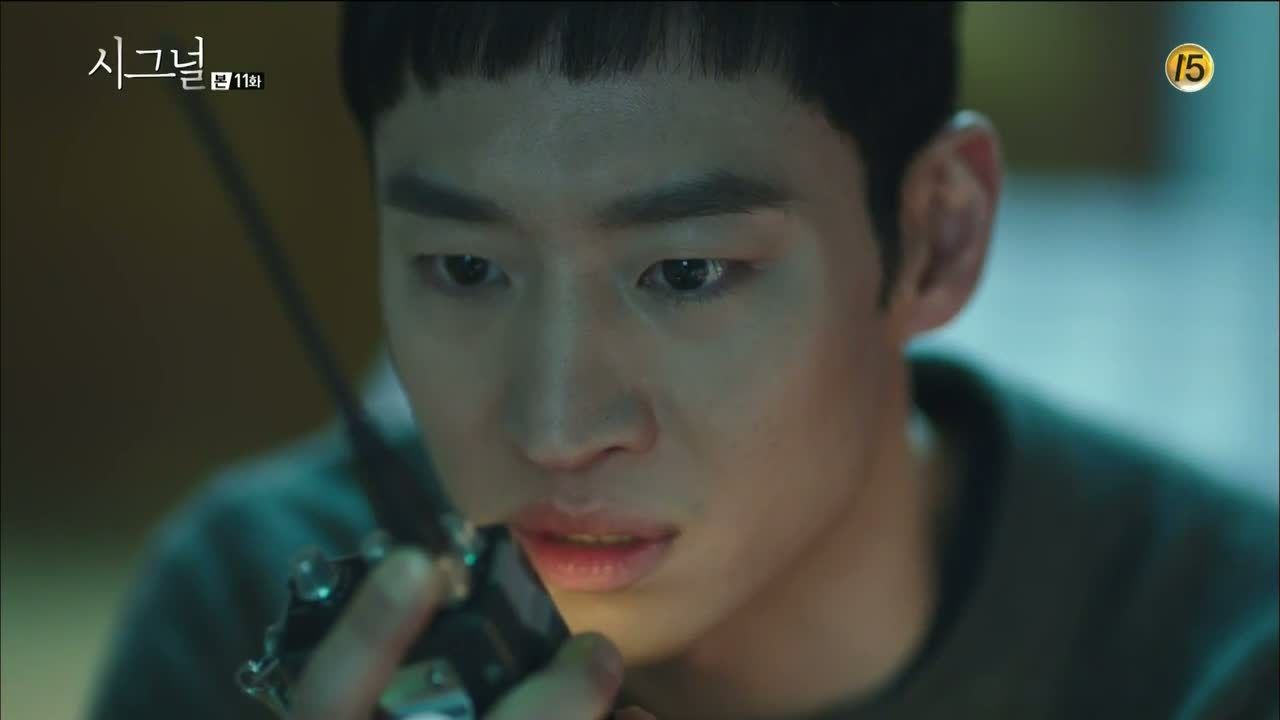 When the radio connection opens up that night, Hae-young asks if Jae-han was the one to arrest Kim Jin-woo. Jae-han, in turn, asks about any future repercussions, and is relieved to learn that there were none.
Now they only have one more case ahead of them, words that confuse Jae-han. He confirms that it is 1999 where he is, and listens as Hae-young tells him that he'll work on a case about a female high school student in Inju that same year.
Hae-young doesn't share the details of the case, and instead asks for a favor: to get to the bottom of the truth because this case means a lot to him. Jae-han gets as far as saying that Inju isn't in his precinct's jurisdiction before the connection ends.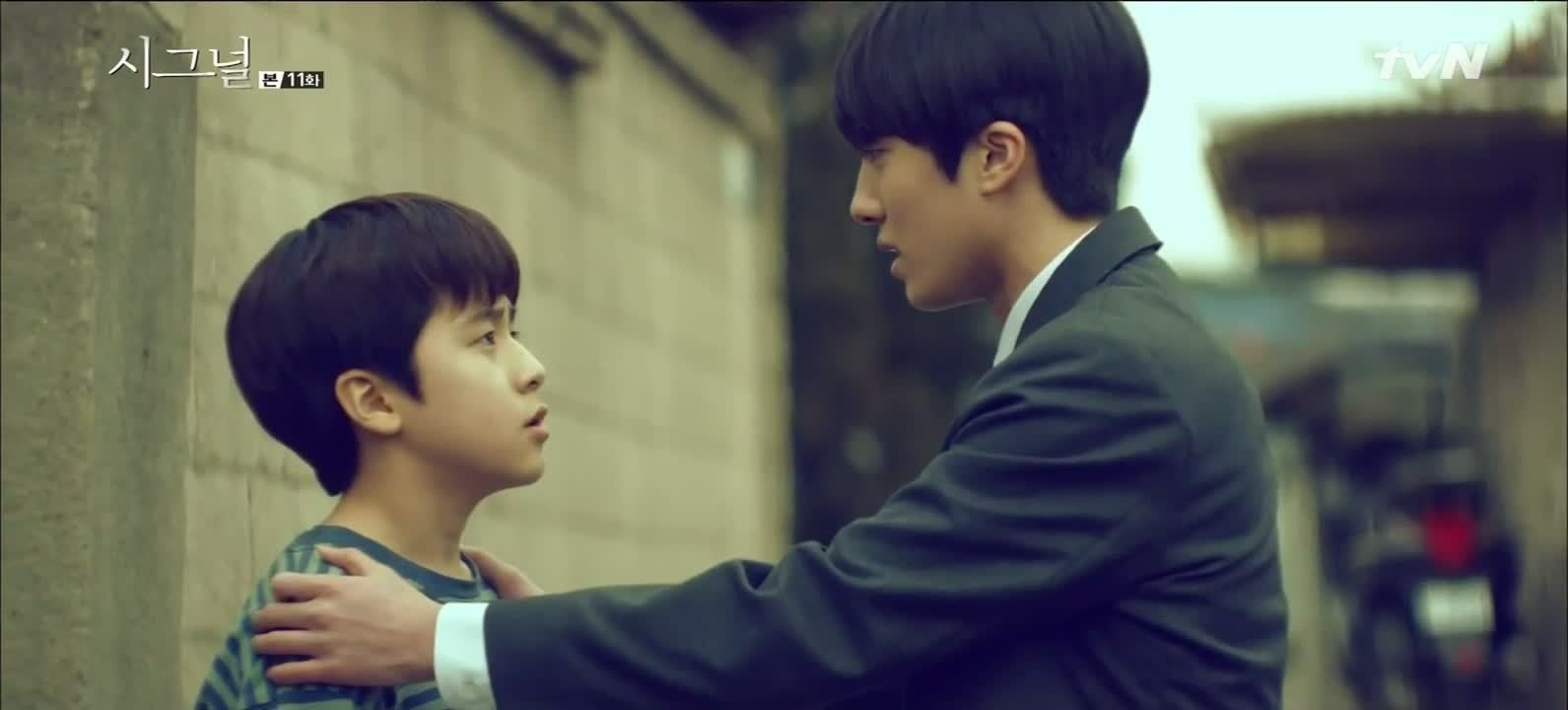 February 1999. Inju. A post pops up on the Inju High School forum about a girl who was gang raped. It all started at the Willow Tree House, and names one at first, then seven humans, and finally ten "devils". We only see the back of the author, and the stated location rings a bell to a pair of male students.
Hae-young's hyung, Sun-woo, receives a call and rushes out, leaving his little brother at home. The post's contents about how evil is in their midst and that none of the perpetrators have been punished spread like wildfire throughout the school.
At the same time, one girl flies through the halls and climbs to the roof. She steps to the ledge, and takes another step off…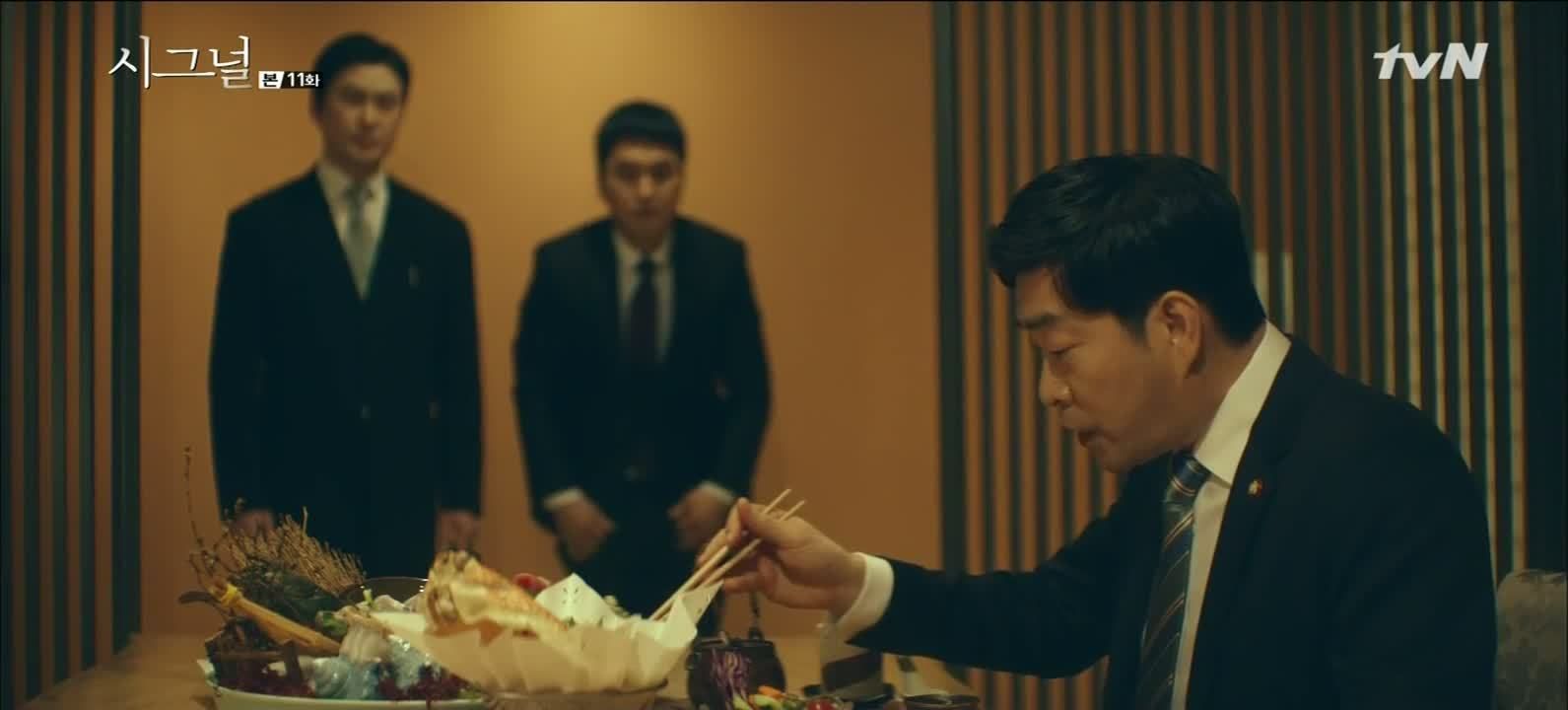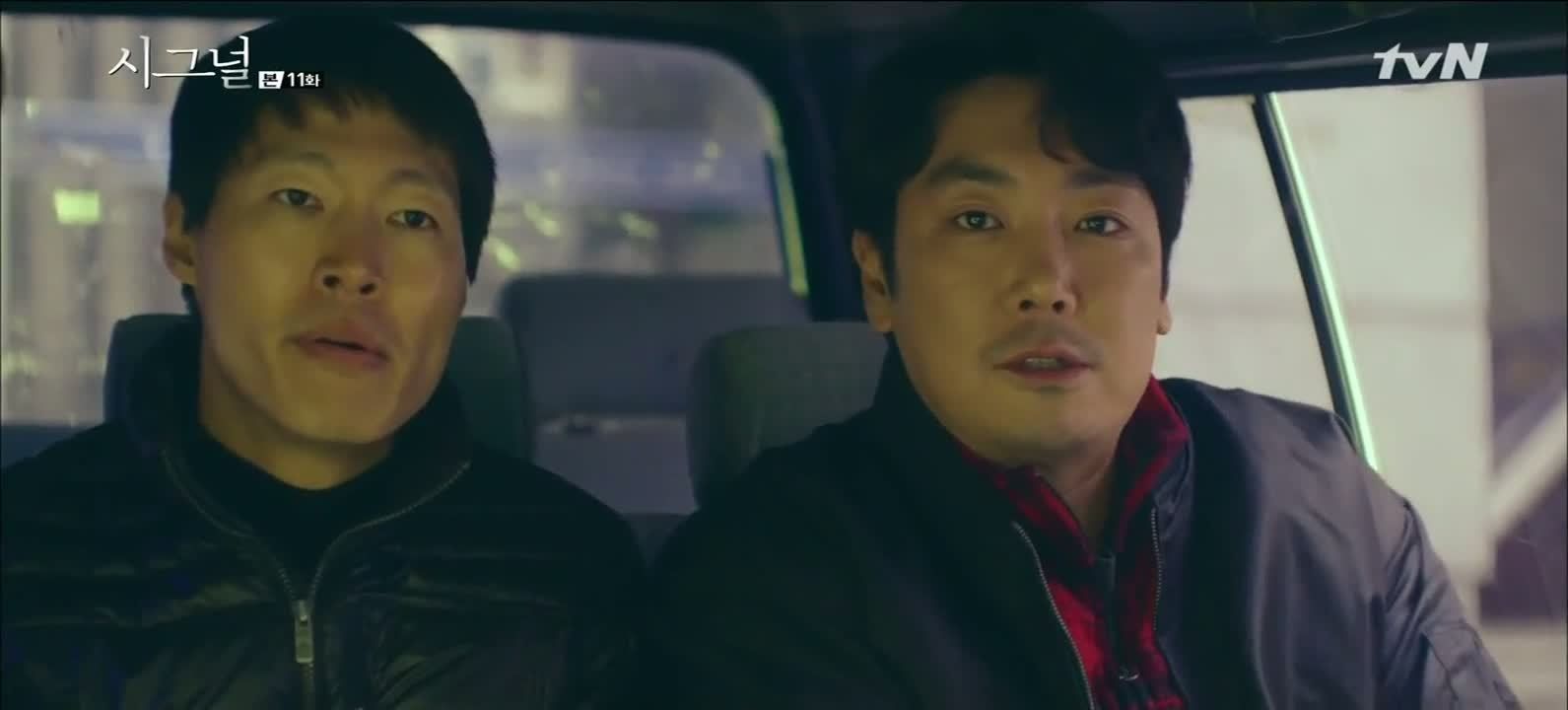 Director Kim is led to a secret meeting with Senator Jang Young-chul, whom we last saw in Episode 7. He swears fealty to the senator, who drops enough subtle, fear-inducing hints that Director Kim better not screw up this case.
So while Director Kim puts in a call, Jae-han is brought up to speed on the Inju gang rape case, which now has over ten perpetrators. Director Kim enlists a special task force to handle the case with him, but that doesn't include Jae-han, so he pulls one of them aside.
That's how Jae-han ends up in the van with Director Kim, who doesn't have a good enough reason to refuse him. Ah, so this is how Jae-han meets Section Chief Ahn, a detective in the Inju precinct, who keeps the curious reporters at bay so the cops can come inside.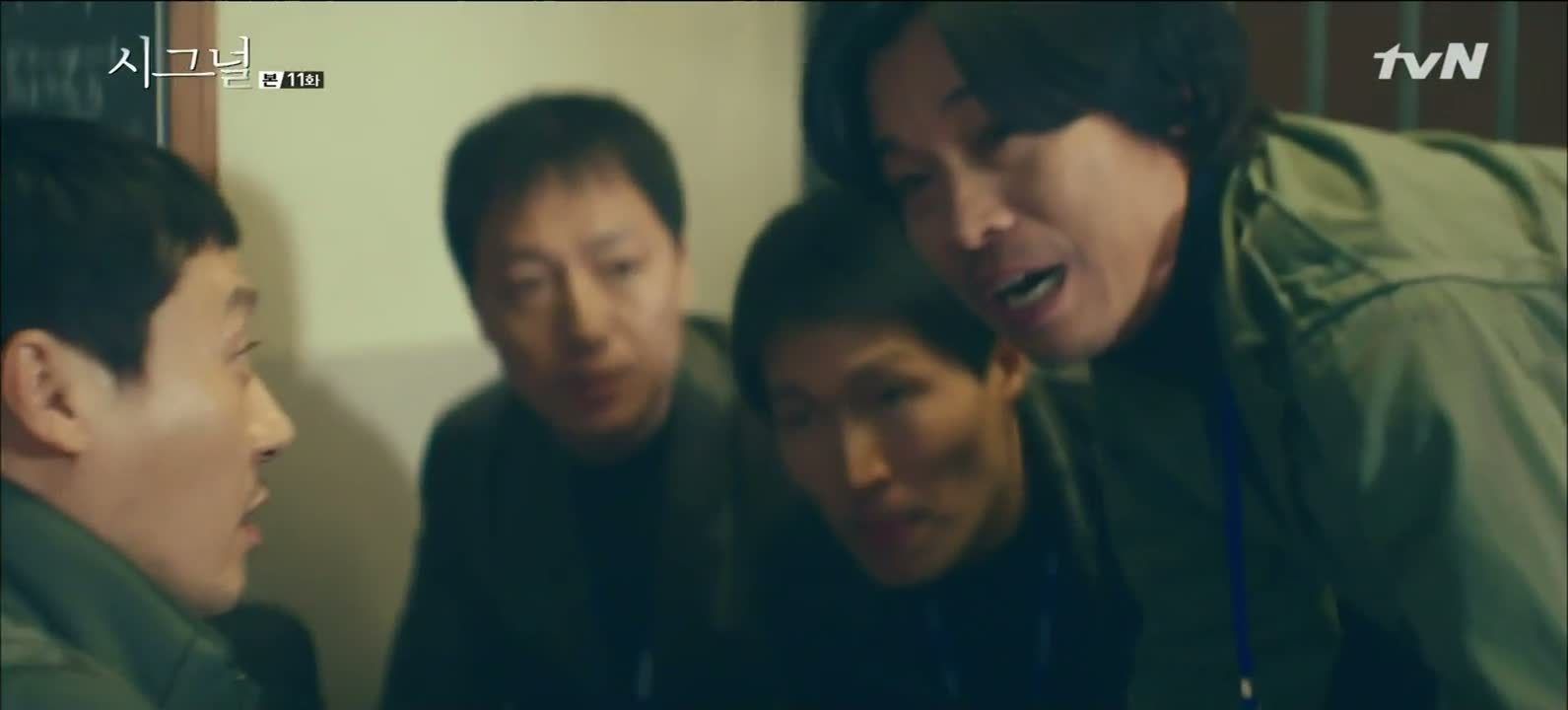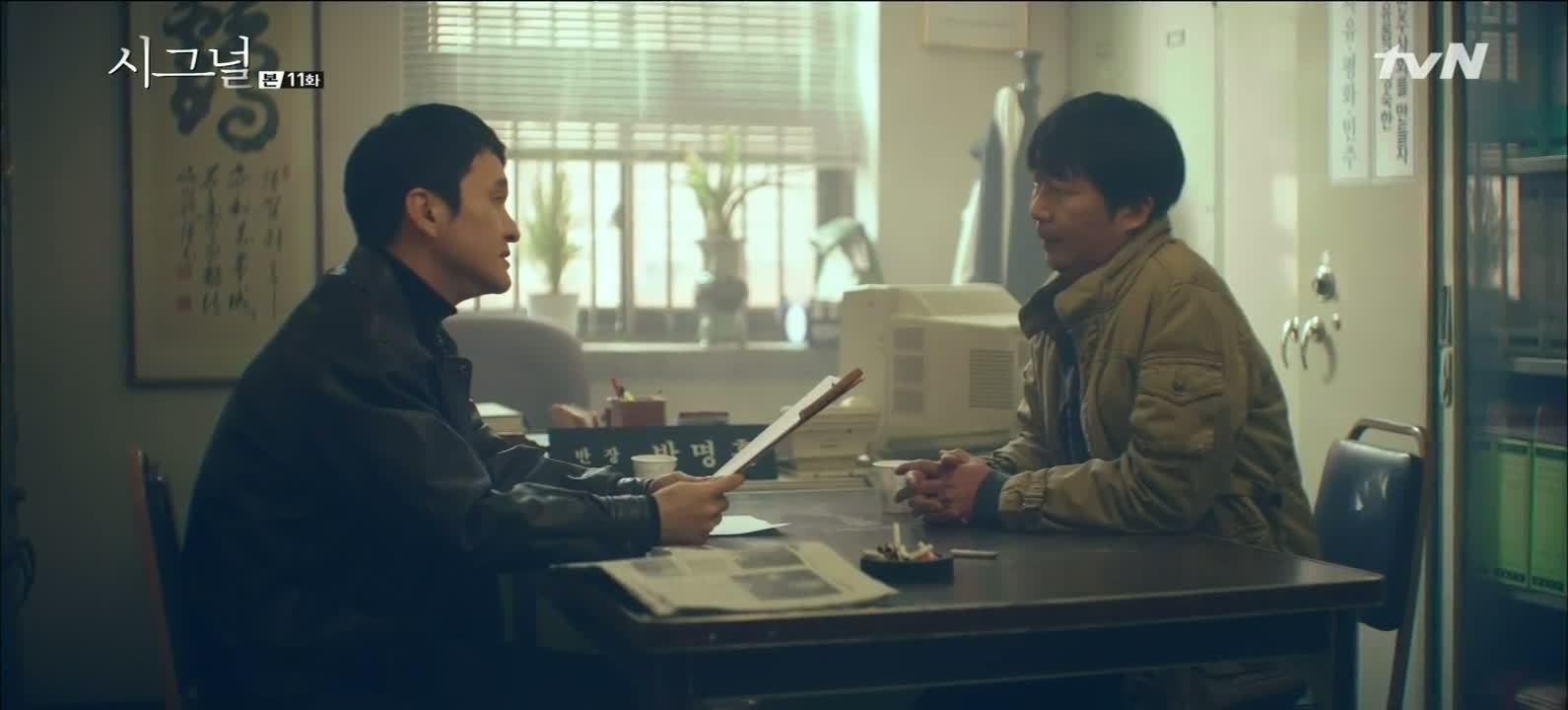 The precinct itself is in an uproar, thanks to the irate parents of the boys accused as perpetrators. Section Chief Ahn isn't surprised at the ones they've rounded up so far, since they're the usual troublemakers. When Jae-han asks about what the reporters' inquiries about whether this investigation will be scaled down or not, Section Chief Ahn simply brushes it off.
Director Kim berates the Inju detective in charge for creating more noise by deleting the original post rather than letting it stay up. Telling him to release it to the press, he explains that there are dregs of society that must be dealt with by nipping the problem in the bud.
Inju may as well take the opportunity to clean the city out of the worthless trash that taints its image, Director Kim suggests. That gets the detective to comply, and so Director Kim has him find out who uploaded this post.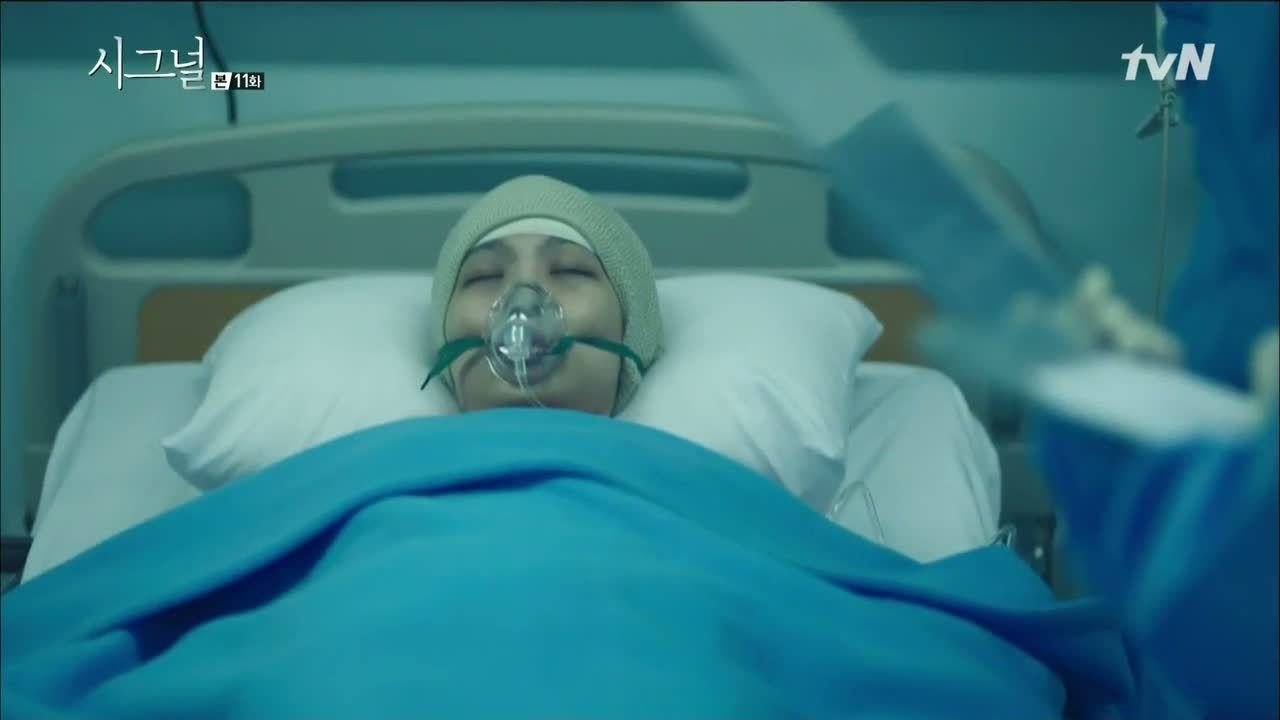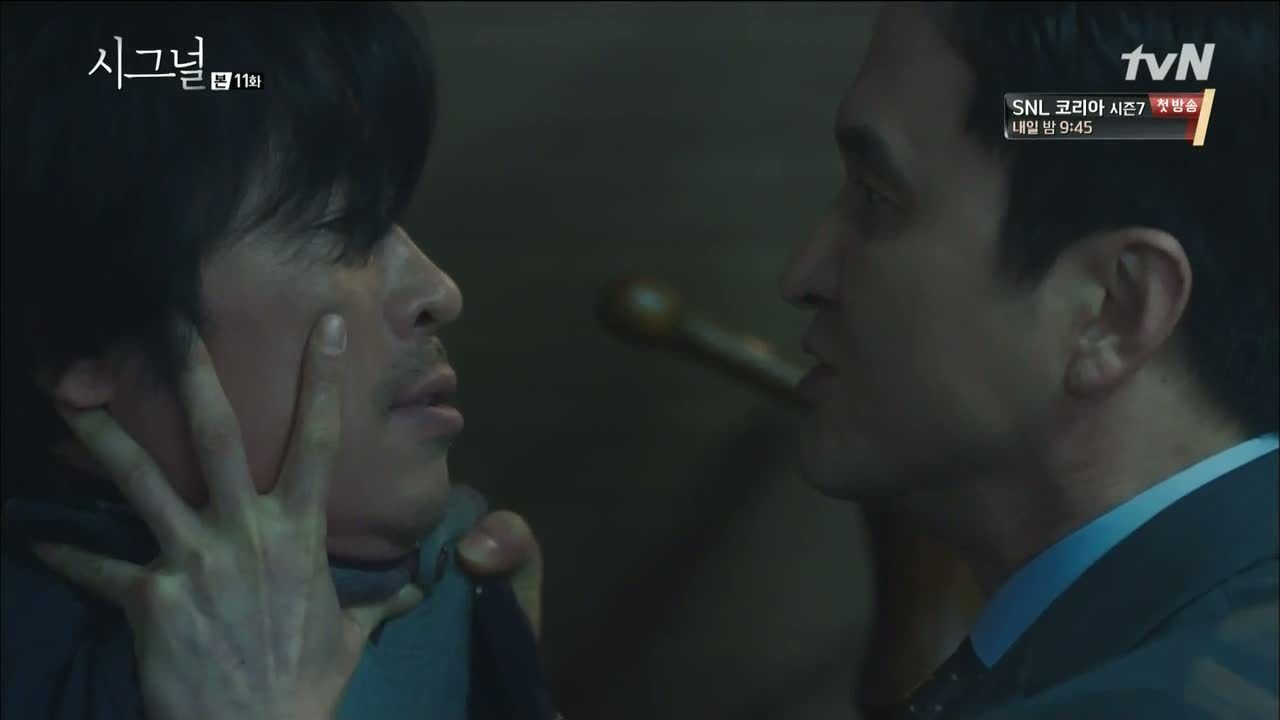 After Director Kim delegates tasks to the team, Section Chief Ahn officially introduces himself to Jae-han. That moment in 1999 blends into 2015, where Section Chief Ahn is told that the prognosis for his sickly daughter, Hyun-kyung, isn't good.
It isn't long before Director Kim hears of the bleak news himself, asking Section Chief Ahn if that's the cause for his recent act of defiance. Slamming the man into the wall, Director Kim demands to know why Section Chief Ahn didn't mention that Hae-young's hyung was Sun-woo, whose name was involved in the 1999 Inju case.
Pushing the director off of him, Section Chief Ahn tenders his resignation. "It's all over."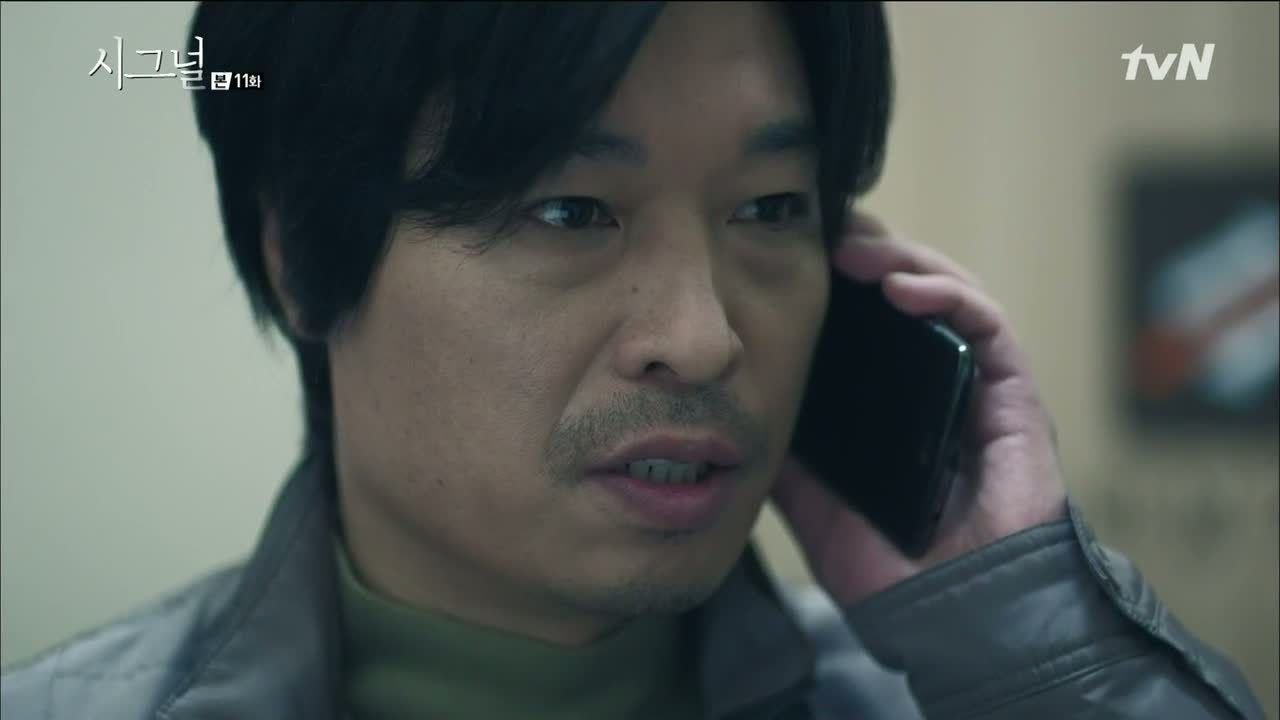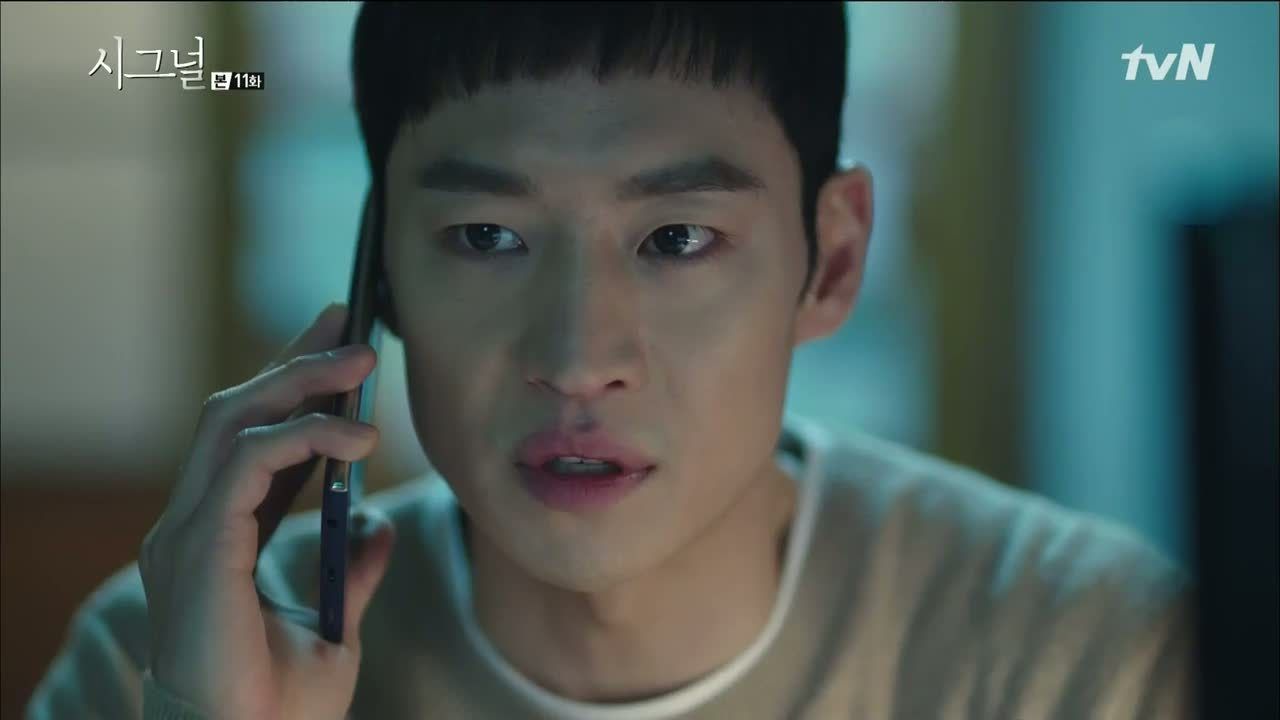 Once he arrives at Inju, Section Chief Ahn puts in a call to Hae-young and shares that he knows about his personal connection to the 1999 Inju case. He warns Hae-young against learning the truth, because knowing it will only put him in danger.
But Hae-young is prepared to risk his life if it means knowing why his hyung died, so Section Chief Ahn invites him to Inju. He'll tell Hae-young exactly what went wrong… because he was responsible in tampering with the case.
Section Chief Ahn is at Inju Hospital, which is also where the 1999 Section Chief Ahn escorts Jae-han to meet with the victim, KANG HYE-SEUNG. At the same time, a student leaves the hospital carrying a bag with a red scarf.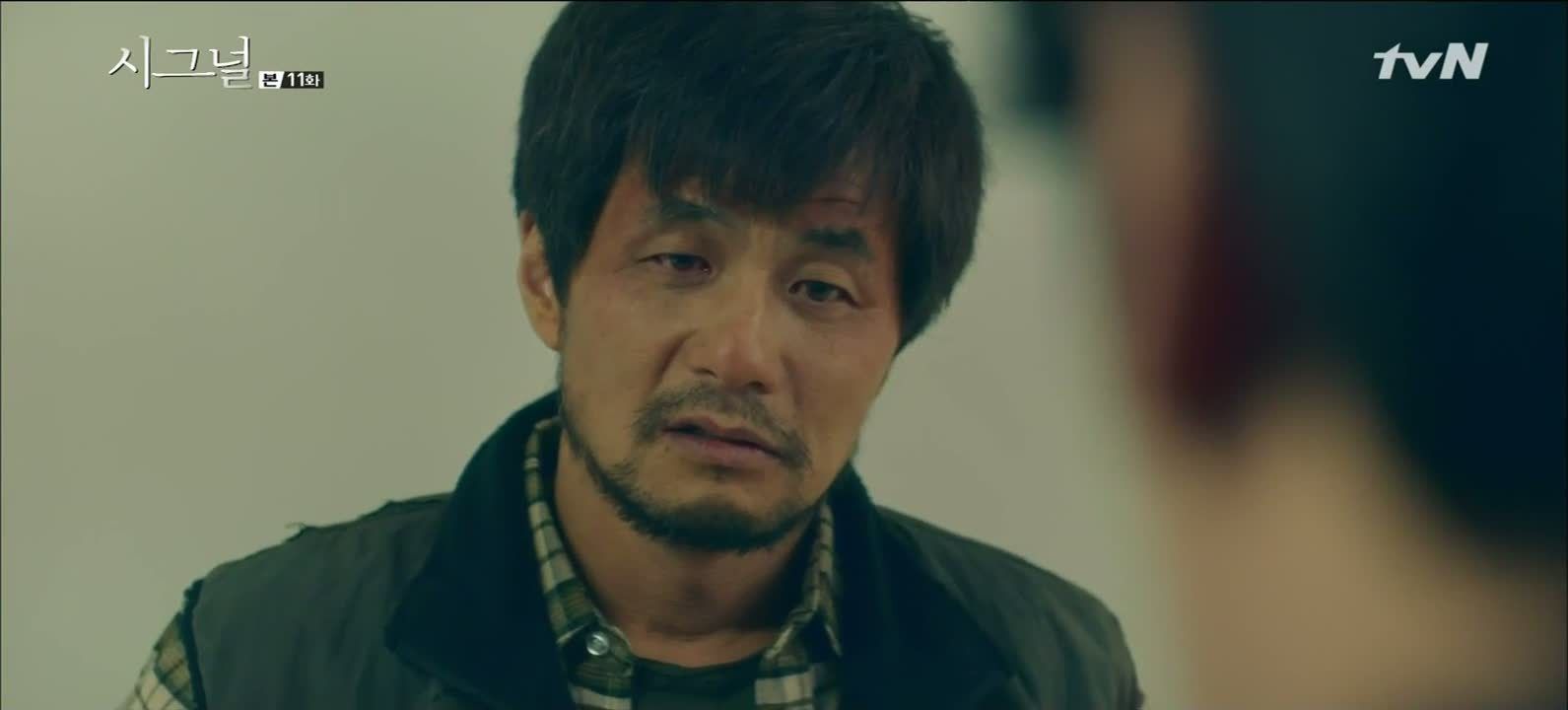 Section Chief Ahn explains that Hye-seung knew her accused perpetrators, and attempted suicide when the news broke out. Her father stands outside her hospital room and confirms the contents of the post as true, showing them a list of eighteen names the victim wrote out herself. Jae-han requests to speak with her directly, but that gets quickly shot down.
Jae-han calls Hye-seung's father out for drinking, which only irritates him further. He gets a glimpse of Hye-seung when her father returns to the room, then barges in to leave her his business card. She shrieks in terror, and Section Chief Ahn drags Jae-han out, telling him that they have something to go on now.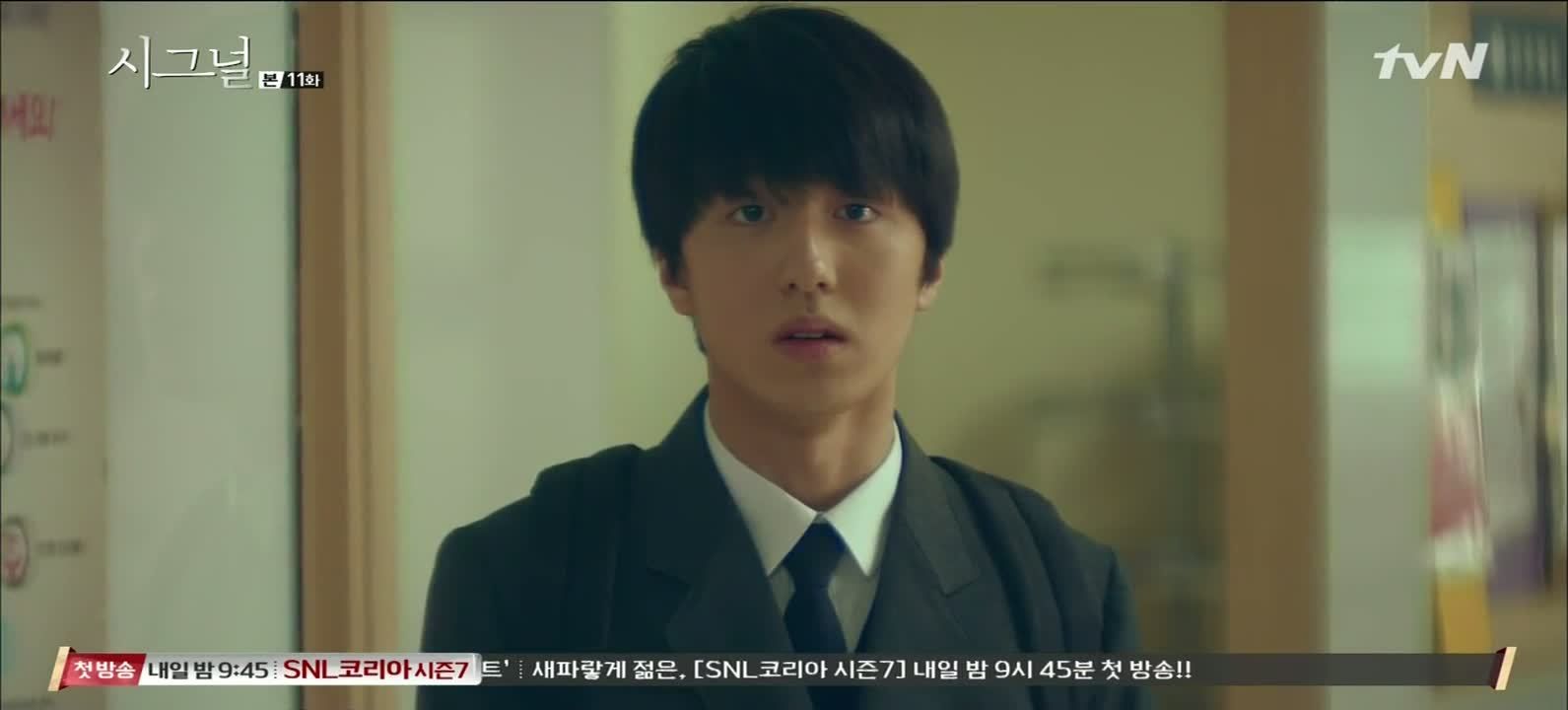 Hye-seung's father tosses out Jae-han's business card, then barks at Sun-woo—who still lingering in the hall—to get lost. Meanwhile, the police pinpoint the crime scene location to an abandoned restaurant which the young hooligans have turned into their hangout spot and called it Willow Tree House.
There's no CCTV footage, but there are some residents who saw the high schoolers hanging around often. Those witnesses identify a few faces in the precinct and assert that there was a girl who also hung out with the boys.
That was Hye-seung (who wore a red scarf), whom the other girls at school claim didn't have many friends nor attended school regularly. These girls also identify a few faces as troublemakers.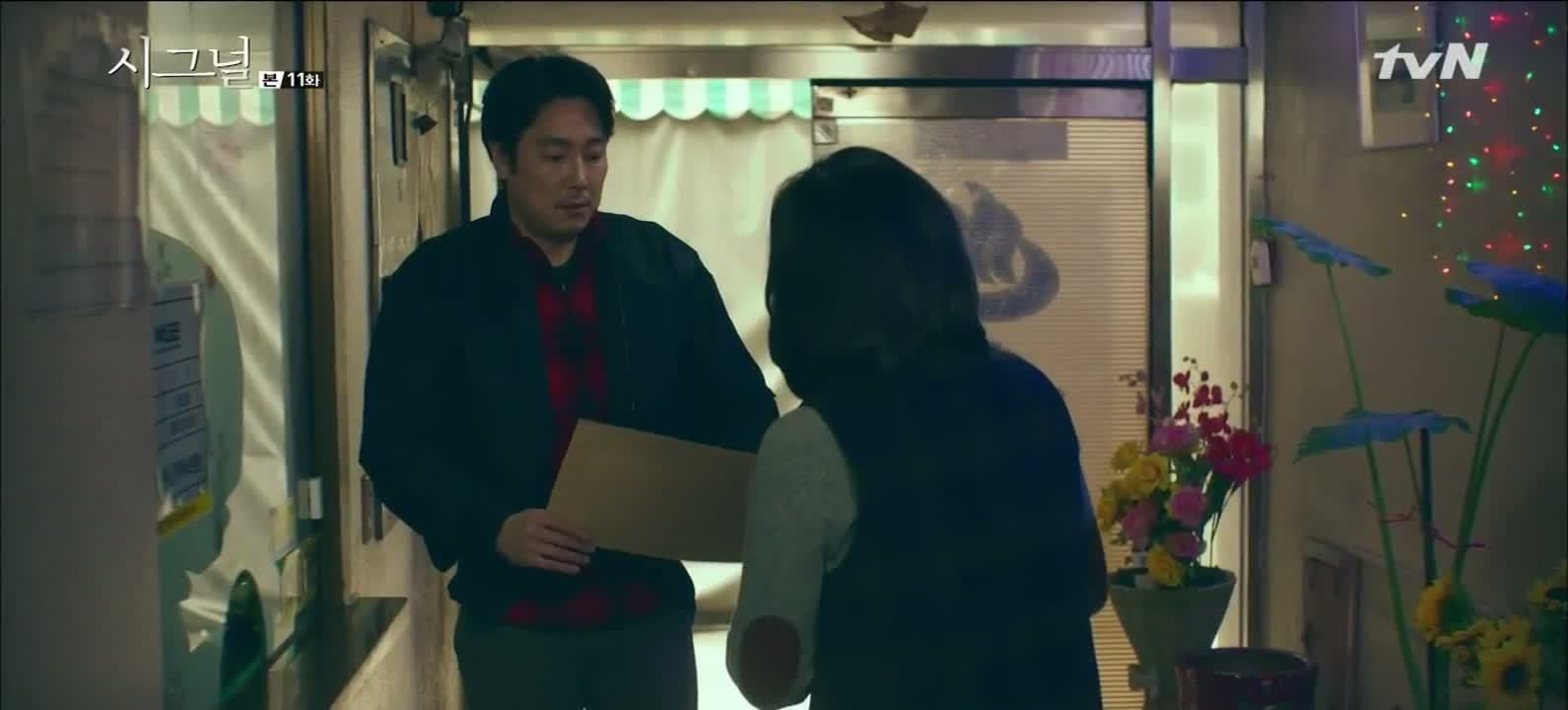 Although the number of identified faces matches with Hye-seung's list, it still bothers Jae-han that all they have is circumstantial evidence. His partner insists that he gets some rest, and when he arrives at his lodgings, there's an envelope waiting for him.
In it is a group picture of the seven student council members at Inju High School. Remembering that the online post listen seven of the perpetrators as "human", Jae-han circles the characters on the caption. Hmm.
In 2015, Hae-young pulls up to Inju Hospital. Hm, were we meant to notice the car leaving? He tries calling Section Chief Ahn, and then hears a phone ringing nearby. Oh no, that can't be good.
Hae-young runs over to the sound, only to find Section Chief Ahn slumped to the ground, clutching his bloody abdomen.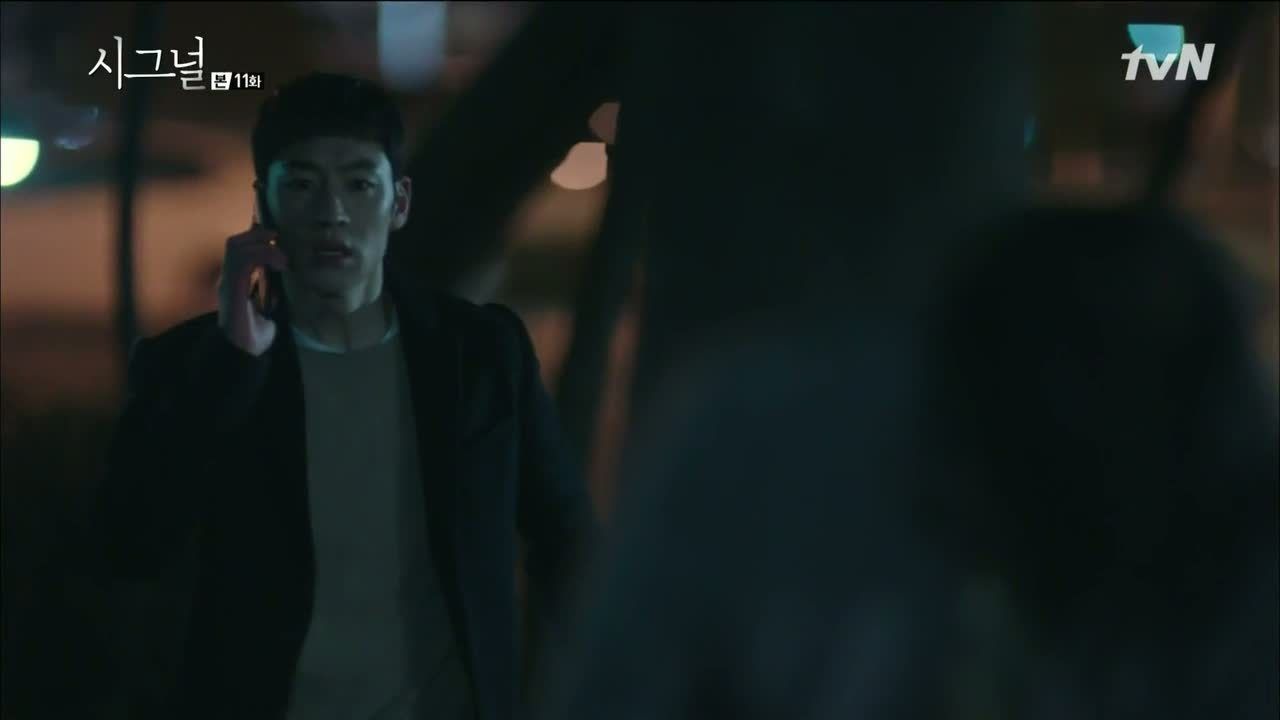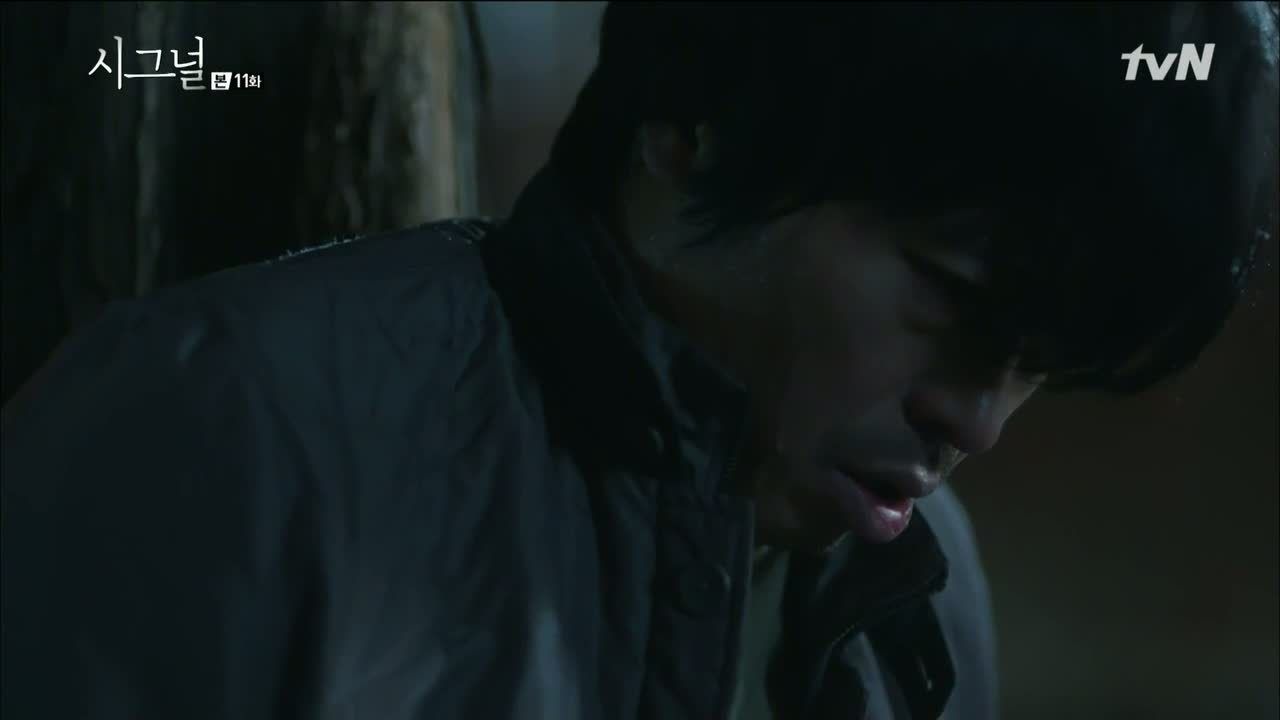 COMMENTS
There's no doubt Section Chief Ahn put himself in danger's way the moment he tendered his resignation, but man, nothing could've prepared me to see him bleeding before our eyes. A part of me wonders why he waited until he arrived at Inju to call Hae-young instead of calling him sooner, since he basically placed a huge target on his back by defying Director Kim. And then the other part of me says it's partly for the dramatic factor and to bring Hae-young back to Inju.
Speaking of which, I'm glad that we're finally at the point in the timeline where we'll finally be tackling one of our central mysteries—Sun-woo. As far as I can tell, his name wasn't included in Hye-seung's list nor identified by eyewitnesses or acquaintances. I wouldn't be surprised if he turned out to be the mysterious author of the online post, which could serve to explain his concern for Hye-seung and the rebuff from her father. And if Sun-woo is our author, what other roles did he play in this case, and how did his name end up included with the other perpetrators?
My mind is filled with other questions as well including the significance of the red scarf, the clue hidden in the group pictures, as well as skepticism to the list Jae-han was given. Like Jae-han mentioned, the information he has so far is circumstantial, and we've only yet scratched the surface. It's also interesting how the time loop comes into play this episode, with Jae-han hopping on the case thanks to Hae-young's mention that he was listed as a task force member. It's these kinds of decisions that make me wonder if history will repeat itself or if things can be changed.
We've seen how the butterfly effect has changed certain key events in the ongoing timelines thus far, but we've yet to see any event that was meant to have happened regardless of their meddling. Now I'm dabbling in fate and destiny territory, but hear me out when I say that while Hae-young and Jae-han's previous interventions has led to different outcomes so far, sometimes for the better or worse, they've yet to encounter a situation that no matter the route they take, the end result remains unchanged. As much as it pains me to say, it would be a daring narrative decision to take Hae-young and Jae-han's involvement in the 1999 Inju case that somehow still ended in Sun-woo's death.
Curiously, Hae-young doesn't ask for Jae-han to save his brother; instead he asks for the truth buried in the case. It's possible that Hae-young's intentions may change once he hears what Section Chief Ahn has to say (if he gets the chance), and then may wish for Jae-han to do what he can to save Hyung's life. But then we're back to the same question—what if Sun-woo's life wasn't meant to be saved?
Some of these questions can never be answered of course, since life can take so many different outcomes depending on the choices one makes. It's impossible for anyone to understand the full scope of what favor or misfortune will fall upon someone in their lifetime, and what effect that will have on them. But that's when holding onto the small hope that each life is worth saving is what makes the difference because a person is far too complex to be written off so easily.
RELATED POSTS
Tags: featured, Jo Jin-woong, Kim Hye-soo, Lee Je-hoon, Signal