Six Flying Dragons: Episode 40
The two most devilishly genius minds in the nation are now at war, and what a terrible one it promises to be. Great for us viewers as far as entertainment value goes, but terrible for anyone caught in its path, since neither Bang-won or Jung Do-jeon have much consideration for the little man. There are machinations aplenty as the two men take the chance to be decent to each other and squish it under the toppling weight of their respective egos, which I suppose shouldn't come as a surprise at this point, but still.
Team Bang-won all the way though.
SONG OF THE DAY
4Minute – "싫어 (Hate)" [ Download ]
Audio clip: Adobe Flash Player (version 9 or above) is required to play this audio clip. Download the latest version here. You also need to have JavaScript enabled in your browser.

EPISODE 40 RECAP
Jung Do-jeon and Yooksan sit down to a tense meeting, with neither of them saying what they're really thinking—namely, with Yooksan wondering whether Jung knew that Nameless would show up, and Jung wondering whether he's walked into a Nameless trap.
A bit belatedly, Bang-ji notices that all the men (with the exception of Seon-dol, Boon-yi's young spy) inside the Mansang Merchants building are mercenaries, and realizes he has to get Jung Do-jeon to safety as of yesterday.
Back inside, Yooksan begins to put the pieces together after his spy tells him of Jung Do-jeon's meeting with Mohenpa, the Jurchen chief. He knows that whatever transpired will be in that red envelope Jung carried out, so he orders one of his men to obtain it without engaging the unmatched Bang-ji in a fight.
Once Jung Do-jeon finds out that Cho-young was seen lurking around Mansang Merchants, he has all the confirmation he needs that the group is controlled by Nameless. He immediately heads to the government office in nearby Kanggye to order the arrest of all Mansang Merchants, and sends the red envelope to Yeon-hee in the capital.
Bang-won is not happy that Da-kyung had Boon-yi send spies to follow Jung Do-jeon without notifying him first, since there shouldn't be anything happening in the household that he's not apprised of.
Ha Ryun picks a bad time to come upon the squabbling couple, but advises the two that unification, not division, is the only way they'll be able to withstand the coming storm. But a more welcome visit comes in the form of older brother Bang-gan, who's entreated their father to have an audience with Bang-won after so much silence between them.
Their ensuing meeting is not a warm one, with King Taejo asking his son directly whether he's involved with Nameless. After a moment, Bang-won says that he most definitely is not in league with such rebellious people. Why, the mere thought of it is enough to make him sick!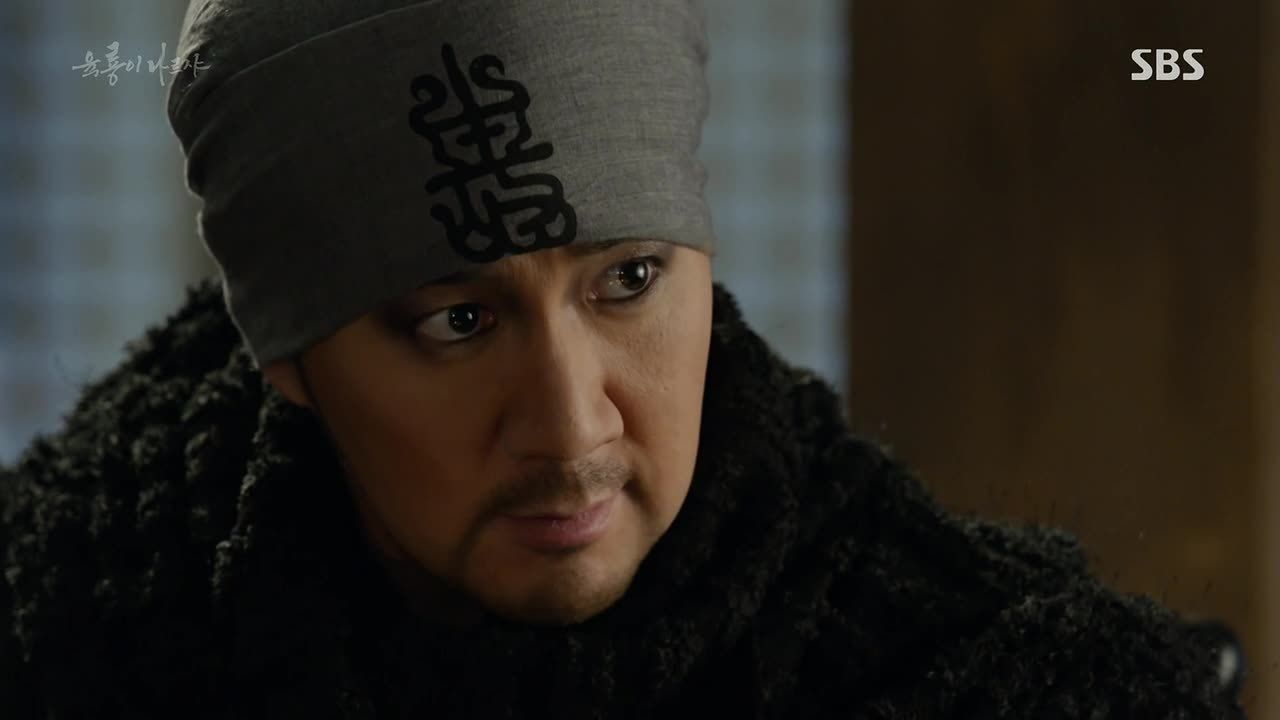 Since Bang-won and Jukryong are buddies now, he tells his monkish friend about his conversation with his father, and how he vowed to take any punishment meted out should it be found that he is in league with Nameless. Which is ironic, cause, y'know.
It's then that Jukryong tells him that Jung Do-jeon met with Jurchen chief Mohenpa, which isn't in and of itself surprising. What is though, is that Jung went disguises as a merchant.
Even Bang-ji seems uneasy about whatever Jung Do-jeon is planning when it comes to the Jurchen chiefs, especially with Liaodong (the failed Liaodong Expedition being the reason why King Taejo turned the army around) being involved. Jung Do-jeon is noncommittal and purposefully vague about the whole matter, so for now, we wait.
While wondering about Jung Do-jeon's plan themselves, Cho-young acts on a hunch and uses charcoal on the stack of parchment to discover the Red Seal impression left behind from Jung Do-jeon's experiment. Since this means he knows they're Nameless, Cho-young urges Yooksan to leave before he can be caught.
The Hwasadan Amazonian carrying the red envelope back to Yeon-hee has it filched from her by a common thief, which is when all hell breaks loose. The Nameless warrior sent to retrieve the envelope jumps into the fray, but before he can grab it, little Seon-dol snatches it and runs.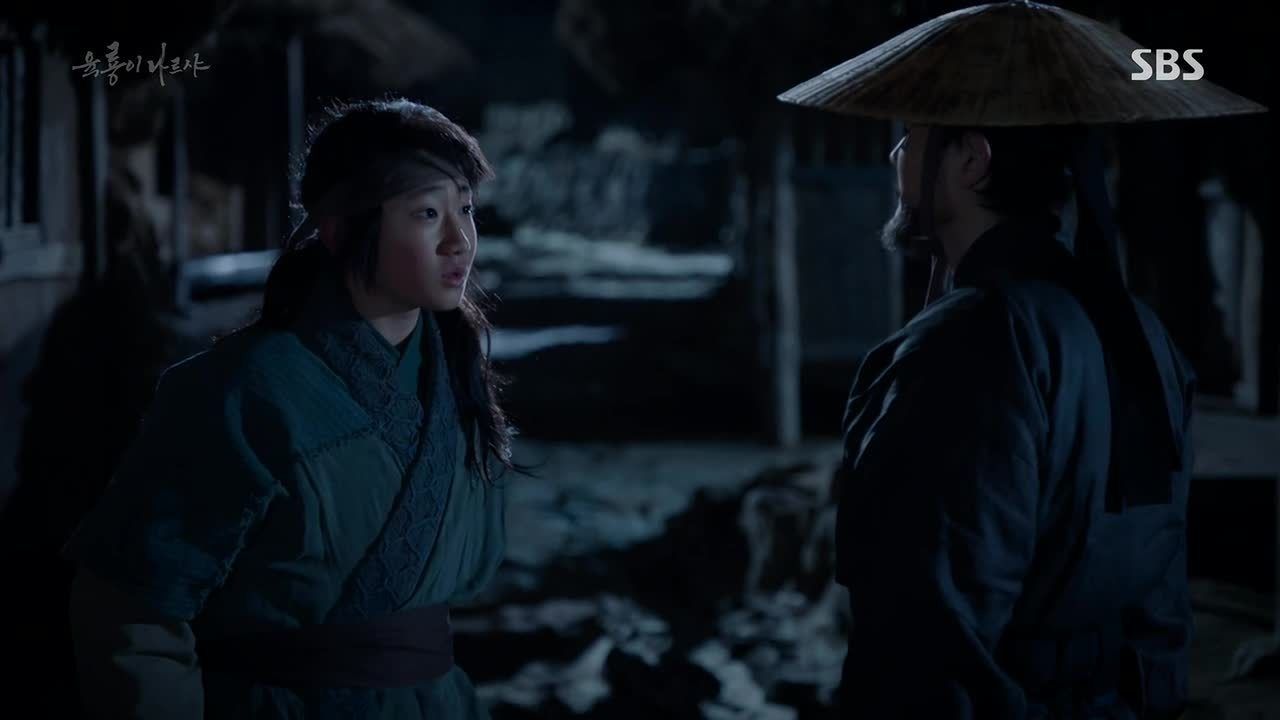 The warrior has no idea Seon-dol has handed the envelope off to his hyung when he finds the boy in the street, and it's only when he mercilessly cuts him down that he discovers he doesn't have it. Now Nameless has no idea who does, so they send Cho-young off, only for her to be trailed by one of her own spies now turned against her.
Jung Do-jeon gets two bits of crushing news in short order: first, that everyone cleared from Mansang Merchants before they could be arrested, and that the red envelope was stolen. If it were to get into the wrong hands, especially in the hands of the Ming Empire, Jung knows he'd be toast.
Young-kyu reports that Shin-jeok is mad as hell about Jung Do-jeon going through Hwasadan rather than the official state-sanctioned bureau to Bang-won, who's becoming more and more curious about whatever Jung is planning. It must be serious if he's going through such secret channels and causing unrest within his own people, but what could it be?
Now everyone's on the hunt for the mysterious red envelope, with both Nameless and Jung Do-jeon on high alert. He references Myojakdan again (he mentioned it last episode), in regards to whatever-it-is being ready, while Nameless starts thinking about contacting Ming over Jung Do-jeon's meeting with the Jurchen chief. Even though they, like us, don't fully understand what's happening yet.
Seon-dol's body is brought back to Boon-yi and her people, who all lament the loss of their youngest member. Boon-yi sinks to her knees in tears, but only allows herself to shed a few before her expression goes still.
She's given the red envelope the poor boy died protecting, feeling immense guilt because he went that extra mile just to earn her praise. She finds herself back at Seon-dol's corpse, and with tears running down her cheeks, she wraps his one shoeless foot with linen as a sock and uses her own shoe as a replacement. Aw.
After all her tears are gone, Boon-yi talks to her old neighborhood ajusshi without really talking to him, her mind somewhere else. She mentions how it was her idea to cultivate the wasteland, and that little girl died when they got caught. And now, with Seon-dol dead…
Ajusshi asks if she's really blaming herself for these deaths, but Boon-yi doesn't seem to listen. "Back then, I was thinking that if I received my [portion of the] land, I could back there by myself. I must have lost my mind. So I told Seon-dol to just go. If it were like other times, I wouldn't have sent that child."
Then she looks pleadingly up at him as she asks, "Should we all just give up?" But then she corrects herself, sounding more like Old Boon-yi: "Still, I should try something, whatever it is. Before someone else dies."
Da-kyung informs her husband that Boon-yi wants to meet him in the New Joseon Cave, which means she's made a decision. Though, according to Da-kyung, her decision doesn't matter: "You must keep her by your side at all costs." She starts going into why, but Bang-won shuts her down by saying he'll take care of it.
But when he arrives at the cave, he finds none other than Jung Do-jeon, Bang-ji, and Boon-yi there. She apologizes for putting them in this position and asks their forgiveness, but she simply must say her piece.
First she addresses Bang-won, and how he asked her to make a choice. Bang-won responds by all but growling at her to be quiet, before she addresses Jung Do-jeon telling her he had no choice but to take all authority away from the princes in order to create a peaceful nation. Jung Do-jeon also jumps down her throat for speaking out of turn.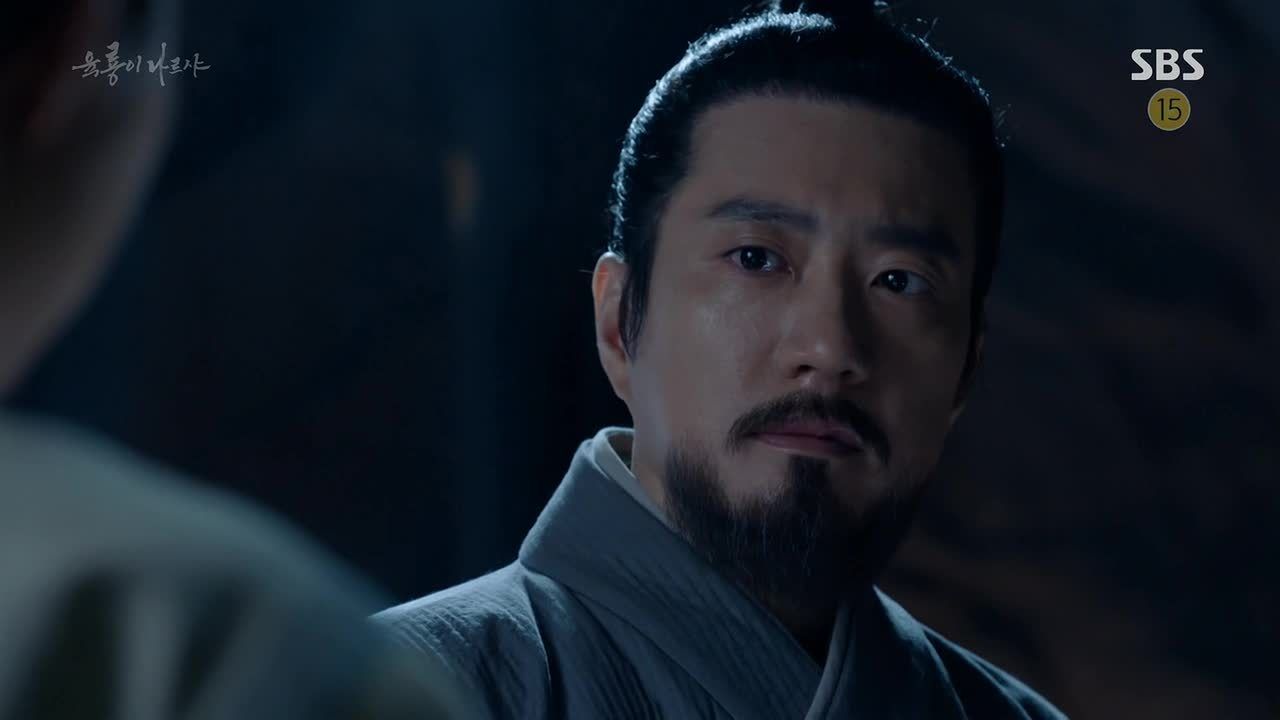 Still, she persists. She knows about what happened in this cave from Yeon-hee, and feels nothing but sympathy for what Jung Do-jeon went through with the loss of all those children. "There was a child names Seon-dol. Yes, there was. That child, too, more than anyone, desperately wished for a new nation to be ushered in."
Even though that nation was ushered in, the poor boy still died a horrible death while shadowing Jung Do-jeon. And one of Yeon-hee's spies was murdered while shadowing Bang-won. She just can't understand why these sorts of things are happening.
"I shall sincerely ask for your favor," she concludes. "For Moo-hyul, my orabeoni, myself, and the countless anonymous people who fought with their lives for you… if you fight, do not stomp on those people. And please, save us."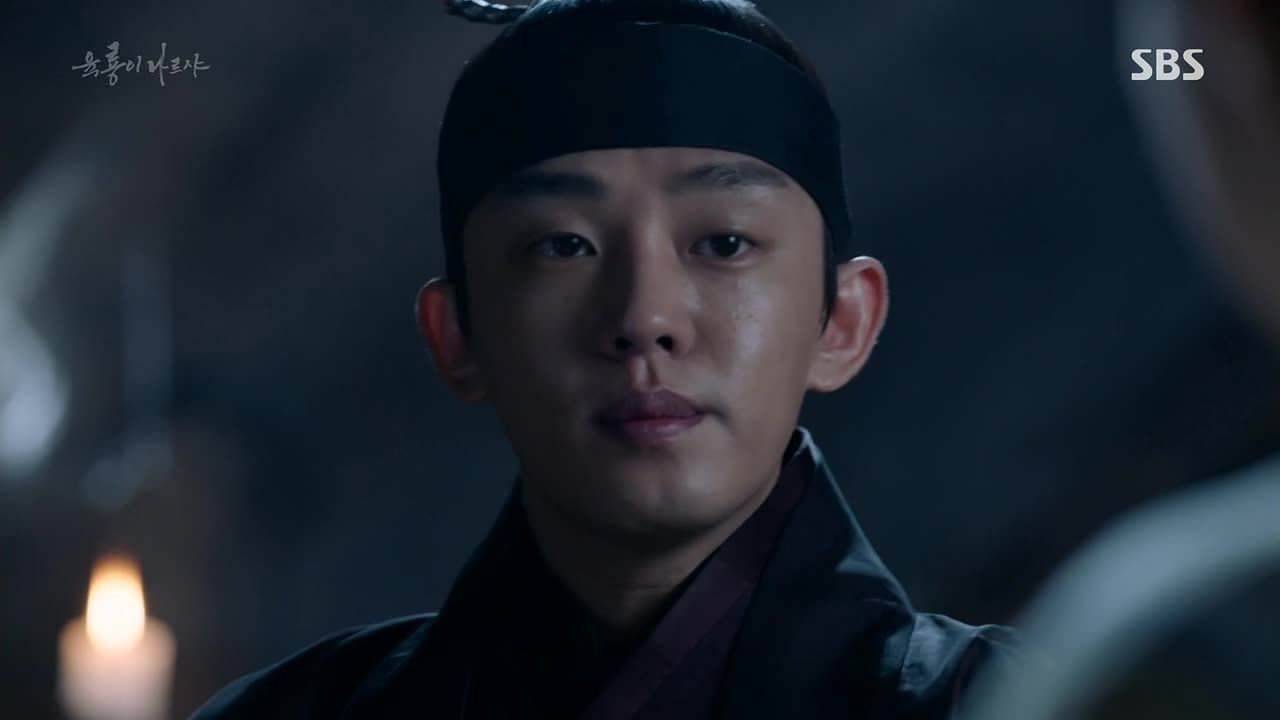 Jung Do-jeon may as well have patted her on the head for trying, but there's just no dice: "I shall do what I need to do, and His Highness [Bang-won] shall do what he needs to do. We shall have no choice but to continue forth acting according to our beliefs."
Bang-won is of a similar mindset, thinking it foolish that Boon-yi called them both out here to reconcile. In that case, Boon-yi says she'll withdraw all her people, and asks Jung Do-jeon to make good on his promise to give her land so that they can make a living.
Before Jung Do-jeon can say no, Bang-won does. His expression is cold as he levels her with a stare and responds, "I told you… that if you leave of your own volition, I would not stop you and respect your decision. But that was it. Nothing more than that."
Similarly, Jung says he won't give her the land she and her people so clearly deserve. Because they're both being complete dicks right now.
Prepared for this eventuality, Boon-yi says she'll stop pleading, and start deal-making. In her hand are two envelopes—one white, one red (the red envelope)—both containing vital and dangerous information on Jung Do-jeon and Bang-won, respectively. She'll sell the information to the highest bidder if that's what she must do for her people to survive.
Jung Do-jeon asks to be alone with Bang-won to talk about their options, and tells the prince that while he can't give Boon-yi land, he'll think of another way for her and her people to live. Bang-won wonders what's in that red envelope for it to be so important to him, only for Jung to fire back, "You'll come to know that in time."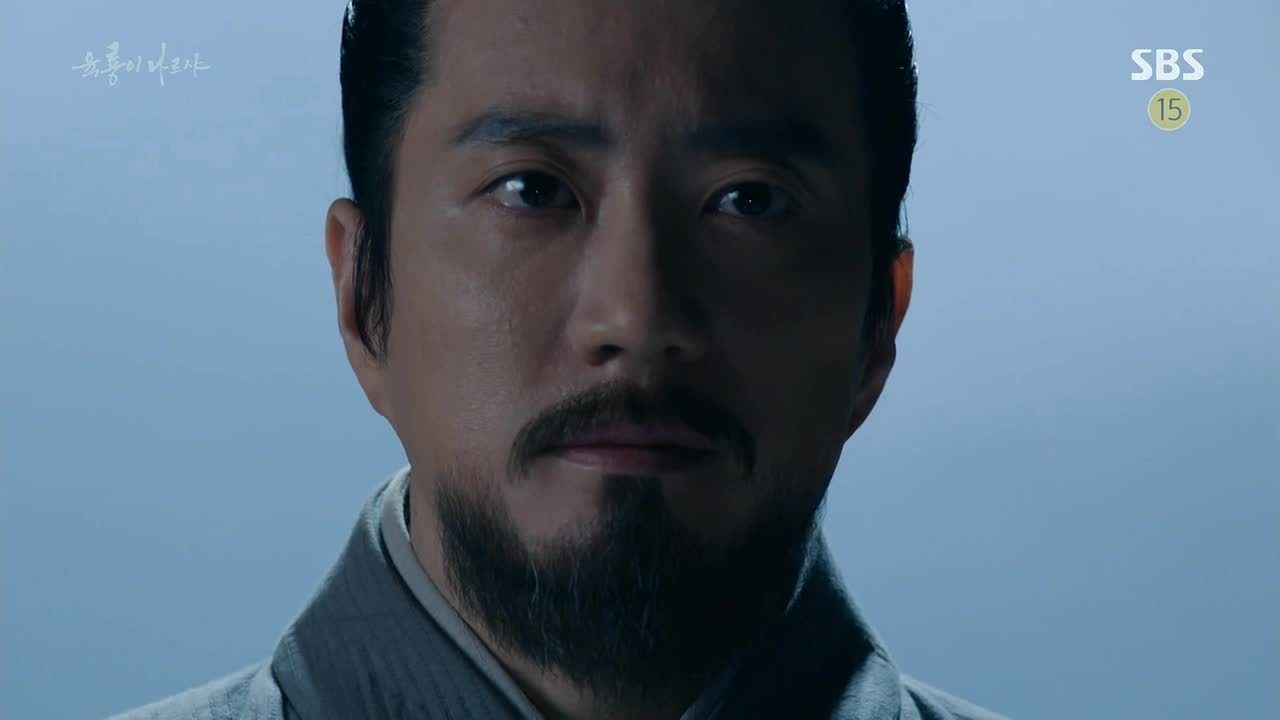 Bang-won tries to be civil about the deal, but his emotions get the best of him when he blurts, "Do you not think I'll be able to do a good job if I am in charge?! Do you hate this nation, or the idea of an exceptional king?" To that, Jung Do-jeon responds that the whole point of his new nation is so that an "exceptional king" won't be able to control everything.
"So you are trying to monopolize your power in finances, full authority, and military power?" Bang-won fires back. That's just temporary, Jung Do-jeon retorts, which seems like the excuse all despots use.
But it's when Bang-won says he's heard the ohchik, and the rules about princes within, that Jung Do-jeon realizes that must've been when Bang-won turned his back on him. Bang-won confirms his suspicion while defending his decision, since what else was he supposed to do when there was no place for him from the beginning?
Since neither of them are planning on giving in, they're at an impasse. Jung Do-jeon vows to find a way to end things so that Bang-won can cast aside his greed, while Bang-won says he's relieved that Jung isn't going to try and "persuade" him the way he failed to do with Jung Mong-joo.
They find Boon-yi waiting outside the cave, and she's filled with thanks when Jung Do-jeon tells her that he'll install her people in Banchon, the village for servants of Sungkyunkwan. There, her people will be gainfully employed while doing good for the nation, which is about as good a deal as she could've hoped to get.
She thanks him by giving him the red envelope, but when she turns to give the white one to Bang-won, he coldly pushes past her without taking it. She follows him to try to give him the letter, which he tells her to throw out: "Don't toy with me over something fake again. That was too close."
Ah, so he knew she was bluffing with the white envelope, since the page inside is empty. She asks why he didn't call her out if he knew it was fake, to which he replies, "Hard to say. Though I'm living with a beast's heart, I probably… remembered what it was like to live as a human. I wanted to act like a human, if only for a moment." As for how he knew, he simply says that she can't fool him, just like he can't fool her.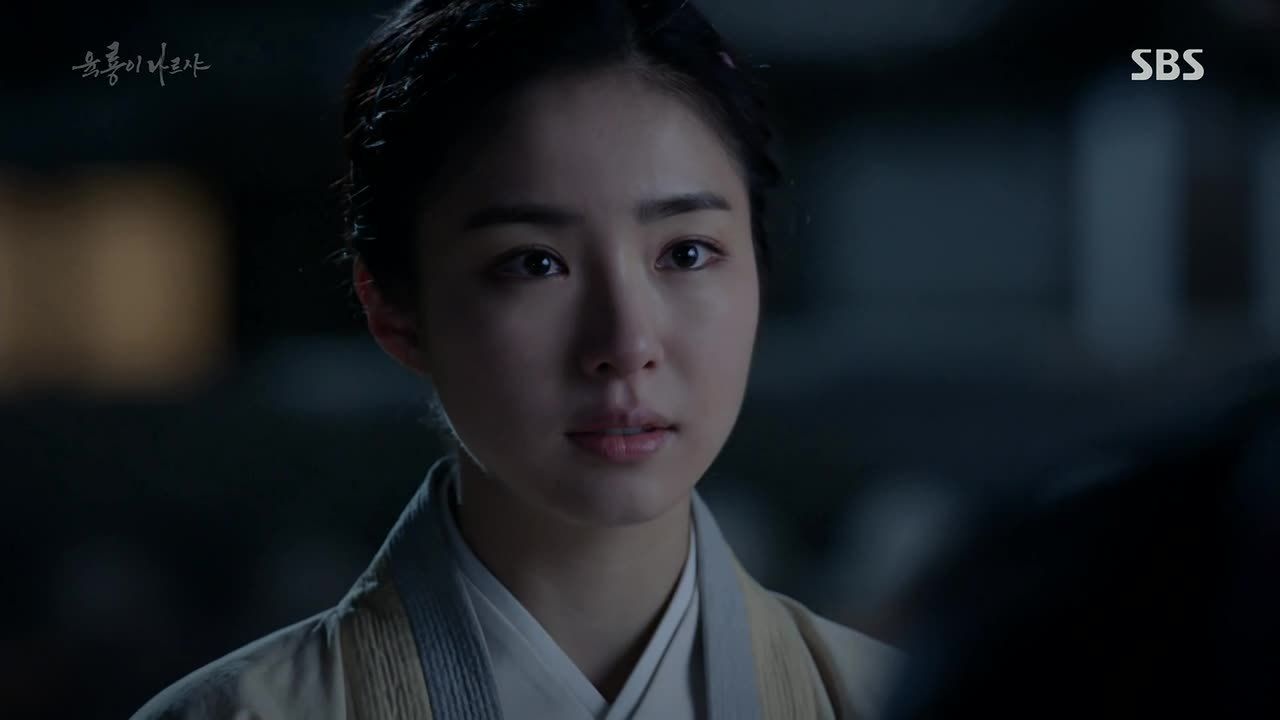 It's then that she asks about the bug in his heart, and whether it's swallowed him. Bang-won says it doesn't matter whether he swallowed it or it swallowed him, if it's a means to survive, it's what he has to do. Surviving is what's most important, he tells her, as is anything she needs to do in order to accomplish that.
Later that night, Bang-won comes to a decision about Jung Do-jeon while watching Boon-yi attend Seon-dol's funeral. Shin-jeok stops him before he can leave, asking for a private audience.
Jung Do-jeon has also got his nemesis on the mind, and again asks Yeon-hee whether Myojakdan is ready. She hesitates, but says it will be today.
Shin-jeok wants to switch over to Bang-won's side and serve him, and even though Bang-won knows he's been waffling for a while, he still wonders whether Shin-jeok is acting on Jung Do-jeon's orders. How else to explain his willingness to turn away from the man he's served his entire life?
"How am I going to believe that?" Bang-won asks with mock incredulity. "Whichever it is, try to persuade me better." So Shin-jeok tells him that it's mainly because Jung Do-jeon made a secret agreement with the Jurchen chief Mohenpa, though he has no idea what it contained.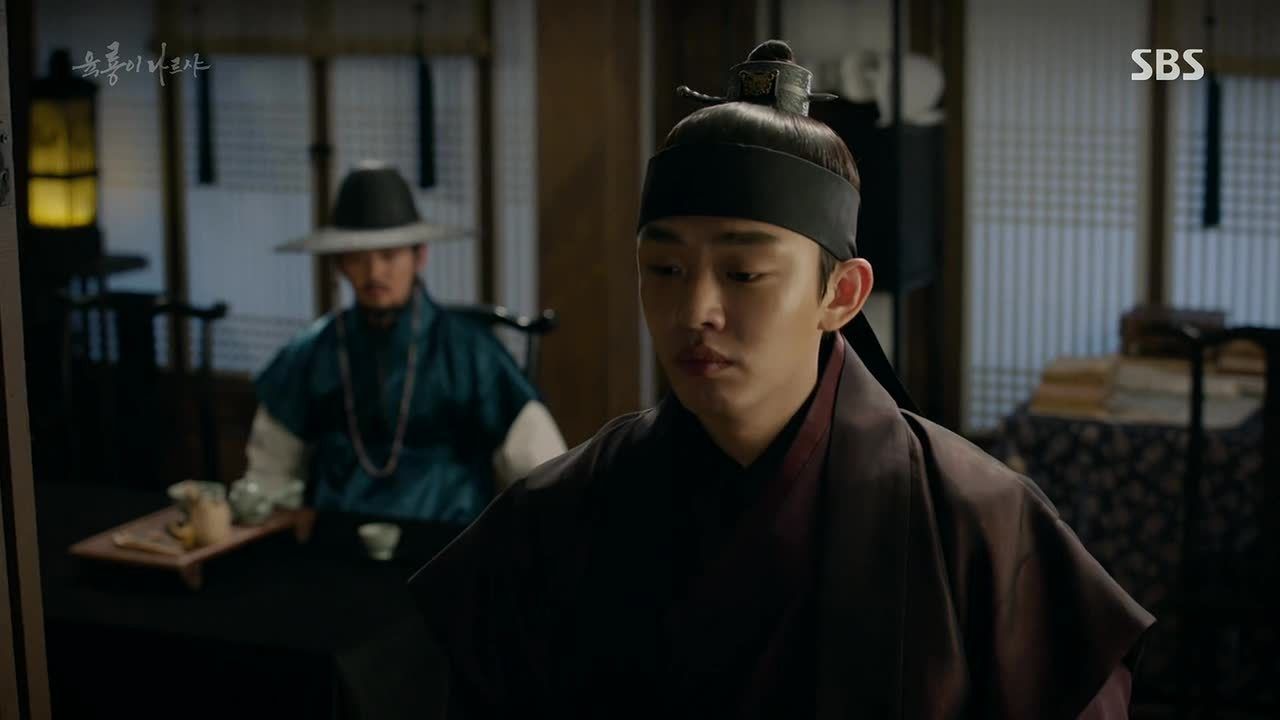 The reason he has no idea is because Jung Do-jeon does all his conspiratorial work with Yeon-hee, leaving the court out of it. Jung's power is out of control, Shin-jeok adds, and the checks and balances system he came up with has been set aside and forgotten.
"The country I wanted to make was not this kind of country," he concludes. Furthermore, he's being wasted under Jung Do-jeon, and wants to be put to use by Bang-won.
Cho-young unexpectedly arrives then, having received an anonymous letter to head to his house immediately. Bang-won doesn't know how to react when he didn't send her the letter, which has clearly been forged. Oh no, it's a trap!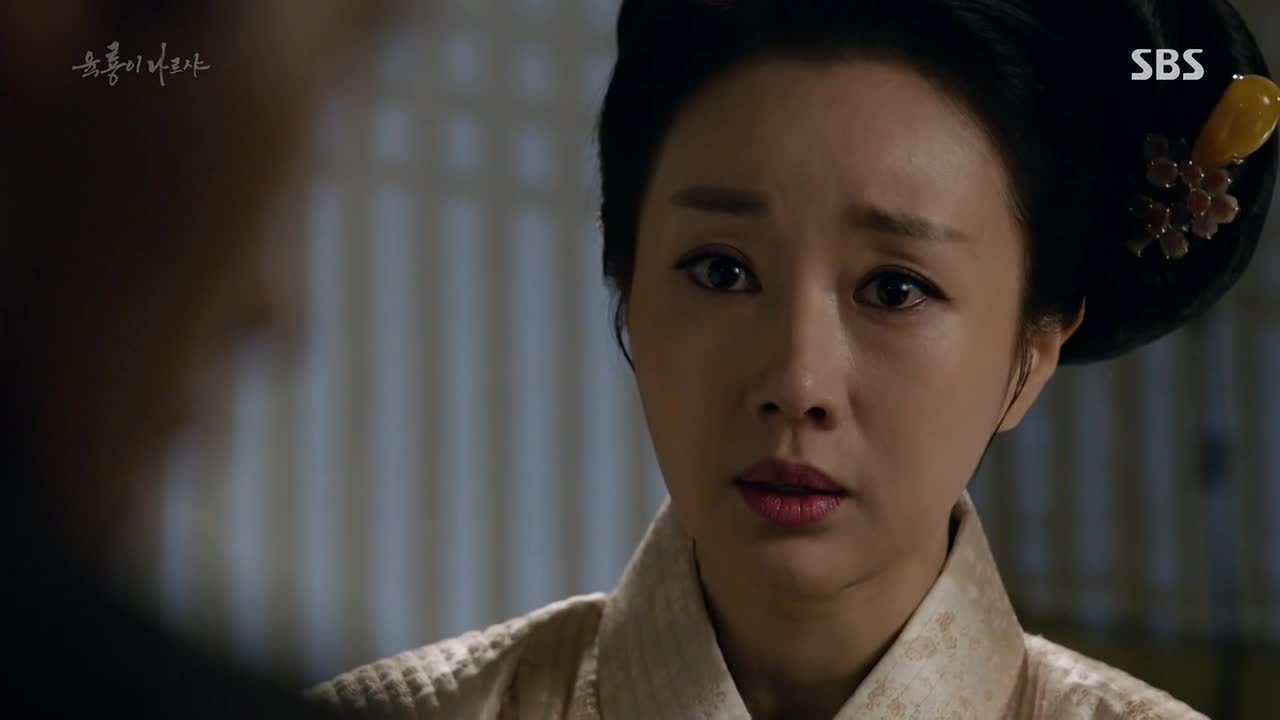 It's an accurate forgery though, which reminds Bang-won of how Ha Ryun had described the daunting amount of time and patience—years, at least—to be able to forge handwriting like this. Back then, he knew it had to be Hwasadan who trained the con artists, and Cho-young's eyes widen as she murmurs, "Myojakdan."
Finally, we know what Jung Do-jeon has been talking about. Cho-young is incensed that Yeon-hee would use the people she trained against her, but the realization comes too late. Jung Do-jeon, Officer Nam, Yeon-hee, and an army are coming for them.
In order to accomplish this great feat of forgery, Yeon-hee collected samples of Bang-won's handwriting back from his Sungkyunkwan days and beyond. Bang-won tries to usher Cho-young out before they can be caught, but it's no use—Jung Do-jeon is already at his front door.
Jung Do-jeon all but tsks at both Bang-won and Shin-jeok, the former for allying with Nameless, and the latter for trying to switch sides. "Did you create this scheme in order to stop me?" Bang-won asks. Jung Do-jeon says the forgery doesn't matter, when Cho-young came flying in the middle of the night after receiving a letter from him when she's Nameless.
When asked if he really thinks he can take him down with just a letter, Jung Do-jeon says no. Which is why he brought along some security… in the form of King Taejo. Yiiiikes.
"Arrest him this instant!" King Taejo orders, eyes locked on his son. But Bang-won stares only at Jung Do-jeon, who stares right back.

COMMENTS
Yesssss. Don't get me wrong, it's been fun to watch Jung Do-jeon and Bang-won go at each other from behind each other's backs, but nothing can be as gratifying as seeing them come out in the open with metaphorical swords drawn. And in this case, the pen really was mightier than the sword.
Even though Bang-won has done plenty of wrong and may very well deserve what is being dished out, it's impossible not to sympathize with him when all he wanted was a strong authority figure to follow. He had dreams and wanted them realized, but when his father failed him and even the man he wanted to be his father failed him, the only authority figure righteous enough for him to follow became, well, him.
It's too late now to wonder whether things might've been different had Jung Do-jeon showed him some compassion, or even a hint of gratitude, since snubbing his accomplishments was sort of the last straw. That's been a running theme with Jung Do-jeon lately though—he uses people and then he throws them away. What happened to the compassionate leader who gathered a band of ideological misfits under his wing? How can he be so cold to the girl he practically helped raise under his ideals?
Needless to say, I was shocked that both Bang-won and Jung Do-jeon were so hostile to Boon-yi, even though Bang-won was actually sorta-kinda protecting her by doing so. Jung Do-jeon had no excuse, and only employed her people in order to get his precious red envelope. I wonder if it's just that he thinks he's untouchable now, and doesn't need the people who helped him get to the position he's in. I also wonder if he realizes what a hypocrite he is, since it makes no sense to take away absolute power from the monarchy only to give that same absolute power to one other guy.
You're still dealing with the same problem in the lack of checks and balances, which is/was supposed to be the whole point. If Jung Do-jeon's plan was to make the king a flower, then all he's done is switch the hands that hold the power, when true change would've come from spreading that power out so it wouldn't just lie in one pair of hands. But I guess if that man is you, and you're Jung Do-jeon, why would you ever choose to give all that power away without a fight?

RELATED POSTS
Tags: Byun Yo-han, featured, Kim Myung-min, Shin Se-kyung, Six Flying Dragons, Yoo Ah-in