Six Flying Dragons: Episode 42
More tie-ins to Tree With Deep Roots? A gladiator fight starring Moo-hyul and Bang-won's bromance? Don't mind if I do. This hour is reminiscent of the old days, when this show used to go full speed every week—which isn't to say it was a bad thing to slow down and take in the sights, but man, it's fun to have an adrenaline-fueled episode like this come in right when we needed it most.
SONG OF THE DAY
Taemin – "Soldier" [ Download ]
Audio clip: Adobe Flash Player (version 9 or above) is required to play this audio clip. Download the latest version here. You also need to have JavaScript enabled in your browser.

EPISODE 42 RECAP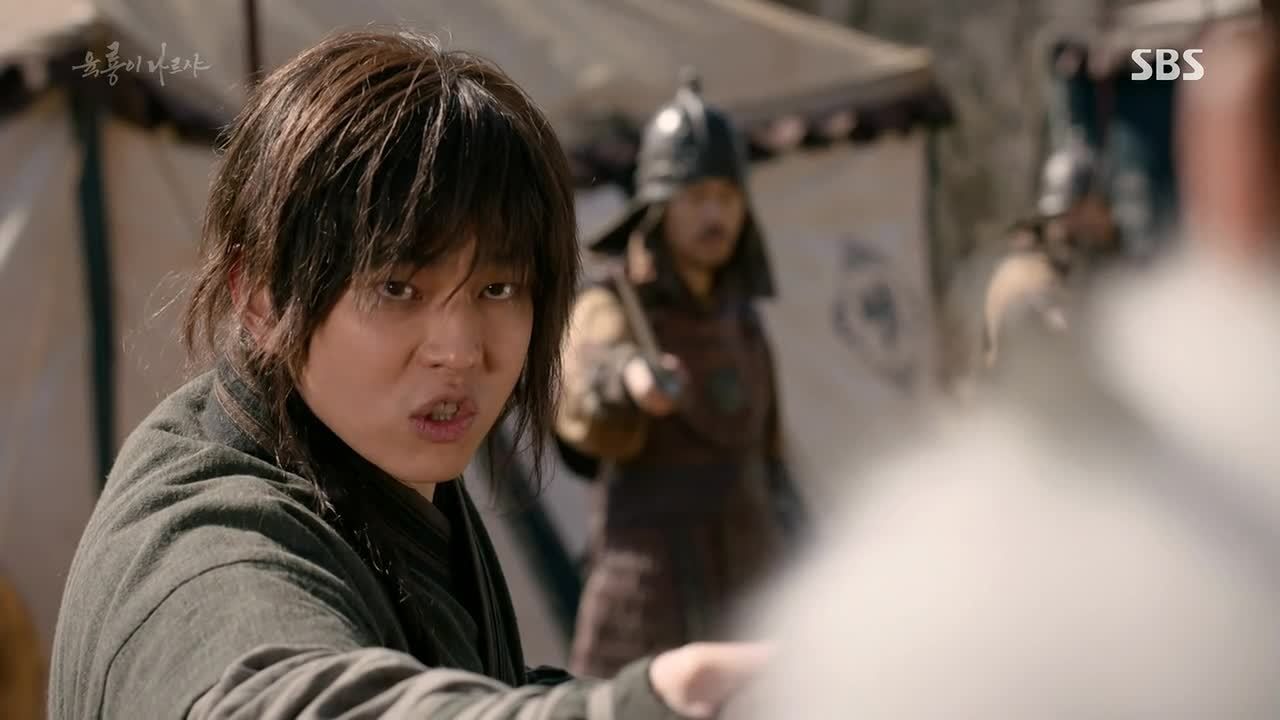 If Bang-won has an "Oh crap" moment when Ha Ryun tells him that the man he just threatened is none other than Zhu Di, current Prince of Yan and fourth son of the Hongwu Emperor, he doesn't show it.
Moo-hyul, who's been keeping himself in check thus far, loses it when Zhu Di orders that one of Bang-won's arms be cut off for the offense given. Breaking free of his bonds through sheer strength, Moo-hyul grabs a nearby spear and holds it at Zhu Di's throat, and doesn't heed Ha Ryun's warnings to stop—Prince of Yan or not, he'll kill him.
Bang-won orders Ha Ryun to translate the threat Moo-hyul just shared, but Zhu Di answers in Korean: "I understood him." All the better, says Bang-won. Now he won't have to mince words as he addresses Zhu Di directly, while ordering Moo-hyul to count to ten before cutting the prince down.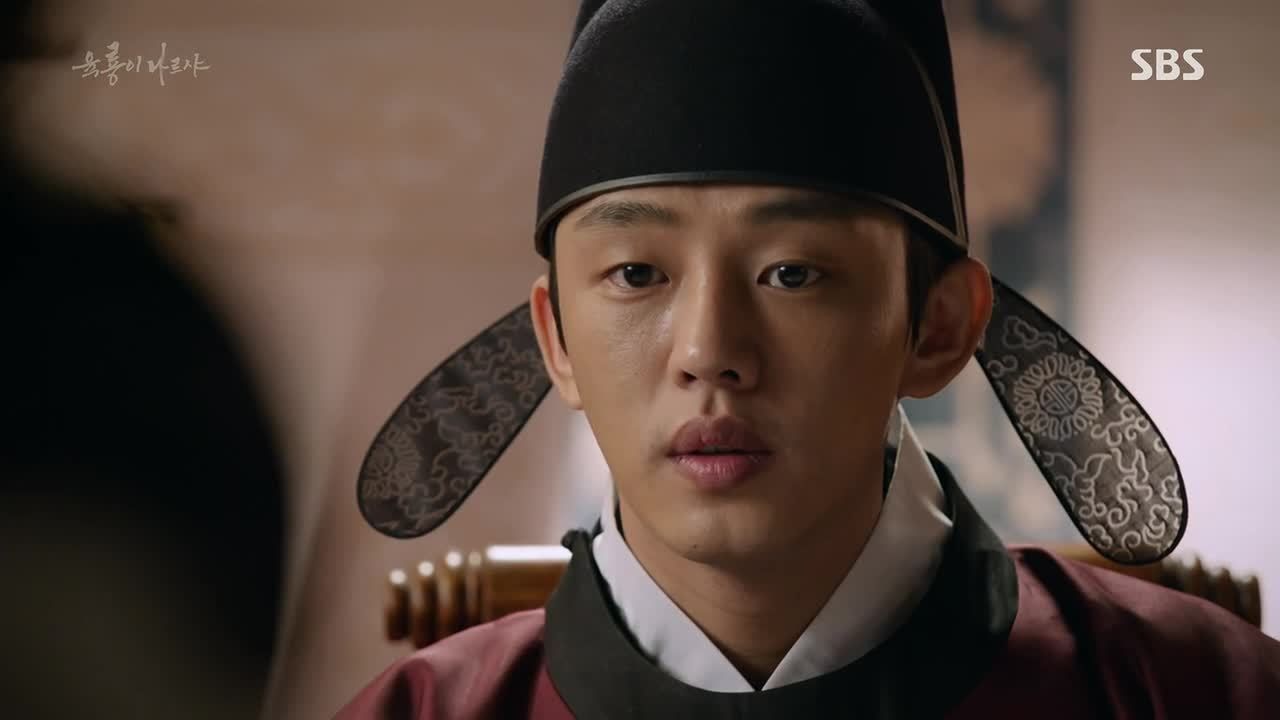 Zhu Di believes his bluff (if it was one), and calls his men off Bang-won. But poor Moo-hyul is left to face punishment from Zhu Di's guards, who take turns beating him. If it were up to the prince, Moo-hyul would be killed for daring to threaten him.
Which means it's up to Bang-won to try and argue for sparing his life, though his words may as well fall on deaf ears. All Zhu Di offers is a ring Bang-won can give to Moo-hyul's family in order to prove his death was an honorable one, but Bang-won slams that ring back on the table.
As a way of proving his formidable intelligence and to make a point, Bang-won quotes Mencius on how countries should behave toward each other—specifically, a greater country like Ming versus a smaller country like Joseon.
It's up to the greater country to show courtesy toward the smaller one so that the smaller country can serve the greater one all the better, which isn't what's happening here. (This idea would come to establish the whole foreign policy between Joseon and Ming.)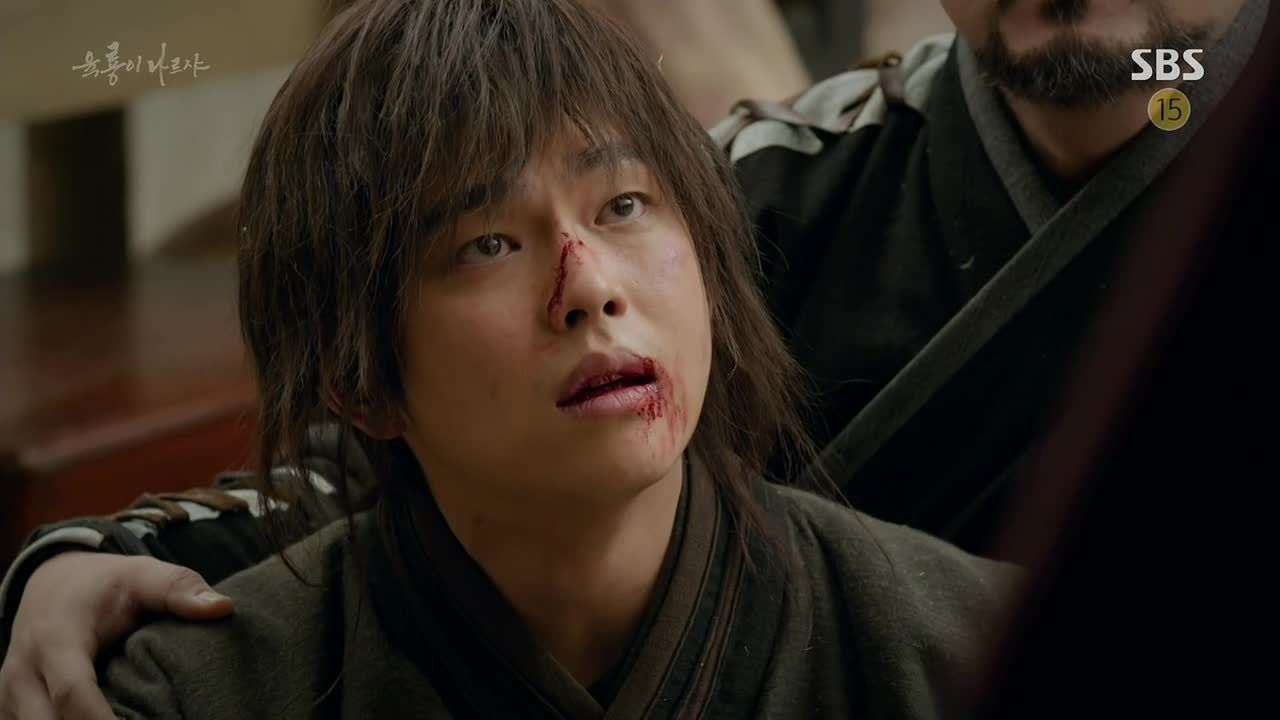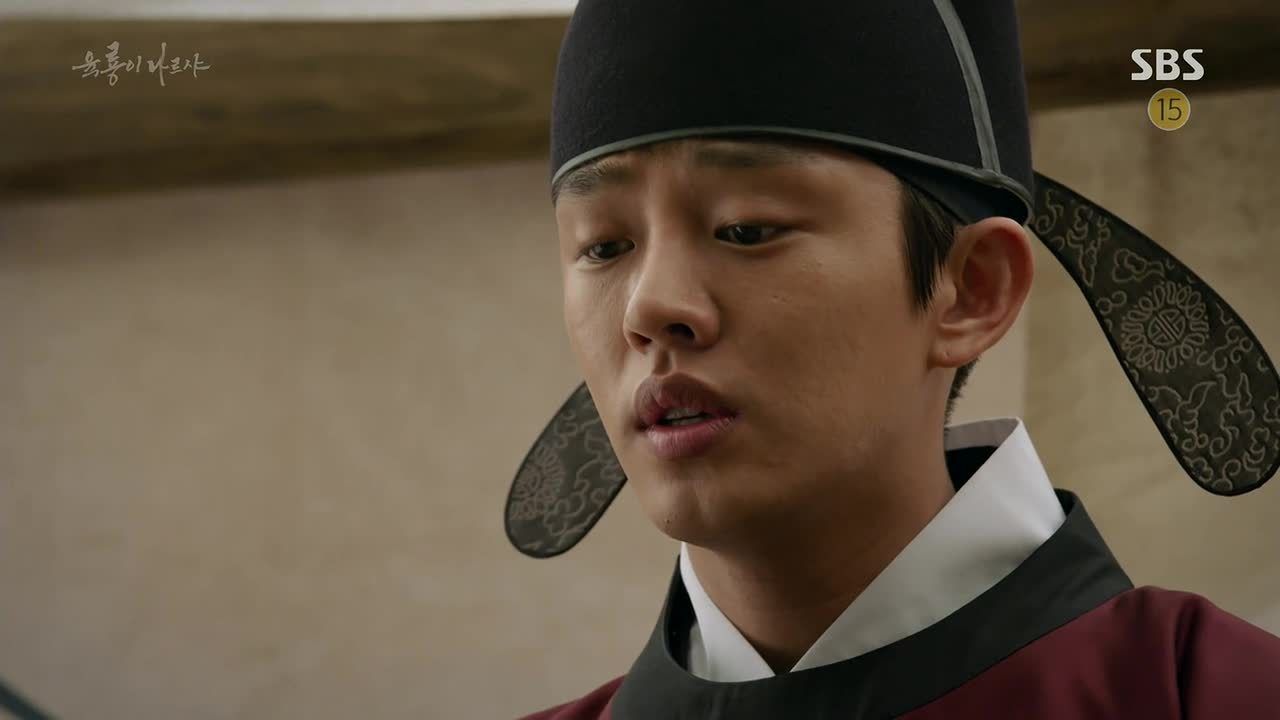 But no matter how much Bang-won pleads for Moo-hyul's life to be spared, Zhu Di won't relent. In fact, he'll have all his guards killed for letting Moo-hyul get a spear to his throat in the first place. If that's the case, Bang-won returns, then he can only ask him to let Moo-hyul die as a warrior.
This is all Bang-won can do to save Moo-hyul, even though he can't actually save his life. After all, Moo-hyul came to him with only his dream of becoming a warrior, and if nothing else, Bang-won has to honor that. Aw.
Bang-won finds a bloody and battered Moo-hyul, and tells him: "You tried to protect me, but I do not have the power to protect you. The only thing I can do is give you an opportunity to fight. Staying alive is up to you." Moo-hyul nods, grateful that he's even been given that chance.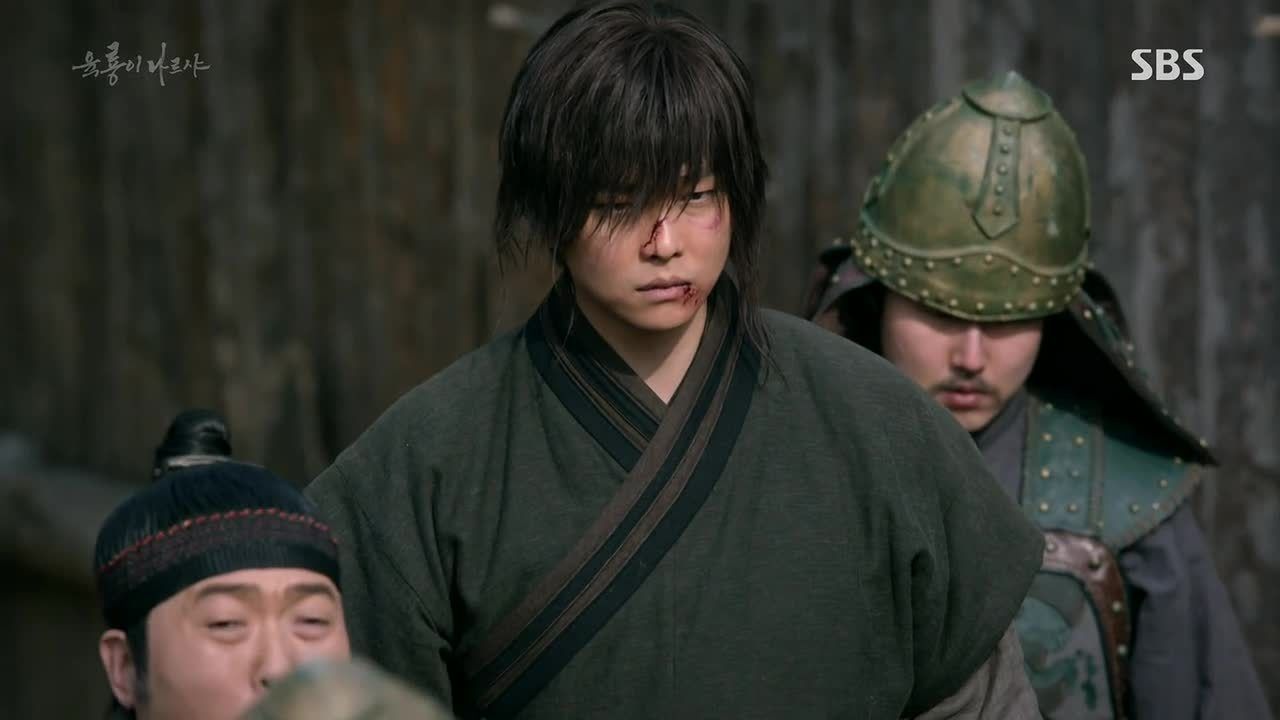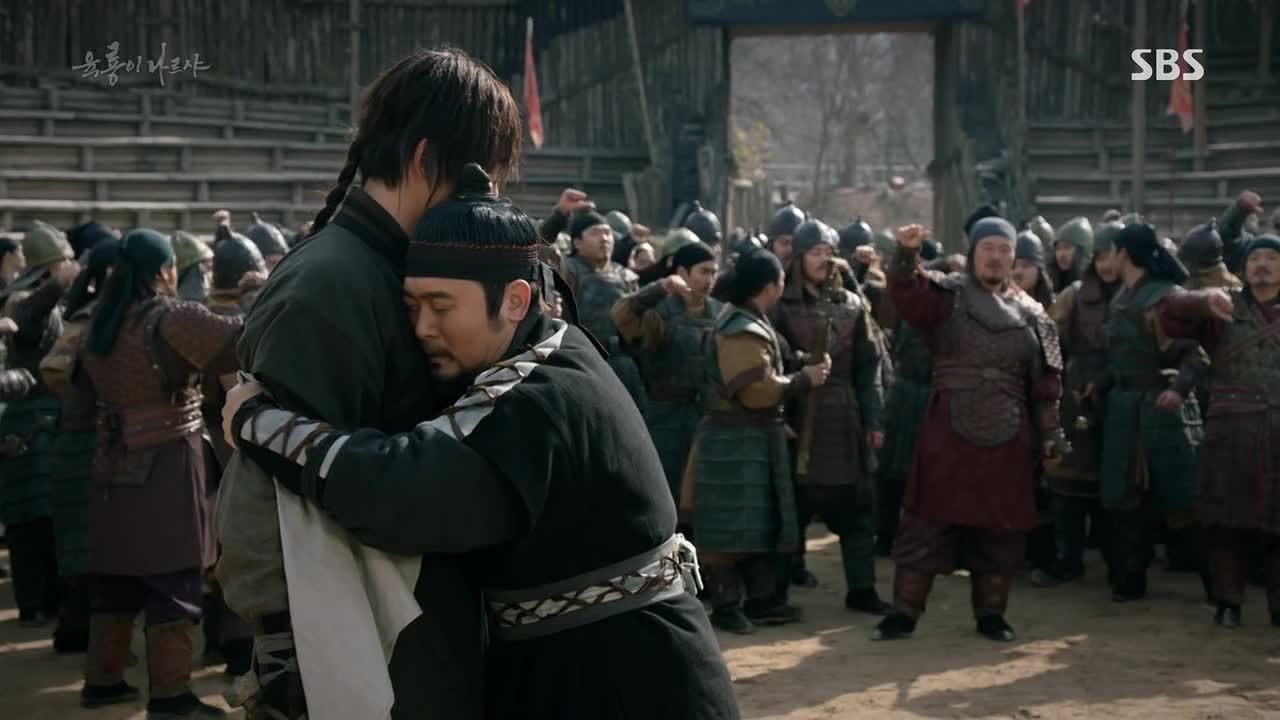 After Bang-won says that his own life rests upon whether Moo-hyul can save his own, Master Hong tries to give him a pep talk about the move he can use from his patented Twin Dragons of the East method to win. He won't allow Moo-hyul to resign himself to his fate.
Moo-hyul enters the thunderdome with his eyes downcast, greeted by the angry jeers of the gathered spectators. Master Hong takes on the role of ringside coach, and gives Moo-hyul some final advice before he faces his opponents about staying calm when he himself is a nervous wreck.
The champion chosen by Zhu Di to fight Moo-hyul enters the arena, and it's clear by the look of him that he won't be ane asy opponent. He flies at Moo-hyul with sword and shield, with their initial clash setting off literal sparks between them.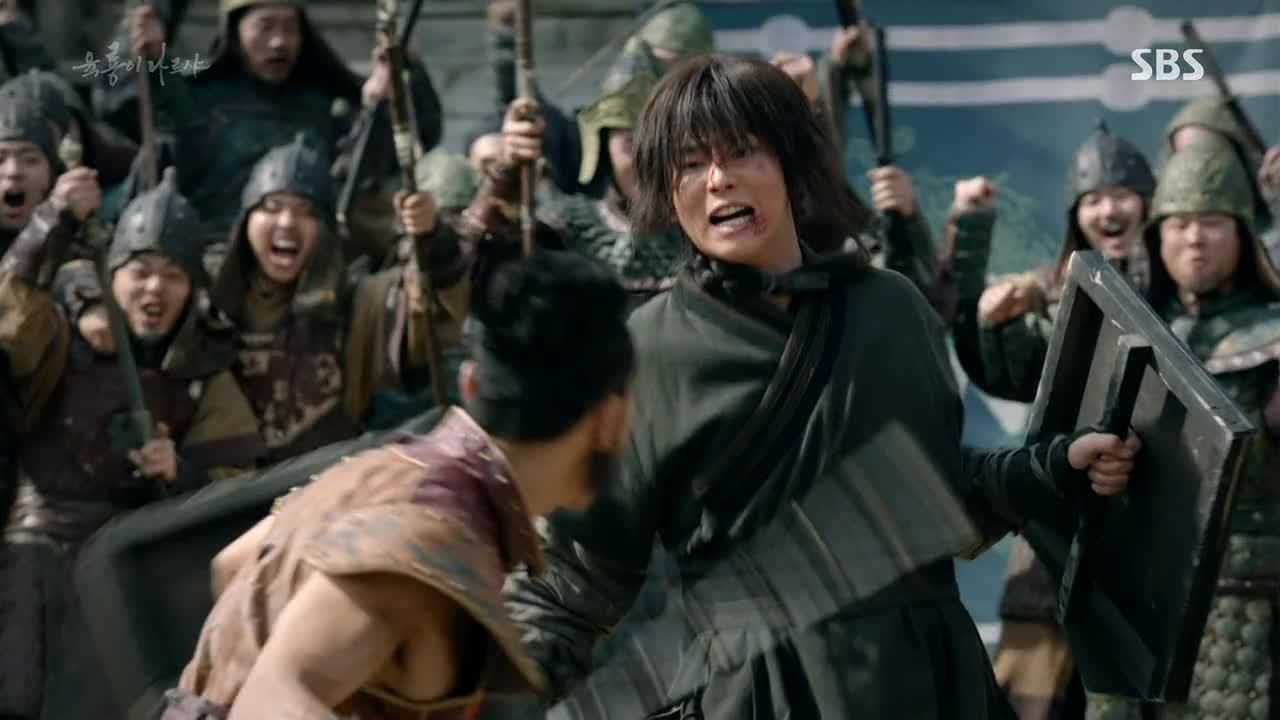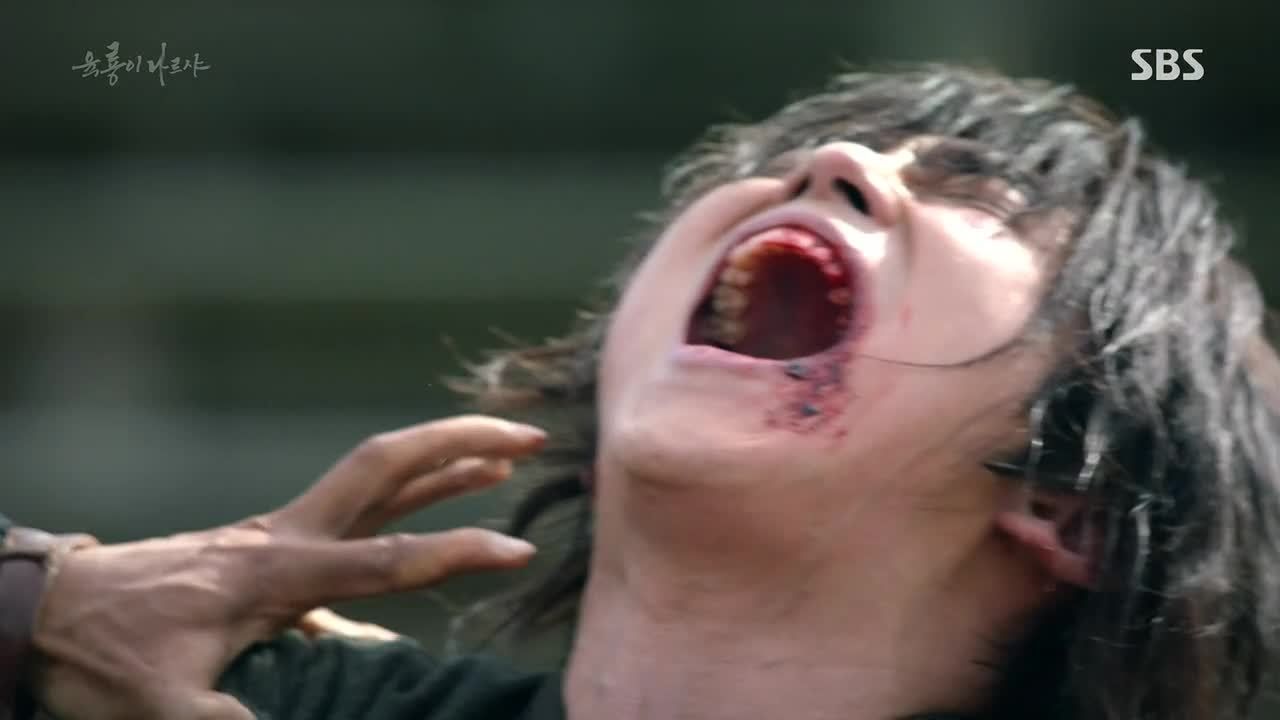 It's a battle of brute strength, and for the first time ever, Moo-hyul is sorely outmatched. He's sent flying backwards by the force of each blow, but thanks to some tips from Master Hong, he's able to recuperate and fight back.
Even with his sword and shield shattered from the clash of their weapons, Moo-hyul seems to find the berserker within as he overtakes his opponent with just his bare hands. Zhu Di calls for the fight to end when Moo-hyul wraps his arm around the man's throat, but Moo-hyul's too far gone to heed it.
Only Bang-won's intercession is enough to save Zhu Di's warrior from almost certain death, bringing Moo-hyul back from the terrible brink he was on. The crowd parts in fear as Moo-hyul comes forward, but thankfully, Zhu Di declares him victorious and says he'll grant him a wish in return.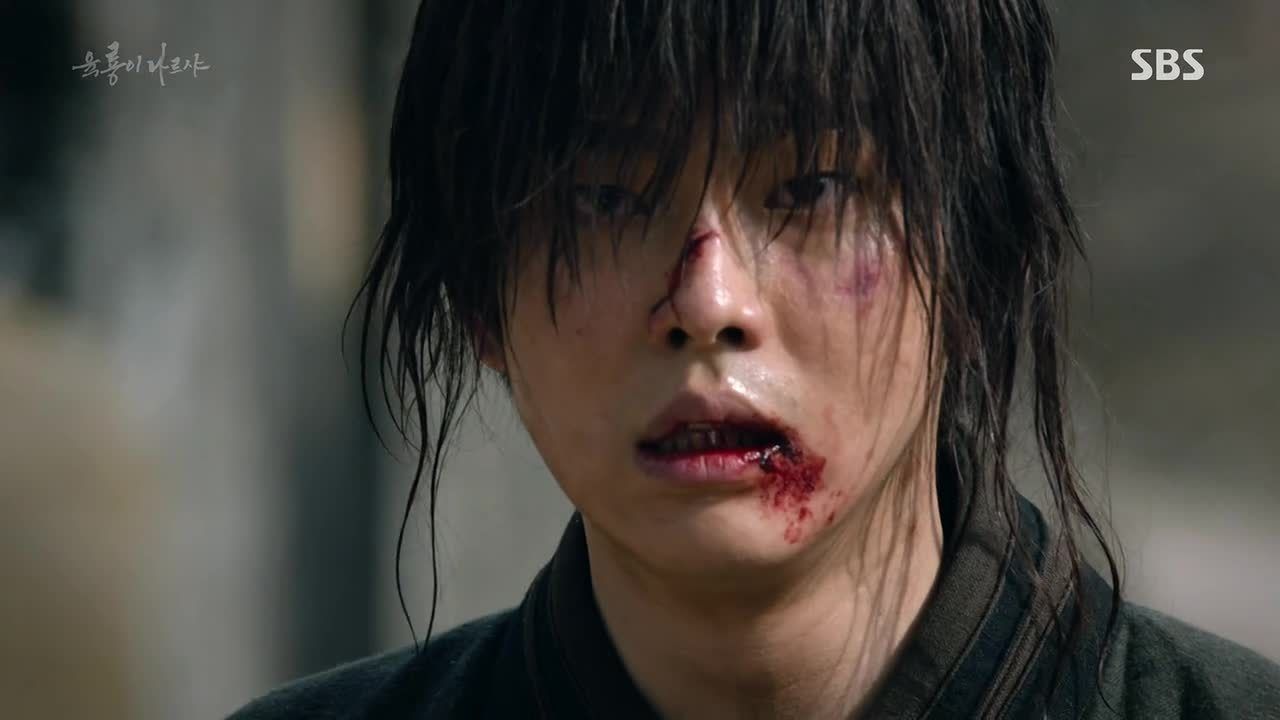 Instead of asking for anything for himself, or even Bang-won, Moo-hyul asks that Zhu Di spare the guards he'd planned to kill. They'll be more loyal to him in the future if he were to do so, Moo-hyul argues, so Zhu Di concedes and forgives the guards who failed him. Bang-won gives Moo-hyul a proud nod of approval for making the right choice.
Now it's up to Bang-won to face off against Zhu Di for the right to pass through Liaodong into the mainland, which isn't something Zhu Di is willing to grant. Bang-won takes a risky gamble and accuses him of intentionally creating more tension between Ming and Joseon, guessing that the reason might lie in his own insecurity about his nephew set to become the next emperor, and not him.
Likely because he's in something of the same position in his quest for power, Bang-won seems to understand the way Zhu Di's mind works. Using only his own observations of the map laid out in front of Zhu Di, Bang-won correctly guesses that he has his ambitions set on the central mainland and the capital of Nanjing (and thus, the throne).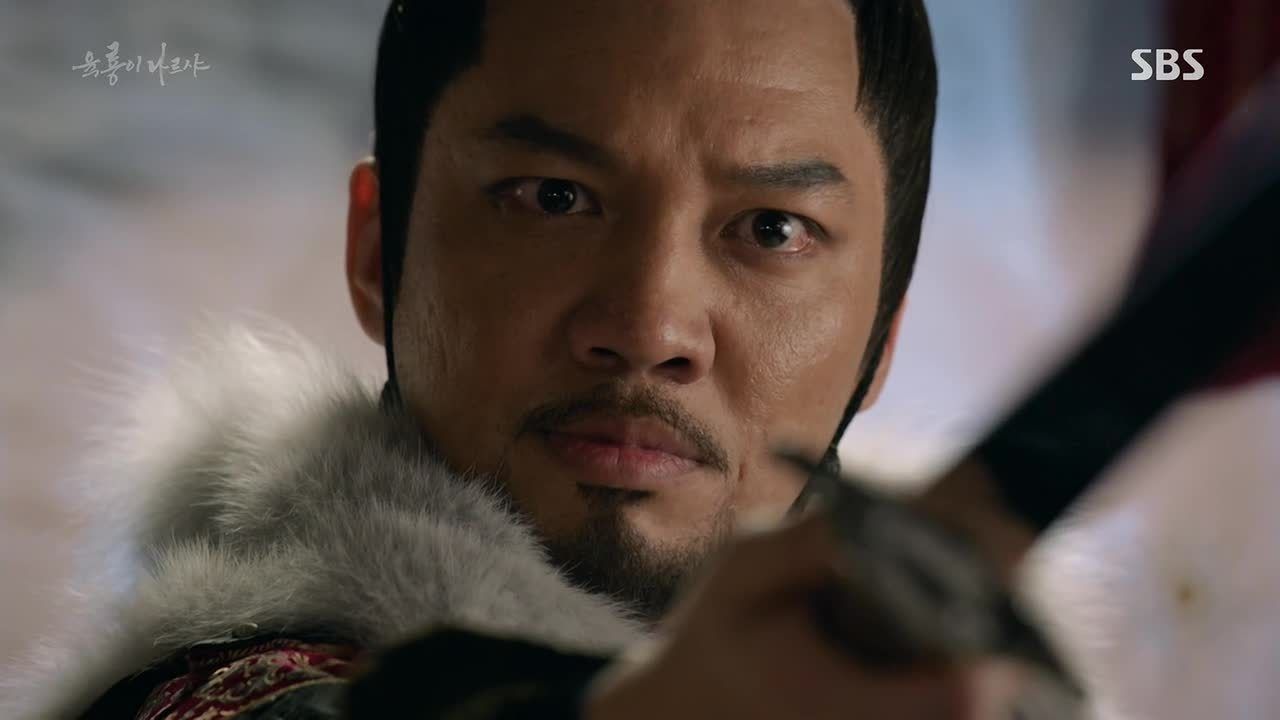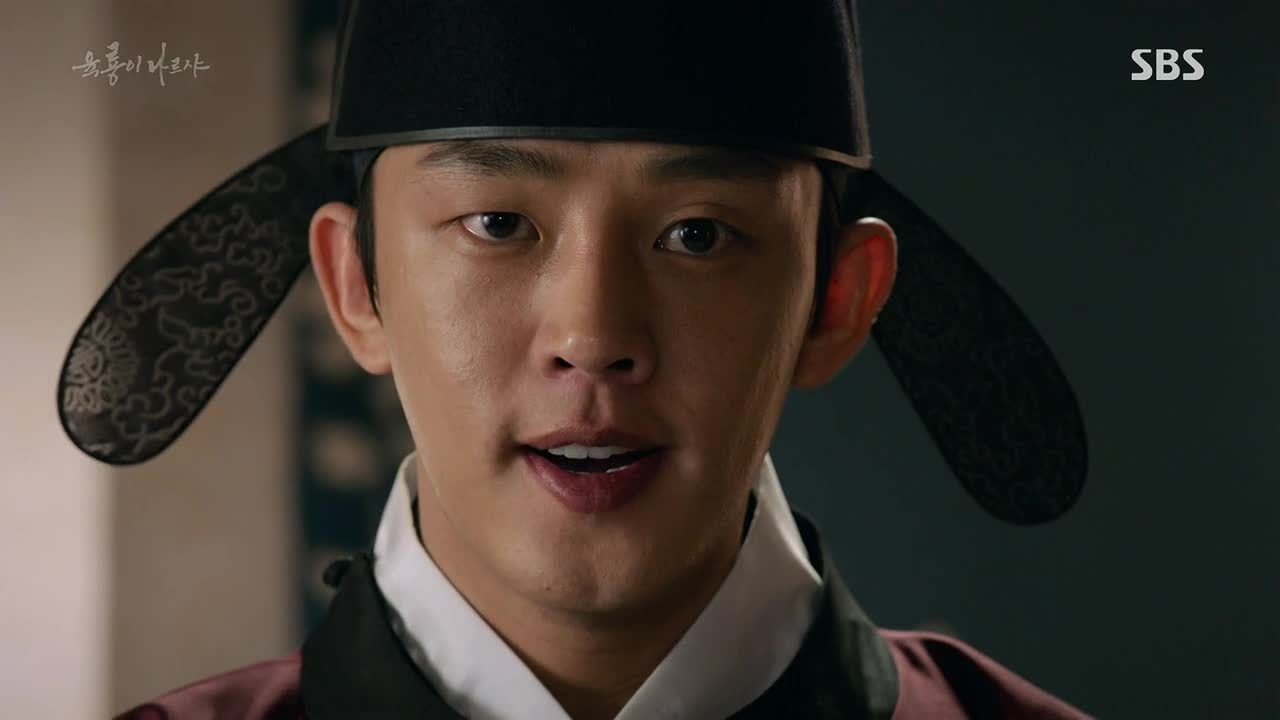 This guess is what causes Zhu Di to drop the sword he'd brandished toward Bang-won in anger, but Bang-won doesn't stop there. He knows that in order for Zhu Di to gain the power he wants, a hostile relationship with Joseon wouldn't be in his best interests—so in order to foster a better one, he should make it so that those who are anti-Ming in Joseon don't gain enough power to start a war.
And in order to do that, he'd have to trust him to make sure Joseon never raises a hand against them. But only if he lets his party through Liaodong now. Zhu Di can't help but be impressed by Bang-won's balls as well as his stupidity, since everything he just said could cost him his life. "Today, you will either live or die," the prince threatens somewhat vaguely.
That night, Bang-won is taken from his bed blindfolded and placed opposite Zhu Di at a banquet table. They have another surprise guest in the form of Yeon-hyang, though she's not known to Zhu Di as a member of Nameless, but as a human trafficker supplying Joseon women to the imperial family.
She's told him a lot about Bang-won, and the similarities in their struggles seems to have softened Zhu Di toward him. He'll agree to let them pass through Liaodong, and will write a letter to the emperor… on one condition. "Your bodyguard, Moo-hyul. Give him to me." What?!?!
Cut to Bang-won telling Moo-hyul that he's decided to give him to Zhu Di. (WHAT?!?!) But he swears that when he passes back through Liaodong on the way back to Joseon, he'll risk his life to make sure he gets Moo-hyul back.
In the meantime, Moo-hyul can learn even better fighting skills here, and Master Hong gets to stay with him. He wants Moo-hyul to become the best swordsman in Joseon, so Moo-hyul promises to become the best he can be for when Bang-won returns for him.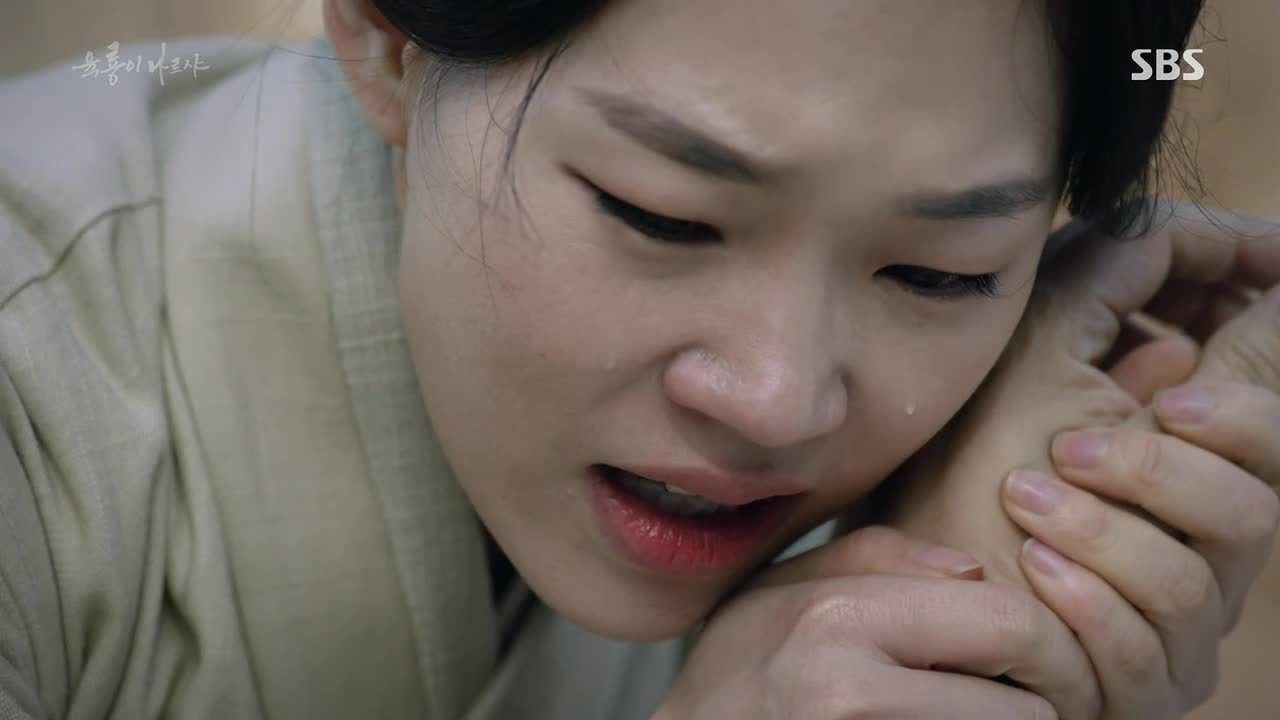 The deposed King Gongyang is well aware that King Taejo has ordered his execution, and has chosen to accept it in the hopes that Sa-kwang won't die fighting for him. He deliberately doesn't tell her, instead sending her away to the market where she receives a letter of farewell he wrote to her.
She realizes what this means and runs back to the house, but she's too late—Gongyang has already calmly accepted his death by strangulation. She finds only his body, and holds his lifeless hand up to her tearstained cheeks as she weeps for him.
Everything's better in a montage, as we find Moo-hyul advancing his skills by training with Zhu Di's men. It's about time the show remembered they had this sweet Guckkasten song in the soundtrack.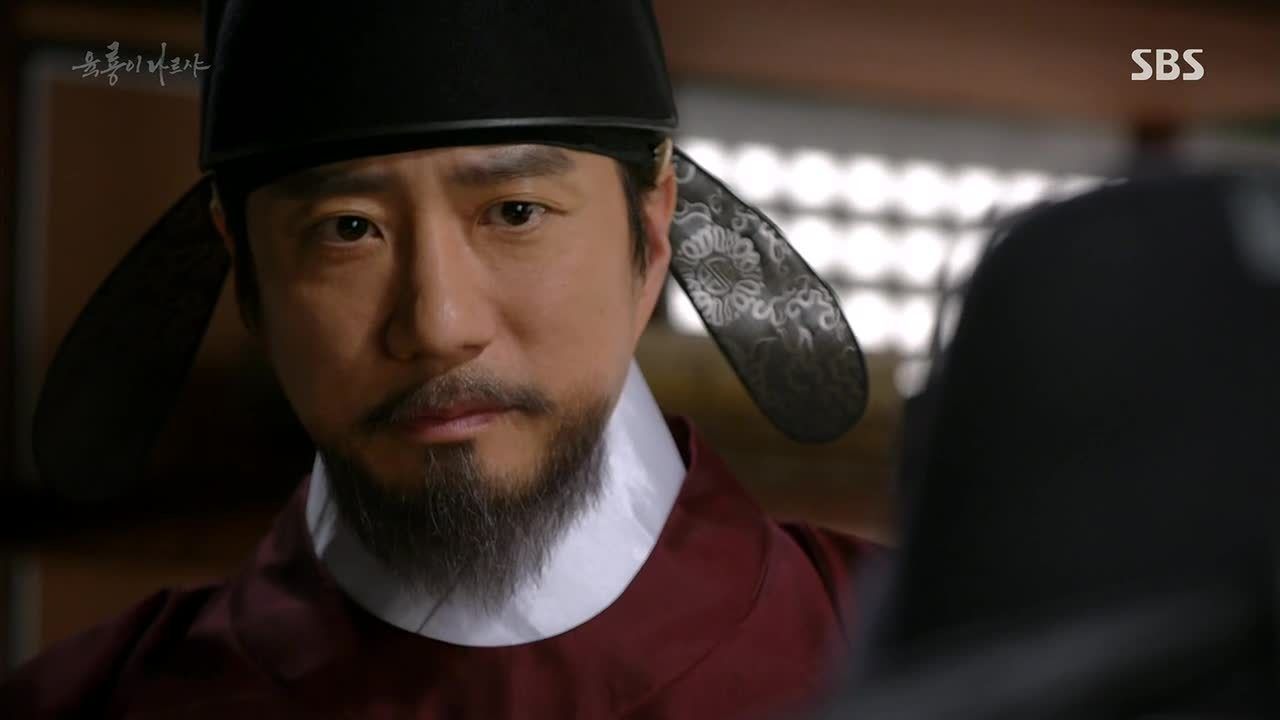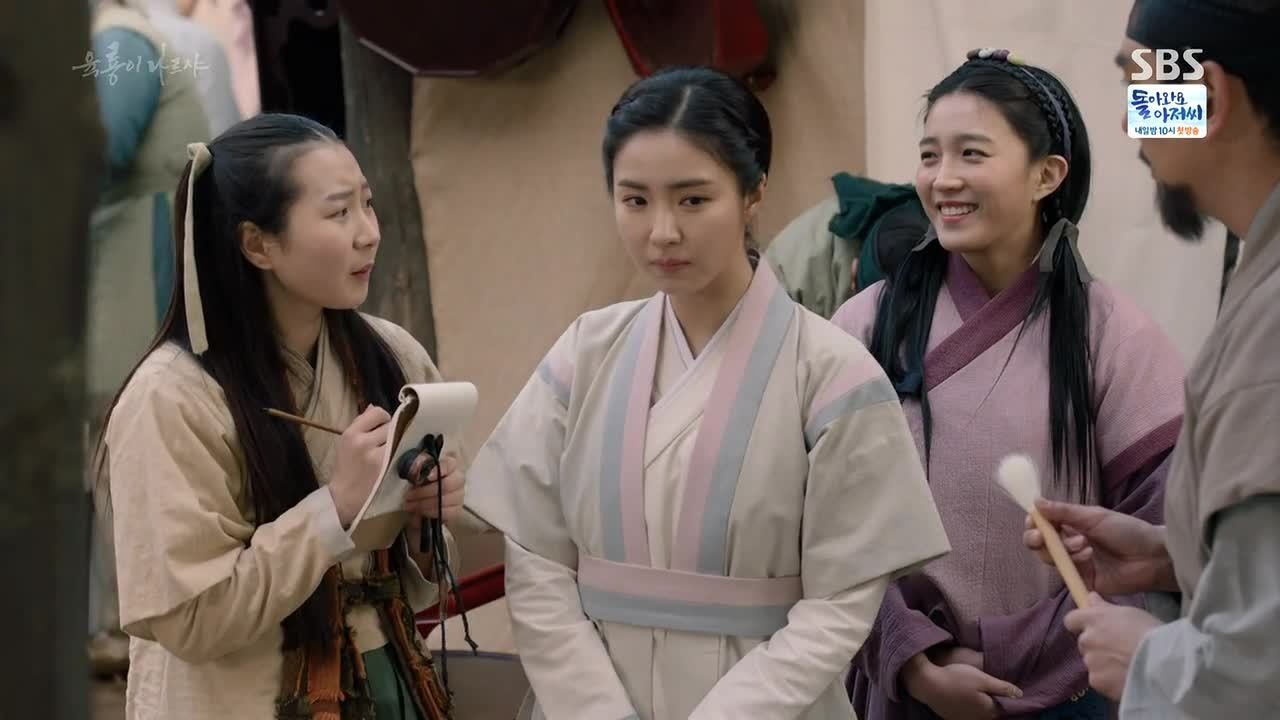 We return to Joseon after the capital has been moved from Gaegyeong to Hanyang (current day Seoul), to find politics being conducted as usual in the new government… or not, since Jung Do-jeon attempts to set the new government officials straight.
He establishes the basis for what will become The Annals of the Joseon Dynasty, a painstaking record of every historical detail possible starting from the reign of King Taejo, made only for use by future generations. Even the king himself would not be allowed to read them, thus making the Annals sort of a check on his power, since all his actions—good or bad—would be immortalized on paper.
Boon-yi and her people are living well in Banchon, though Gab-boon has some qualms about working with former capital slaves when they're commoners. Boon-yi reminds her that they're all just people, which seems to soothe her worries for now. There's also something suspicious going on with a brush maker she calls Ok Ajusshi and his perpetually missing sister. (He escaped the massacre of the Wang clan by changing his name and fleeing.)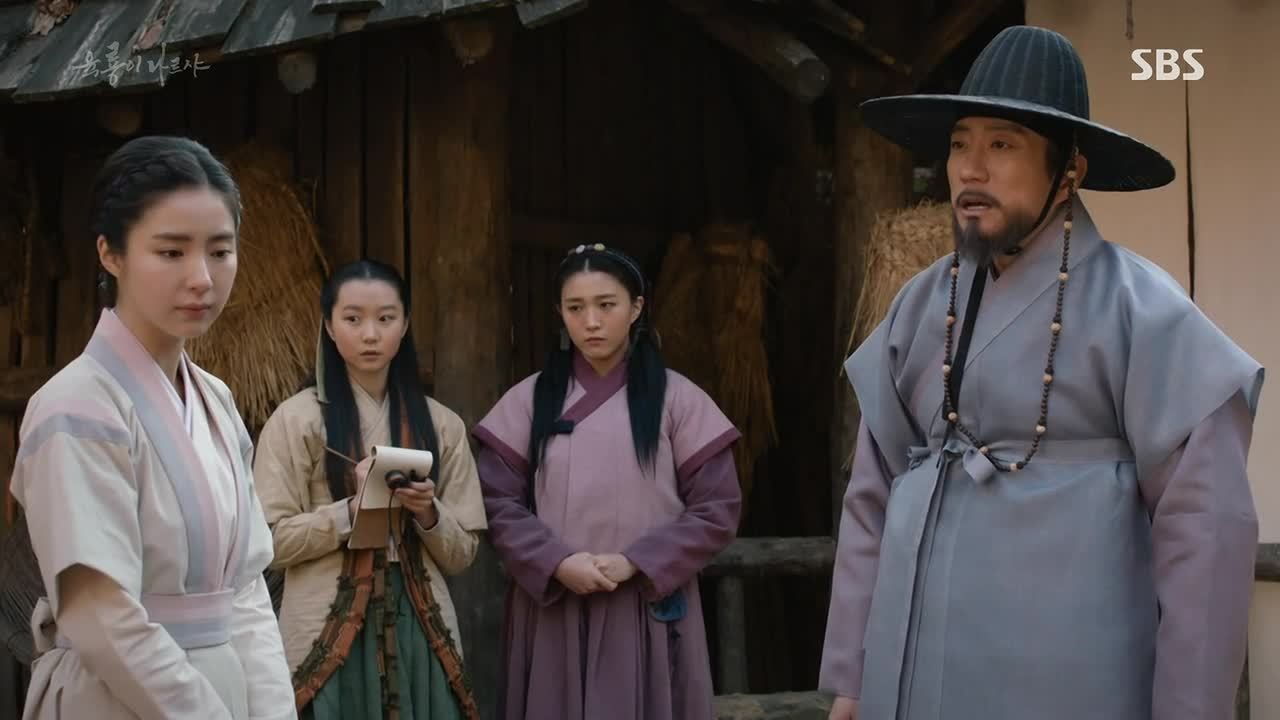 Jung Do-jeon, finally looking a little less homeless in updated robes, comes to pay a visit to the tavern Grandma has set up in the village. He has no news of Bang-won, and thus no news of Moo-hyul for his poor grandmother.
While Jung Do-jeon prepares for a secret meeting later that night, Boon-yi hears reports from her spies, who are likely only secretly still employed by her.
Meanwhile, Bang-ji catches a spy stealing documents from Sungkyunkwan, likely the personal credo that Jung Do-jeon wanted copied. Boon-yi happens upon the scene, but the spy isn't hers—he belongs to Nameless. When Gil Sun-mi finds out their spy has been captured, he eats what looks like a piece of jerky(?). I'm assuming this is important because we got a tight shot of him chewing it, but who knows.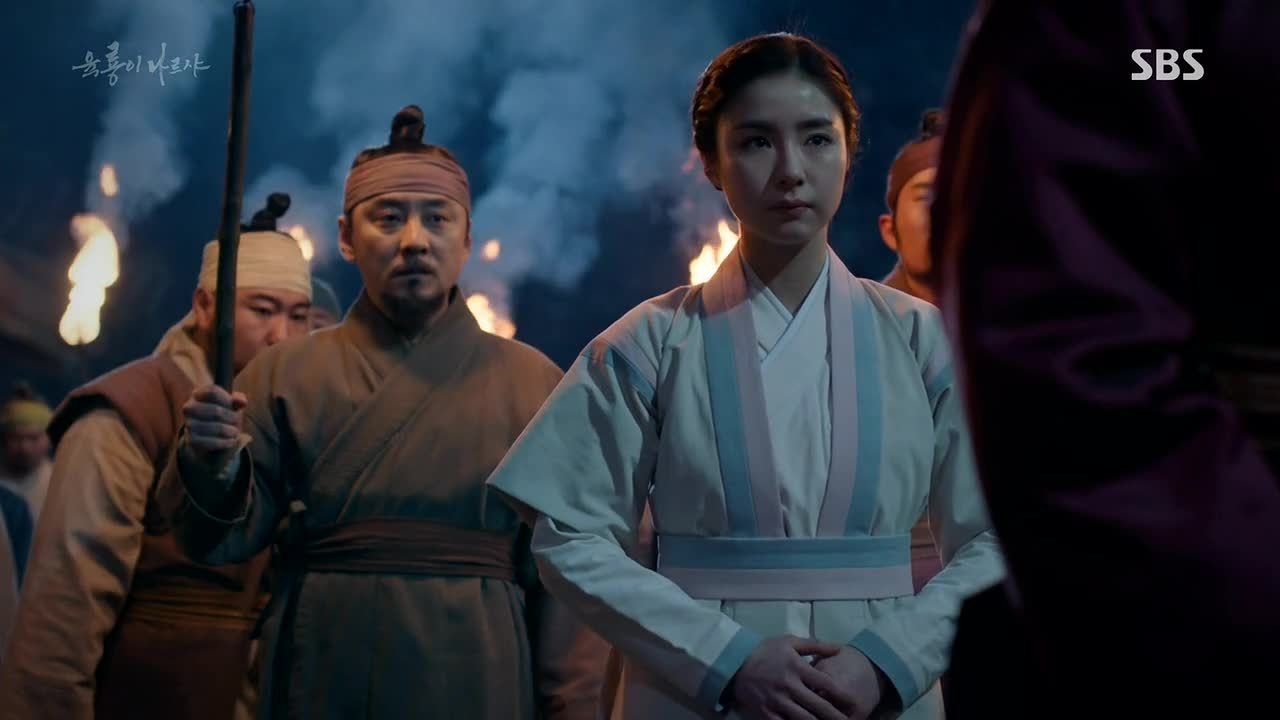 Boon-yi, acting as the leader of Banchon, faces off against a group of ministers and soldiers who've come to apprehend the spy. Thanks to the laws Jung Do-jeon has put forth, Banchon and Sungkyunkwan are off-limits to official forces without the king's explicit command.
In a way, that makes them semi-autonomous, giving Boon-yi the authority to deal with the spy as she sees fit unless she receives a royal order to do otherwise, which makes the official very, very angry.
Boon-yi interrogates the spy, but it's Bang-ji who suspects him of being Nameless. She's horrified by the idea and gives the spy a chance to confess, ordering him stripped and checked for a Nameless tattoo if he doesn't. He dies before he gets the chance though, thanks to a surprise dagger thrown by Gil Sun-mi.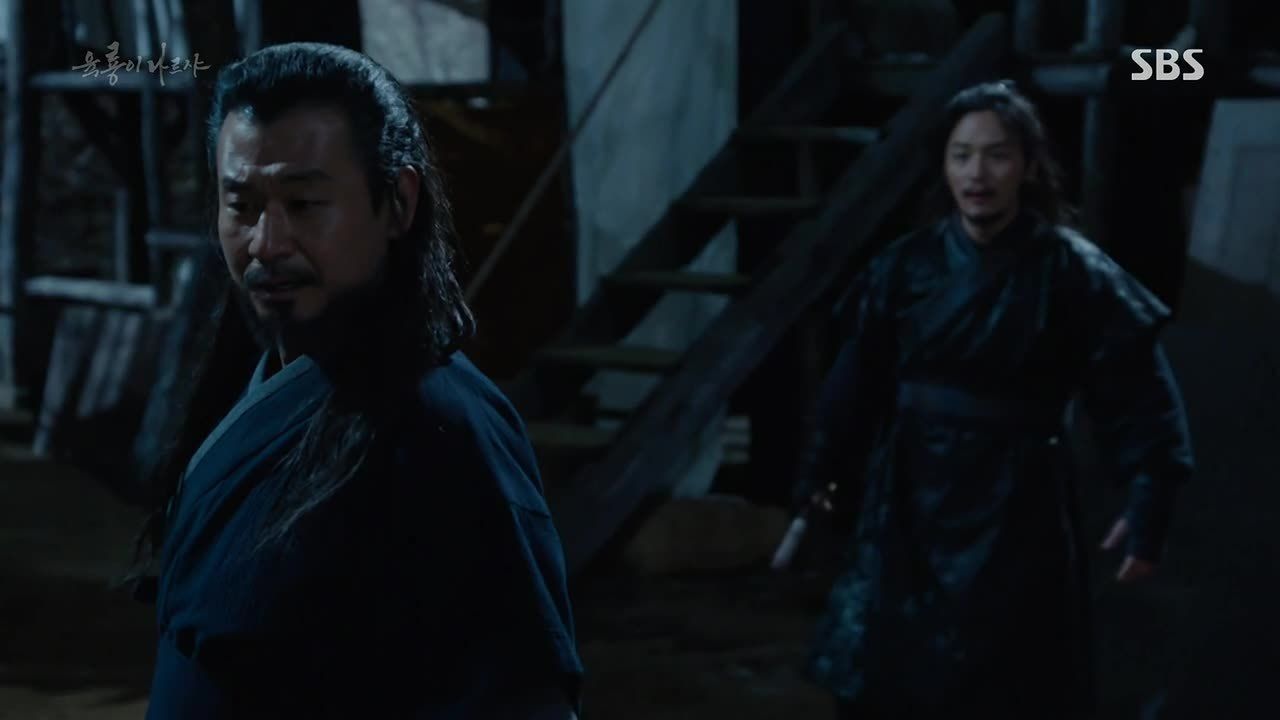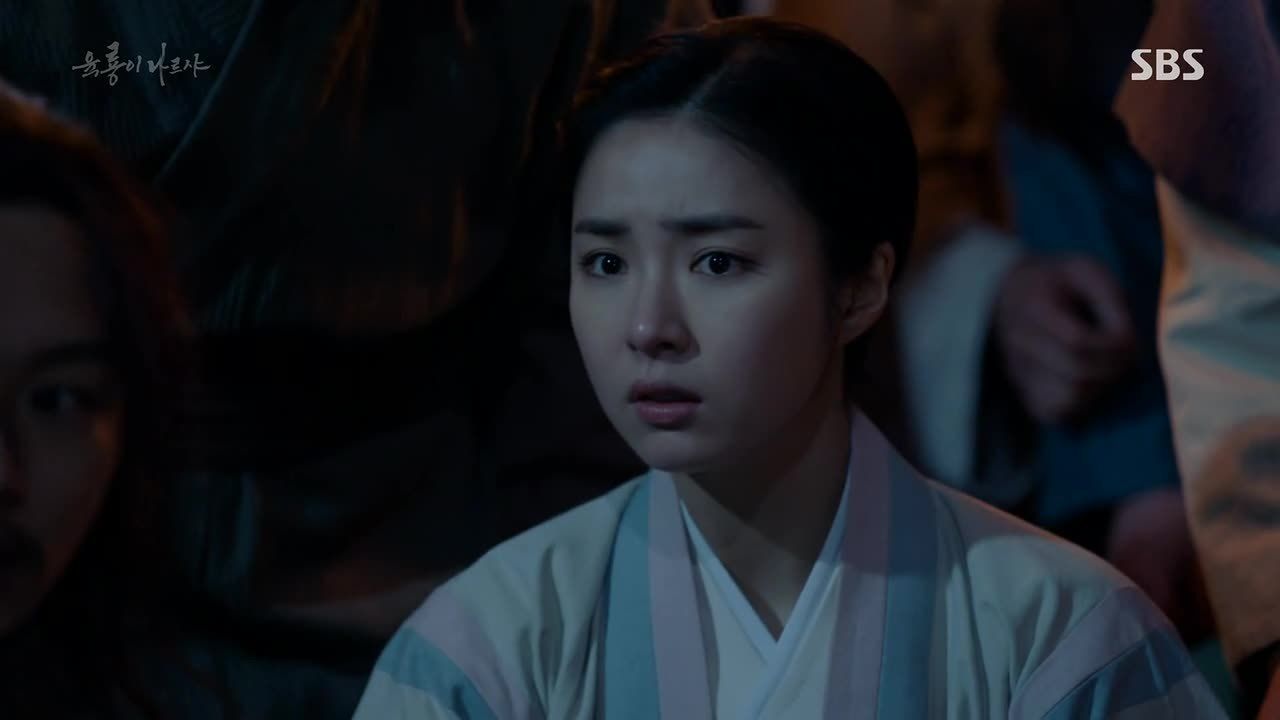 Bang-ji catches up to him, asking what Nameless is doing in Banchon. "We are not just in Banchon, we are everywhere," Gil Sun-mi replies, shortly before the two go at it. Their fight is short-lived though, since Gil Sun-mi is forced to flee when Boon-yi and her people arrive—and makes a distraction in order to do so by throwing his jerky at Boon-yi like a ninja throwing star. (I know.)
Ah, so Ok Ajusshi's "missing sister" is none other than Sa-kwang, since King Gongyang had made arrangements for her to be able to live in hiding after he was gone. She delivers the letter the spy stole and then hid to Boon-yi after finding it, but Boon-yi has no idea who she really is.
Sa-kwang and Ok Ajusshi are hiding in Banchon because soldiers aren't allowed inside, and it seems she's found a new purpose in taking care of two of King Gongyang's surviving children. This addition seems extra fictional, since great pains were taken to ensure that Gongyang and his entire bloodline were wiped off the face of the earth.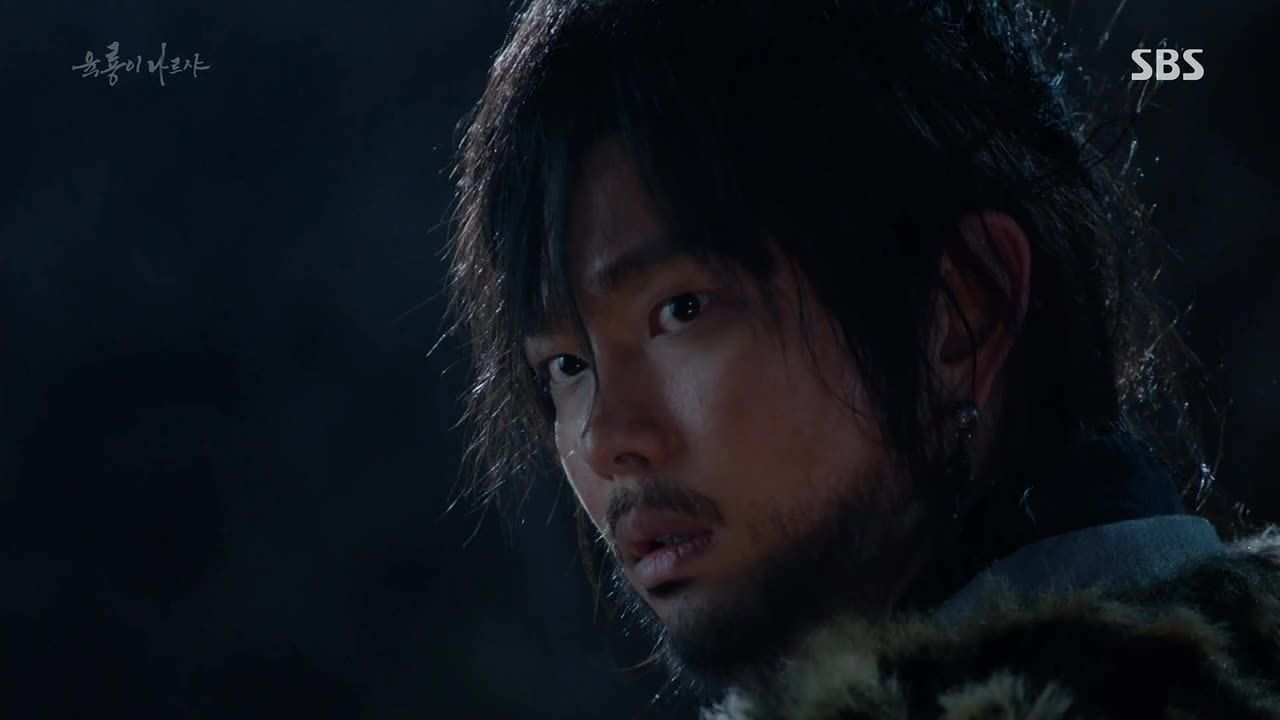 Jung Do-jeon arrives at Jungryunam for his secret meeting with a group of scholars on a cliff that should look very familiar. Boon-yi watches secretly from nearby, likely tipped off to the meeting by one of her spies.
Back at the Liaodong Fortress, an eager Ming guard uses broken Korean Master Hong has undoubtedly taught him to tell him that Bang-won has come back alive. Moo-hyul rises like he's been waiting only for this day, which, he probably has.
He's sporting manly facial hair now, which makes it seem like it's been years, but in reality Bang-won left for Ming and came back within the same calendar year. But then a call from off-screen is heard: "Moo-hyul!" Is it Bang-won?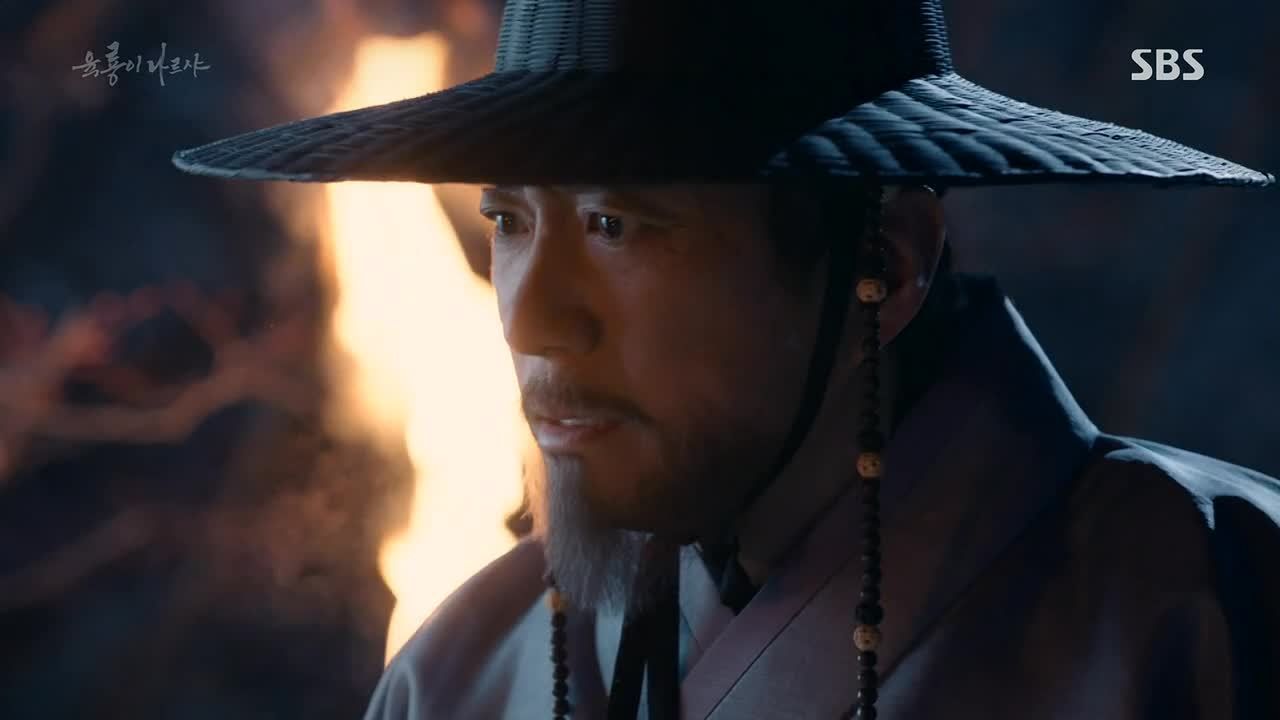 Jung Do-jeon addresses the gathered scholars with a rousing speech, and one with very familiar overtones for anyone who's seen Tree With Deep Roots:
"Therefore, the roots of this grand country of Joseon are still weak. Scholars, officials, the sadaebu… all of us here should be the strong, healthy roots of this country. In order for this tree named Joseon to last for ten thousand years, we must be the root of those roots. We may be hidden, but we live and breathe, invisible, while passing along our energy to the tree, its leaves, and flower petals. We must become the invisible, deep-rooted roots of history! We must become the hidden root of this land!

The hidden root steers the king [in the right direction], the hidden root makes sure not to lead the king astray! The hidden root works for the lowest people of this land! The hidden root cares for the people; the hidden root respects the people! The hidden root brings peace for the people! The hidden root raises the people up! The hidden root must be unchanging. That is what Minbon is [the people are the root of the nation]."
His affecting words earn teary eyed responses from all those listening, including the eavesdropping Boon-yi who repeats his last phrase wonderingly: "Minbon. The people… the people are the roots."
Jung Do-jeon: The First Leader of Hidden Root.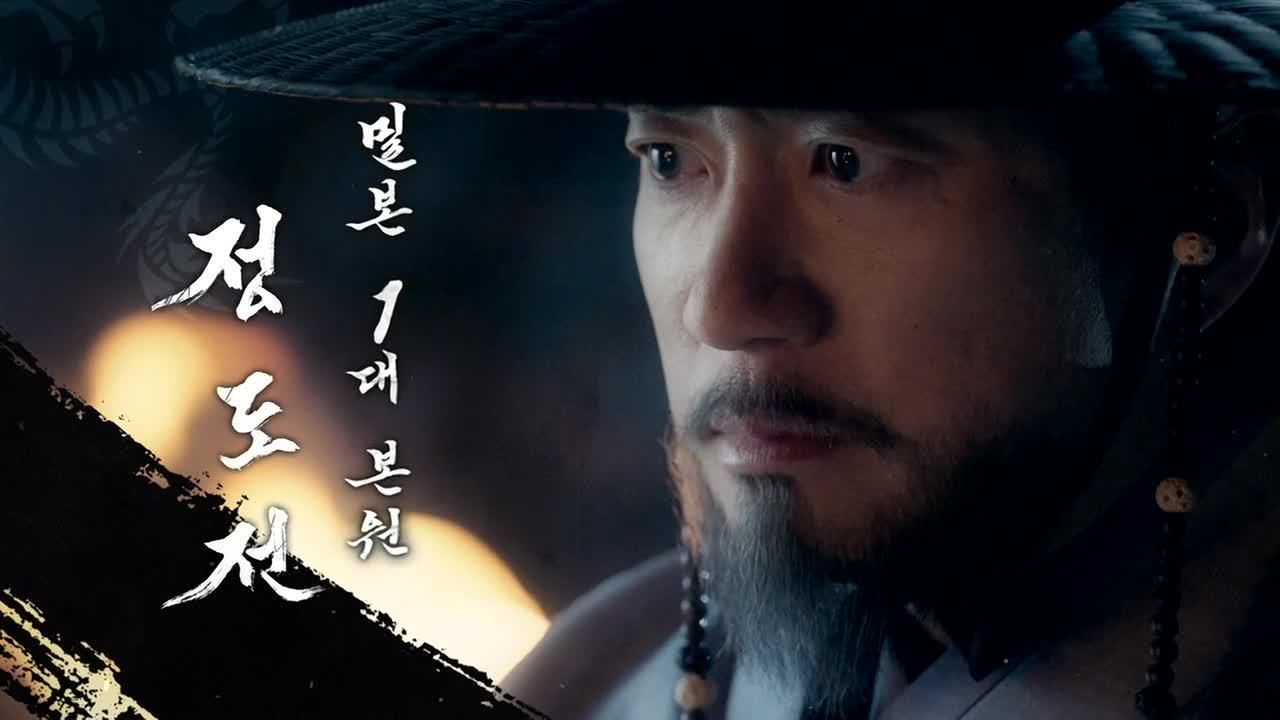 COMMENTS
As if my lasting nostalgia for Tree With Deep Roots wasn't unhealthy enough after all these years, this episode brought back way more memories of that show than any of the previous ones—likely because it tried the hardest to do so. But now I want to go re-watch Tree all over again because it was just that awesome, and because the fact that my favorite show ever actually got a prequel, practically unheard of in dramaland, and that prequel is about to end. (*cries*)
The Tree tie-ins present an interesting dilemma, since I simultaneously wish this show had taken on more of the secrecy and subterfuge of its future counterpart that it so clearly showed it could do with this last scene, while at the same time recognizing that this show isn't and shouldn't be just a longer version of Tree.
Then again, there have been a lot of missed opportunities along the way when it comes to achieving the same mysterious depth, though I feel like bringing up how and why Nameless has failed to live up to its potential is a topic for another day. I can't keep living in the past when it comes to them, and can only hope that there'll be some sort of turnaround that redeems them (not as people, but as good villains) in these last episodes.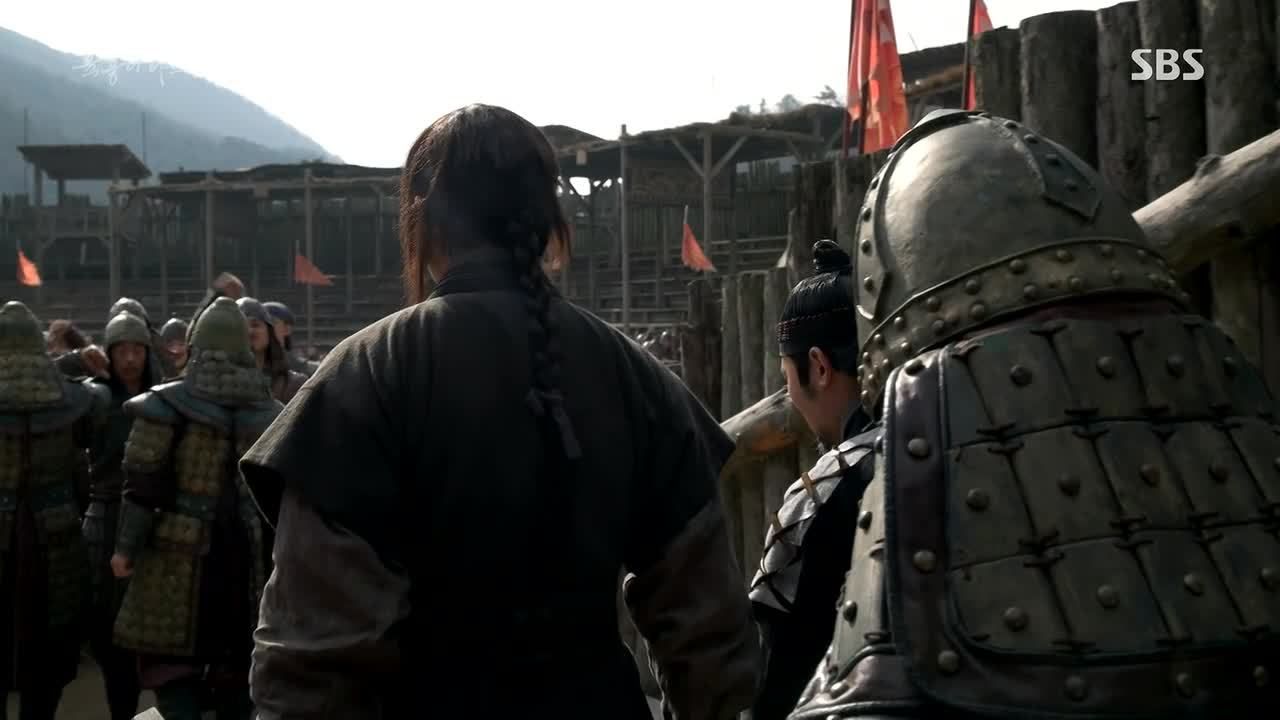 But enough about that, and onto a much more important concern—namely, how it is that Jung Do-jeon got another special introduction when Moo-hyul has received exactly zero. Now it feels so deliberate as to be intentional, but I was so sure this episode was his episode. He even grew a beard! If that's not deserving of a Dragon Title, and none of his other accomplishments have been thus far, who does he/we need to kill to earn it? How is that beard not enough to appease the angry drama gods?
His bromance with Bang-won was a thing of beauty though. And I loved that Bang-won, who only takes very calculated risks, was still willing to bank everything on not losing Moo-hyul. Even though he ended up finding a solution that was mutually beneficial for the both of them, and even though he's done some terrible things before, that one relationship serves to put him above Jung Do-jeon in terms of his loyalty toward others.
He could've used Moo-hyul and tossed him away, but he did everything—and I mean everything—to make sure that wouldn't happen. More than fancy speeches about lofty ideas, actions are what make a hero. (I'm totally aware that this statement is going to cease to be true the second Bang-won murders someone. Which, let's face it, will probably be next week.)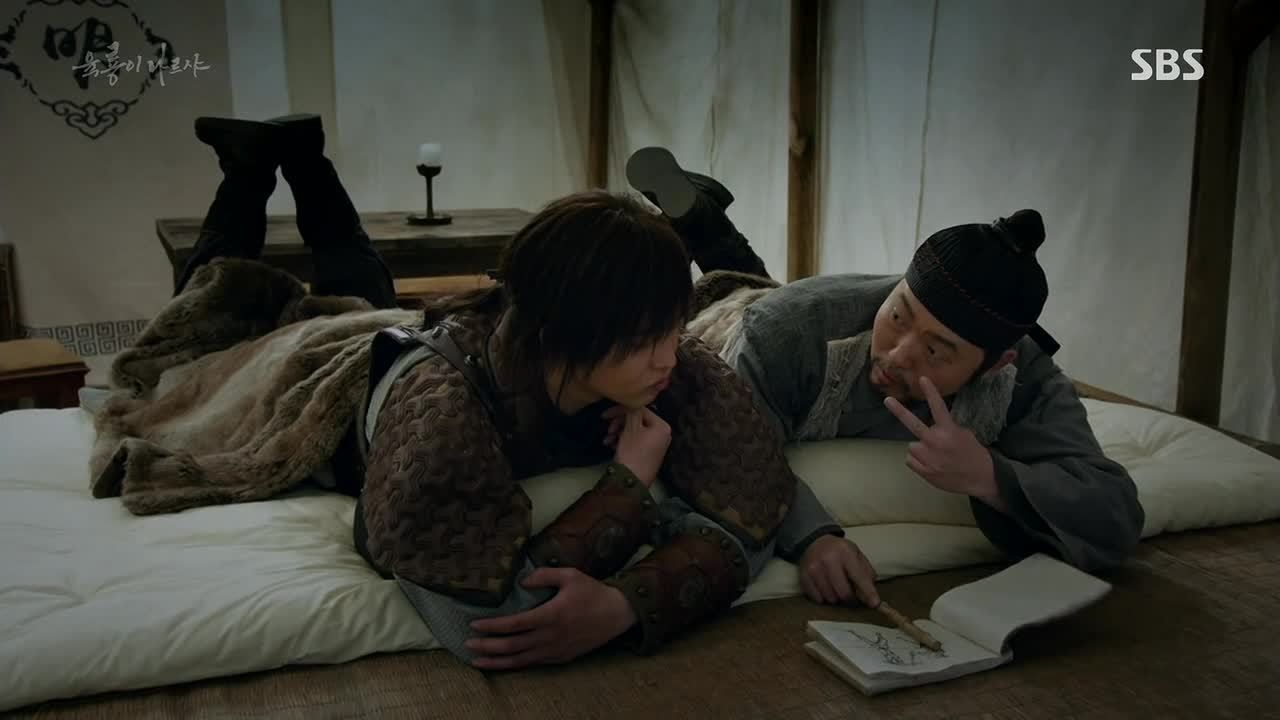 RELATED POSTS
Tags: Byun Yo-han, featured, Kim Myung-min, Shin Se-kyung, Six Flying Dragons, Yoo Ah-in