Will it be Han Ji-min or Sung Yuri for MBC's Monster?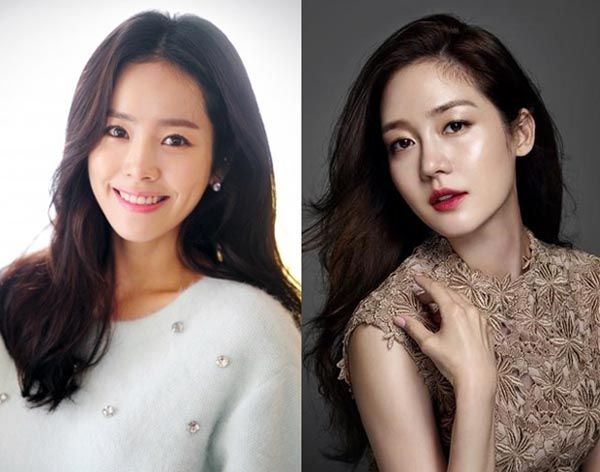 Ah, finally news of a potential leading lady for Monster, the revengey melo starring Kang Ji-hwan whose life is trampled by the super elite and who then sets out for payback. News has surfaced simultaneously that both Han Ji-min (Hyde Jekyll Me, Rooftop Prince) and Sung Yuri (Birth Secret, Feast of the Gods) are in contention, though both sides are very clear that they're just considering.
Aside from the super awkwardness of courting two actresses publicly (who thought of that idea, and are they still employed?), I have to say I could get behind either pairing purely based on their prior outings with Kang Ji-hwan. (In fact, I even wonder if the drama went fishing for leading ladies specifically in his pool of former co-stars, to ensure a decent partnership. Was Kim Haneul busy?)
Of the two, I have to give Han Ji-min the edge for her acting skills, and she was adorable in her previous team-up with Kang, 2007's Occupation-era rom-com-melo Capital Scandal. But while Sung Yuri is very hit or miss for me, I have a super soft spot for her tomboyish turn in 2008's fantasy comic-action sageuk Hong Gil Dong, where she was likable and endearing in a way I'd never seen before or since. Plus, she and Kang Ji-hwan were very cute together there (they reteamed for the comedy movie Runway Cop a few years after that)… although maybe Kang Ji-hwan had better romantic chemistry with Han in Capital Scandal? Ahh, I can't be rational about Hong Gil Dong though, it was silly and flawed but I loved the hero so.
Also in Monster's cast are Park Ki-woong, Lee El, Jung Woong-in, Lee Deok-hwa, Park Young-kyu, and Go Yoon. Monster plans to begin filming its early scenes with its child actors later this week; it follows Dazzling Temptation as MBC's next Monday-Tuesday drama beginning in March.
RELATED POSTS
Tags: Han Ji-min, Kang Ji-hwan, Monster, Sung Yuri