Cheese in the Trap: Episode 16 (Final)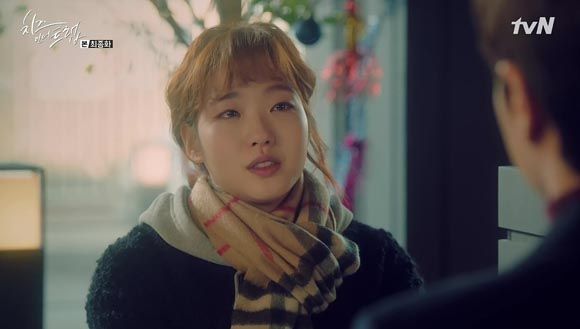 Well, it's over. After all that furor, we're finally at the end of Cheese in the Trap, and it's a decidedly muted affair. Is it a terrible finale? I don't think it's quite that. But I also don't think it's the kind of finale that'll satisfy anybody, no matter which ship you're on or whether you feel the behind-the-scenes controversy was an utter outrage or entirely irrelevant. I do feel like we got a close to our major arcs and a wind-down to the conflicts and resolutions—I'm just left wishing the journey there had been more satisfying. Oh, the what-could-have-beens with this drama. It may haunt it forever.
SONG OF THE DAY
Achtung – "아련하게" (Faintly) [ Download ]
Audio clip: Adobe Flash Player (version 9 or above) is required to play this audio clip. Download the latest version here. You also need to have JavaScript enabled in your browser.

FINAL EPISODE RECAP
After being shoved into traffic, Seol is rushed to the hospital. A worried Jung runs alongside the gurney, but is forced to wait outside as she's taken into surgery.
Thinking of the time Jung first asked her out, she wonders to herself, "Why did I take Sunbae's hand that time? I knew he was odd, and that I was afraid. I must have been aware of him too, even if I acted like I wasn't. Behind that sweet smile, he was cold, lonely, and child-like. That sunbae had a wholly different face that only I saw, that he only showed to me—I must have been curious about that bare face."
Seol's family arrives at the hospital, and Jung informs them that Seol broke a rib and damaged some organs, which sends Mom reeling. It's a relief when the doctor declares the surgery successful.
In-ho's at piano practice with his still-injured hand when he receives a call from Nerdy explaining that In-ha's gotten herself into some trouble. In-ho hurries to the police station, where she's currently sitting in a daze, not answering the officer's questions. In-ho checks to make sure that his sister's okay, and is told that it's the other party who's injured and unconscious. He asks for an explanation, but Nerdy doesn't have one and In-ha's not forthcoming.
That's when Jung bursts into the station and grabs In-ha, spitting fury while In-ha defensively blurts, "It was an accident! I did nothing wrong."
The others intervene to pull Jung away, and he warns In-ho that if anything happens to Seol, he'll kill him.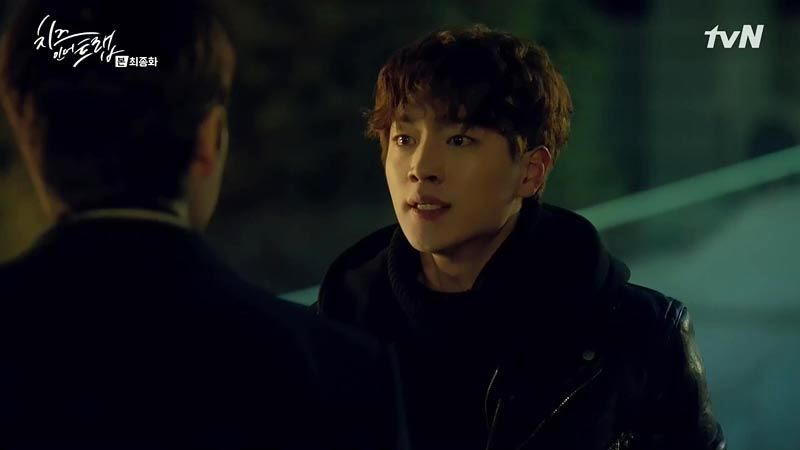 Jung storms out, and the pieces start to fall into place for In-ho, who chases him out to ask for information. He asks which hospital she's at, but Jung growls that he'd have a lot of nerve to show himself.
In-ho runs to the hospital anyway, pausing before approaching Seol's family. They already know his sister is responsible, and all he can do is hang his head and say repeatedly that he's sorry and that he'll take full responsibility. Mom asks how, and the family ushers her away before she collapses. Jung tells In-ho to go.
Another call from Nerdy sends In-ho running back to the police station, though too late to prevent In-ha from being dragged away. Nerdy explains that In-ha's legal representation showed up with paperwork, and In-ho recognizes the chairman's secretary's name and calls. He's told that In-ha will be "kept under protection" until the situation is resolved.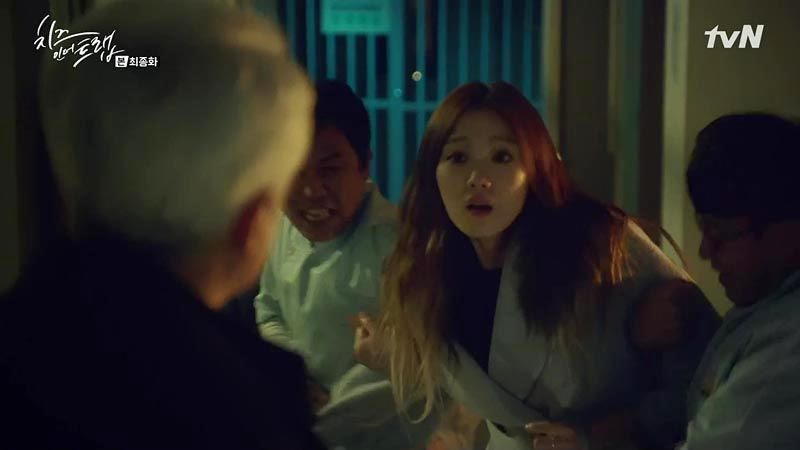 That means locked up in a psych ward, and she's dragged off by men who ignore her pleas to be let go. The secretary reports to the chairman, who was behind the order.
In-ho arrives at the psych ward and demands that In-ha be released, but is told firmly that he'll have to wait till visiting hours tomorrow. He barely holds himself back from acting out in anger, and ends up sleeping the night there.
In the morning, he's allowed to see In-ha, who's still in disbelief that the chairman would lock her up after she'd done so much for him over the years. In-ho is surprised that the chairman and not Jung was behind this, and also to hear her talking so plainly about spying on Jung. But she calls him out for doing the same.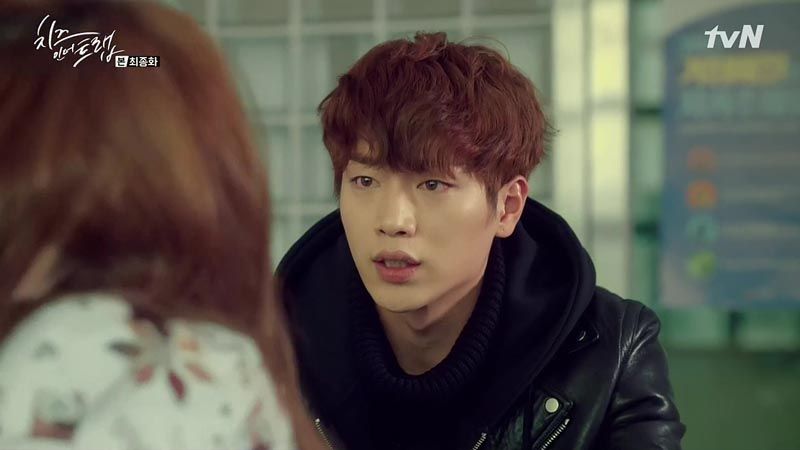 In-ha begs her brother to get the chairman to release her, then tries to storm out of the room, which only gets her dragged off again.
In-ho calls the chairman right away, but is rebuffed by his secretary, who adds the warning that persisting will only be bad for In-ha.
Chairman Yoo visits Seol's parents in the hospital to assure them that he'll give Seol the best attention, from requesting the best doctors and paying the bill. Jung watches with a dark face while his father says he wants to help his son's friend, knowing Dad's not as altruistic as that.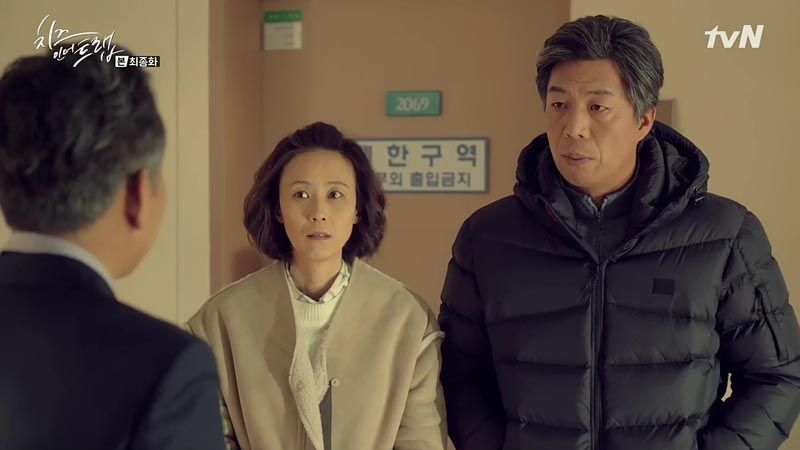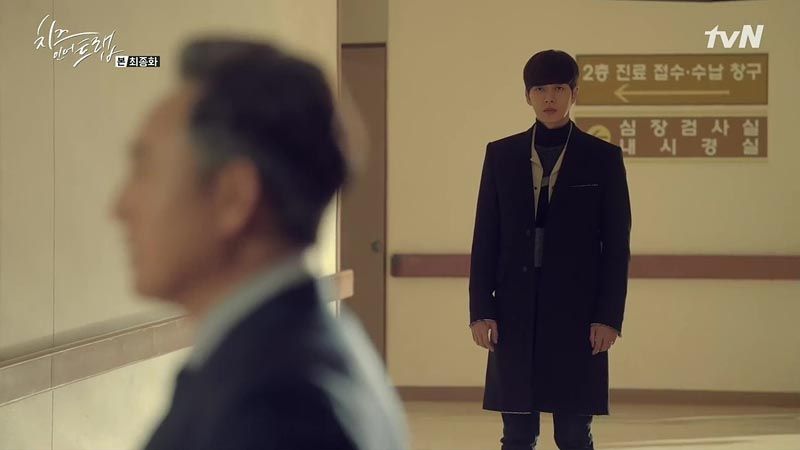 Jung isn't pleased about In-ha being locked up in a psychiatric hospital, where the chairman can have her deemed delusional or prone to uncontrollable impulses. Jung argues that this allows her to escape taking responsibility for her actions, but his father only sees the situation as it pertains to his company and public image—if she's taken to court over this, she'll likely drag Taerang's name into everything. This way, he can keep both In-ha and Seol's parents quiet. That's pretty cold, old man.
Jung argues that Seol could be injured irreparably from the accident, to which his father says readily that he'll just throw more money at her—he can tack on additional settlement funds to keep her parents from making a fuss.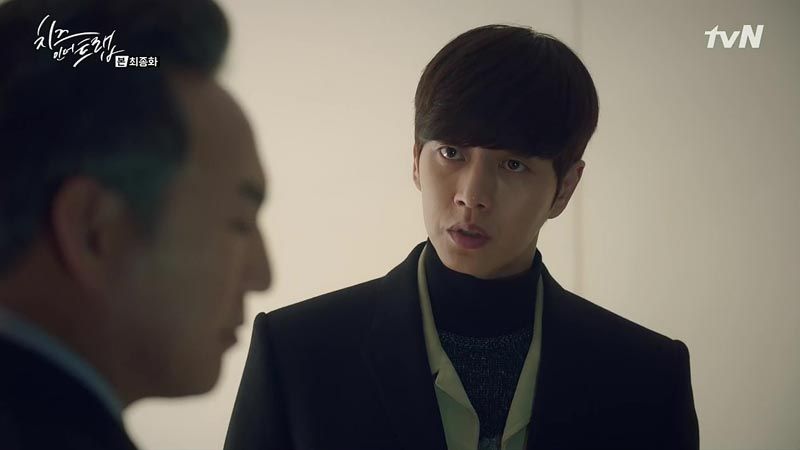 On top of that, he blames Jung for making him step in to handle matters like this, exclaiming, "Why do things like this always happen with you? If you couldn't clean up the aftermath, you shouldn't have started things in the first place!"
Dad says he thought things had quieted after In-ho's hand accident, but says this shows that he shouldn't have dated Seol in the first place: "And if she hadn't been seeing you, she wouldn't have suffered this either!" Jung looks up at this, startled. No, don't look at me with those noble idiot eyes!
Jung sits by Seol's bedside while she remains unconscious, and she thinks, "The more I came to know Sunbae, more than feeling unfamiliar or afraid, I felt fluttery, and also pained. So I didn't want to leave him to be alone."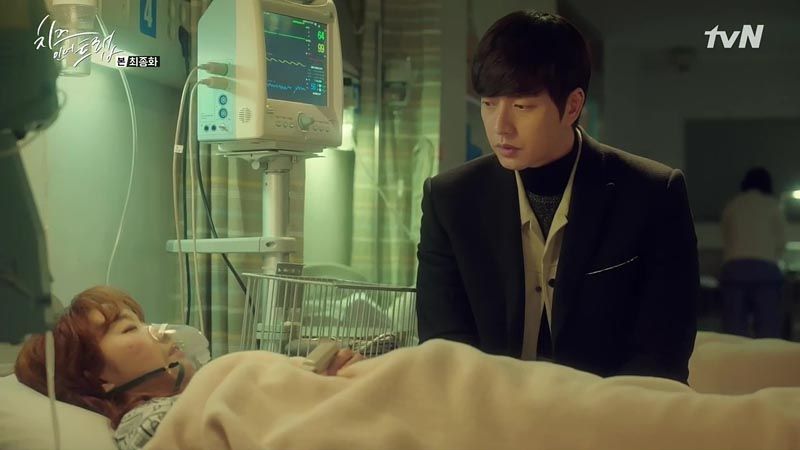 Jung thinks, "At first, I didn't know either—that I would come to like anyone, or how full that could make my heart feel, or how scary. I just wanted to be with you for as long as I could. I thought all I needed was you to be with me. I couldn't understand why people looked at me with those eyes, why they hated me. But now I think I know—what I trampled on was their hearts, and their feelings." He sheds a tear at the realization: "And how much that hurts."
He wonders why he didn't know until this happened to her… and Seol opens her eyes. She thinks to him, "Don't say anything. I know what happened, and I know why. I know how you're feeling right now, too."
They have a silent conversation, their thoughts in tune as they look at each other. Jung thinks how being with him could result in more pain for her, and she thinks back that he shouldn't feel uneasy, because "I won't ever run away."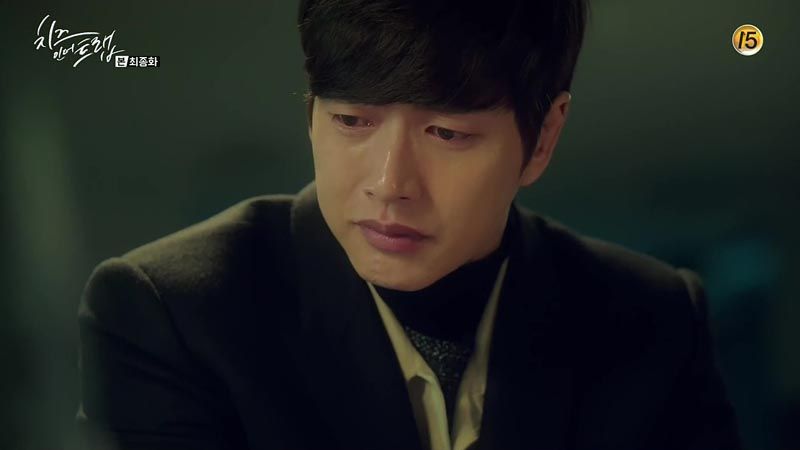 "Is that really okay?" he thinks. "Is it really okay that I don't let go of this hand?" Seol falls back asleep.
When she wakes up next, it's her family's heads she sees hovering above her bed. Her brother steps out to get Jung from the hallway, but he's gone.
In her hospital room, In-ha throws her food trays to the ground and refuses to see In-ho, although he spends days waiting outside. He hears about In-ha's continued rejection of IV drips and food; if things continue, they'll have to put her in restraints.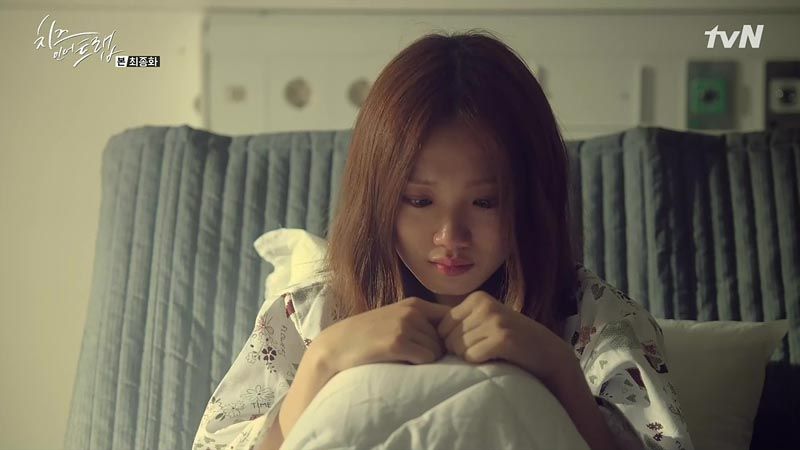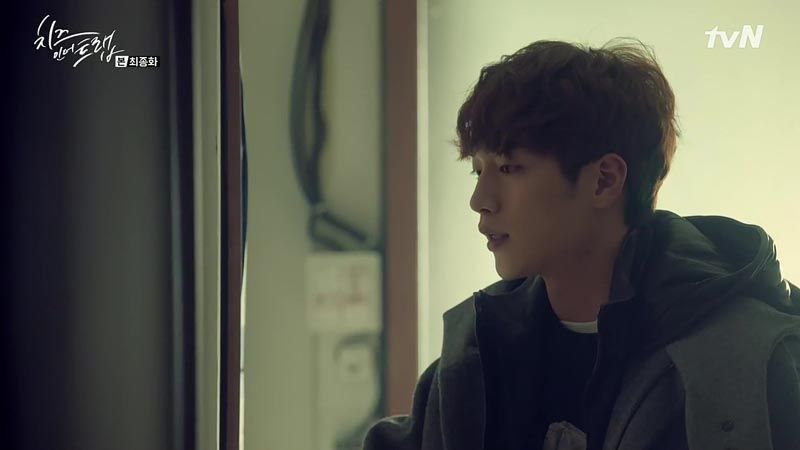 In-ho gets the nurse to allow him inside briefly to talk to In-ha very briefly, though it's through her locked door. He reminds her that this isn't helping her case for being let go, then adds, "It's not true that you have nobody with you. So don't give up like your life is all over. I need you, noona. So make sure to eat. I'll keep waiting outside."
At least his words finally stir a reaction in In-ha, and she wipes at her tears.
Nerdy joins In-ho to inform him that Seol woke up, which brings a small smile of relief to his face.
Seol's friends visit her in the hospital, and everyone wonders why Jung hasn't visited at all since she's been awake, considering he was constantly here while she was unconscious. Eun-taek is the one who points out that maybe he's feeling guilty for being associated with the person who did this to Seol, but in any case it's clear Seol feels disappointed at his absence.
Everyone's surprised when Nerdy arrives and asks to speak to Seol alone. He tells her about In-ha's current state, and how she's been locked up and is refusing to see her brother, and how the chairman is responsible and Jung is out of touch. He asks Seol hesitantly if she could talk to Jung about her situation, knowing that it's a lot to ask.
Jung sits at home, ignoring his phone, letting the messages pile up. He eyes the couple ring on his finger and thinks of Seol's instruction to never remove it or lose it… and pulls it off. Nooooo.
Seol is released from the hospital and taken home by her family, who stiffen upon spotting In-ho waiting outside their building. He's contrite and heavy-hearted, apologizing again while acknowledging that any amount of apology is insufficient.
But surprisingly, Seol's father says gruffly, "You've suffered too." He pats In-ho's shoulder, and the family steps aside to let them talk.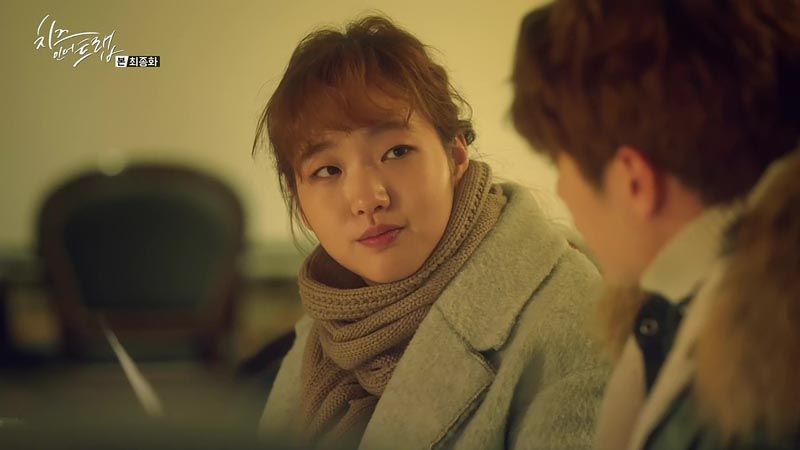 They sit at Uncle's bar awkwardly, and when she mentions In-ha's name, In-ho cuts in to say that he's really, really sorry. Seol hands him an envelope, and he opens it to find a legal agreement wherein Seol acknowledges the situation as an accident.
"It's not because I forgive Baek In-ha," Seol says. "I'm just too tired of it. I want to settle it quickly and return to my regular life."
In-ho can only say that he wishes there were a better word to express how sorry and how thankful he is. Seol wishes In-ho well at his piano competition, though she won't be able to keep her promise to see it.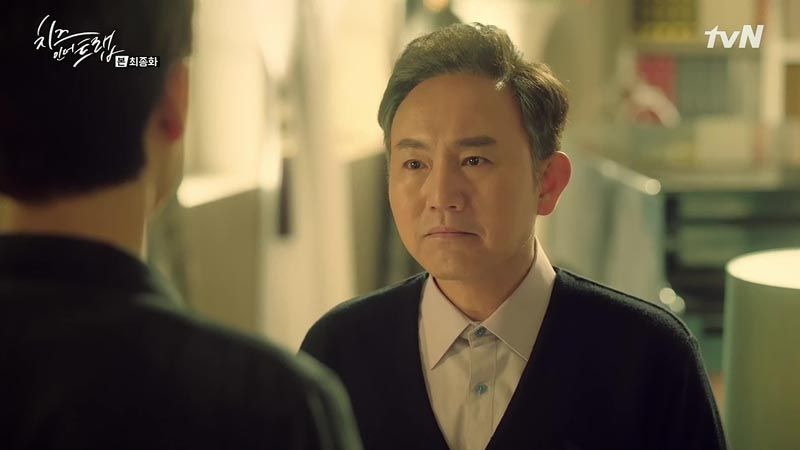 Jung tenders his resignation at Taerang Group, shocking his father, and explains that as a child he hadn't wanted his father to think him strange, and therefore bottled things up and hid them. "I must have thought that since I'm someone who can't be understood by others, I didn't need to understand other people." So he judged people and hurt them, not understanding how it felt.
Jung says that while he previously denied that he was strange, now he's not sure, and thus asks for time to figure out who he is. His father admits, "I didn't want you to be like me. That's what I feared the most." Jung replies, "But we're quite similar, aren't we?"
Jung packs up his apartment, and pauses to see an old book tucked into the corner—the signed piano score he'd gotten for In-ho in high school.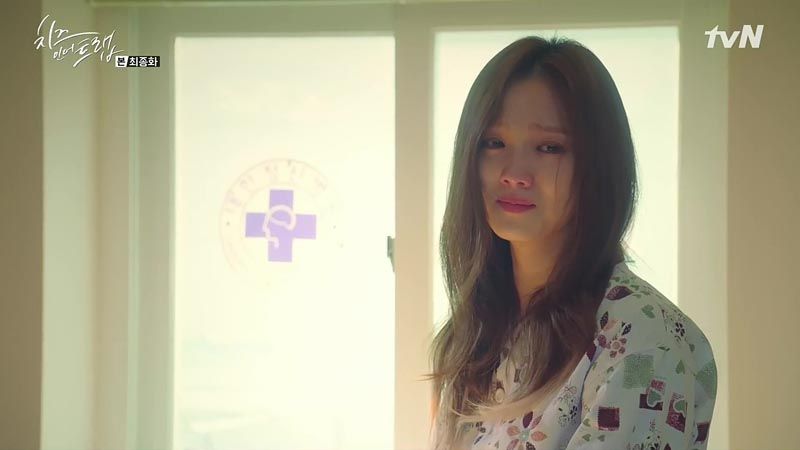 In-ha is surprised to receive a visit from Jung, who tells her—firmly, but without rancor—that he can't forgive her, and that they ought not see each other again. She starts to protest, saying that the three of them were such good friends, but he tells her to live her own life now, apart from his family. "Let's not be caught by the past anymore," he advises. In-ha breaks down in tears.
On his way out, Jung encounters In-ho, who's told the good news that his sister will be allowed a release soon. Jung informs In-ho that there will be a shortened summary trial, and advises him to help In-ha cope with her punishment.
In-ho agrees, and thanks Jung, adding that he's sorry: "I didn't know that Baek In-ha and I had hurt your feelings. It's too late now, but I was sorry."
Jung pulls out the score from his bag, saying, "It would have been nice if I'd given it to you then." He hands it over, then walks away. In-ho looks down at the score, stunned.
Jung drops by Seol's house next, where he apologizes to her disappointed parents for his absence. Before he can say anything to Seol, she speaks up first to say that she has heard what Jung did to In-ha, and why In-ha retaliated.
"Truthfully, I did blame you a little," she says. "But thinking it over while we were apart, in the end it was an accident." She proposes that they return to how they were before.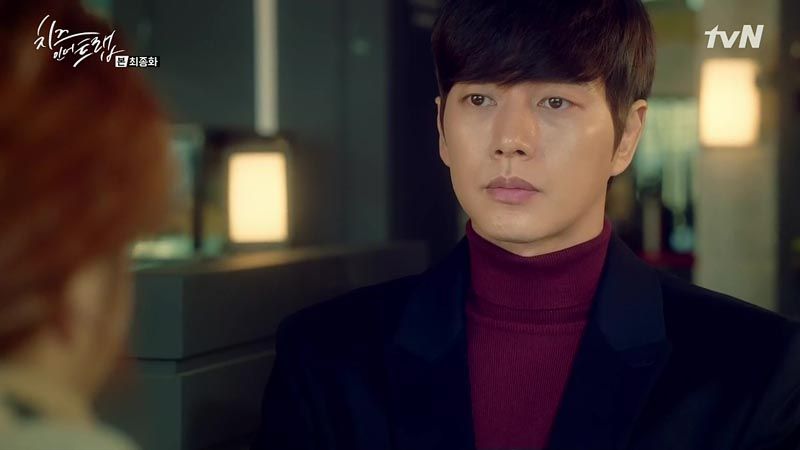 But Jung's face is long, and he asks, "How long will you be able to accept me like this?" Knowing she won't be able to always shoulder the burden, he says, "Let's break up."
Seol blinks back tears and asks why, because she's okay with him. He answers that he knows she'd try hard to understand and accept him, as she's done thus far: "But while you were struggling on your own, growing tired, and getting hurt, to be honest I didn't understand why you did it. The problem is mine, and I was the one who should have been making the effort."
That's why he wants to see her again later, after he's figured things out. But that's not now. Seol sees that his finger doesn't wear her ring.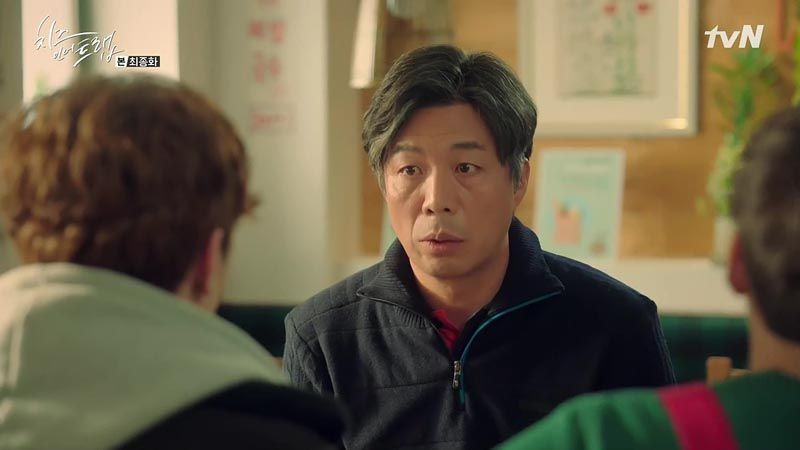 Some time later, Seol's family worries that she's still hurting from the breakup, spending all her time shut in her room. Joon says that they have to hire a new part-timer soon and sighs that In-ho had attracted a lot of customers—just as In-ho steps inside the noodle shop.
He gives Mom and Dad a set of long underwear (aw, like a true son) and thanks them for their help, wishing them good health. He means to leave right away but the family insists that he eat here, some of their former warmth restored.
Joon tells his sister of In-ho's visit, and while she's spent most of her days in bed, she does get up at that.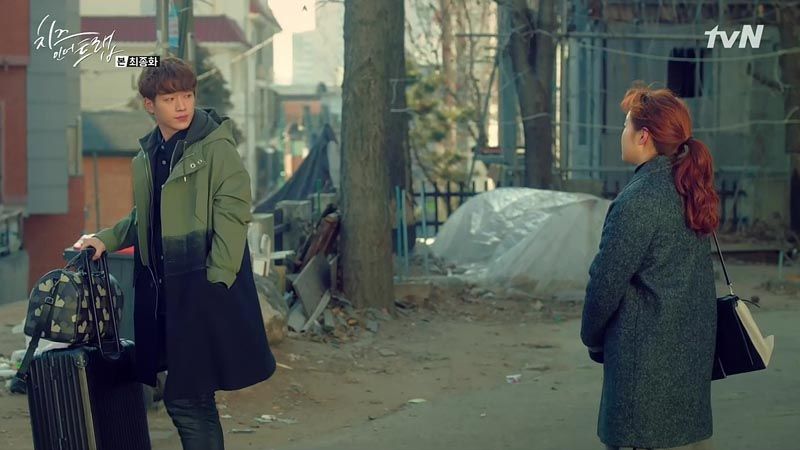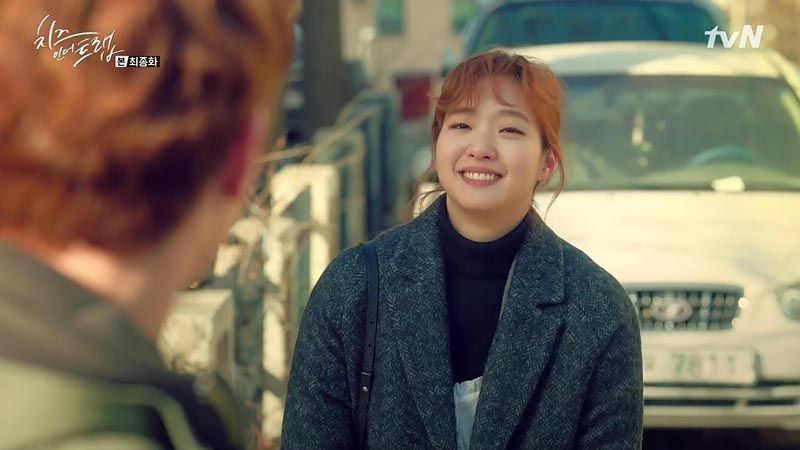 In-ho packs up his apartment, looks around wistfully, and heads out with his bags. He's surprised when Seol shows up to say goodbye, and to wish him luck in his competition today.
She calls after him, "Baek In-ho-sshi. I don't want to regret anything. So I hope you can do that too."
"Dog Hair, you've really grown up," he says. He thanks her for showing him a smiling face, then heads off, not looking back.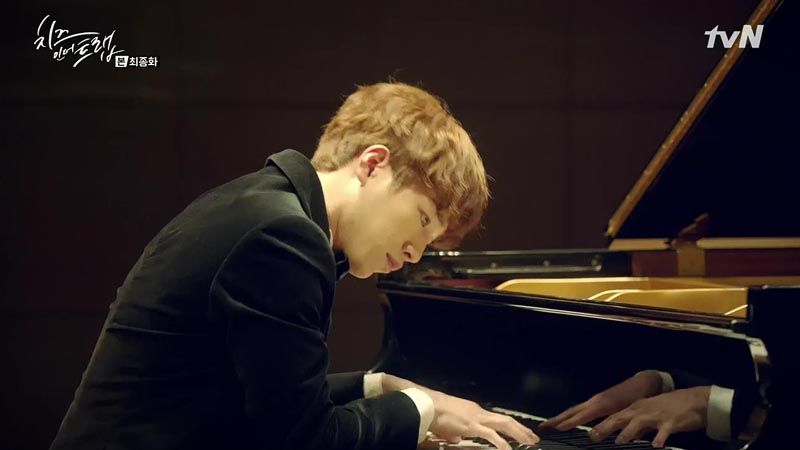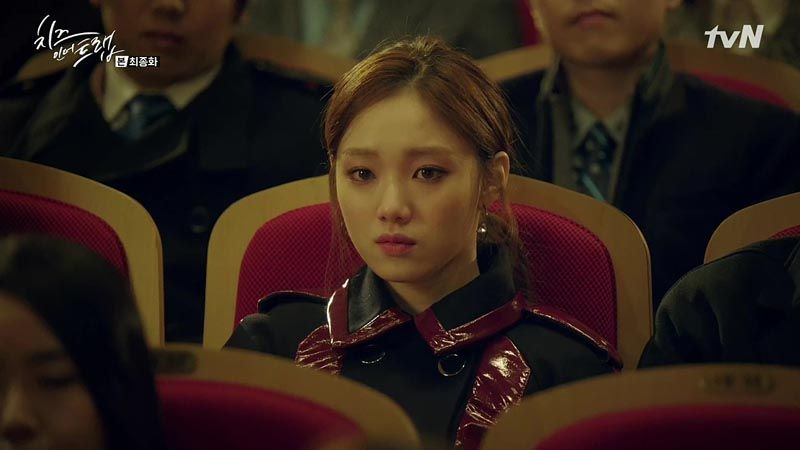 As In-ho arrives at the concert hall, he answers a call from his gangster boss's sidekick. He starts to say he'll pay a portion of his debt first, but gets cut off with the news that In-ho's lawyer settled the debt. Furthermore, the boss was presented with paperwork to keep from going after In-ho again. In-ho surmises that this was Jung's doing.
When In-ho takes the stage, he sees both his New Teacher and Old Teacher clapping for him in the audience. In-ha's there, too, looking subdued, tearing up as he plays.
Seol's family hears of In-ha's punishment, some community service and a fine. Then Seol gets a series of texts from In-ha, saying that she's sorry, and also letting her know that Jung is taking a 3 o'clock flight today.
Jung waits at the gate, thinking back to their happier couple moments, while Seol sits at home. When the clock ticks over to 3:01 and Jung gets up to make his departure, her tears come flooding.
Three years later. (*swear words* *pulls hair*)
Seol walks into an office building, explaining that she got the company job she wanted, but that it's just another door to pass through—every day is still a fight.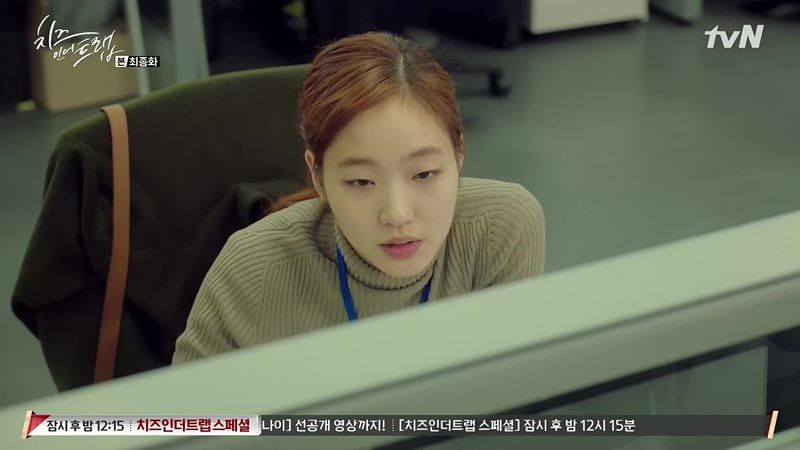 Her old problems are just as present now, just in new form: There are oblivious and persistent guys like Oh Young-gon here too, as well as eager-to-please hangers-on like Min-soo, and Sang-chul-like sunbaes who angle after Seol to do their work for them.
But while she still finds it difficult managing all these relationships, she thinks that she's long stopped getting worked up worrying about every last incident.
She pauses to chat laughingly with Nerdy sunbae, who tells her that In-ho got into a music school, his hand all healed. Nerdy's still seeing In-ha, running to greet her in the lobby as she complains loudly at how late he is. "Why do you keep me waiting?" she whines, "I missed you!" Seol even manages a laugh to see them together.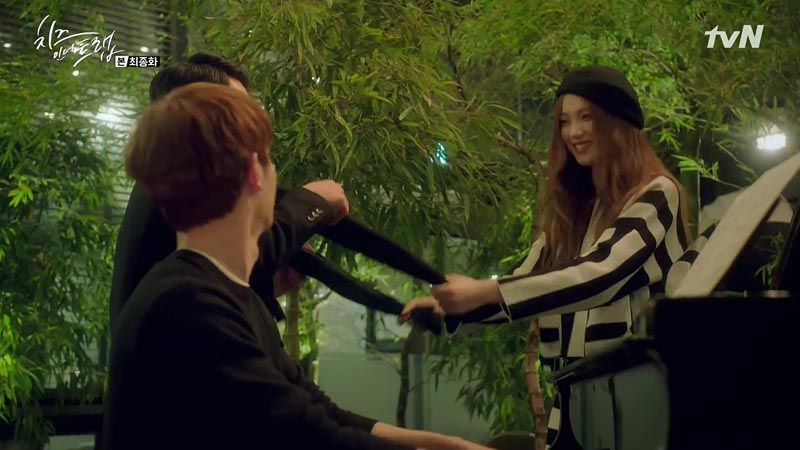 In-ho plays the piano at a restaurant, and In-ha leads the diners in a round of applause, loudly fawning over "world-famous pianist Baek In-ho" to anyone within earshot. She demands a cheery song and dances with Nerdy, looking happy and light-hearted.
Seol works late that night and checks her email, seeing the long list of messages she's written to Jung that have gone unread. Bora tells her to come by her shop tonight for some news, and with a sigh, Seol flicks off her computer.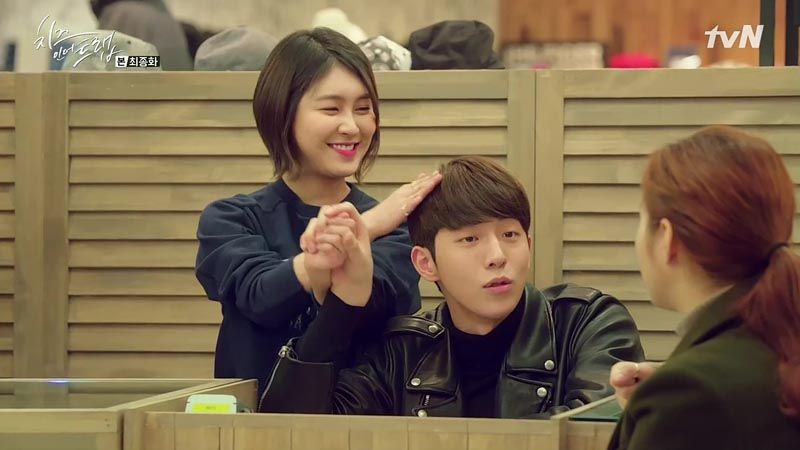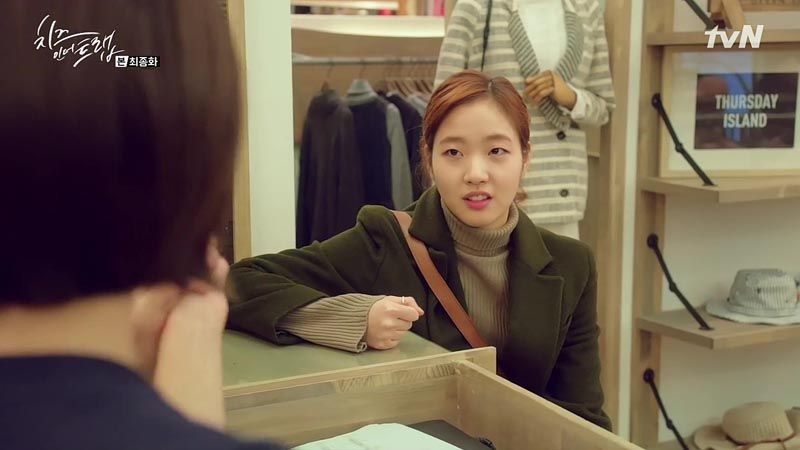 Bora and Eun-taek are as happy and lovey as ever; Bora owns a clothing shop, and Eun-taek is a hot rising star, though he assures them that he'd never get too uppity to forget about Bora.
Bora attempts to give Seol a "present," saying she won't take no for an answer, but Seol rejects her friends' attempt at yet another blind date, saying she'll take care of her own love life.
But as she leaves, she admits to herself that she partly feels like that passion and interest is fading within her, and it feels bitter.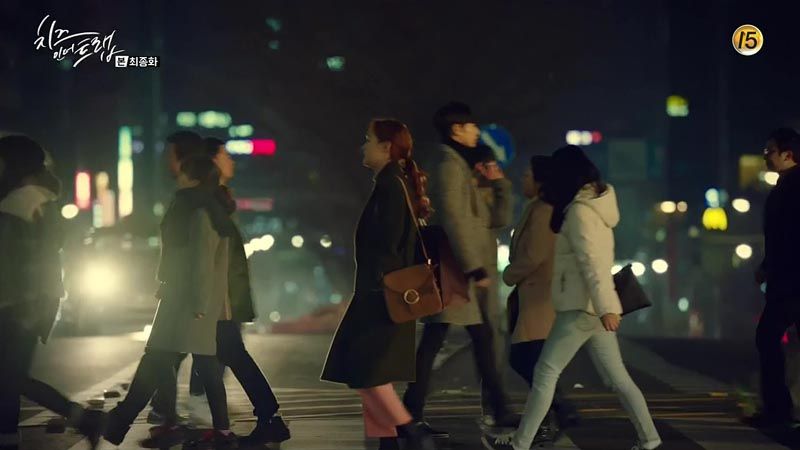 She crosses an intersection amidst a sea of pedestrians, passing Jung as he walks in the opposite direction. Belatedly she turns back for another look, but doesn't see him anymore and continues on her way.
She wonders whether she's ever thought or worked as hard to know someone other than him. She checks her emails again, seeing the long list of unread messages still there, and muses that perhaps he may need as much or more time than it took her to understand him.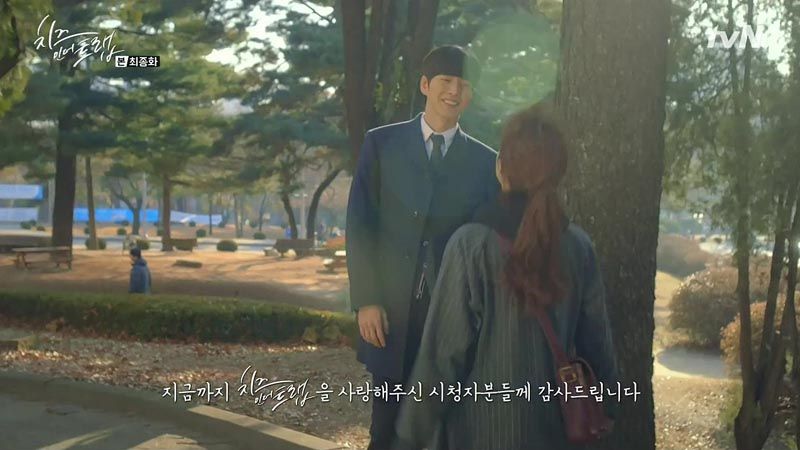 Her mother calls her to dinner, and as she leaves the room, we see her computer screen update—the first email in the list changes from unread to read.
"Seol-ah!" Jung's voice calls out.
And then we're revisiting a flashback as Seol races down a path toward Jung, who greets her with an outstretched hand. She beams up at him, and places her hand in his.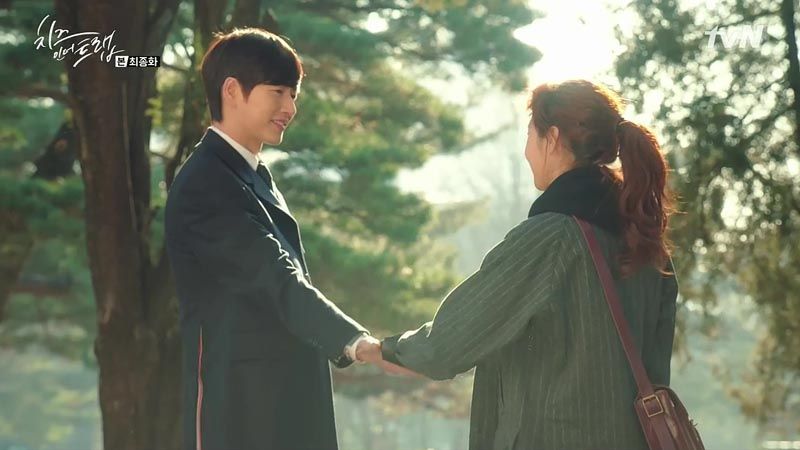 COMMENTS
That's… it?
That's how you resolve an entire drama's worth of fundamental relationship conflict and character struggle—you let him walk away for three years and figure it out offscreen, only to come back when he's all healed so the romance can resume? Who do you think you are, Oh My Venus? (Except without the cute fanservice or good cheer or abs to soften the blow.)
Fuming. Or at least I would be, if I'd still had much hope left in the show by the time I'd reached the end, rather than being emotionally done.
I'm ultimately okay with the overall shape of the story, in the broadest sense—that Jung was brought around to understanding why his way of thinking was wrong, that he couldn't expect Seol to understand and forgive all the time, and that he had to figure himself out first—but I do have major problems with the way this drama took us there. Putting aside the behind-the-scenes controversy for a minute, and looking at this purely from the standpoint of what was shown on my screen, I can't believe the show crammed so much major development into about fifteen minutes of screen time. What an utter disservice to not only the actor and the character but to the entire drama as a whole.
And that development only came after the drama spent so much time painting Jung into a repetitive corner where he kept repeating his mistakes and made progress in baby steps that I worried we might never see him come fully around. I'd been trying to see hope in the way he was trying to meet Seol somewhere in the middle every time she called him out on his retaliatory behavior—with the underwear thief, with Young-gon, with Sang-chul—but that progress was crawling at a snail's pace. There was so much opportunity to give us insight into his character and instead he was made nearly opaque, impenetrable to understanding, leaving us to wonder at his motives. I'm thankful to Park Hae-jin for doing as good a job as he did because in the hands of another actor I could have very well hated the character, but I always felt like there was something very interesting and worthwhile going on underneath his surface. Now that the drama's over, I'm just mad that we never got a chance to see more of that.
I make most of my comments from the perspective of someone who has had limited experience of the webtoon and is mostly watching this as a drama on its own, independent of that other world where additional plots and character insights are available. And even if I'd been an avid fan of the webtoon, that's still the approach I'd take in judging this drama, because regardless of your material, you have to succeed in the medium you've chosen—and on that front, I think Cheese bungled its golden opportunity.
It started out so special and fresh and interesting—and say what you will of this PD's story choices, she does have talent in evoking mood and pensiveness and finding small moments that draw out emotion. I'll give her that much, because she was responsible for all those early bits that I adored, whether it's in the details of direction or in encouraging her cast to find the most natural deliveries, or in playing with the motif of light or dark and flickering lights, or in creating tension and atmosphere.
But that skill means little when you lost your audience's trust, and even without invoking conspiracy theories about her reasons for highlighting certain stories over others, I'd say that the end result was proof enough that she made some bad choices—the story suffered for the meandering throughline and loss of focus on the main characters.
The shift away from Jung is the obvious accusation, with all the hullaballoo in the media these days, and I can understand why webtoon fans would be particularly upset that he was shortchanged, especially if/because there was a ready-made, well-reasoned explanation for his personality, and the drama ignored it. It's a shame, because watching only as a drama, Jung is difficult to grasp. But Seol suffered as well, partly because she got less and less to do the more she became an object caught between two men, and partly because she was more interesting when with Jung, and we were denied that.
Sadly, the errant focus on In-ho also did him no favors, which is a crying shame because I actually really like In-ho and found his arc very moving. This is a case where I don't care as much that the character was softer/nicer/different than his webtoon version, because barring fundamental issues of character, I think a drama is allowed to make tweaks in the adaptation process, as can the actor portraying him. And if he had experienced the same progression of character but limited those beats to a few key moments, the way I suspect the character was originally intended, then he would have torn my heart to pieces and I would have loved it. Less is more!
Frankly, it's not like Cheese is the first drama to start strong and end with a whimper, nor is it the first to not live up to its source material, or to even have questionable behind-the-scenes discord. It's not like the drama killed my puppy or promised me the world and delivered a lump of coal instead. Ultimately it's just one in a sea of many shows that could have been greater—should have been greater—and yet didn't manage to pull it off in the end. (It may be the first to aggressively court a lead actor and then shaft him without explanation, but we've already covered that travesty.)
What disappoints me the most about this drama (outside of the Great Park Hae-jin Incident) is that it was actually great—and it could have easily continued being great. There was no reason it couldn't have been an all-time best rom-com; it was certainly heading in that direction. It's actually more confusing than angering that Cheese ignored solid story material in favor of the pedestrian, because these last two episodes in particular were oddly very predictable and dull, plotwise. One could argue that it was really the last four, or last six, or last eight episodes that dropped the narrative ball, but even so I think the last two really made a weird turn and felt bizarrely old-fashioned. They felt like something out of a late-'90s or early-2000s Cinderella drama, of a time during Hallyu 1.0 when Prince Charmings were still charming and cell phones folded in the middle.
Once the dust settles and the sting fades, I'll probably just shrug it off as another missed opportunity, to join the vast majority of other dramas that coulda been contenders. The drama did, at least, give us shining moments of Park Hae-jin and Kim Go-eun (and yes, I'll even say Seo Kang-joon), and I'll wish the best for their next projects. The PD, on the other hand, lands on my temporary shitlist. Maybe extended temporary.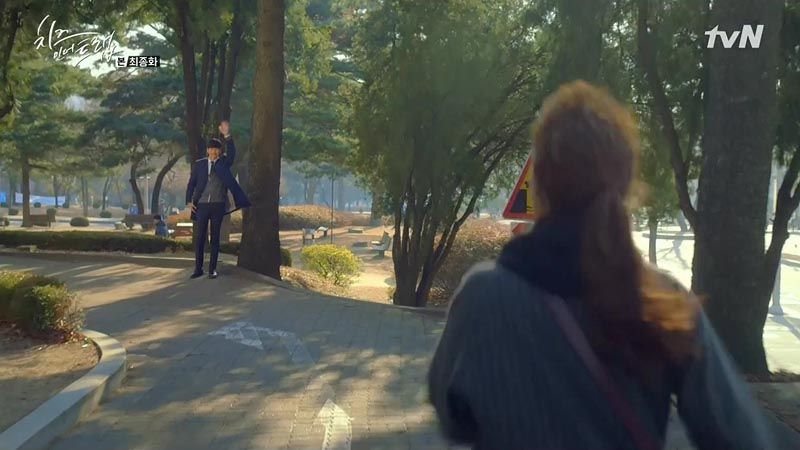 RELATED POSTS
Tags: Cheese in the Trap, featured, Kim Go-eun, Park Hae-jin, Seo Kang-joon