Come Back, Ajusshi: Episode 10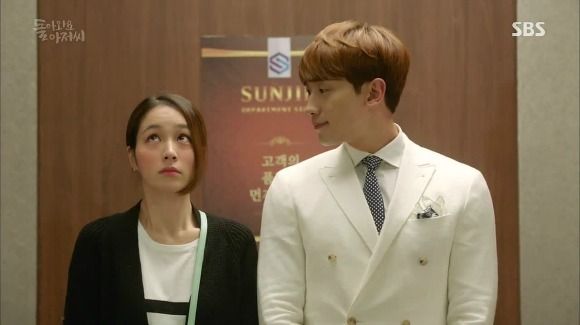 Gi-tak and Young-soo are halfway through their allotted time on earth, so it's time to buckle down and get serious. Or as serious as those two can when they're in their borrowed bodies. Da-hye starts to warm up to Hae-joon… somehow. Maybe because he starts to act less like a spoiled brat and more like the husband she used to know. And for anyone else who thinks Hae-joon deserves to be punched in the face, well, there's that, too.
EPISODE 10 RECAP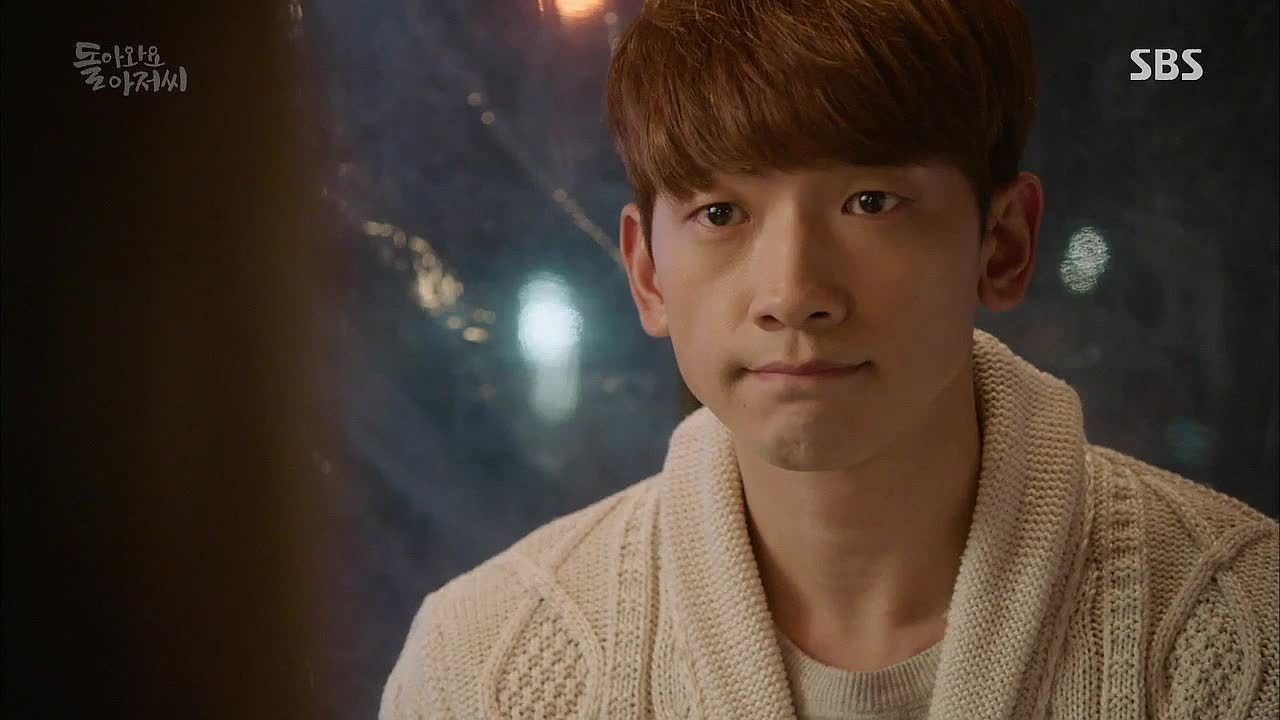 Da-hye chuckles at Hae-joon's "Can't I like you, ajumma?" confession, assuming it's a joke. But Hae-joon is sincere, telling her that he feels as though he's loved her long before they met. She assumes that he doesn't really like her — he's just lonely, a feeling she knows all too well. Hae-joon says that they should test it and figure out the truth, by, of course, going out on a date. He warns her not to fall for him and she amusedly promises that she won't.
As they walk home, she wonders why, when there are so many other women in the world, so why her? Besides, he's not really her style. He peppers her with questions, wondering what her true style is — is it someone like Young-soo? She cheekily refuses to answer, telling him he can't handle a woman like her.
The conversation becomes more serious as Hae-joon muses that Young-soo probably never understood her true feelings. Da-hye says that Young-soo was the most considerate person she ever met — he'd never say anything to hurt someone. That's why she married him.
Over time, his behavior seemed to be less considerate and more inattentive. She couldn't really talk about her feelings, or have those deep conversations that most married couples should have. That stops Hae-joon in his tracks, and he decides they should start fresh. He holds out as his hands as he introduces himself, but she just laughingly swats him away.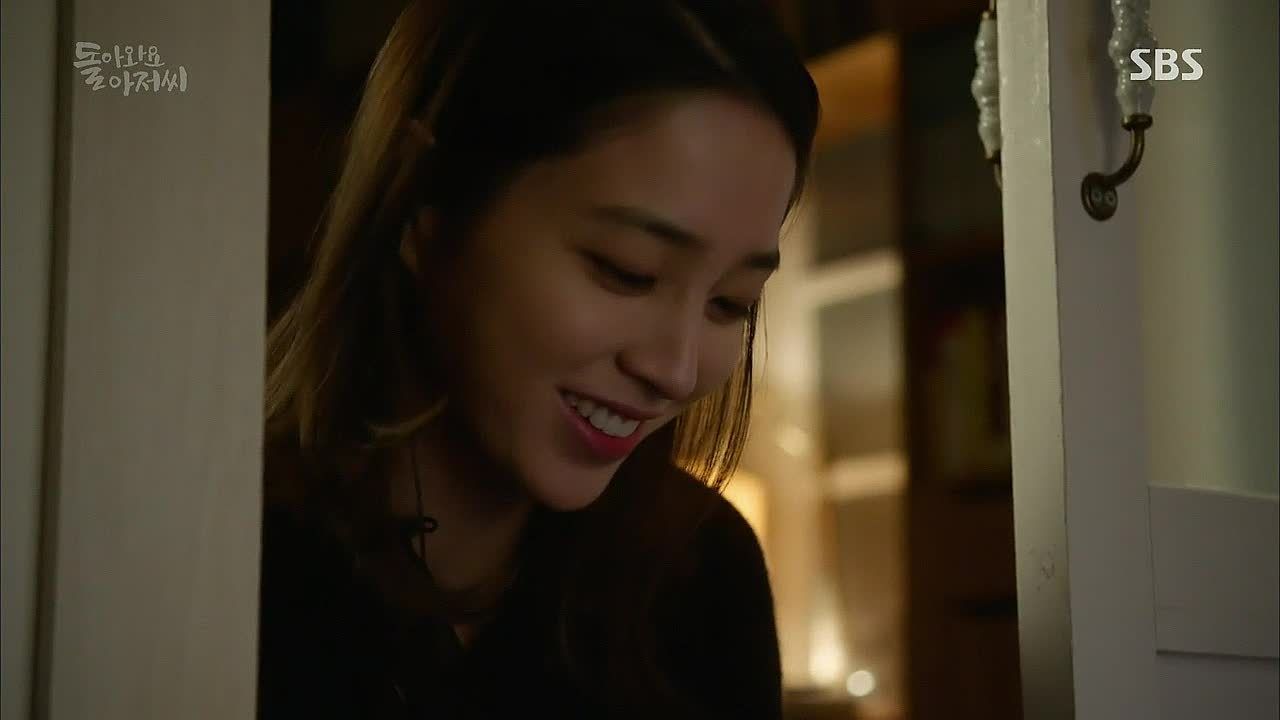 Back home, Da-hye prepares for bed, but when she hears a noise outside, she opens the door to reveal a box with a cute note attached: "Thank you for treating my friend well."
She opens the box to reveal a fancy pair of high heels, and her smile fades. In the morning, she discovers that all of her other pairs of high heels are missing. Despite her clear annoyance, Hae-joon is awfully pleased to have found a way to make her wear his gift.
Speaking of gifts, Hong-nan finds herself tearing up when Yi-yeon nonchalantly hands her a brand new designer hand bag to replace her old hip pouch. She marvels at the emotion that comes from receiving such a gift, promising to never let the bag leave her side.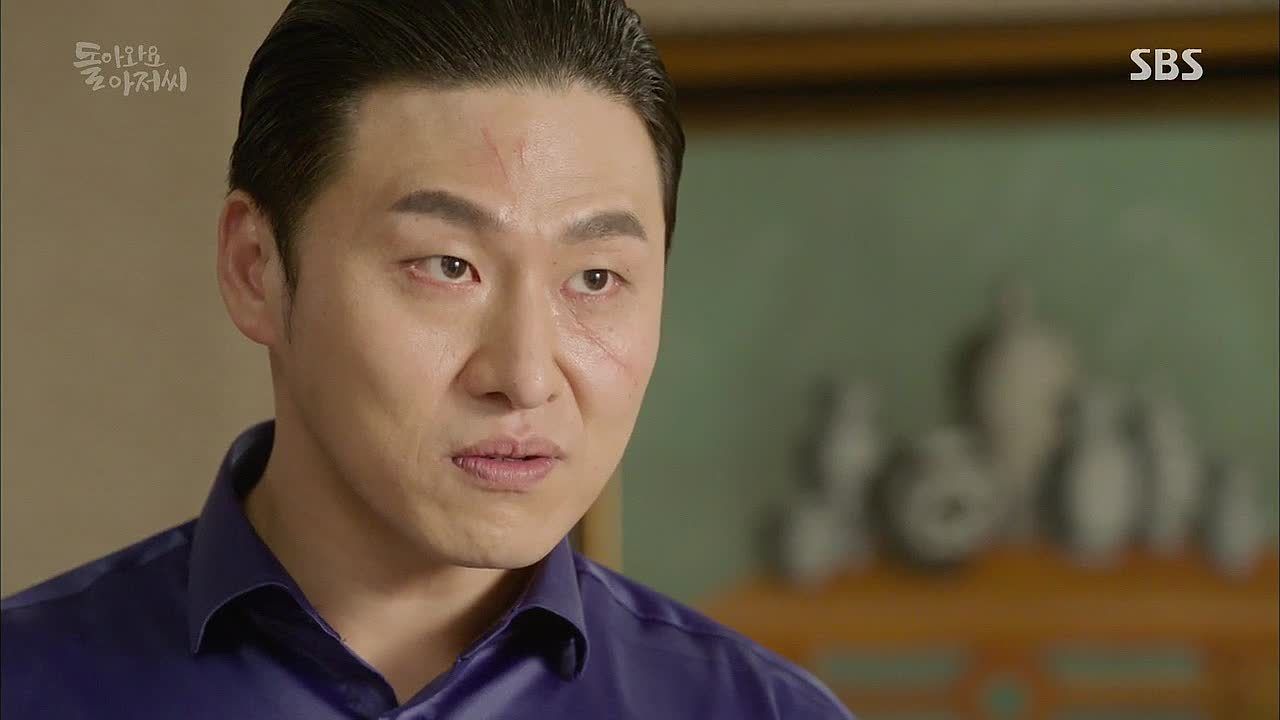 Hong-nan rushes to the hospital when she receives a message that the big gangster boss is in critical condition, only to find Seung-jae getting the crap beaten out of him by Suk-chul's men. It seems like they're there to find out where the old man left his money, and Hong-nan, despite Seung-jae's protestations, tells Suk-chul that she's looking for that money, too, since it was given to Gi-tak.
She promises Suk-chul that if he cooperates with her, she'll give him half the money once she finds it. She's planning to use Yi-yeon and Hae-joon to destroy Jae-gook, but when Suk-chul scoffs at that flimsy temptation to get him to join her, she reminds him Yi-yeon was the one who gave him the scar on his face. Suk-chul agrees to a partnership, but threateningly warns her that he's a crazy dog who won't let go once he bites. Oh, she definitely knows that.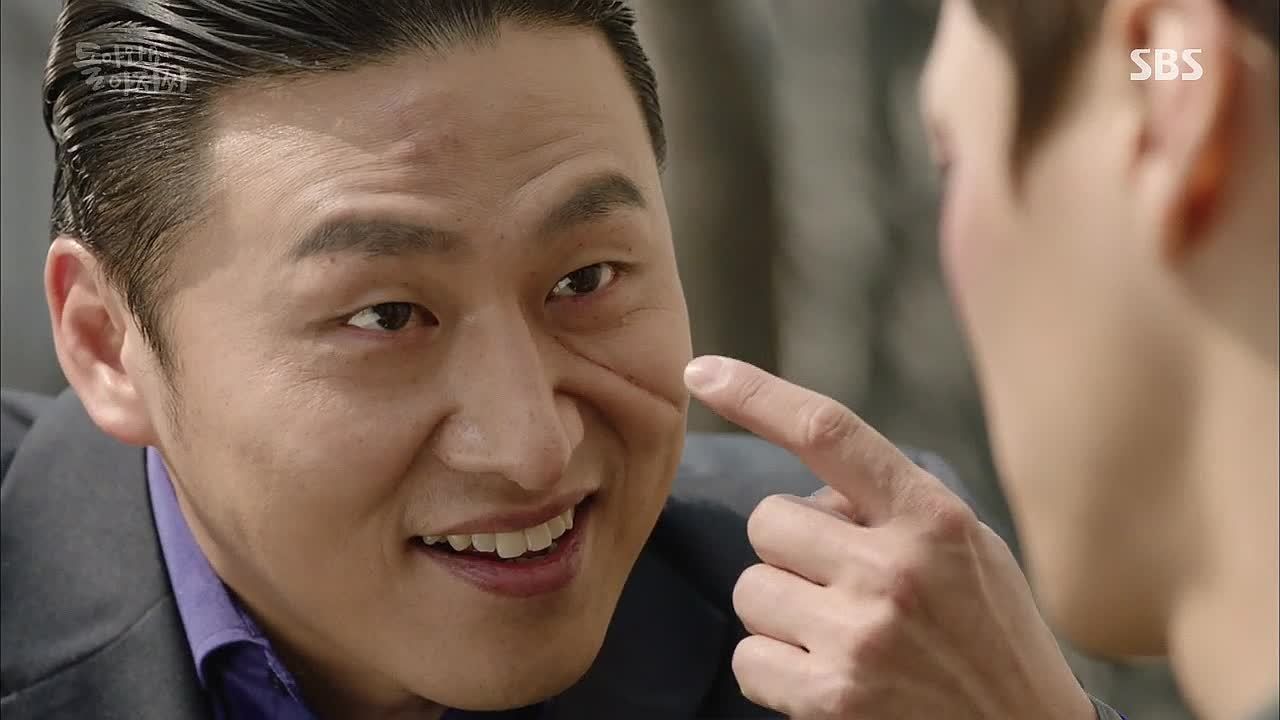 Suk-chul has figured out that Seung-jae is fond of Hong-nan, and uses that against him, warning him that if they don't get him the money, then he'll make sure she gets an matching scar on her face.
Once alone in his car, Suk-chul cackles to himself, pleased that he'll be playing both sides in the Hong-nan versus Jae-gook battle. He doesn't care who loses so long as he knows that he'll win no matter what.
At Sunjin mall, Hae-joon takes a large box of merchandise from Da-hye. She protests that she can carry it herself, but he continues to carry it out of concern for her back. Worried about what other people might think, she snatches it back. Hae-joon reminds her about their date today, but she just marches away with her merchandise.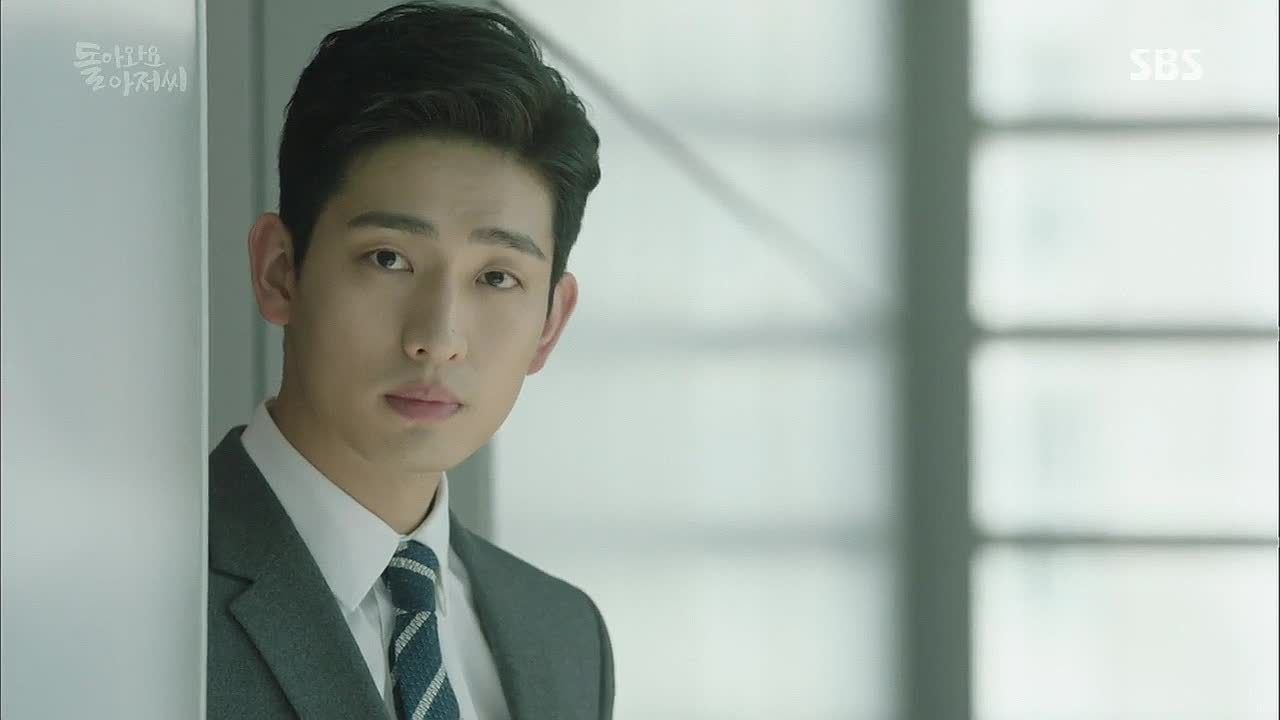 Ji-hoon, hiding around the corner, watches this all play out, only stepping out once Da-hye leaves. Perfect timing, though, because Hae-joon has lots of ideas he wants implemented at the mall, all having to do with bettering the staffs' life. As he rattles off all the things he wants for the employee break rooms, he adds in a little jab about his connection with Da-hye, flaunting the fact that he bought her the shoes she's wearing.
But Ji-hoon points out that Hae-joon should first treat all the employees like human beings, and as Hae-joon looks around to see the universal scowls the rest of the sales staff his giving him, Ji-hoon says that this is all Hae-joon's doing.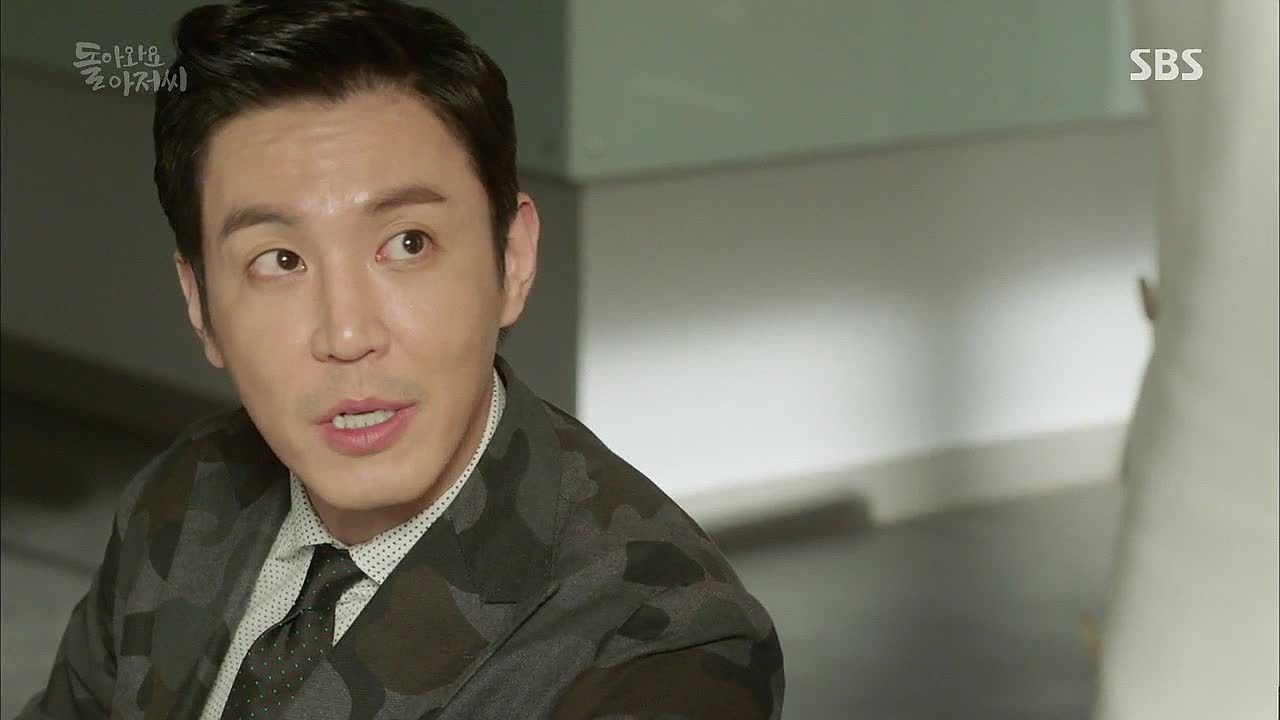 Turns out that a rumor about Hae-joon's plan to lay off half the workforce to reduce cost has been spreading throughout the mall. This is actually a plan from the real Hae-joon, the one more concerned with numbers than people (and who is currently stranded on a deserted island). Young-soo's Hae-joon can't argue with the fact it's his own stamp on the paperwork, and Jae-gook delights in telling him that he knew Hae-joon wouldn't be able to raise revenue.
But Hae-joon has his own threat — he'll make the department store's value worth nothing, so Jae-gook won't be able to sell it. He marches out of the office in total confidence, but then he's hiding in the bathroom stall, on the phone with Maya, demanding to know why she had to choose a bastard like Hae-joon. Ha!
Maya points out that the real Hae-joon is just a numbers guy — he doesn't know the affection Young-soo has for the store. He grumbles that he doesn't care if the store goes bankrupt or not (but we all know that it's a total lie).
The rumor has finally reached Da-hye, and when she scowls at Hae-joon, he asks if he should go to the elevator again. Pffft. He insists that there won't be any lay-offs as long as he's there, and is stunned when she says she already knew that. "You… believe in me?" Hah, he assumes she's already falling for him.
Hong-nan helps the injured Seung-jae home, telling him that if anything happens, to just leave it her. But he can't forget Suk-chul's threat, and asks if she knows where the secret fund is. If she knew, she'd have it by now. Inwardly, Gi-tak says that he can't bear to watch anyone hurt Seung-jae. These two are going to destroy themselves protecting each other.
Hong-nan tells him that she doesn't have much time left, asking if he'd like to team up with her to find the money. He assumes it's for revenge, but she smacks him upside the head, telling him such a word is not to be treated lightly. Too late, because Maya suddenly appears, warning Hong-nan that if it's for revenge, her time is over.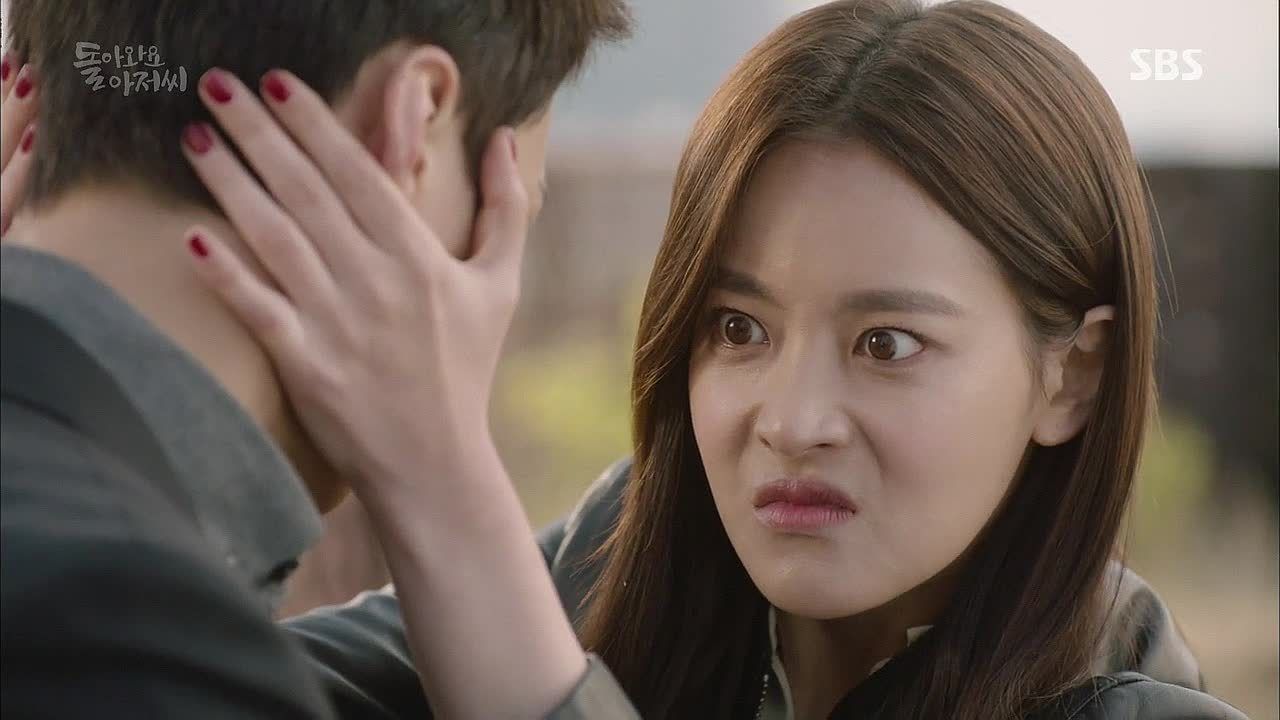 She grabs Seung-jae's head, promising him that they'll find the money, help Yi-yeon, and make it so Seung-jae and Gi-tak's other men can live a lawful life. Hahaha, Maya is swooning all over the handsome Seung-jae (and who can blame her?), ignoring Hong-nan's pointed glares.
At the mall, Ji-hoon pulls Da-hye aside, demanding to know what's going on between her and Hae-joon. She tells him that he's staying at her house, and while he sputters at that, warning her Hae-joon is a terrible human being because he's going to fire everyone, she quietly informs him that she knows him better than Ji-hoon does.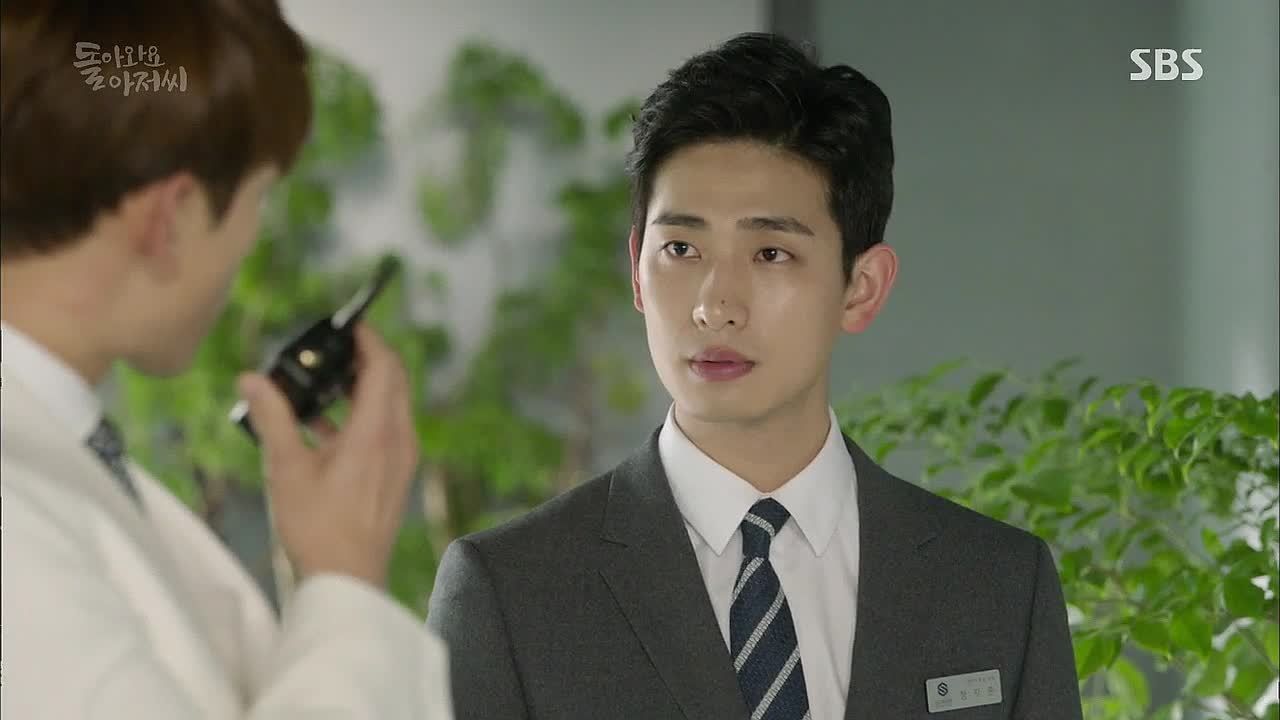 As she waits for the elevator, Ji-hoon watches and silently pines. Hae-joon suddenly blocks his view, and using his power as branch manager, gets the air conditioning to be lowered when it looks like Da-hye is hot, and the music raised when he sees her toe tapping to the rhythm. Ji-hoon calls him out on his fooling around (which Hae-joon says is just taking care of his employees).
Annoyed, Hae-joon wishes he could punch out "that jerk." An announcement on the store's PA calls all employees on their break to the rooftop, where a boxing ring is set up. Haha, well, I suppose that's one way to do it.
Hae-joon excuses it as a way for the employees to relieve their stress on him, and pick out Ji-hoon as his first candidate. Surprise, surprise. Except Ji-hoon's got some fancy moves, so this might not be the easy contest Hae-joon was thinking it would be.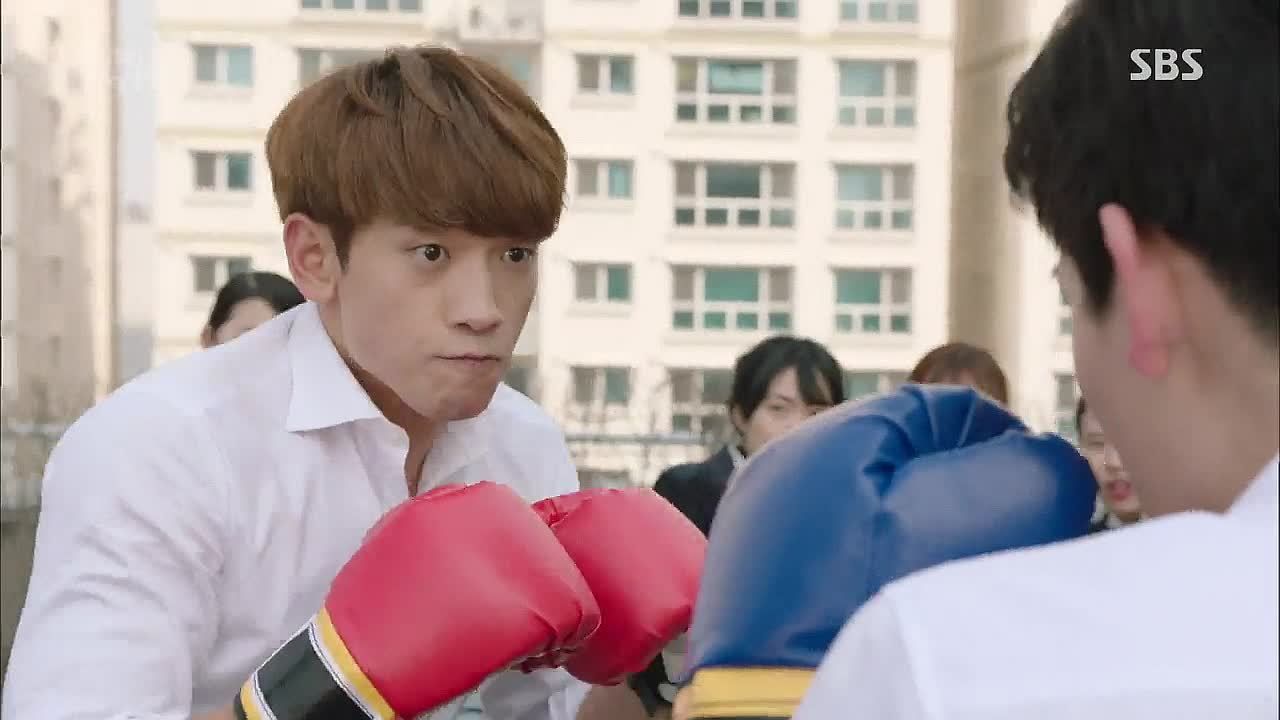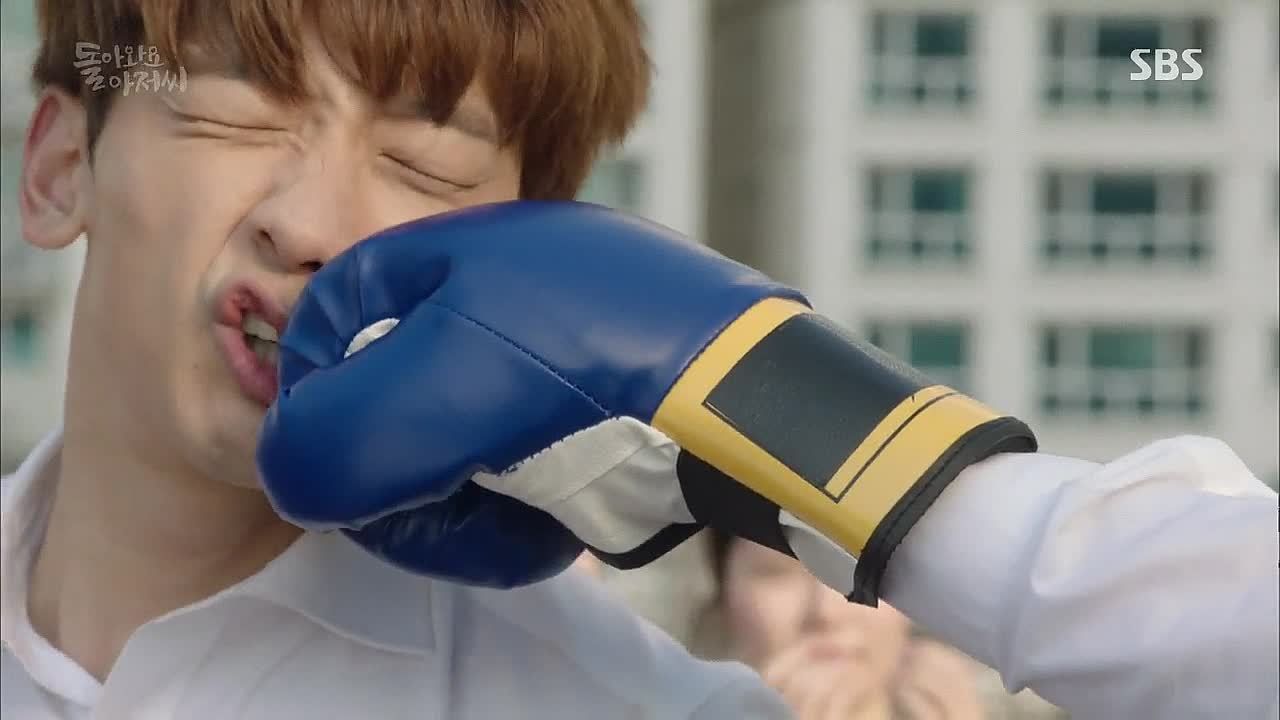 As the men grapple with each other, Ji-hoon warns Hae-joon to stay away from Da-hye, but Hae-joon says he's better than an old boyfriend lingering around. Ji-hoon says that he can do anything Da-hye wants, and that Hae-joon knows nothing about her.
Ji-hoon gets in one good punch (pffft, Young-soo prays for Maya to save him), and while Da-hye doesn't seem particularly thrilled to see these two men literally fighting over her, she seems more concerned for Hae-joon. He quickly agrees that Ji-hoon won, calling for the next contestant — a burly woman who easily defeats him.
Jae-gook hands Yi-yeon the divorce papers. He's also there to pick up Young-chan, and as Seung-jae helps him into the car, Young-chan gives shim the photo of a young Gi-tak with a younger boy. Yi-yeon is worried about the Jae-gook's demand for full custody, but the loyal Hong-nan is willing to kidnap Young-chan for her. Or, at the very least, punch Jae-gook in the face. Get in line, sister.
Hong-nan also lives up her to role as manager, handing out drinks to all the staff, asking they take care of Yi-yeon. One of the staff yells at them to move aside and wait with the rest of the extras. A couple young girls are aspiring actresses, and they assume that Seung-jae or Hong-nan must be aspiring actors, too. But when Hong-nan points out the real actress, Yi-yeon, the girls are like, "who?" They weren't even born yet when Yi-yeon first became famous.
Due to the lead actress being late and filming being delayed, the extras are sent home with no pay. Hong-nan won't sit for this injustice, and she and Yi-yeon stride up to the manager of the agency that hires extras. They threaten to reveal how he abuses the extras by exposing him to the newspapers and creating a scandal until he finally acquiesces.
Da-hye arrives at the VIP lounge, assuming she was sent there to assist a client. Instead, seated in the room lit by candlelight, is Hae-joon (still nursing his boxing wounds). She's indignant that he would have their date at her place of work, but he says it isn't a date — it's strictly business. He wants her to experience first-hand some VIP treatment.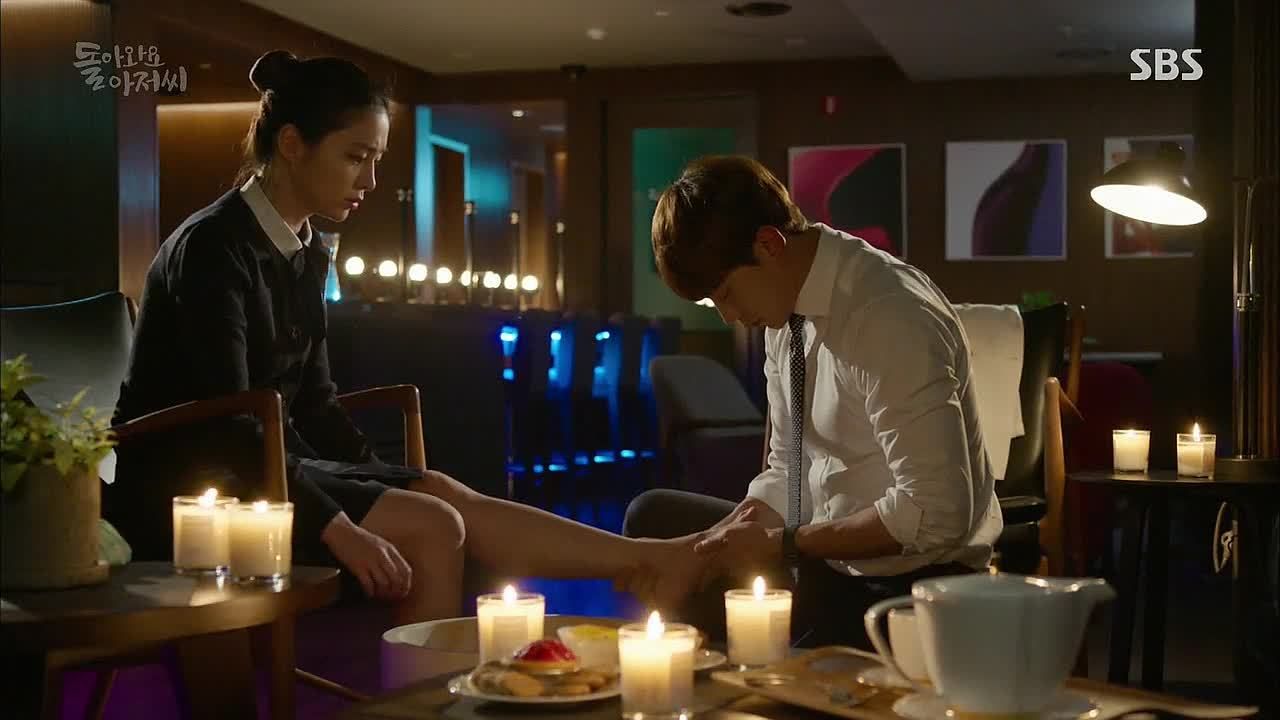 Taking off her shoes, he gently washes her blistered feet in rose water. As he does, he wonders why she works at the department store — surely she's had enough of it by now. Isn't there somewhere else she can go?
She agrees that she gets fed up working there — the customers are rude, her feet ache, the pay isn't enough, and her coworkers gossip about her. But her husband devoted so much of his life working here, that for her, even if it's painful coming in to work every day, it's the only place she has to really remember him.
Hae-joon admits that he learned today that he doesn't really know her — her needs or wants. He promises to learn everything, but it will take time. There's at least one thing he knows — that he'll protect her. If she wants to stay at Sunjin department store, he'll make sure that happens.
Jae-gook bites his nails as he stares at his phone, wondering why Yi-yeon isn't calling. Aw, Young-chan bites his nails in mimicry of his father. Just then the phone rings, and Yi-yeon cuts Jae-gook off to tell him to put Young-chan on the phone. She reassures her son that due to work, he'll have to stay with his father for a few days. Just as Young-chan hands the phone over to Jae-gook, Yi-yeon hangs up.
Hong-nan and Hae-joon are training to take on Jae-gook, both physically and mentally. Da-hye prepares a meal for Hae-joon who messages her that he's working late, so she should bring him dinner. She whines about it, but then realizes she unthinkingly made a heart out of peas. Whoops.
Hae-joon is the only one left in the office, hunched over his computer as he works. He barely glances up as he thanks Da-hye for coming with his food, and then she's startled by the sound of a noisy yawn — it's Hong-nan, waking up from her nap. Da-hye apologizes that she only brought one meal, but Hong-nan cheerfully says that she can share with Hae-joon.
Da-hye's cheeks are bright red with embarrassment as she gets on the elevator to leave. But Hae-joon stops the doors from closing with his hand and points to the other bag she's holding. She's resistant to give it, and it turns out it's an extra shirt for him. Aw. He's grateful, and then teases her about her red cheeks.
He offers to ride down with her, and Hae-joon has his private car drive her home. She's momentarily perplexed by his kindness, until she gets sees the disaster in her kitchen and wonders what kind of spell he's put her under.
Back at the office, Hae-joon is eager to show off Da-hye's cooking skills to Hong-nan. As they eat, Hong-nan asks him if he really wants to do this (take down Jae-gook), since he doesn't have much time left to spend with Da-hye. But Hae-joon wants to keep the promises to his family that he couldn't do in his life as Young-soo. It's going to be tricky, considering they're halfway through their allotted time on earth.
Hong-nan wonders what she's doing here, watching Yi-yeon make a comeback from rock bottom. It's his fault — Gi-tak's fault, that is — that she had a scandal at all. When they first met and fell in love ten years ago, he thought she would save him from his gangster ways and they would live happily ever after. But once her manager found out about them, she was no longer allowed to see him.
Yi-yeon thinks of herself as the one who betrayed their relationship, but it was Gi-tak who originally called her manager. Hong-nan's eyes well with tears as she admits that, back then, Gi-tak was such an idiot. Besides, what is he so afraid of now, when he's already dead?
Seung-jae arrives just then, and his stoic face shows a flicker of concern when he sees Hong-nan and Hae-joon in a cozy, comforting embrace. He's there at Yi-yeon's request to deliver dinner. But he looks haggard and tired as he sits down a moment to rest.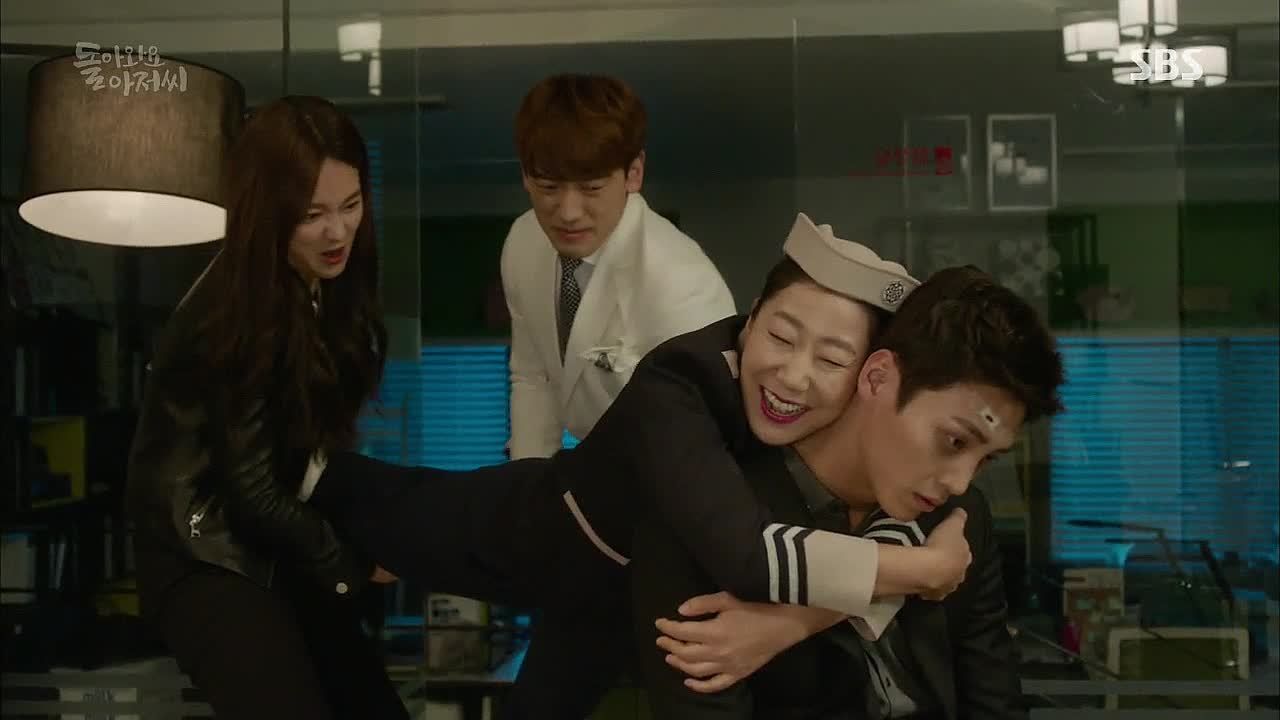 Maya appears, clinging to his back, delighted to be so close to the pretty, and Hae-joon and Hong-nan struggle to drag her off Seung-jae before she can steal the life out of him. He's too young to die!
The next morning, as the the staff arrive at the department store, Da-hye sees Hae-joon carrying a large bouquet of flowers. She stops in embarrassment, assuming they're for her, but he just breezes past her to give them to another salesgirl in honor of her birthday.
Yi-yeon stands on top of a building, and then sadly says "I'm sorry" before jumping off — a few feet onto a landing pad. It's a scene for the film, and she's thrilled with how it's turning out, despite how many takes it took to "die."
Hong-nan looks at her knowingly when Yi-yeon jokes that she'll become a "death" expert. Aw, it's sweet to see how proud Hong-nan is as she follows behind the happy Yi-yeon and supportive Seung-jae.
At work, Hae-joon continues to ignore Da-hye, much to her surprise. She's even more surprised to discover that Hae-joon has volunteered as crosswalk guard at Hanna's school, buying her and her friends treats, too. Hanna tells Da-hye that she thinks her dad must have sent Hae-joon to them.
Late at night, Da-hye hears the door open as an exhausted Hae-joon returns. She excuses her sudden urge to greet him at the door, saying she was just getting a glass of water, but he grabs her arm and gently leans his head on her shoulder. It's exactly the way Young-soo would greet her when he would come home after a long day of work.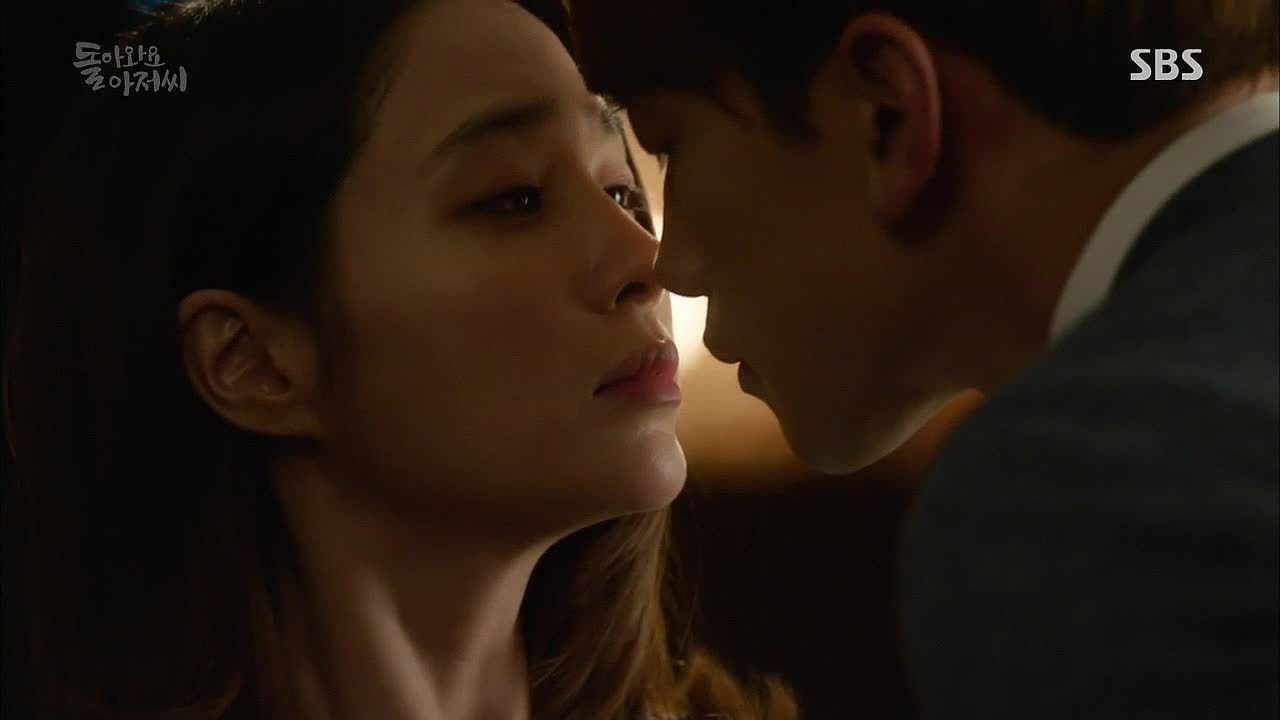 Just as she's about to gently pat Hae-joon on the back like she would do with Young-soo, he tells her that he's missed her. He starts to lean in as though to kiss her, and she looks like she might allow him. Just as they're an inch apart, she spins around and flees to her room, catching her breath as she stares at the mourning picture of Young-soo.
In the morning, as the family sits down to eat breakfast, Young-soo's father, with his nose in the newspaper, tells Young-soo they're out of dog food, and Hae-joon easily agrees to buy more. But Hanna marvels that he used Young-soo's name instead of Hae-joon, and Dad just laughs it off as a sign of old age (and not, y'know, that Hae-joon is starting to feel like family — and more specifically, Young-soo).
During the board meeting, Chairman Cha (through Ms. Wang) yells at his sons for ruining the department store's image with their scandals and odd behaviors. Jae-gook is still determined that selling the store is the only way, pointing out that instead of down-sizing, Hae-joon made employees full-time, and instead of cutting back, is spending more money on employee benefits.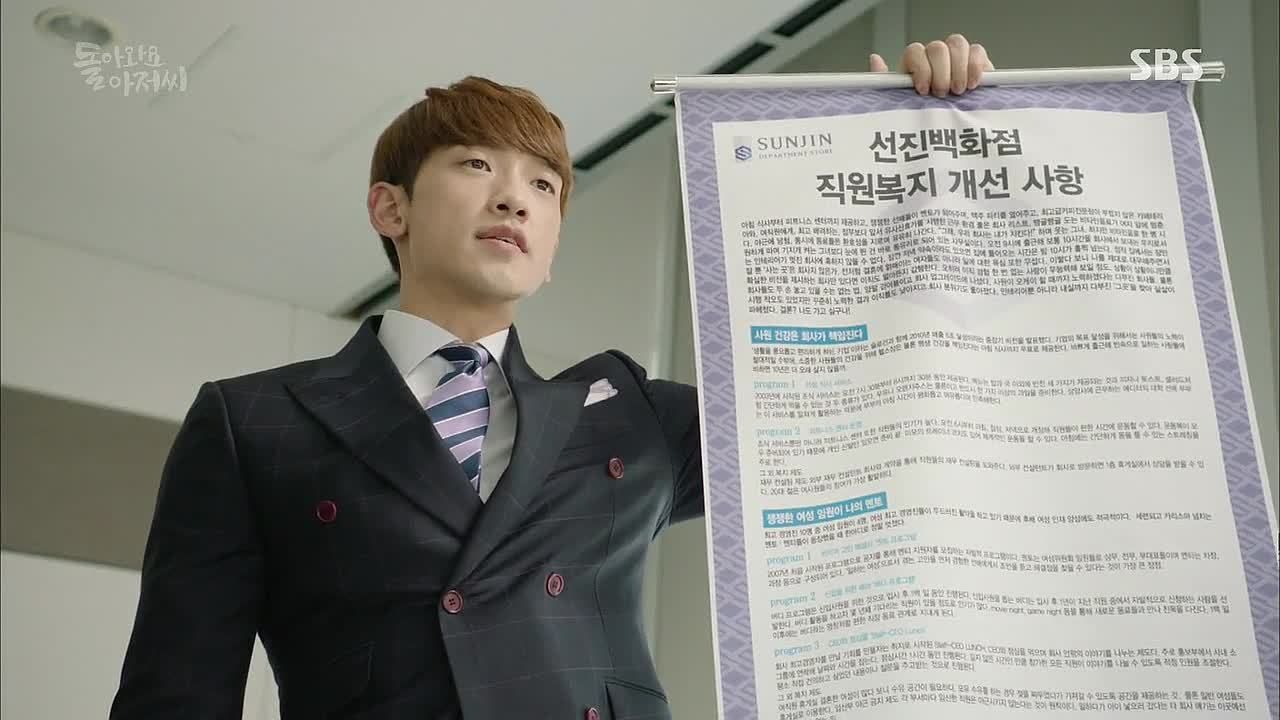 But Hae-joon has his own business plan, which he reveals with a flourish. Instead of focusing on luxury brands, the store should focus on employee satisfaction, which will raise the level of service. They also need to change Sunjin's image with a trendier marketing style, using Yi-yeon as a spokesmodel.
He reveals a picture of Yi-yeon with Hong-nan when they made the casting manager pay the extras. That confrontation went viral as netizens considered her a figure of justice, and the style of clothes she was wearing has been selling like crazy. She's suddenly the new "it" girl.
Jae-gook protests, but Hae-joon responds with all the internet search terms that come up when one searches for Sunjin, like Yi-yeon, scandal, rumor, and suicide. Only Yi-yeon can help remove these negative viewpoints by showing a friendly reconciliation with Sunjin.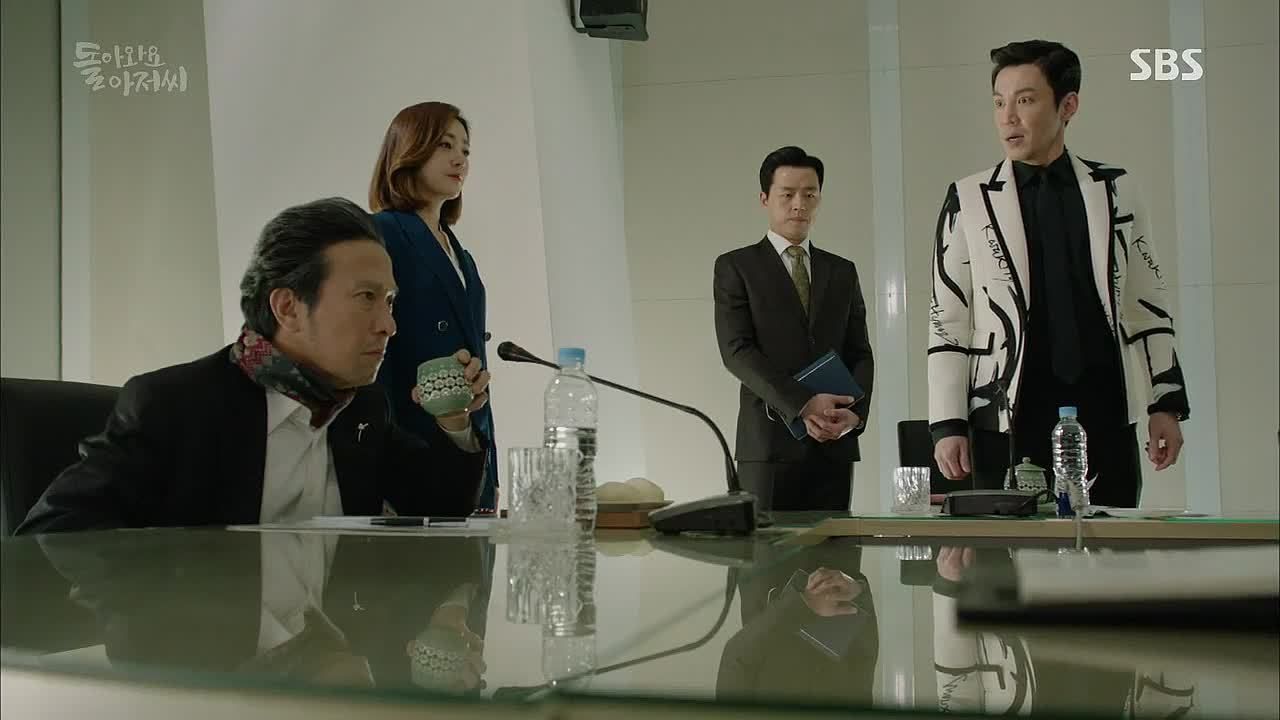 Chairman Cha (via Ms. Wang) says they'll bring in Yi-yeon as the spokesmodel, and even though Jae-gook is far from pleased, the other board members cheerfully agree. In private, Chairman Cha (who actually can speak!) tells Ms. Wang that this is a chance to reconcile Yi-yeon not just with Sunjin group, but with Jae-gook, too.
Hong-nan is admiring the mannequin wearing Yi-yeon's now famous "Girl Crush" style, when Seung-jae shoves in her face the picture of the young Gi-tak with the young boy next to him.
She insists that the little boy really is her, and pouts with her best aegyo as she says that's what she used to look like before she got plastic surgery. Hahaha, Seung-jae is totally thrown off balance as she attacks him with her aegyo and slips the picture into her pocket.
When they meet up again, Hong-nan and Hae-joon are triumphant. But Hae-joon is surprised that Gi-tak has a younger brother. Hong-nan says she didn't totally make up the story about Gi-tak having a long-last sibling who was raised elsewhere — it's true, it just wasn't about a sister.
They see Ji-hoon walking their way, and they glare at him as Hong-nan offers to take him out. But Ji-hoon is on the phone, surprised to hear that Gi-tak had a younger brother. He opens the notebook he always carries to reveal a picture of that same little boy from Gi-tak's photo.
Epilogue. At night on the deserted island, the real Hae-joon digs through the pilot's stuff while he's sleeping, and when he finds the TIME magazine with his picture on the cover, he demands to know who put the pilot up to this. But there's no deep conspiracy here — the pilot was just using the cover to hide his girly magazine.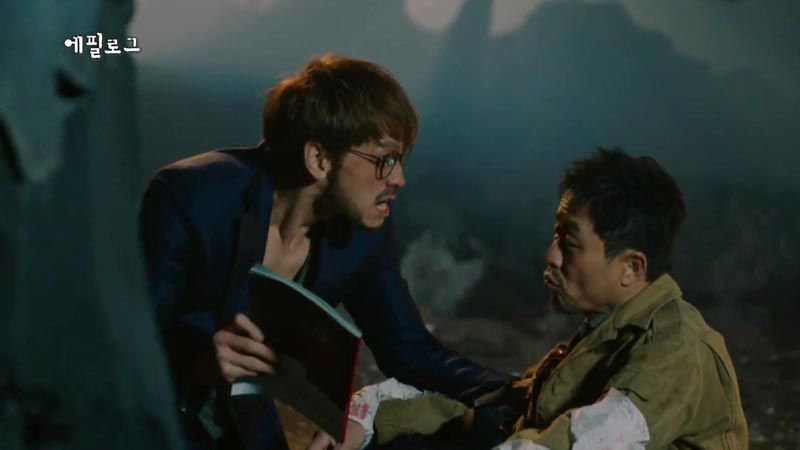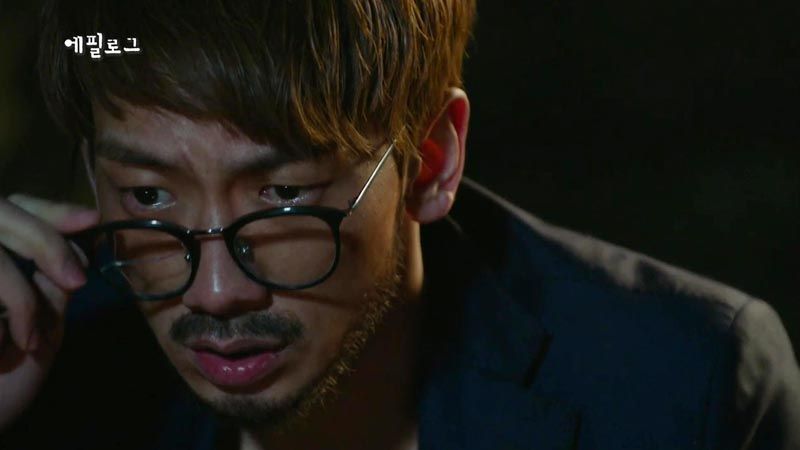 COMMENTS
I love this show. As in love love this show. But this episode seemed to blatantly reveal the cracks that have been easy to ignore. It felt more like a collection of small moments between characters instead of a more cohesive storyline, and there were a few times when I had to figure out if I had missed something from previous episodes, or if something just hadn't been fully explained. Such as the gangster hyung-nim in the hospital: I feel like I ought to know more about him, but I still have no idea what the deal was with the missing funds other than it provides an excuse for Seung-jae to feel conflicted about Hong-nan, and to give her something else to do besides resurrect Yi-yeon's career.
I'm also bewildered by Hae-joon's blowing hot-and-cold and it actually working on Da-hye. Part of me is happy that she's able to sass him back, and part of me is happy to see how tender and gentle he can be with her, but I still want to shake him and remind him that he's only there temporarily — what's the point of making his wife fall in love with his handsome avatar when he only has a month left with her? He becomes a part of her family, to have him soften toward him — only to leave again? How is that not going to be painful? Which is why I'm more excited about his plan to save the mall, and I wish the show would have focused on that sooner instead letting him be a big baby whining about how his wife didn't mourn him properly.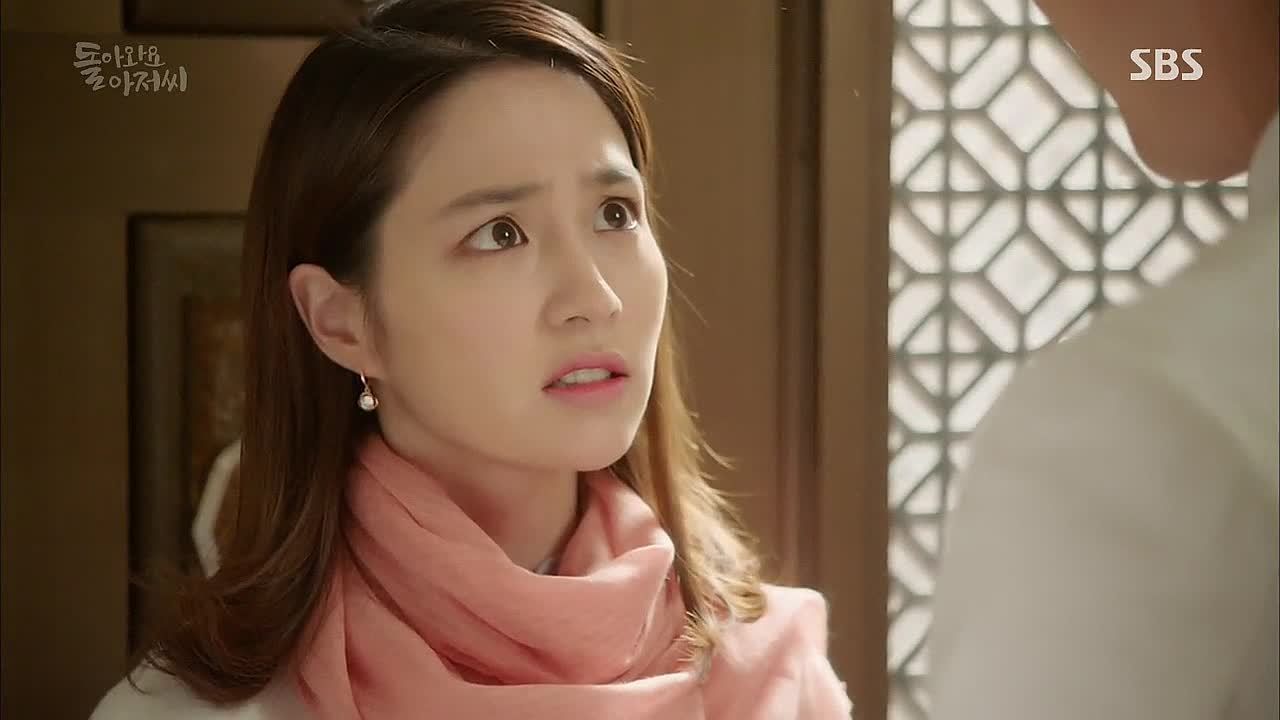 Everything we've seen so far has shown that the department store is Young-soo's first love, and so it would have made a lot more sense if his earthly mission hadn't just been to reveal the truth behind how he died, but also to make sure this store that he devoted his life to, and that his wife now depends on for her livelihood, was revitalized. If the show had started off with that, and then gradually brought him around to realizing how much he didn't know his wife and how much effort and time he put into that store instead of his marriage, I think I'd be more sympathetic to him.
Despite my quibbles, I'm hoping that the unevenness of this episode can be chalked up to the writer using it as a bridge to get from "point A" to "point B." After all, there are new mysteries to uncover and relationships to explore (how is Ji-hoon related to that little boy? Could he be Gi-tak's little brother? He definitely has some boxing experience!) as the clock ticks down on Gi-tak's and Young-soo's time on earth, and so long as Da-hye and Yi-yeon (and their respective family circles) somehow emerge victorious by the end of it, I'll be a happy camper.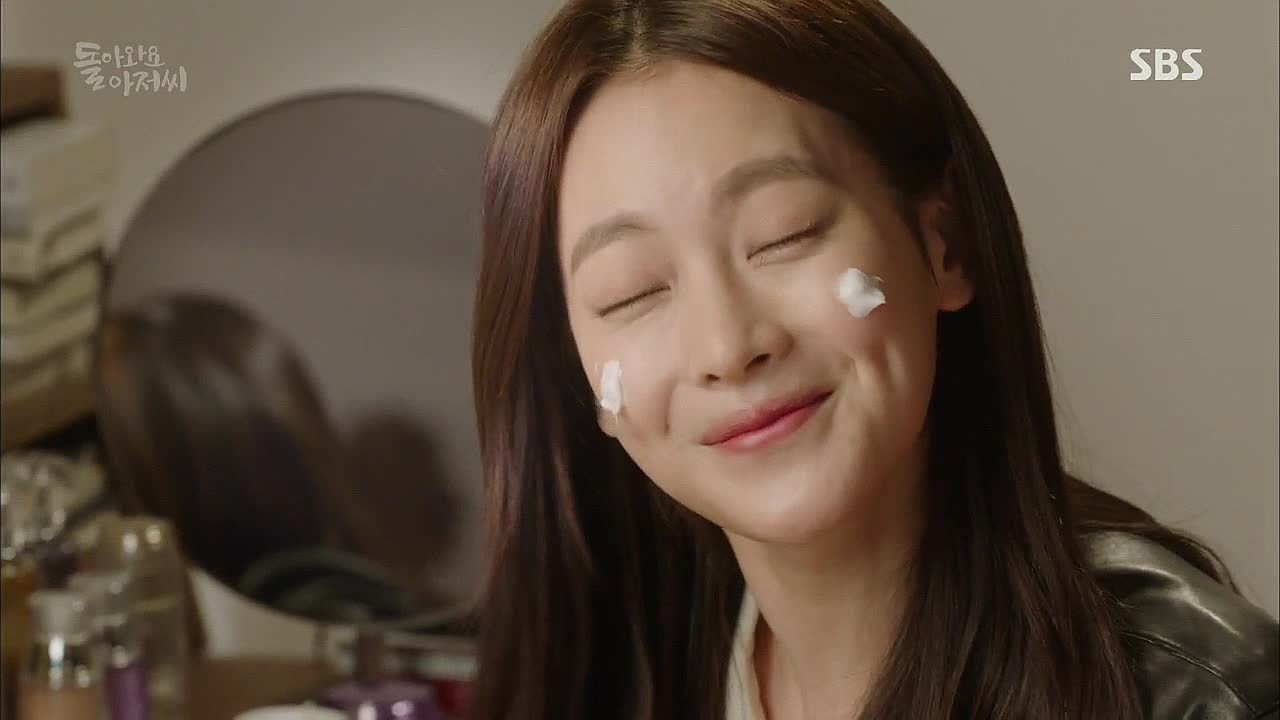 RELATED POSTS
Tags: Come Back, Ajusshi, featured, Lee Min-jung, Oh Yeon-seo, Rain