Goodbye Mr. Black: Episode 1
Over on MBC, Goodbye Mr. Black premiered today in what is at best an unfortunate position, up against two established shows, one of which is absolutely crushing the competition (Descended From the Sun). Still, I like that we have a variety of genres and options to choose from, and was hoping for Goodbye Mr. Black to offer up a refreshing, fast thriller.
To that end, I actually think it's too early to tell, because as a revenge narrative, we have to first establish the setup before we can get to the central premise of betrayal and reversal. There's a double challenge in here, to take enough time to get us grounded in the stakes and the characters' relationships, but not to take too much time that we grow bored—it's a hard balance, because we all know the way this story goes, it being such a classic premise and all. So far I'd say that the show feels a little uneven but easy to watch and briskly paced, with interesting characters. I'm going along for the ride.
SONG OF THE DAY
Baek Ji-young – "그렇게 안녕" (Goodbye like that) from the Goodbye Mr. Black OST [ Download ]
Audio clip: Adobe Flash Player (version 9 or above) is required to play this audio clip. Download the latest version here. You also need to have JavaScript enabled in your browser.

EPISODE 1 RECAP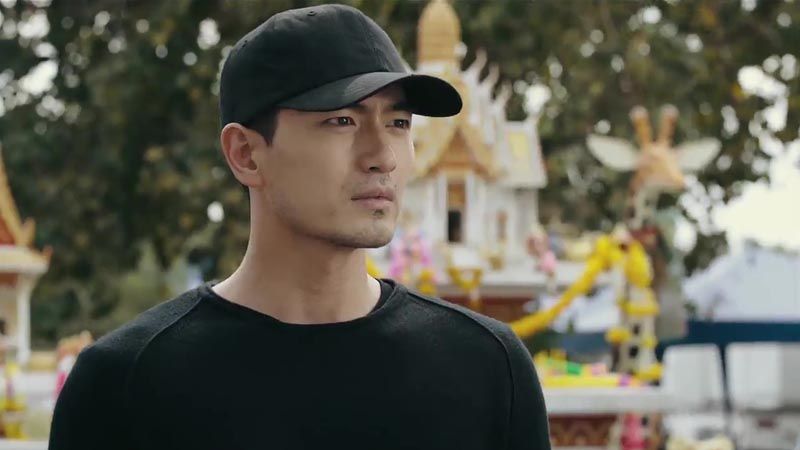 "CHA JI-WON!" The name gets screamed at a man wearing black (Lee Jin-wook) standing stock-still in the middle of a city square in Thailand.
Ji-won locks eyes with a sharply dressed man (Kim Kang-woo), eyes burning with angry tears. He runs.
The rest of the action comes in quick succession: Men pursue Ji-won through streets and back alleys. A woman (Moon Chae-won) hears the commotion and rushes toward the scene, coming to a rooftop where Ji-won stands poised on the ledge. She calls to him.
Sharply Dressed calls Ji-won a murderer and orders him shot—dead or alive. Ji-won makes a break for it, jumping off the ledge. The bullet hits him in the shoulder. A compass falls to the ground and shatters.
Later in a boat, Sharply Dressed loads another gun and takes aim. Ji-won, bloodied and ragged, thinks wearily, "Let's stop now." A gun is fired, a building explodes.
Memories flash through Ji-won's mind: kissing his sweetheart, days when he was friends with his enemy, and the young woman who says, "You're Black, I'm Swan."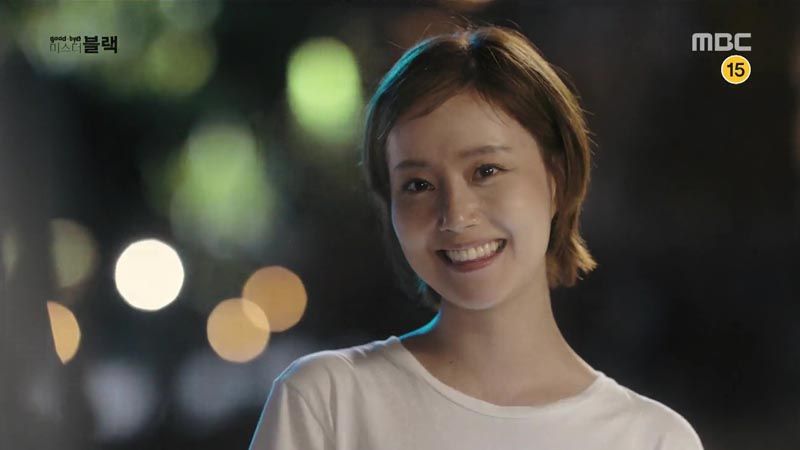 Ji-won closes his eyes. His voice narrates, "Cha Ji-won died, but I will live and come back, no matter what." Fade to black.
We reopen earlier, as a naval unit embarks on a mock combat exercise: Soldiers advance toward the target and duck for cover in a trench. Their captain—Ji-won—orders his men to standby while he continues onward, reminding them that a vacation is their reward.
Ji-won darts forward alone, and although his superiors curse his maverick maneuvers and order him to stop, he advances anyway, infiltrating the enemy camp. He succeeds in making it all the way in, only to get "killed" by an enemy at the last moment.
But not before activating a bomb that goes off in the enemy's face, which means Ji-won's team still wins, and they celebrate loudly in their quarters.
The raucous celebration is interrupted by Mr. Sharply Dressed, MIN SUN-JAE, who bursts into the room indignantly pointing to the underwear Ji-won has stolen. Ji-won taunts him as they run around the room, and Sun-jae makes a grab for the underwear, whining, "Everything else is fine, but not the panties!"
I'll just leave this here for your enjoyment:
The appearance of their commander has everyone scrambling to attention, and Ji-won happily accepts the team win (while making gloaty faces at bestie Sun-jae, who pouts).
The commander concedes that the team has won their vacation—but declares that Ji-won is excluded for going rogue. Now it's Sun-jae's turn to gloat as Ji-won gets carted off protesting, "But you know what today is!"
Ji-won's father, meanwhile, is the chairman of Sunwoo Group, and he's been pushing off the surgery his doctor has been advising. Nor does he want to pull Ji-won out of the military to establish him at the company just yet. The doctor is insistent that he must amputate his leg soon, however, because the old gunshot wound from his army days has turned into a bone marrow infection.
The nurse sneaks out and informs a traitor-in-the making: Director Seo, a Sunwoo Group executive who's preparing to act as soon as the chairman is laid up in bed. He's teamed up with a shady-looking Teacher Baek, who'll provide the funds, but the alliance seems shaky; Teacher Baek appears to be blackmailing Director Seo. Basically, both men want Director Seo to become the new chairman, but both men want to be calling the shots once he's there. (Who finds it hilarious that Lee Jin-wook's father and father's backstabbing enemy in Nine have traded places here?)
Best Friend Sun-jae arrives at Ji-won's family mansion, and is so close with the family that he calls the chairman "Father" and acts like a protective oppa to Ji-won's sister. Sun-jae has come alone since Ji-won's being punished, to the chagrin of Ji-won's girlfriend, YOON MARI (Yoo In-young).
Sun-jae fishes with the chairman while the ladies set up a picnic, at which point Ji-won makes an unexpected appearance. He charges his friend with mock-anger, and they run circles around the laughing chairman and play-fight in the icy water, hamming it up to the enjoyment of the family.
It's the chairman's birthday, and when prompted to make a wish on his candles, he says contentedly that he's got everything he wants. He tells the kids that being with each other when you're cold and hungry is what friendship and family is about.
Ji-won takes that as his cue to announce that he and Mari will be marrying, since it's Dad's wish that they become family. He says it in his perennial jokesy manner and Mari looks up in surprise, embarrassed at the attention while Dad and Ji-won tease each other about it.
The family laughs, but Sun-jae's heart sinks and he appears decidedly unhappy. In love with your best friend's girl, are you?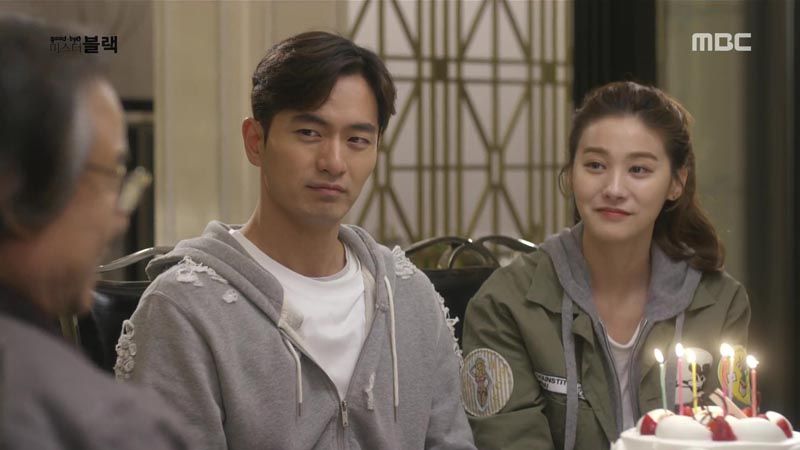 Mari's used to Ji-won's constant teasing but wants a more earnest proposal, and Ji-won complies, saying he wants to see her all the time. Then he adds that he's been waiting to meet her since his birth, thanking "noona" for being born three months in advance and waiting for him.
It's not exactly the emotion she was seeking, but he seals the deal with a kiss. Sun-jae catches a glimpse of the scene and turns away with heavy heart.
Ji-won produces a ring (a flat golden band, like the kind marking a child's first birthday) and slips it on her finger, saying he'd meant to propose when they were infants. Mari tells him he'd better not die before her, and makes him pinky-swear on it.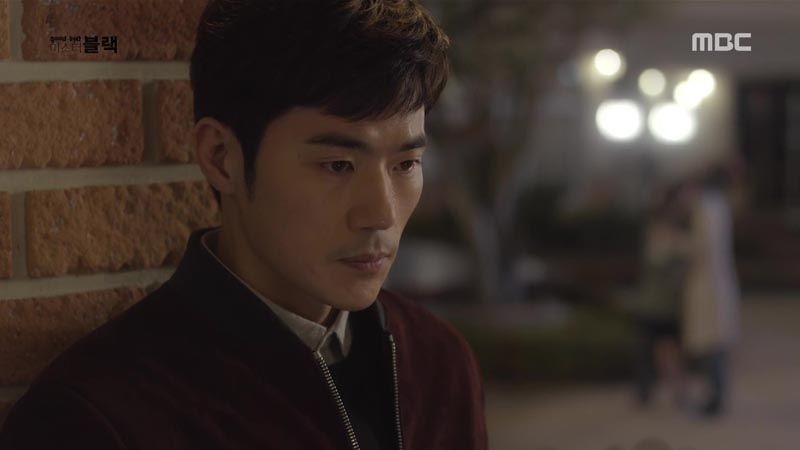 Ji-won gets called away then, arriving at an abandoned warehouse where an ajusshi cowers at the hands of gangsters. Ajusshi perks up to see Ji-won, saying that the gangsters are in for it now, and Ji-won reluctantly jumps into the fight.
Sun-jae walks Mari home, who sighs that her calls to Ji-won are going unanswered, and that Ji-won can be a pain. Sun-jae asks, "Then will you come to me instead?" He's serious, but immediately plays it off like a joke, and asks who'd she'd choose if both he and Ji-won were penniless nobodies. He holds his breath for her answer, and deflates when she replies that she wouldn't date either one.
It turns out that their commanding officer is Mari's father, and he tells Sun-jae sternly to take care of his family affairs, handing over yet more legal complaint files. The commander warns that Sun-jae ought to prepare himself for the consequences.
Ah, our errant ajusshi is Sun-jae's father, who has a decent heart but terrible judgment, constantly getting entangled in business scams. Ji-won warns ajusshi that his activity could endanger Sun-jae's military career (hence Sun-jae's stack of complaints), but Dad still wheedles Ji-won to use his chaebol connections to help him out.
Sun-jae walks in, overhearing the exchange, and delivers a punch to Ji-won's face for stepping in today with Dad's gangster situation. Sun-jae is beyond frustrated with his father's behavior, and also with Ji-won for enabling it by helping him. Ji-won just points out that if he hadn't gone, those gangsters would have gone after Sun-jae.
Sun-jae asks bitterly, "Should I be grateful for that? Don't act so uppity."
Dad hangs his head and mumbles that he's sorry to his son. Sun-jae says he's ultimately thankful—for showing him that there's no point in sticking around and trying to make something of himself here, because it won't happen. Sun-jae says wearily, "You don't even have the right to hear my swears. You've never raised me, and you've never done anything for me. Do you still insist you're my father?"
Dad gets indignant, but Sun-jae says today is the last day he'll live like this, and cuts ties with his father. He walks off as Dad yells after him to remember how Sun-jae behaved when Dad sought him out 18 years ago, the day he got out of prison.
In a flashback, we see how Young Sun-jae had run away from his father to seek shelter with the Ji-won's father, asking to be saved from the crazy man. Stung to be seen as crazy by his son, Dad had started growling like a feral animal, tears in his eyes.
Now, Sun-jae tears his nametag off his uniform and tosses it into the water. Ji-won finds him there, noting that he looks like he's ready to jump in, and they end up sitting on the bridge with a bottle of soju.
Sun-jae explains that he's decided to leave the military: "I thought this place would be fair—we'd all wear the same clothes, eat the same food—as long as I just did my job well. But that's not true." He wonders if he could work for the chairman after his discharge.
Ji-won thinks his friend is just venting, but Sun-jae says he already spoke to the commander, who didn't try to convince him otherwise. Ji-won gets upset, but Sun-jae erupts, saying that he's never done anything wrong in relation to all those complaints—why does he have to be the one to pay the price? Screaming at the sea, he yells that he's going to live according to his wishes now.
Some time later, Sun-jae's rejoined civilian life and taken a position at Sunwoo Group. He's bashful about using his connections to get his job, but Little Sister JI-SOO (Im Se-mi), whom he appears to be dating now, assures him that having connections is a skill. The chairman sees the young couple and chuckles happily, while treacherous Director Seo views Sun-jae as an upstart.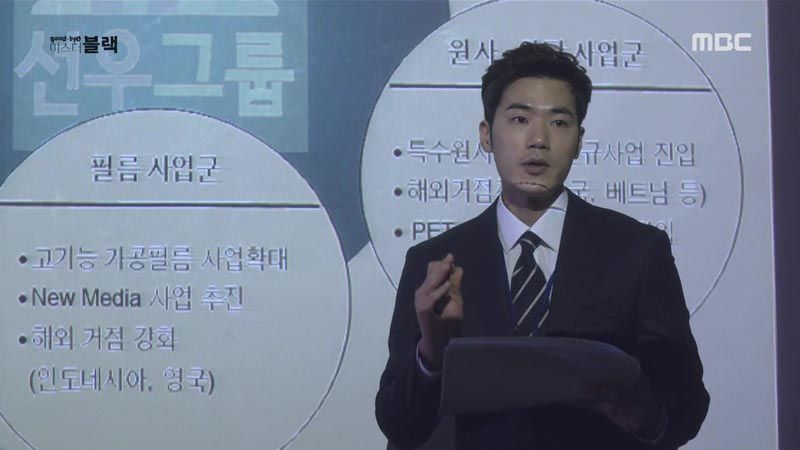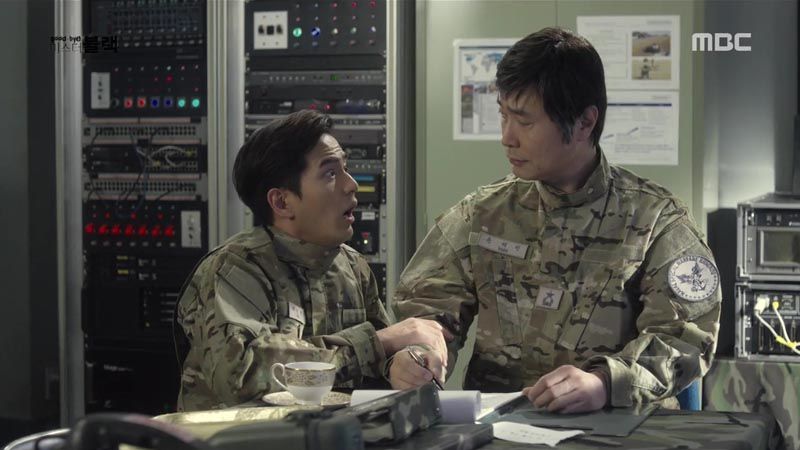 Ji-won is pretty bummed to be stuck doing menial tasks rather than out doing active duty, having been selected by Commander Yoon (and prospective father-in-law) to be his aide, and asks if he's done anything to upset him. He perks up to hear he'll be sent to Thailand on a training mission, only to be told his duties will be take records of training activities.
In Thailand, we meet our heroine wearing a wig and being coached on looking cross-eyed to participate in a small-time scam. She's reluctant to go along with it, but the boss, SUNG-MIN (Lee Won-jong), argues that it'll earn her much more money than she can selling fruit juice, and that the target did illegal business in Korea and ought to be punished. He calls her Kaya, so for now that's what we'll use.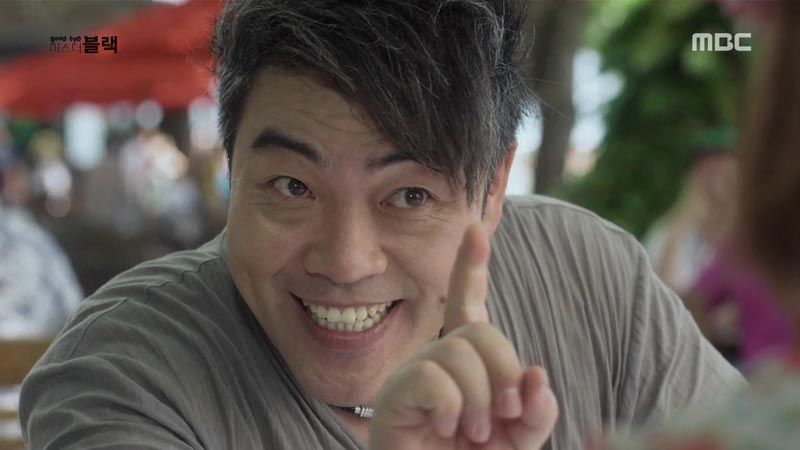 Their target arrives, and balks at the sight of cross-eyed Kaya, who puts on her best simpleton act. Sly Sung-min assures him that it's not like she'll be his real wife forever—the best way to launder his identity is to take a fake wife, and getting a simpleminded girl is ideal, because smarter ones would scam him and run.
The target pays up, just as cops arrive to bust up the scam in progress. While the men flail in surprise, Kaya bolts, grabbing the envelope of cash on her way. She tosses it into the shrubbery near the exit and ditches the disguise, leaving Sung-min to pick up the cash surreptitiously.
Kaya belatedly hears how much cash was at stake and realizes she got shortchanged by Sung-min, but he beats a hasty retreat and leaves her fuming.
Kaya notices boys running off with a stolen purse, and follows them to a slummy alley where they swipe the cash and dump the handbag. Kaya knows to look for something else, though, and pockets the Chinese passport left behind.
Then Kaya hears a sound—a fast, whizzing noise from a nearby alley. Looking around, she glimpses a man on the ground, bleeding, while a second man holding a gun makes off with his briefcase. The gunman confirms the papers in the briefcase, from a Morino Company with natural gas interests in Thailand.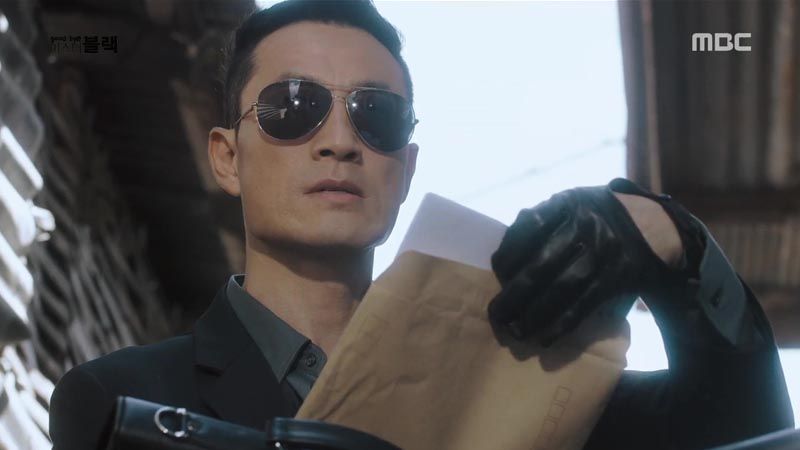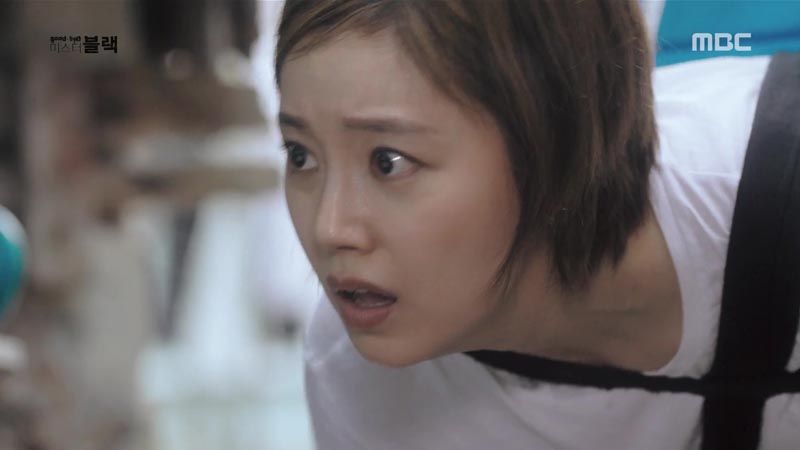 Kaya stumbles in shock, alerting the gunman to her presence. He chases when she flees, and she barely has enough time to hide when she runs into her scam partner Sung-min, who doesn't get out of her way fast enough. She climbs under the bridge just as the gunman runs up and demands to know if Sung-min saw a woman run by.
Sung-min recognizes the man and knows to be afraid of him, pointing him in the wrong direction. He warns Kaya that he's a dangerous killer, though Kaya's more concerned about going back to help the injured victim.
At Sunwoo Group, Sun-jae works hard on a project in development and is pleased to be put in charge by Director Seo—hm, we should be suspicious of that, I'm sure. The shady Teacher Baek tells the chairman of his interest in partnering with Sunwoo Group in the Thailand natural gas project, and offers competing bid information—the documents stolen by the assassin. The chairman stiffens, knowing they must have been procured illegally, and says, "We don't do business that way."
Teacher Baek acknowledges his misstep and exits, and Sun-jae hurries after him to return the documents. He catches up to him in the lobby, just as Ji-won also arrives and wonders why Teacher Baek's aide smells like gunpowder.
Ji-won's there to persuade his father into getting surgery, although the chairman is as reluctant as ever, saying he has to walk his little girl down the aisle. When Sun-jae checks a text message and excuses himself quickly, the chairman chuckles because he's pretty sure Sun-jae and daughter Ji-soo are dating.
But Sun-jae's actual reaction to the text is actually fear: Flashing back a few minutes, we see that he'd taken a detour before returning those ill-gotten bid documents. Tempted by the information in his hands, he'd been unable to keep himself from looking and taken photos in the stairwell.
Unbeknownst to him, Teacher Baek's assistant had recorded his actions, and that video is what was just sent to him. So now Sun-jae sweats, while Ji-won just teases him about being a good boyfriend to his sister, since he'll be watching.
Ji-won lands in Thailand and struggles to find his way, not noticing that he gets pickpocketed in the street. Kaya, meanwhile, is out selling juice when she gets trash tossed at her and angrily chases the car, only to bump into Ji-won and go sprawling.
She gripes about the juice she dropped, demanding payment, and when he offers to pay, he realizes his wallet's been swiped. He sees her collection of passports spill on the ground and assumes she's the mugger, grabbing her in a tight lock when she struggles.
Kaya's ready to call over the police, but pauses when Ji-won points out that her fake passport will get caught too. Instead, she grabs the passport and runs. Ji-won follows, catching up in no time and telling her there's no point in running when she's so slow.
Kaya runs anyway, taking cover under the same bridge from before—except Ji-won's apparently sharper than the assassin and joins her there. He's keen to get his wallet back, and not about to believe Kaya's protests that she's not a thief. She shoves him back at one point and he falls back into wet mud, making his Navy whites look like he pooped himself. Haha.
But Kaya has an idea, and heads to the trash piles in her slums to look for his wallet, likely dumped here after the cash was swiped. He stands by while she digs through trash, but when she cuts her finger, he looks apologetic and insists on pouring his water on her wound. She balks at wasting precious water, but he says, "Your hand can't be bought with money. It's more special, and more precious."
She's moved by his care, and just as he tells her it's okay to stop searching, she spots the wallet with his ID in it. He thanks her and asks her name, offering his first. For some reason, she hesitates to answer.
The underhanded Director Seo makes his move, telling the chairman that Sun-jae is suspected of misusing company funds. The chairman then gets a message containing the incriminating video, and reels in shock. He tells Director Seo he'll handle it.
Kaya escorts Ji-won to his destination, evading his questions of why she won't give her name. He guesses it's Kaya, having heard it in the marketplace, and says it's pretty, though she doesn't find it a compliment.
A man pulls up on a motorcycle, and Kaya's expression sours even further. Ji-won greets him as CEO Kim (Kim Tae-woo) and a longtime acquaintance, and CEO Kim calls them both people he's happy to see. Kaya, on the other hand, refuses an invitation inside and grumbles that he looks "like a rotten mango."
Ji-won finds her amusing, while CEO Kim says she makes him sad. He runs a children's foundation that Sunwoo Group provides funding for, which explains their acquaintance.
Sun-jae makes his way to a secluded meeting spot, looking nervous as he turns on a pen recorder. He waits long hours, and is gobsmacked when the man who arrives is Chairman Cha himself. To the chairman's eyes, this is confirmation of his suspicions, and he confronts Sun-jae with the video.
Sun-jae breaks down and admits to his mistake, swearing that he intended on owning up to it after he'd dealt with the situation. The chairman isn't impressed with his decision to cover up his mistake with blackmail money, which he took from the company inappropriately.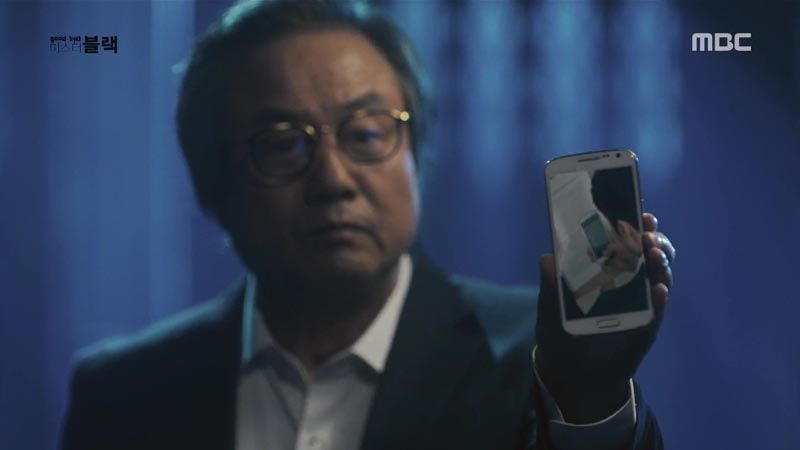 The chairman asks how he can ever trust him again, and Sun-jae begs for forgiveness, saying desperately that he was trying to do a good job. The chairman calls his actions cowardly and tells Sun-jae to take the money to the police now, rather than letting the mistake grow.
But Sun-jae, trembling with nerves and guilt, asks, "I've only just started. You want me to end everything now?" The chairman advises that his life won't be ruined for it, but Sun-jae bursts out that he was set up to fail by Director Seo, and that it was a trap that wasn't his fault.
The chairman says, "You disappoint me to the last. I misjudged you." He turns to answer a call, and Sun-jae grabs his arm and begs, asking pathetically if he'd act this cold to Ji-won.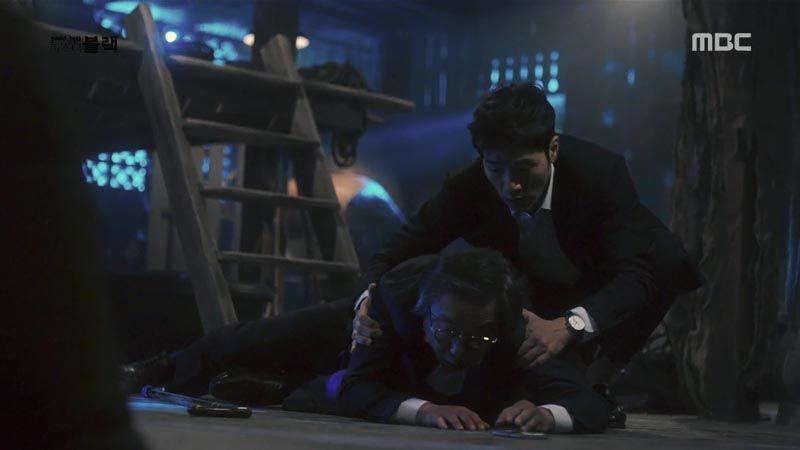 The chairman says firmly, "Ji-won wouldn't have done this." When his phone starts to ring, Sun-jae pleads with him not to answer it.
And then, a gunshot takes the both by surprise. The chairman is shot in the side, and Sun-jae rushes to him while the unseen gunman slips away. The chairman's phone picks up an incoming call—it's Ji-won.
The chairman struggles to get the phone, but Sun-jae picks it up first and starts to answer the call… but no words come out. Ji-won becomes aware of something strange and asks, "Who are you?"

COMMENTS
If I'm pulling no punches, I'd call Goodbye Mr. Black a little cheesy and obvious, which is by no means something unique to this show. I can do cheesy and obvious; it's just that if I could have things my way, I'd have wanted this to be a premium revenge thriller, all slick and dark and mysterious, more nuanced than hit-you-over-the-head dramatic. But I suppose there's something of an untold rule that all Dumas tales just end up a little cheesy, isn't there? This is more of an issue of direction that writing, but in neither case are we dealing with masters of fine subtle art. Just mainstream television—which isn't a condemnation. I'm a big fan of mainstream television. Let's just know what we're getting into.
I suppose the rosy, happy days are a necessity of this setup, because Ji-won's life has to be perfect and promising in order for the betrayal to make sense and land, and for this reason I don't mind how simplistic the scenes of family idyll are. It also makes me look forward to Lee Jin-wook's transformation, because while it's fine watching him being the mischievous golden boy, we're more interested in Dark, Broody Lee Jin-wook, right?
Same goes for our villain Sun-jae, who I thought was very well-developed; I'm happy with the characterization of his flirting with the dark side, because it feels real and born of something honest. I find villains dull when they're purely there to muck up the works or wield their power evilly; villains are so much more fascinating when their actions come from a place of extreme weakness, which we see in Sun-jae. I like that he starts out a decent guy, and that we can understand why his background and a lifetime of putting up with his father would make him value certain things that happy, loved people like Ji-won wouldn't. Money matters in a way that Ji-won can't appreciate, and making a place for yourself is something Ji-won will maybe come to understand only after he's lost it all.
So when Sun-jae caves to his inner dark side, I see that it's the result of a string of bad decisions, and can see a way to sympathize with him while not liking what he does. The fact that the show managed to get that much across in the first hour is promising, because it's quite a lot of character work to cram into such a short span, but it totally works.
Kaya is another intriguing character, and while I know we'll come to know her as Swan later, I'm just calling her Kaya for now, since that's how the show introduces her. On paper her traits could read as obvious as well, but I like that there's a mysterious side with her, too, and I look forward to seeing how she fits into Ji-won's transformation.
Overall, despite the uneven patches, I almost don't even care that this story is so familiar because it's the kind of thing that pushes my story buttons—it actually reminds me a lot of Green Rose, which was also a little obvious and on-the-nose at times but was a total addiction watch for me. I loved how the wronged hero lost everything and had to fight back tooth and nail, and ate it up when he built himself back up to reappear in his old life as a new man. We haven't actually gotten to that point of this story yet so it's hard to know if it'll manage that conflict well, but if it can strike that right balance of conflict and payoff, conflict and payoff, it's exactly the kind of story that can keep you on the hook all series long. That's my hope, anyway. (That's always my hope.)
RELATED POSTS
Tags: Episode 1, featured, first episodes, Goodbye Mr. Black, Kim Kang-woo, Lee Jin-wook, Moon Chae-won, Yoo In-young