Goodbye Mr. Black: Episode 5
This revenge did not set up the way I thought it would, but it does give us the room to explore other aspects of our hero's betrayal and loss of love. There's a fun caper element driving his scheme, and I'm happy to see the formation of a Scooby gang, even if we're not given a full glimpse of his endgame just yet. That's the thing about this guy—even when he's laying out his plan openly, I'm never quite sure how much more is going on below that surface.
SONG OF THE DAY
Emotion Boy – "안녕에 안녕" (Goodbye to Goodbye) [ Download ]
Audio clip: Adobe Flash Player (version 9 or above) is required to play this audio clip. Download the latest version here. You also need to have JavaScript enabled in your browser.

EPISODE 5 RECAP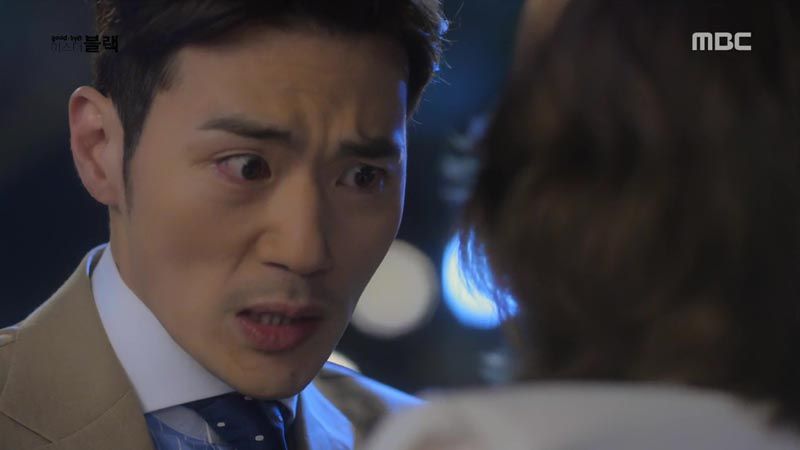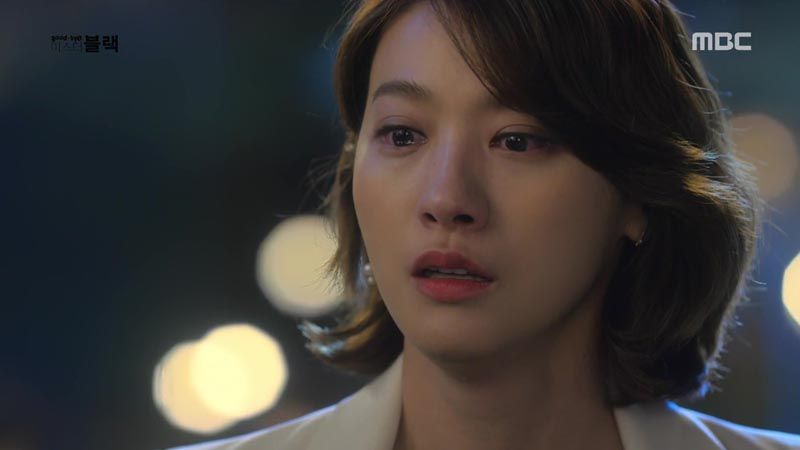 Black/Ji-won shows up to crash Mari's party at his old home, holding out a hand to her saying that he's come for her. The rest of the partygoers look on curiously while she reacts emotionally, almost reaching out to take his hand.
But Sun-jae steps in, calling her "yeobo" deliberately (which is only used between spouses) and telling Black they'll talk when the party's over. His men escort Black away, and Sun-jae hisses a warning to Mari to calm herself, since everyone's watching.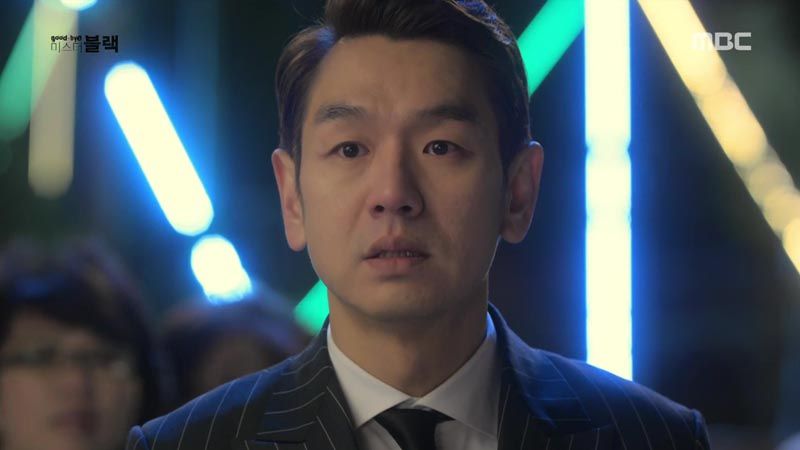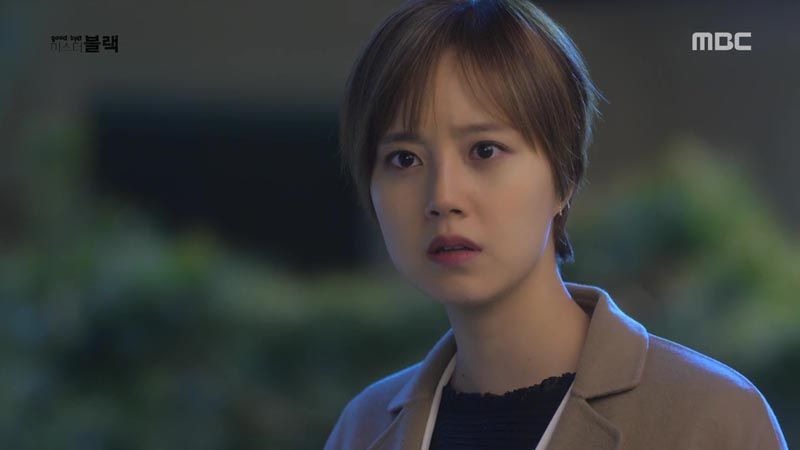 Swan hasn't gotten a good look at Black from across the party, but her oppa Ji-ryun has, judging from his look of shock. When she asks who the man is, though, Ji-ryun doesn't tell her and merely suggests that they leave the party.
The alliance of evil is going strong, and Director Seo is pretty rattled to see the Sunwoo Group heir rematerialize—has he found proof to clear his name? Teacher Baek, on the other hand, acts much less worried since Ji-won's a wanted murderer, and warns Seo to watch what he says. Still, behind Teacher Baek's back, Seo cackles that the old man is totally nervous despite acting calm.
Meanwhile, Mari is desperate to go see Ji-won, angry that Sun-jae said he'd died. Sun-jae insists nobody could have survived that explosion, and reminds her that they're married now. It keeps her from going after him, but she does take out an old jewelry box containing Ji-won's proposal ring.
As Black waits in his old house, he imagines his father still here, suggesting a fishing trip like the good ol' days. But by the time Sun-jae goes to see him, he's already gone. Instead he gets a phone call, and Black asks why he married Mari—it takes away one of his reasons for coming back. Sun-jae says he thought he'd died in the blast after they found his dog tags, and Black points out, "Why was that all you looked for? You should've searched for me."
Black hangs up, ignoring Sun-jae's demand that he meet. Sun-jae joins Mari in bed and says he couldn't meet Ji-won. She doesn't say anything in response, but places her hand on top of his.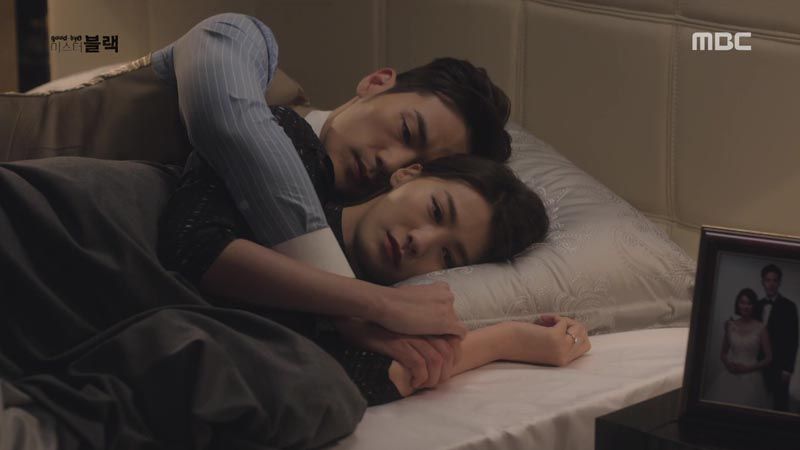 Teacher Baek is furious at Ji-won's return, but decides that he doesn't have to get involved in this fight just yet. He'd thought to give Sun-jae a chance, but decides, "I have to take the chairman's seat."
To that end, he's been working on securing a casino and resort deal, which would make his company, Sunwoo Distribution, a holding company. (Recall that Sun-jae owns rival (frenemy?) company Sunwoo Construction; Sunwoo Group is the parent corporation and the crown they're all after.)
Over at small-time internet outlet Panda News, an informant calls in regarding yesterday's case of dead man in the mountains. The caller is Sung-min, our con man from Thailand, and Swan perks up at mention of the case, taking down the name and address Sung-min offers.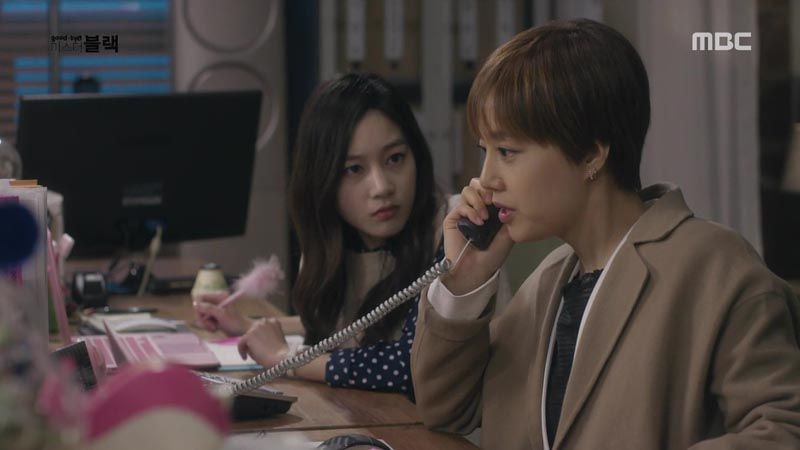 The tip identifies businessman Park Ho-shik—and aha! He's the silver-haired man from the victim's funeral, whose license plate Swan noted. Does that mean Park Ho-shik is a murderer?
Editor Woo-jin shuts down her speculations and her plan to investigate, but Swan is determined to sniff out this connection. She guilts a co-worker into taking her to the address, where they note a couple gangsters outside letting in scantily dressed young women.
Swan dabs on lipstick and heads in, saying she's here for a posted job notice. She acts a little helpless, showing her Thai ID and saying she's here to make money, asking him not to report her for this. The gangster likes that answer (or maybe just her vulnerability), and leads her inside.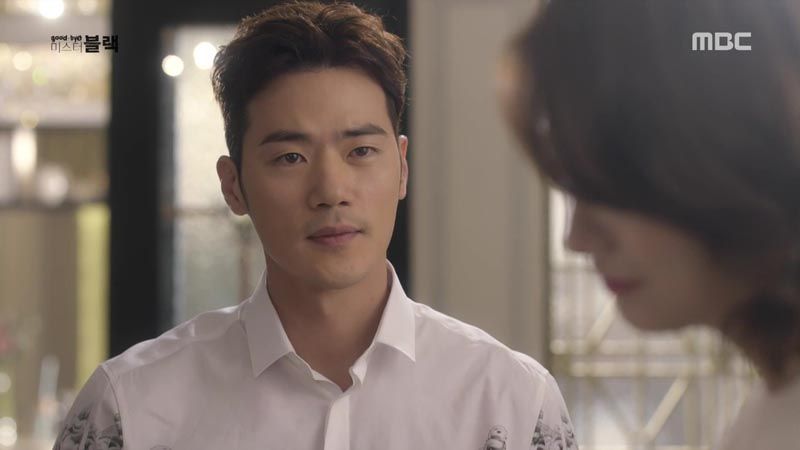 Sun-jae gets the report that Ji-won entered the country under the name James Black; he's got a French passport now and has served in the Foreign Legion for the past several years.
Mari's back to her normal mood this morning, and Sun-jae thanks her with some relief "for everything." As he changes, she suggests having the scar removed from his arm, which came from Ji-won's bullet. (Funny how he got hit right through that big blood bag strapped to his arm!)
Sun-jae's expression darkens when he hears his father's voice outside, insisting on seeing him. Mari offers to handle it, and Dad offers her some freshly caught eels and accepts the envelope she gives him. When she says that Sun-jae's still home, though, Dad hurriedly exits; looks like their relationship is still on the outs.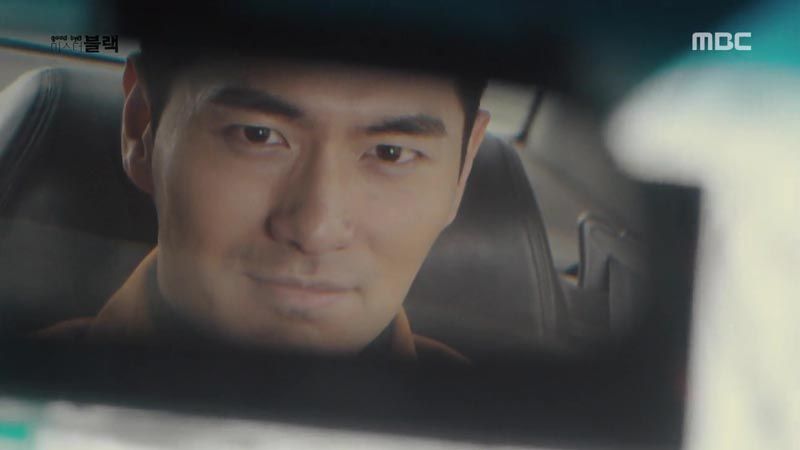 Dad's a taxi driver and gets a call from a hotel, where a sharply dressed passenger gets into the car. Ha, it's Black, and he takes off his sunglasses and waits for Dad to recognize him in the mirror, shooting him a sly smile.
The building turns out to house a casino, and Swan's job is serving drinks. She's too busy looking out for silver-haired Park Ho-shik to think much of the man who tries to get her attention, seemingly acquainted with her. He asks a gangster if he can take her with him while surreptitiously swiping his phone, and from a separate room, informant Sung-min watches the security cameras. Is some kind of sting going down?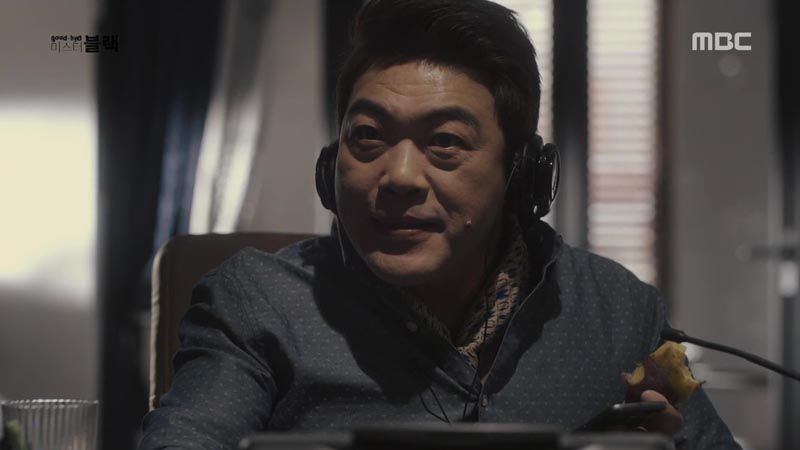 Phone Swiper transfers files from (onto?) the phone before returning it undetected, and Sung-min calls the gangster to get the hack going. Then Sung-min spots Swan on camera and gapes.
Swan spots Park Ho-shik at a table and sidles near, quietly telling him she's from Panda. Ack, she thinks he called in the tip himself, but he's annoyed at her hovering and has her escorted away.
Black eats lunch with Sun-jae's father, oddly blasé about walking about in the open. Or should we call him Ji-won again, since he's apparently not taking this double identity plotline to heart?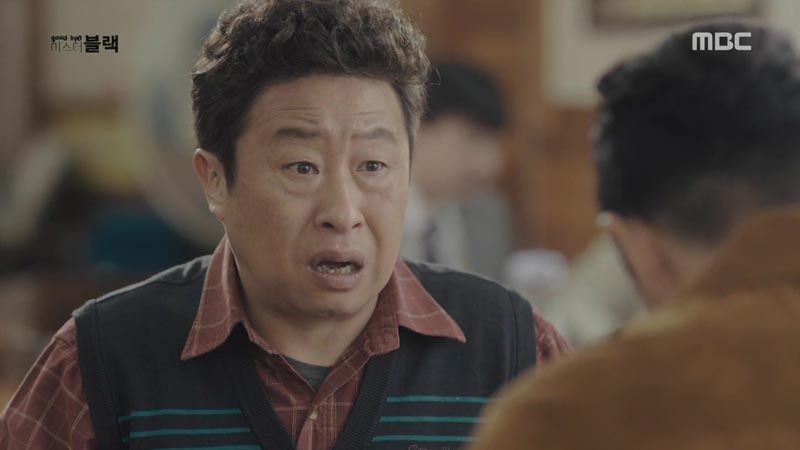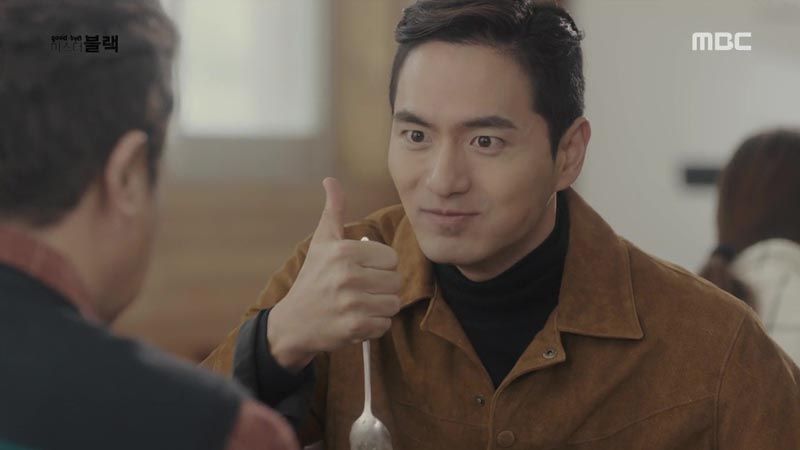 He assures ajusshi that he's got a plan: He'll turn himself in to find his sister Ji-soo, since only family members can file missing persons reports. As the chaebol heir, he still has his inheritance, with which he can hire an army of fancy lawyers to defend him in court. Um, please tell me that's your sham plan, and that you have a super-genius real plan up your sleeve.
Ajusshi makes up an excuse to slip away and call Sun-jae, and I'm dearly hoping Black anticipated this.
Sun-jae meets with Teacher Baek, and has his confident face on, saying he'll handle the Ji-won situation and warning Baek to just take care of the resort plans and not disgrace the name of Sunwoo Group. Teacher Baek smirks that it's a good thing Sun-jae's not scared like before.
Sun-jae's father calls to give him the tip about Ji-won's return and his intention to turn himself in, which makes Sun-jae sit up in alarm. He asks what to do about Ji-won seeking his inheritance, which worries both of them. Ji-won just tells ajusshi that he's going and saunters off looking smug.
Ji-ryun's mother shops with her friends, and disapproves of their gossiping that Mari has another man on the side, and that she might divorce Sun-jae and take half his company. Then Mari gets up from the table behind theirs and greets Mom politely, making the old biddies cringe.
Mari's at the department store to meet with May, the woman representing her investor boss who's close to finalizing a deal with Sunwoo Group. Mari's purpose here is to help grease the wheels between May's boss and her husband, and the women browse through men's clothing while chatting about May's boss wanting to have dinner with Sun-jae. May comments about living with a man, and the name of her company is MRB. Mr. Black, I presume? (The show hasn't connected those dots for us yet, but hey, they're right there.)
Sun-jae meets with his father and asks for notification the next time Ji-won contacts him. Dad assures Sun-jae that he's on his side over Ji-won's, eager to keep their relationship going, and then asks hesitantly whether Sun-jae had anything to do with everything five years ago regarding the chairman and Ji-won. Sun-jae doesn't answer, but it makes him tenser.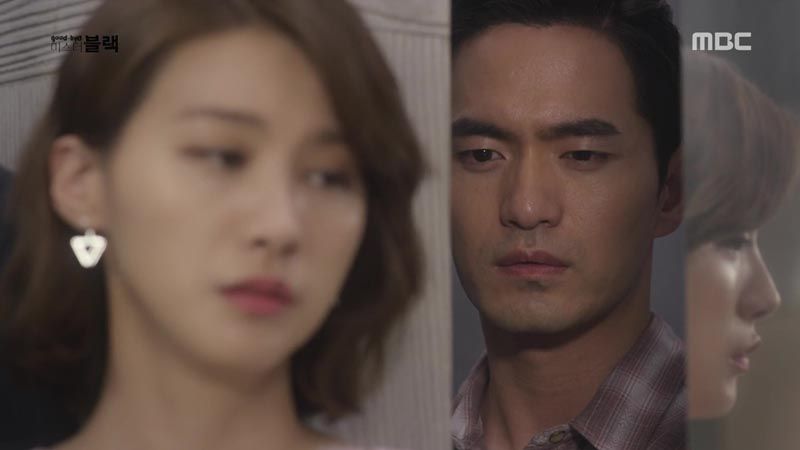 Ji-won shocks Mari by showing up at the department store in plain sight, and asks if he can try on the clothes she's picked out. In a flashback, we see Mari pestering Ji-won to change his clothes and swearing to make him wear only what she tells him to from now on. With that memory in mind, he tells her now that he wants to wear what she's chosen.
He takes the clothes into a dressing room, and Mari talks to him through the door, telling him to come to the house if he has something to say to her.
Ji-won pulls her inside, and reminds her that he'd asked her to wait, and that they'd promised each other. He asks about the card he sent her, and she replies, "What card?" She tells him not to seek her out like this again.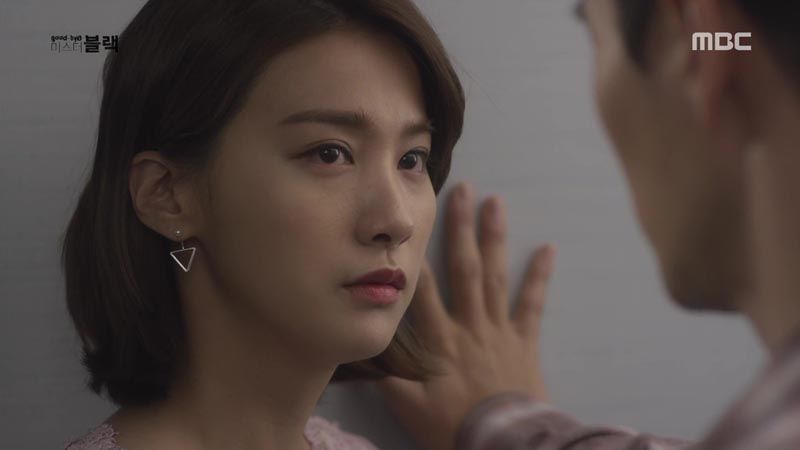 But Mari's deeply rattled, and as she sits in her car battling tears, she thinks back to the card he mentioned, which she discovered amongst her father's things while preparing for his funeral, which he'd kept from her. The card had been sent from Thailand while Ji-won was on the run, and he'd told her of his plans to die officially in order to disappear, telling her not to be shocked if she heard news that he'd died.
He'd signed off by writing, "I won't leave you behind and die. I love you. Ji-won." Wait, she knew he was alive all this time?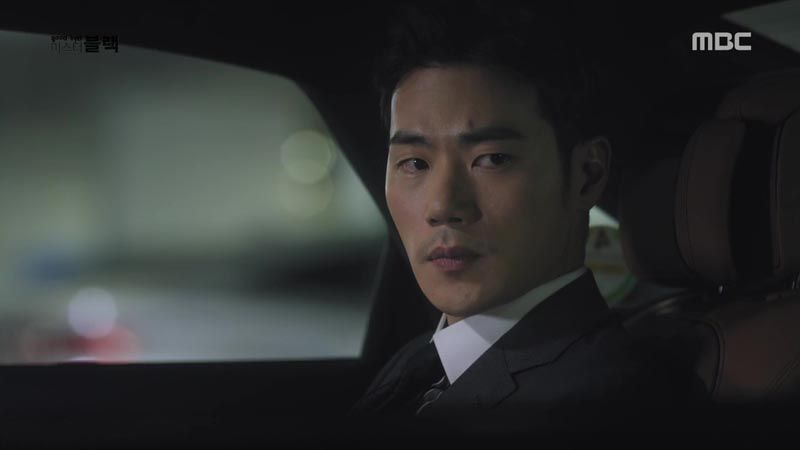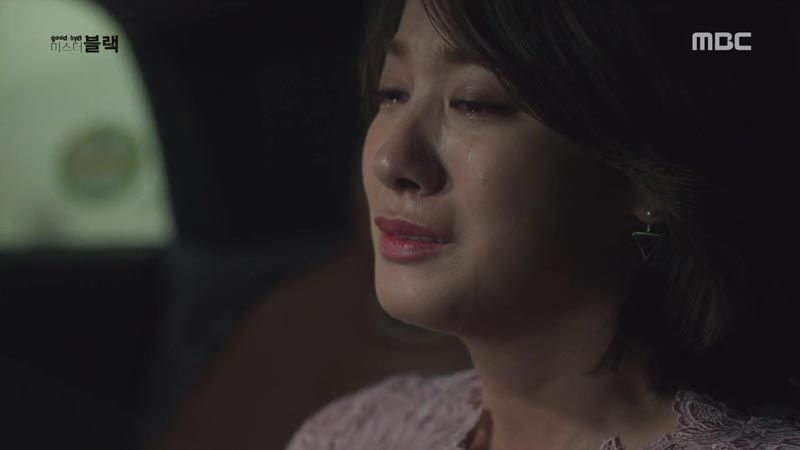 Ji-won buys the outfit Mari picked, while she sobs in her car—and nearby, Sun-jae watches her from his own car.
May meets with Teacher Baek's team regarding the resort plans, and says she and her unseen boss will be ready to sign a contract as soon as Baek's company buys the land. He returns that he'll purchase the land within the month, provided that MRB deposits their investment within a week—a whopping 20 billion won.
May reports to her boss that Baek came out strong, but assures him that he'll make back his investment right away.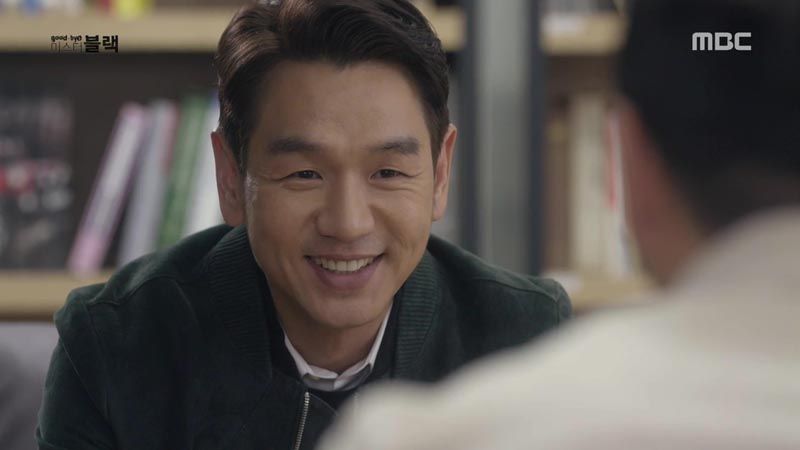 Ji-won drops in to see Ji-ryun, telling of his plans to send Killer and Sun-jae to prison together, though we don't hear exactly how. He promises Ji-ryun to keep it a secret that he came to see him, and they smile at that.
Rumply editor Woo-jin barges in to speak with Ji-ryun, before realizing there's someone else here. He's friendly with Ji-ryun and demands money and the car, and mentions Swan's name—he's on his way to handle that case, and takes off once he's got a credit card and car keys.
Ji-ryun explains that he introduced Swan to Woo-jin's internet news site, and asks if Ji-won isn't curious about her. He says flatly that she's probably fine, and when he hears that Swan's still looking for his sister, he tells Ji-ryun to pass along that she can stop, since Ji-won will do the looking.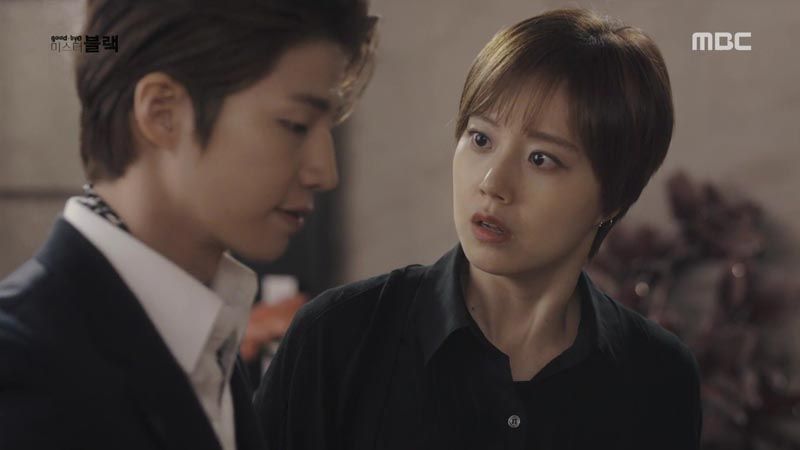 Ji-ryun reminds him how stubborn Swan is, and how she persists in believing that he's alive. He advises Ji-won not to get caught if he doesn't intend to see her.
At the casino, Swan keeps an eye on Park Ho-shik, who's not having a great gambling day. She gapes to see Woo-jin join the crowd—and my, doesn't he clean up nice. He instructs her to leave, since he'll get to Park, and fires her yet again. Something tells me it won't stick.
Fancy Woo-jin seats himself next to Park Ho-shik, and Swan tries to hover with limited success. Now Park is flanked by watchers on either side—Woo-jin and Phone Swiper—though he doesn't notice. Probably because he's too busy losing all his money.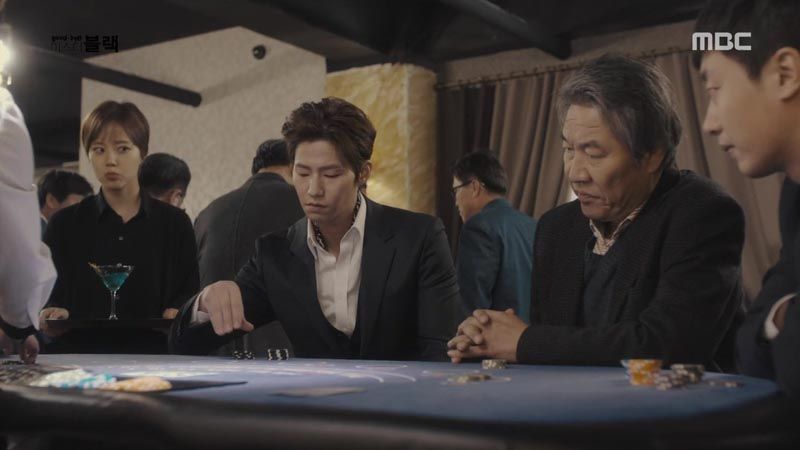 Swan returns to the bar and overhears gangsters talking about getting rid of Park tonight, and hurries to warn the man to flee, because he could end up like that dead man on the mountainside. Ack, that doesn't seem wise! Park recognizes her from the funeral and outs her as a reporter, which makes Woo-jin grit his teeth at her interference.
At least he thinks fast and knocks over a stack of betting chips and accuses the casino of cheating. That causes a stir and gets him punched in the face, and Swan blurts, "Editor!" as she rushes to his side. Oy, did everyone skip their brain juice this morning? She really is terrible at this undercover thing.
Adding to the chaos, the alarm bell rings—the police are raiding. Gamblers scramble to collect their money and leave, while police officers pour into the building. The gangsters running the operation blockade the doors and pack away their cash, dropping it down a getaway chute.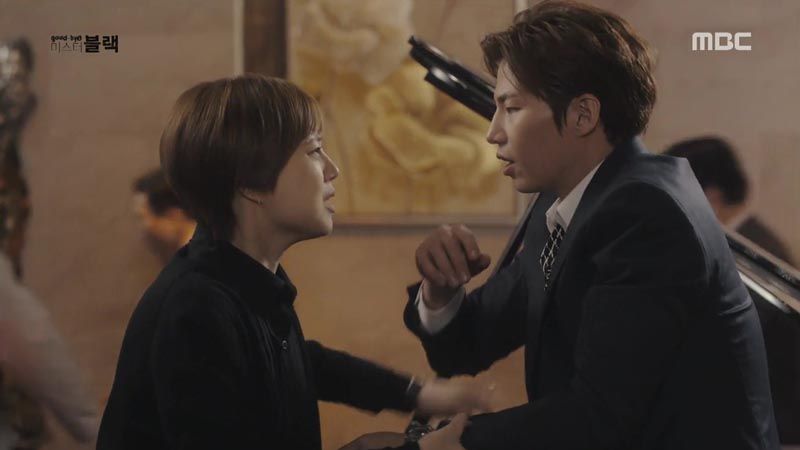 The gamblers are directed out via back exit, and Woo-jin chases Park Ho-shik outside (though not without first running his manly jewels into a pole).
Swan, meanwhile, gets seized by the gangsters—and then a masked man flies in and knocks them aside, shielding her protectively. It's Ji-won, and he tells her to stay still if she doesn't want to get hurt. She can't see his face but her eyes widen to hear his voice.
Ji-won shoves her away, hand symbolically slips out of his, and he resumes the fight, handily subduing all the gangsters.
Ji-won runs off before Swan can get a good look at him, but she catches up as he's riding off on a motorcycle. She holds out his compass and tells him with shining eyes that she knew he'd be alive… and the guy raises his visor to reveal an unfamiliar face.
Still, she remains convinced that her rescuer was Black. Woo-jin catches up to her and reminds her that Black is dead, urging her to let go now. A flashback reveals to us that Woo-jin was smitten with Swan at first sight, when Ji-ryun brought her to the paper, and he'd been flustered to hear her say she had a husband. Then when he'd seen the photo, he'd recognized the man as Ji-won.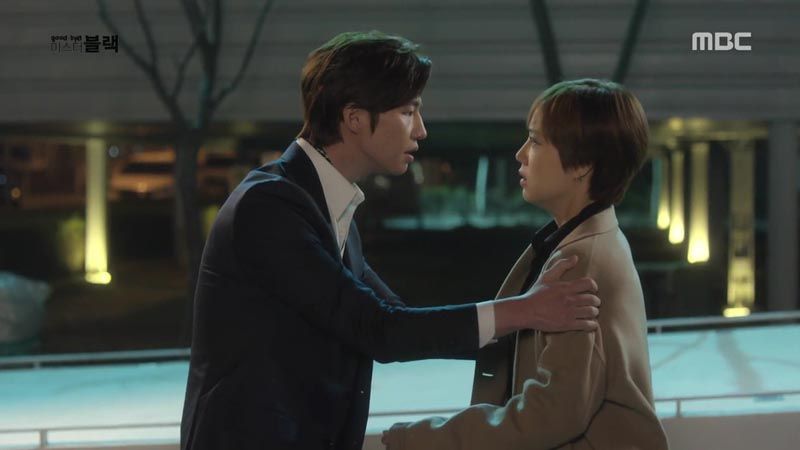 Now, he reminds her that Black's dead and she's not actually married. Swan replies that even though it was a fake marriage, Black cooked eggs for her, drew notes, and gave her a name—how could she forget him?
The police emerge from the raid empty-handed (are you entirely incompetent?), and the gangsters report to Killer not to worry. Killer instructs them to clean up the mess, make the delivery, and track down Park Ho-shik.
This is what eavesdropping Sung-min has been waiting to hear—he's been listening in all the while, and now makes a call to say the bait has been taken.
Park Ho-shik is taken to the Panda office (where Woo-jin pointedly makes fried eggs), and he's a rather ungrateful rescue victim, grumbling that he's being kept against his will. The team reminds him that he can leave through the open door, but Park is wary of Swan's warning that the gangsters are after him.
Mari makes the rounds of her hospital, where she spots Ji-won in the distance. He tells her he's wearing her outfit and suggests they head out, taking her for a drive to the sea, referencing their old promise to be married on the beach.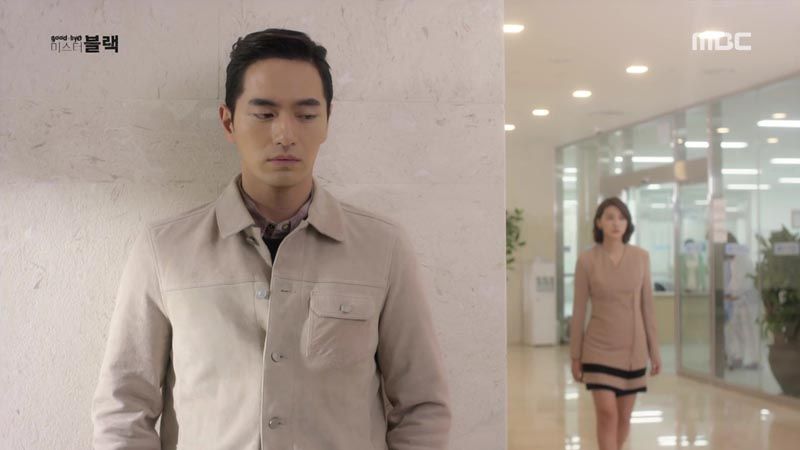 The gangster delivery turns out to be a truck packed full of apple boxes containing cash, taken from the casino before the police got to it. The truck heads out first, followed by the gangsters in a black car—and along the way, a sedan cuts in between the vehicles, swerving madly and acting like a general menace.
The crazy sedan gets pulled over by police, forcing the gangsters to a stop, and then another truck stops next to them, blocking the gangsters' path. Aha, Sung-min is the wild driver, and I can only presume a heist is underway.
Sung-min tells the truck driver to continue on, and then his team stations a decoy truck in its place. Ha, we're going full Italian Job on this, are we?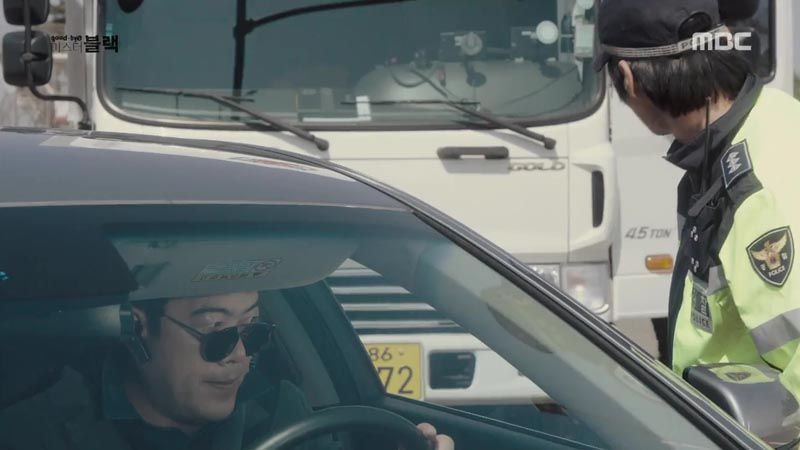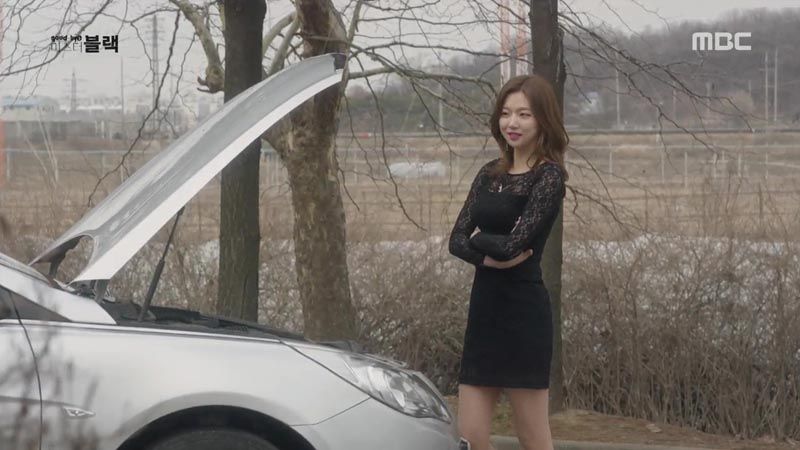 The decoy truck is manned by Phone Swiper from the casino, and when the gangsters catch up, they're following the wrong truck.
The real driver gets taken out of the equation too, when he stops for a woman who's stranded by a car stopped middle of the road—May, ha—and gets carried off.
The gangsters arrive at their destination and unload their apple boxes… full of apples. So our con artists unite with the real truck, and revel in the mounds and mounds of cash they've just diverted, which answers my question of where MRB is gonna get their 20 billion won of investment capital.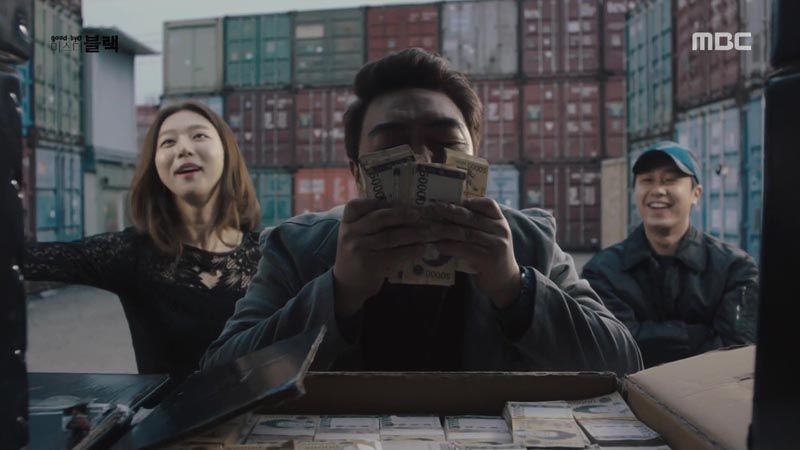 That sum gets transferred over to the Sunwoo Distribution account, to Teacher Baek's satisfaction. Only then, he gets word that his own delivery has disappeared. Muahaha.
Ji-won takes Mari to the beach, telling her he missed her while she remains quiet and distant. Her voice hardens as she tells him to listen up: "You should have died." She lays it all out for him: how she married within a year of his death, how she gave up looking for Ji-soo, and how good Sun-jae is to her. She's happy, she says, and Ji-won shouldn't have come back.
Ji-won grabs her arm intently, saying that he doesn't care if she forgets him, but that she can't be with Sun-jae. She fires back that she chose him, telling him that it's too late.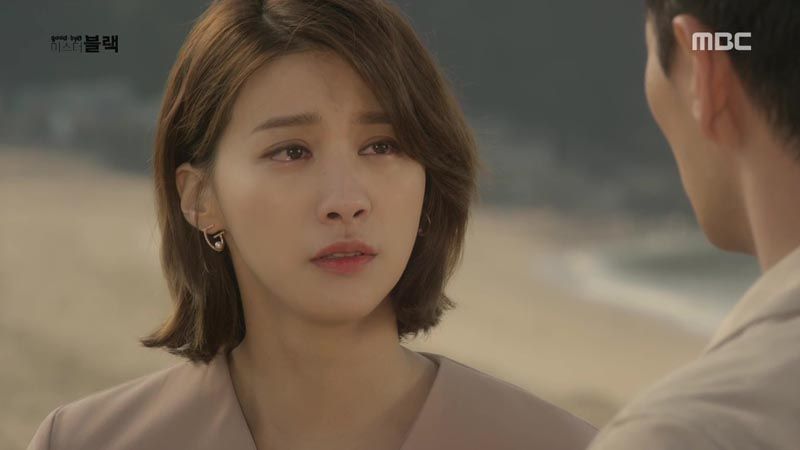 Ji-won says she has to at least hear this, and starts to name the last person he saw before the explosion, which we know was Sun-jae. But that's when her men arrive to collect her, and she shakes off his hand.
Swan returns to the scene of last night's run-in with Black and finds a car parked there with a black box, and gets the footage from the owner. She reviews the footage, and which captures her rescuer walking by after the fight—and it confirms that he was Black.
Ji-ryun gets a delivery of apple boxes, which Black calls repayment and interest. Ah, so Ji-ryun was funding him all this while?
Sung-min video-calls Ji-won to confirm that Baek's stolen money got returned (in that investment), and when Ji-won tells him he can keep the leftover cash, Sung-min lies that there was none left over (while having already taken his cut).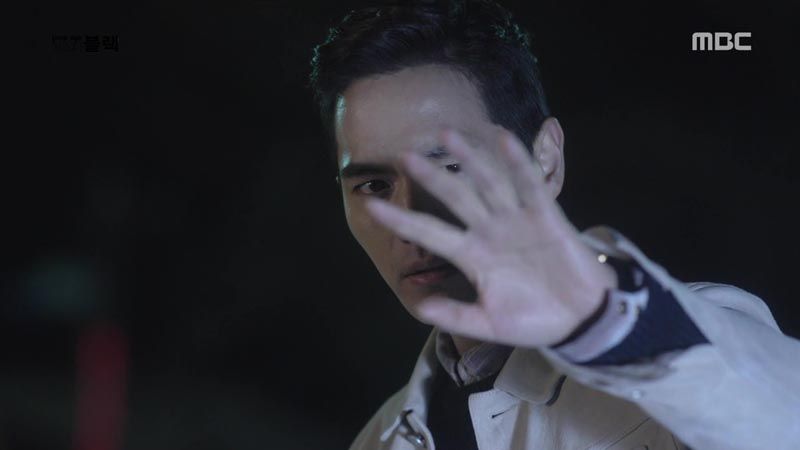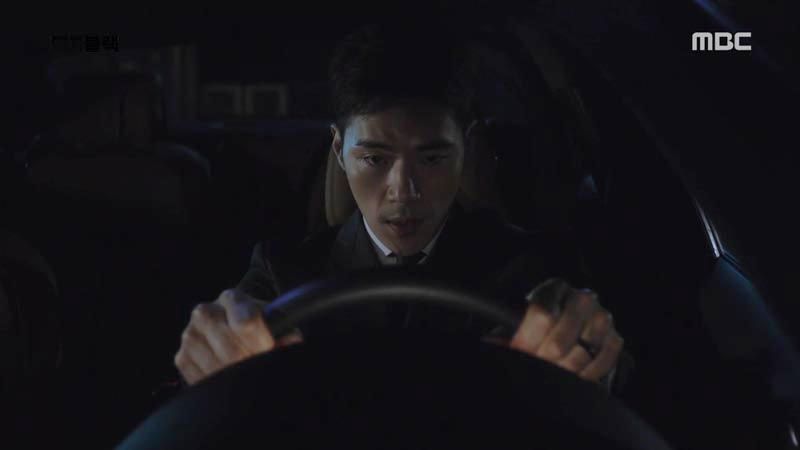 As Ji-won talks, headlights flick on in the distance, catching him in the glare. Sun-jae's behind the wheel, and he suddenly guns it, shooting for Ji-won, who jumps out of the way just in time. But then a motorcyclist comes at him and strikes him with a pipe, knocking him to the ground.
After confirming the footage, Swan says aloud, "Goodbye, Black."
Sun-jae gets out of the car to crouch over Ji-won, saying that Ji-won should have sought him out (instead of Mari). He grabs Ji-won's lapels threateningly, just as a voice shouts his name—Ji-won's video call is still in progress, and Sung-min can see him. Ji-won says, "It's okay, he's my friend."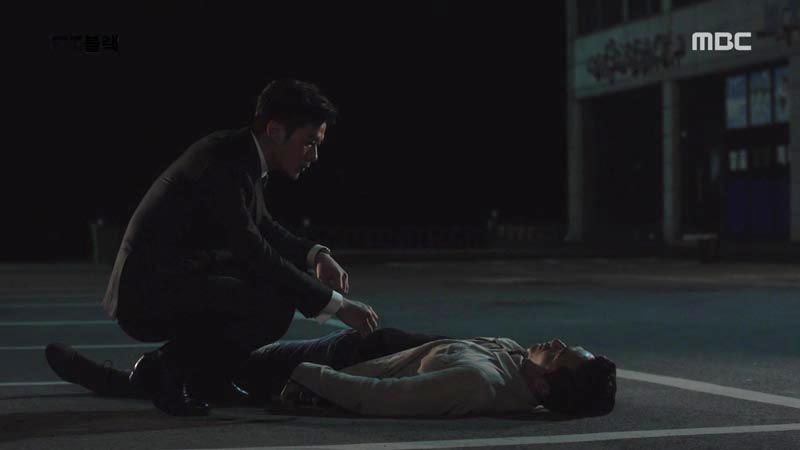 They drive… somewhere… and we're back to feigning ignorance—Sun-jae says he was merely signaling Ji-won of danger with his headlights, and Ji-won pretends he doesn't know Sun-jae's a murderous backstabber.
Instead he acts like he's been away for a long time and finds it strange that Sun-jae hasn't identified his killer yet. Sun-jae sees the truck they're driving alongside and considers swerving into it (on Ji-won's side), but Ji-won grabs the wheel and merely cautions him to be careful.
Sun-jae reminds Ji-won that he'd offered him help five years ago, but Ji-won didn't come. Ji-won answers that he couldn't go, because of the man who "killed" him. Sun-jae holds his breath, waiting to see if Ji-won's on to him… and Ji-won replies that it's that man who smelled of gunpowder, aka Killer.
Sun-jae asks, "Are you sure?" Ji-won returns, "And if not?"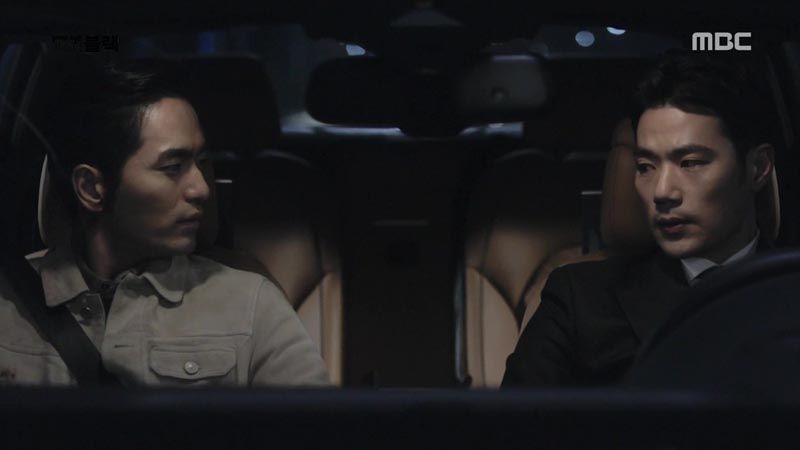 COMMENTS
Okay, phew, so Ji-won does have a master plan. It wouldn't have made sense for him not to have more up his sleeve, but I'll be honest, this show is just sloppy enough that I wasn't sure I could trust it. I'm definitely feeling the directorial shortcomings in this show, and they do sometimes intrude on the flow of the story, which contributes to that uncertainty of where it's going. Some plot uncertainty is intentional, in that we can't know what twists and turns our hero's got in store for his payback scheme. But I can't help wishing we had a more assured, skilled director at the helm here.
Plotwise, I'm still flummoxed as to why Ji-won outed himself right from the start—who tells a Count of Monte Cristo story where he goes through all that effort to invent a new persona for himself, and then just introduces himself as Edmond, not the count? What is the point of that? Isn't that sapping your conflict before it even has time to grow into a plot?
Still, it's so early in the game that I have to believe that choice this is part of the grand plan, and that there's a reason for it that will reveal itself later. Otherwise, it's just too strange to explain… which isn't to say that it can't just be bad planning. But I'm willing to wait and see what Ji-won is working on.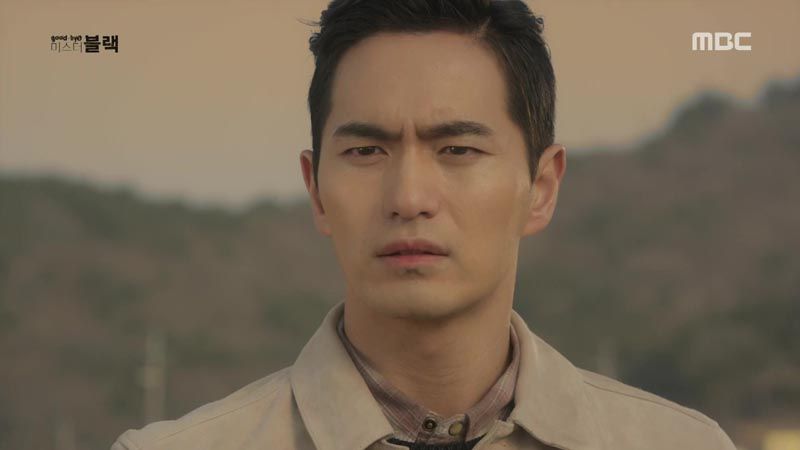 I do like that we get this cat and mouse game going, and having his identity out in the open creates a wholly different dynamic than if he were to come back pretending Black was a different person, driving his traitor friend slowly insane with the uncertainty, and creating all sorts of angst with his lost love who's sure it's him but told it's not. (Gah, why is that not our setup again?) But this gives us the twist of having Mari onboard with her choice, which was not something I was expecting.
I think I like this better, because it makes her interestingly complicated, that she knew he wasn't dead but chose to move forward with her life, and therefore his return is actively unwelcome. If she'd been totally blindsided when he came back, I'd have felt sorry for her in a general sense, but in a way that makes her the victim in all this. I found it enlightening to have her comment that she was becoming more like Sun-jae the longer they were together, and so I see her choice in this episode as the first step in her aligning herself with her husband against Ji-won.
True, she doesn't know that Sun-jae was the one who tried to kill Ji-won, but for now she's making her choice with eyes open. I'm curious to see how this affects Ji-won's perspective on his revenge—does it make him see Sun-woo's usurpation any differently, if he can't see Mari as "stolen" if she doesn't see it that way? Or does it just add fuel to the fire?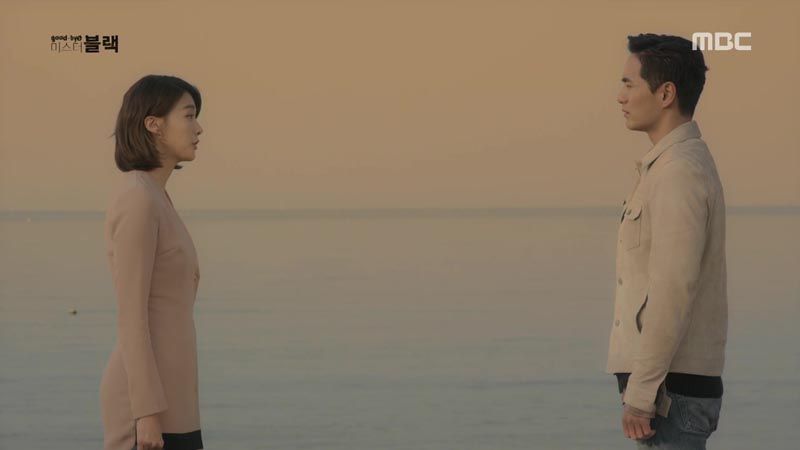 RELATED POSTS
Tags: Episode 5, featured, Goodbye Mr. Black, Kim Kang-woo, Lee Jin-wook, Moon Chae-won, Yoo In-young