Goodbye Mr. Black: Episode 6
I'm honestly still confused by yesterday's episode and our hero's choices thus far, but on the upside, at least we know he's making deliberate choices now and that he has a plan? 'Cause I'll be frank with you—I was about 50-50 on that yesterday. It's pretty funny how your expectations can go so quickly from, You're going to have that awesome revenge plan, to You have A plan, right? I still don't know why that plan involves showing his face to everyone and their mother while hiding from the one person who legitimately cares, but surely there's a reason. Surely.

SONG OF THE DAY
GGot Jam Project – "그대는 어디 있나요" (Where Are You) [Download]
Audio clip: Adobe Flash Player (version 9 or above) is required to play this audio clip. Download the latest version here. You also need to have JavaScript enabled in your browser.

EPISODE 6 RECAP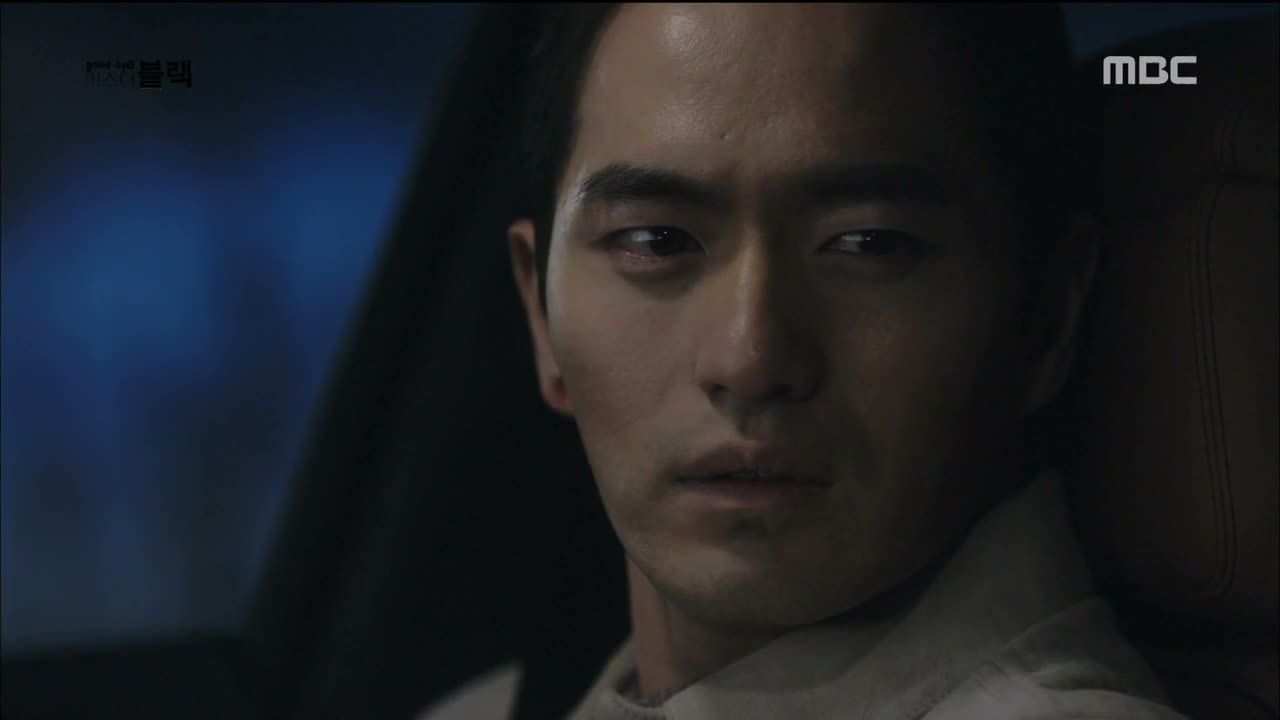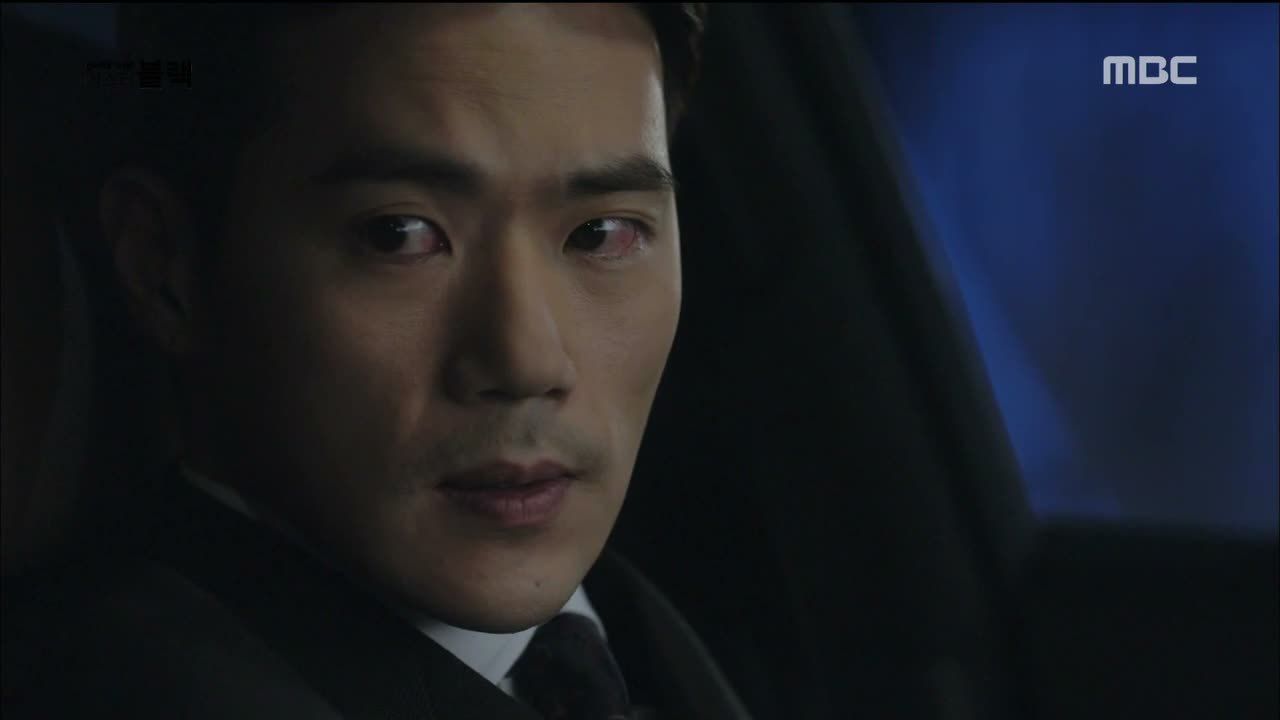 Teacher Baek starts beating some heads to find his missing money and the people responsible for stealing it.
Meanwhile, Ji-won/Black catches up with Sun-jae and acts like he's under the impression that Killer was the one who tried to murder him. Obviously Sun-jae rolls with this, since he's not about to confess now that he was the shooter. Ji-won says he expected that Sun-jae would've caught his killer by now, but Sun-jae argues that Ji-won didn't come to him back in Thailand when he could've helped. By "help" you mean kill him faster, but sssshhh, we're acting like you're innocent here.
Ji-won says he fell into the water when the explosion hit, and Sun-jae sighs that he really should've looked harder: "I made a mistake." He's further alarmed to hear about Ji-won's plans to turn himself in so that he can report Ji-soo missing, and persuades Ji-won to hold off because he's close to finding Ji-soo. Ji-won: "Cha Ji-won is dead. I'm Black." I would take that more seriously if you stopped telling everyone that you're Ji-won.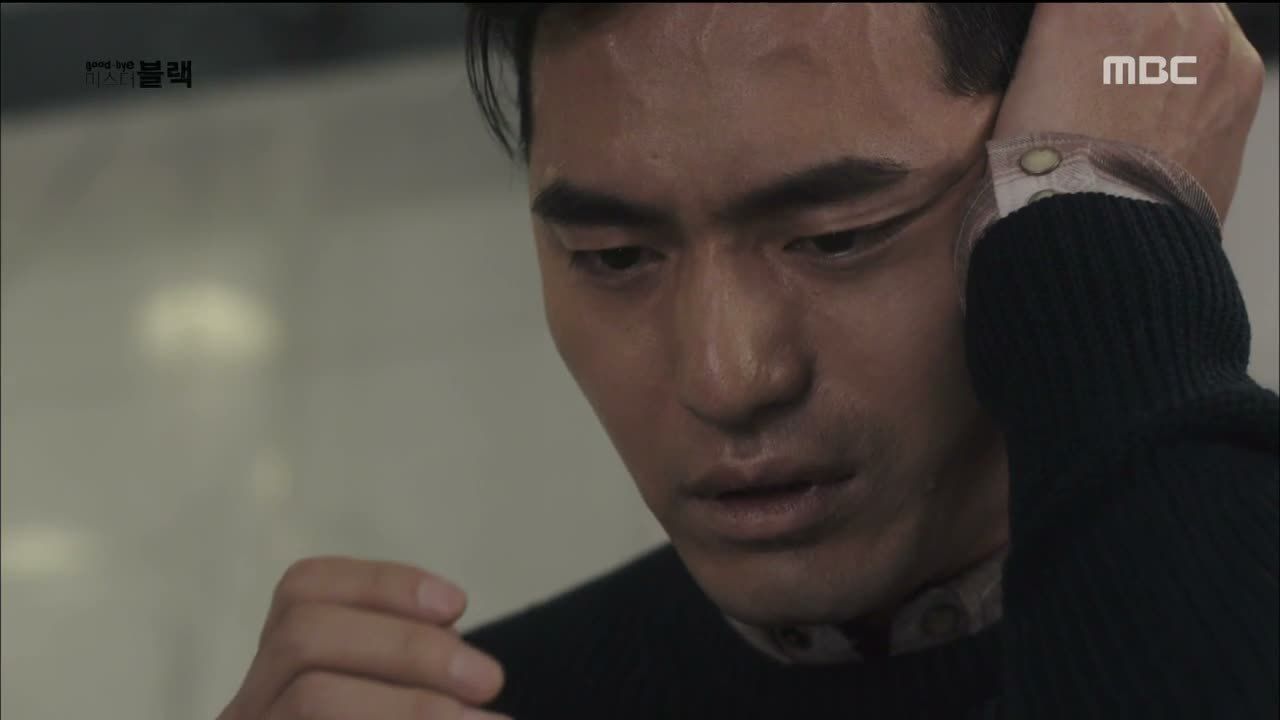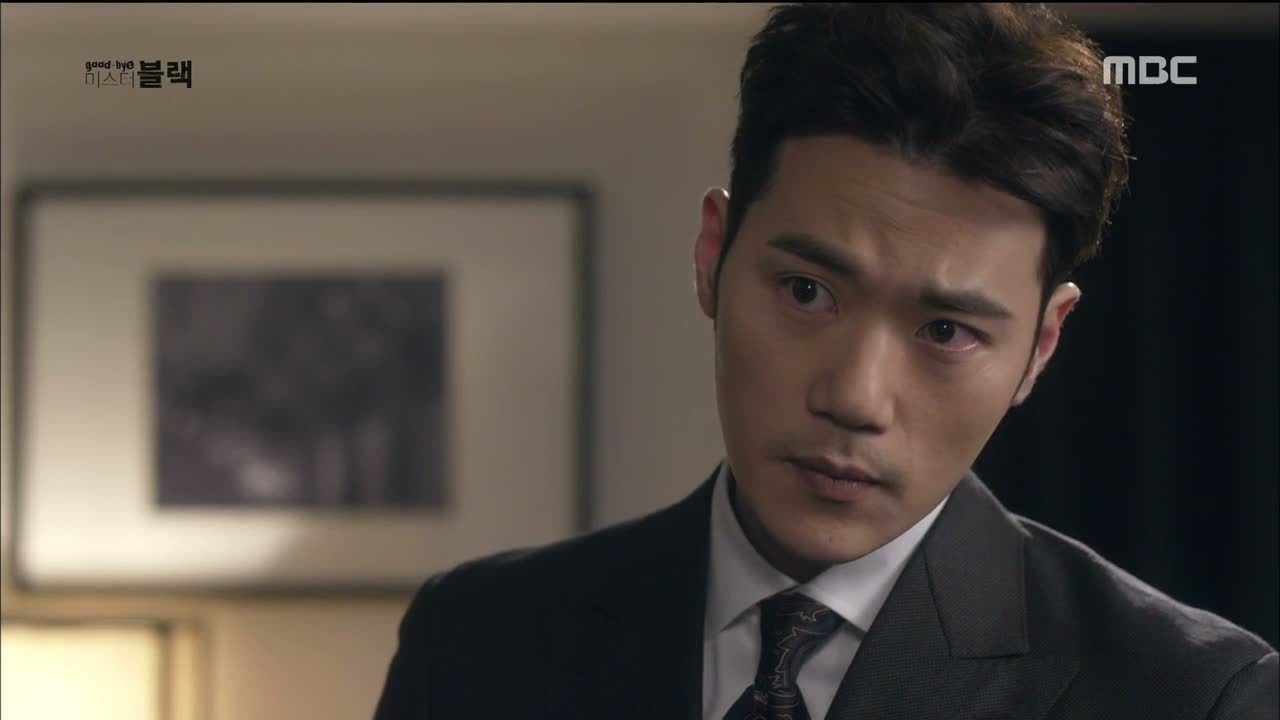 Black's team—May, Sung-min, and Phone Swiper—all have their eyes glued to a monitor, worried about what Sun-jae will do to Black. They figure that Sun-jae wouldn't try anything with that video call on record from earlier, but they still look worried.
Black returns to his hotel room and can't seem to shake Sun-jae, who wants to keep hanging around to gather more information. Black doesn't look very good either, and barely makes it into the bathroom before reaching for a bottle of pills. But his vision goes blurry and before he has a chance to take a pill, he collapses.
Sun-jae is snooping around the room when he hears the fall in the bathroom, and starts approaching… when the doorbell rings. Phew.
It's May, who acts surprised to run into Sun-jae here. She asks him to get rid of those bodyguards at Black's door since she has the room next door and feels like someone's following her, so he does as asked, and they agree to a dinner tomorrow with her boss.
As soon as Sun-jae is gone, May rushes back into Black's room and finds him unconscious on the bathroom floor.
Swan hovers outside Mari's front gate hesitating to ring the doorbell, when Mari arrives home. Swan says she's here for that interview (though we know she's just trying to see Black) and Mari says today isn't a good day. The housekeeper says she was worried to hear of an emergency near the coast, and Mari panics, since that's where she met Black.
Sung-min sits by anxiously as Black gets taken in for an MRI, and Black has a flashback to the day he staged his own death (and we finally get confirmation that he planned it). Black had called Sung-min and told him to leak his location to the baddies, and then asked him to come pick him up in the water if Sung-min ever wanted to see his money again.
So of course Sung-min came in full scuba gear to rescue Black, after he'd escaped through a hatch door. After being revived, Black said that he'd return Sung-min's money once they got to Korea.
In the present, Sung-min solemnly declares that Black is dead and pulls the blanket over his head… which Black yanks off, complaining that he can't breathe. Sung-min says it's not a joke because he really WILL die if he keeps going like this, and nags him about the very precarious bit of shrapnel in his head that's just waiting to cause an aneurysm.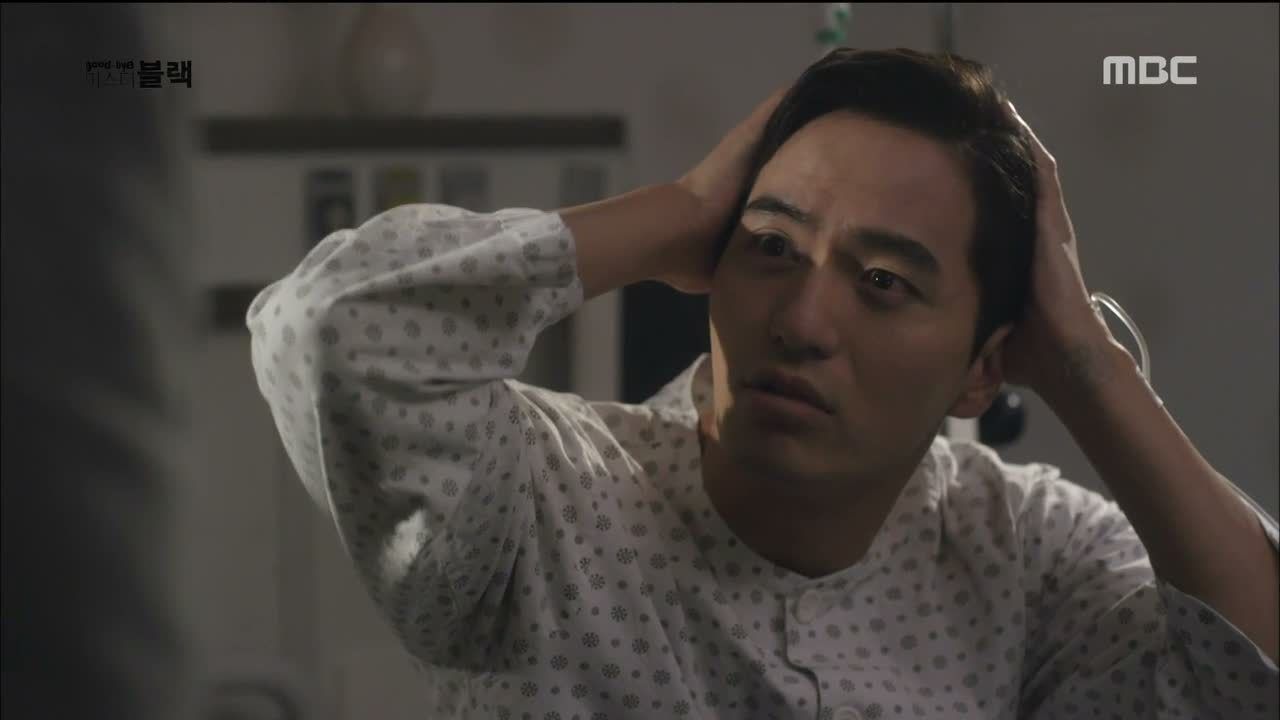 Black's cheeky response is to ask for a helmet then, to protect his head. Sung-min says that renting out a whole hospital every time isn't cheap either, and mutters that he's adding it to the bill. Black nods, knowing that the only thing Sung-min trusts is money.
The rest of his team runs in, and May worries about Black's condition, while Phone Swiper (okay, his name is Gye-dong) calls Min-jae a petty bastard. Sung-min points out that Sun-jae was once his superior officer in the army, but Gye-dong says Ji-won is the only superior officer he serves, and gives a salute.
Panda editor Woo-jin tells Ji-ryun about the gambling den raid and the tip call, and declares that Swan is sick in the head because she keeps insisting that she saw Black there, when Black is dead. Ji-ryun doesn't correct him, but he is curious to hear that Black might be involved somehow.
He asks about the man that Woo-jin brought with him, and we see Ji-ryun's mom gaping at Park Ho-shik while he stuffs his face with food. Woo-jin explains that he runs a subsidiary of Sunwoo Distribution, and he's on the run from gangsters who want to settle his gambling debt. Woo-jin doesn't know the connection to man who was murdered in the woods, but he knows it has something to do with Sunwoo Distribution.
Swan still hasn't come home, so Ji-ryun goes looking for her and finally finds her still standing outside the gate of Black's former home. Swan asks why oppa lied about seeing Black at the party and asks if they've met up, and Ji-ryun confirms it. He tells Swan that Black didn't come here to see her, and Swan quickly says she knows he never told her to wait or that he'd come back for her.
She feels incredibly guilty that she still hasn't found Ji-soo or proof that he's not a murderer, but still, she just wanted to see him again. Ji-ryun takes a step closer and asks if she wants a hug, but she says it's enough that Black is alive and walks off.
That night, Swan dreams of her childhood: restful days sleeping in Mom's lap, a tsunami on its way, a man's feet. We see a sketch in her bedroom of a pair of elephants, and then fade into a very similar painting… on Teacher Baek's wall. Eep, he's not your father, is he?
Teacher Baek scans the CCTV footage of the gambling den where Park Ho-shik was last seen, and his eyes widen when he sees the altercation with Swan and Woo-jin. He hands a photo of the scene to Director Seo and asks if he recognizes anyone (he clearly does), and gives him a chance to fix things quietly.
Mom nags Swan to stay in bed because she's sick, but when Ji-ryun tells her editor she won't be coming in, she swipes his phone to say she's going to work. Oppa's phone rings with a new call, and she freezes to see the name: "Black." She pauses for a second and just hands Ji-ryun the phone without a word.
She waits outside in a taxi though, and follows Ji-ryun's car, right to his meeting with Black. Swan finally lays eyes on him in person, though it's from a distance, and it's an emotional moment for her.
Ji-ryun suggests a walk instead of talking indoors, and then once they're at a park, he tells Black that there's someone who's very eager to see him, and he's brought her here. Ha, he knows Swan's been following him all this time? To be fair, she's very conspicuously spying on them from behind a tree.
Black wonders why he did that when he knows it's dangerous for Swan to be around him. Ji-ryun says that Swan will hide out of sight anyway, and asks for him to smile a little for her sake. Black says that once he finishes his work here, he's going to go far away and never return. He felt really bad about leaving Swan the first time, and doesn't want to repeat that all over again.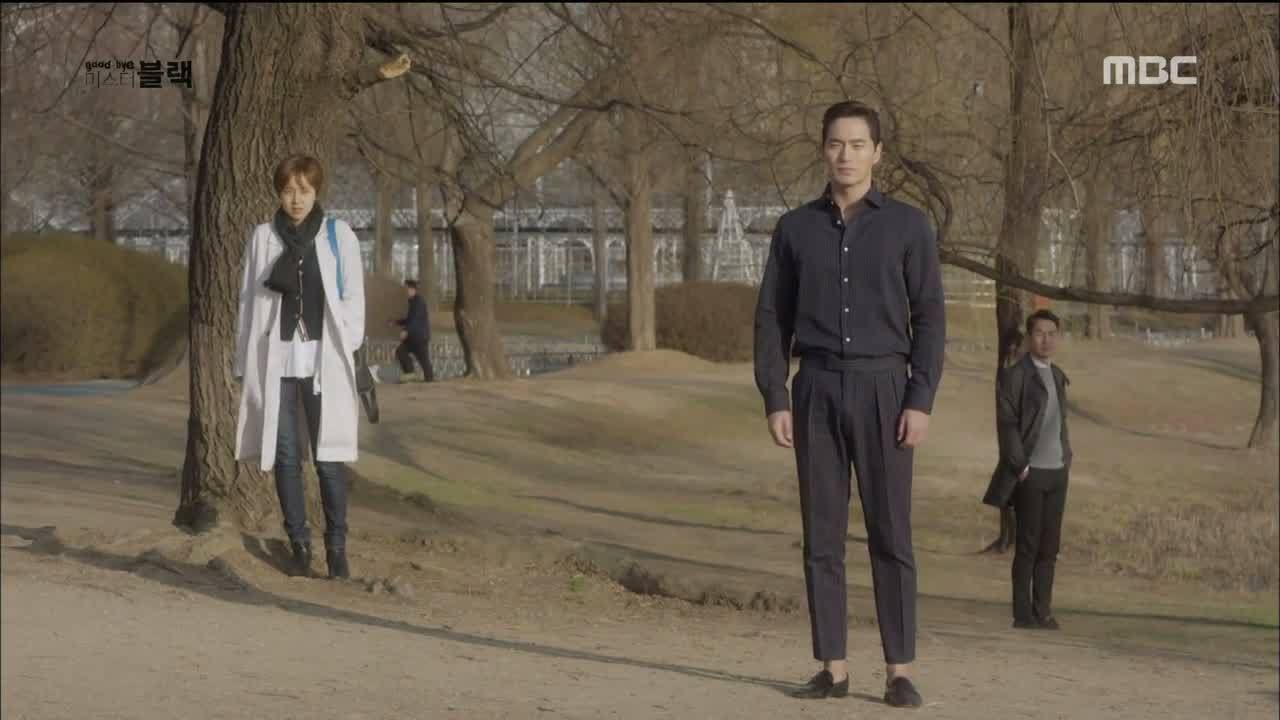 Black walks away first, right past the tree where Swan is standing. She takes a step forward like she might run to him, but they both stop. Black lingers for a long beat, but in the end he walks away without looking back.
Mari has lunch with her father-in-law, who mentions that he met Ji-won and heard it straight from him that he plans to turn himself in to the police. Dad says that even murderers are entitled to their inheritance though, and that it looks like Mari and Sun-jae will be penniless soon.
Dad says there is a way to keep some of it though, and suggests putting half their assets in Dad's name, yunno, just for safe keeping. Guh. Mari surprises him by saying that all of this is Ji-won's anyway, so if he wants it back, he should have it.
Swan goes investigating at a dark warehouse all by herself, and when someone grabs her shoulder, she screams and just starts attacking. More like flailing blindly. It's Woo-jin, of course, here to dig around at Park Ho-shik's company for clues just like her.
They're interrupted when Killer's gangsters bust in looking for Park Ho-shik, so Woo-jin and Swan huddle under a desk. He seems more affected by their proximity than anything, which she's oblivious to. Swan does find a picture while they're down there—of Park Ho-shik with the man who was murdered in the mountains.
On their way back, Woo-jin stops the car and tells Swan to wait inside, and walks out where Director Seo is waiting for him. Director Seo slaps him across the face and says that if Woo-jin left home and cut ties, he should live quietly. AH, Director Seo and Seo Woo-jin. Got it. Is everyone's dad evil on this show?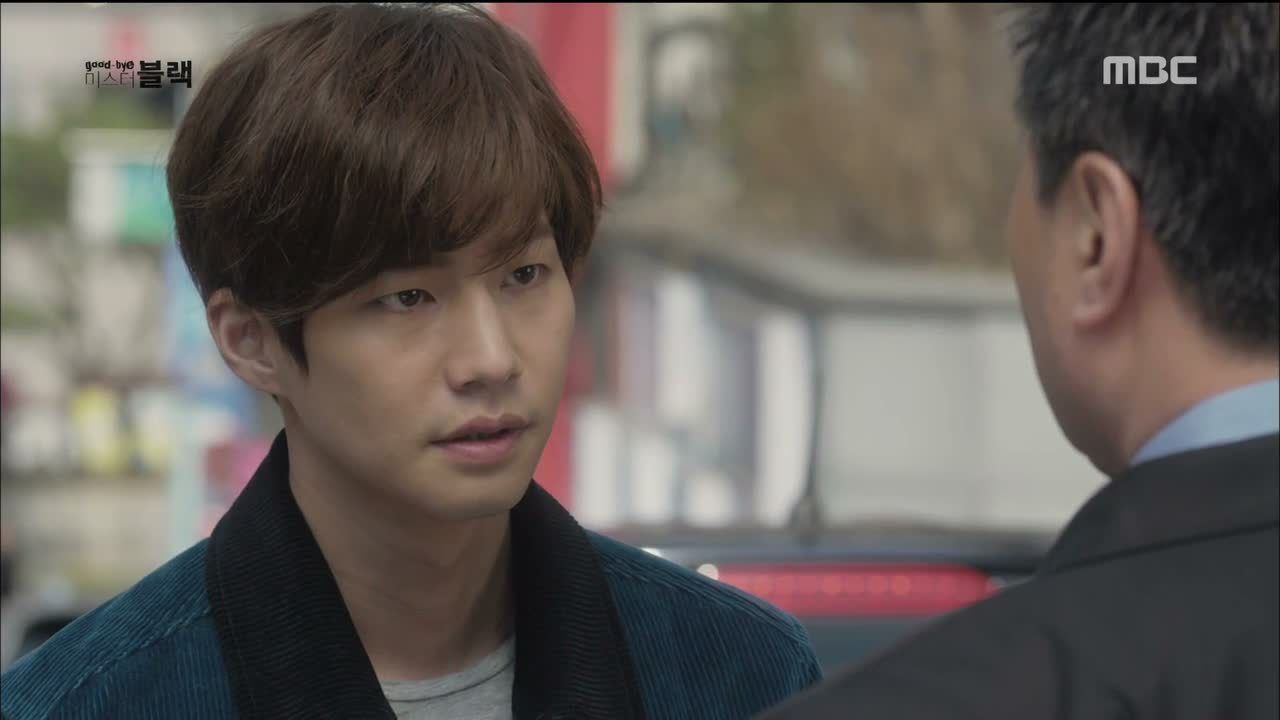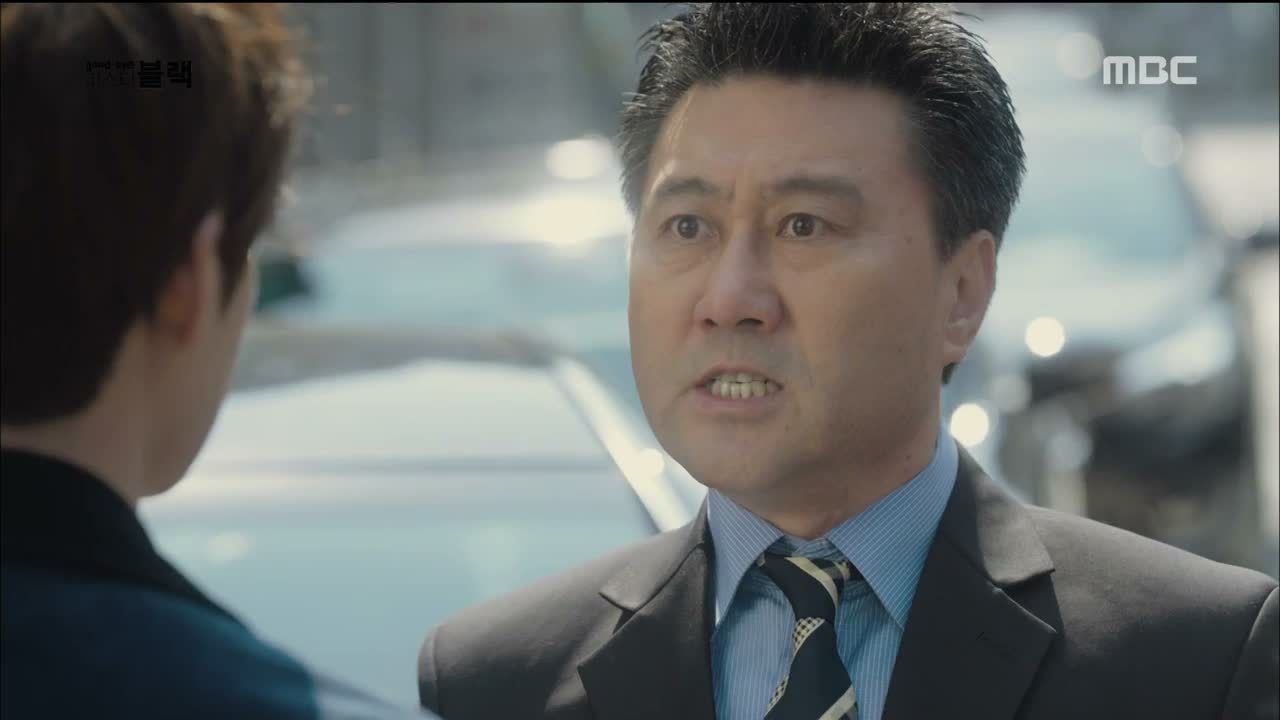 Daddy Seo is still pissed off that Woo-jin got fired from his legitimate newspaper and ended up here, but Woo-jin points out that it shouldn't matter to someone so high up what he does or doesn't do down here.
Woo-jin is embarrassed that Swan had to see that (though she didn't see his father's face), and they share a bottle of soju in the middle of the afternoon. She makes sure that he won't fire her later for drinking on the job, insisting that she has to be a reporter. Woo-jin asks why, and she quotes Ji-ryun: "With one sentence, a reporter can save or kill a person."
Woo-jin says it along with her, and points out that he's the one who said that, not Ji-ryun. Swan says that she has to become a reporter so that she can save "him" and kill the bad guys, and Woo-jin catches on that she's talking about Ji-won again.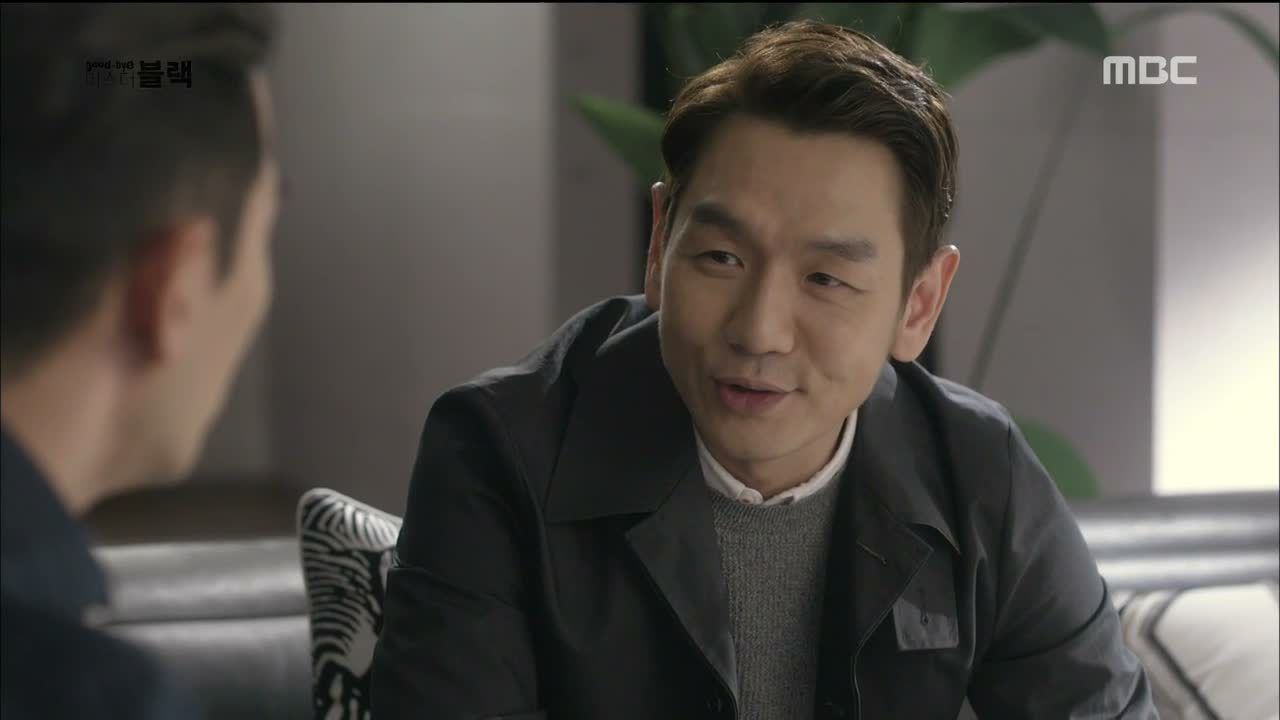 Black tells Ji-ryun that he really didn't know that Swan would show up at the gambling den, and that he sent the tip to Woo-jin because he was looking for a news source that wasn't under Sunwoo Group's thumb.
Ji-ryun confesses to being a spy for Panda News, and Black laughs, saying that he'll have to be a double agent from now on, because he needs Ji-ryun to be a spy for him as well. Black says he plans to be done with his scheme in six months, and Ji-ryun presses him for some information on Park Ho-shik.
Meanwhile, the Panda staff calls Woo-jin with news that the men in that photo they dug up were all owners of companies that went under, and in each case, it was Sunwoo Distribution that bought up their assets, including their companies and land in Incheon.
Swan is drunk by now, and asks if Woo-jin wants to know why she likes Black. He really doesn't, but she tells him anyway: "Because he's faster than me." She describes being on the run in Thailand, and how Black would always just appear in front of her all the time, no matter how much she tried to run.
She says that Black always said he'd find her no matter where she was, but when he went away, all he left was a blank note, and she knows that meant he wouldn't come back. Swan: "But he'll show up again. Because he's faster than me." She collapses at the table, and Woo-jin reaches over to keep her from slamming her head on the table.
Ji-ryun texts Woo-jin the tip he's just gotten from Black: Sunwoo Distribution plans to make a deal with MRB, who's investing in their latest project to build a casino in Incheon. That explains why Sunwoo Distribution's been buying up all that land.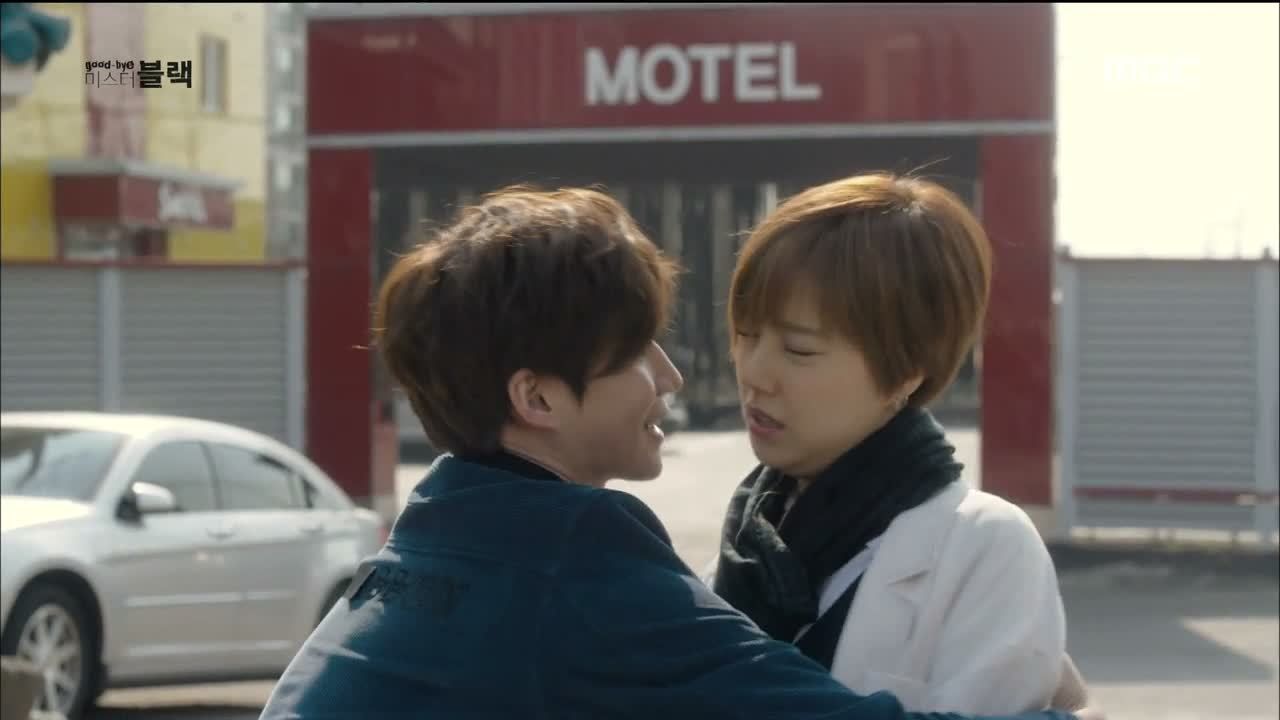 In order to shake off the tail that Daddy Seo has put on him, Woo-jin takes Swan to a motel. His plan goes awry when she realizes where he's dragging her, and drunkenly starts yelling that she's going to call the cops on him and that she's not that kind of girl.
Woo-jin finally calms her down enough to share his plan, and then she goes overboard in pretending to be drunk, so that he has to carry her in. He has to do a comical sideways crab-walk with her dangling from his neck, and the henchmen just take the whole scene at face value.
Black's minion Gye-dong is watching too, and calls Black to say that Swan is being dragged into a motel by Woo-jin. Black isn't worried though, remembering the way Swan drew a literal line between their beds and said he'd be dead if he crossed it. He just tells Gye-dong to keep an eye on her.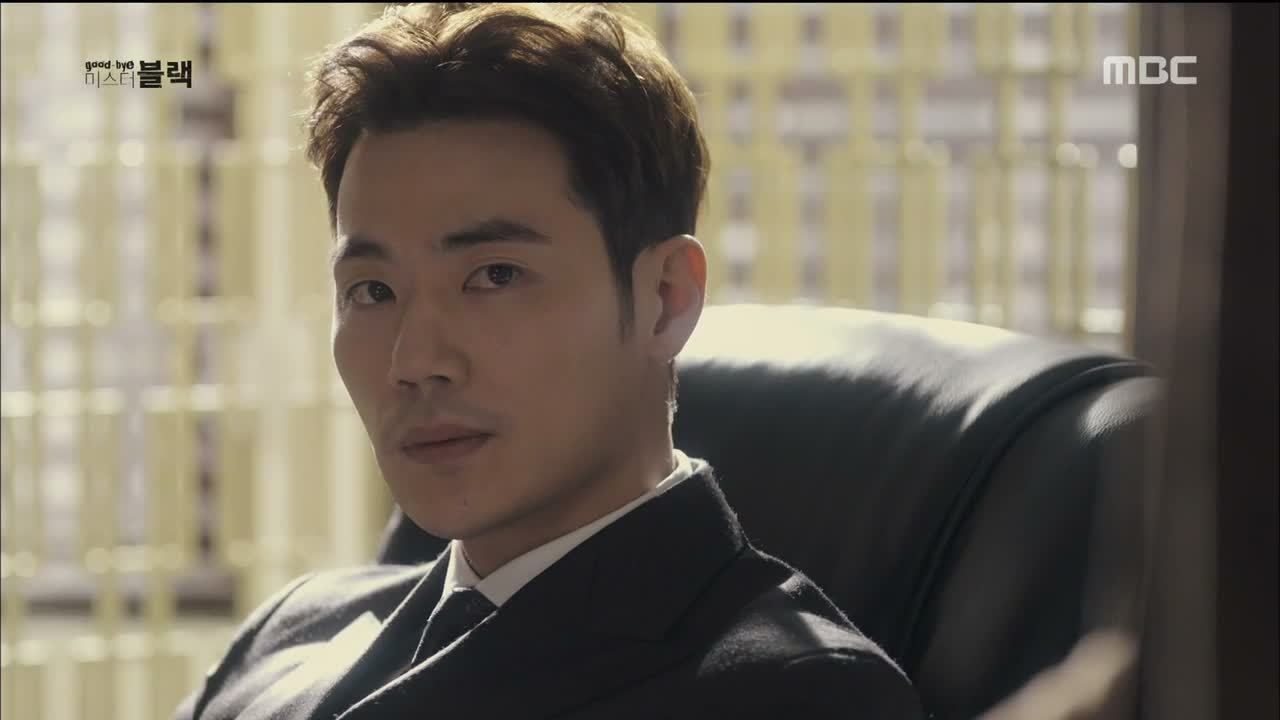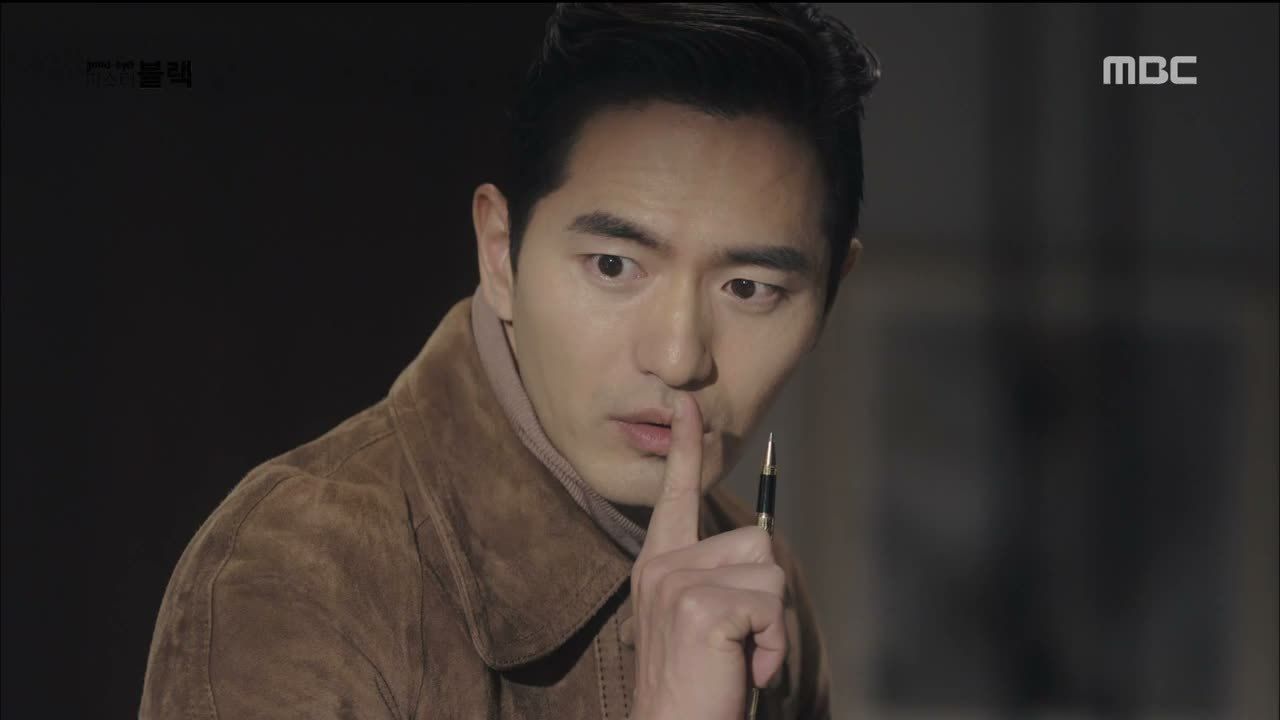 Black goes to visit Sun-jae at work, and acts like a bored friend who's here on vacation. He pretends to be impressed at Sun-jae's nameplate and complains that Sun-jae hasn't called for drinks like he promised. Black casually tosses out a mention that he's going to start his investigation with Sunwoo's involvement in that gas venture in Thailand, and Sun-jae starts to panic.
Black heads out right when Teacher Baek is entering the lobby with Killer at his side, and Killer quickly hides out of sight. Teacher Baek looks like he's bracing himself for a confrontation, but Black just saunters past him without a second glance.
Sun-jae warns Teacher Baek that Black is going to start digging again, and suggests passing the casino deal over to him until all this blows over. Teacher Baek is confident that no proof remains of what happened in Thailand, but Sun-jae plays the pen recording he'd made the day Teacher Baek made him the offer to become the head of Sunwoo Group.
Black runs into Mari too, and when she grabs his arm to ask if he was hurt, he reminds her that people are watching. She asks him again about the last person he saw before nearly dying in Thailand, but he says it's a conversation for another time.
Teacher Baek watches them with an amused smirk, and enjoys pointing out to Sun-jae that he might want to take care of family matters before worrying about business. May calls to ask Teacher Baek if he'll be at the meeting today, and then it's Sun-jae's turn to smirk and declare that he'll be making that casino deal. He gives Teacher Baek the pen recording as a present.
May and Black watch the two of them from a distance, and she muses that they're really going to fight it out properly. Black says that's how it should be, because Sun-jae's his friend and he'd be jealous if they played without him. Heh.
Sun-jae tells Mari that he's given her enough time to deal with Ji-won coming back, and that it ends here. She asks who hurt Ji-won the other night, but Sun-jae's temper flares and he asks why they have to even go through this, arguing that he can't welcome Ji-won back if Mari can't move on.
Teacher Baek plans to go forward with the casino deal anyway, despite the fact that Park Ho-shik is still missing. He wants to prove to Sun-jae that he can't mess with him and get away with it, and figures that Park Ho-shik's land will end up in their hands anyway.
Except that presently, Park Ho-shik is being coaxed into an interview by Swan and Woo-jin, who insist that if he doesn't go public with his story, he'll lose everything to Sunwoo Distribution. Park agrees to the interview, and confirms that the man who died in the woods was indeed the gambling broker for Sunwoo Distribution.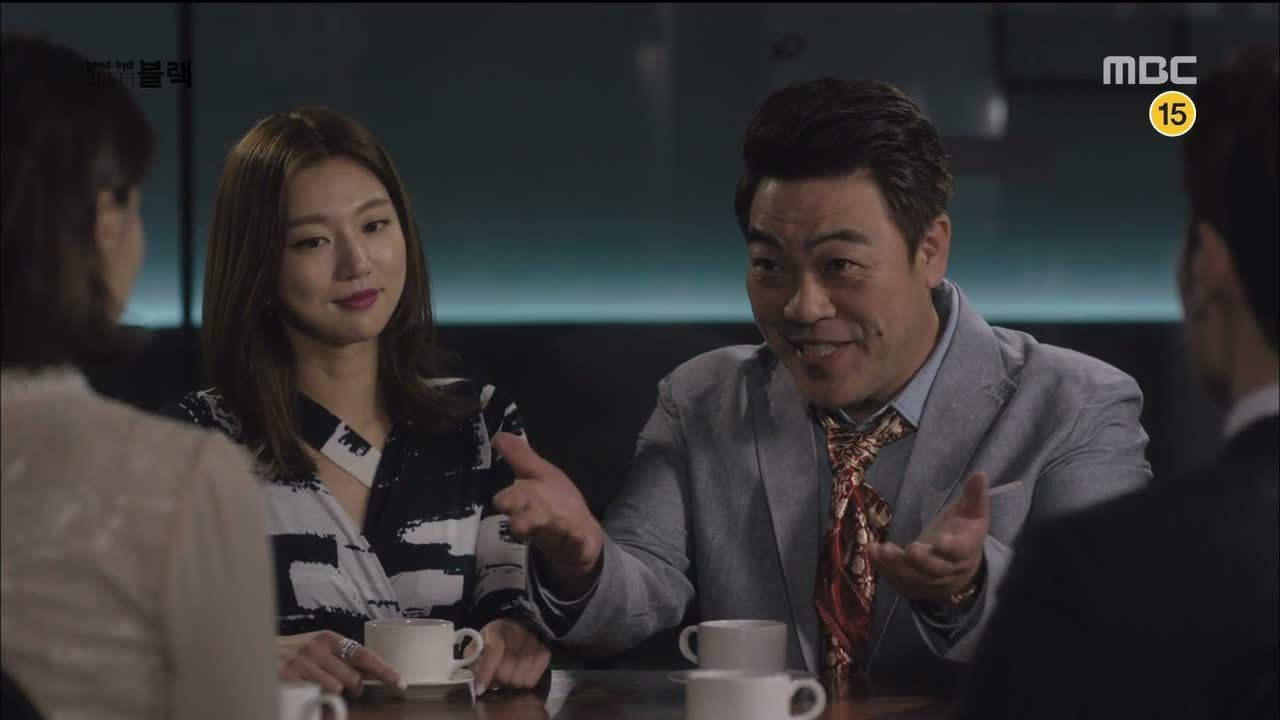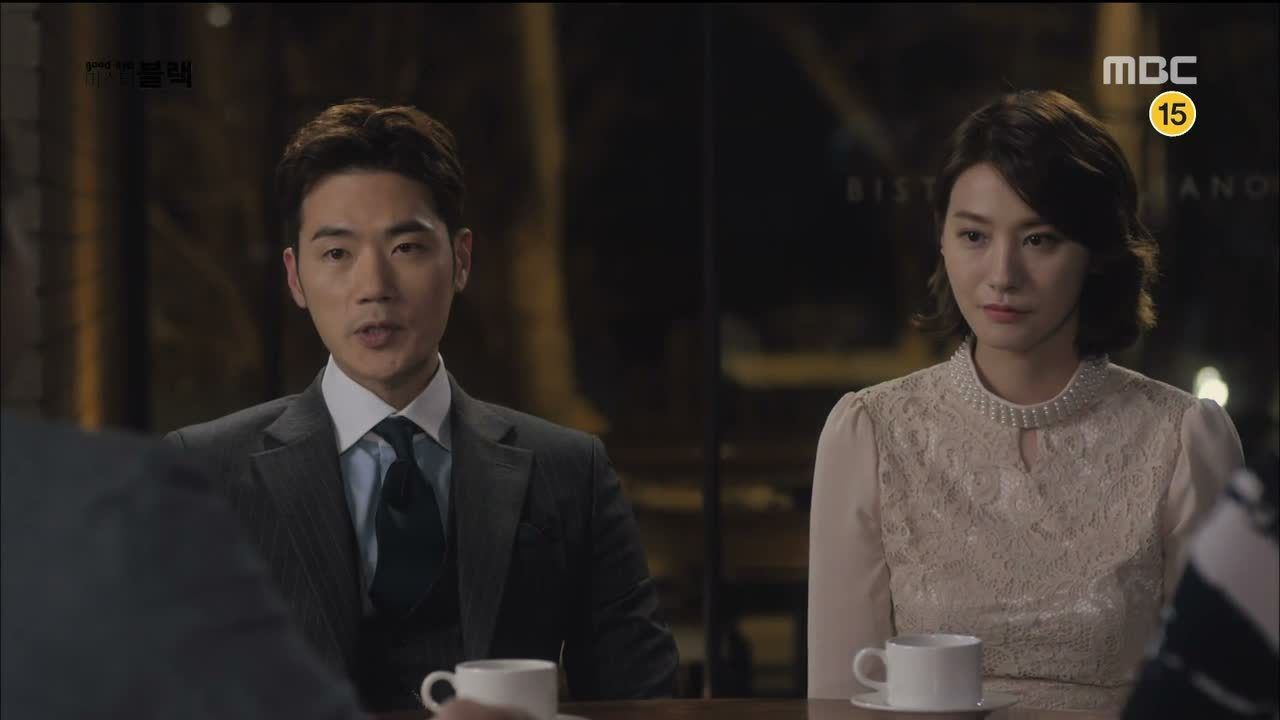 Sun-jae and Mari go to their dinner to finally meet the MRB president in person, and Sung-min plays the part, complete with a cover story about May being his daughter. Both Sun-jae and Mari are surprised, given that five years ago he was a small-time conman in Thailand, but Sung-min says a lot has changed in five years, pointing out that the two of them got married, for instance, and Sun-jae became the president of such a large corporation.
Sung-min says he's even owed a debt, reminding Sun-jae that he informed him of Ji-won's whereabouts twice and never got paid. Sung-min says pointedly that the second time was on the day Ji-won died, and Mari's blood runs cold to hear it. Sun-jae just sighs that he was too late to save Ji-won.
Ji-won listens in on the whole conversation, and Sung-min proposes doing the casino deal with Sun-jae. Sung-min says he'd prefer that, but May has already invested in Sunwoo Distribution and Teacher Baek is eager to close the deal, so if there's any way he could get that money back, he'd rather start a new deal with Sunwoo Construction.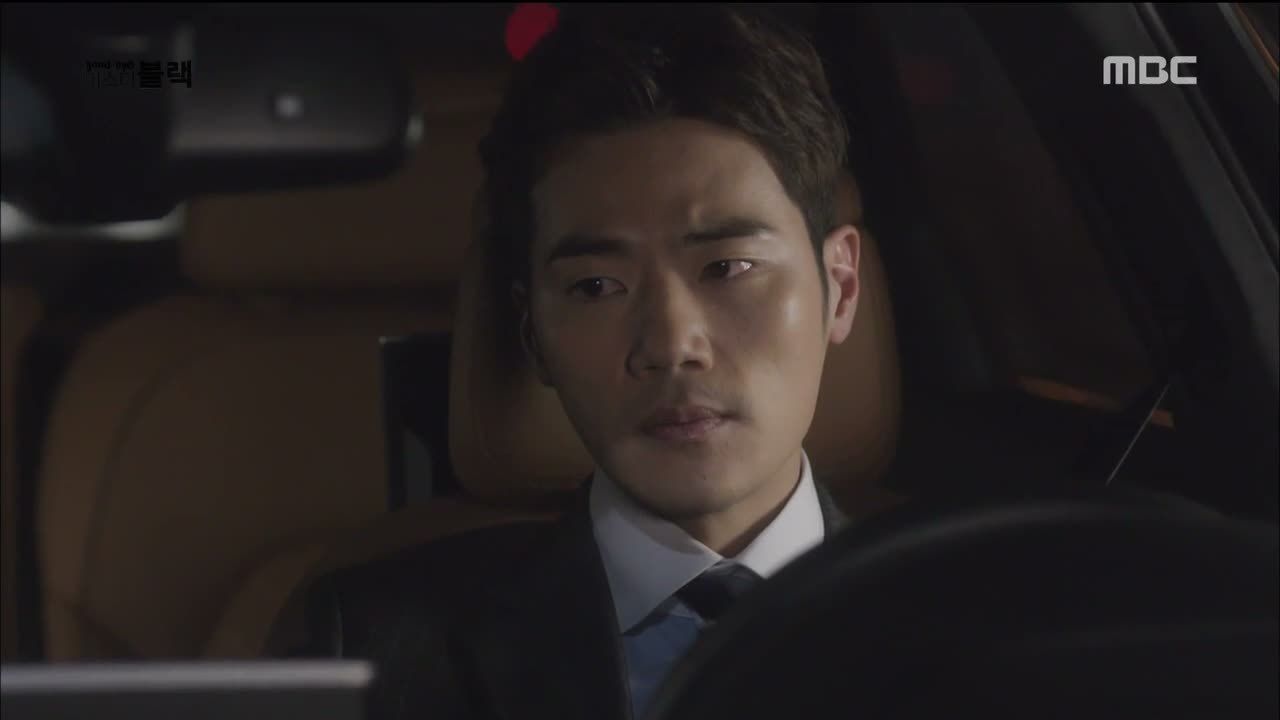 On their way home, Mari asks why Sun-jae never told her about finding out where Ji-won was on the day he died. Sun-jae asks how he could admit that Ji-won died because he got there too late, but she can't help thinking back to what Ji-won said about the last person he saw before the explosion…
Sun-jae masterfully redirects the conversation to ask about their next appointment to check on baby's health, and Mari is brought out of her reverie.
Swan is reluctant to go home and dials Black's old phone number for old times' sake, sighing that she ought to forget the number. But she's shocked when he answers. He recognizes Swan's voice immediately, and aw, it puts a big grin on his face.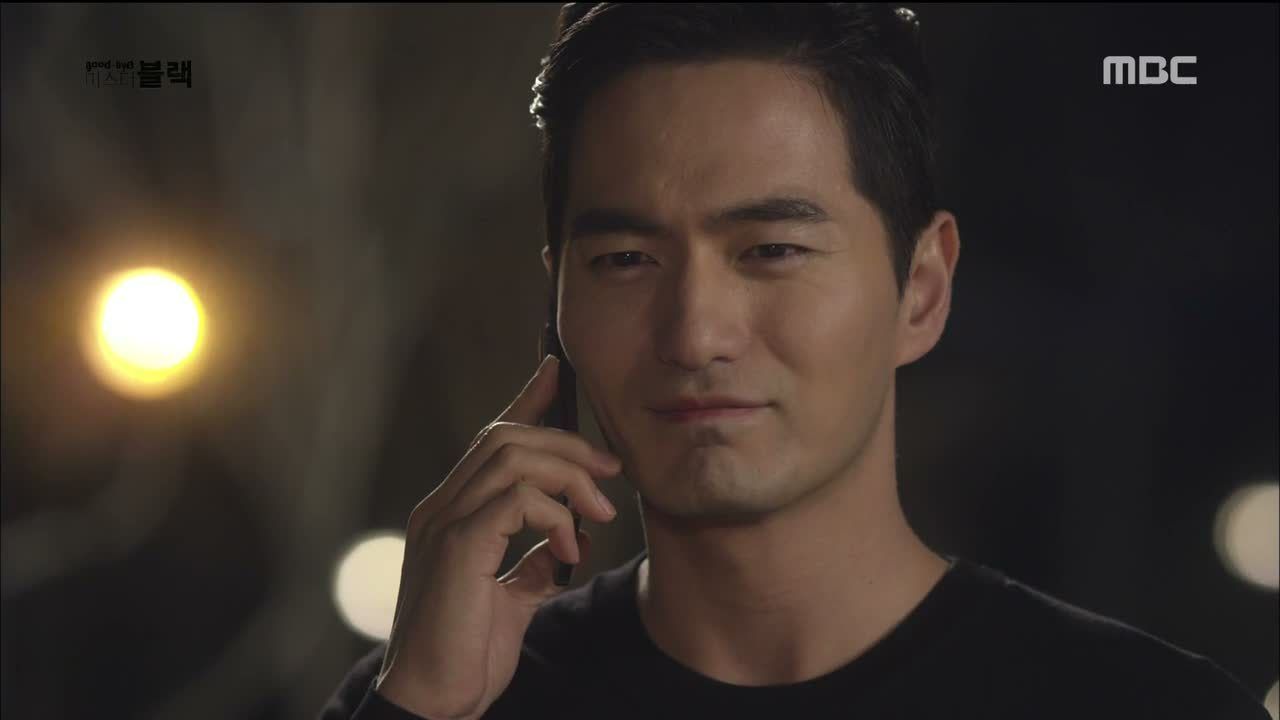 Adorably, she thinks she's hiding her voice by plugging her nose, and she pretends that she's looking for a different friend who used to have this phone number. She urges him not to hang up and starts recording the call, and says she really wants to get in touch with her friend: "We used to be very close. But I don't think that friend thinks the same. I thought we were very close, but my friend has probably forgotten me."
She hastily fights tears and thanks him for answering her call, but Black says, "[Your friend] hasn't forgotten you. How could he forget, when you say you were that close?" That makes Swan's day, and later in bed she plays that part of her recording over and over again.
Sung-min reports to Black after his meeting, and says that Black should've seen Sun-jae's face. Sung-min says he's never met someone more shameless, and fumes that Sun-jae still hasn't paid up for the tip-offs five years ago.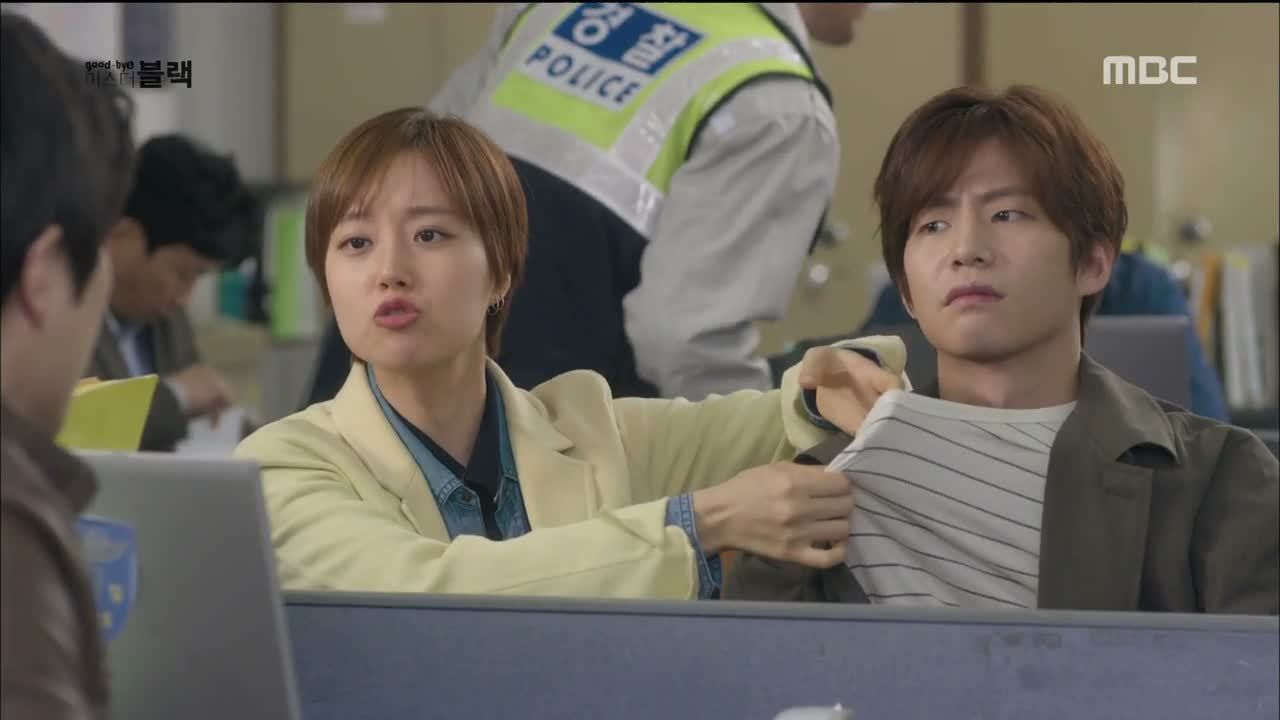 Woo-jin gets arrested when a bag of money is found in his car that ties him back to the illegal gambling ring. Even the cops themselves don't believe Woo-jin is some criminal mastermind, and Swan argues that someone rolling in money clearly wouldn't dress this way, pulling on Woo-jin's shirt. Keh, I do love these two together.
Swan is technically under investigation too, but Woo-jin argues for her to be let out, reminding the detective of the countless tips he's given him over the years. Woo-jin tells her to eat lunch before she goes though, because the food here is awesome.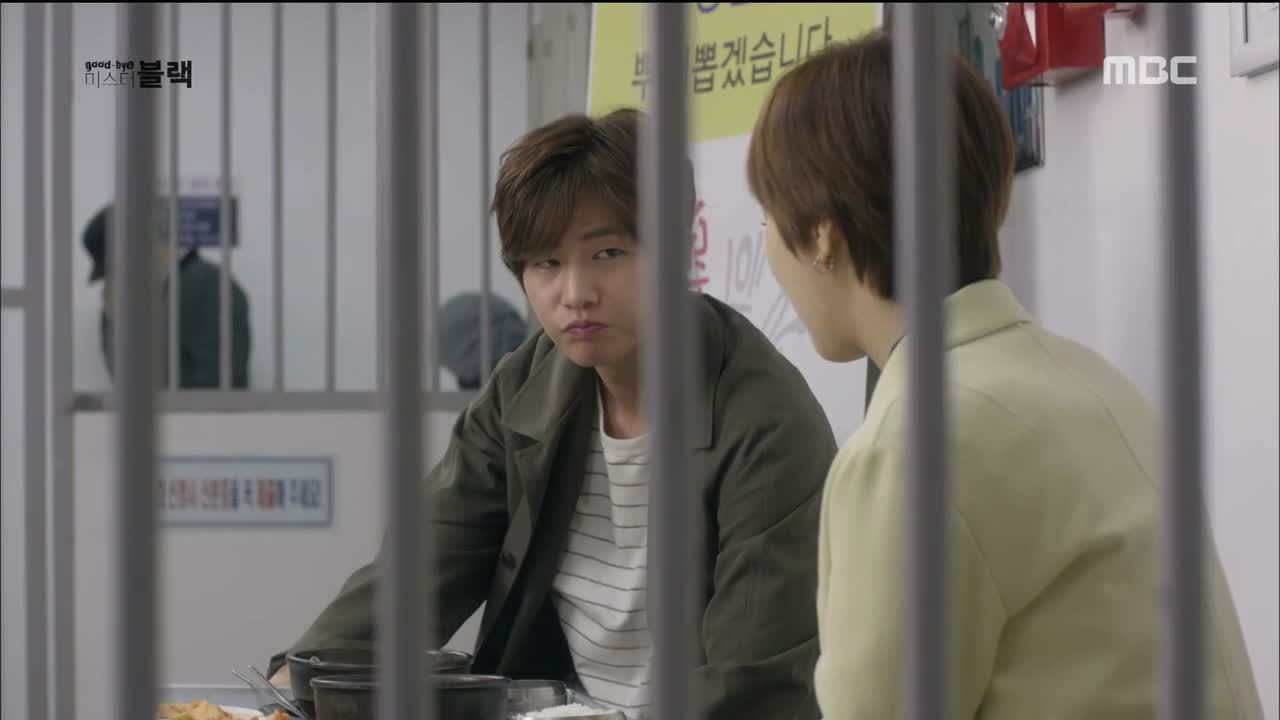 He tells Swan to take over on the Sunwoo Distribution story, and when she hesitates, he says that it doesn't matter whose byline is on it or who breaks the story first; what really matters is that someone reports the truth. Swan looks at him a little differently after that.
Sun-jae is alarmed when he hears that MRB is about to sign the casino deal with Sunwoo Distribution, and he reminds Teacher Baek that Sunwoo Construction will be making the deal. But Teacher Baek simply returns the pen recorder and says that outing this will also incriminate Sun-jae, so it's not enough to scare him off.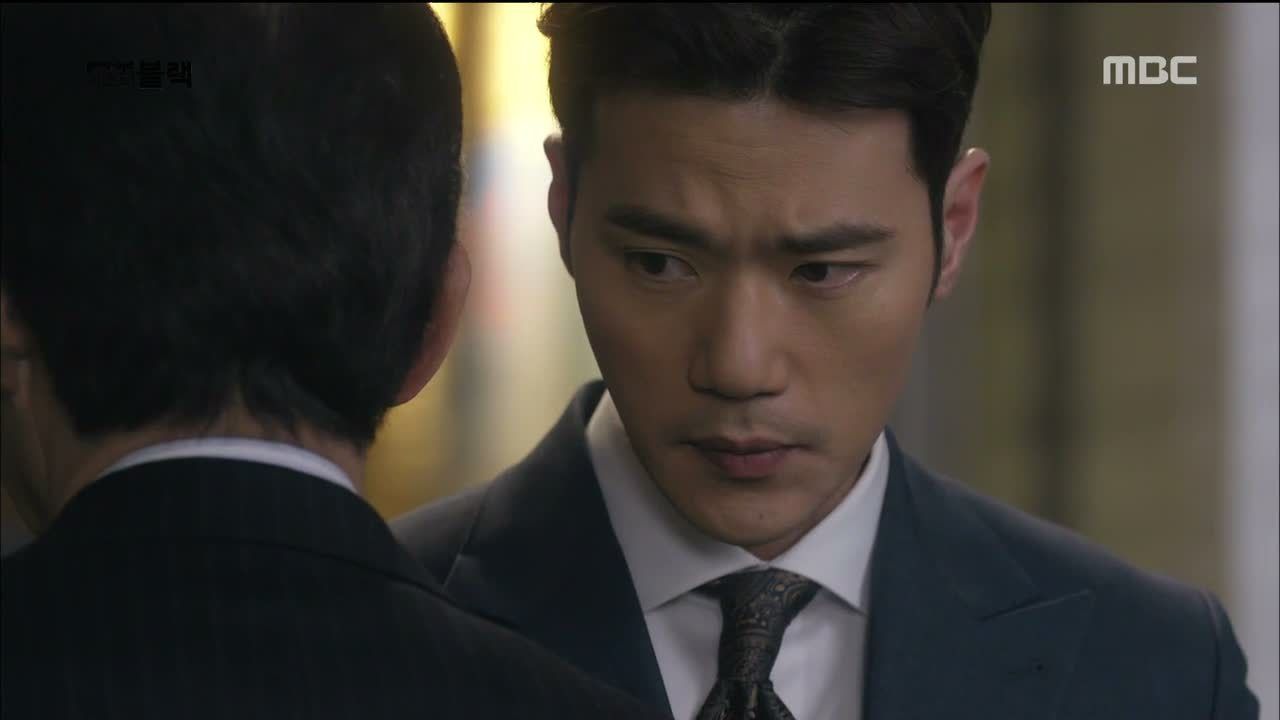 Teacher Baek walks into the conference room ready to make the deal, when suddenly a secretary runs in to tell him that they found Park Ho-shik. At the same time, Killer tells Park Ho-shik that they'll deposit money into his account right now if he'll sell him his land, and Park Ho-shik asks why the contract is dated four days ago and not today.
In the lobby, Swan asks Teacher Baek for a statement about the accusation that Sunwoo Distribution is involved in illegal gambling to acquire property, and gets dragged out of the building by security. Black watches from above.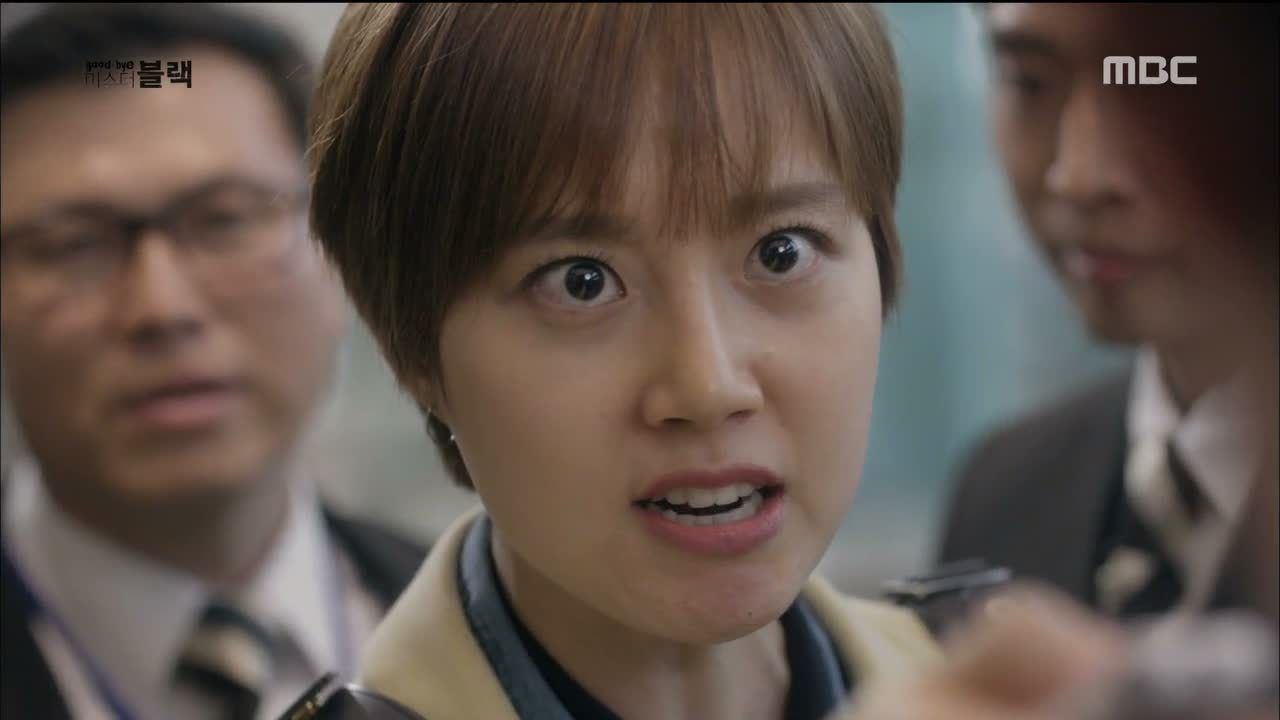 As Swan writes up her article, Woo-jin calls to say he's not in jail anymore, and the only explanation he offers is that he went to law school and he's very fast (lol, I love that whatever Swan says about Black, Woo-jin immediately does too).
Woo-jin waves over at Park Ho-shik, who's at the airport with a suitcase. In flashback, we see that Woo-jin had a plan for him to turn himself into the police, and contact Sunwoo Distribution to sell his company. He made sure to record the whole deal, which he now hands over to Woo-jin, thanking him for saving his life. Park Ho-shik tells him not to let that pretty reporter go, and Woo-jin laughs sheepishly.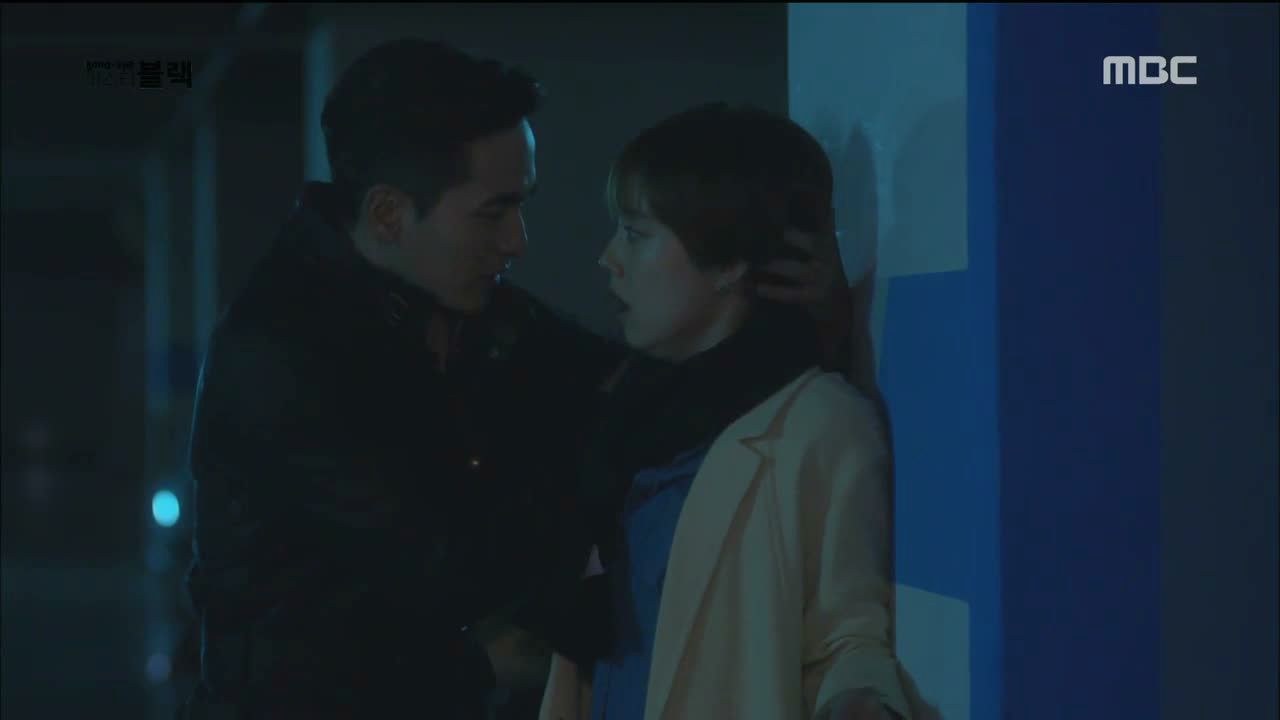 Swan heads into the parking garage below Sunwoo Distribution, when suddenly the lights go out and a figure in all black approaches. She ducks behind a car and creeps along trying to stay out of sight, but she trips and the contents of her bag fall out, including Black's gold compass that she still carries everywhere.
When she stoops down to pick it up, someone grabs her from behind, and she's even more startled when she turns around and sees that it's Black. He picks up the compass and chides her for dropping it when he told her it was precious, and says he's going to get caught because of her.
Swan just grabs the opportunity to hug him, and says with a smile, "I knew you'd be alive."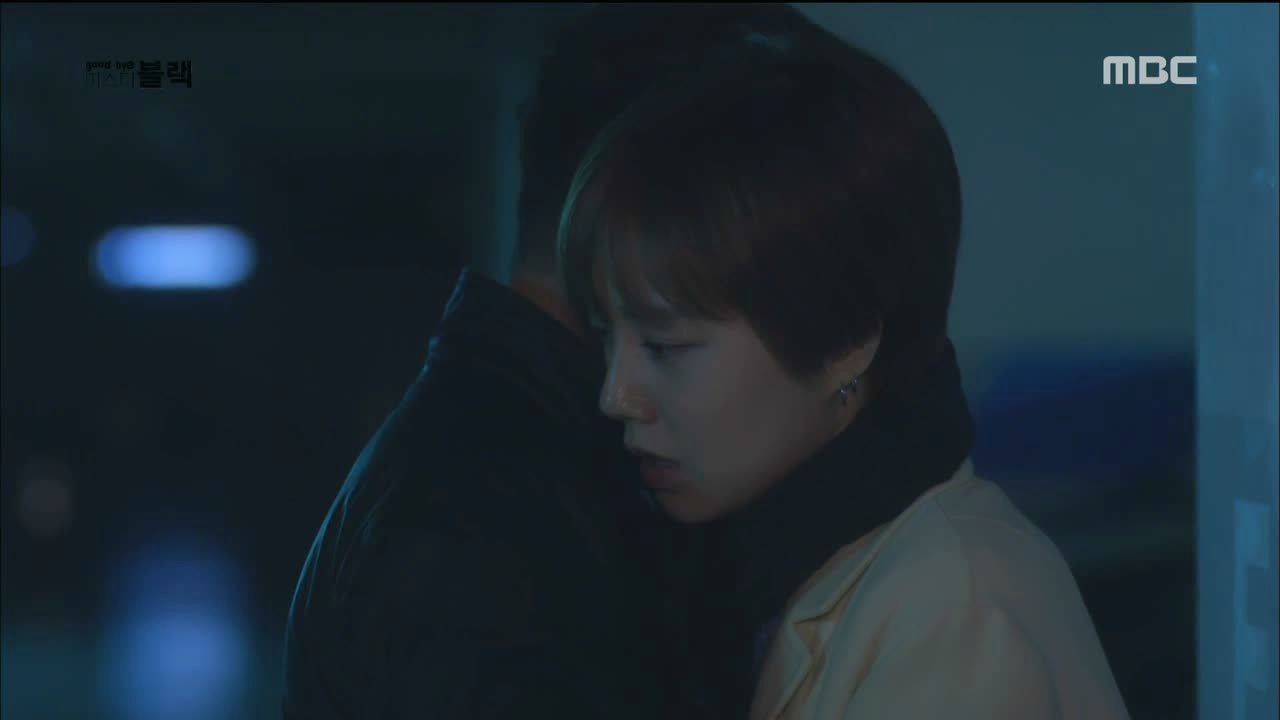 COMMENTS
The thing is, in practice the mechanics of Black's revenge are all good, since he's doing all the right things to pit Sun-jae against Teacher Baek and move in as a mysterious investment company that'll soon become a major player in their power struggle to take all of Sunwoo Group. It's clever and there's a really fun element to watching them steal from Teacher Baek and invest in his company with that same money, or mess with Sun-jae by having Sung-min pose as MRB's president. I like all of that in practice, and I especially love Black's little cadre of loyal con artists. They keep the revenge fun and lively, which is capped off by Black's cheeky attitude.
BUT, I'm still scratching my head over why he bothered creating a whole new identity when he was just going to walk in and tell everyone that he's Cha Ji-won. Can accused murderers just walk around like that, and we're just supposed to believe that the crime that once kept him on the run to within an inch of his life in Thailand is now a thing he can choose to ignore in Korea? Because he has a French passport? What does he gain by doing this? I just kept waiting for the clever reveal and explanation, but it never came. It just lets so much steam out of the whole Mr. Black persona that I can't figure out why the writer would do it. What a wasted opportunity for a great secret identity plot, and what a strange way to kick off the revenge.
I suppose the one advantage he has is putting on an act in front of Sun-jae, pretending to be the old happy-go-lucky Ji-won who trusts his friend completely. I do like the very obvious subtext in their conversations (it's not subtle, but then, nothing in this drama is), with Sun-jae pretending that he failed to save him when he's really mad that he failed to kill him.
The thing that still feels inorganic is the way Swan fits into the current picture, though today we got hints that she might be connected to Teacher Baek, which may bring her front and center down the line. But they're kind of treating her as a second long-lost love, despite the fact that she and Black didn't spend that much time together. It doesn't negate their connection, of course, but I expected her to be an active part of his revenge. Basically, I want her doing more, and I want him to stop avoiding her just because he thinks it saves her heartache.
I like Swan better when she's with Woo-jin, because that's how she used to be around Black before the whole pining from afar thing started happening. Also, Woo-jin is hilarious, which makes their scenes really entertaining. At this point her love for Black feels like hero worship, and maybe she should forget the guy who chose revenge over her, and just have a cute bickering romance with her oddball editor. I know, she'll never get over Black. But if he doesn't start reciprocating in some way soon, I'm going to jump ship! Things are already looking better by the end of the episode, so I hope this means that Swan will be taking an active role in the Sunwoo Distribution takedown, and that Black will quit avoiding her for idiotic reasons, noble or otherwise.
Maybe now that the show has diverged from the classic revenge tale that we expected, it should just embrace the comedy and caper elements. Because at the end of the day, if Black is still pulling one over on the baddies AND running a mini heist/sting every time, that could be really fun with a lot of payoff. It's still not the drama I wanted it to be, which is too bad, but I'm just going to put some trust in Black and his trusty team of sidekicks… and not ask too many logic-dependent questions.

RELATED POSTS
Tags: Episode 6, featured, Goodbye Mr. Black, Kim Kang-woo, Lee Jin-wook, Moon Chae-won, Yoo In-young