Jackpot: Episode 1
Jackpot (also known as Daebak) premiered yesterday as SBS' newest sageuk offering after six months of Six Flying Dragons, and it's a solid first showing, filled with lush visuals, loads of characters, and no shortage of personal vendettas. It's certainly a lot at once, but at least it's a good indicator that we're dealing with a very full and lively world.
How lively? For starters, I never thought I'd be praising such nicely done crowd scenes (having not known those were a thing), yet here I am, praising some really well done crowd scenes which actually do go a long way toward making the events on screen come to life. I also admit to not knowing what a gambling drama set in Joseon would look like before coming into this, but Jackpot pretty much nails it visually, and promises plenty of fun to go with its high stakes. Count me in.
SONG OF THE DAY
Block B – "잭팟 (Jackpot)" [ Download ]
Audio clip: Adobe Flash Player (version 9 or above) is required to play this audio clip. Download the latest version here. You also need to have JavaScript enabled in your browser.

EPISODE 1 RECAP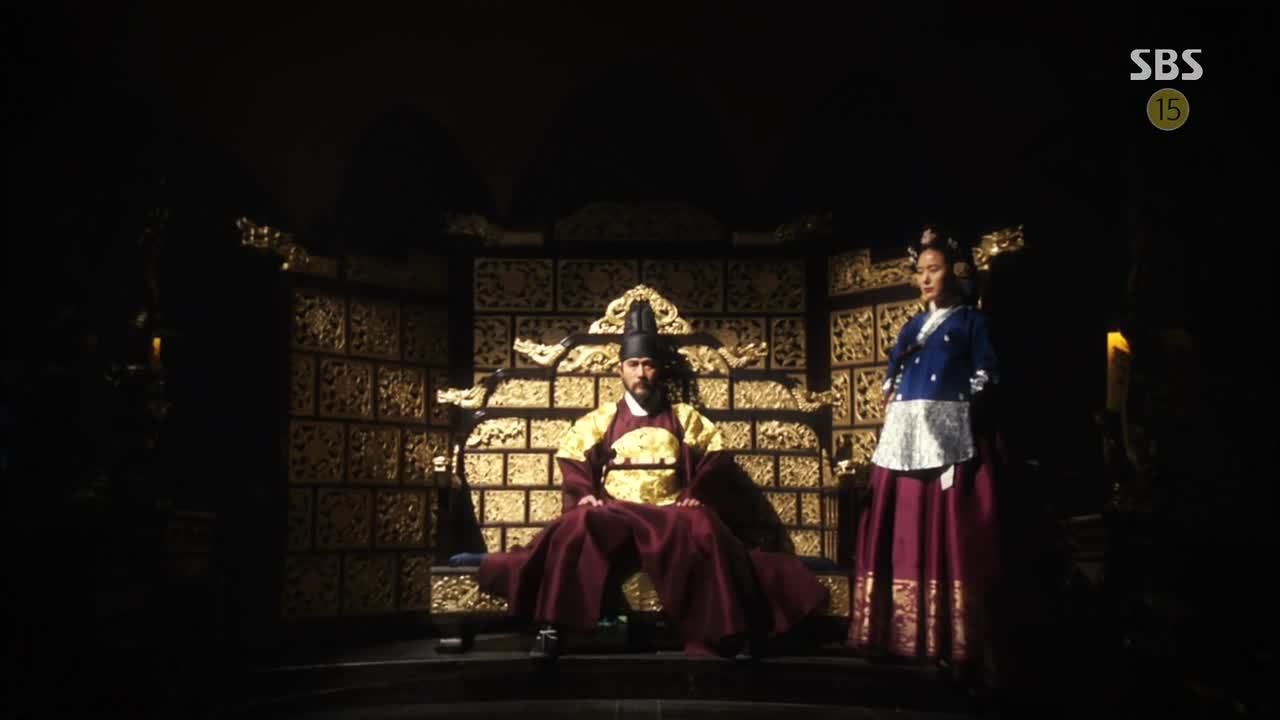 "The throne is the apex of power," a regally dressed woman we'll meet later says from her spot by the throne. But the king whom we first see sitting in it, KING SUKJONG (Choi Min-soo), disappears.
"There is the one who wants to protect the throne," her narration continues, as KING YEONGJO (Yeo Jin-gu) materializes in Sukjong's place.
"Then there is the one who wants to overtake the throne," she adds, as the man in question, YI INJWA (Jeon Gwang-ryul) overlooks a large-scale battle taking place in the palace. The chyron tells us that this is the year 1728, the year of Injwa's infamous rebellion against King Yeongjo.
We switch over to meet BAEK DAE-GIL (Jang Geun-seok), as he plays a game of Joseon chess with his teacher, who just so happens to be Yi Injwa. The voiceover introduces Dae-gil as "The one who obstructs the way." Presumably she means for Yi Injwa.
Their play styles differ when it comes to which pawns to sacrifice in order to gain the other player's king, with Dae-gil being of the mind that one doesn't need to sacrifice all their soldiers in order to win.
Injwa, on the other hand, is more than happy to sacrifice his pawns in order to win, though the talk quickly turns from the game to the real-life game Injwa seems to be playing.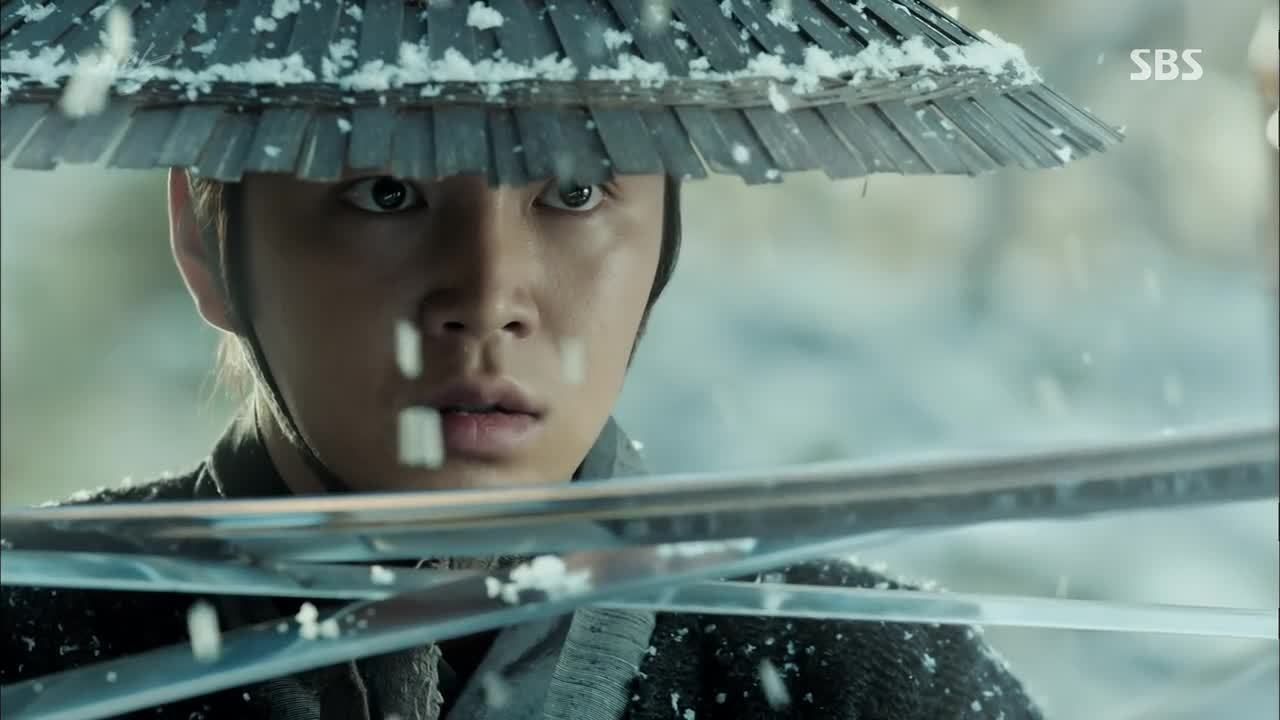 Dae-gil knows that Injwa wants the throne, that he'd do anything to get it, which is a charge Injwa doesn't refute: "The only way to bring change to this corrupt land of Joseon is from the throne."
"We don't need a king who dishonors his people," Dae-gil returns quickly. But Injwa warns him that, should he get in his way, he'll be merciless in dealing with him. Dae-gil knows that Injwa is the type who'd kill anyone in his way, so he dares him to just kill him now.
Injwa's right-hand man runs toward Dae-gil with his sword drawn, but is blocked at the last second by Dae-gil's man. Dae-gil doesn't even blink as their swords fly inches over his head, his eyes fixed on Injwa's in a challenging stare.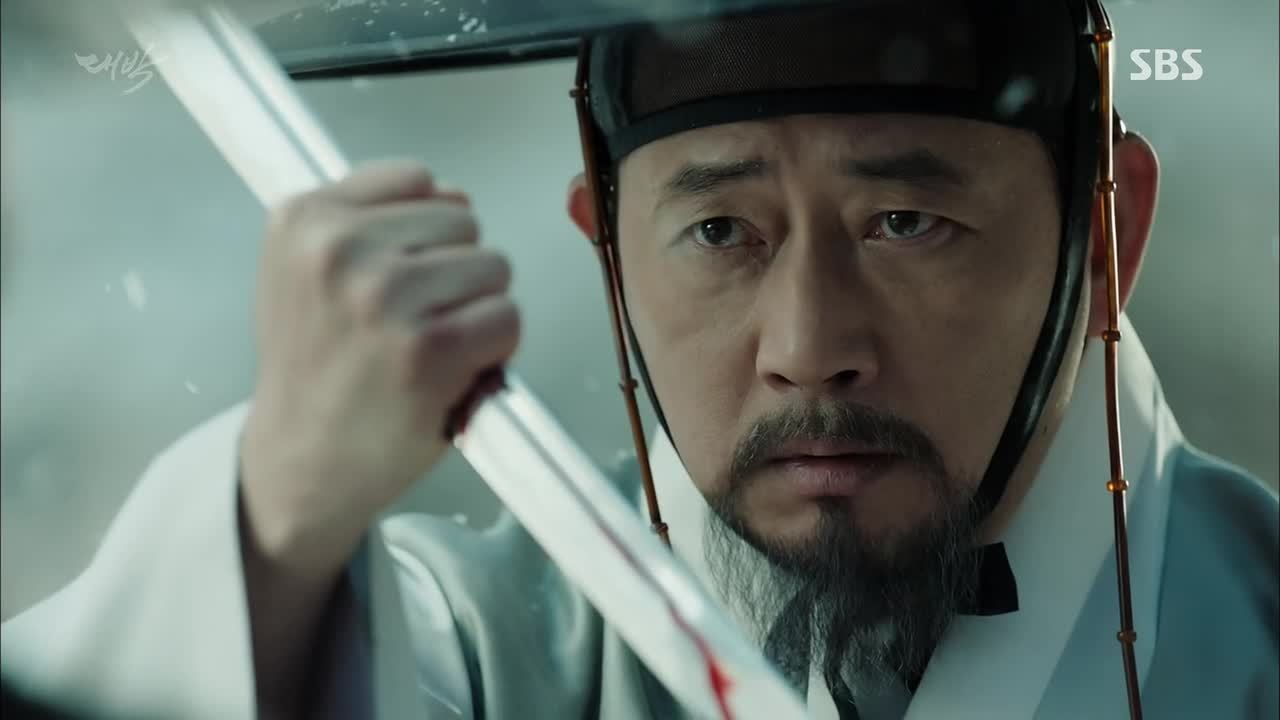 One of the men's swords gets cut in half, the tip landing straight in the midst of the board. Injwa grabs the blade with his bare hand (why do they always do that?), and says they'll meet again in the capital, which is where he's headed.
Dae-gil, noticeably less intense, sighs that Injwa sure talks like the nobleman he is. "But in this world," he says as he picks up one of the chess pieces, "the people always win."
1693, the Joseon capital of Hanyang. The woman who will later be known as CHOI SUKBIN (Yoon Jin-seo, but for now we'll call her by her birth name, BOK-SOON) finds her errant husband, BAEK MAN-GEUM feeding his gambling addiction in a local gibang, and drags him out to answer for it.
He's sheepishly apologetic, though it's clear that this is a conversation they've had many times before. He claims to be a nobleman despite his poor state of attire, which likely means he's gambled away what little fortune they might've once had. Even so, he hopes his wife will bless their union with a child, promising that he'll be able to feed their family.
While on her way home with that night's dinner, Bok-soon begins to grow suspicious that she's being followed. She's right, unfortunately, since the man following her covers her face with a drugged cloth before dragging her into the darkness.
Man-geum, meanwhile, gets manhandled by the gibang guards when he tries to run out without paying his debt. But he's stopped when the shrewd HONG MAE (Yoon Ji-hye), mistress of the gibang, threatens to kill him if he doesn't pony up.
She can't help but laugh when he says he will pay her, her silver tooth gleaming. "How are you going to do that?" she wonders. "Are you going to sell your wife?" A dim lightbulb goes off above Man-geum's head as he dumbly agrees. Hong Mae, smelling a good deal, gives him one hundred nyang in advance.
Man-geum uses that money to gain entrance to a packed underground gambling casino, Joseon style. His wife, meanwhile, awakes in a storage room owned by none other than Injwa, who's had his eye on her ever since spotting her at the gibang.
He knows everything about her family situation, but what seems of most interest to him is her current status as a palace maid. He gives her a closed loop of what looks to be hundreds of nyang, making her husband's sum seem paltry in comparison.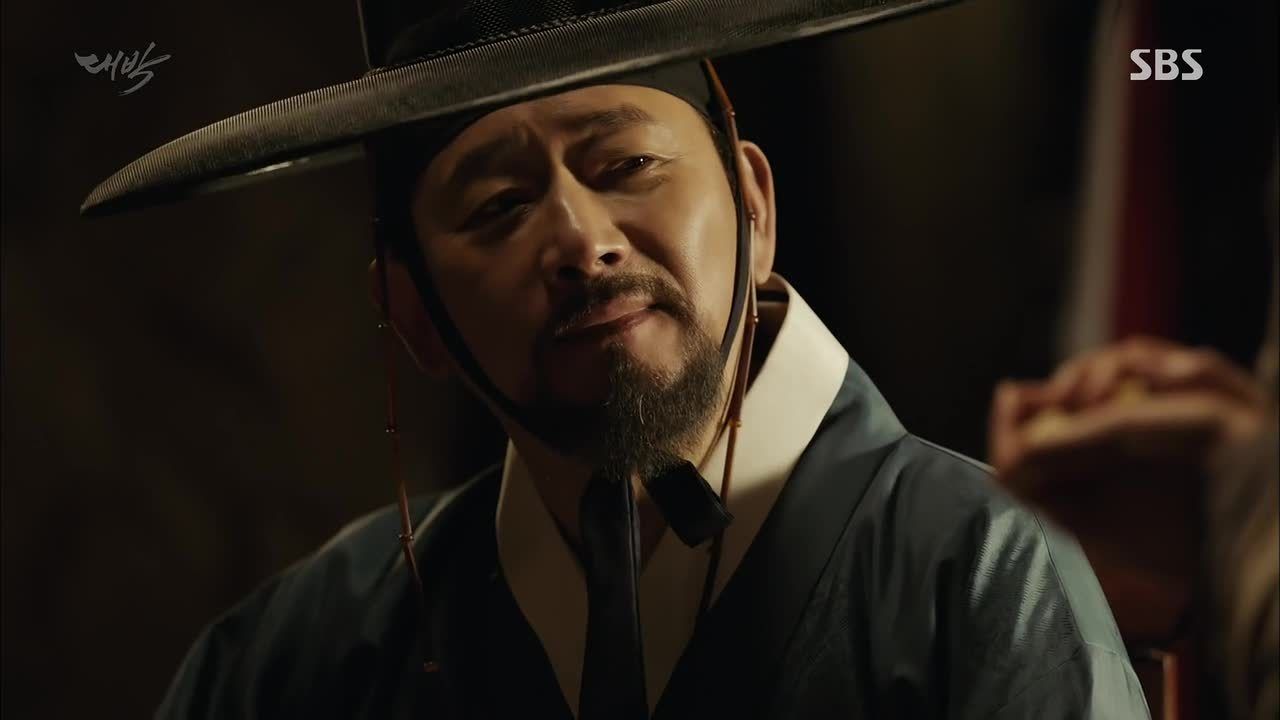 "You won't have to starve anymore," he says, adding that this money will free her from all her current worries. We don't hear what he wants in return, but I'd venture a guess that it's something only she can do for him as a palace maid.
Man-geum leaves the casino the next morning empty-handed, while his wife locks away the money Injwa gave her. She completes the task he asks of her the next morning, by placing a lotus leaf atop the shoes of the deposed, late Queen Inhyun (who Sukjong deposed then partially reinstated due to the influence of the now-infamous consort Jang Heebin) in a place where King Sukjong will be able to see them on his morning walk.
She catches the intense gaze of King Sukjong himself and falls to the ground in a bow as he stalks toward her. Injwa's given her very exact instructions on how to meet the king's gaze and for how long, which she follows to the letter.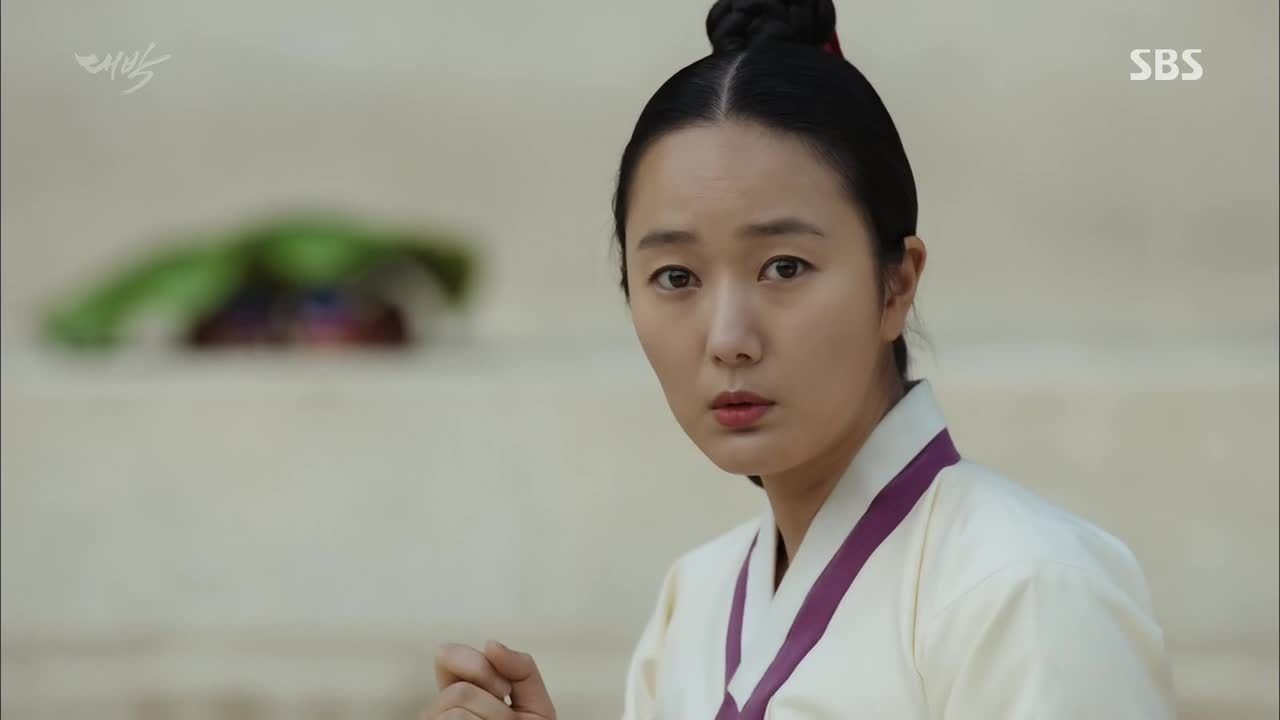 King Sukjong examines the lotus leaf before coming to stand in front of Bok-soon to ask why she placed it there. Just as Injwa instructed, she holds the king's gaze for three breaths at a time, three apparently being the magic number needed in order to capture his heart.
Answering the king's question, Bok-soon tells him she put the lotus leaf atop the late queen's shoes because it's what Queen Inhyun would do on rainy days. They're interrupted with the arrival of JANG OK-JUNG (Oh Yeon-ah), otherwise known as Jang Heebin (the "heebin" denoting her rank as a royal consort).
After having a likeness of Bok-soon painted for his own enjoyment, King Sukjong is joined by retained KIM YI-SOO (Song Jong-ho) for a bit of royal archery.
Yi-soo tries to convince the king that the praise spoken by the nearby ministers when it comes to his aim is sincere, but the king has no love for them. They want a puppet, not a king, he claims, and so he plans to get rid of them at the soonest and best opportunity. "That is called politics, Yi-soo," he adds somewhat patronizingly.
But Yi-soo has no love for the king, which stems from losing his family in the past, presumably because of something King Sukjong did. In the present, he turns his bow and arrow on the king, blaming him for all the lives sacrificed in his unworthy name.
King Sukjong, unfazed, simply asks Yi-soo why he hasn't released the arrow. Yi-soo, shaking in rage, lets it fly… straight into the wooden practice targets. Of course, the entire sequence was only in his mind, though he has to caution himself to hold his rage in until the day the king can be killed.
Flashback to Yi-soo practicing his archery under Injwa's tutelage for the day he might use those skills against the king. Assuring him that he'd have his revenge on King Sukjong one day, Injwa cautioned him to be patient until then, words that Yi-soo tries to live by now.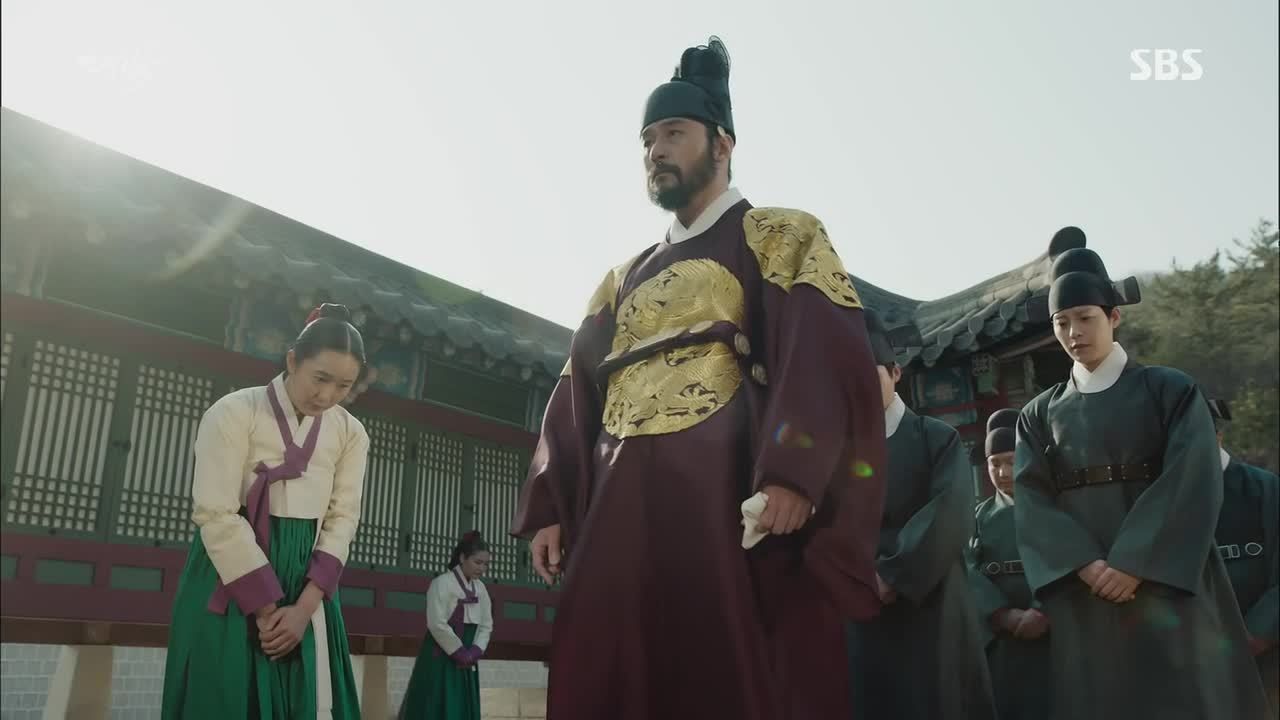 King Sukjong addresses Bok-soon by name when he sees her on the palace grounds, adding that he looks forward to seeing her again. Meanwhile, her errant husband finds the money she stowed away. Uh oh.
Bok-soon finds Injwa in the market to ask if he actually thinks the king will invite her, a married woman of low birth, to share his bed. Injwa adds that she's not technically married when Man-geum won her in a game, but to her, it's practically the same.
Switching tactics, Injwa asks who she'd prefer if given the choice: her gambling addicted husband, or the king of Joseon? But she still believes in the vow she made to Man-geum, and says she'll return Injwa's money. "Don't go too far," Injwa calls after her retreating form. "You'll just end coming back."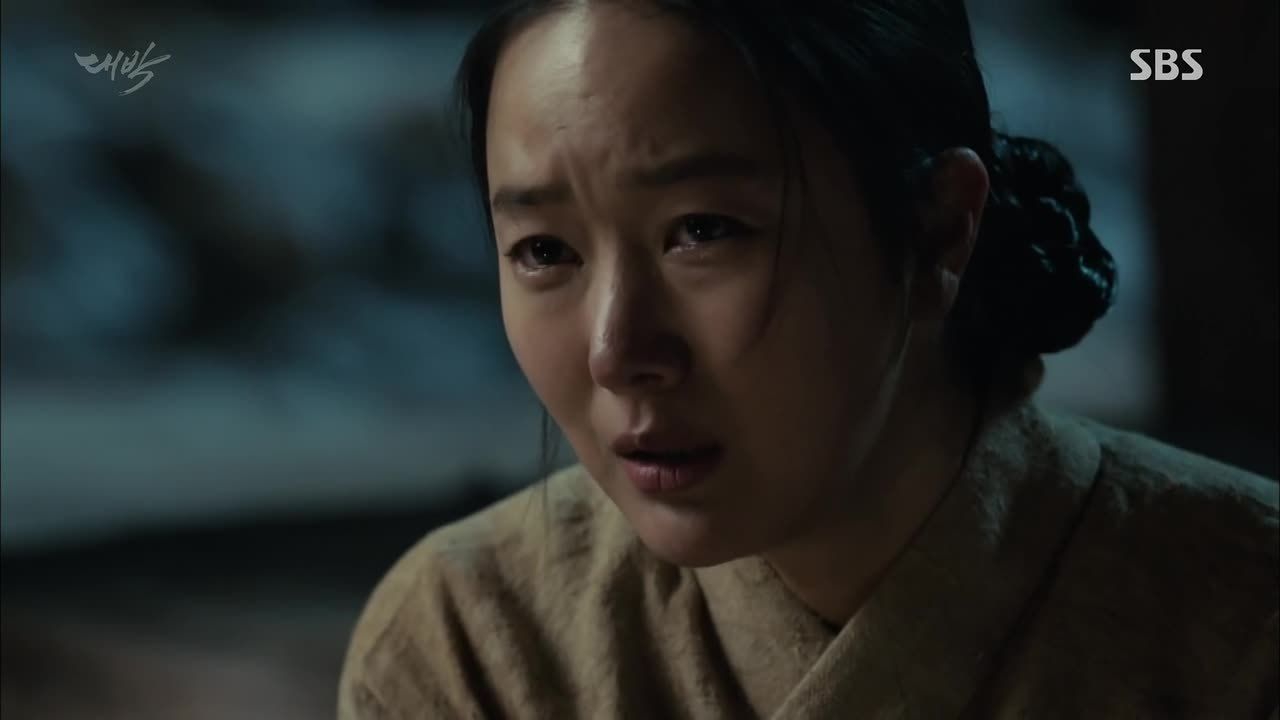 He's right, since she ends up going back to him after finding out that her husband sold his noble name and gambled away all her money. "What should I do?" she cries, falling to her knees. "I can't live like this anymore."
"Become the king's woman," Injwa answers. So she does just that, easily capturing the king's affections even as a palace maid. He's happy to walk the palace grounds holding her hand, though it makes her so uncomfortable that she pulls it away from him.
When he asks why she's hesitant to be with him, she falls to her knees and tells him that she has a husband. The king, in return, orders men to look into her family—and, most of all, her husband.
They tell him her sad life story of being sold to Man-geum and basically becoming his glorified, hard-working slave. They also tell him how Man-geum came from a noble family only to gamble away whatever money he once had, and even money he frequently steals from Bok-soon.
Bok-soon, meanwhile, is forced to face the ire of King Sukjong's current favorite, Jang Heebin. She sends the maid out of the palace with a firm warning, and it's outside the gates that she's found by Hong Mae, who's come to collect her husband's debt.
Yi-soo, acting under orders from Injwa, baits the king in regards to having something done about Man-geum. In the meantime, Man-geum's addiction has become so bad that Bok-soon catches him trying to sell their jade wedding rings to feed his habit.
This is the last straw for Bok-soon, who's heard nothing but empty promises from him since the moment she was given to him. Now, she tosses the jade rings back to him so he can do as he wants with them. Offering him one last formal bow, she leaves him.
Hong Mae waits outside, apparently having made some sort of deal with Bok-soon. She's taken some sort of custody of Bok-soon, but out of residual fondness for Man-geum, she tells him of a gambler he's sure to beat if he comes back to her casino.
The gambler she speaks of is none other than King Sukjong in disguise, though if Hong Mae knows that, she certainly doesn't act like it when he comes to the casino. She sets it up so that Sukjong can play privately against Man-geum, whom she sends into the room with him.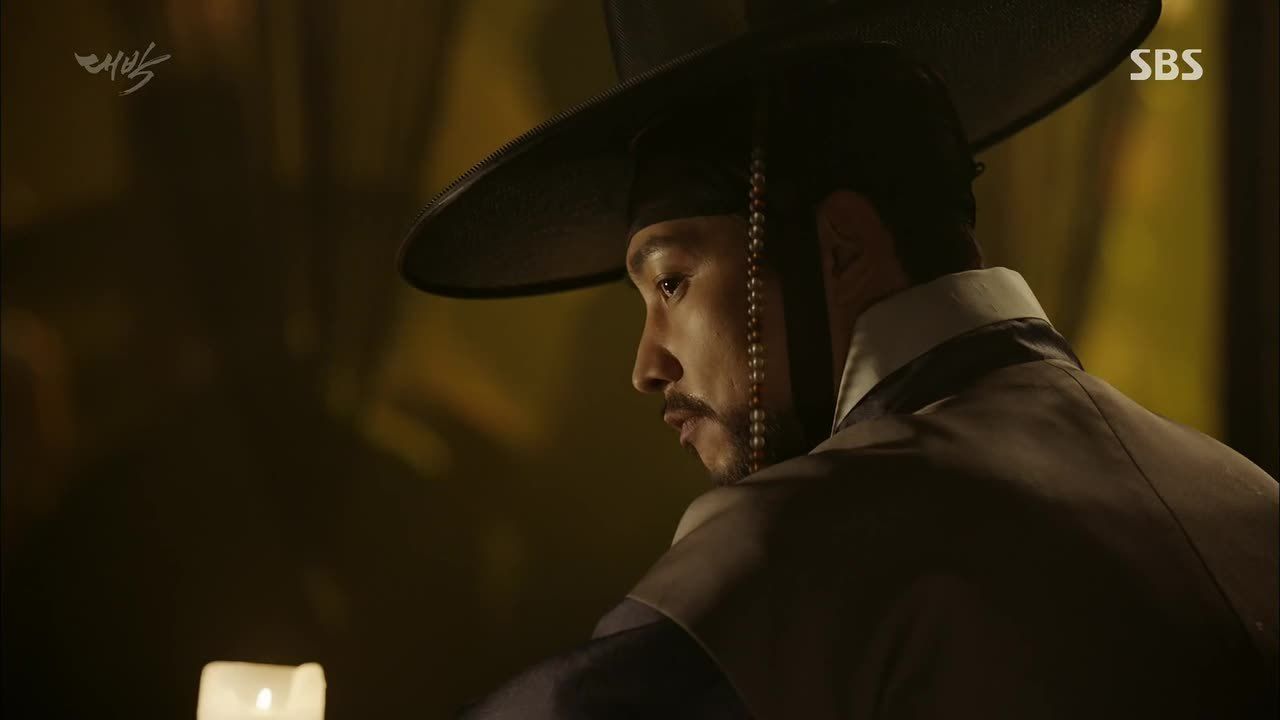 King Sukjong plays cards with Man-geum while Yi-soo hovers nearby, already having told him what he'd need to do in order to bait and hook Man-geum. Turns out, all you need to hook a gambling addict is money, which Sukjong has plenty of.
Yi-soo's strategy was for King Sukjong to draw Man-geum firmly in by spending loads of money, though it's hard to see how a man who was willing to sell even his good name wouldn't be drawn in by even the tiniest amount.
Either way, Man-geum's eyes go wide when King Sukjong opens his chest of silver bullion, which the king (in disguise!) claims is just money he doesn't have anything else to do with.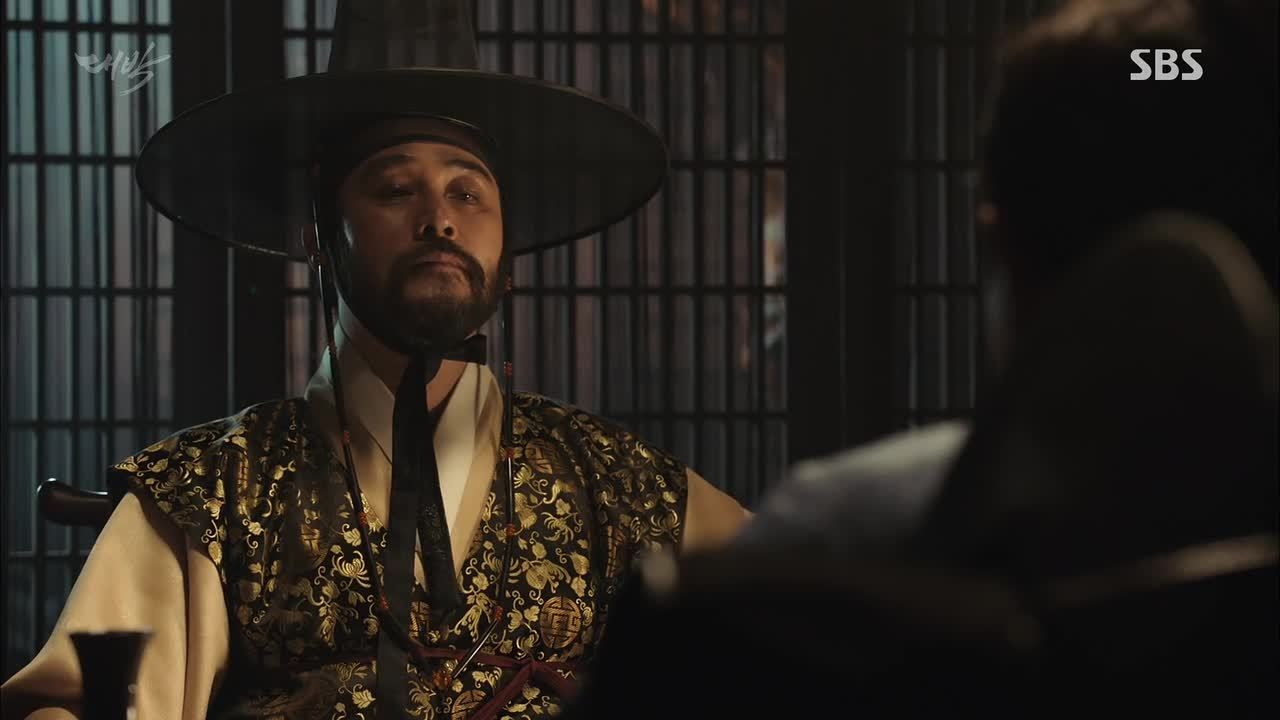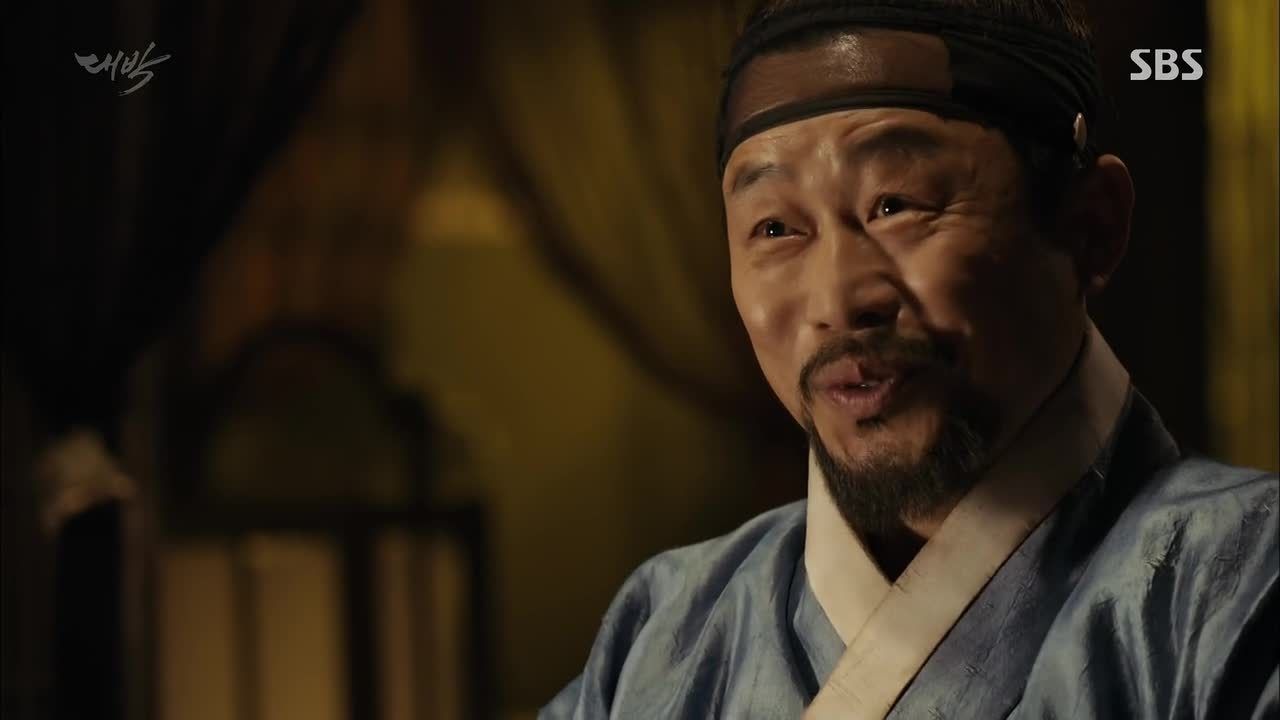 But since he's terrible at cards, and doesn't know any of the other games Man-geum mentions, he makes up a game instead. They'll pour wine and water into similar bottles, and will try to pick which bottle contains the wine. It's fair, it gives an even fifty-fifty chance, and there's a boatload of money for whoever wins.
Of course, that means Man-geum has to match the insane amount of money King Sukjong is betting, though by now he's so sure that his opponent has no skill at gambling that he's willing to risk it all.
When the two bottles are presented, he picks the one without condensation, naturally assuming that wine would be already acclimated to room temperature. With these winnings, he hopes to finally be able to keep the promise he made to take care of his wife.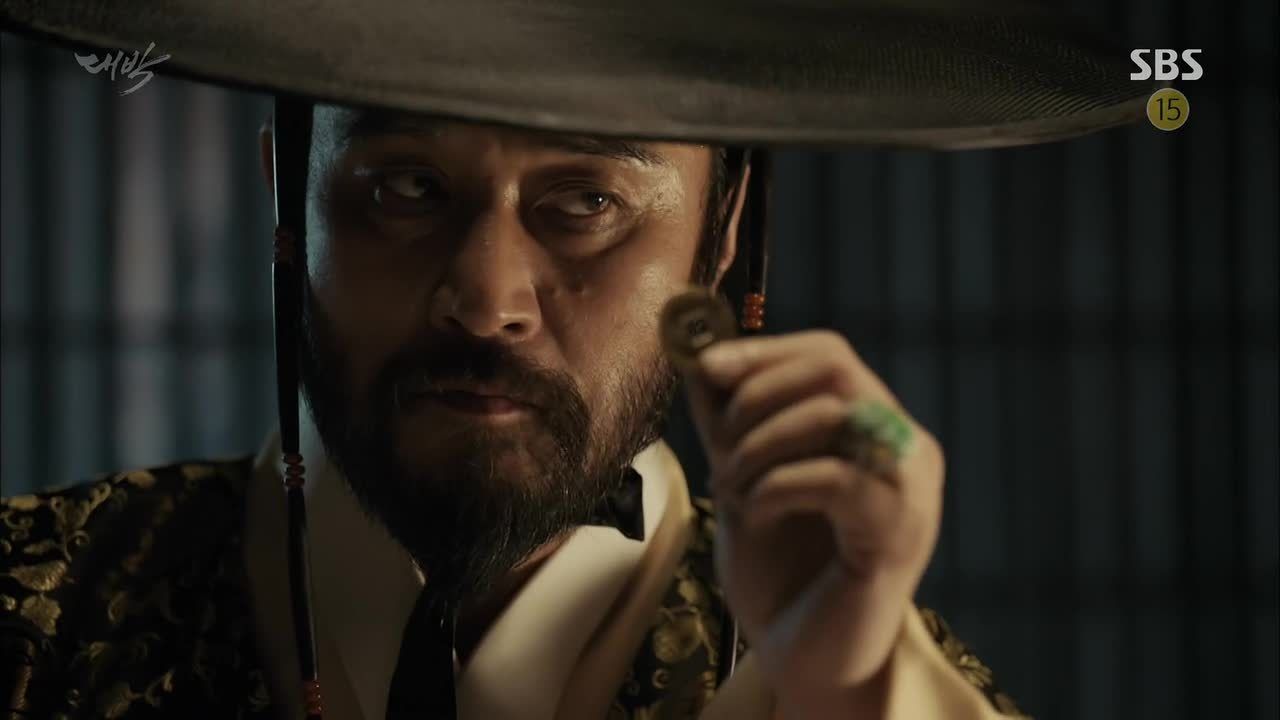 The bottle he picks is indeed filled with wine, so Man-geum wins this round. As they play, Bok-soon is led into the casino to meet with Injwa, who asks if she's made up her mind.
King Sukjong keeps losing to Man-geum, who becomes more and more emboldened with each win. So when the disguised king asks to play one last game—another fifty-fifty chance, this time based on spinning a nyang coin and basically calling the Joseon equivalent of heads or tails before it falls.
Man-geum recognizes the proffered coin as one he's had great success with in past coin-spinning games, since he knows it'll land on its back nine times out of ten. So when King Sukjong ups the bet, Man-geum can't help but match it, sure that he'll win.
Man-geum calls that the coin will land backs-up, leaving King Sukjong to call fronts-up. It's Sukjong who sends the coin spinning, and the two men watch intently as its rotation slows until it falls, landing fronts-up. Sukjong wins this round.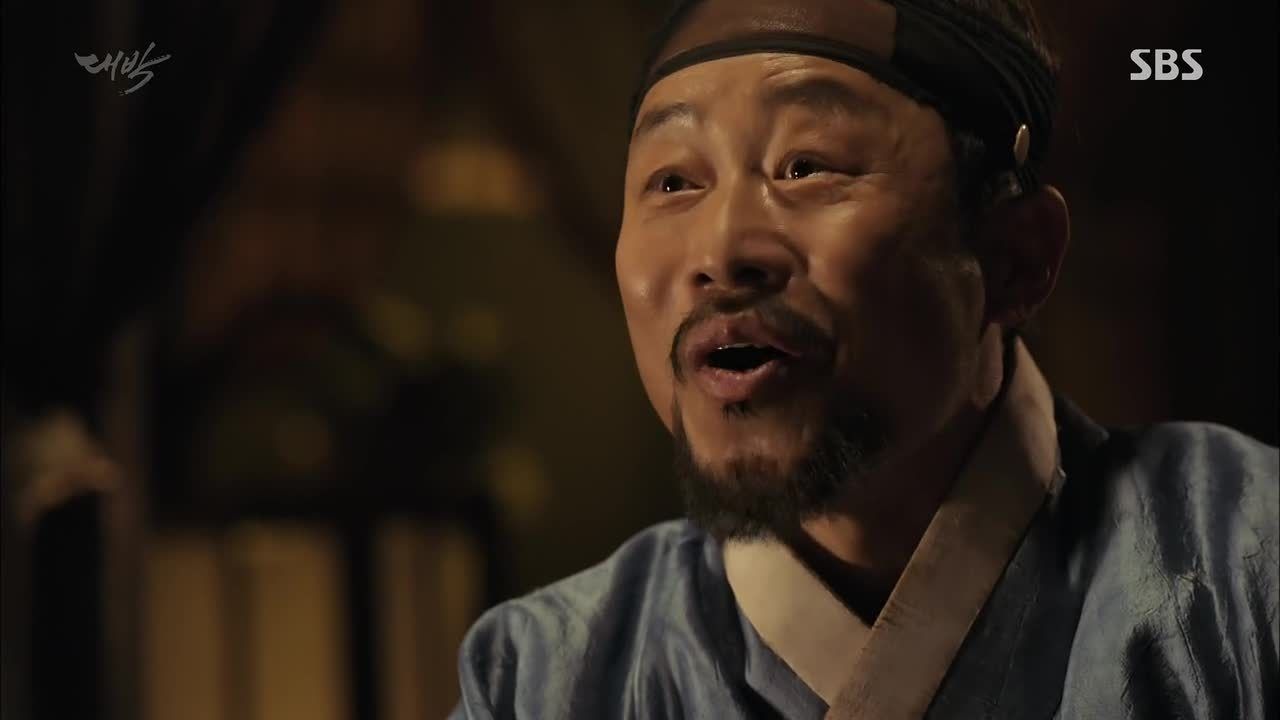 But that only serves to make Man-geum want to play another, absolutely positive that his opponent just got lucky. In reality, the coin King Sukjong offered was one Yi-soo gave to him, designed/rigged especially to fall fronts-up.
Man-geum spins the coin this time, though it again falls fronts-up. Even though he's lost, he decides to play one last round, and bets everything he has left. Hong Mae uses this time to remind Man-geum that his life belongs to her if he loses, since he'll need to spend the rest of his days paying her back.
Since the coin has fallen fronts-up two times, Man-geum is sure that it can't do so a third time, so he decides to choose backs-up one more time. But only on the condition that they change coins.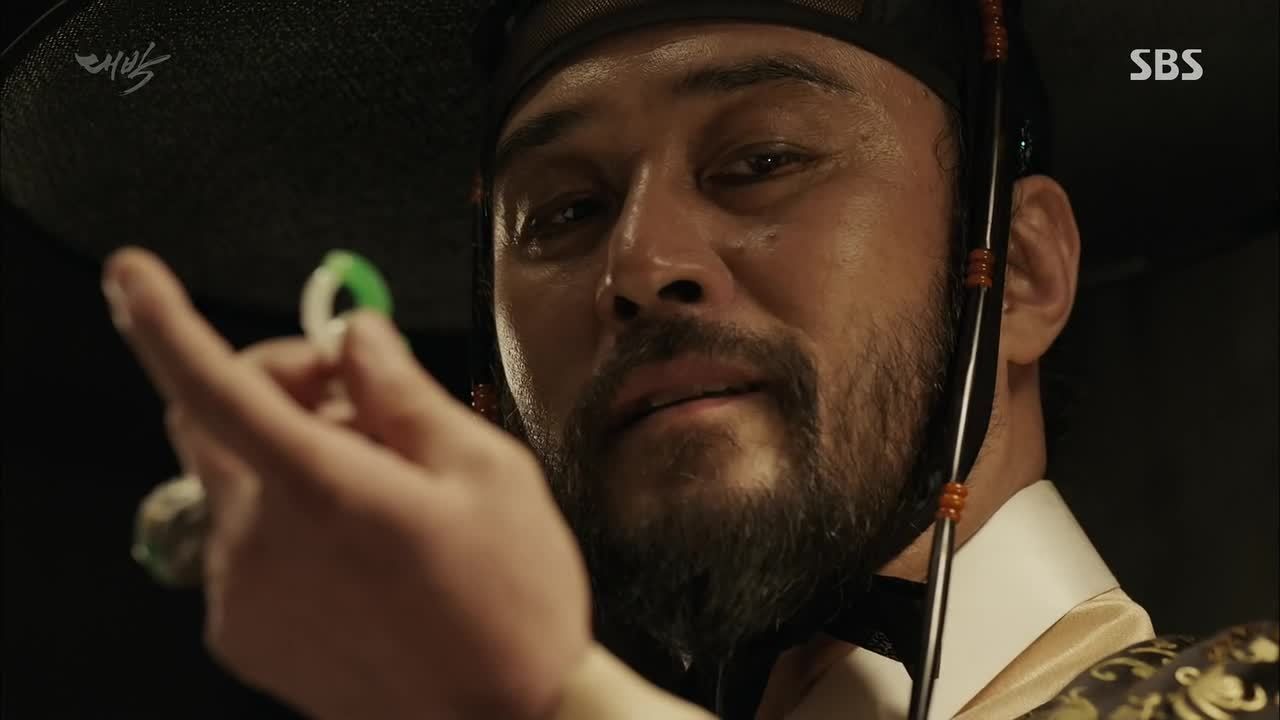 He goes rooting through the pile on the table to find one he's satisfied with, which leaves King Sukjong with no choice but to acquiesce, otherwise he'd look suspicious. So he sends it spinning, and it lands… fronts-up. Man-geum loses, again.
Left with nothing else to bet, a desperate Man-geum offers his jade wedding rings for one last round. King Sukjong says the rings themselves are of no value, but if he were to offer the woman who came with the rings instead…
After a moment of consideration, Man-geum chases King Sukjong down, yelling, "I will do it! I will bet my wife!" The casino-goers fall into a hush at his proclamation, even as the disguised king turns to make sure of Man-geum's offer.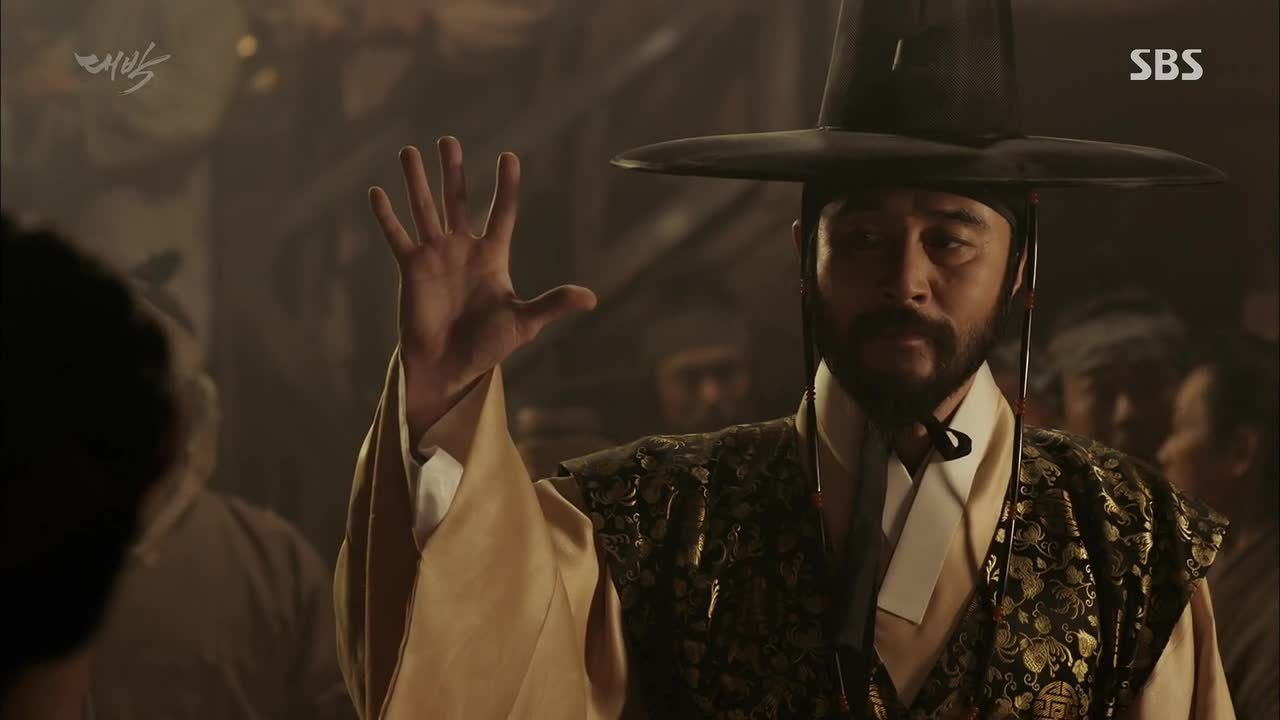 Her husband is unaware that his wife is watching this exchange from her spot up above, and tears fill her eyes to hear his offer. But this is exactly the offer King Sukjong was hoping he'd make, so he rises to the challenge, betting five hundred nyang against Man-geum's wife.
The game he picks is another guessing game—they have one bottle of wine and ten cups, and whoever calls the correct number of cups the bottle will fill, wins.
Man-geum thinks back to how many times his opponent was able to refill his glass earlier, and makes his guess at seven cups. King Sukjong says six, and commences with the pouring.
At the sixth cup, Man-geum holds his breath. King Sukjong turns to pour the bottle over the seventh cup and gets only a few drops, which means his guess was correct. Man-geum has just lost everything.
King Sukjong smiles, and the woman he's just won does the same.

COMMENTS
Well, I have to give King Sukjong credit for going the extra mile to (literally) win a girl, since all fiction ever had embedded in me was the belief that the only thing a king needs to do to get rid of a pesky husband is to either send them off to war or have them killed. So I was expecting something of that sort to happen here, only to be pleasantly surprised that Sukjong planned to free her of her marital vows the honest way. As honest as one can be in a completely rigged and thoroughly dishonest game, anyway.
It didn't seem like it was Sukjong's plan to also win over her mind however, since he seemed to have no idea she was watching the game, and certainly didn't plan for her to be there. Even though this is all part of some greater plan by Injwa, having Bok-soon there seemed to benefit Sukjong more, by proving to her once and for all that her husband was useless. We could claim he was coerced into selling Bok-soon, but the episode's events made it rather clear that he didn't need a whole lot of convincing to come to that decision.
Admittedly, I wasn't all that invested when the con began, perhaps because it seemed a little hard to believe that Injwa was able to play Sukjong's lust/love just by telling Bok-soon how long to hold his gaze. Because if that's the only criteria Sukjong needs to go all-in on a girl, then it seems a rather easy one to meet—or would all bets have been off if she'd held his gaze for four breaths (gasp!) instead of three?
Either way, his love at first sight is just something that had to be bought in order to enjoy the rest of the episode, and it became a much easier task when we could get behind Bok-soon and her fight for freedom. Perhaps she's just stepping into another form of enslavement, but at least she's using the only agency she has left in the world. Why fault a girl for that when we can fault Joseon's oppressively patriarchal system instead?
Since the game at the end was rigged, there was a certain amount of suspense missing, even though there may have been a point or two where Sukjong wasn't completely in control. Otherwise, it all seemed to come very easy for him, helped in no small part by Yi-soo's manipulations as well as Injwa's. What Yi-soo stands to gain is clear, the means a bit more ambiguous—he wants a chance to kill the king for revenge, and is simply waiting for that chance. But Injwa seems to be running a long con, and we're only seeing the beginning of it. Then again, this is a gambling drama, so we better make our peace with God and long cons now, or never.
Overall, there's plenty to like here, even if there's not much subtlety in any of the hands being played. Hopefully the overtness is just a necessary byproduct of the initial world-building, and maybe we can get to a point where a character can be introduced without their complete life story right away. Sometimes less is more—but so far, so good.

RELATED POSTS
Tags: Choi Min-soo, Episode 1, featured, first episodes, Im Ji-yeon, Jackpot, Jang Geun-seok, Yeo Jin-gu, Yoon Jin-seo