Jung So-min cast as Lee Kwang-soo's girlfriend for KBS web/variety drama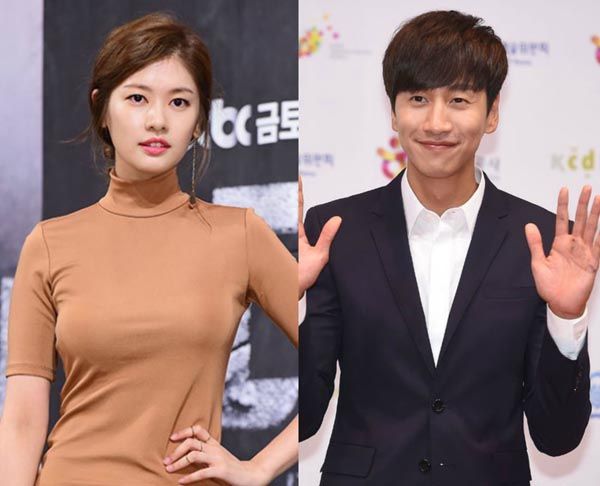 The cast is now in place for the upcoming KBS "variety drama" Sound of the Heart, based on a long-running (ten years!) webtoon of the same name that's earned a following for its comedic take on ordinary life moments. The project earlier cast Lee Kwang-soo (It's Okay, It's Love) to star and has now secured Jung So-min (D-Day) to play his longtime girlfriend.
The series, noted for its gag-like comedic sensibility, is based on real people in the webtoon writer's life; the writer shares a name with his hero, Jo Seok, whose hyung is named after the writer's hyung. Lee Kwang-soo will play Jo Seok, described as accident-prone, and since Lee is the very embodiment of bumbling and lovable, he sounds perfect.
The female lead was a role that was previously out to EXID idol Hani, and while I don't know much about Hani, I do love Jung So-min, so good call casting her as the easy-going and playful Ae-bong, who marries Jo Seok after dating for seven years. She sounds like the dominant personality in the duo, scolding Jo Seok often as the person he's most afraid of. She has a group of doppelgangers (called "the Ae-bongs") and likes to cook, although the results are "nuclear bomb level." Sounds random and quirky.
The broadcast format for this show is a little unusual in that it's first going up on Naver's TVcast in 10-minute segments as a 10-episode web drama, but then will also air on KBS as a "sitcom-style variety drama." It's the second project after The Producers to be tagged with the variety drama label, which I'm taking to mean will be entirely scripted but flowing more like a sitcom; I don't see how variety fits in other than that the director is a variety PD, Ha Byung-hoon of SNL Korea and Superman Returns. (Honestly, I'm not sure KBS knows what it means by the term, either. They seem to be trying to figure it out.) SNL Korea writer Lee Byung-hoon is onboard to write.
Veteran actress Kim Mi-kyung (Healer, Yong-pal, Heirs) will play Kwang-soo's mom, while Misaeng's Kim Dae-myung will play his hyung. Well, they certainly put together an awesome cast, and now I'm disappointed the series will be so short. The original webtoon is over a thousand episodes long (with over 5 billion cumulative views) — that's gotta be too much material to cram into 100 minutes!
Sound of the Heart is planning to broadcast in October, with a simultaneous broadcast in China.
Via Osen
RELATED POSTS
Tags: Jung So-min, Lee Kwang-soo, web drama