Marriage Contract: Episode 5
It's difficult enough to pull off an illegal organ-selling scam, but when emotions start to get involved, things start to get really complicated. Ji-hoon, especially, is beginning to feel things he never expected, though the object of his affection may surprise us. It's amazing how much a tiny little sprite of a girl can affect the big grump, and she could very well be the key to opening his heart.
EPISODE 5 RECAP
Ji-hoon follows little Eun-sung outside, where she throws the pilfered "wedding" photo of him and her mother at his feet. Hye-soo follows them out, but before anyone realizes what's happening, Na-yoon also arrives and sees the photo lying in the street. Luckily, she can only see Hye-soo's face clearly in the photo, and Hye-soo manages to snap it up before she sees any more.
Hye-soo chases after Eun-sung, and Na-yoon comments that the guy in the photo sort of looked like Ji-hoon. He plays dumb, and Na-yoon lets the subject drop.
By the time Hye-soo catches up to her daughter, Eun-sung is feeling guilty about ripping the pictures and she apologizes. They walk back towards the restaurant hand-in-hand.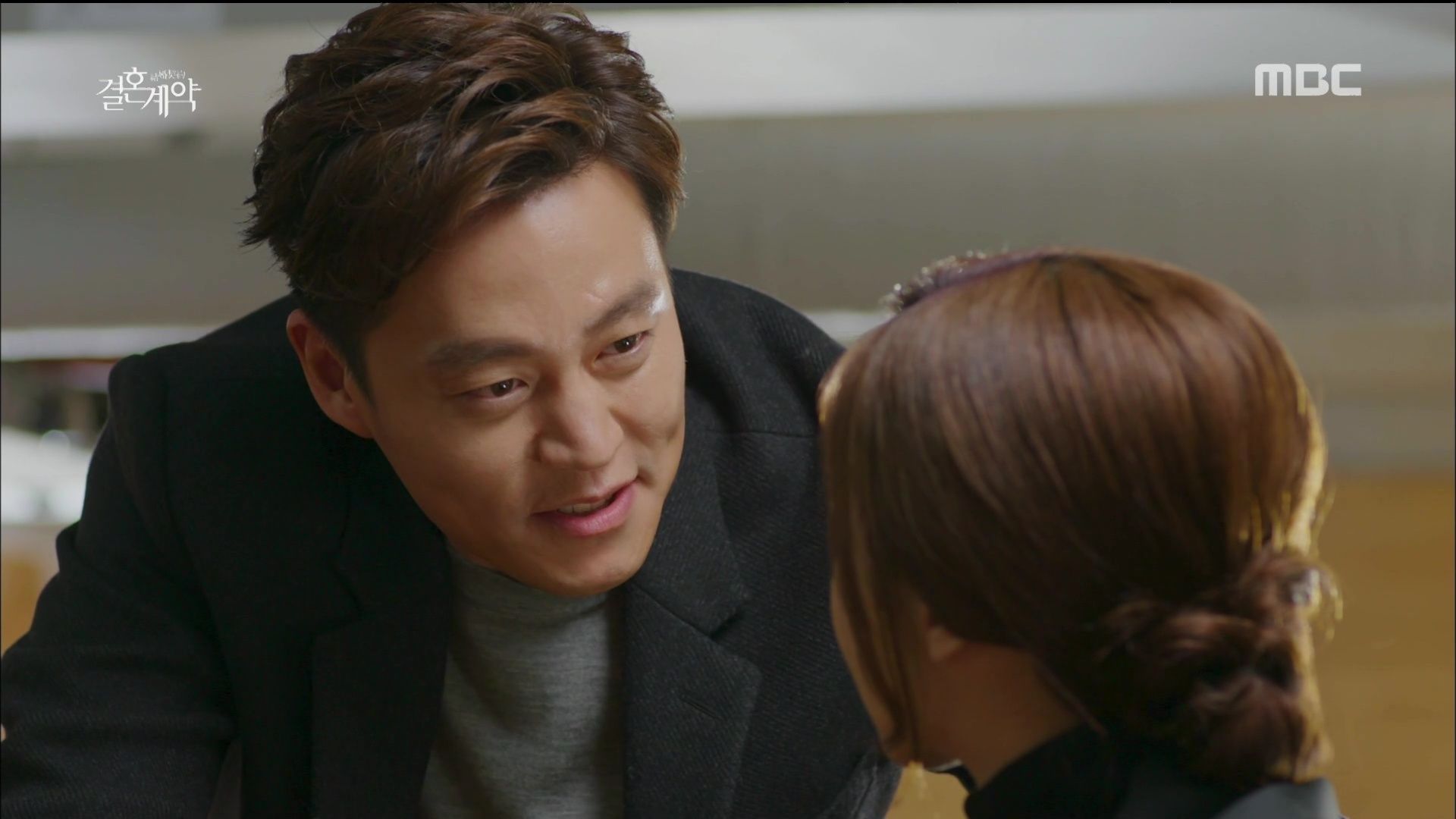 Na-yoon compliments Ji-hoon on the success of his restaurant, then not-so-casually asks about Hye-soo and Eun-sung. Ji-hoon redirects, asking why she's here, put out that she came here unannounced. She's honest and says she missed him.
He gets a text from the hospital social worker saying that they're ready to meet Eun-sung, and he claims an urgent meeting. He turns back, and Na-yoon looks like a smug cat — until he asks her not to come to Promise anymore.
Hye-soo and Eun-sung stop to talk, Hye-soo asking if Eun-sung hates Ji-hoon that much. Eun-sung just turns it around on her: Does Mom like him that much? She asks what Hye-soo likes about him and, unaware that Ji-hoon is standing right behind her, Hye-soo is honest.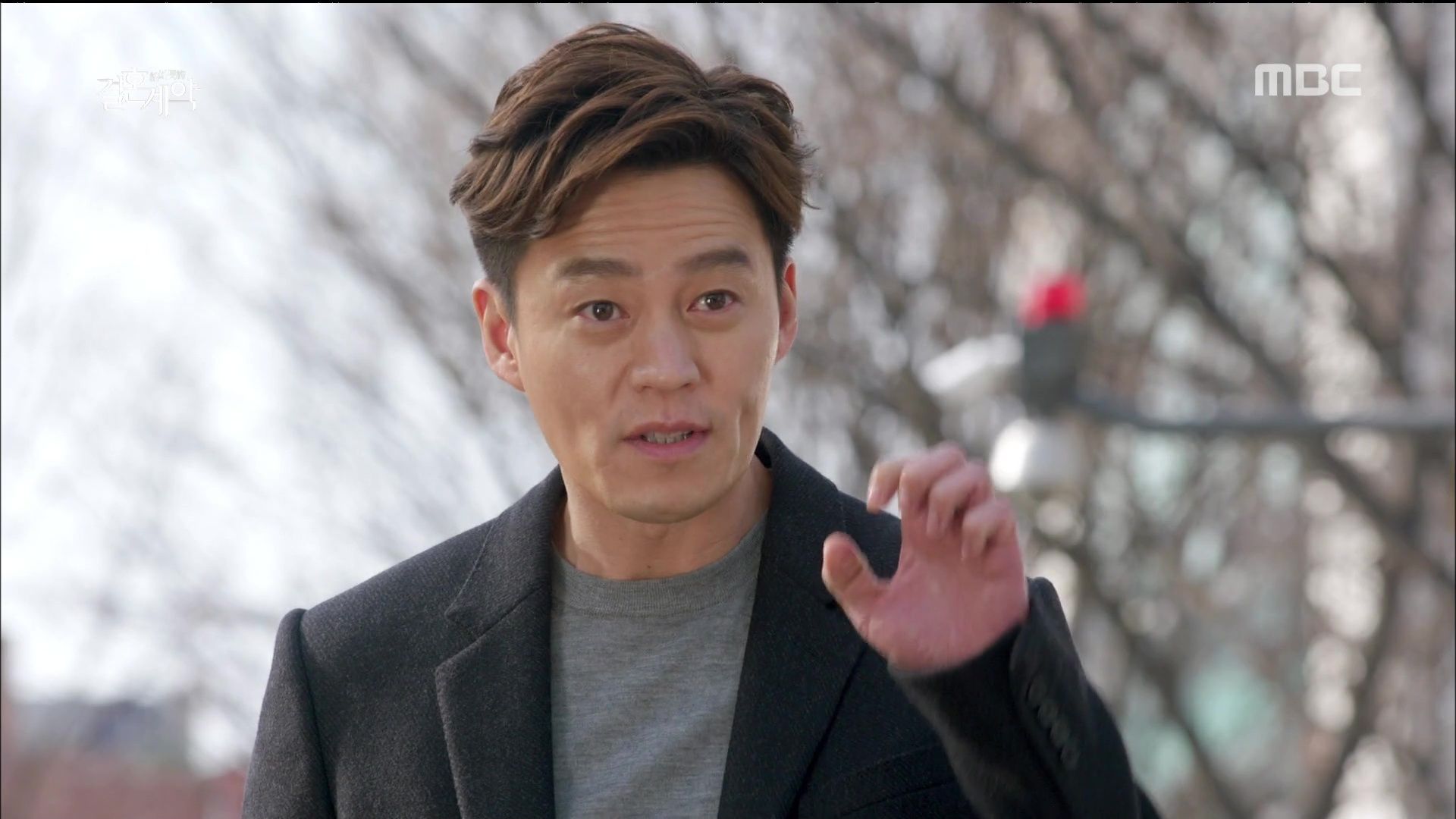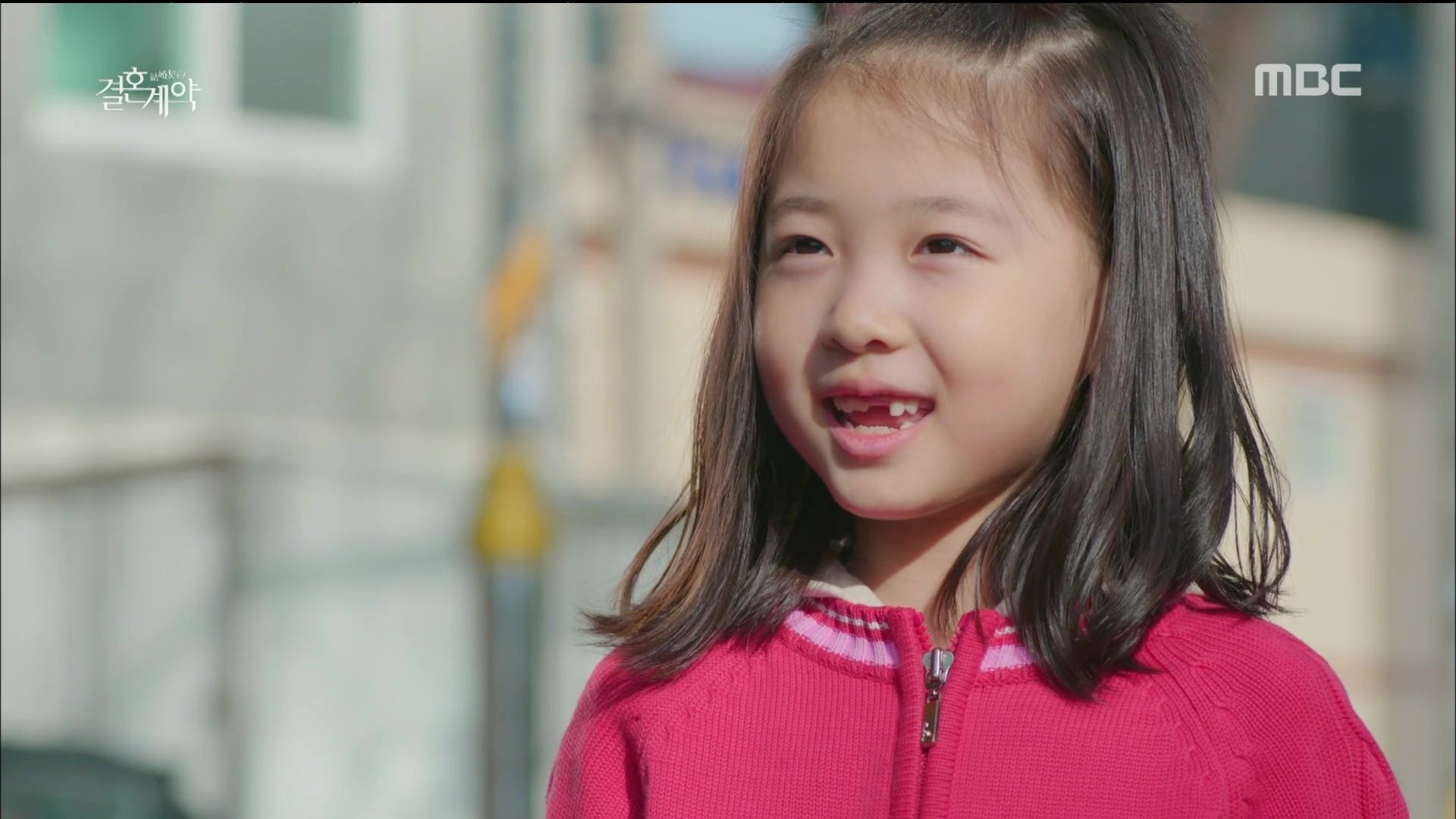 She says that he's not a bad guy, even though she used to think so, but she's learned that he has a kind heart. Just like Eun-sung's kitten who cries sometimes, but it just means she's scared. Ji-hoon looks disgruntled, but also a bit moved to hear that. He makes kitty faces at Eun-sung, who grins at him for a second, despite herself.
She runs off again, but only goes as far as a pair of dancing guys, and Hye-soo finally sees Ji-hoon there. He tells her about the interview, but says that he'll take care of it. He's confident they won't fail them just because they don't bring Eun-sung, but Hye-soo isn't so sure.
Chairman Han asks Jung-hoon if Ji-hoon is dating anyone, which puts Jung-hoon off his food and he storms from the dinner table. His mother follows to ask if he's sick, then wonders if something is wrong between him and Na-yoon. Jung-hoon snaps that she wants to break things off with him and that she likes someone else.
Chairman Han calls Ji-hoon when he can't reach Mi-ran, and Ji-hoon lies that his mother is traveling. It makes the chairman suspicious since it doesn't match with what Mi-ran told him the last time they spoke, so Ji-hoon makes an excuse and hangs up.
Mi-ran is at the hospital thinking about Hye-soo, and how she desperately begged her to live. She's refusing to eat, worrying the nurses, but she's too upset over the illegal lengths her son is going to try to save her.
That evening Hye-soo leaves Eun-sung tucked into bed and goes out for fresh air, then when Ji-hoon gets home, she goes around to his front door to speak with him. She asks if they can't delay the interviews instead, and gain some time for him to win over Eun-sung. They're already in this deep, they may as well do everything they can to avoid suspicion.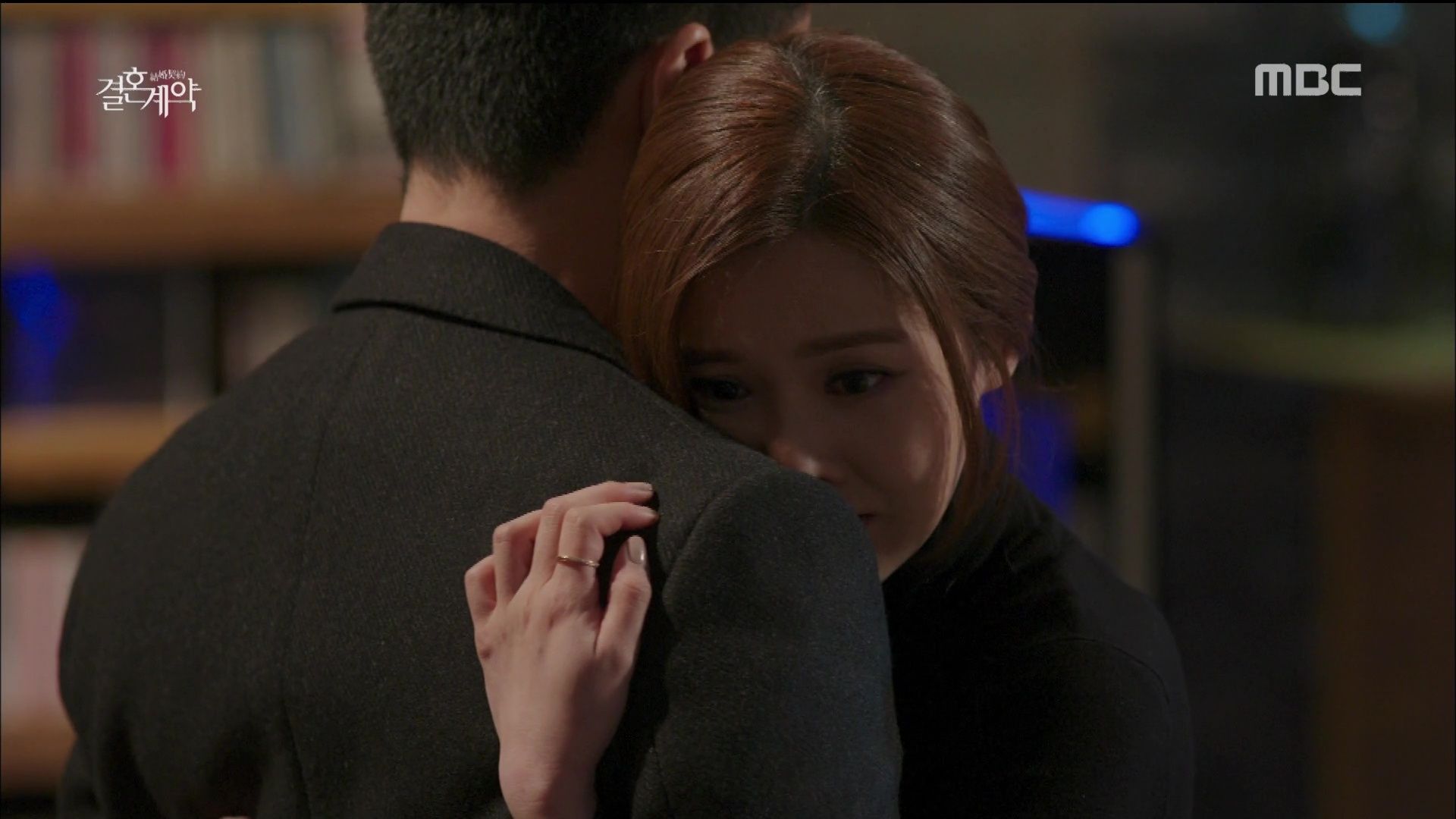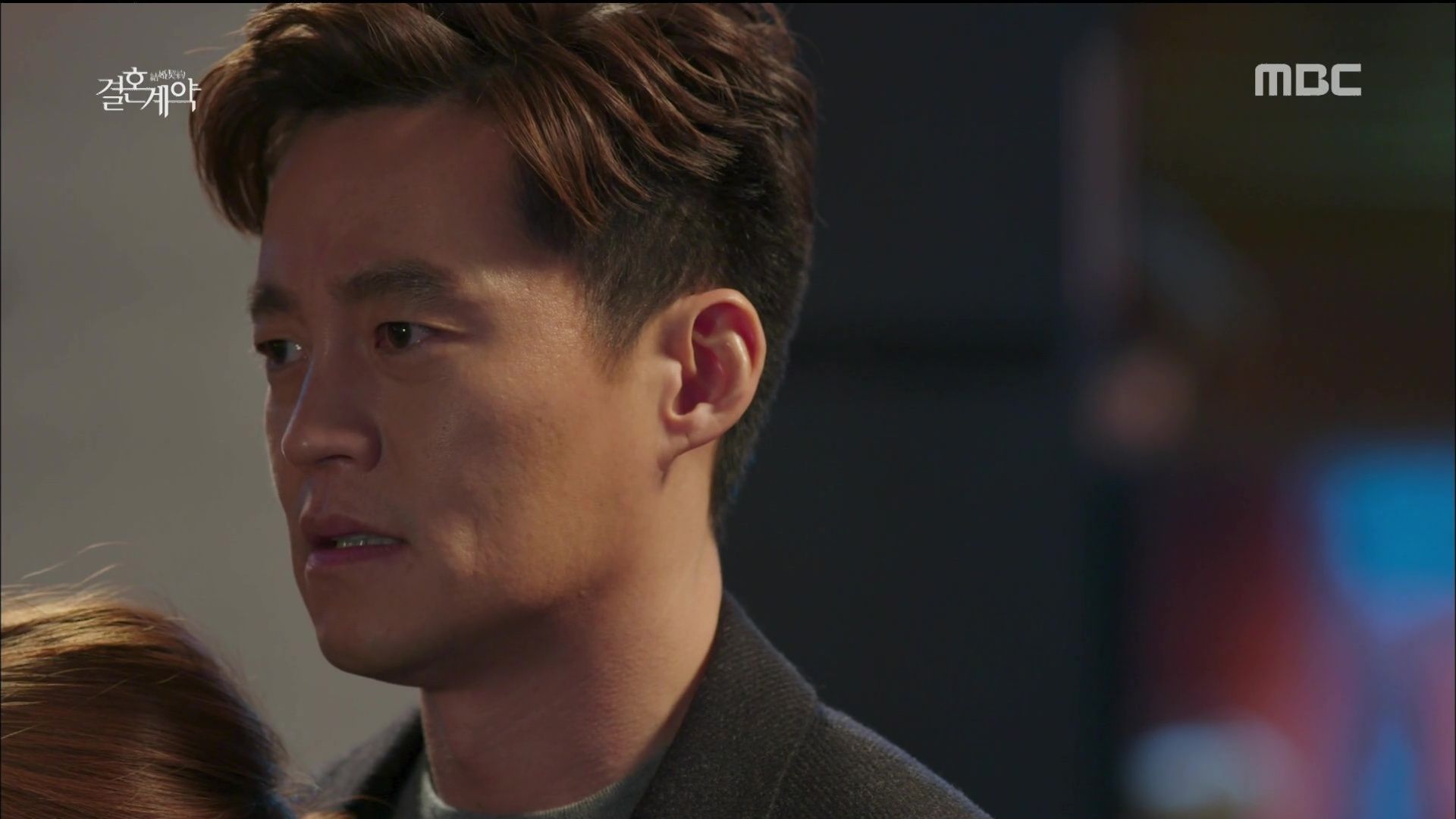 Hye-soo hides when Na-yoon rings the doorbell, and she literally pushes her way inside, fighting back when Ji-hoon frantically tries to pull her outside. She's drunk, and tells him that his order not to come to his restaurant just made her want to go there even more.
She tells Ji-hoon that she plans to break things off with Jung-hoon, clearly expecting him to take her back right away. When he doesn't, she asks if he doesn't have feelings for her anymore. When he doesn't answer she steps in and hugs him, asking in a small voice if they can start over.
Ji-hoon gently pries her off and offers to take her home, and when she starts pushing him for answers again, he snaps, "We'll talk when you're not drunk!" Na-yoon wants to talk now, but when he tries to steer her towards the door, she shakes off his hand and says she'll go under her own steam.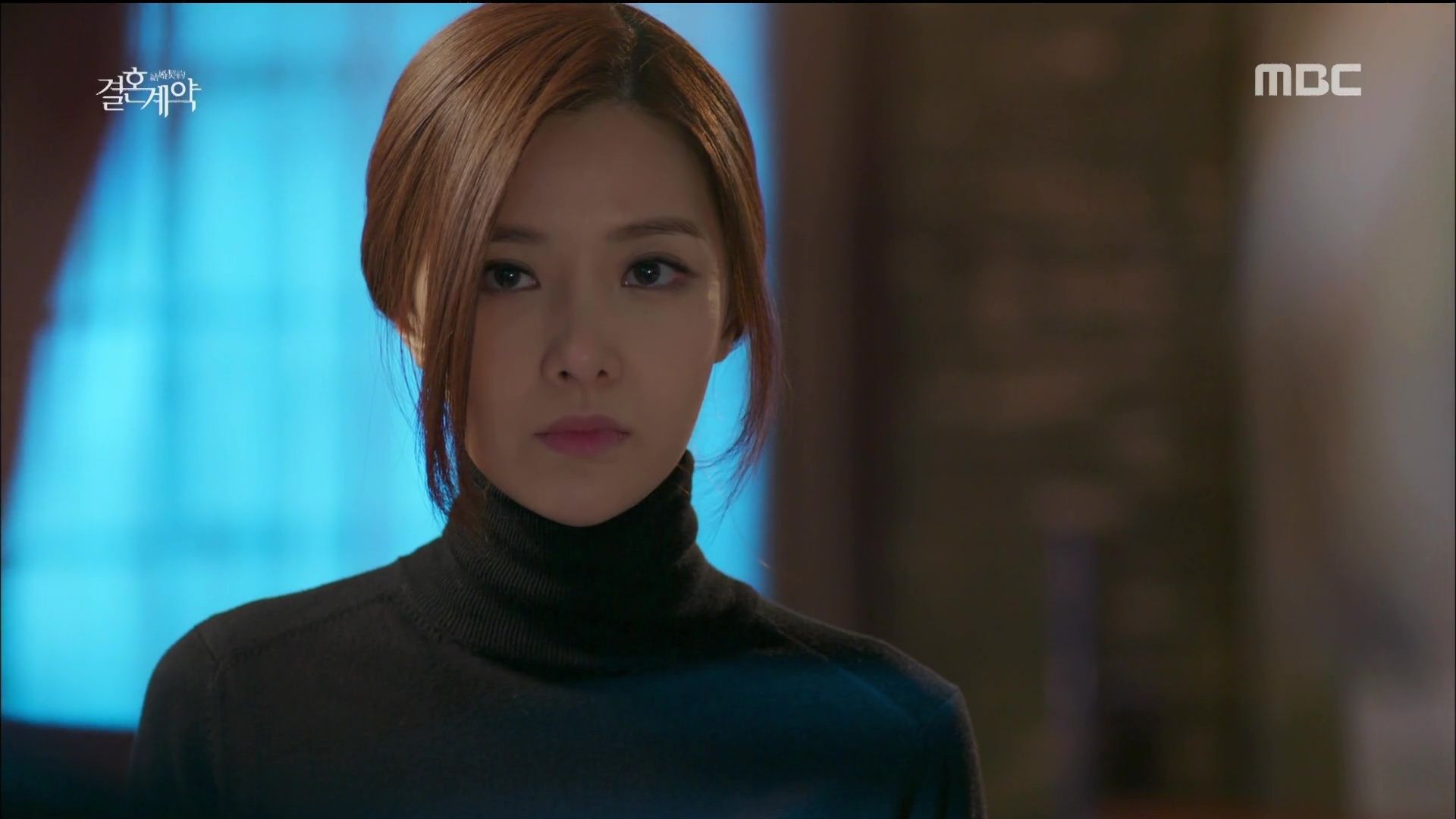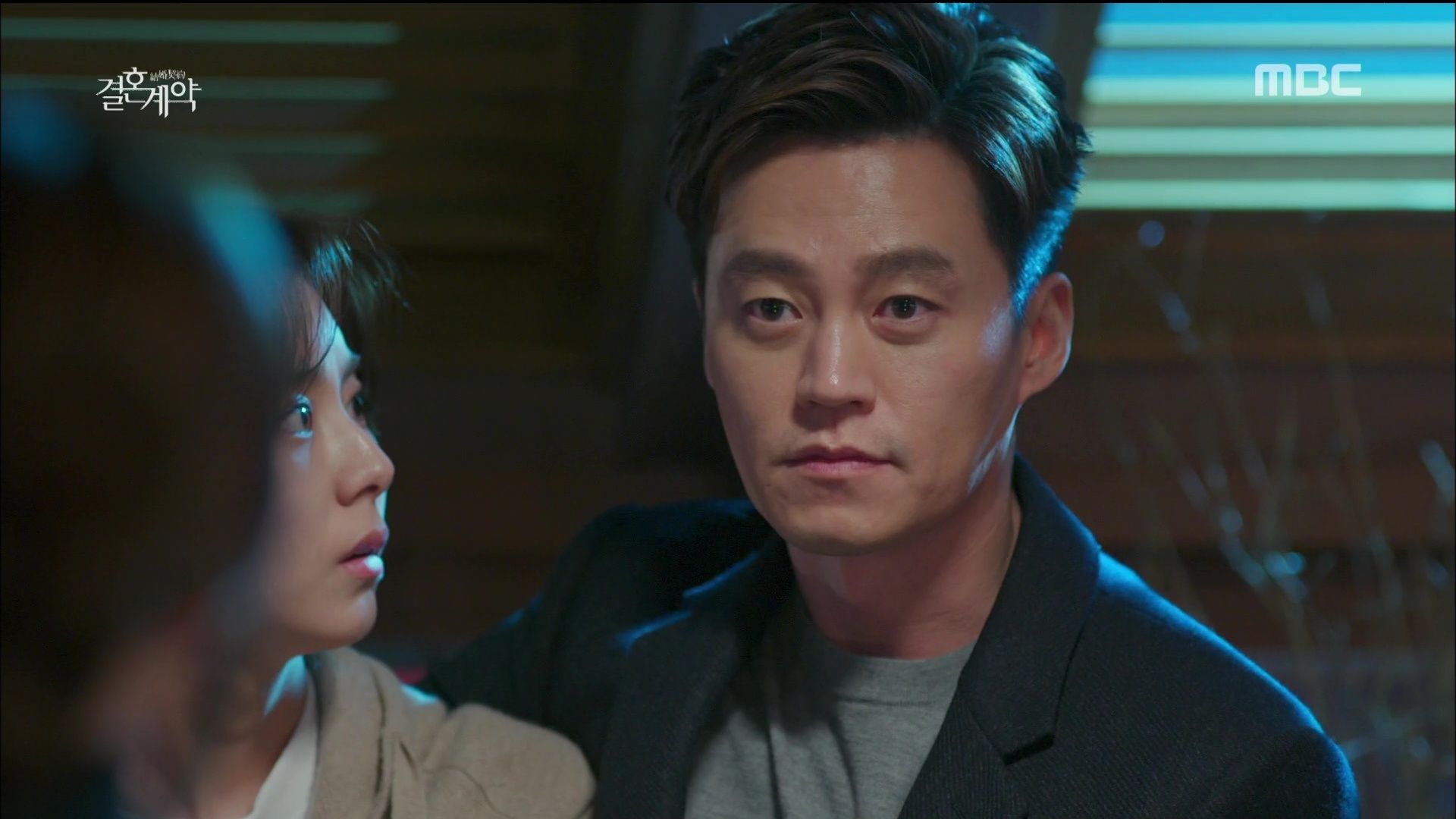 But just when they're about in the clear, Na-yoon sees the hiding Hye-soo in a reflection, and confronts her. She knows right away that this means it was Ji-hoon in the wedding photo, and though Hye-soo tries to deny it, Ji-hoon sees his opportunity and confirms Na-yoon's suspicion.
He introduces Hye-soo as his fiancee, and Na-yoon seems angry but it does get her to leave. Hye-soo chases her, not wanting her to leave upset, but Ji-hoon holds her back and lets Na-yoon go with her dignity. Hye-soo yells at Ji-hoon to go after Na-yoon, saying that he'll regret it if he doesn't, but he just says it's his business.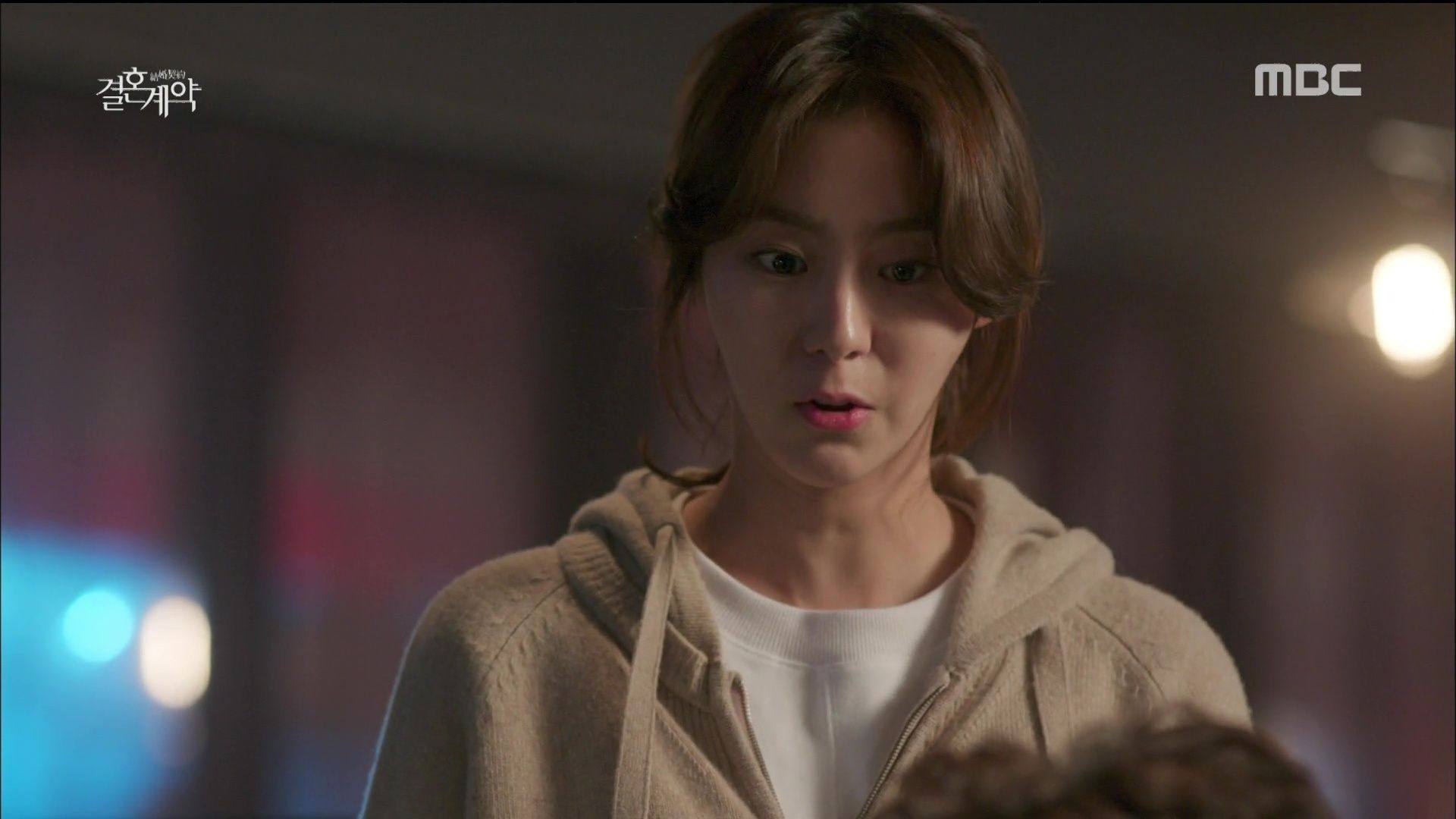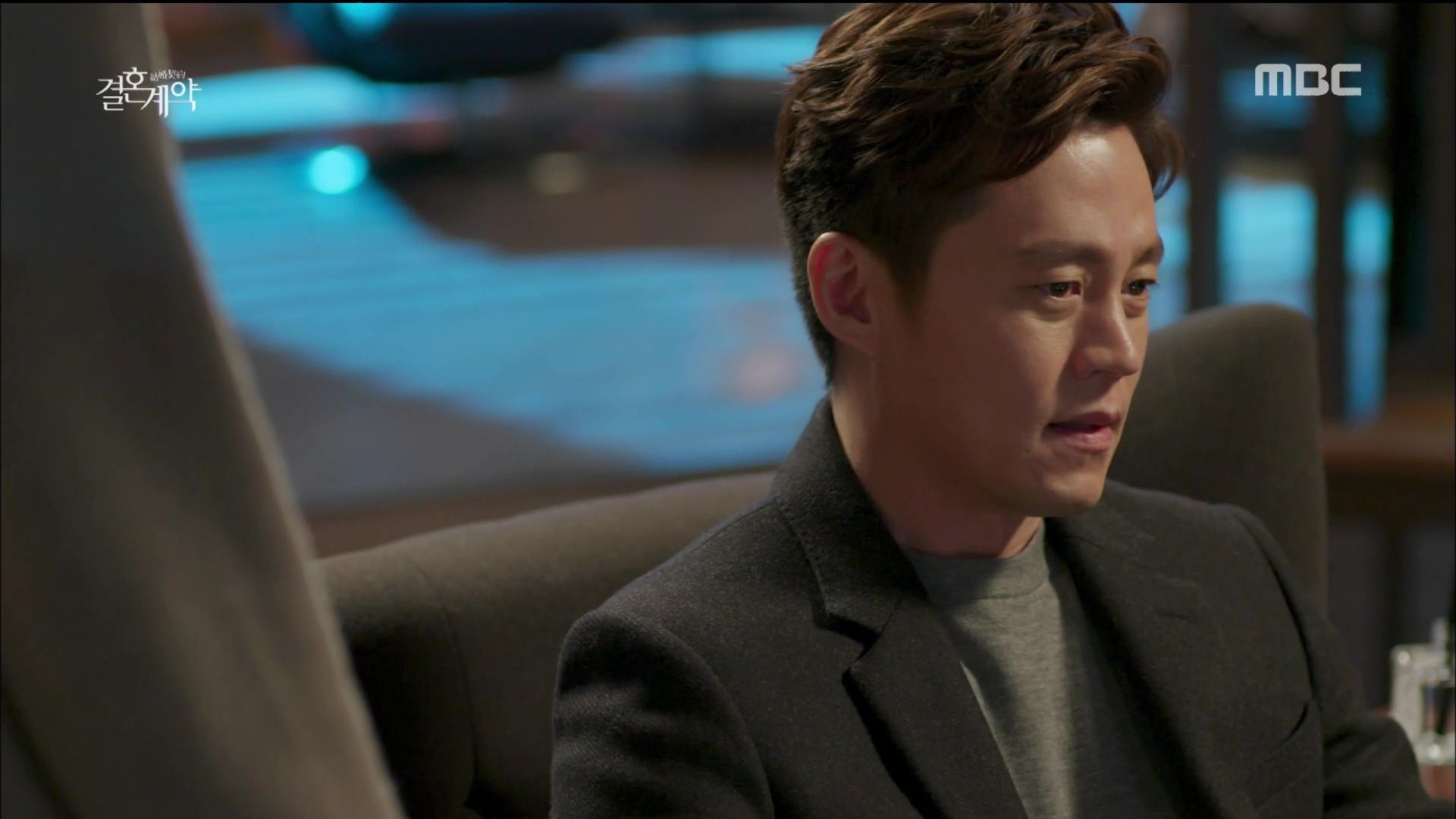 Hye-soo overheard enough to figure out that Na-yoon is his ex-girlfriend, and that he still has feelings for her. By studying up on him she knows all of his firsts (first date, first gift, etc) and can tell that those firsts were all with Na-yoon. She wants to explain everything to Na-yoon, so that Ji-hoon won't lose this second chance with her.
She tells Ji-hoon that she didn't get to say goodbye, or thank you, or "I love you" to her husband when he died, and she knows how heavy that regret can be. Ji-hoon finally yells at her to stop sticking her nose in his business and pushes her roughly out the front door, telling her not to think she can behave as though she's really his wife — just stick to the contract.
Later that night, Eun-sung wakes up just enough to see her mom looking at pictures of her on her phone. They make plans to go see Eun-sung's father, and leave a current photo of Eun-sung for him. Eun-sung asks if Hye-soo is going to tell her father that she has a new dad now, but Hye-soo just says that they'll go because it's been a while.
They go and leave the picture the next day, and Hye-soo talks to her husband as if he can still hear her. She doesn't realize that his mother is also there, who sees Eun-sung, and seems to see something familiar about the little girl.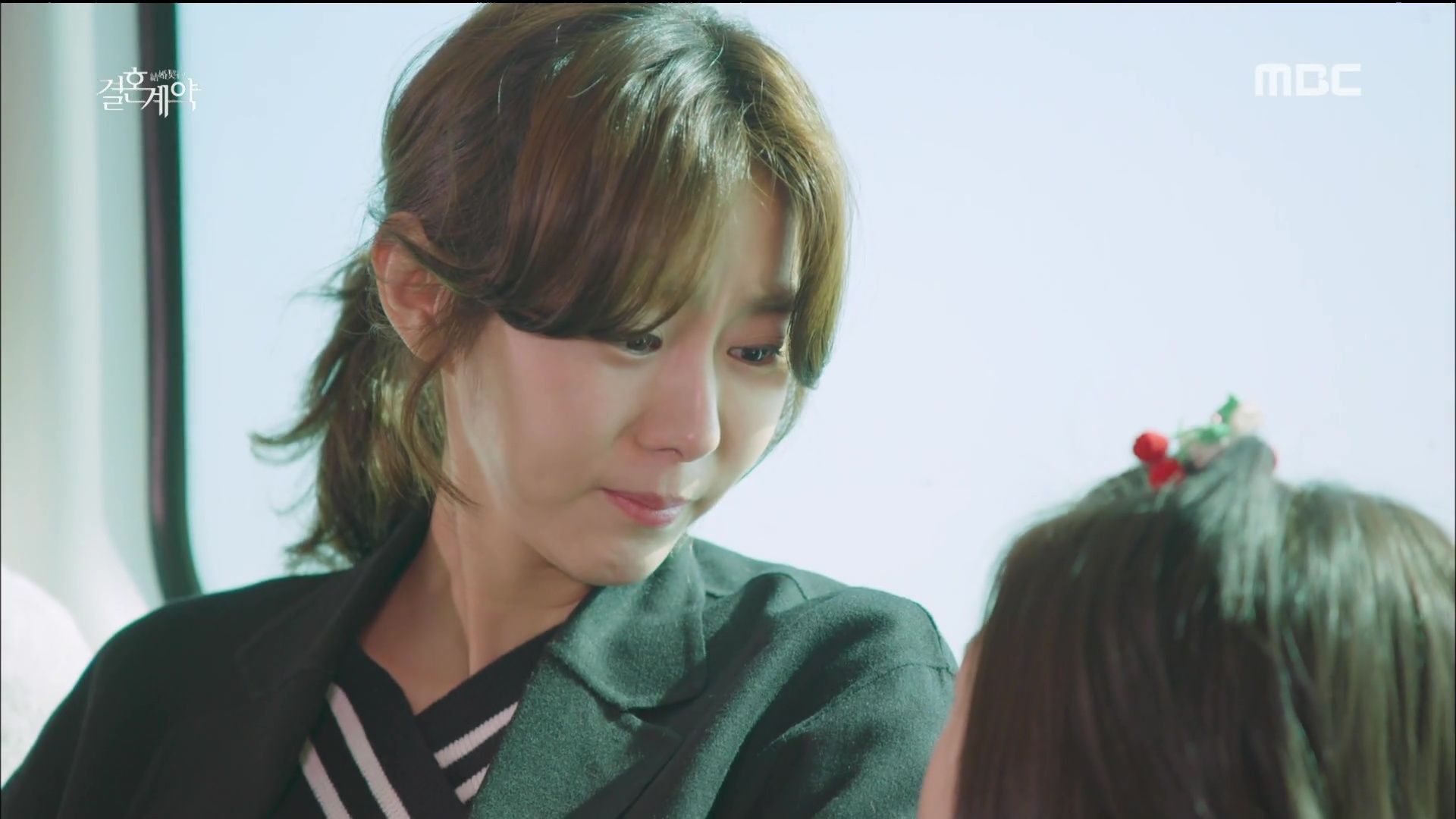 Hye-soo asks her husband's memory for courage, and to watch over her and Eun-sung. Her mother-in-law hears her call out to Eun-sung and realizes that this is her granddaughter, watching as Hye-soo prompts Eun-sung to speak to her father. Hye-soo never sees her mother-in-law, but Eun-sung does, and waves at the lady as they leave.
Eun-sung sees that her mother is preoccupied on the ride home, and Hye-soo tells her that she misses her daddy. Eun-sung says honestly that she doesn't miss him, having never met him (he died before she was born). She says that her dad doesn't know anything about her — how much she's grown, or that she's lost a tooth, or how many times she can jump rope.
She tells her mom to just marry "that ajusshi," since she says he's not a bad person, so Eun-sung will believe her. She'll try to like him, and then her mother won't cry anymore. That just makes Hye-soo cry more, and she apologizes to Eun-sung and hugs her tight.
Ho-joon asks Ji-hoon what he plans to do about the hospital interview, since Hye-soo's daughter doesn't like him. He tells Ji-hoon that kids are easy, to just get her some candy, and nearly earns himself a pounding.
Ji-hoon meets the social worker alone, who pressures him to explain why he didn't bring Eun-sung. Ji-hoon admits that the little girl doesn't like him — even after two years, he can't get close to her. He plays up his story, saying that he's embarrassed that she doesn't like him, so he can't bring her to be interviewed but he'll do anything else the social worker wants.
The social worker says that he'll put all this in his report, and Ji-hoon barks at him that it's not necessary. But before things escalate, Hye-soo shows up with Eun-sung, who says perfectly that this ajusshi is going to marry her mother and be her new daddy. They get rid of the social worker and Ji-hoon asks why Hye-soo brought Eun-sung, though he looks secretly pleased.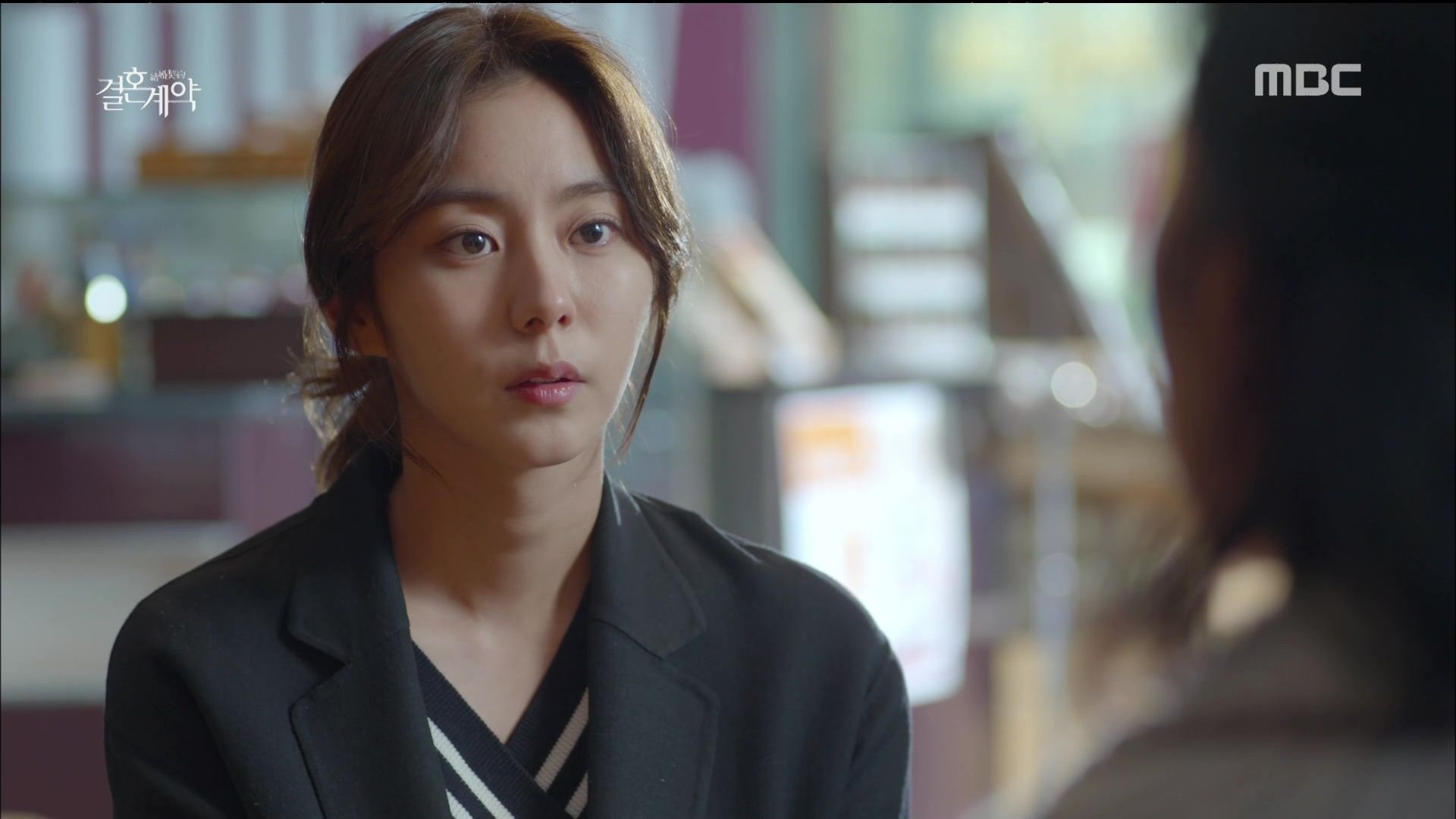 Mi-ran is waiting to see her doctor when she sees her son walk by, and follows him down the hall. She sees him with Hye-soo and Eun-sung and hangs back, watching as Eun-sung gives Ji-hoon the most grudging high-five ever. She follows Hye-soo when they split up, and catches up with her in the hospital lobby.
The two ladies sit to talk, and Mi-ran asks what Hye-soo meant when she said that she'll die if Mi-ran dies. She backs off when Hye-soo looks shocked, claiming that she's not curious anyway, though she does seem ready to accept the situation. She asks Hye-soo not to tell anyone what they're doing, and Hye-soo assures her that she signed an agreement.
Ji-hoon fusses at his mother when she gets back to her hospital room, and she immediately blows up at him. She's too scared not to accept what he's offering, but she feels as though it makes her a bad mother to put her son in such a dangerous position.
Seung-joo catches Hye-soo's mother in law looking at the photo of Eun-sung that she took from her son's memorial, and she tells him that she's going to see Hye-soo. She says she's just going to take some clothes for Eun-sung then come home, but Seung-joo urges her not to do it — if she can't really help them, it's best to keep her distance. He confesses that Hye-soo is seeing someone, and that finally makes her stop.
Chairman Han grows more upset when Mi-ran still won't answer his calls, and he's not buying the story that she's traveling. He calls Ji-hoon who makes excuses not to come see him, but he's dsitracted from them when his wife tells him that Na-yoon plans to break off her engagement to Jung-hoon. That makes the chairman angry and he blames Jung-hoon — after all, his first wife left him after only a month. Ouch.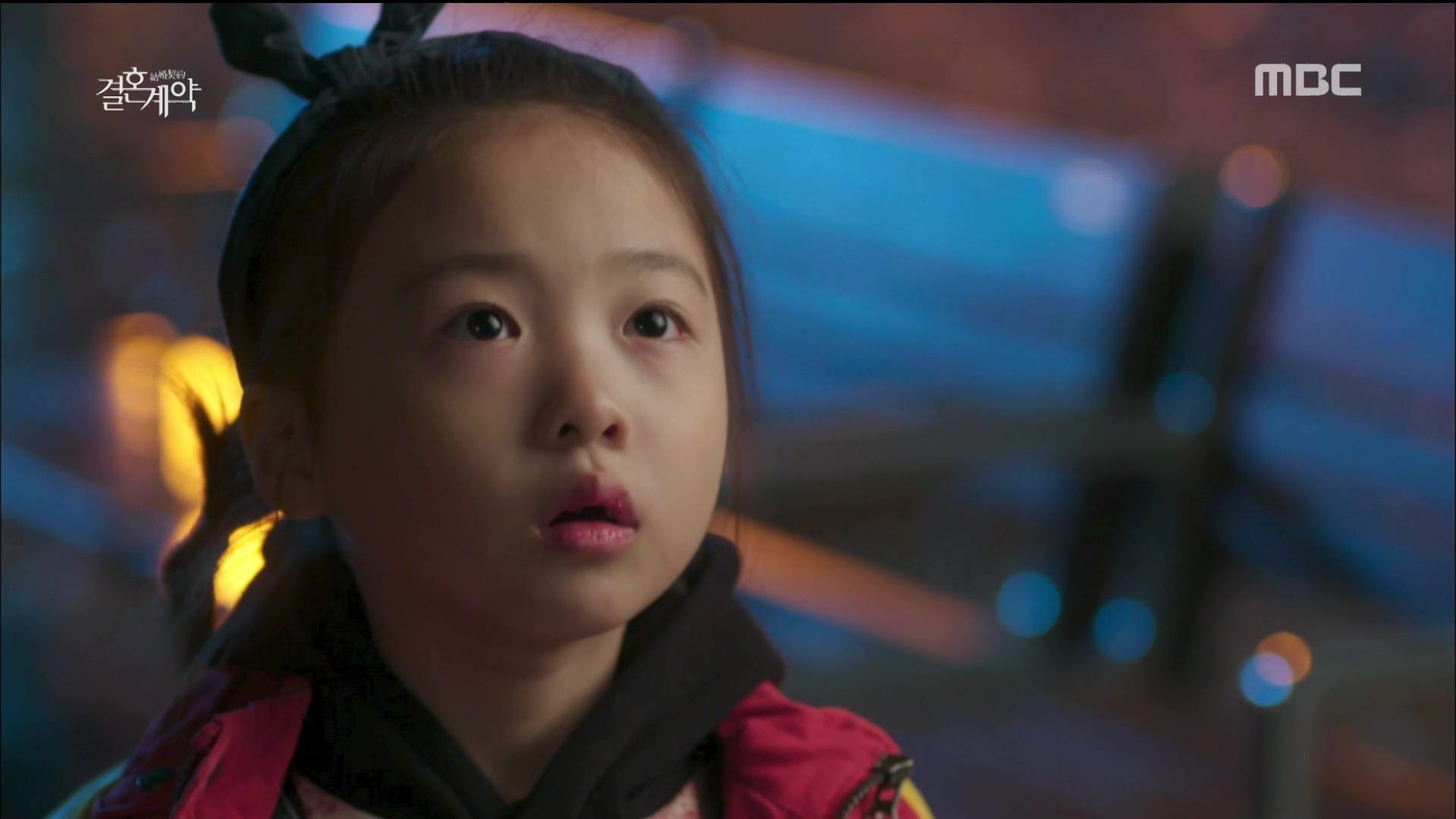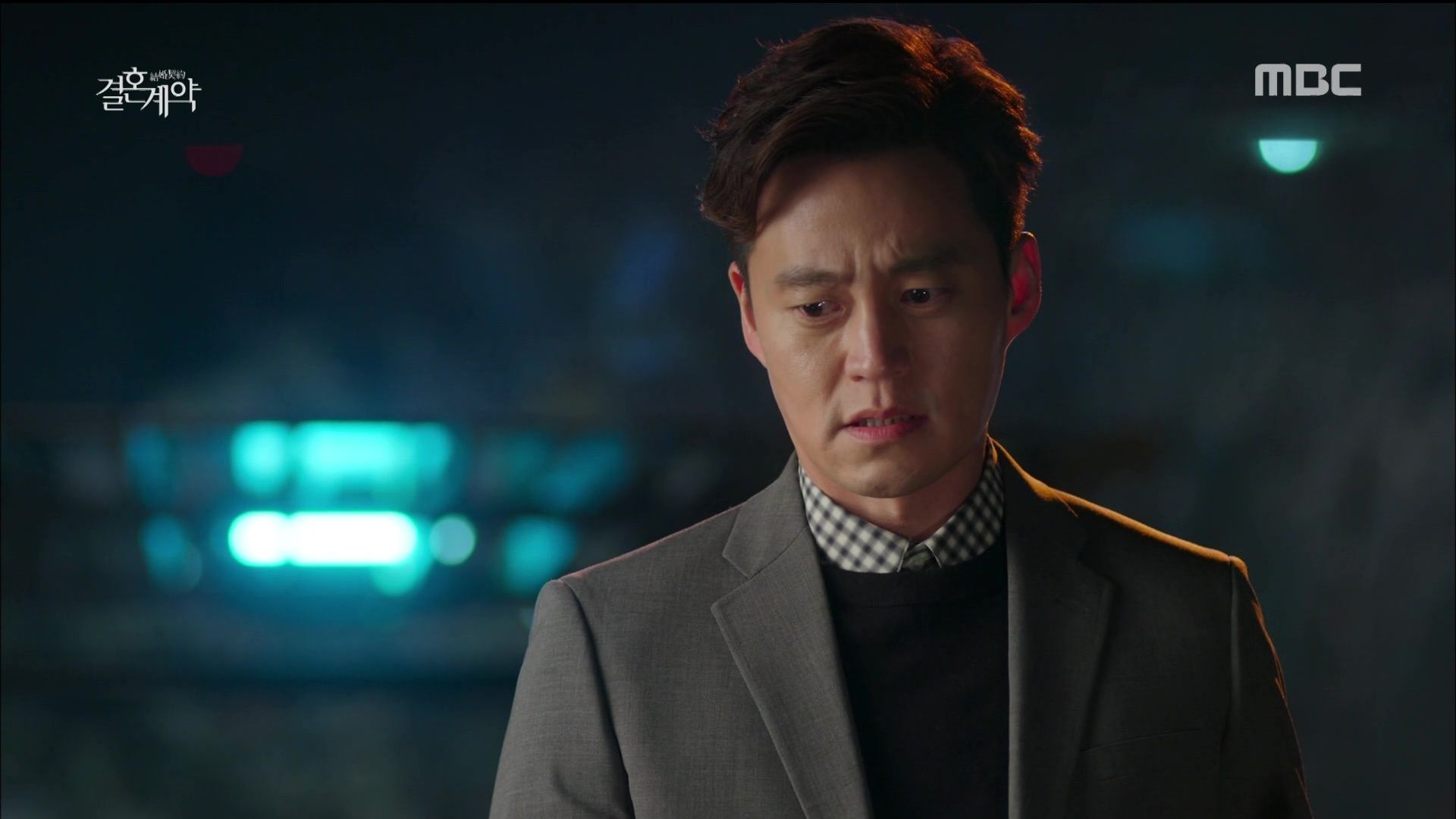 Promise is hopping busy, and chef Chang-soo yells at Ho-joon for not making sure they had enough food for a large wedding reservation. Joo-yeon is too busy to watch Eun-sung when Hye-soo will be late getting home, so Ji-hoon offers to watch the little girl. Ha, he still manages to cluck at Hye-soo for thinking about other things besides work (can't have her thinking he's a nice guy, you know!).
Eun-sung isn't pleased when Ji-hoon picks her up at school, and aww, Ji-hoon looks nervous. They talk on the walk to his car, about the problems associated with running a restaurant versus kindergarten, and eventually Eun-sung asks Ji-hoon an important question: Does he love her mom?
He mutters that he does, looking flustered, but he's really gobsmacked when Eun-sung tells him not to leave like her father did. She says to stay a long time, which seems to upset Ji-hoon, since he knows that the plan is for them to get a divorce as soon as possible.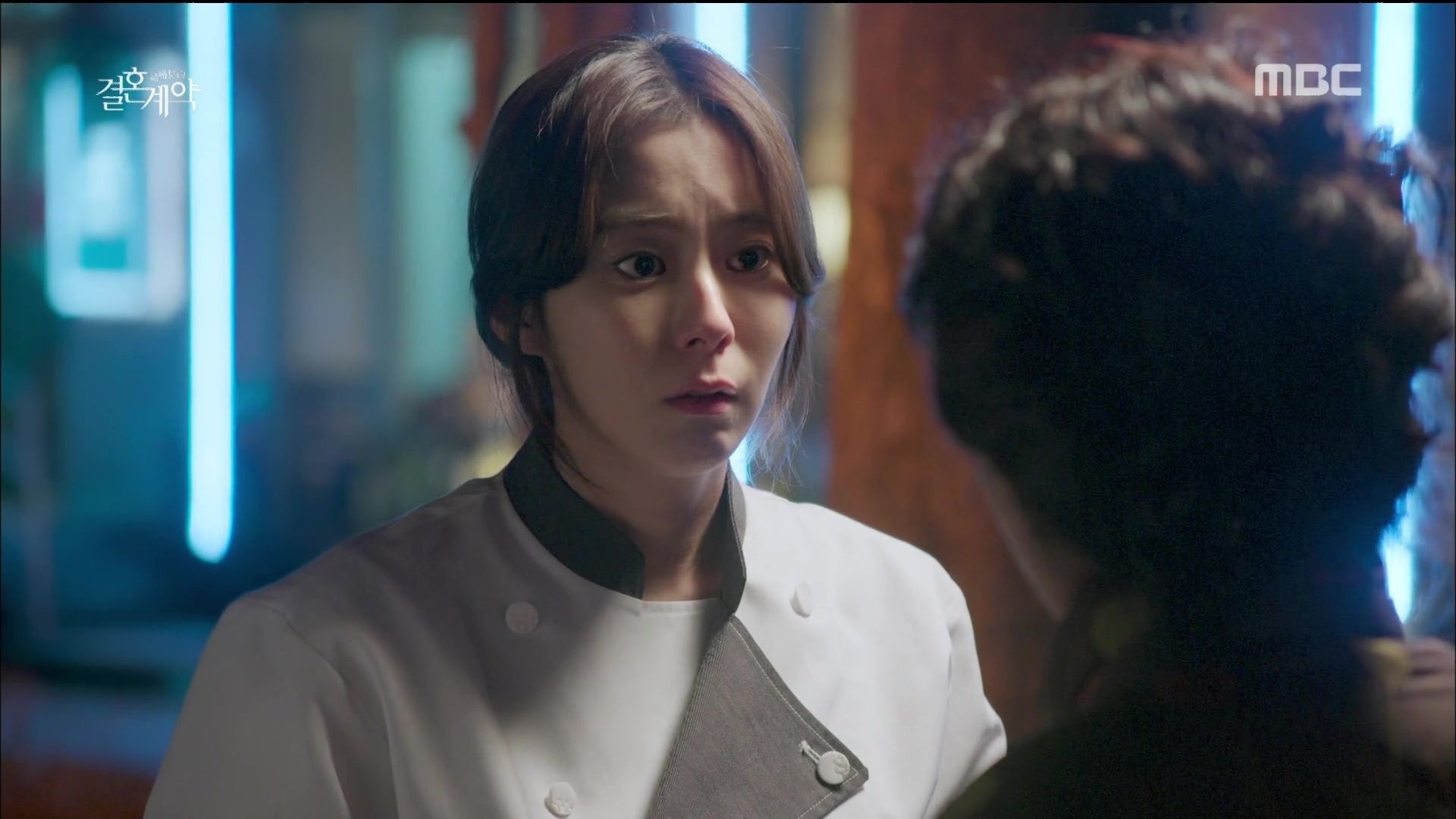 He puts Eun-sung in his car and gets a call from the social worker, who has good news — the surgery has been approved. Ji-hoon smiles, looking like the weight of the world is off his shoulders, but he sobers up a little when he looks at Eun-sung and thinks about the unexpected cost of their plans.
Chang-soo grouchily praises Hye-soo for her hard work, and she's called outside to see her mother-in-law waiting for her. She returns the photo of Eun-sung and tells Hye-soo never to go to her son's memorial again. She's angry that Hye-soo went there when she's dating again, even accusing her of planning to dump Eun-sung on her so she can start a new life.
Hye-soo is too stricken to really defend herself, but just as her mother-in-law starts to work herself up to a screaming fury, Ji-hoon arrives with Eun-sung. Her mother-in-law sees them and pulls herself together, leaving in a huff.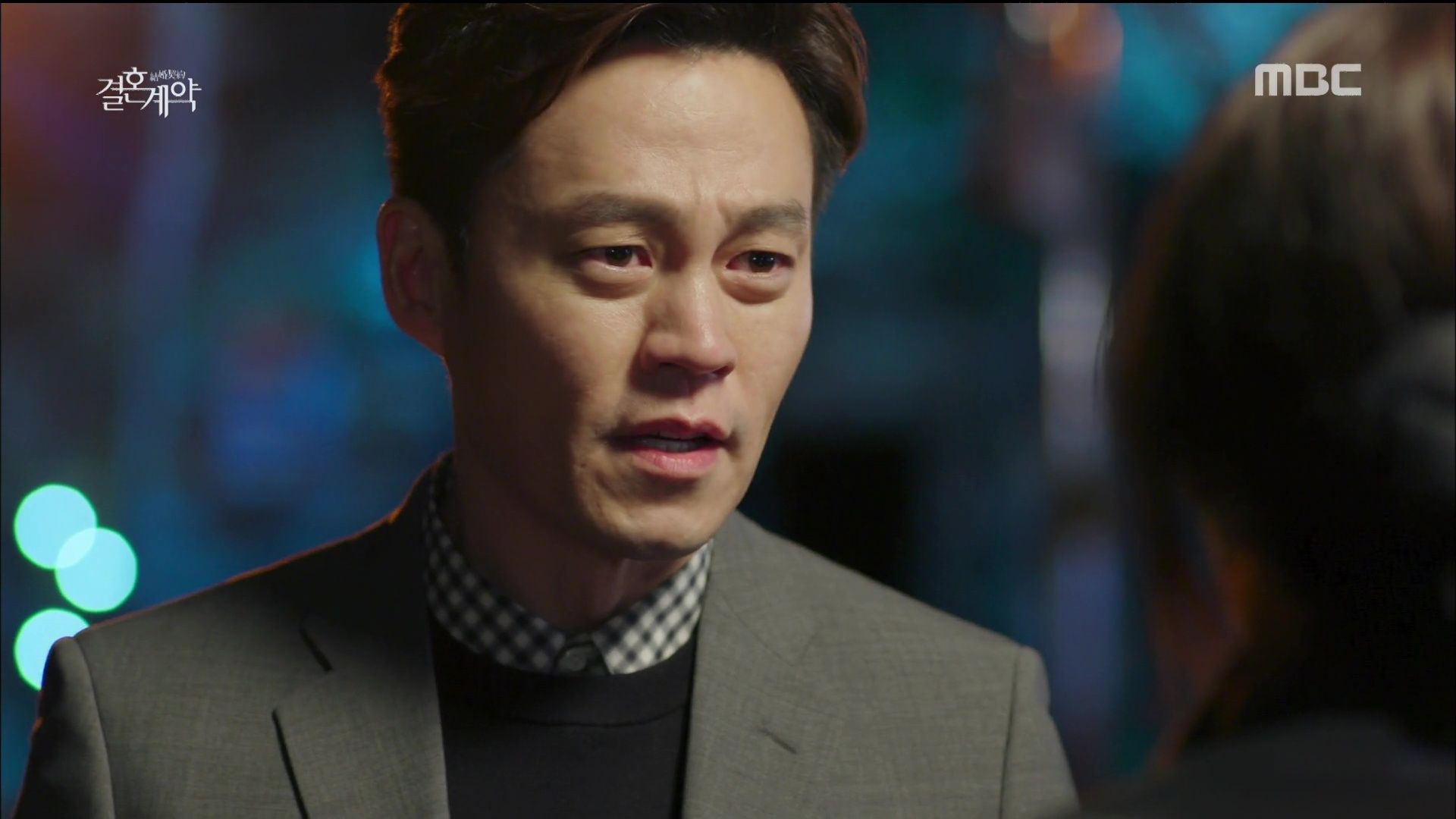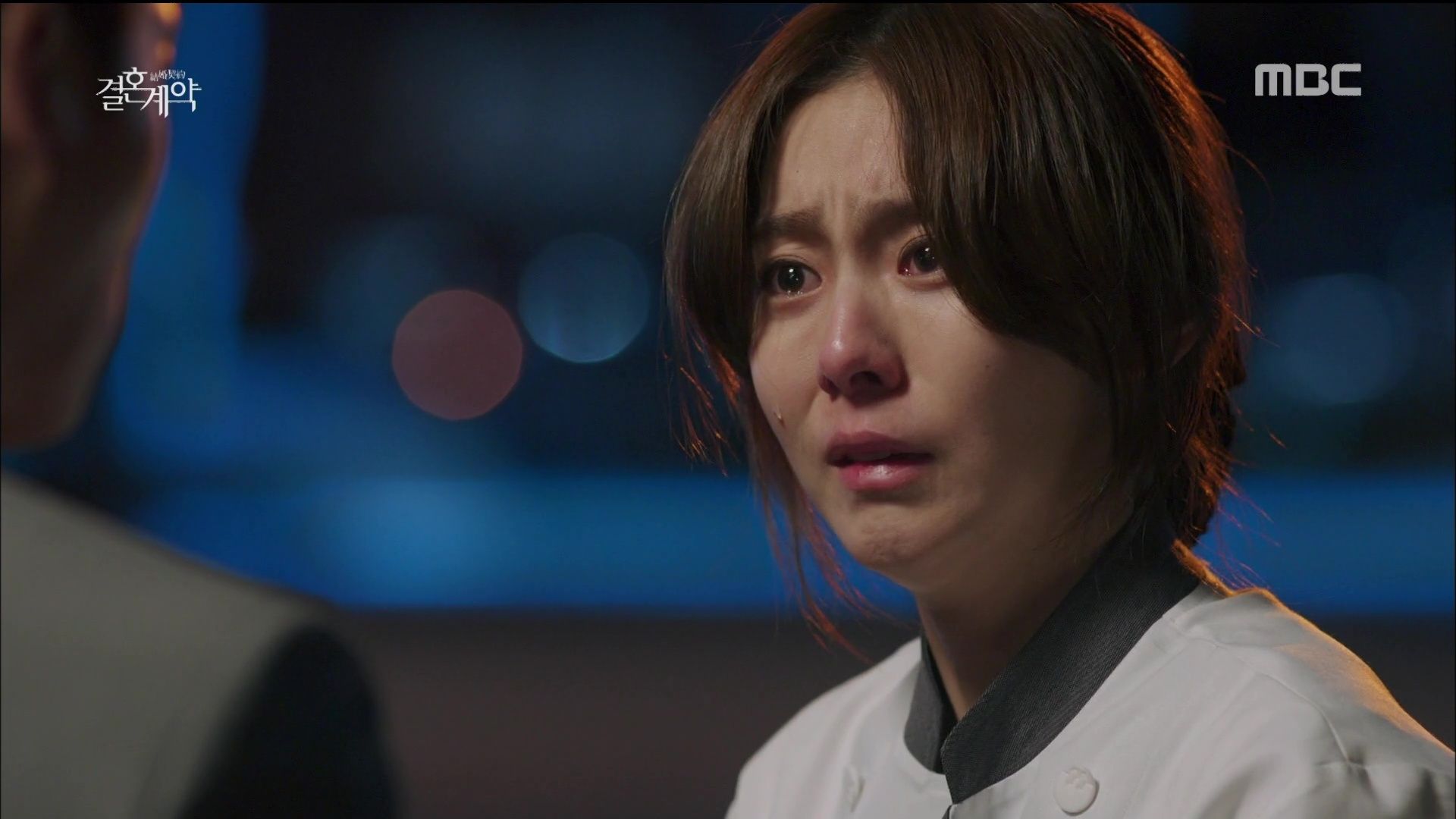 Hye-soo follows, and Ji-hoon follows Hye-soo, so he's there to see her mother-in-law shove her so hard that she falls to the ground. With fire in her eyes, Mother-in-law says for them to have a nice life together, and not to abandon Eun-sung. Hye-soo wants to follow her again, but Ji-hoon wisely holds her back.
He sees that Hye-soo's hand is sliced open, and yells at her, "Why are you doing all this? He may be Eun-sung's father, but he did nothing for her." She turns back and in a calm voice that belies her tears, she says that her husband was a good person. "I'm the one who changed."
Ji-hoon barks that he couldn't have been that nice if he left them so soon, but Hye-soo replies that nobody wants to die young. She says that he was a better man than Ji-hoon, and heads back to the restaurant.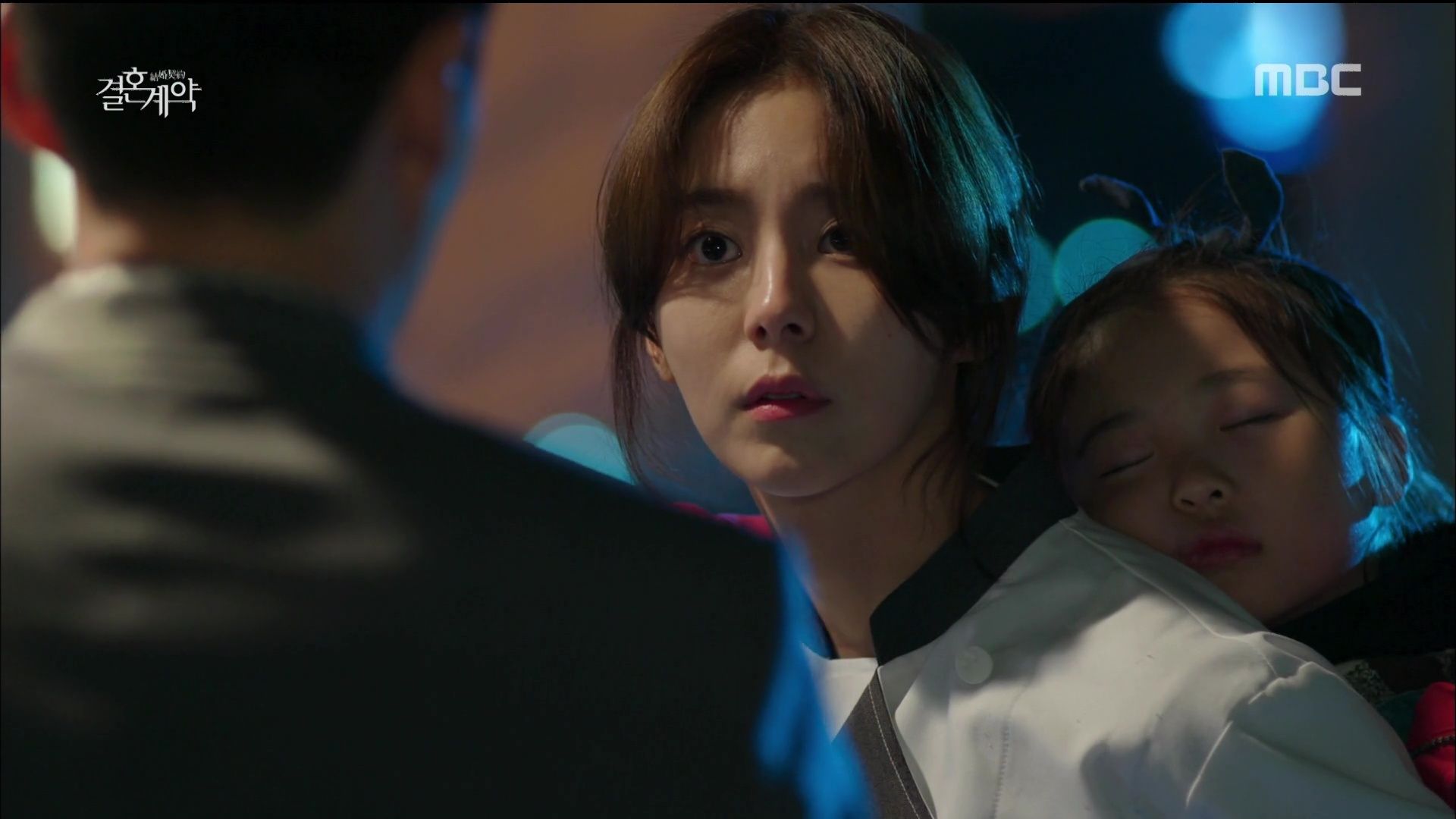 Ji-hoon trails behind her, and finally tells her that they passed the screening, so they need to go to the hospital tomorrow to schedule the surgery. Hye-soo finally smiles, relieved, but for some reason Ji-hoon gets snarky that she's so happy to be selling her liver. Confused, Hye-soo tells him that she's just glad there won't be any complications, and starts to go in.
But Ji-hoon yells at her, "Why do you keep living like a fool?!" She turns back in surprise, and even Ji-hoon looks shocked at his outburst. He tells her that he'll file for divorce as soon as possible, and pleads with Hye-soo to meet someone worthy of her in the future.
In the morning Chairman Han goes looking for Ji-hoon and Mi-ran, increasingly suspicious when neither of them are where they're supposed to be. The concierge at Mi-ran's apartment tells him she's in the hospital, and we see that she's getitng his messages but deliberately ignoring them.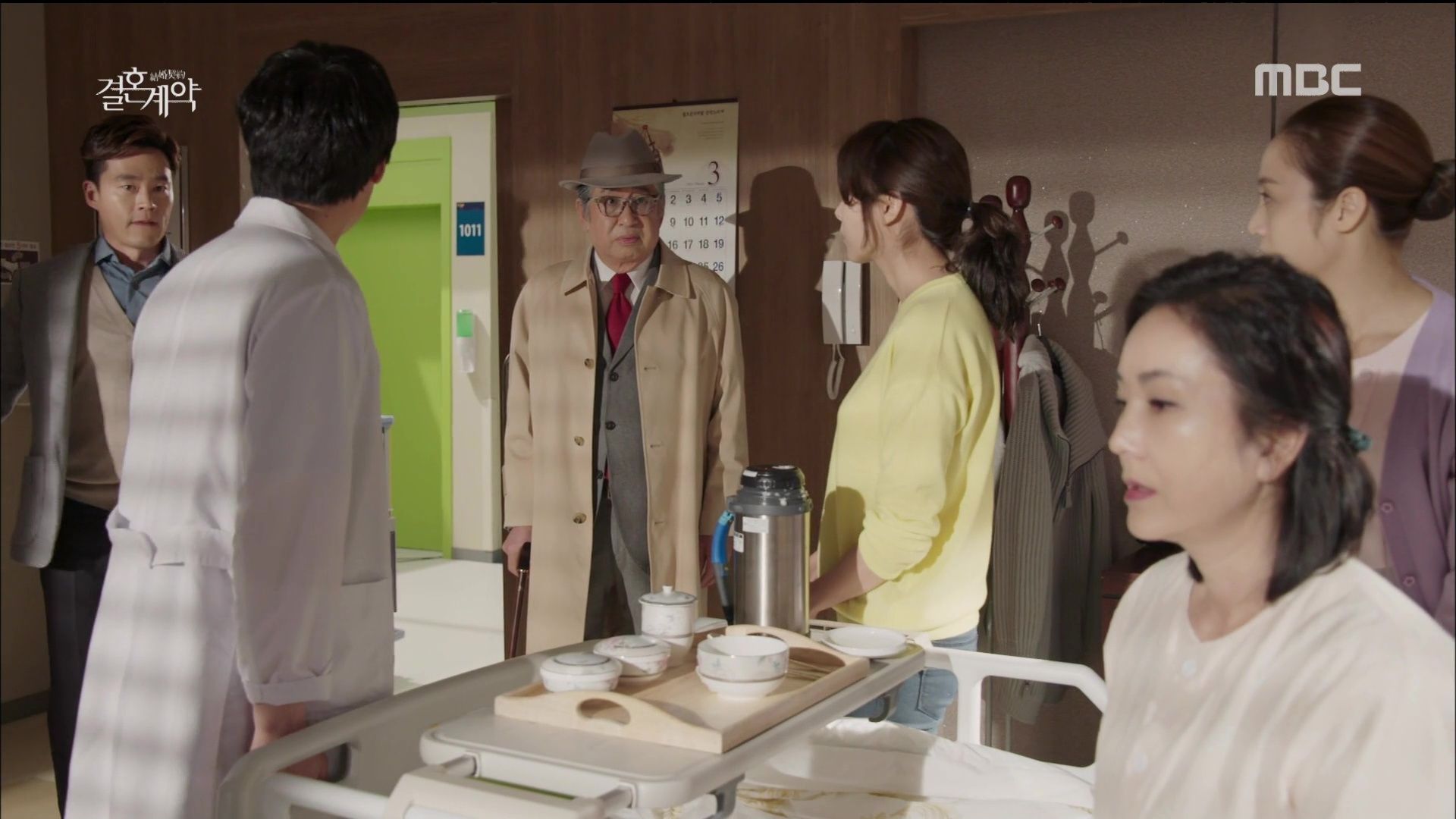 Hye-soo comes to see Mi-ran and tell her that they've scheduled the surgery, and also to bring her some porridge. Ji-hoon is on his way, but he falters when he sees his father in the hospital lobby, and tries to stop him. He loses him in the elevator, and has to take another one up to his mother's floor.
Mi-ran and Hye-soo are joined by the doctor, who congratulates them on passing the screening, and they both freeze up when Chairman Han enters the room. Ji-hoon comes running in a second later, but he's too late — his father just asked the doctor who Hye-soo is, revealing that he doesn't know the woman who's supposed to be his daughter-in-law.
Mi-ran asks the doctor to leave so they can all talk, and luckily he doesn't seem to have caught on to the awkwardness. Mi-ran lies that Hye-soo is her nurse and that she likes her so much she calls her "daughter-in-law," but the chairman just wants to know why she's in the hospital.
She admits that she's here because of liver damage, and Hye-soo excuses herself from the room. Chairman Han watches her sharply as she goes, but he's more concerned about Mi-ran, and yells at her until she clutches her chest. She screams at him to leave, and never come back.
Ji-hoon walks his father out, and Chairman Han asks why he kept her illness a secret. Ji-hoon says that he never cared about her before, so he didn't think he'd be interested now.
They see Hye-soo bringing back some drinks, and Chairman Han snaps that he doesn't believe she's a nurse. He asks Ji-hoon who she really is, and Ji-hoon and Hye-soo look at each other, unsure of what to say.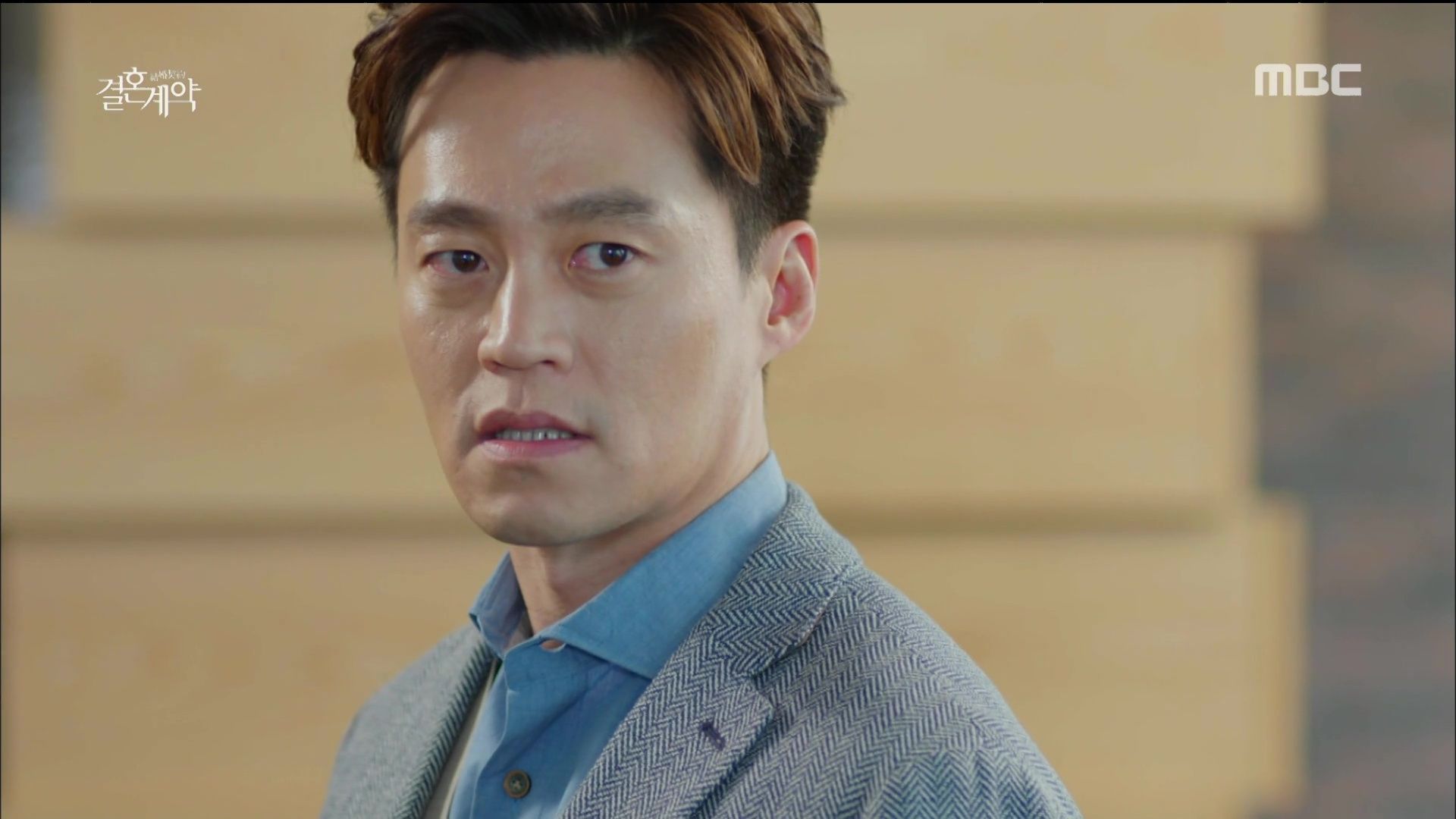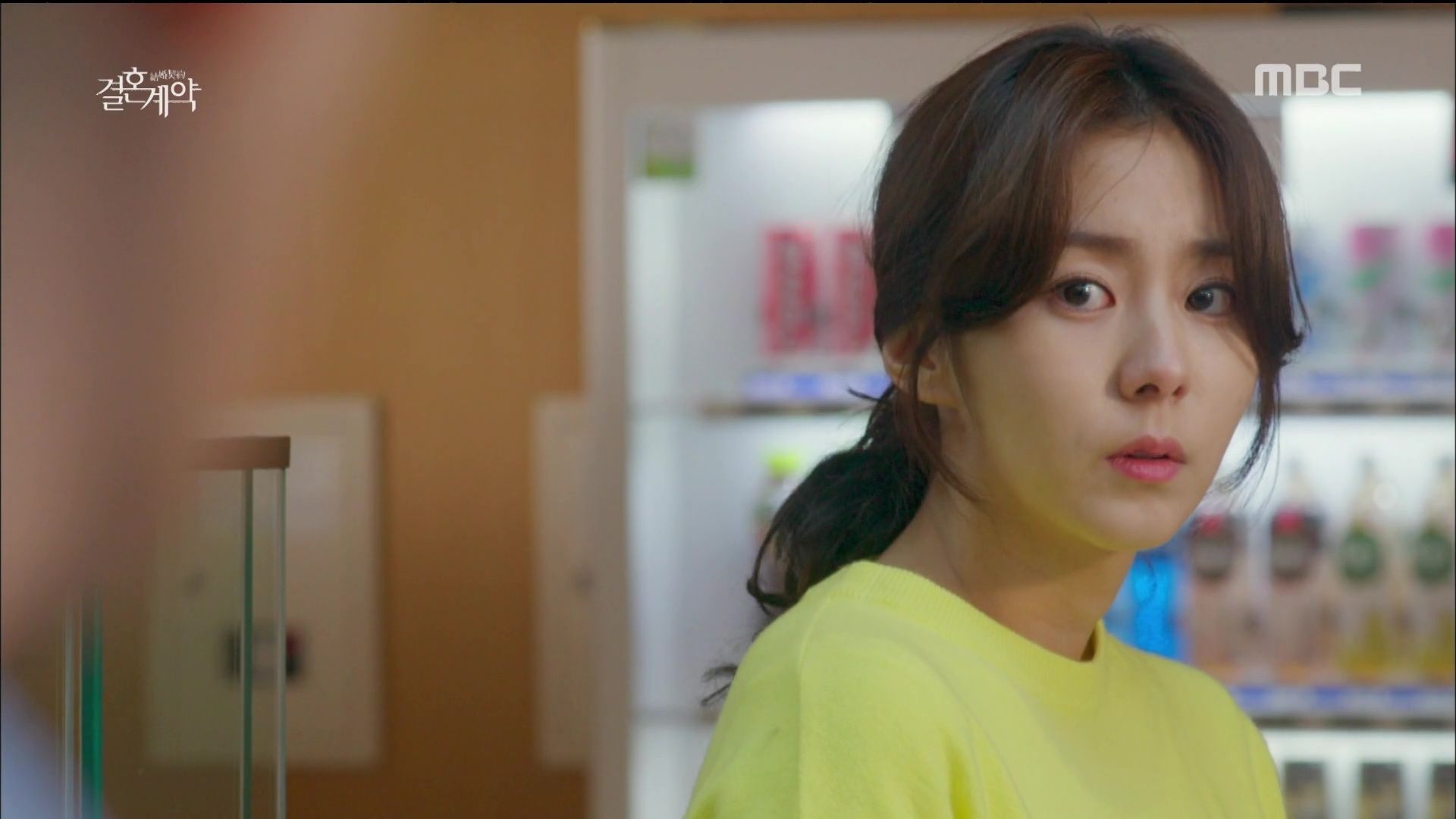 COMMENTS
I love that we're getting to see little glimpses of Ji-hoon's emotional side, finally, since he's such a difficult read. When he blew up at Hye-soo for being so happy about the surgery, you could see that even he doesn't understand himself and what he's feeling right now. I think that Hye-soo and Eun-sung are really getting under his skin — not that he has romantic feelings for Hye-soo, not yet anyway, but he just feels for her situation and what she's going through. He's starting to feel badly that his being in her life is causing issues for her, even as it solves a lot of her problems, and I think he's not used to caring about other people so he's just not sure what to do with himself.
I do think it will be Eun-sung who breaks down his walls, and she's already starting to chip away at the little cracks in his armor. When she asked him not to leave her mom like her father did, Ji-hoon looked so stricken, knowing that he plans to leave as soon as he can. He may be a grump, but he's not heartless, and you can see that he doesn't want to hurt anyone. But he didn't plan on Eun-sung being so insightful and outspoken, and it's obvious that he isn't looking forward to letting her down.
Eun-sung is really turning out to be the heart and soul of this show, and I love how she's making Ji-hoon rethink how he uses people. She just about broke my heart in this episode, when she told Hye-soo to go ahead and marry Ji-hoon. Even though she's never known her father, it's obvious that she feels the lack of a father figure, even if she can only express it in terms a child would understand. It's so sweet that she's willing to trust her mother and give Ji-hoon a chance, just in case it gets her the father she misses.
Hye-soo is also very difficult to read, and I feel as though there's a lot to her background that we still have to learn that will explain her actions. I do like that the show doesn't give us every detail up front, but it can also be a bit confusing when you just really want to understand why a character is doing something and you don't have the information to put it together. Such as how it feels as though somehow, in Hye-soo's mind, Mi-ran's survival has become linked with her own. I don't quite understand how she's made that connection, but when she begged her in the street to live, because she (Hye-soo) wants so badly to live, it felt as though she's instinctively decided that by saving Mi-ran's life, her own will be saved. Hye-soo is such a closed book, even to us as viewers, that it's hard to decipher what she's thinking sometimes. With any other character I would assume it's because she'll have the money to pay for her own treatment, but Hye-soo seems too emotionally-driven to think so simply. Her survival rate is low, so even if she saves Mi-ran's life and gets her own treatment, there's no guarantee that saving Mi-ran's life will mean Hye-soo also survives.
So I was actually a little surprised when Hye-soo was so adamant about telling Na-yoon the truth, because this whole scheme hinges on keeping the secret about their marriage not being real. Letting in an ex-girlfriend who Hye-soo doesn't know (and doesn't know if she's trustworthy) seems like a pretty high risk, since Na-yoon could decide to blow the whole thing wide open. Hye-soo is a very sweet woman, and very empathetic, so I can understand her feelings about not wanting Ji-hoon to lose this second, and probably last, chance with his first love. Plus, she's in a position to know how short life and love can be. But I'm surprised that she was so insistent, so quickly. You'd think she'd at least want to think about it before pushing him so hard to tell Na-yoon the truth.
Really, the only character I don't love in this drama is Na-yoon. She seems like such a cardboard-cutout of a second lead, that it makes her feel out of place, and it's jarring whenever she's on the screen. I'll never understand these characters who decide that a person belongs to them just because they want them to, and behave as though they have every right to barge in on their lives unwanted and unwelcome. Especially when the object of their affection makes it clear that they are strongly unwelcome. And it's a shame, because I really like Kim Yuri as an actress, so to see her in such a one-dimensional role is disheartening. Not to mention, it strips her scenes of any tension because her behavior is so unreasonable. It's still early and I can see potential for Na-yoon as a more rounded-out character, so I still have hope — we'll see as we get deeper into the story.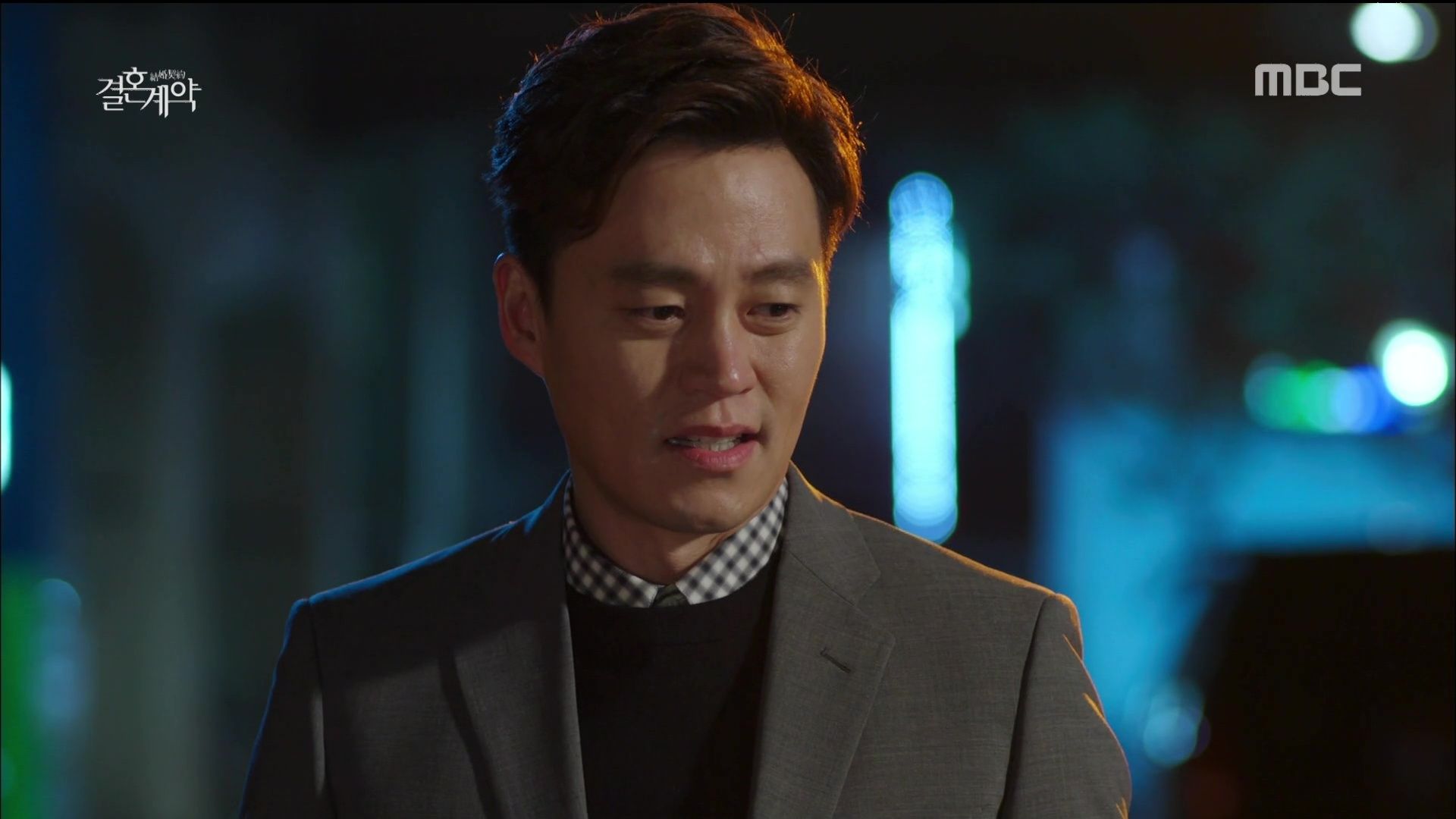 RELATED POSTS
Tags: Episode 5, featured, Lee Seo-jin, Marriage Contract, UEE