Marriage Contract: Episode 6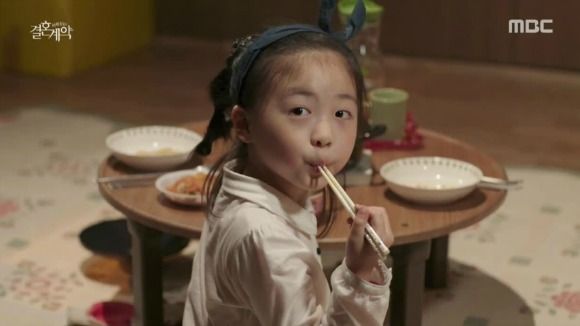 Ji-hoon always seems poised just moments from a fall, but this is a fall I didn't see coming. Or perhaps "fall" isn't even the right word: It's a spring in his heart, such as he's never experienced. I don't often spout flowery metaphors, but after a critical fifteen minutes this episode (once you've watched it, you'll know which fifteen), I can't help it. And although the course of true love never did run smooth, it's nothing a dramatic U-turn (in a fantastically pretentious car) can't fix.
EPISODE 6 RECAP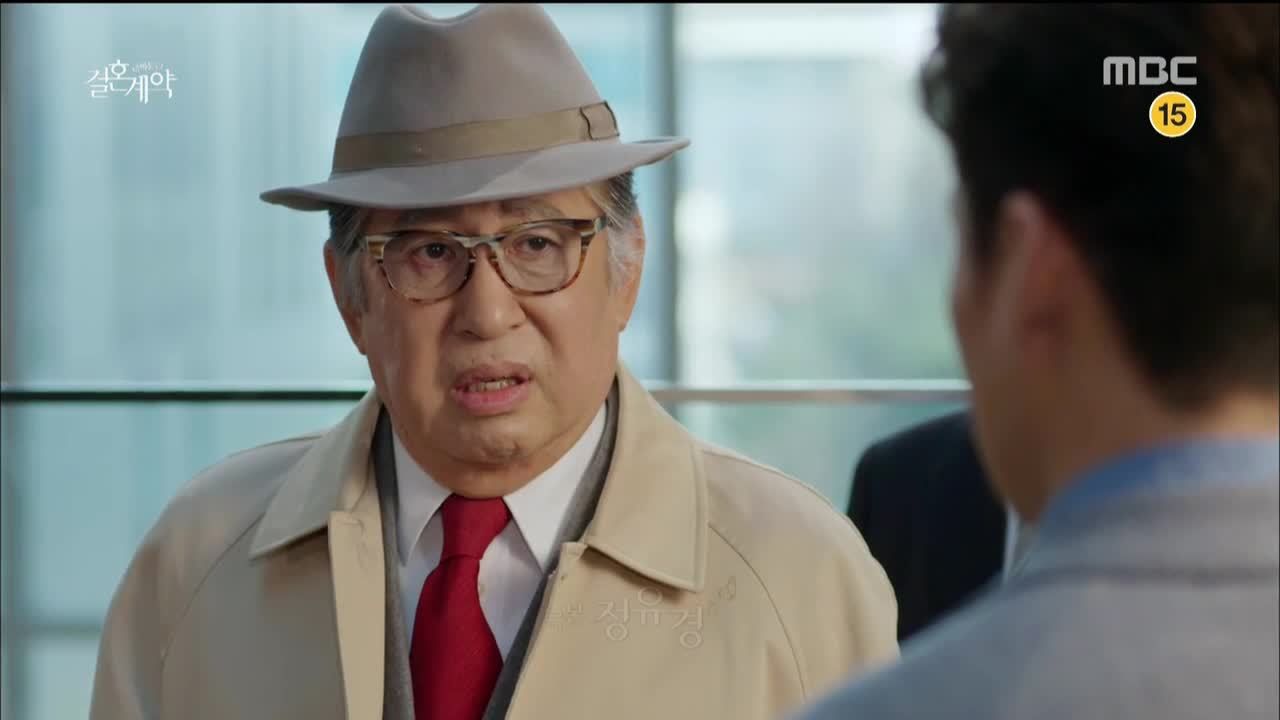 President Han doesn't buy that Hye-soo is a nurse. Still suspicious, he leaves after telling Ji-hoon to come home tonight.
Ji-hoon returns to his mother's room, where Hye-soo picks up pieces of broken dishes. Mi-ran worries that Dad's caught on, and Ji-hoon wants to know just what she's so afraid of in him. What's the worst Dad could do, he argues, it's not like he can disown him. Mi-ran considers this, then tells him to go mind his work — she's decided to live now. He leaves with Hye-soo.
In his car, President Han calls in a favor from a hospital contact, and requests information about Mi-ran.
A dressed-to-the-nines Joo-yeon sails into Promise, causing a flutter among the men, with Ho-joon particularly smitten. She spots Seung-joo and is all asquee at seeing him, even giving him a big kiss (much to Snooty Server, HYUN ARA's dismay). Ara notices Ji-hoon's car pulling up outside, and everyone crowds to look as Hye-soo disembarks.
Hye-soo catches them looking, and runs in at the sight of Joo-yeon. Ara straight-up asks her what she was doing in the boss's car, and Ho-joon jumps in to cover for her — it's all just a big coincidence, of course. Awkwardly agreeing, she bundles Joo-yeon out. Seung-joo looks grimly on.
Now in her apartment, Hye-soo explains that they were together because they'd just come back from the hospital. She adds that a surgery date has been set for the following month. Joo-yeon is amazed that she's so cool about it.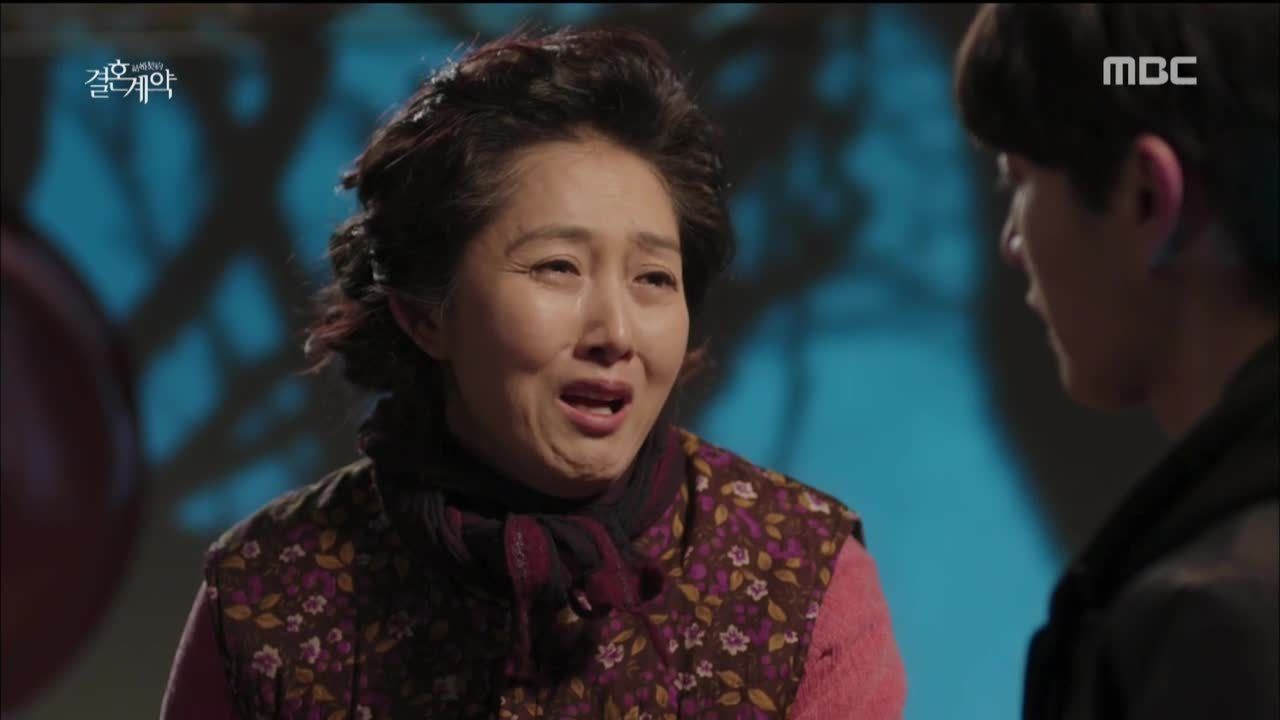 Seung-joo comes home to find his aunt sitting out in the cold in a daze. She recounts her run-in with Hye-soo's new boyfriend, struck by how he's an obviously moneyed man. She cries that her son should be the one carrying Eun-sung. Not to be callous, but…he's dead, yeah? She hopes he's nice to her granddaughter, and regrets not being able to say a kind word to Hye-soo. Seung-joo is more worried about who exactly this rich new man is.
Ji-hoon shows up at the family home, and President Han demands the truth about Hye-soo. He admits she's his girlfriend, and smoothly apologizes for not introducing her already. So how about tomorrow, Dad suggests. He's uncomfortable that it's so soon, and Dad asks him why — does he have something to hide? He can just as easily find her himself, Dad says, if Ji-hoon would prefer that.
When he returns home, he finds Hye-soo folding her laundry outside her door. His heavy expression makes her worry that they've been found out, but he reluctantly tells her that they're meeting his father tomorrow. He leaves her with a reminder to brush up on her studies about him.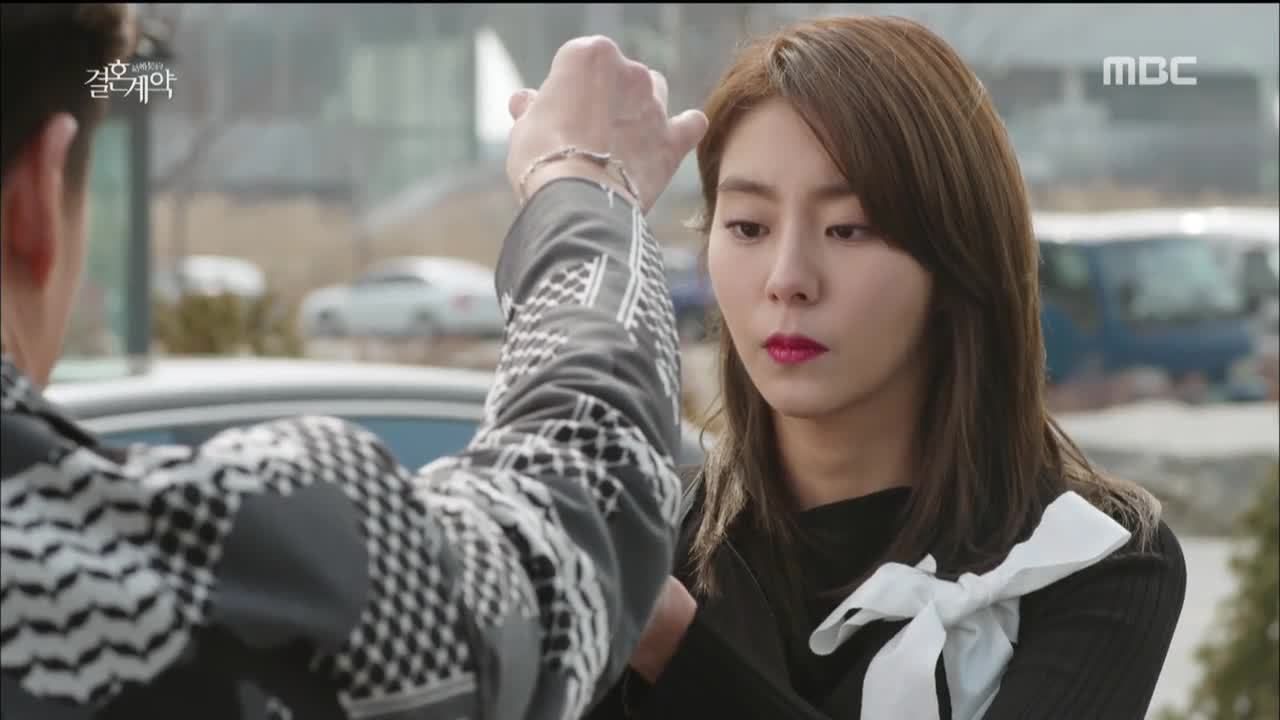 The next day sees them shopping for Hye-soo's chaebol makeover, and she gapes at the clothes' price tags. Now smartly dressed for the meeting, Ji-hoon instructs her to let him handle the difficult questions. Arriving at the meeting place, he gives her a once-over. Gesturing her to hold out her hands, he drops first a necklace, and then a pair of earrings into them, and strides on ahead.
They greet President Han, who immediately sets to on asking Hye-soo about herself — she's a chef? Ji-hoon keeps jumping in to answer questions, which annoys Dad as he wants to hear it from her. She tells him she studied abroad in Japan, and that her grandmother was adopted by a famous bakery heir there, receiving an inheritance with which she had her own business, now sold. I…am pretty sure it's not true, and yet she delivers it totally believably.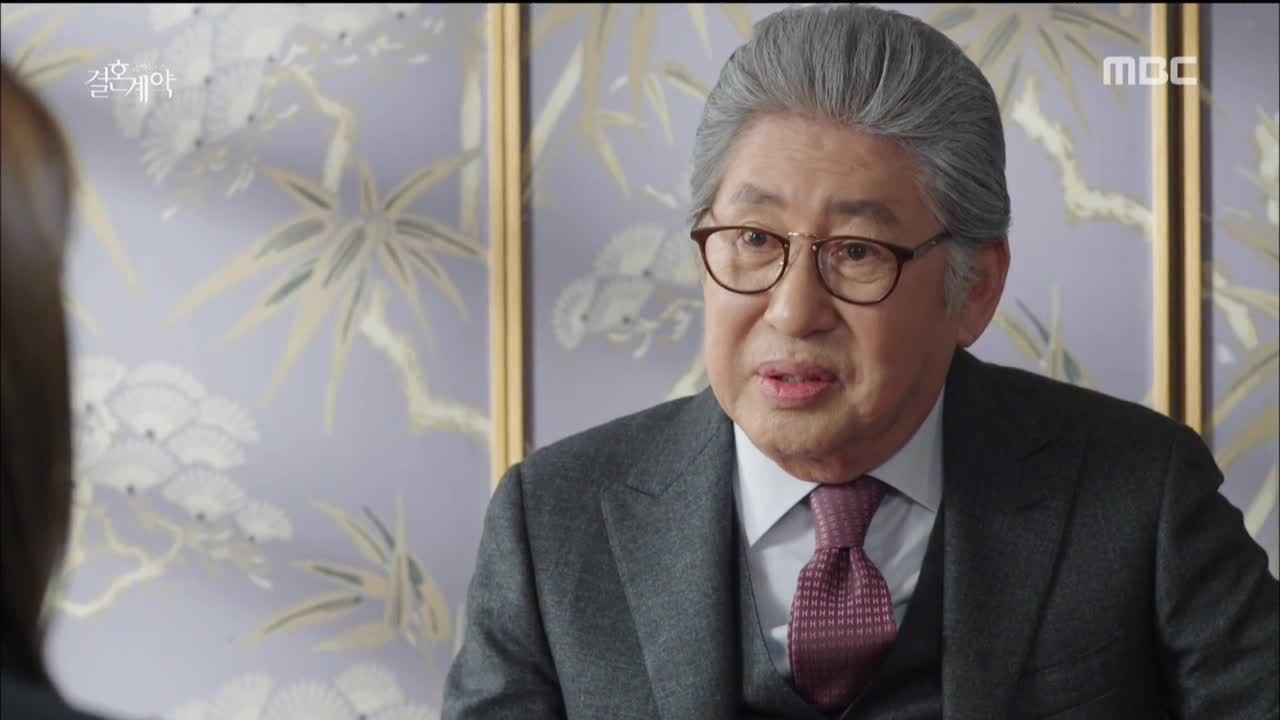 President Han seems quite taken with her, and asks point-blank why she likes a scoundrel as cold and prickly as Ji-hoon. Not for the first time, she's sincere when she says — looking straight at Ji-hoon — that he's warm and kind inside. Dad chuckles at Ji-hoon's luck.
Eager to quit while he's ahead, Ji-hoon tells Dad that they can't stay — they were just on their way to pick up (fictional) Grandma from the airport, but this meeting had come at short notice. Dad asks Hye-soo to take care of his son, and hopes to see her a lot in the future.
Hye-soo slips an arm into Ji-hoon's as the couple see Dad off. They're interrupted by the noisy arrival of Jung-hoon. Dad isn't so pleased to see him, and drives away after a terse acknowledgement. I guess his broken engagement has made him fall out of favor.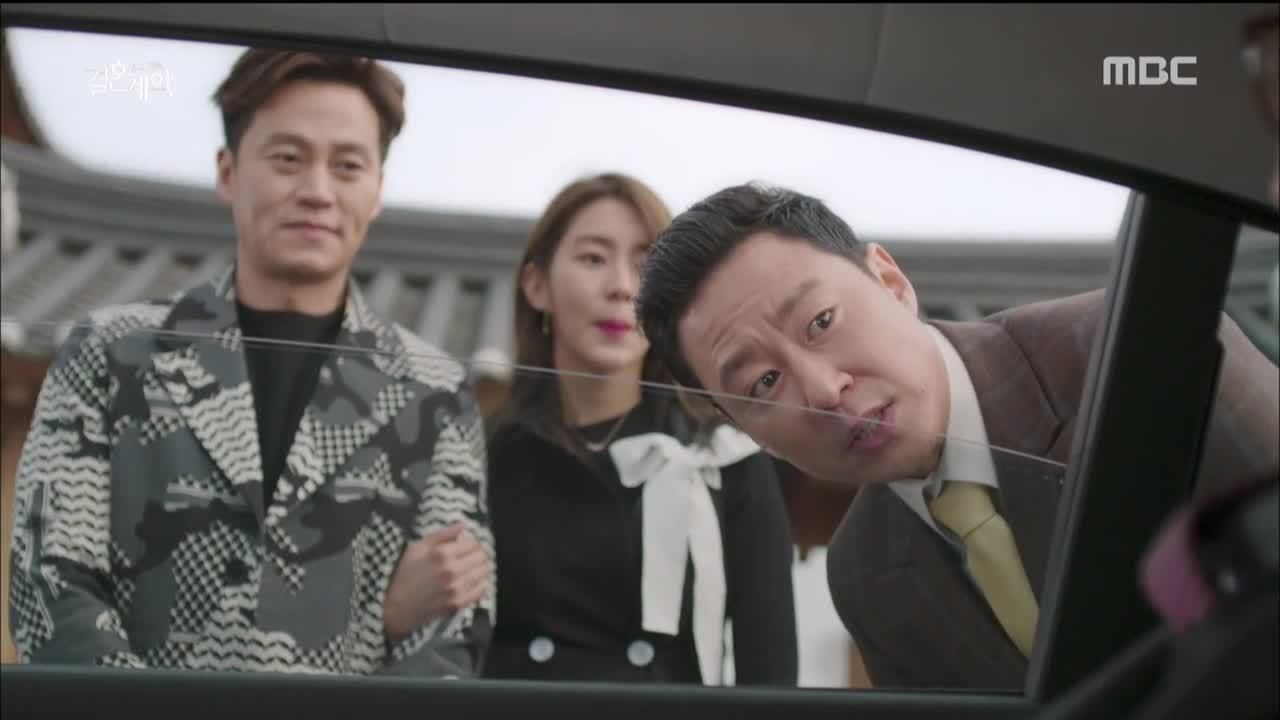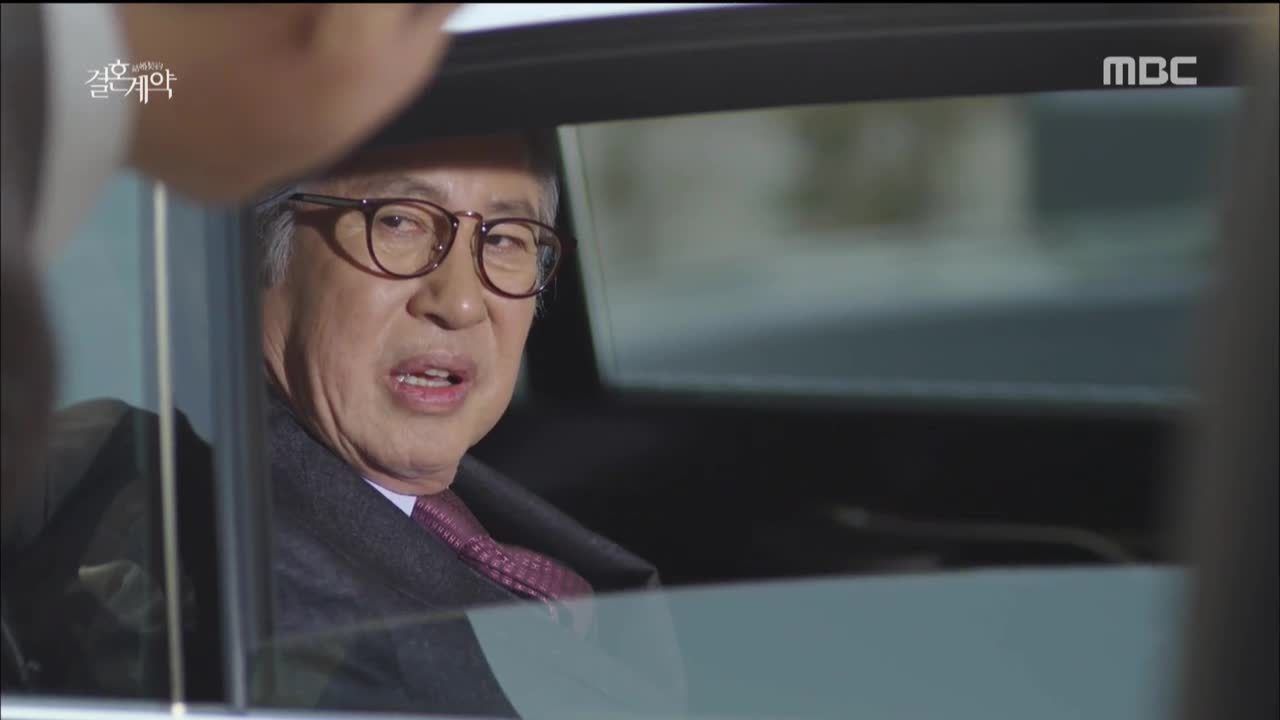 Jung-hoon runs a critical eye over Hye-soo, unimpressed to learn she's Ji-hoon's girlfriend. Ji-hoon hurriedly excuses himself, promising to introduce her properly another time.
While they're driving, Ji-hoon notices her rumbling stomach. She's surprised at his offer to go eat ddukbokki, and he recites the list of (what he thinks are) her favorite foods: "I studied a lot, too, you know." Unimpressed, she corrects him.
Over a much heartier meal, Ji-hoon asks her about Japan, and Hye-soo admits she's never been, although she had planned to before her marriage. The famous Japanese heir was really the author of the book she was studying, she giggles. I'm getting a Usual Suspects vibe here, haha.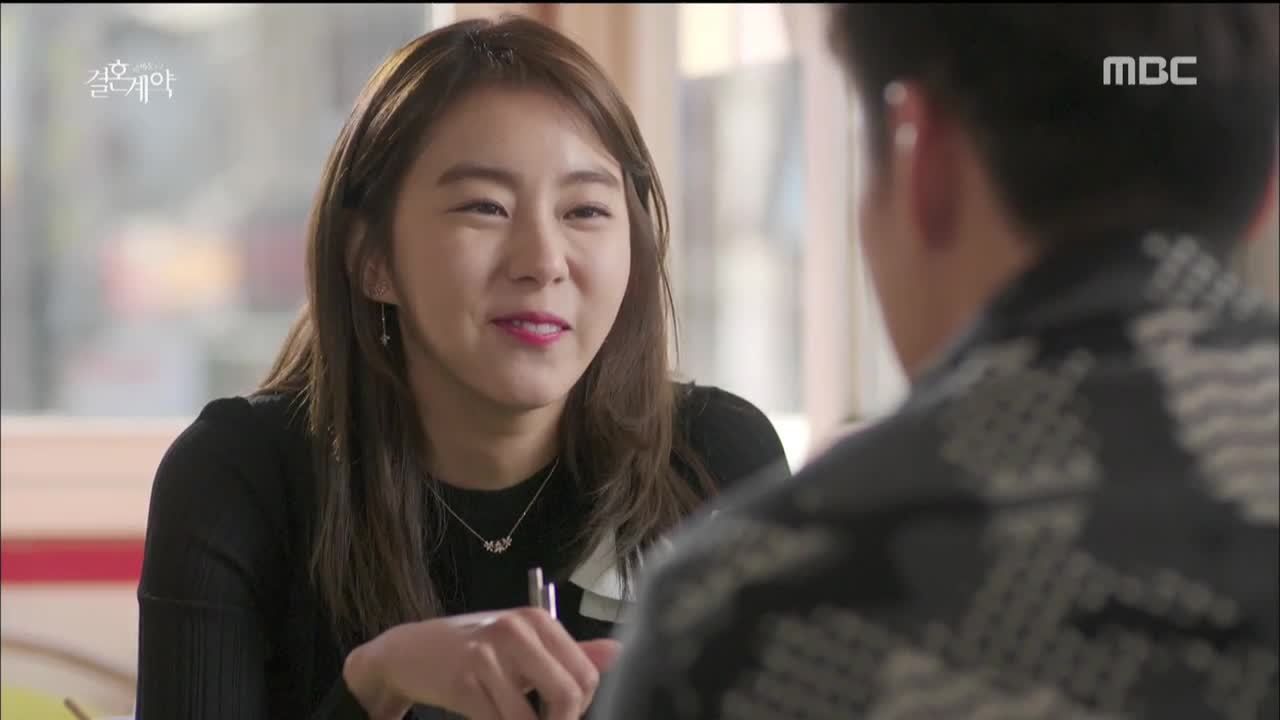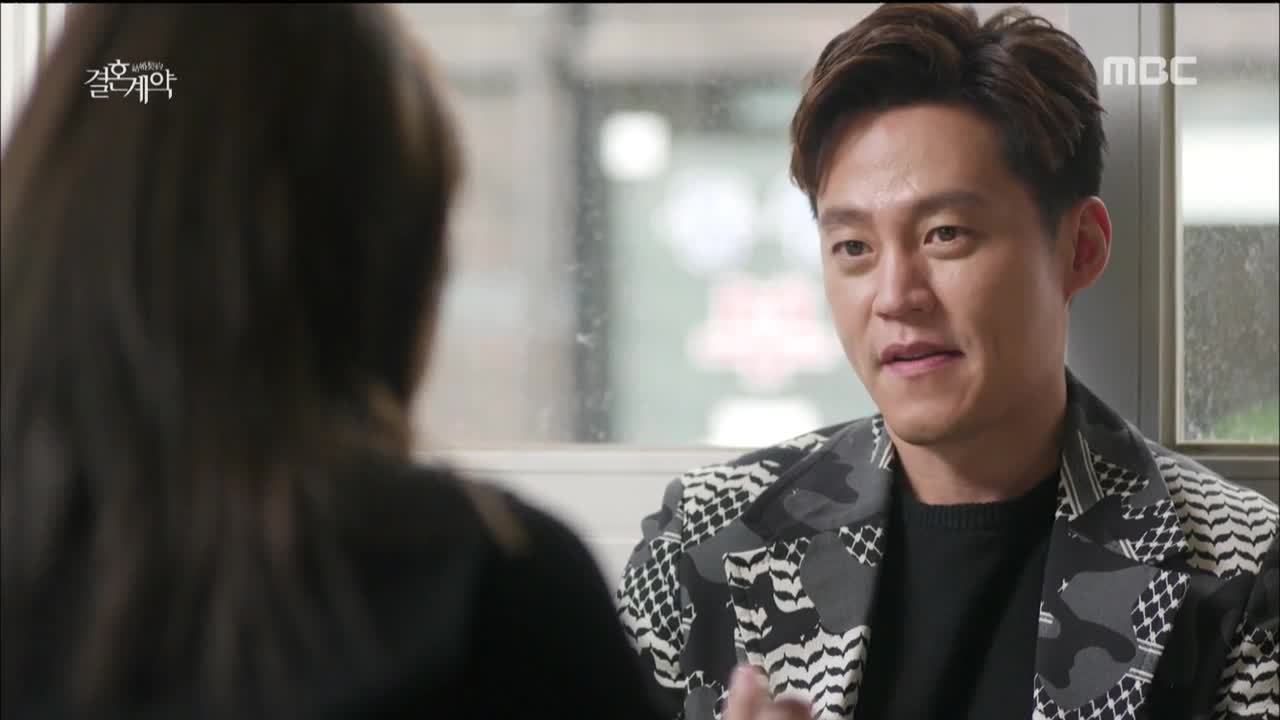 He thanks her for doing a good job today, and Hye-soo becomes thoughtful. Despite his wealth, he leads a restrictive life, unable to do what he wants to do. He can't even choose who to marry, she sympathizes. He darkly remarks that she must think she knows him so well. She does, she agrees — she studied about him so much! And he doesn't strike her as a businessman type. In an untender gesture, he gives her a napkin to wipe her face. "So dirty," he chides. Lols.
But the mood is light, and he tells her that she should pursue her plans again. But Hye-soo's dream now is just to have a small restaurant like this one, and live happily with her daughter. She continues eating, while he looks at her intently.
Now home, President Han surveys Hye-soo's true resume, along with her organ donation form which lists a wish for her mother-in-law's recovery under the reason for donation, revealing Ji-hoon's secret marriage. Ohhh, and he's furious.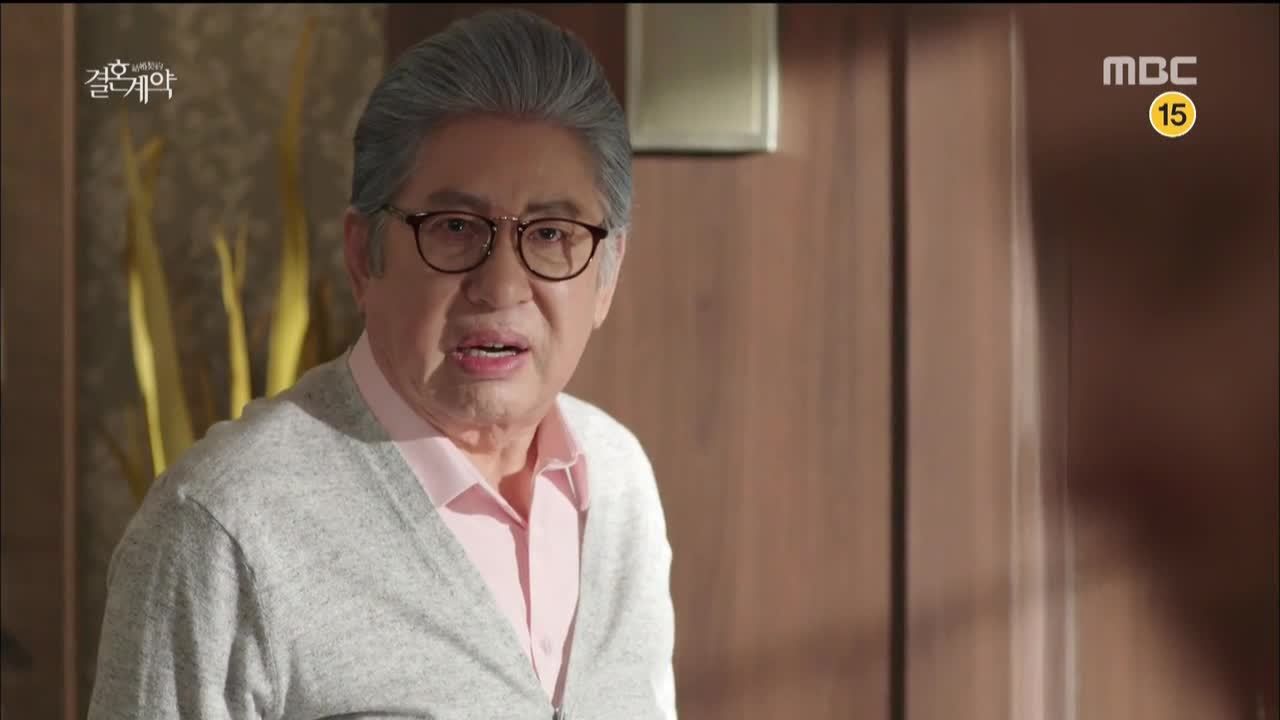 Jung-hoon suddenly bursts in, loud with the news of Ji-hoon's supposed girlfriend. But Dad has little humor to indulge his elder son. He hides to documents, and tells Jung-hoon to sort himself out and get Na-yoon back. Praising Hye-soo, he gets angry at Jung-hoon's inability to keep a girl. He storms out in a rage.
Na-yoon finishes practice for the night and dwells on her encounters with Hye-soo. Jung-hoon finds her there, and she tells him to leave. Ever the gentleman, he grabs her forcefully but she breaks out of his grip. He tells her that Ji-hoon has a new girlfriend — she can't have him now, so he'll take her back, he says. Well, when you make it sound so appealing…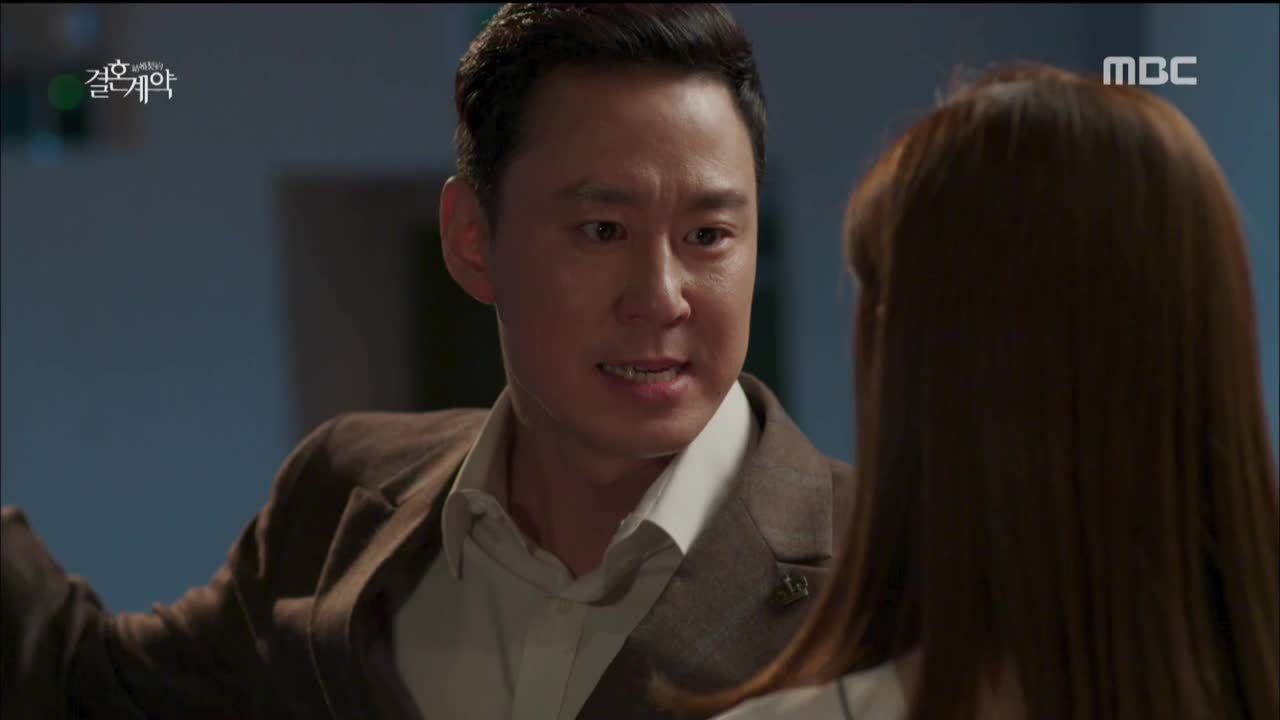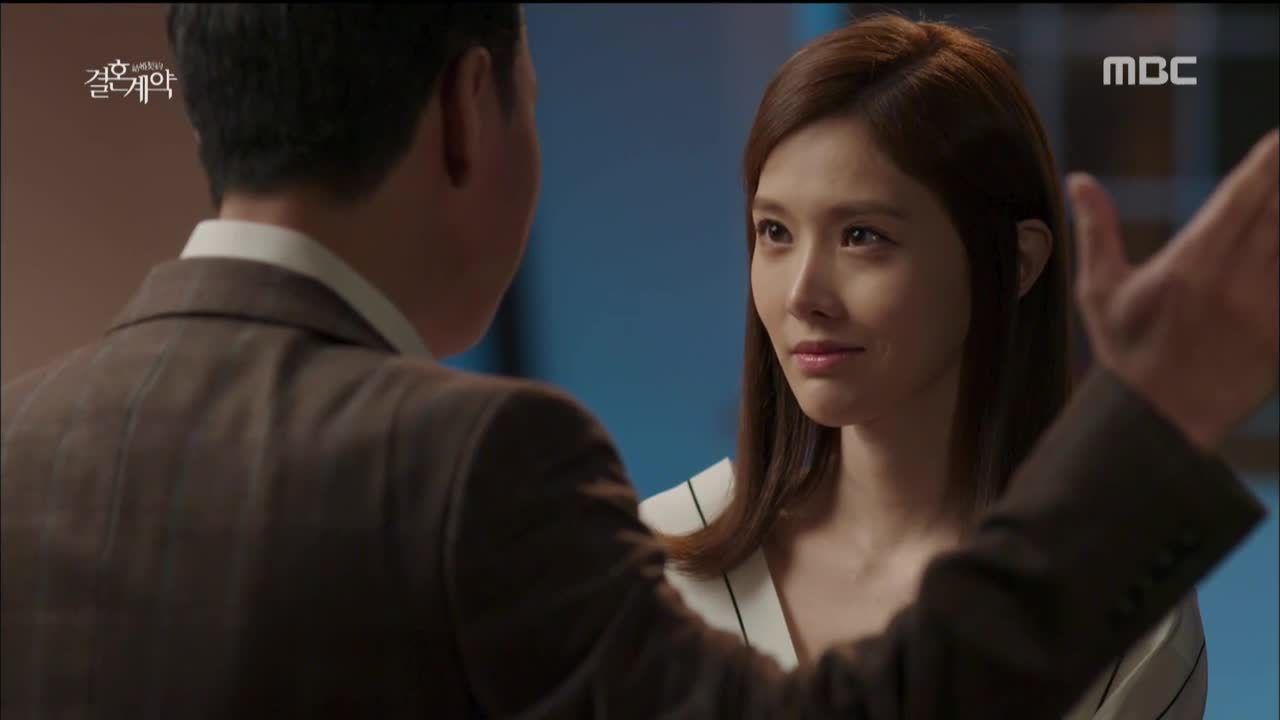 Na-yoon asks if the girlfriend is the woman working at Promise, a question which surprises him. She makes it clear that they're finished, and expresses relief that she saw his real nature so soon. Incensed, he raises his hand. What, you're going to hit her? Smooth. With a sneer, she walks away.
Some kid steals Eun-sung's headband at her nursery. A foot stops the escaping kid's scooter, and Ji-hoon gets it back. The kid asks him who he is, and Eun-sung runs over and says that he's her dad. She goes back to play, but turns back to wave at him with the world's most adorable smile.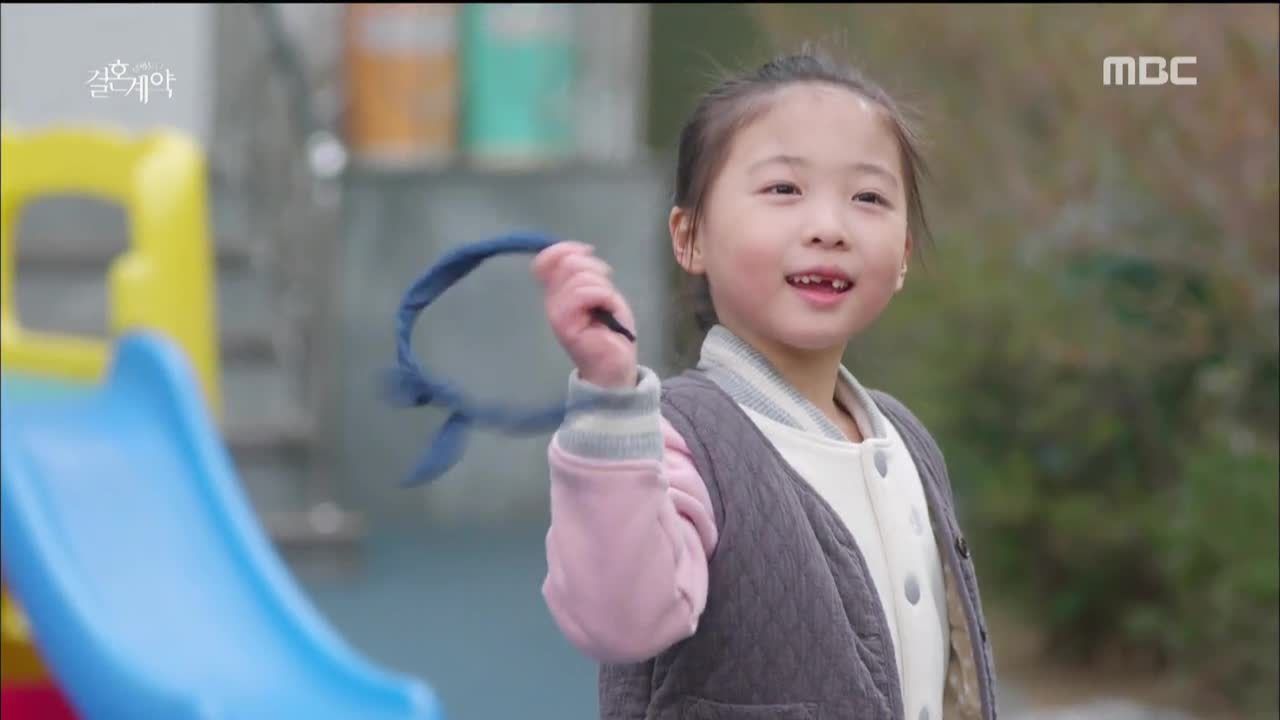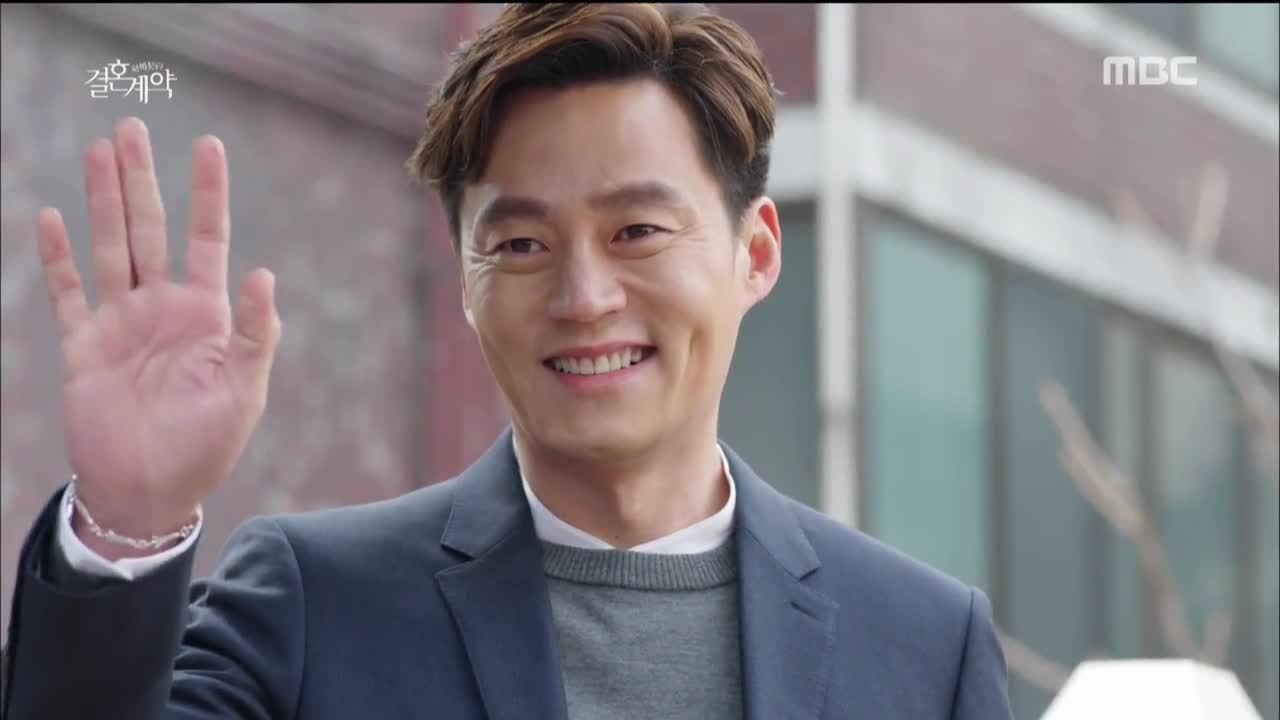 Hye-soo rushes up to collect Eun-sung and finds out that Ji-hoon's already taken her. She finds them back near Promise, where Eun-sung whizzes around on a new scooter as he tries to keep up. She smiles to see them, and Eun-sung rushes over. Ajusshi bought the scooter for her, she reveals happily.
Later, still buzzing with energy, Ji-hoon rockets Eun-sung up to their door, where she pesters him to come in. Hye-soo isn't so sure, but Eun-sung pulls him in by the hand. Inside, she shows him her treasures — her lost front teeth — and now pesters him to eat with them. She asks what he can cook (Ji-hoon: "Ramyun!") and begs him to make it.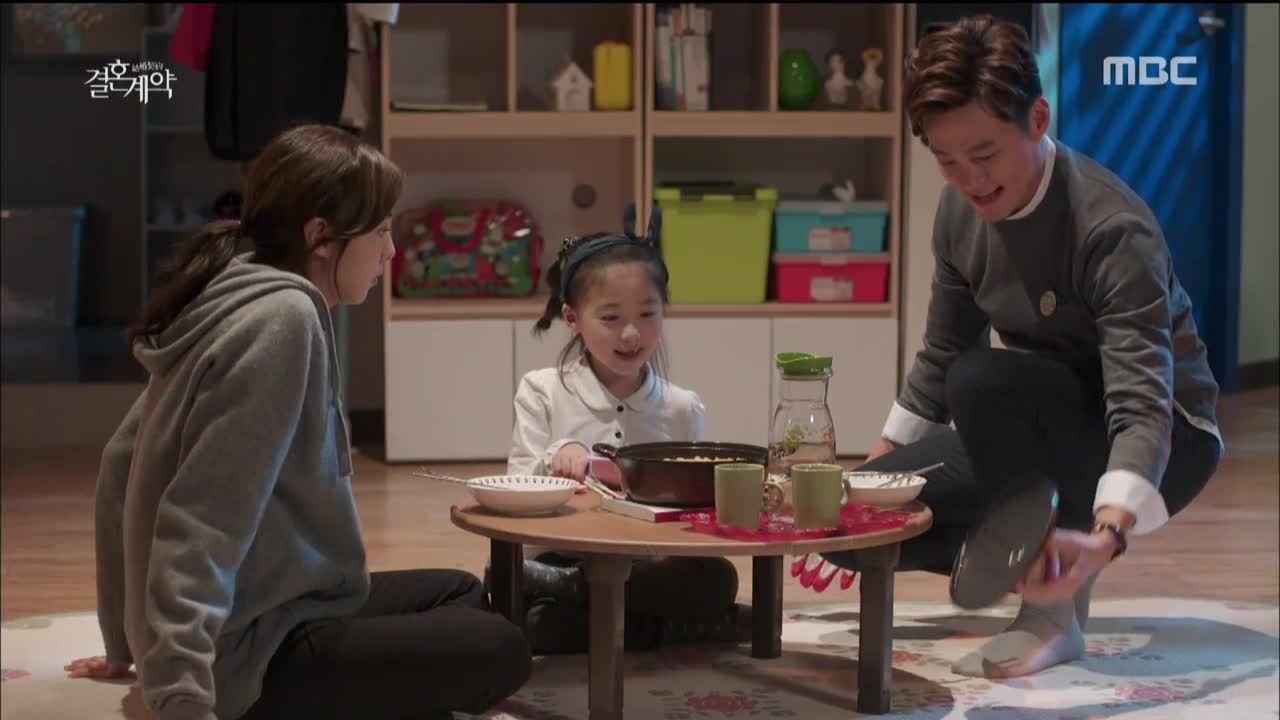 They gather around the table and tuck in…ha, is Hye-soo teasing, or is it genuinely not good? While they eat, Ji-hoon putters about, looking for the source of a draught. He discovers a guitar, which he quickly puts down when Eun-sung says it was her father's.
After that, Hye-soo suggests it's time for him to go, and gently persuades her daughter to let him leave. On the way out, he notices a picture of her late husband, and awkwardly acknowledges it. He stubs his toe near the door and blusters that she should fix the entry-light. Hye-soo points out it was like that when she moved in.
Once he's out, she chuckles to herself over his mishap. She rejoins Eun-sung, shedding her earlier restraint.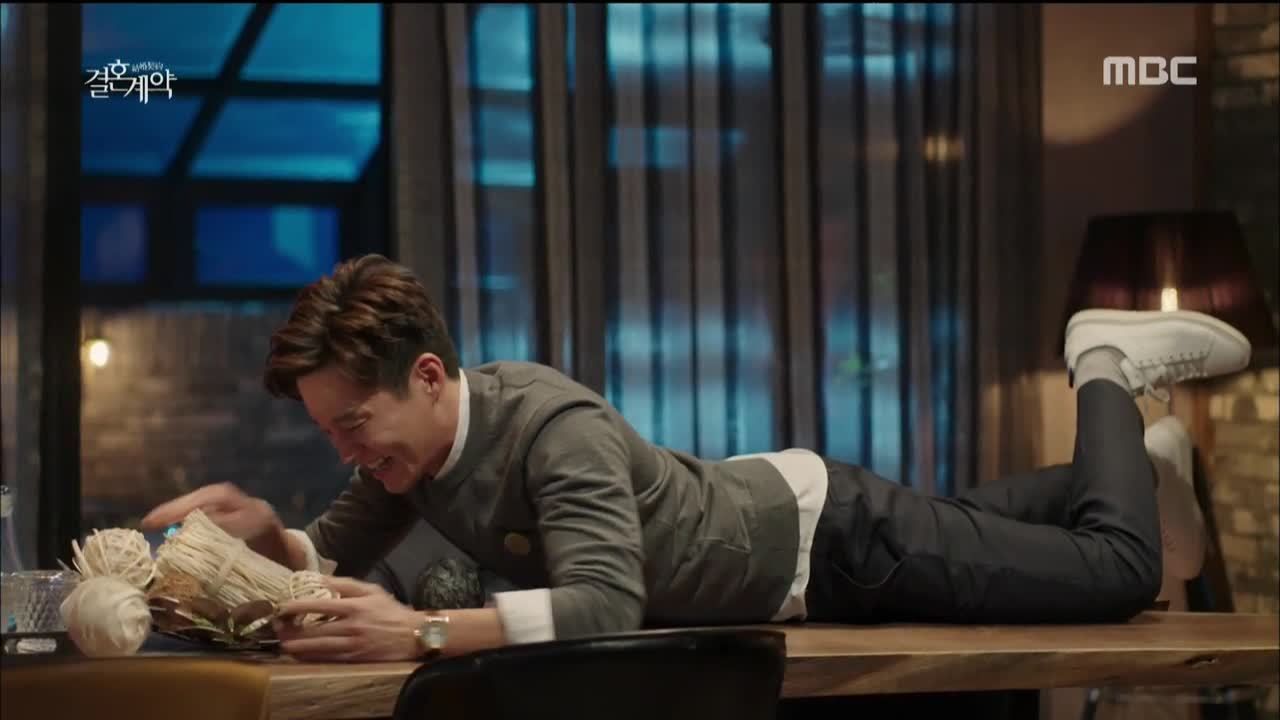 Ji-hoon returns to his own apartment, grinning wide enough to break his face. He body-slides onto his table and hugs the fruit bowl like a giddy toddler. Bursting with euphoria, he leaps around, jumping on the bed and banging his drums, and generally can't contain himself. God, so adorable.
The next day, Chef notices Hye-soo coughing, although she says she's fine. Ara sneers that it's because she's always gallivanting around. Of course, the boss has her back — she's seen them together. Chef defends Hye-soo, and Ho-joon, catching her tirade, sends her away. And that, Ara points out, just proves her point that Hye-soo has unusual backing.
For good measure (and to Chef's outrage), Ho-joon also yells at Hye-soo to go clean something by the entrance, and tugs her out by the arm.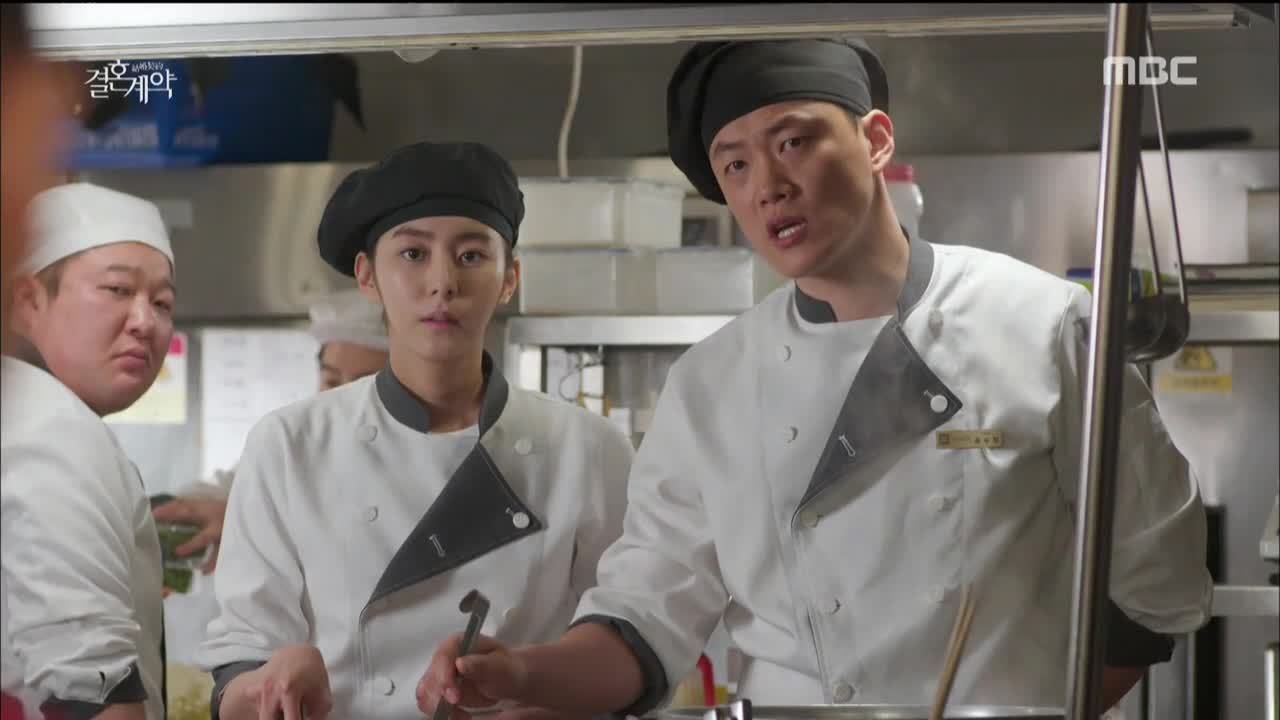 So it is that when Jung-hoon arrives at Promise, she's the first person he sees, although he doesn't recognize her until he takes a second look from inside. He looks like the (evil) cat that got the cream when Ara tells him that Hye-soo is an assistant chef, and his lip curls when he hears she was married and even has a kid. He turns heel and leaves when Ho-joon arrives, although he takes a calculating backward glance at Hye-soo before getting into his car.
In her room, Hye-soo shudders at the total cost of the clothes Ji-hoon bought her — it's more than she'd earn in a year. She folds them away. Still coughing, she makes a dinner suggestion to Eun-sung, who happily agrees. Hye-soo strokes her hair, hoping she stays unpicky. She reveals she might be in hospital a bit, but assures her daughter that she's definitely not sick.
She asks about Eun-sung's drawing, which features Ji-hoon. Eun-sung tells her mom that he's going to teach her how to ride her scooter every day. Hye-soo thought she didn't like him, but Eun-sung says that he's not so bad after all. She wonders if Mom is going to give Ji-hoon ajusshi some of the bread she's going to make. Hye-soo stares.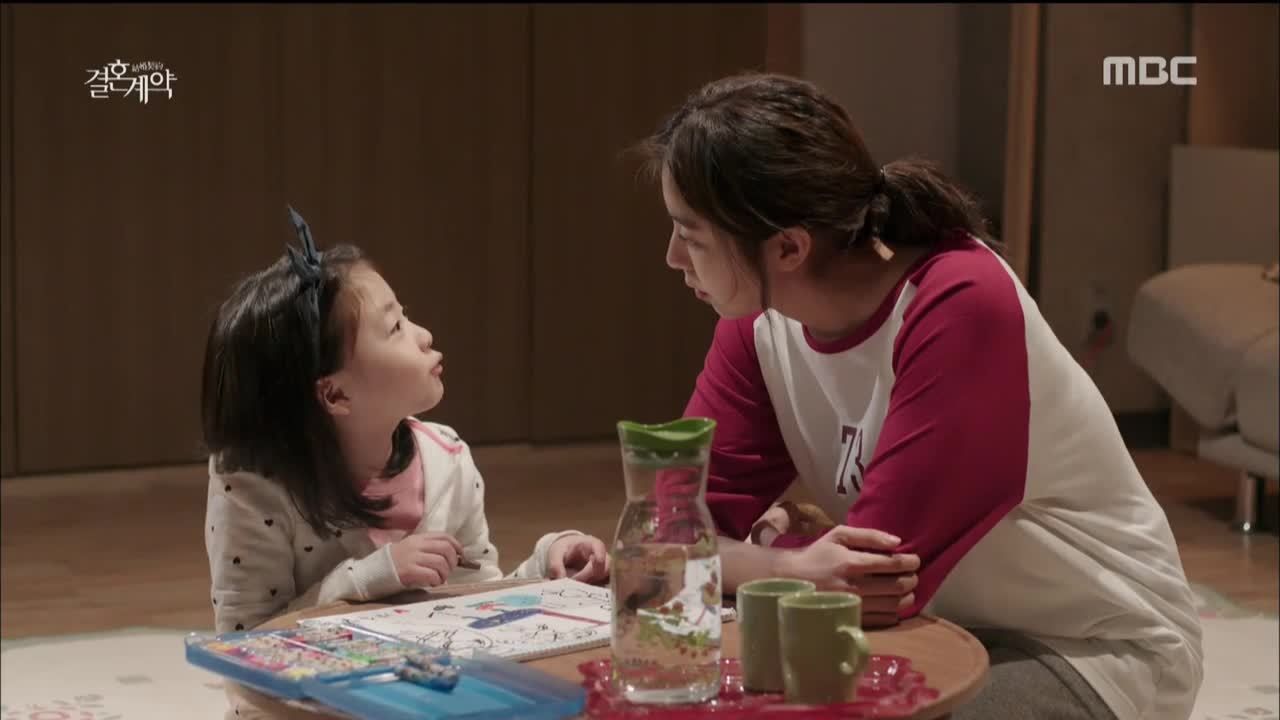 The next day, Hye-soo watches her mother-in-law haul her cart out from around a corner, but doesn't approach. Instead, she goes into her front yard and leaves two pots of soup.
Hye-soo takes a flask of soup to Mi-ran in hospital, pre-empting any refusals by saying she just had some extra. She remembered Mi-ran not being well that day, and the soup is to shore her up. Mi-ran doesn't mince her words and says that it's uncomfortable for her to see Hye-soo. Apologetically, Hye-soo says she won't come around too much anymore, and anyway, the surgery isn't far off.
She reassures her that President Han didn't catch wind of the truth, and encourages her to eat. Mi-ran is surprised at her cooking skill, and Hye-soo admits that if nothing else, she can definitely cook. Mi-ran sighs about how she used to take pleasure in cooking delicious things for Ji-hoon's father, but then homes in on Hye-soo about how pale she is. She extracts a lipstick from her handbag and gruffly tells her to take it.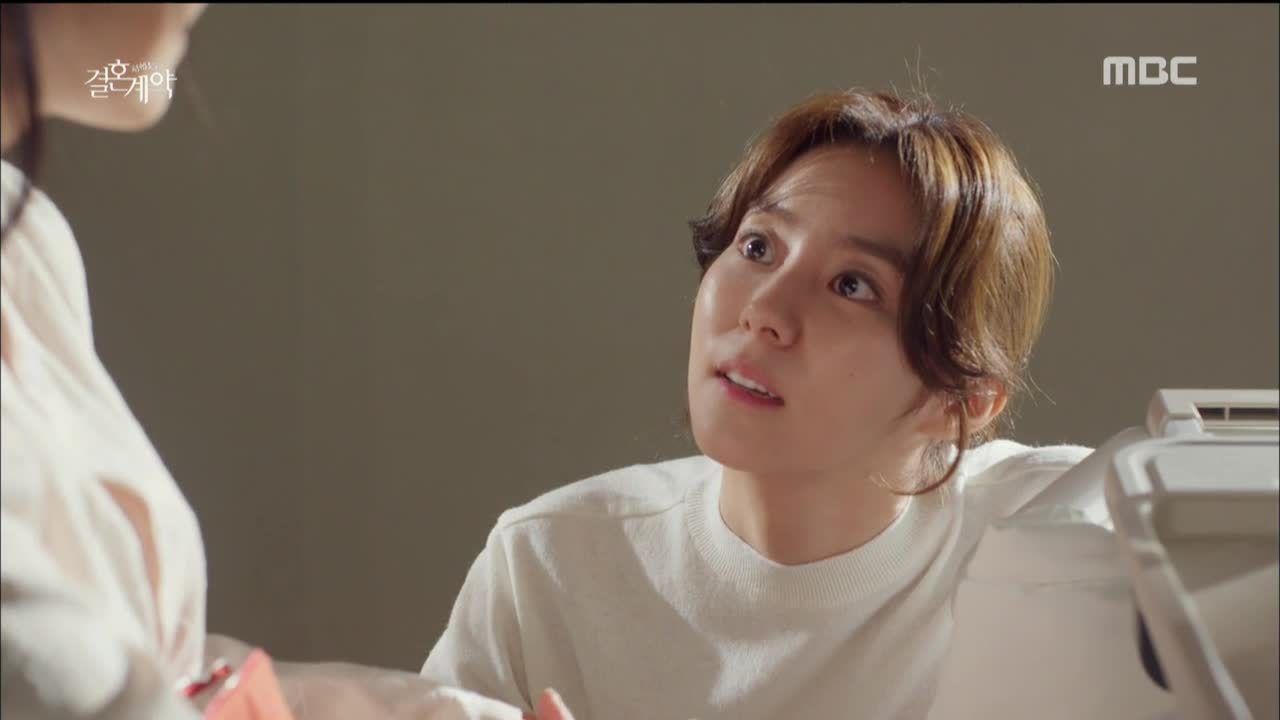 "It's a present," she says. Hye-soo should pretty up and find a man: "You look more like a patient than me." Touched, Hye-soo accepts it. Mi-ran laments the injustice of her life and the vagaries of human caprice, that she had wanted to die while she was living, and now dying, she's grateful to live.
Hye-soo kneels and takes Mi-ran's hands in hers. "The two of us…let's live well." They'll have the surgery and continue their future lives happily. These are the words she came to say, she tells Mi-ran, and she hoped that by seeing her, she could gain courage. Hye-soo's tears slip out, and Mi-ran is affected despite herself.
Ji-hoon shops for a sensor to replace Hye-soo's broken light…which he puts into a trolley FULL of things. When he reaches company HQ (making a call about the draughty window), Jung-hoon calls his name. Even his brother's barbs can't quite dim his glowing grin.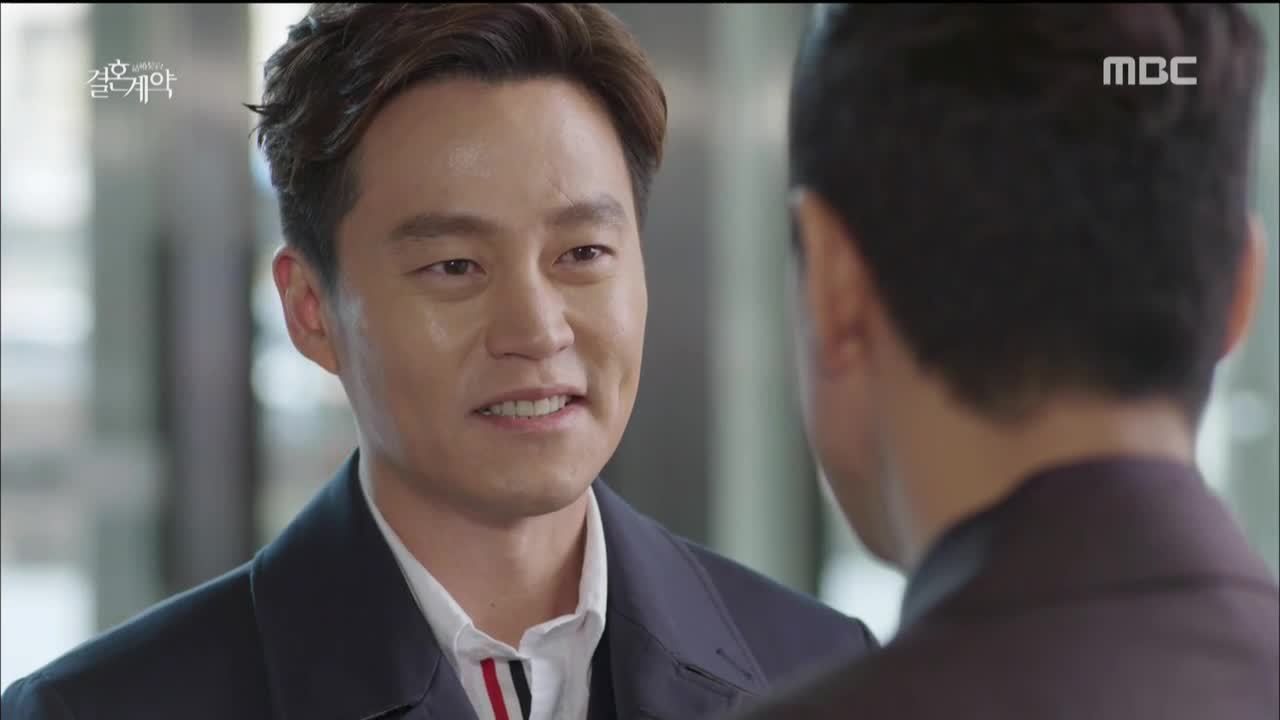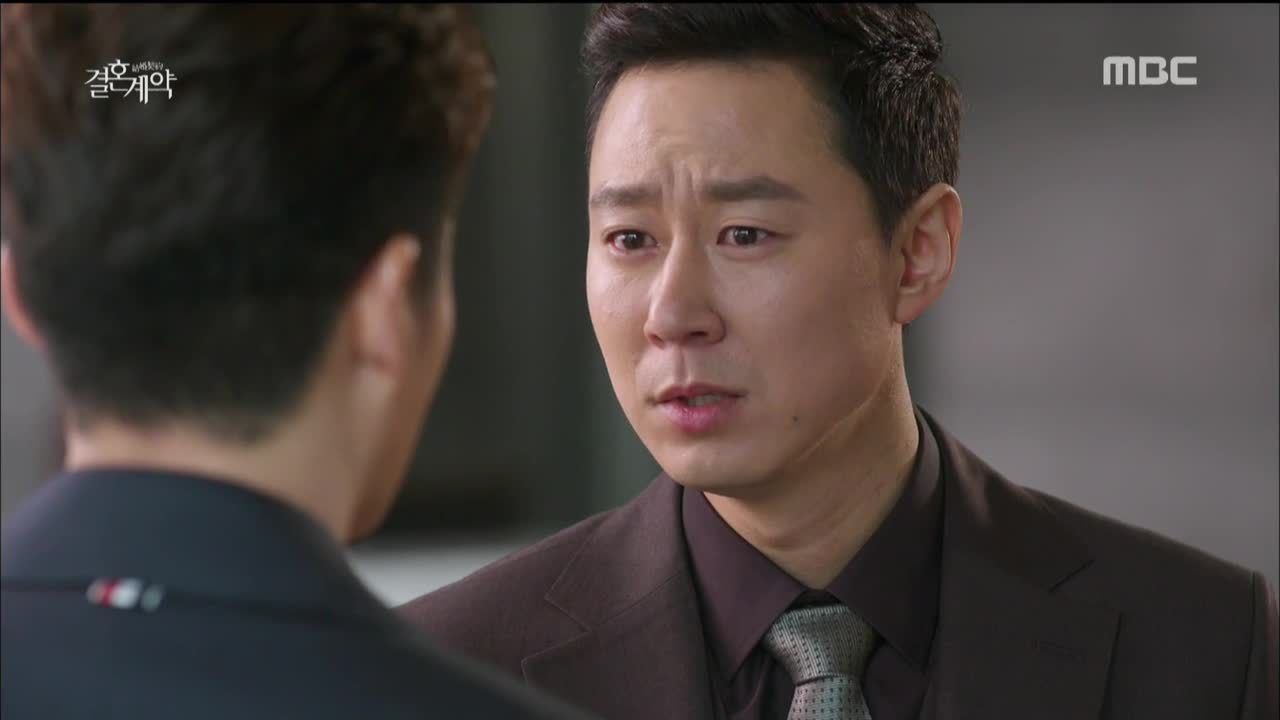 He can't take up Jung-hoon's dinner invite because he's leaving for a business trip. Jung-hoon plays passive-aggressive about Dad favoring him and his great new girlfriend. But then he drops the façade and reveals he knows all about him and Na-yoon. Ji-hoon turns back to him with a half-smile: "You don't have that much confidence in your woman?" He leaves his brother fuming and yelling.
A serious Seung-joo drops into Joo-yeon's nail salon. Without preamble, he asks if Hye-soo's new boyfriend is their restaurant's boss. Ji-hoon's a bad man, he says. She plays dumb and speculates that he must like Hye-soo himself. He refuses to be sidetracked, however, and before she knows it, she's spilled the beans on the marriage, the money, and the organ donation. Um, bad best friend?
Ji-hoon intercepts Ho-joon trying to dig through the bags of shopping on his table. Whimpering at the rough tackle, he reminds Ji-hoon to be careful about how he treats Hye-soo. The other staff are muttering — they might misunderstand and think he likes her. Ji-hoon yells defensively at him ("Who likes whom?!"), but my my, the gentleman doth protest too much.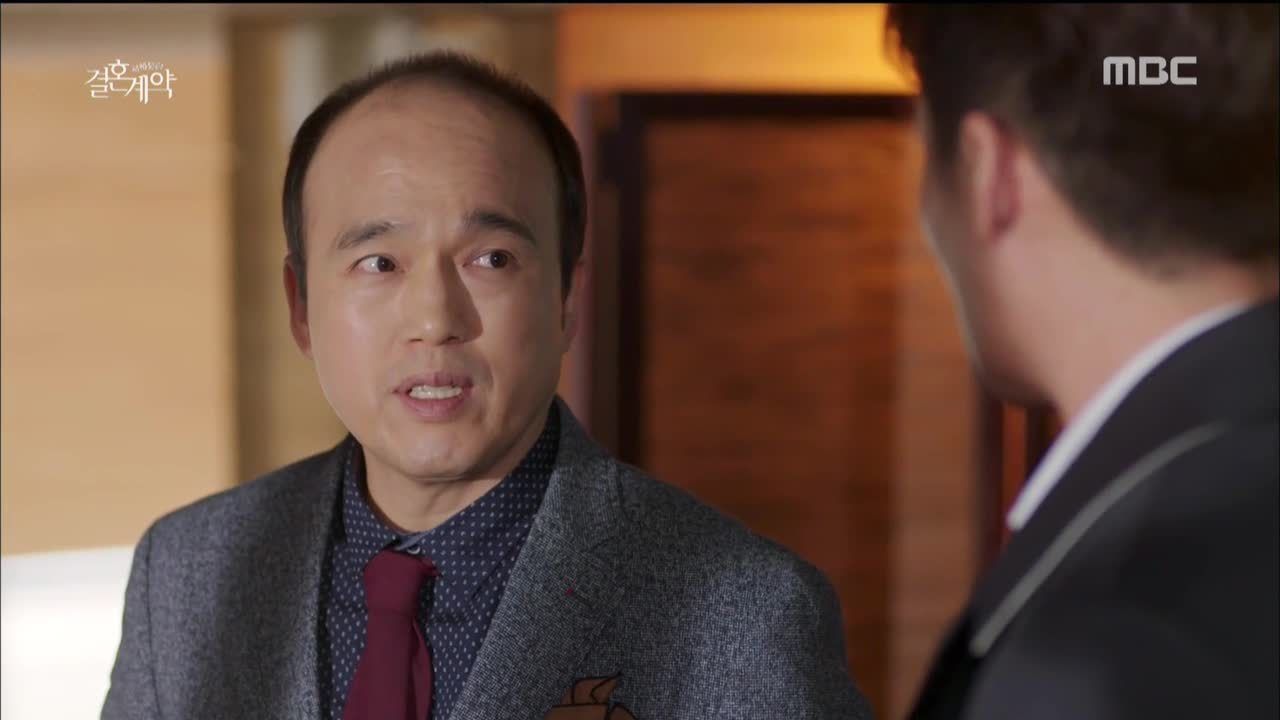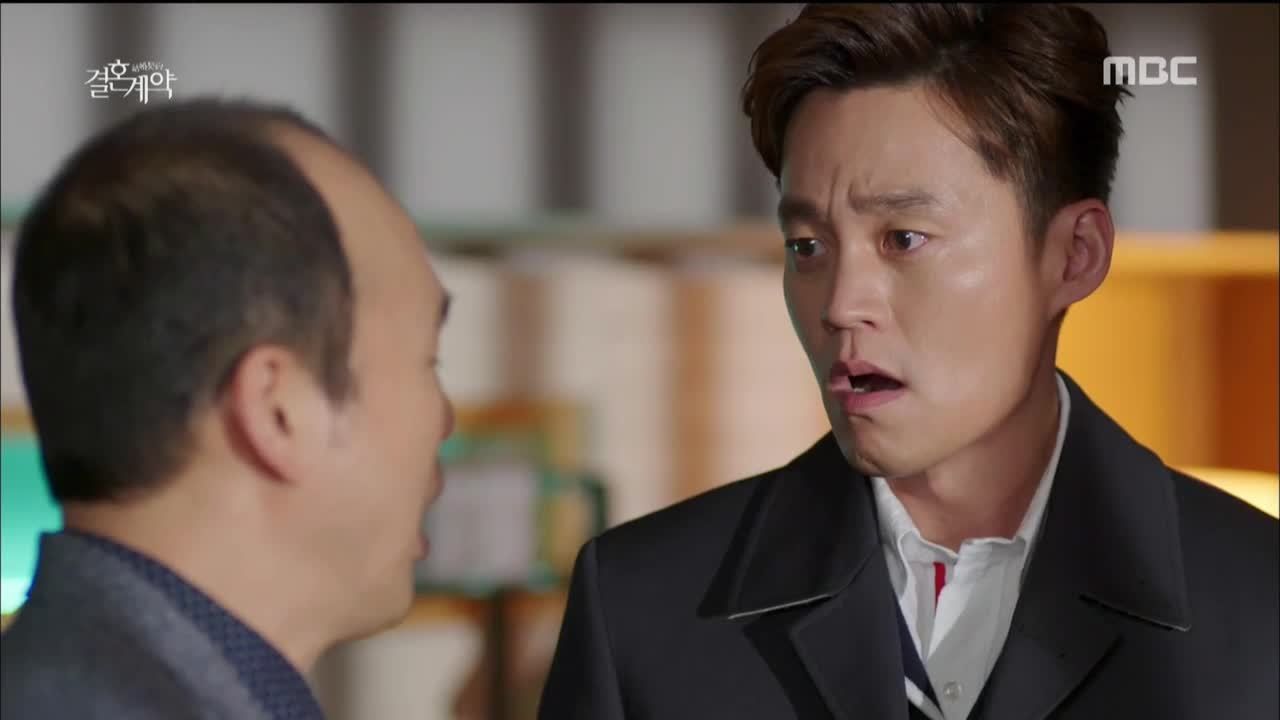 Seung-joo has come to confront Hye-soo, but neither notices Ji-hoon across the way, listening. Upset, he rails at the madness of her deal with him. She tiredly tells him to mind his own business, but he's certain she's being taken advantage of — Ji-hoon must've approached her knowing how much she needed the money. Is she really going to sell herself to him like that?
Brought to anger, she delivers a hard slap across his face. They have a mutually beneficial contract, she says. He's still appalled — will he take responsibility if something goes wrong? They're not even people to rich folk like them. She entreats him to lower his voice.
Yes, she's scared, she says, and yes, she knows it's morally questionable, but it's all she can do right now. Still watching, Ji-hoon swallows. She asks Seung-joo to keep her secret. Roaring in frustration, he promises to kill Ji-hoon if she gets hurt.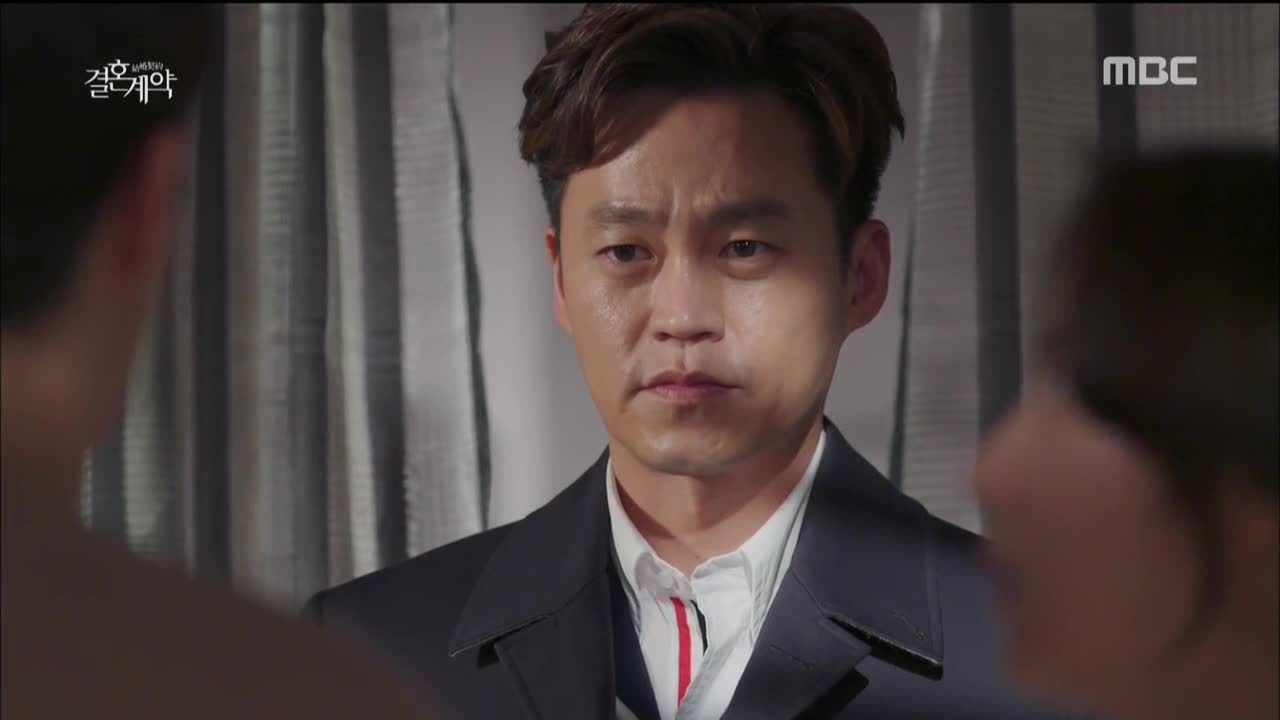 Ji-hoon reveals himself at that moment, and Seung-joo lunges towards him. Hye-soo blocks him, and still roaring, he backs off and leaves. Hye-soo wipes her eyes before turning to Ji-hoon with a generic smile. Wordlessly, he goes back in, expression blank.
A little later, she notices Eun-sung waiting alone outside with her scooter.
She seeks Ji-hoon out at his apartment. She's not sure if he overheard the earlier conversation, and explains that she's known Seung-joo a long time. He was her husband's relative and he's a good kid. Ji-hoon treats her like a friendly stranger, and tells her he's about to leave on a business trip.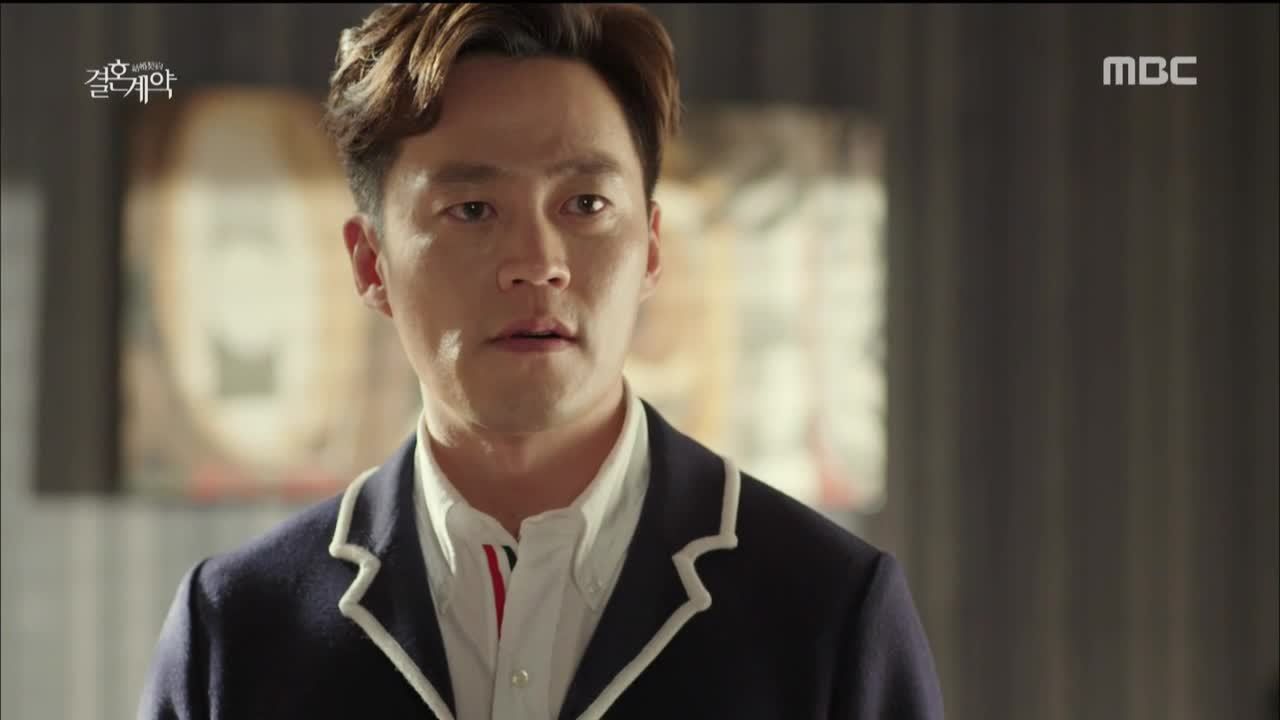 But she's not quite finished. "About Eun-sung…please don't be too nice to her," she asks — she doesn't want her daughter to get hurt. His bland mask cracks just a little, and she further asks him to keep his distance. She returns the clothes, too, leaving them next to the bags of household goods that he's yet to give to her. The two sets of bags sit forlornly beside each other as Hye-soo leaves.
From the top of the landing, Ji-hoon looks down at Eun-sung, still desolately waiting for him although it's now late. He goes back inside, and she looks up just a moment too late to see him.
Chef tells a still-peaky Hye-soo off for not getting herself checked up at the hospital, but she still insists she's fine.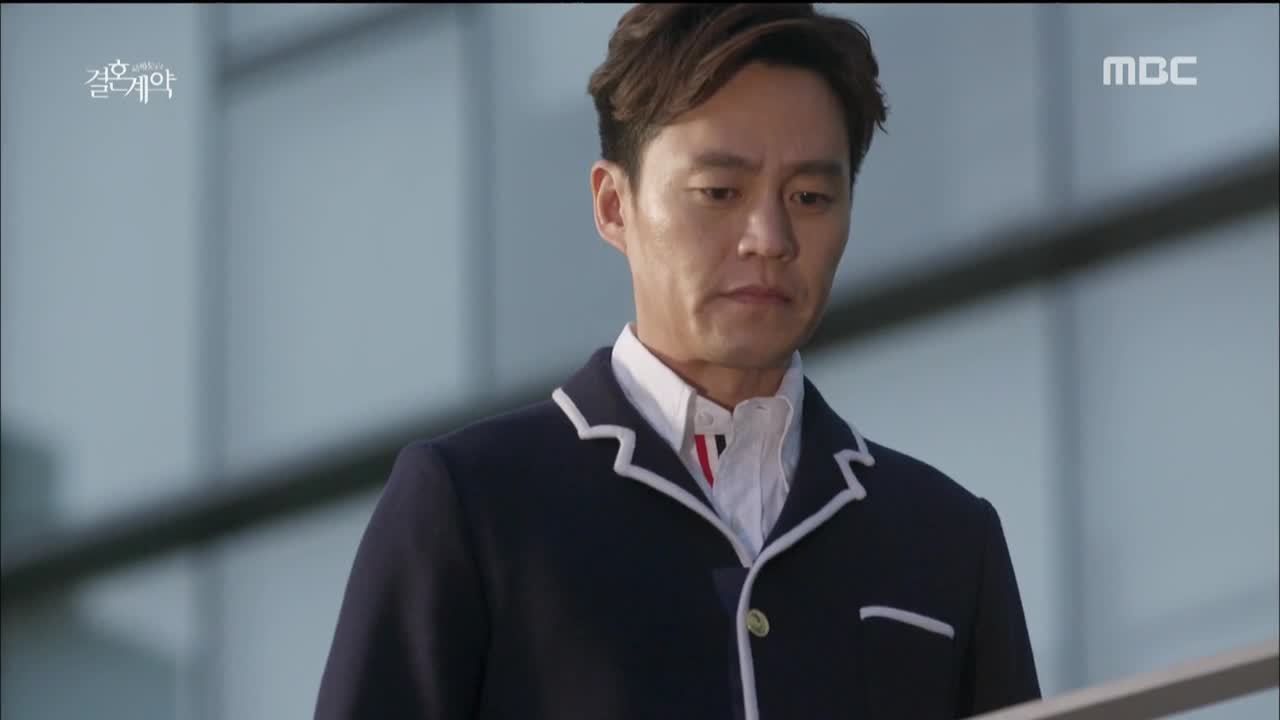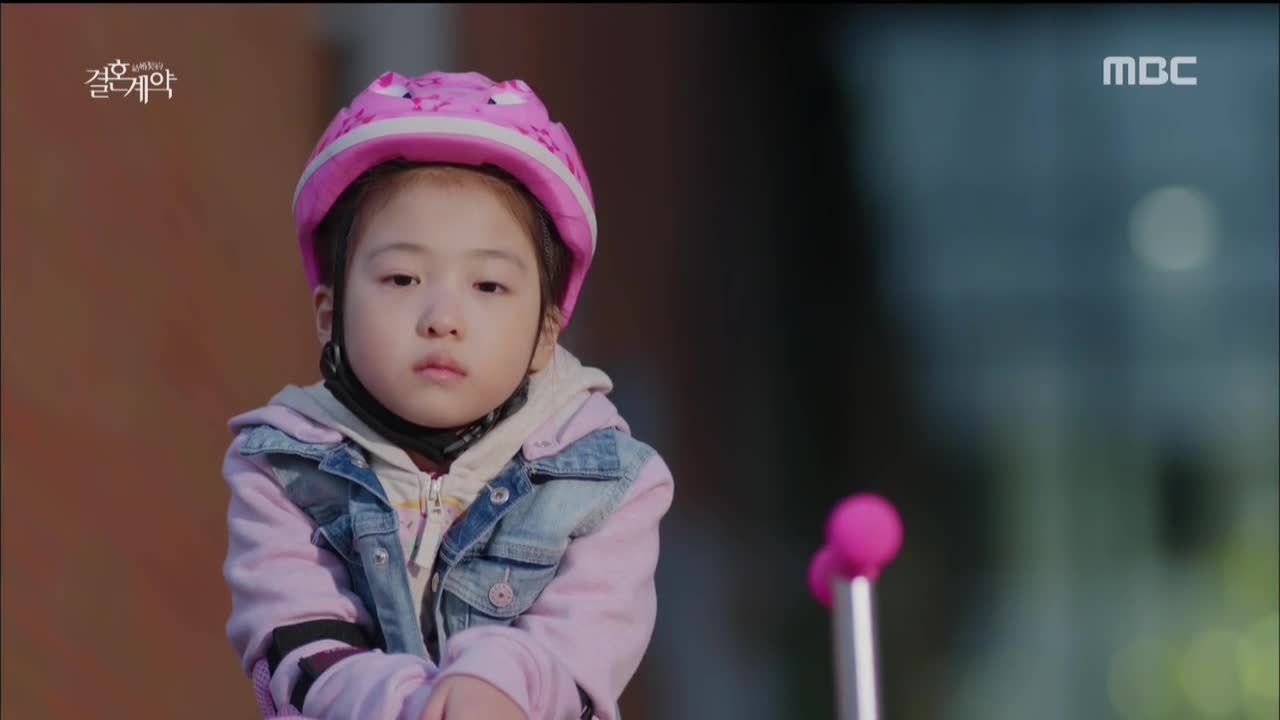 President Han's investigation into Hye-soo continues, and apparently the only way out of the marriage is an annulment, which itself would be difficult. Jung-hoon bursts in again with something to tell him — but of course, Dad already knows that Hye-soo's a fake, and tells him to focus on winning back Na-yoon.
But both parents are shocked when he reveals that Na-yoon's other man is Ji-hoon — they go way back, he tells them. Dad derides Jung-hoon for going this far to discredit his brother. His mother takes his side but Dad interjects that he's fully aware of what Ji-hoon's up to, so they can butt out.
After looking up brain tumor symptoms, Hye-soo takes some pills and returns to bed but grows increasingly feverish, shivering and sweating. When Eun-sung can't rouse her, she gets scared and takes Mom's phone from her hand, which she uses to ring Ji-hoon.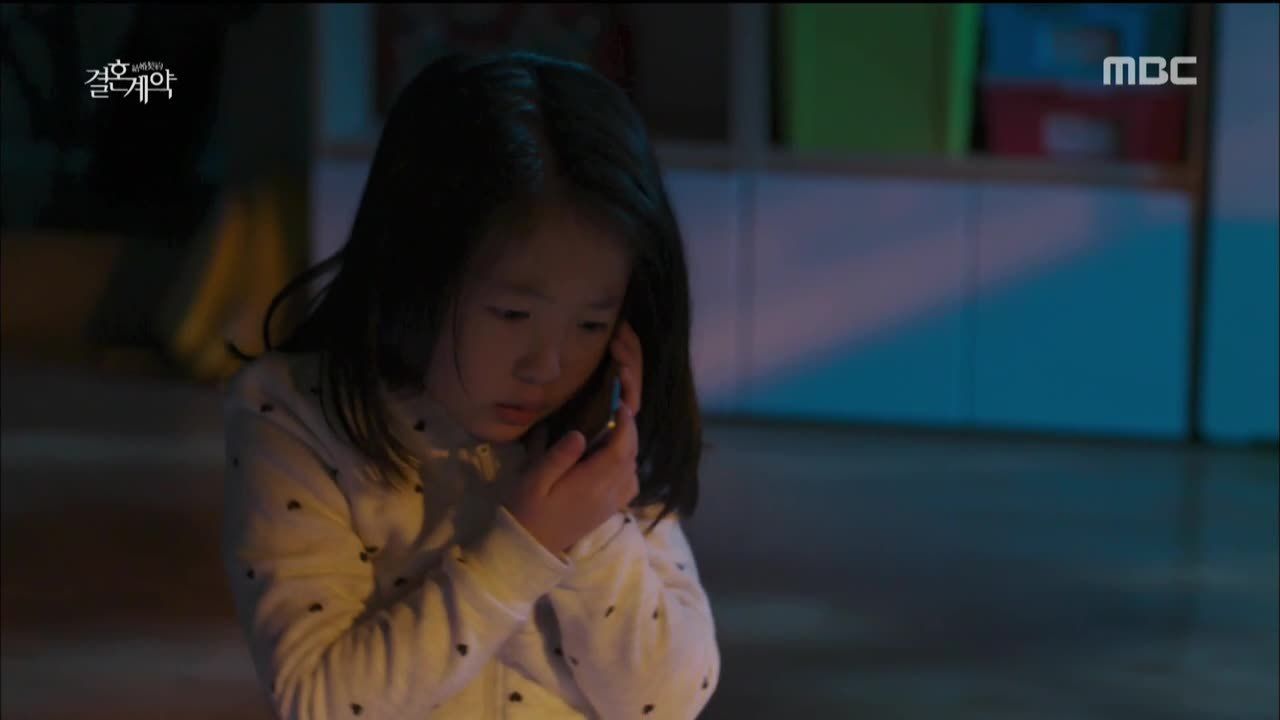 Seeing Hye-soo's name, he deliberately doesn't answer. When he finally does, a tearful Eun-sung tells him that Mom is sick and won't wake up. He tells her he'll be right there. Dad calls right then, demanding his appearance, and he apologizes that he can't come. He makes a U-turn.
Arriving back home, he rushes inside, where he finds Hye-soo non-responsive. After helping Eun-sung on with her coat, he scoops Hye-soo up, and they run for the car.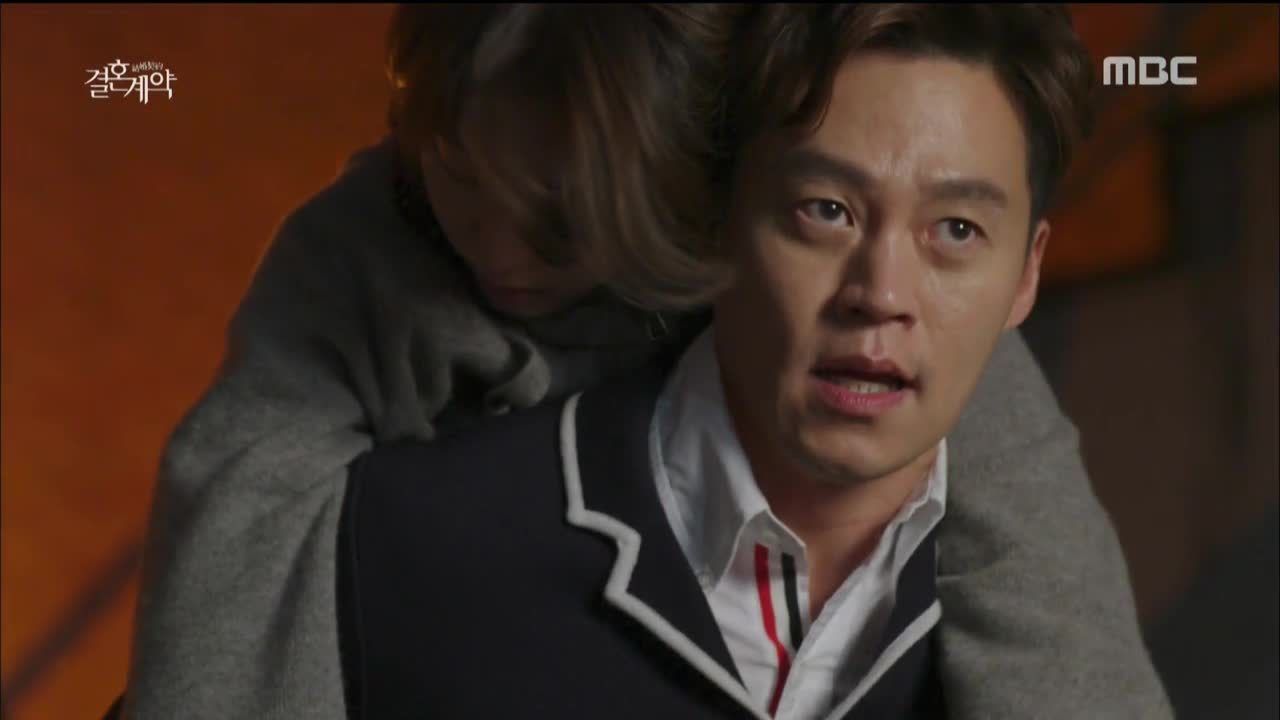 COMMENTS
I have to say, one of my least favorite things in drama and in life is people insisting they are well when they are sick. Don't you know you will only be more sick later? It's not self-sacrificing, it's irresponsible! Especially when you're specifically told you have to stay healthy for the donor surgery. But that aside, UEE really is doing her character justice, exemplified in a really lovely scene between Hye-soo and Mi-ran. Again with setting up contrasts, Hye-soo's two mothers-in-law are very different. Both are embittered and grieving women, but I wonder if the difference between them is that what Mi-ran grieves for — herself — can be saved.
What I particularly like and continue to notice in Marriage Contract is its treatment of romantic clichés. It's full of little subverted moments that could be twisted into romantic tropes, but they just stay plain and everyday, i.e. when Ji-hoon tells her to belt up (instead of fastening it for her, that well-loved dramaland device for proximity), or when he just drops the necklace into her hand (again, instead of putting it on her). Part of the fun in it is that I fully expect the same gestures to come back when he has feelings for her, and be the absolute opposite. The careless ease hasn't escalated to romantic tension…but it will. I've noticed some people complaining that they have no chemistry — at this point, I don't think they should. His interest in her is, literally, clinical. He doesn't check her out to get an eyeful, he's checking she passes muster.
And how great is it that the cause and reason of his giddy rapture is not Hye-soo, but Eun-sung? I just LOVE IT. It's SO GREAT. When you think about it, it's even obvious why. It's not just the heady elation of being part of a family, or having a circle of warmth that includes him without chaebol family politics muddying the waters, though they are definitely important. It's being needed, wanted and appreciated — feelings which must have been absent in his life all this time. It's so new to him. Falling in love with Eun-sung is discovering some new sweetness to life. She has, in other words, comprehensively slayed him.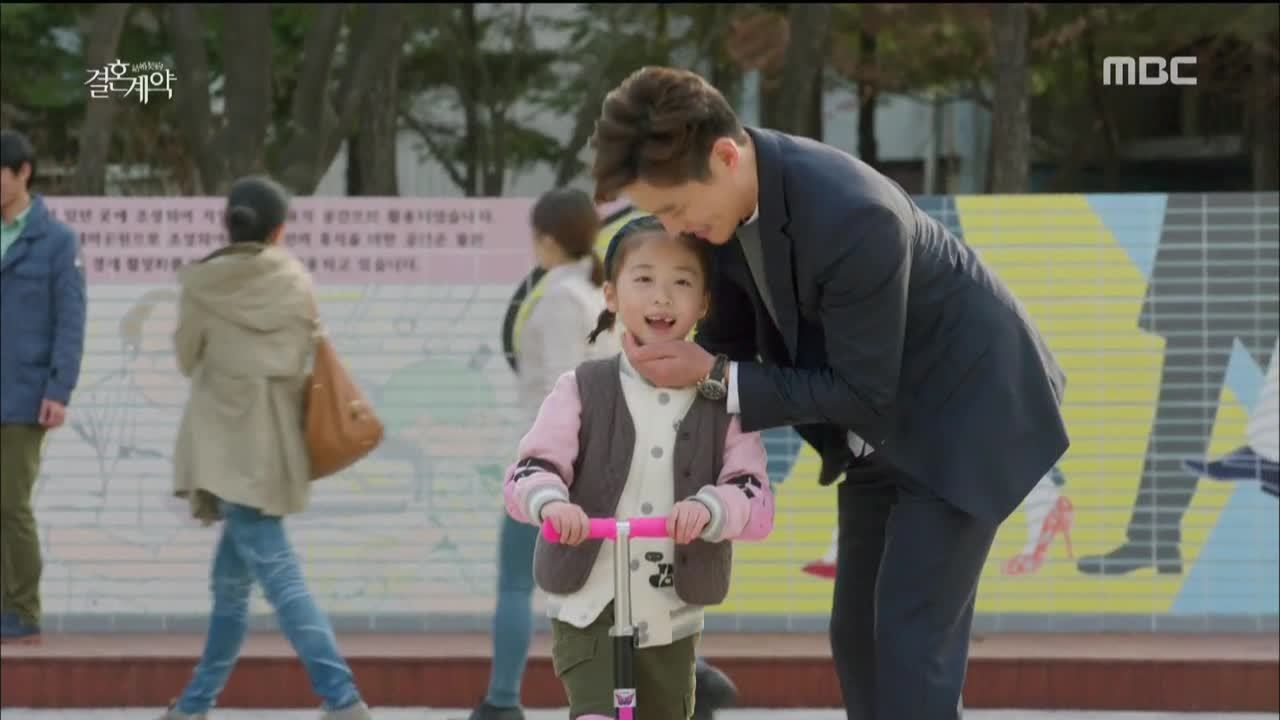 It's definitely not a one-way street, either. It's a touching and true-to-life characterization of a child's emotions, both in how completely she's taken Ji-hoon into her heart, and how hard it was for her to let him to enter it in the first place. He's able to bring things that Hye-soo isn't, even if it's just a more intense energy level to engage with her. Intensity is a pretty important quality here, because it achieves the same ends as time, just much faster. That dynamic play that is very much the domain of fathers also answers a basic developmental need in her, and you can see how much of the budding bond is built on that. And just having someone to call "dad"? Powerful.
So it's no surprise that Hye-soo is drawing the lines, scared for a relationship growing between Eun-sung and Ji-hoon — he isn't her father, and nor will he be. That's the reality that sends them crashing to earth: This isn't a real relationship, it's a cold, hard contract that she doesn't have the luxury of forgetting. Despite her current position, with her inside access to Ji-hoon and his family, she's still an outsider. Nevertheless, she's right to assert that it's mutual: She chose the terms as much as he did. She asked for the money; she asked for the living arrangement. Her anger at Seung-jae's insinuation is justified, because his version strips her of her dignity. And I think, if there's anything she's held fast to through this entire situation, it's her self-respect and agency.
As for Ji-hoon, until now, he's only ever known being a burden, living under restrictions imposed by others. This sudden injection of color and warmth into the shadow-life he's been living turns him into a more realized, more actualized self. For all that he's well and healthy, and that he's not strictly a part of the life/death narrative that we're seeing between Hye-soo and Mi-ran, it seems to me that he hasn't really ever dared to live. The decision he makes at the end is also a critical one for that reason, because his daring now extends to defying. Big steps.
I'm glad that his apparent schism with them was short-lived (for now…), because I'm looking forward to it all blowing up with the family and I want Ji-hoon to be pushed into owning them. I like that, despite his many faux-pas and abrasive attitude, he's never been ashamed of Hye-soo, and his respect for her evidently increases by the day. Love? It's only a matter of time.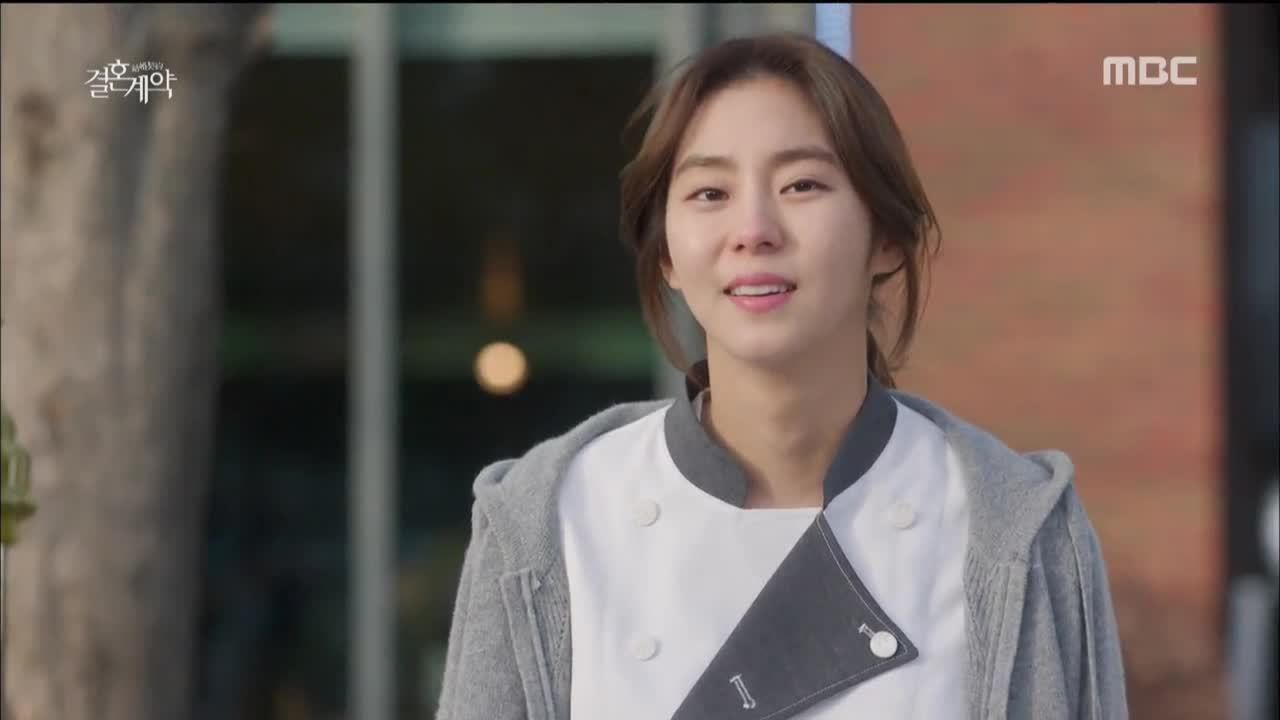 RELATED POSTS
Tags: Episode 6, featured, Lee Seo-jin, Marriage Contract, UEE