Marriage Contract: Episode 7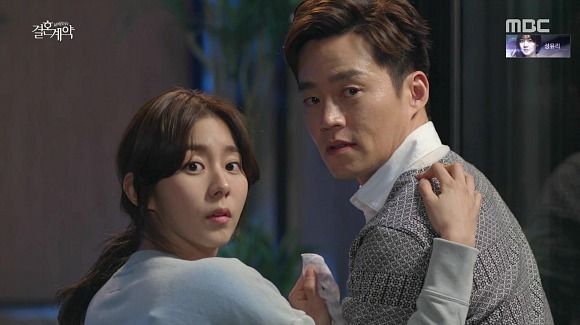 The time for denial is over — though, when a man feels so much love for a girl that he can't hide it even from himself, is denial to others even an option? And I'm not even talking about Ji-hoon's feelings for Hye-soo yet. It's the tiny loves that get through the cracks and get their hooks in deep, and Ji-hoon may as well admit that he's gotten in over his head.
EPISODE 7 RECAP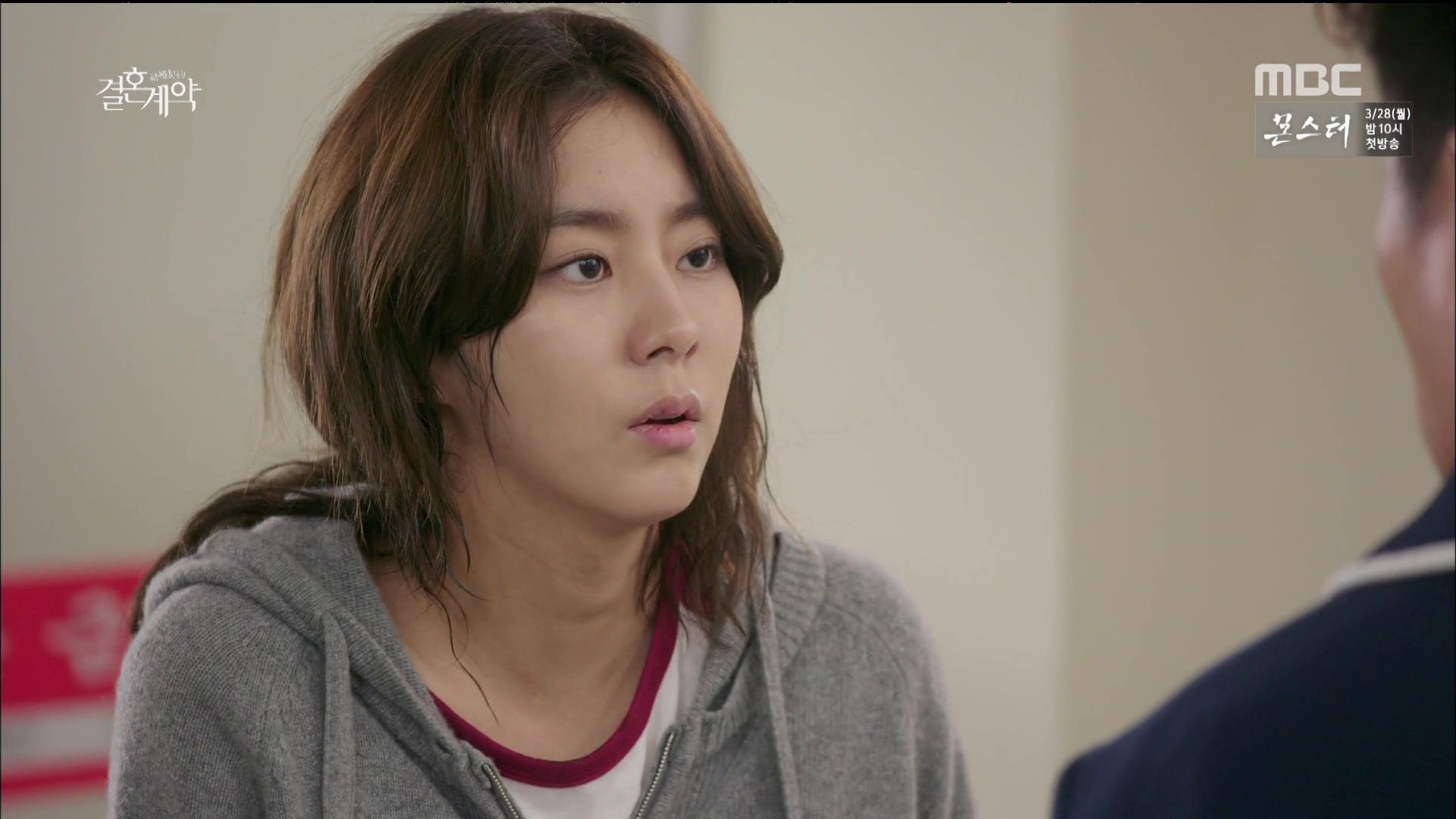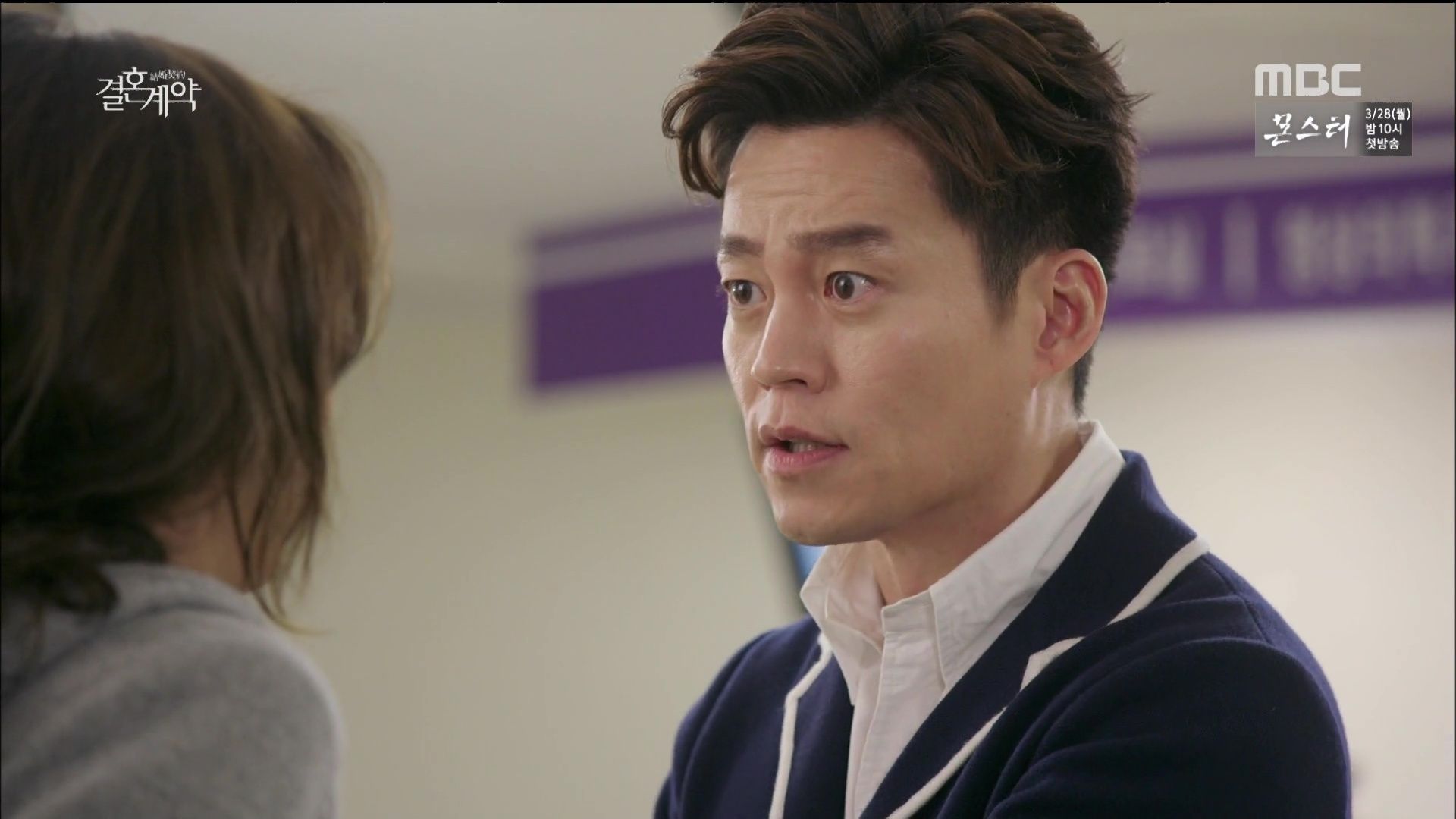 Ji-hoon rushes the unconscious Hye-soo to the hospital, and brings a doctor to look at her just as she wakes groggily. She's running a high fever but she declines treatment, and tries to run out of the hospital still looking like she could pass out again any second. Ji-hoon insists she stay, but she swears it's just a cold and she's fine.
He tries to stop her again, and this time she flings his arm away roughly, swearing that she can still do the transplant. Ji-hoon says that that's not his main concern right now, and Hye-soo calms down and lies that she's just hospital-shy, and doesn't want to be here more than she'll have to with the surgery.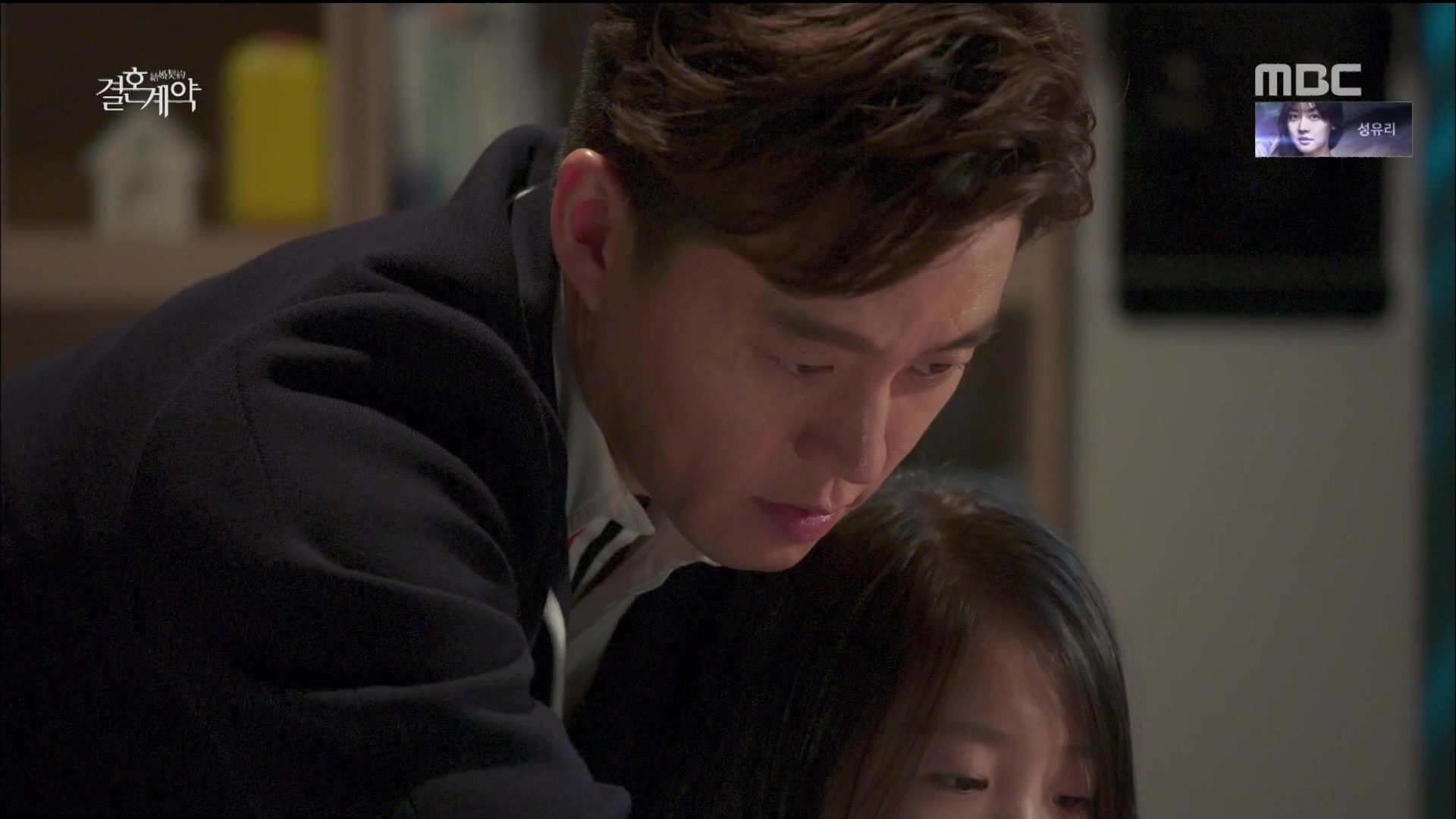 Ji-hoon reluctantly takes Hye-soo home, who says that her fever is down, though Eun-sung calls that out as a lie. Hye-soo ushers Eun-sung into their room, but not before she and Ji-hoon exchange helpless little Whatcha gonna do? smiles.
Ji-hoon grabs some ice and napkins from the restaurant kitchen and takes them up to Hye-soo's room, for her fever. He makes her a cold pack, grumbling at her when she hesitates to take it, but she's too weak to fight both him and Eun-sung. Ji-hoon hesitates just before putting it on her forehead himself, and ends up handing it over to Eun-sung to do.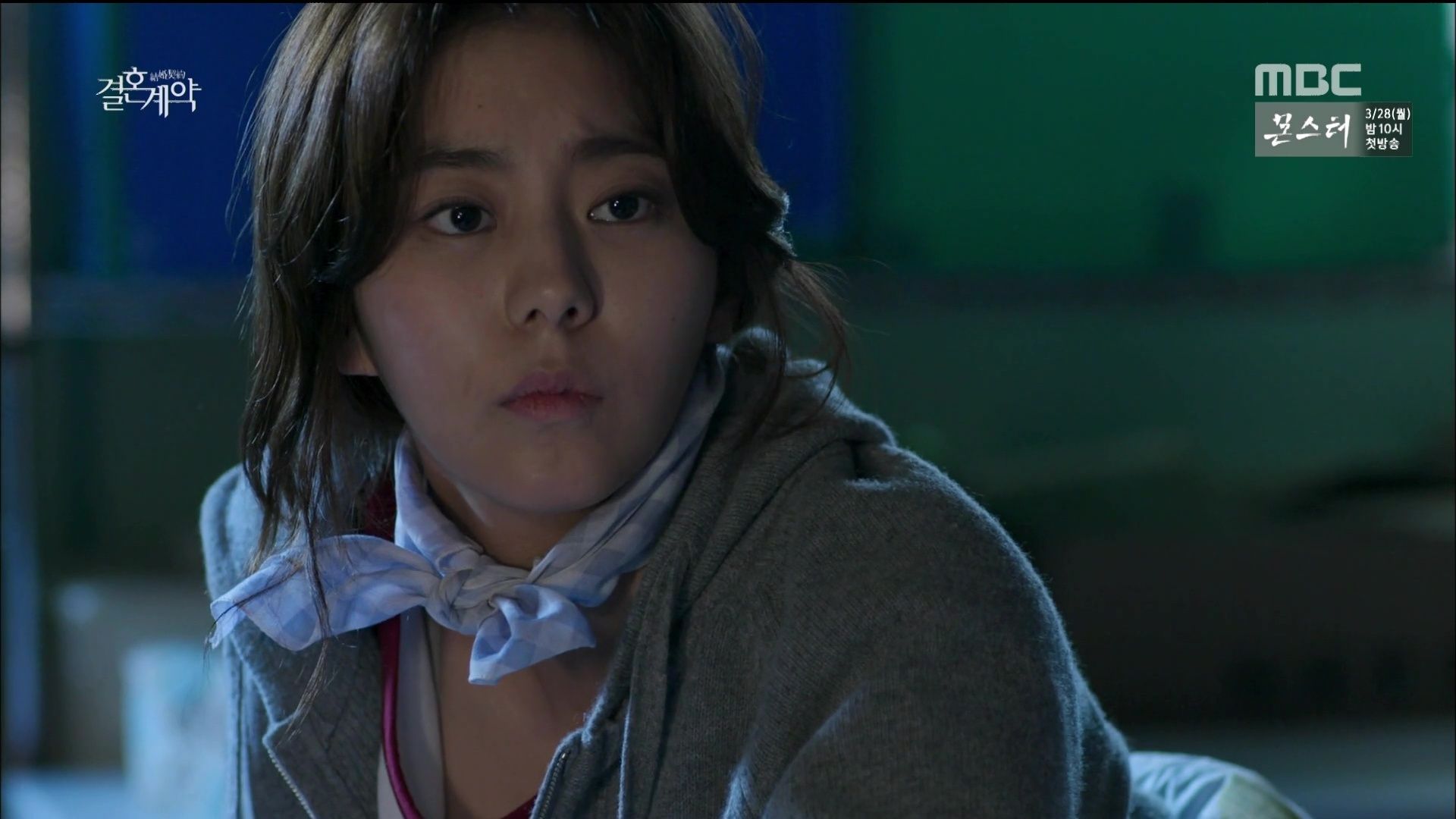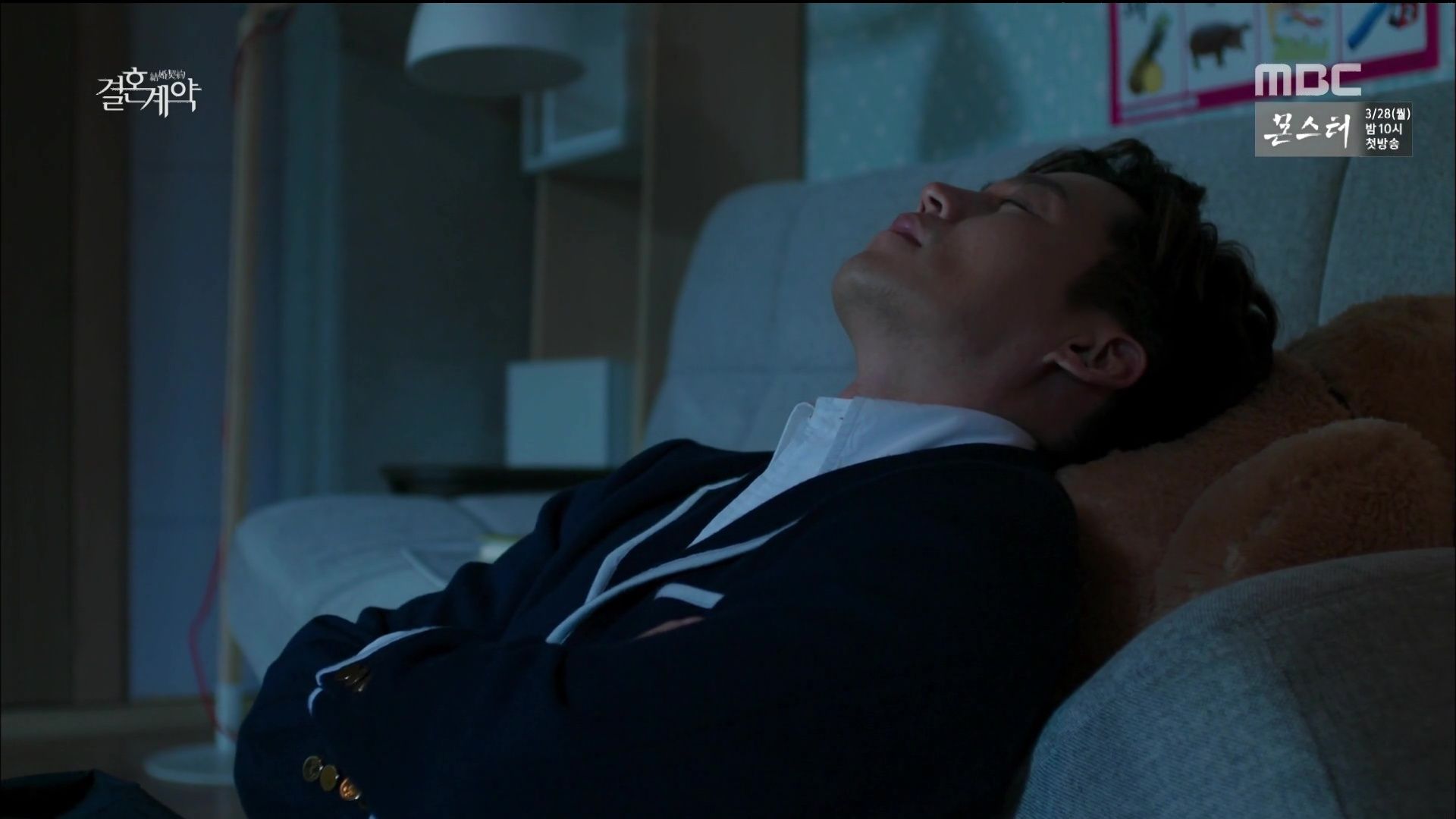 Ji-hoon hovers like a worried mother, handing over his handkerchief for Hye-soo's neck, and stepping in to help when Eun-sung has trouble tying it. Something about the way his arms are cradled around Eun-sung, while his hands are busy helping Hye-soo, just gets me right here.
Ji-hoon gets up to go, telling Hye-soo to go to the hospital if her fever doesn't get better. But later that night when Hye-soo sits up to cover Eun-sung, Ji-hoon is still there, with Eun-sung's head in his lap. Oh, that is the sweetest thing ever. He stirs, and Hye-soo quickly pretends to still be asleep.
Everyone settles back to sleep, and Ji-hoon is still there in the morning. He wiggles out from under Eun-sung and tucks her in, then also tucks in Hye-soo before letting himself out.
Hye-soo's health scare has made Ji-hoon miss his work trip to Jeju Island, and Ho-joon tells him that the chairman has been repeatedly calling for him. He says he'll call his father, and tells Ho-joon that Hye-soo is too sick to work today, asking him to take her to a clinic later. Ho-joon wonders why he cares so much, muttering that this is why the staff are so disgruntled over her.
Joo-yeon startles Ho-joon as he's trying to peek through Hye-soo's front window, and he stammers out that Hye-soo is sick today. She goes in, and Eun-sung is ready to tell her the whole story about "that ajusshi" taking care of her mom, though Hye-soo stops her and again downplays the situation.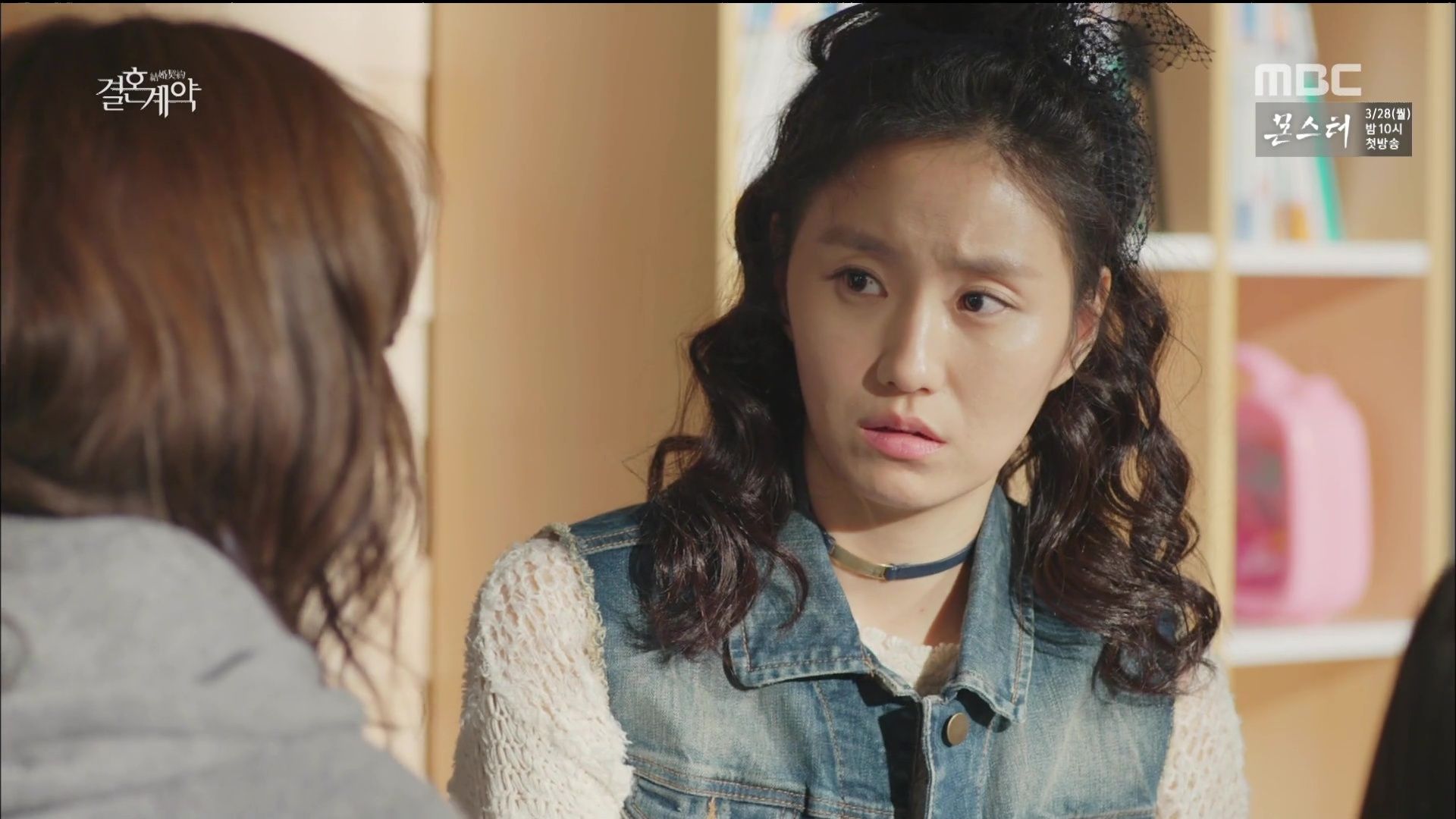 Joo-yeon apologizes for telling Seung-joo about the marriage contract, explaining that he was so upset about what he was assuming was happening, she thought telling him the truth would be better. Hye-soo also apologizes, for making them both worry about her.
Hye-soo drags herself to work, and Ho-joon keeps the restaurant open late for a special party, making Soo-chang grouch at him, then drag him out for soju. Ji-hoon arrives home from his trip early to find Hye-soo still in the kitchen, and he seems a little nervous around her, so he falls back on his usual behavior and grumbles at her for working while sick.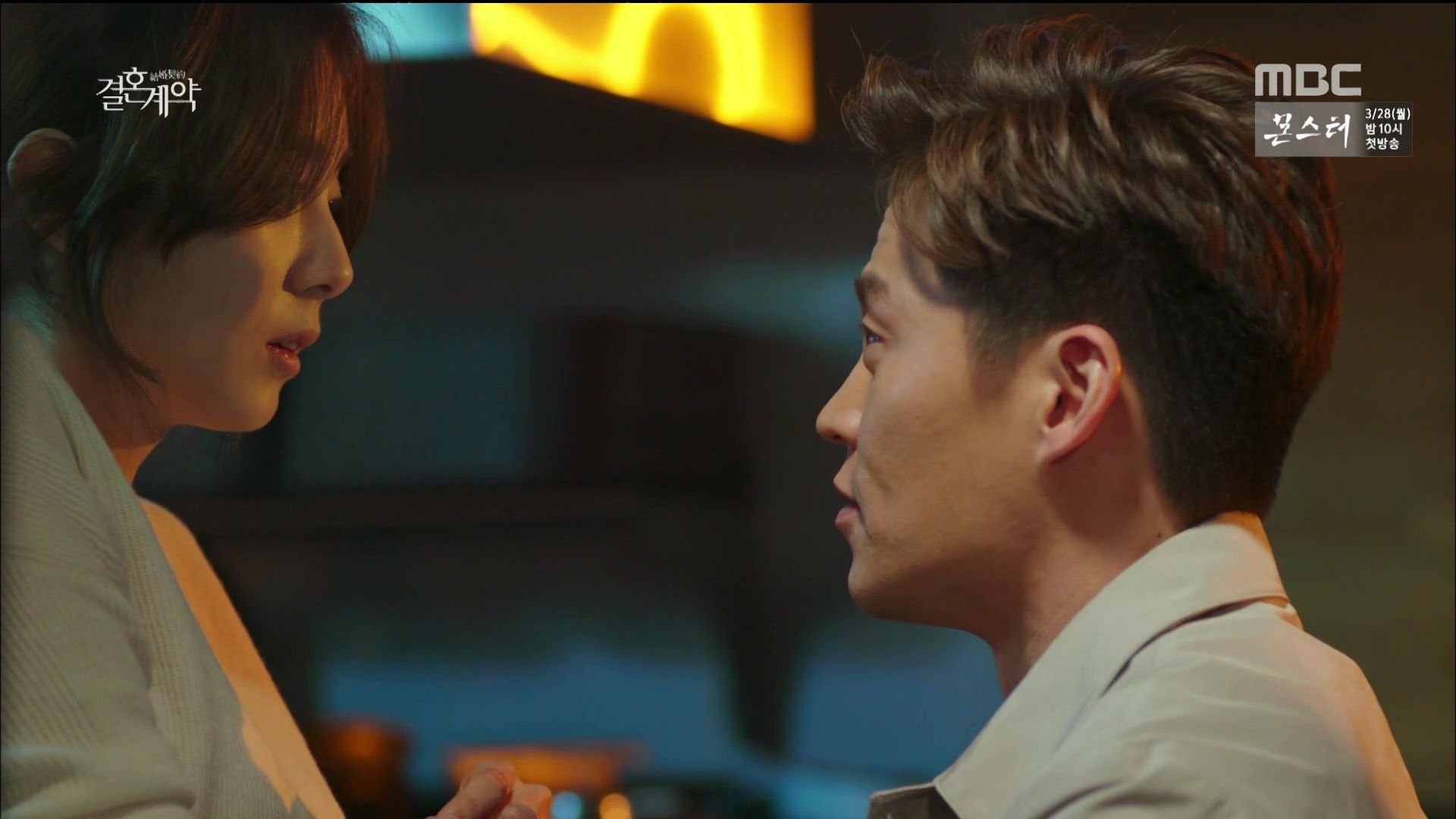 Hye-soo says that she felt better thanks to him, giving him a grateful bow. She says that Eun-sung is at a friend's house, and Ji-hoon grabs this chance and asks her if she's eaten. He offers to make her a steak if she'll assist ("Because I'm shy, and not as good as you." Awww), picking her up and setting her on the counter.
It's surprisingly intimate, especially since Ji-hoon is smiling at her, but Hye-soo finally agrees. She cringes at his clumsy cooking style but keeps her comments to herself, and he proudly presents her with her meal — shaped like a frowny pig face. Oh no, I can't, this is too cute. Hye-soo changes the frown to a smile and compliments Ji-hoon's presentation, and she's impressed when it tastes pretty good.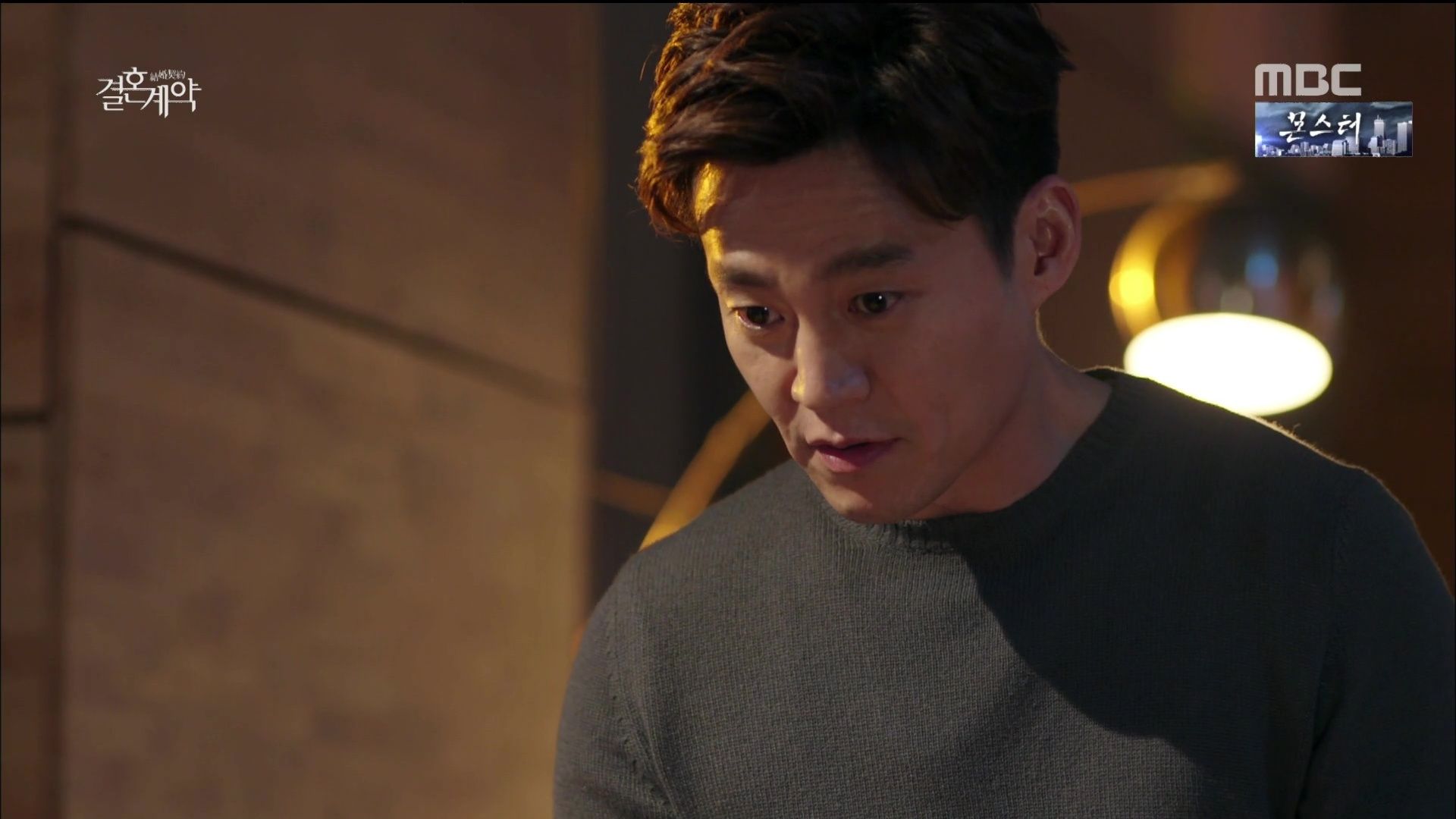 Ji-hoon fusses when Hye-soo tries to get him to eat too, and cuts up her meat for her. Hye-soo finally relents and eats quickly, causing Ji-hoon to gripe at her some more, but by now it only makes her smile. She enjoys the feeling of being a customer, which almost makes Ji-hoon smile at her again.
The snarky hostess, Ara, lets herself into the restaurant, and Hye-soo grabs Ji-hoon and shoves him under the table to hide. Ara notices the disarray in the kitchen and the meal still on the table, and Hye-soo's distinctive hair tie still on the table gives away the source of the mess.
As Ara walks around the restaurant, Hye-soo and Ji-hoon skitter away wherever they can hide, ending up in the wine closet. HA, Hye-soo covers Ji-hoon's eyes when Ara bends over and gives him an unexpected peek down her top, while he struggles to get a better look.
They very nearly get caught when they try to exit the wine closet too soon, but luckily Ara never sees them. Ji-hoon barks at Hye-soo, wondering why they had to hide when they didn't do anything wrong. Hye-soo admits that he's right, there was really no reason to hide, and they both laugh.
Hye-soo's mother-in-law, Young-hee, shares some pumpkin soup with Seung-joo — she knows it came from Hye-soo just by the taste, and she complains about Hye-soo's cheek in continuing to try to win her over, though she's not too proud to eat it. She tosses a bag of clothes for Seung-joo to take to Eun-sung, but he can see her resolve to stay away crumbling, and tells her to take it to them herself.
Young-hee admits that she wants to get over her hatred of Hye-soo, though she was rude to her and is afraid to see her again. But she keeps thinking of her son and her granddaughter, and she wants to wish Hye-soo and Eun-sung well in their new life. She starts to cry, even the taste of the pumpkin soup adorably upsetting her ("It's too delicious!").
Seung-joo takes the clothes to Hye-soo, passing along Young-hee's message to live happily, and promising that he didn't tell her anything about the marriage contract. She tells him the surgery is scheduled for the next weekend, and he reassures her again that he won't tell anyone the truth.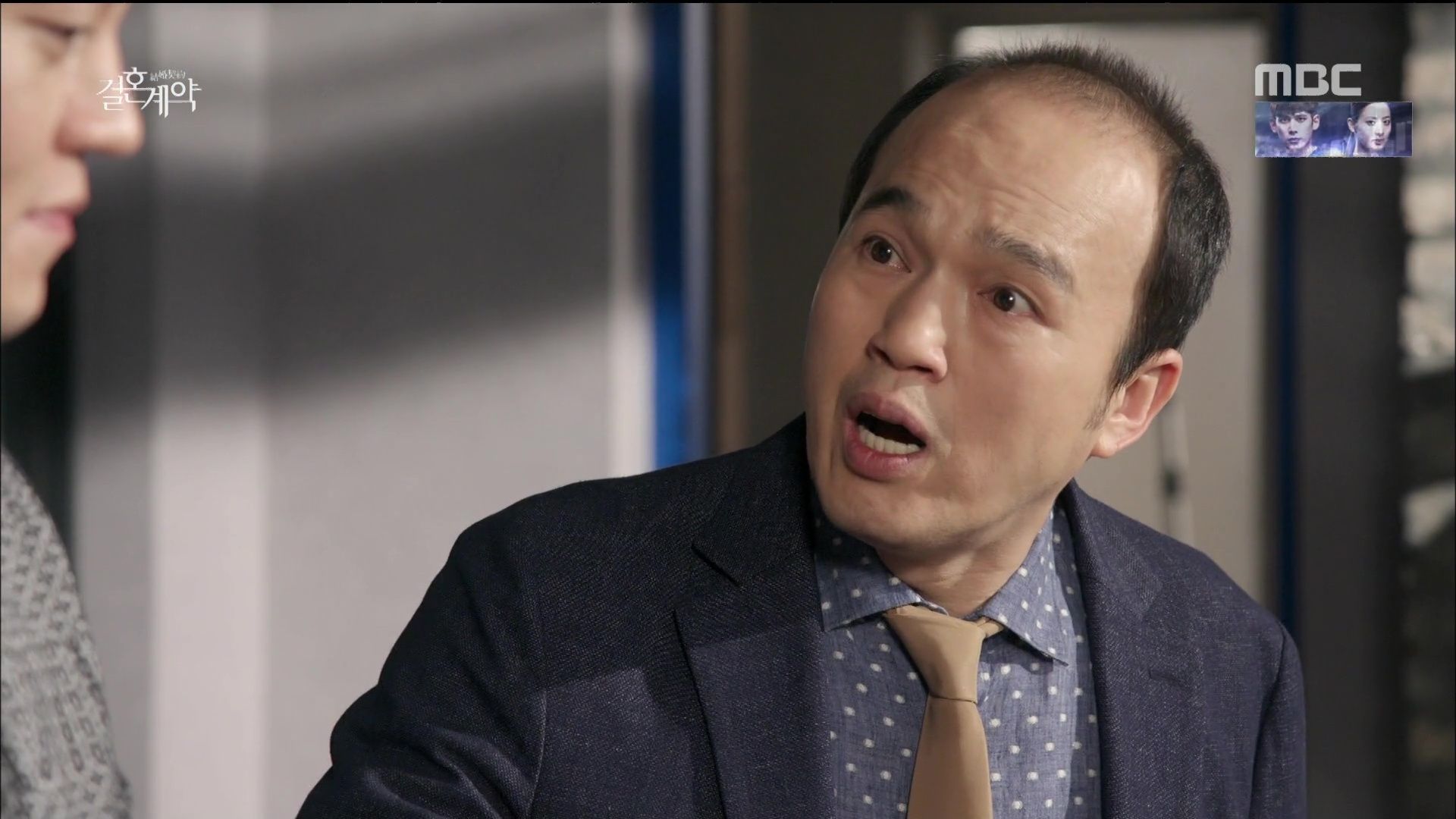 Ho-joon finds Ji-hoon fixing Hye-soo's broken entryway light, and yanks him down to demand the truth — why is be being so nice to her? He thinks Ji-hoon likes Hye-soo for real, and Ji-hoon's weak, "Think whatever you want," and nervously flashing dimples don't do much to deny it.
He tells Ho-joon that he knows himself well enough, so he shouldn't worry too much about it. He's already been down that road, and has no intention of doing it again. After buying her liver, he's just trash, and he knows he has no right to ask her for anything. He'll just flirt and have fun, then break up with Hye-soo when it's time.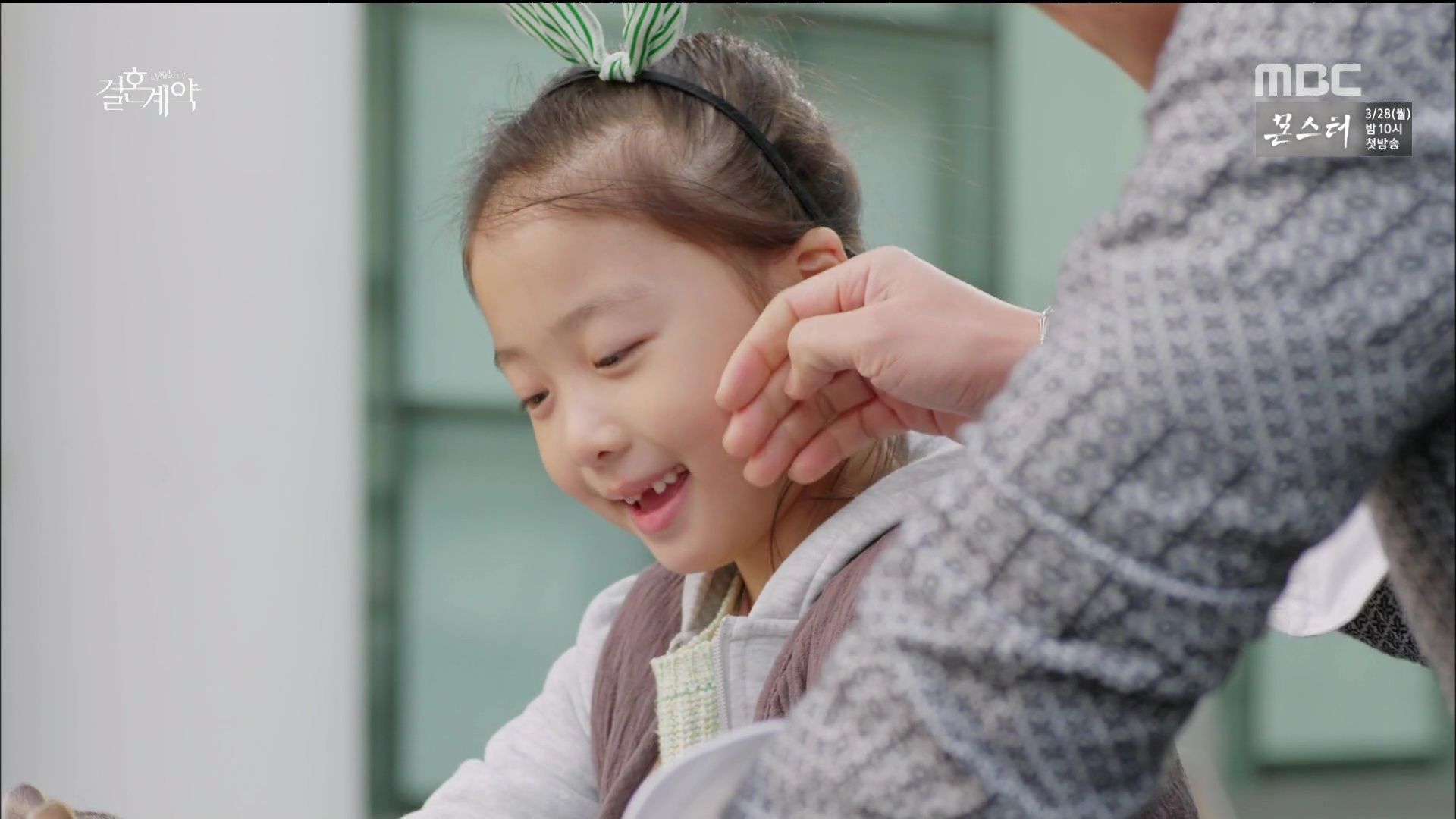 Hye-soo comes home with Eun-sung, who shrieks happily to see Ji-hoon (and he lights up in return) and drags him off to show him something. She's got her kitten and two others in a box, and she introduces Ji-hoon to them as "the ajusshi who will be my dad soon."
She feeds the kittens a sausage, and Ji-hoon tells her they could get sick. He offers to take her to buy real cat food later. They get so engrossed in playing with the kittens that Ji-hoon doesn't notice his father drive up and watch him with the little girl.
The chairman catches them mid-hug, and Ji-hoon solemnly sets Eun-sung back on her feet. His father greets him with a hard slap, making Eun-sung wail and run to her mother, and Ji-hoon follows the chairman inside to talk.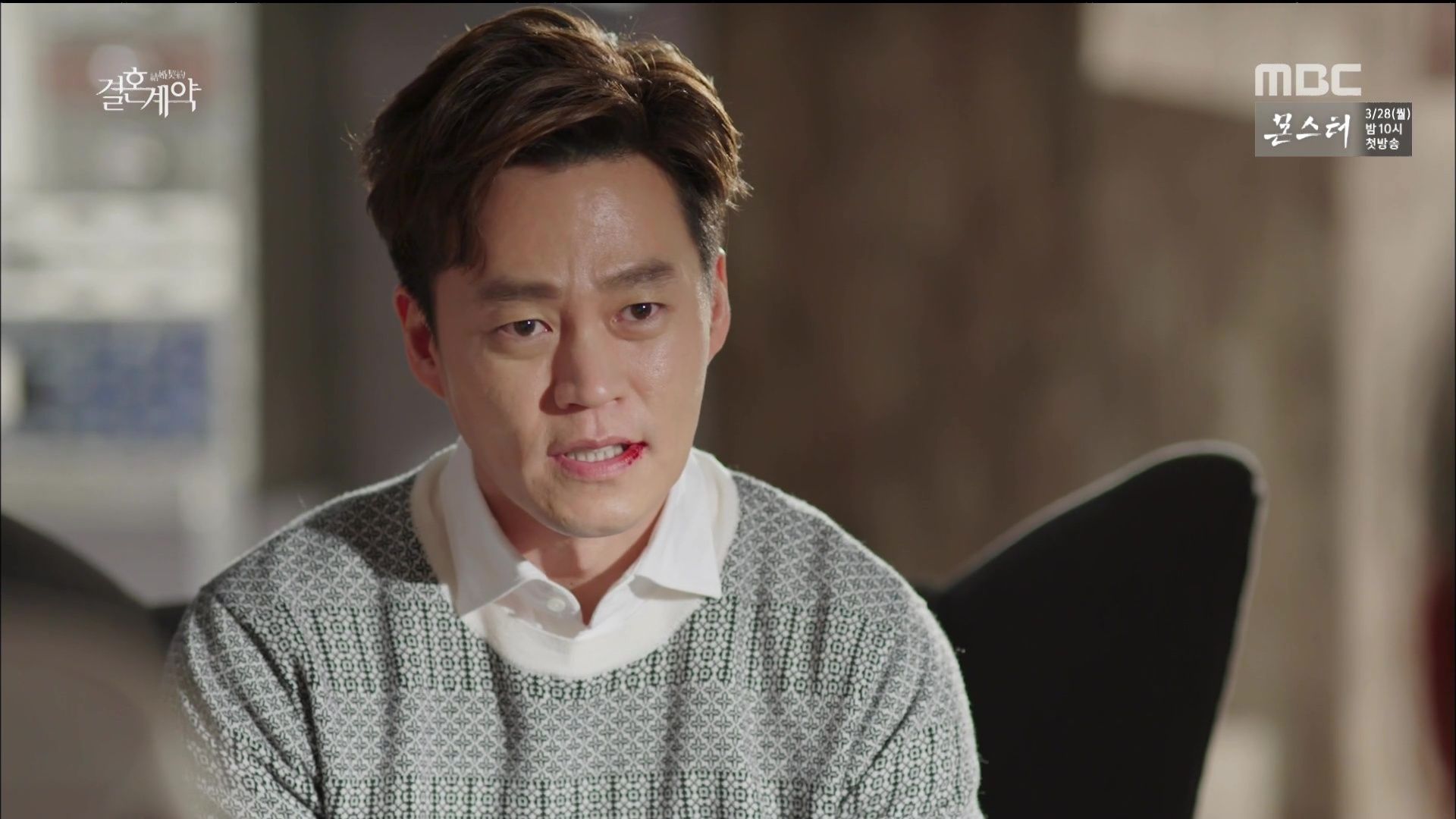 Chairman Han has figured out that Ji-hoon paid for his marriage to Hye-soo (and subsequent surgery to save his mother), and assumes he's pretending to like Eun-sung so as not to get caught. He threatens to turn Ji-hoon in to the police, scared that this could take down the business he's worked so hard to build.
He tells Ji-hoon to end this now and cancel everything, but Ji-hoon argues that the surgery is in a week. Can't he look the other way for one week? Chairman Han refuses, making it clear that if Ji-hoon won't cancel the marriage and surgery, then he'll do what he needs to do.
At dinner, Eun-sung asks her mother if Ajusshi did something wrong to make his father so angry, and Hye-soo nods that he did. Eun-sung loyally takes Ji-hoon's side, saying that he still shouldn't have gotten slapped, and it's obvious that Hye-soo is worried by the way she keeps glancing towards Ji-hoon's rooms.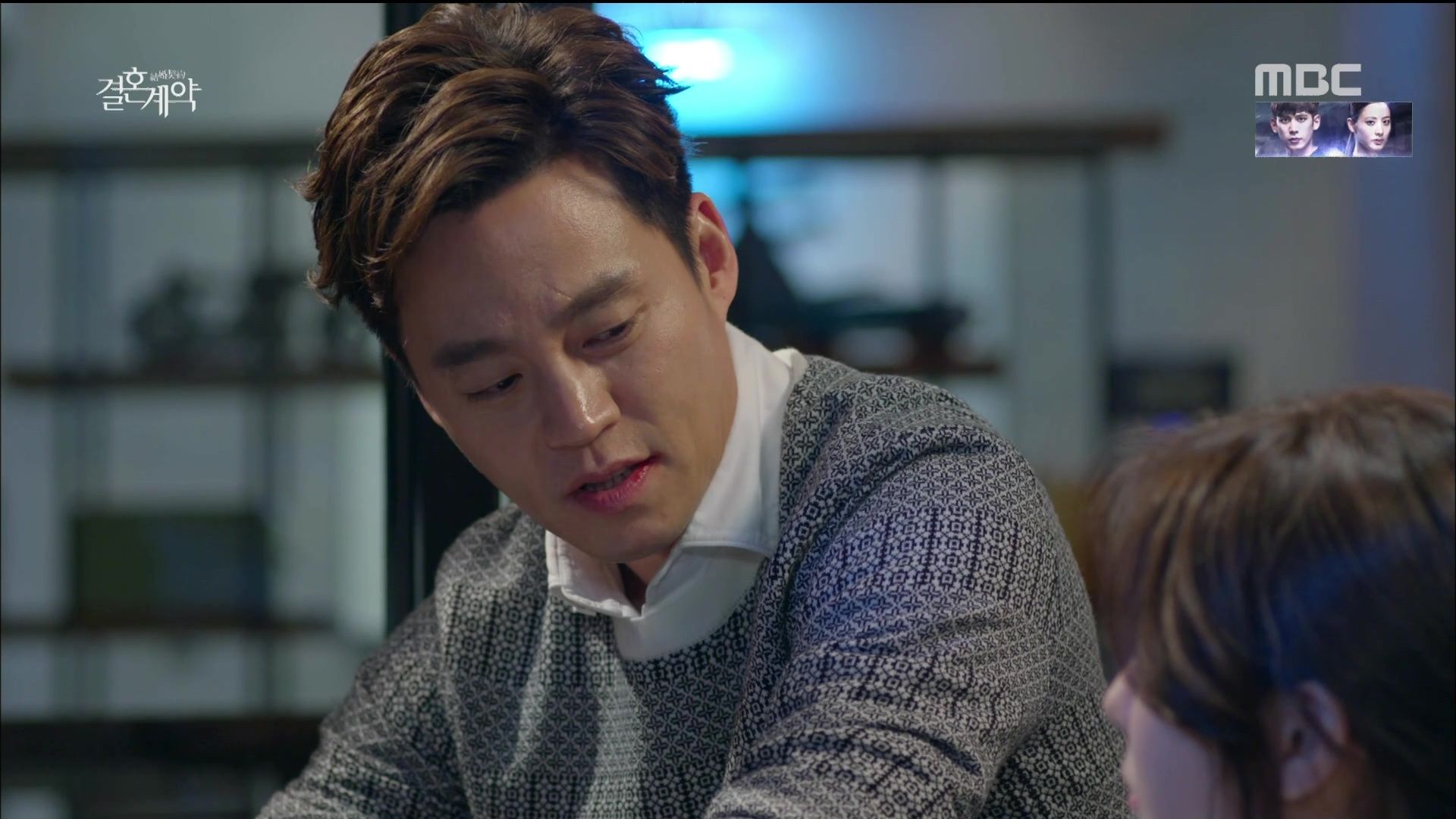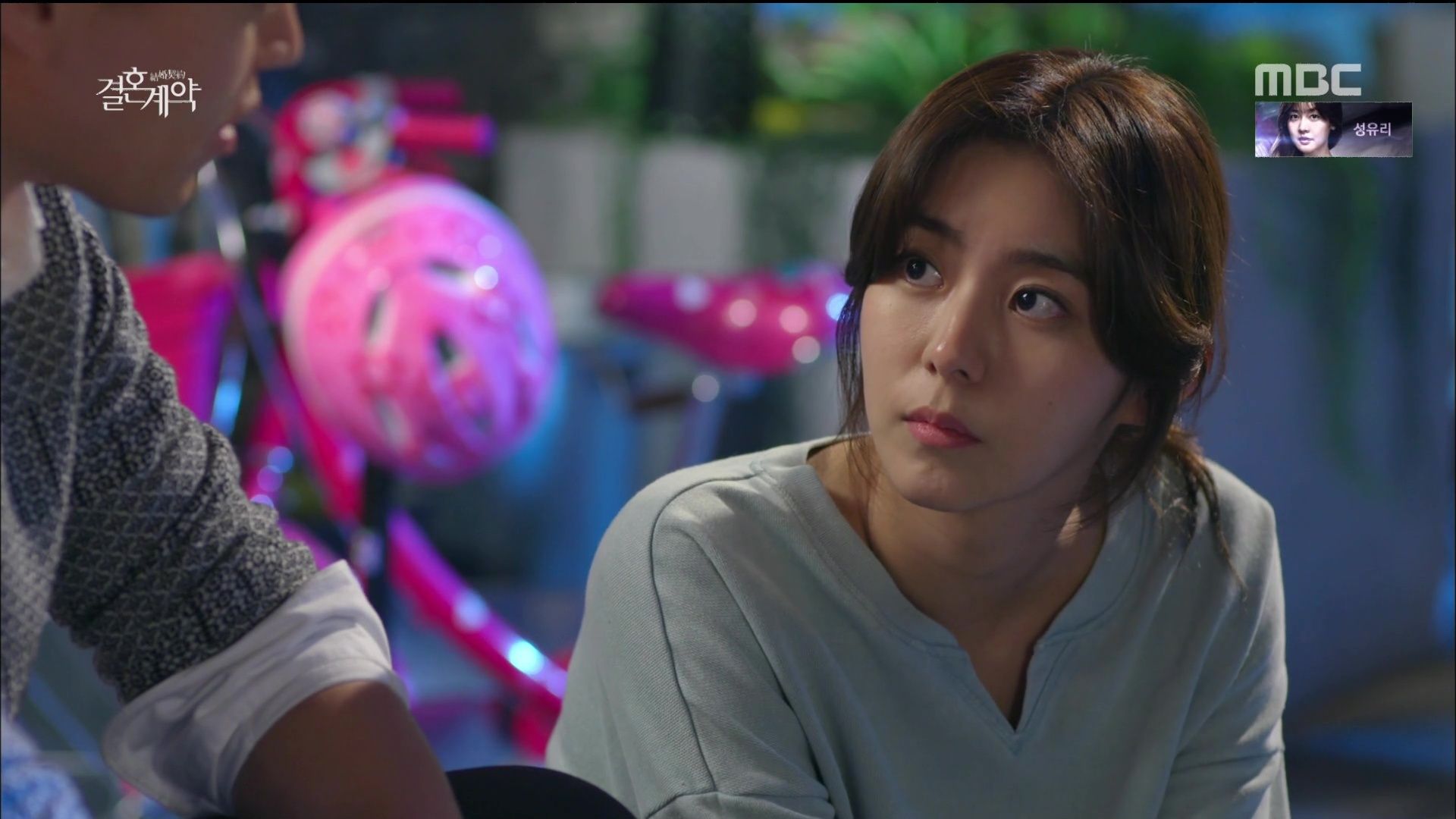 Ji-hoon remembers the kittens later that night, and Hye-soo comes to thank him for fixing her broken light. He makes light of his father's anger, but she notices his bleeding lip. He's more worried that Eun-sung is upset to have seen his father's violence, and he knows he should keep his distance from the little girl. But he complains that it's not easy, so he'll try to withdraw from her slowly.
But this time Hye-soo disagrees, and says that Eun-sung is only worried for him. She tells him sweetly to cheer up, which brings on his grumpy defensiveness, and he tells her to worry about herself and get ready for the upcoming surgery. After that, he promises he won't bother her anymore.
He admits that he's a bad person, but Hye-soo quietly counters that it's not an easy thing, to give up something of yourself to save another person's life. This time he lets her dab at his bleeding lip, too stunned at her words to object.
A flash goes off, and HAHA, it's Eun-sung, taking a picture of the two of them with their heads bent close to each other. She smiles in satisfaction, and Ji-hoon grins back at her in spite of himself — even Hye-soo betrays a small smile.
Jung-hoon is furious to hear about Ji-hoon's shenanigans, assuming that he concocted this whole fake fiancee story to hide his "real" relationship with Na-yoon. He insists that Ji-hoon is threatened by him, and that he's stringing Na-yoon along just to get back at him. Geez, narcissist much?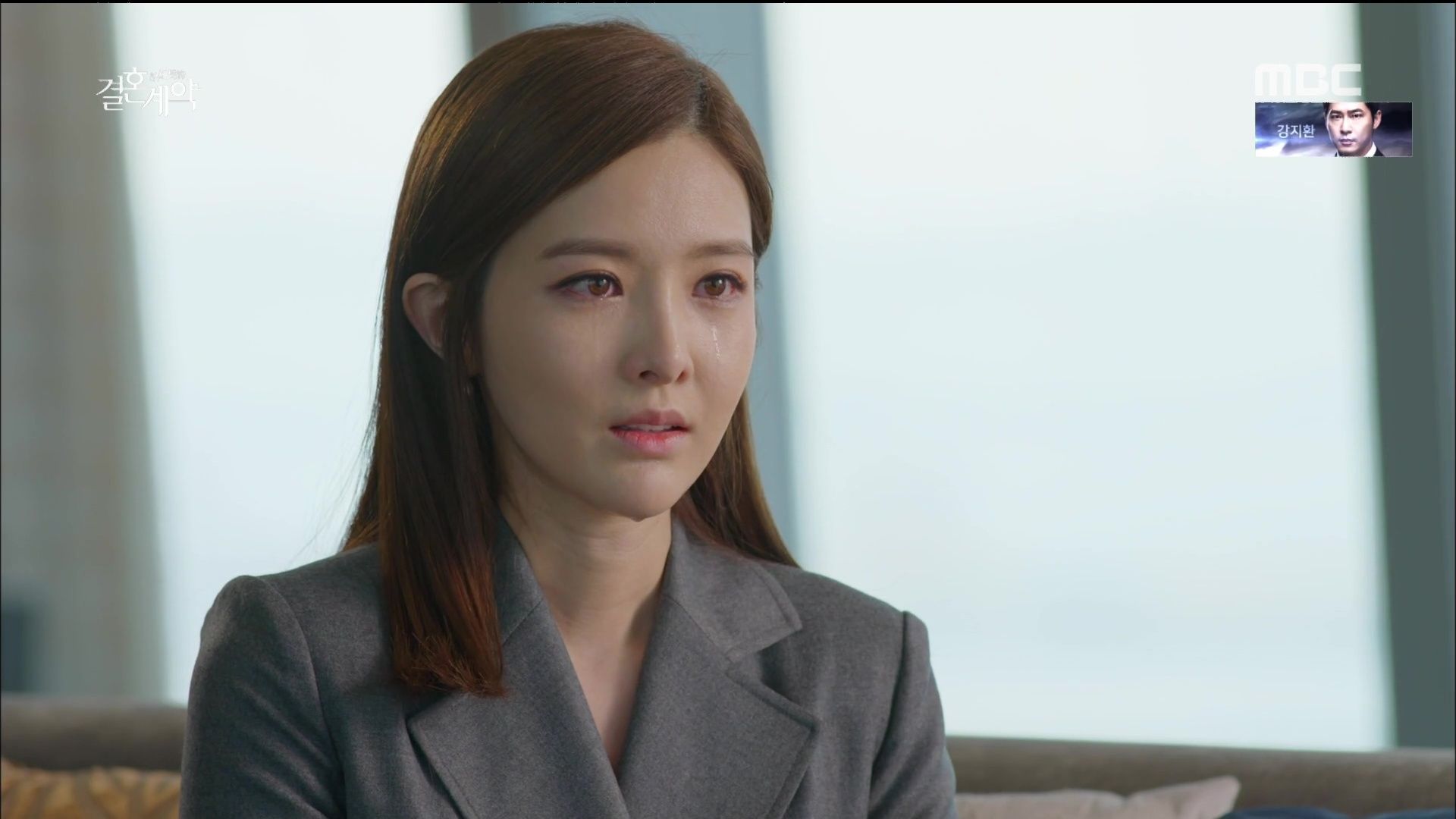 Chairman Han snaps to just let them date if they want, which gets his wife and Jung-hoon up in arms. His wife follows him to defend her son, though it's interesting that she's not unfair about it, she just notices that Chairman Han favors Ji-hoon lately.
Chairman Han goes to see Na-yoon, and he can tell by her expression that she broke up with Jung-hoon because of Ji-hoon. He asks why she and Ji-hoon broke up before, and she tells him that it was Ji-hoon's idea. He'd told her he was an orphan and she'd believed him, and he'd disappeared when her family objected to their relationship.
Ji-hoon rushes to his father's office when he hears that the chairman somehow managed to postpone his mother's surgery (he can do that??). He's furious that his father rates his mother's life worth so little, but the chairman can't understand why Ji-hoon cares so much, when she never did anything for him.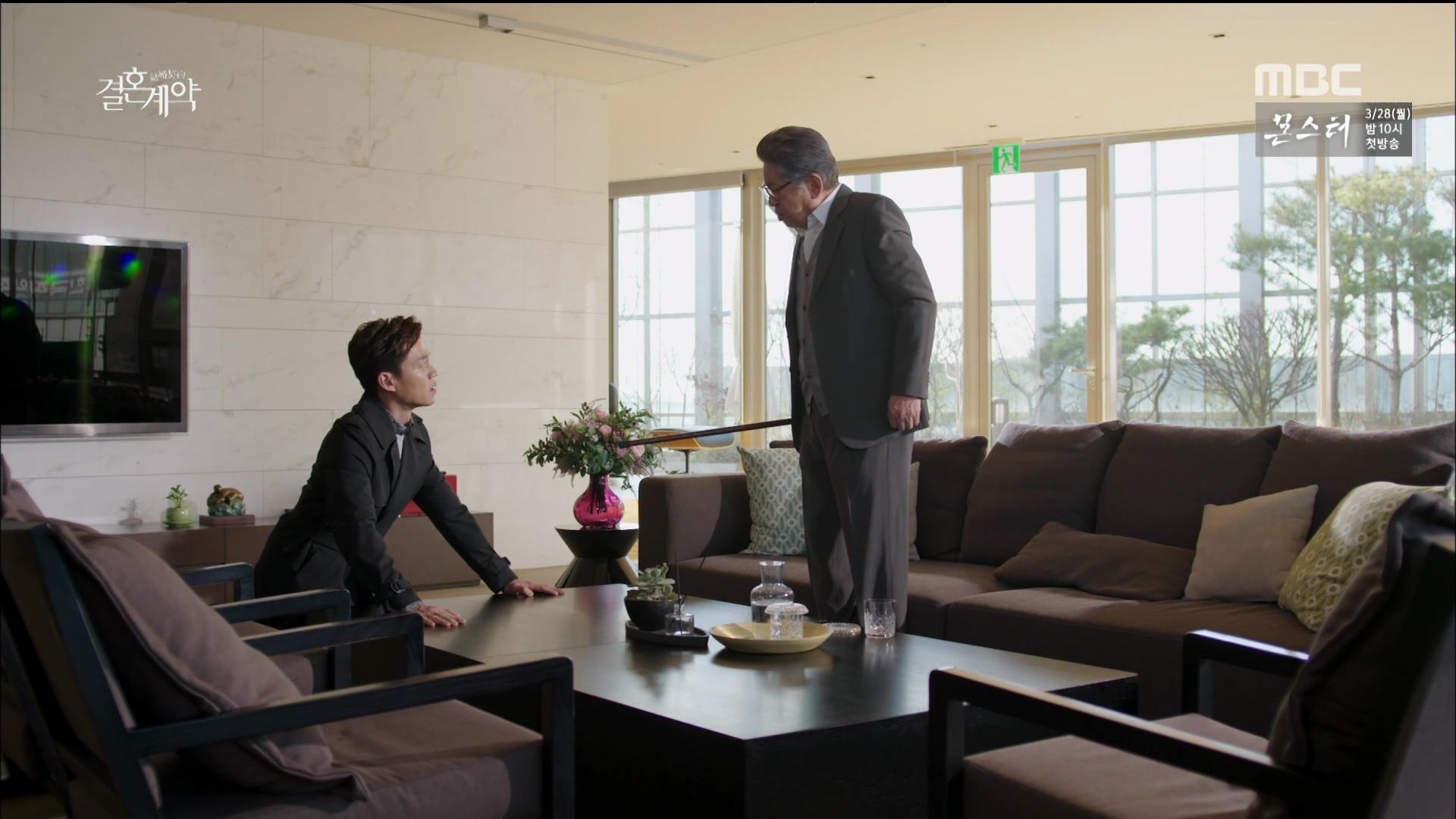 Chairman Han orders Ji-hoon to go break things off with Hye-soo now, but Ji-hoon says that he can't. He kneels, begging his father to let him finish this and save his mother. The chairman is so furious he looks like he might beat Ji-hoon to a pulp, but he just yells at him to focus on work. If he does well, he might not report this to the police.
Ji-hoon mopes at the restaurant that night, which Hye-soo notices. He sees Na-yoon pull up to park, but when they meet eyes through the window, something changes her mind and she drives away again.
When Hye-soo goes to pick up Eun-sung after work, Joo-yeon asks her about Ji-hoon. She's surprised when Joo-yeon describes him as annoying and hateful, because she sees a man who's pitiful. She agrees that she might be nuts, but she sees something painfully human in him.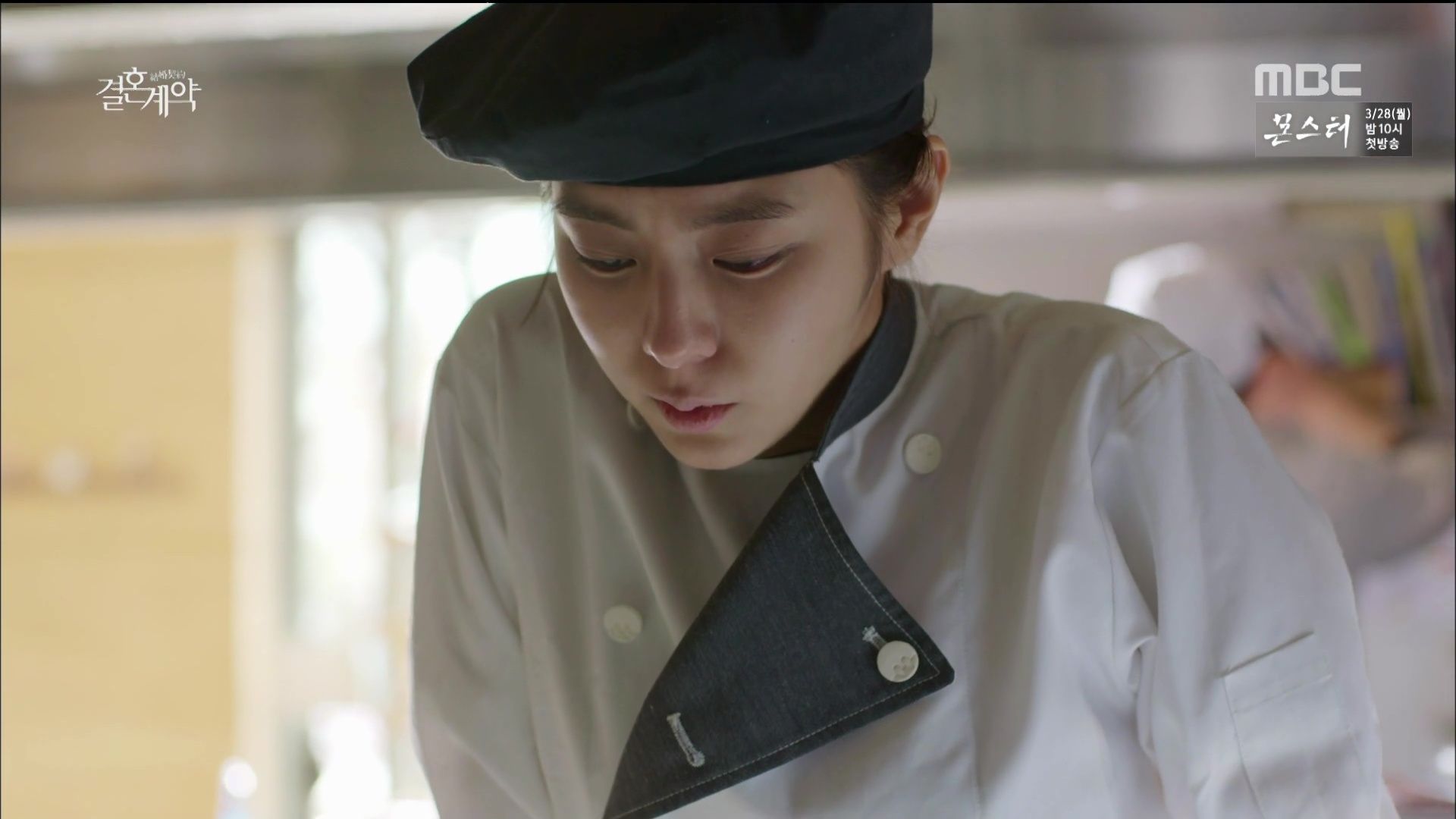 Hye-soo still hasn't been told the surgery was postponed, though she's clearly just trying to hang on until it's over. Mi-ran loses hope, assuming that this postponement means it will never happen.
The next day at work, Hye-soo cuts herself chopping onions, then nearly passes out cold. She hangs onto consciousness by a fingernail, and chef Soo-chang assumes that seeing her own blood just made her woozy. She looks awful, and he orders her to the doctor immediately.
Looking terrified, Hye-soo waits at the hospital to be seen, but when her name is finally called she just gets up and leaves. The doctor who'd diagnosed her tumor had seen her waiting and comes out to find her, but she's already gone. As soon as she gets outside, Hye-soo has a change of heart and turns to go back in, but an unexpected call from Chairman Han has her hesitating again.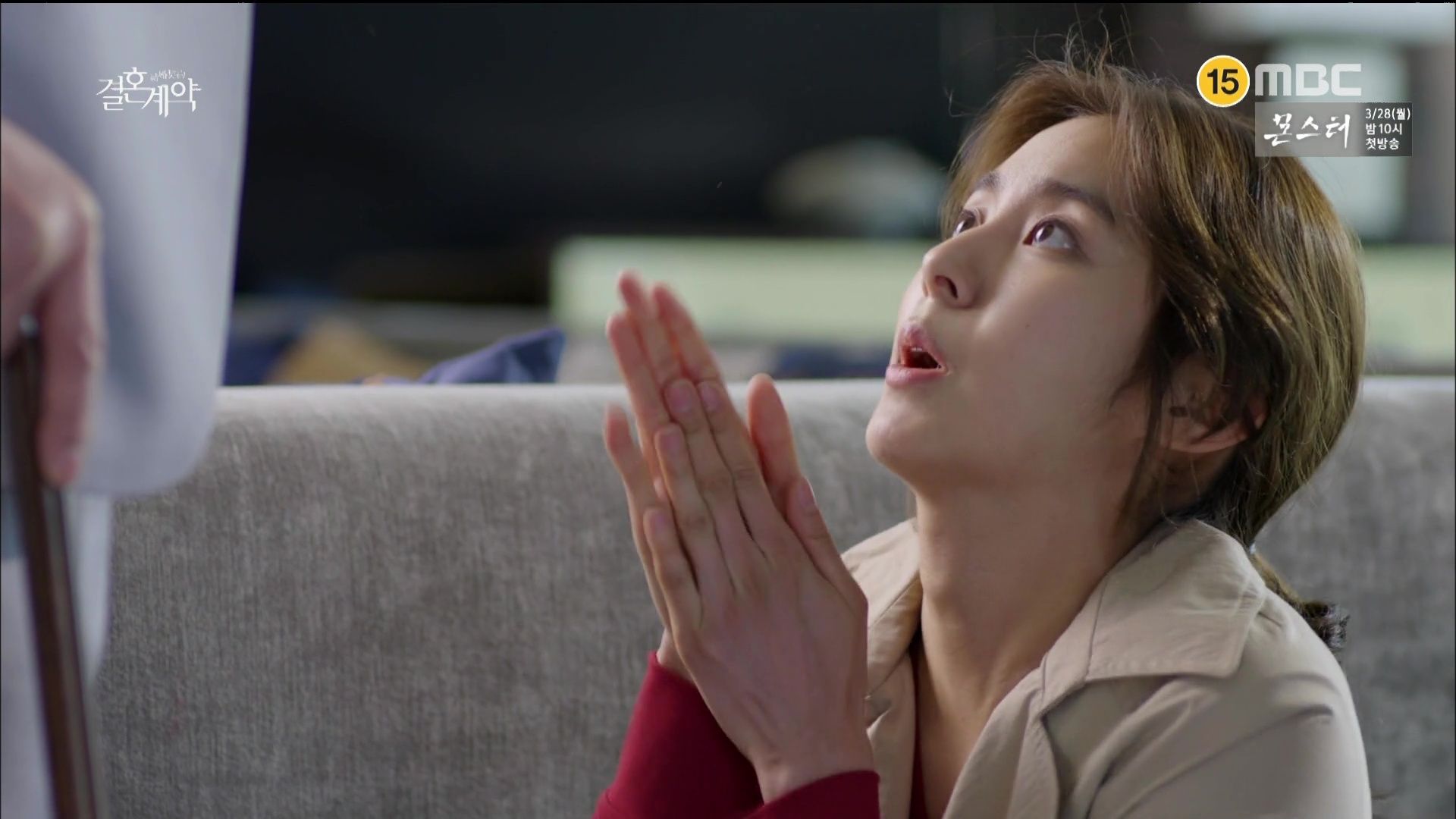 Ji-hoon grows suspicious that Hye-soo isn't at work so he calls her, but by now she's meeting with his father and declines his call. The chairman tells her that he knows she's a fake, and he orders her to divorce Ji-hoon and return the money he paid her.
She begs him to reconsider — it took a lot to get to this point, and the surgery will be done soon, and she intends to go through with it. She pleads with him, literally hanging onto his pants legs, asking over and over for him to let it go.
But all he cares about is his business and how this could ruin everything if it got out. He yells at Hye-soo to just follow orders, and be grateful that he's not suing her.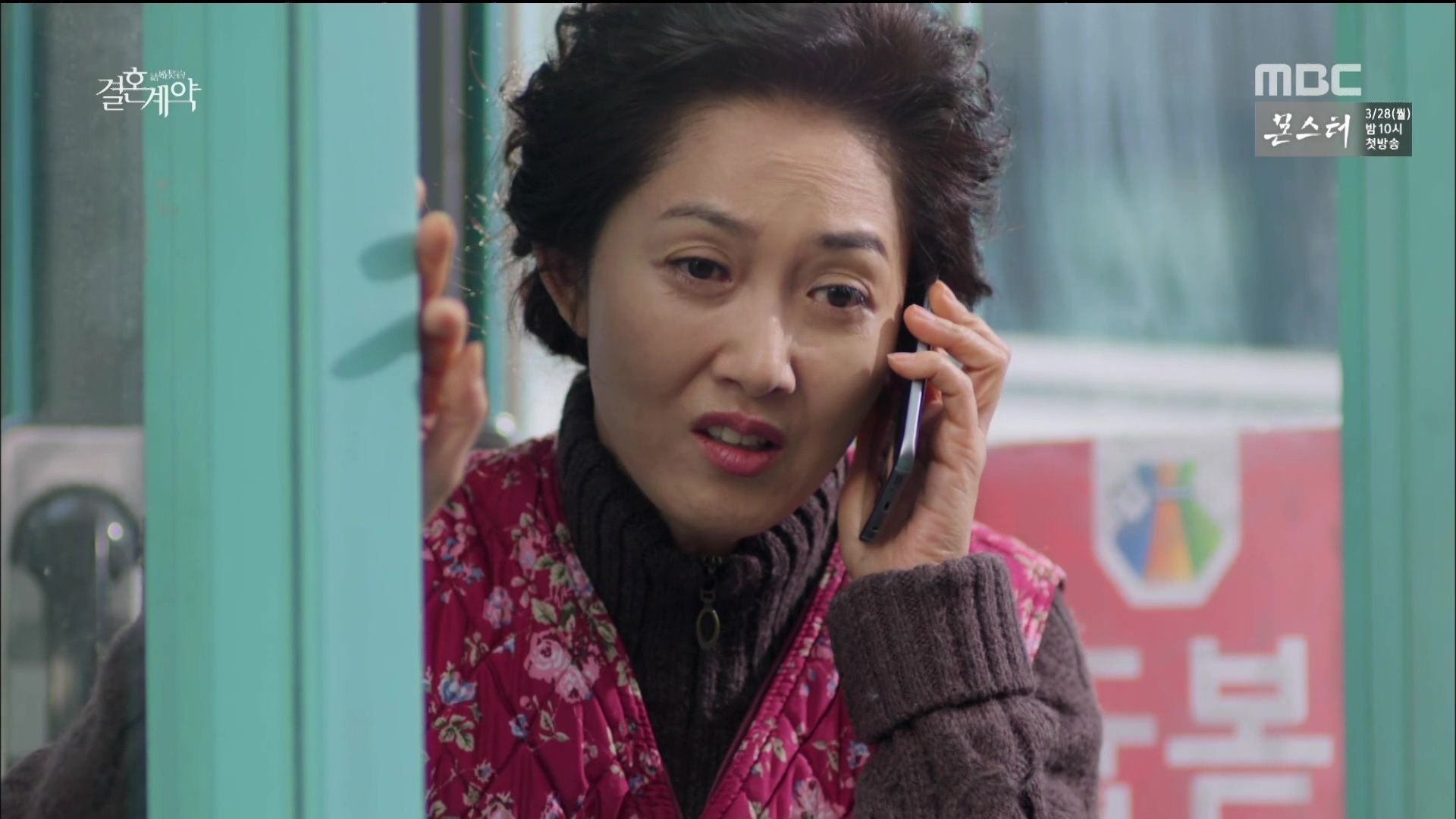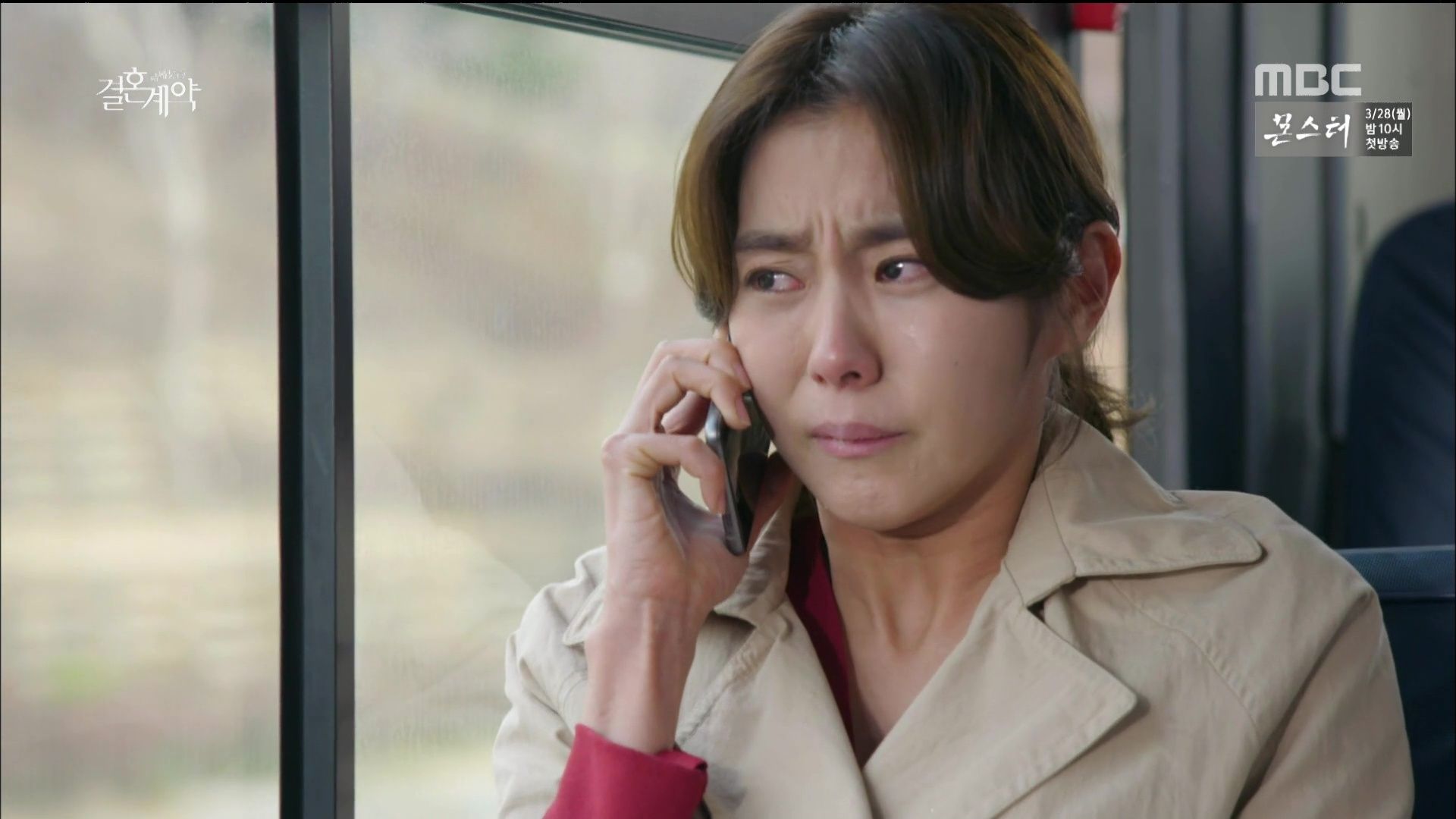 Young-hee calls Hye-soo while she's riding the bus home, and says that she feels bad about how she acted the other night. Looking peaceful, she tells Hye-soo that she doesn't resent her, she was just taking out her grief over her son's death on her. She genuinely wishes a happy life to Hye-soo, and asks her to raise Eun-sung with love.
By the time she hangs up, Hye-soo is sobbing. That unconditional wish for her happiness is exactly what she needed to hear right then. But she's so upset that she jumps off the bus to walk, and accidentally leaves her phone on the seat.
Ji-hoon keeps trying to call Hye-soo with no luck, while Hye-soo goes back to the bus station determined to search every bus until she finds her phone. One of the drivers clucks at her for being careless, and she listlessly says that she's not careless.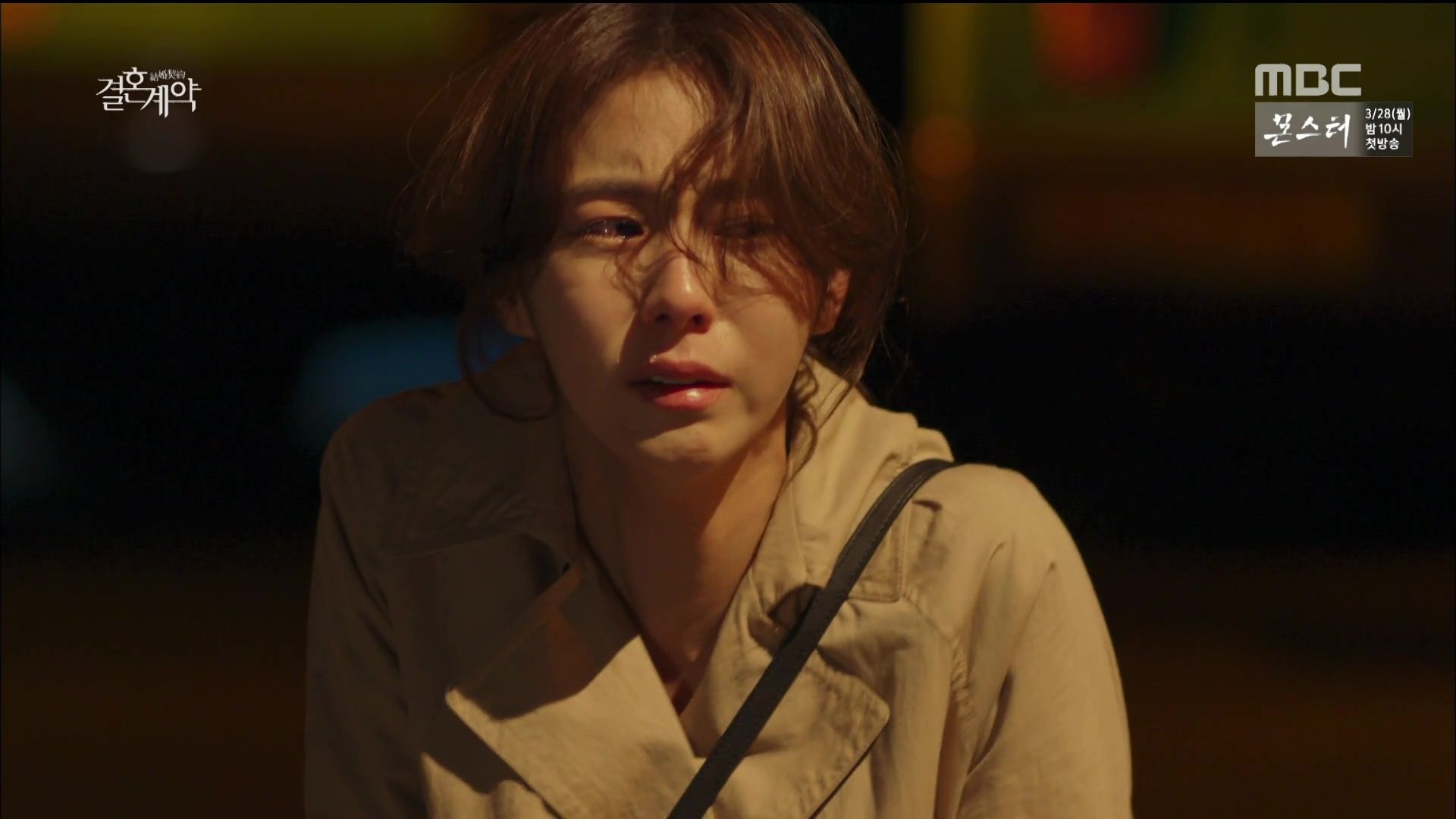 Her voice rises in frustration as she repeats herself, until she finally screams, "I'm not that kind of person!!" It's just too much for one day, and Hye-soo collapses to the ground, crying and screaming her fear and anger.
Because he hasn't quite interfered enough, Chairman Han presents Ji-hoon with divorce papers he had his lawyer draw up. Ji-hoon still wants him to let this go, but the chairman says that they don't know what kind of person Hye-soo is, and she might betray him. He says that when he saw her today she kept insisting the surgery happen, and Ji-hoon is startled to hear that his father saw her.
He demands to know what his father said to her, fearing that this is why she's not answering his calls. The chairman says that he told her to disappear, and he wants to know what it is about her that makes Ji-hoon so emotional. Ji-hoon doesn't answer, but just runs out of his office.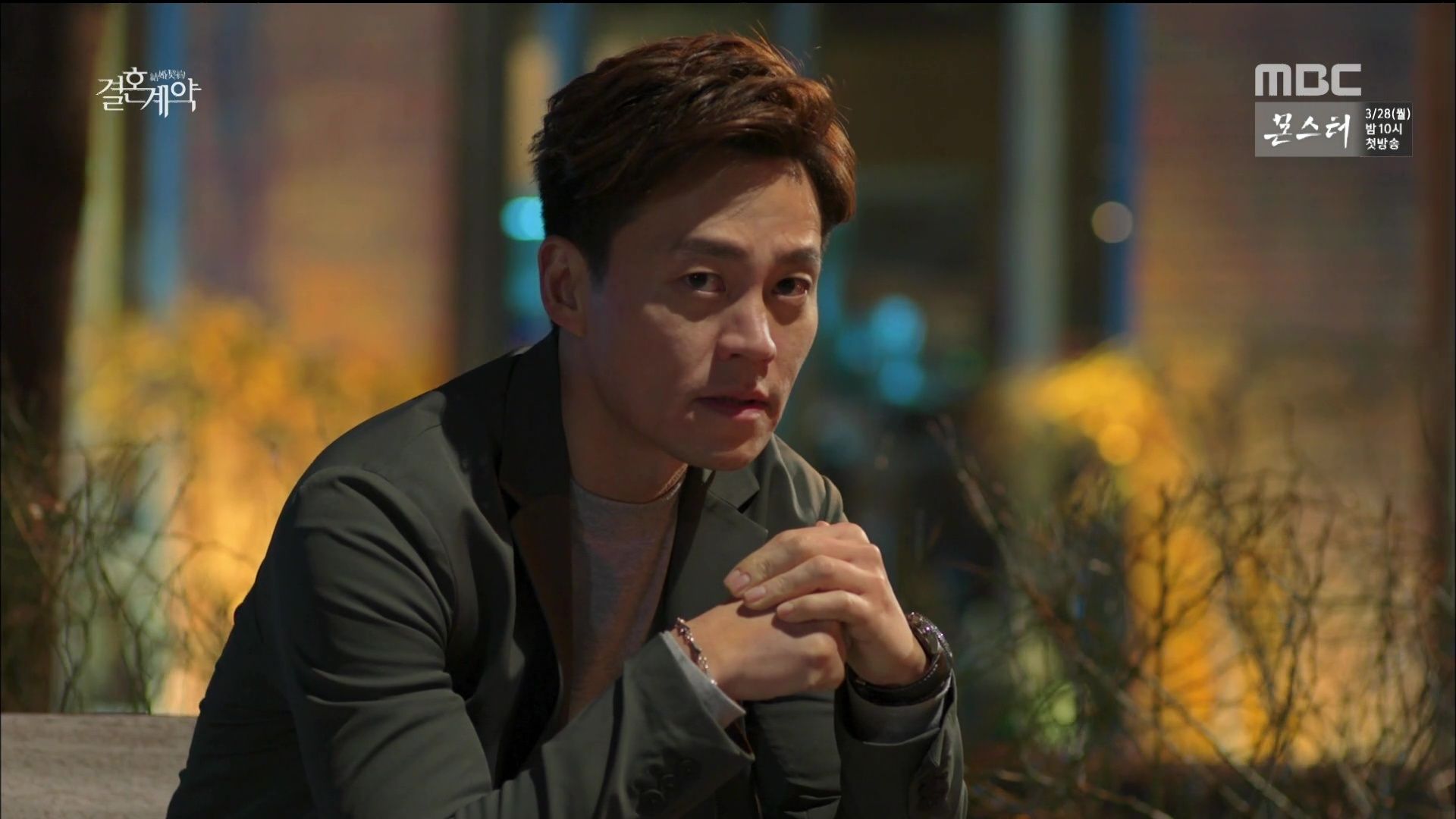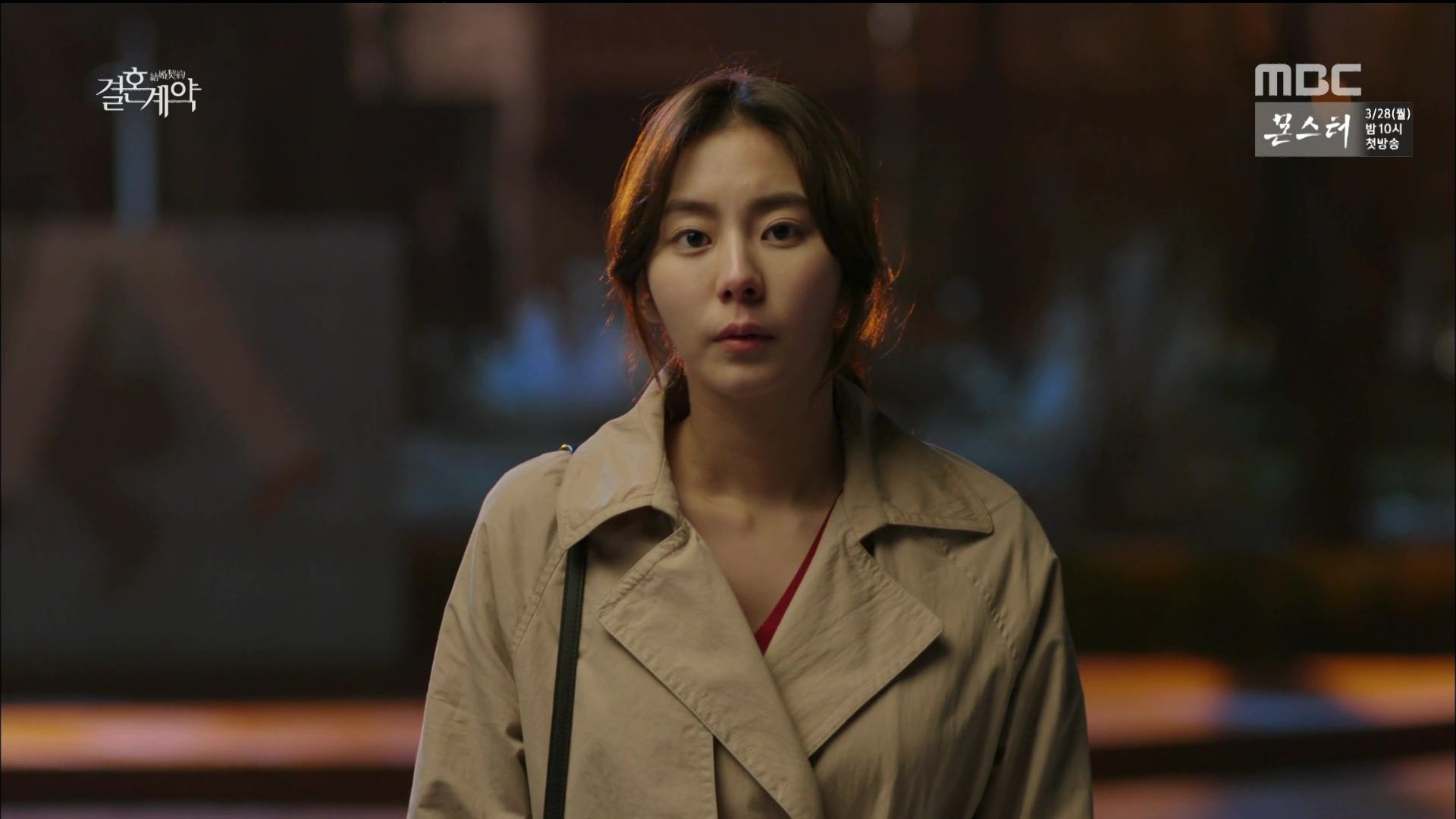 Ji-hoon rushes home, but Hye-soo isn't there. She's not anywhere else he looks, and she's still not answering her phone, so he drives around growing more and more upset. He ends up back at the restaurant just yelling her name into the night, scared that she's done as his father said and disappeared.
He sits outside stewing in worry, until he finally sees Hye-soo trudging home, looking bleak and exhausted. Their eyes meet, and without saying a word, Ji-hoon walks up to Hye-soo and folds her in a relieved hug.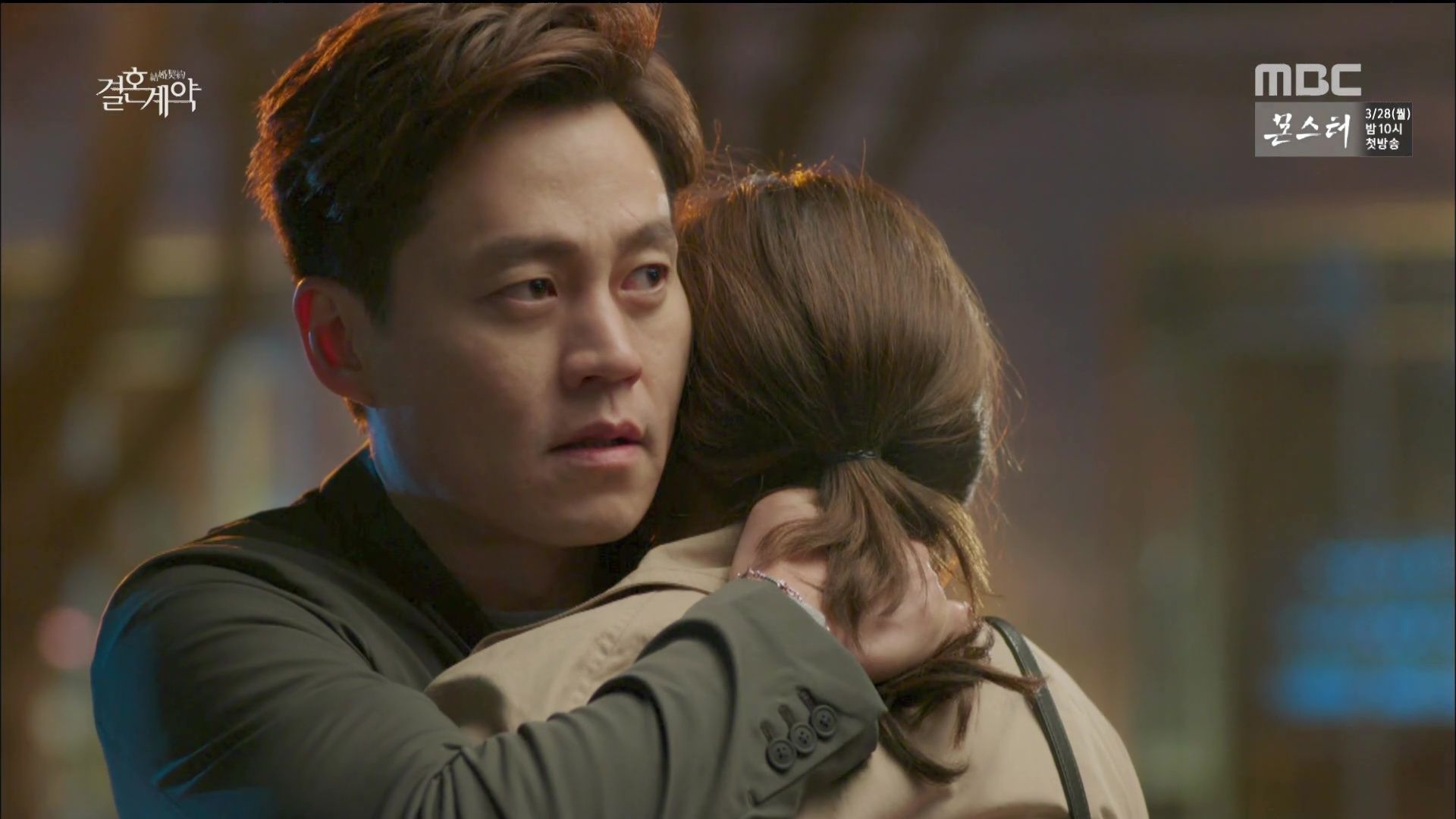 COMMENTS
I'm so afraid for Hye-soo right now. I know why she's denying that she's ill, because if anyone knew she had a brain tumor there's no way they'd let her donate part of her liver. She needs that surgery to assure her daughter's future. But in pretending that she's fine, she's delaying her own treatment dangerously, and she may be literally sacrificing her own life to give Eun-sung a stable future. It's a terrible position to be in, and it's no wonder she's so conflicted. I can't say that, in her situation, I would do any different. So I'm worried about the chairman's attempts to stop the surgery, not because of how it could affect Hye-soo and Ji-hoon's growing relationship, but for what it could do to Hye-soo emotionally. Without the money for her daughter and for treatment, she could very well just give up on life. (And much respect again to UEE for her portrayal of Hye-soo — those ugly-crying scenes were so good, and her pain so real, they were hard to watch. She's really outdoing herself in this role.)
But Ji-hoon, you are so busted! We know you care now, don't even try to pretend you don't. When Hye-soo got sick, he couldn't pretend anymore that this is just about business — he was even the one trying to tell her at the hospital that he was more worried about her being ill than whether she'd be fit for surgery. He forgot to be all gruff once he settled in to help Eun-sung take care of Hye-soo, and just turned into this big old mother hen. I love it. I knew he was a big cuddle-bear under all that bluster, but I never guessed him to be such a sweet caretaker.
But it was when he couldn't deny his feelings for Hye-soo to Ho-joon's face that I finally fell for Ji-hoon myself. I love a guy who admits his feelings, even if he's still in denial that anything could come of it. We don't know the details of what happened between him and Na-yoon back in school, of why he lied to her in the first place and why he so easily disappeared on her. But whatever it was, it was painful enough to put Ji-hoon off dating permanently. And this is a character that, I have no doubt, would stand by that decision no matter what he feels for Hye-soo… if it weren't for Eun-sung. It's clear that Ji-hoon is starting to feel something for Hye-soo herself, but it's Eun-sung that he has no defense against. Something about that little girl just gets under his skin and stays there, and it will be his downfall. She's the one who pulled his emotions into this situation in the first place, and she'll be the reason he can't get himself out again so easily when it's supposed to end.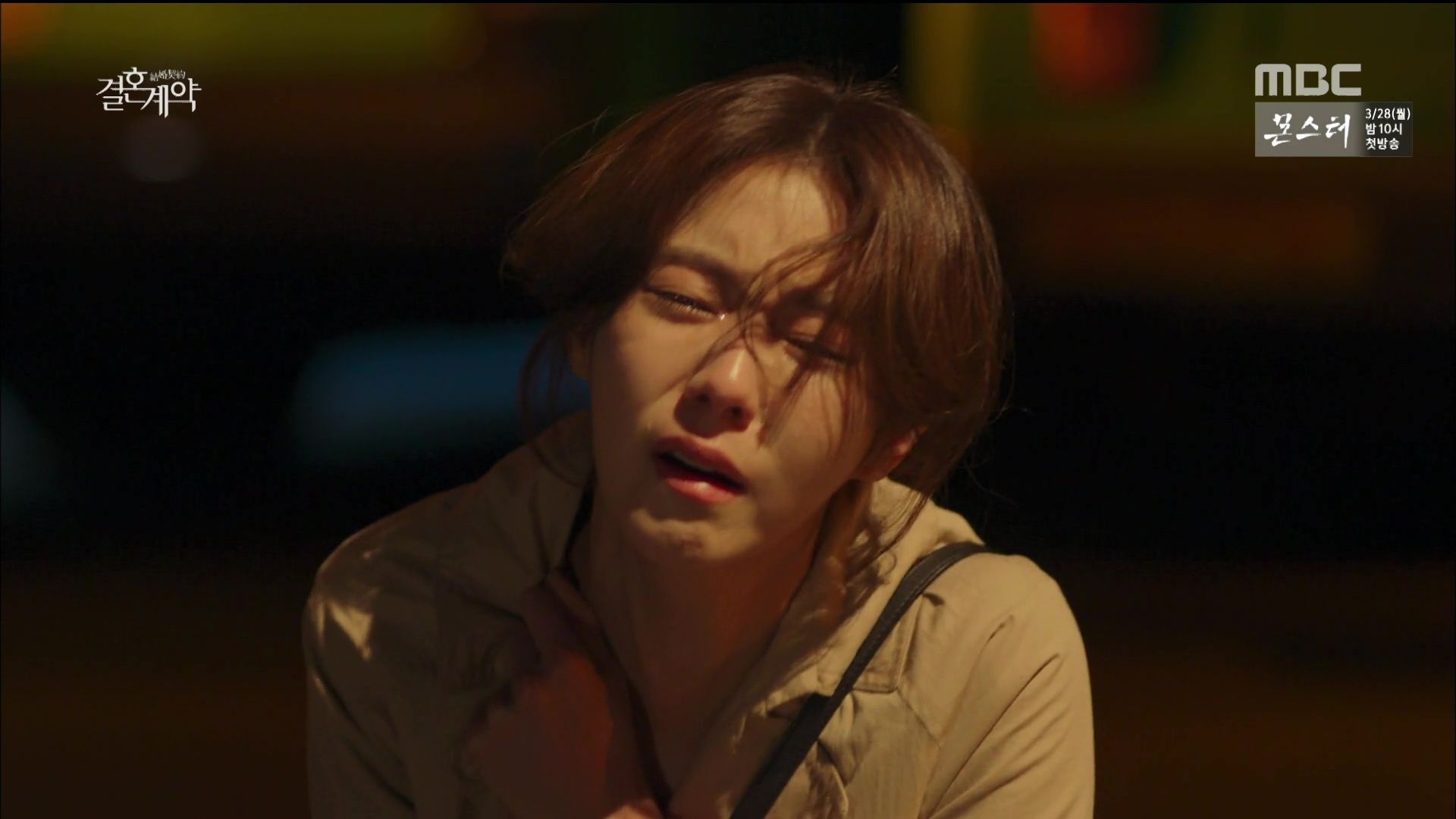 At this point, I almost think he loves Eun-sung so much already, that he'd stay married to Hye-soo even if he didn't also develop feelings for her. But he is starting to care for the mother as well as the daughter, as evidenced by his fear and panic when he thought she'd disappeared on him, and he's toast. I'm not ashamed to admit that I cried when he told Hye-soo that he'd try to pull away from Eun-sung, and stop using them after the surgery is over — just the thought of their tenuous little family being ripped apart, before they even get a chance to start, already hurts.
It's interesting too, how the feelings are starting to move both ways. Hye-soo seems to see Ji-hoon in a completely different way from the rest of the world. Where they see annoying, she sees defensive. Where they see hateful, she sees pitiful. It just goes to show what a lovely heart Hye-soo has, and we know she's always had it, because she's defended her former husband in the same way. She's just a woman who sees people in the best possible light, even though it may get her in trouble sometimes. But in Ji-hoon's case, her ability to see him for who he truly is could be what saves him from a life of loneliness.
So I strongly agree with Saya when she mentions that Hye-soo and Eun-sung will be Ji-hoon's key to freedom. Freedom from his own family expectations which have never fit him or made him happy. Freedom from his own crippling lack of self-worth (every time he calls himself "trash," my heart breaks for him, because he obviously believes it). And most importantly, freedom from his self-imposed life without love or true family — as he begins to see how amazing those things are, even temporarily, I doubt he'll be satisfied going without anymore. Hye-soo and Eun-sung are the first two people who have ever bothered to care for him for who he truly is, who have made the effort to get to know him, for no other reason than that he's a person worth getting to know. He's already getting addicted to that feeling of being wanted and needed, and it's not going to be long before he moves from passively accepting their care, to actively fighting for it. And when that finally happens, I think we're going to see a Ji-hoon we never expected.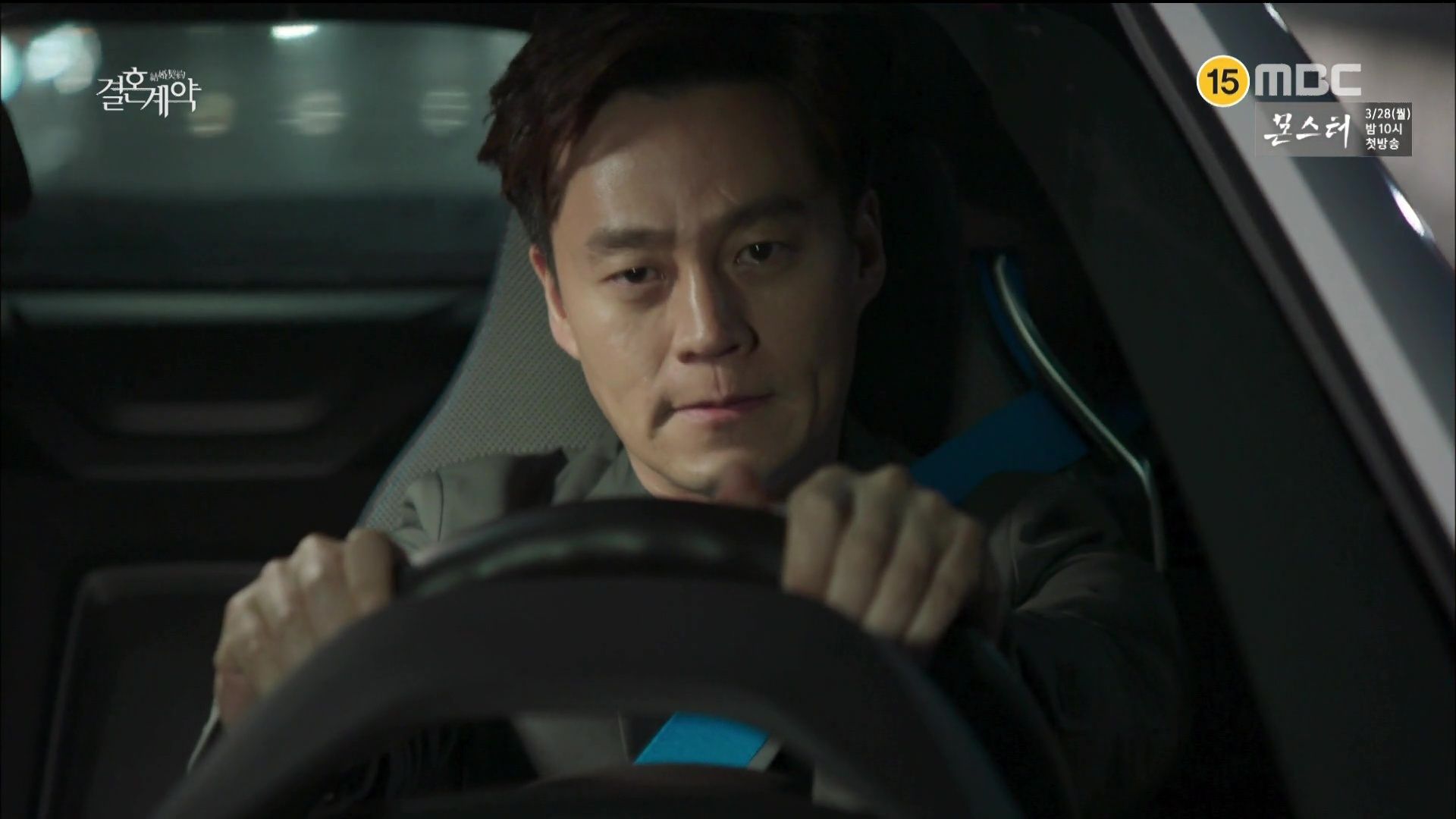 RELATED POSTS
Tags: Episode 7, featured, Lee Seo-jin, Marriage Contract, UEE