One More Happy Ending: Episode 15
If you thought that Mi-mo and Soo-hyuk couldn't possibly find a new way to be miserable — well, you'd be wrong. They have a gift for finding reasons why they shouldn't be together, and no matter how flimsy and ridiculous those reasons are, they still treat them as deadly serious. I guess there's one silver lining, that there's only one episode left, so we won't have to watch Mi-mo crying for too much longer.
EPISODE 15 RECAP
Mi-mo calls out dramatically over the river, "How are you?? I'm doing fine!" She laments her inability to squeeze out even one tear and tries again, but this time she's interrupted by a man delivering a letter from her ex-husband. HA, it's an invitation to a party for himself and Shi-ah.
Back in reality, Mi-mo and Sung-jae enter the restaurant together, griping at each other the whole way. When they see Soo-hyuk, Shi-ah, and Min-woo at the same table, smiling and waving them over, they finally realize that they're here for the same reason — and they are very much not happy about it.
Lunch is tense and awkward, and Soo-hyuk is the only adult left in the dark as to why everyone is acting so weird. Shi-ah still thinks that Mi-mo and Sung-jae were college acquaintances, which is the story she tells Soo-hyuk. Sung-jae seems as if he's about to set the misunderstanding straight, but Mi-mo stops him.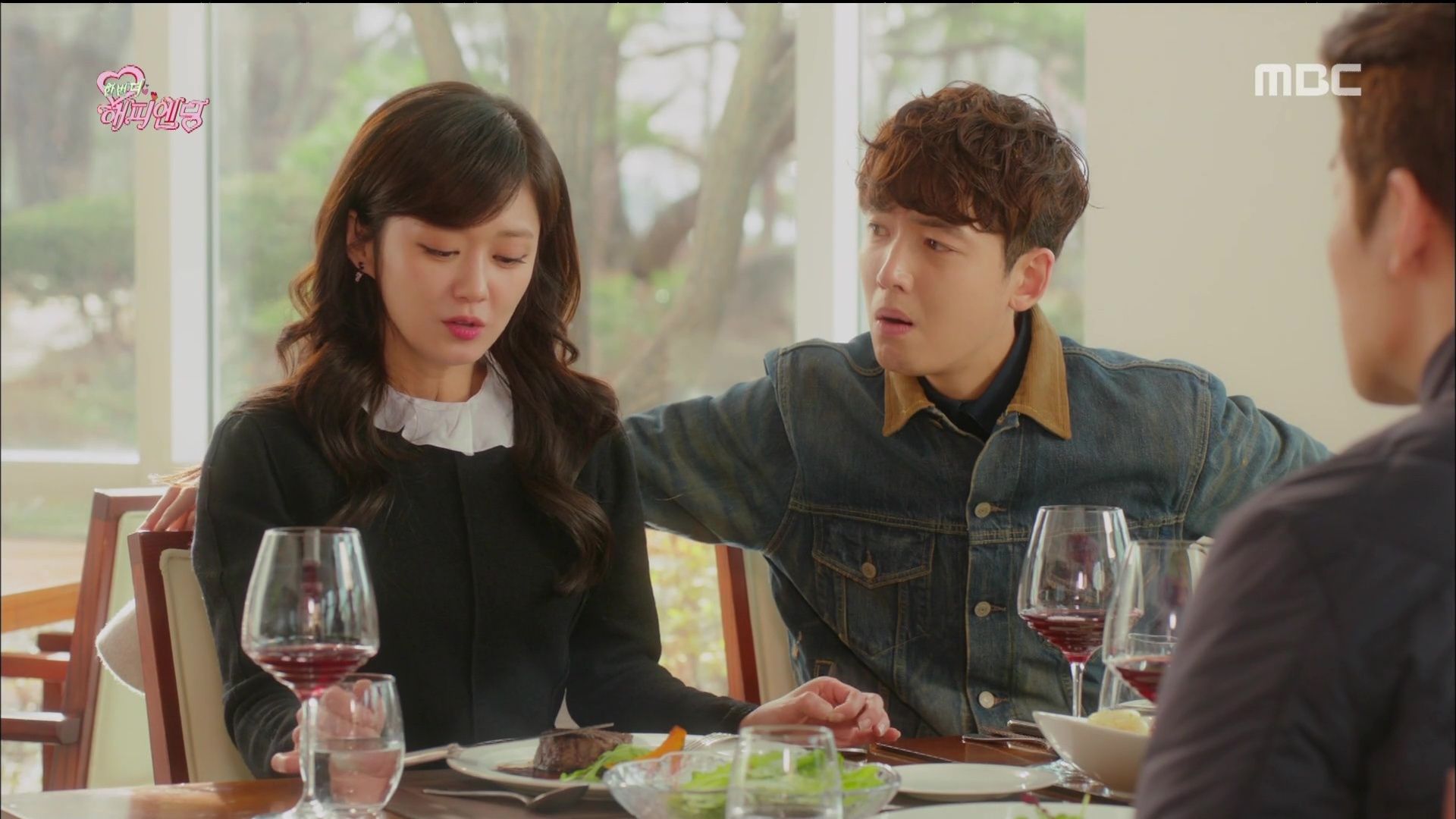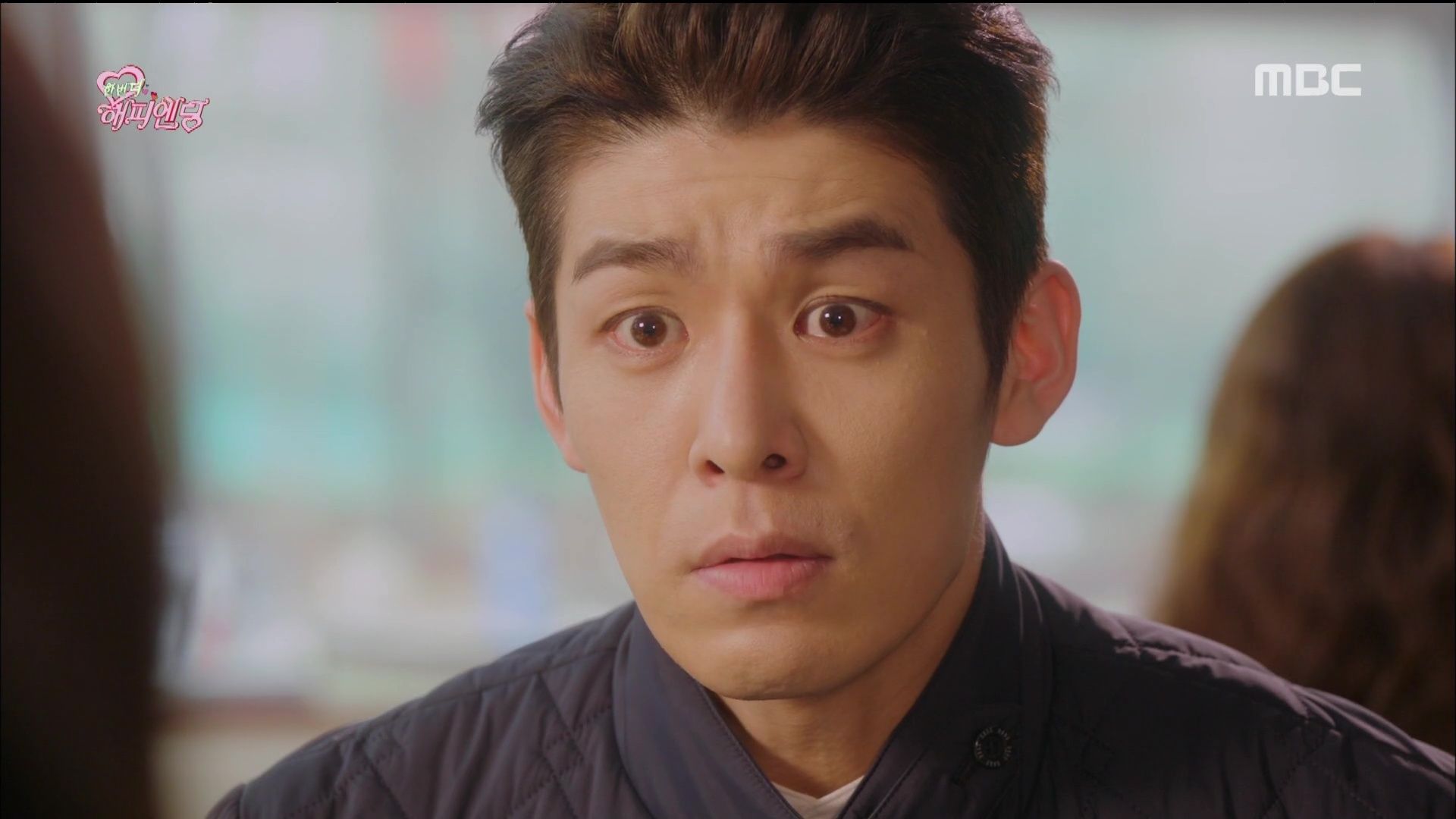 She concocts a story about Sung-jae being Seul-ah's fan, which is why she never warmed to him. HA, she makes him out to be a total sasaeng, sending Mi-mo threatening letters written in blood. It's cute how Soo-hyuk goes all Papa Bear at that.
Sung-jae decides to run with this and get a little payback, and growls that he hated Mi-mo in school because he liked Seul-ah so much, and Mi-mo had picked on her. Ever loyal, Soo-hyuk claims that if he'd met Seul-ah in person he'd know that she's the hateful one. He coos at Mi-mo that it must have been hard on her to be hated by this big meanie.
Buying the story, Shi-ah says that she's glad that it wasn't Mi-mo that Sung-jae liked, because that would have made things awkward. As the only ones who know they were actually married, Mi-mo and Sung-jae both choke at that.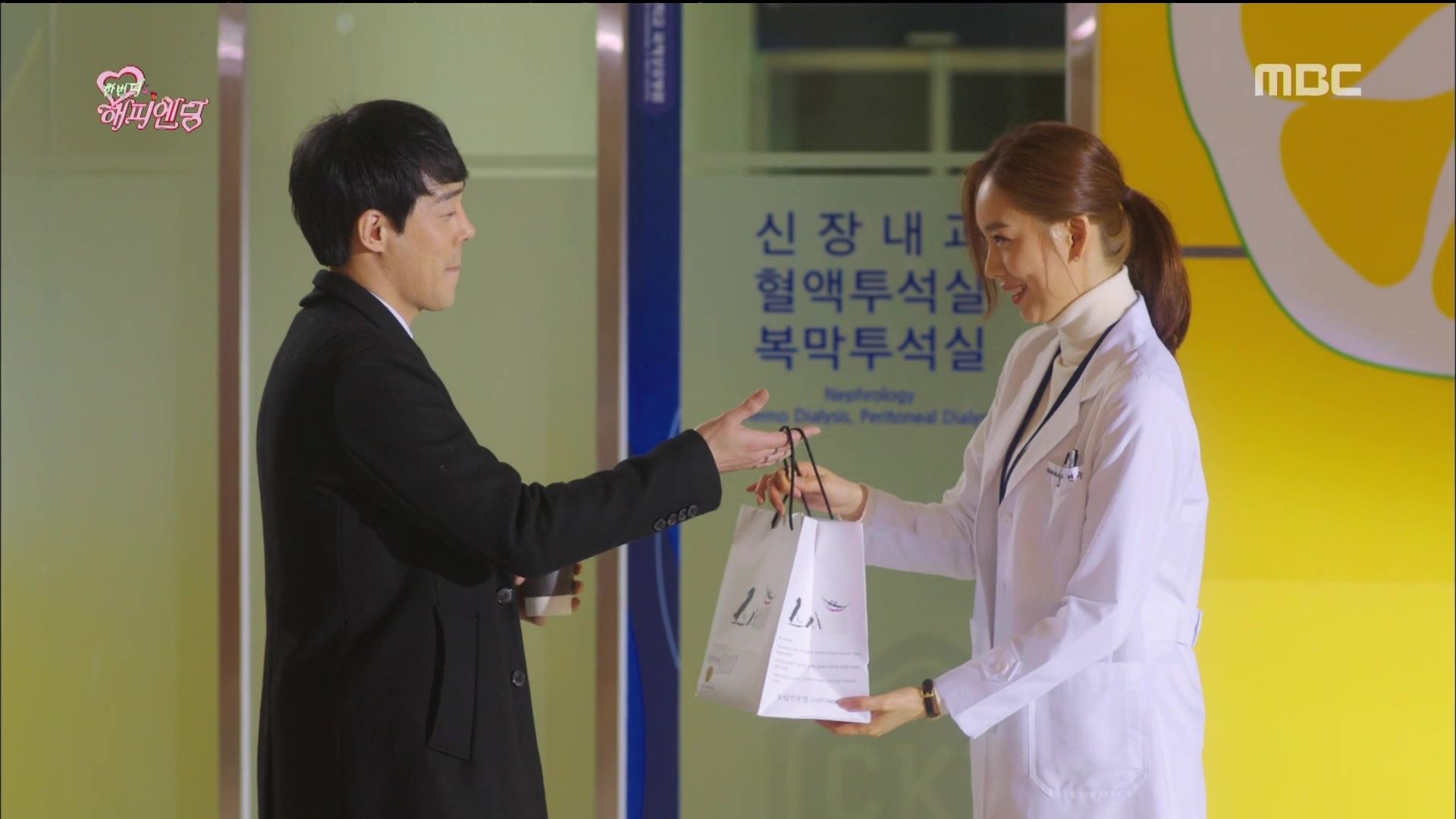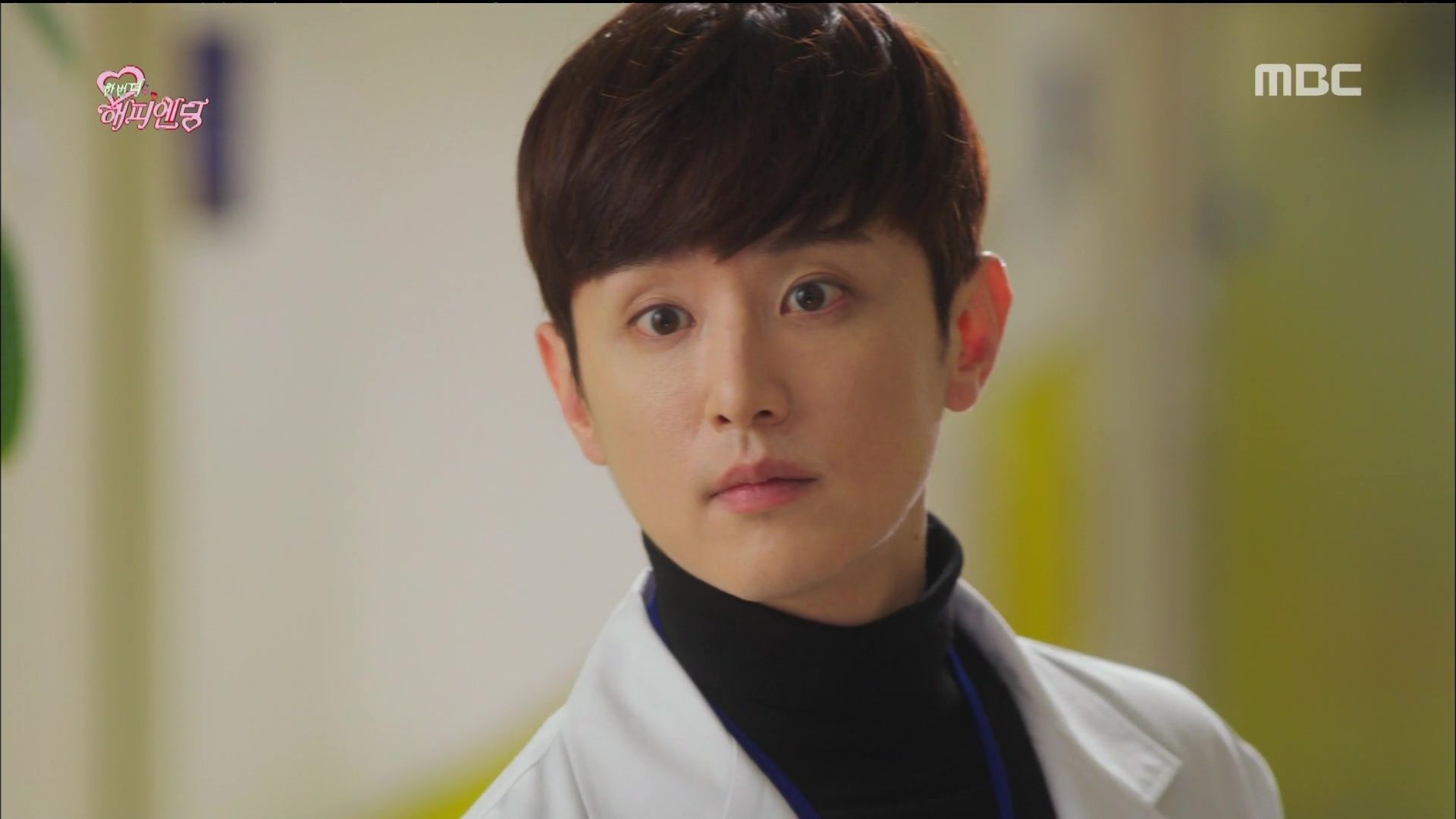 They finally remember that this is Min-woo's birthday lunch and give him his gifts, the identical jackets that Mi-mo and Sung-jae fought over. Shi-ah takes it as a sign that they could get to like each other, having similar taste, and suggests that the four of them spend a lot of time together before she and Sung-jae leave for the U.S.
Soo-hyuk says that they can't help but get closer, since Mi-mo is so wonderful… she's cute even when she's mad. Sung-jae scoffs at that, but he backs down when Soo-hyuk bristles at him. He compliments Shi-ah's calm temper, obviously meaning it as a criticism to Mi-mo, and Mi-mo narrates that it's natural for people to insist that their new person is better than their ex.
Over at the hospital, Hae-joon sees one of her dates bring Yeon-soo lunch at work, and it seems to bother him. He hovers around her listening to the nurses talk about what a nice man he seemed to be, taking note when she says that she doesn't actually like the sushi he brought.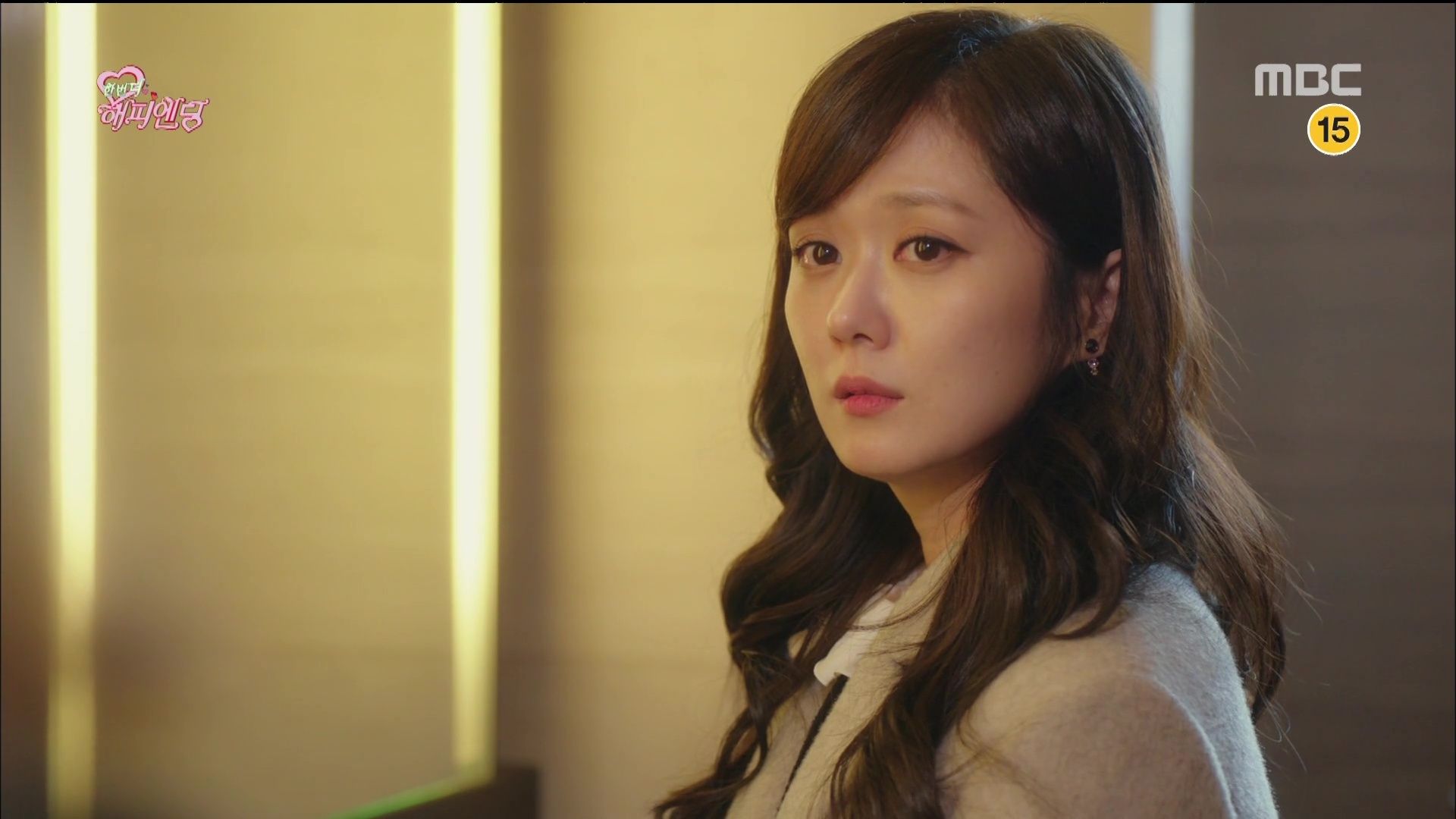 Lunch turns into a bit of a one-upmanship contest, and Mi-mo goes a teeny bit overboard talking about how perfect Soo-hyuk is. When she waxes poetic about how she'll be with him for the rest of her life, she even starts to freak herself out a little.
In the ladies' room, Shi-ah thanks Mi-mo for being good to her brother — even though her friend So-eun will be saddened, she's happy for them. Mi-mo asks when Shi-ah and Sung-jae are getting married, and is shocked to find out that they're having a small private ceremony in a week. Shi-ah says that Sung-jae's family wants to keep it low-key, since he's been married before.
Soo-hyuk overhears Sung-jae on the phone complaining that he's run into Han Mi-mo, and his eyes go wide when Sung-jae says she's his ex-wife. He barely has time to register the information before the ladies rejoin them, and he looks a bit shocked as they say their goodbyes.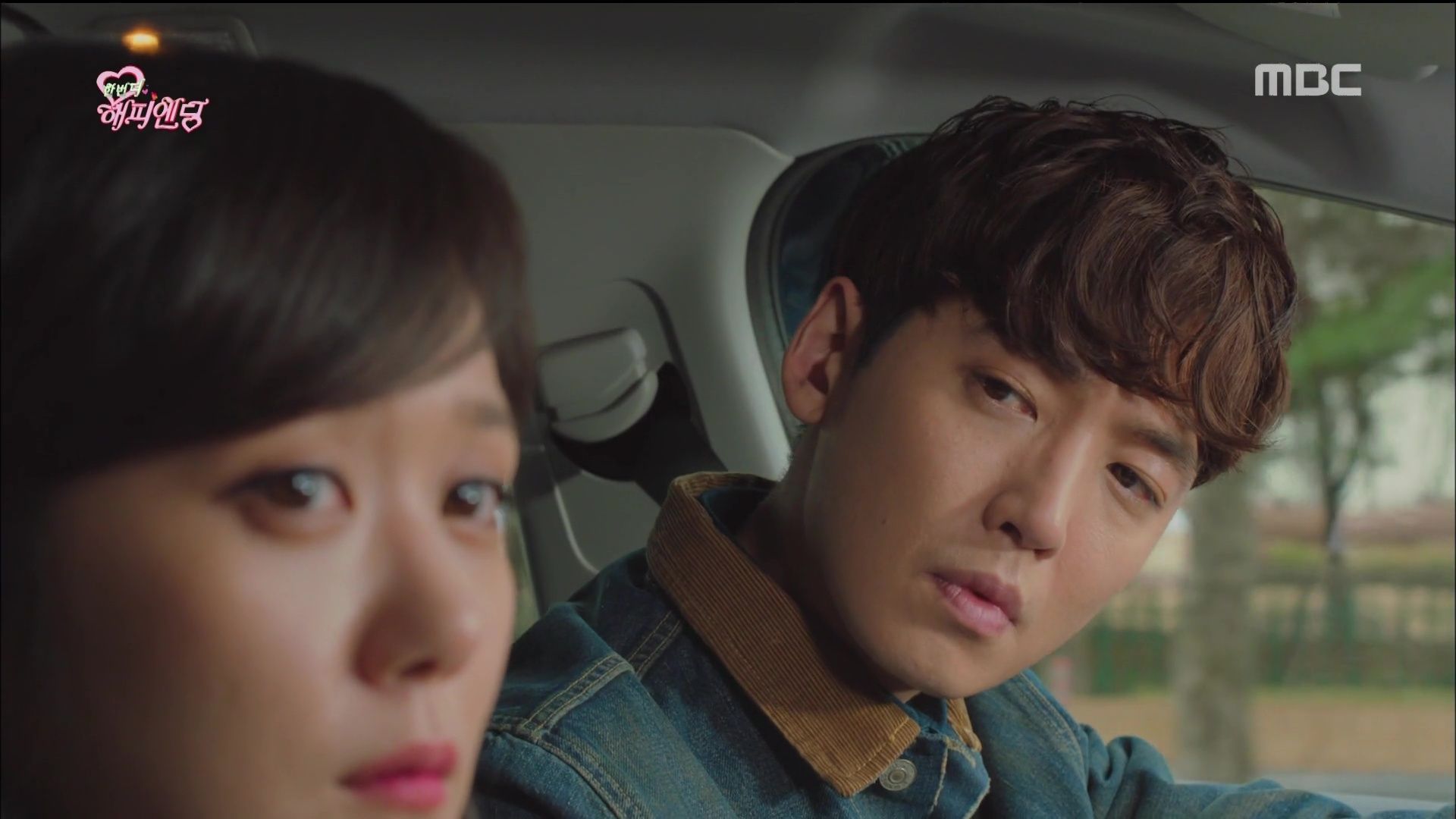 Hae-joon falls into a memory of when he and Yeon-soo were dating, and she'd told him she didn't like fish. She'd been willing to go out for sushi since he does like it, and he had just blithely let her sacrifice her own wants. He goes for sushi now with a friend, who comments that it must be weird to work with your ex-wife, but also comfortable.
Mi-mo is lost in thought in the car, and Soo-hyuk looks like he'd love to talk, but he leaves her alone. She's remembering how he told her that his sister was so supportive when he went to the U.S. recently, not asking any questions but just hugging him. She'd also helped Min-woo at that time, and gave Soo-hyuk the courage to come back to Korea.
Knowing that she didn't eat, Hae-joon brings Yeon-soo lunch, the teriyaki dish she used to order when they'd go to a sushi restaurant. Is that… is that some personal growth I see, Hae-joon?? Yeon-soo thinks about how Mi-mo said he had a warm heart, and sighs that she must not have known him as well as she thought.
Soo-hyuk drops Mi-mo off at work, and he seems as if he's about to say something, but they're interrupted by Manager Kwak. So Soo-hyuk only says that he'll be gone until the next day for work, which is the first that Mi-mo's heard of his getting a new job. Again he starts to say something, but stops and just kisses her forehead and says goodbye.
Mi-mo stops him, and for a moment it seems as though she may come clean herself, but she also stops herself. And then Soo-hyuk does it again… GAH, just talk, have you two learned nothing?!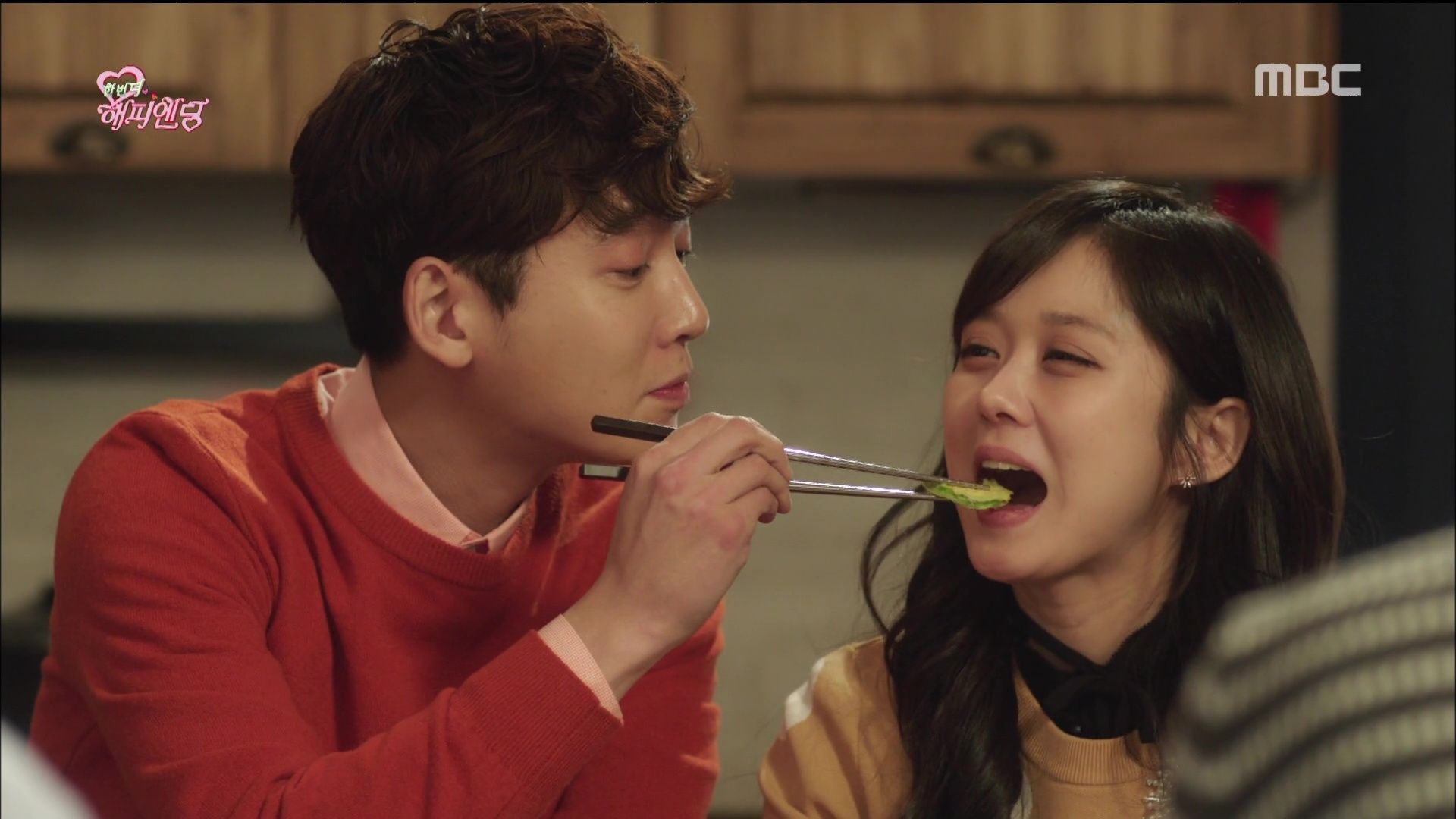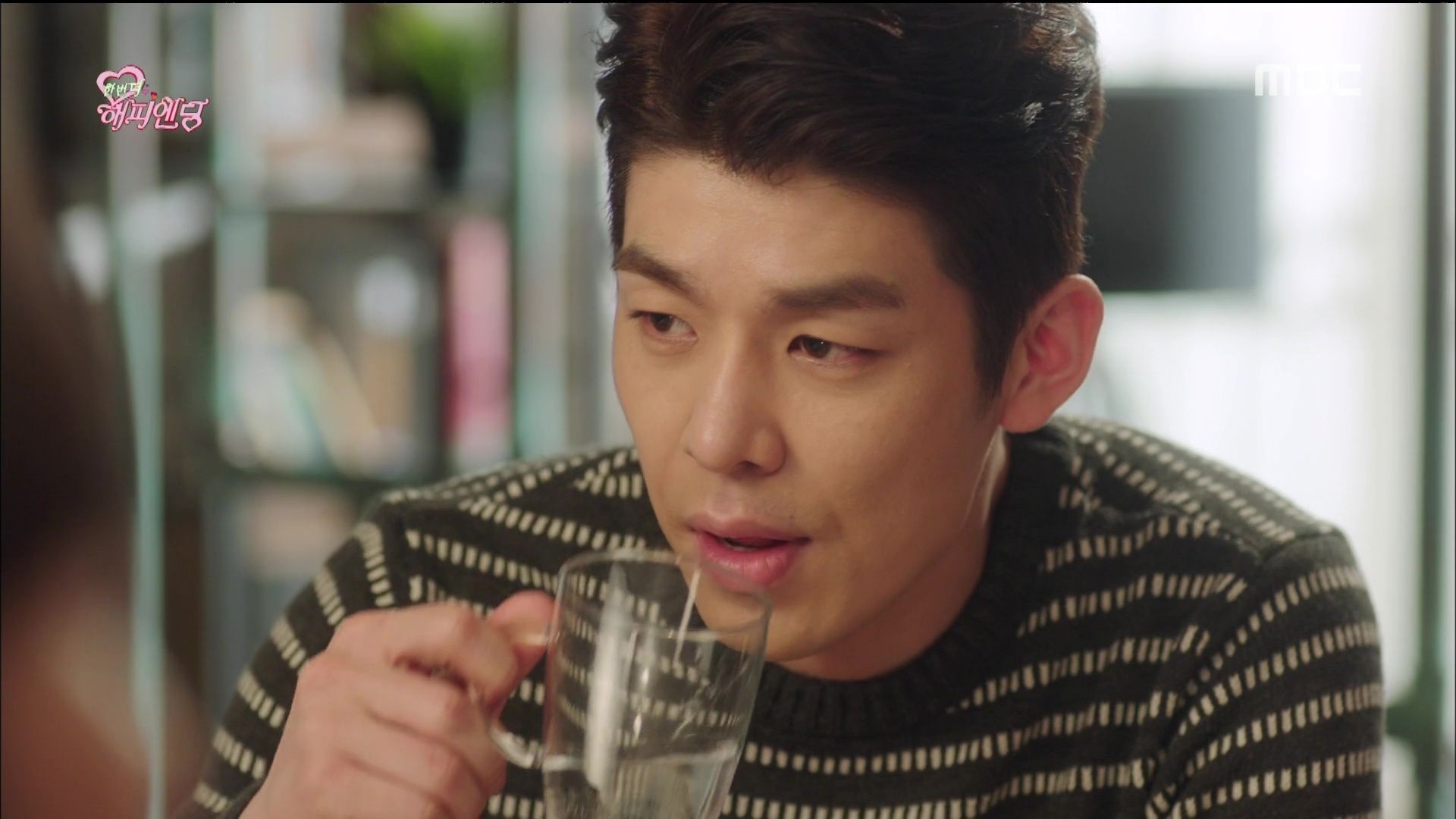 Shi-ah asks Sung-jae if it was strange seeing Mi-mo again, and he just says that it's not like he'll have to see her all the time. But she can tell that he's bothered by something, and he very nearly starts to come clean.. and then chickens out. I just want to smack them all at this point.
Pacing her office, Mi-mo rants to herself about this situation. She jots down a little family tree, freaks out a little, then remembers that it will all be over in a week when Shi-ah and Sung-jae go to America. She wonders if she can ask Sung-jae to keep their past a secret.
She imagines them all married and eating together, still keeping the secret years later, and the tension is just so weird that everyone but Soo-hyuk is miserable. She pictures the scene at the river again, only this time the courier brings her the wedding photos from her marriage with Sung-jae, and the courier turns out to be So-eun. Manager Kwak has a file to give to Mi-mo, but her behavior is so weird, she decides it can wait.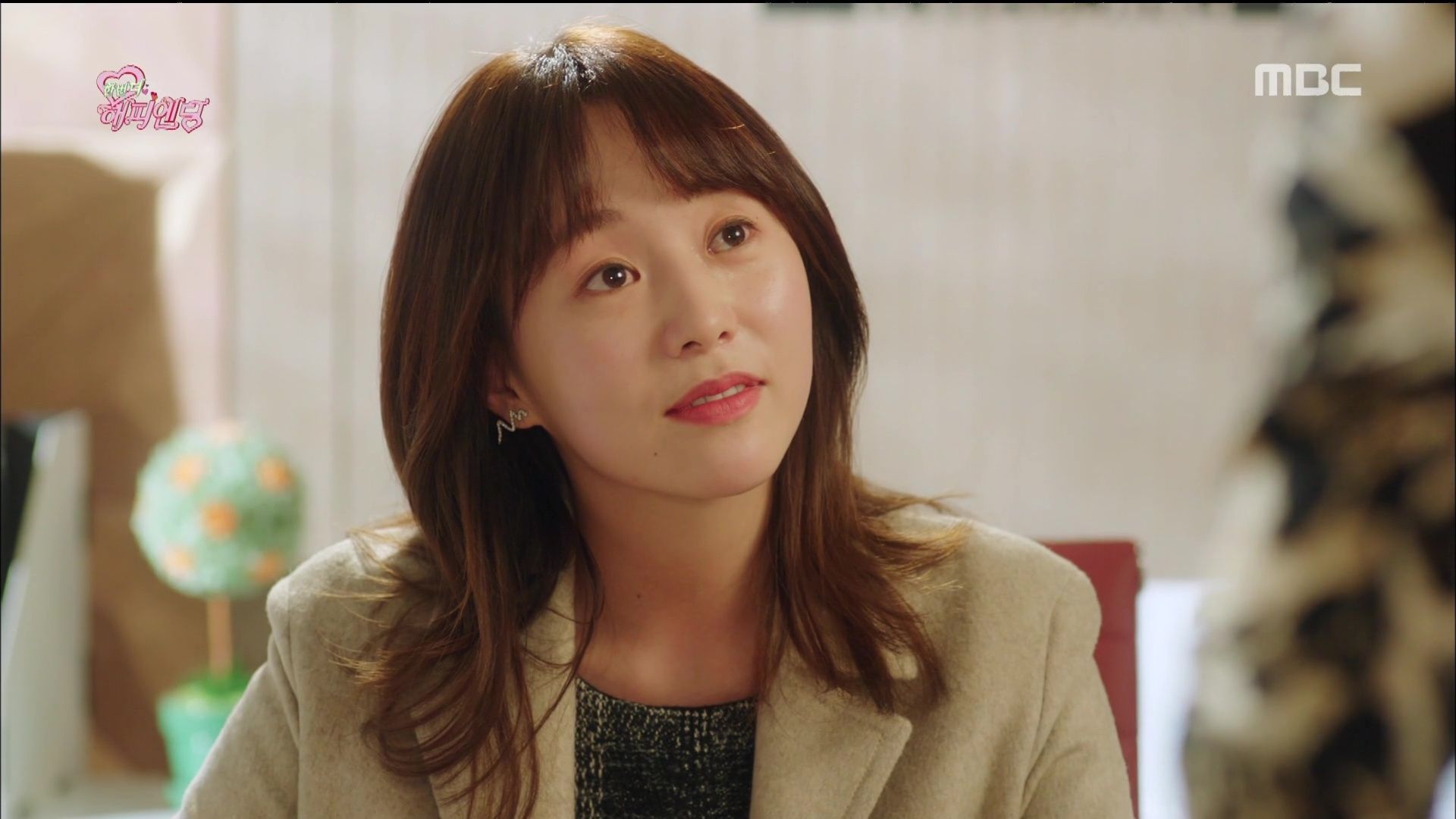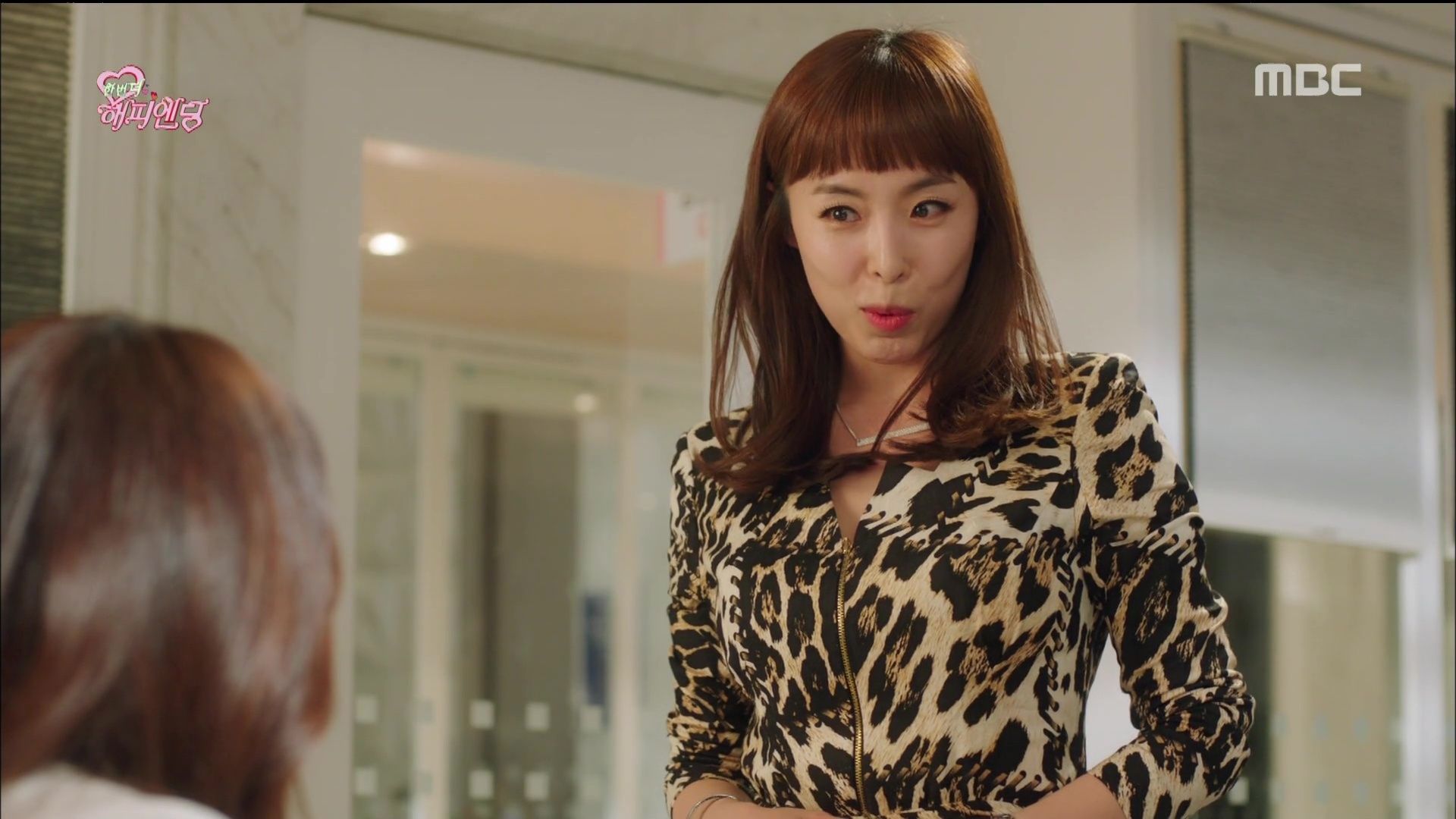 Da-jung and Geun-hak's newest assignment for couple's therapy is to assign each other a sweet nickname, and only call each other by that name. They also have to do a lot of things together like go shopping and to the movies, and take pictures for their homework book. Manager Kwak brings Da-jung the file instead, and says that she probably hates all this, since she's so busy.
Da-jung asks Manager Kwak if she has a nickname for her boyfriend, and she says they broke up, but used to call each other Pizza and Burger. She tells Da-jung not to make it too complicated — just think of something simple.
Dong-mi still can't decide what to do about Jung-woo… they obviously like each other a lot, but nine years is a pretty big age difference. She tries to talk to him about it, and he sweetly offers to listen to anything she has to say… after all, she's a teacher, so she wouldn't have lied about her age like he did. Uh…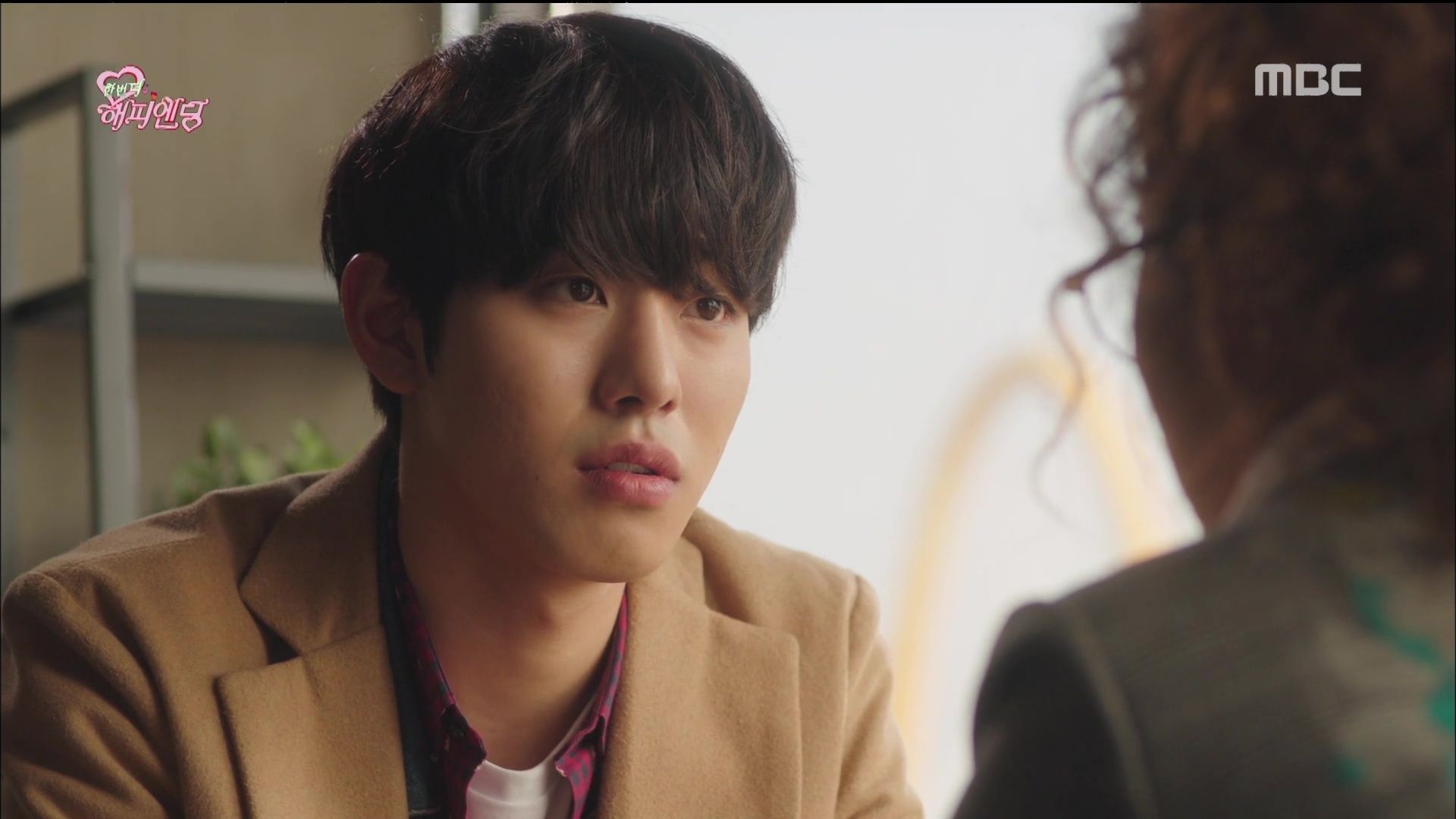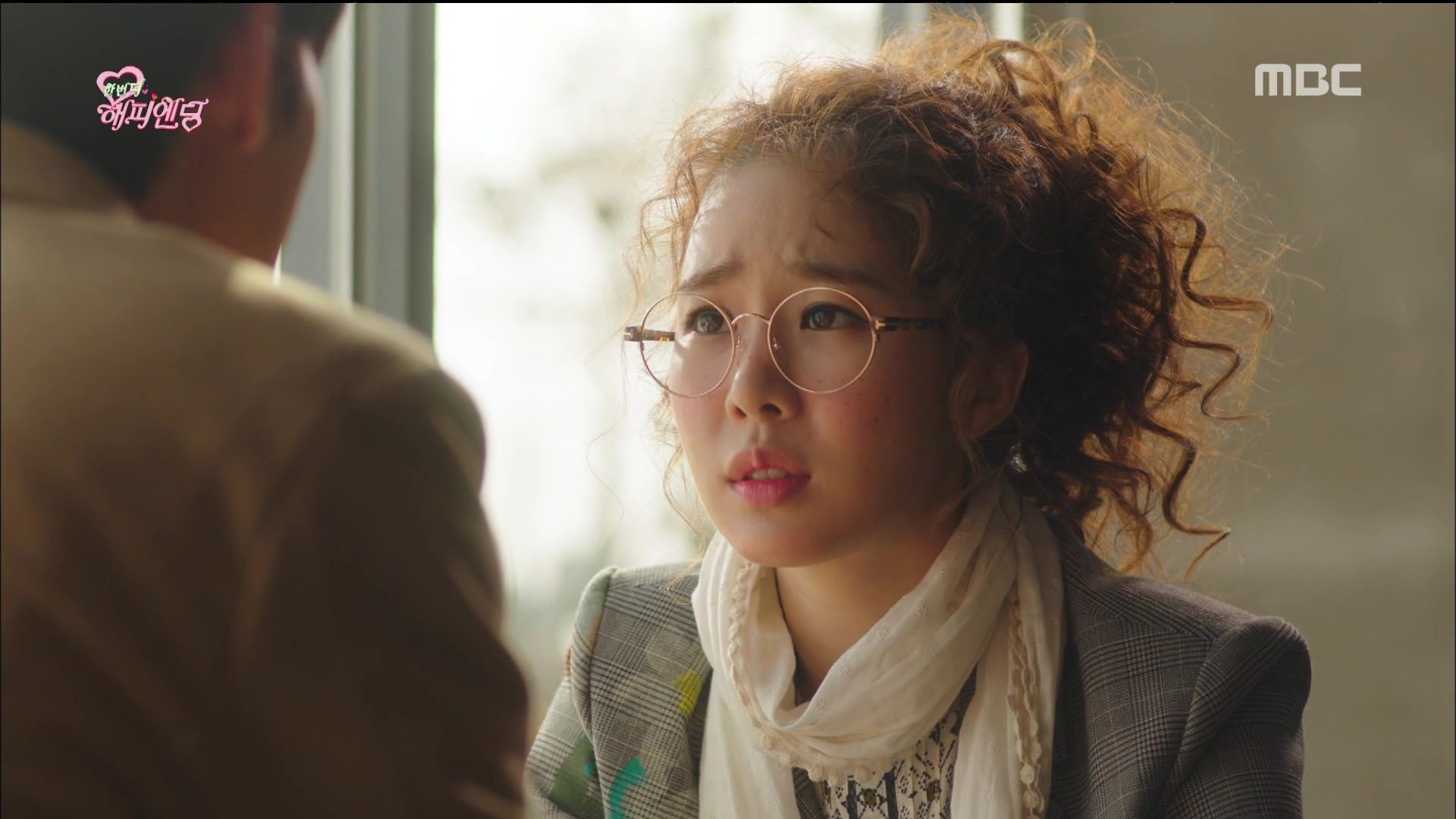 Later Ae-ran finds Dong-mi sitting alone in the same coffee shop, and Dong-mi admits that she couldn't tell Jung-woo the truth. Ae-ran tries again to convince Dong-mi that the differences between them are too great, and Dong-mi just sighs in frustration.
Mi-mo tells Da-jung about the entire situation with Sung-jae marrying Soo-hyuk's sister, and the only thing she can think to do is break up with Soo-hyuk. Or, tell him the truth? Guess not — she's too afraid of upsetting him.
Hyun-gi missed Soo-hyuk so much that he took a day off to hang out with him, and he asks what the theme for the day is. Soo-hyuk says it's "Promise," as in a promise made between a couple. Hyun-gi says that it's boring, and Soo-hyuk grumbles that that promise can be pretty challenging for some couples.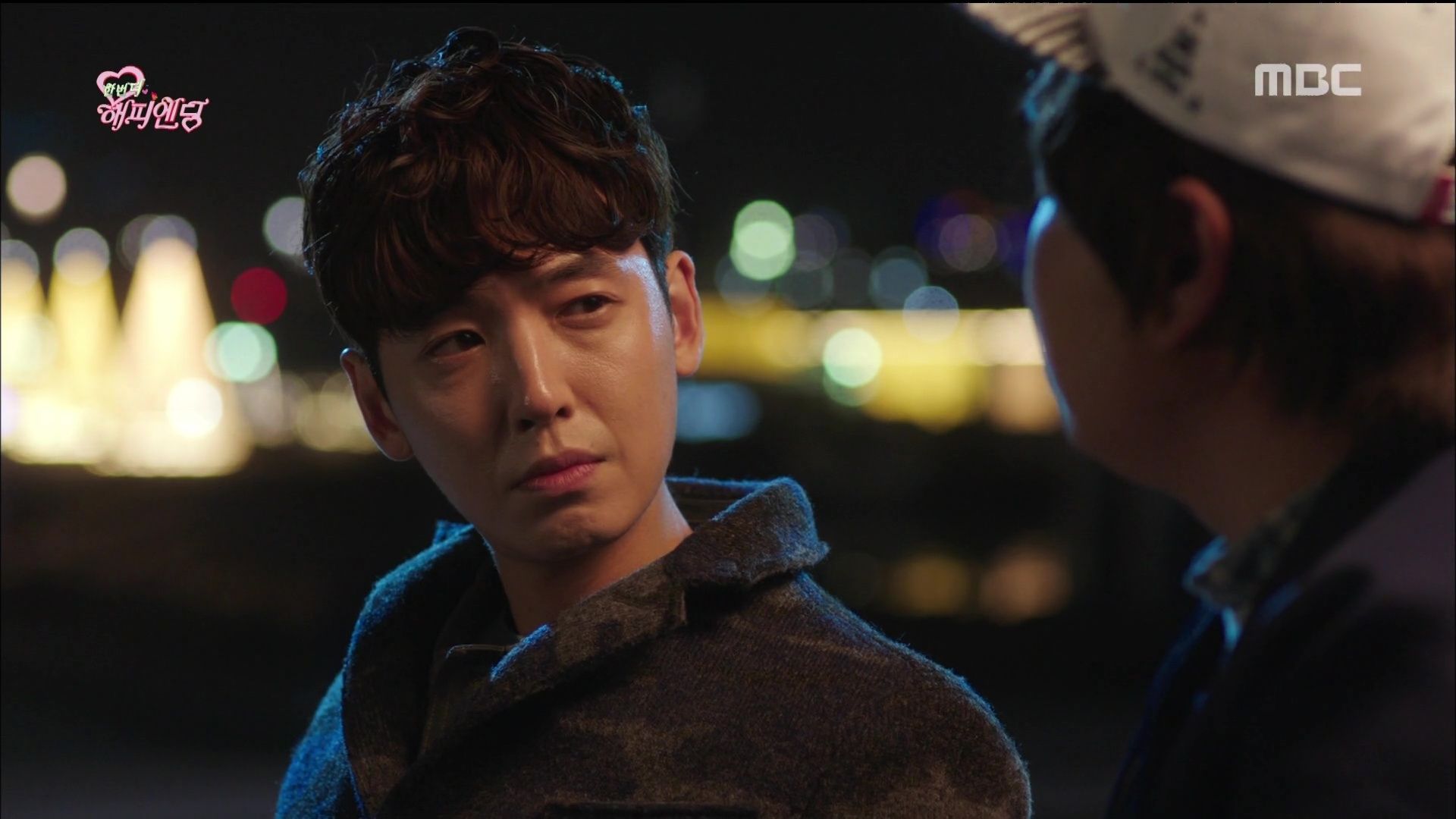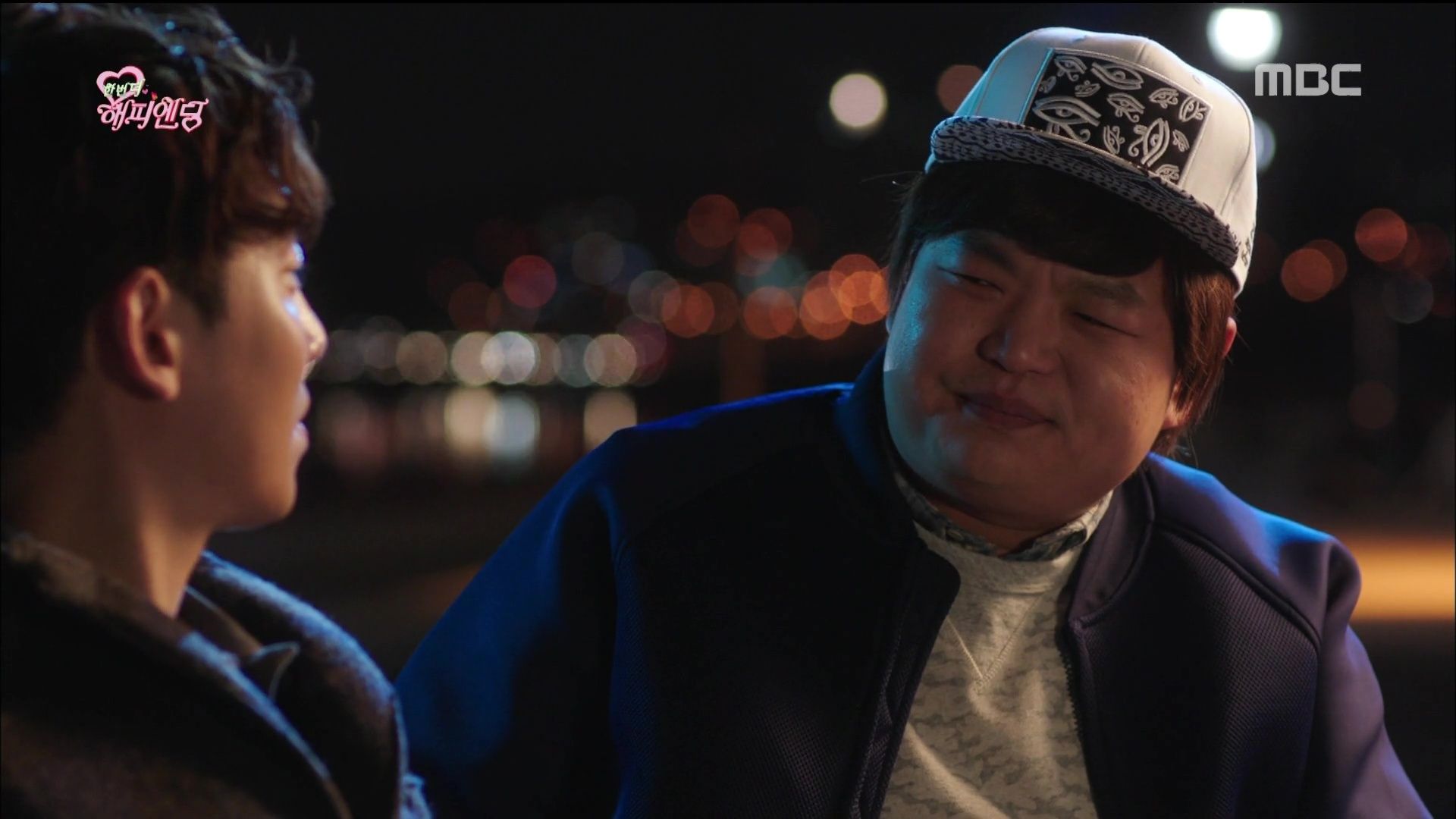 Soo-hyuk takes pictures of people in a park, and that night they head to the river to take some night shots. They talk about marriage, and Hyun-gi is pretty cynical… Soo-hyuk says that he still wants to make those romantic promises, like catching the moon and the stars for his love.
Hyun-gi jokes that the moon and stars change too much, but Soo-hyuk says that change is normal — what's important is how things change.
Mi-mo considers asking Sung-jae to give up Shi-ah, and she waits for him after work. But Shi-ah and So-eun get to him before Mi-mo can, and she's forced to give up for now.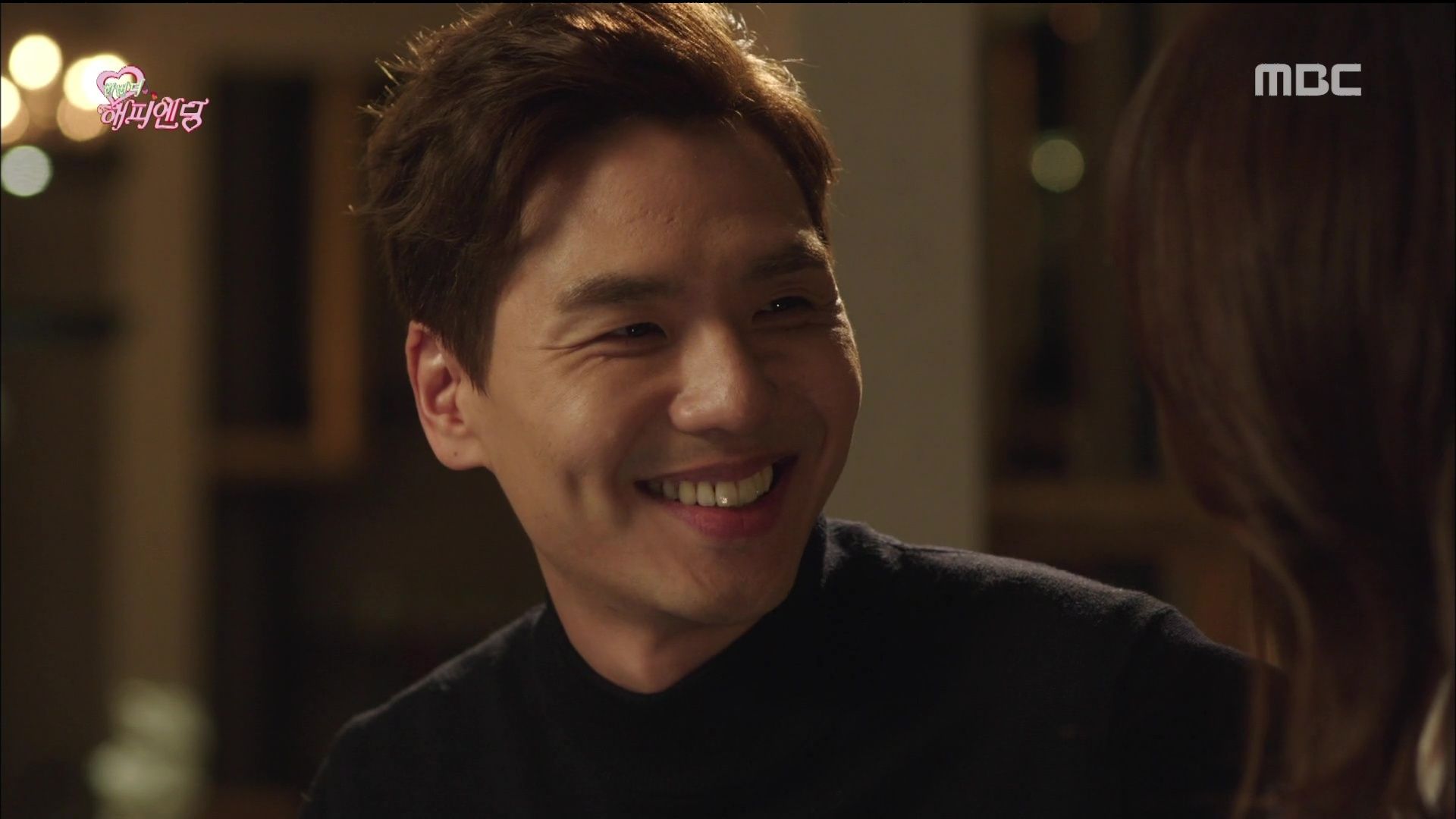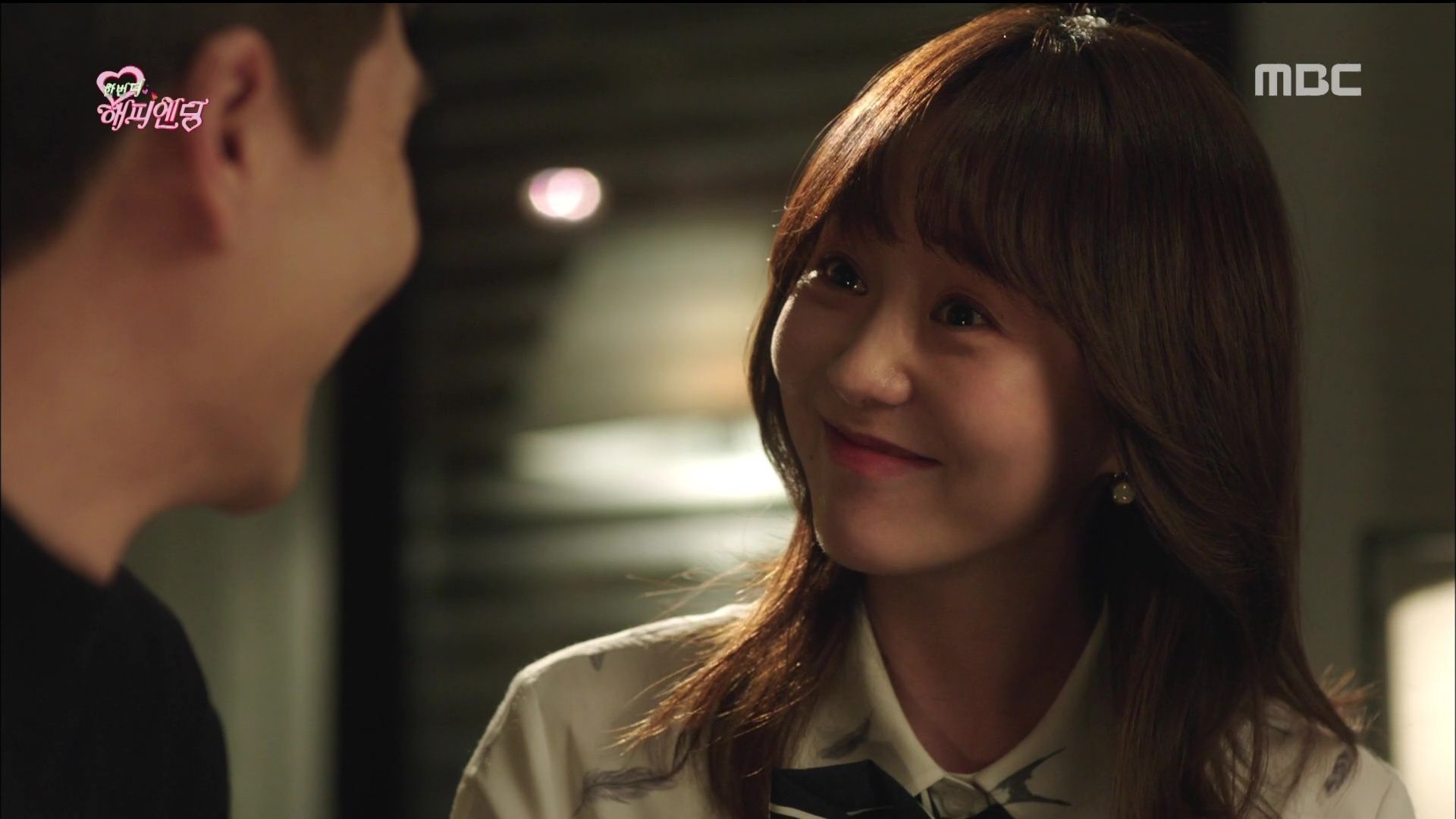 Soo-hyuk visits Hae-joon at the hospital, and he tells Hae-joon about his dilemma. Hae-joon says that you can't have everything, and that he'll have to give something up. His advice is to forget Mi-mo.
Dong-bae lives up to his promise to be a good husband to Ae-ran, and she spends a lot of time watching him do chores around the house, suspicious. She calls Da-jung to say that he must be up to something, because he's behaving himself much too well. Da-jung tells her to just enjoy it and stop complaining, but Ae-ran can't forget how he ruined her wedding, and she's convinced something is up.
Ha, Da-jung actually searches online for ideas for a nickname for Geun-hak, and he laughs at all her suggestions. When she mentions Manager Kwak's nicknames, Pizza and Burger, he actually likes those, so they agree to steal the idea. While they're on a roll they decide to do more homework, and go grocery shopping together.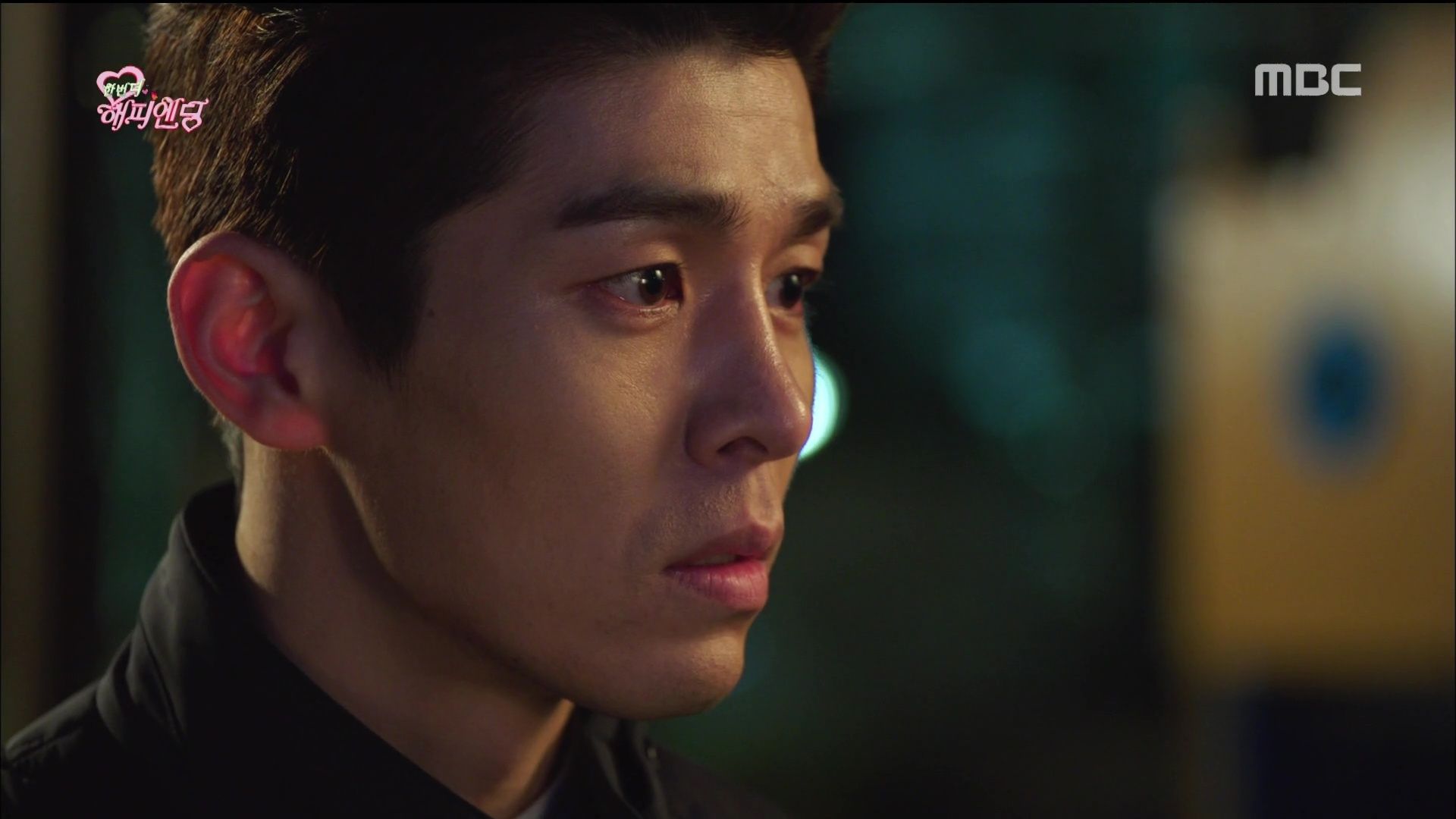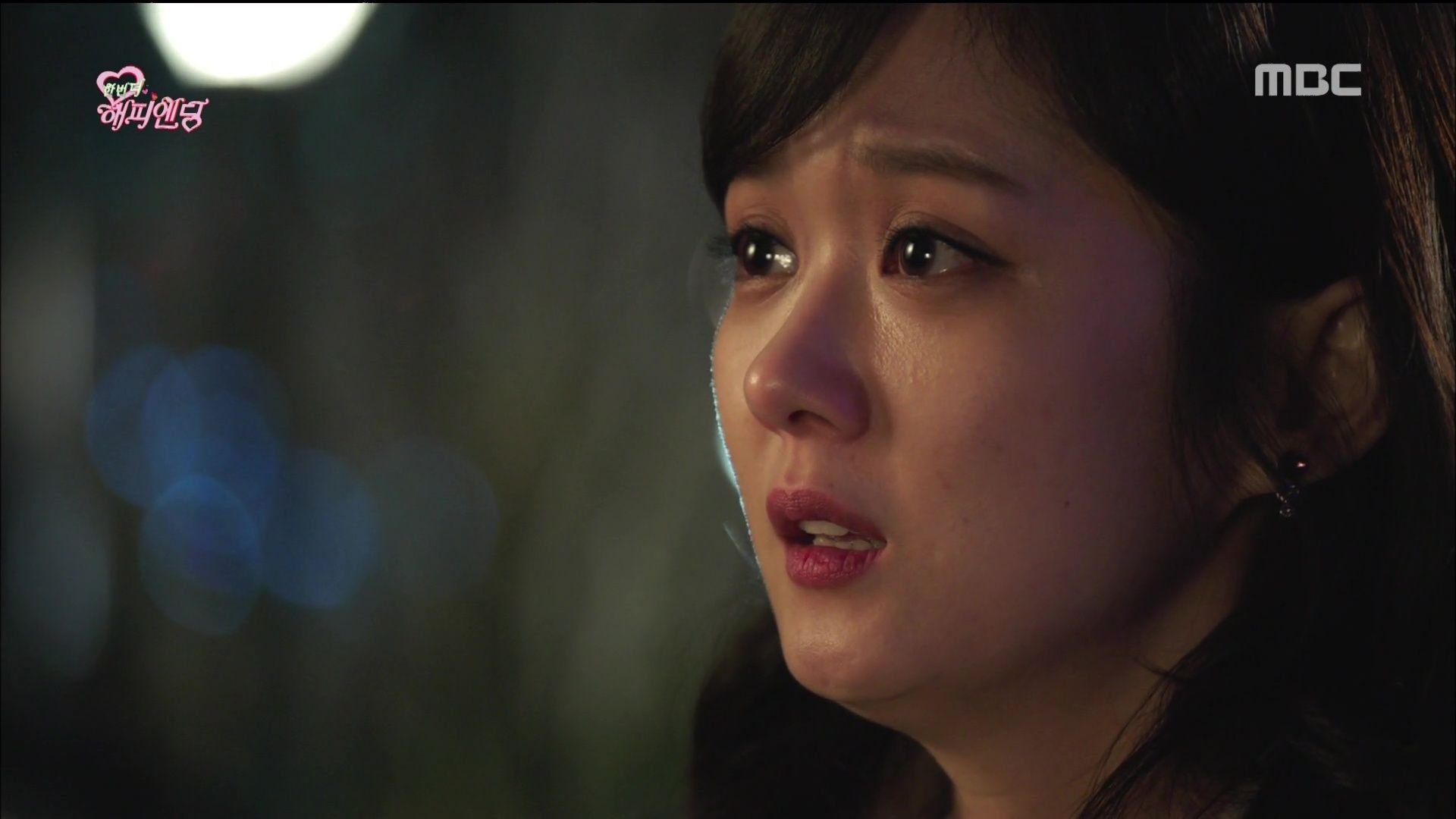 Mi-mo catches So-eun trying to get into Soo-hyuk's apartment, insisting that Min-woo gave her the pass code, but Mi-mo says that she changed it. She refuses to give So-eun the new code and tells her to go home, but sadly adds that maybe she'll get a chance at Soo-hyuk later.
Mi-mo lets her phone go to voicemail when Soo-hyuk calls that night, because she's meeting with Sung-jae. Heh, it's fitting that they're meeting on a playground. Sung-jae has something they need to settle — an insurance policy naming Mi-mo as the beneficiary if something happens to him. He wants her to have the policy changed to name him the beneficiary, so that he can alter the policy himself.
Mi-mo is offended so Sung-jae tells her to forget it, he'll just cancel the policy. But that's not why Mi-mo is upset, and she finally blurts out that he should give up Shi-ah, since she can't give up Soo-hyuk.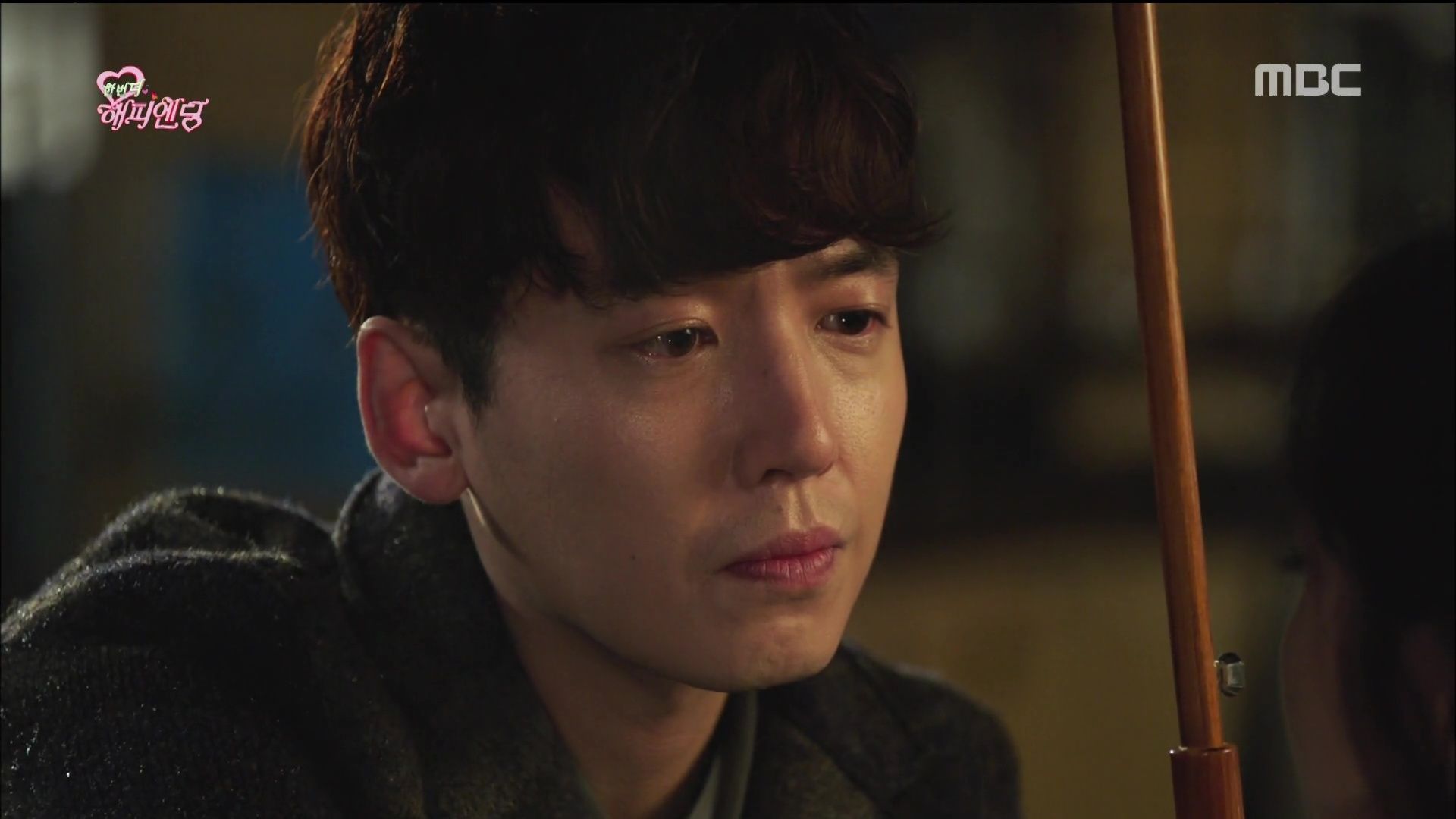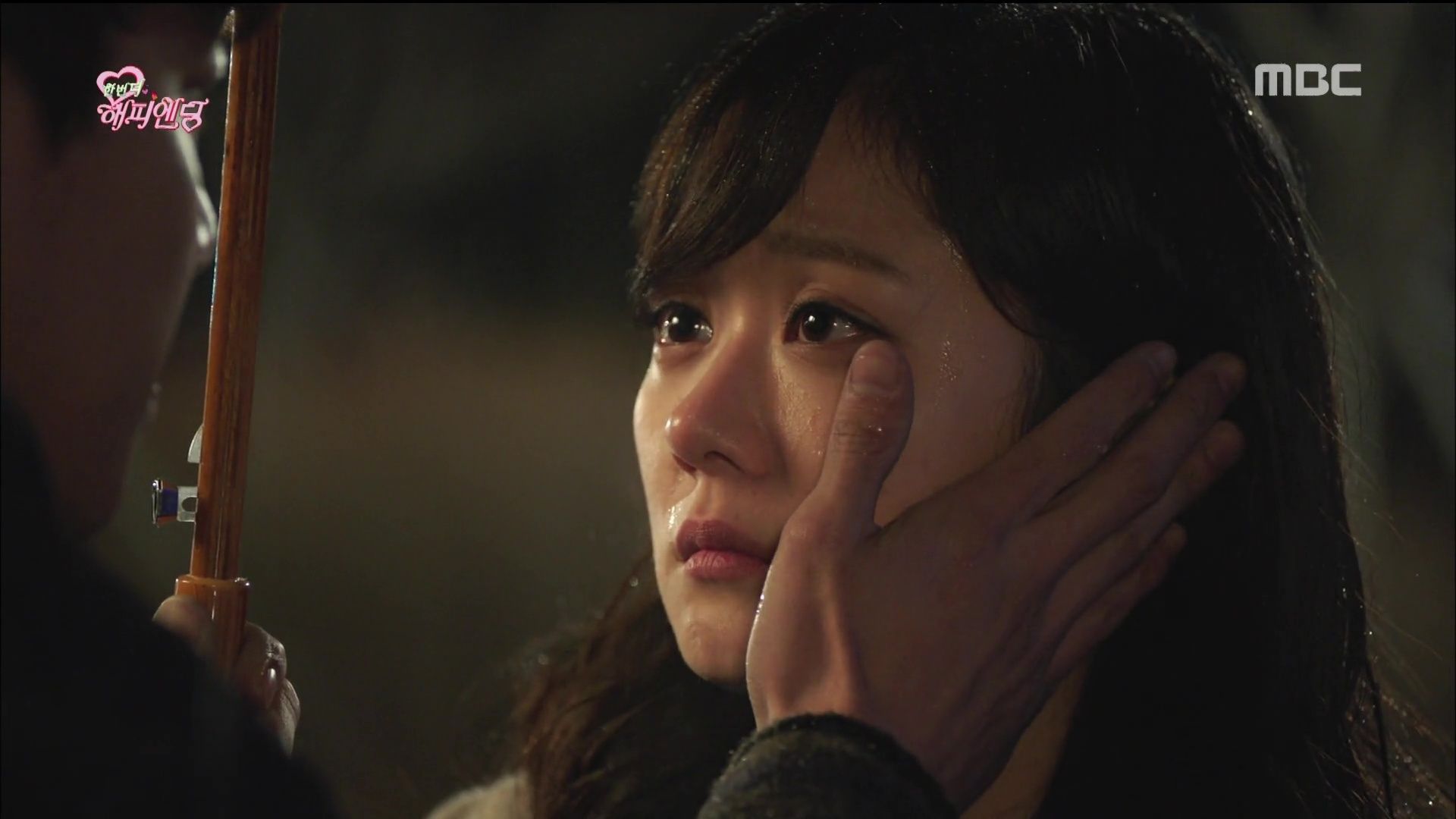 Soo-hyuk finds them at this point, and watches while Mi-mo rants that they'll be family soon, and forced to be around each other at family gatherings. Sung-jae laughs at her, calling her thinking ridiculous, and says that he and Shi-ah are getting married in a week. Shouldn't she be the one to give up?
Mi-mo collapses, gasping and sobbing while a storm rolls in and drenches her. Soo-hyuk approaches and shelters her with his umbrella, looking at her sadly as he wipes the rain off her face.
Dong-mi decides to break up with Jung-woo and gives him a list of the reasons why. He's hurt and upset but respects her wishes, promising to read the letter. She's adorably slow leaving, repeating that her reasons are in the letter, and ha, Jung-woo is all So… are you going or what?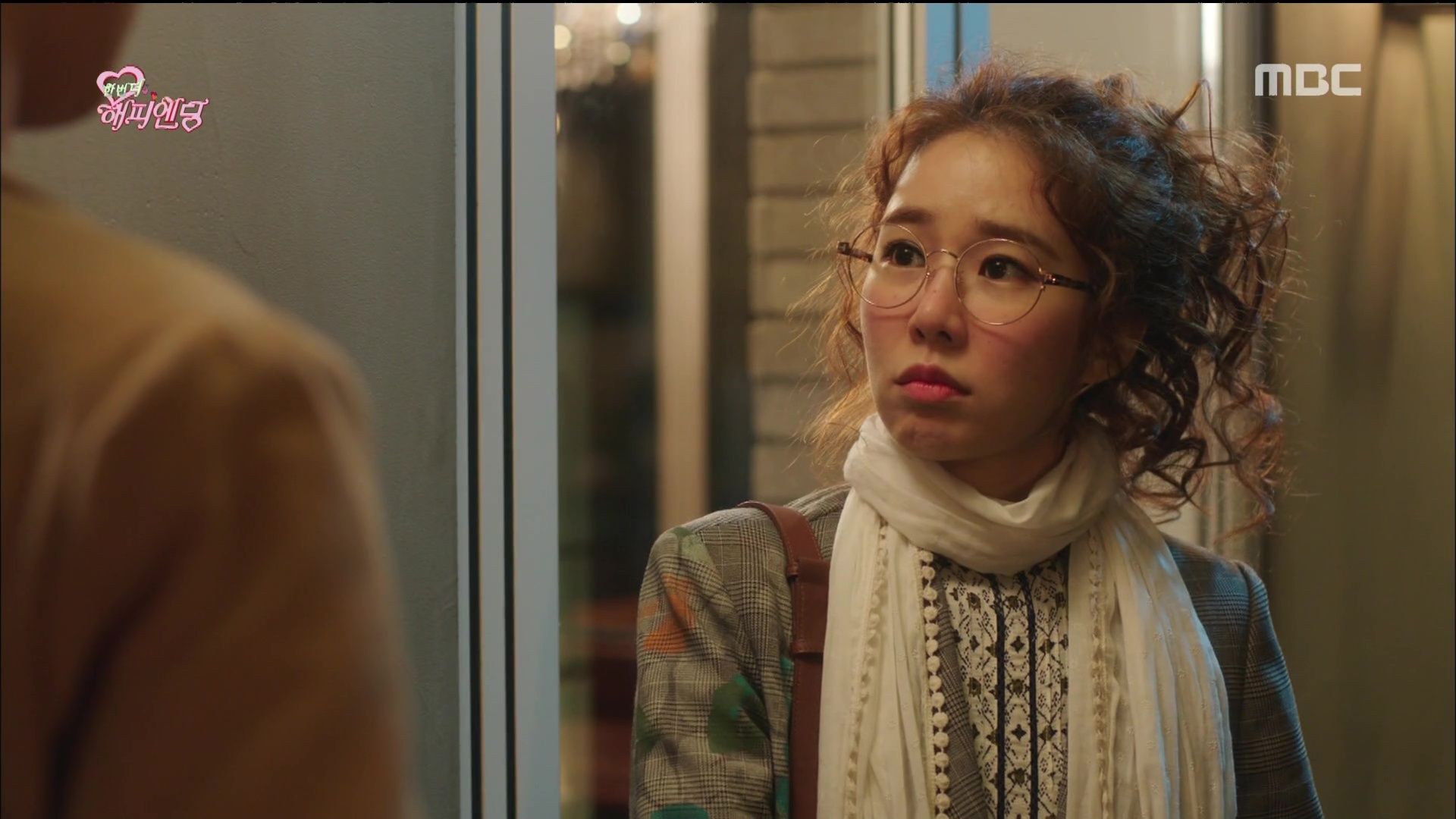 In the letter Dong-mi confesses her real age, explaining that she only lied because she wanted to be with him so much. He reads it, and pfft, Dong-mi is still watching him through the window, hoping he'll run after her, and she pouts when he just sits there.
He's gone when she peeks in the window again, and she turns to see him standing right behind her. She pretends that her feet hurt too much in her shoes and that's why she's still there, and Jung-woo asks if that's all that hurts.
He sighs, and says that he knows she's inexperienced when it comes to dating. He waves the letter at her, fully aware that it wasn't meant as a break-up letter. In fact, in his opinion, the letter just proves how much she likes him. He gives Dong-mi a big bear hug and says that she can't just leave after making him fall for her. If she gives him time, he'll prove that the age difference is no big deal.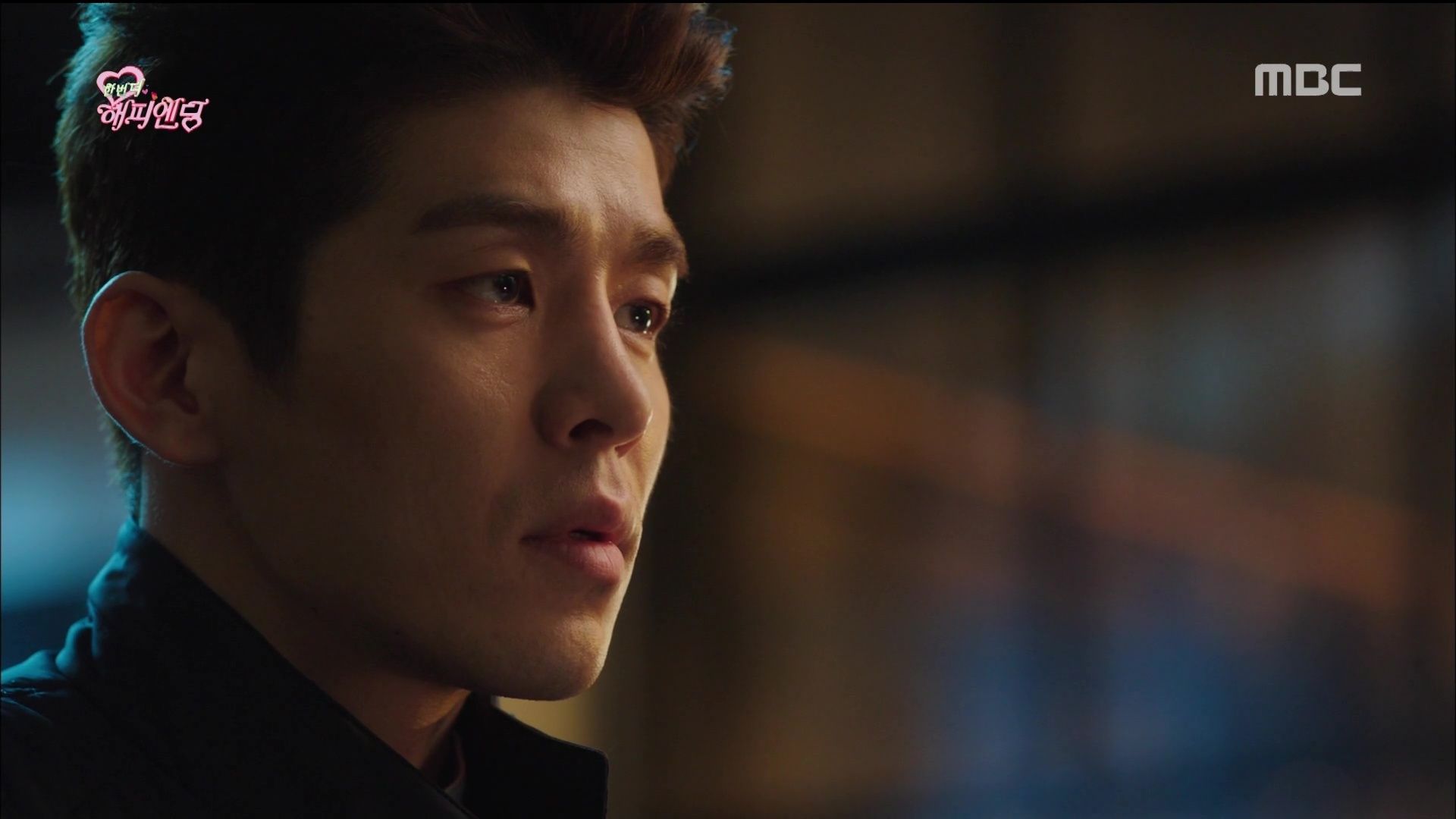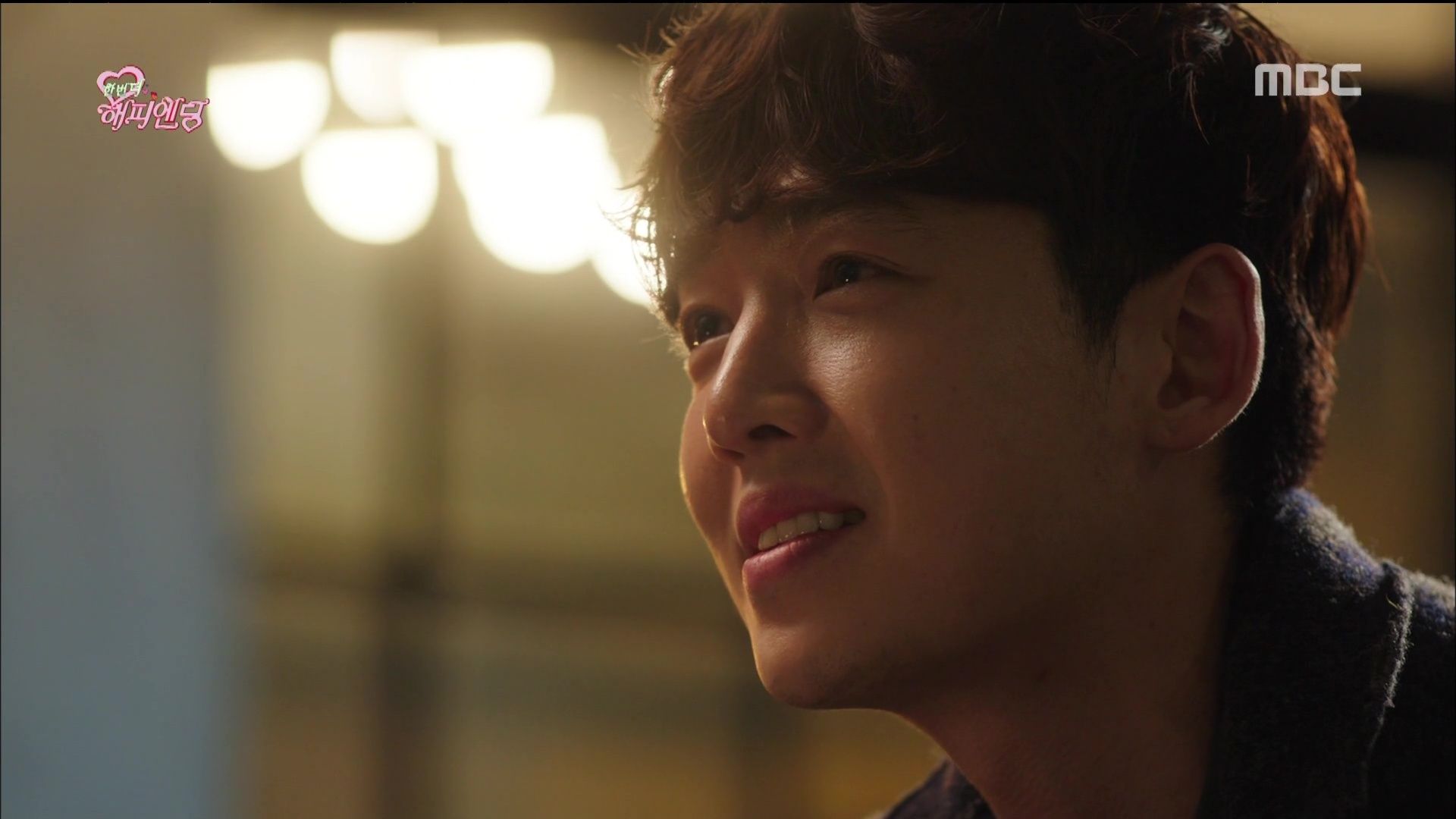 Soo-hyuk takes Mi-mo home, and sets her up with a blanket and something warm to drink. He has to go talk to someone, but he asks her not to cry, because she's really ugly when she cries. At least that gets a little laugh out of her, but after he leaves Mi-mo starts sobbing again.
The person Soo-hyuk meets with is Sung-jae, and he is not the least bit pleased. He asks if Sung-jae finds it amusing to see his ex-wife suffer, but Sung-jae doesn't seem to feel bad at all. Soo-hyuk stays calm, and warns Sung-jae that he'd better not make his sister unhappy the way he did Mi-mo. He makes it clear that, since he's with Mi-mo, he doesn't ever want to see Sung-jae again — even if it makes him a bad brother to Shi-ah.
He goes back to Mi-mo's, but it's late and a work-related call sends him to his own place instead. Mi-mo comes out later, adorably dressed in the cow onesie that Soo-hyuk likes so much, but she's too scared to go to him and sits in the hallway.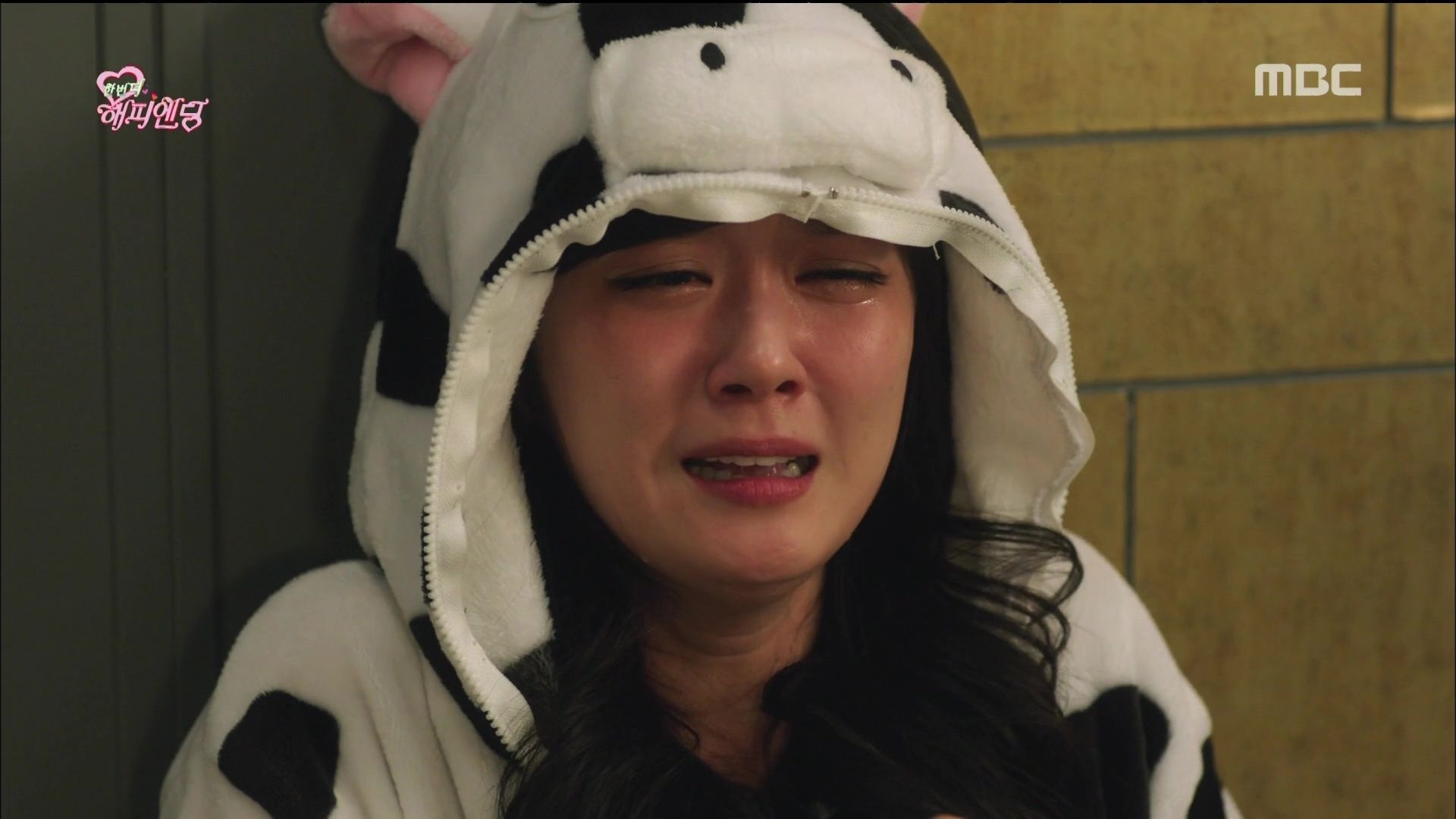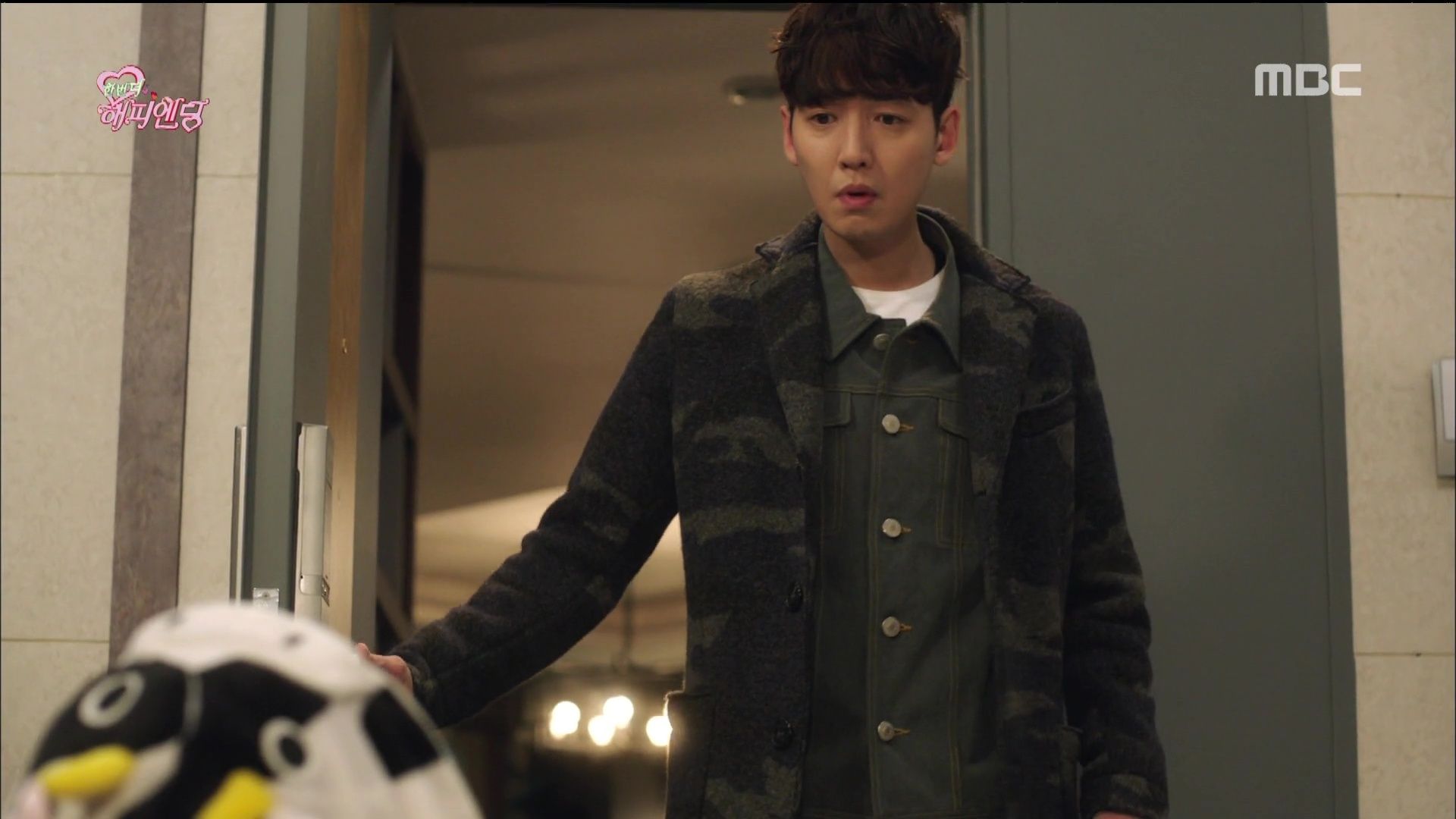 She throws things at his door, dissolving in tears again, until Soo-hyuk hears the noise and comes out. Barely able to say the words, Mi-mo cries, "Soo-hyuk-ah, we have to break up."
Sung-jae comes clean to Shi-ah about his relationship to Mi-mo, but Shi-ah isn't concerned. After all, she and Soo-hyuk aren't really brother and sister, they're just close enough that they call each other that.
Soo-hyuk must have told Mi-mo the same thing, because she throws her arms around his neck in relief. She wails that she was so scared and worried, and Soo-hyuk apologizes for letting her think the worst.
So-eun finds them, and yells at Soo-hyuk for making such a display in the hallway. Ha, Soo-hyuk just points at her and says, "She's Shi-ah's sister."
Soo-hyuk puts Mi-mo to bed and goes home, thinking about his conversation with Hyun-gi. He'd said that as long as Mi-mo doesn't leave him, he's happy, even if she changes. He still has the unfiled marriage registration form from their night of drunken shenanigans, and it gives him an idea.
Ae-ran is busted for looking through Dong-bae's phone when he finds pictures she accidentally took of herself, ha. She turns it on him, asking why his phone was locked in the first place — is he cheating again? He tells her to unlock hers and he'll unlock his, and laughs at her when she asks for a day.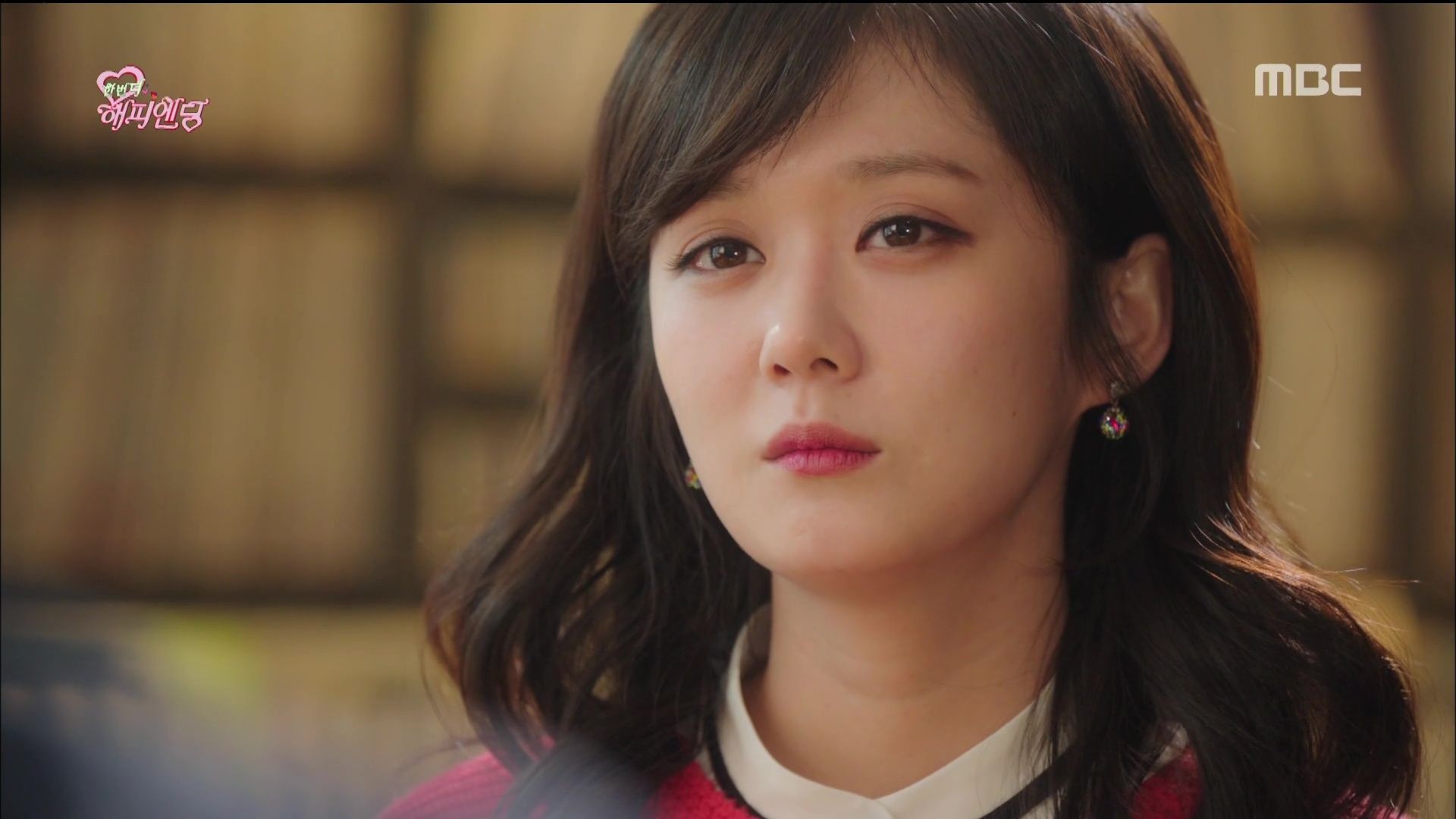 Mi-mo returns Sung-jae's insurance papers to him, snappily asking if he enjoyed seeing her suffer. Sung-jae barks back that he already got the lecture, thank you. He says that they tired each other out when they were married and he's thankful for Shi-ah, and that he wishes her luck with Soo-hyuk.
Mi-mo proudly says that Soo-hyuk always puts her first, unlike someone else she knows. Looks like they won't stop being petty any time soon, but the anger seems to have gone out of them.
Mi-mo runs into their fussy neighbor and his disinfectant spray on her way home, and asks him if it really works, even though it only sprays a small area. HAHA, then she deliberately sneezes on him just to see him wig out.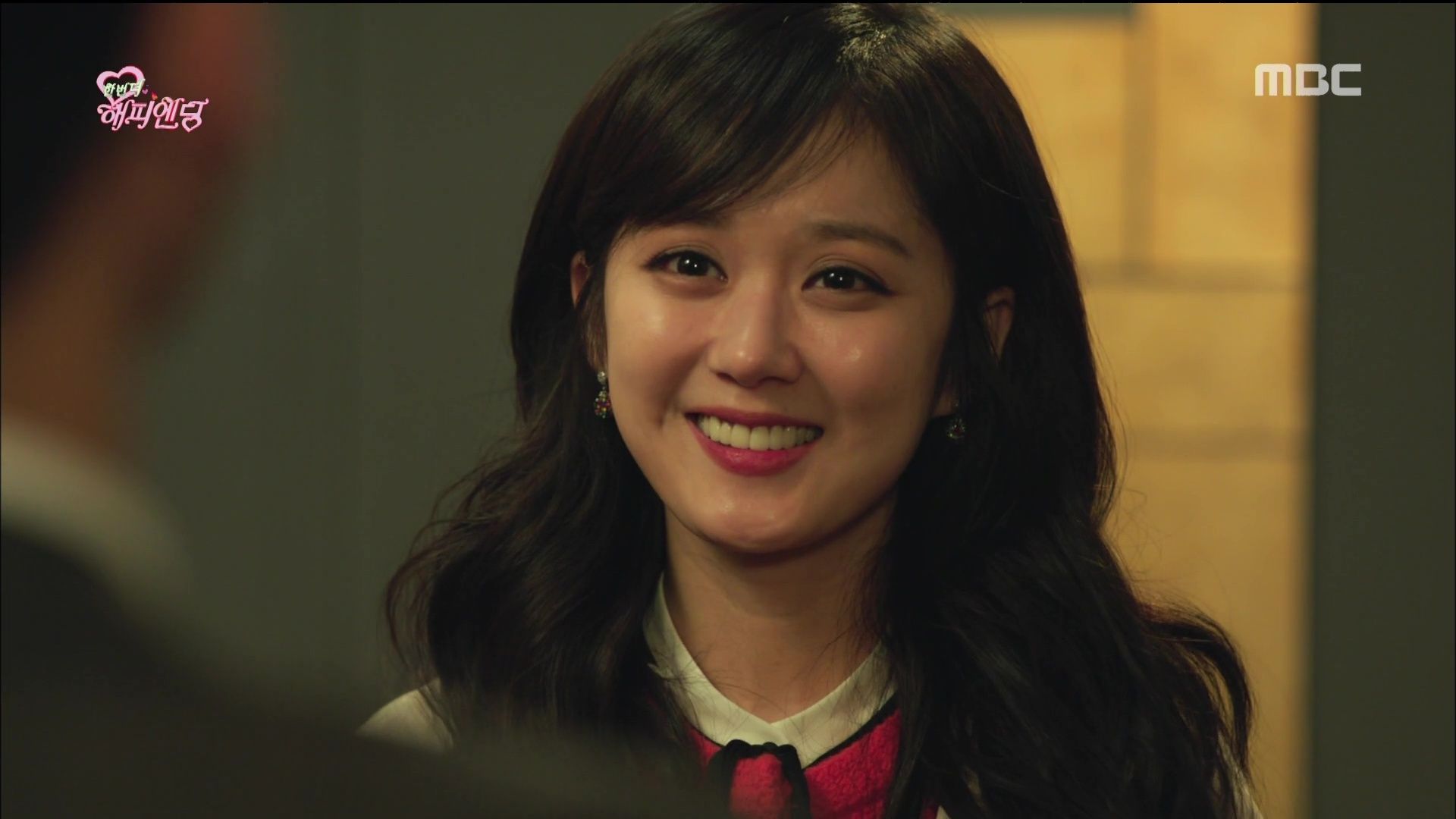 At her floor, she's surprised to see a red carpet lined with candles leading her to Soo-hyuk's door. On the walls are photos depicting promises, with sticky notes under each one. They tell her that even if the journey is hard and painful, he loves her — not because he wants to, but because he can't stop himself from loving her.
His door opens, and there stand Soo-hyuk and Min-woo and even Ppoppo, welcoming her home. The whole apartment is decorated romantically, and there's a video playing, all photos of Mi-mo. Soo-hyuk's voice says that of all the Mi-mos… the energetic one, the sweet one, and all the others, his favorite is the happy Mi-mo. He promises to make her smile every day.
Soo-hyuk gets on one knee and presents Mi-mo with a ring, and asks for real this time, "Will you marry me?" Min-woo and Ppoppo watch from his room, urging her quietly to say yes, and Mi-mo smiles…
"Soo-hyuk, I have to tell you something."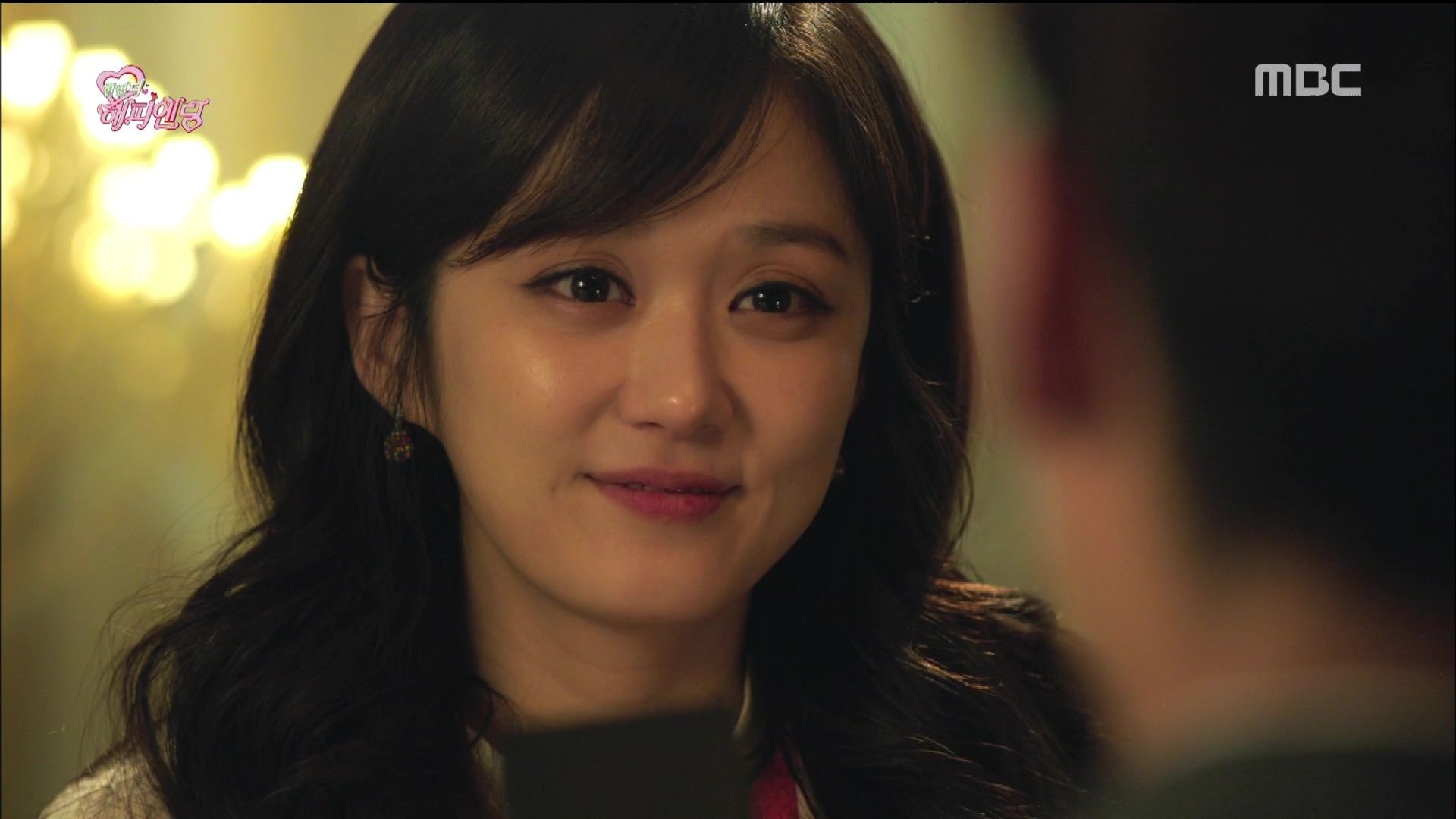 COMMENTS
WHAT. Are we seriously going to manufacture another reason for them not to be together?? I'm over it show, do you hear me??? I'm just plain over it. You're adorable, I'll give you that, and I love your characters to a ridiculous degree. But this delaying of them getting together for silly, meaningless reasons has got to stop. You're lucky you have only one more episode. ~shakes fist~
Because really, this whole episode was a lot of noise over nothing. I'll admit that it was cute in hindsight, once we knew the truth about Soo-hyuk and Shi-ah's relationship and how everyone made such a big deal over nothing. But mostly I'm annoyed that we spent a whole episode watching everyone get worked up for no reason. I feel like it was an issue of tone — the situation could have been played for humor, and been quite funny, but instead we got a lot of Mi-mo crying again (and again and again) and thinking that she was about to lose Soo-hyuk. So when the punch line was delivered — that he and Shi-ah aren't really brother and sister — I couldn't even find it funny because Mi-mo was so devastated. Too bad, because the show missed an opportunity for a really cute prank on its audience.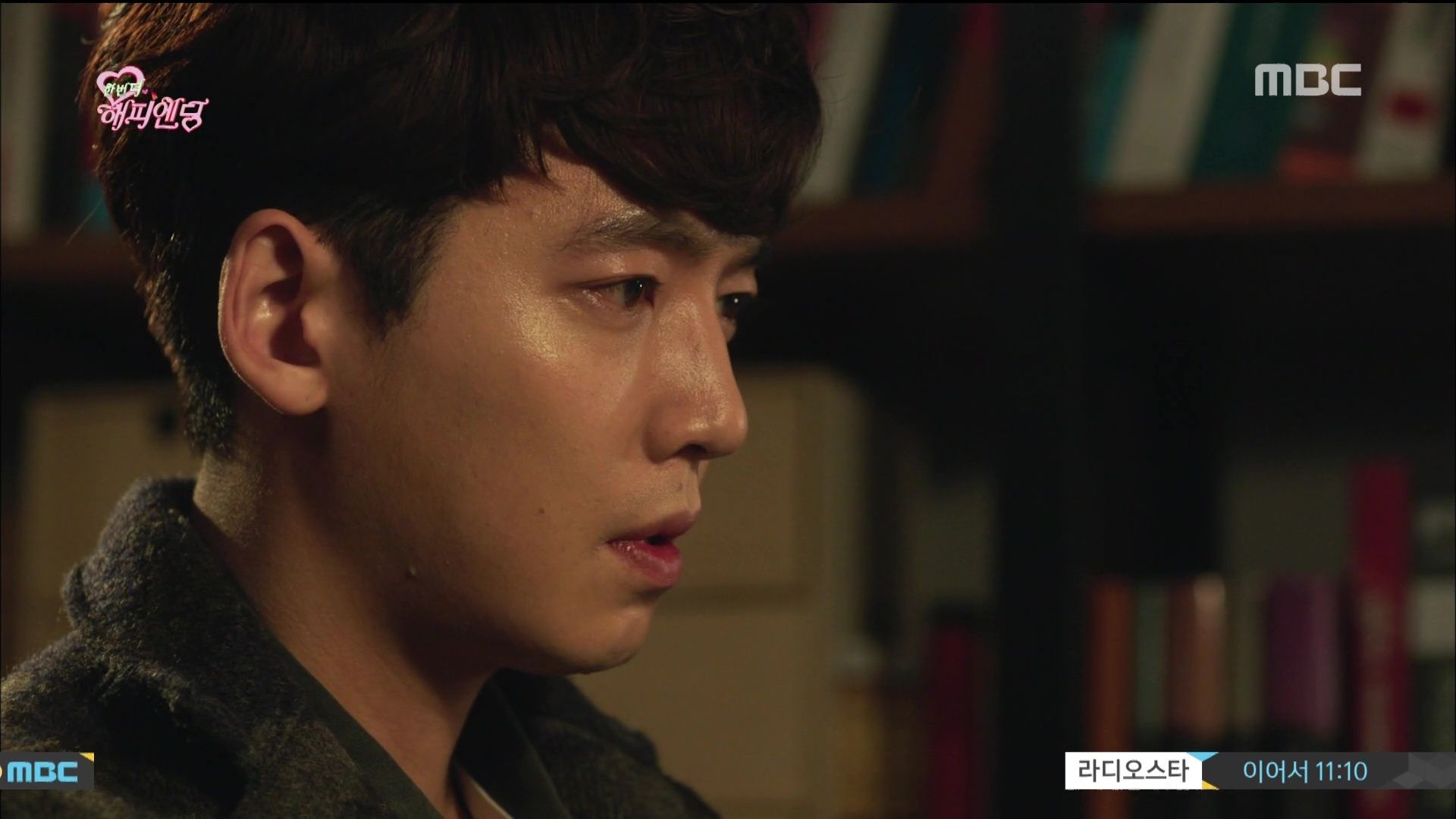 Not to mention that I just can't even fathom why Mi-mo and Soo-hyuk are still too scared to talk to each other, even if it turned out to be no big deal. They still waited and put off talking until everyone was a distraught mess. Of course it's not an easy conversation to tell the man you love that his sister is marrying your ex-husband. But you would think, after all the misery they've been through (which was also entirely caused by their unwillingness to just talk honestly), that they would know better by now. At this point it feels so disingenuous, like the writer just needed to draw out the conflict for a couple more episodes and this is the only weapon in their writing arsenal. I'm not even a scriptwriter and I could think of a few different ways that this same conflict could have played out, making Mi-mo and Sung-jae's petty interactions the focus of the situation. But no, we get the exact same thing we've gotten for the last thirteen episodes… leads who are too scared of upsetting someone to just TALK. I suppose it would make sense if Soo-hyuk didn't know that Mi-mo has been married, but that's no secret. And anyway, his status as an unwed father makes them a good match socially. There's just no reason why they should still be so afraid to just talk to each other about this.
And maybe I'm just being dense, or maybe I'm missing something, but… even if Soo-hyuk and Shi-ah had been blood relations, why couldn't both couples be together? I just don't get it. It must be a cultural nuance I'm not privy to, but even Mi-mo said that it wouldn't make them too closely related if both couples were to get married. So, color me mystified, and feel free to educate me if you know the answer.
The show started out so light and cute, and even now that the main source of conflict is past, I'm finding myself just tired. And as much as I do truly love Mi-mo and Soo-hyuk and think they're cuter than a basket of kittens, I'm ready to wrap their story up. I've enjoyed Happy Ending, I honestly have, but I'm also coming to the end feeling like my emotions have been jerked around largely for no reason. So I'll be ready to send these two off to their own happy ending.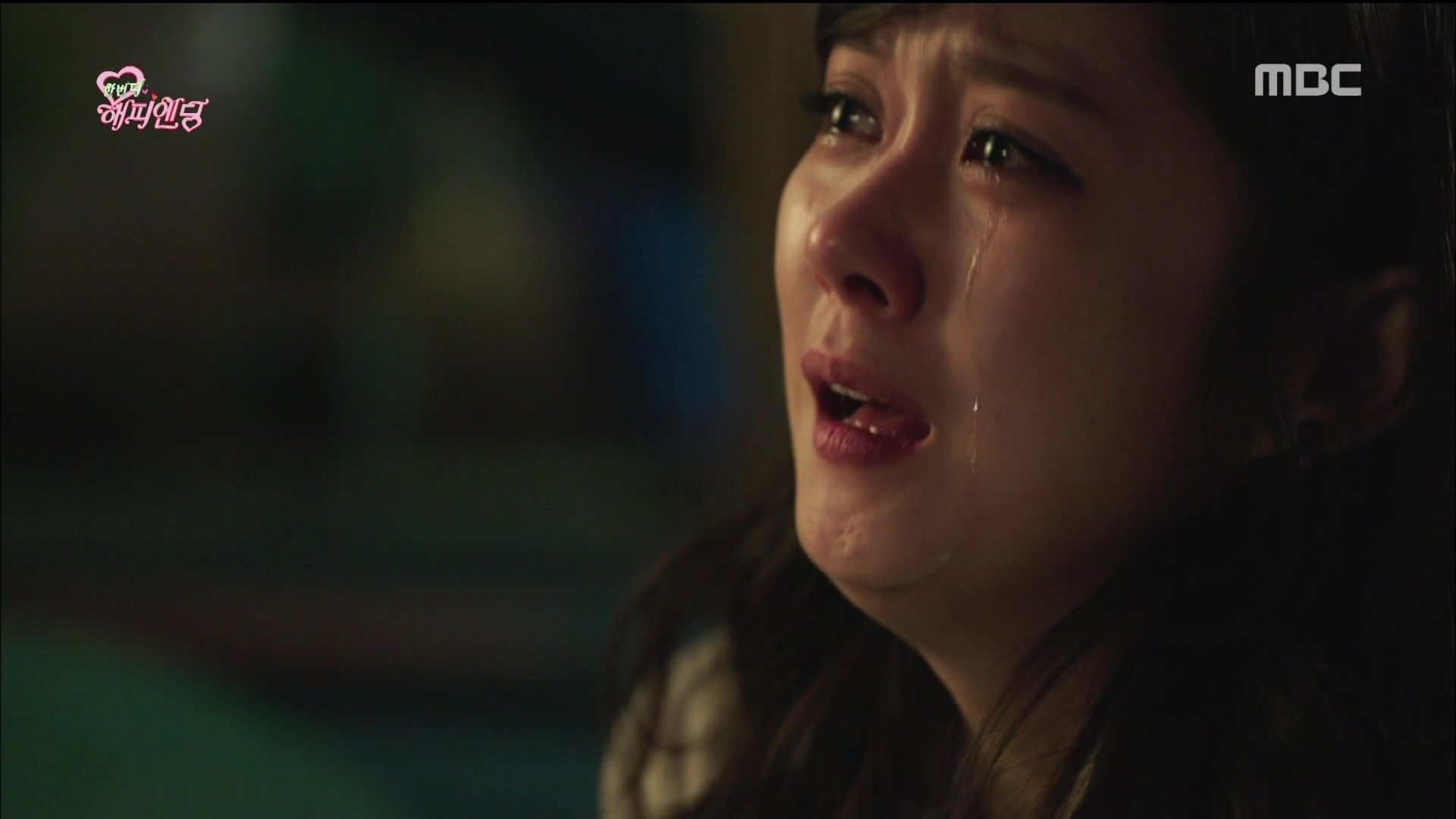 RELATED POSTS
Tags: featured, Jang Nara, Jung Kyung-ho, One More Happy Ending, Yoo Inna