One More Happy Ending: Episode 16 (Final)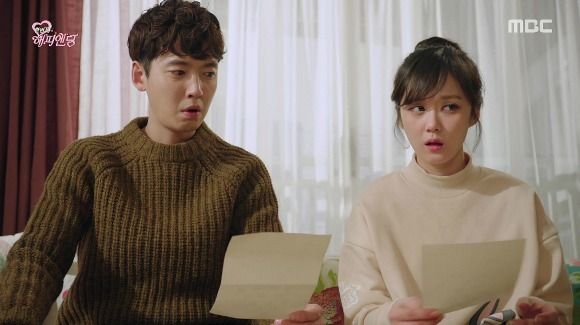 It's a surprisingly satisfying happy ending for all of our Angels, who have all learned that second chances can come in many different forms. Even if you don't get what you wanted, if you just open your mind and heart, you just might find something even better. The important thing is to trust yourself, follow your heart, and be willing to take a risk, and anyone can find their second chance in life.
EPISODE 16 RECAP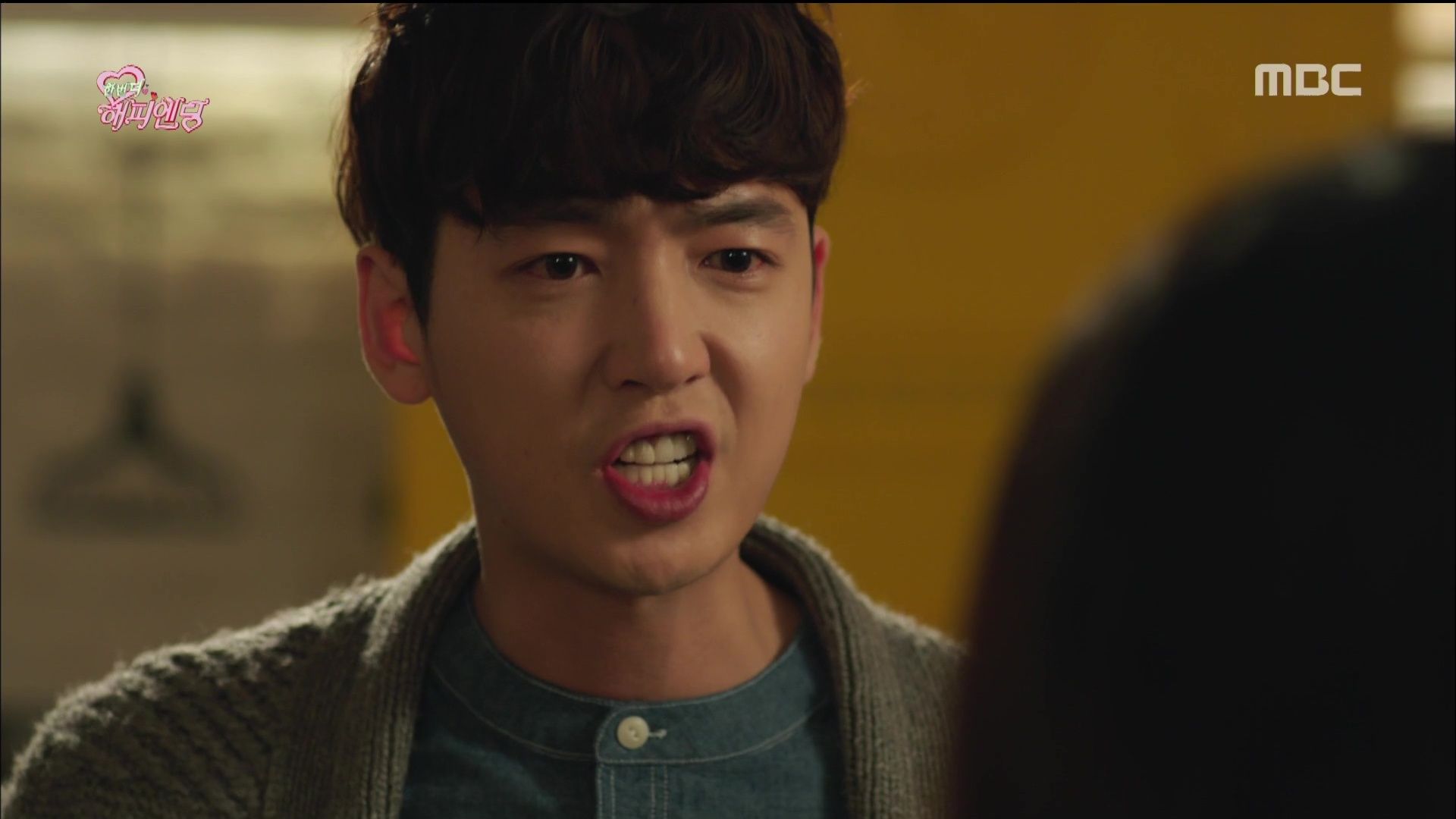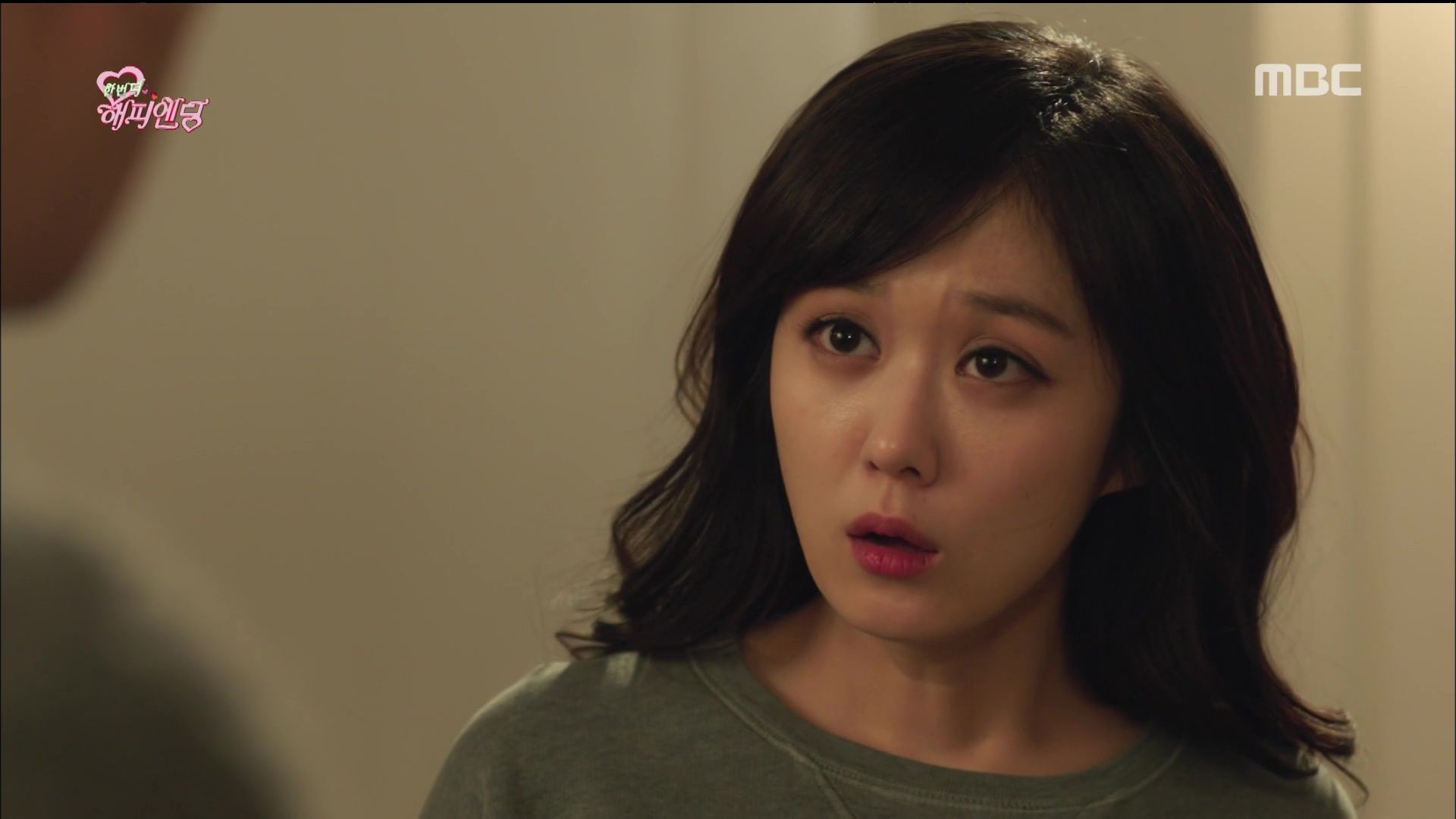 Soo-hyuk proposes to Mi-mo, and she happily accepts his ring. But then the clock strikes midnight, and suddenly she's in her apartment. Soo-hyuk bursts out of the bedroom with a suitcase, saying that she makes him nuts and that he's going home — all the way across the hall, heh.
We back up to the day before, and Mi-mo passes by the city hall building, remembering how Sung-jae said that they just wore each other out when they were married. She goes to work, where a client complains that she's unhappy with her match. He doesn't agree with her wedding plans, but Mi-mo advises her not to put too much focus on the wedding.
The client misunderstands, thinking that Mi-mo is saying that a divorcee has no right to a nice wedding. Mi-mo explains that it's the marriage itself that's important, especially since she's been disappointed once before, but the woman seems more interested in making sure she gets a nice wedding this time around.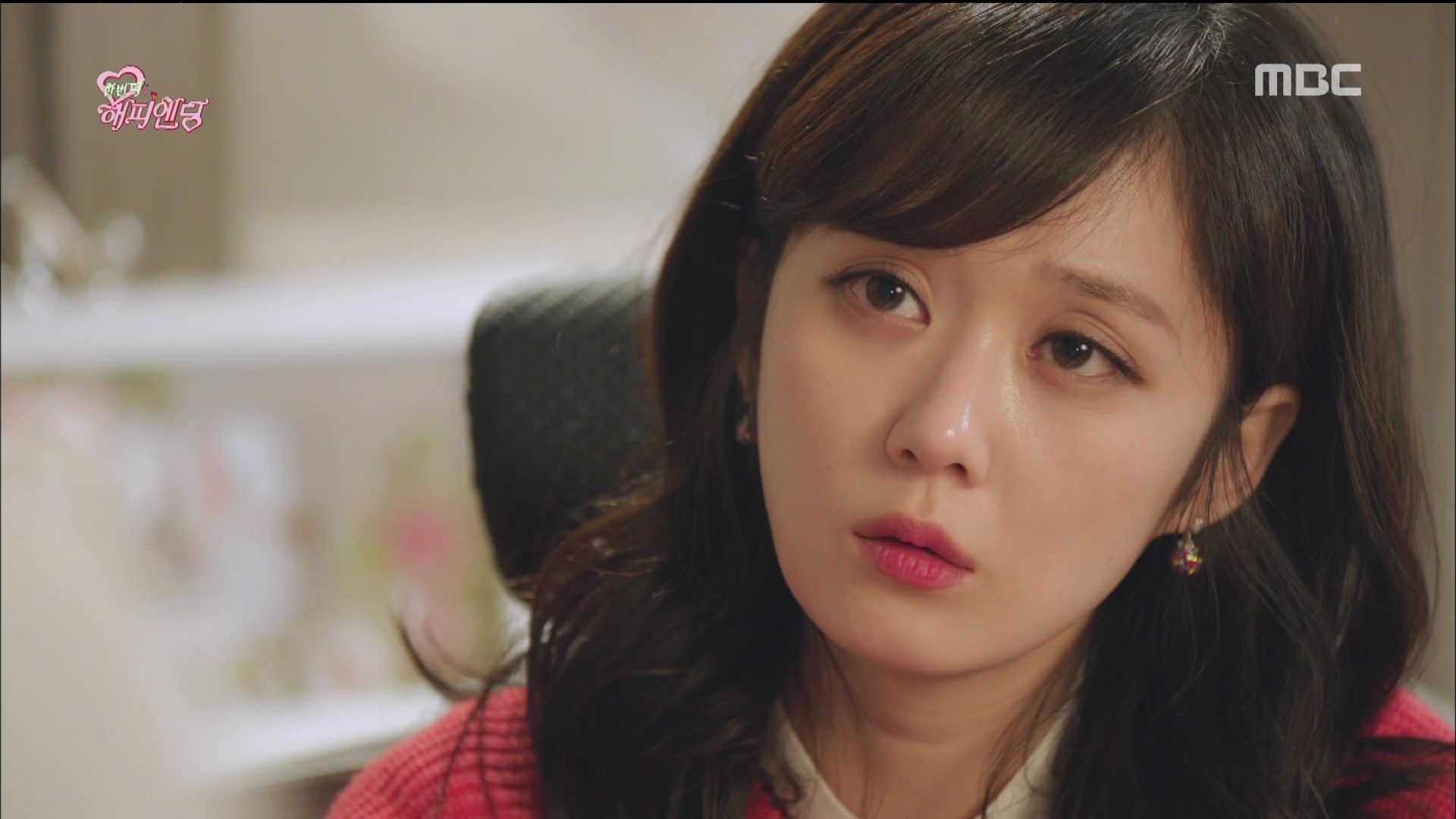 When Da-jung comes to ask why the client left angry, Mi-mo asks why they have to get married, anyway. Can't they just love each other and be happy? She knows it's strange considering her job, and that she used to believe that every relationship had to lead to marriage — but now she understands that even marriage isn't a guarantee of happiness.
Meanwhile, Soo-hyuk and Hyun-gi go ring shopping, and Hyun-gi thinks that the bigger the diamond, the better. Soo-hyuk doesn't think Mi-mo would agree, and he looks for the ring she won't be able to say "no" to.
He enlists Hyun-gi's help setting up his apartment for his perfect proposal, and Hyun-gi tries again to warn him off– give marriage three months, and suddenly everything changes. Soo-hyuk asks why he's still married if it's that bad, and Hyun-gi says that it's loyalty. Soo-hyuk is fine with that… if his love turns to loyalty, at least he'll still be with Mi-mo. He doesn't intend to lose his chance this time.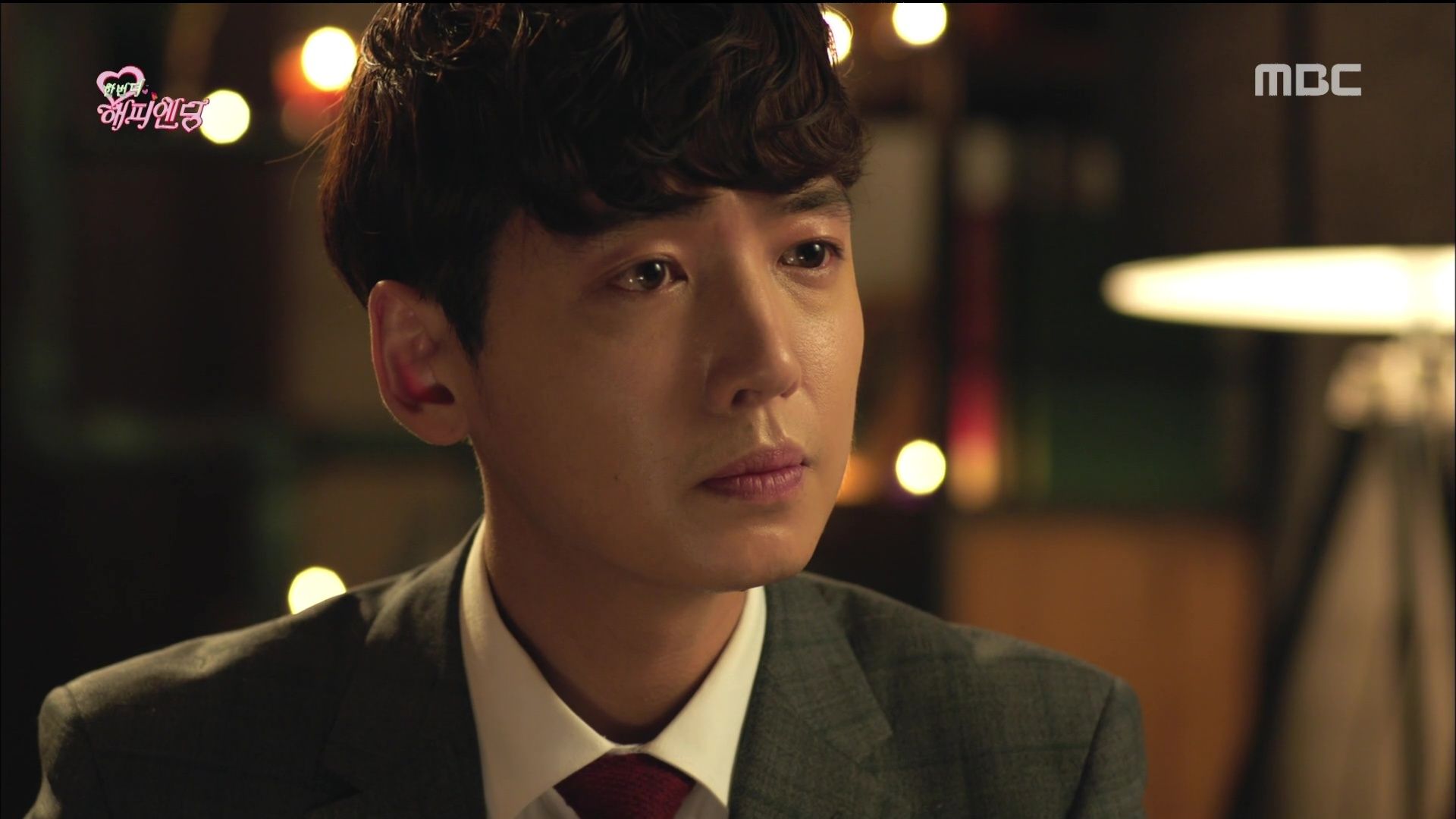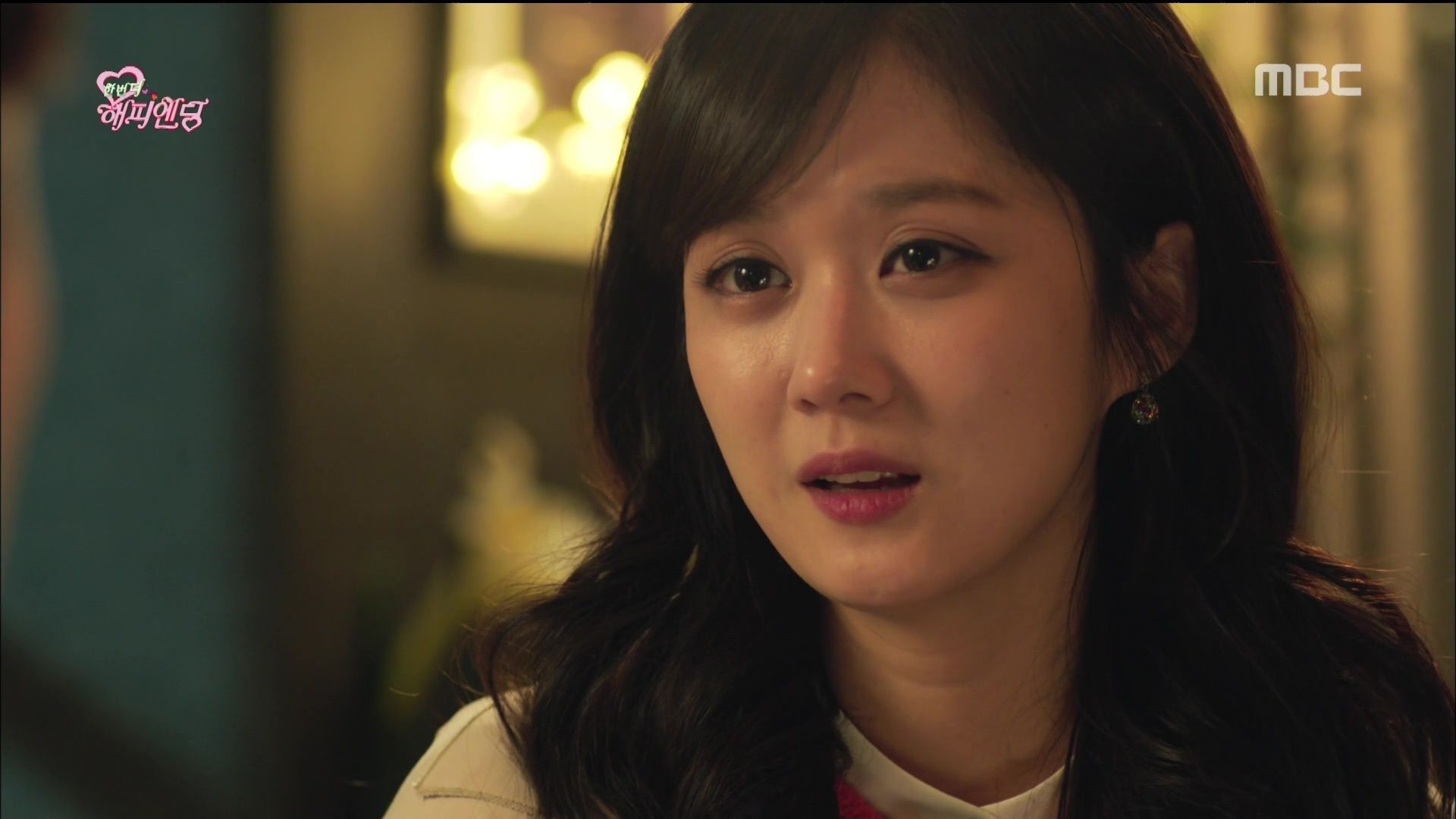 We fast-forward to Soo-hyuk's proposal that night, which goes perfectly. But Mi-mo doesn't answer, because she has something to say first. Instead of rushing to get married, can't they just be together for a while?
Soo-hyuk looks a little confused, so Mi-mo explains that she wants to spend time with him, and really get to know each other. She's been married and divorced, and she always thought that marriage was the result of a successful relationship. She'd always pictured exactly this scenario of a perfect proposal, but she never thought beyond that.
She admits that she's scared, because it's him. Because he matters, she wants to make sure everything goes right. Getting engaged now won't guarantee their happiness, but if they're really meant to be, waiting can help them figure it out. And because it's him, she has the courage to wait.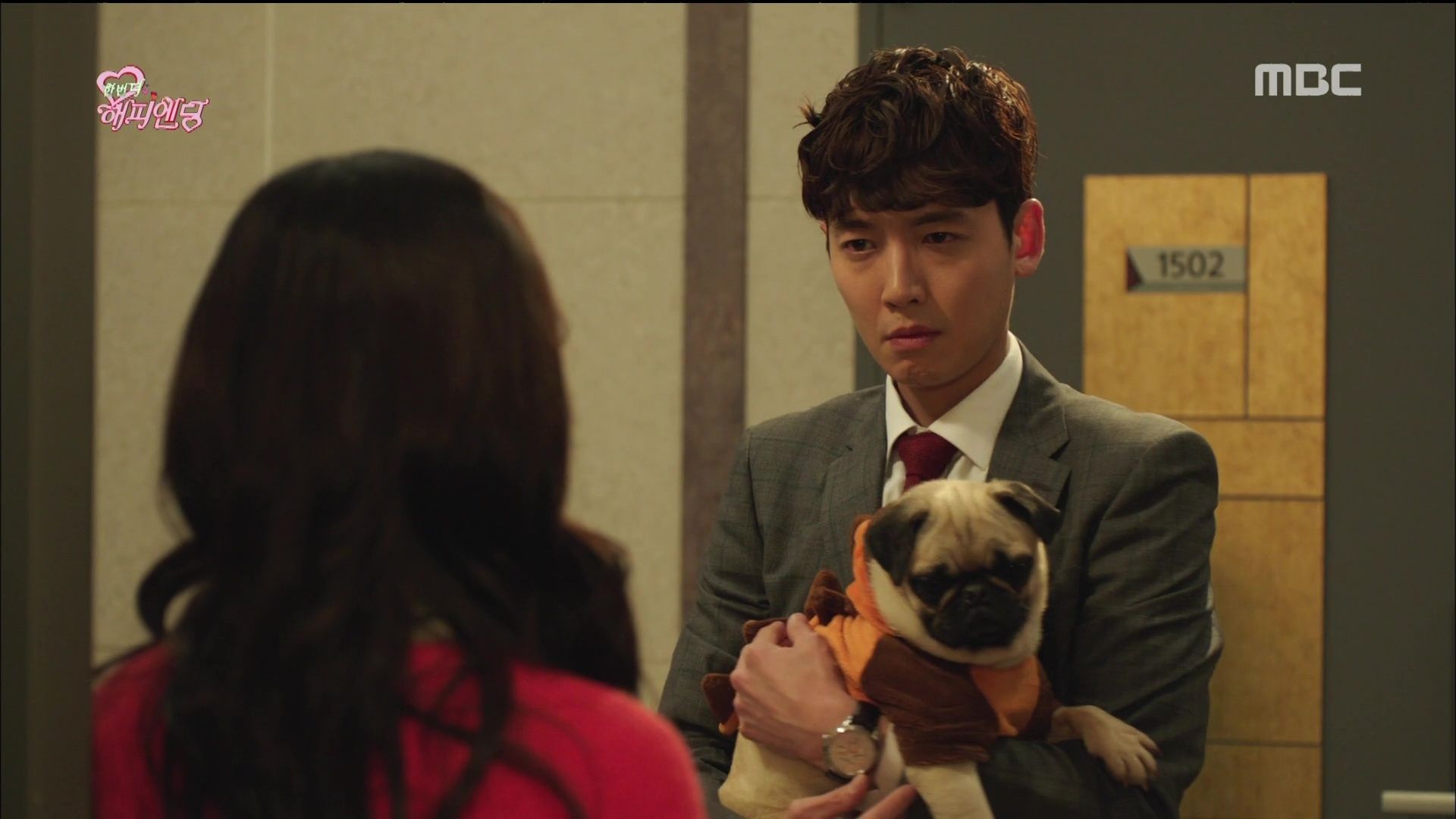 Mi-mo goes home, and Min-woo comes out to give his dad a big supportive hug. Soo-hyuk swears that he wasn't just rejected, she just asked him to hold onto the ring for a while. He's sure she'll be back for it soon, and it's cute how he seems more like he's trying to convince himself.
Mi-mo left Ppoppo at Soo-hyuk's, and he jumps on the excuse to see her again. Aww, he's so pouting when she opens the door. He whips out the unfiled marriage license, grumbling about how excited she was to get married back then, and gasps when Mi-mo says calmly that people change.
Soo-hyuk says that she really is a goldfish, accusing her of luring him into this then rejecting him, and OMG could he be any cuter right now? He's on the verge of tears, and Mi-mo gives him a big hug, but repeats that they need to do this.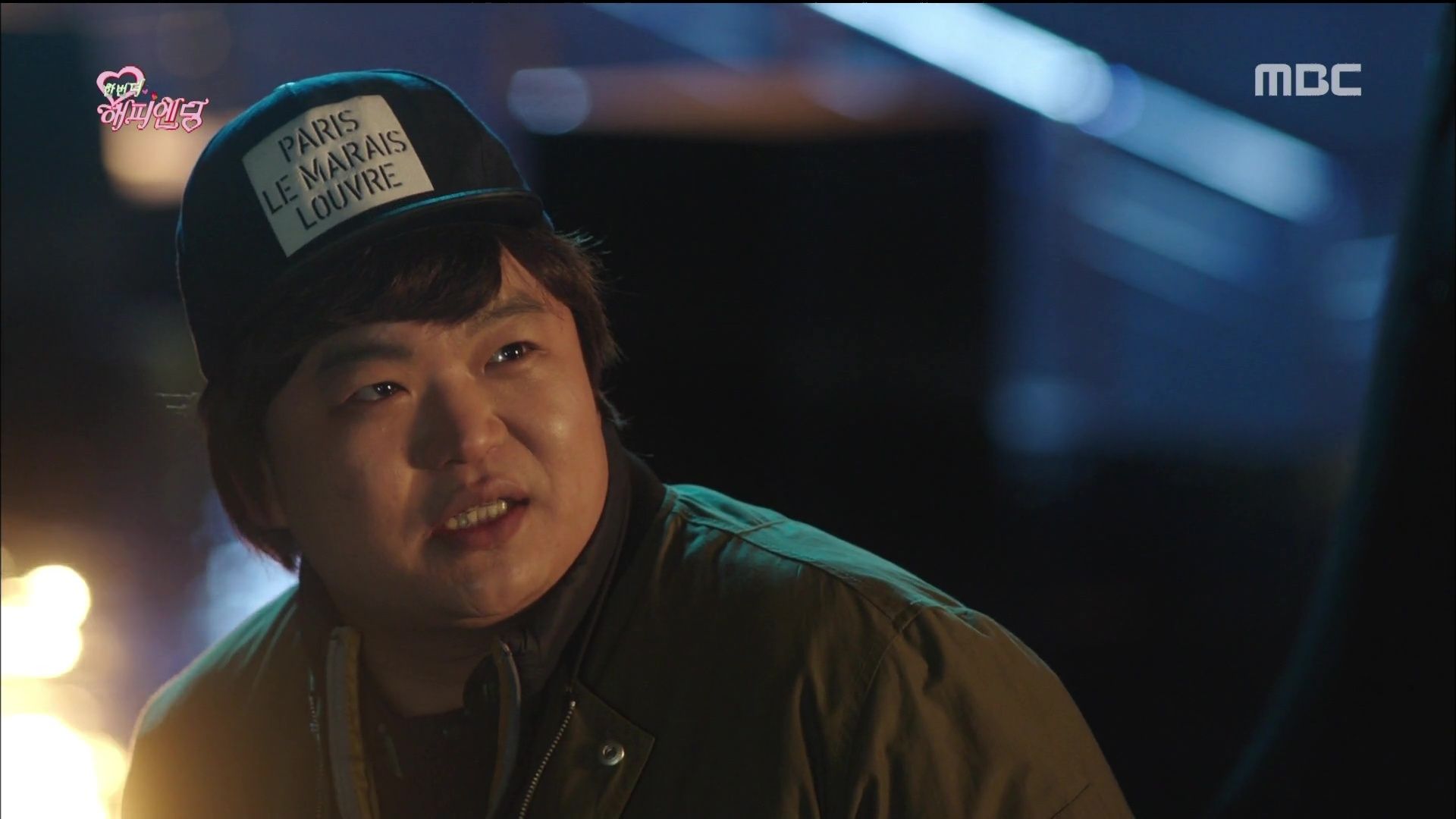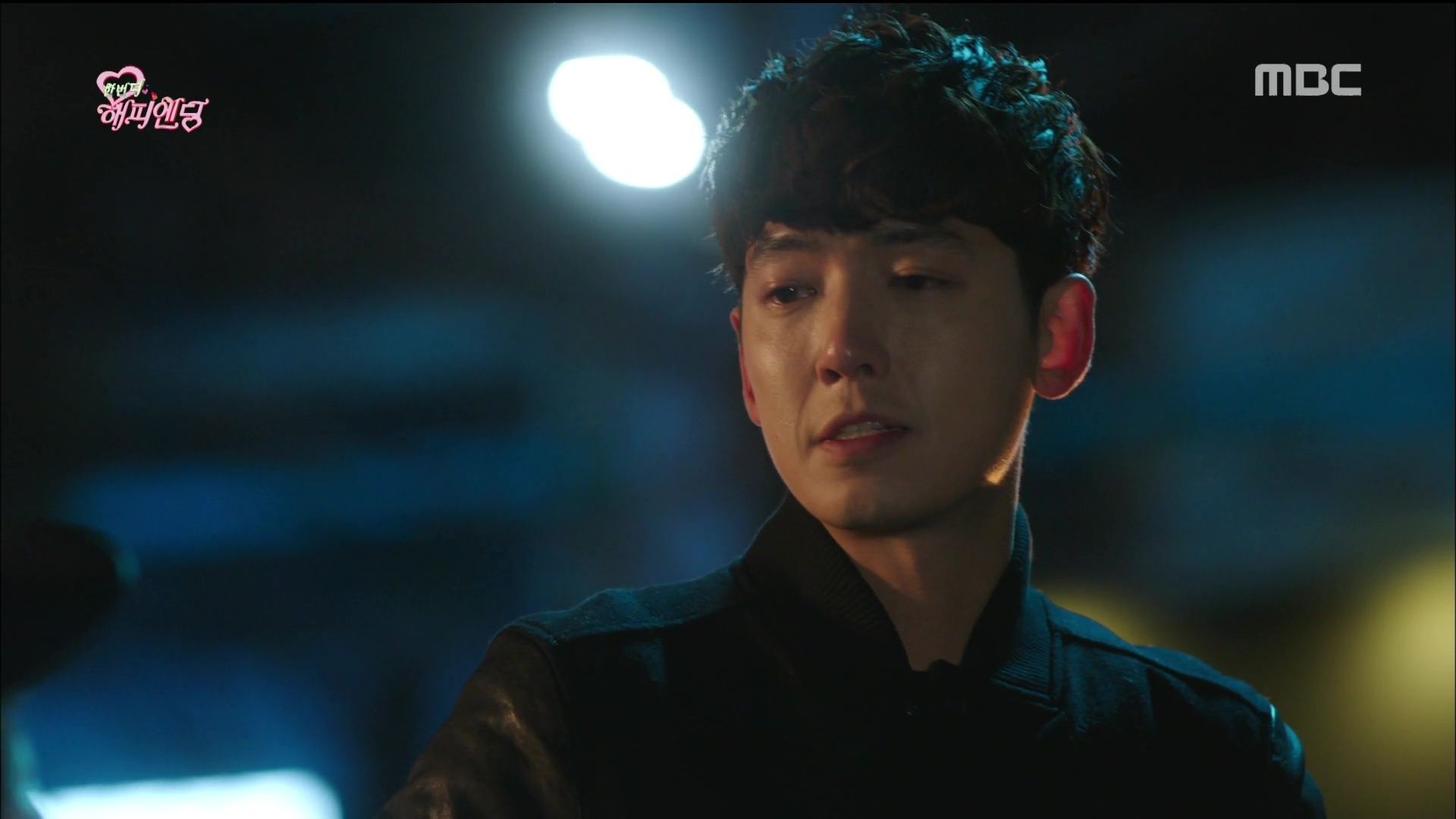 Hyun-gi thinks that Soo-hyuk got off easy when he hears what happened. Soo-hyuk is worried that he'll lose Mi-mo again, but Hyun-gi points out that getting married doesn't mean that couldn't happen anyway.
When So-eun shows up at Soo-hyuk's and sees the place all decked out for a proposal, Min-woo breaks the news that it's time for her to give up. So-eun tries to convince him to act up and get rid of Mi-mo, but it doesn't work.
She tries with Mi-mo next, putting on a pitiful face and crying that she transferred jobs just to be with Soo-hyuk. Mi-mo isn't the least bit swayed, saying that she's not about to give up Soo-hyuk. So-eun pretends to faint (at least I think she pretends), and is rushed to the hospital.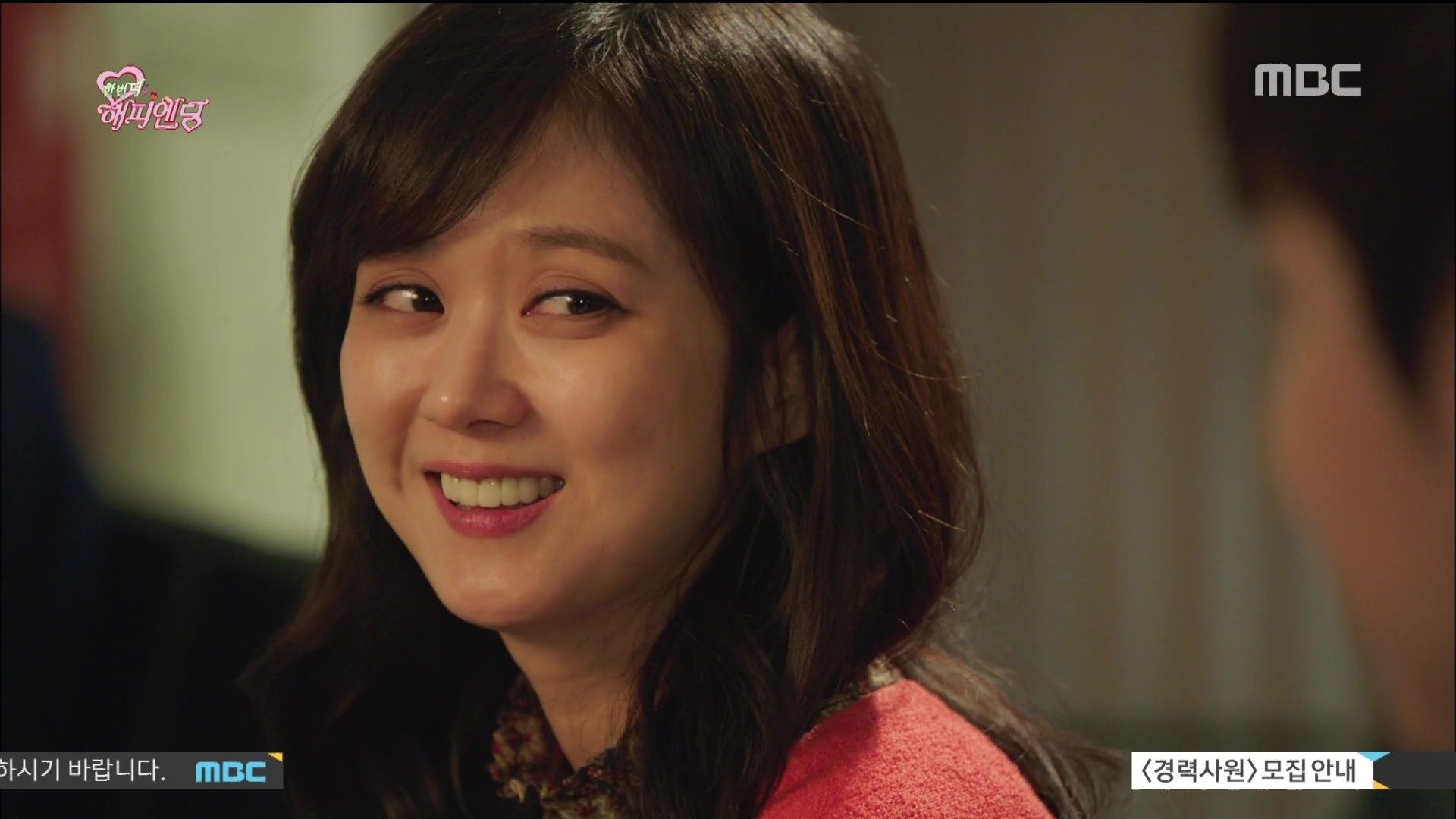 Mi-mo and Hae-joon run into each other in the ER, and she apologizes for not contacting him. He asks what she would do if he wanted her back, but claims it was a joke when she goes all wide-eyed.
He asks why she's setting Yeon-soo up with men who aren't good enough for her, and asks Mi-mo to find her a wonderful man. Mi-mo complains that Yeon-soo's standards are too high, and says that it's Hae-joon's fault, which makes them both laugh.
Da-jung and Geun-hak are making great strides, seeming much more relaxed and happy around each other. They even hold hands in public, though it seems to take all of Geun-hak's courage to take Da-jung's hand. His smile is totally worth it.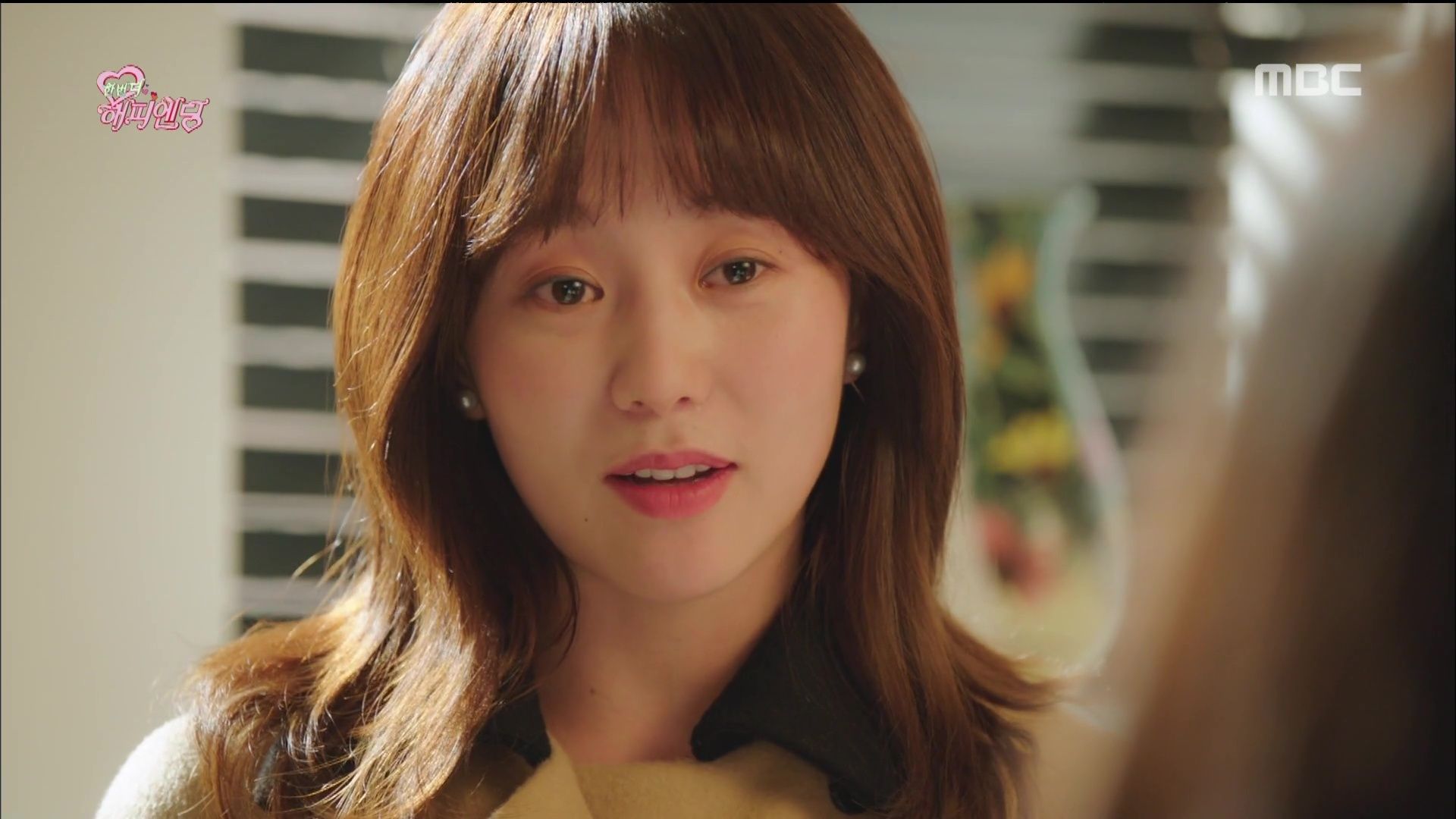 They see Yeon-soo for Da-jung's checkup, where she's told that she's doing very well. Geun-hak thanks Yeon-soo sincerely for all of her help, and after he leaves, Da-jung stays behind to thank Yeon-soo as well. She heard about how she told Geun-hak to just watch the women in the hospital and learn from it, and not just about the medical side.
Da-jung goes back to work to the news that Mi-mo was proposed to, though Mi-mo admits that she's still unsure. In Da-jung's opinion, Mi-mo just wants to be happy, no matter how it happens. Mi-mo complains that seeing Da-jung happy again makes her want to get married, and Da-jung tells her that just based on her insecurity, Soo-hyuk is The One.
Dong-mi and Jung-woo are still arguing about whether to date, and he tries to convince her that age has nothing at all to do with it. She finally agrees to try it, but give him a three-year deadline — he must find a job and marry her within that time frame. Jung-woo at least is honest, and says that as much as he likes her, he's not sure about marriage just yet.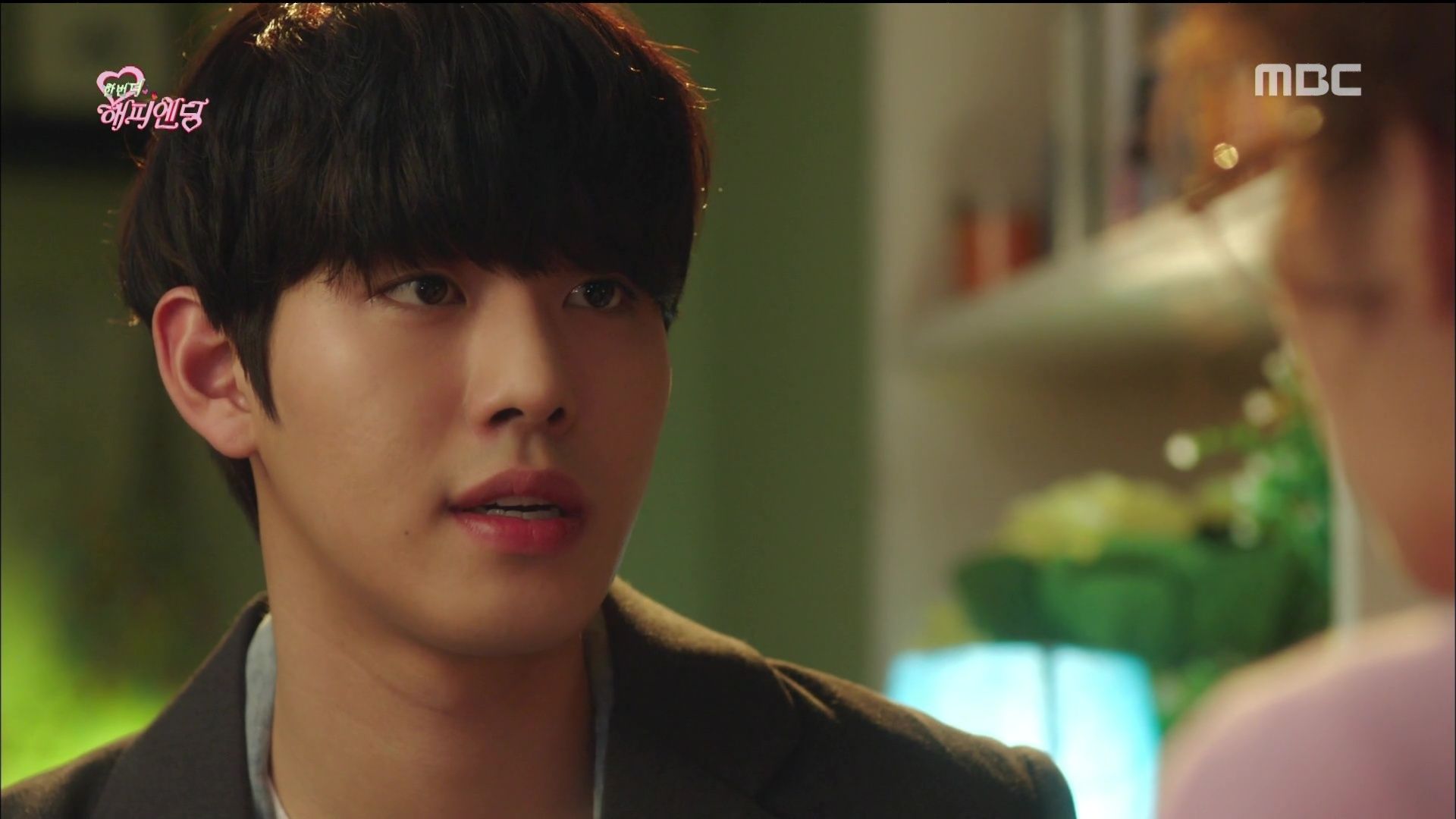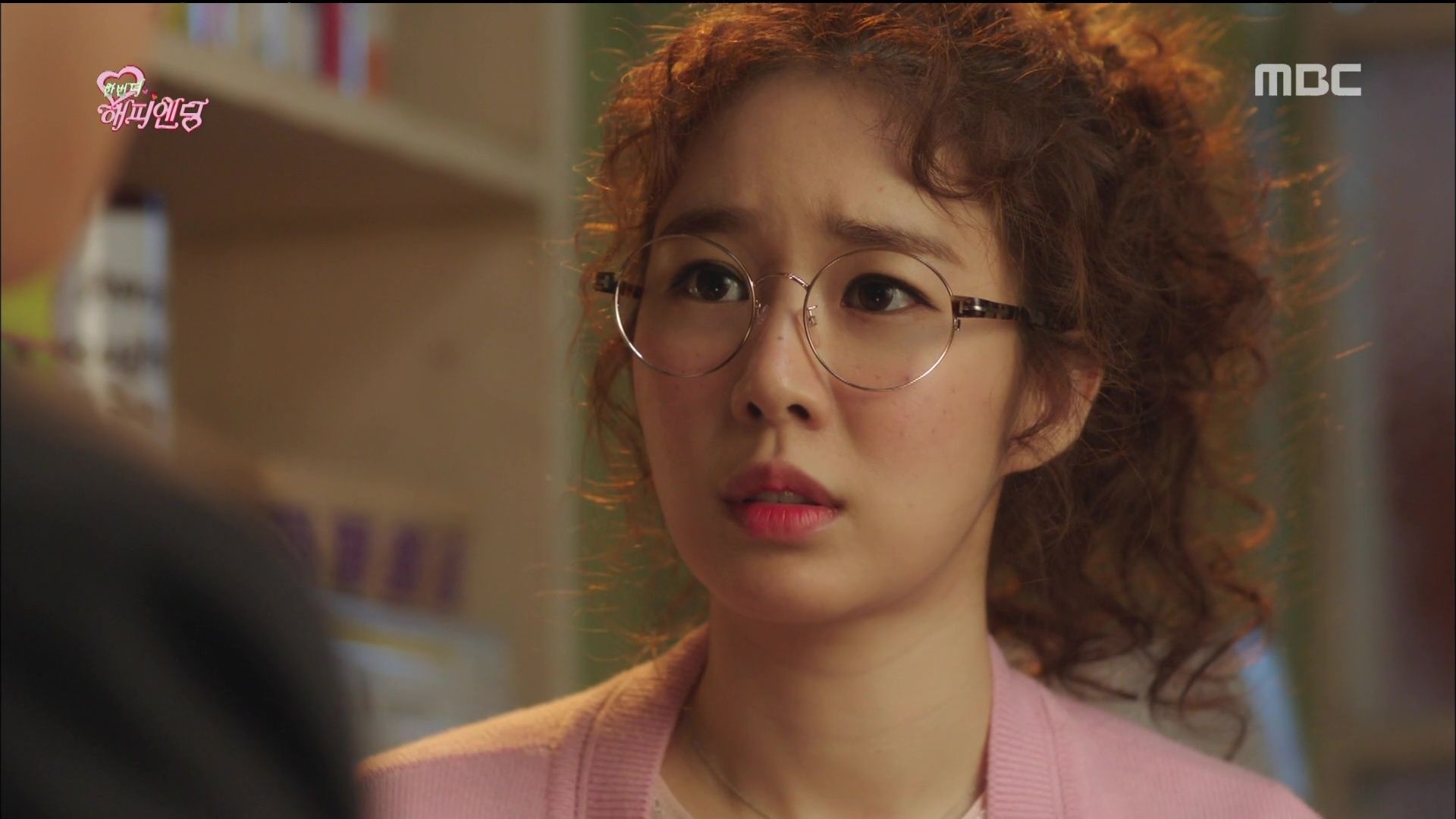 Ae-ran tells Dong-mi that there's only one solution: If she's not willing to give up on the guy, then she has to give up on marriage. She can always go on blind dates with more suitable, marriage-minded men while she dates Jung-woo, just as insurance.
Soo-hyuk whines to Hae-joon that everything is always so difficult for him, but Hae-joon tells him that this stuff is hard for everyone. But when asked how it was for him when he married Yeon-soo, Hae-joon says it was too easy, which was what made it so painful. They didn't love each other, but just dated and married because they didn't hate each other.
Ae-ran has a meeting to discuss selling her designs, but she's told that they're outdated. People won't buy clothing just because of her name anymore, and she's told that she needs to do some studying and try again later.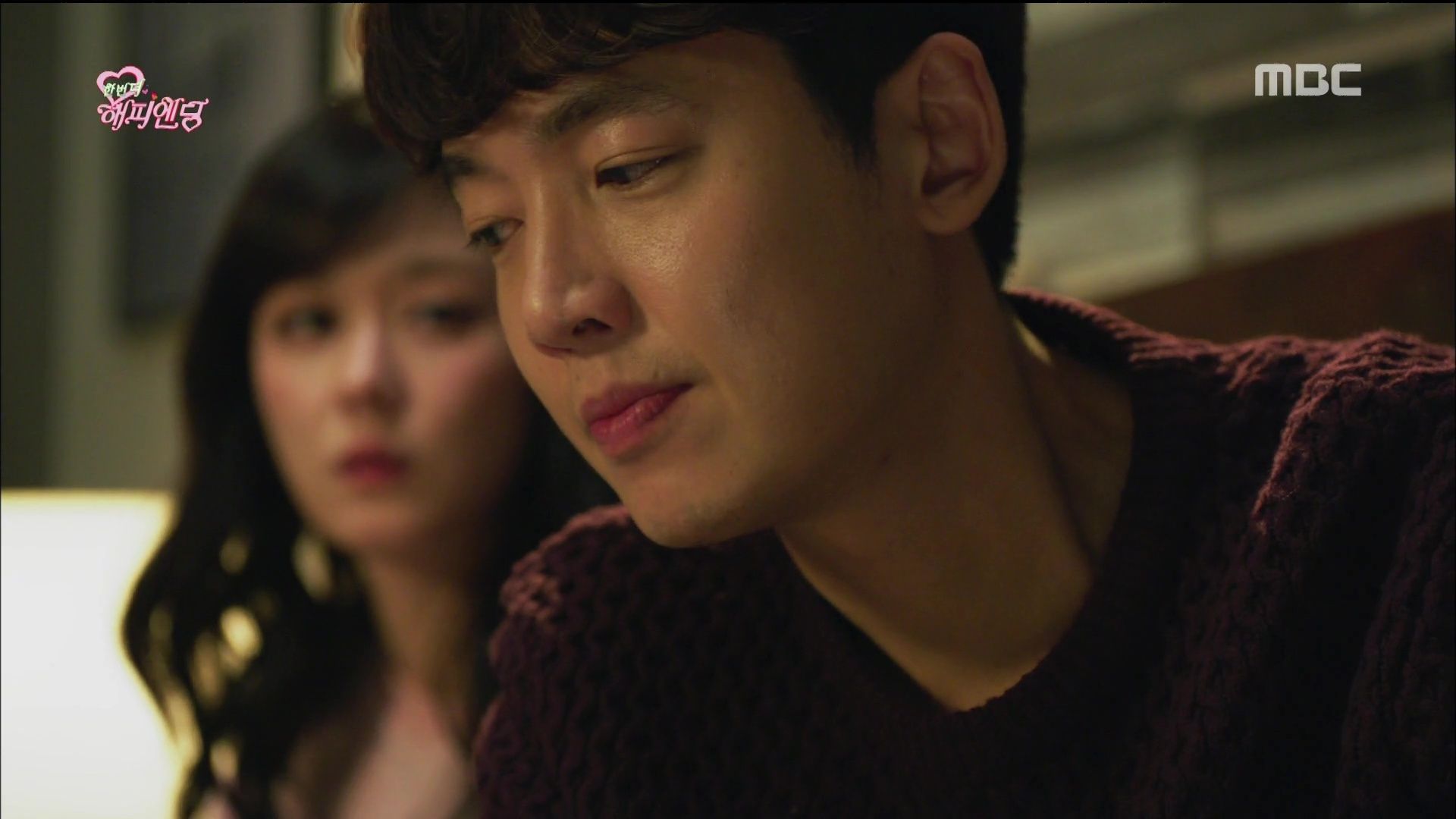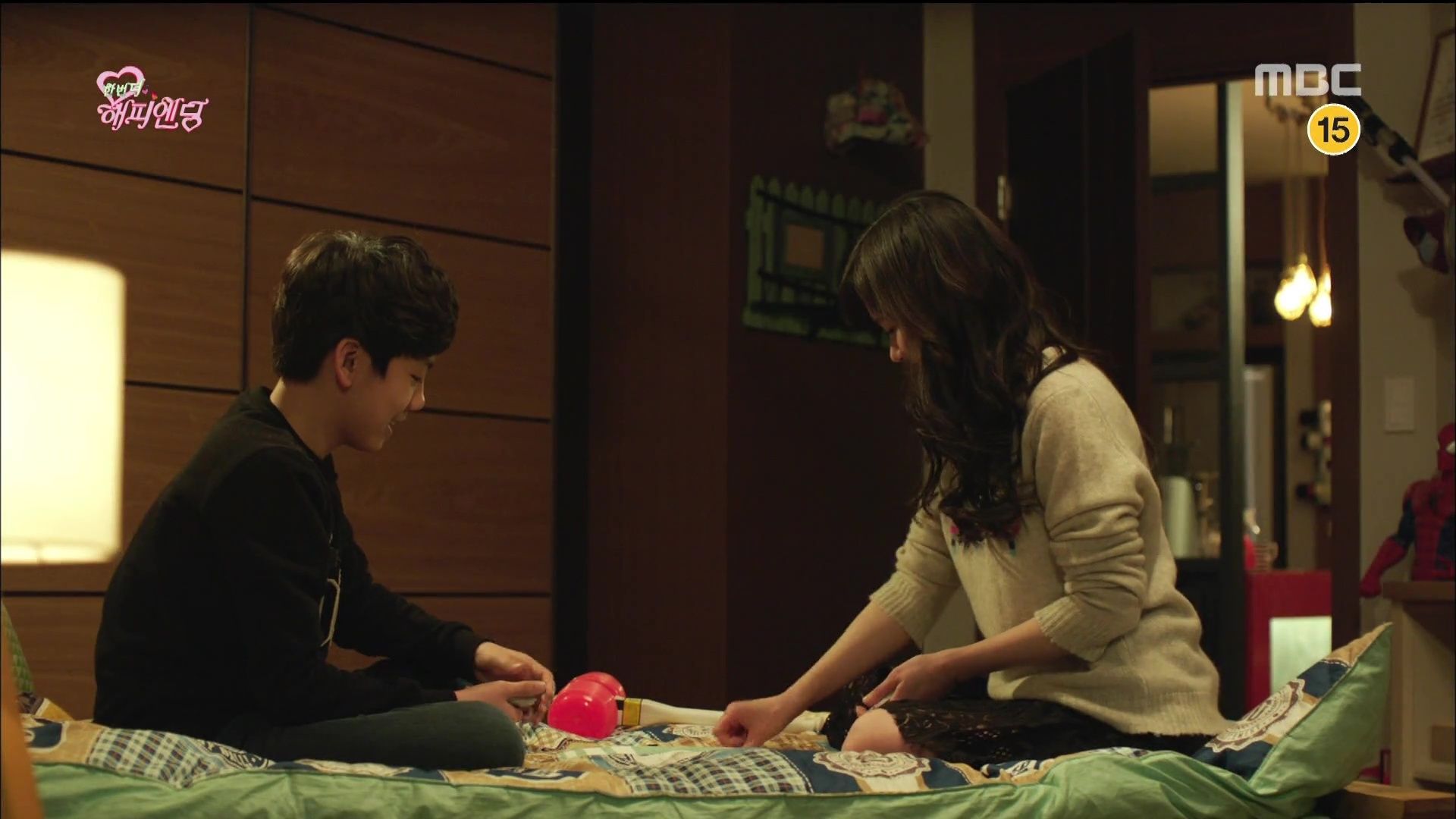 Soo-hyuk decides to give Mi-mo a timeline, and suggests they wait one year. Mi-mo just grins at him, and he freaks out thinking she wants more time than that. She calms him down and says that she just wants to be sure that they'll work out, though he at least talks her into keeping the ring.
He brings out her sticker card, and asks her to marry him if they fill their cards before a year is up. She promised him a wish for filling hers, and that's his wish. She agrees, though she says she won't make it easy to earn stickers, and Soo-hyuk firmly vows to marry her as soon as possible. Challenge accepted.
And so they spend lots of time together, learning more about each other. Soo-hyuk learns that Mi-mo is a terrible housekeeper and likes to eat in bed (and ha, he actually scratches off a sticker for that), and he yells at her whens he spills her coffee in his car. But she earns stickers for things like hanging out with Min-woo, and her card slowly starts to fill up.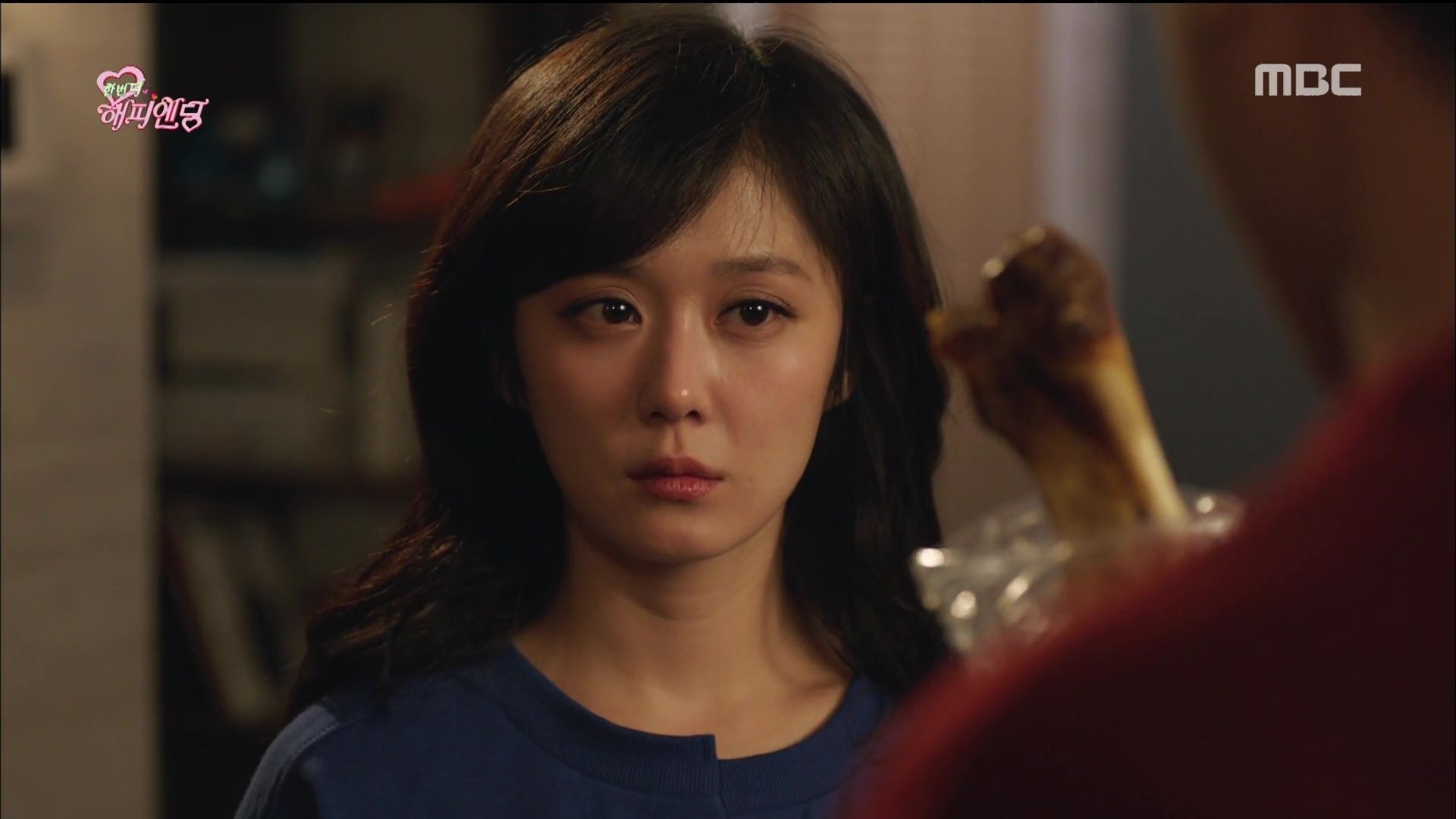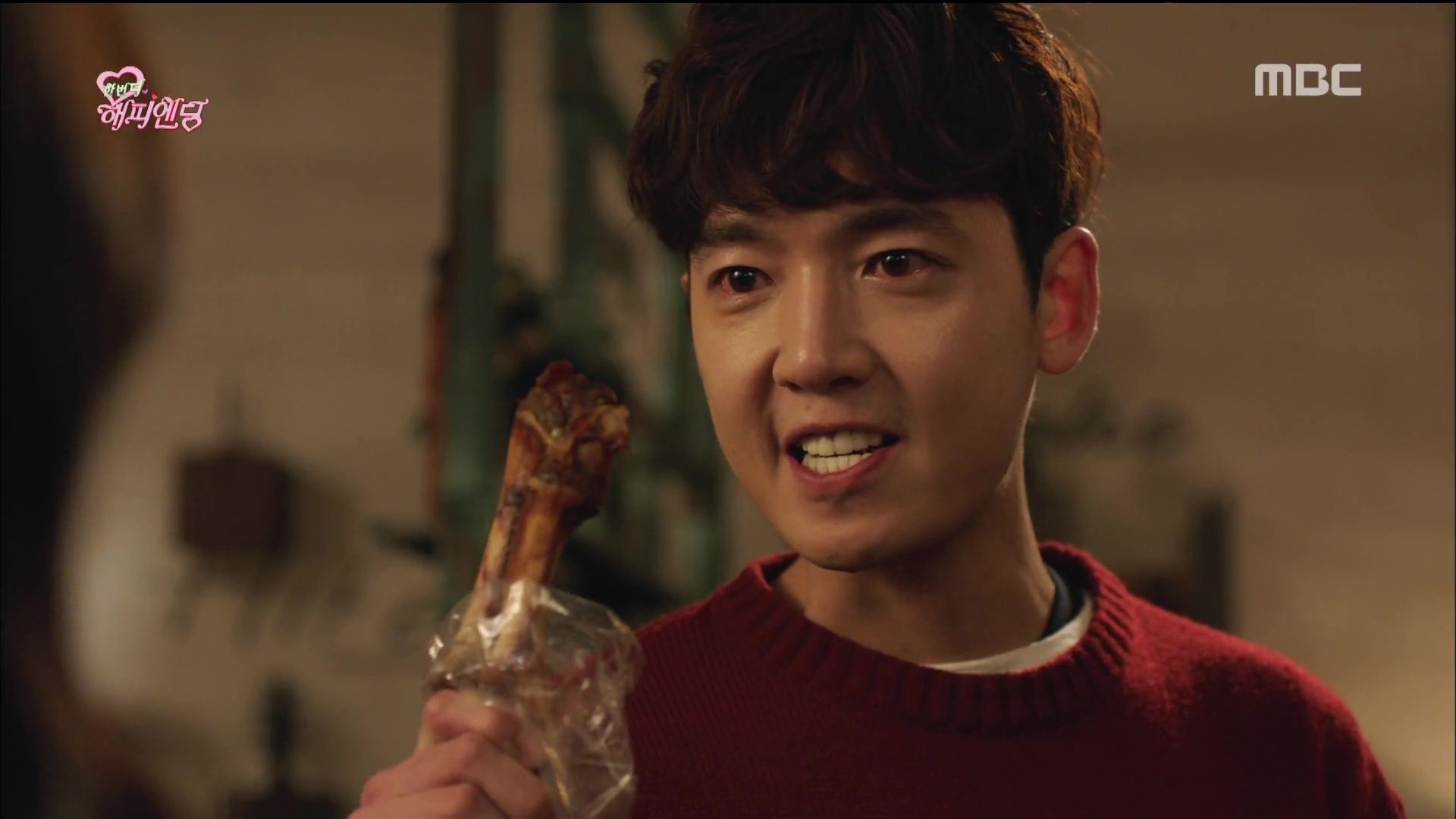 Geun-hak and Da-jung grow even closer, and even little Tae-yong looks happy these days. Geun-hak brings Da-jung breakfast in bed one morning, and manages to almost sneak under the covers with her. Cheeky boy.
Soo-hyuk gets mad at Mi-mo when he finds a giant bone under his couch, and he yells that she's like a person with a mental problem, as much as she forgets. Mi-mo bristles, saying that he used to find her "goldfish memory" cute, and starts to indignantly move all her stuff back to her place.
Soo-hyuk declares them over if she moves out, but she's furious and goes anyway. Soo-hyuk immediately backs down and apologizes to her door, and lets himself in to find her curled up in bed. He tries to snuggle up to her, but she wants to hear him explain exactly what he did wrong before she forgives him, ha. But that was just Soo-hyuk's fear, and in reality she turns to him and apologizes, herself.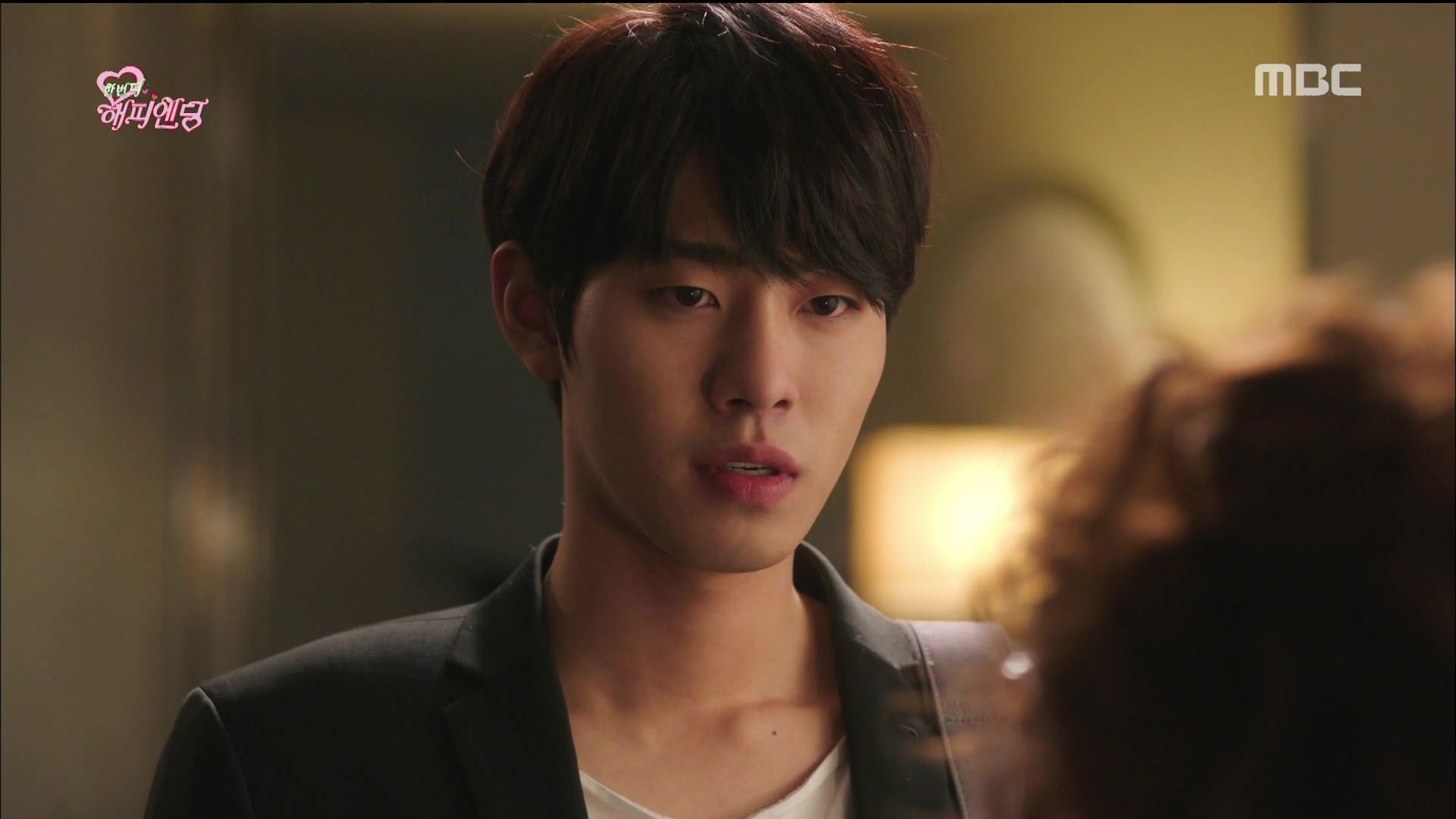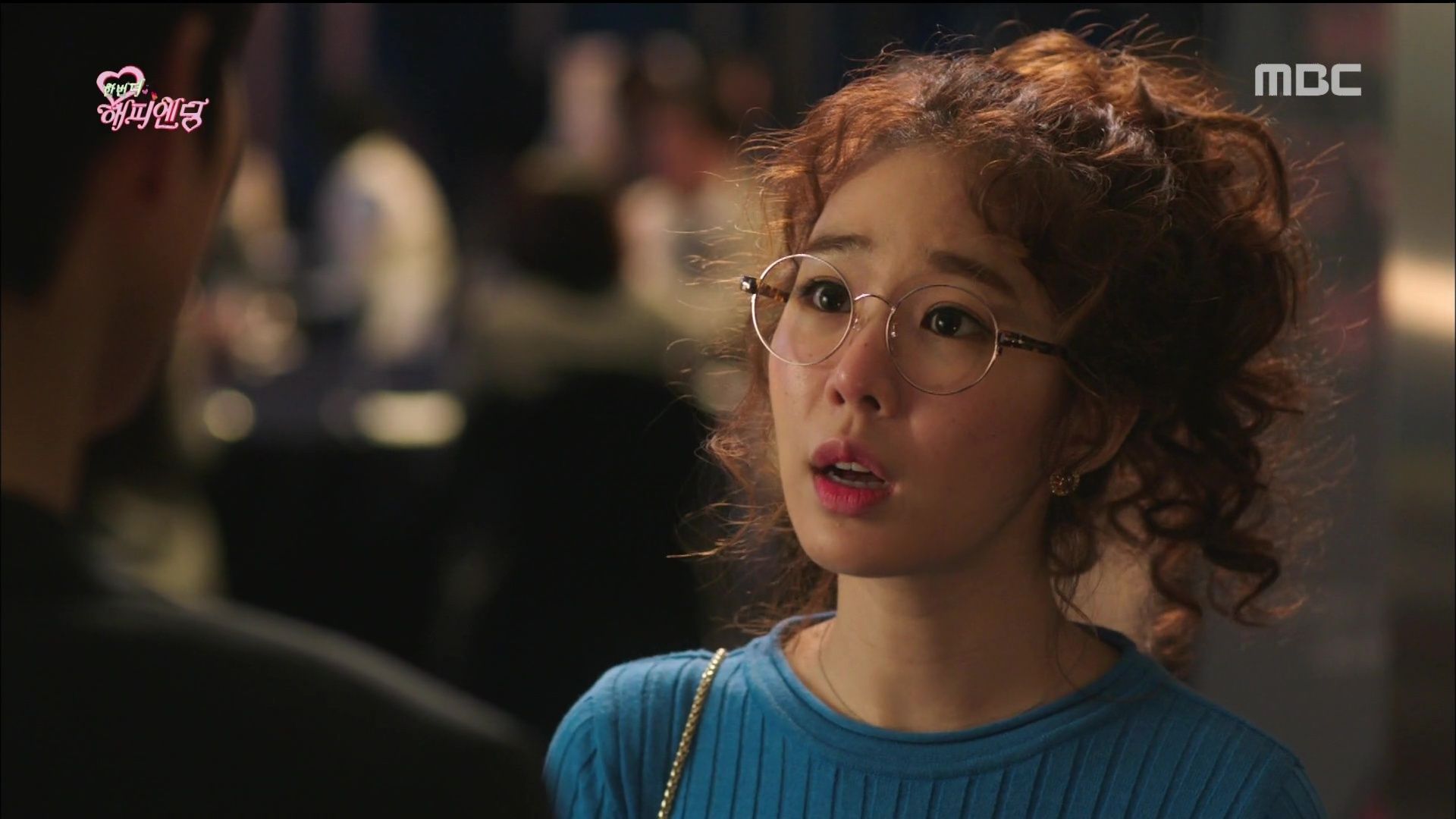 Jung-woo panics when he can't find Dong-mi, because she's at another blind date party, at a table full of young, attractive men. Jung-woo finds her and loudly calls her "wife," but Dong-mi pretends not to know him. He steals her name tag and writes "Jung-woo's girl" on it, flashing it in the faces of the men.
Still drawing attention, Jung-woo says that he found her and recognized her beauty when nobody else did, and now she's going to leave him for a man her own age?? Dong-mi drags him outside and reminds him that they broke up, because she doesn't want to be with someone who's not interested in getting married. Jung-woo argues that he never agreed to break up, but when asked if that means he's changed his mind, he asks for a little time. He'll give it a year, but she'd better not ever blame him if they have to live frugally.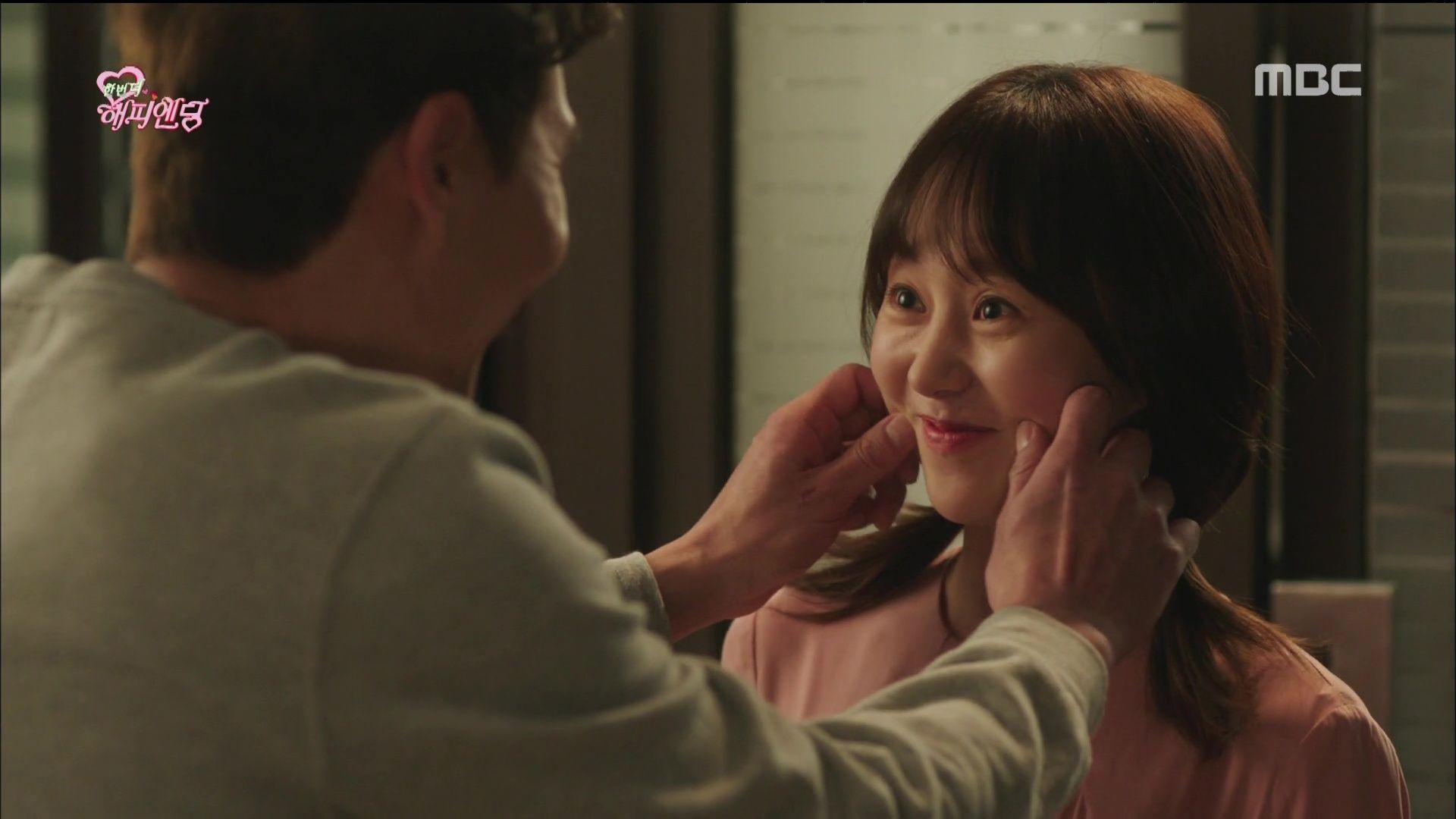 Geun-hak is tired of saying goodnight and sending his wife off to sleep in another room every night, and he finally tells her so. Da-jung smiles coyly but says she's not ready to sleep with him again, and her surgery scars make her shy. Geun-hak promises not to try anything, but Da-jung asks for some time.
She points to a pair of swan statues and says that they can sleep together again when the statues kiss. They're both so adorably giddy, and it's even cuter when Tae-yong comes out of his room and they both freeze like guilty teenagers.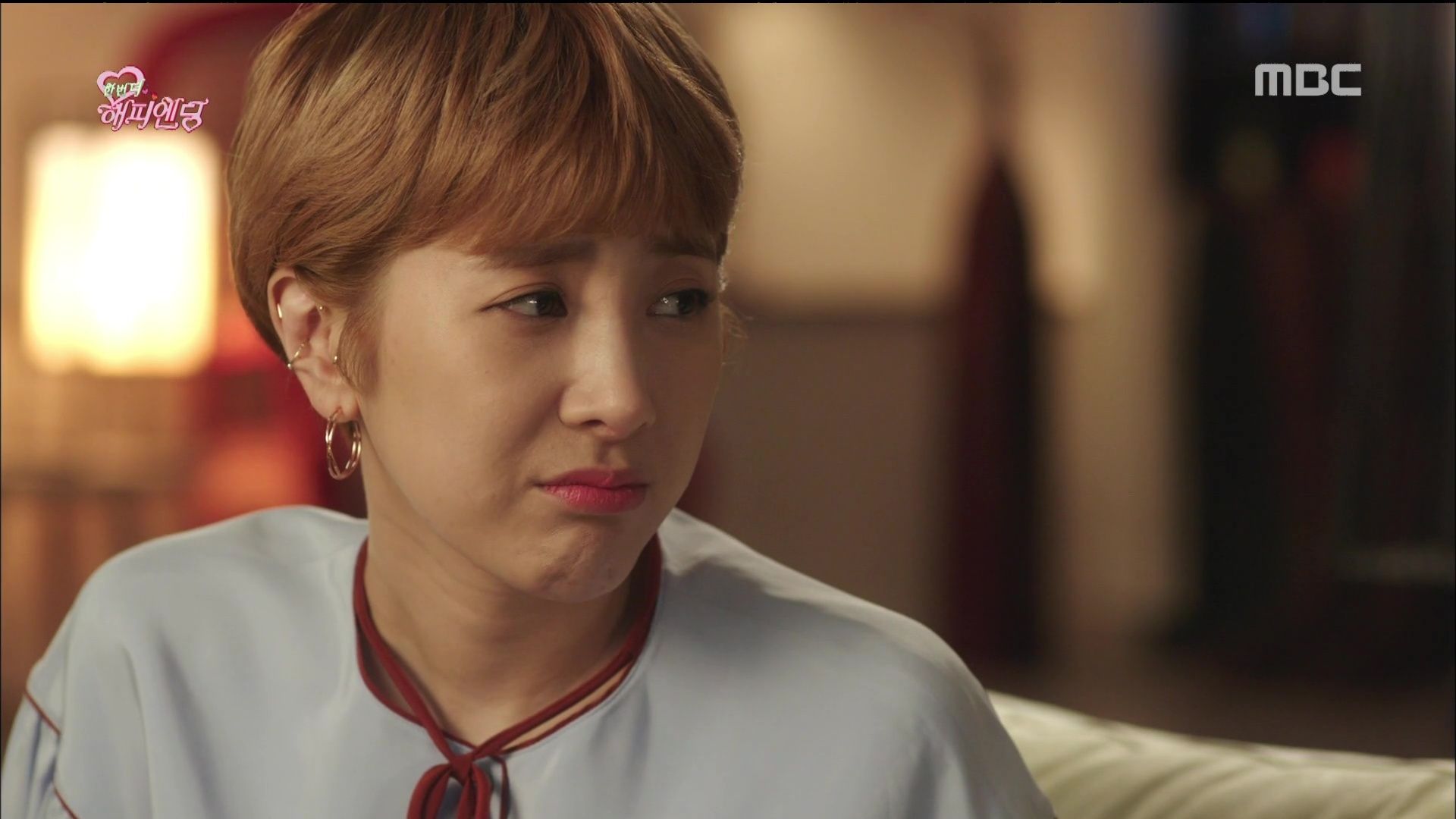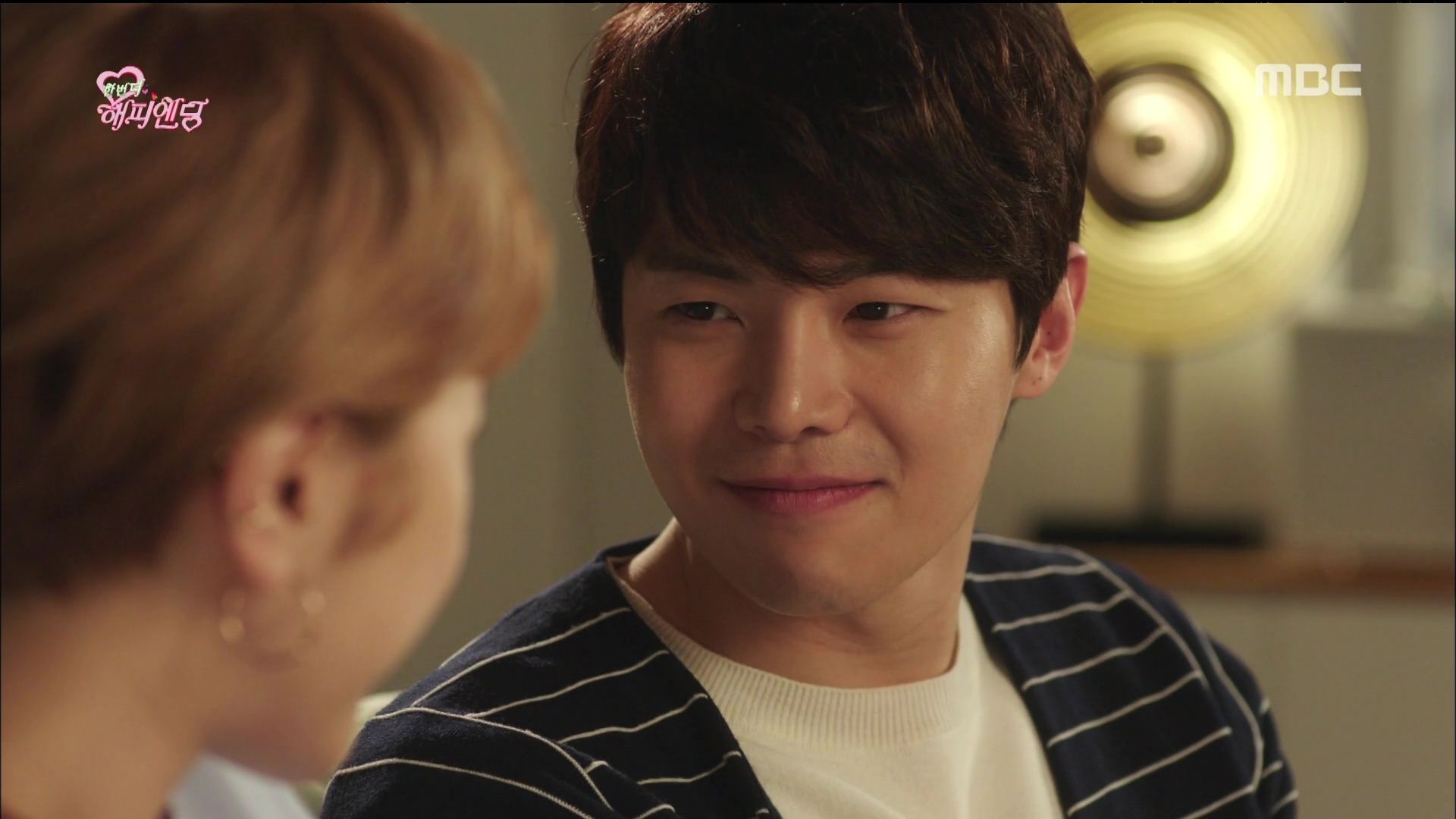 Ae-ran thinks hard about what to do, and finally she tells Dong-bae that she wants to go back to school. She realizes that she can't keep coasting on her Angels reputation and she wants to get serious about her life. Dong-bae looks at her with new, respectful eyes, and offers to support her however she needs.
The man that Yeon-soo has been dating offers her a ring, and though his proposal is more pragmatic than romantic, she listens seriously. She goes back to Hae-joon and shows him that she still has the first gift he ever gave her, a pink hairpin. They both agree that it's ugly, but Yeon-soo says that it made her heart flutter, and shows him her new engagement ring.
She tells Hae-joon that she plans to give this relationship a shot, and that she came here for closure. Hae-joon says that he still feels sorry for everything, but he sincerely wishes her happiness, and she returns the sentiment.
Soo-hyuk and Mi-mo realize that their sticker cards are nearly full, only lacking one sticker each. Mi-mo gets nervous and paces, while Soo-hyuk adorably starts offering anything he can think of to earn that last sticker ("Can I buy you another hundred purses??" Hee.). Mi-mo shoots down all his ideas, but he's determined to fill his card and marry her.
Soon after, Mi-mo gets a call from her sister — Soo-hyuk sent her enough money to take her family on a trip, and she tells Mi-mo to give soo-hyuk a sticker. HAHA, is he just buying stickers now?? She finds him at her door holding up his card expectantly, but she pouts that he cheated.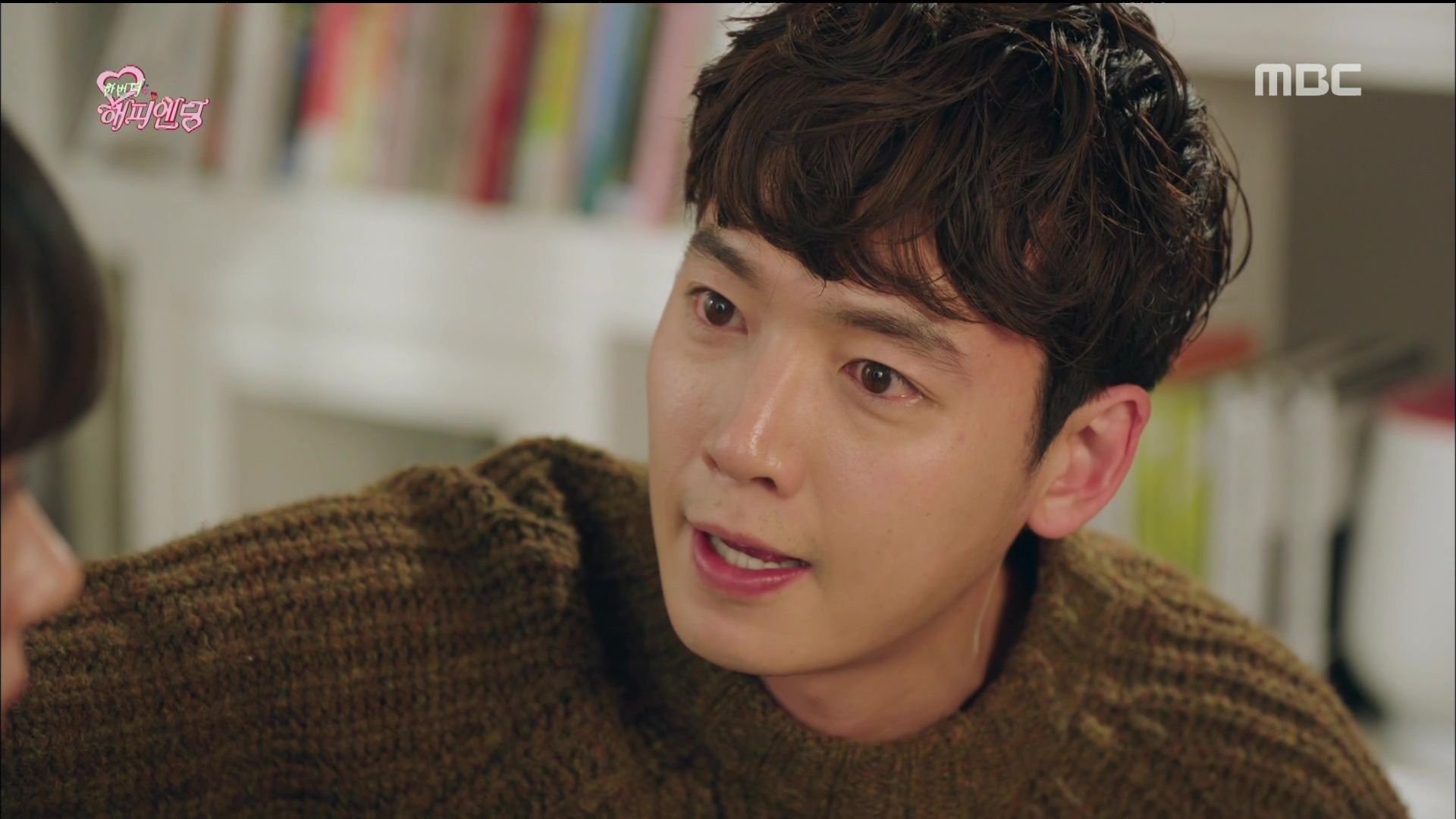 Seeing her hesitation, Soo-hyuk says that he knows that she's just using this as a delay tactic, and she admits that she wanted at least a year. He feels like she's been lying to him, and throws his card down before stomping out.
Geun-hak and Da-jung take Ae-ran and Dong-bae out for one of their homework assignments, a double date. They play the cutest game of bowling ever (I love Geun-hak's bright pink bowling ball), and Da-jung tells Ae-ran that this is really working — she can feel them growing closer all the time. Ae-ran tells her friend that she's applied for an MBA program, because she wants to start investing in something she can change, unlike her looks, which is out of her control.
Soo-hyuk lies awake that night, wondering just how long Mi-mo plans to make him wait. He calls Hae-joon to meet for coffee, but he's distracted on the road and gets in an accident.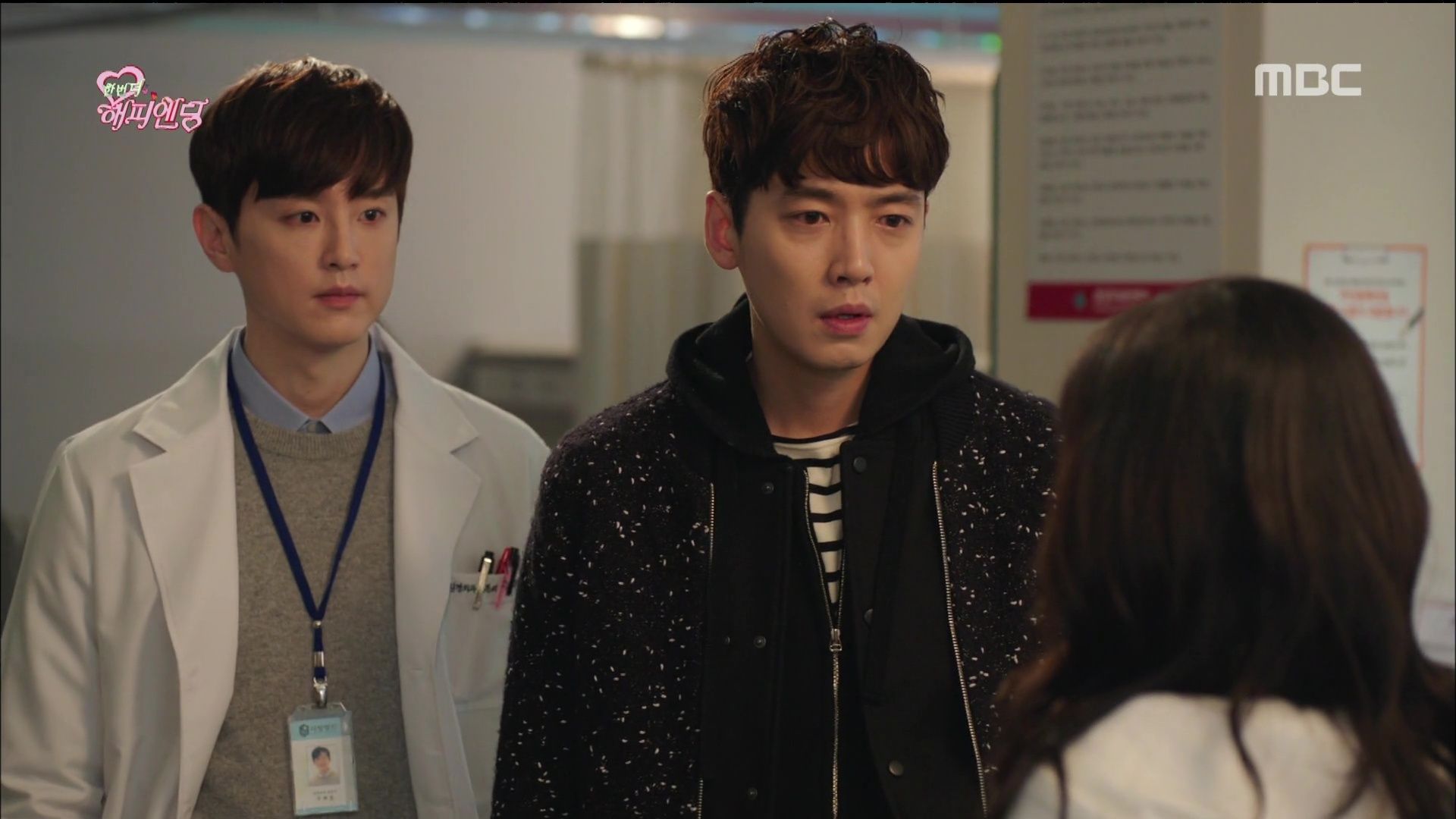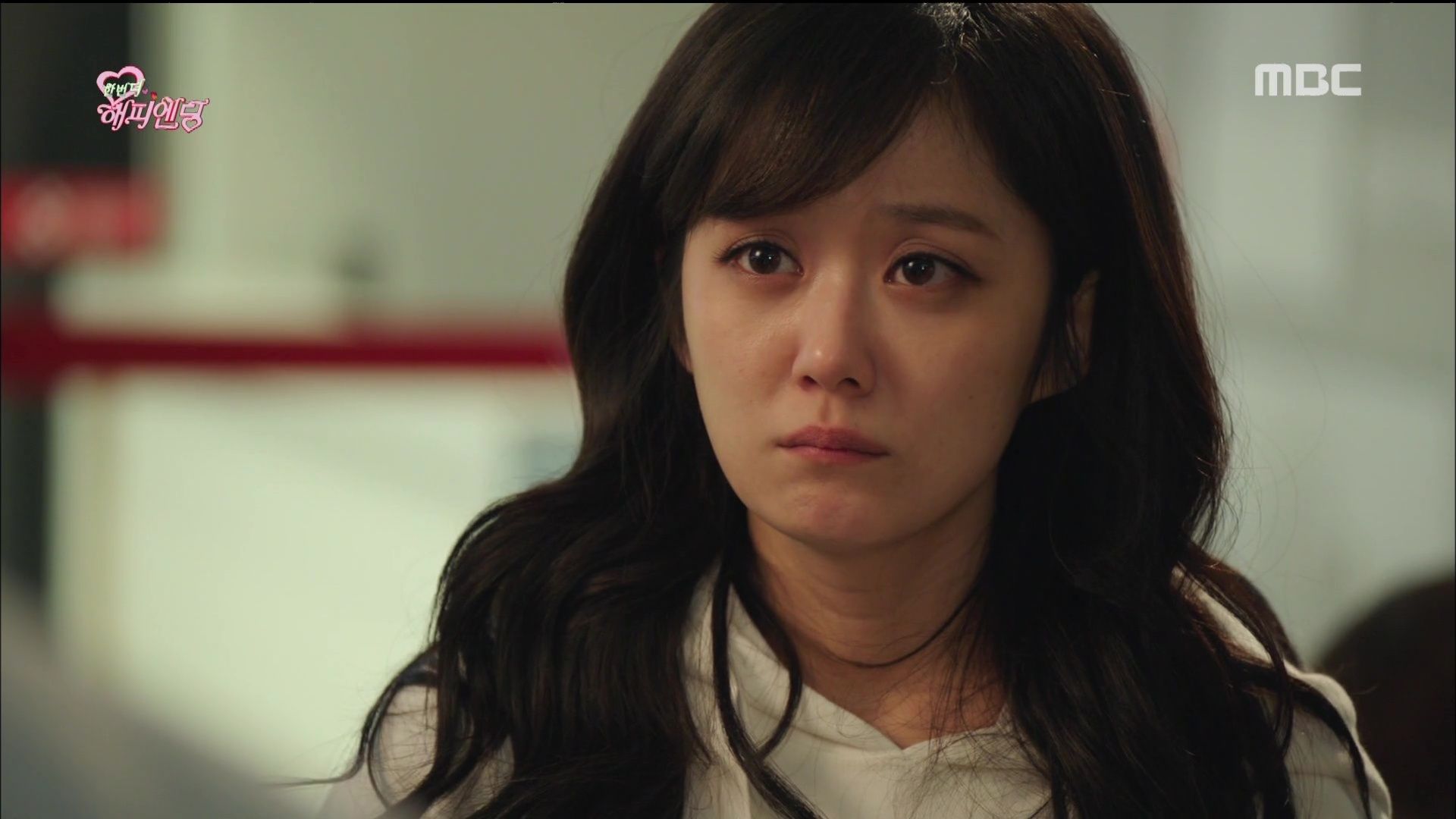 Mi-mo rushes to the hospital when she hears the news, and stops in shock when she sees a patient wrapped intirely in gauze. She cries and touches his face tentatively, begging Soo-hyuk not to die, and promising to take care of him forever if he'll only live.
Aww, as she's begging him to stay with her, Soo-hyuk stands behind Mi-mo listening in, perfectly fine. Hae-joon wanders by and grumbles that he's jealous, and admits that he was the one to call Mi-mo, but that all he said was "car accident," and she ran over.
Soo-hyuk finally shows himself to Mi-mo, and of course she glares at both friends, angry at them for trolling her, even unintentionally. She walks with Soo-hyuk trailing behind like a naughty child, whining about how his back is sooo sore, and his neck hurts sooo bad.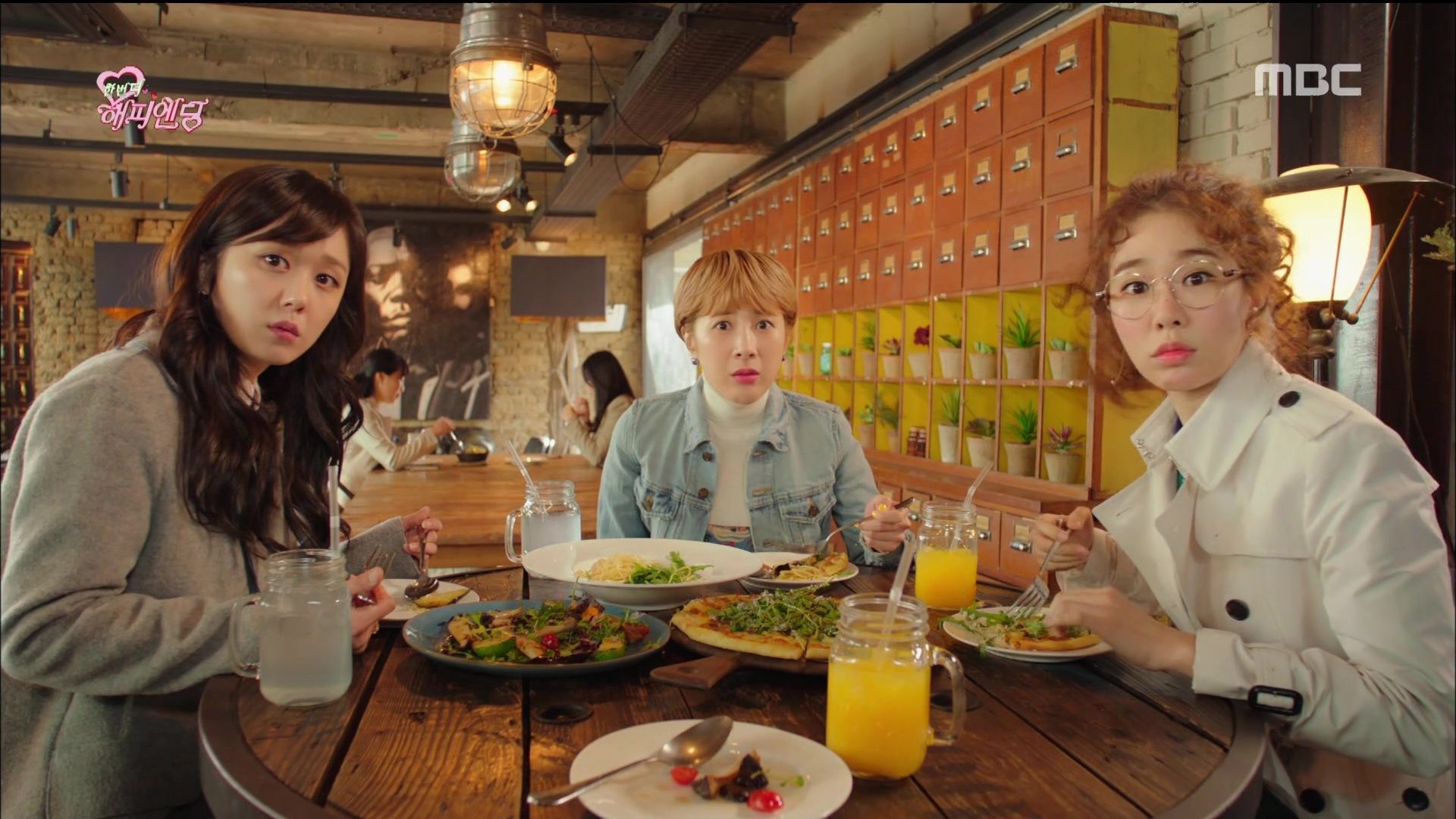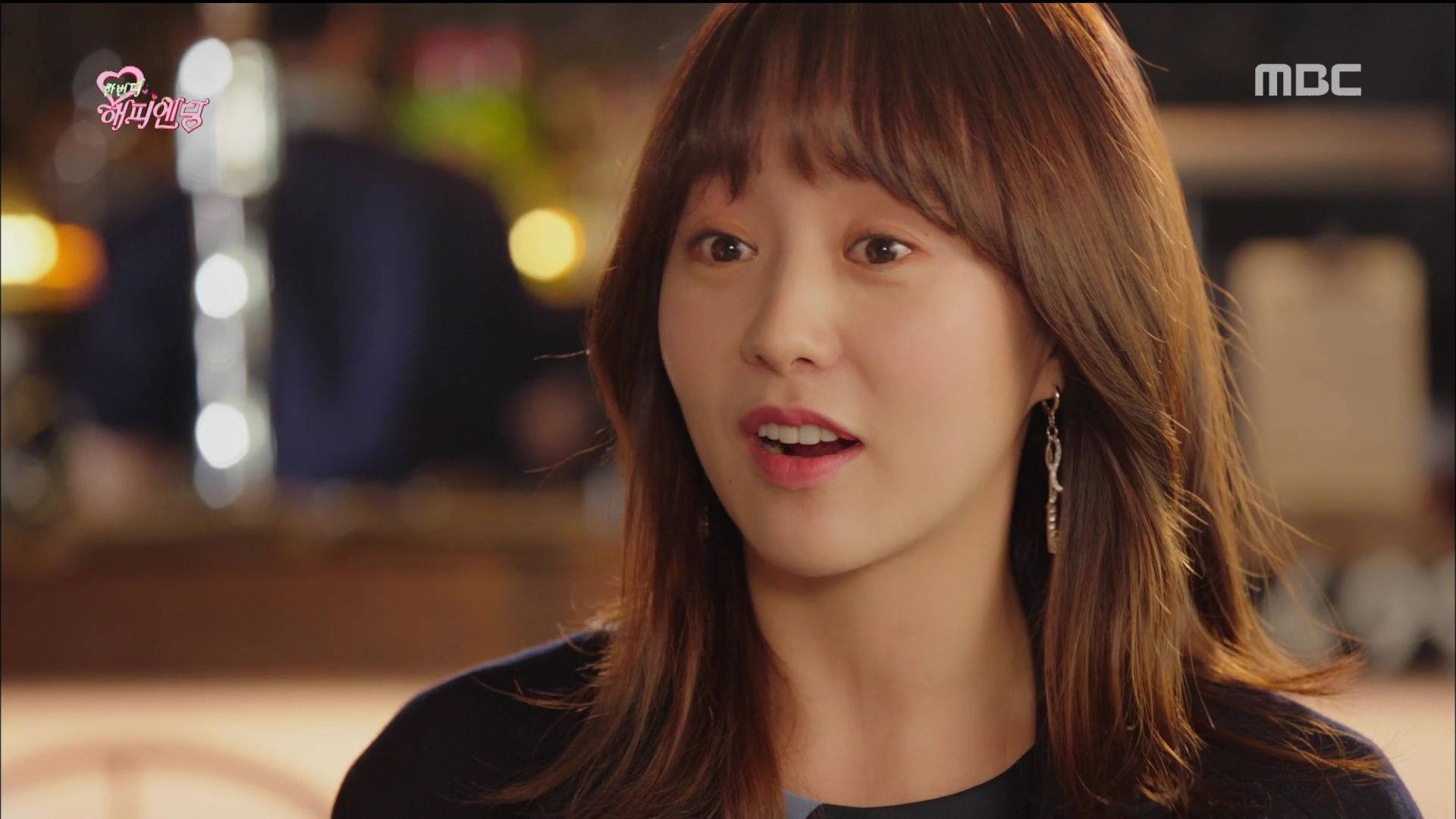 She finally whirls around to yell at him for even leaving the house this late, then tackles him in a hug, just thankful that he's okay. She firmly forbids him ever to get in an accident again, and Soo-hyuk promises.
The next time the friends get together, there's good news: "I'm getting married." But it's not Mi-mo, it's Da-jung — she and Geun-hak finished their wedding counseling, and have decided to have a second wedding. Geun-hak especially wants to show all their friends that they're rededicating themselves to each other, which is just the sweetest thing.
They're surprised when Dong-mi takes the news in stride, having expected her to be jealous, but she says that she just has to wait a year. She doesn't know if things with Jung-woo will work out or if she'll end up marrying someone else, but she's decided to just let things happen as they will.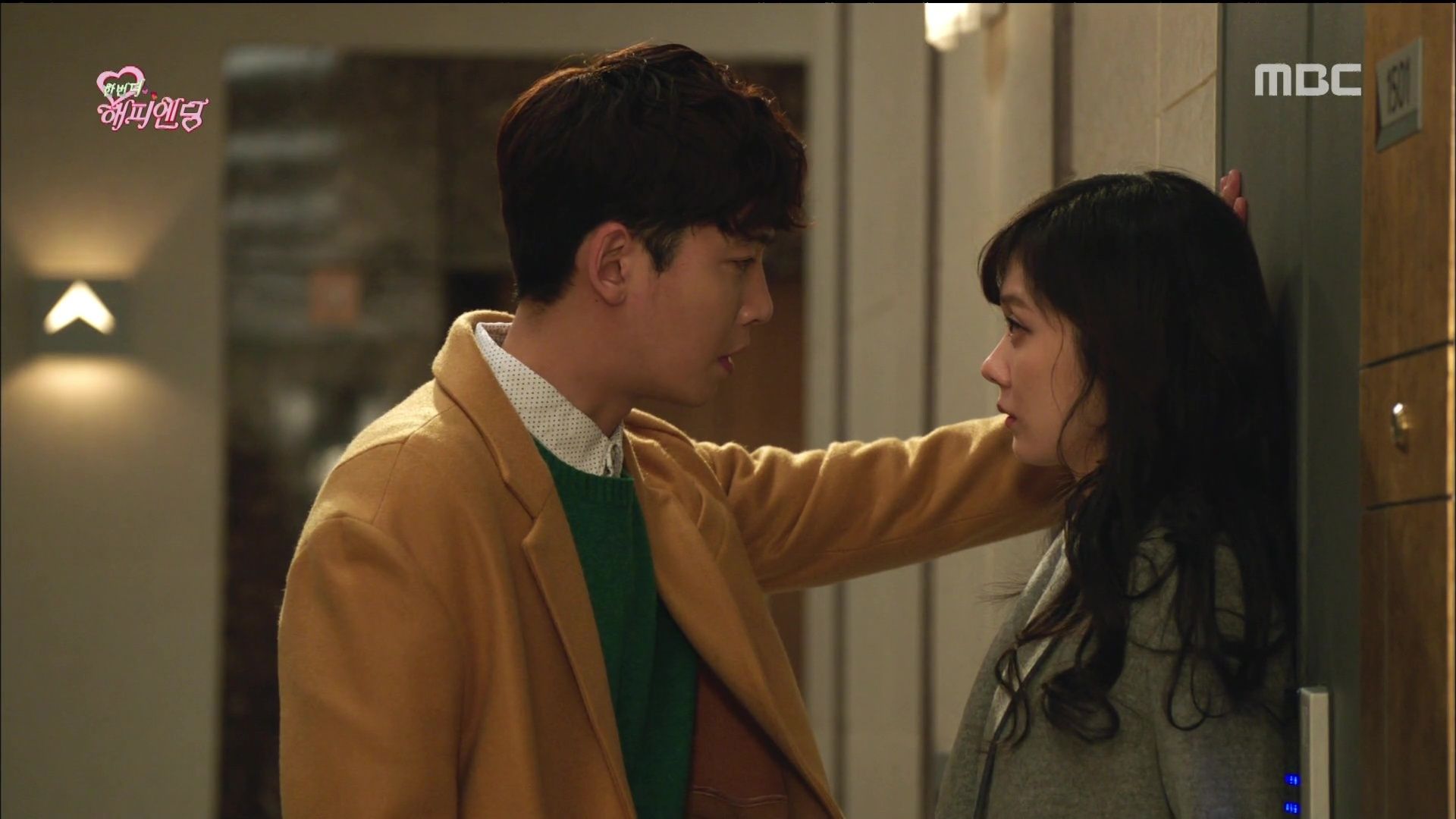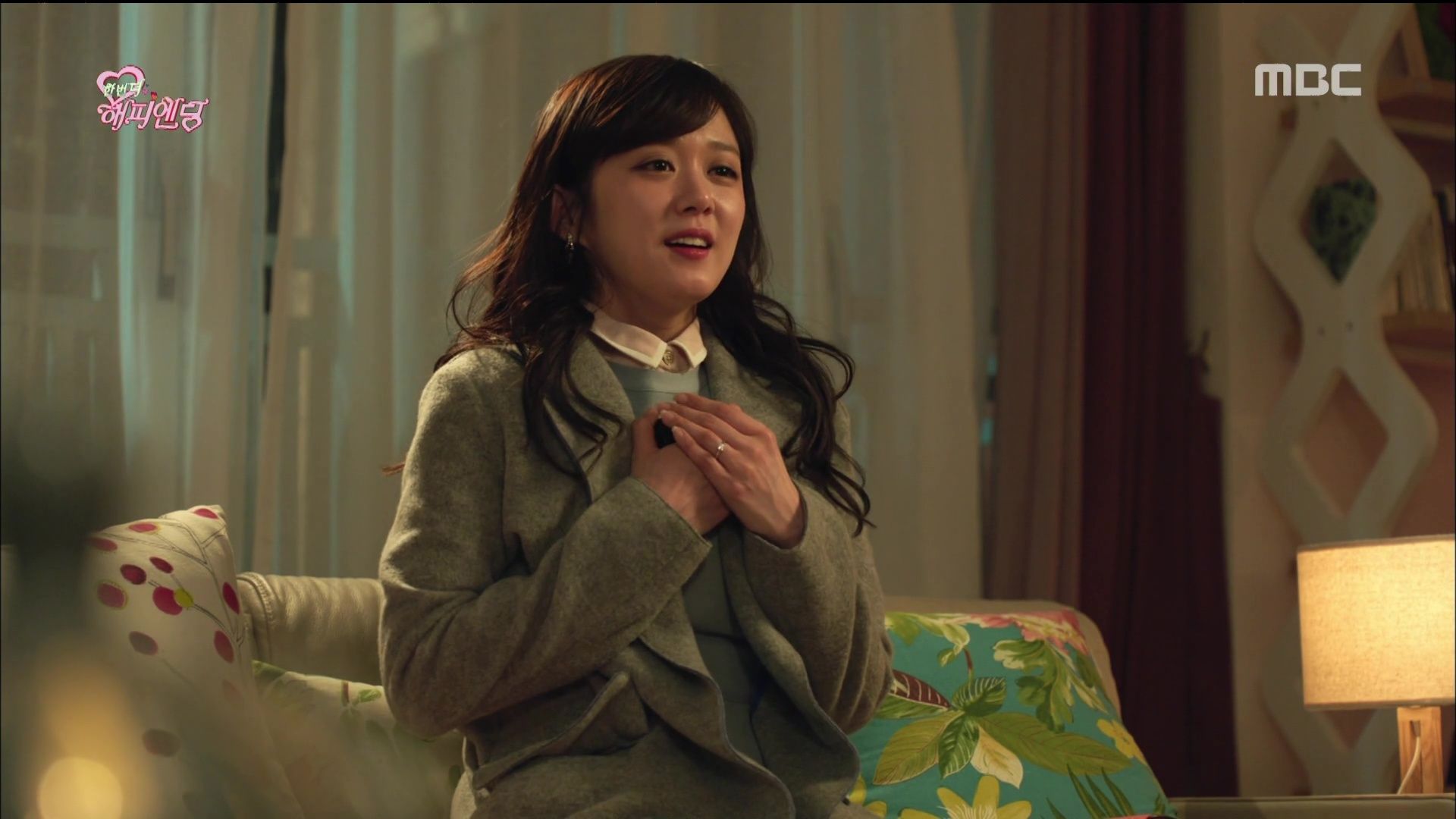 Soo-yuk spends a lot of energy trying to convince Mi-mo to marry him now, but she's still waffling. He tries bargaining, begging, and even seduction, but nothing works. He swears that he'll wear her down eventually, but I have a feeling that he's fighting a losing battle on this one.
And Mi-mo has her own plans… she mutters to herself that he's greedy, always wanting to do everything. But this one thing, she plans to take care of.
Mi-mo, Dong-mi, and Ae-ran are Da-jung's ladies in waiting at her second wedding, and Da-jung looks like the happiest bride on Earth. Soo-hyuk takes the photos, and Mi-mo muses that this wedding is especially meaningful, because Da-jung and Geun-hak really worked hard and thought about what they wanted.
Dong-mi asks if Mi-mo has made up her mind, and she beams at Soo-hyuk in answer.
When it comes time to throw the bouquet, it's snatched right out of the air by Soo-hyuk, leaping like a dorky gazelle. He gives Mi-mo a sneaky look and starts to get down on one knee, but she stops him again.
"You're greedy, Song Soo-hyuk. Let me do it this time." And then Mi-mo gets down on one knee and produces a ring. Squee! Soo-hyuk blushes furiously and grins like an idiot, as Mi-mo proposes to him. "Song Soo-hyuk, you're perfect for me. Will you marry me?"
"Abso-fucking-lutely!"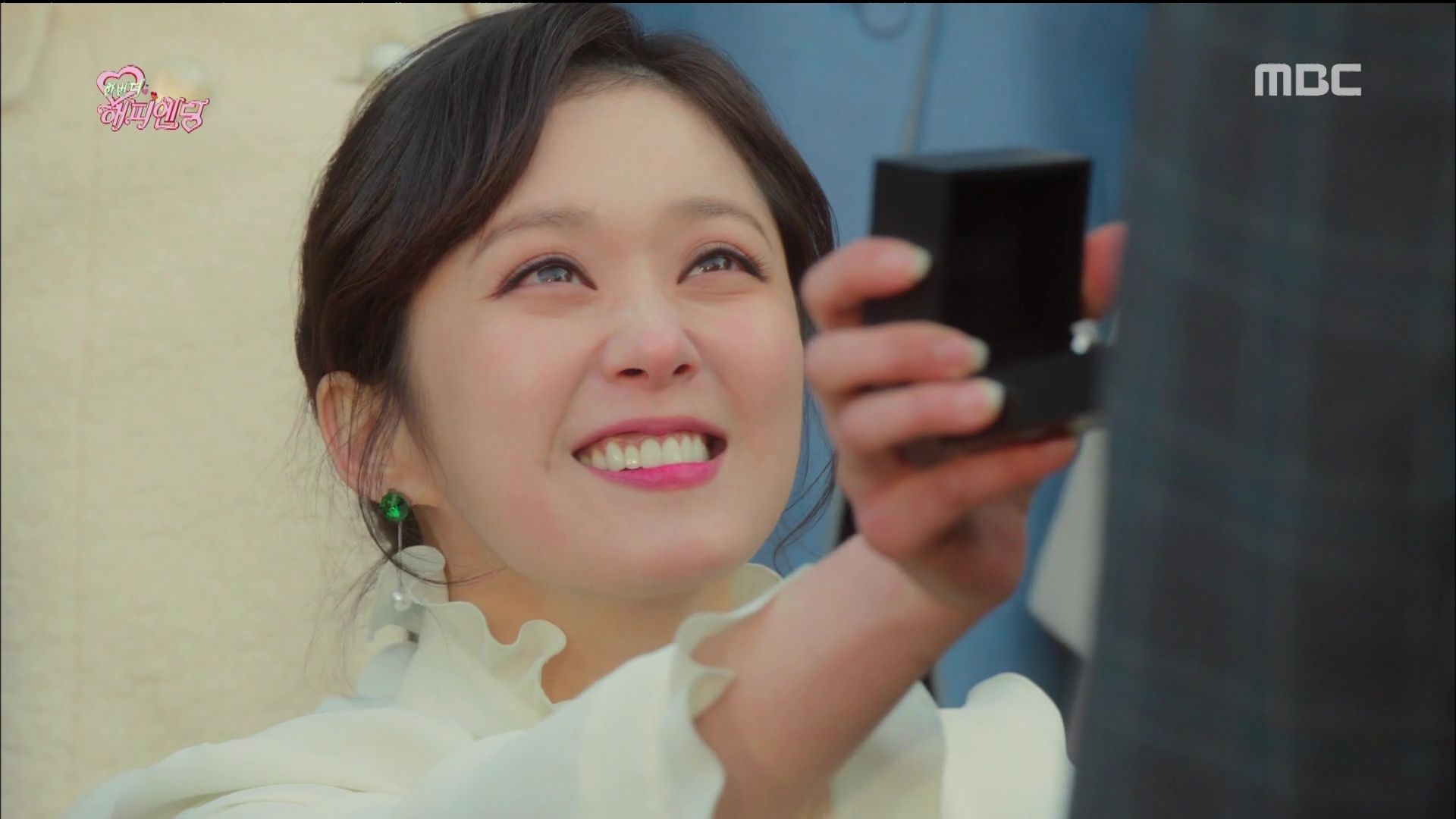 COMMENTS
Okay I'll admit, that was pretty freaking adorable, and the perfect bookend to Soo-hyuk and Mi-mo's relationship. They started out impetuous and reckless, and very nearly lost each other in the process. But they managed to learn and grow from it, came right back around to where they started, and this time they'll go into marriage knowing that it's exactly right for them.
I ranted a lot in the last episode's Comments, because I was just so done with being jerked around emotionally by the show for what felt like trivial reasons. But I'm backpedaling a bit now, because I'm actually impressed with Mi-mo's reason for not accepting Soo-hyuk's proposal right away. She was so used to rushing headlong into relationships, thinking about marriage as if it were a prize to be won, and I think it was mature and thoughtful of her to slow down and ask Soo-hyuk to wait a while. If they're headed for marriage then it will happen, and there's no reason to go so fast. They already made that mistake once, and I like that Mi-mo wanted to make sure that this is the right man, at the right time.
Because what's important isn't the perfect proposal, or the perfect wedding, but what comes after. The day-to-day minutiae that make up a marriage aren't about romance and flowers and candles. Mi-mo was smart to tell Soo-hyuk that, if it's right, then waiting to make sure will only make them stronger in the long run. So I'm happy with where their story ended, and how they got there.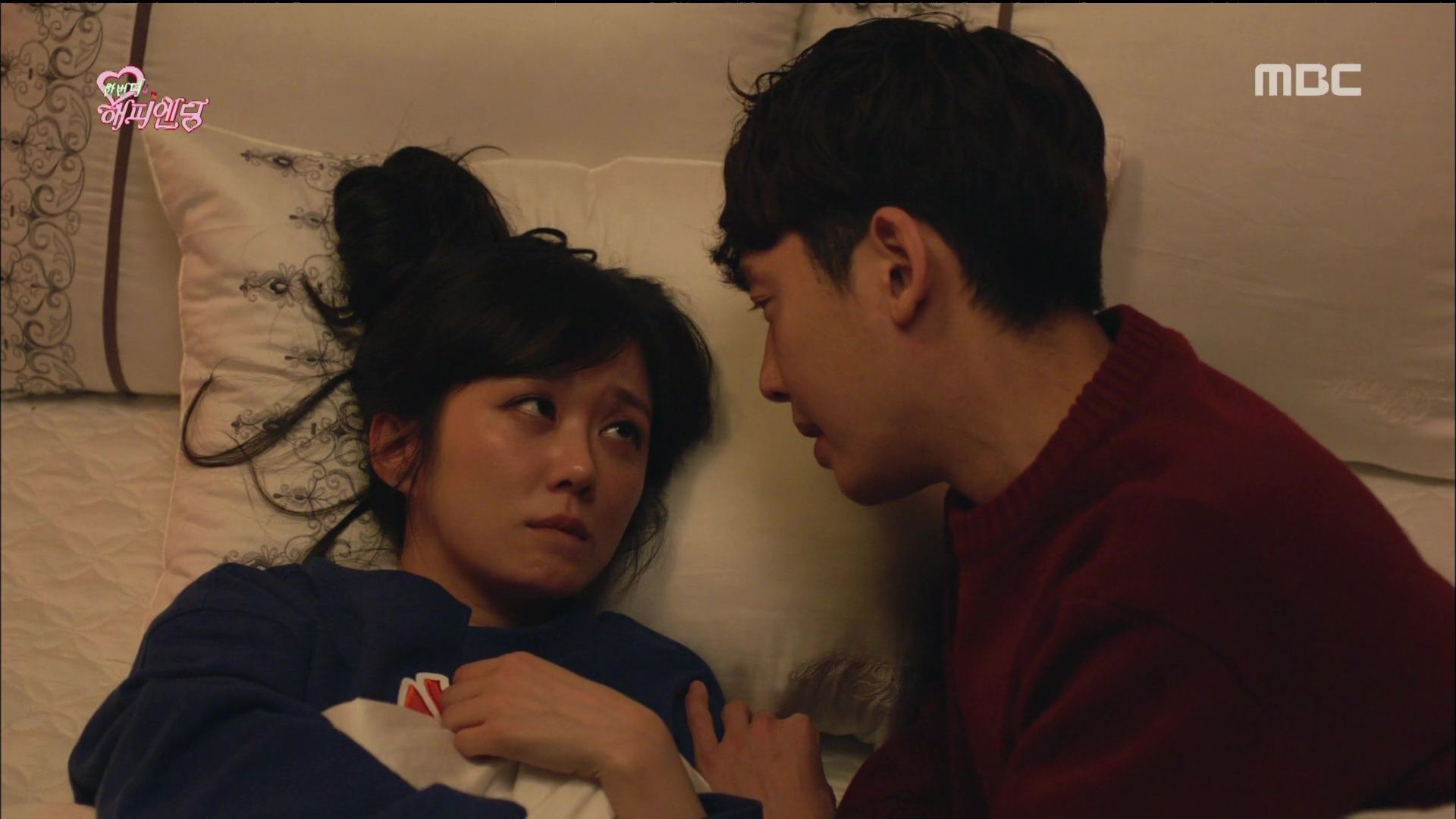 As for Dong-mi, I do think that her constant focus on getting married seemed that she was focusing on all the wrong things. But by the end, I had to respect that at least she knew what she wanted and wasn't willing to compromise, even for a young, handsome man who loved her. She stood her ground and insisted on not compromising on her dream — and with that kind of self-awareness, she would have gotten her wish either way, whether with Jung-woo or with someone else.
I felt that Ae-ran's love story was the weakest, but I sort of love that her happy ending wasn't about love at all, but herself. Out of all the Angels she's the one who never moved on from the fame, and eventually that had to catch up to her. Seeing her learn that she was going to have to actually work at something if she wanted to be successful was pretty satisfying.
But by far my favorite couple (besides Mi-mo and Soo-hyuk) was Da-jung and Geun-hak, and their long road back to each other. I still think their story was strong enough that they could have carried a drama all on their own. Their hurt was so deep and had been going on for so long, that just finding the courage to even try was a monumental effort on their parts. It just proves that even getting married doesn't guarantee a happy ending, and that you have to keep working on a relationship or it can wither and die. But even an old, nearly dead love can be revived if both people really want it to happen, and watching them find each other again was just wonderful.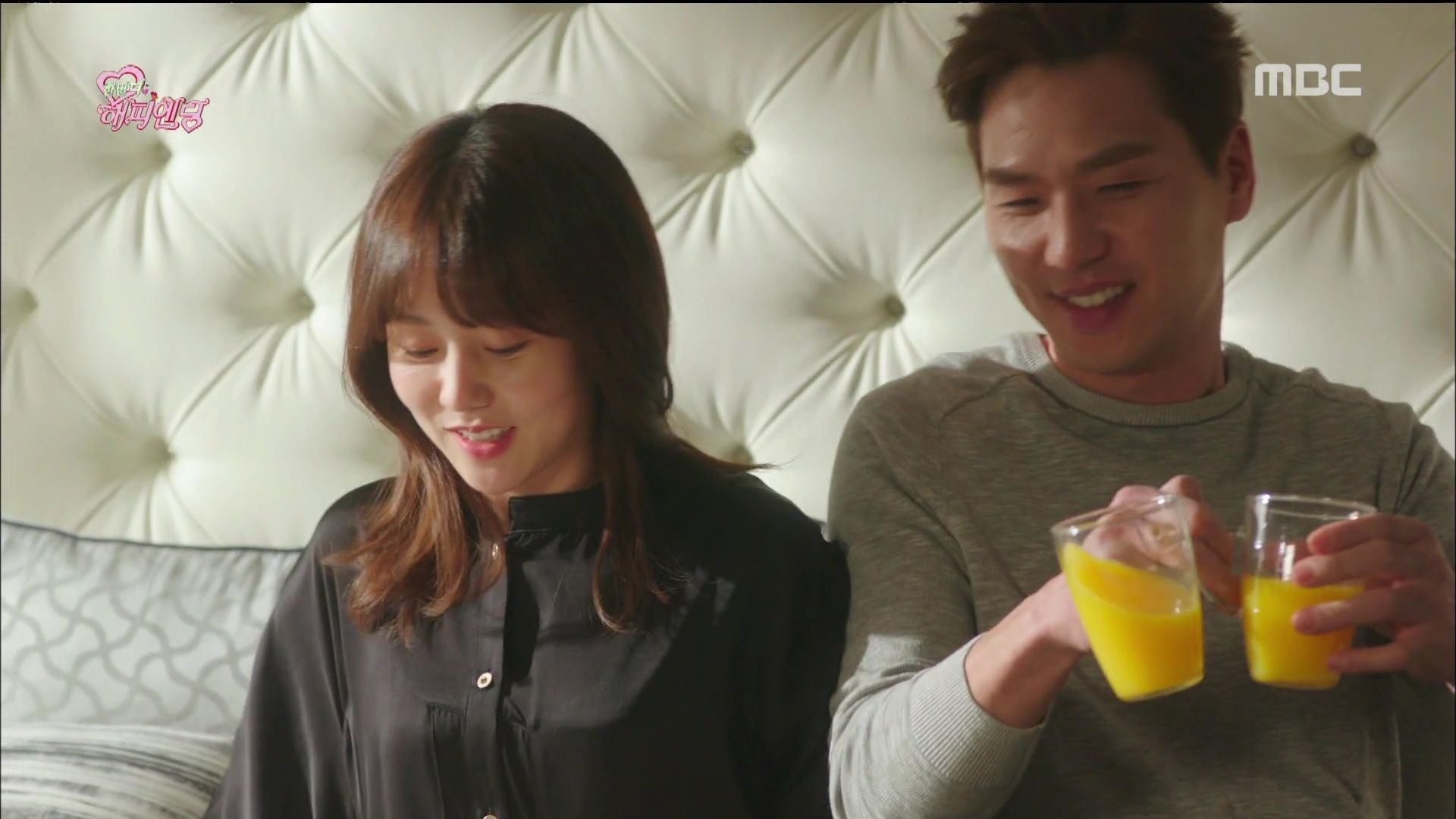 I even liked the ending of Hae-joon and Yeon-soo's story, as it showed that sometimes a second chance means letting go of the past. They just weren't meant to be together, but at least they were able to work out what went wrong and move forward with their lives.
I think that the thing I appreciated most about this drama is how it really did show the characters growing and learning, even if it took some of them a frustratingly long time to do it. Mi-mo especially had a difficult time with this, being the romantic that she is, and having to retrain her lifelong belief that love conquers all. She had to realize that love doesn't magically change your life, at least not all by itself… but with some help and work, love can be a wonderful addition to your life.
So despite my complaints about the writing and the unnecessary angst, and my wish that the show had felt more like the first two episodes consistently throughout its run, I actually am coming away from it feeling like it was a pretty solid show. There was a great message, and it made its point well, using each ex-Angel to demonstrate the different ways in which second chances and happy endings can come about. Everyone got the happy ending that they needed, and ended up happier in all areas of their lives for it. It was a fun watch with great characters, and I'll miss watching them all redefining what love means to each of them.
RELATED POSTS
Tags: featured, Jang Nara, Jung Kyung-ho, One More Happy Ending, Yoo Inna