Six Flying Dragons: Episode 43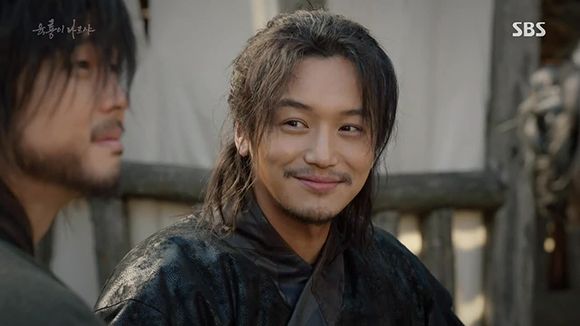 Beards and torture are so in this week, though we're not left to wallow in angst when we have the cunning and intrepid Bang-won to see us through. Plus, there's a focus on togetherness now that our favorite prince and bodyguard have returned from the other side, and I'll take any scenario where Bang-ji does more than mope around—because he's better than that, and totally has the ability to light up any scene he's in. Why they haven't used him to his full potential all these episodes is beyond me.
SONG OF THE DAY
Yoon Mirae – "Because Of You" [ Download ]
Audio clip: Adobe Flash Player (version 9 or above) is required to play this audio clip. Download the latest version here. You also need to have JavaScript enabled in your browser.

EPISODE 43 RECAP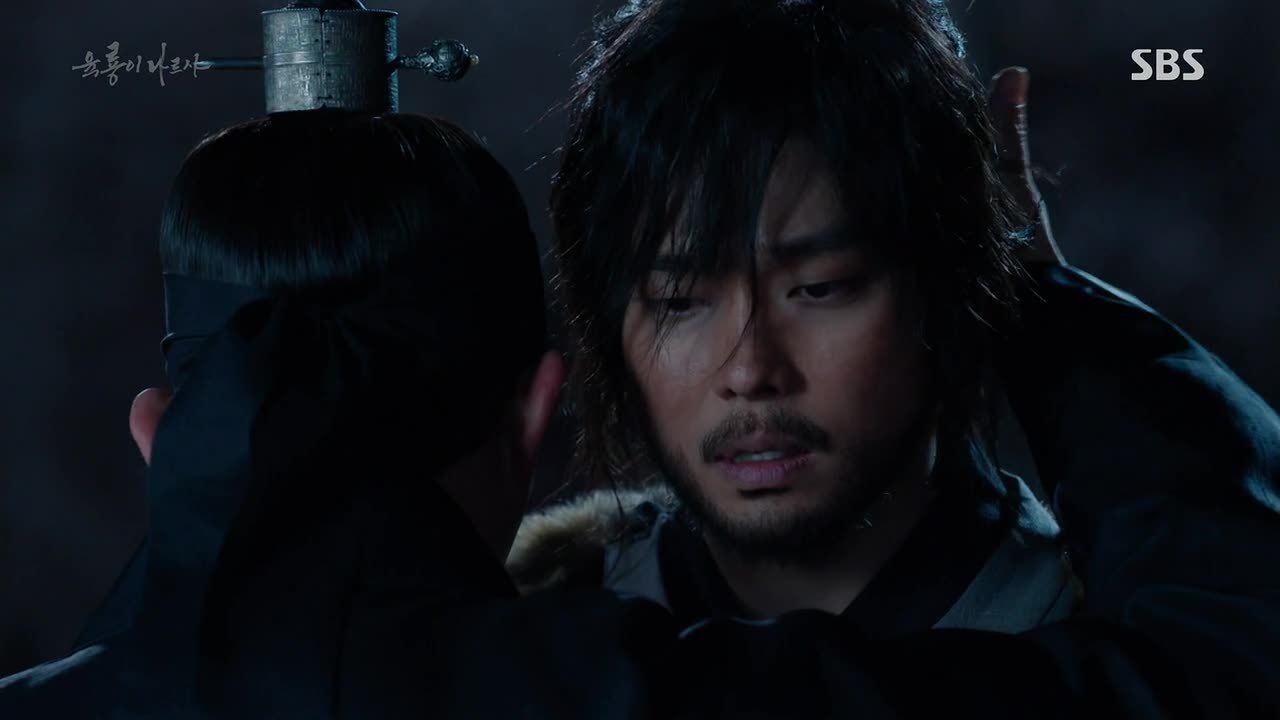 Moo-hyul turns to face the voice that called him, and encounters another similarly bearded visage in Bang-won. He immediately kneels at his feet, only for Bang-won to kneel with him and bid him to rise.
After embracing his bodyguard and friend, Bang-won has a non-reaction to finding out that the capital has moved from Gaegyeong to Hanyang. Wherever it is, they're going! And luckily, he gets Judy Zhu Di's permission to take Moo-hyul back.
Fresh from the Hidden Root meeting, the sadaebu who took part in it busily pat each other on the back for a job well done. Jung Do-jeon now has his sights set on military reform, though intel that Bang-won is on his way back from Ming could put a hiccup in those plans.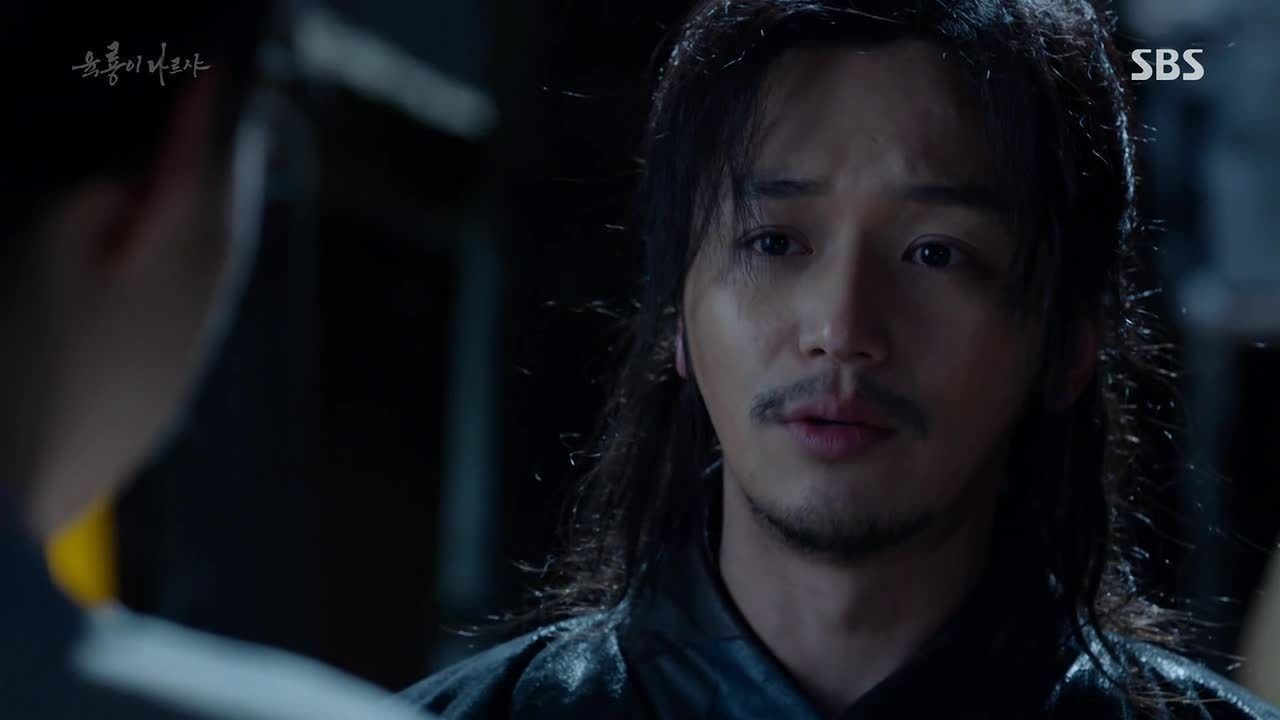 Boon-yi is still reeling from what was said at the Hidden Root gathering about the people being the roots of the nation when she encounters her brother, to whom she gives the letter originally stolen from Jung Do-jeon. Naturally, their mother comes up when Nameless does, but Bang-ji again decides not to tell his sister of their meeting.
He does tell her that Bang-won is on his way home though, and how that both gladdens and worries him. Boon-yi agrees that there is something frightening about his return, but she's glad he's alive.
Jung Do-jeon has a moment with Yeon-hee where he admits he wants her to have her own life outside of this cause, much like Boon-yi has done. Besides, he's no fool, and has seen the way Bang-ji looks at her.
Speaking of, Bang-ji returns with the letter stolen by Nameless, with a warning that it means Nameless has returned. He'll be sticking closer to Jung Do-jeon's side for protection from here on out, though his master can't help but wonder at the "coincidence" of Nameless and Bang-won returning at the same time.
At court, Jung Do-jeon and Jo Joon argue for a more centralized and standardized military, as opposed to everyone having private armies that can't be unified should the country have need of them.
Turns out they don't need to do much arguing, though—King Taejo is of the same mind as Jung Do-jeon on the issue of military reform, and knights/gifts him with a new sword and armor as a show of his support, as well as a show of Jung Do-jeon's new power over the military.
Jung Do-jeon's first order of business is to create one flag to signify the one army of Joseon, and he plans to make that change during an official ceremony. But since all the individual flags differentiating each private army must be burnt, Jung devises a secret plan to have certain military officials arrested.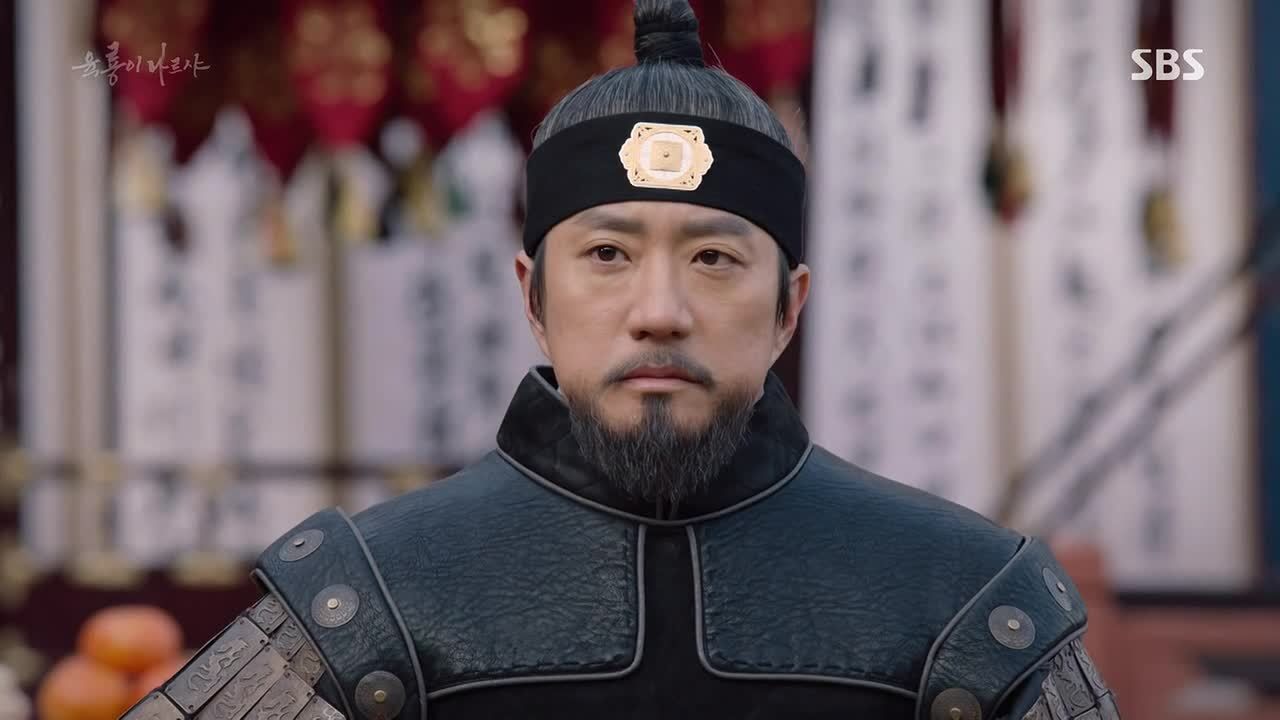 Looking spiffy in his new suit of leather armor, Jung Do-jeon attends the flag-burning ceremony attended by no one but his closest supporters. All the military generals who were supposed to attend, like Ji-ran, have purposefully boycotted. The princes have also bowed out.
It's of no matter to Jung Do-jeon, who proclaims that he'll put the military reform on an accelerated path now—the Goryeo military system will burn away with the flags in front of him. His preparations to make arrests pays off when he sends men to arrest any and all officials who didn't show up, including many under Bang-gwa and Ji-ran's employ.
At long last, Bang-won's party arrives at Sukjeongmun, one of the four great gates leading into the new capital. There, he's greeted by Da-kyung and Daddy Min, both very happy to see him returned. Boon-yi watches from a distance with tears in her eyes, happy as well.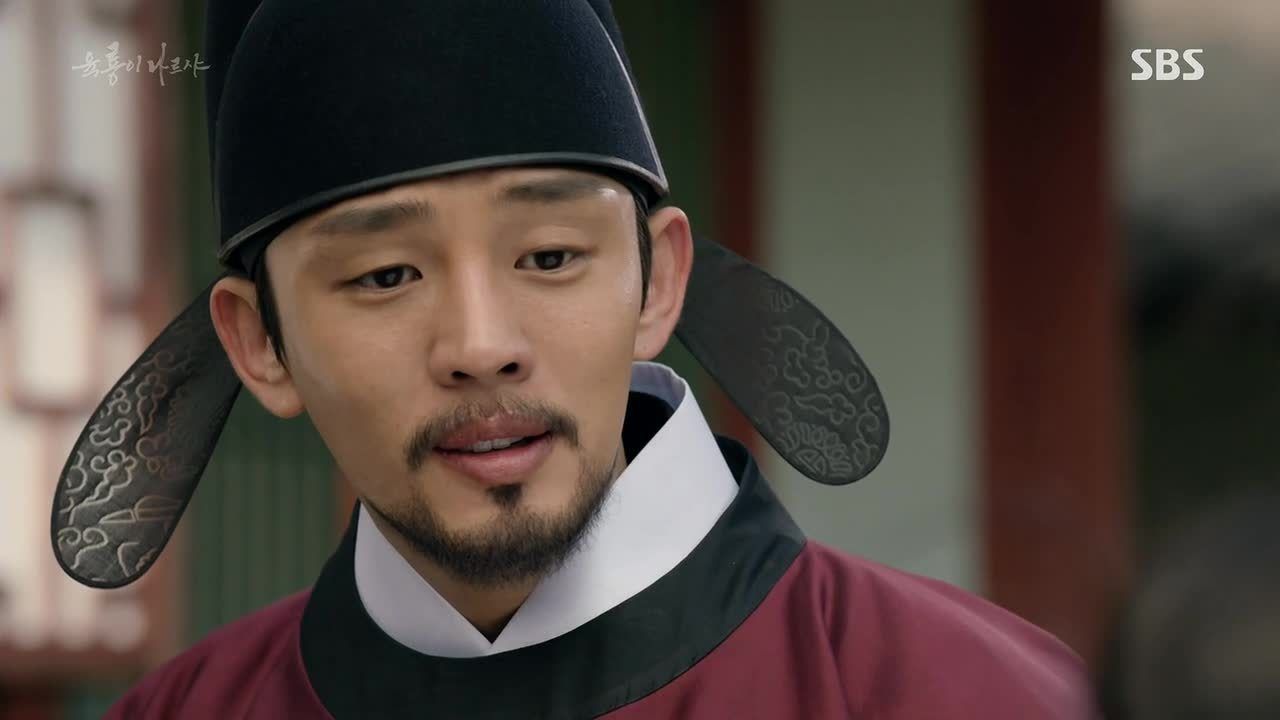 But all's not well in the land of Joseon, as we find Jung Do-jeon impassively watching the bloody torture of the military officials who dared not to attend his flag ceremony. Young-kyu is among them, and couldn't be happier when Bang-won makes his grand return after hearing the news from his wife.
It's cute that Bang-won and Young-kyu can make light of the current situation, though it becomes very clear that Bang-won is pissed to see his treasured friend so. (Though I'm almost positive, and don't quote me on this, that part of the torture is just to have buckets of blood thrown on you.)
Ha Ryun presents King Taejo with a letter from the Emperor of Ming which states that envoys from Joseon will now be allowed passage, which is a great diplomatic accomplishment on Bang-won's part. King Taejo is happy. Jung Do-jeon just pretends to be.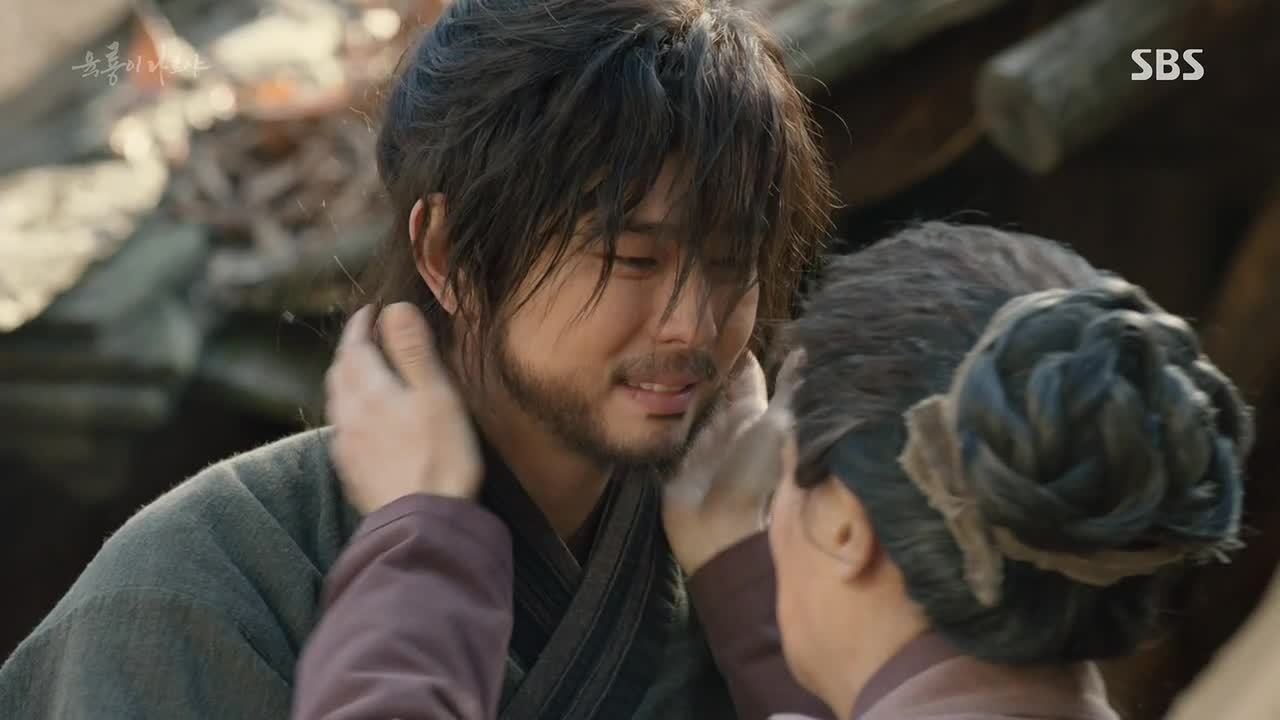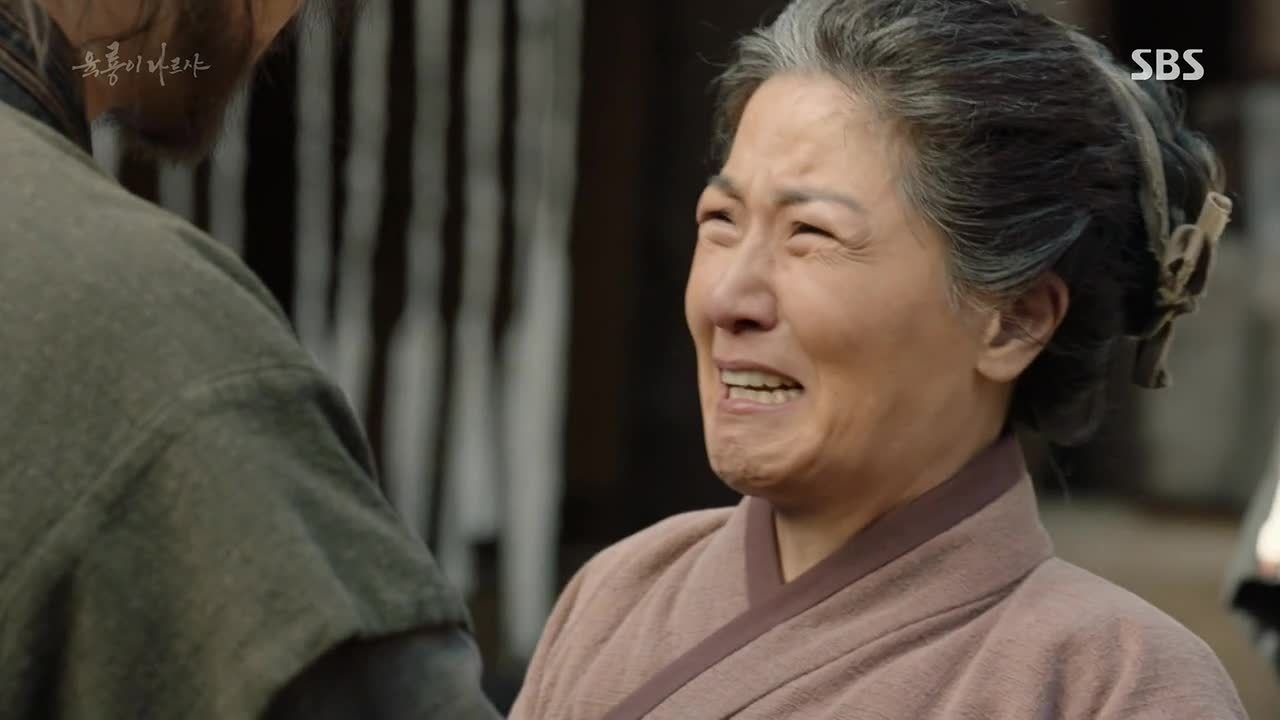 Grandma is overjoyed when Moo-hyul returns home, and completely passes Master Hong up to greet her oldest grandson. She embraces him after he gives her a formal bow, and gives Master Hong an absent "I did miss you!" when he mutters that his noonim must not have pined for him while he was gone.
Da-kyung catches Bang-won up with what he's missed with the military reform, revealing that its true intention is to abolish all private soldiers. Having foreseen this, she's already hidden all their family's weapons near Grandma's tavern in Banchon (the servant village of Sungkyunkwan), since no soldiers can enter.
Because of the laws protecting Banchon, government officials and scholars have taken to holding their secret meetings within the village walls. Boon-yi's people inevitably overhear these conversations and report back to her, and she, in turn, writes everything down. She hopes she never has to, but she may need to use what damning information she's written as protection one day.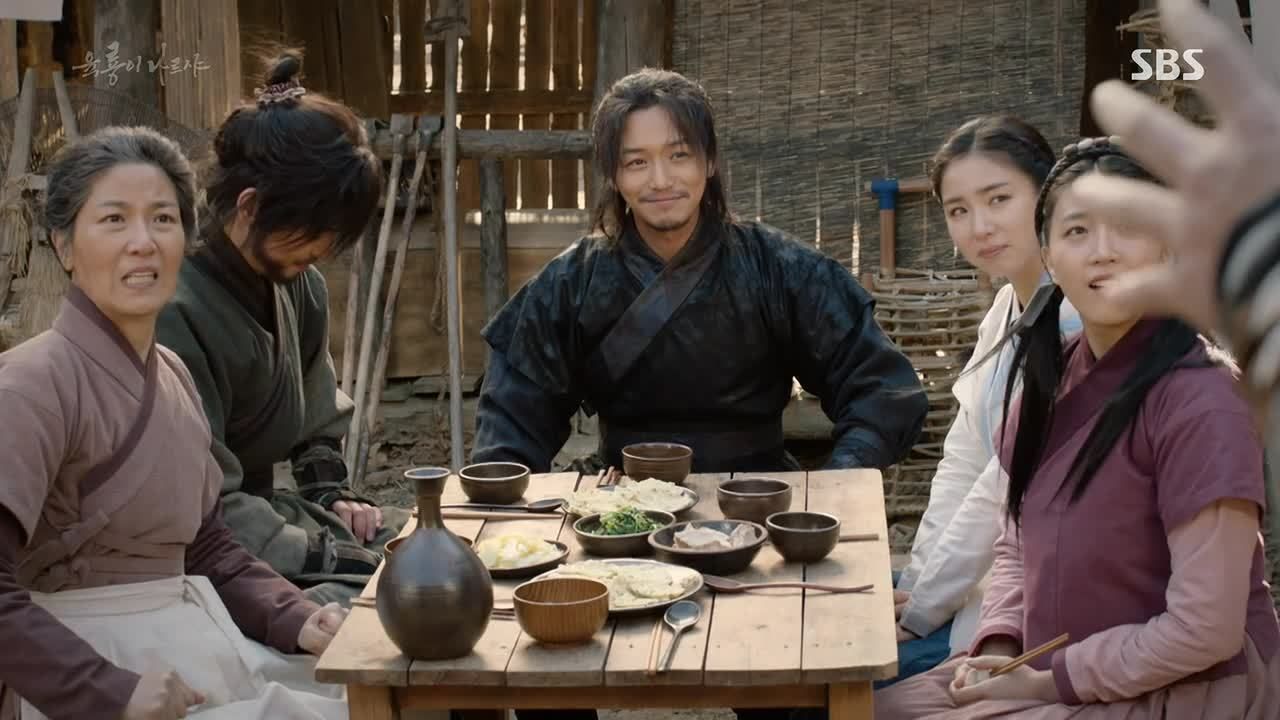 Master Hong relates the story of Moo-hyul threatening Zhu Di's life to Grandma and the rest of the Banchon gang, which includes a strangely engaged Bang-ji, who keeps sending goofy smiles Moo-hyul's way. Huh wha? When did Bang-ji start caring about stuff? Is Moo-hyul's beard also an aphrodisiac? Because in that case, I'd totally understand.
Having secured Young-kyu's release from relentless torture off-screen, Bang-won follows him to the weapon storage shed near Grandma's place, and to the secret basement underneath. Though the law states that no weapons can be brought into Banchon, Young-kyu snuck these in as the village was being revamped due to the capital move.
They both know how dangerous these weapons will be to Boon-yi should they be found (she doesn't know about them yet), but they also know that should they ever have need of them, they'll all be pretty much dead anyway.
Bang-won finds Boon-yi outside, and they speak for the first time since his return. Happy to see her, Bang-won gifts her with an ornate hair ornament he bought from a craftsman in Ming. When she's unable to stick it into her hair herself, Bang-won steps in to secure it in place for her. Aw.
He sort of vaguely references the conflict to come, but phrases it in a way where it all seems hypothetical. In reality, he's trying to make sure she's prepared, since she'll need power in order to protect herself if she wants Banchon to remain neutral.
Moo-hyul sees what looks like Sa-kwang in the village, though she disappears just as quickly. He can't even be sure that he saw her at all, now that he thinks about it.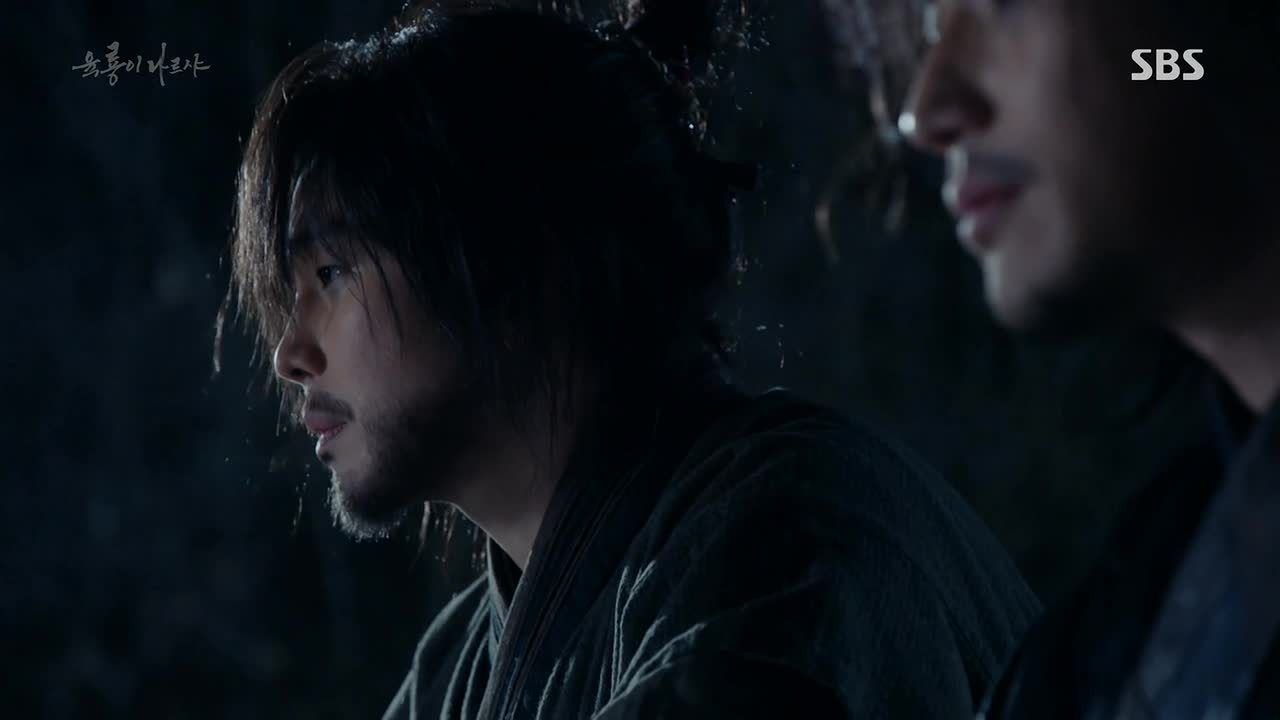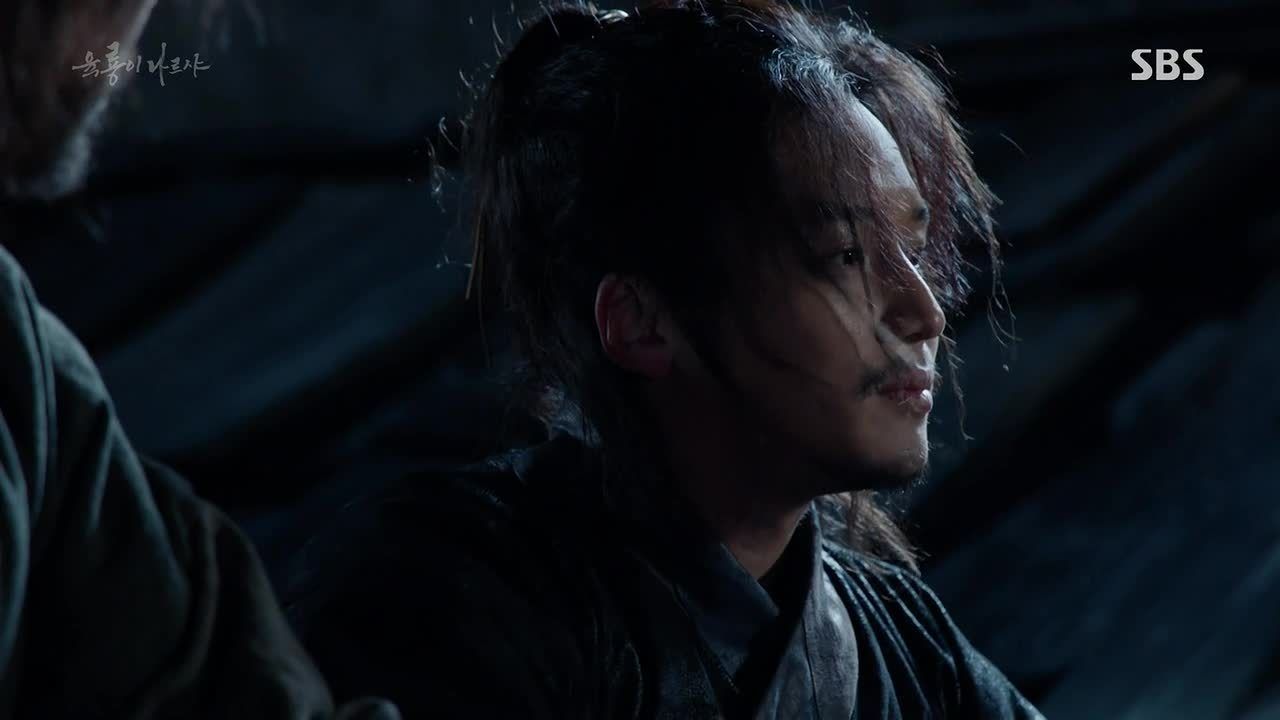 Bang-ji finds him hiding out on a rooftop and offers him a drink, and after a bout of small talk, Moo-hyul slips right into the heavy stuff with: "What will happen to us now?" Bang-ji has no idea, and when he asks Moo-hyul why he's chosen to side with Bang-won, he doesn't have a real answer outside of "That's just how it happened."
"Will we end up fighting each other someday?" Bang-ji wonders forebodingly. That's when Moo-hyul mentions a warrior from Liaodong who told him that those who live wielding a sword shouldn't try to see more than two steps ahead when just one will do. So that's what he's going to do—take it day by day, one step at a time.
"But you could never see more than two steps into the future anyway," Bang-ji interjects, effectively breaking the tension with a joke. Then he adds an even friendlier, "I missed you." I don't know when this new version of Bang-ji happened, but I like it.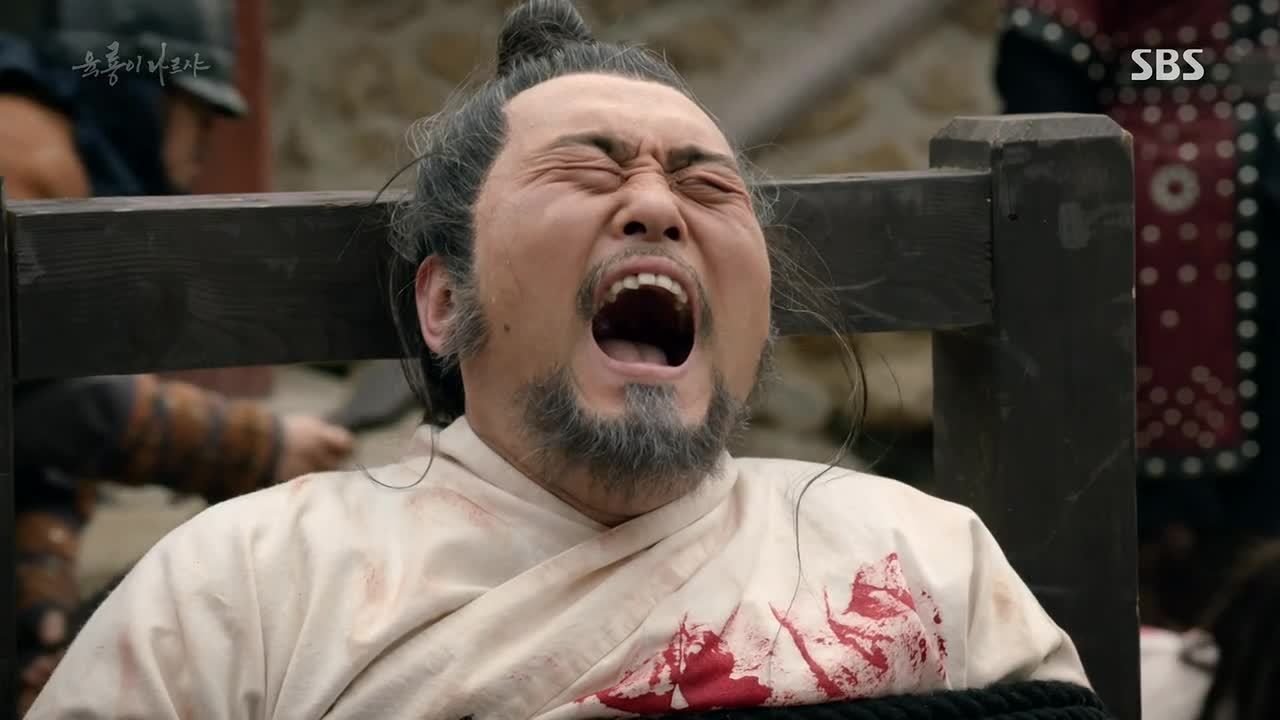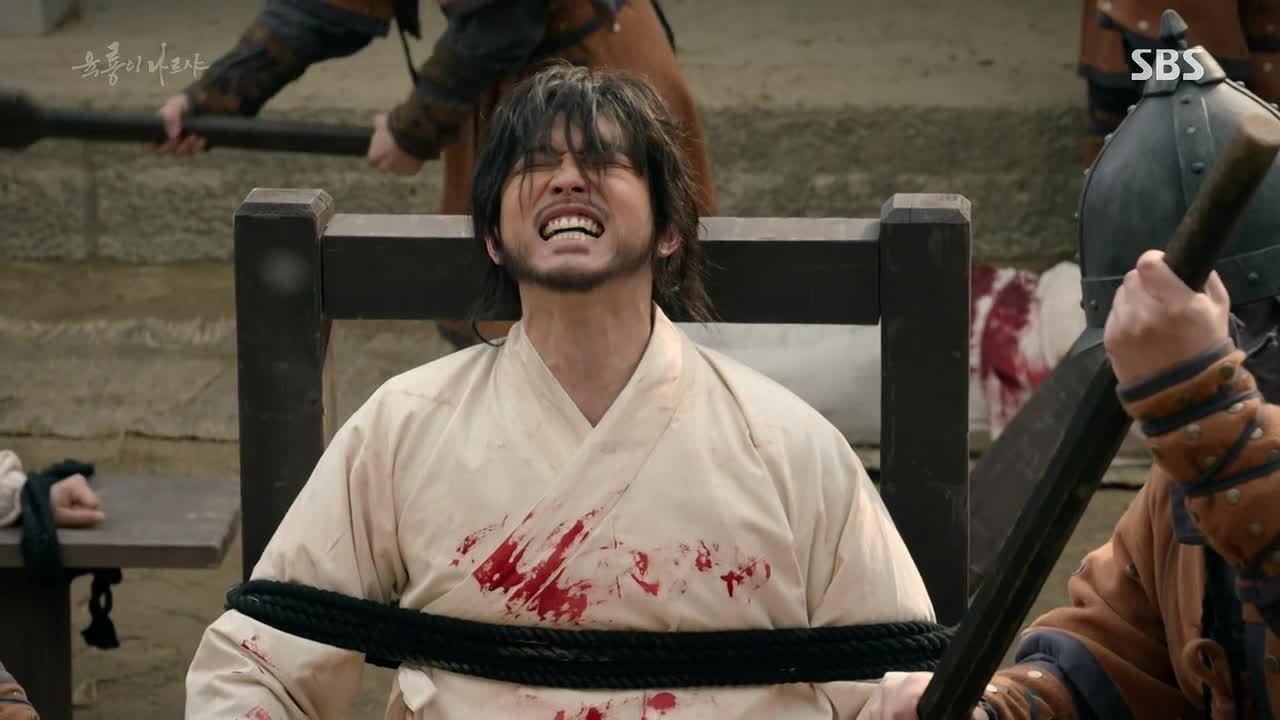 Ha Ryun is arrested for trumped up charges having to do with the time he spent in Ming, but he's not alone—Moo-hyul is also arrested. Young-kyu runs to Bang-won to tell him that all the envoys who went with him to Ming have been arrested.
It's torture to watch our baby Moo-hyul be tortured, as well as Master Hong and Ha Ryun. Apparently, they're being charged for allowing officials in Ming to believe that Bang-won was the crown prince, which they assumed because Bang-won was so authoritative that they thought he had to be heir to the throne.
A clearly ailing Queen Sindeok believes Bang-won to be guilty of high treason if he went around calling himself crown prince, and urges her husband to bring him to account. Jung Do-jeon is clearly looking at this as an opportunity to get rid of Bang-won, and so is Officer Nam.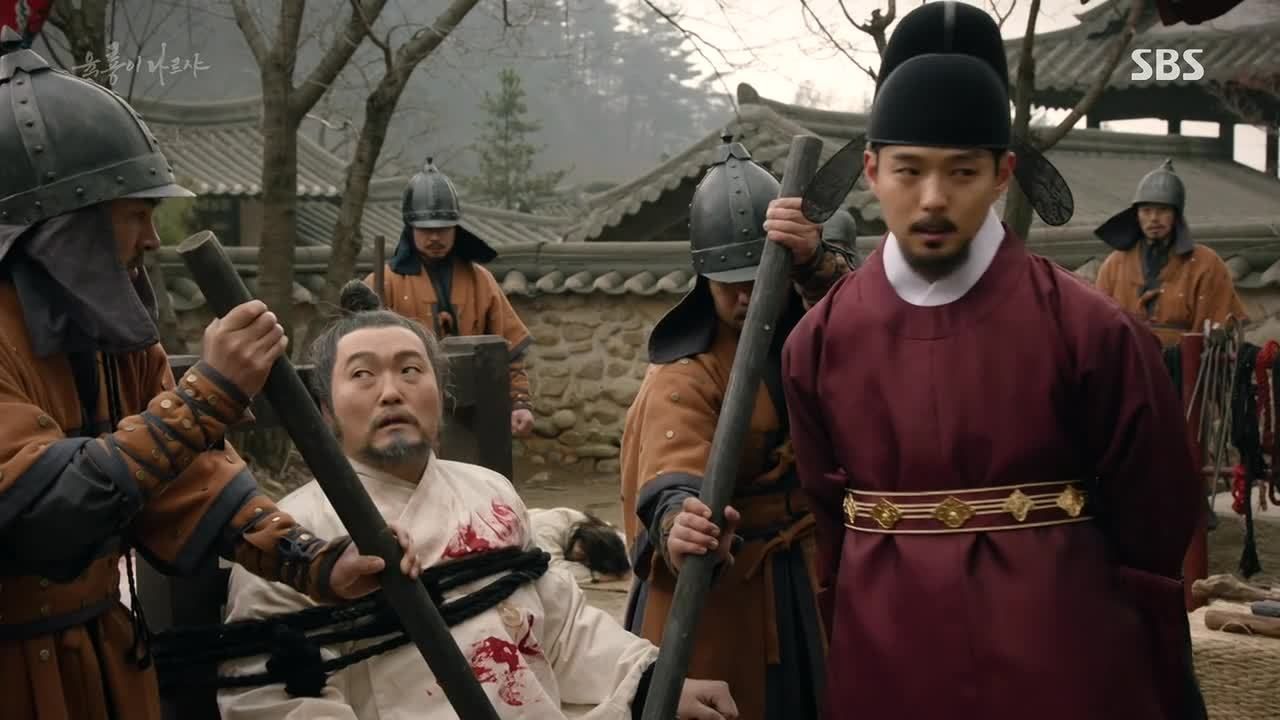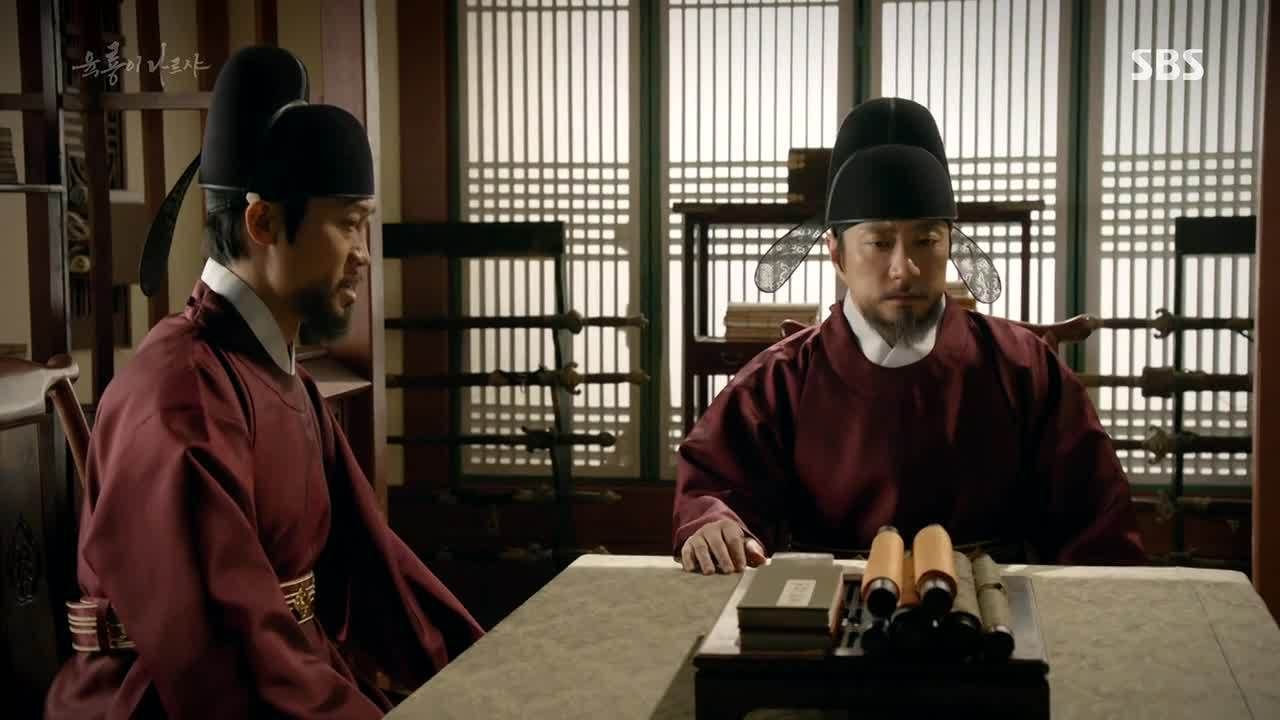 Master Hong tries to use the very real defense that he and Moo-hyul weren't in Nanjing when all this talk was going down, since they'd been kept in Liaodong. But when asked if Ha Ryun didn't relate the story to them later (which he did), they're more or less stuck.
Master Hong admits that Ha Ryun may have said that the Ming ambassadors mistook Bang-won for the crown prince, which seals Ha Ryun's fate. It does Master Hong and Moo-hyul no favors though, since they're submitted to the same amount of torture as before.
Even though the official word is that the Ming ambassadors made the identity mistake first, there's no way of knowing whether Bang-won corrected them or not. Officer Nam doesn't want this to stop them from getting rid of Bang-won once and for all, but Jung Do-jeon looks too exhausted for such complicated machinations.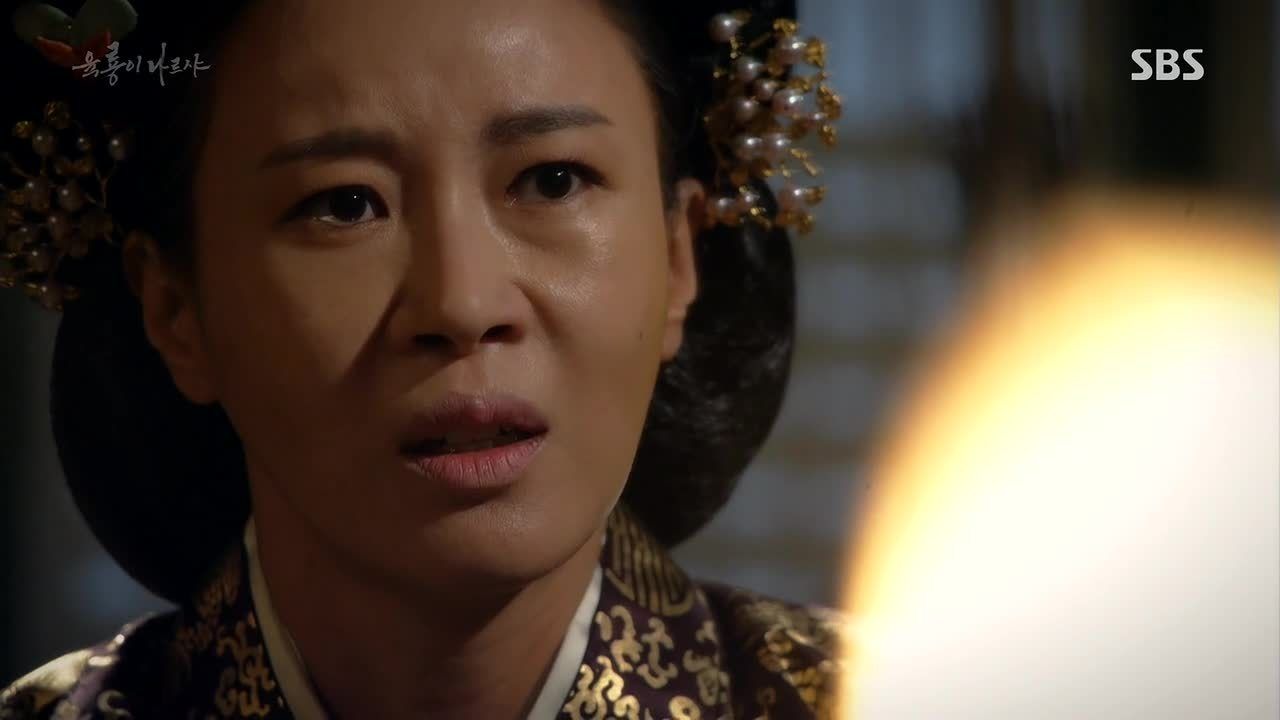 Queen Sindeok knows she's dying, and entreats her husband to protect Bang-seok in his tenuous position as crown prince. With tears streaming down her cheeks, she asks King Taejo to do something about Bang-won before he can do something about Bang-seok.
Unaware that Nameless has a nasty surprise waiting for him, Jung Do-jeon continues with his plans to oust Bang-won by bringing them to the king. But the queen, having overheard their plans to just send Bang-won to the countryside rather than charge him with a crime (so as not to anger his allies in Ming), has a bone to pick with them.
All she's concerned about is protecting Bang-seok, and because she sees Bang-won as the biggest threat to her son, she's willing to do and say anything to remove that threat from existence.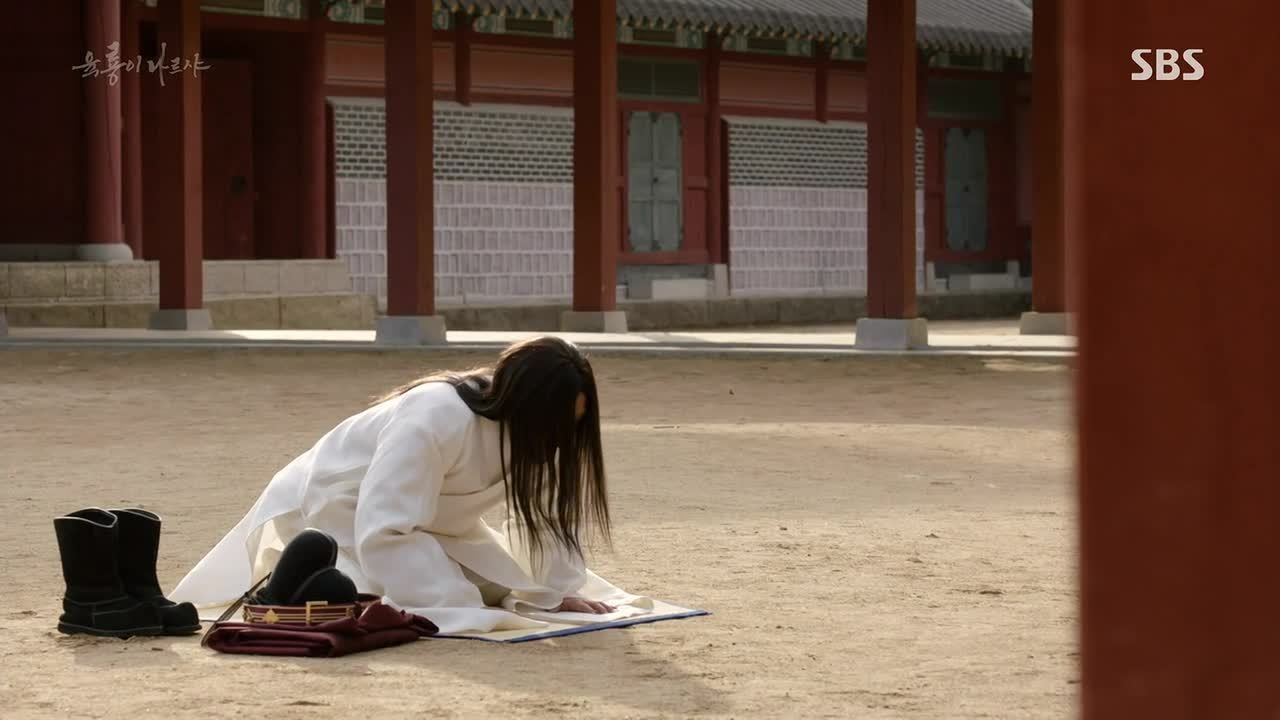 Bang-won finally decides to take action, and his entering the palace with Young-kyu and a mysterious package sends the court into a flurry of speculation—everyone's first thought is that Bang-won is carrying in a hidden weapon.
The fact that he was last seen heading to the crown prince's residence is enough to make Queen Sindeok all but jump from her chair, so sure is she that he plans on doing something terrible to her son. But the package that Young-kyu proffers is anything but.
It's actually just a mat, which he unrolls for Bang-won in front of Bang-seok's official residence. Bang-won, in turn, strips down to his white jeogori and baji and lets down his hair, because that's just what you do when you make an official plea.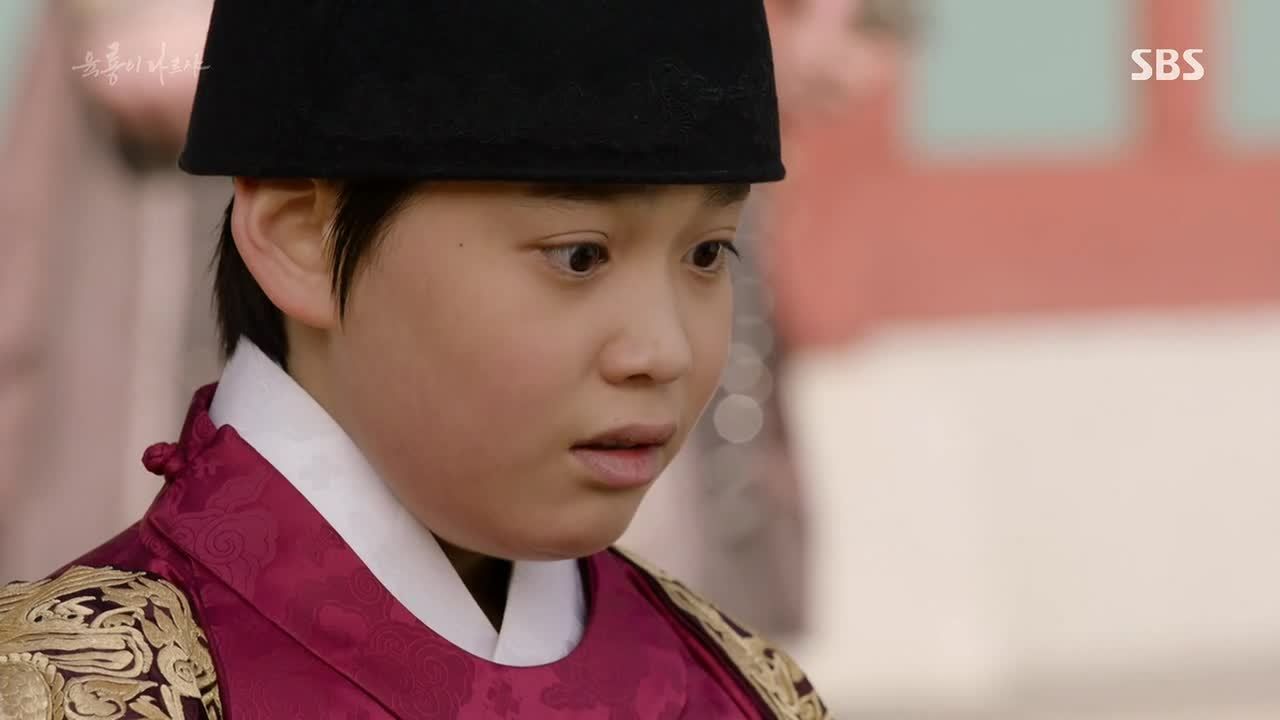 In this case, Bang-won is playing it very smart by making a public show of how he is just sooooo sorry about the mixup, and how it's all because he's soooo incapable. He wishes for his younger brother to punish him for his misdeeds and sobs while asking, which causes the little prince to come out just to pardon his poor hyung.
Naturally, this is the reaction Bang-won wanted, even though he acts like he couldn't dare accept such an act of mercy from Bang-seok. But Bang-seok is so taken aback by his hyung's tear-stricken face that he entreats their father to forgive Bang-won, and to release his men. Bang-won's look of veiled triumph is priceless.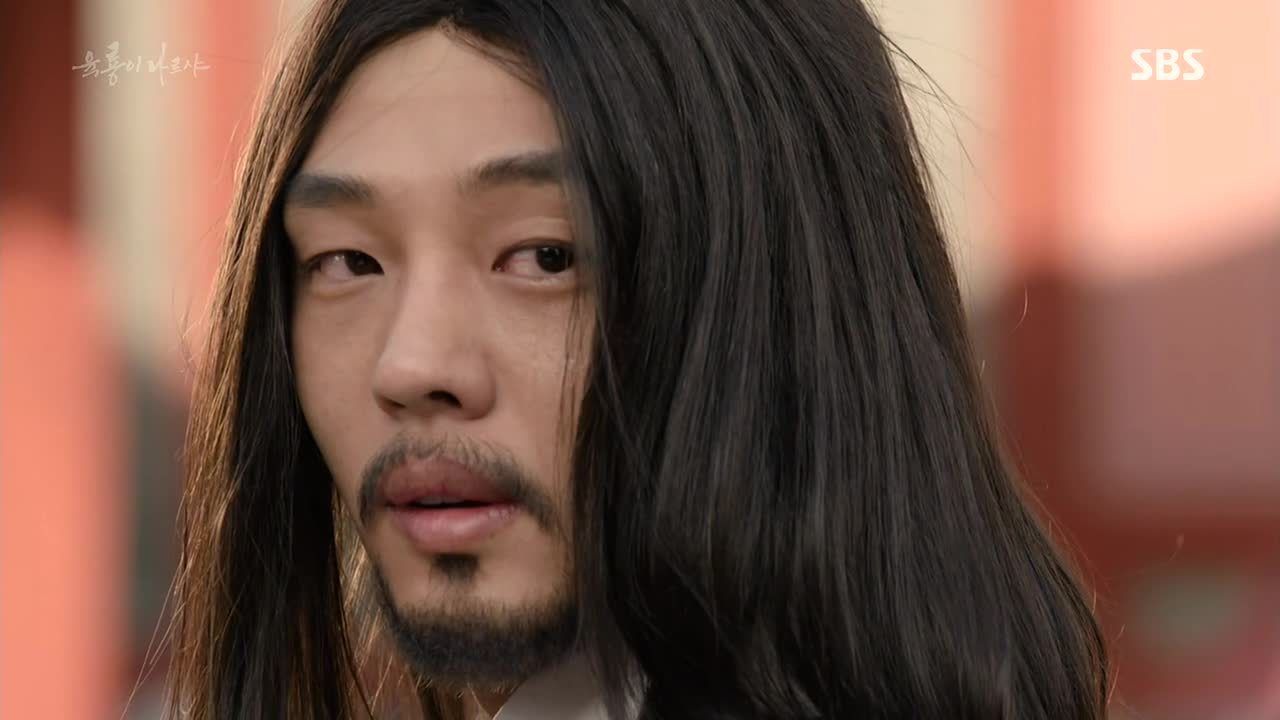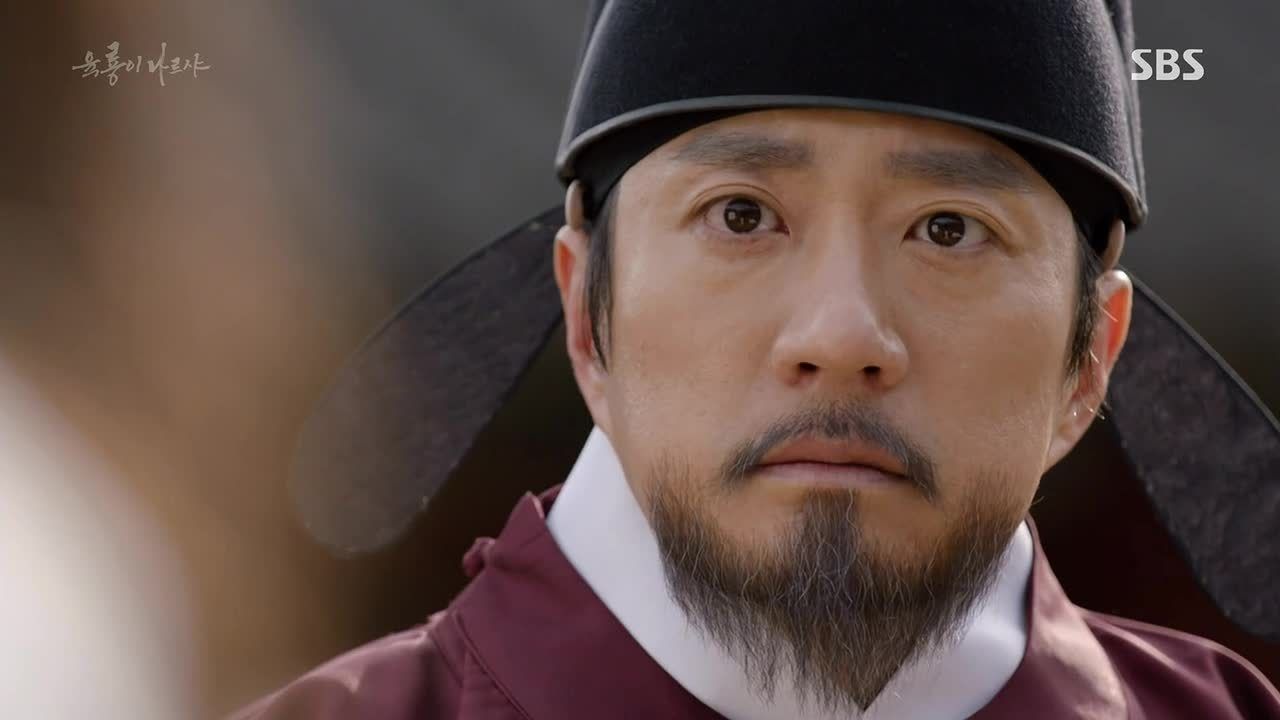 He makes such a good show of it too, even refusing his little brother's efforts to help him up until the very last second. Oh, he is good. I love the pitiful look he sends Jung Do-jeon's way when he comes upon the scene, because he knows Jung knows what he's doing. Mwahaha.
In private, Bang-won keeps up the act and tells Jung Do-jeon that all he wants is to repent for his wrongdoings and live quietly, just like he and his father want. Jung Do-jeon sees through him, and when Bang-won reiterates that he'll be loyal to the crown prince from this point forward, he can't help but grit out "Bang-won-ah," which is not the way you address a prince.
"Do you wish to ascend the throne? Do you dream of a different nation than the one I am creating?" Jung Do-jeon asks, his tone and expression filled with earnest concern. Attempting to level with Bang-won, he puts all his cards on the table when it comes to what he knows of Bang-won, and how he guesses Bang-won would rule.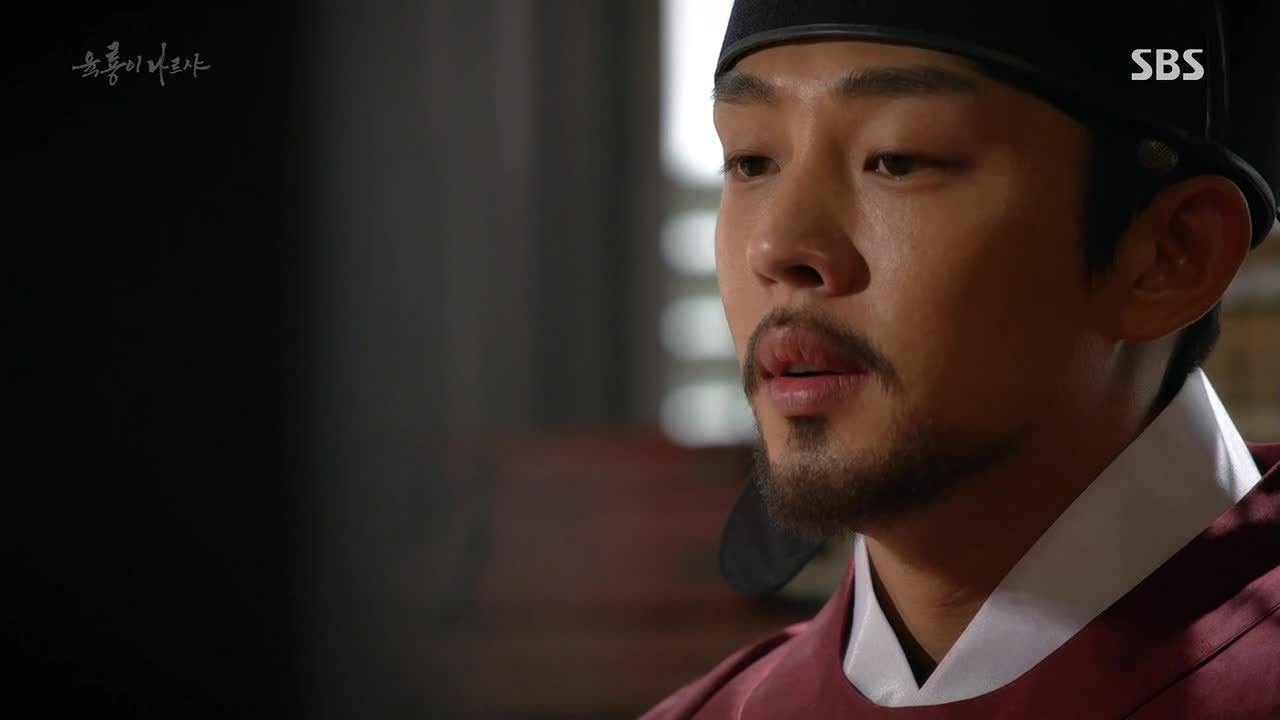 Basically, his entreaty can be boiled down to, "If you become king, what will you do?" If he abolished the rule about royal relatives staying out of politics, then he'd have family members vying for power. If he took absolute power away from the official advisors, then he'd be removing the checks and balances system made to keep the king in check.
If he did away with the military reform, Jung Do-jeon adds, then he'd have to allow for every prince and general to have their own private army, which is exactly how it was in Goryeo. But he knows Bang-won wouldn't allow for any of that, only that he'd want to appoint every official personally.
And, he adds, Bang-won would probably do that using the same reasoning he himself has been using, about how rules can be bent in the early stages of a country's development. Other than official appointments, there's no difference in opinion between them over the reforms Jung Do-jeon has made, and they both know it.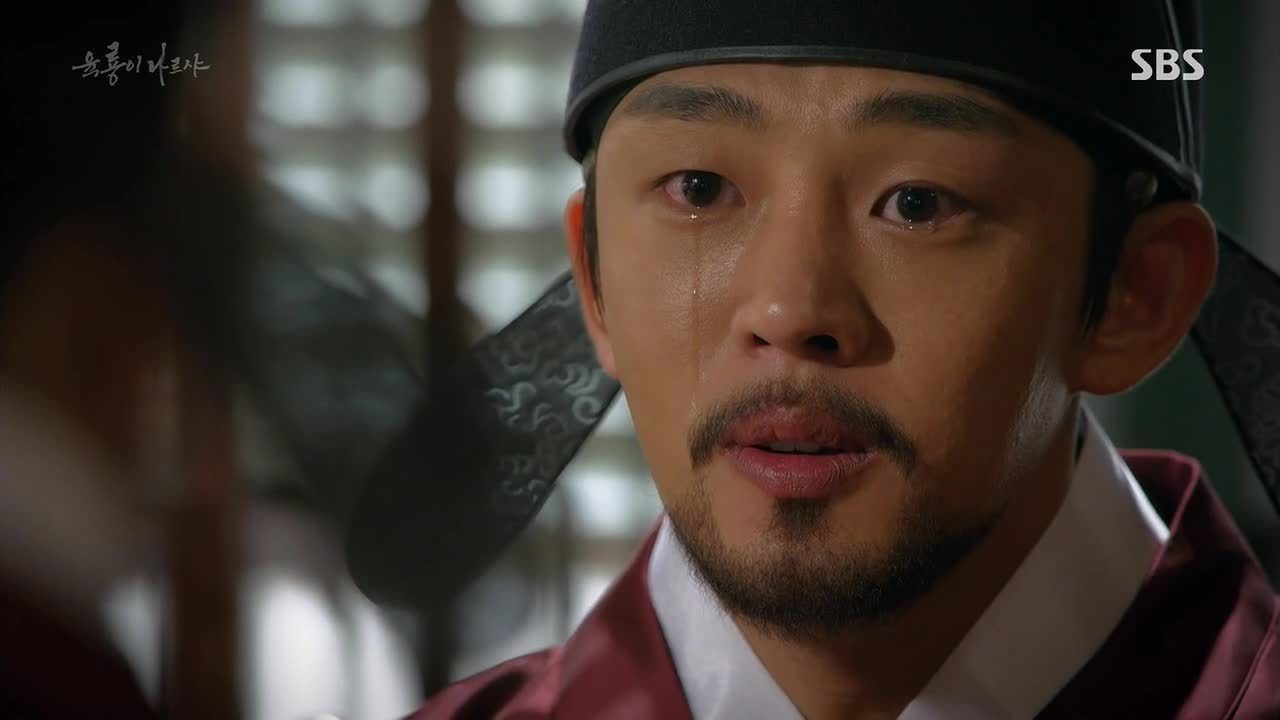 Bang-won loses the pretense, admitting that Jung Do-jeon is right. That's all Jung needed to conclude that Bang-won's ideals for a nation are no different than his, it's just his own interests, motives, and dream getting in his way.
"Is it wrong for someone like me to have their own dream?" Bang-won asks solemnly. If Jung Do-jeon sees how much they agree, why can't he be crown prince instead of his little brother then? Jung says they've gone too far for that, and so Bang-won says that he'll just go in the direction of his dream now, without caring for how windy or rough the road gets.
"You ask if I want a new nation? You ask if I hold different beliefs? No, I do not. Why must I have those? To me, you were janteugareu [the strongest man/man among men]. My dream was to look after the beautiful nation you created. And now… I will make sure to fulfill that." Bang-won says all this with remarkable composure, though he can't help the few tears that snake down his cheeks.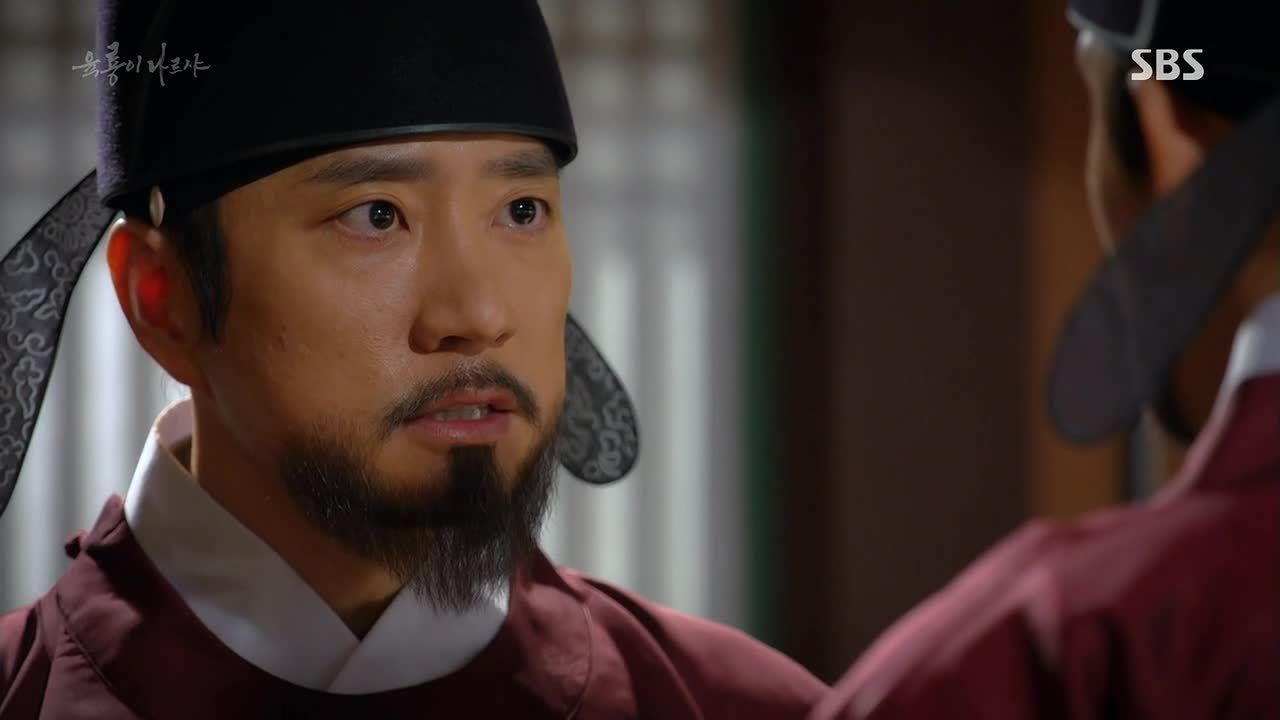 Jung Do-jeon compares him to Bidam, who led a revolt against Queen Seondeok near the end of her reign. Both were very cunning men who couldn't control their ambitions, and both were slaves to their personal quests for power. (And both were characters written most famously by this writer, but that's neither here nor there.)
But Bang-won adds an important difference between Bidam and himself: Bidam lost. Jung Do-jeon admits that as truth, but thinks it very likely that Bidam didn't know he was going to lose until the day he was executed. He leaves as Bang-won shouts that their game is far from over, since he has yet to play his finishing move.
All the captives from the envoy mission to Ming are set free thanks to Bang-seok's intervention, which means Moo-hyul and Master Hong can return home to Grandma. Of more pressing concern to Moo-hyul, however, is to ask Gab-boon about Sa-kwang.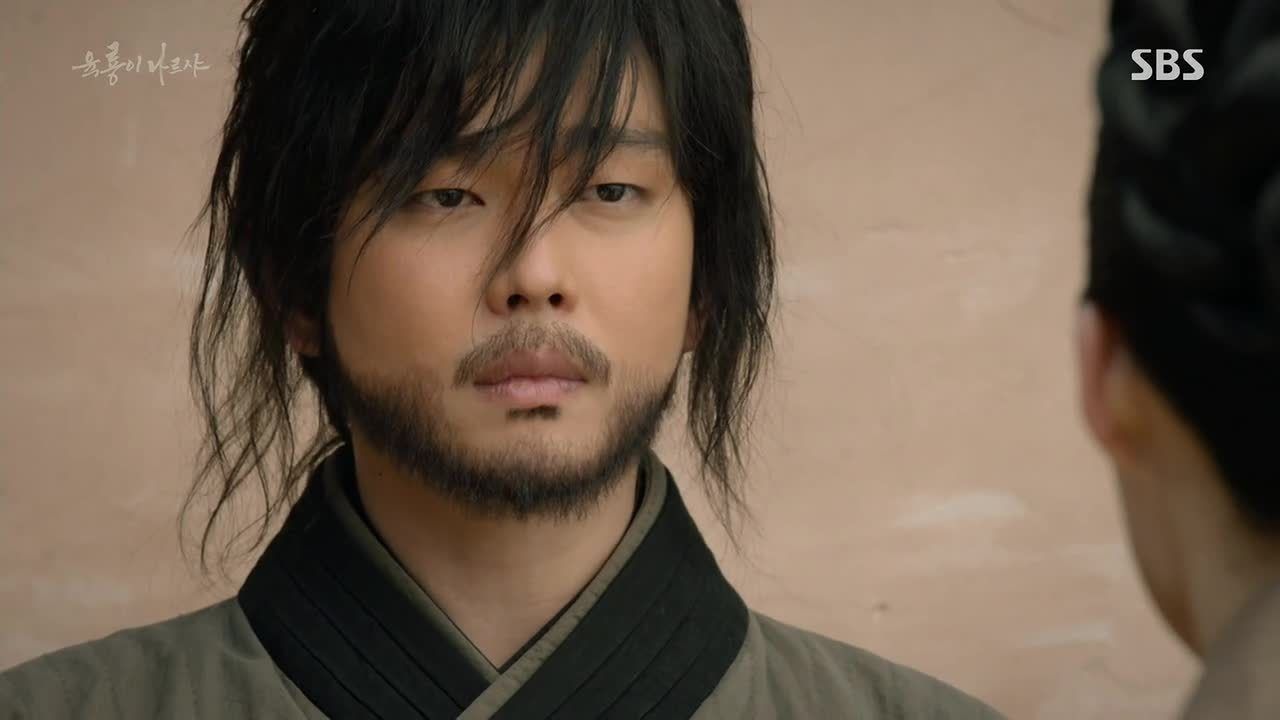 Thanks to her information, he finds Sa-kwang hiding in Banchon with two of the king's children. Sa-kwang only asks that he look the other way and not out her for who she is, which of course he agrees to do. He never harbored any thoughts to the contrary, because he's Moo-hyul.
Before he can go, she echoes the chorus of everyone else who's seen him this episode in noting, "You really have changed." Just fall in love already, guys! We're running out of time!
Thanks to whatever Yeon-hyang did while in Ming, Bang-won knows in advance of a letter from the Ming Emperor that is read aloud to the Joseon court. In it, the emperor states that despite (or because of) Joseon sending envoys for every traditional holiday with gracious letters, he finds the words written within insincere and superficial.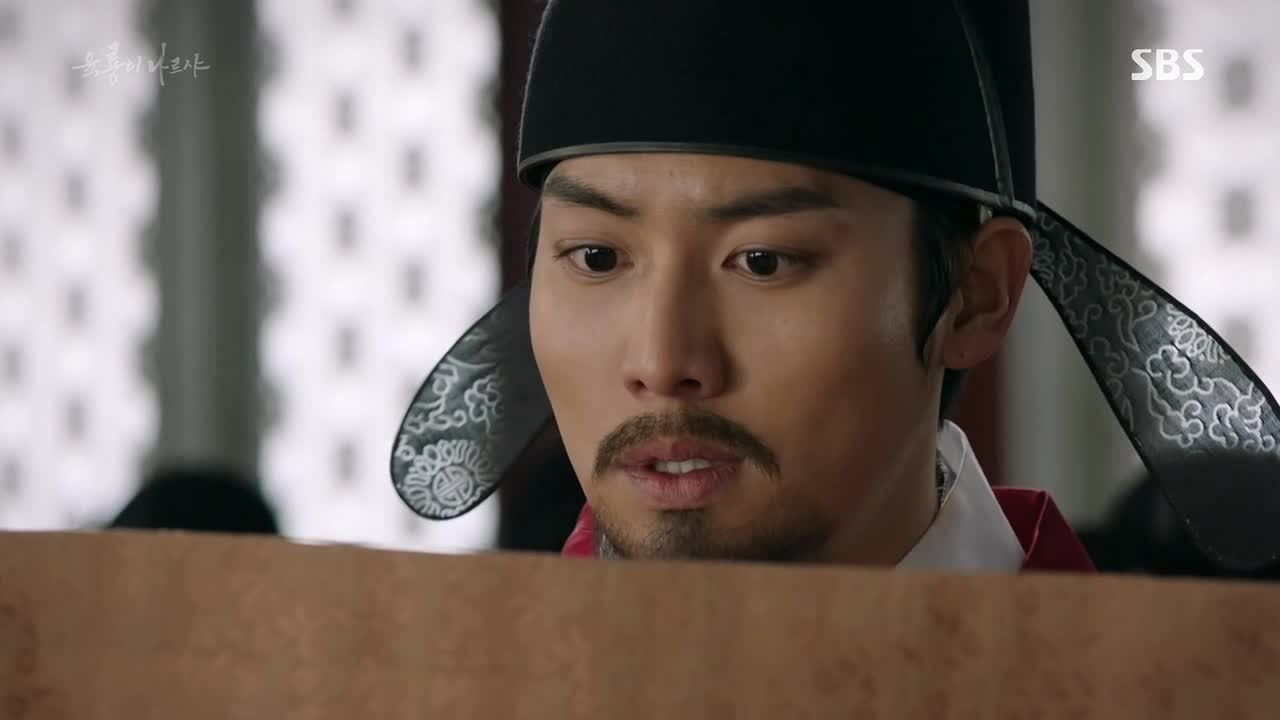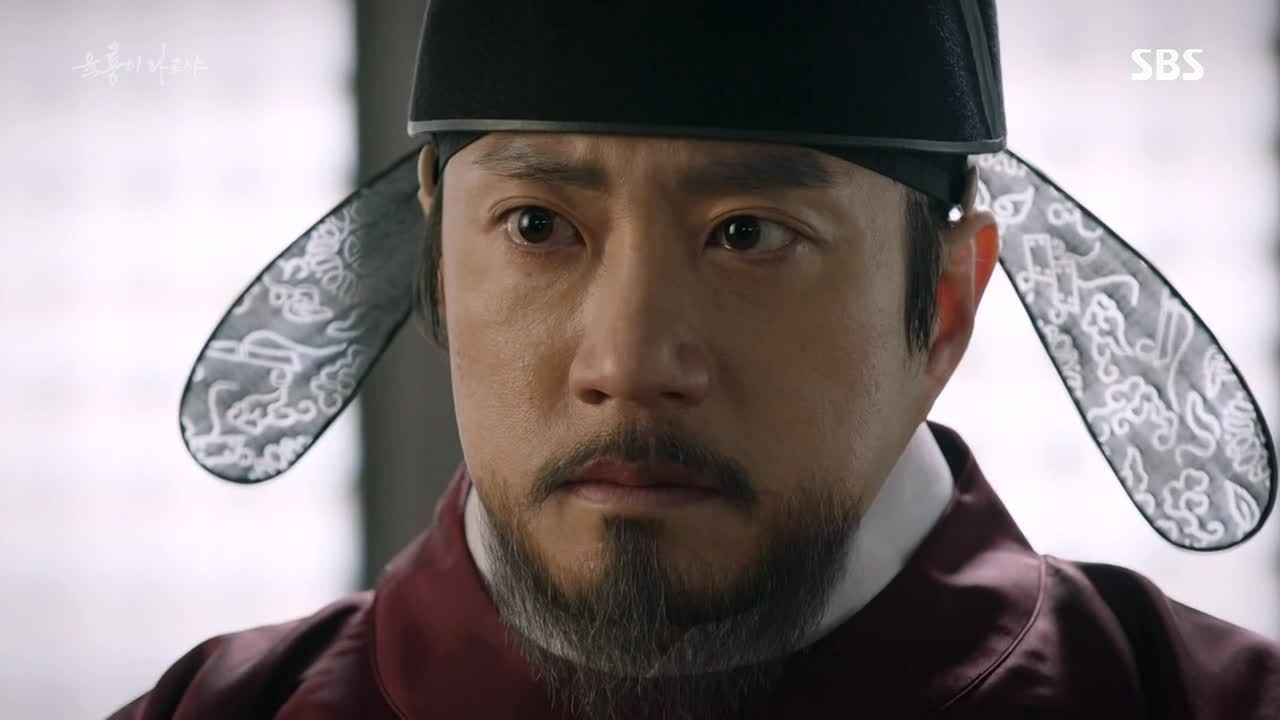 The poor bastard tasked with reading this missive comes to a stuttering stop when faced with the next sentence, which calls for the man responsible for the letters—Jung Do-jeon—to be sent to Ming for punishment.
That's when Jung Do-jeon remembers Bang-won calling after him that he hadn't yet made his finishing move… and knows now that this is what he meant.
And judging by Bang-won's smile, this is exactly that move. Check and mate.

COMMENTS
Just when you think Jung Do-jeon has learned his lesson when it comes to underestimating Bang-won, he goes and does it again, much to his own personal detriment. How is it that he thought nothing of Bang-won's threat after their little chat? It's not like Bang-won is all bark and no bite, or that he's ever been more bark than bite. Jung Do-jeon should know better than anyone at this point that he's all bite.
It's been interesting to see the evolution of their relationship, which has been one of the more complicated pairings the show has presented to us so far, and to see how it's all come down to this. There were periods of time where both men seemed to be in denial when it came to each other, and times when they thought they knew everything about the other. But that sort of thinking has bitten both of them in the behind at this point, which is likely why Jung Do-jeon finally sat Bang-won down for a real talk.
However, he approached that talk like an adult reproaching a child, a tactic that might've worked in their earlier days, when Jung Do-jeon meant the world to Bang-won. All that they've become is no one person's fault, though I'd say that Bang-won has a better understanding of what brought them here than Jung Do-jeon, who still doesn't seem to know that he's lying to himself. Though he did seem a bit closer to realizing his own hypocrisy when he admitted that he used Joseon's fledgling nation status as an excuse to get things done, he didn't get close enough—because as long as he believes that he can do and say those things because he's virtuous, then he's not seeing himself for what he really is.
And with the way the show has set these characters up, regardless of history, it does seem as though Bang-won has been unfairly discriminated against just because he dares to dream. (I know his dreams aren't always the rosiest, but they're not just death and damnation, either.) Even if we regarded history, King Taejo's decision to enthrone his youngest son as crown prince when he had so many eligible older sons makes very little sense, and we don't need to be living in this time period to have seen that situation as a ticking time bomb waiting to explode.
So if we look through the admittedly skewed lens of this show, then yes, Bang-won has plenty of reasons to rebel. He has plenty of reasons to feel hurt and betrayed, even if some of those boil down to very personal reasons due to very personal ambitions. All I know is that he was brilliant in those scenes where he relied most on his duplicity and cunning, and that watching him succeed in situations like the crown prince dilemma is satisfying in ways I can't even explain. I mean, just look at that face and try to not feel like you've just gotten away with something big, or that you've just found Jesus. 'Cause it's gonna be one or the other.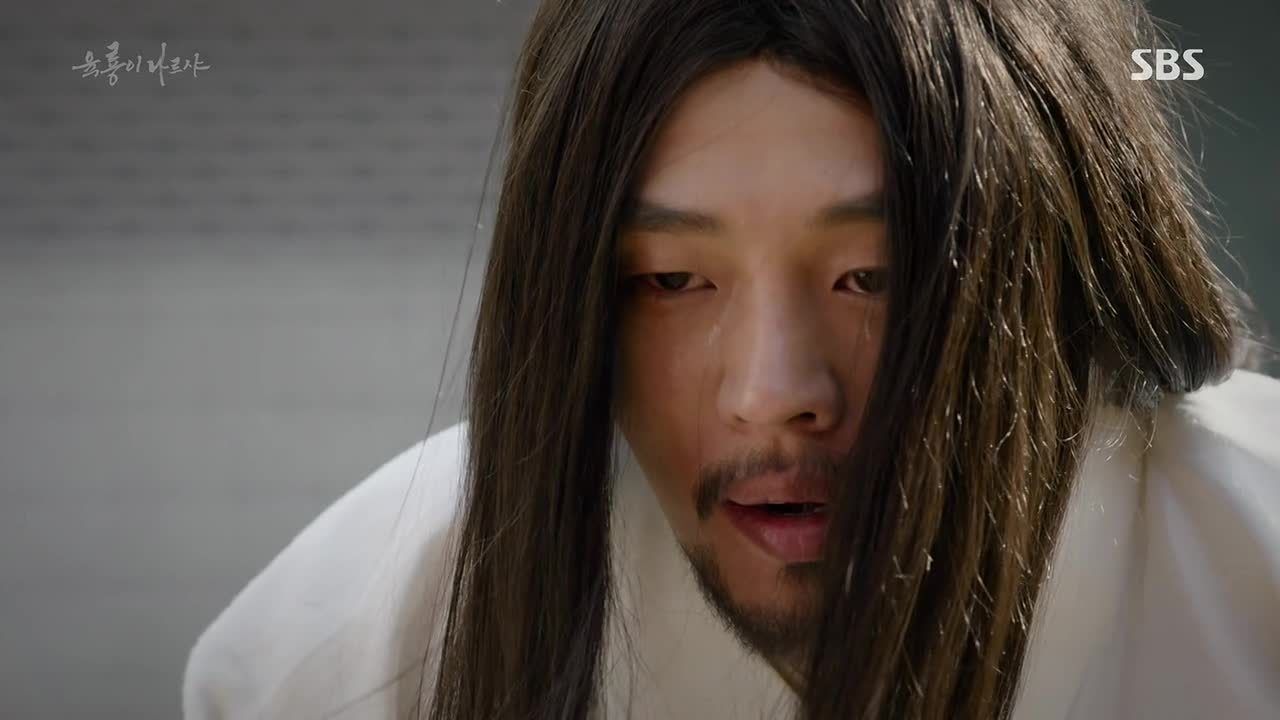 RELATED POSTS
Tags: Byun Yo-han, featured, Kim Myung-min, Shin Se-kyung, Six Flying Dragons, Yoo Ah-in