Six Flying Dragons: Episode 44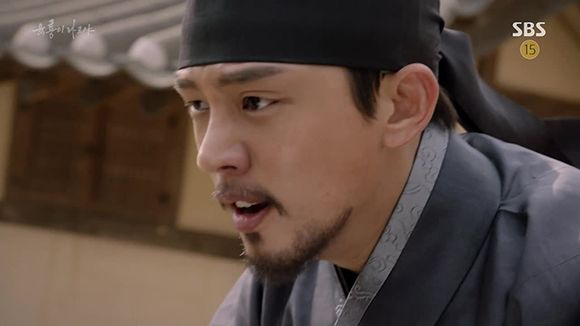 Prepare for warp speed plot advancement as the show seems to become aware of its own mortality, which is a trend that's been felt since we hit the dreaded forty episode mark. (Which is also a thing I never thought I'd say.) Bang-won becomes paranoid that Jung Do-jeon might come up with a move that can well and truly end him, while I become paranoid that the show is just going to end without finishing all the story it has to tell. I know it's not going to do that to us, it's just… separation anxiety is a very real thing, okay?
SONG OF THE DAY
Park Jung-hyun – "You Don't Know Me" [ Download ]
Audio clip: Adobe Flash Player (version 9 or above) is required to play this audio clip. Download the latest version here. You also need to have JavaScript enabled in your browser.

EPISODE 44 RECAP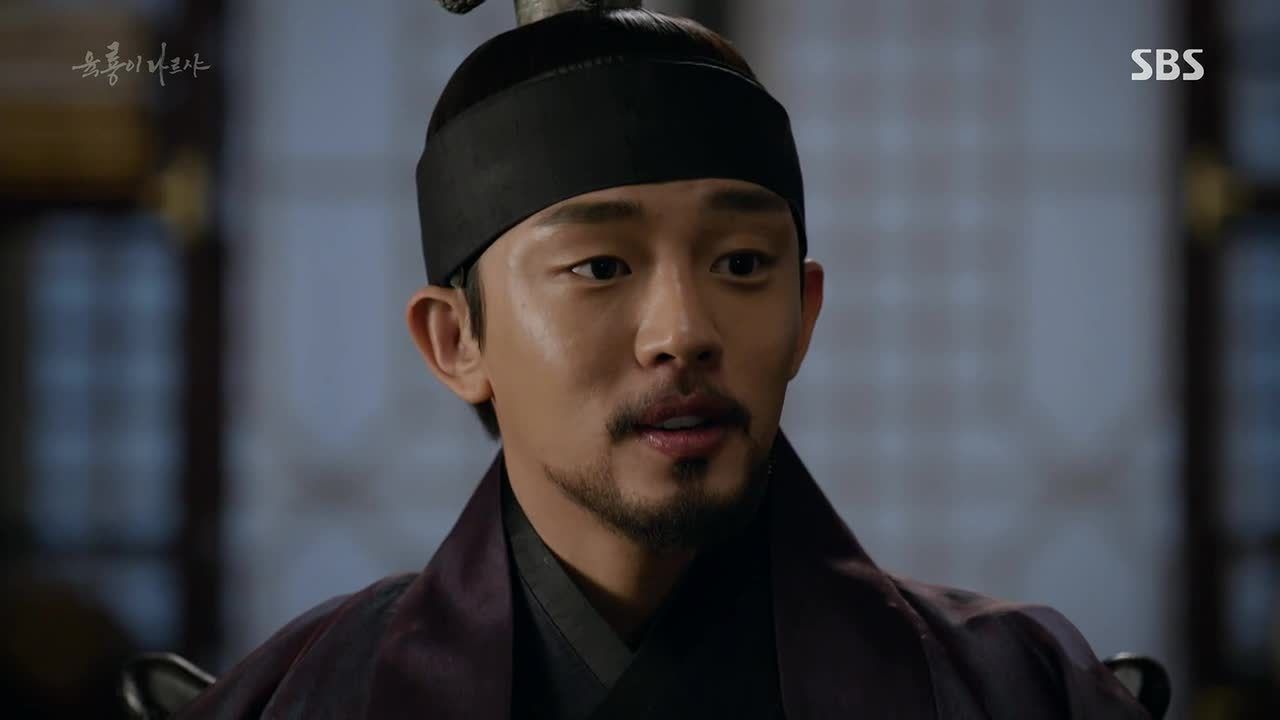 The Ming Emperor's request to have Jung Do-jeon sent to him for punishment is one Jung's supporters obviously find absurd, though he and Yeon-hee seem to know that Bang-won likely used his connections to Zhu Di in order to make this happen.
However, it's not like Ming is without cause to distrust Jung Do-jeon, since he's in charge of the military and has been leading the assimilation of the Jurchen people, a cause Ming is strictly against. This makes him an easy target, but because Yeon-hee knows Bang-won plotted this with Nameless, she knows it would be the end of Jung if he were to go.
While the bedridden queen echoes the anti-Ming sentiment to her worried husband, Bang-won calls on his closest supporters to aid him in the political battle to come. Da-kyung couldn't be happier that her husband is taking decisive action, and mentions that she ensured Jo Mal-saeng (the scholar who saved Bang-won and his father in the forest) was admitted to Sungkyunkwan.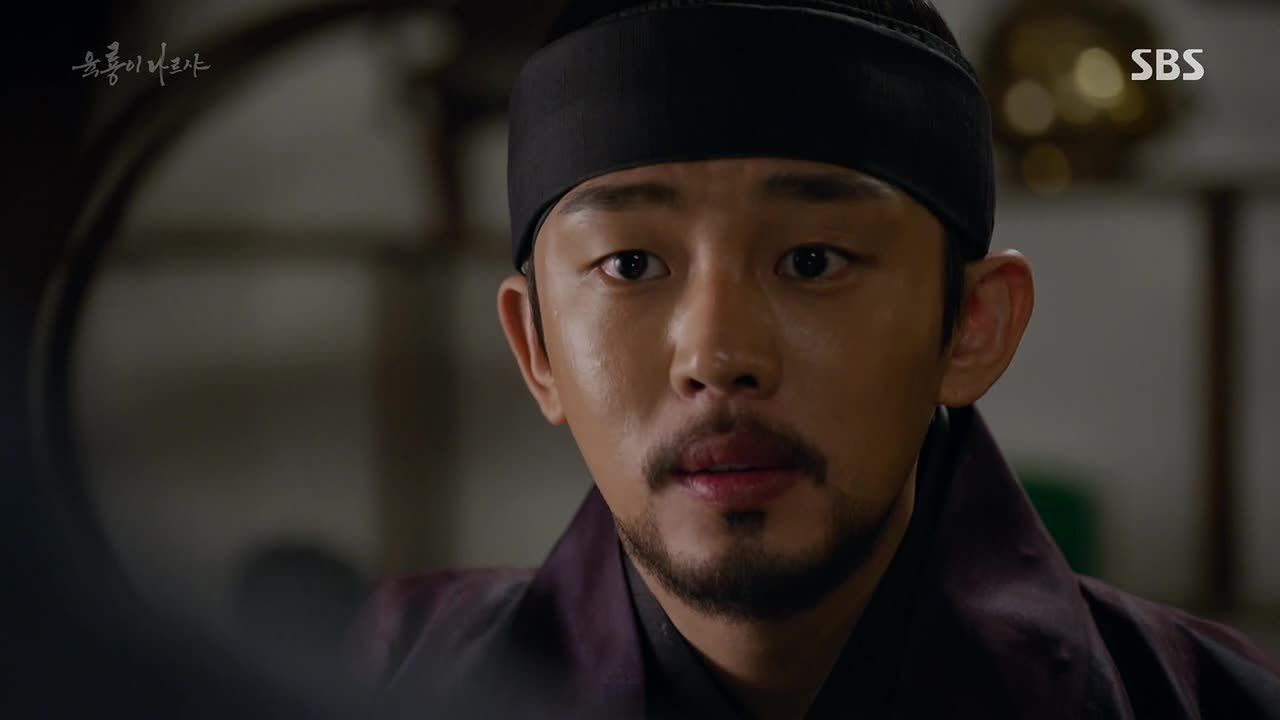 Daddy Min has managed to collect a surprising weapon they can now use on their side, in the form of Scholar KWON GEUN. He's the scholar with the most followers now that Jung Mong-joo is deceased, but what's surprising about this twist is that he was a loyal follower of Lee Saek's.
Bang-won can't help but ask why Scholar Kwon would switch over to his side, and the scholar doesn't mince words—while he may not respect Bang-won, he has no choice but to support him when their goals are the same. He too doesn't believe that the prime minister should hold more power than the king. In exchange for his support, Bang-won promises to restore Jung Mong-joo's honor.
Ha Ryun shows his support for Bang-won by arguing in favor of sending Jung Do-jeon to Ming in court, making it seem like the Jurchen thing is just a minor misunderstanding on Ming's part which can be solved by a little diplomacy from Jung. (Also, Bang-won takes Shin-jeok up on his offer to serve him, presumably unaware of his subterfuge.)
Jung Do-jeon's supporters oppose this for obvious reasons, arguing that it'd be insane to send a military commander to Ming as a hostage. A second option comes in the form of Scholar Kwon, who offers to go to Ming with Jung Do-jeon to help resolve the problem. Ah, so this is how Bang-won plans to keep an eye on Jung, as well as to make it so that he can't very well refuse to go.
Young-kyu helps to spread the negative sentiment about Jung Do-jeon looking like a chicken when Scholar Kwon even volunteered to go, which of course, makes it back to the man himself. It only gets worse for him when a large group of Sungkyunkwan scholars, presumably all followers of Scholar Kwon (and led by Jo Mal-saeng), protest in favor of sending Jung Do-jeon to Ming in front of the palace gates.
Jung Do-jeon just looks tired of it all, something that King Taejo picks up on when Jung asks for permission to go to Ming. For once, it's Taejo who gives Jung Do-jeon a pep talk, having to remind him that he'd once advised him to endure harsh public criticism when Jung Mong-joo was killed.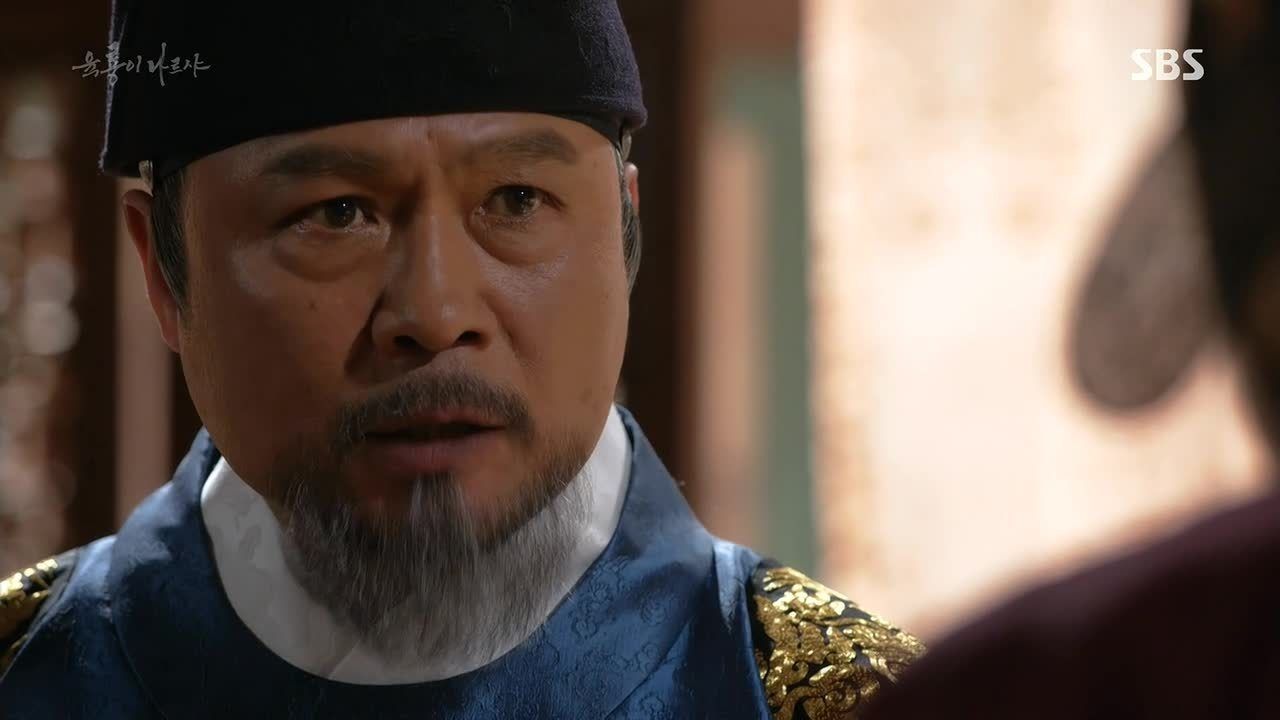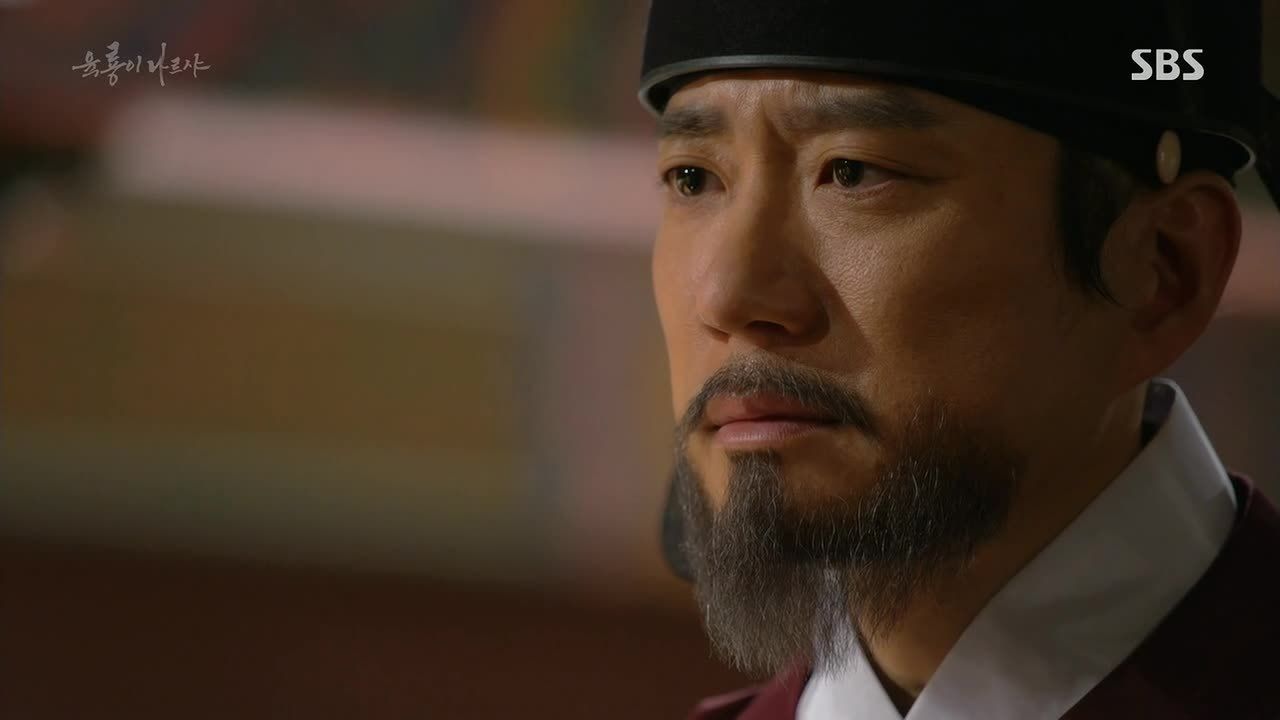 Since he's been in Jung Do-jeon's shoes, he knows how hard it must be for him to face the shame others are trying to force on him. But much like Jung once told him, he now tells Jung to endure. Jung is grateful that he's got his back about not going to Ming, but knows that this matter won't disappear on its own.
When Jung Do-jeon emerges from the palace to see Bang-won and Jo Mal-saeng talking, his natural reaction is to ask whether Bang-won is behind all this. Bang-won doesn't even take a breath before admitting that he ordered Jo Mal-saeng to head the protest, so what of it?
However, he doesn't take credit for the letter from Ming, though he may have alluded to a certain Joseon subject who has unlimited power and uses it as he wishes (*cough*).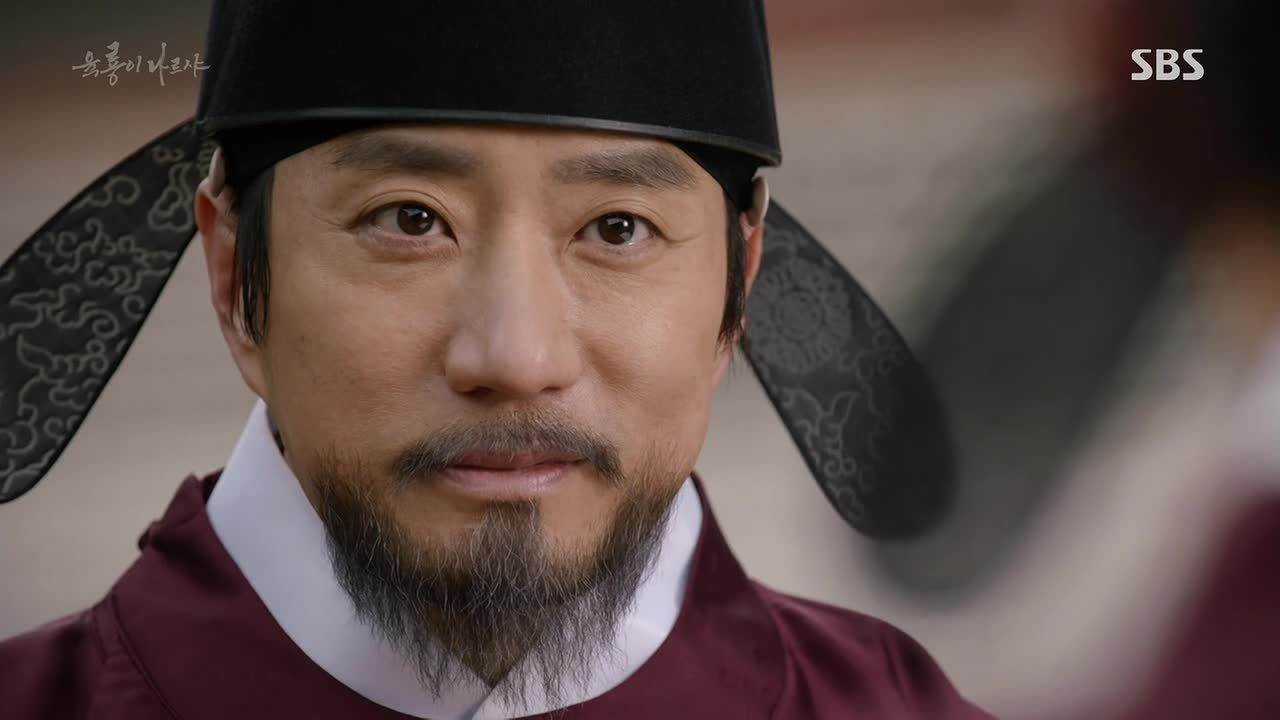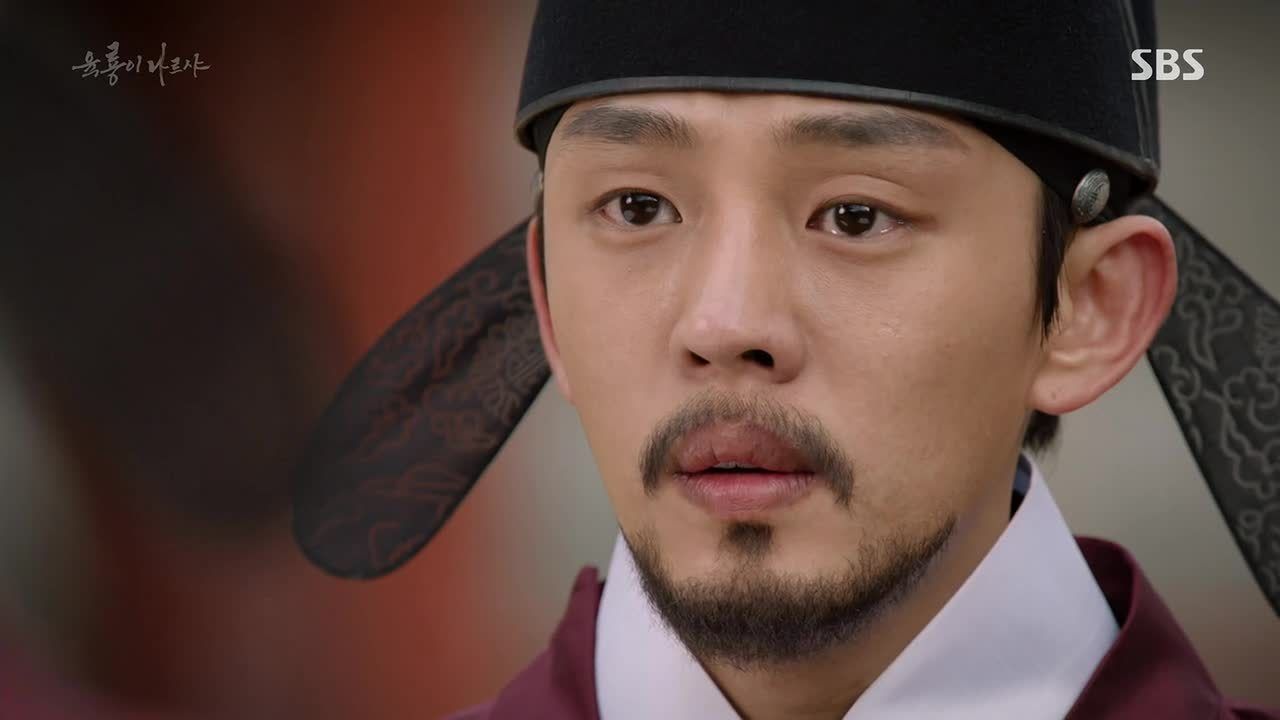 Only this time, Bang-won stops Jung Do-jeon before he can launch into another lecture on his selfish quest for power: "Is what you do considered politics, and what I do considered selfishness? What I did was diplomacy."
Besides, everyone knows that Jung Do-jeon instigated this conflict with Ming by taking over military authority and using it to hold ceaseless military training rallies. It's no wonder Ming thinks Jung could be harboring thoughts of war. Despite these valid points, Jung still seems keen to point out that Bang-won is just masquerading his selfishness under the guise of diplomacy.
"Are you so selfless?!" Bang-won finally snaps, and the question is enough to give Jung Do-jeon pause. "We all have our own personal desires, which are the grounds for our own causes. Ultimately, the winning side's desires become the cause."
Jung Do-jeon takes that in for a moment, then gives Bang-won a very disconcerting half-smile as he admits defeat a little too graciously. It's true that he couldn't beat Bang-won's finishing move. "But I still have yet to make my move," he warns. Ohhhhh.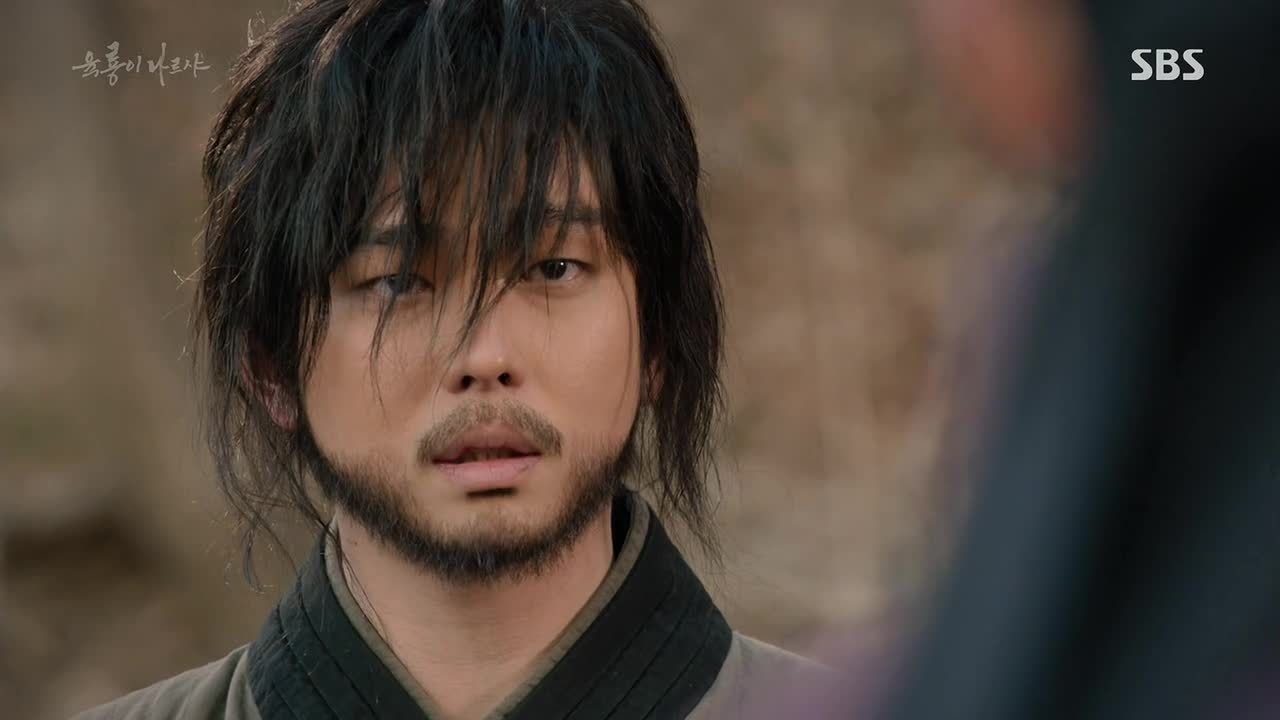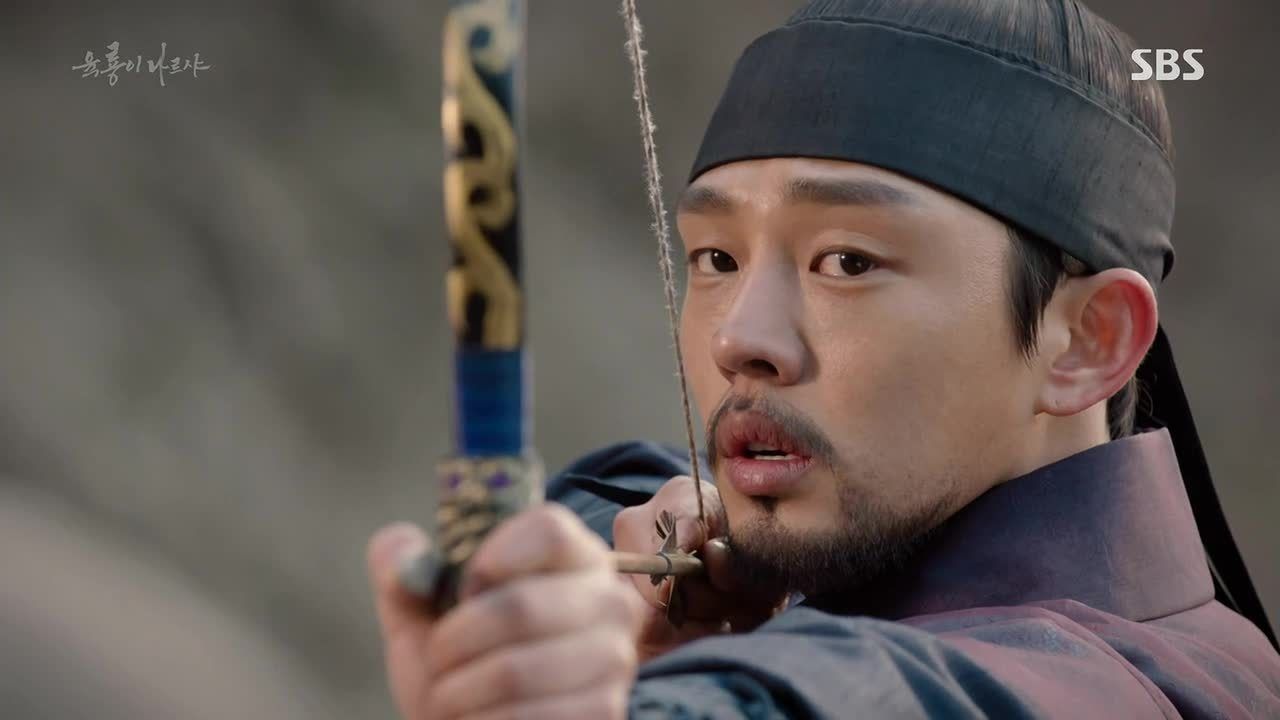 That smirk Jung Do-jeon gave after saying that continues to haunt Bang-won, so much so that he can't even shoot an arrow straight while practicing. But then, all of the sudden, he turns his bow and arrow on Moo-hyul(!!). "I don't like you watching me," he says, to which Moo-hyul simply replies that he has to watch over him, even if he doesn't like it.
Since he's been with Bang-won during more troubling moments than this, he wonders now why Bang-won is so shaken when he never has been before. It's a pep talk of sorts, or at least that's how Bang-won takes it, since he vows to put an end to things.
The ministers start murmuring when King Taejo decrees that Jung Do-jeon will not be going to Ming, which is when Jung enters the assembly to make an announcement: he'll be resigning from all five of his government posts so that Ming has no more cause to misunderstand his intentions. That King Taejo so easily agrees tells Ha Ryun that this isn't the first time they've discussed this.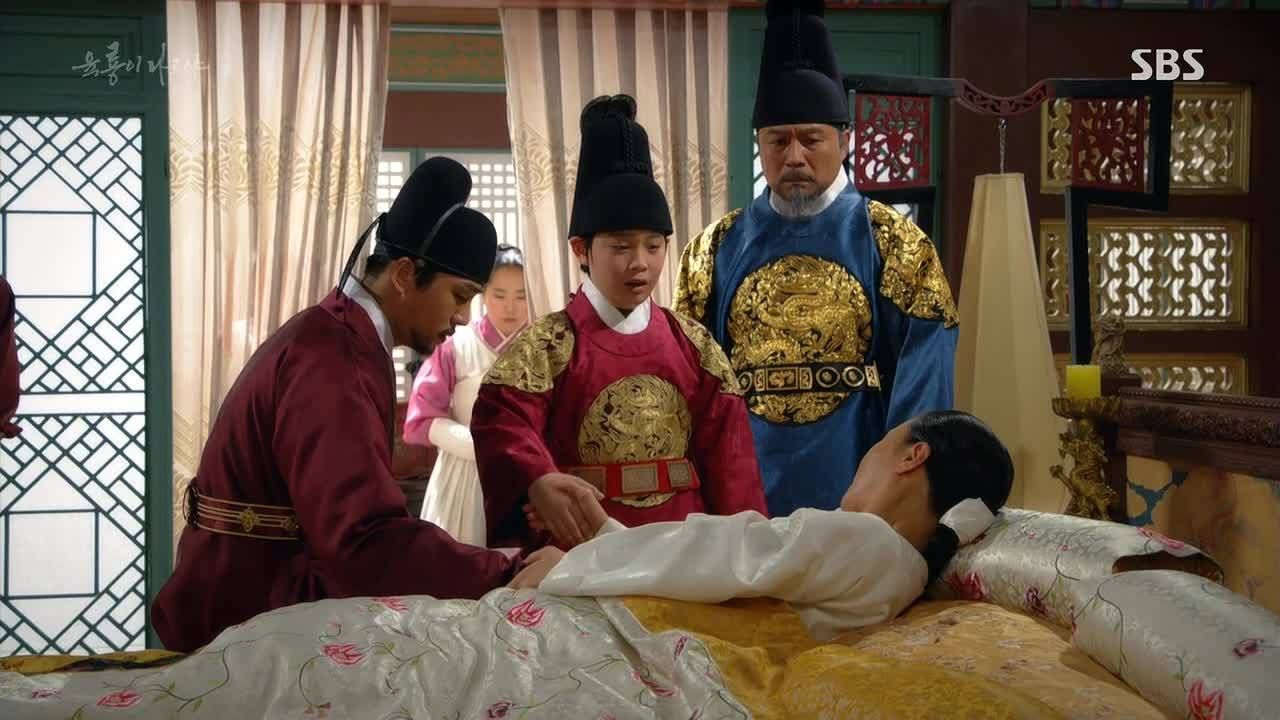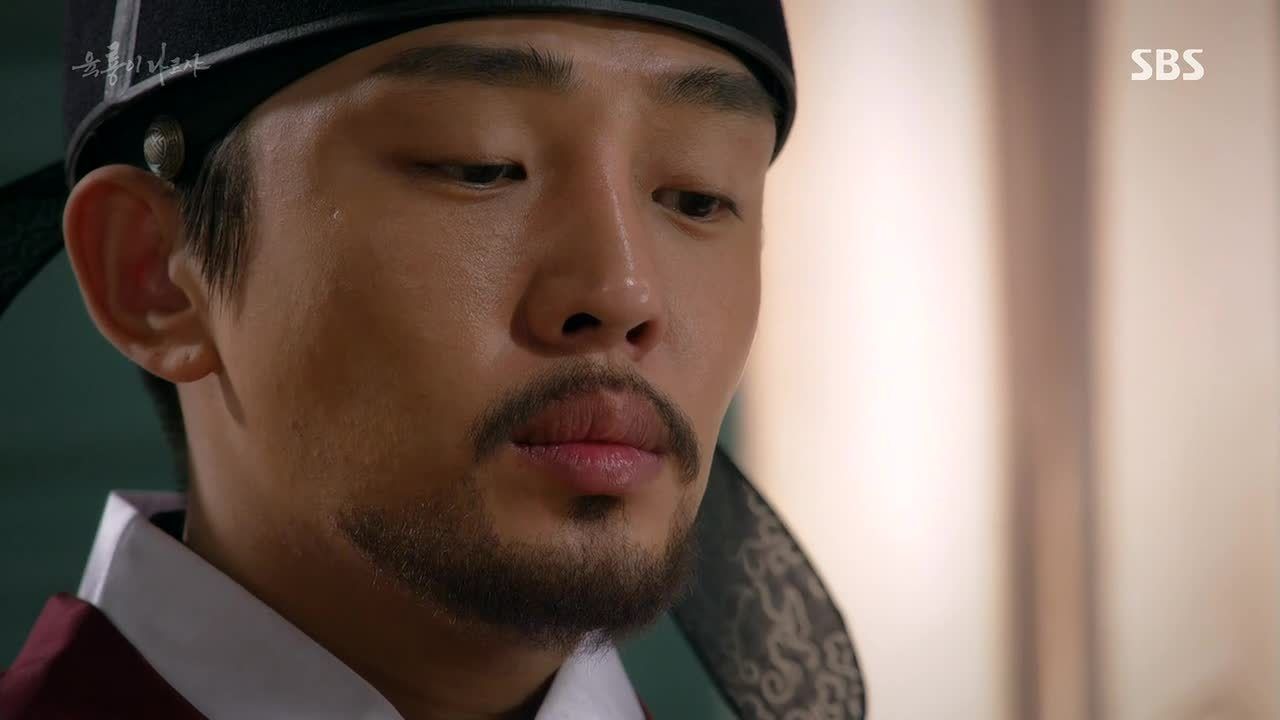 Bang-won is called to the palace to attend the bedside of Queen Sindeok, who's not long for this world. She reaches out a pale arm to Bang-won when he enters, and uses her last breath to entreat him to protect Bang-seok. Reaching out to Bang-seok as well, she joins the two brothers' hands with her own.
After resisting a very strong urge to roll his eyes, Bang-won reassures the queen that she has nothing to worry about… but he purposefully removes his hand from the symbolic union, leaving the queen gasping in surprise. His message is clear, and she dies knowing that, which is probably one of the more ruthless things Bang-won has ever done.
The royal funeral plans have hurt Grandma's business in Banchon, since people are too busy wailing and gnashing their teeth to stop in for a drink. Grandma is more worried about Moo-hyul getting caught up in Bang-won and Jung Do-jeon's power struggle though, which she knows will only get worse.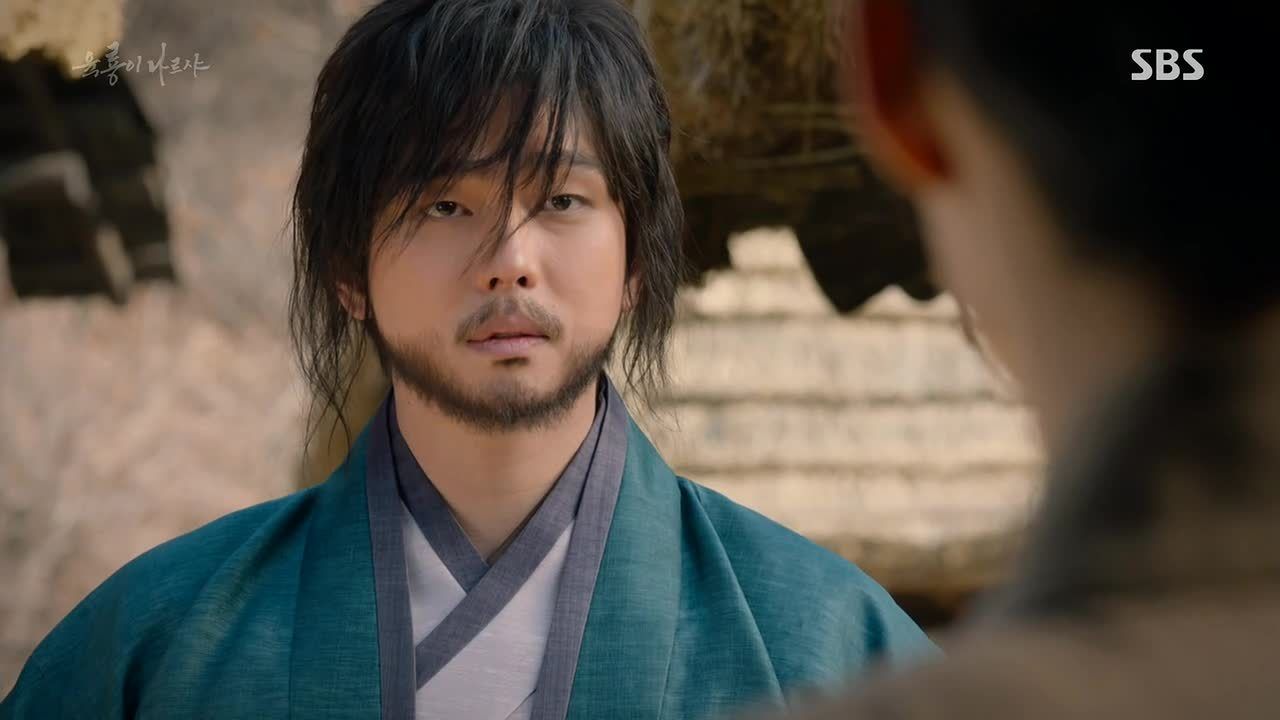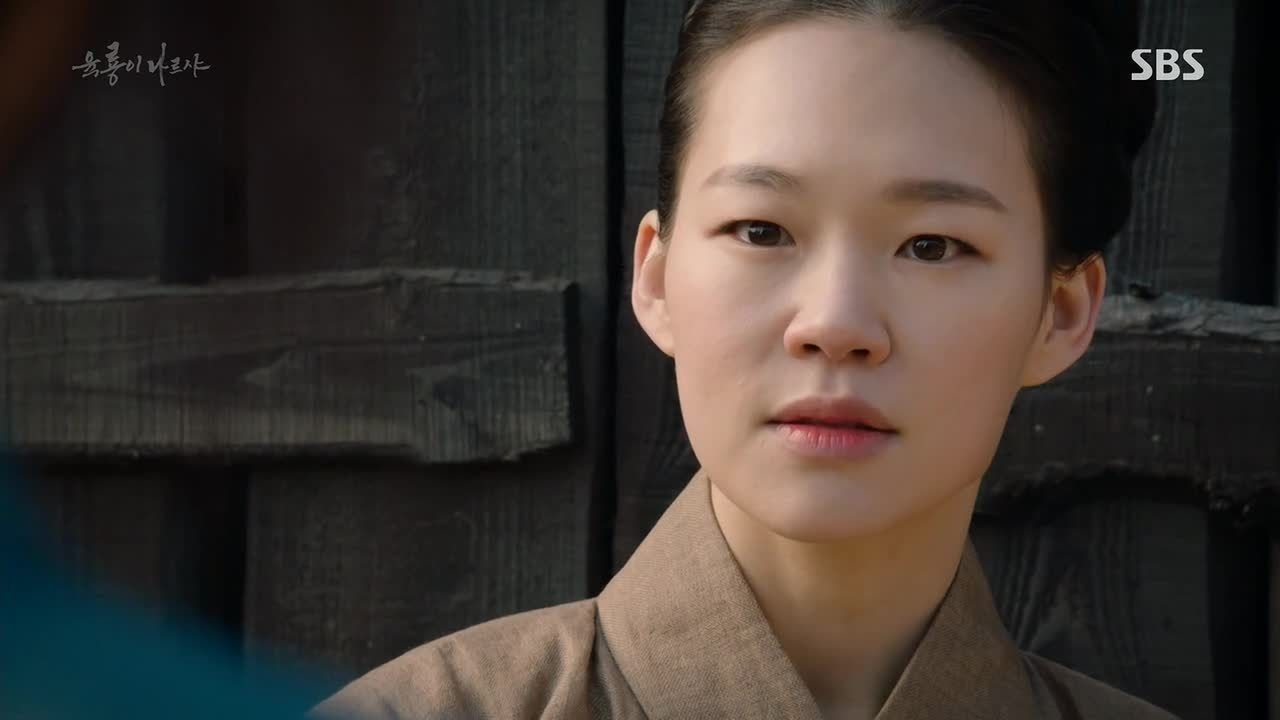 And because Gongyang's children happened upon an arrowhead while they were playing, a weapon strictly forbidden in Banchon, Sa-kwang explores the shed where they were playing only to find a curiously locked door. (It's Bang-won's secret weapons basement.)
Moo-hyul only knows that the storage shed belongs to his grandmother when he comes upon Sa-kwang leaving it, and asks her what she was doing in there. She almost tells him the truth, but seems to decide that it's not worth troubling him for.
King Taejo takes what will undoubtedly be an ill-advised trip away from the palace, leaving the young crown prince vulnerable. This, coupled with Jung Do-jeon's sudden disappearance, leaves Bang-won stewing in his own anxiety. All he can think of is that smirk.
No one else seems to know where Jung Do-jeon is either—and if they do, no one's telling. I wouldn't be surprised if Jung Do-jeon's plan was just to leave for a while and drive Bang-won mad with paranoia, because that's exactly what's happening.
Bang-won gets an idea then as to what Jung Do-jeon could possibly be doing, and whatever it is, Nameless has caught onto it too. The thought is enough to keep Bang-won up that night, though he's reluctant to believe what he's thinking. Surely Jung Do-jeon isn't planning to start a war to induce military reform… is he?
That's the burning question on Bang-won's mind as he confronts Boon-yi about that red envelope she returned to Jung Do-jeon only after she brokered a deal with him for her people to live in Banchon. Did she read what was inside?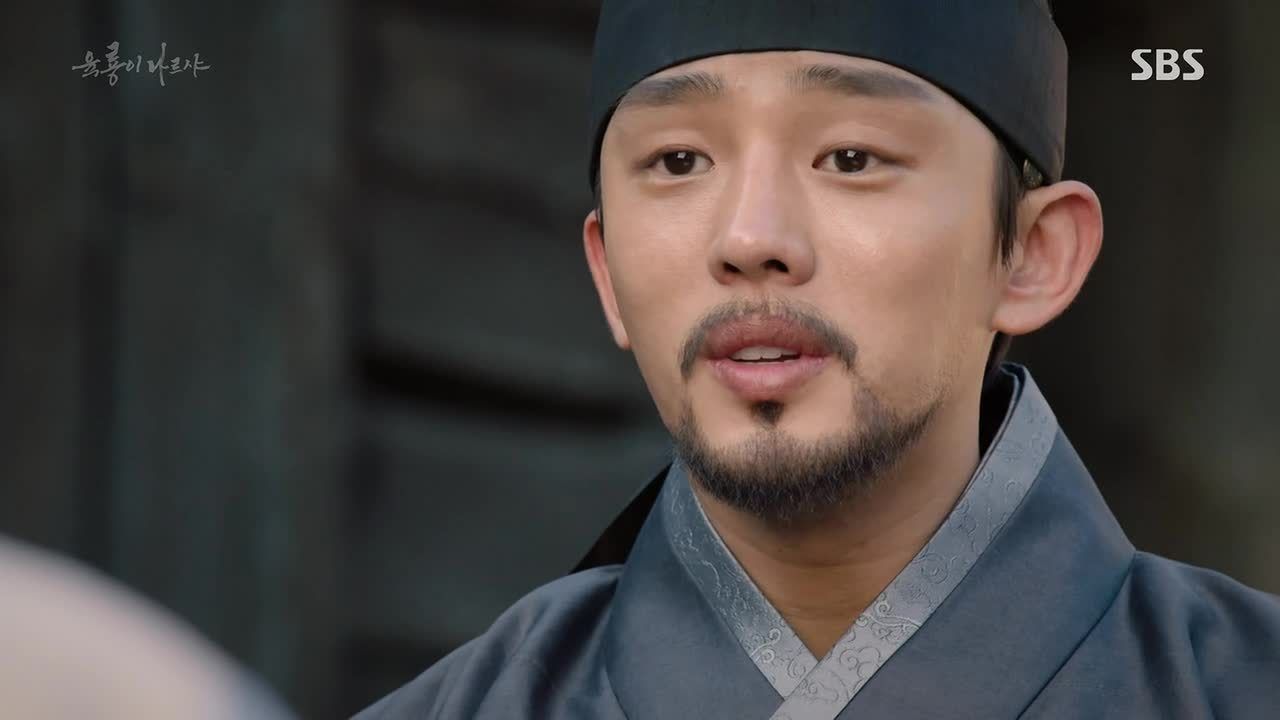 Boon-yi takes the more diplomatic approach first, citing her responsibility as leader of Banchon to not divulge such information. Bang-won understands, which is why he's not asking about what she read, but rather, whether she read it.
Though she tries to claim that the envelope was sealed, Bang-won reminding her just how easy it is to open and re-seal an envelope causes her a momentary look of guilt. That's all Bang-won needs: "We are still the same. As always, I am grateful, and as always, you still cannot fool me."
Bang-won knows for sure that Boon-yi read what was inside the envelope, and that it must have contained a terrible secret. He broaches the unthinkable topic of Jung Do-jeon possibly wanting a war with Liaodong to a shocked Ha Ryun, while the scribe who follows Boon-yi around reports the contents of Bang-won and Boon-yi's conversation to Jung Do-jeon's brother, JUNG DO-GWANG.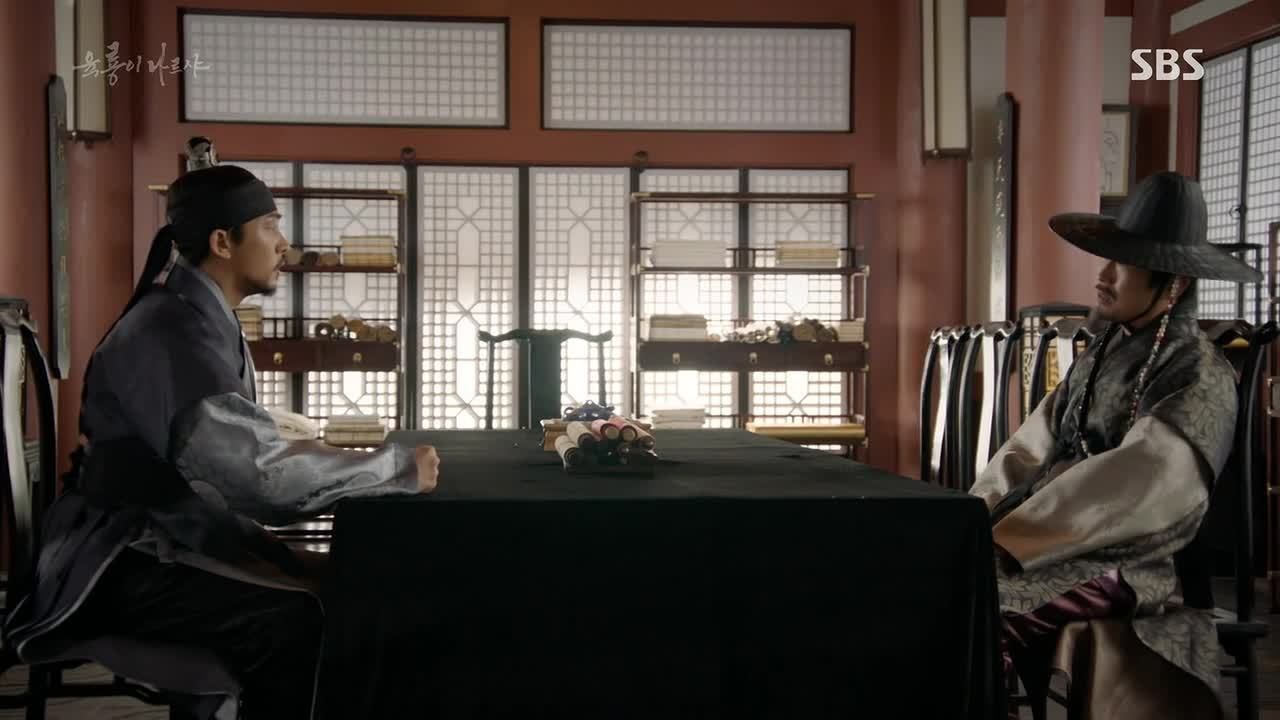 Ha Ryun and Bang-won go over the ramifications of his conspiracy theory regarding Jung Do-jeon carefully, since it would make sense that he'd use war as a reason to centralize and assimilate private soldiers into one national army.
Goryeo could never accomplish this before, since the nation's coffers couldn't support such a massive force, which is why noblemen and officers retained control of their armies in peacetime. But with Joseon, there'd be no need to ever return the soldiers. The big question remains: is Jung Do-jeon so reckless as to start a losing war just to accomplish military reform?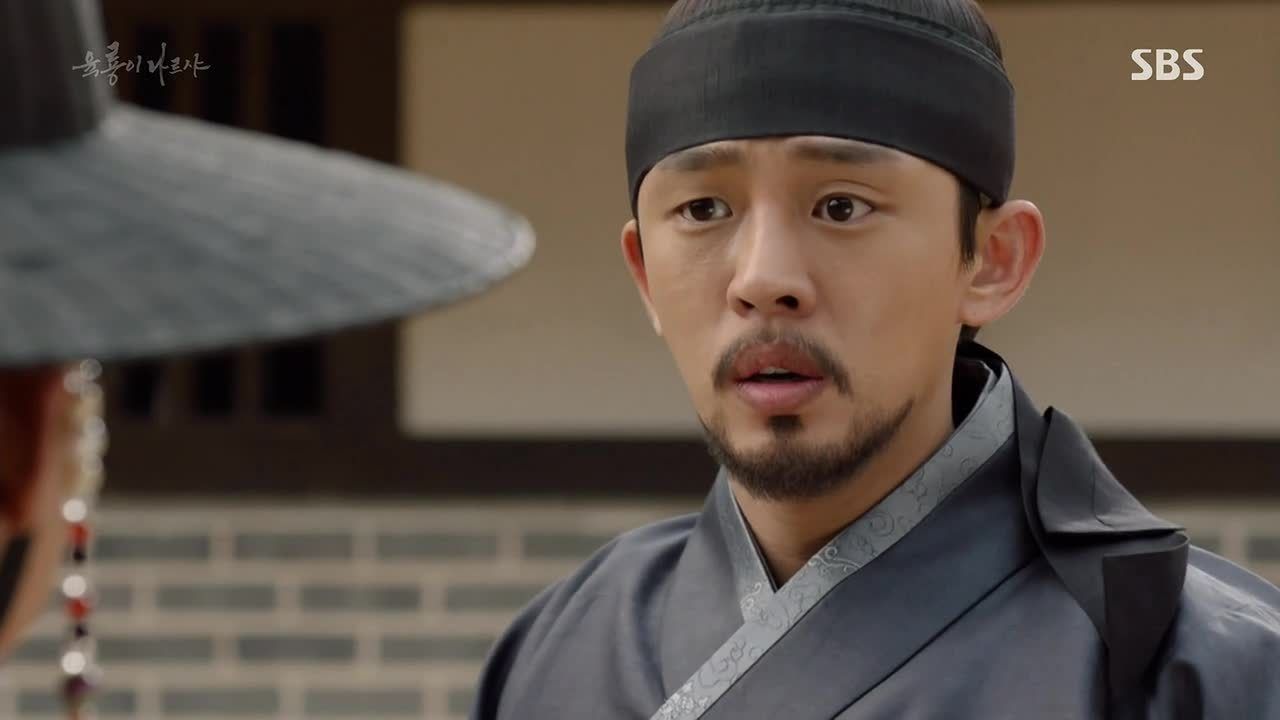 Since neither of them can answer that, Bang-won resolves to go to his father, who must have some contact with Jung Do-jeon. But that's when Ha Ryun comes running out with the revelation that Jung Do-jeon is likely faking the idea of a Liaodong Conquest in order to unify the private armies.
His secret agreement with Jurchen Chief Mohenpa, then, is likely so that he'll be able to hide that fact for as long as possible. It makes perfect and terrible sense, because if this is Jung Do-jeon's finishing move, then they'll have no defense against it.
Bang-won and Moo-hyul ride to meet his father, while one of Jukryong's spies alerts his master to Jung Do-jeon's whereabouts. He's in the old capital of Gaegyeong, specifically, in the former dodang assembly hall.
Yeon-hee enters the once-grand hall looking for Jung Do-jeon, only to find Bang-ji instead. He notices that she's limping a bit, and forces her to sit down so he can examine her ankle, which she seems to have just overworked. Wait, when did you guys start interacting?
After massaging it for her, Bang-ji asks if she likes the work they're doing that much. With a small smile, she replies that she likes it because she gets to do that work with him. They've both been working to help Jung Do-jeon, who arrives to hear Yeon-hee's report on her progress. Everything is in order for his big fake-out.
Using intel given by Ha Ryun, Bang-won barges into the temple where his father is staying… but finds a stranger dressed in his father's robes instead. Whoops.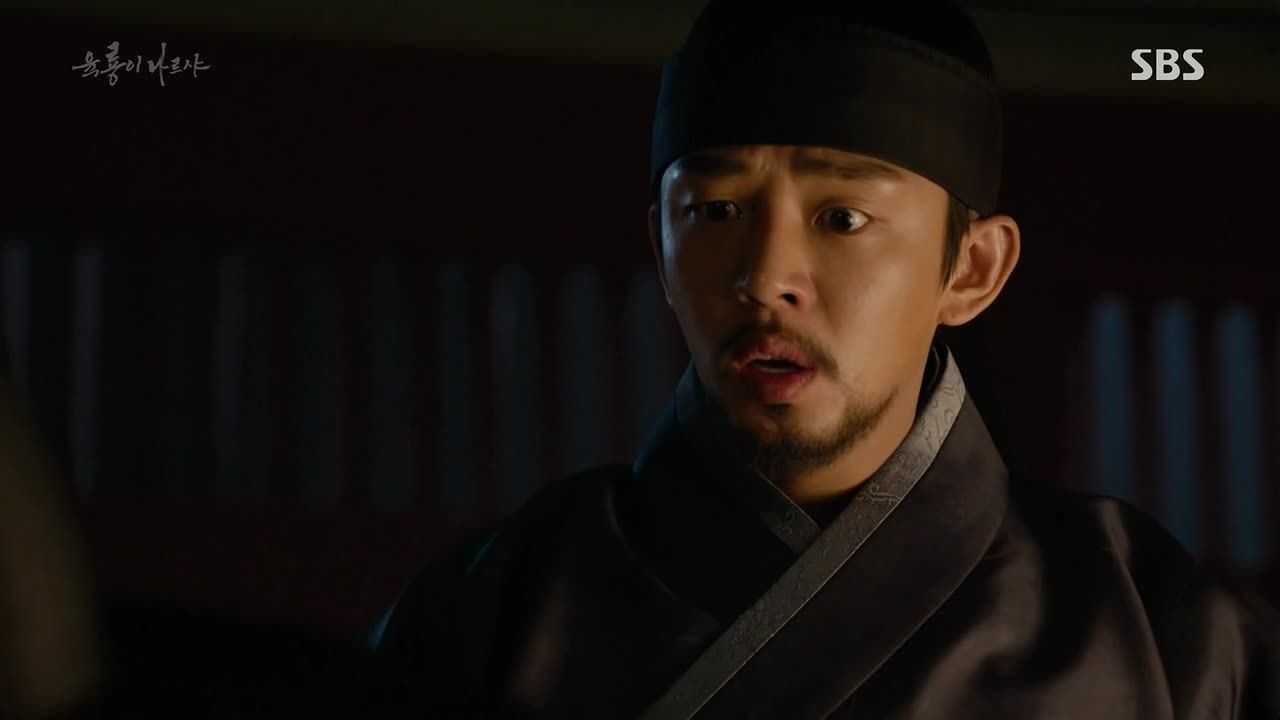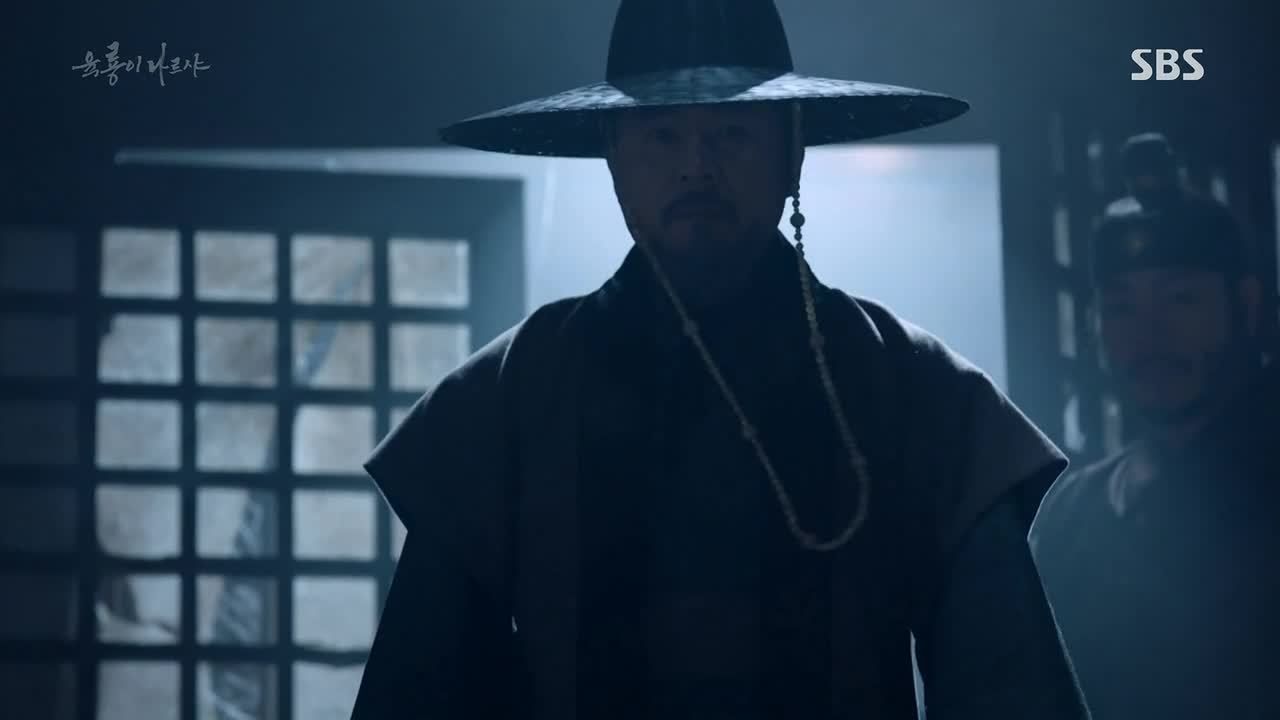 Instead, King Taejo comes to the dodang assembly hall to meet up with Jung Do-jeon. They act like it's been forever since they've seen each other, which, has it? (Seriously, this show is the vaguest when it comes to time skips.)
Everyone at the king's decoy location keeps a tight lip as to where the king really is, leaving Bang-won and Moo-hyul to wander off into the woods on a blind search. It's there that a Nameless operative finds them, and brings them to meet the Nameless elders.
It's Bang-won's first time meeting Yooksan in the flesh, though he could care less about that after they tell him where Jung Do-jeon is. Yeon-hyang stops him by saying that there's something much more important to discuss, which sets Bang-won off.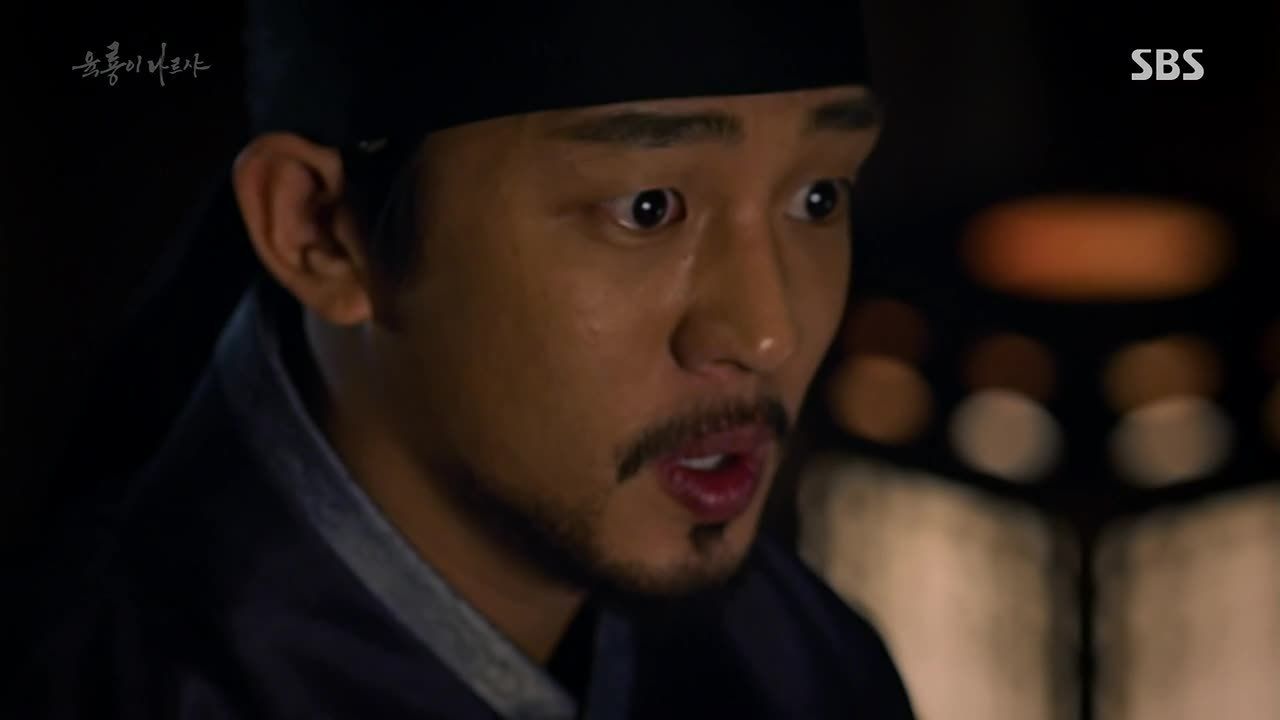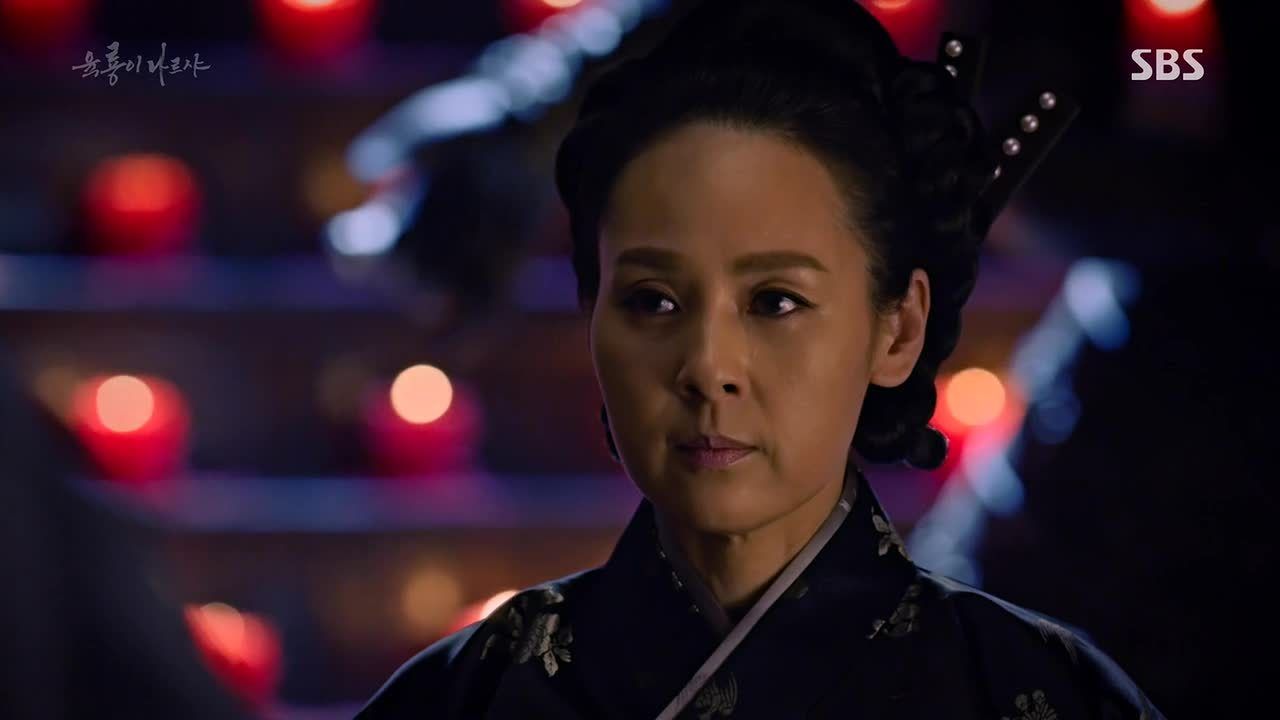 "What is more important than this?" he asks wildly. "You people… just what kind of organization are you?" You're asking this now? He wonders what could possibly be more important than Jung Do-jeon planning a fake Liaodong conquest in order to abolish private armies, to which Yooksan answers that the fake Liaodong conquest might not be so fake after all.
King Taejo hears the exact same thing from Jung Do-jeon, who makes sure that an official from the office of records transcribes everything they're about to say from now on, because it will be of great historical significance. He doesn't want to just act like he's going to attack Liaodong—he wants to actually attack it.
This is concerning to everyone who hears for obvious reasons, the biggest one being that the failed Liaodong Expedition is the reason why King Taejo turned the army around and rebelled in the first place. Jung Do-jeon's argument can basically be translated as: "Yeah, but this time, it's different."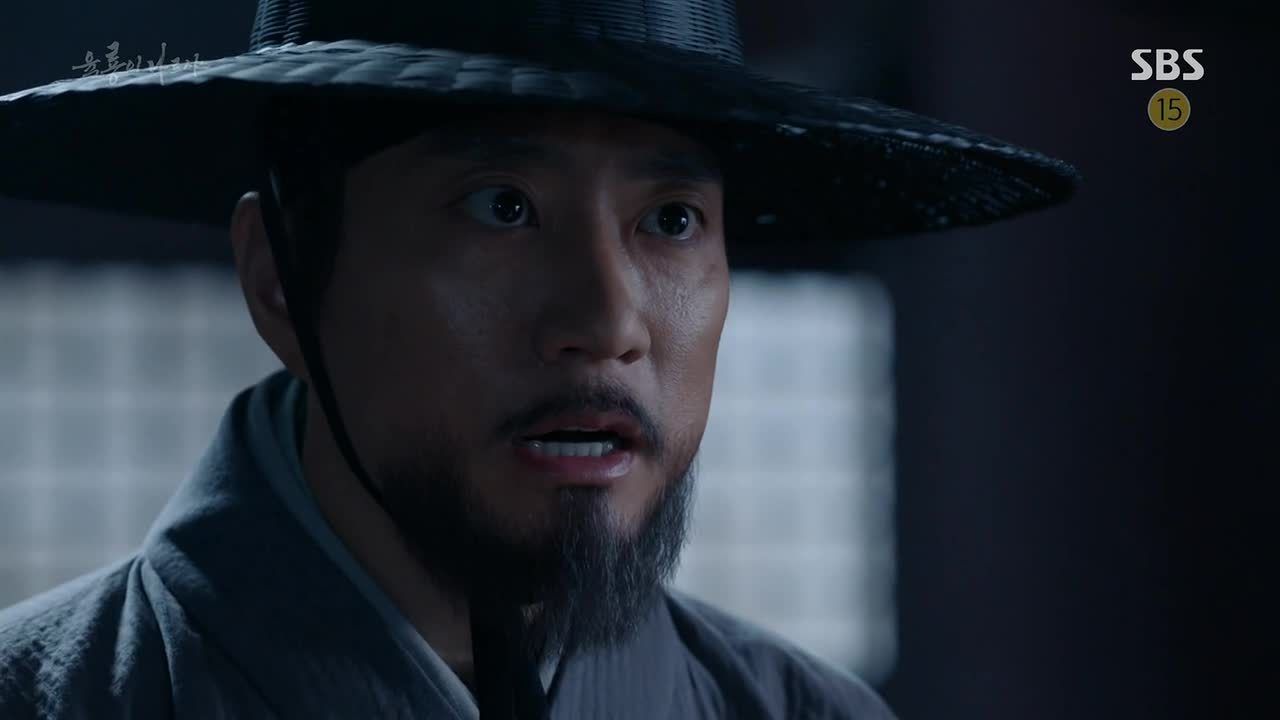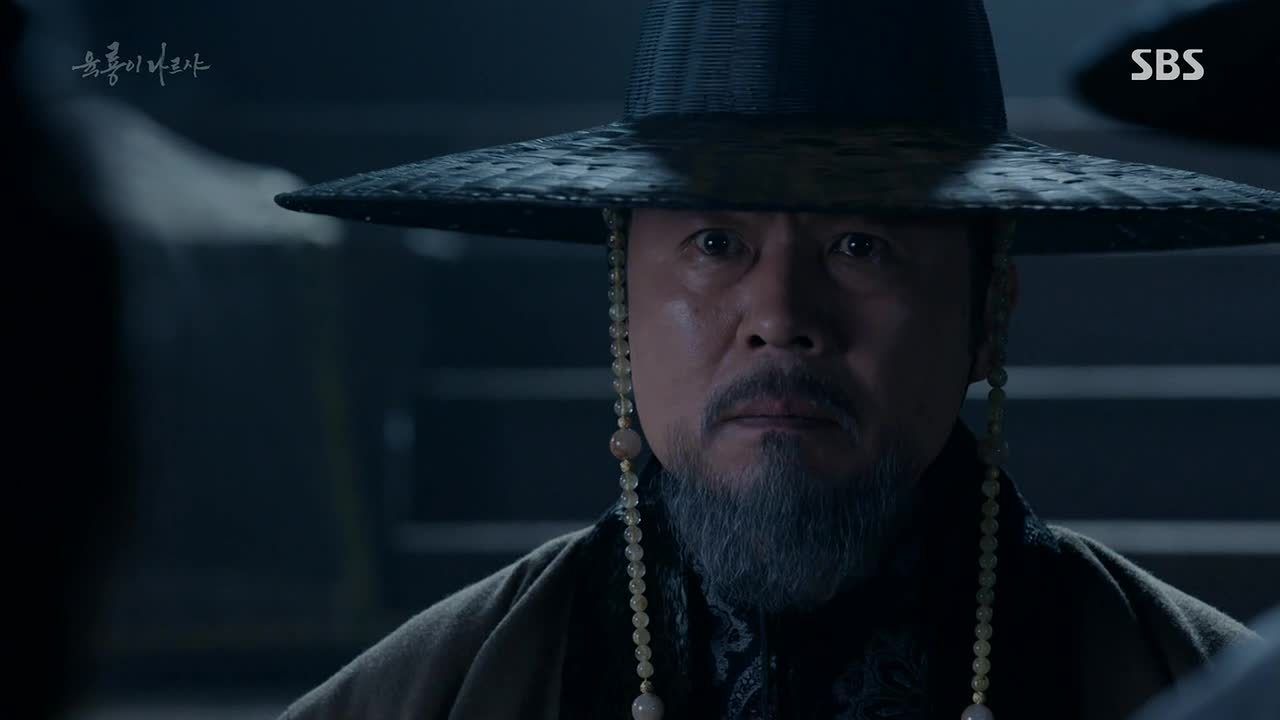 Thanks to Yeon-hee's spy network, she's able to tell the king that the envoys they sent to Ming recently have been executed. She has more news from the Ming capital, but they cut away before we can hear it.
Bang-won is hearing almost the same information from Yeon-hyang, who tells him that the Hongwu Emperor (Ming's first emperor and founder) is dying. He has six months at most, but since the news is so delayed, there's a chance he's dead already.
Jung Do-jeon's prediction is that the empty throne will cause a civil war within Ming, which would leave the country weak enough for them to take Liaodong in conquest. That's what Jung Do-jeon has been preparing the military for.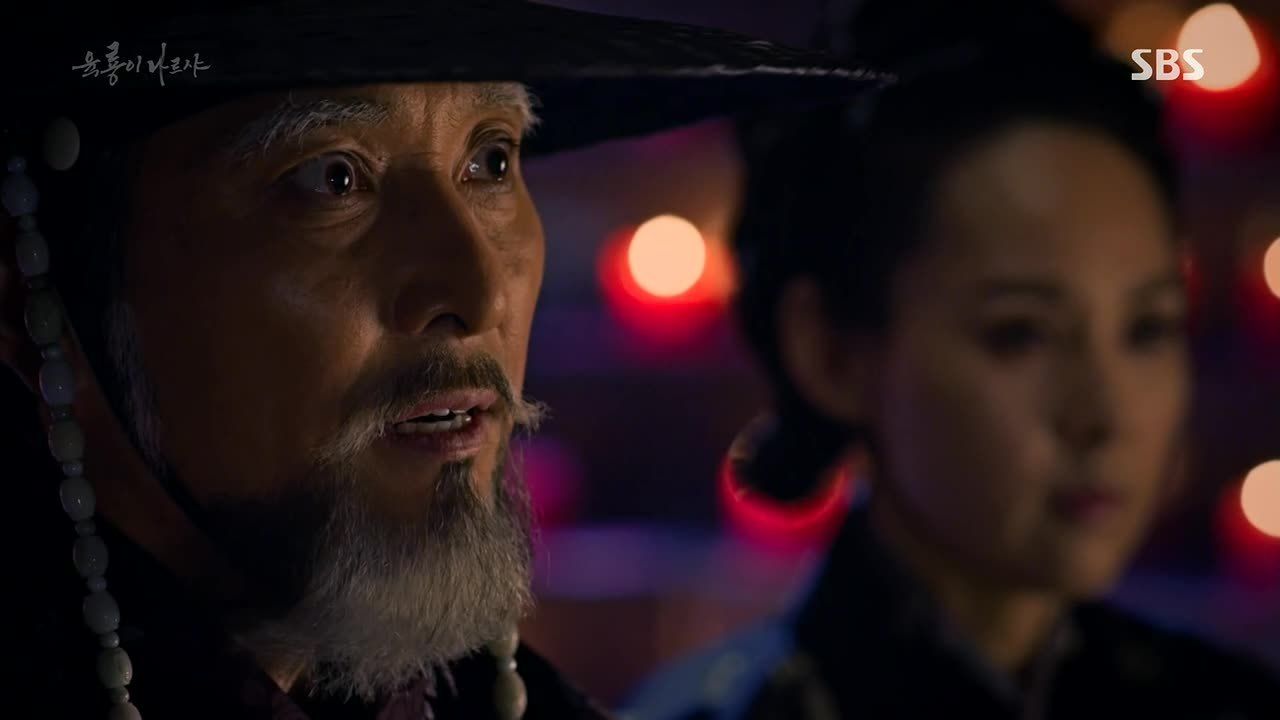 Obviously, the coming strife carries different implications for Bang-won and Nameless, who can't even count on Zhu Di's support. If Judy has to fight for his place as emperor, it means he and his forces will have to leave Liaodong for the capital, which is exactly what Jung Do-jeon will be counting on.
If that were to happen, then Jung Do-jeon would get everything he ever wanted and more, leaving Bang-won with no army and no power of his own. What's worse is that Bang-won knows with absolute certainty that Zhu Di will abandon Liaodong, and there's nothing they can do about it.
But then the problem becomes what happens after, with Jung Do-jeon and Nameless having different thoughts on the matter. Jung Do-jeon believes that they'll be able to sign a treaty with Zhu Di over Liaodong once/if he were to become emperor, while Nameless is absolutely sure he would sign no such thing.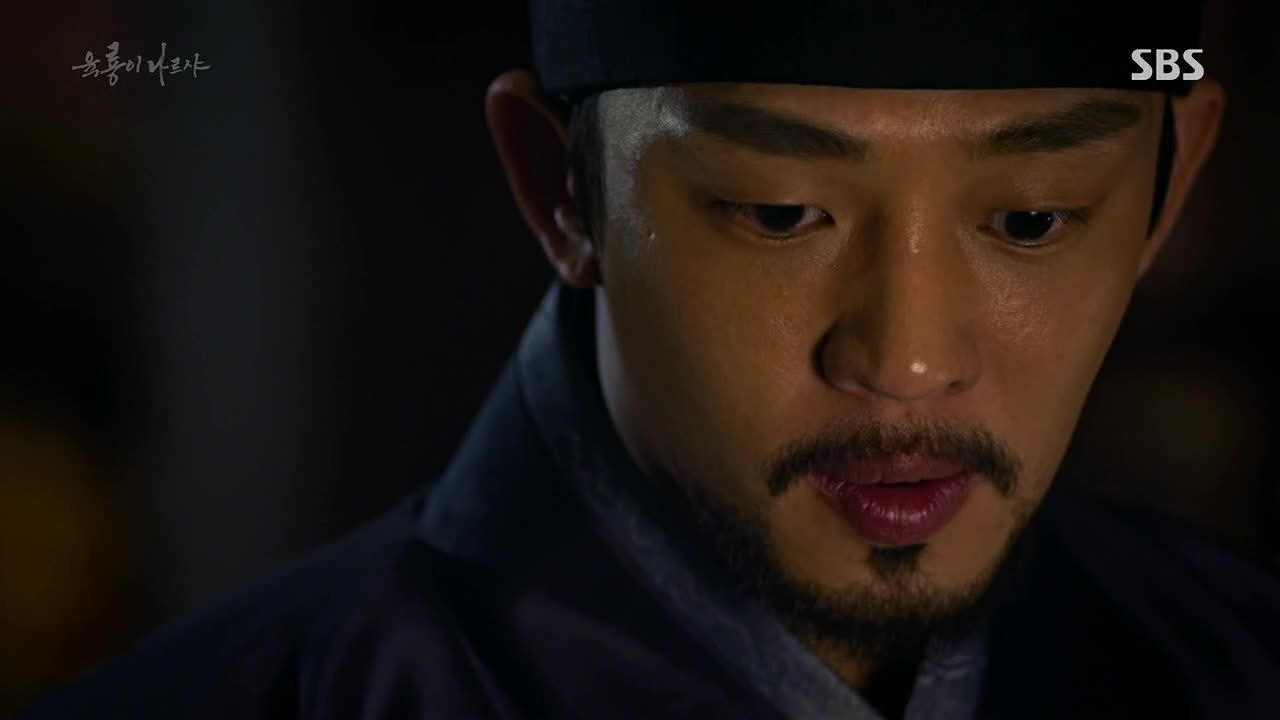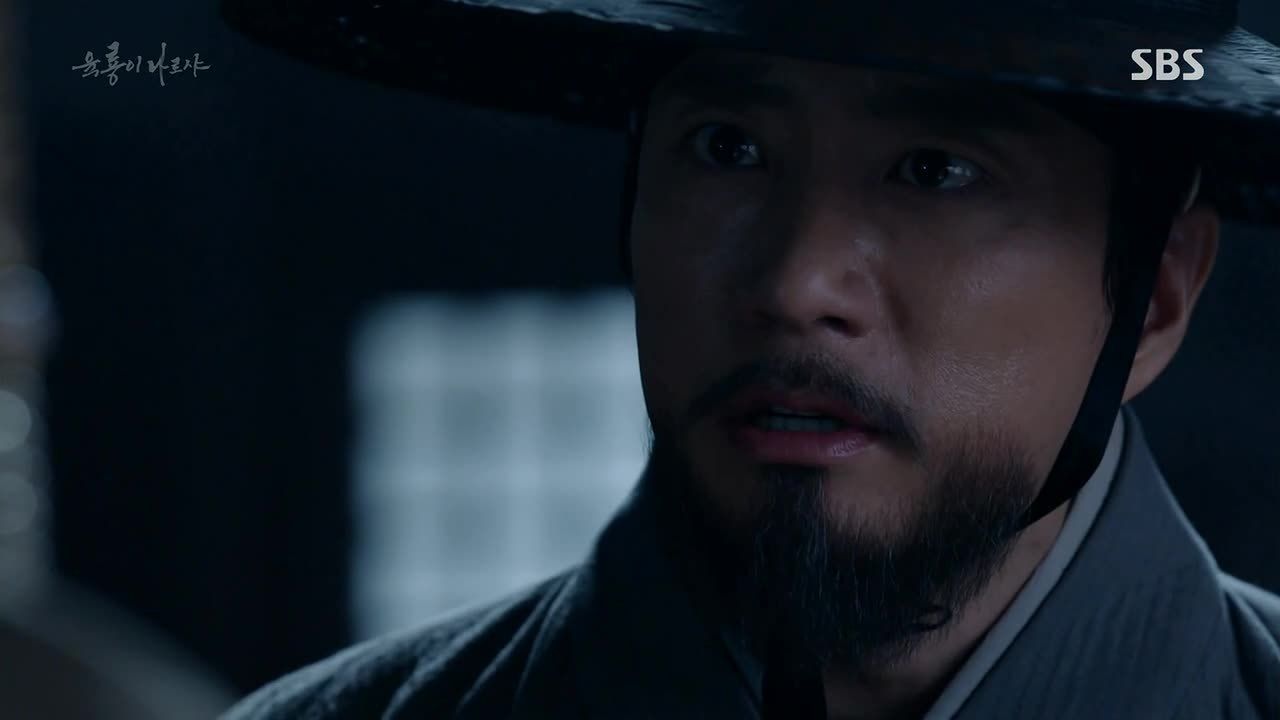 Even if they were to get Liaodong, Yeon-hyang argues, they'd use up all their resources defending it and end up dissolving as a country because of it. "Your Highness, you must stop this war!" she cautions.
Jung Do-jeon asks the exact opposite of King Taejo, whom he wants permission from in order to end the thousand year history of their country's subservience to Ming. "Please create a new country and forge a new history, one that does not persecute its people and does not yield to external forces," Jung pleads.
While Yeon-hyang screams in case we can't hear her, "We must stop this war and save this nation, Your Highness!"
"So this was it," Bang-won thinks to himself. "The truth behind my anxiety and uneasiness."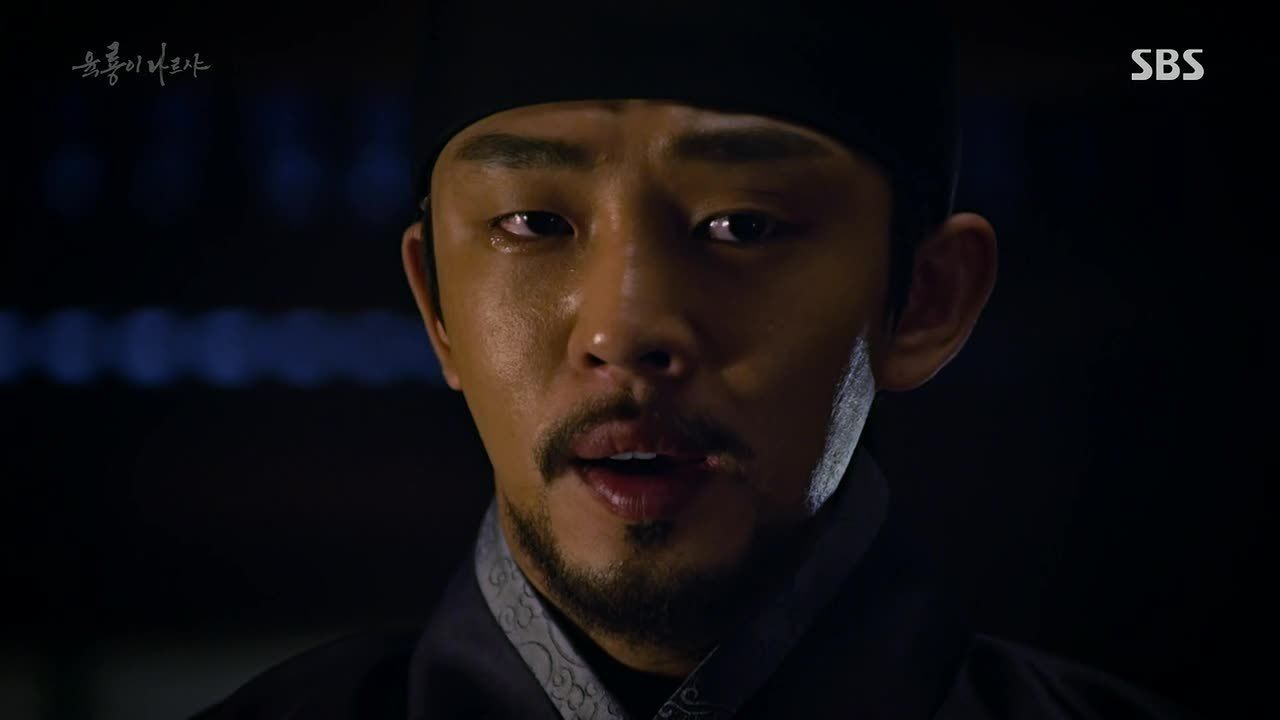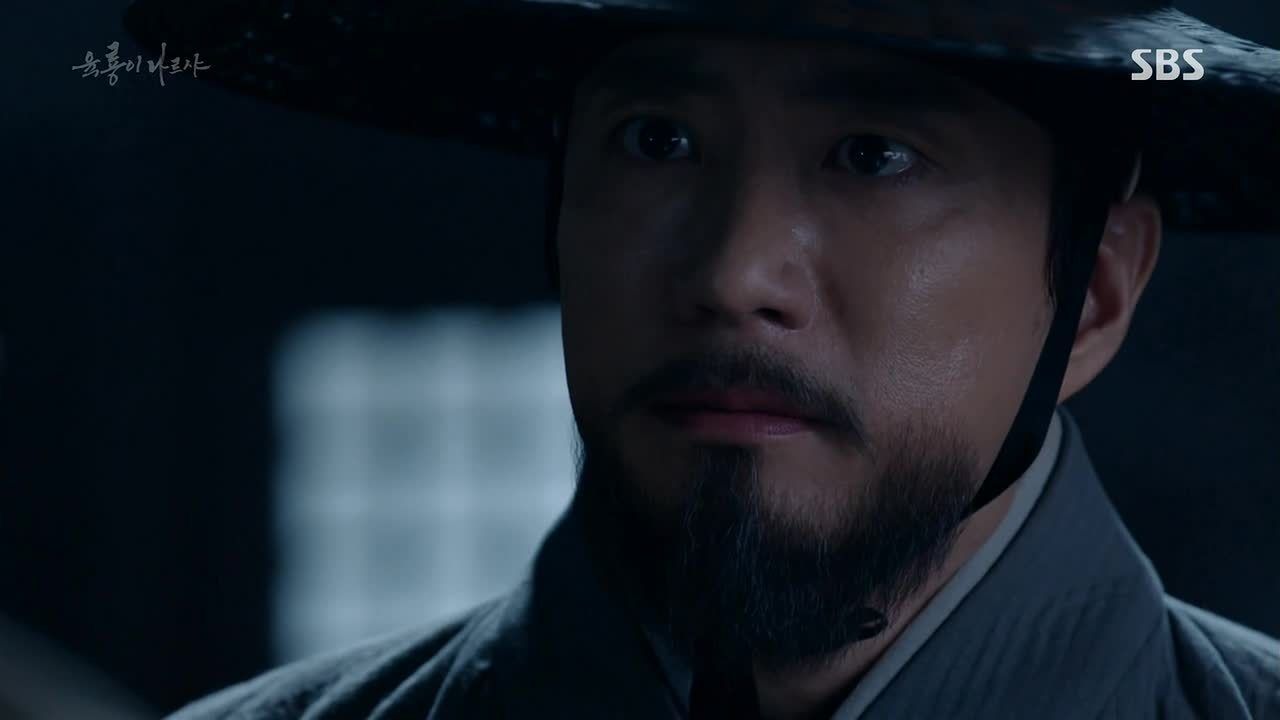 COMMENTS
So let me get this straight: The nation that Jung Do-jeon had a very personal and incredibly heavy hand in creating from the ground up, one that he penned the rules and constitution for, and one he personally ran from five different offices for a good while there suddenly isn't good enough anymore? Now he wants to create a new nation? He hasn't even broken the other one in yet!
I get that he doesn't mean he wants a complete overhaul, but the language is awfully similar, and the motivations much more vague. Jung Do-jeon has really lost some esteem over the course of this series, but this episode really served as a disconnect when it came to him—it was hard to see things from his perspective before, but now, it's become almost impossible. And for what? It's not like any of us were waffling between him and Bang-won, we were going to support the latter no matter what.
If that was going to be the case, then it would've made more sense for the show to work harder to endear Jung Do-jeon to us, in order for us to care more about what's to come. Instead, they're practically vilifying him with this Liaodong turn, and turning what was an incredibly intelligent strategist into a delusional nationalist who would've never said things like this before.
What's more is that all the people in that assembly hall were alive and well when the first Liaodong Expedition failed, yet it may as well have never happened. King Taejo himself was there on the front lines, and knew at the time what a terrible idea such a venture was, yet he's listening to Jung Do-jeon's war strategy like he's never held a sword in his entire life. The only way this makes even a little sense is if Jung Do-jeon is striking back for the blow to his ego that Bang-won delivered by means of the Ming Emperor, but even then, I'm not sure. Throw us a bone here, Jung Do-jeon.
The timeline has been a little weird lately, though I'm more than willing to give a few concessions due to time constraints and all the history this show has to cover in its remaining episodes. But I still feel somehow cheated by the scene with Bang-ji and Yeon-hee, despite that being all I ever wanted before. It still was all I ever wanted, though I'm wondering if it's too little, too late—it's kind of a sucker punch that the show developed their relationship during an off-screen ambiguous time skip rather than using the literally dozens of episodes it had to do the same thing more organically. Believe me, I still ate it up. I just wish we'd been served it sooner.

RELATED POSTS
Tags: Byun Yo-han, featured, Kim Myung-min, Shin Se-kyung, Six Flying Dragons, Yoo Ah-in