Six Flying Dragons: Episode 45
Bang-won comes to a terrible realization this hour, one that even he doesn't know he's come to until it all but tears at his heartstrings—and ours, for that matter. The wheels of change keep turning as we prepare to head into the much deeper and darker waters of history, and somehow I get the feeling that this episode is just a taste of what's to come. The show may be ready, but are we?
SONG OF THE DAY
ZIA – "눈물 (Tears)" [ Download ]
Audio clip: Adobe Flash Player (version 9 or above) is required to play this audio clip. Download the latest version here. You also need to have JavaScript enabled in your browser.

EPISODE 45 RECAP
After securing King Taejo's permission for the new Liaodong Expedition, Jung Do-jeon is eager to get started, only to be waylaid when Bang-ji asks if they can take a break to let Yeon-hee rest her sprained ankle.
They hole up in an inn for the time being, where Jung Do-jeon regales them with a story of how watching King Gongmin purge all the noblemen and officials who were pro-Mongol (aka Yuan) when he was fifteen changed everything for him. It was the impetus he needed to enter Sungkyunkwan.
Years later, he was able to secure an audience with King Gongmin, which is when he dreamed his first dream of one day being able to oversee Liaodong. He practically glows while talking about Gongmin, prompting Yeon-hee to say that those same feelings he felt for the former king are the kind she felt for him.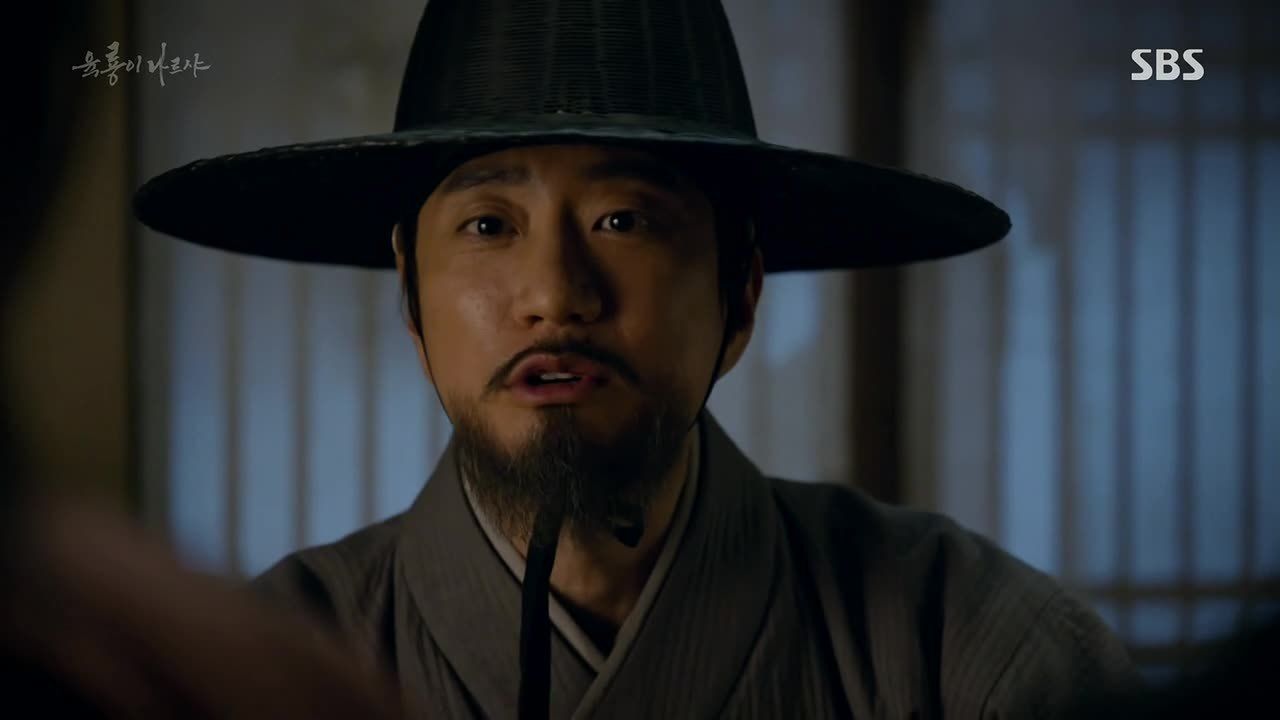 He's glad that he was able to be that kind of person to her, though he stresses that he still wants her to go and find her own way, outside their line of work. He knows that he got lost in establishing a new nation, but seeks to fix his inability to take care of his own adopted family now.
"That is why I would like for you to get married, Yeon-hee," Jung Do-jeon finally says. Turning to Bang-ji, he asks him what he thinks of this, prompting the warrior to stutter momentarily before Jung jovially adds, "Married to you, I mean!"
This leaves the two awkward lovebirds with some food for thought as they leave the inn to continue their journey. We don't hear what their answer was, but Bang-ji's smile as he takes Yeon-hee by the arm to help support her seems to say it all.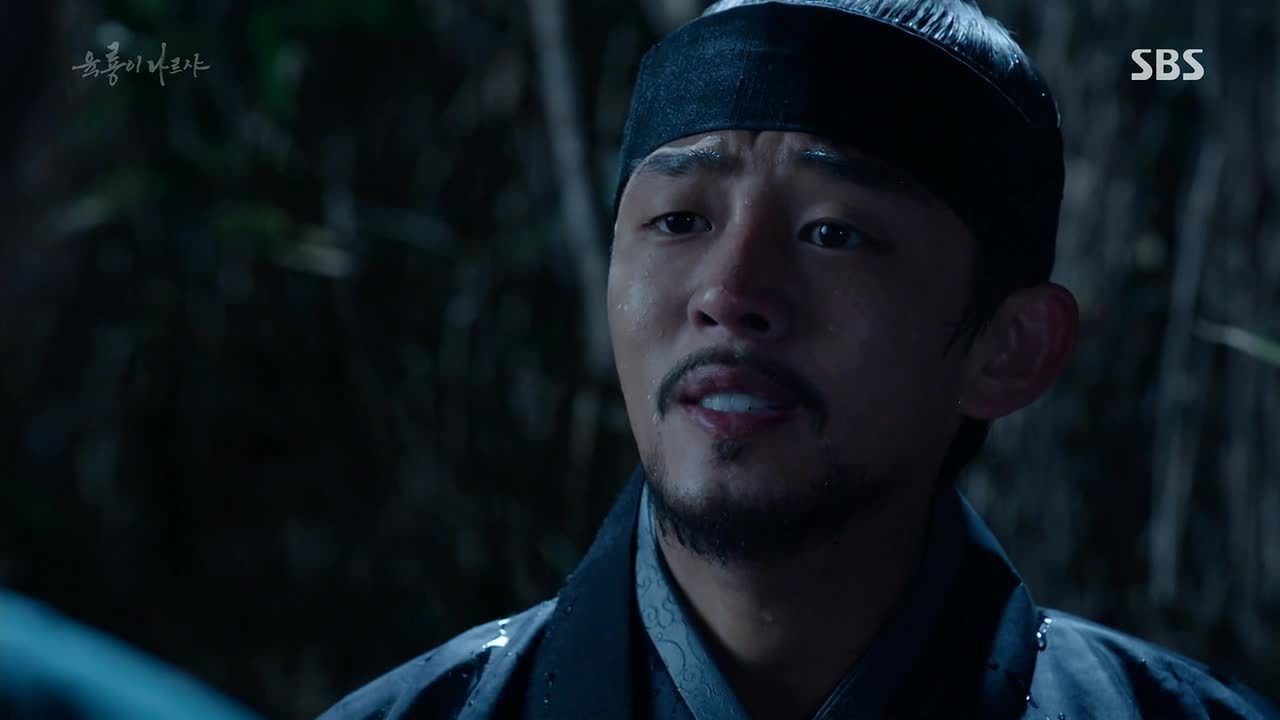 Meanwhile, Bang-won is going through a major internal crisis, and he's only willing to share a bit of his burden with Moo-hyul. His expression pained, he tells his bodyguard how he was confident when he made tough choices in his past—like stamping his father's seal on the border plan, using gunpowder to threaten the Haedong Gapjok, setting fire to the scholars' village, and even killing Jung Mong-joo.
It's that smirk Jung Do-jeon gave him that still haunts him, as he realizes how childish his move to use Ming against Jung Do-jeon was, now that Jung plans to take Ming head-on. He wasn't even this conflicted when he killed those three Sungkyunkwan bullies when he was only twelve—so why this? Why now, of all times?
Jung Do-jeon makes his return to court after his long absence, just in time for King Taejo to announce that Ming has declared war on them by killing their envoys, so they'll respond with the conquest of Liaodong.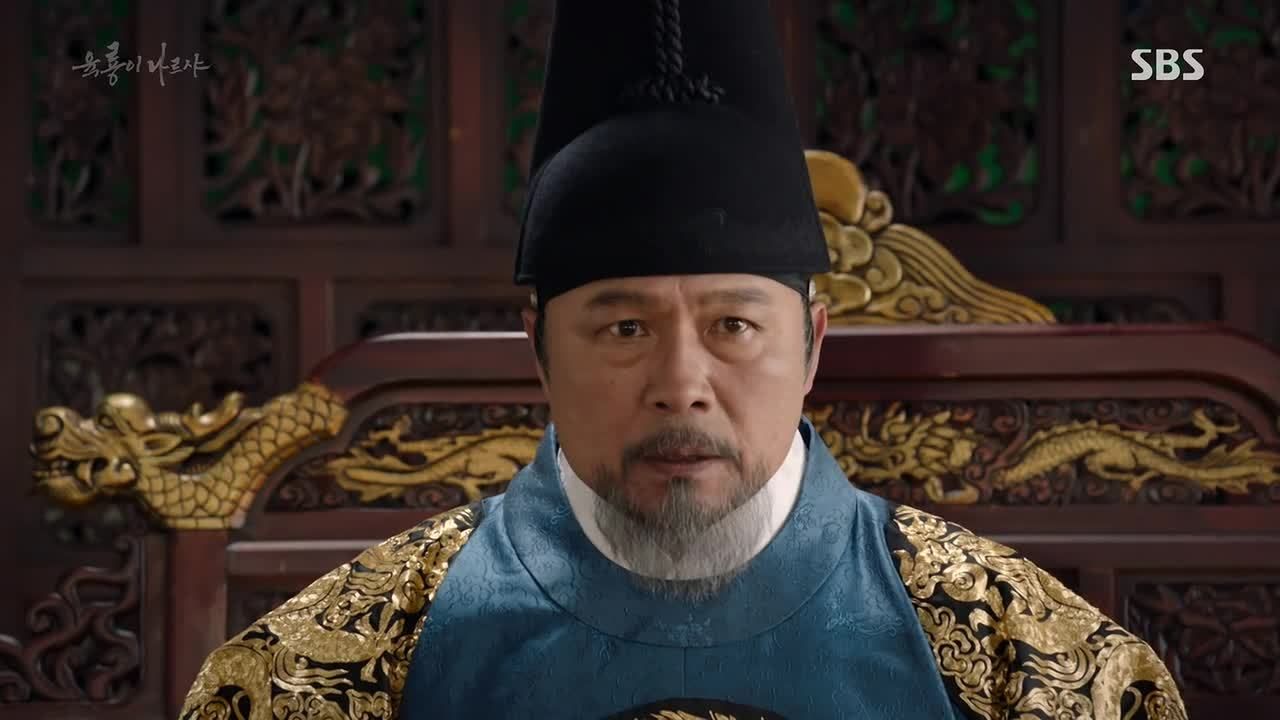 To do so, they'll need to dissolve all private armies into one national army, which is exactly the kind of military reform Jung Do-jeon wanted. And speaking of, he also gets reappointed to a military position as part of the widespread structural reforms going on. Ha Ryun also gets an unexpected appointment.
Bang-gwa and Bang-gan are so outraged about Liaodong being used as an excuse to dissolve their private armies that they plan on boycotting the now-mandatory training, though Da-kyung is quick to point out that if the expedition is real, and they refuse to send their soldiers, then they'd be committing treason.
Ha Ryun explains to Bang-won all the reasons why such an expedition would be foolhardy to the extreme, and a gamble that they'd only have a fifty percent chance of winning at best. It doesn't make sense to him that Jung Do-jeon would take such a risk, but he gets no help in the matter from Bang-won, who's too conflicted to contribute to the conversation.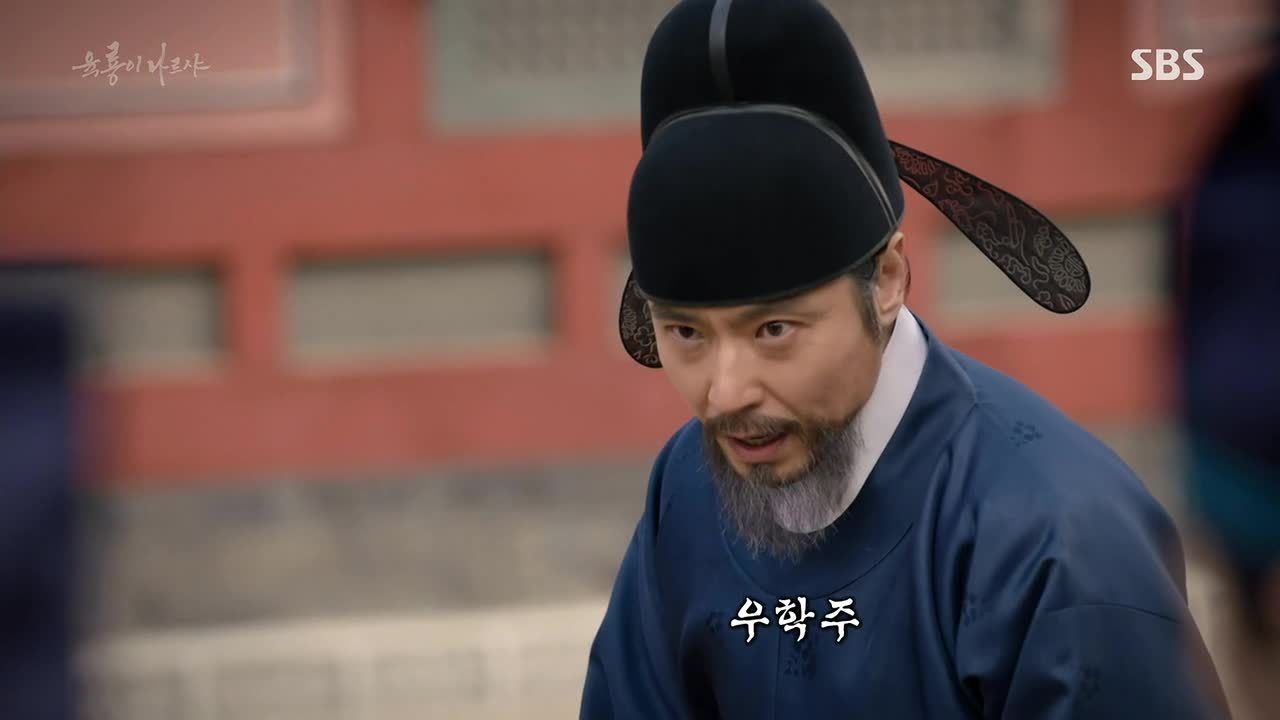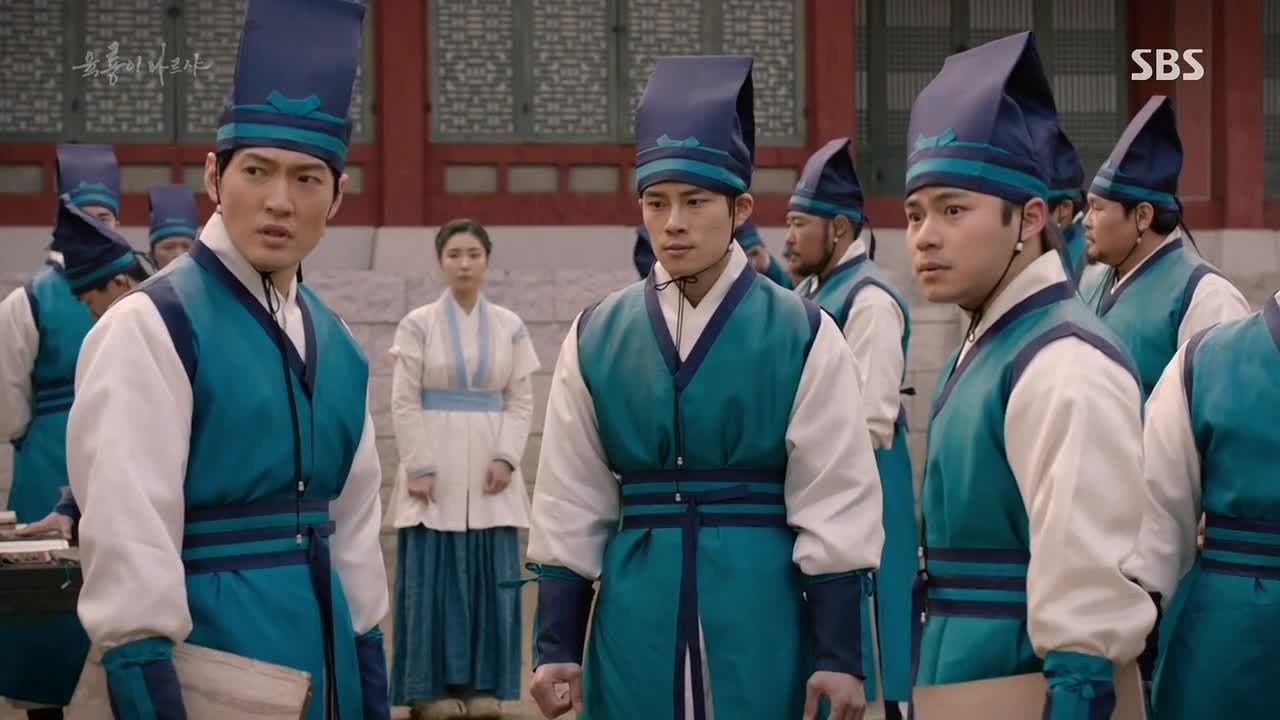 While Jung Do-jeon plans for the expedition as well as the resistance they're bound to face from the princes, the coming war is announced to the common people, who are prohibited from wearing anything even remotely luxurious and consuming alcohol in order to aid the war effort. Grandma is most upset by this last bit, since that would mean the end of her business.
Similarly, the students of Sungkyunkwan are all too eager to half their food rations in order to send more rice to the war effort, and many are keen to join in the actual fighting. Sinister Minister Woo Hak-joo, having returned from exile and sporting a limp, comments under his breath that Jung Do-jeon caused trouble after all. (This seems like it'll be important later.)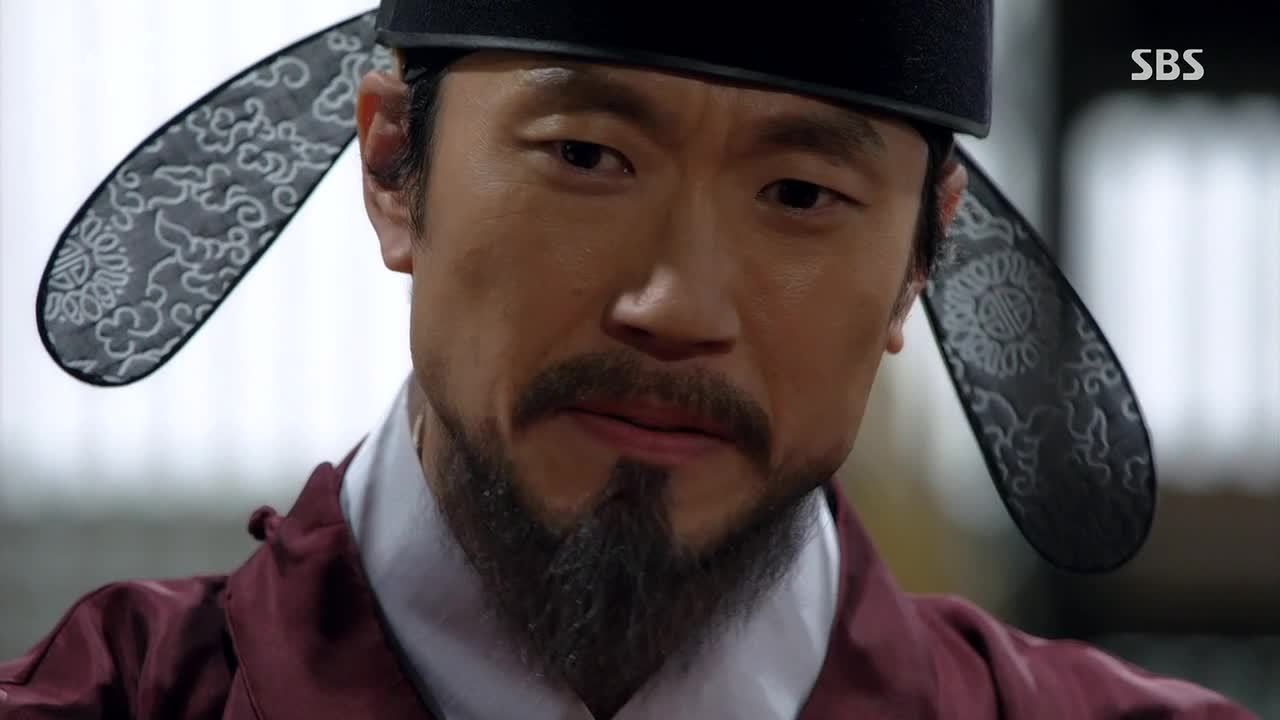 Ha Ryun gets under Jo Joon's skin when he points out that Jung Do-jeon never let him into his confidence, since he was still under the impression that the Liaodong conquest is only a front to abolish private soldiers. When Ha Ryun tells him that the opposite is true, and that Jung Do-jeon clearly didn't trust him enough to tell him, he gets his desired effect.
Anticipating a decision from Bang-won, Ha Ryun orders his personal spy, Lee Sook-beon, to take the appointment the king gave him. But, he's to use it to convert the soldiers to Bang-won's side while he gains military power in another province. What they do with that power will be up to Bang-won, if he can be talked off the ledge he's on.
Bang-won pays an unannounced visit to Jung Do-jeon, and wordlessly places a wrapped package on the table in front of him. Yeon-hee opens it suspiciously, only to reveal packets of herbal medicine inside.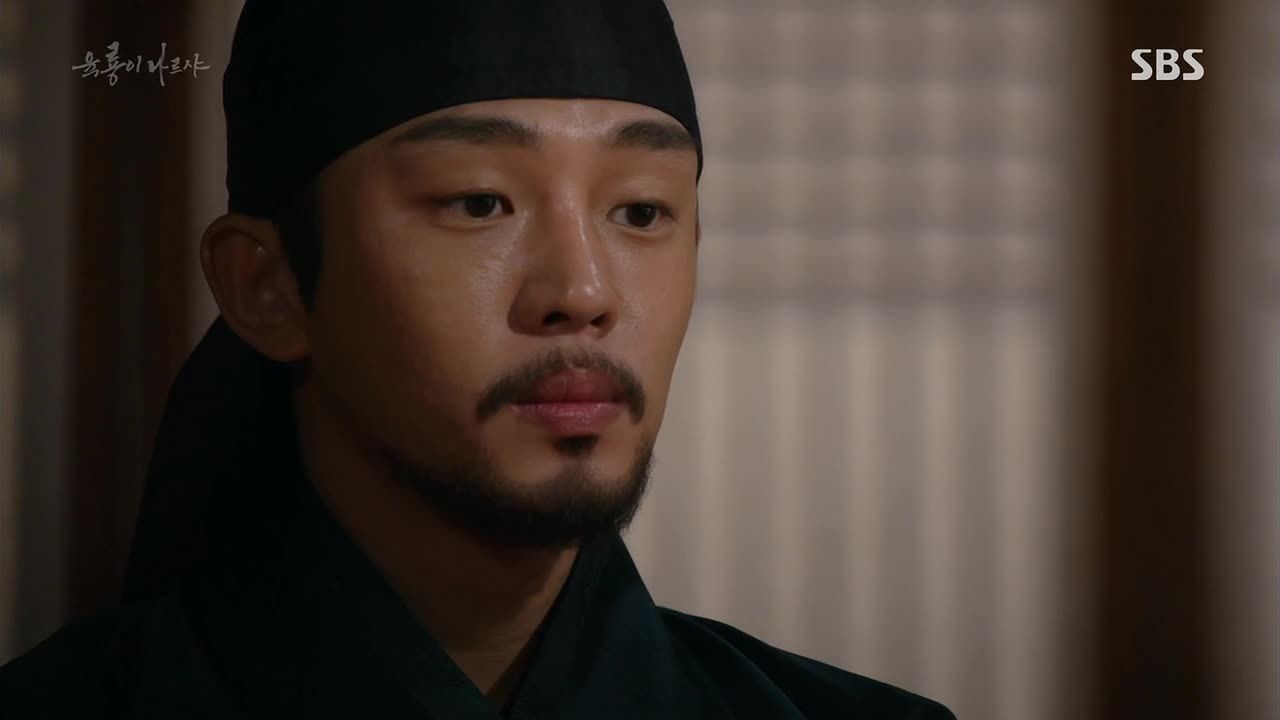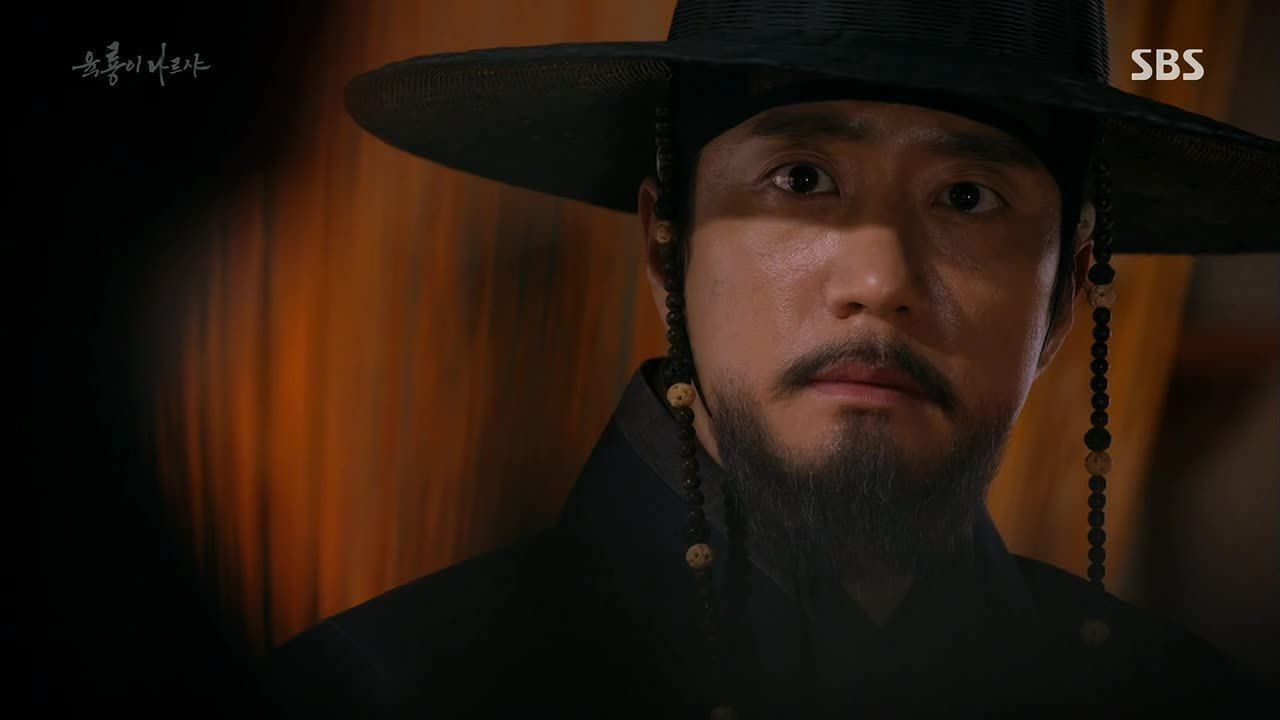 The troubled prince claims it's for Jung Do-jeon's health, catching the older man thoroughly off guard. Again, Moo-hyul is left to just watch Bang-won in silence, since he won't reveal his innermost thoughts to anyone. Even Da-kyung can't understand what her husband is doing.
Jo Joon confronts Jung Do-jeon over his not-so-fake plan to conquer Liaodong, and acts as the voice of reason by reminding him that all his pro-war rhetoric is reminiscent of the kind General Choi used when he ordered the first Liaodong expedition.
He can't understand why Jung Do-jeon would want to go to war when the nation is just barely getting settled, not buying Jung's argument that the Ming Emperor's death will provide them with a rare opportunity. Even if they were to conquer Liaodong, Jo Joon argues, then what? Has Jung even calculated the kind of manpower and resources they'll need to keep defending it?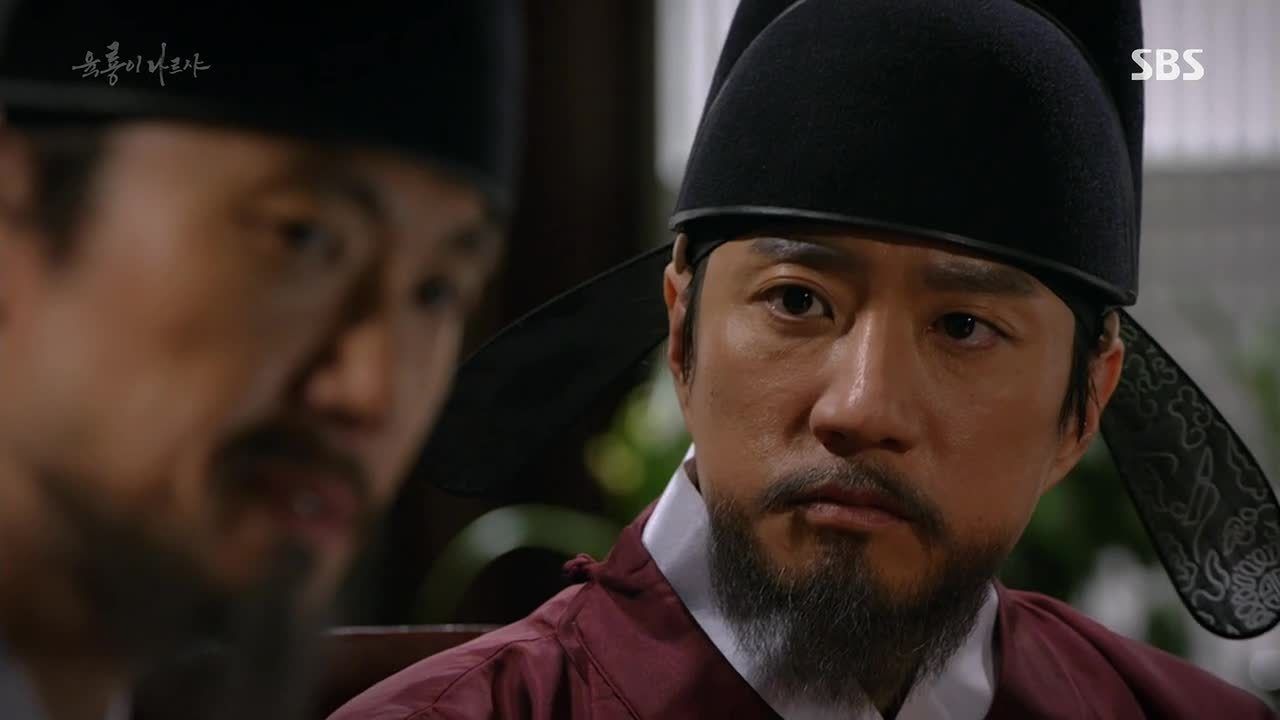 As a matter of fact, Jung Do-jeon has, and gives him all the documents he's compiled. This only serves to make Jo Joon angrier, since such information couldn't have been gathered overnight—which means Jung has been planning this for a while now, all without telling him.
For the second time, the grand military training session is boycotted by everyone with private armies, including the princes themselves. But since King Taejo himself showed up to an empty session in full battle regalia, they're in big trouble.
In the face of the punishment they're sure to face, Bang-gan suggests gathering his own soldiers for a revolt, only to be chastised heavily by Bang-gwa for the thought. Where is their cunning younger brother when they need him?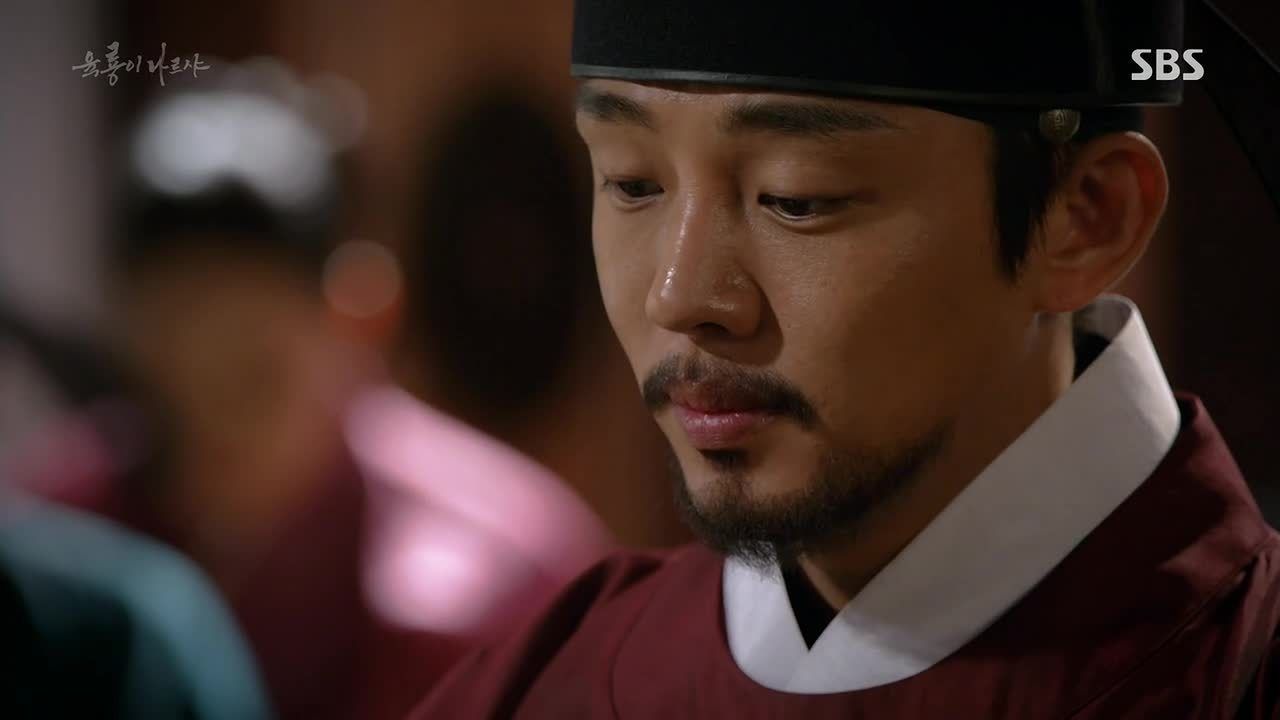 With his youngest brother the crown prince, as it turns out. Bang-won gifts him with an ornate ink stone (all the better to aid him in his lessons with Jung Do-jeon), which Bang-seok accepts graciously.
Bang-won watches a little too keenly as Bang-seok grinds his own ink with it, then uses it to roughly draw the Hanja characters meaning "Good hyung, one heart." As in, they share one heart. Is there poison in that ink stone? Something's gotta be up here.
Young-kyu can't understand Bang-won's recently grand gestures of kindness either, though he knows from what Moo-hyul tells him that Bang-won is planning something, even if he hasn't told anyone. All Young-kyu tells him is to follow Bang-won's decision whenever he makes it/comes back to his senses.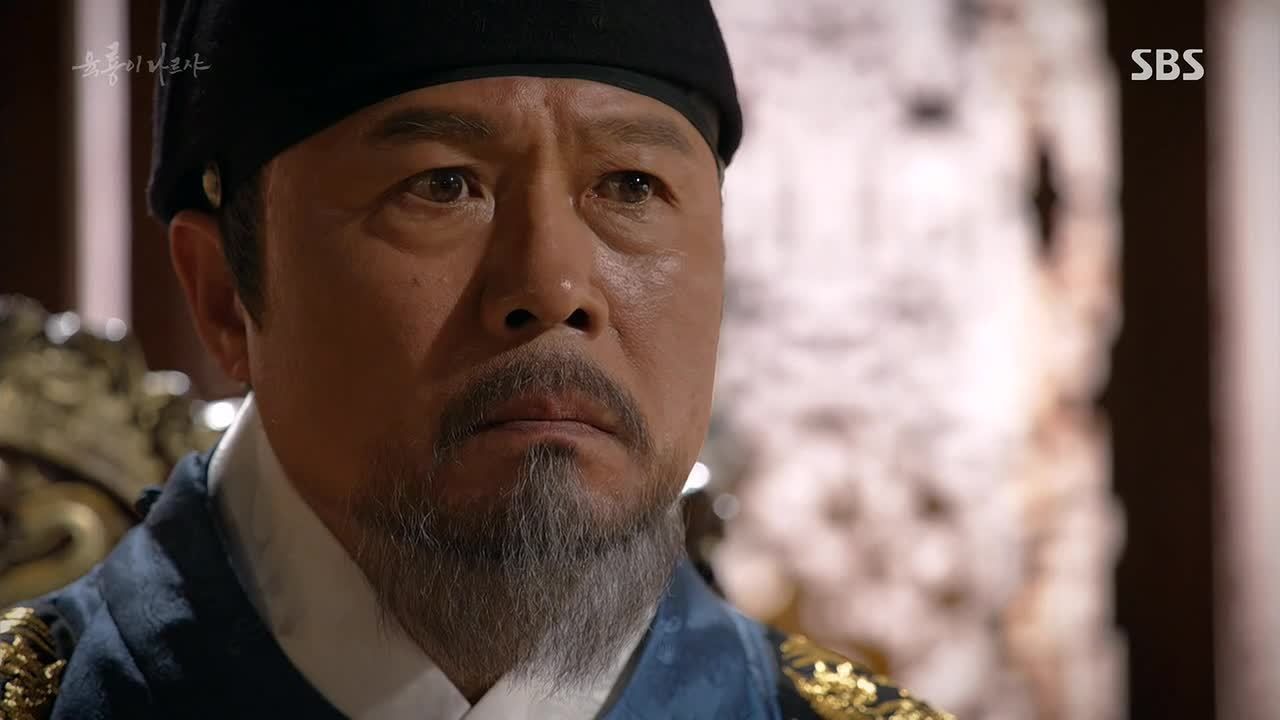 Jo Joon asks for a private audience with the king after he vows to punish the more than two hundred offenders who boycotted the training session, which is reported back to Jung Do-jeon, along with the news that he gave his littlest brother an ink stone. He certainly didn't do it out of the kindness of his heart, so Jung Do-jeon plans to get to the bottom of this.
Jung Do-jeon interrupts Jo Joon's meeting with the king, where he was just protesting the Liaodong expedition as well as the possible exile of the boycotting princes with his own resignation on the line. Acting like he agrees, Jung asks the king to reconsider the princes' punishment as well, earning some serious side-eye from Jo Joon.
When Da-kyung confronts her husband about his recent activities, what with the herbal medicine for Jung Do-jeon and the ink stone for his little brother, she's more upset than anything at first. But then, a smile comes over her face as she realizes that Bang-won must have a plan, and this all must be part of it.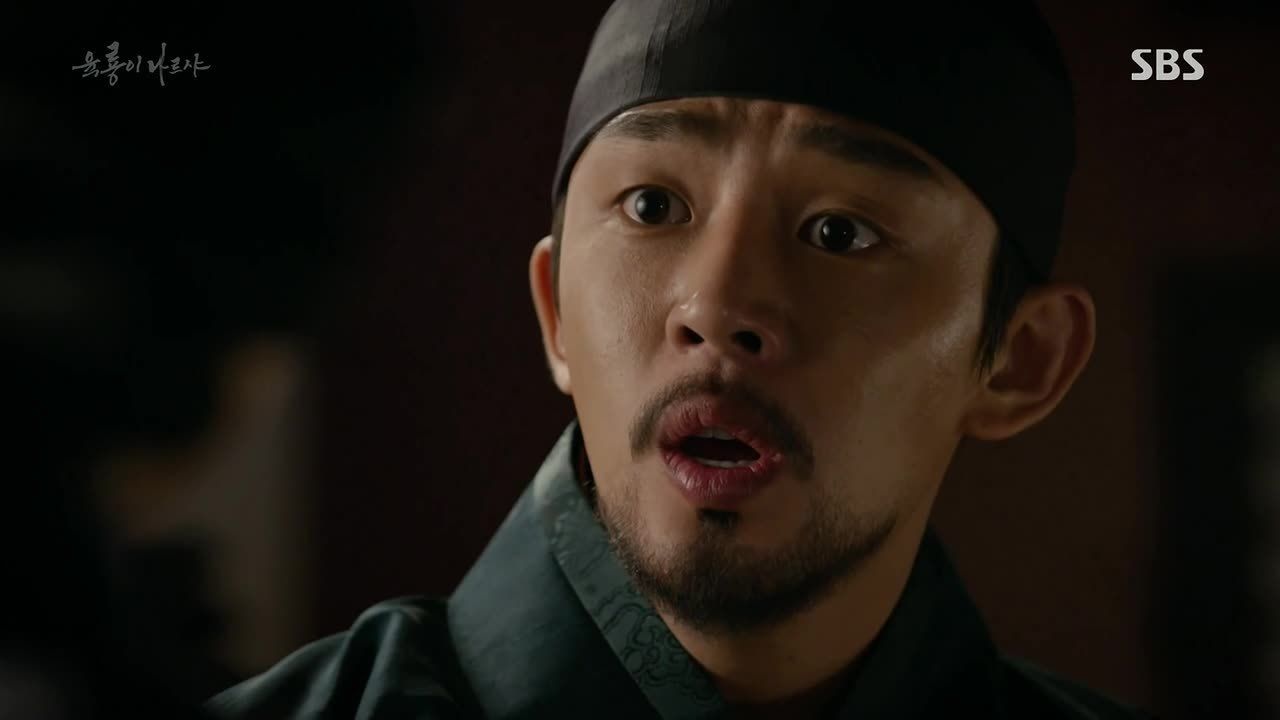 But an increasingly fractured Bang-won turns to her to say that he has no plan, no reason, no greater scheme. Even he doesn't know why he's acting the way he is.
He receives an unexpected royal command from his father, bidding him to show up in battle regalia tomorrow. He's receiving an official pardon, even though neither he or Da-kyung know the reason.
For her part, Da-kyung tasks Young-kyu with squirreling more weapons away in their secret Banchon storage shed, having sensed that there's a greater scheme at work. They can't risk those weapons being found, because then it would all be over for Bang-won and all his closest supporters.
Bang-gwa and Bang-gan arrive at the military training grounds at their father's bidding, as does Bang-won. When news reaches Officer Nam that all the princes have gathered in one place, he mobilizes his troops to move out. Wait… what are they planning?
Young-kyu passes on the weapons storage task to Moo-hyul and Master Hong, with the latter having no idea that they even had a secret weapons shed.
He grows all the more nervous because even the unflappable Moo-hyul is uneasy, and for good reason—Sa-kwang ends up back around the storage shed looking for one of the king's children, who's likely playing inside.
King Taejo faces his sons and their military officials beneath them, and begins by granting them a pardon for not attending the training session. However, in order for them to receive a pardon for disrupting the new military order, they must pledge their undying loyalty to him.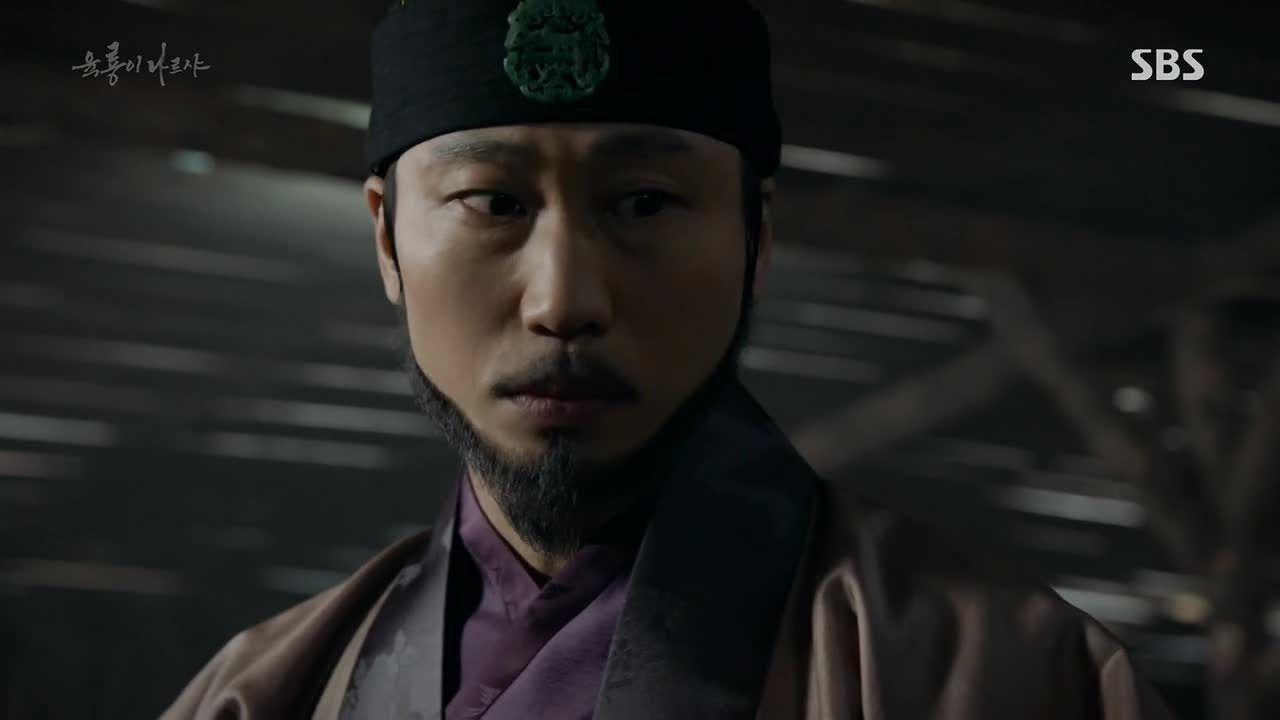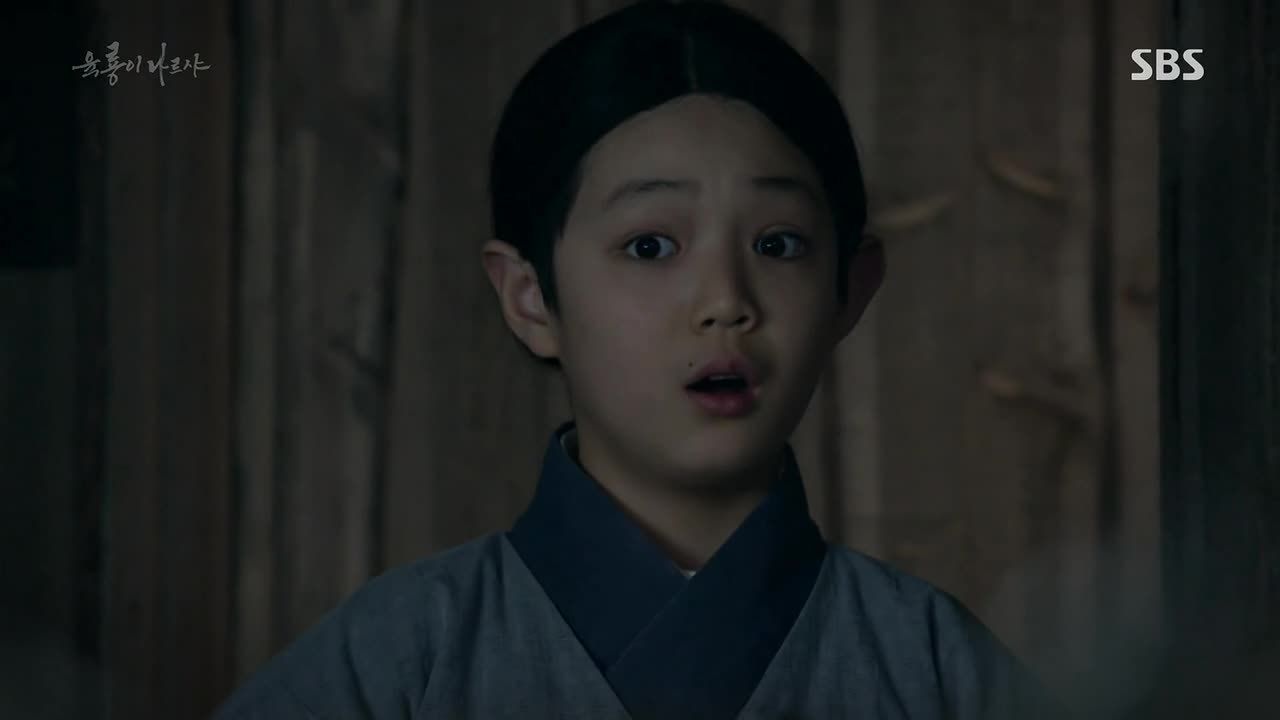 Acting on the king's orders, soldiers storm Bang-won's manor to take all weapons found within. Da-kyung thanks her luck in storing some away, which means that all her hope is now resting on Young-kyu's capable shoulders.
In Banchon, Young-kyu unlocks the secret basement containing their stash of weapons, only for a voice behind him to go, "Wow!" It's Eun-ho, the child Sa-kwang was looking for. Now he's seen everything.
Young-kyu grabs the boy, who struggles in his grasp. Meanwhile, the princes and other formerly private officials are given the option to place their military badges before the king as a symbol of their loyalty pledge. Bang-won adds his to the pile without dissent.
Jung Do-jeon arrives to congratulate all of them on their pardon and their pledge of loyalty and declares with finality that all private soldiers are abolished from this day forward. As for the badges, King Taejo abolishes them as well, thus taking away private military command from those who had it before.
Instead, he brandishes a tiger made of copper, declaring that it will be the new symbol of military power. And only those who have the tiger will be allowed to exert any command over the military, so that there will be no more unregulated forces other than the ones the king grants permission to.
Young-kyu is faced with a terrible decision when it comes to the child Eun-ho, since Da-kyung charged him with keeping the weapons storage a secret at any cost. He readies to kill the unfortunate child, but can't bring himself to do it. All he can do is ask the child never to reveal what he saw—…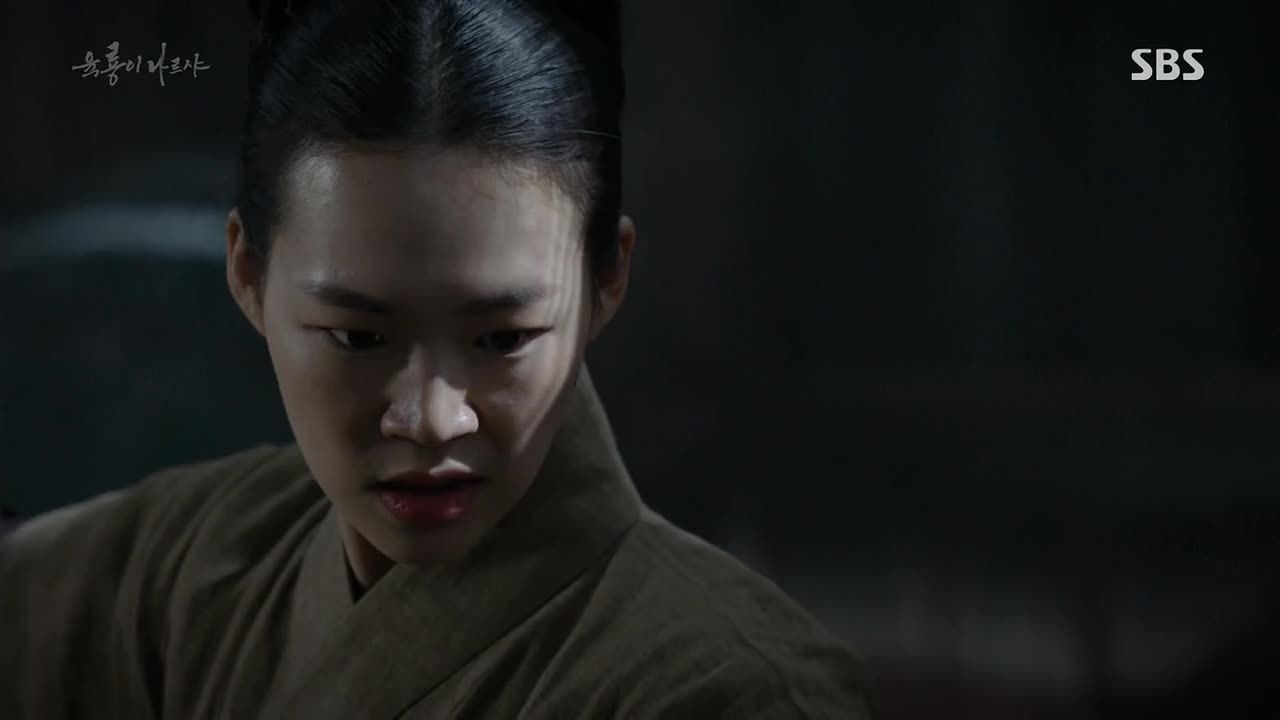 …Which is when Sa-kwang comes upon the scene. She's swift to grab one of the many swords laying about and attacks Young-kyu, but when she dodges one of his blows, he accidentally ends up slashing Eun-ho across his torso.
Her response is quick and merciless, as she draws her sword against Young-kyu in a spray of blood. She runs off with the child on her back as Moo-hyul runs toward the shed, finding Young-kyu in his final death throes.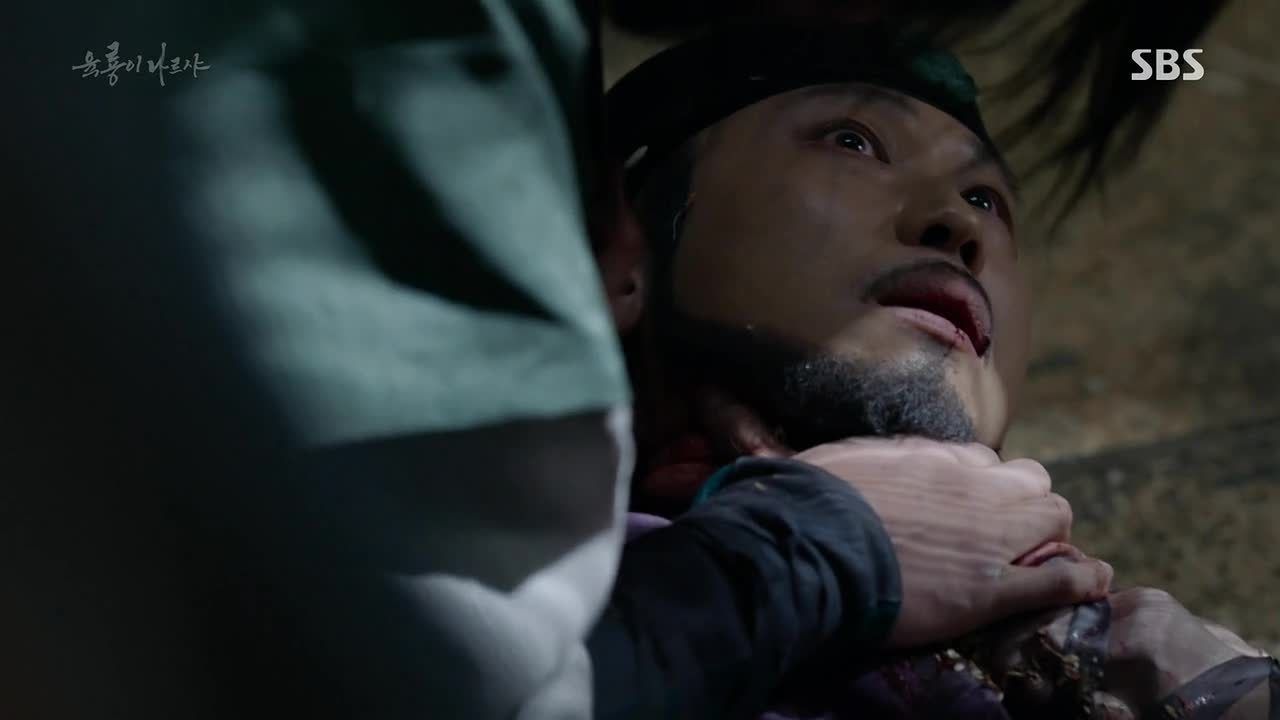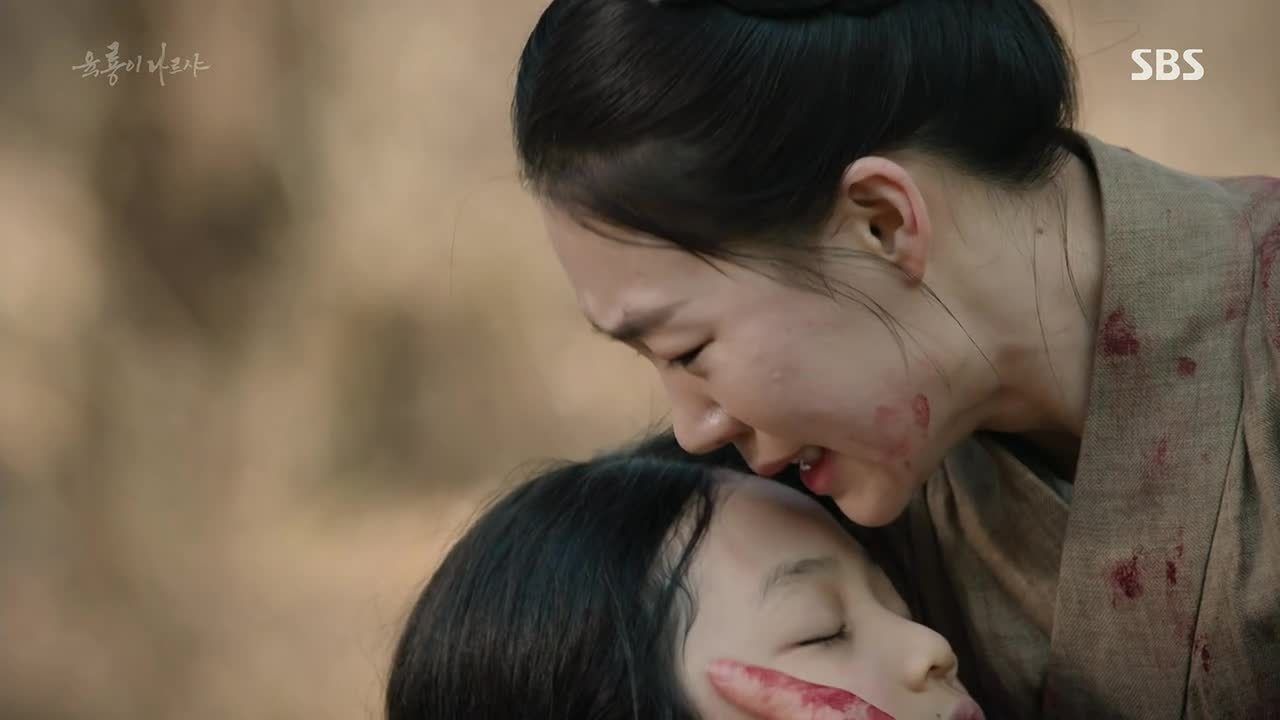 With his last breath, he warns Moo-hyul that they've been exposed, and dies choking on his own blood. As Moo-hyul holds his friend's body and screams with grief, Sa-kwang does the same with young Eun-ho, who has also died of his wounds.
Bang-won only makes Jung Do-jeon more suspicious of him when the only commentary he has on the whole military reform affair is: "You are truly incredible." Jung Do-jeon wants Bang-won put under watch, as well as any military officers close to him.
On his way home, Bang-won encounters Moo-hyul standing stock still in the street, covered with blood and shaking. He stutters to get the words he needs out, and can only say Young-kyu's name before Bang-won goes running off.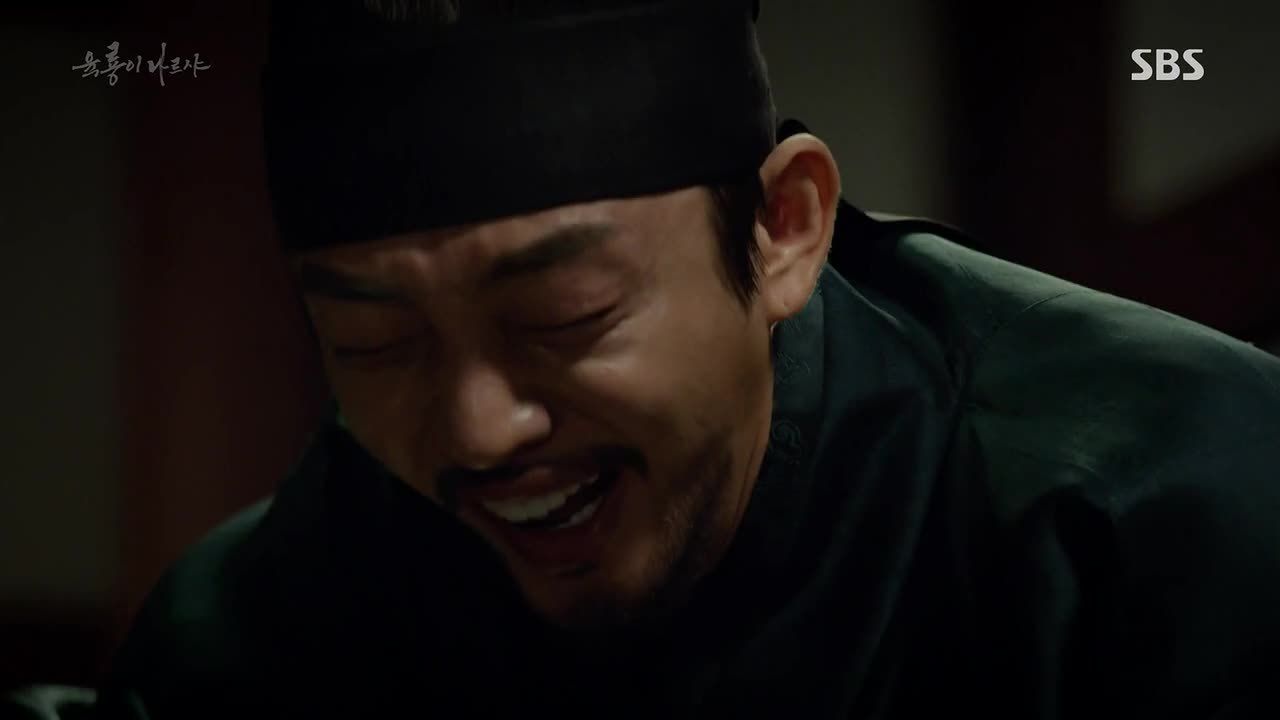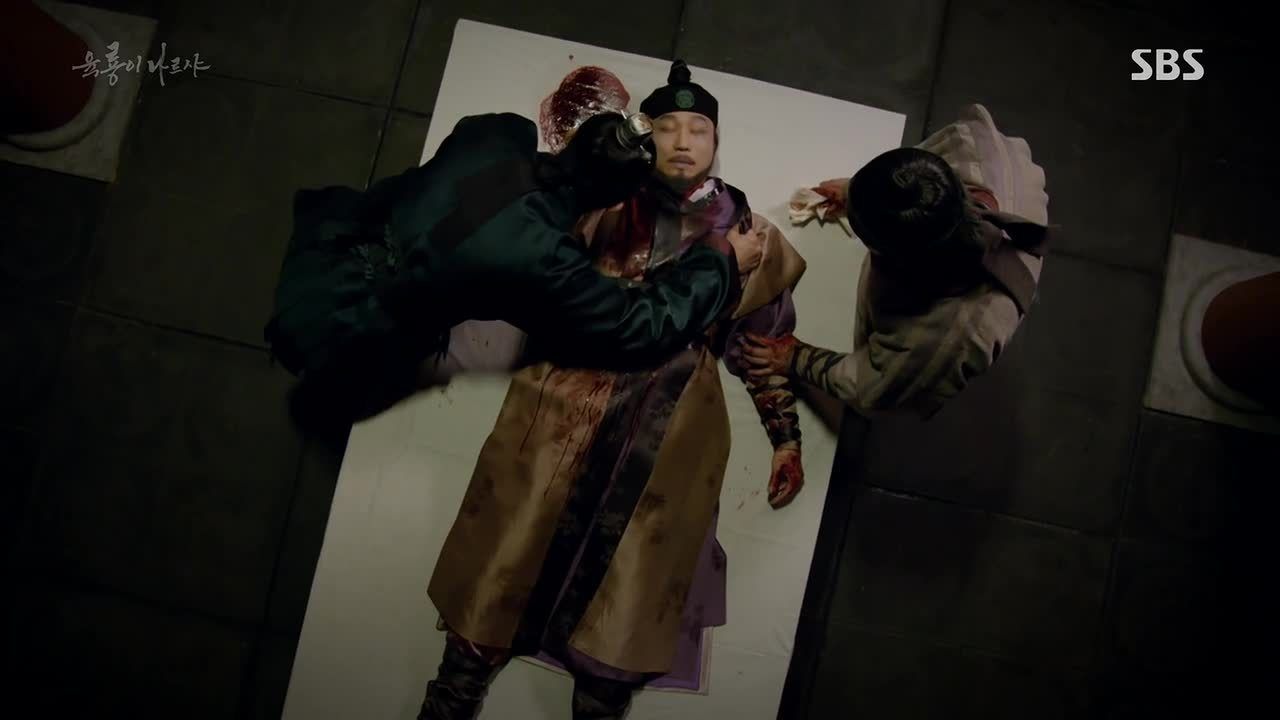 His eyes fill with tears as he finds his old hyung, bodyguard, and biggest supporter laid out on a table. His blood has soaked through the white linen he's resting on, and Bang-won grabs onto his clothes like he's holding on for dear life. His heart-wrenching cries of grief are terrible to behold.
Later, his face still stained from burying his face in Young-kyu's bloody robes, Bang-won asks who was responsible. He stops Moo-hyul before he can guess, since it's not like he could exact revenge on that person even if he knew. This actually reminds him of a moment from his past, the same that Young-kyu recalled to Moo-hyul:
"When I was twelve years old, something happened. There were three Lee brothers at Sungkyunkwawn… they were such mean jerks. But I wanted to see them for some reason. Since it was also awkward between us back then… I brought gifts for them and went to see them, saying that I had something to ask them. I didn't know why I was acting that way back then, either. Not too long afterwards, all three of them…"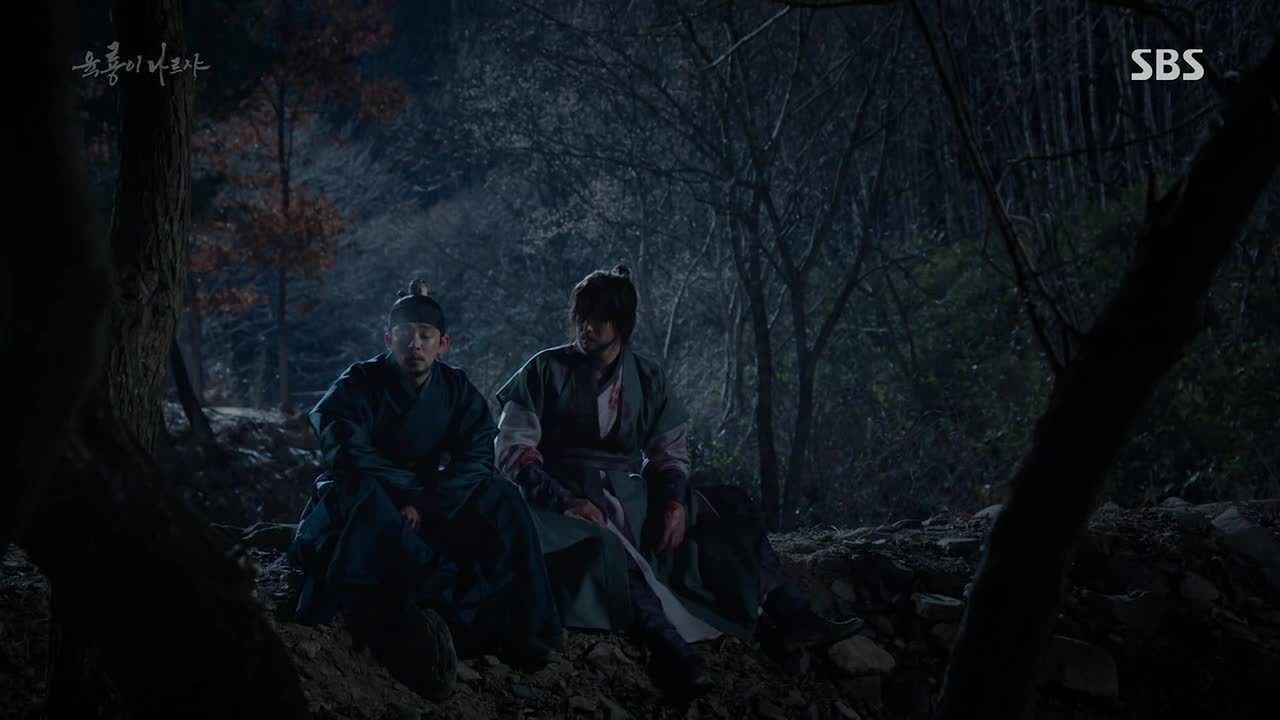 "Could he have killed them?" Moo-hyul wonders, and Bang-won's answer comes in voiceover as well: "I killed them all." Then, aloud, "Why I did that back then was because…" Moo-hyul: "To find out?" He's thinking of how Young-kyu described this all to him earlier, though in a much vaguer way.
"I wanted to see if I could do it. I wanted to look at their faces and find out. Moo-hyul-ah," he adds, grabbing the warrior's attention. "Bang-seok-ie, Jung Do-jeon… I have to kill them."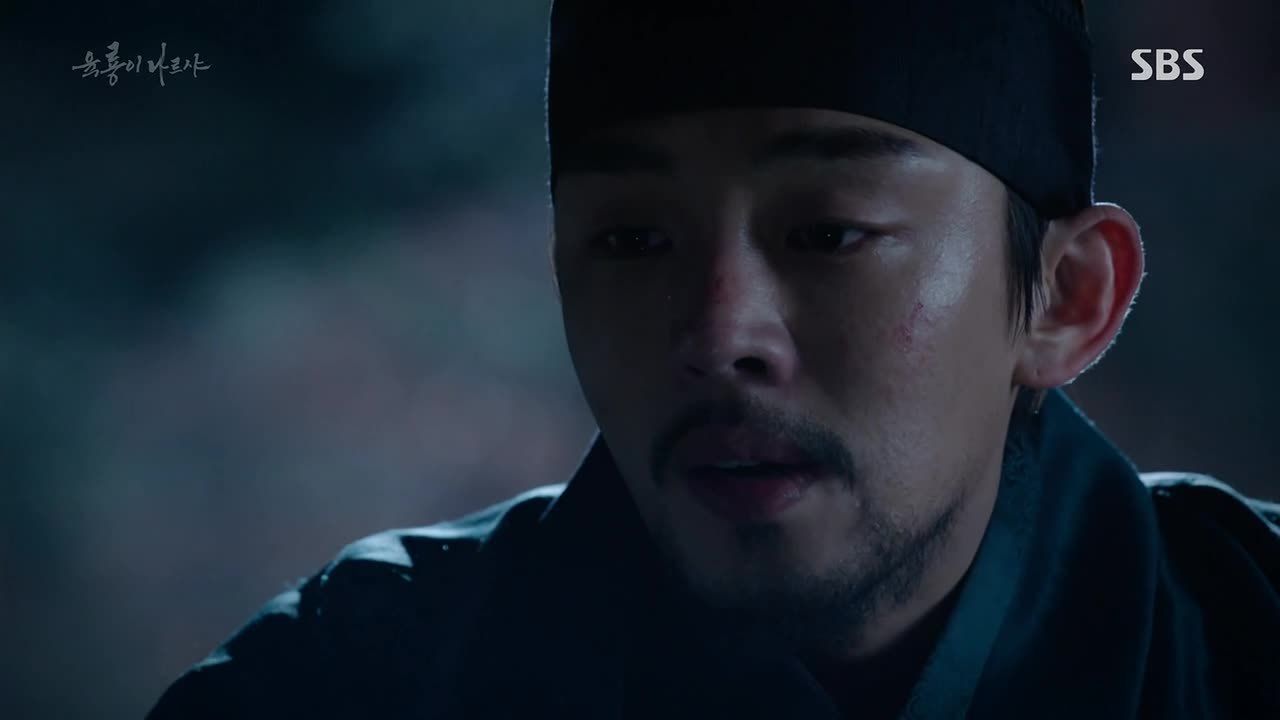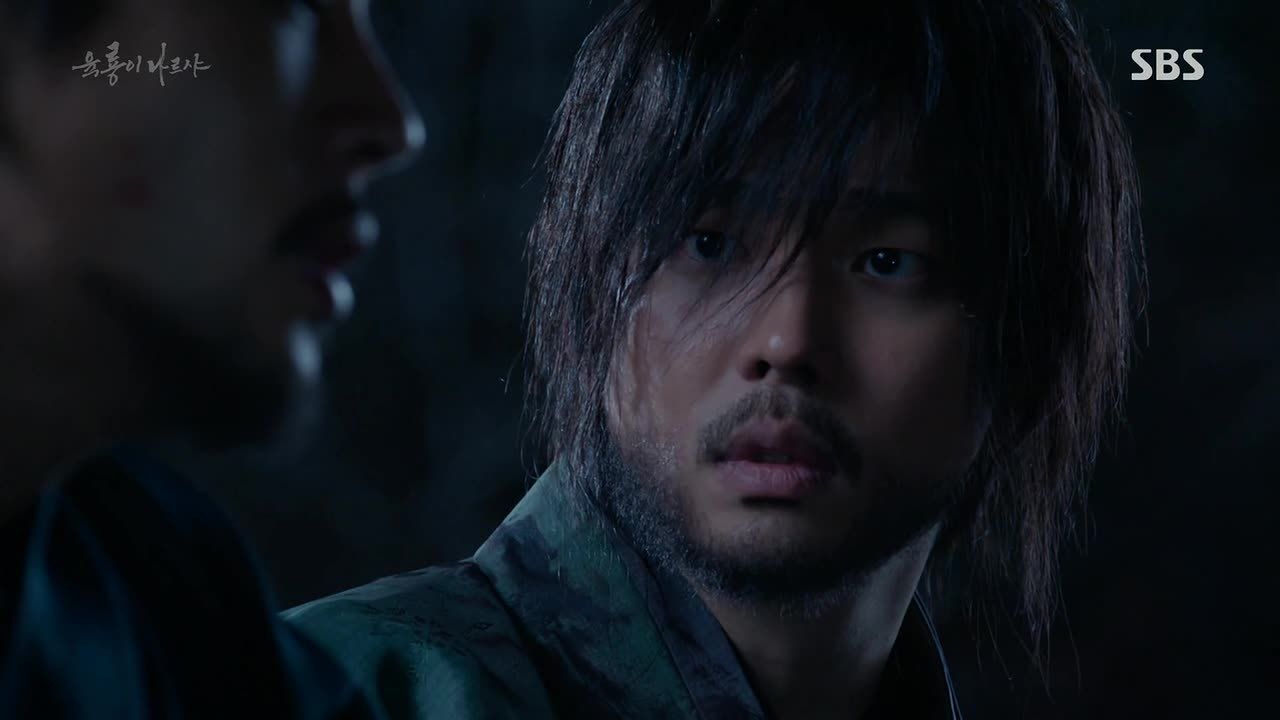 COMMENTS
Shame on me for doubting this show. Here I was, all ready to file a complaint against Bang-won's sudden madness and inscrutability this episode, only for us to come to this final scene and realize that all his waffling and indecision had a purpose. A very real and terrible purpose.
I found myself confused when Young-kyu was describing Bang-won's past pattern of behavior to Moo-hyul, since the circumstances surrounding the Lee brothers' death had, until this very moment, been kept a secret from us. It always seemed obvious that Bang-won had done the killing, but now I can see the long-term goal they had in mind when they introduced that plot twist. If he'd admitted to the murders earlier, or the method he employed leading up to them, then this last moment with Moo-hyul wouldn't have packed nearly as much of a punch.
Besides, then we would've seen Bang-won's actions for what they were, instead of viewing them through the same bewildered lens everyone else (except for Young-kyu, of course) employed. Even I admit to feeling frustrated when Bang-won told Da-kyung that he didn't have a plan, since she mirrored the audience in that moment—Bang-won has always pulled through with a plan before, so we had to assume that all his actions had a purpose. Why wouldn't we/she believe as much given his track record?
So the moment when he admitted he couldn't even understand himself was crushing in more ways than one, since it effectively turned our world upside down with his. It's genius in that it let us feel as desolate as him, because if he couldn't think his way out of this, then who could? And the fact that he wasn't being purposefully opaque, or committing the cardinal sin of keeping secrets from the audience—he didn't understand what he was doing until he said it aloud, so our moment of discovery coincided with his.
It's more frightening, then, that somewhere in the dark recesses of Bang-won's mind is this almost psychopathic tendency to get closer to those he plans to kill, even before he knows he's going to kill them. Some part of him knew exactly what it was doing when he gave those gifts, but it's a part he didn't truly come to understand until now. And even then, maybe it's a part he can't even fully control. Or if he can, it's one he'd rather not acknowledge.
And all that self-realization on Bang-won's part is what makes Young-kyu's death even more tragic, since he knew Bang-won the best and understood him the most. He was absolutely unwavering in his loyalty through every questionable decision Bang-won's ever made, and bloodied his hands and conscience countless times in service to him. Which all made watching his prolonged, horrible death scene and Bang-won and Moo-hyul's reactions to it absolutely heartbreaking. Rest in peace, Young-kyu. You will be missed.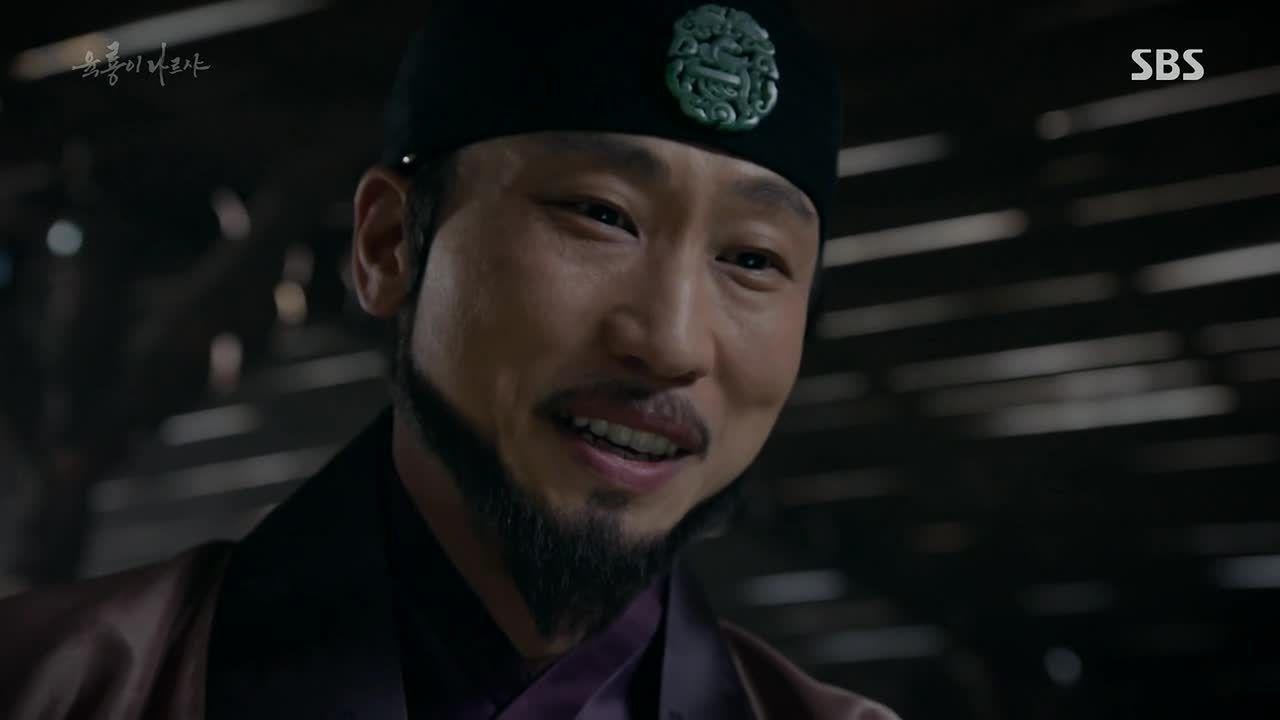 RELATED POSTS
Tags: Byun Yo-han, featured, Kim Myung-min, Shin Se-kyung, Six Flying Dragons, Yoo Ah-in