Six Flying Dragons: Episode 47
It's time to buckle your seat belts and gird your loins for an hour that takes no prisoners, and one that does so with aplomb. This kind of episode is the reason we watch and love sageuk, and for this show especially, it's the kind of episode we've been tuning in week after week for. Powerful, stirring, brilliant—you name it, Six Flying Dragons is it. If the last three episodes carry this kind of momentum forward, then we'll all be emotional messes by this time next week. And we wouldn't have it any other way.
SONG OF THE DAY
TVXQ – "Catch Me" [ Download ]
Audio clip: Adobe Flash Player (version 9 or above) is required to play this audio clip. Download the latest version here. You also need to have JavaScript enabled in your browser.

EPISODE 47 RECAP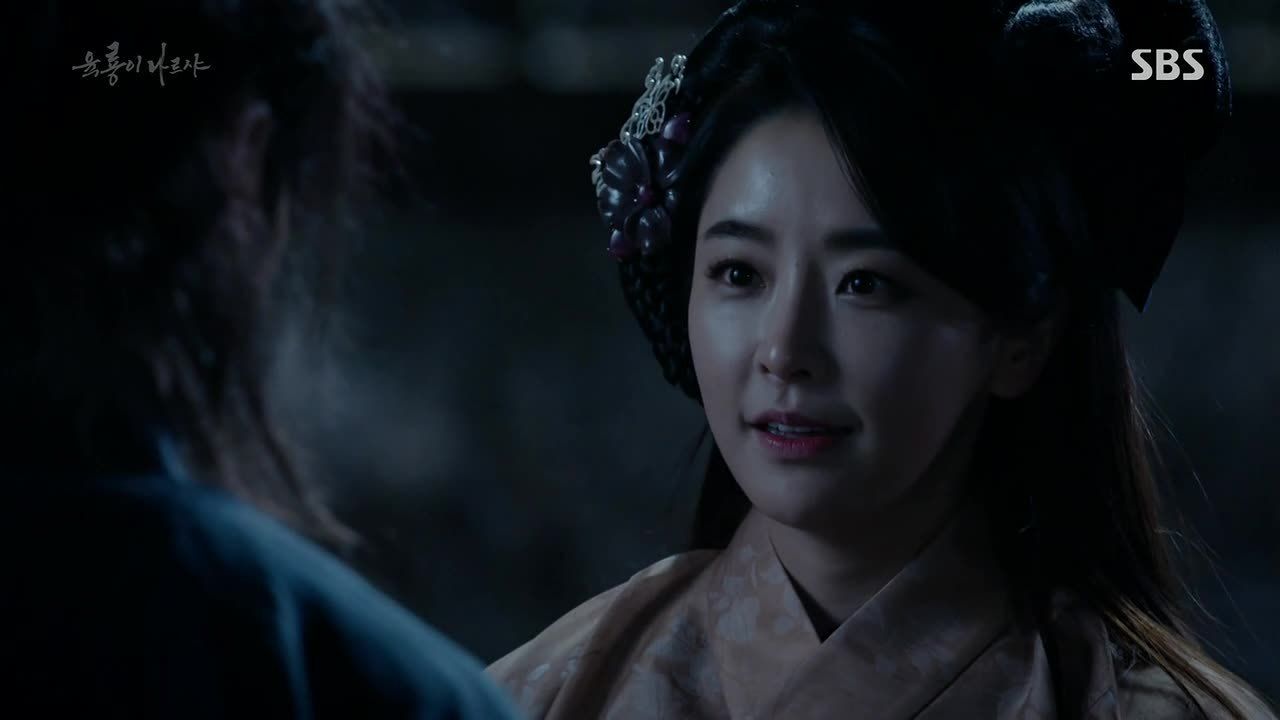 While Bang-won charges Jukryong and his men to take care of Bang-ji, Jung Do-jeon receives news that King Taejo is still not well enough to join them on their expedition. Instead of delaying the date again, Jung Do-jeon is to lead the armies to Pyeongyang, and the king will join them when he's feeling better.
Bang-ji, meanwhile, gets an ominous feeling about Yeon-hee and sets out to find her. She's still on her way home, a bright smile on her face as she holds the amulet Bang-ji gave her—the same one that Grandma originally gave to him.
She ends up heading back the way she came, and meets Bang-ji halfway on the road. She runs up to him and throws her arms around him, before removing the amulet from around her neck to place it around his. He'll need it more than she will.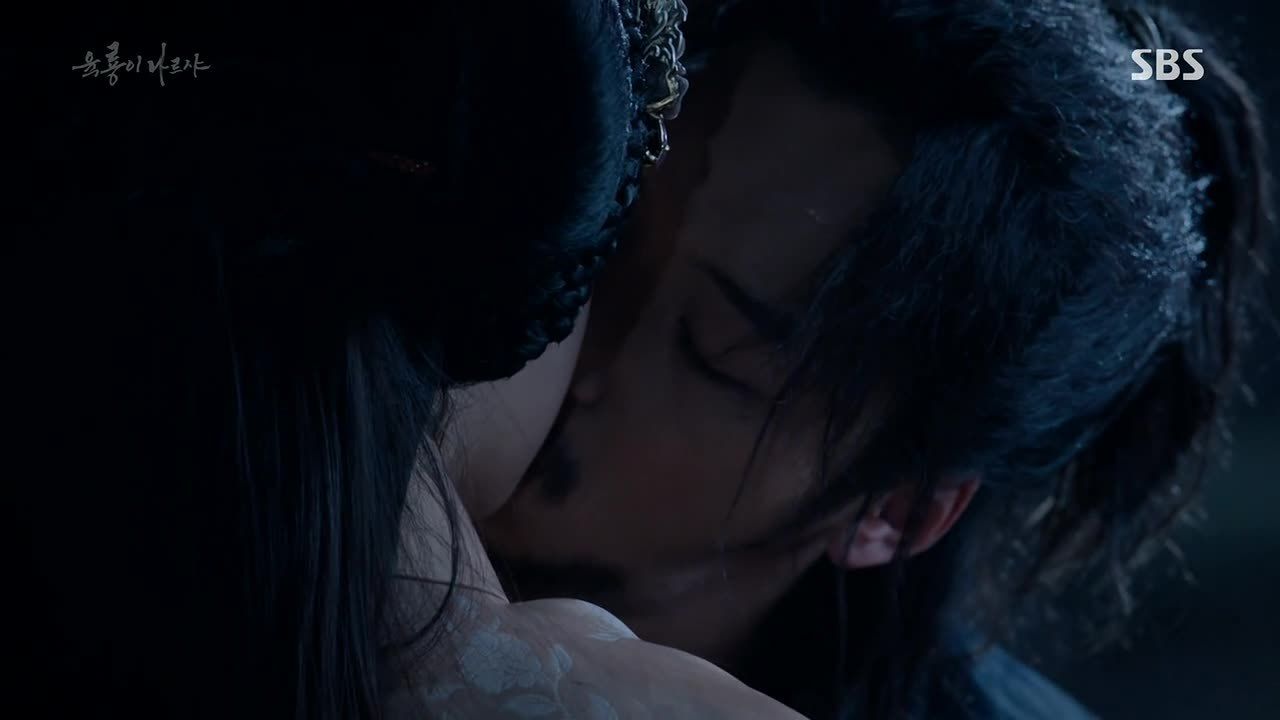 "Make sure to come back alive," she cautions him. Bang-ji takes a step forward in answer, then leans in for a kiss. It leaves Yeon-hee slightly shaken, but she takes heart in his promise to come back alive. Nothing else needs to be said.
Boon-yi goes down into the weapons storage shed to find it empty, which means that Bang-won has already put his plan into motion. She finds Grandma there too, who immediately takes Boon-yi by the hand and pleads forgiveness for both her and Moo-hyul.
But of a more pressing concern is Bang-won's plan, which Grandma says is supposed to take place this very night. Both Gab-boon and Boon-yi's scribe overhear this, and both go to save their masters—Bang-ji and Jung Do-jeon, respectively.
In tears, Grandma swears that Bang-ji is supposed to stay safe tonight, that Moo-hyul promised her he would be. Bang-won has no quarrel with Bang-ji, only Jung Do-jeon.
Without a clock or the aid of the sun, Bang-won has six incense sticks to mark the passage of time instead, with the plan being that Bang-ji must be lured away from Jung Do-jeon before the last of them can burn out.
On their way to their task, Jukryong and his monks encounter Yeon-hee and her guard, the leader of the Hwasadan warriors. She tells Yeon-hee to run while she takes care of Jukryong, though Yeon-hee won't leave her behind.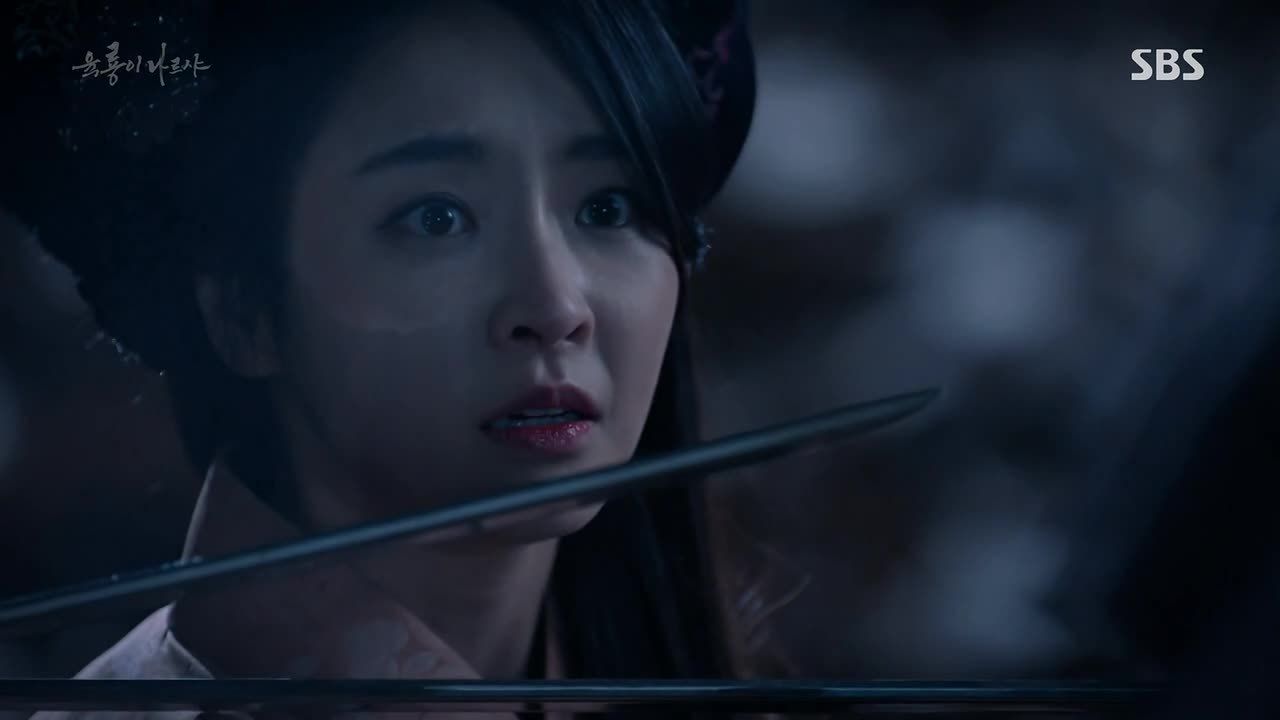 She even manages to stay one of the monks by using her hairpin as a weapon, but the Amazonian proves to be no match for Jukryong, who makes short work of her. As Bang-ji heads toward the sound of clashing swords, Yeon-hee finds herself face to face with Jukryong—and two very sharp swords.
Jukryong is waiting for Bang-ji when he arrives, and tells him where he can find Yeon-hee. Ah, so this was their plan to lure Bang-ji away all along.
Ha Ryun joins Bang-won as he waits for that final incense stick to burn out, and presents him with what sounds like a fictional account of the events to come now, but it's what will become true historical record in the future.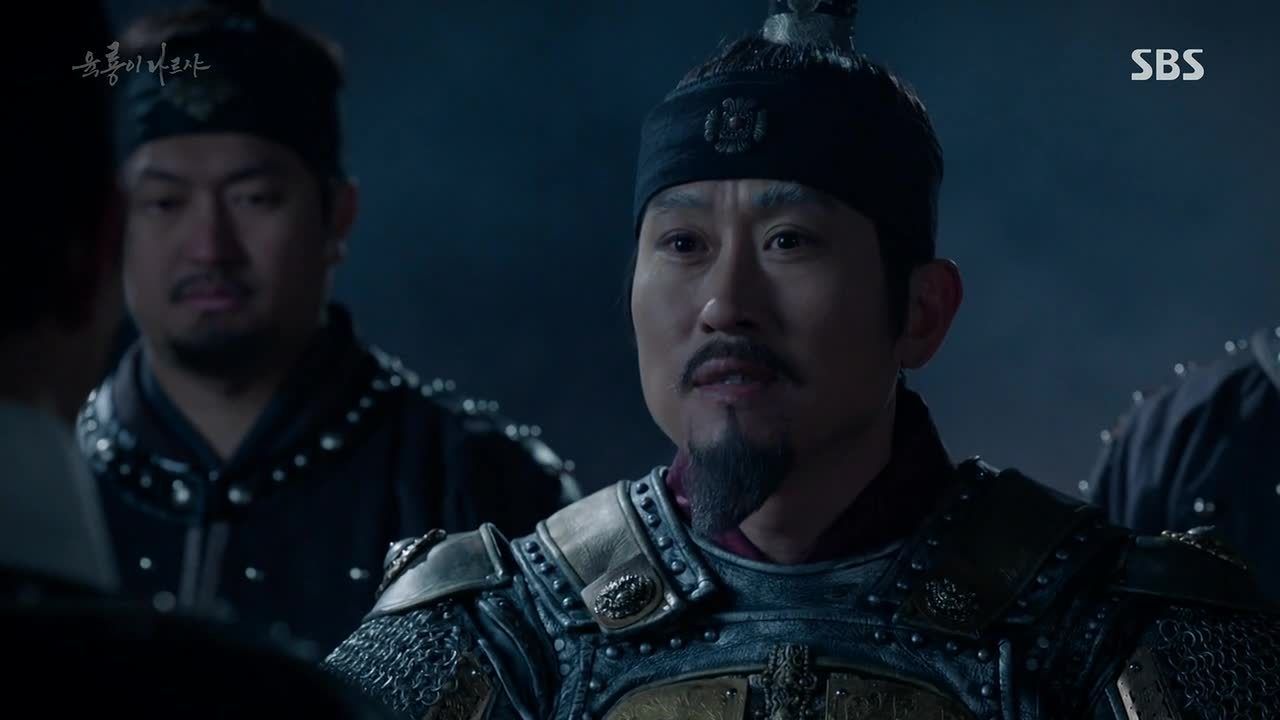 In it, the account tells of how Jung Do-jeon plotted treason against the royal family, and how Bang-won raised a righteous army to stop him. Then it tells of how Jung Do-jeon will die, only after running from his fate, kneeling before Bang-won to beg, and eventually being beheaded by Bang-won himself.
Bang-won likes this story, and sets out to make the events detailed within come true as soon as Jukryong delivers word that Bang-ji has gone. He and his two older brothers, Bang-gan and Bang-gwa, begin marching with their armies toward Officer Nam's vacation home to find Jung Do-jeon.
But Gab-boon gets there before they can to look for Bang-ji, and in the process, warns Jung Do-jeon about the army Bang-won has raised. Bang-won's forces are at the gates before the guards can prepare, with both brothers calling upon their favored soldiers to lead the charge.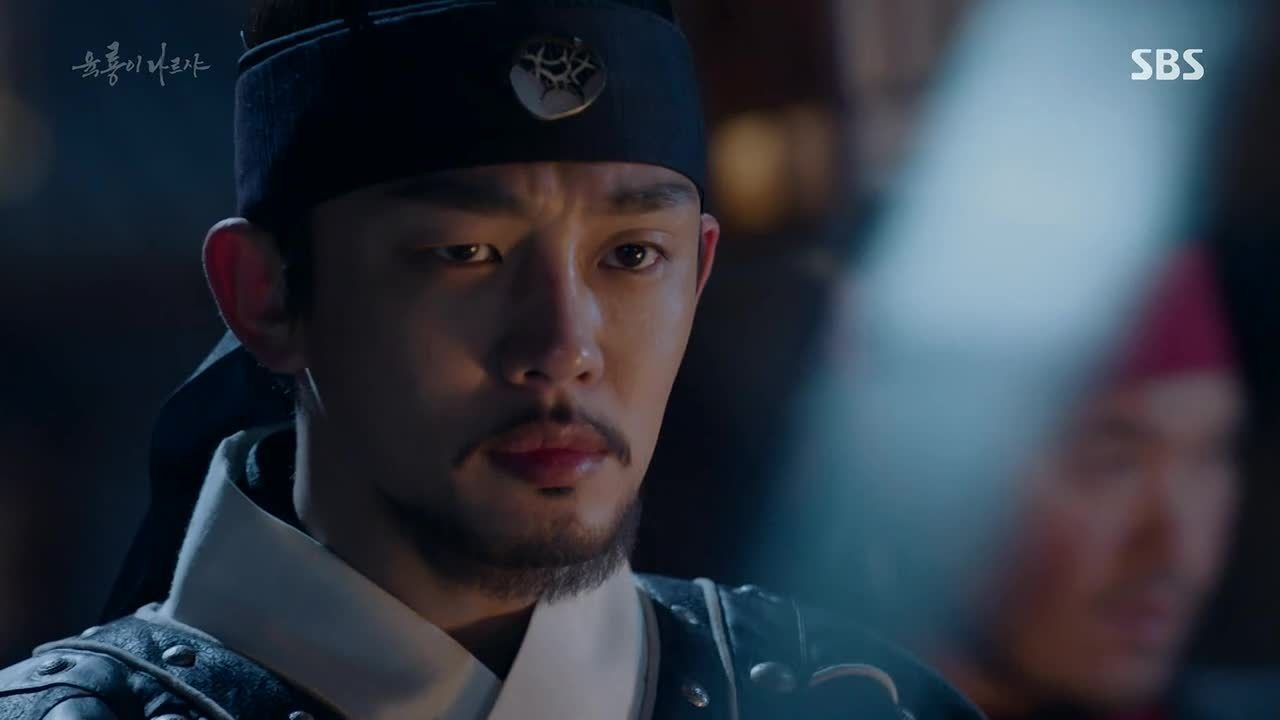 Moo-hyul gets to roar his signature "Warrior Moo-hyul!" line as he advances ahead of the army, sword at the ready. The guards in the courtyard are swiftly dealt with, which leaves Jung Do-jeon and Officer Nam little time to escape before Bang-won reaches them.
Bang-ji catches up to the party holding Yeon-hee hostage, led by none other than Scholar Jo Mal-saeng. Yeon-hee doesn't care about her own life, and tells Bang-ji that this is all a scheme to lure him away from Jung Do-jeon—regardless of what happens to her, she wants him to go and save him.
In Officer Nam's courtyard, Bang-won looks at the carnage unfolding dispassionately, while elder brother Bang-gan gets more hands-on with guard disposal.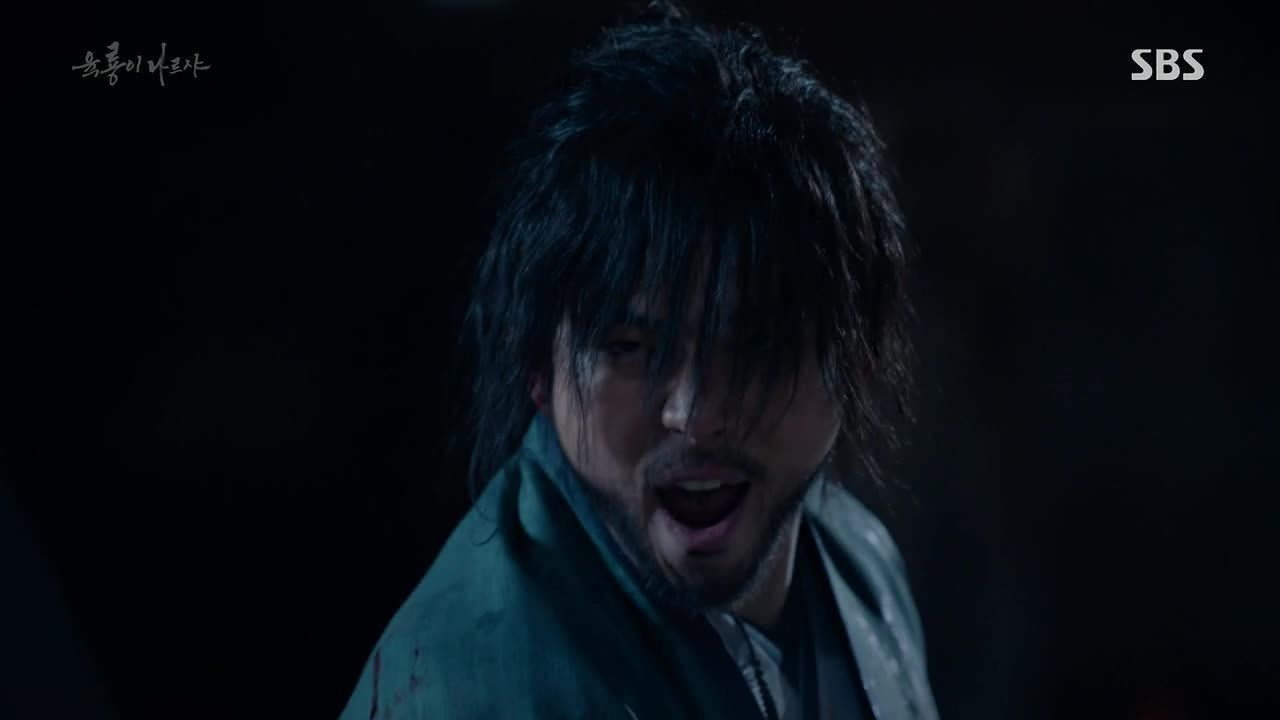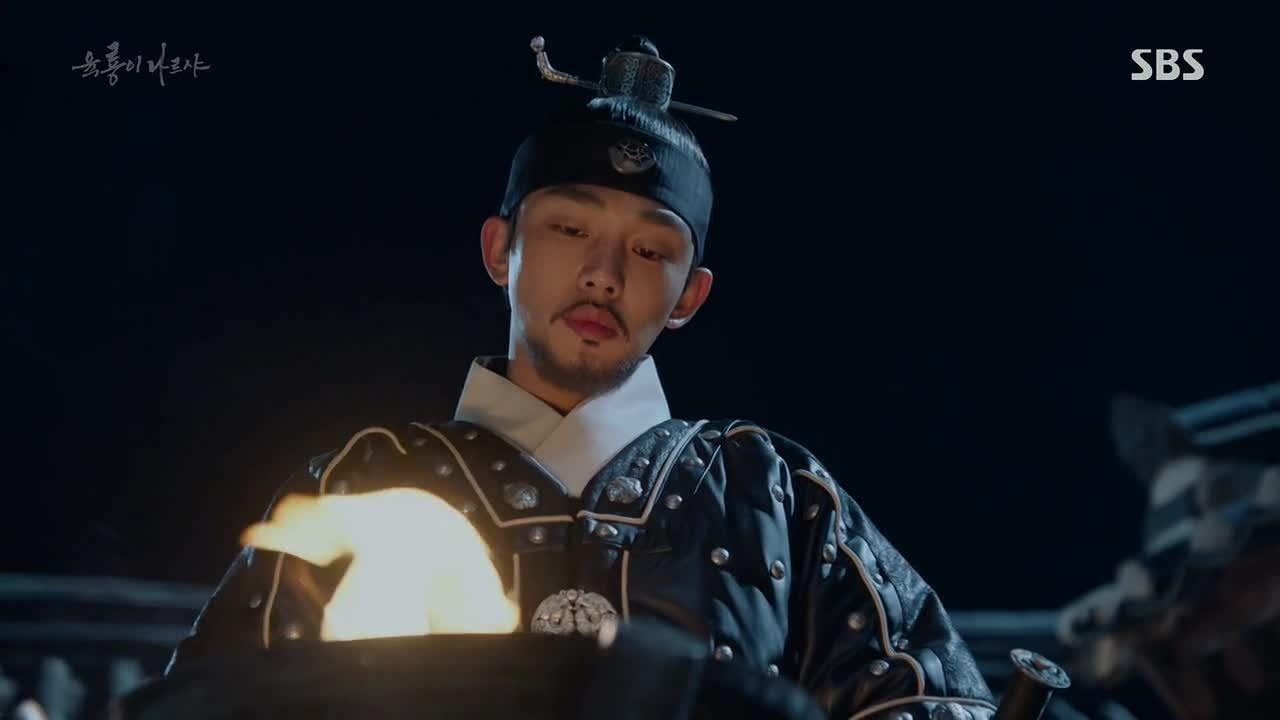 Moo-hyul makes a significant kill in Shim Hyo-saeng (Bang-seok's father-in-law), and it's eerie when he yells out the name of the fallen. It's so that Bang-won, who has individual slips of paper written with the names of those he wants dead, can hear and burn Shim Hyo-saeng's slip. One down.
As more names pour in, Bang-won burns their papers accordingly. It's a bloodbath of epic proportions, and Bang-won even takes to smiling as he burns more and more names. He only has two left now: Jung Do-jeon and Officer Nam.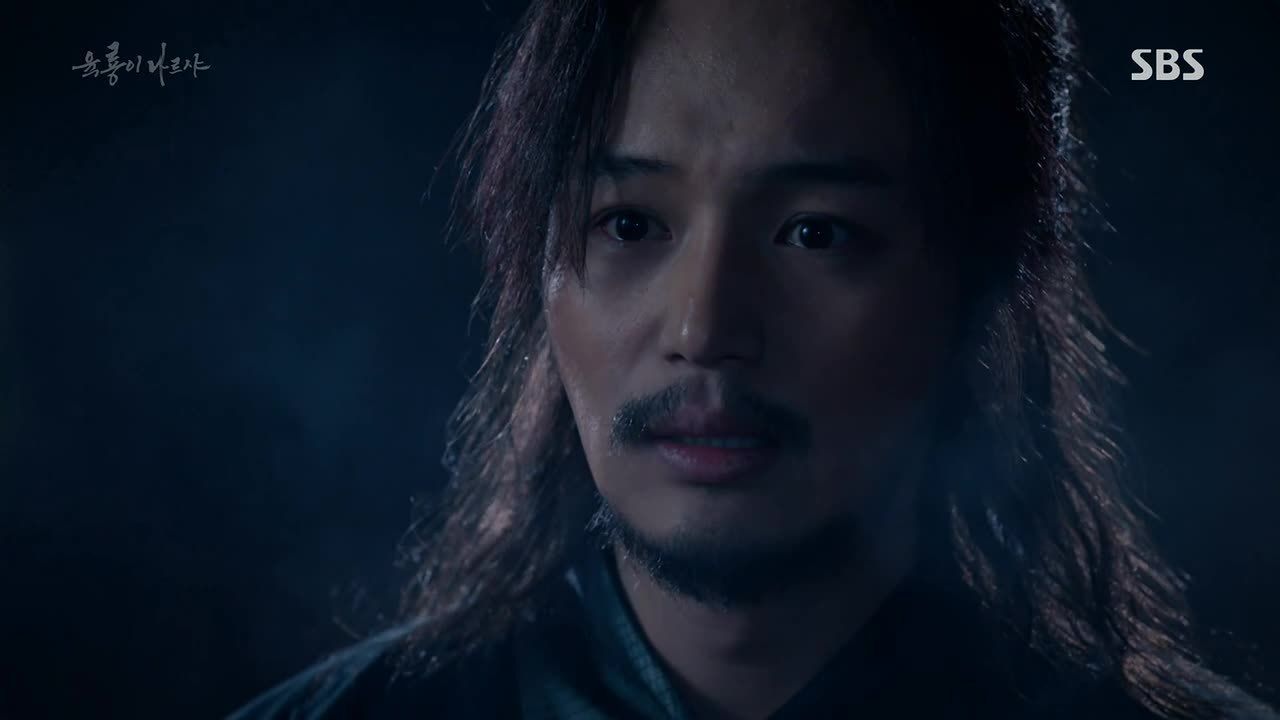 Bang-ji is faced with a terrible choiceeither leave her to her fate and save Jung Do-jeon, or leave Jung Do-jeon to save her. A great warrior he may be, but he won't be fast enough to save Yeon-hee should he try, and Jo Mal-saeng knows it.
So does Bang-ji, who drops his sword immediately. He can't leave her, even though that knowledge brings Yeon-hee to tears. But then, in the ensuing silence, she seems to come to a decision.
Her expression stills, and she looks Bang-ji in the eyes as her own lips soften into a smile. She says his name—his real name—as a single tear snakes down her cheek. Then, she leans into the blade being held at her, and slits her own throat.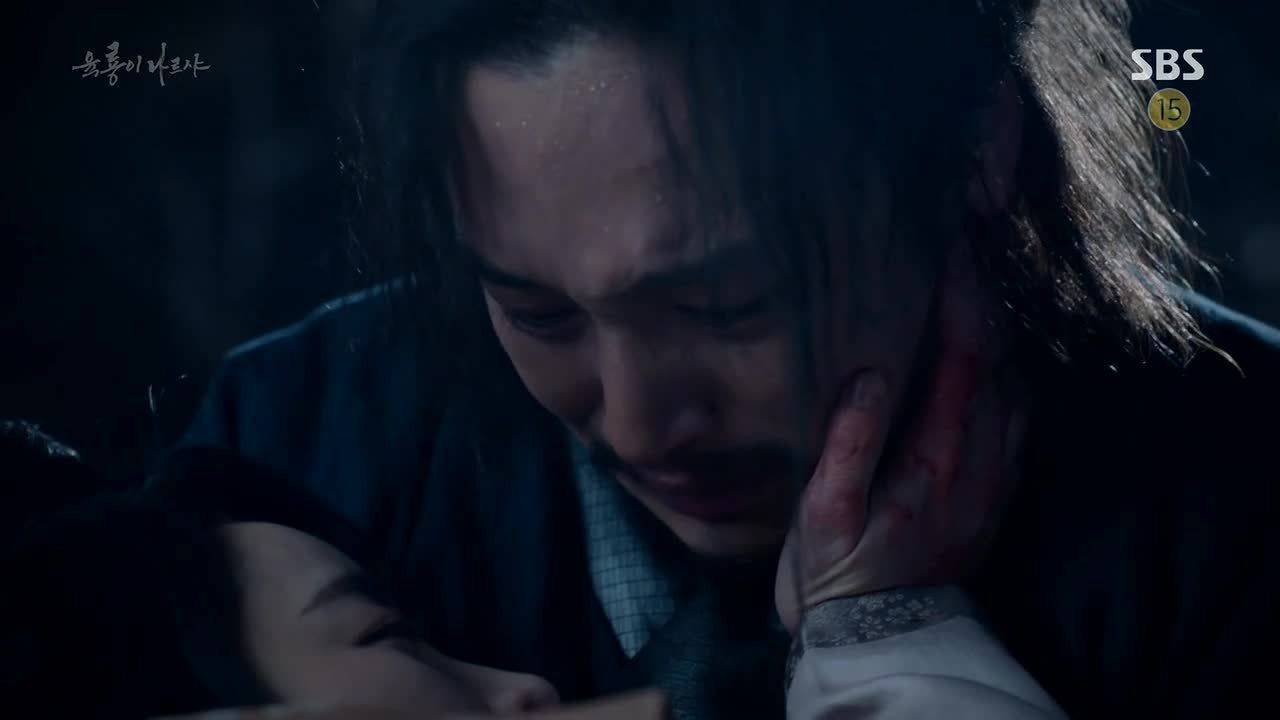 All this happens before Bang-ji can even react. The second the soldiers lose their bargaining chip in Yeon-hee, they scatter, leaving a wide-eyed Bang-ji to stumble over to Yeon-hee's prone form.
She's still alive, but barely, and his hands can't hold in all the blood pouring from her mortal wound. "It's not your fault," she whispers, the same way she'd once told him when they were children. "Remember… this is not your fault…"
In her last moments, she makes sure to add that Bang-ji shouldn't think of this as being due to his inability to protect her. He can protect her dream instead, so with her final breaths, she tells him to go to Jung Do-jeon.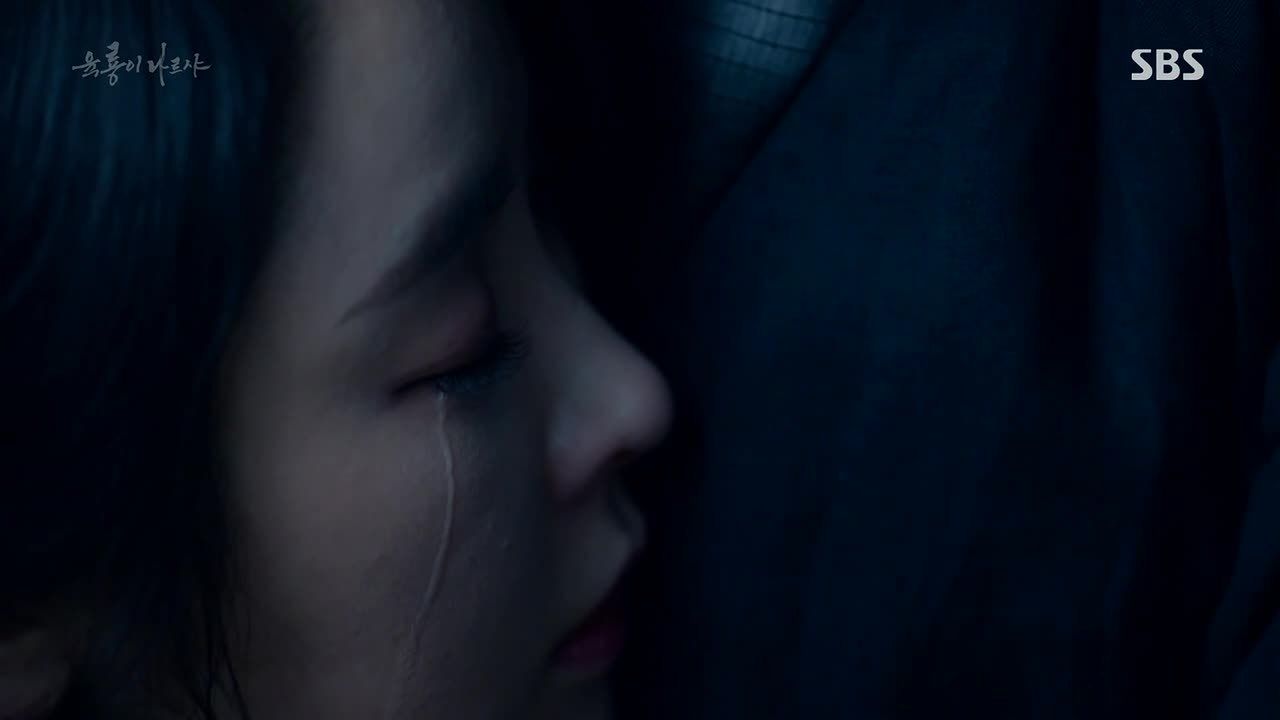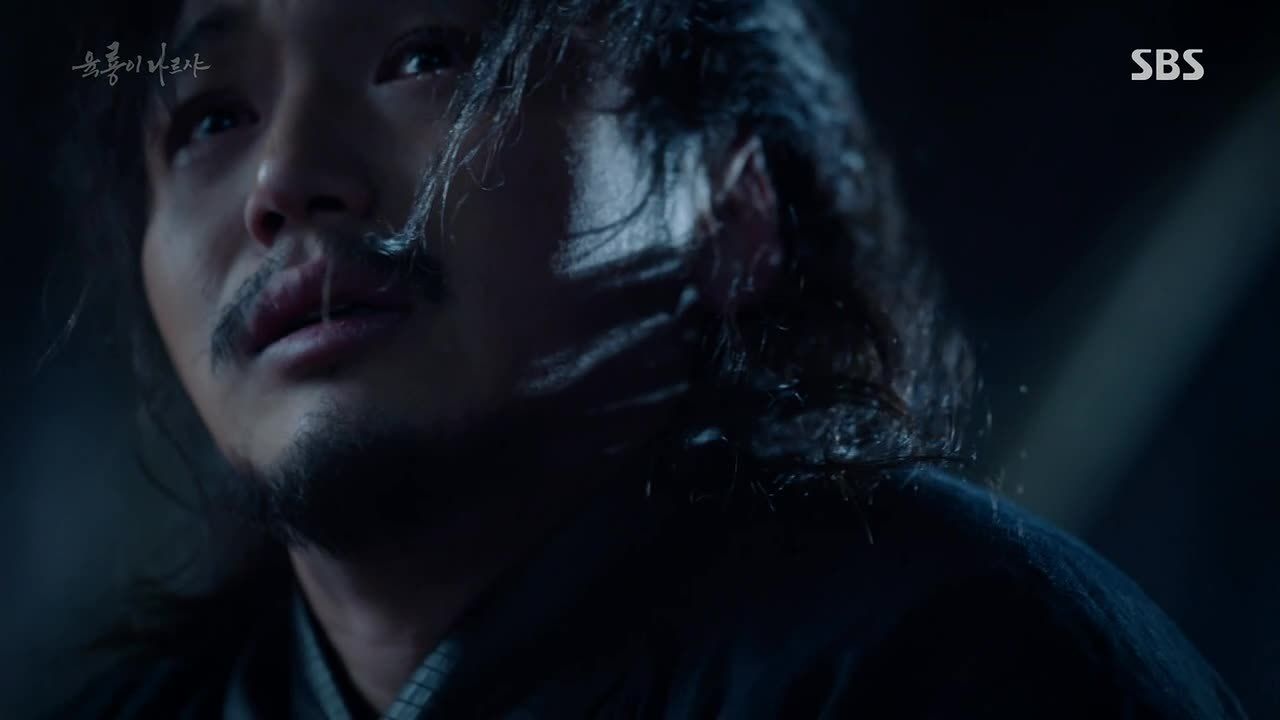 Yeon-hee goes limp in his embrace, with tears still wet on her cheeks. Bang-ji trembles as he tries to gather her more tightly in his arms before letting out a heart-wrenching sob. Then he just cries and cries.
With all Officer Nam's resisting forces dead and Jung Do-jeon still nowhere to be found, Bang-won takes his army to the office of military affairs. Despite the small hiccup with Jung Do-jeon, everyone still has a job to do. At his daughter's urging, Daddy Min goes to complete his task of convincing Jo Joon over to their side.
Likewise, Bang-gwa pays a seemingly congenial visit to Ji-ran, though he's there on Bang-won's orders. He's to wait for further orders on what he's to do about their father's sworn brother.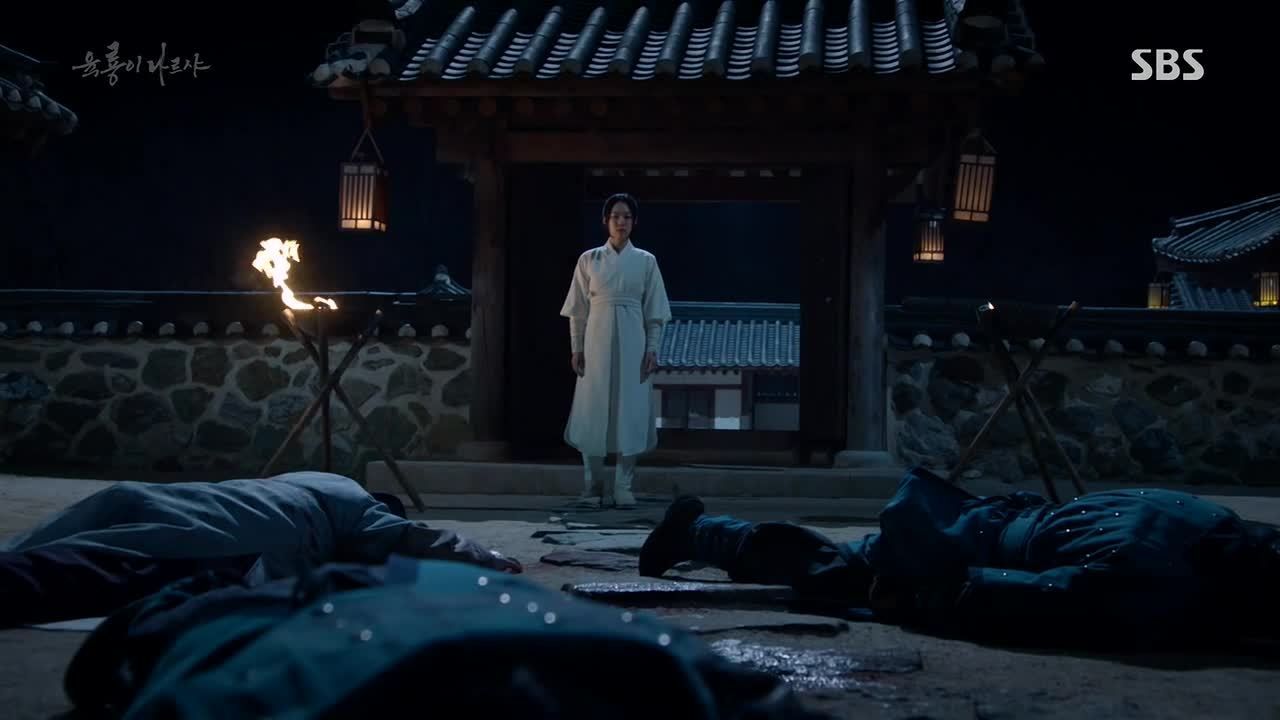 Sa-kwang comes upon the mass of bodies at Officer Nam's, noting aptly that the air is thick with the smell of blood. Meanwhile, it's another massacre over at the military affairs office, one which Jung Do-jeon and Officer Nam have managed to escape by following Gab-boon into hiding in Sungkyunkwan. But Sinister Minister Woo hears everything while lurking nearby.
Boon-yi heads over to Hwasadan to find Yeon-hee, but finds the remnants of a massacre instead. She runs into Jukryong among the sea of bodies, and even with a sword held to her throat for the billionth time, she boldly asks what he's done with Yeon-hee.
"She's not in this world anymore," Jukryong replies, as if he were commenting on the weather. Boon-yi can't help the immediate grief that floods her, and finds at least a small measure of relief in Jukryong's admission that they didn't kill Bang-ji.
But in a strange display of magnanimousness, Jukryong decides to let Boon-yi go. When asked why, he explains that it's complicated, which likely means that he doesn't want to piss off Bang-won by hurting one of the women he loves.
Bang-ji makes it to Officer Nam's house long after the armies have gone, finding only dead bodies in their wake. One of the men speaks, but is only able to tell him that Jung Do-jeon escaped the attack by Bang-won before he too becomes just another corpse.
Bang-won's plan is going smoothly, but he knows just as well as Ha Ryun that their ultimate success or failure rests upon their ability to find Jung Do-jeon. They've got the palace surrounded in the meantime, but they're counting on King Taejo not feeling well enough to confront their armies in battle armor, lest their men lose their morale.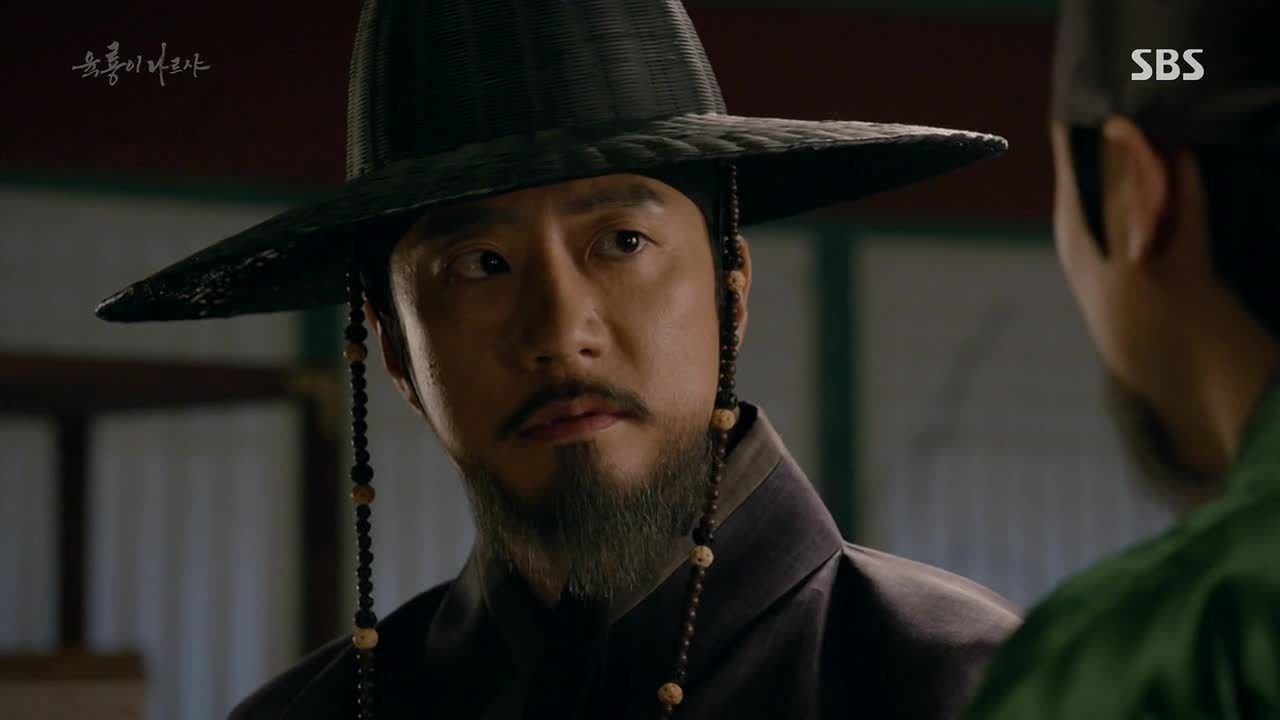 Despite all that Bang-won has done, Jung Do-jeon can't help but be a little in awe of his once-pupil's deviousness and meticulousness in cooking up this grand scheme. He knows what Bang-won intends to do, and knows that his plan will fail if he can't kill either him or Officer Nam.
All they have to do is hold out the night, and find a way to get to Sukjeongmun (the Northern gate) before morning. If they can make it there and rendezvous with their Liaodong Expedition army, they might just be able to stop Bang-won. More importantly, only one of them needs to make it to the gate.
Bang-won gets a surprise visit in the form of Sinister Minister Woo Hak-joo, who asks for nothing in return for telling him that Jung Do-jeon is hiding in Sungkyunkwan.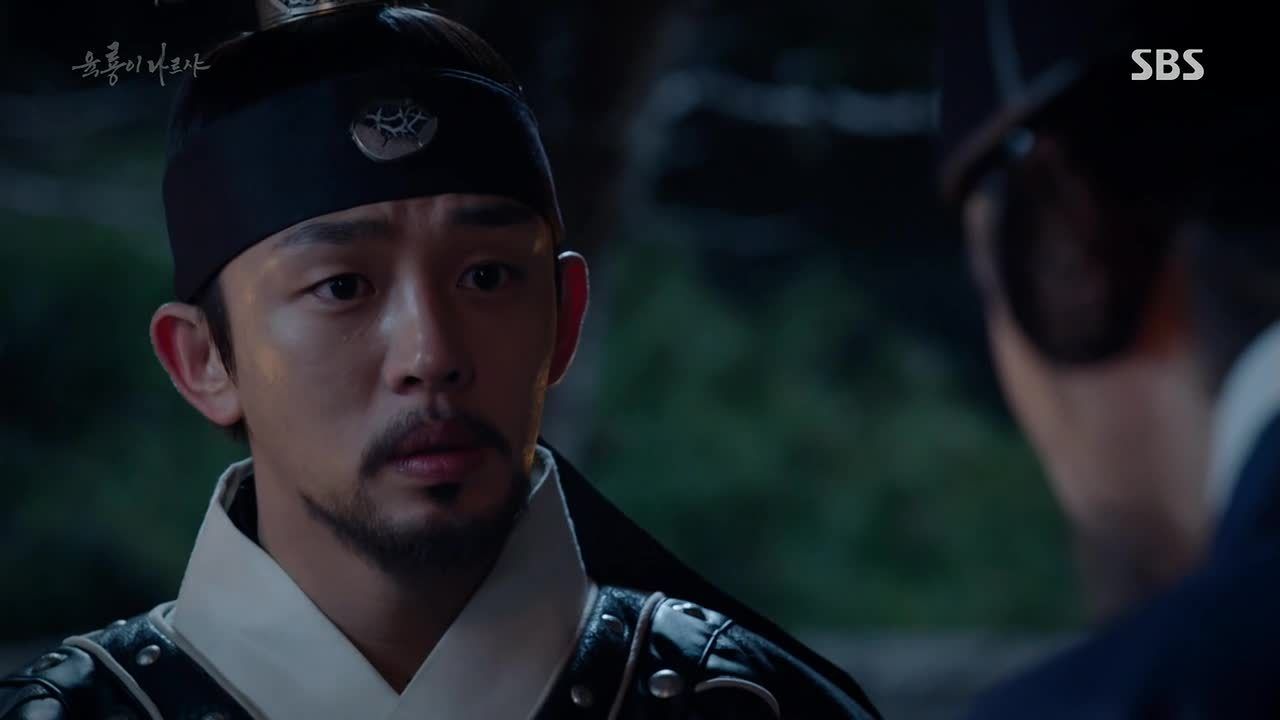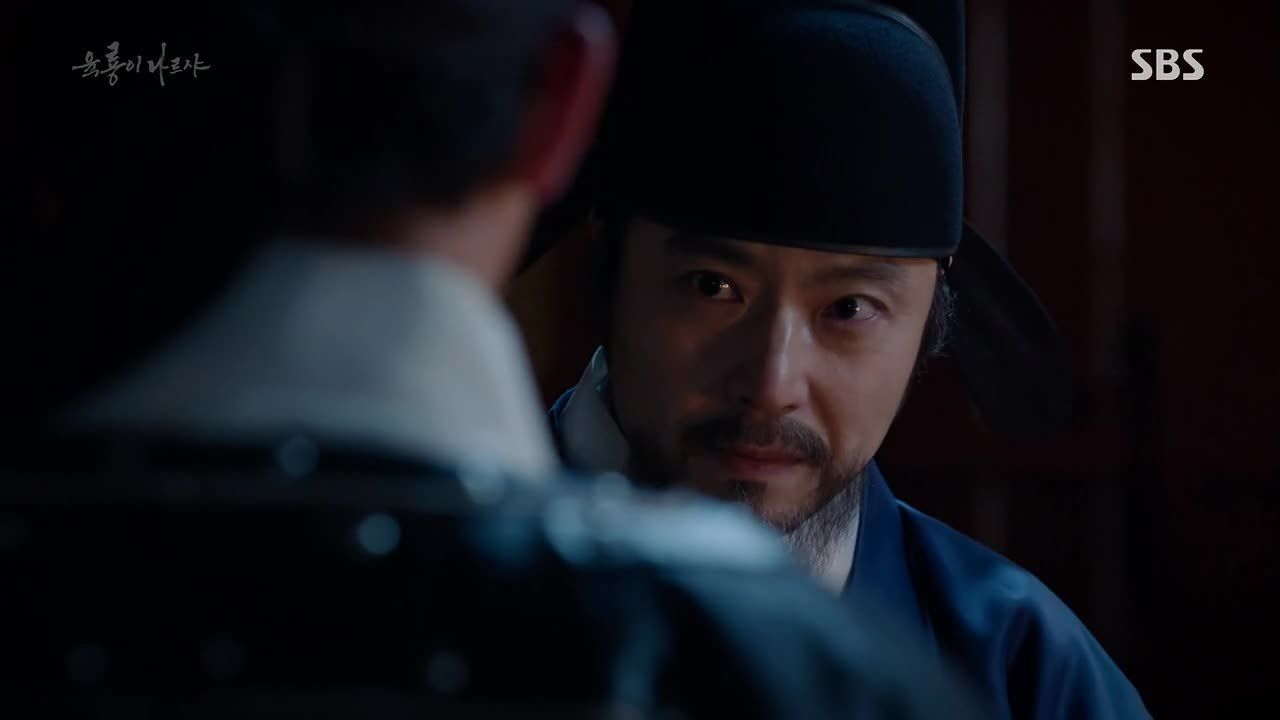 Even Bang-won is taken aback by this unforeseen kindness, though Minister Woo makes it clear that he still despises Bang-won. But just for tonight, he hopes that luck will be on Bang-won's side in catching Jung Do-jeon.
Before Officer Nam and Jung Do-jeon part ways, the former stops to deliver the latter a formal bow. They both know that this could be their last time seeing each other, so Jung Do-jeon has to ask, "What did you believe in to follow me the way you have?"
He knows he's flawed, and not particularly likable, which is what causes Officer Nam to smile broadly. "I didn't have a particular reason," Officer Nam explains. And then, sheepishly, he says it was because of a nickname Jung Do-jeon had in Sungkyunkwan. Jung never heard it because no one wanted him to, but his nickname was, simply, "Dummy."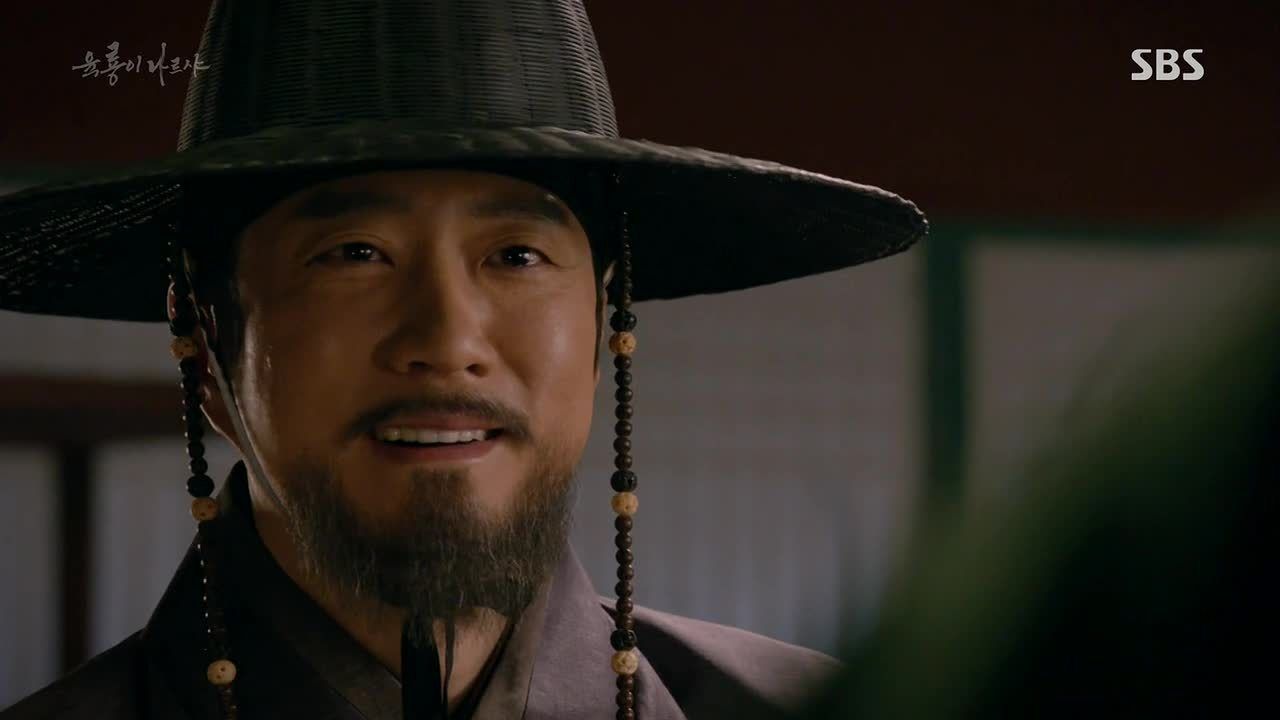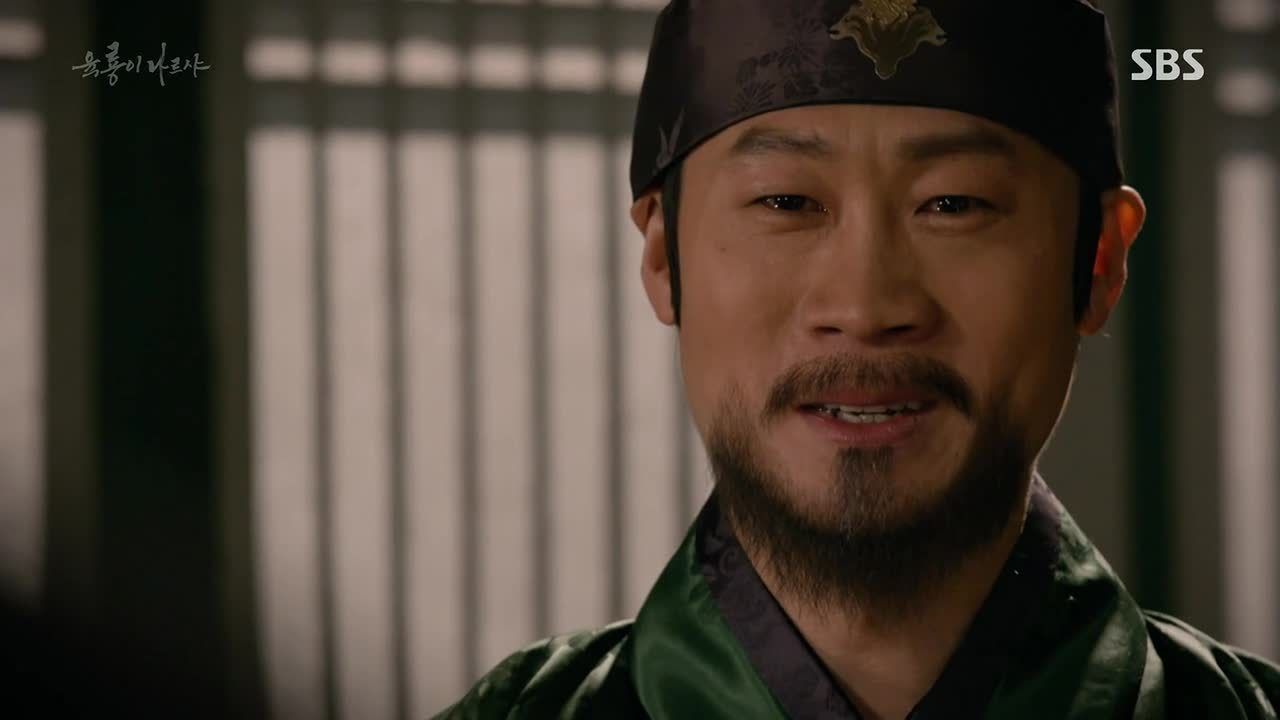 And because of that, Officer Nam thought he and Jung Do-jeon would get along well. Even Jung can't help but laugh at that, but the levity doesn't last long. "Following you has been my honor," Nam says, his tone grave.
"Thank you, truly," Jung replies, along with a more lighthearted warning that if they survive this and see each other at Sukjeongmun, they'll have to forget this conversation ever existed. It'll be too embarrassing otherwise. It's all to hide the tears that spring to his eyes when Officer Nam turns his back. Aww.
Jung Do-jeon can't even be surprised when he learns that Bang-won is bringing his army to the gates of Sungkyunkwan, and instead, just sits and smiles as he takes it all in.
Bang-won splits his forces up in order to cover all the gates leading in and out of Sungkyunkwan, leaving Moo-hyul to lead a small contingent of his own. But Moo-hyul's worried about Bang-ji showing up, and sends his men away to cover the main gates while he anticipates which smaller entrance Bang-ji might use.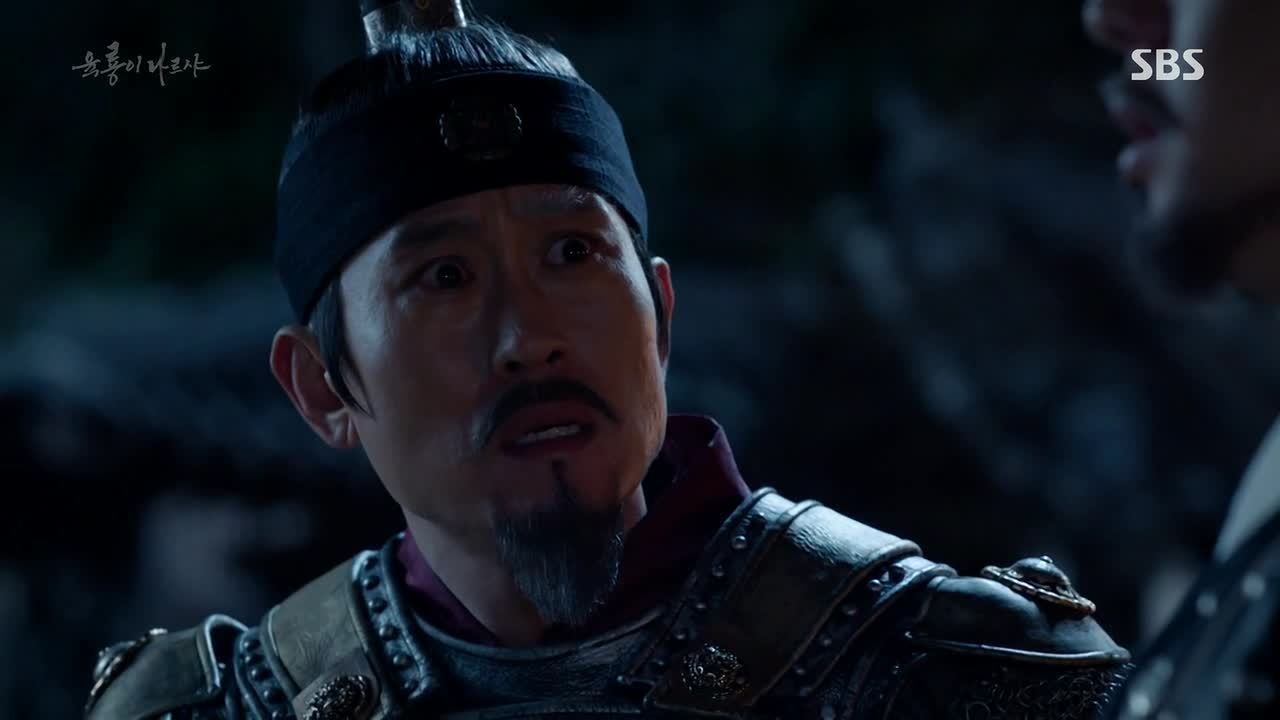 It's only when he and his army reach the doors to Daeseongjeon, a shrine in Sungkyunkwan erected to memorialize Confucius, that Bang-won stops. Even though they've killed scores of men and broken every rule tonight, charging into that shrine with weapons drawn is just not something Bang-won can do without a royal command.
Ha Ryun is left to stand beside him in utter shock, wondering somewhat comically if they can even call what they're doing a coup d'état if they have to receive royal permission for it first. But Bang-won ignores him, turning instead to his army as he asks them to call out in unison for Jung Do-jeon to come out.
Either Jung Do-jeon will, or he'll escape out the back, in which case Bang-won has soldiers waiting. There's a kind of madness lurking in his gaze as he informs Ha Ryun that this is all as it should be—they're making history, and to do that, Jung needs to fulfill his narrative purpose by running away.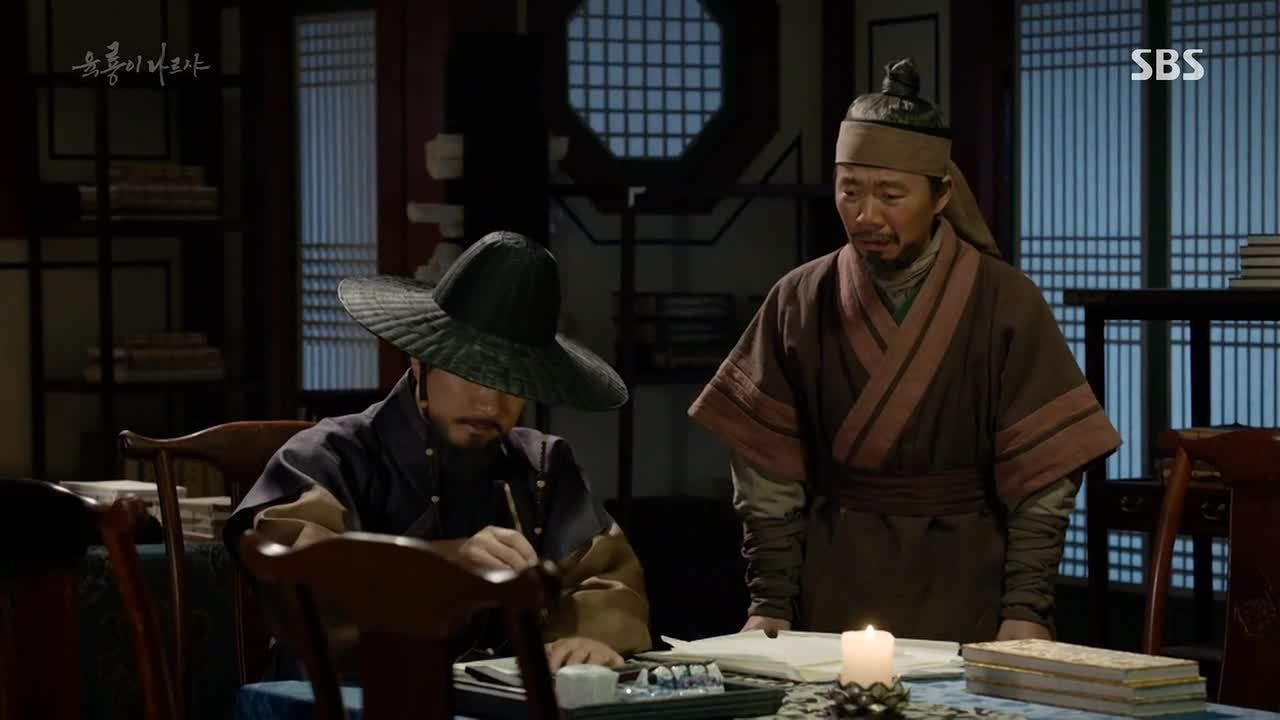 Instead of escaping, Jung Do-jeon takes brush to paper to write a message to Bang-won, which he has the village ajusshi deliver. Even as the soldiers outside call for the "Traitor Jung Do-jeon" to come out on Bang-won's command, they stop with one hand motion from Bang-won.
Bang-won doesn't quite know how to process the letter, giving it to Ha Ryun to read instead. Poor Ha Ryun is again put in a situation where he has to be the bearer of bad news when he reads aloud: "Be silent. I will be out shortly." Hah.
It takes Bang-won actually reading the letter himself for him to believe it, and he breaks out in hysterical laughter. "Everyone, be silent!" he yells to the soldiers. "My teacher says he needs time!" Ha Ryun's expression tells us he's worried about Bang-won's sanity, while Bang-won's expression is an intense, unreadable mixture.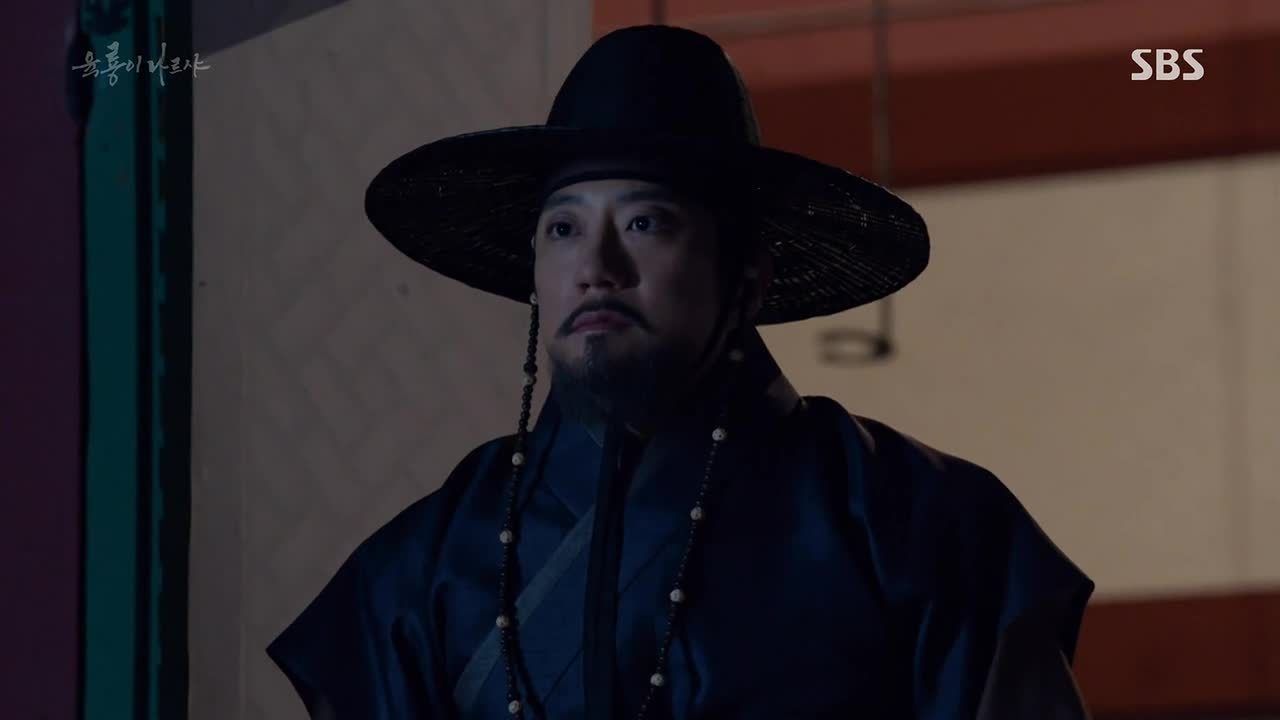 Jung Do-jeon gives the village ajusshi one last task, in delivering a letter to his brother. The ajusshi gives him a formal bow and thanks him for everything, vowing on his life to make sure the letter reaches its intended target.
At long last, Jung Do-jeon begins his trek outside. Sungkyunkwan students who've been awoken by all the ruckus wait for him outside, and his last bit of advice leaves them all in weeping messes on the ground: "Even if many things change tomorrow, I hope that you all will not."
Bang-ji shoots through one of the smaller entrances into Banchon, only to come face to face with Moo-hyul, who's been waiting for him. The realization hits him like a punch to the gut, and a tear escapes as he tells Moo-hyul that he has to go save Jung Do-jeon. "Move aside."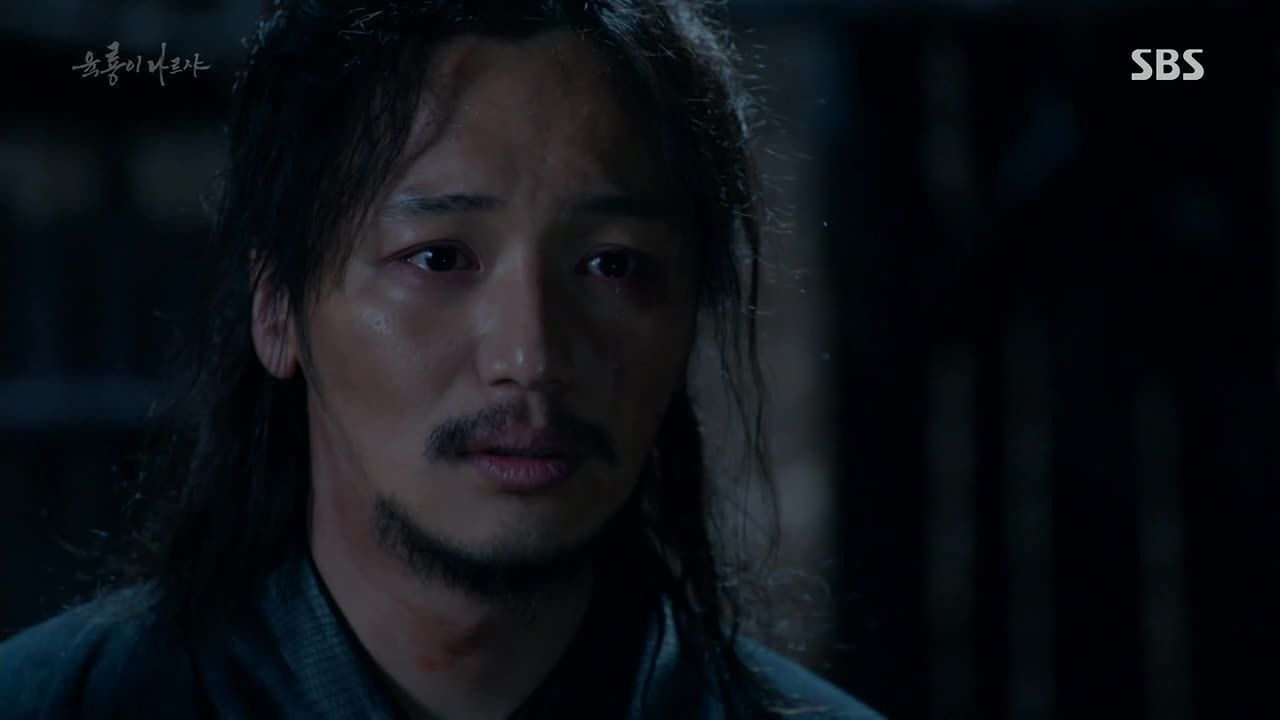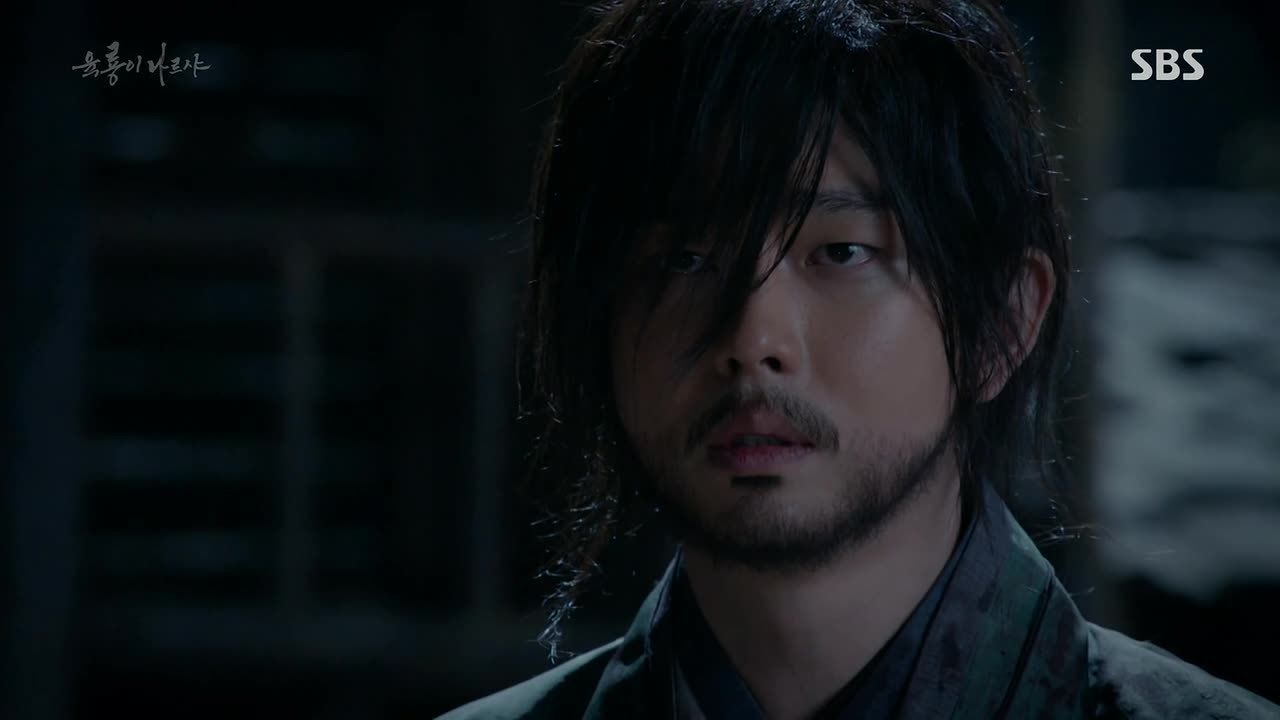 "Bang-ji-ya," Moo-hyul almost whispers. "I will ask you a favor for the first time: Please, go back." But when Bang-ji draws his sword instead, Moo-hyul's face falls even as he draws his own sword. This battle is inevitable.
Bang-won has to hide his disappointment when Jung Do-jeon emerges from the gates rather than running away, though he affords his old teacher a bow of respectful acknowledgment.
So when Jung Do-jeon asks to take a walk, Bang-won acquiesces, and his army stands aside. They follow at a close distance though, as the two men take an otherwise seemingly easy stroll through the empty alleyways of Sungkyunkwan.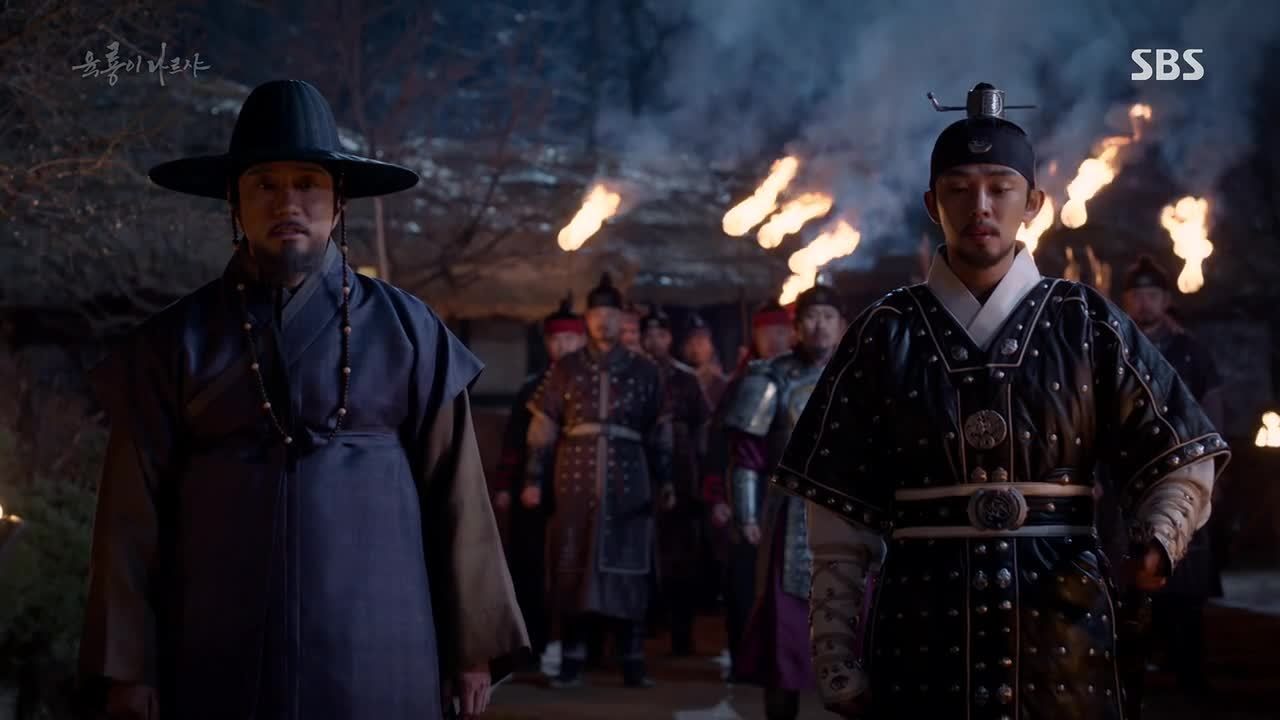 To Bang-won's question about why he didn't run away, Jung Do-jeon answers simply, "Because there is no need to. The nation you and I seek to make is, truthfully, the same. So what difference does it make if I achieve it, or you do? It is only that my way has been broken, so I am simply stepping aside. Since you know my idea and design better than anyone, I am sure you will do a good job."
Bang-won takes a few steps in silence, then clearly tries to get some sort of rise out of the placid Jung Do-jeon by announcing that he won't carry on with the Liaodong Expedition. Jung just nods knowingly: "That is for the ones who survive to decide. The living will ponder and think it over for themselves, and usher in the new era. Should the dead usher in the new era?"
They stop then, and turn to each other. Jung Do-jeon has tears in his eyes and a rueful smile on his face as he adds with some finality, "I am weary, Bang-won-ah."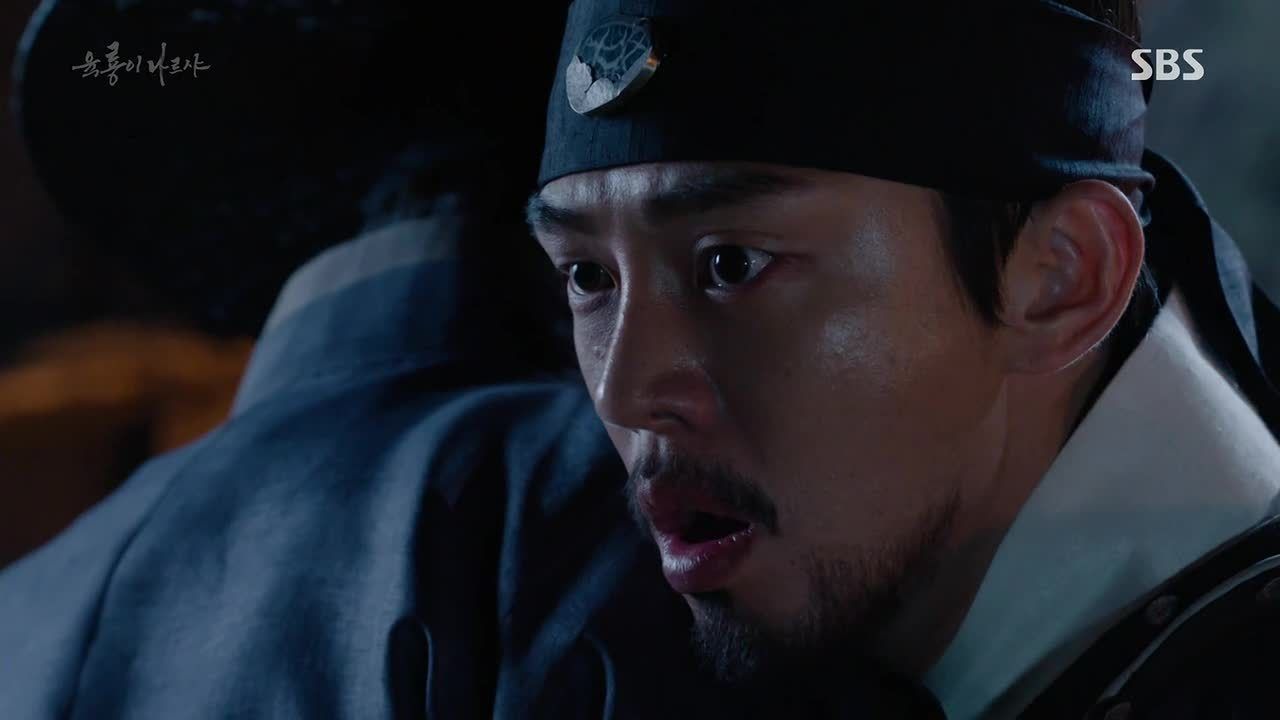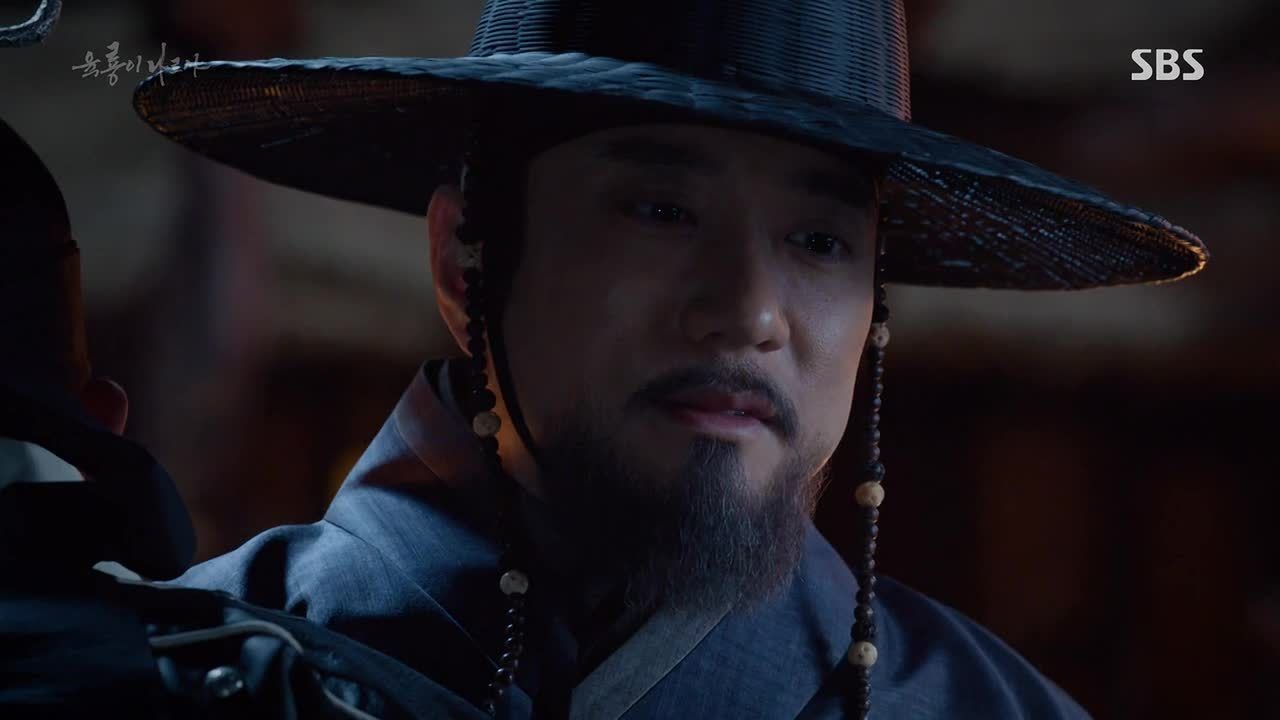 Bang-won draws his sword in silence, and Jung Do-jeon has one last moment of internal realization before Bang-won drives his sword through his belly. His robes grow wet with blood as he slowly crumples to his knees, just in time for Boon-yi and Gab-boon to see.
Jung Do-jeon's head lolls, his chin dropping to his chest where he kneels. Bang-won drops his sword, still wet with Jung Do-jeon's blood, as he looks at the shape of his former teacher. Though he still kneels, Jung Do-jeon is dead, and Bang-won only calls for Ha Ryun to strike from the record the part about Jung Do-jeon running away.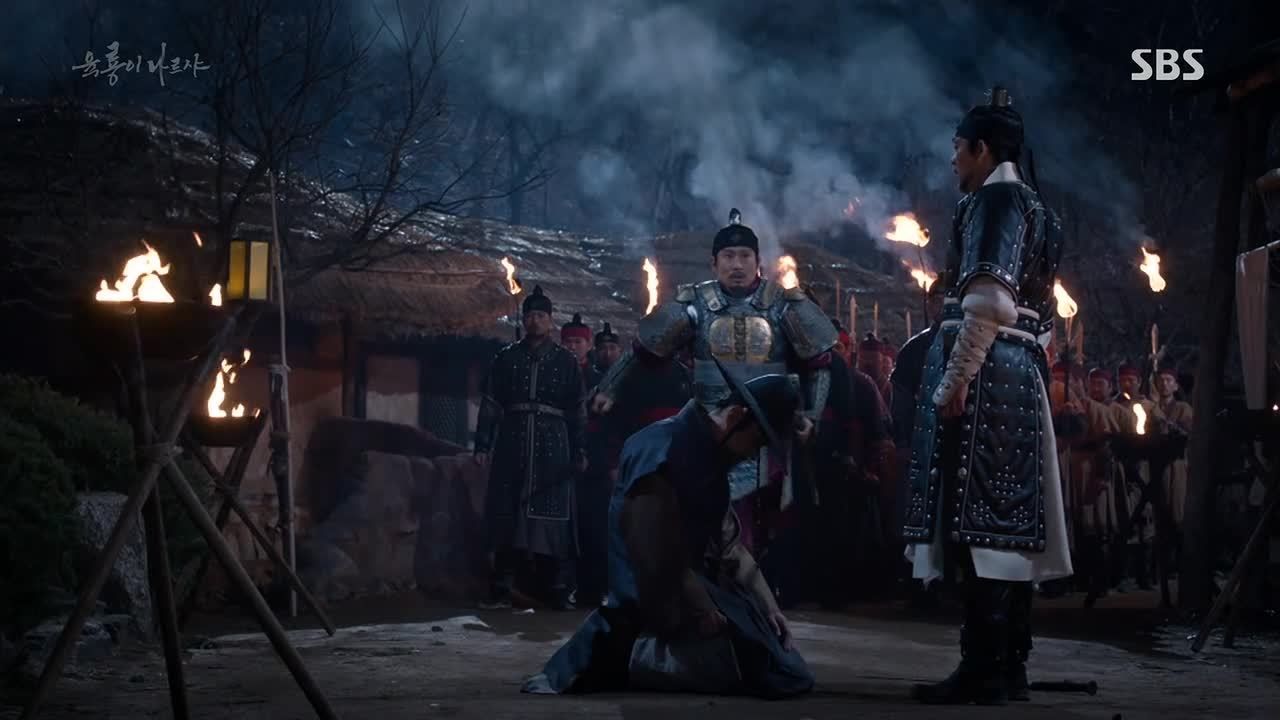 And with that, Bang-won walks away, brushing straight past Boon-yi as if she isn't there. Each step he takes triggers another memory of Jung Do-jeon, dating all the way back to when he first saw him lead the protest at the capital gates, to when he first came upon the map of New Joseon in the cave, to when Jung had explained the basic tenants of the new nation he planned to create that sounded all so exciting.
What he remembers most is the moment Jung Do-jeon took him in, when he was lost and just looking for a cause to believe in. But in the present, he has only Jung Do-jeon's name written on a slip of paper, a name which he then drops into the flames.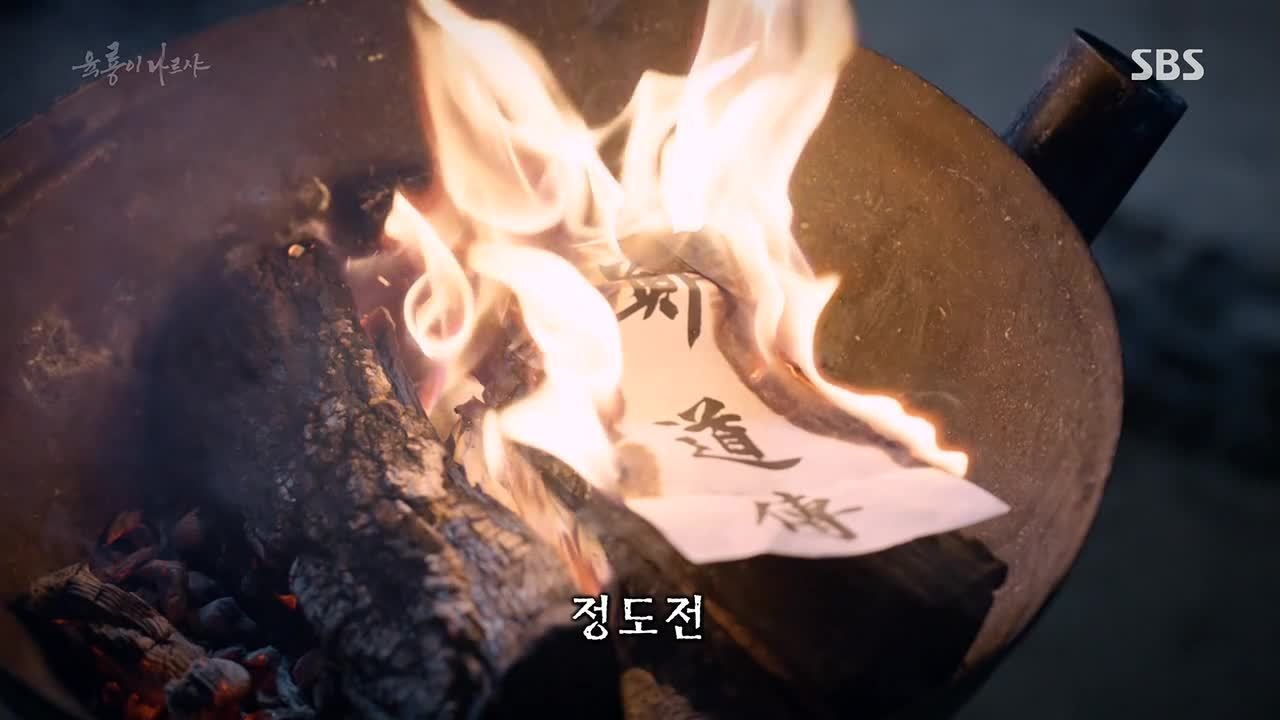 COMMENTS
Powerful. This whole episode was exceptionally well-shot and choreographed in order to milk every ounce of intensity it could from every single frame, and to that I say: Bravo. Even without history in the mix, this kind of major character death is one that can't be taken lightly, and Six Flying Dragons definitely gave that pivotal moment all the due respect and fanfare it deserved.
Though Jung Do-jeon hasn't made it easy for us to like him as of late, it was hard not to see his graceful acceptance of his fate as a sort of recompense for all that he's done. Granted, we wouldn't have expected any less of a dedicated Confucian scholar like Jung Do-jeon, but he managed to outdo himself here. Despite his differences with Bang-won, he's no fool, neither is he a villain. And so what he got was a hero's death, even if it was at the hands of our story's proverbial hero.
The interesting thing about the way Dragons handles Bang-won is that, while it clearly has anointed him as the main protagonist, it doesn't try to hide his evil deeds or bloodthirsty nature from us. Even in this hour when he started to come off a little unhinged, he was still firmly grounded in everything we've come to expect of him so far. Everything he did was rooted in who he is, and how his journey has brought him here. We can understand even if we can't necessarily sympathize, yet somehow, we always end up doing just that.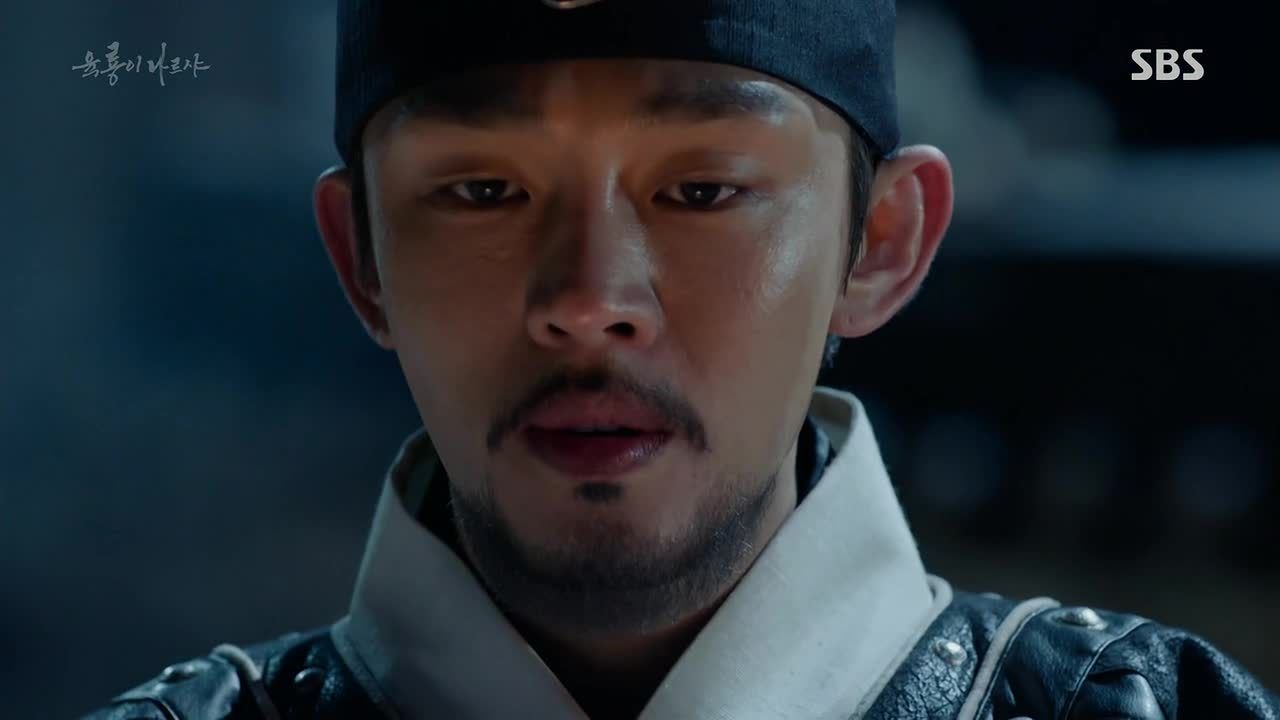 So the fact that he could kill Jung Do-jeon without the powers-that-be trying to flip the tables or make a stance on who's necessarily right or wrong was actually something I really, really admired, but it's not really a sentiment I feel able to get across in words as well as the show did in action. Because in the end, neither man really is more righteous than the other, since both have ideas that are dangerous in their own respects. Jung Do-jeon knew as much, which is likely why he felt a strange sort of peace when his time came. He knew that Bang-won wasn't going to dissolve the nation he worked so hard to create—and as for the issue of kingly power, there's always Hidden Root.
And while I don't quite understand why Ha Ryun would cook up a record of history that hadn't happened yet, since as a strategist he must know how things don't always go according to plan, I'm sure he came to regret it the more he saw how negatively it influenced Bang-won. But it was comforting in the end that Bang-won was gentlemanly enough (despite killing the man he once idolized) to preserve what he could of his honor as it would be recorded in history. The dangling thread that was Bang-won's sanity this episode would've surely been pulled had Jung Do-jeon actually ran away, so in a way, Bang-won has Jung Do-jeon to thank for that too. He actually has Jung Do-jeon to thank for a lot of things, and so do we.
So rest in peace, Jung Do-jeon. You too, Yeon-hee.

RELATED POSTS
Tags: Byun Yo-han, featured, Kim Myung-min, Shin Se-kyung, Six Flying Dragons, Yoo Ah-in