Six Flying Dragons: Episode 48
Everything just gets better, is the best way to sum up this episode. I don't know how I'll get through next week, is the best way to sum up my feelings. It seems so redundant to keep declaring a new episode as the best episode yet, but here we are, after weeks of episodes that were just good. Some were even great. (Practically an insult for this show, an unattainable goal for so many others.) But this week brings a whole new level of nonstop intensity, coupled with enough grief and pain to last our dragons a lifetime. No one's escaping this unscathed, if they even manage to escape alive.
SONG OF THE DAY
Winner – "센치해 (Sentimental)" [ Download ]
Audio clip: Adobe Flash Player (version 9 or above) is required to play this audio clip. Download the latest version here. You also need to have JavaScript enabled in your browser.

EPISODE 48 RECAP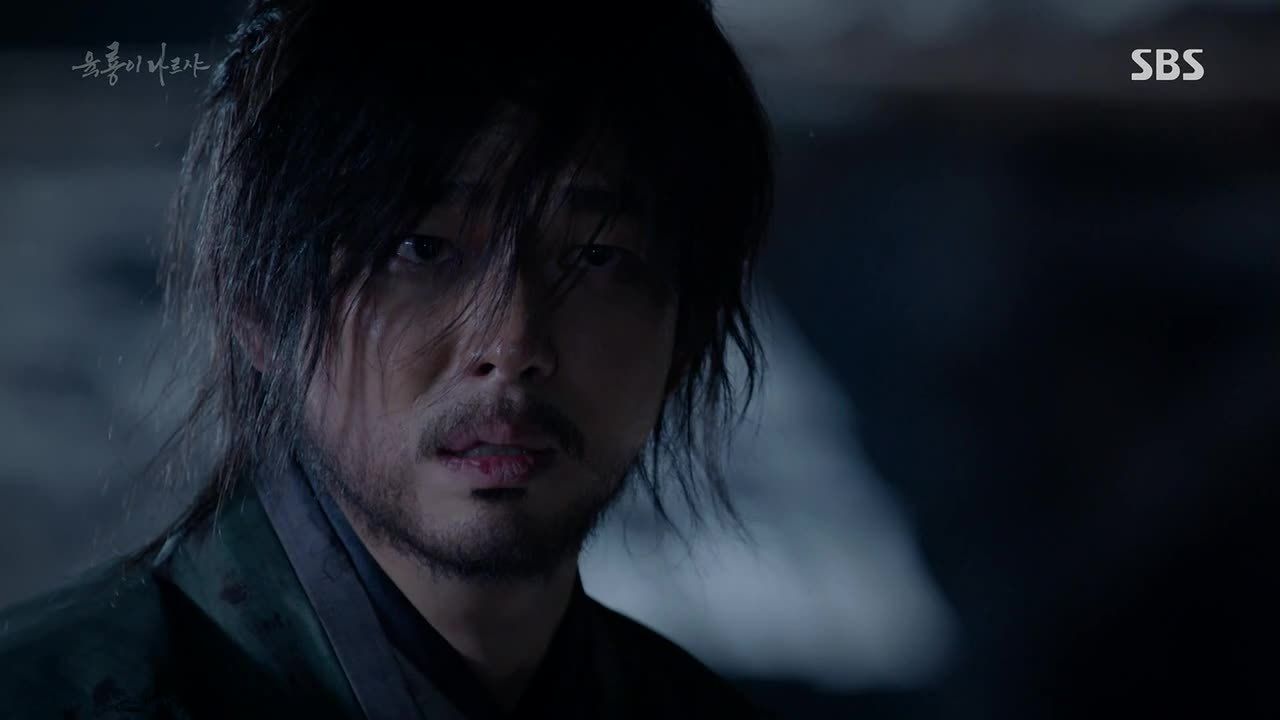 We cut immediately from Bang-won burning Jung Do-jeon's name to the battle between Bang-ji and Moo-hyul, which goes on despite neither man wanting it to.
At the first pause in the fighting, Bang-ji tries to make his old friend see reason—does he even know that Bang-won lured him away by using Yeon-hee? Moo-hyul nods, "I know."
But what really floors Bang-ji is Moo-hyul's revelation that he's the one who suggested the plan to Bang-won in the first place. Tears stream down Bang-ji's face as the full weight of this hits him: "You… You killed Yeon-hee!"
This comes as news to Moo-hyul, who had no idea that Yeon-hee was dead. Bang-ji is past the point of caring either way, and comes at Moo-hyul with even greater force than before. Even so, both of them urgently wish the other would stop, though neither are willing to back down first.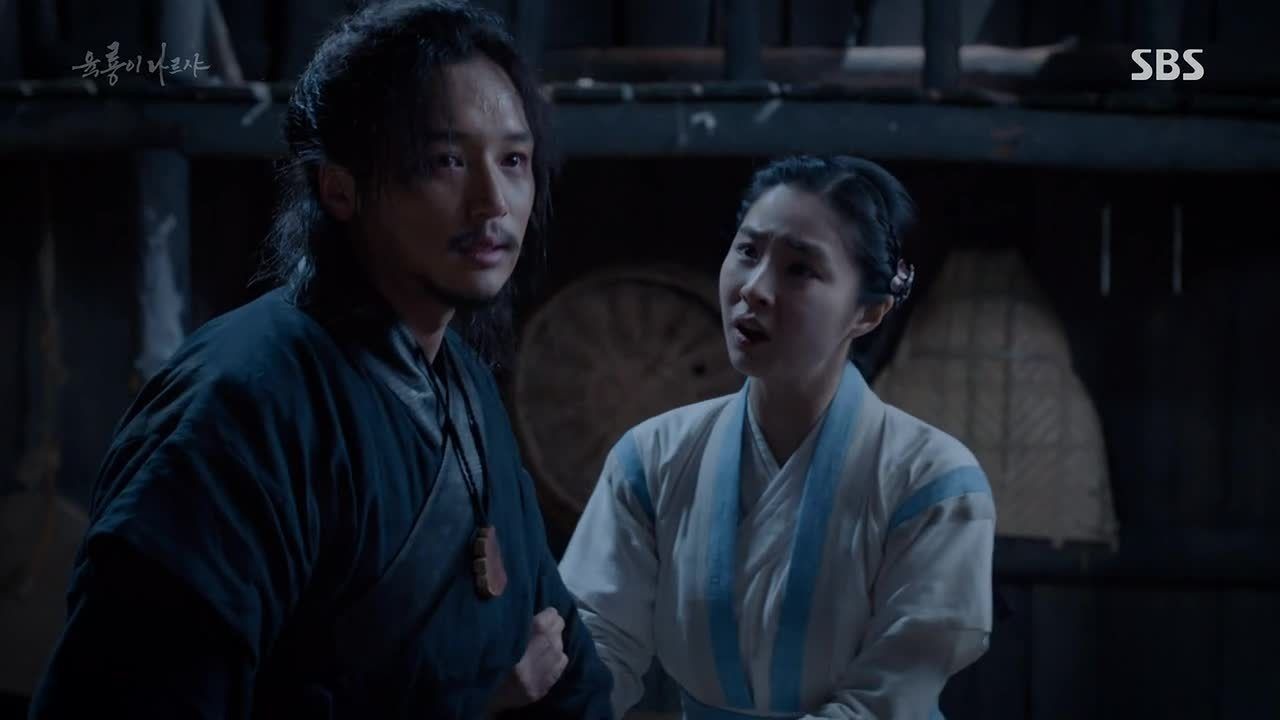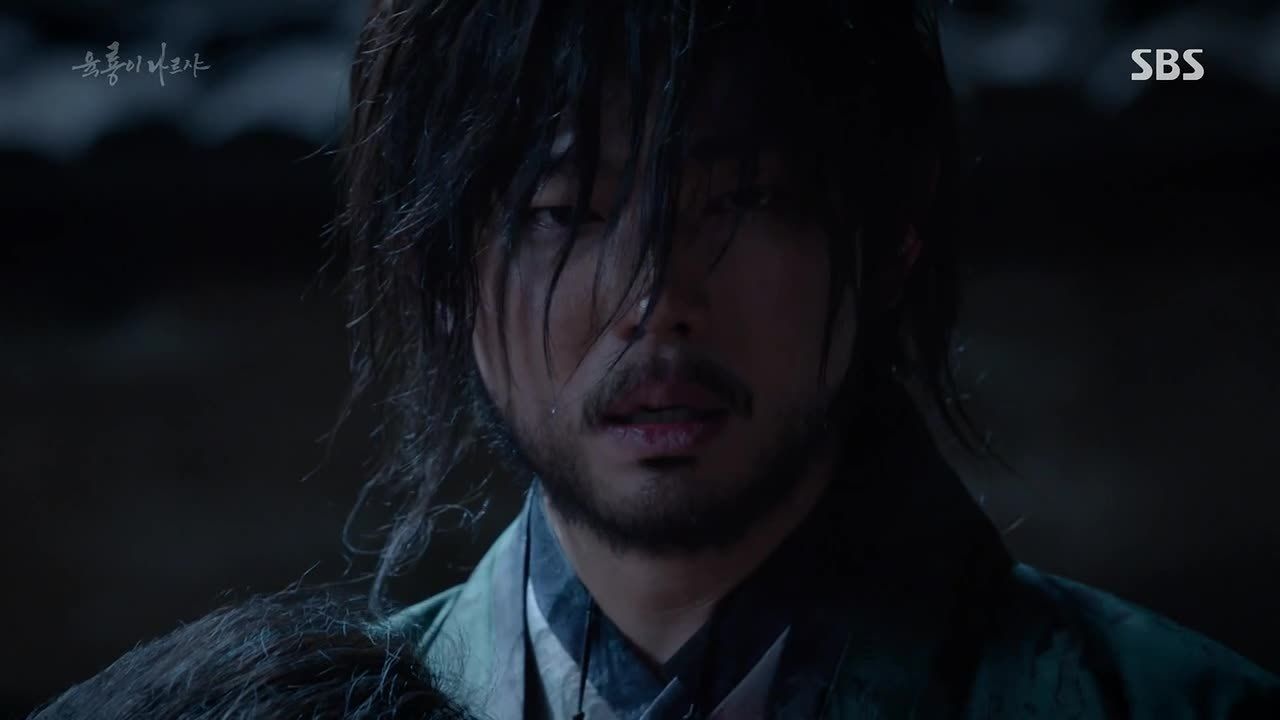 As Ha Ryun orders the assembled army to break up and find Officer Nam as well as Jung Do-jeon's brother, the battle between Moo-hyul and Bang-ji rages on. Both draw blood from the other, but just as they prepare their own finishing moves, Boon-yi and Grandma come rushing in to stop them.
It's too late to save Jung Do-jeon, Boon-yi cries. "So please, even if it is just you now, you must escape. We've lost." This new death is more than Bang-ji can bear, so he goes into denial about it being too late for him to do anything.
Boon-yi can only sob as she tries to convince her brother to leave with her—as common people, the only way they can win is just by surviving. "Do I have to lose you too?" she cries. Grandma desperately holds Moo-hyul back, claiming that if he's going to kill Bang-ji, he may as well kill her too.
Bang-ji goes silent, his tears falling freely. At last, he drops his sword. The fight is over.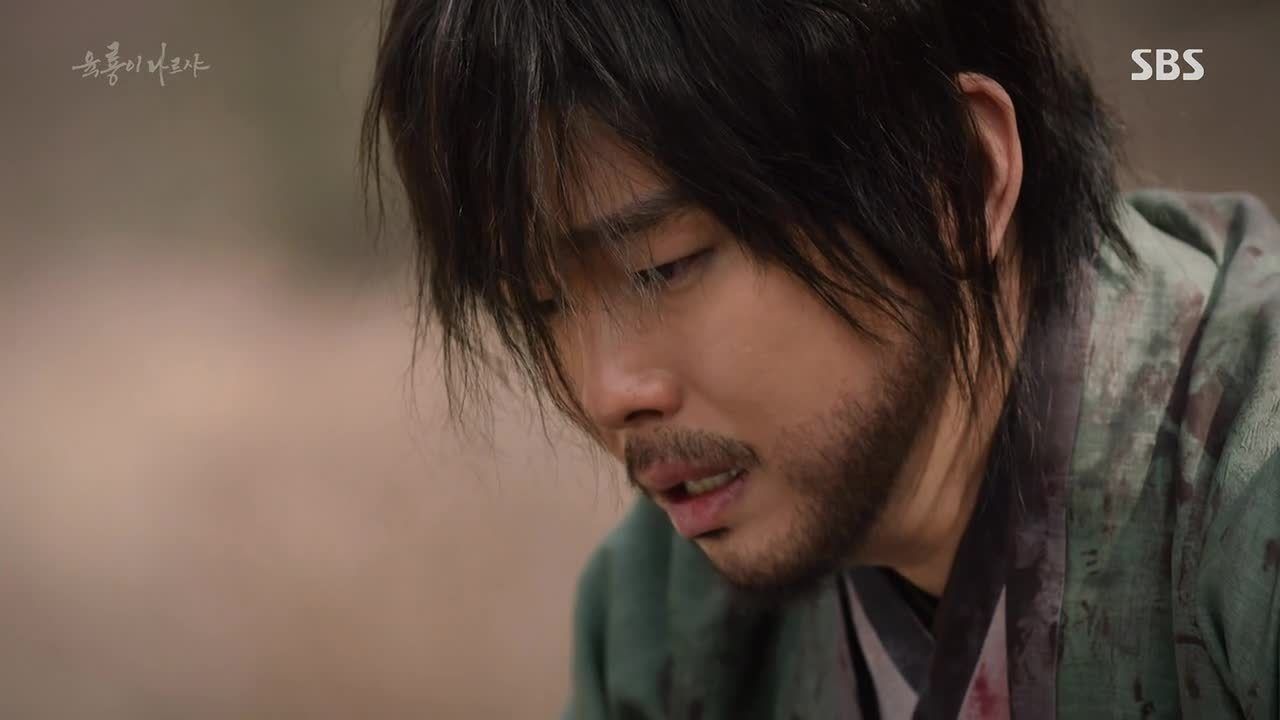 When morning comes, Moo-hyul takes some time alone to take in all that's happened, since he never meant for Yeon-hee to die. "How many more do I have to kill?" he wonders to himself. "How much more blood do I need to spill before my heart hardens?" Aww.
Sa-kwang watches his private display of grief from a distance, and leaves before he can notice her. She's got revenge on her mind, not just for the child Young-kyu accidentally killed, but for the late King Gongyang. It's Nameless she wants, as well as Bang-won for harboring the weapons cache.
Bang-won and Bang-gan's armies come to the outer walls of the palace, and the palace guards surrender almost immediately. While their mission is to root out Bang-seok, Daddy Min's mission is to convince Jo Joon to go to the king and have this entire Liaodong Expedition called off. Jung Do-jeon is dead, so it's not as though he'll have any opposition.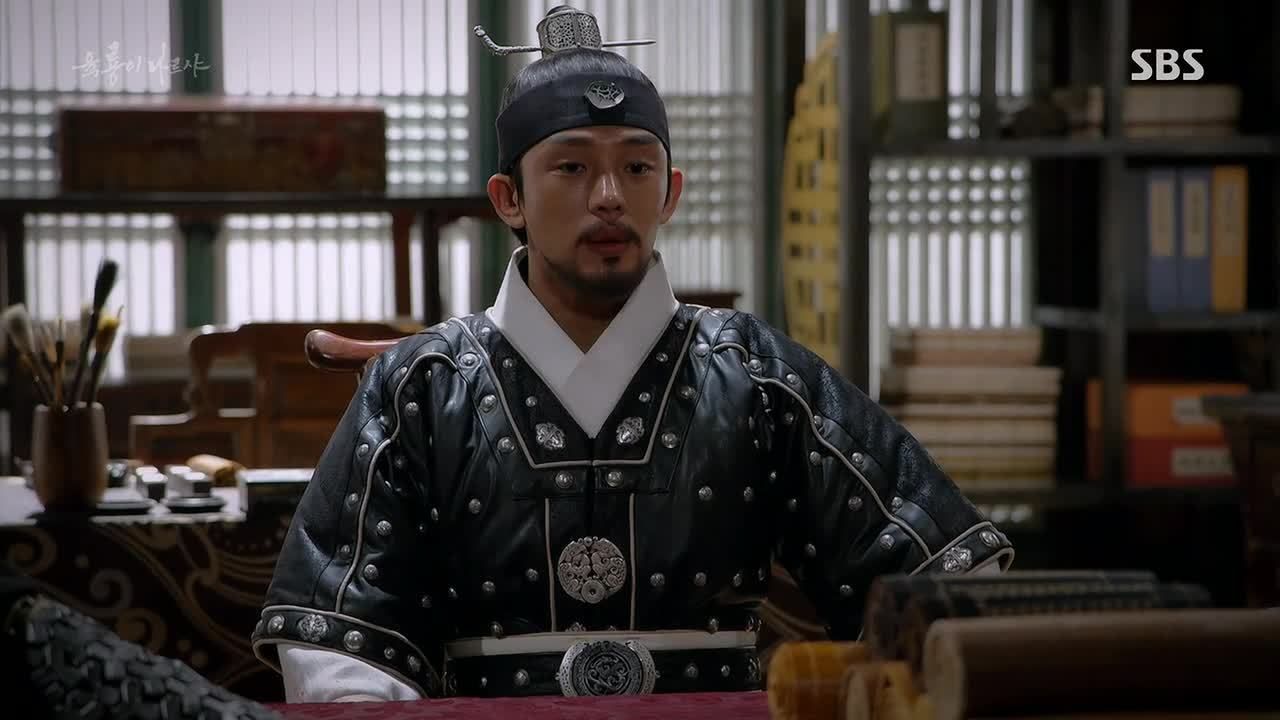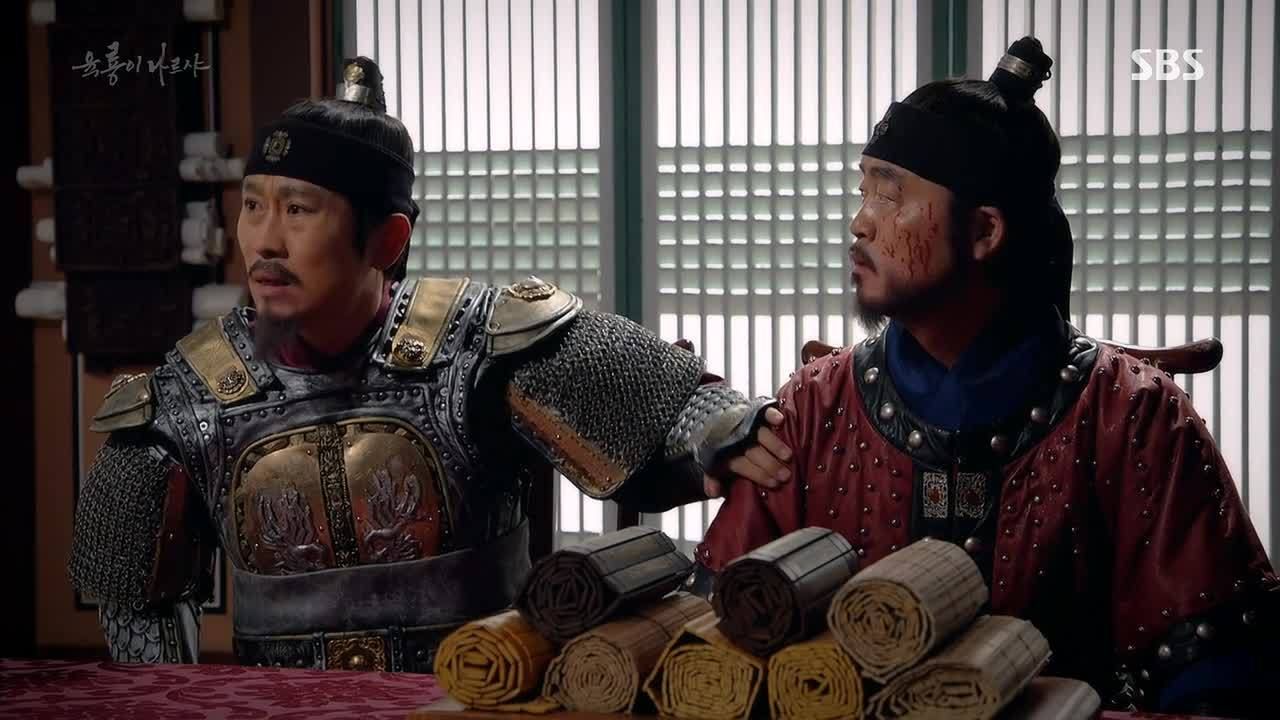 Ji-ran calls for blood when he finds out Jung Do-jeon has been killed, but poor King Taejo is already in a weakened state when he finds out. He still swears justice, and orders Bang-won brought to him immediately.
Ha Ryun cautions Bang-won to wait until they have Jo Joon and Ji-ran on their side before he goes to his father, and while Bang-won knows that would be the most prudent thing to do, he deliberately chooses not to do it. He'll go straight to his father and make him give up instead of waiting on those two to do it for him.
Moo-hyul reports that he was able to stop Bang-ji, but also lost him in the process. Despite being wounded, he makes it to the courtyard in front of the crown prince's quarters just in time to see little Bang-seok being forcibly drug out and placed in front of Bang-won.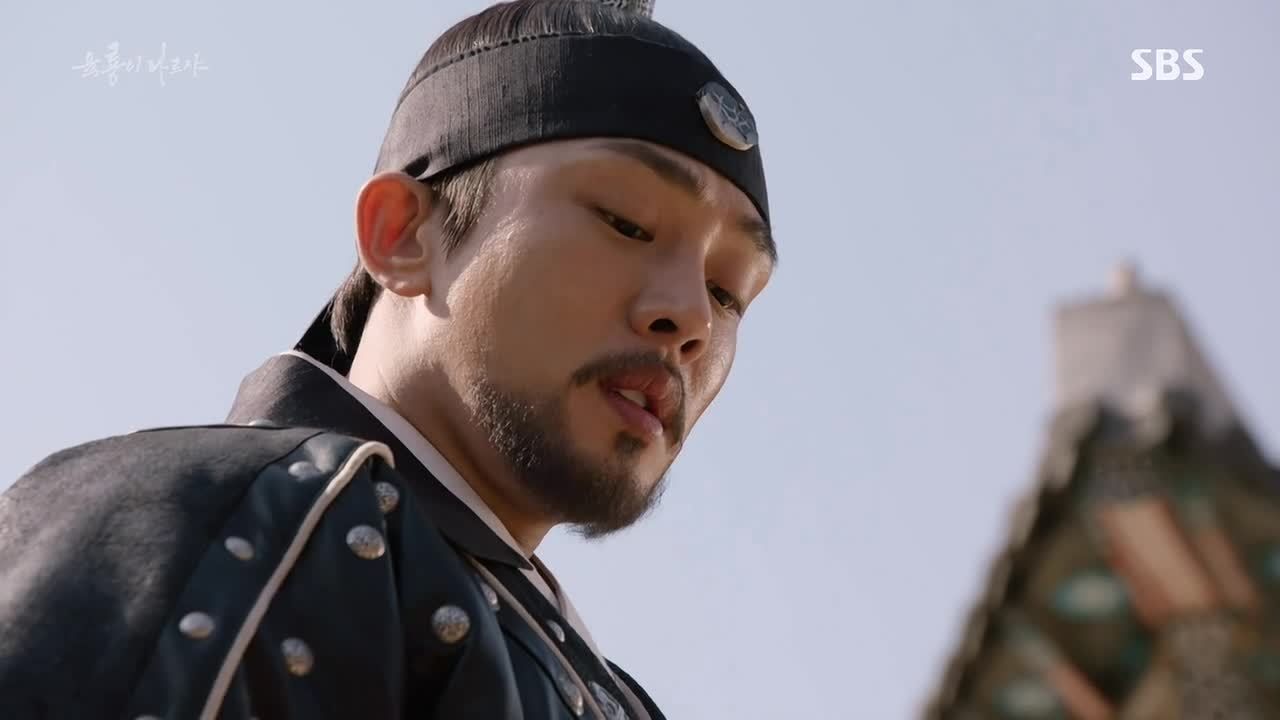 Bang-seok sobs, unable to comprehend why his brother is doing this. His begging may as well be falling on deaf ears, since Bang-won still draws his sword.
His little brother grows desperate at the sight, and pleads for his hyung to tell him what sins he committed so he can atone for them. "There are no misunderstandings to be resolved or sins to be forgiven," Bang-won answers dispassionately. "Then, why?" Bang-seok cries.
As Bang-won's hand tightens on the sword, he recalls something that Jung Do-jeon—a man he killed just last night—once said to him about sin and death not being interconnected.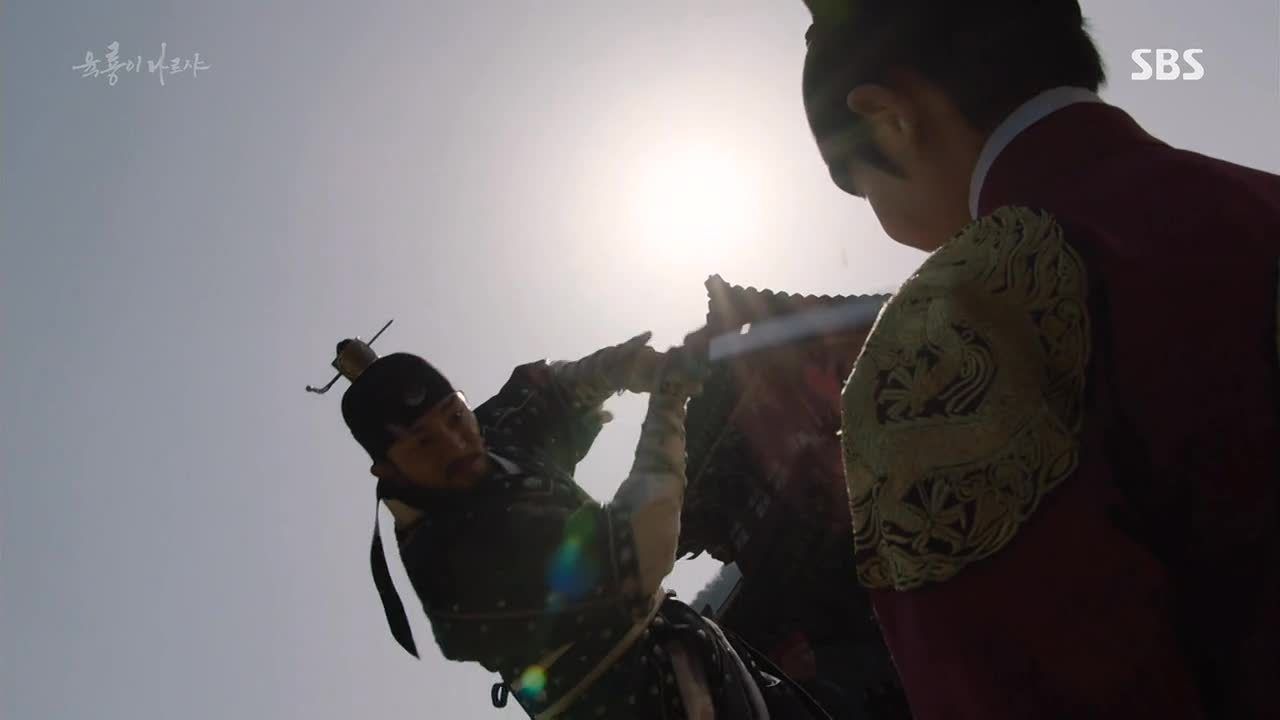 He approaches Bang-seok slowly and purposefully as he says this, everything happening in slow motion as he spreads his feet to balance his weight, and in one fluid motion, cuts his brother down where he kneels.
The only thing that seems to give Bang-won even the briefest of pause is catching Moo-hyul's gaze, which he isn't able to hold for more than a second. Is that shame he feels, I wonder?
Boon-yi and Bang-ji are the only ones in attendance for the meager funeral they've set up for Yeon-hee. While holding Yeon-hee's folded hands, Bang-ji cries as he thinks of everything he should have said, but never had the chance to. Things like "I love you, let's live together," and "I need you."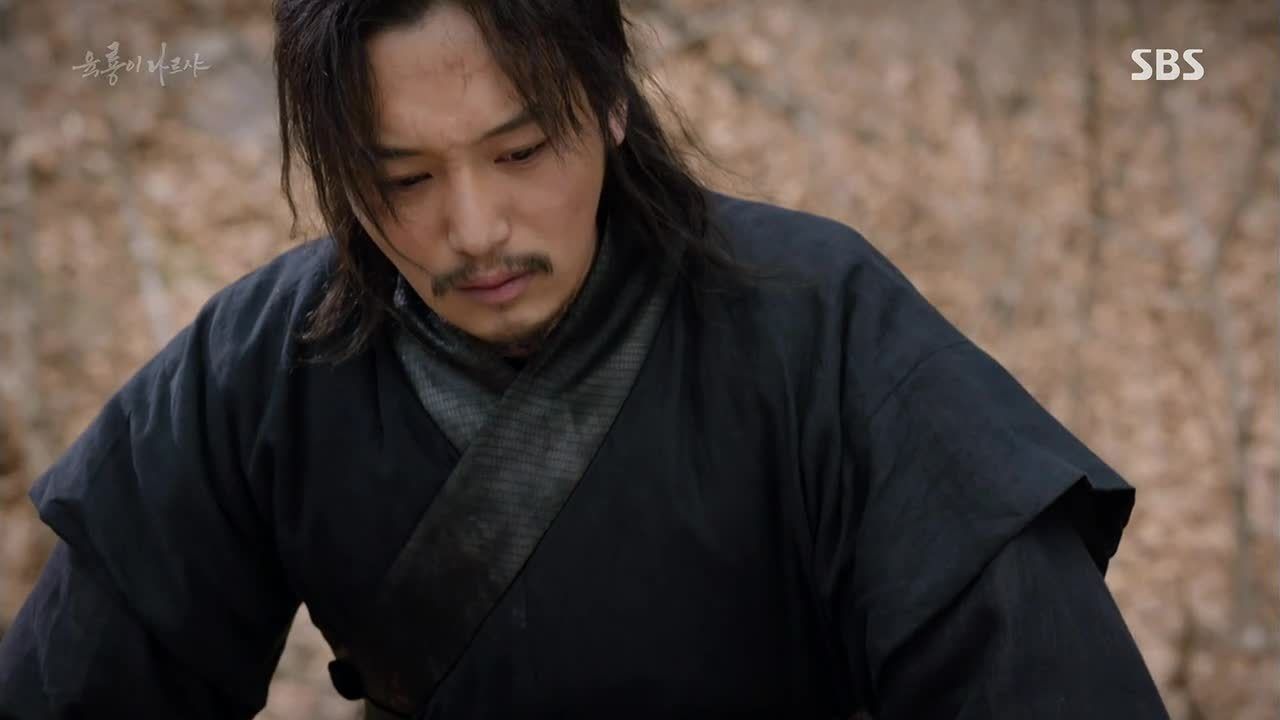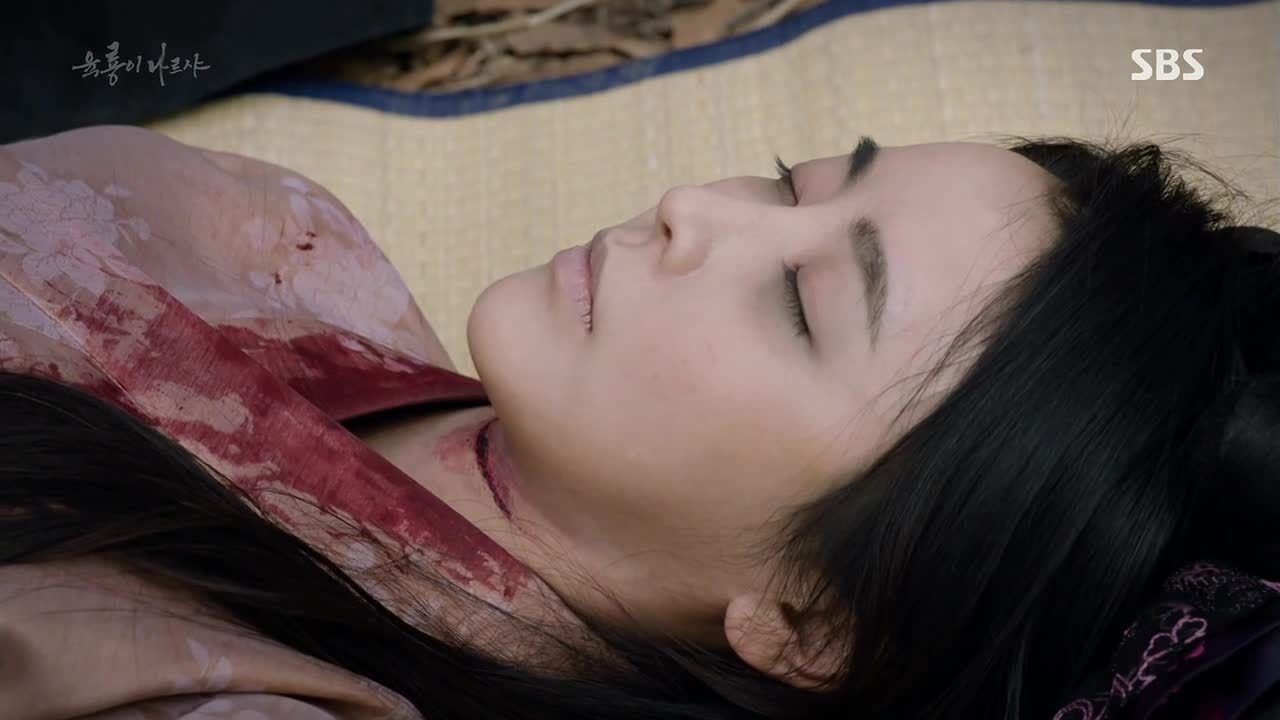 But now it's too late, and he's left with only his grief. Boon-yi cries as well, sending her unni off with both sorrow and gratitude.
Once they're alone, Bang-won asks Moo-hyul about his fight with Bang-ji, figuring that he must not have lost if he's still alive. That's when Moo-hyul reveals that the fight went unfinished because of Boon-yi's intervention, though it's only when he mentions Yeon-hee's death that Bang-won stops for just a moment.
Echoing the myriad of other worried voices, Moo-hyul warns Bang-won to be careful, since Bang-ji will undoubtedly be out for blood. Bang-won's expression tells us that he knows this all too well.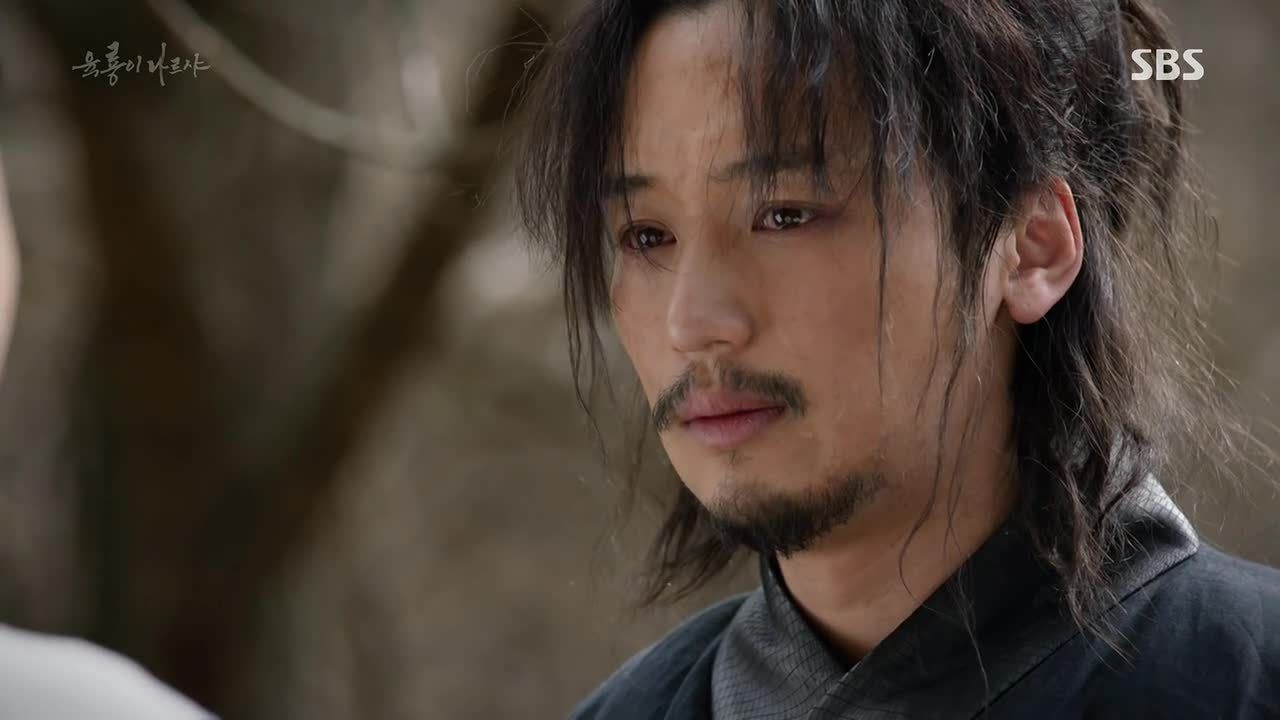 After Yeon-hee is buried, Bang-ji intends to go to where Jung Do-jeon's body has been thrown. Boon-yi knows he's thinking of revenge, and pleads for him to think of her if he starts to see red—but whether he will or not is anyone's guess.
The first thing Ji-ran says to Bang-won when he comes to visit is: "Are you even human?" Even after being confronted with his crimes, Bang-won is shameless enough to ask for Ji-ran to go to his father and ask for the Liaodong Expedition to be cancelled.
This is bigger than him, Bang-won claims, and if his father doesn't denounce Jung Do-jeon as a criminal or call off the expedition, the consequences will be dire. "What? Would you kill me too?" Ji-ran scoffs.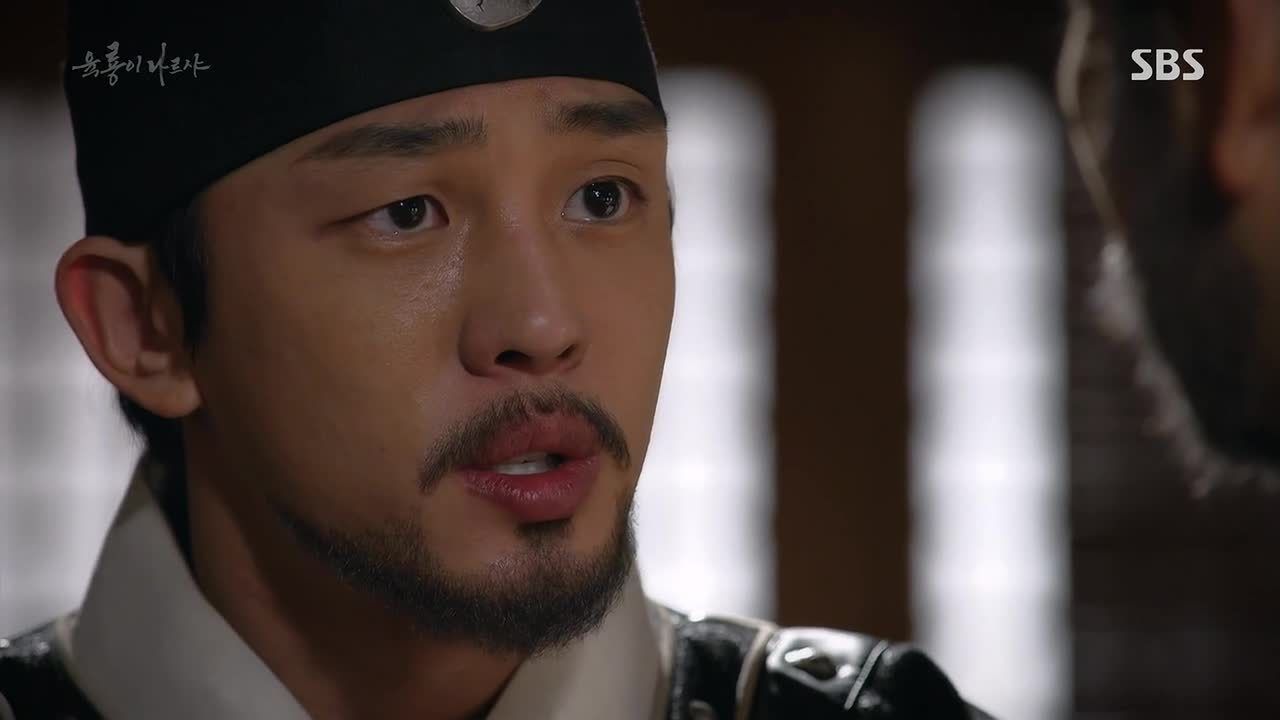 "No," Bang-won replies. "But then… Father…" though he doesn't dare say it, the implication is clear, and Ji-ran stops him before he can say more. With that implicit threat in the air between them, Bang-won grips Ji-ran by the sleeves and says that for that reason alone, Ji-ran must convince his father for him.
Jo Joon is given the horrible task of telling King Taejo that his youngest son is dead, since apparently, news doesn't travel fast in this palace. Knowing immediately that it was Bang-won's doing, Taejo musters the strength to get out of bed and grab his sword.
The king bursts out of his chambers in his night robes, and cuts down the first soldier to approach him. Padding down the steps with nothing but beoseon (ye old socks) on his feet, he approaches Bang-won menacingly.
Holding his sword to his son's neck, King Taejo growls that Bang-won is no better than a dog or pig (the worst insults possible), since even those base animals wouldn't kill their own brothers.
Bang-won holds his ground, declaring that Jung Do-jeon installed a crown prince who was much too young and planned to have him and the other princes killed, which is a line of argument King Taejo quickly takes from him: "How did you become a prince? How were you able to dream of becoming king?"
It's because of his sacrifices that Bang-won was even made a prince, and his power. Therefore, the decision of who should've been crown prince fell on him and him alone—how dare Bang-won try to steal what was never his?
"Yes, everything you say is correct, Father. You are the only one in this world who could kill me. So if you do not plan to forgive me and kill me, I can accept that. Yes… I would rather accept death. Because if I die… my suffering would also end. Please, kill me!" His voice breaks as he says this, and he really does seem to mean it.
King Taejo makes a move as if to do it, which causes a chain reaction amongst Bang-won's soldiers, who all draw their swords to protect him. Voice shaking, Bang-won orders them to sheath their swords, so that there will be no retribution for whatever his father chooses.
Turning his intense gaze back on his father, he urges him to make the decision. A tiny, hysterical fit of laughter bursts out before he adds the cold hard truth: "My life is in your hands." His father decides, and draws his sword back to strike…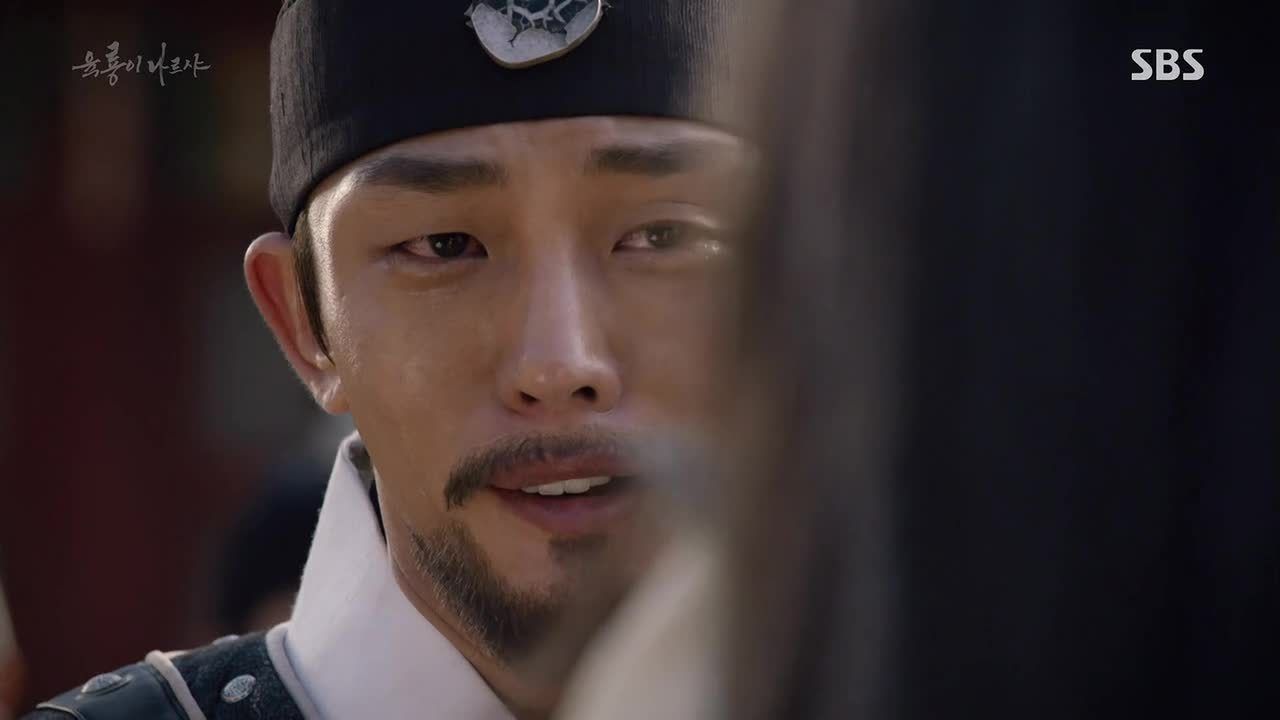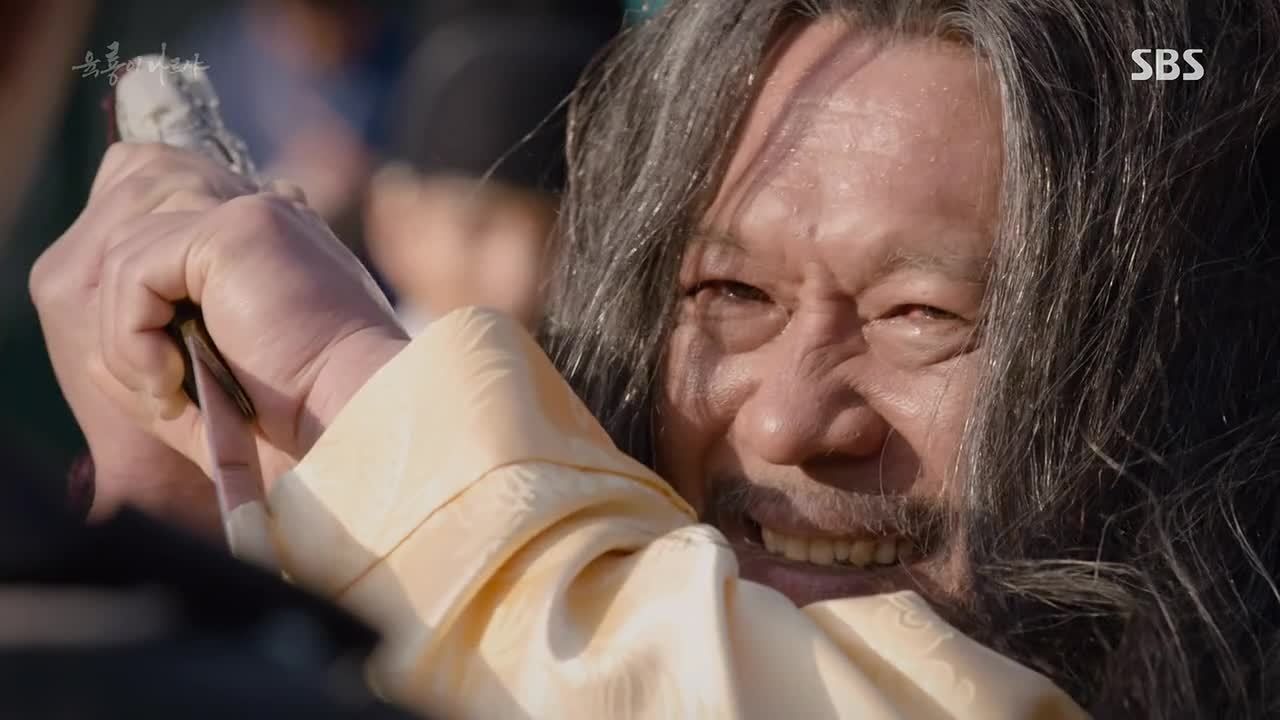 …Only to be stopped by Ji-ran's intervention. "Will you kill all of your children?" his sworn brother asks, taking to his knees before the king in order to make his heartfelt plea. He can't expect the people to follow him if he kills all his children, Ji-ran argues plaintively, so he should just let this go.
King Taejo breaks out into a hysterical fit of laughter much more frightening than his son's as he drops his sword before returning to his quarters. Bang-won lets out a choked sigh of relief.
Events happen quickly after that. King Taejo abdicates the throne, and the royal seal and crown are passed down to Bang-gwa. Bang-won has to keep up public appearances for all these events, and only allows the full weight of everything he's done to hit him when he's alone.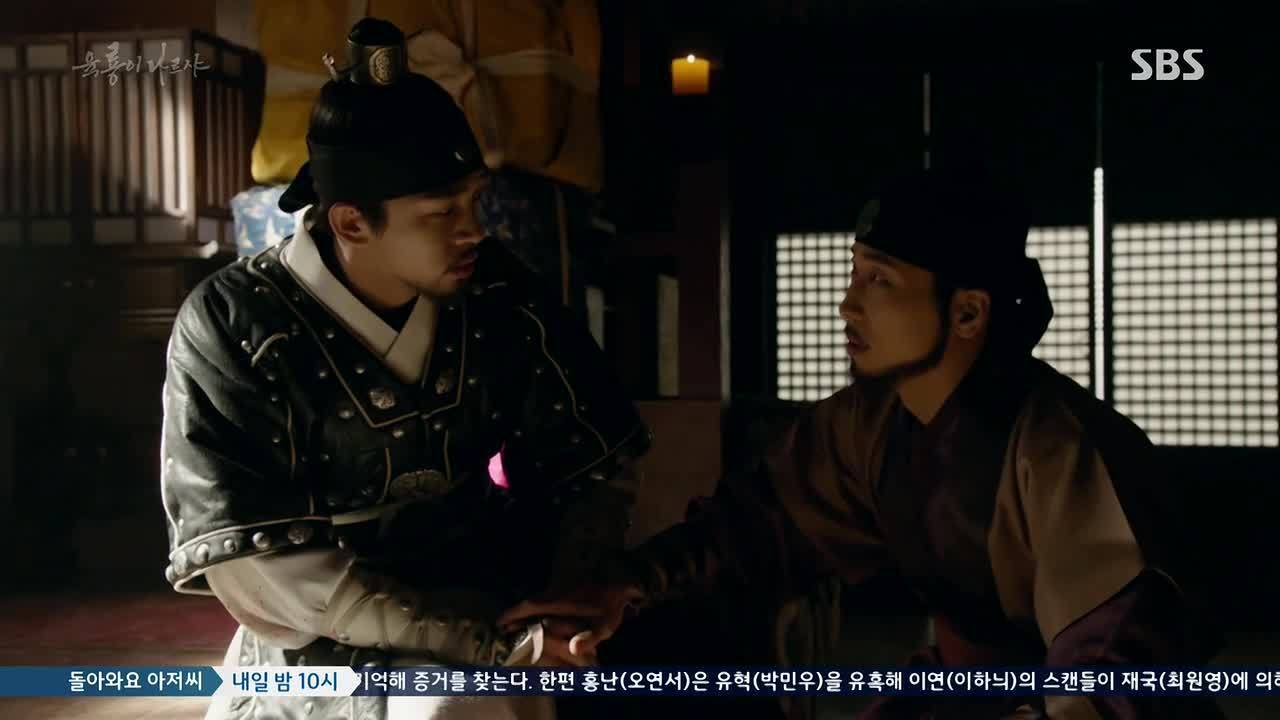 Then, and only then, does he let himself relive the terrible atrocities he's committed. Shaking with the force of it, he's stopped by an intervening and comforting hand—Young-kyu's, appearing alive and whole in Bang-won's twisted state.
To Young-kyu's question of why he did everything himself, as opposed to having someone else do the heavy lifting, a visibly broken Bang-won confesses: "If I asked Moo-hyul to do it, he… I am afraid he would leave me."
Young-kyu's advice is only that he not look back after coming this far, which Bang-won shakily vows to try and do. And with that, the memory of Young-kyu disappears, leaving Bang-won truly alone.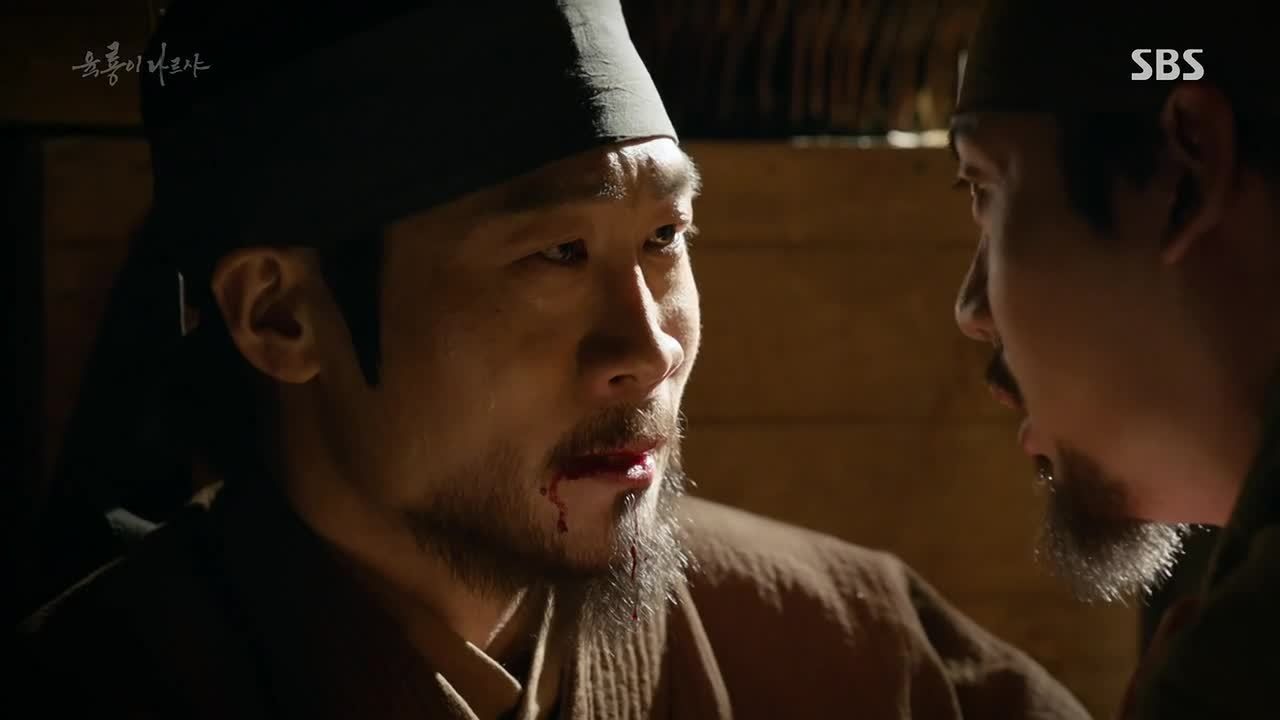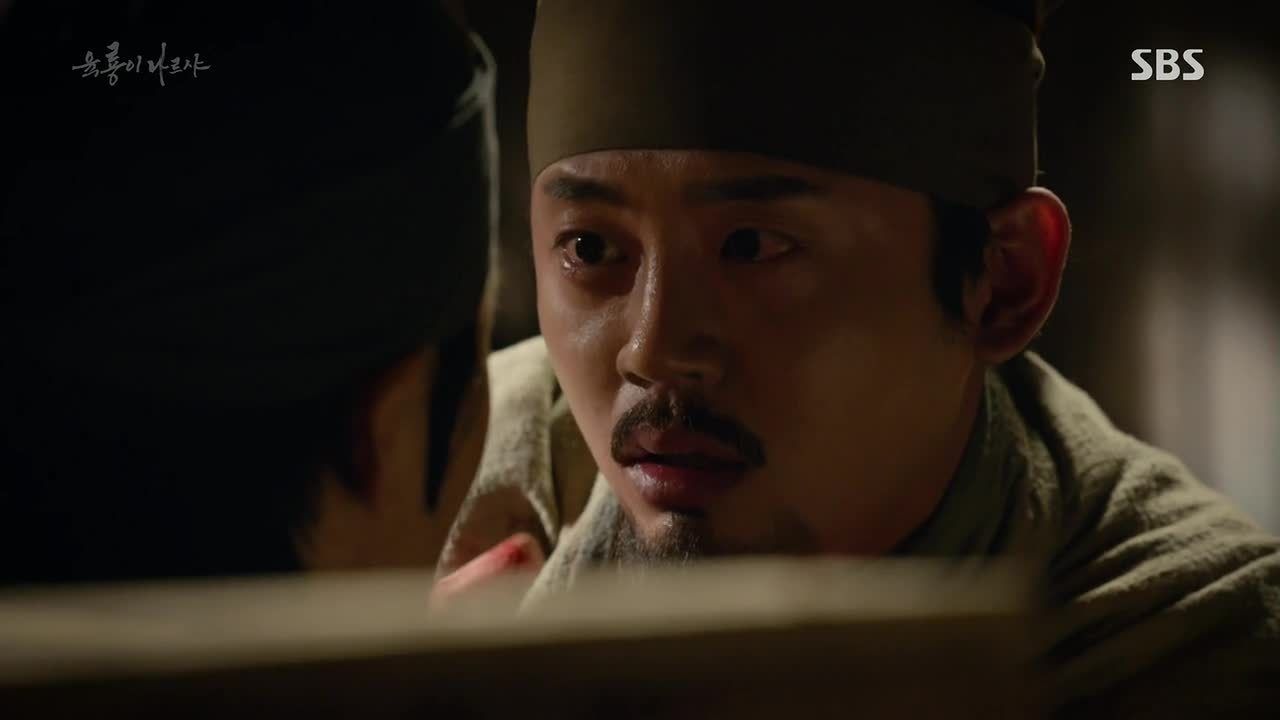 Officer Nam is hunted down in the market and stabbed after a brief fight with the soldiers chasing him, though he still manages to get away. Shin-jeok follows and finds him gravely wounded, and Officer Nam charges him with continuing the legacy Jung Do-jeon created with Hidden Root.
The only way for him to do that is to use Bang-won for power, while keeping Hidden Root in secret. He'll ensure that Shin-jeok has a place in Bang-won's court with the last thing he can give: his life. Shin-jeok can take his body to Bang-won to earn his trust, and Officer Nam even gives him the sword to do it.
We don't see the deed, only the aftermath, when a bloodied Shin-jeok delivers Officer Nam's corpse to Bang-won. He claims he hunted him down and killed him for Bang-won's sake, and acts appropriately humble when Bang-won bids him to stand.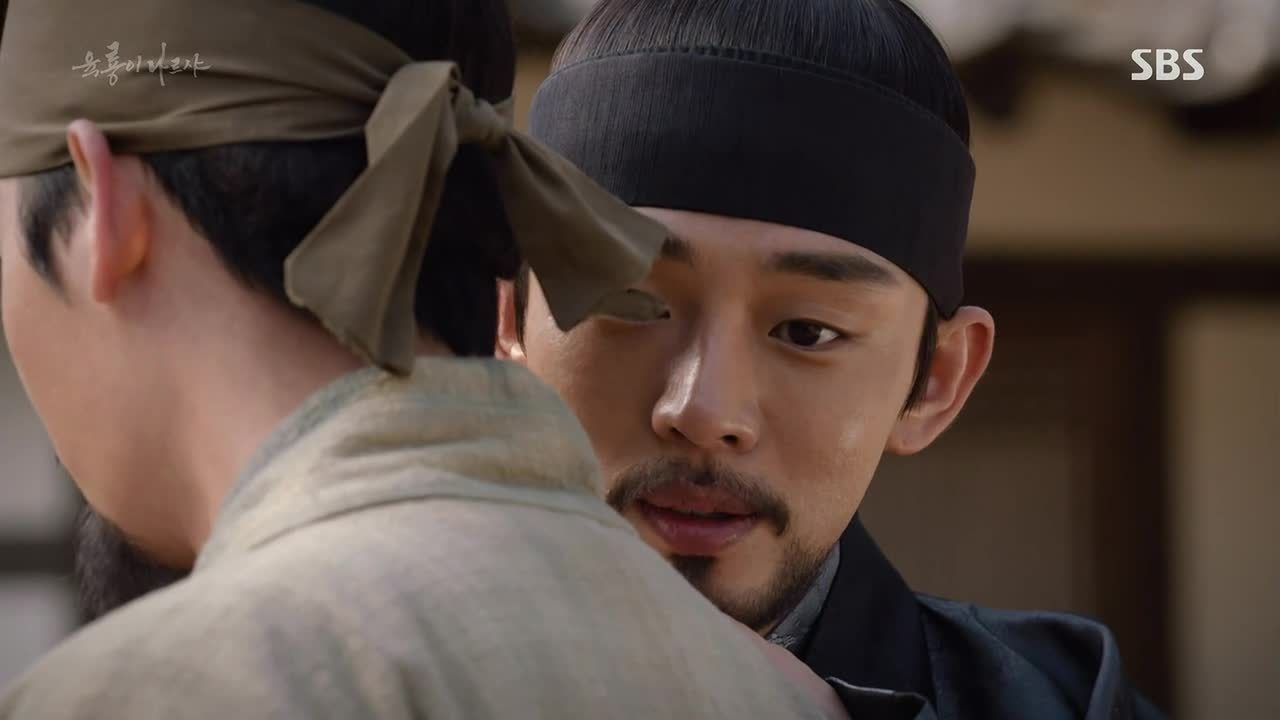 Then, Bang-won leans in to very pointedly tell him that he'll choose to trust him from this point forward. He says it in such a way that even Shin-jeok doubts whether he knows his true identity, and methinks Bang-won does.
Bang-ji finally makes it to the spot where Jung Do-jeon's body has been so unceremoniously tossed out, and tries to arrange the corpse's limbs as best he can. Jung Do-gwang finds him there and thanks him for caring for his brother's body—he doesn't blame him for what happened at all.
The village ajusshi arrives then to rendezvous with Jung Do-gwang and deliver his brother's letter, and he and Bang-ji share a brief moment of recognition from the old days. They don't have more than a few seconds to reminisce, since Bang-ji reacts just a little too late to arrows that suddenly come flying toward them.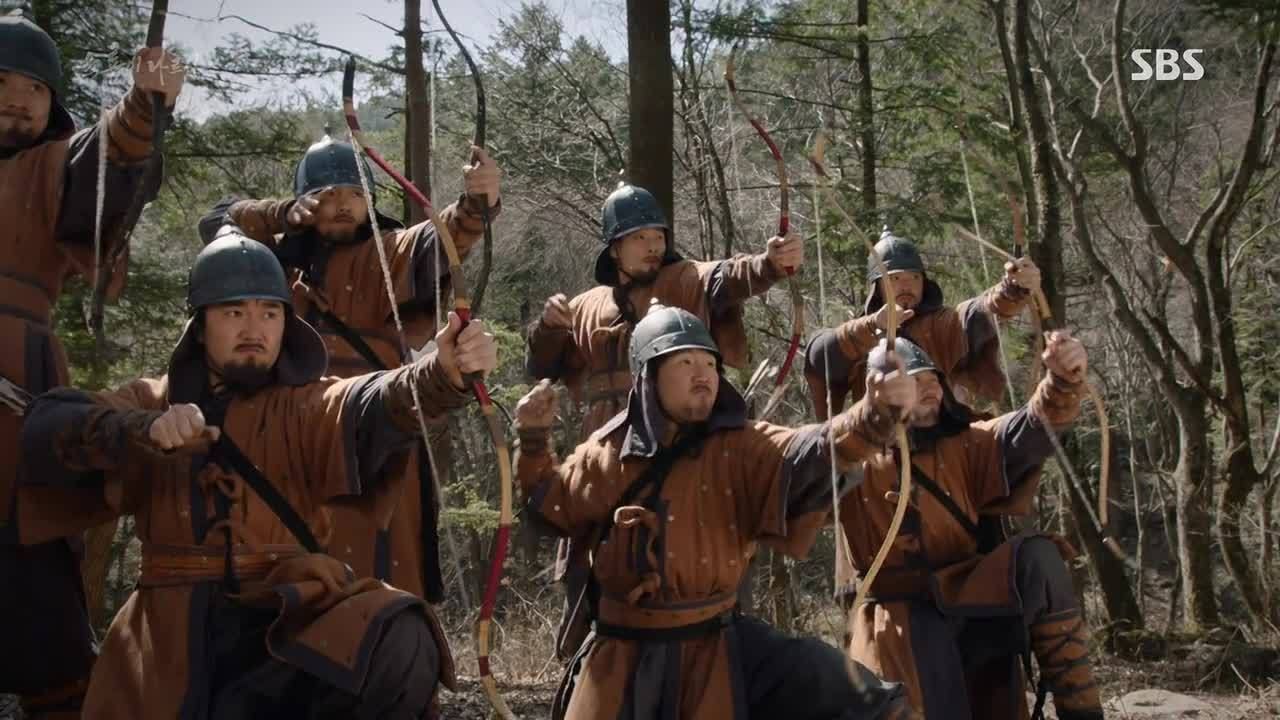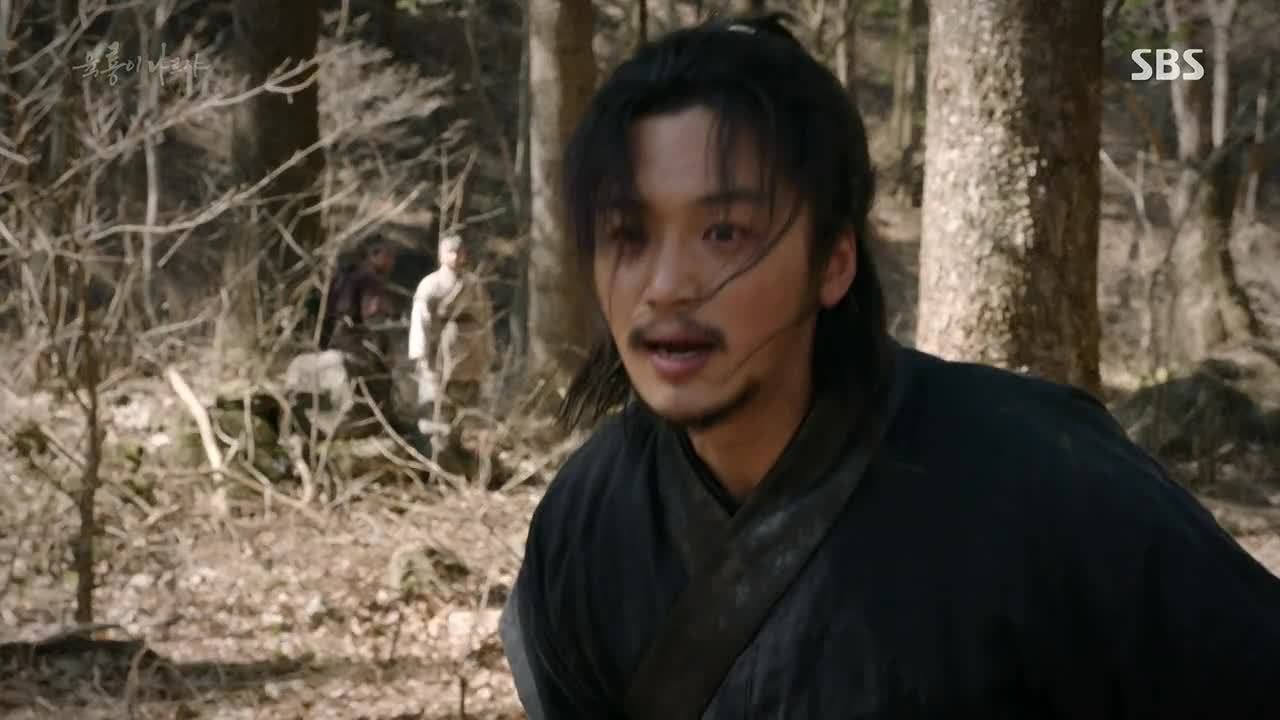 He deflects the ones he can, but the one he misses finds a home in the village ajusshi's back. Bang-ji continues to cut down flying arrows as he advances toward the soldiers firing them, but he unknowingly steps into a rope trap, which instantly tightens around his ankle.
Before Bang-ji has time to realize what's happened, a nearby horse starts galloping off, and Bang-ji is dragged by the foot after it. Another hail of arrows comes straight for him, and he has to cut those down all while being pulled behind a very fast horse.
He's able to cut himself free, though one arrow still lands in his midsection. He breaks it off so he can keep fighting, and single-handedly takes on the small army that's come for Jung Do-gwang.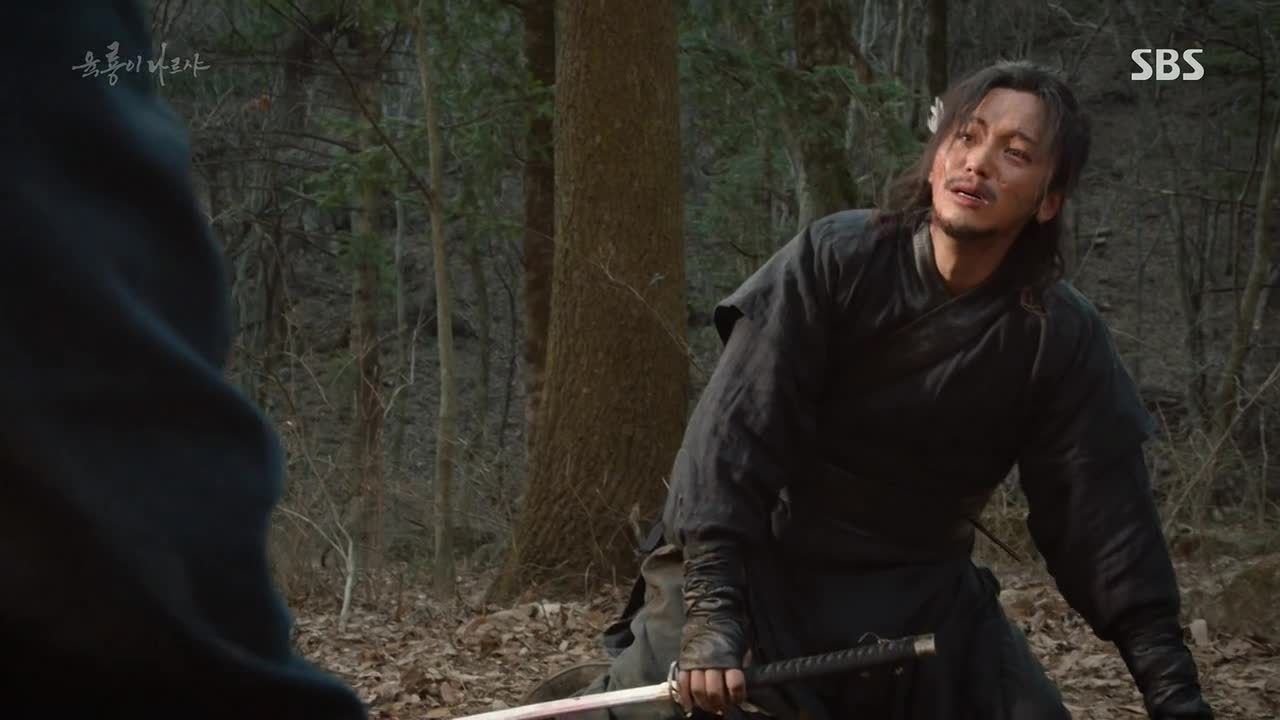 Even wounded, he takes down a great number of them, though he can't chase every single one down. He lets out a roar as he kills the last one in a spray of blood, before seemingly returning to himself and remembering the village ajusshi wounded nearby.
The ajusshi gives him the letter to deliver to Jung Do-gwang, knowing that he won't make it. Bang-ji still doesn't want to leave him, and is unprepared to defend himself against another hail of arrows. One lands in his back, and the ajusshi is quick to push him aside and go running for the soldiers, thus taking every arrow meant for Bang-ji.
Bang-ji cries helplessly from behind him as the ajusshi makes the greatest sacrifice he can, and he honors that sacrifice by fleeing the oncoming army. He escapes off a nearby cliff in a way that only he can, having learned the sophisticated martial arts technique needed to control his descent, buying himself a little time in the process.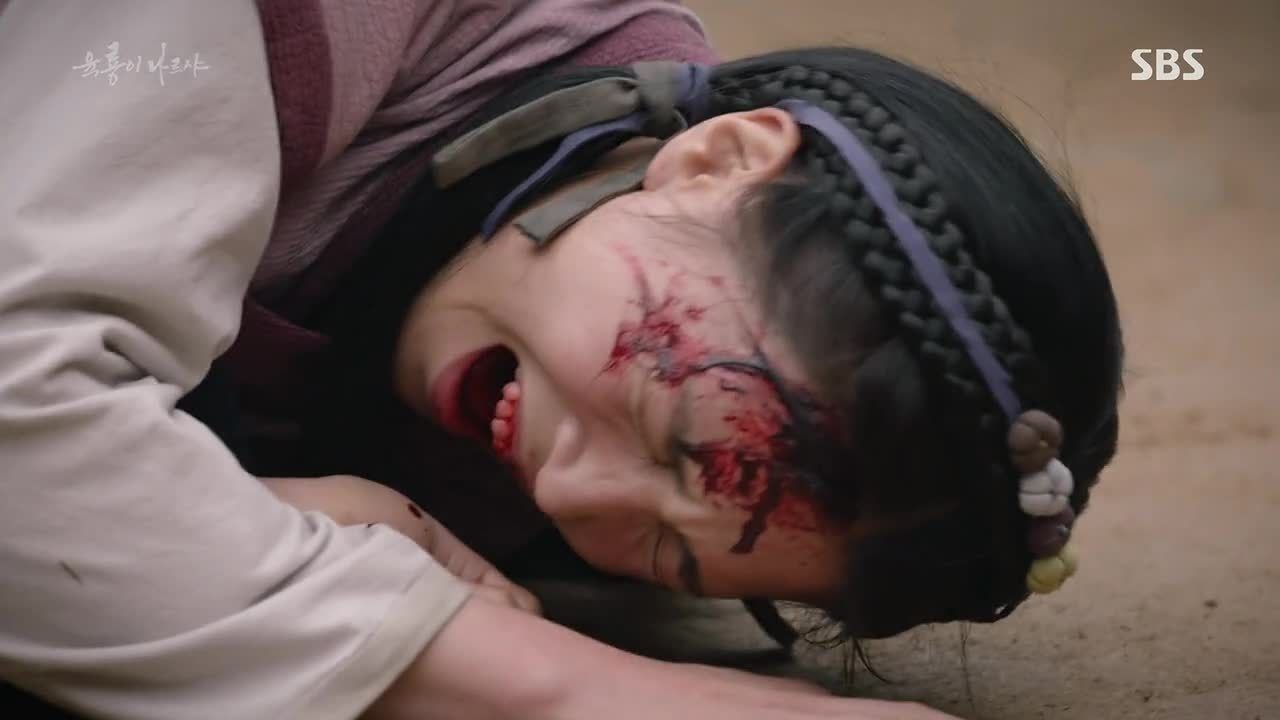 Under Bang-won's command, Shin-jeok leads a contingent of soldiers into Banchon, bearing a royal decree permitting him to do so. He uses Gab-boon as a scapegoat/example by having her beaten for delivering a warning to Jung Do-jeon, which Boon-yi is helpless to stop.
All she can do is fall to her knees and beg that Gab-boon be spared a terrible death, and Shin-jeok grants it. He has to at least look like he's doing the job Bang-won assigned him, even if he doesn't want to.
Bang-ji wakes up in an unfamiliar bed, his wounds having been tended to by his mother. (How did she even find him? Is there only one cliff in Joseon?)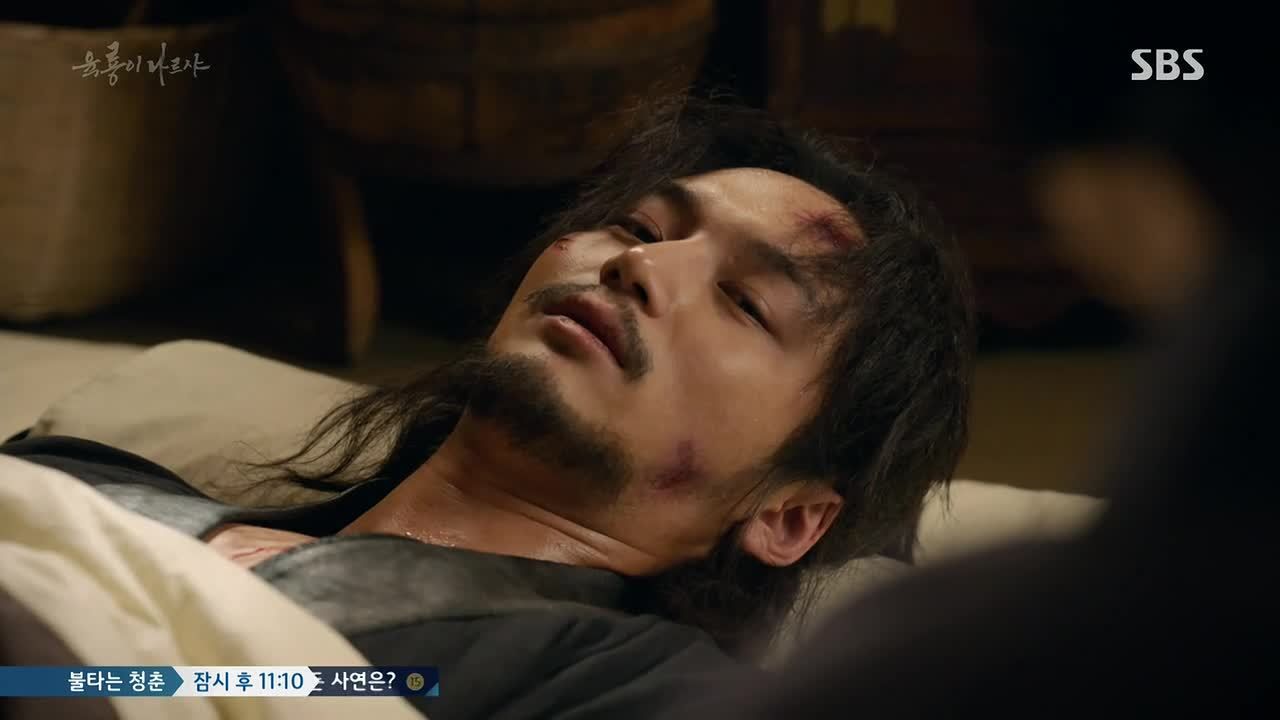 Because his mother missed her opportunity to be a mother, Bang-ji gets up without a word and makes for the door. "I did not know you were alive!" Yeon-hyang calls after him. "I did not know. For ten years, I did not know." A little late now, isn't it?
"Does it feel like Nameless has everything they wanted now that Sambong is dead?" Bang-ji asks her. "I may not know politics very well, but I have learned two things while I kept watch: Lee Bang-won and Jung Do-jeon are the same. The way they think about the world and this nation is the same. Bang-won simply wanted to own it."
To that end, he adds, what does Yeon-hyang think will happen now? Does she actually believe that Bang-won would just leave Nameless alone? He leaves on that note, only to be stopped by Gil Sun-mi, who confirms what his mother said about not knowing her children were alive.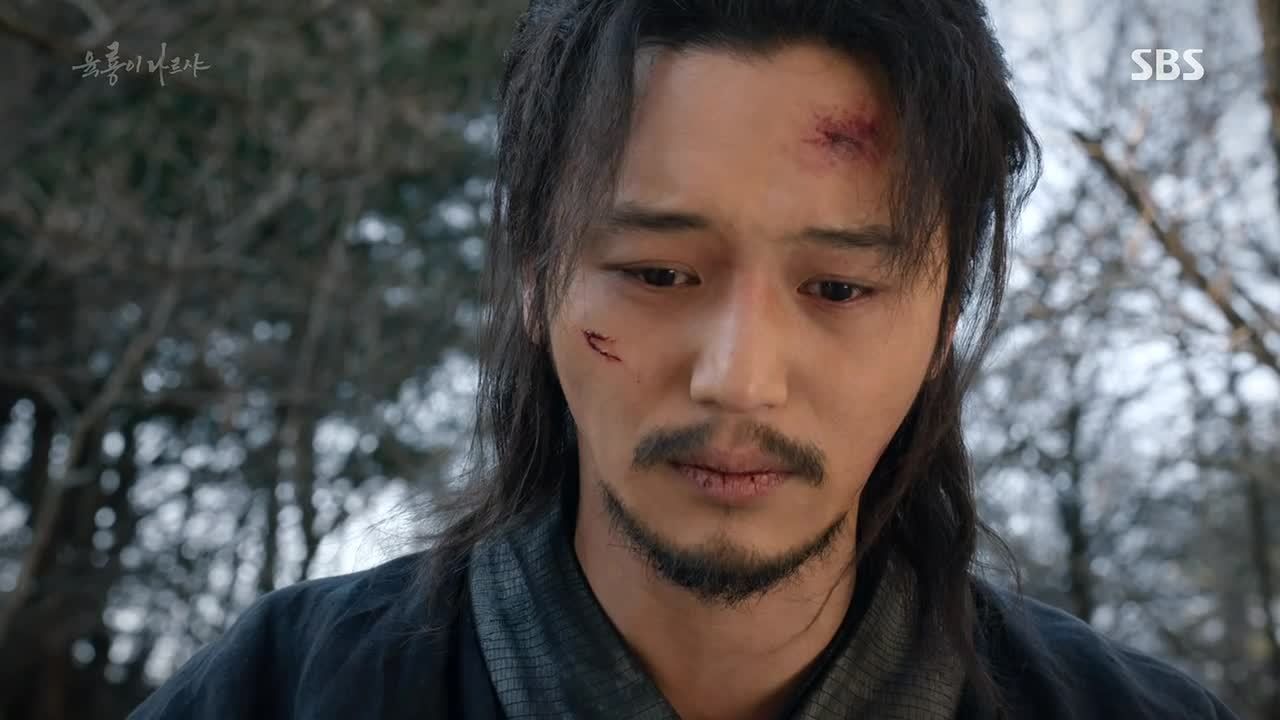 It matters little to Bang-ji, who steals away to read the letter Jung Do-jeon left for his brother. "Do-kwang, I believe this is the end. Try not to follow in my footsteps, for the living must decide for themselves," it reads. He even mentions Bang-ji, in the hopes that his brother would pass on the message that he is not to throw his life away for him.
Bang-ji crumples the letter in his hand, apologizing to the memory of Jung Do-jeon, since he can't, won't, abide by his wishes.
Bang-won lays out his plans for the future of the nation with Ha Ryun, which basically include doing the exact same things Jung Do-jeon started. Of course he's all for abolishing private armies now that he doesn't need them, and lessen the role of Buddhism. Of more pressing concern, though, is dealing with Nameless.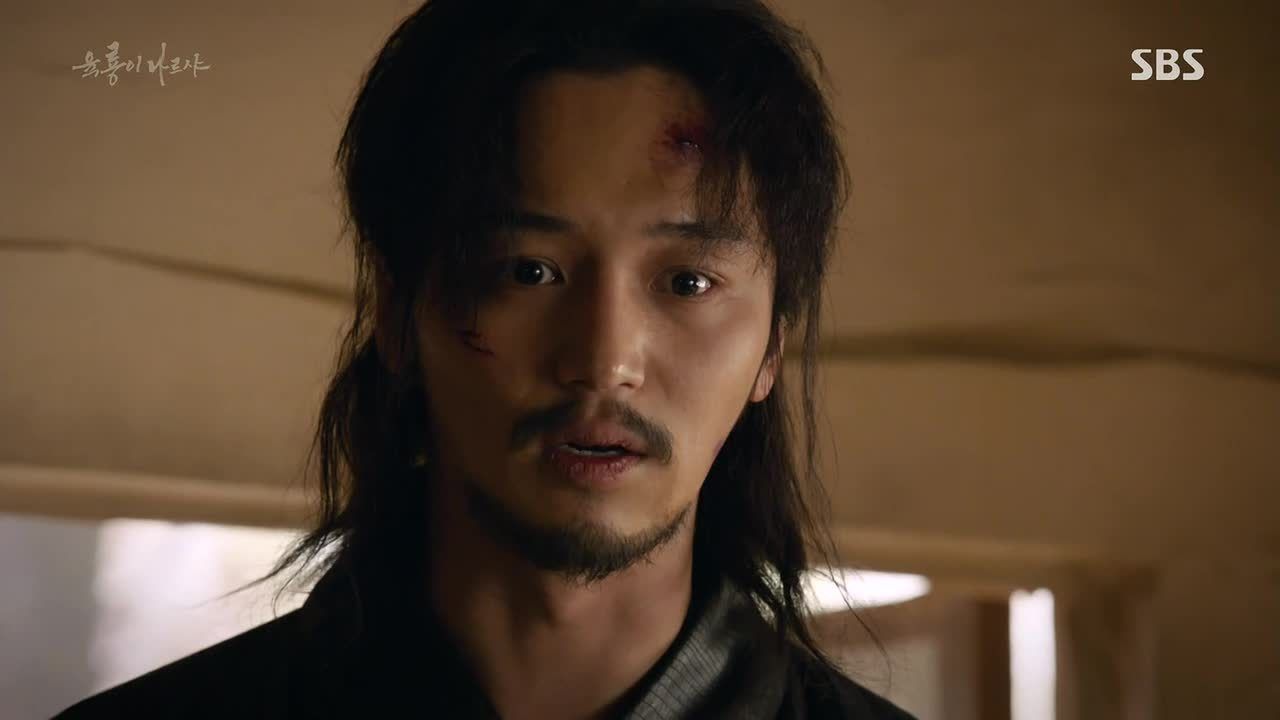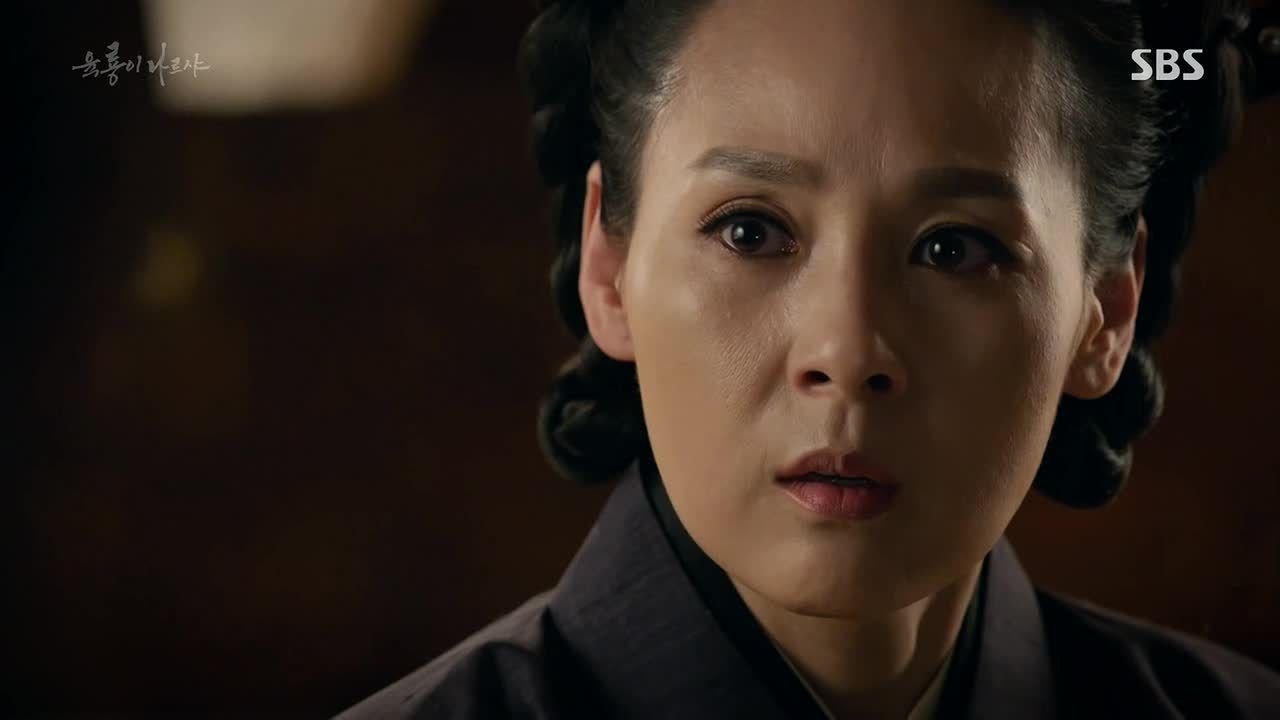 Yooksan has no idea that Bang-won's plotting against his organization, and thinks that a mutually beneficial agreement can be reached between them. Yeon-hyang thinks differently, which is what Bang-ji's counting on when he returns to her.
If she believes what he said about Bang-won and Jung Do-jeon essentially being the same, will she turn Nameless' ire on Bang-won the way they did for Jung? Because if so, Bang-ji wants in, if only for a chance to end Bang-won's life.
Eyes wide with just a tinge of madness, Bang-won asks Ha Ryun if he actually thought he planned to share his power with Nameless. "Your seven-hundred-year reign will come to an end, Nameless," he thinks to himself.
While Bang-ji thinks, "I will kill you, Lee Bang-won."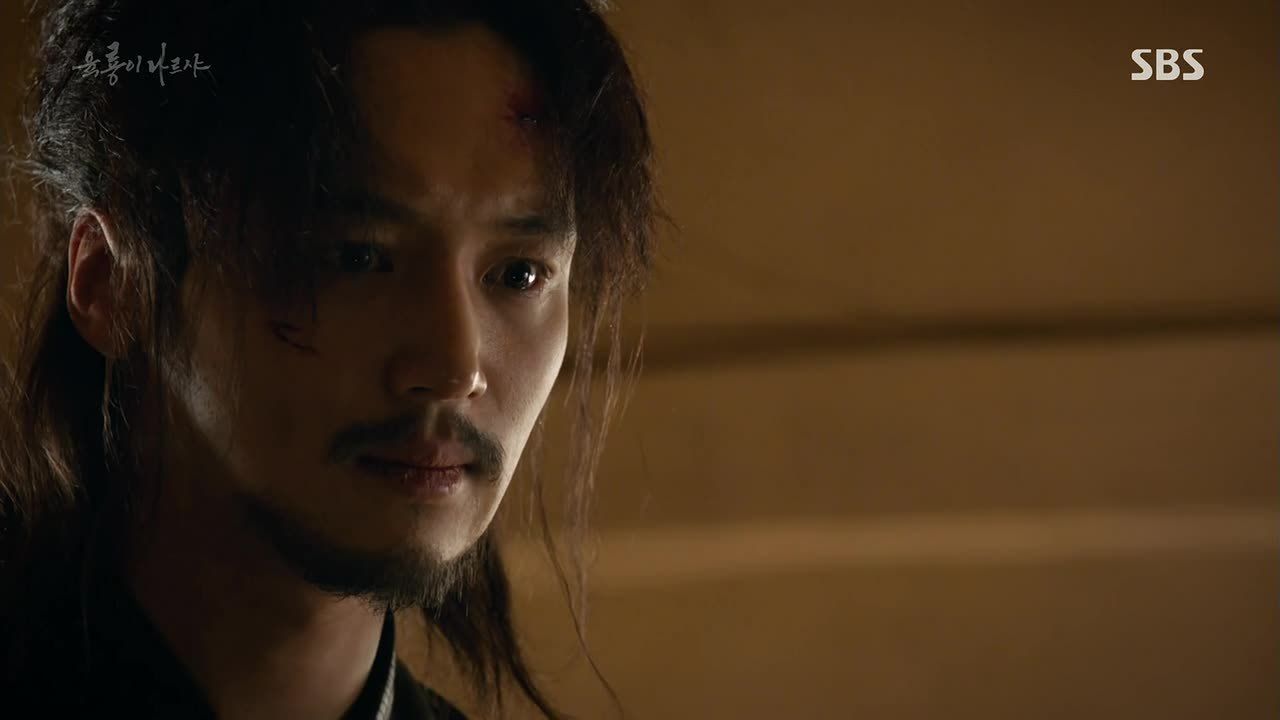 COMMENTS
Where do I even begin? It'd take a novel just to cover everything this episode did right, so I'll try focusing just on the things it did exceptionally as opposed to what it did just great-ish at. Even Nameless, the biggest sore spot on the otherwise shiny apple that is Six Flying Dragons, managed to suck less this week. That doesn't make them better villains or a legitimate force to be reckoned with, but the backseat they ended up taking to this week's events went a long way in making them much more bearable, if not necessarily relevant.
But it was Bang-won, and to a lesser extent Bang-ji, who carried the day in the end. I'm constantly surprised at how the show manages to present new facets of Bang-won's character even after this long, and all without telling us how to feel about what we see. Obviously, we get a much better look at what makes Bang-won up as opposed to someone like his father, but the things he's done are inexcusable in any light. And yet we do excuse them, by virtue of Bang-won being presented as an infinitely complex and incredibly flawed human being.
He still wants what he wants, and will do practically anything to get it, but it's something else entirely for us to see how vulnerable he really is. And this week, for as much power as he exerted, showed us more of his twisted and frightened insides than we've ever seen before. His scene with Ji-ran was particularly telling, where he basically was pleading for Ji-ran's help in stopping his murderous impulses so that he wouldn't kill his own father, the king. Far from being manipulative, which it also happened to be, it felt much more like Bang-won just baring his soul. His dark, terrible soul.
Likewise, when he faced off against his father, being manipulative didn't seem to be the chief concern on Bang-won's mind. Though he'd already gone to Ji-ran in the hopes for an intervention, he had no way of knowing he'd pull through just in time. Asking his father to kill him also didn't seem to be a bluff on Bang-won's part, because he seemed to know very well what his father would choose. And in that moment, Bang-won looked ready and willing to die.
What broke my heart more than all of Bang-won's struggles till now combined, however, was his admission to Ghost-kyu as to why he committed all those terrible deeds himself. Why, when given the choice, he killed his former idol and the little brother who idolized him with his own two hands, when he had scores of men willing to die for him. That he was simply too afraid of losing Moo-hyul to risk asking him to bloody his hands was just so unspeakably pitiful that I could forgive Bang-won for so much worse than he's already done. I can't help it—I feel bad for him, murderer that he is.
But no comments section on this episode would be complete without mentioning Bang-ji, though the attention he received was almost bittersweet retrospectively—when he's capable of bringing so much, why was he relegated to doing so little for so long? I may never understand it, but if nothing else, he made up for a lot of lost time. Strangely enough, though his fight scenes were absolutely amazing and his reactions to the avalanche of death and despair were on point, it was the tears he shed for the village ajusshi that cut deeper than the ones he shed even for Yeon-hee. Something about the rawness of it all, that death in a sea of deaths being the one to nearly break him. Nearly, but not quite. Not yet.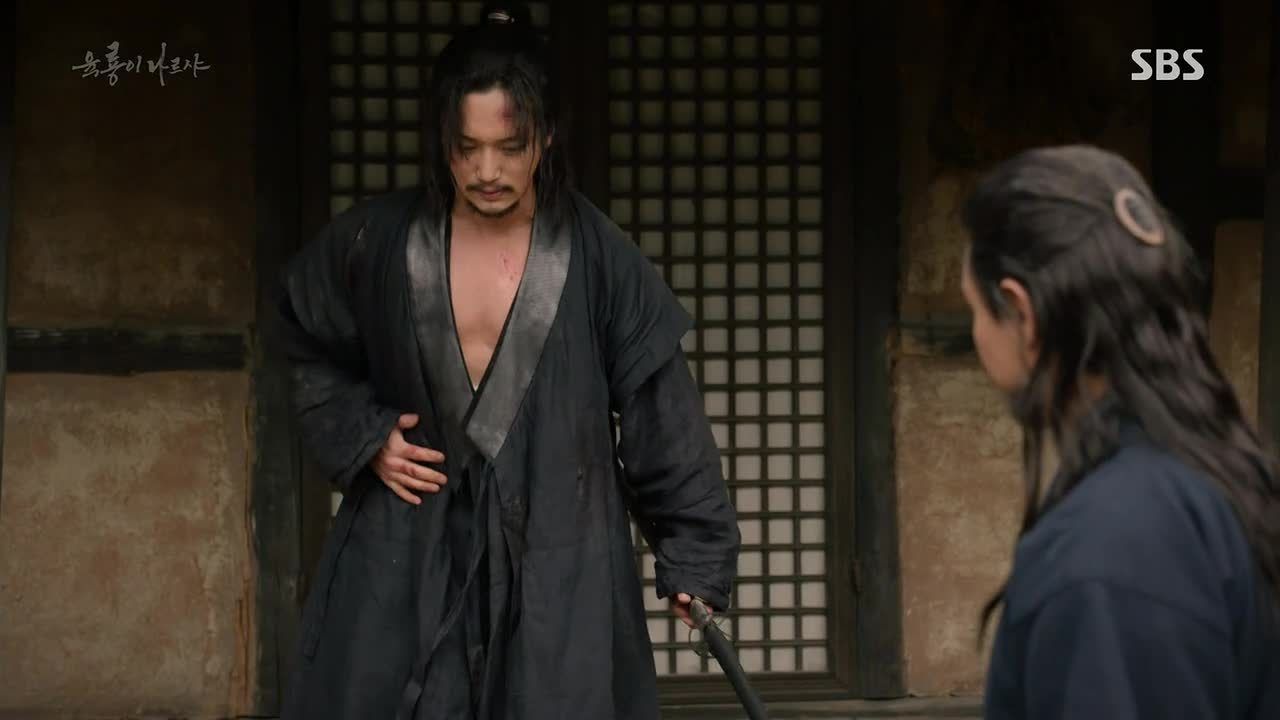 RELATED POSTS
Tags: Byun Yo-han, featured, Kim Myung-min, Shin Se-kyung, Six Flying Dragons, Yoo Ah-in