Youths Over Flowers in Africa: Episode 2
girlfriday: Episode 2! The boys (minus Bo-gum, who's missed his connecting flight) finally rent a car and leave the airport. For the second time.
javabeans: I actually read an interview with Na PD in the past week about the nature of filming reality TV and not intervening, for instance just watching them spend their first day trying to rent a car, or Bo-gum missing a flight.
girlfriday: Lol, it's not National Geographic! Dummies in their natural habitat or something?
javabeans: He was saying how if he'd stepped in and directed them too much, it would seem unnatural, like they'd start following directions instead of figuring things out themselves. Though he did point out, "If they'd just rented the car at the airport, they could have driven around and we could've gotten cool scenery shots and seen the city…"
girlfriday: I guess it takes a certain kind of patience (or confidence in your editing abilities) to just let them be. Thankfully the hotel-finding does not take as long as the car-renting, and they book the room they had reserved online at a good deal. It's a nice room with three small beds and an open sink, an open shower, and… an open toilet?? There are no doors in this place?
javabeans: That's so strange, and the boys are thrown. Maybe it's meant to be a single-person room? Haha, Jae-hong is the one who tells the others "Just poop!" like it's no big deal, but then he goes around looking at all the cameras and trying to calculate their angles. Thank god, at least we have confirmation that Joon-yeol bought new underwear!
girlfriday: But THEN, while Joon-yeol goes to shower, Jae-hong thoughtlessly opens one of the closet doors, not realizing that it has a camera mounted on it, changing the angle so that it gets Joon-yeol nekkid in the shower. Omo.
javabeans: Muahahaha. They die laughing like it's the funniest thing. It kind of is the funniest thing.
girlfriday: So much for calculating all the angles. How much do we have to pay Na PD to get that in the director's cut special episode?
javabeans: Aw, the VJ deletes the footage, but the boys at least re-enact the scene (clothed, boo) to show us what it would have shown. Which is everything.
girlfriday: No wonder there was swearing. They have some beers before going to bed, and meanwhile Bo-gum is still stuck at the airport with his small crew.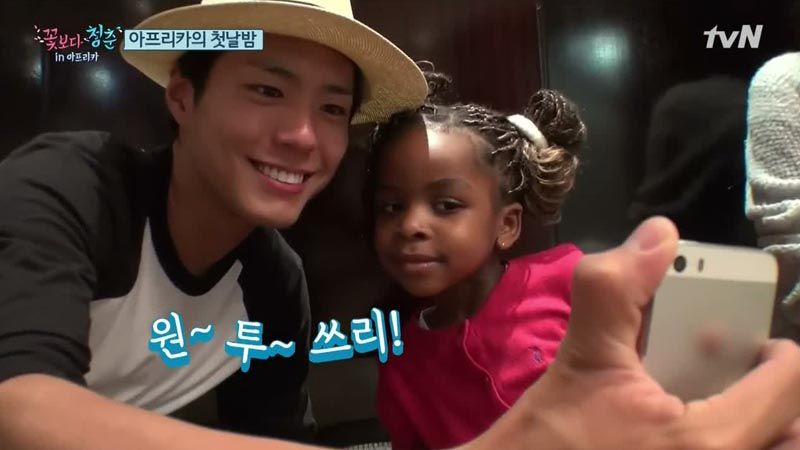 javabeans: Poor Bo-gummie, he looks like he wants to cry, he's so sorry for misreading the gate number, which led him to wait too far from his actual gate to make check-in. It's decided that he'll stay the night in a hotel room in the airport, and he has to stand in a long line, where he chats with the guy ahead of him in his broken English, who has also missed his connecting flight.
girlfriday: It seems to take foreeeeever to get a room there, and he kills some time making friends with a little girl, before finally getting to his room. He chuckles to see a text from Kyung-pyo, which is needlessly long and detailed and adorably worried about Bo-gum.
javabeans: Don't you love how he insists, "No matter what, call the INSTANT you read this message!"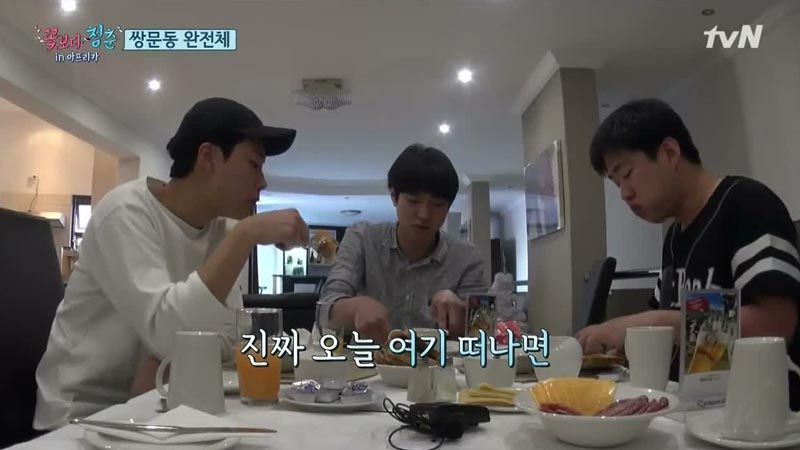 girlfriday: It's so very cute and momish. They really treat Bo-gum like the baby.
javabeans: Ha, he requests more towels and shampoo from the front desk, then gets into the shower, and then gets a knock on his door. He didn't really think that out did he?
girlfriday: But thanks to his inefficiency, we watch him run around his room in a towel.
javabeans: In the morning, we rejoin the three others as they get up, get ready, and have breakfast, discussing their plans to see Sossusvlei today, which is an area of the desert with particularly interesting landscapes. Ha, they decide they'll drive fast and not stop much, and warn the crew of their plans. They even pack up their breakfast leftovers so that lunch doesn't slow them down.
girlfriday: Joon-yeol decides it would be too easy to just give Bo-gum his new underwear (they must've bought a pair for each of them), and is already thinking of ways to make him work for it. Don't withhold the underwear! After catching the early morning flight, Bo-gum arrives in Windhoek and sounds SO relieved to hear Jae-hong's voice when he calls.
javabeans: He just lights up, doesn't he? He's so cute, asking, "Hyuuuung! What do I do now?"
girlfriday: He really is as helpless as Taek. The hyungs are already on it, and they pack up the car to go pick him up. At the airport. AGAIN.
javabeans: Is this three times in like 12 hours?
girlfriday: It's starting to feel like a wormhole.
javabeans: Ha, Bo-gum runs up to the car as it approaches the curb, and they jokingly keep driving and make him jog along. He joins the others in the car, and the hyungs start on the joke where they tell him that it was way too expensive to buy underwear so they all decided to just go with what they've got. Kyung-pyo adds, "Right now, Joon-yeol and I are going commando."
girlfriday: Bo-gum is the kind of gullible where it takes zero effort to get him to buy your story — he just accepts everything as fact. Jae-hong plans to cook a chicken dish for dinner, so they head out to buy groceries, only they end up taking a detour for clothes. Why do I get the feeling they're going to spend their whole budget on shopping?
javabeans: We're told it's priced low, so there's that? They decide to ignore concerns of looks, and Kyung-pyo even picks out a woman's tank top from the clearance rack. Haha. That must be the strange top I saw in the previews that I thought looked weird.
girlfriday: It is! And the back is way funnier than the front.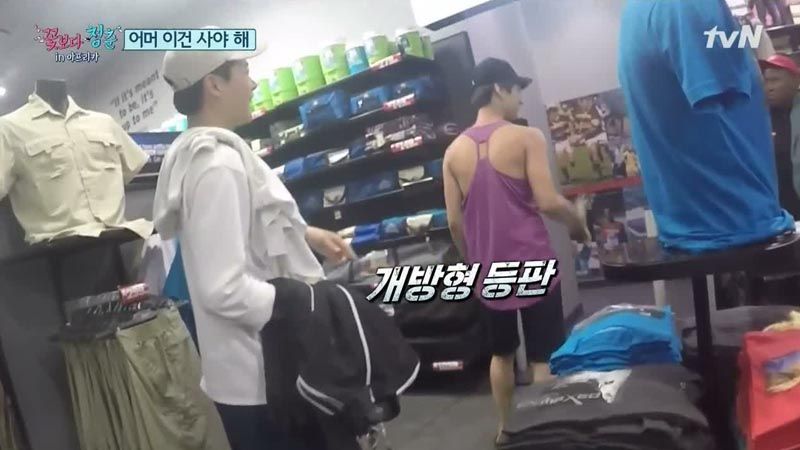 javabeans: It's really strange to see a man in a racerback. The sales clerk tries to tell him it's a woman's top, and he just goes, "I know." LOL. They pick out tents too — ah, they must be camping out tonight. I wonder what the crew will do.
girlfriday: Sleep in their cars?
javabeans: While cursing the boys?
girlfriday: Yeah Na PD doesn't seem like the roughing-it type, despite the suffering he inflicts on others. Jae-hong and Bo-gum go grocery shopping, and now I'm concerned that they'll blow their whole budget on food. Are the two teams communicating at all on how much they're spending?
javabeans: Wow, Bo-gum records the prices of everything as they shop into his phone, to check against the receipts later. That's a level of detail that eludes me.
girlfriday: Who has the time for that?
javabeans: I can see it being useful though, especially in a currency I'm unfamiliar with. Overall I'm mostly thinking they'll be on top of their budget, but the way they just barrel on buying things does make me nervous. When they get back to the car, that's a lot of loot they're stuffing into the trunk.
girlfriday: Maybe they don't intend to spend any more money, and will just camp outdoors with the stuff they bought at the start. As they get back out on the road, the hyungs laugh because Bo-gum says "Thank you" to literally every single thing, and it becomes a catchphrase for them, partly as a joke, but partly because they do feel grateful for being on the trip.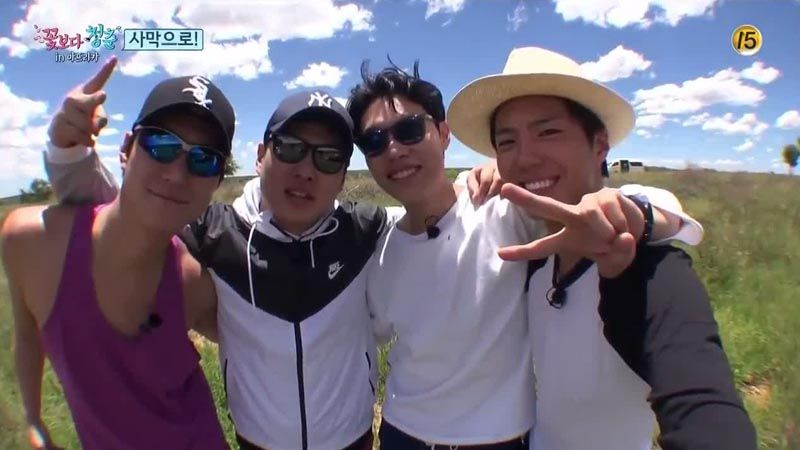 javabeans: Pretty soon the city is behind them, and they really start cruising. When the road turns to dirt, Joon-yeol just punches the gas and they go flying. It looks super fun and also kind of terrifying, judging from their reactions every time they hit a bump. They get excited to see baboons run across the road and take bets on what animal they'll see next, which turns out to be gazelles.
girlfriday: After five hours on the road, they reach Sossusvlei, which includes campgrounds where they can book space for their tents.
javabeans: They get out of the car and start trekking across the sand dunes, which looks pretty physically exerting. They huff and puff as they go up and down, up and down the dunes, but are keen to keep going to see the sunset.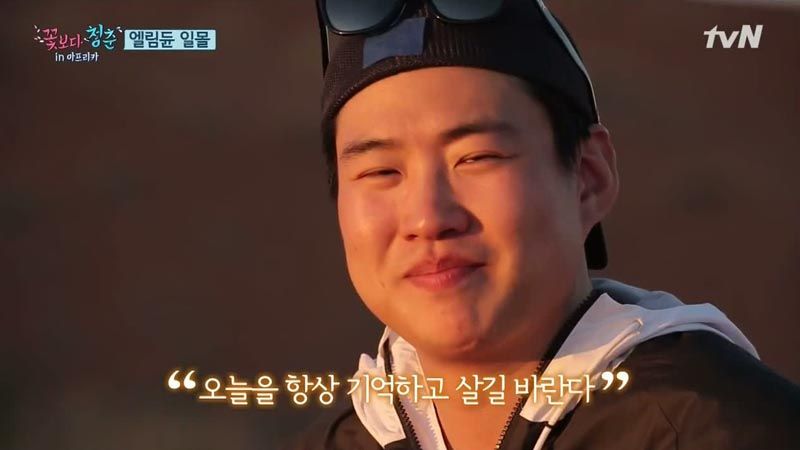 girlfriday: Joon-yeol even gets a thorn in his foot, but just keeps on going ahead with Bo-gum, while Jae-hong and Kyung-pyo trail behind
javabeans: They pause to sit down and admire the view, and get a little tearful as they say a few words for their future selves. Kyung-pyo says that he can really feel how small he is here, and tells Future Kyung-pyo to live more diligently. Jae-hong tells himself to remember today always, and Bo-gum says he'd like to always live with gratitude. I think he's got that covered already.
girlfriday: They do a group cheer to that effect. Joon-yeol spends his time quietly off on his own, and later he interviews that he just wanted to enjoy the moment in solitude.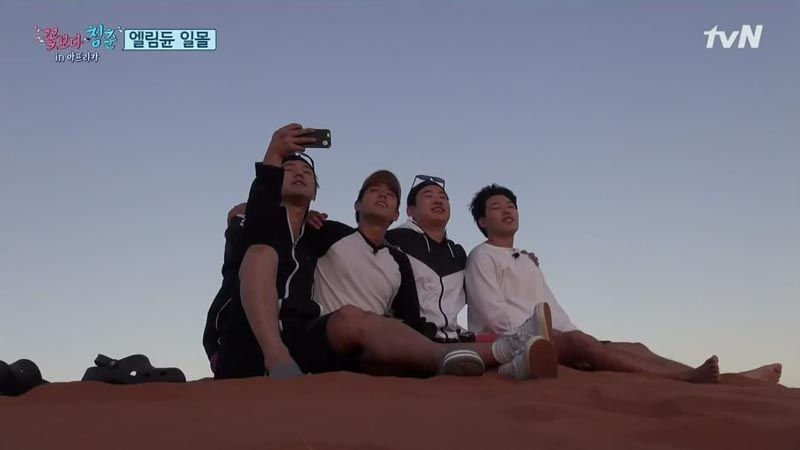 javabeans: They stay until the sun goes past the horizon and the sky turns purple, and take a bunch of pictures before turning back as the sky darkens. They pause one last time to take a jumping photo in the last bit of sunlight, and jump on cue… and Jae-hong rips his pants.
girlfriday: Pffft. And he only has the one pair! Omg, he doesn't replace them either, and we get a montage of the hole in his pants getting larger and larger as the trip wears on.
javabeans: They're comically ripped, straight down the back seam, and the visual is just so hilarious with the ripped pink shorts and the black underwear showing through.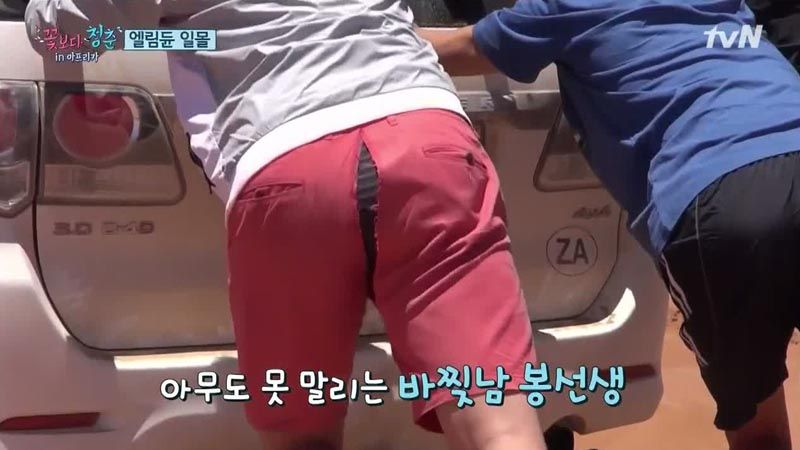 girlfriday: Kyung-pyo takes the lead in pitching the tents Bo-gum, while the hyungs head off to seek fire-starting materials.
javabeans: They spy a large tourist bus camped out nearby and ask for help, and Joon-yeol says the words, "We will make dinner, but we don't have… push the button, strong fire?" He means torch.
girlfriday: They're hilariously clueless about how to make fire, and he starts to ask to use "this tree" (pointing to the firewood), saying, "We're hungry, we want to cook, but we don't have fire." That about sums it up.
javabeans: "How can make a fire… can you teach me?" That's so cute and embarrassing at the same time. Thankfully the nice man takes pity and gives them four pieces of firewood, and thinks to ask the boys if they have a knife, and when they don't, he laughs out loud. So do I, in fact. Joon-yeol: "No, I just have my hand."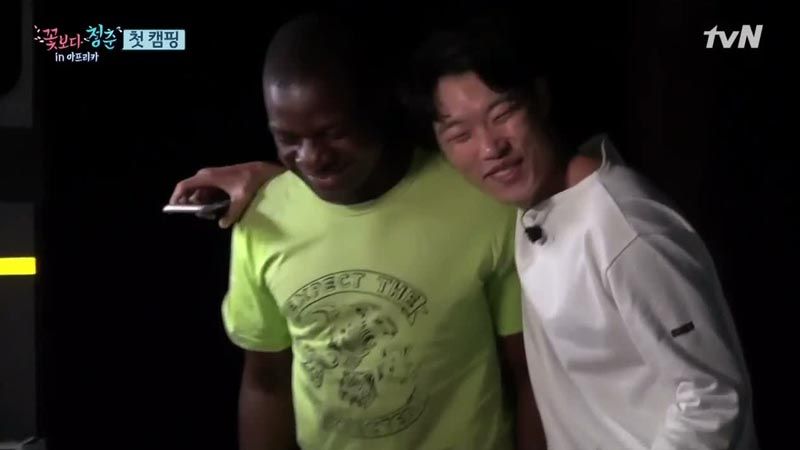 girlfriday: They literally only bought tents and sleeping bags, thinking that would be enough. Oy.
javabeans: Thankfully, it appears that once they make fire, Jae-hong is on top of it in the kitchen. I question the sanitary conditions of dressing a raw chicken in the trunk of the car with bare hands, but he doesn't seem too worried.
girlfriday: He clearly knows what he's doing, though it looks pretty funny when he balls up the whole chicken in foil and sticks it in the fire. They're eating like king tonight because they have samgyupsal on top of it all.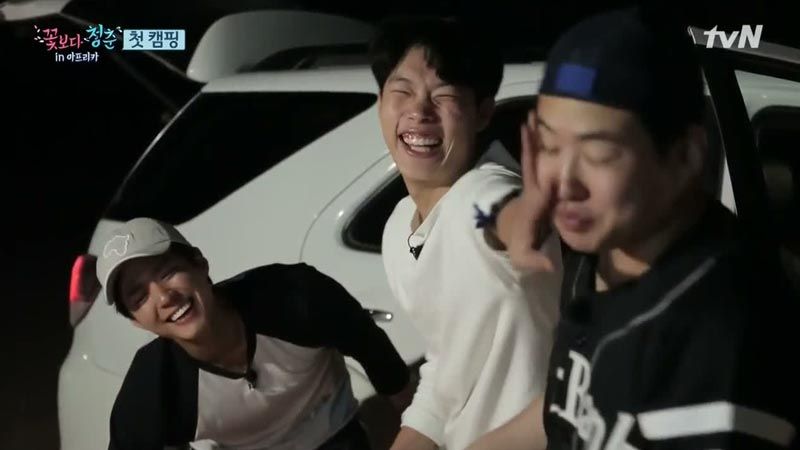 javabeans: It takes a little work to get the meat cooking, but once they do, it's a full-on barbecue party. I find it cute the way everyone just goes around feeding each other.
girlfriday: And the importance they place on certain cuts of meat, and what it means for their level of bromance. Joon-yeol: "I don't give the skin to just anyone! I don't give away the skin to anyone who isn't my brother!" After dinner it's straight to bed because they plan to get up for the sunrise, and all the boys agree they won't be washing anything other than hands tonight. Gross. And it's only now that they tell Bo-gum they bought him underwear.
javabeans: Then they split up for bed, with Jae-hong and Kyung-pyo each taking a tent (they're too small for everyone), and Joon-yeol and Bo-gum in the car. It looks super uncomfortable to me either way, but I don't do camping! They get up while it's still pitch black outside and pack up, driving to the another part of the campground for the best sunrise view.
girlfriday: This time it's one really tall dune, and they begin the hike up to the peak while it's still dark.
javabeans: Too bad that today, there's too much fog and no sun is visible. The boys sit down to rest, and after a bit Joon-yeol continues on toward the peak. He does seem like the lone wolf sometimes, by choice, liking to take moments for himself.
girlfriday: Bo-gum decides to head for the peak too, and Joon-yeol interviews that it felt really welcome to see him arrive. He even takes the camera from his VJ and tells him to enjoy the view, saying that they'll just be sitting here for a while anyway.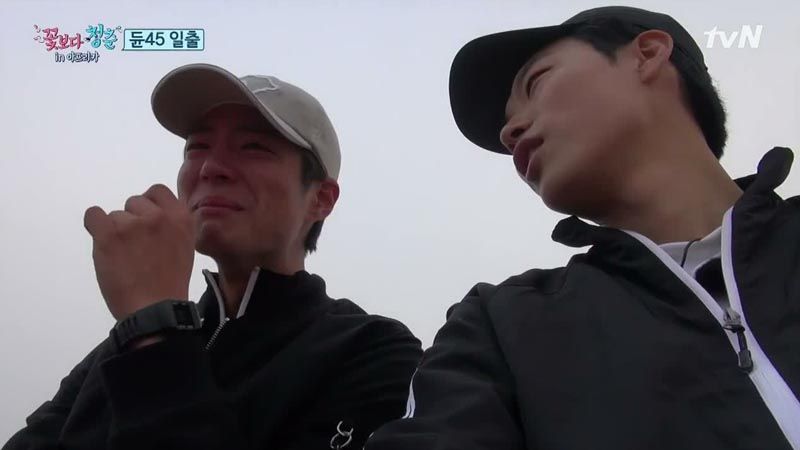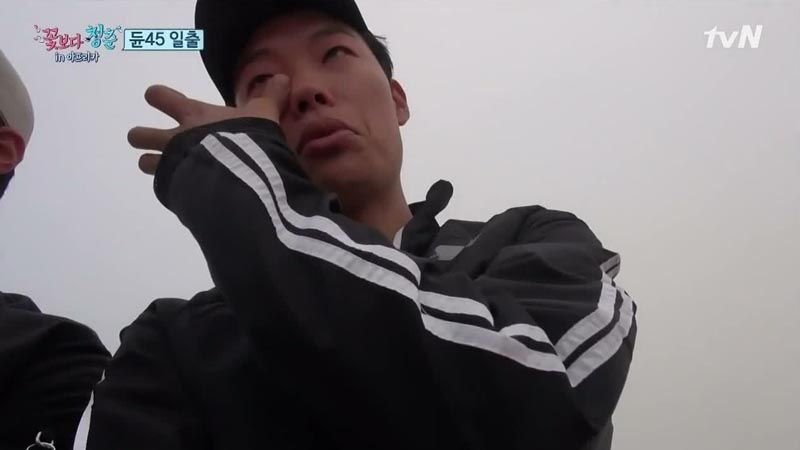 javabeans: When he tells Bo-gum that their crew will want to take pictures and text them to friends too, Bo-gum actually tears up because it's so moving, and hugs his hyung.
girlfriday: Bo-gum asks Joon-yeol what other trips he wants to take, and Joon-yeol says he wants to go see a soccer game with his father, because he asked once what Dad wanted to do now that Joon-yeol is earning money, and Dad said, "Repay debts." They both cry all over again.
javabeans: Bo-gum asks if Joon-yeol has a family photo hanging at home, the formal studio kind, and Joon-yeol surmises that Bo-gum wants one. He says, "Go home and get it done, hyung will buy it for you," and Bo-gum really starts to full-on cry. They both say they used to think those were so corny, but now they become memories. And Bo-gum explains (in tears) that he was feeling sad about not having that.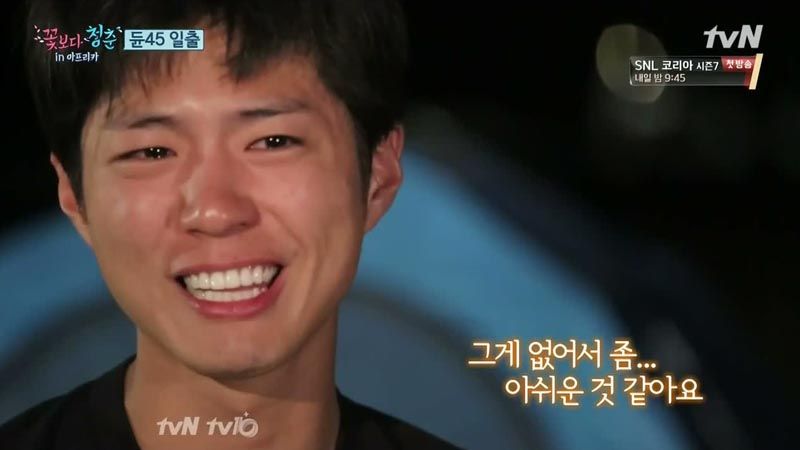 girlfriday: Joon-yeol understands because he's at an age where he's getting ready to move out of his parents' house, and he says that the time went by so quickly when he thought he'd be around them for so long.
javabeans: Meanwhile, Kyung-pyo and Jae-hong are being silly further down the dune, giggling and singing the Lion King song. Up top, Bo-gum (who seems a little in awe of Joon-yeol, it seems to me) compliments Joon-yeol for being so good at everything and mentions that he's "number one husband material." Joon-yeol teases, "It's better not to talk about husbands with me," and they both crack up.
girlfriday: Agh, still too raw! I'm glad they can laugh about it though.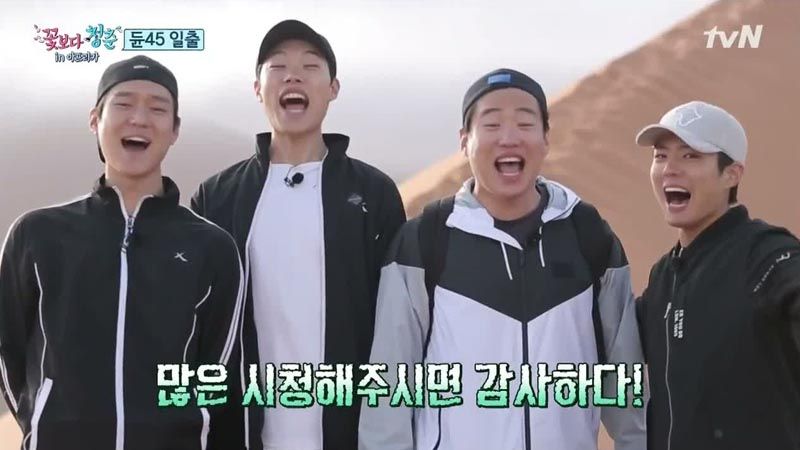 javabeans: Joon-yeol says he's trying to avoid that word, and they go through all the synonyms for what they can use instead of "husband." I guess the viewers weren't the only ones tired out by the whole husband hunt, huh?
girlfriday: The others call them down, and then the boys decide to run (and fall, and roll) down the dune. Joon-yeol seems to have endless energy, so much that his VJ can't keep up with him and he just goes racing down the hill on his own.
javabeans: They're not doing much more than running and rolling around, but somehow it looks like the most fun ever. They finally make it down to level ground, but looking at the previews, there'll be plenty more desert and sand in store for everyone next week.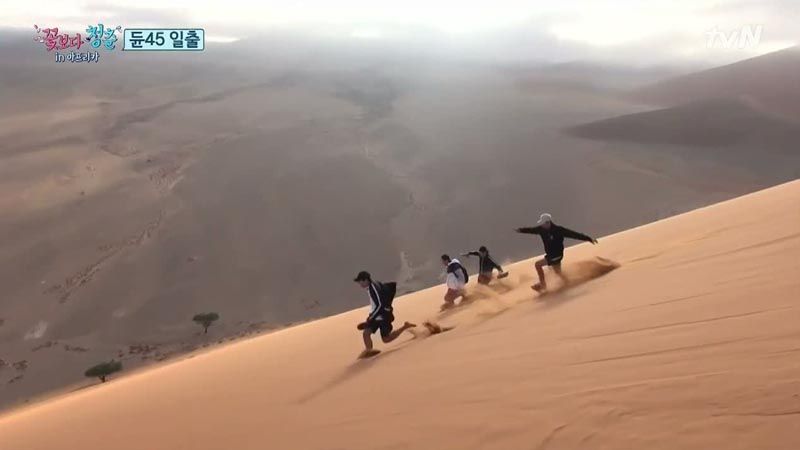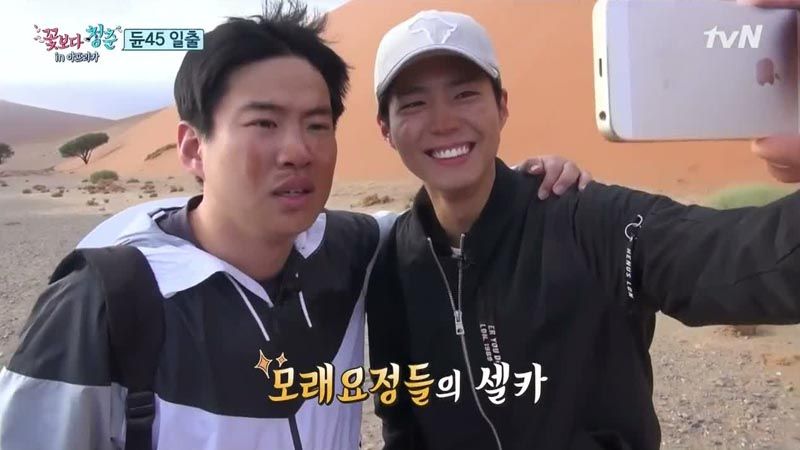 RELATED POSTS
Tags: Ahn Jae-hong, featured, Go Kyung-pyo, Park Bo-gum, Ryu Joon-yeol, Youths Over Flowers