Youths Over Flowers in Africa: Episode 3
girlfriday: After rolling down the sand dunes at sunrise, the boys head back to camp for breakfast, and everyone turns to Chef Jae-hong for today's menu. He says they'll have curry… with baguette? Okay.
javabeans: In the car, Jae-hong starts to say, "Of the Youths Over Flowers series…" and Bo-gum finishes, "They say we're the youngest." Jae-hong has a mini-freakout over how Bo-gum read his mind when he could have said a number of things, and then he and Joon-yeol say in unison, "Like we came the farthest." They have another mini-freakout at their telepathy.
girlfriday: Back at base camp, Joon-yeol takes over the camera so that the crew can sleep, and he films a cooking segment with Jae-hong and his assistant Bo-gum, who just stands by with a smile and answers everything, "Yes, Chep!"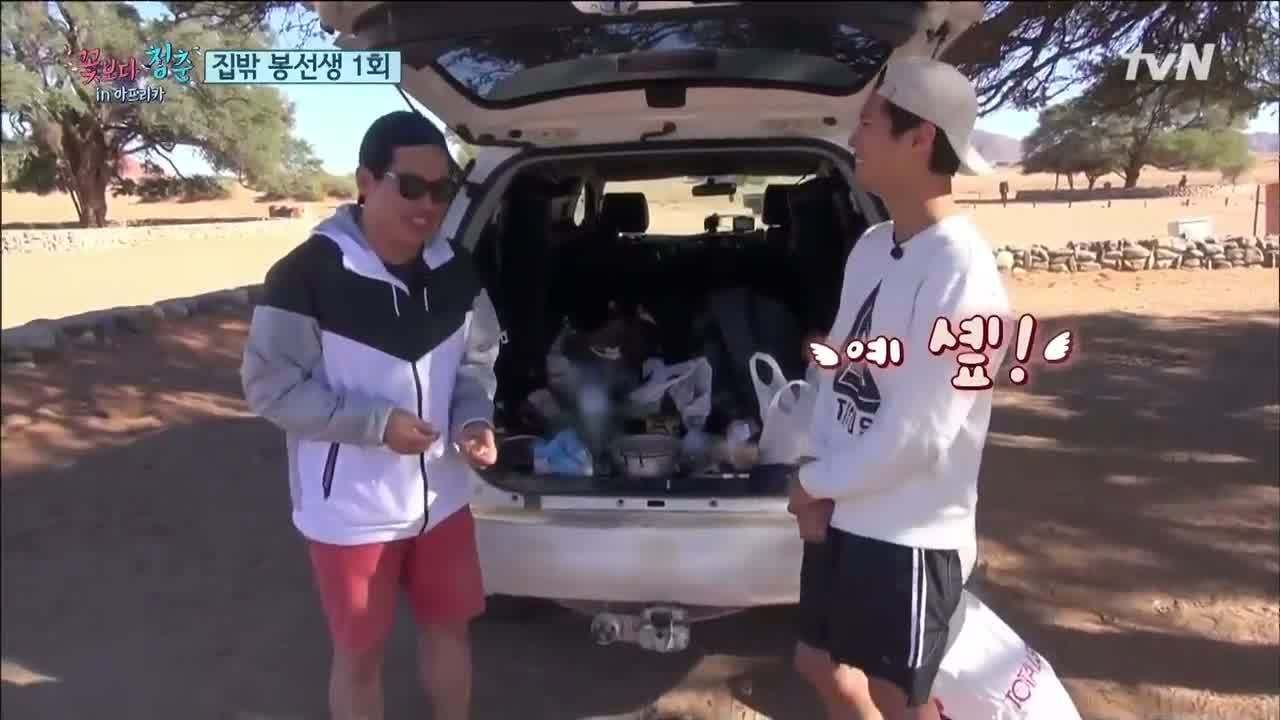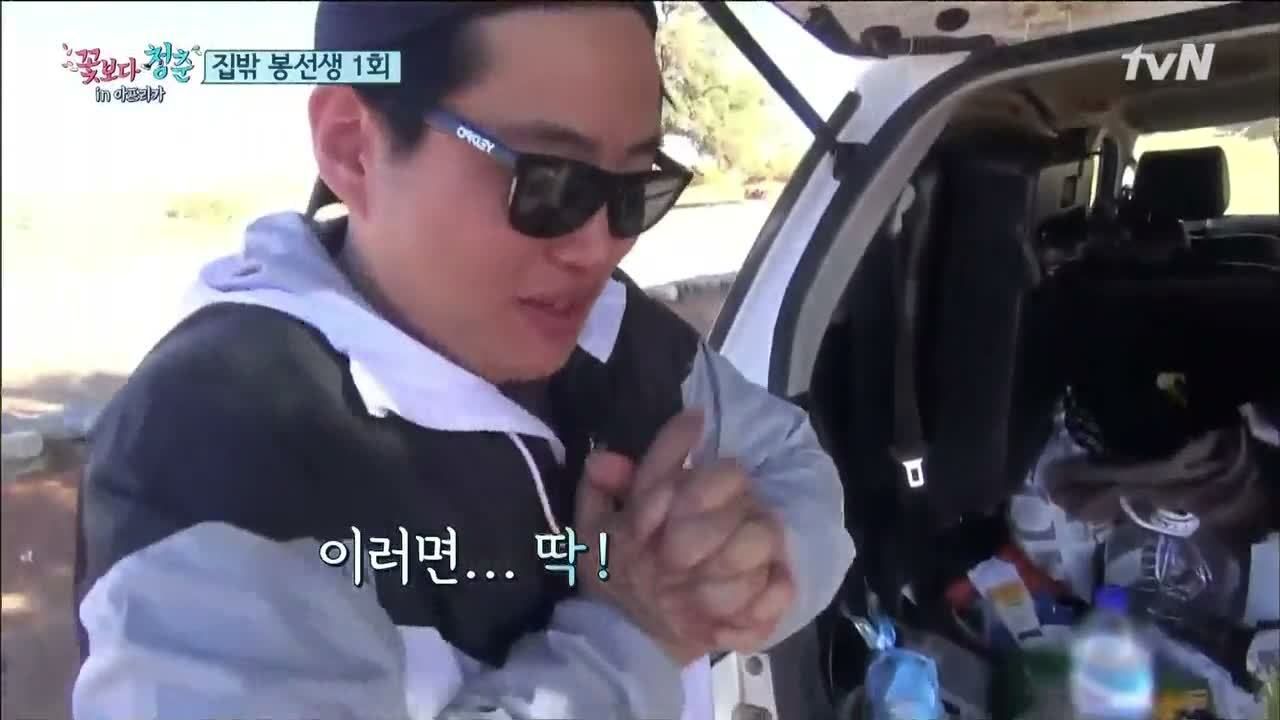 javabeans: In a quick flashback to the plane, we see Joon-yeol asking a flight attendant if he can keep the silverware after the meal, and the guy tells him okay, promising to look the other way. It reminds me of the other Youths trip where they stole sauce packets from the plane to hoard for later. I'm pretty sure that's what gave them the idea.
girlfriday: The plane hoarding is becoming a regular thing. I'm amazed they even thought to steal the silverware. Not that a butter knife is all that useful — Jae-hong ends up smashing garlic with his hands in the end.
javabeans: It's just weird to see them doing all the food prep in the car's trunk. They prepare all the ingredients… and then look blankly at the fire pit, because they have no fire.
girlfriday: Oh no, did we learn nothing from last night?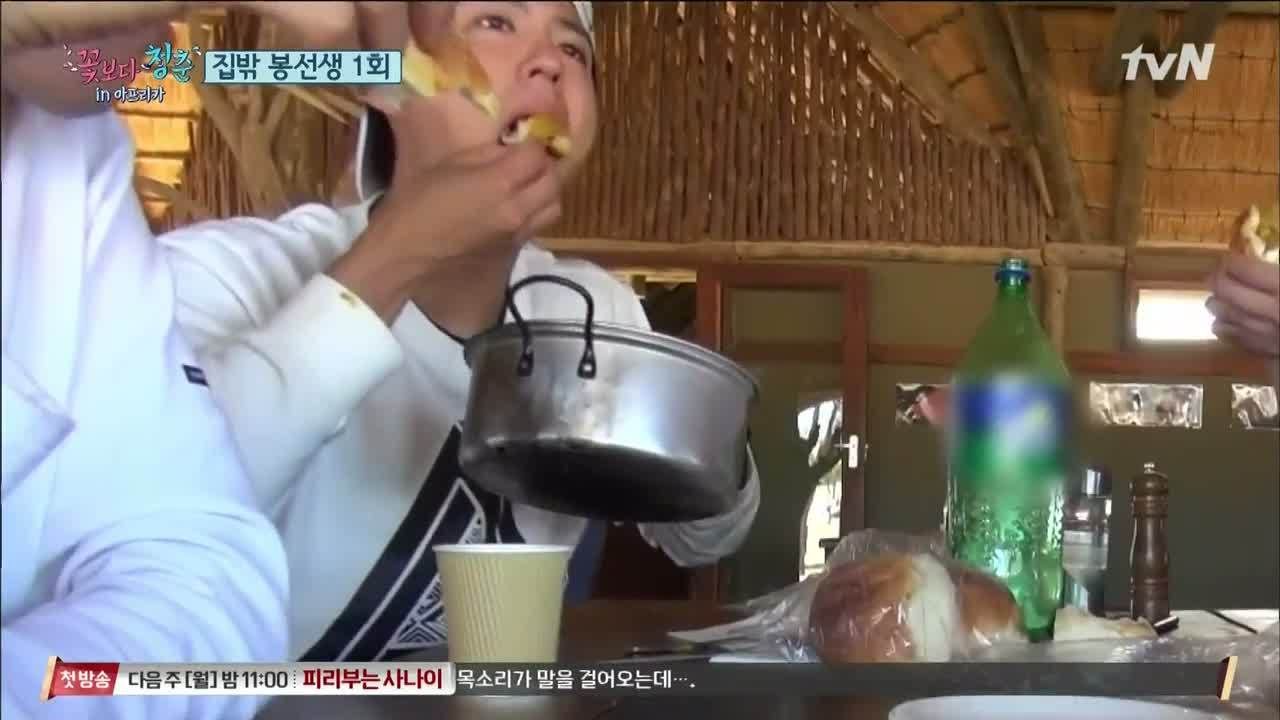 javabeans: On the upside, this campsite is closer to the main site so they can go to the shop and restaurant there, whereas last night they were farther out. They sneak some seasonings from the tables — oh haha, then they actually ask to use the restaurant kitchen and are allowed back to use a proper stove from the staff.
girlfriday: Well that's a lot easier than making fire. The guy who lets them use the kitchen is very friendly and they end up chatting with him and taking a group photo.
javabeans: They even get to eat at a proper table, rather than squatting in the dirt like last night.
girlfriday: You know, I was skeptical about the curry-and-baguette combo, but they eat it so deliciously that I want to try it.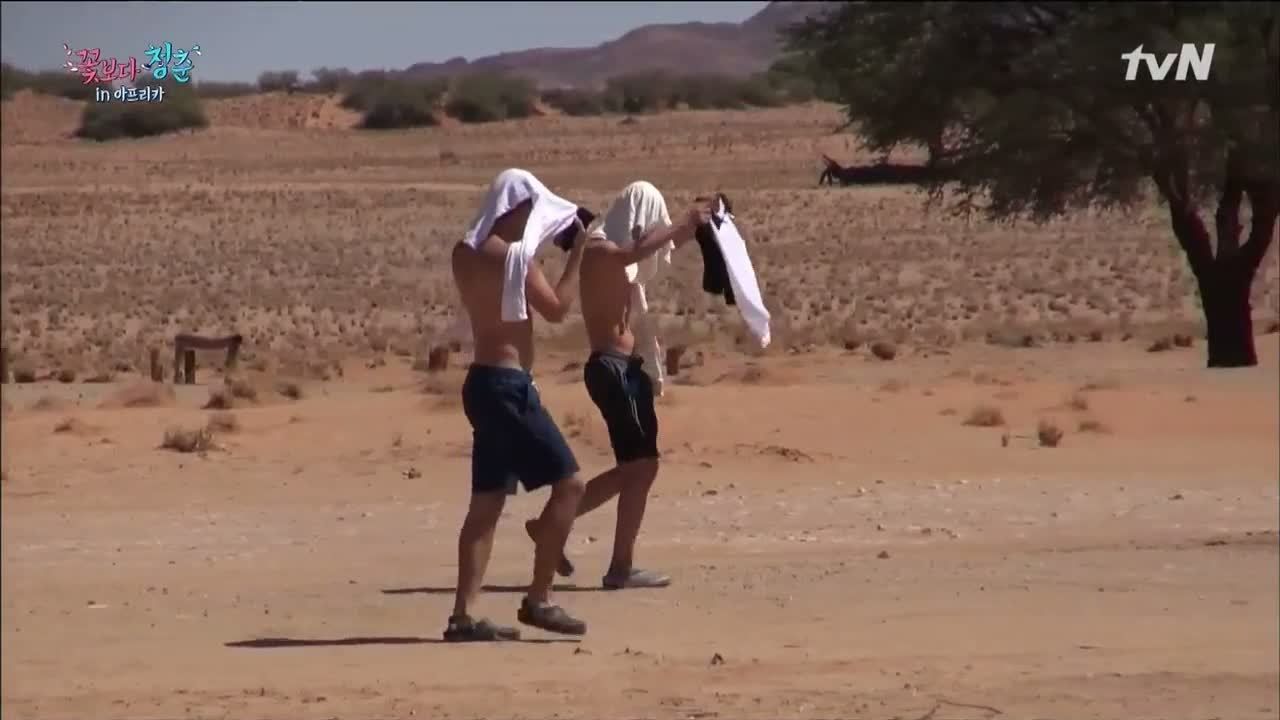 javabeans: Then the boys take a shower and wash their shirts, so I'm at least relieved that cleanliness seems more of a concern than with the Iceland boys. I still can't believe they wore the same clothes eight days in a row.
girlfriday: I know. I guess these boys are getting way dirtier, which necessitates the daily(ish) cleaning. So that's an upside.
javabeans: With Jae-hong driving, the two boys in the backseat quickly conk out once they're on the road. Joon-yeol is sleepy too, but insists he'll stay awake to keep Jae-hong company… and cut to Joon-yeol fast asleep in the passenger seat. They wake up when they arrive at the national park, where the paved roads turn to dirt, and with Joon-yeol back in the driver's seat we see the car having some fun swerving back and forth in the wide path.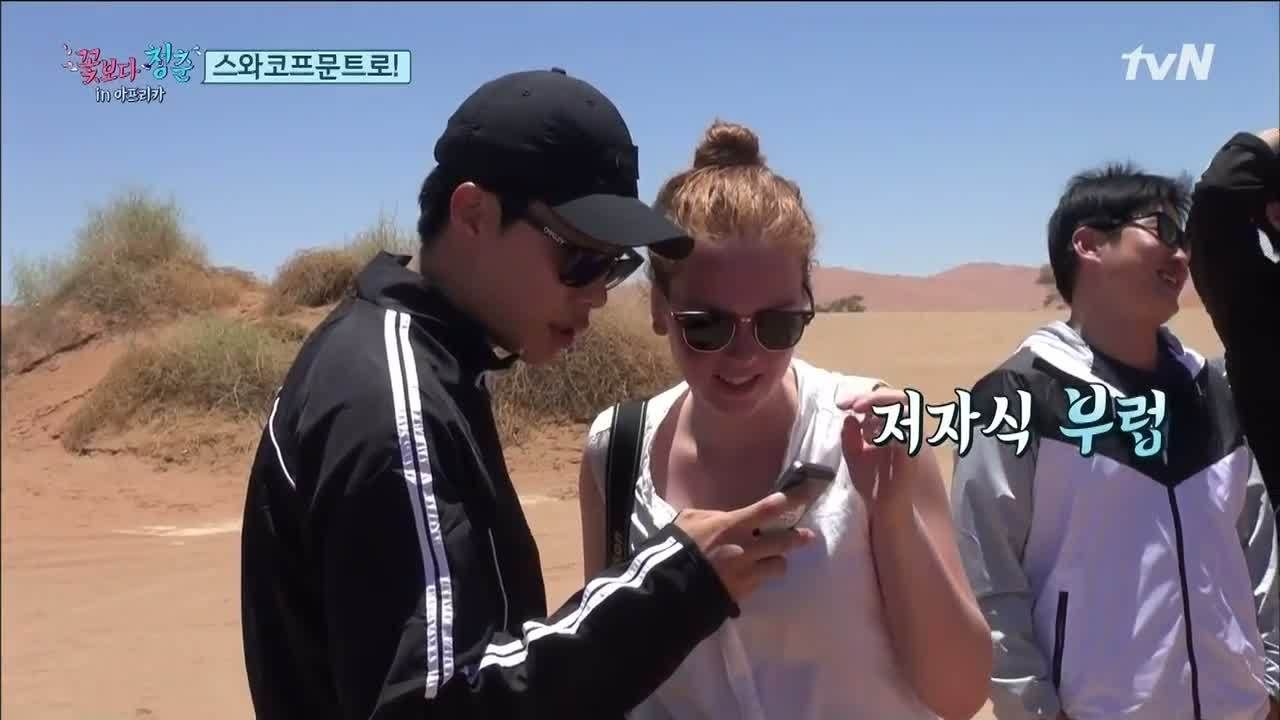 girlfriday: They stop when they see a group of foreign travelers, and meet a college girl who's traveling alone. In the desert? That's impressive.
javabeans: Joon-yeol thinks so too, and pauses while she types something into his phone. He shows it to the screen later, and it's kind of cute how awed he seems at the meaning of YOLO, which he's hearing for the first time now.
girlfriday: Then it's back on the road with Kyung-pyo at the wheel, while Jae-hong gets to nap. Bo-gum sleeps every time someone new is sleeping next to him in the backseat, and he apologizes for sleeping too much, promising to drive the next leg of the journey. The screen turns an ominous black as we're told that Bo-gum takes the wheel five hours later…
javabeans: Ack! "Who's the driver?" Bo-gum: "It was me. Am I getting arrested now?"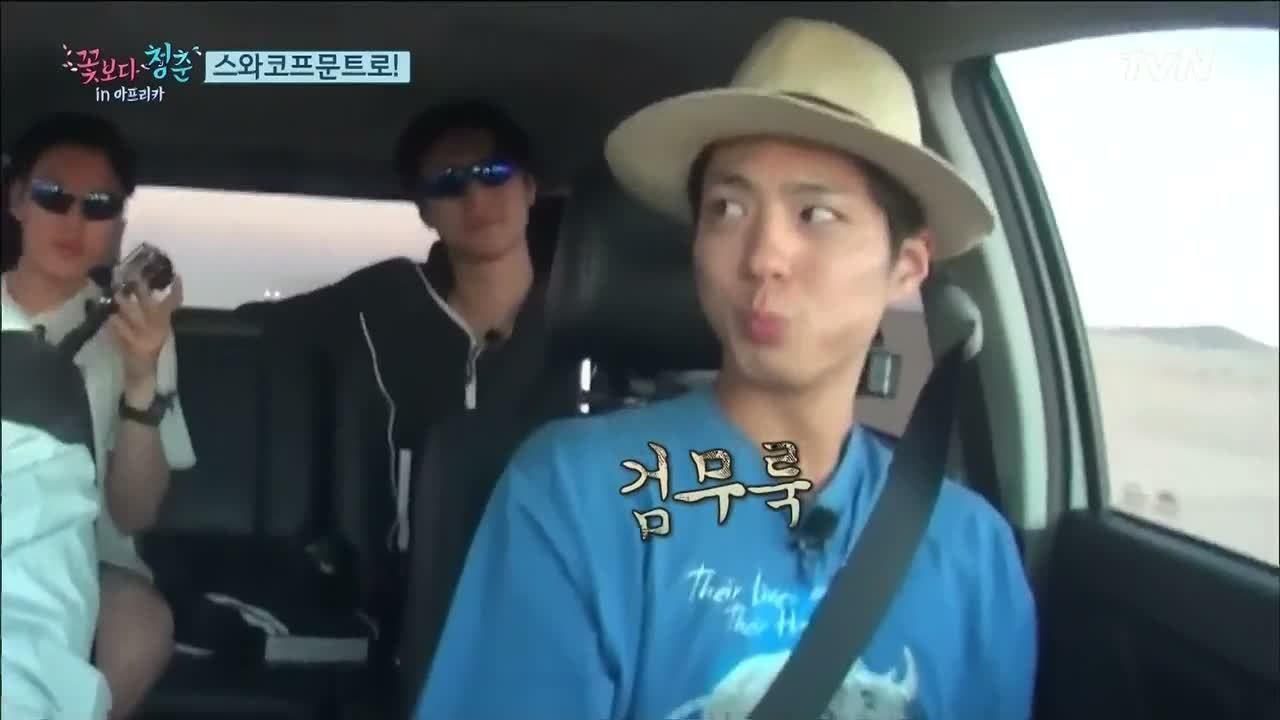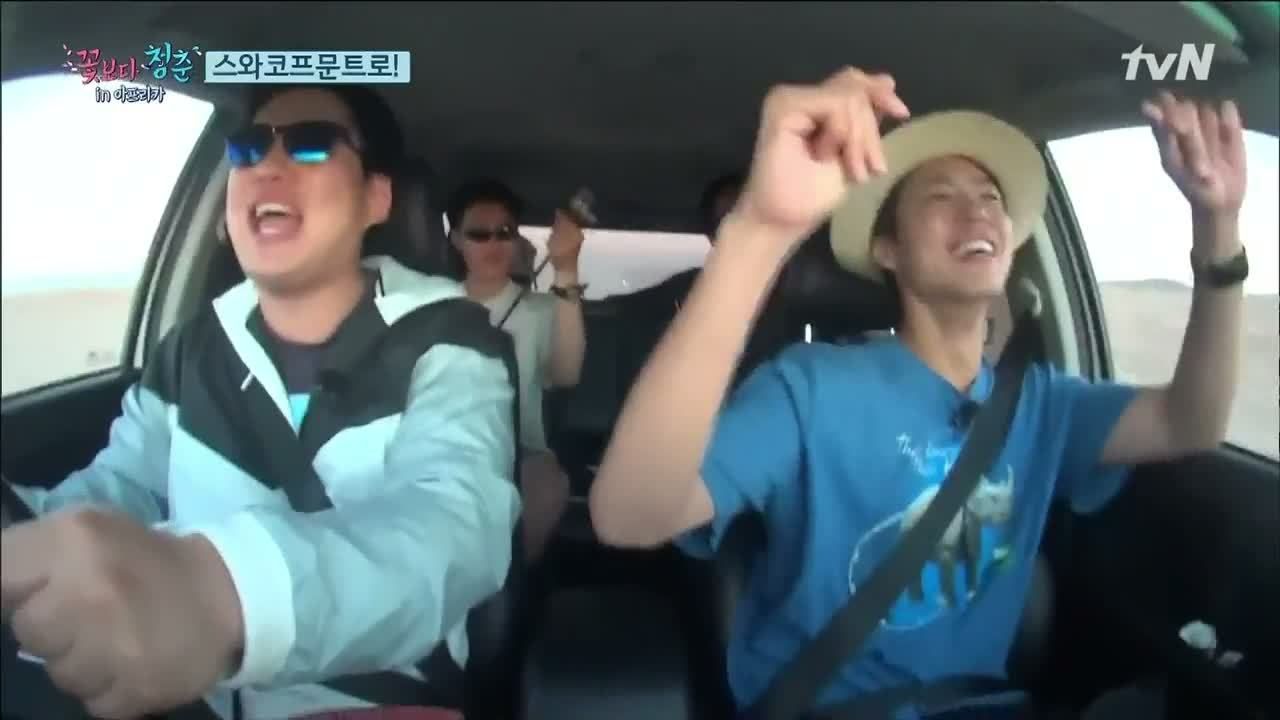 girlfriday: Noooo, not Bo-gummie! He's too little for jail! We go back to the present for now, with a long stretch just driving through the desert. I like the part where the car stereo keeps skipping on the song they want to play, and there's a lot of dancing and pausing and dancing and pausing going on.
javabeans: The next leg of their journey takes them to the coastal city of Swakopmund, which looks bright and refreshing from the previews, though they'll have to wait to see all the sunshine and beaches because it's nighttime as they approach. And then, Bo-gum takes the wheel…
girlfriday: The funny thing is, Bo-gum drives to relieve Jae-hong from tiredness, only Jae-hong becomes more nervous and dad-like with Bo-gum behind the wheel, and he coaches him through every move like it's his first time driving.
javabeans: Lol, and then he just blows through a stop sign without seeing it, and is pulled over.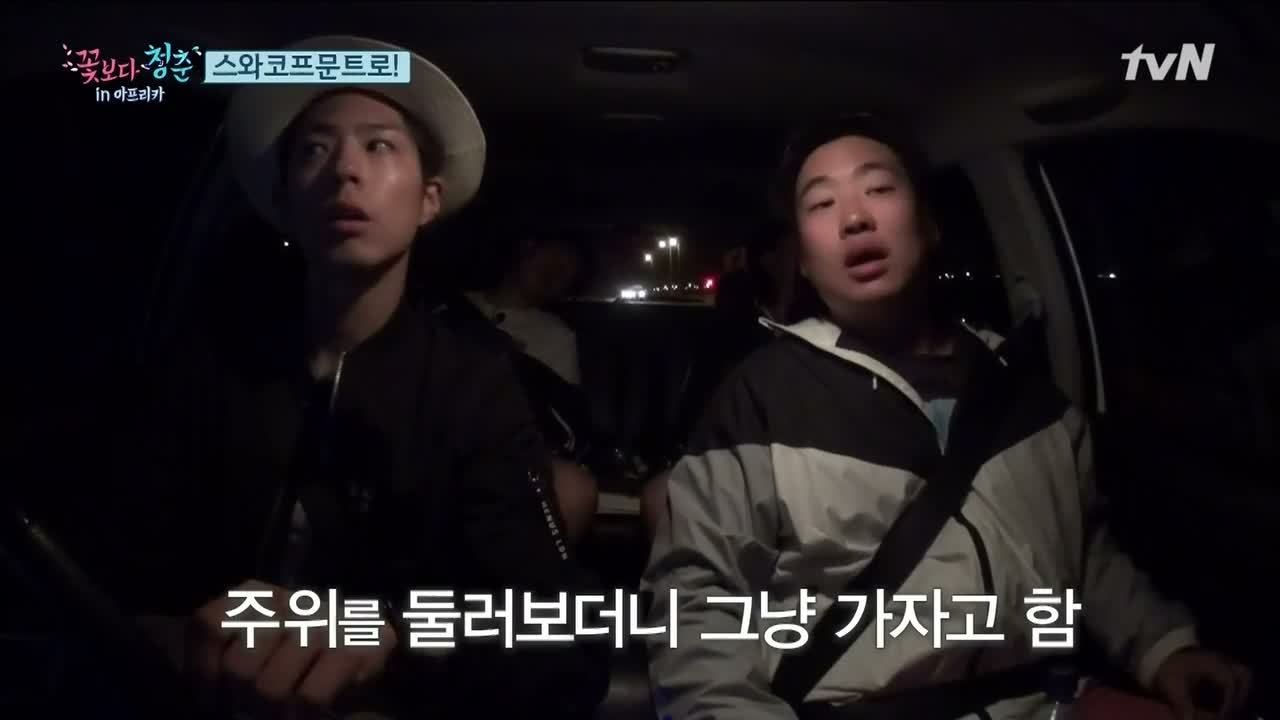 girlfriday: Of all the luck, he runs it right in front of a cop.
javabeans: He very politely tells the officer that it's his fault and he's sorry, and steps inside the office. Jae-hong: "Of all the things, you only drove for three minutes!"
girlfriday: Bo-gum is being questioned by the cops, but the boys are running out of time to check into their lodgings, so they leave him behind to deal with the hotel first.
javabeans: I'm assuming the staff takes Bo-gum back, because he arrives at the hotel room where the hyungs hug him and Jae-hong is feeling especially guilty because he thinks he should have been the one driving.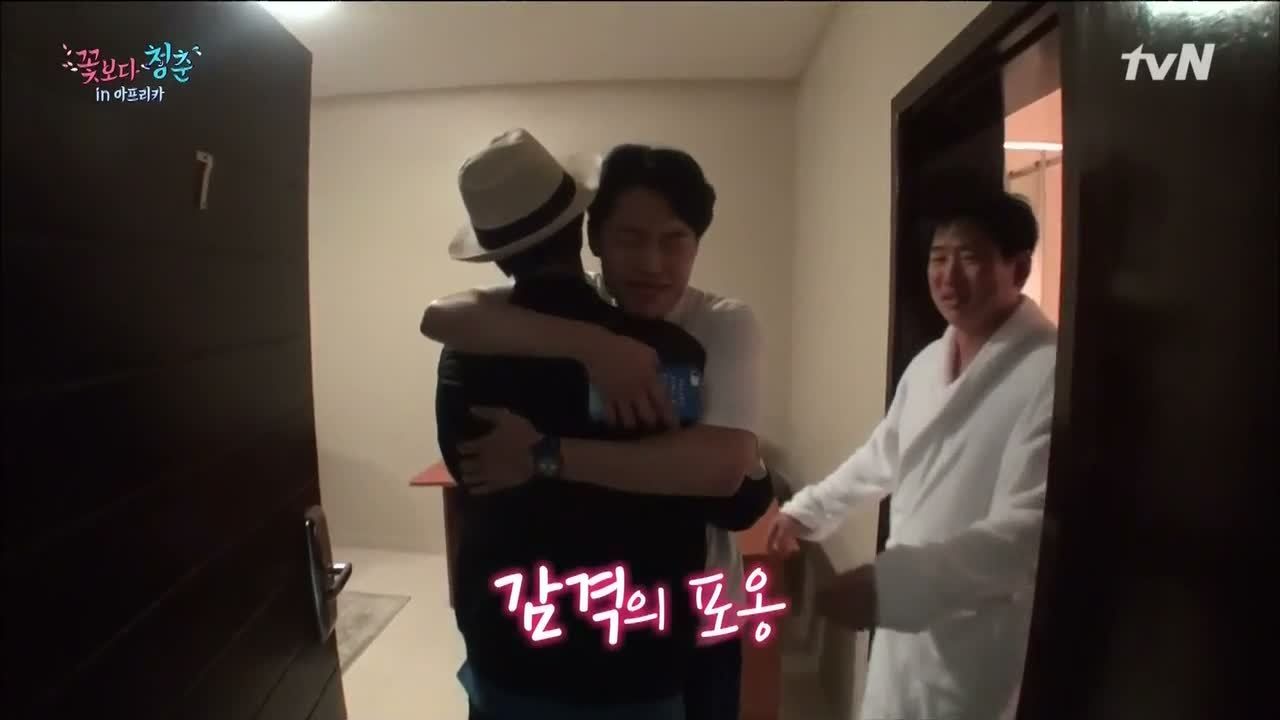 girlfriday: There's a whole round of the hyungs saying that they're sorry for letting this happen, while Bo-gum insists that he's sorrier.
javabeans: It turns into this whole round of, "I'm sorry, hyung was stupid," "No hyung, I was stupid," "No it was me who was stupid." They especially enjoy their nice beds after spending last night camping, and get up in their bathrobes to make it to breakfast.
girlfriday: Why are the bathrobes and bedhead at breakfast so cute?
javabeans: It's funny because they're all tired, but don't want to miss breakfast, so it feels like their compromise. LOL, and then a staffer suggests that they change into clothing, haha, so they have to get up and put on real clothes.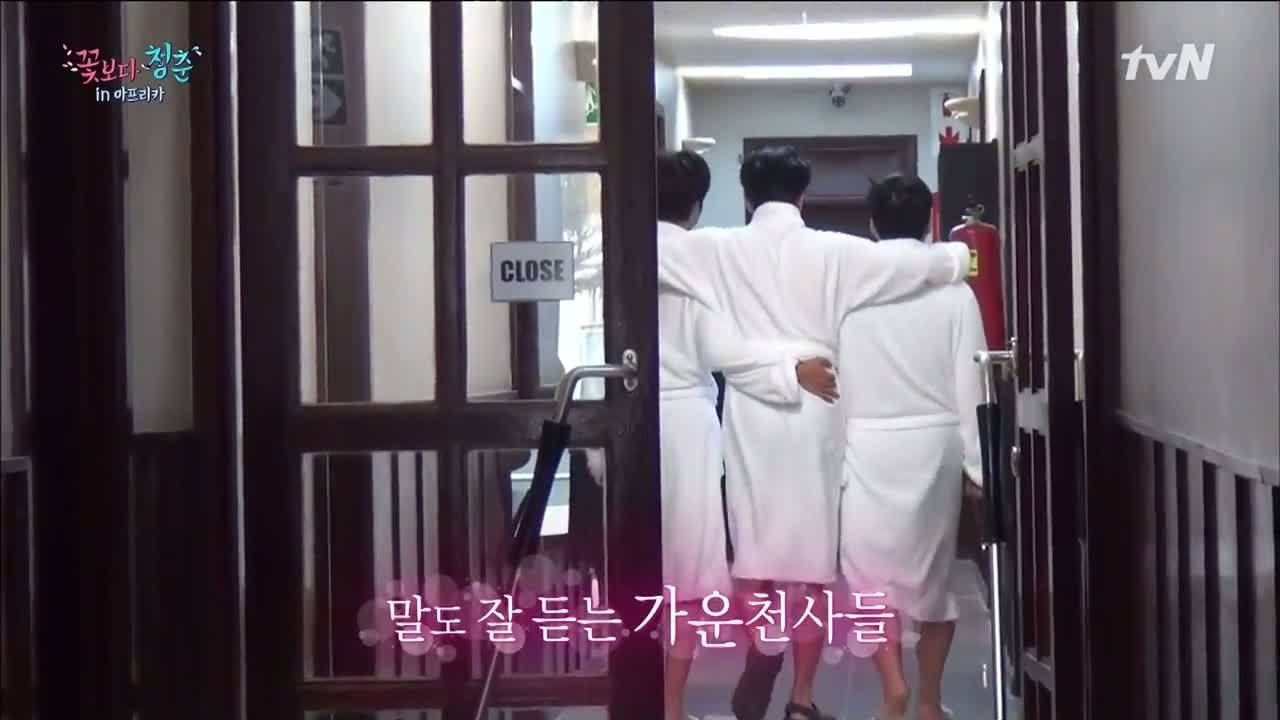 girlfriday: Hee. Too bad. Man, Bo-gum eats like he's still a growing teenager. He brought this tower of toast that I thought was for the whole table, but he eats it ALL.
javabeans: I see a bowl of cereal, maybe four slices of toast, eggs, bacon… Kyung-pyo's the only one who doesn't make it to breakfast because sleep was more important, and he jokes that all he wants to do today is sleep.
girlfriday: Joon-yeol and Bo-gum decide to go sand-boarding, and a guide comes to pick them up.
javabeans: Joon-yeol leaves behind his camera, and Bo-gum slyly pockets it to play a joke, and you can see that during the whole car ride, he's about to burst into laughter at the thought of how the joke will play out.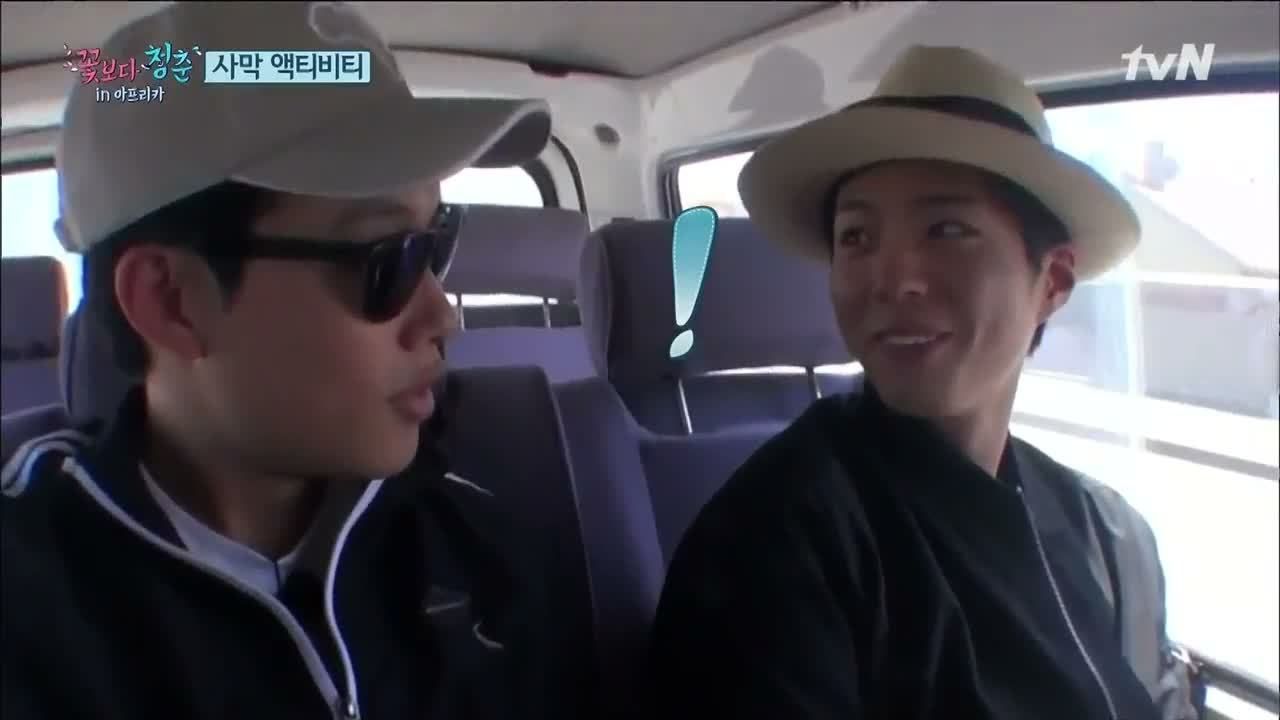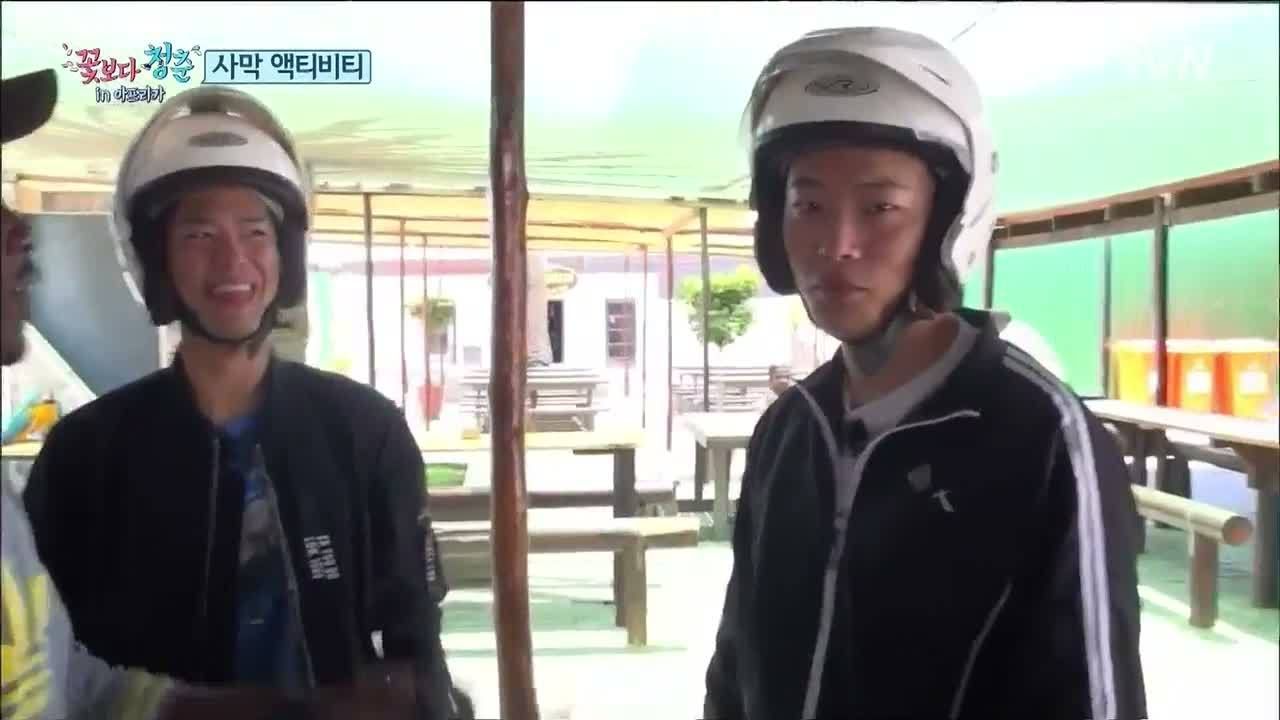 girlfriday: But then out of nowhere, Joon-yeol asks for his camera, and Bo-gum deflates, as Joon-yeol chides, "You can't scam your hyung!" Aw, he was so looking forward to pulling one over on him and got all excited about it!
javabeans: That's adorable! Such a hyung-dongsaeng thing to do. They get fitted for helmets by the guide, and Joon-yeol's a little disappointed to hear that Bo-gum got a small and his is a medium — I will never get the Korean fixation with tiny faces, but somehow it's just a weird beauty standard. He likes when the guide offers that it means his brain is big, though, as consolation.
girlfriday: They get to drive quad-bikes, which looks like a lot of fun.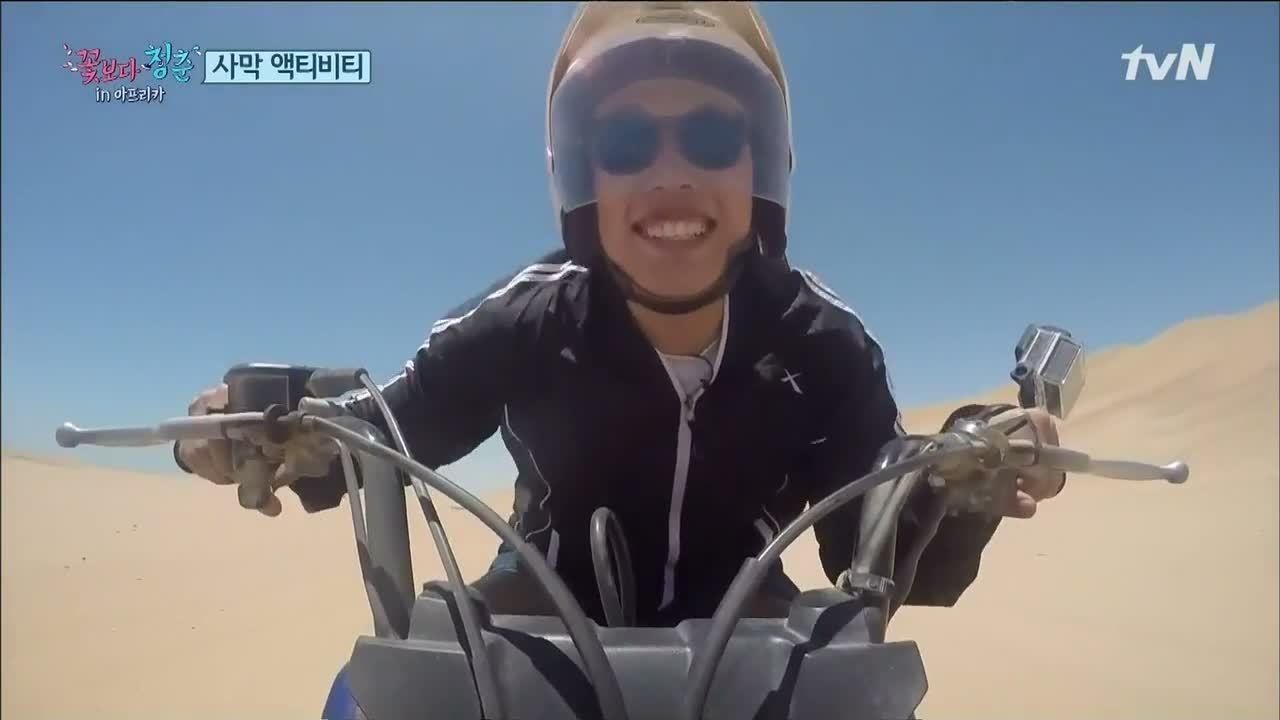 javabeans: Okay, I'm jealous of that. It looks so freeing and fun, just roaming the desert without roads. It's cute when Bo-gum's bike goes astray and kind of stalls facing the wrong direction, and he has to be helped by the guide.
girlfriday: He is maybe not so good with the things on wheels.
javabeans: That seems true. He interviews that Joon-yeol kept turning back to look at Bo-gum to check that he was doing okay, and how moved he was at his concern, and that Joon-yeol just warms his heart. Finger heart!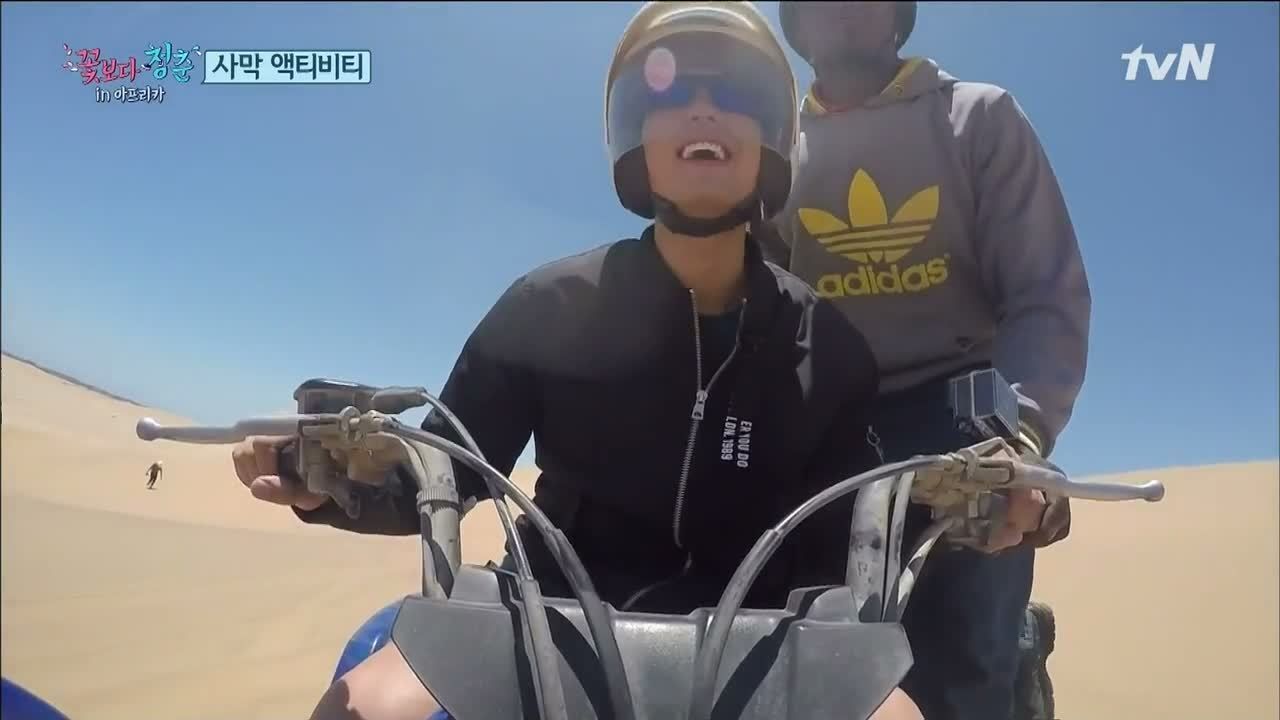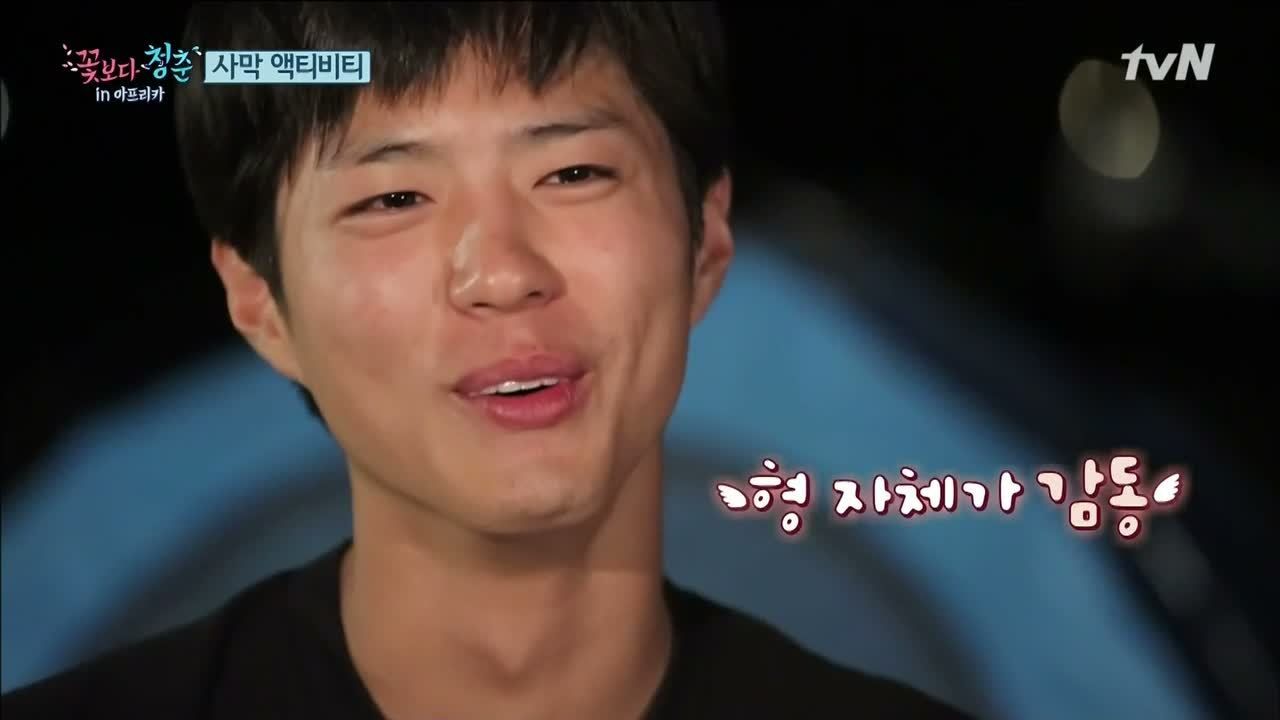 girlfriday: I love how much these two love each other in real life. The biking seems like the most fun they've had yet, and I'm sad that the other boys are missing it.
javabeans: They seem to have needed the nap, though they eventually get up to head into the city, where their first order of business is exchanging more money, and then the beach. They want seafood for dinner, and find a restaurant to make reservations for tonight.
girlfriday: Kyung-pyo seems very proud of this accomplishment: "We did fine without Joon-yeol hyung!" Then they run into the college girl they met yesterday, and struggle to make conversation with her.
javabeans: You get the sense he spoke too soon. It's awkward because she's happy to see them and chat, but they exhaust their English limits pretty quickly and then it just turns into awkward hemming and hawing until both sides just kind of… trail off… and head in their own directions.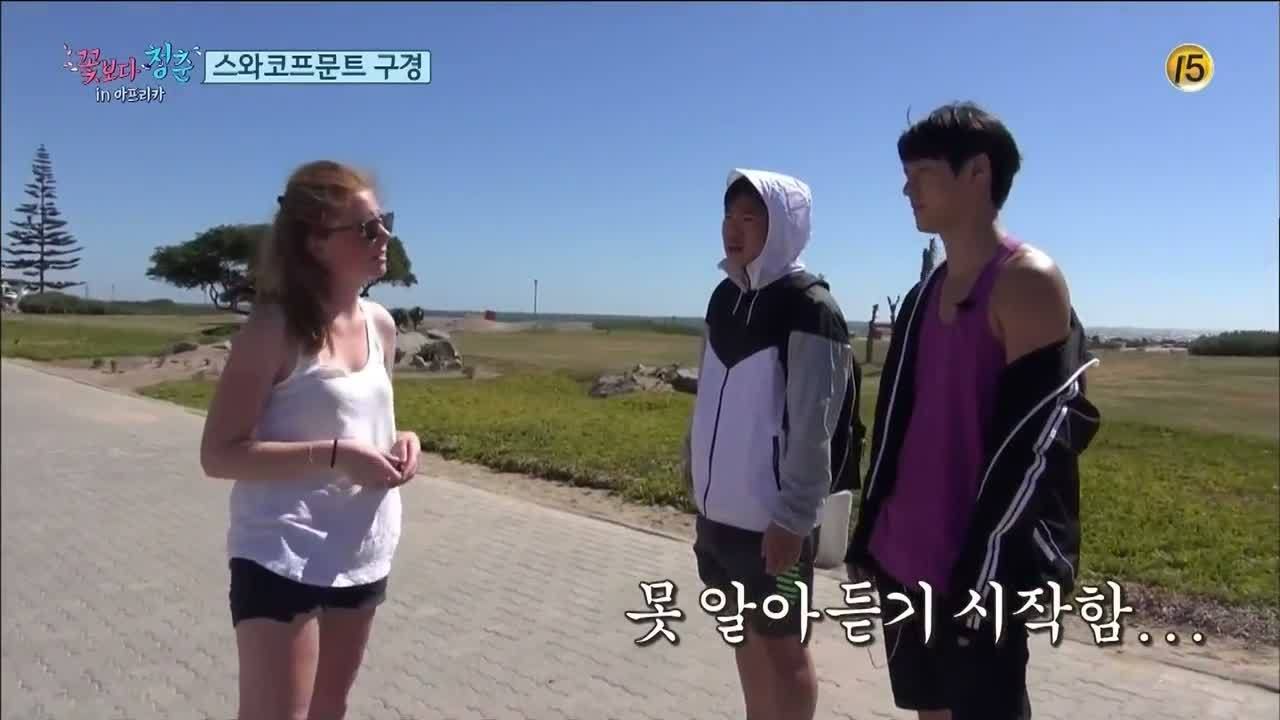 girlfriday: It's so awwwwkward.
javabeans: I'm cringing pretty hard. I had to lower my volume super low, I couldn't handle the scene at full level.
girlfriday: I just want it to stop.
javabeans: Thankfully we return to the desert where the boys get a primer on sand-boarding, and then Bo-gum is first to head face-first down the hill. Wheeeee!
girlfriday: So fun! Again! Again!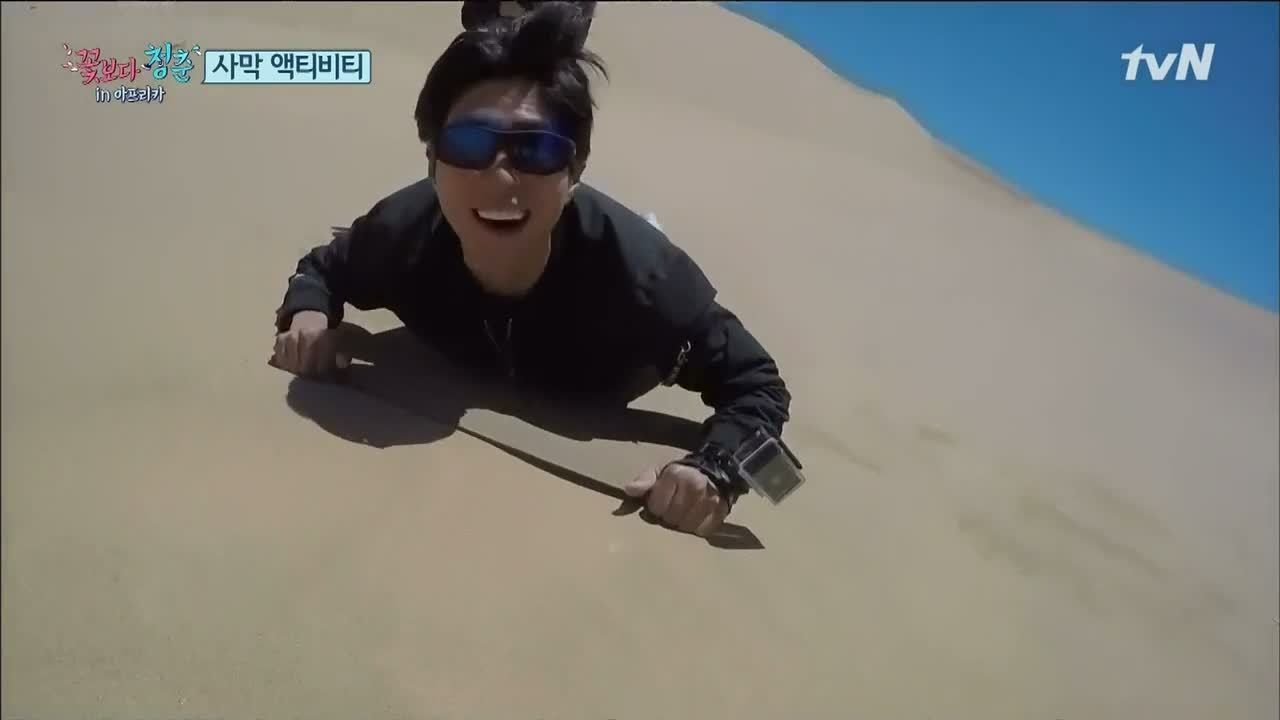 javabeans: They're eager to tackle an even higher hill next, and go shooting down the sand. Doesn't it look like they're just flying on pieces of cardboard?
girlfriday: That's basically what they're doing. And it looks like the most fun ever.
javabeans: Compare that to Jae-hong and Kyung-pyo, who have found a spot on the sand next to a man who's fishing and just kind of sit there awkwardly in silence for long minutes. Why are they so awkward today?
girlfriday: I don't know. Maybe they slept too long or their brains fried in the sand yesterday.
javabeans: They wander the shore looking at interesting rocks and sit on the sand, and meanwhile Bo-gum and Joon-yeol make their way to the beach after their adventure, taking pictures and enjoying the air. Both parties happen to meet while they're out, and head off together.
girlfriday: Jae-hong says that they're going to have to spend the rest of their trip camping, and Na PD asks if they've just traded sleeping in hotels for one dinner. Omg, is that what they're doing?
javabeans: Ack, is that why they're so fixated on lobster? Don't you feel like Jung-seok's advice at the end of Iceland, that the next youths not scrimp on their allowance so tightly, was maybe unwarranted?
girlfriday: Yeah they seem so unstressed about spending, that it's actually jarring after the super-duper penny-pinching of the Iceland boys. You can have lobster later in Seoul! Buy some firewood and a lighter!
javabeans: These boys apparently enjoy playing silly games for no reason, and decide to play on in the parking lot involving tossing stones. The winner is the one who tosses his stone closest to a line without going over it, and amazingly, the first three boys all get theirs exactly on the line, while Joon-yeol falls short. And there's this really hilarious sequence where everything goes in super-slow-motion as the three boys cheer and dance and jump together, and Joon-yeol sadly eyes his loser stone in the corner. It's like something out of a cartoon.
girlfriday: Hahaha. And isn't he the one who suggested the game in the first place? As punishment for losing (per his own suggestion), Joon-yeol leaves the boys at the market and walks back to fetch the car.
javabeans: Why are they buying meat at the store when they have dinner reservations?
girlfriday: I have no idea. Meanwhile, Joon-yeol walks for 15 minutes… and ends up in front of the market again.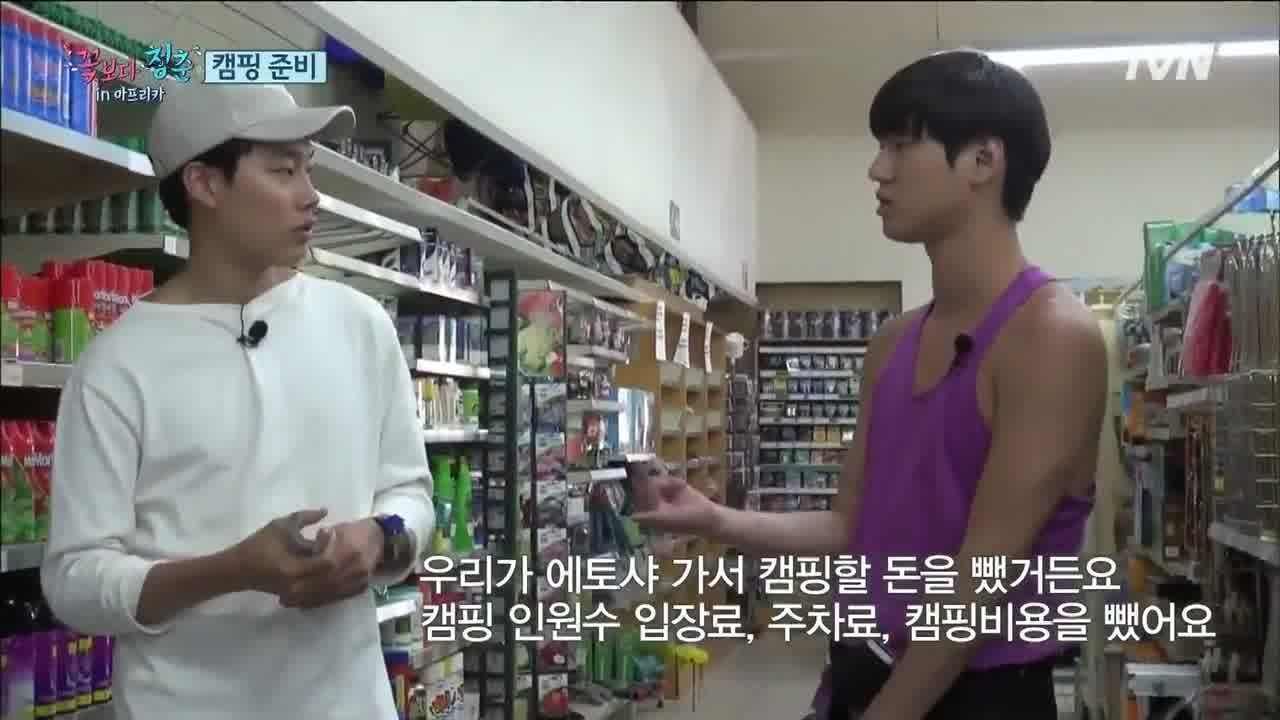 javabeans: After he was bragging about being good at navigation, too. Hee. And of course, in the end it turns out he was only a block away to begin with. I guess they're preparing in advance for more camping on their next leg, because they run through their budget and buy more tents, so nobody has to sleep in the car this time.
girlfriday: They're really going to have no money left after this…
javabeans: Bo-gum wonders if it's okay to blow their money like this, and Jae-hong says they'll have to buckle down starting tomorrow.
girlfriday: Starting tomorrow when they have no money left?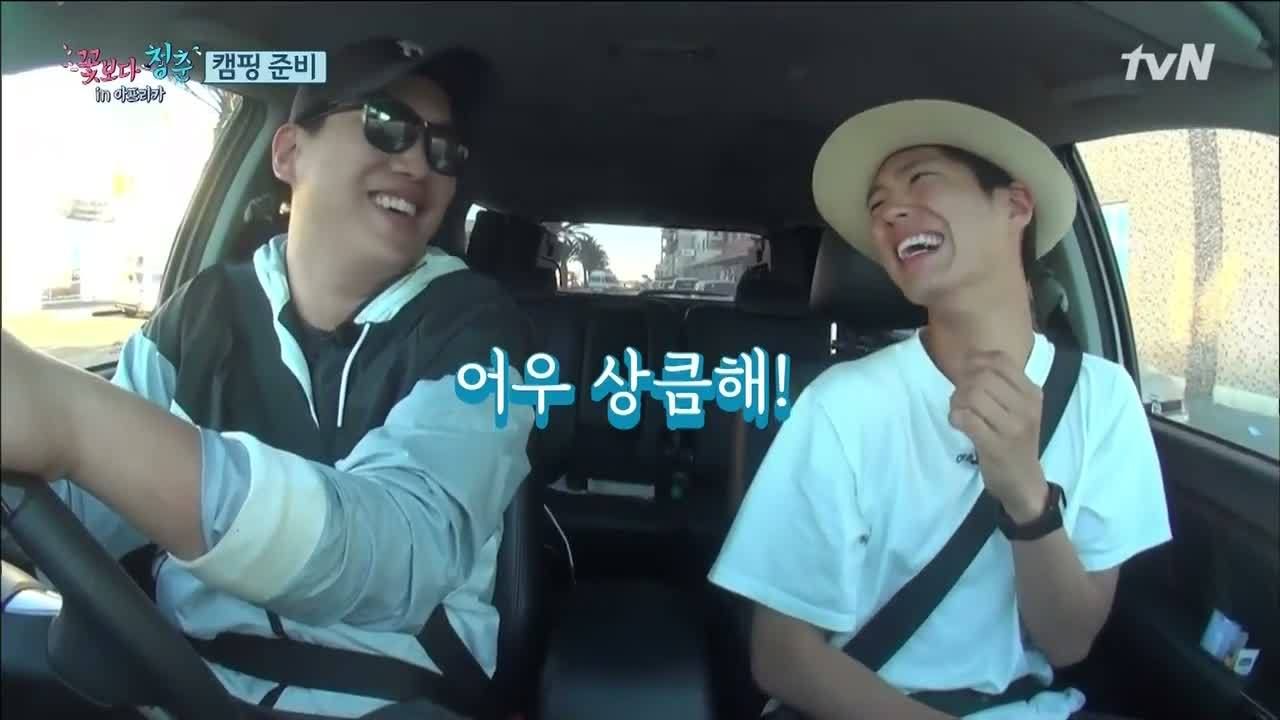 javabeans: I wish I could enjoy things first and deal with scrimping later, but I guess I'm too much like the Iceland team. Well, except I'd have blown that extra money at the end, whereas they still couldn't.
girlfriday: I think Yoo Yeon-seok is still king for figuring out that loophole and splurging on better hotels each day without the staff catching on until it was too late.
javabeans: Doesn't Seojinnie really win though, for pulling one over on Na PD before his very eyes?
girlfriday: Yes, beating Na PD with math is definitely the best.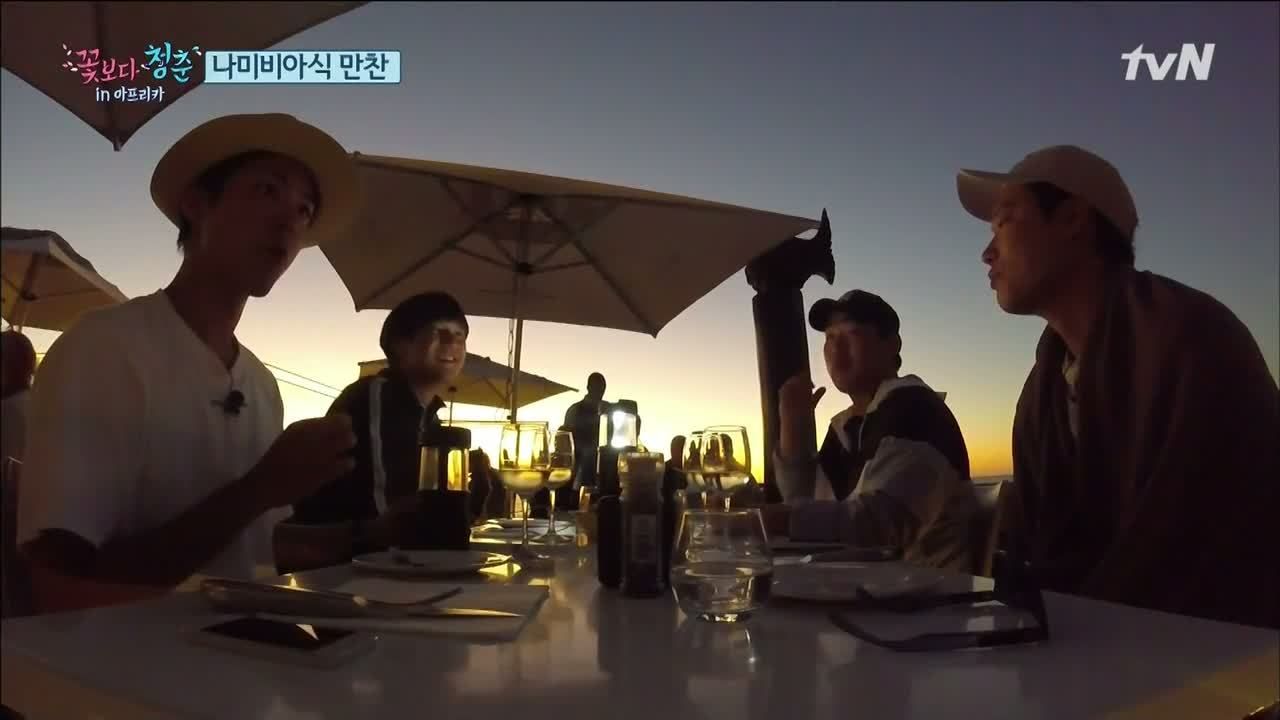 javabeans: I suppose you could argue that Iceland won in that they one-upped Na PD without even cheating.
girlfriday: But they split each cup of coffee four ways. That is not winning.
javabeans: At least these boys are enjoying every bit of their dinner, and are pleased with their choices without feeling the pinch of spending.
girlfriday: Yum. We should have lobster this weekend.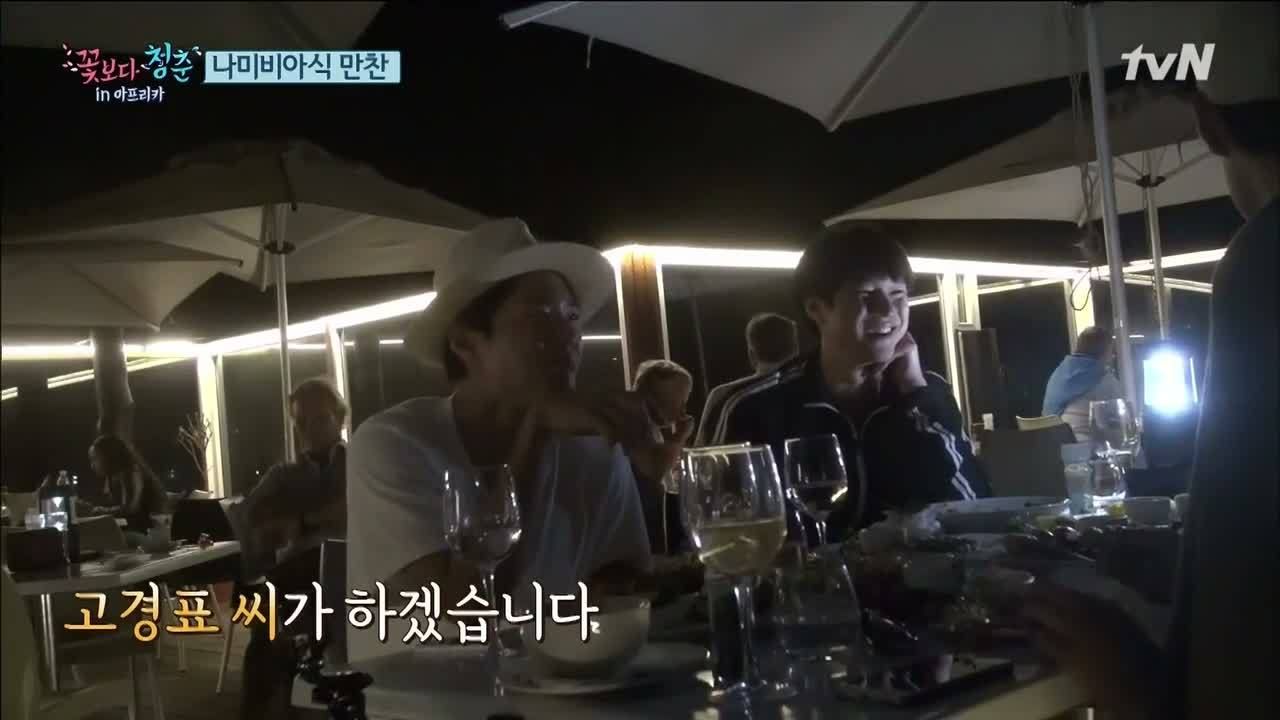 javabeans: Kyung-pyo admits to feeling a little worried about spending (in reference to not buying extra clothing) because he's the treasurer, and the hyungs assure him he's doing a good job with a difficult task, and not to stress himself out too much. The hyungs really are very sweet, and Jae-hong says, "I don't want you to be unable to have fun because of that."
girlfriday: I kind of want them to run out of money, just to see what Na PD will do.
javabeans: Don't you think Joon-yeol would just get friendly with some people, offer to wash dishes, and earn his keep? And the boys would just follow along with whatever deal he worked out for food?
girlfriday: Totally. He'd survive anywhere. Talk turns to Jae-hong's noisy sleeping habits, and he says he's tried sleeping every which way while in the army (because then you'd be keeping an entire room full of guys awake), but he can't not snore. Kyung-pyo says he's gotten so used to it after sharing a room with him on their cast trip that now he can't sleep without the sound. Jae-hong: "I'll record it for you."
javabeans: As they wind down and get ready to leave, they chat with the restaurant staff and mention their drama, and a staffer promises to watch it tonight. One employee gets out a phone and literally plays a clip, featuring Joon-yeol. Aw. That's a super friendly staff, and the boys leave thinking they'd like to spend more time with them.
girlfriday: That's sweet. It leads to them singing Answer Me 1988 songs all the way back to the hotel, which is probably the wine's fault.
javabeans: Back at the hotel room, they open another bottle of wine, and Bo-gum gets really adorable when he's tipsy, dancing around giddily. They wind down gradually as they lay in bed, and then it's lights out. They pack up in the morning to head out, and Bo-gum takes the wheel again. Why does this make me nervous?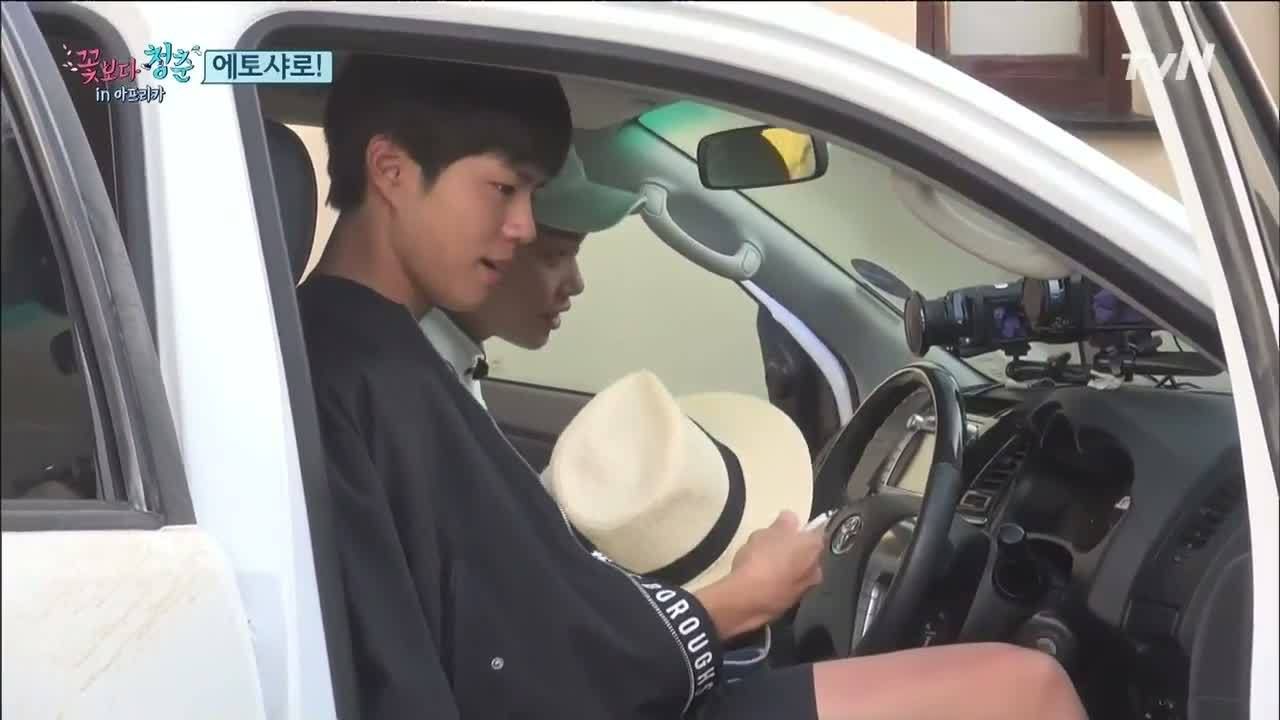 girlfriday: Super nervous. You get the sense that Joon-yeol suggests it in order to help him overcome the incident from last night.
javabeans: The show even builds up the moment, and when Bo-gum starts a song before taking the wheel, it tells us they won't be editing any part of the song out. Then it counts down 3… 2… 1…
girlfriday: ACK! He reverses right into the side of the building!
javabeans: He didn't even last three SECONDS this time!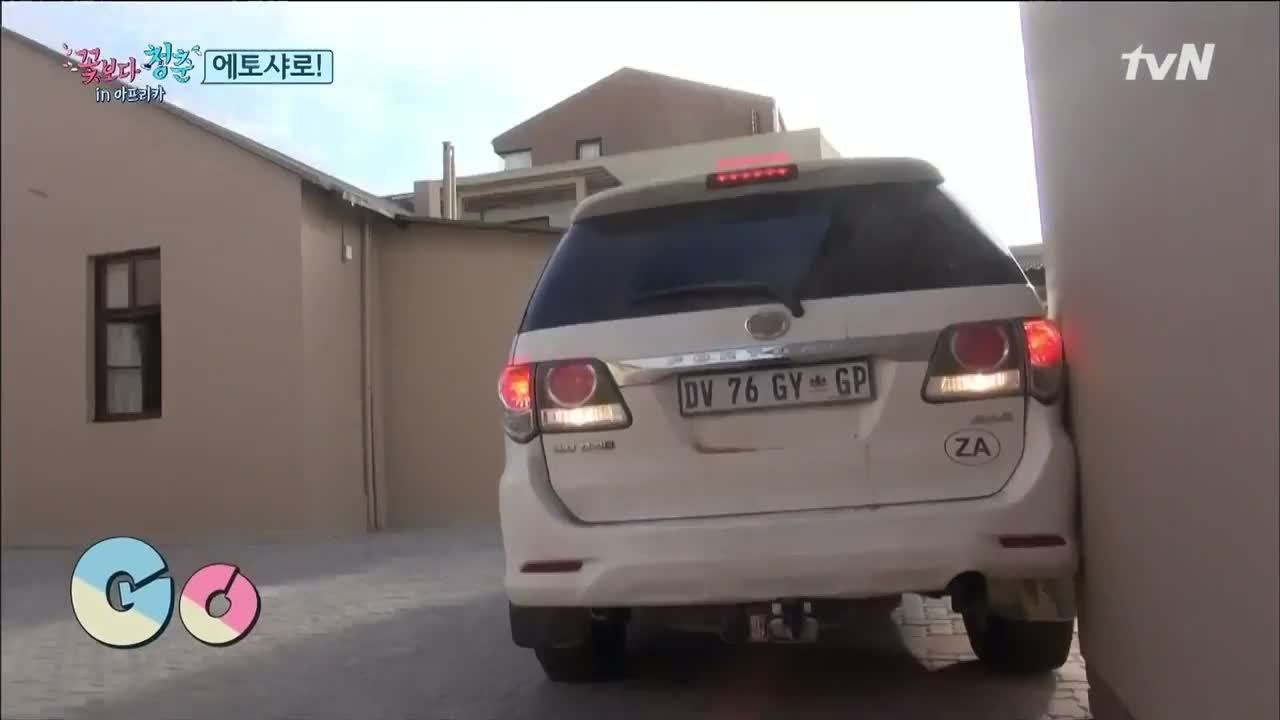 girlfriday: That's it. Bo-gum and wheels are just un-mixy things.
javabeans: They get out to check the damage, and the right tail light is totally smashed. Bo-gum wails, "Oh no, I caused another accident!"
girlfriday: I didn't really believe the stories that said Park Bo-gum was like his Answer Me character Taek in real life, but I get it now.
javabeans: I'm just glad he's a star and has a driver and won't ever need to take the wheel, for his own sake. Maybe for everyone's sake.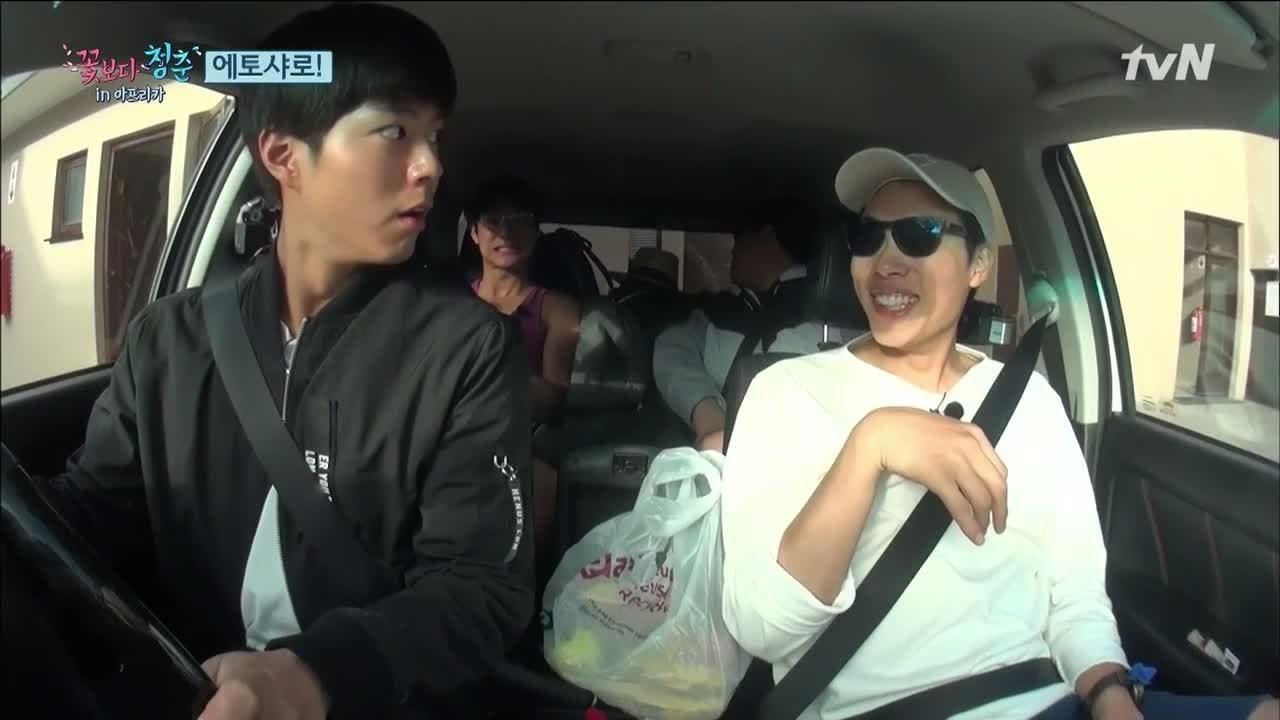 RELATED POSTS
Tags: Ahn Jae-hong, featured, Go Kyung-pyo, Park Bo-gum, Ryu Joon-yeol, Youths Over Flowers