Youths Over Flowers in Africa: Episode 5
javabeans: Well, it finally happened and a Na PD show got hit with criticism after last week's episode aired. It's mostly settled by now and it feels like people are ready to move on, but for a few days there was a wave of discontent over what audiences perceived as unmannerly behavior by the youths, from wearing their bathrobes to a hotel restaurant to taking off their underwear in the pool.
girlfriday: Basically the Korean audience felt embarrassed that they were being represented by these guys in a foreign country, which I can understand, and the producers were taking some heat for leaving that footage in and letting that behavior fly with a "youths will be youths" mentality.
javabeans: I could see it either way, because I did also feel a little taken aback that they were so free about it, probably because most of the Over Flowers cast members are so much on the other spectrum of being circumspect, humble, and conscious of not wanting to be a bad example. It felt like the backlash was a little strong, but I also understand that people felt "Ugly Korean" behavior (as in, the rude foreigner) was cringeworthy.
girlfriday: I don't think this cast did anything particularly terrible, but they're maybe just a little more like regular guys — carefree, thoughtless at times, more concerned with having fun than worrying about how they appear to others. The thing that drives me batty is their lack of basic preparation, like firewood and iceboxes, and just relying on other people to help them out.
javabeans: Although as celebrities, maybe they could have been more careful — maybe this was a good learning experience for them as rookie stars.
girlfriday: Yeah I'm sure it will be.
javabeans: I thought it was interesting (and a little funny) that when the last episode aired, there was a LOT of criticism aimed at the boys from the fans, and I mean tens of thousands of comments. But when this episode aired and the press then went in for Round 2 by pointing out that there was no apology (just a cursory "We're sorry it offended you, we'll be more careful" message from producers), the fans had come back around to "Oh give it a rest, they're sorry, let's move on now. Media, you're being unreasonable."
girlfriday: Haha, the media is just always one step behind. Mostly when it comes to Korean variety shows, one apology acknowledging the lapse in judgment is enough.
javabeans: I did also wonder whether this was indicative of a sort of turning point with Na PD shows. They're not necessarily getting any worse, but the shine has come off, and I think the fan response reflects that — they're a little less impressed with the same old, and maybe a little more easily bored.
girlfriday: I think the Over Flowers series has settled into a very expected groove, so now there's an obvious setup being recycled and fans can compare seasons against each other, making the whole thing less interesting overall when you're in the ninth or tenth iteration.
javabeans: I have to admit that this Africa season has been my least favorite, and I don't think it's for any specific reason, only that it feels a little obvious by now. Also, Joon-yeol is so capable that there's not that much fun in watching them figure their way around, and Bo-gum is the only one who struggles with things, which is why he has my favorite moments.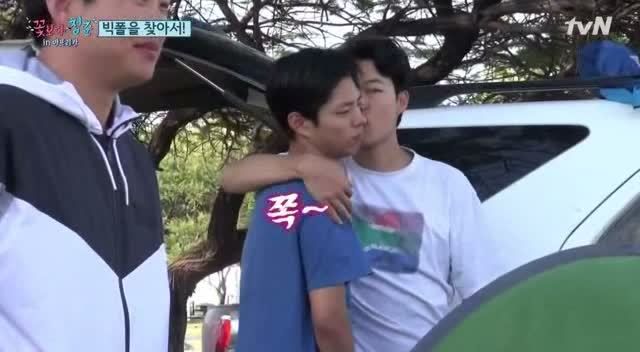 girlfriday: Yeah I do think this particular season is more about riding the wave of Answer Me popularity than anything, and probably has less of an identifiable Youths Over Flowers-specific thing about it. I don't know what that thing is, but there's just something lacking.
javabeans: I definitely feel that lack. There's an overall warmth that I'm used to feeling, a poignancy or heartfelt quality that I don't quite get — it's more like we're just watching four dudes on a road trip.
girlfriday: It's enough to make me think that Na PD is taking a backseat on this one, like he's overseeing but not editing it himself.
javabeans: Maybe, because it's sort of the way 1N2D dipped after he stepped away, even with the same cast and setup. Or — dare I say it? — maybe Na PD is not infallible. We do sort of hold him to ridiculous standards of excellence. He could be tired!
girlfriday: Lol, that's entirely possible. Take a nap, Na PD! Come back in the summer refreshed and with the halbaes!
javabeans: But all in all, I think the minor storm has blown over by now because fans recognize that the boys weren't being malicious, just that they were unwise. It reminds me how I saw a headline this week marking Joon-yeol's one-year anniversary of his debut as an actor, which is nuts. His year must have been the wildest ride.
girlfriday: Yeah talk about an overnight sensation. I'm sure there's a learning curve to fame and fanlove too.
javabeans: Anywayyyyyy, back to the episode. We resume with the boys on safari, eyes peeled for their first glimpse of a lion, with the promise of a shirt for the winner.
girlfriday: I say we just give the shirt to Kyung-pyo, so he doesn't have to keep wearing that women's tank top.
javabeans: Hey, at least he's laundering it!
girlfriday: So far, the most nerve-racking part of this drive is when Bo-gum has to park for lunch.
javabeans: Intending to cook up some pasta, they head inside an empty restaurant and just ask, "Can I borrow your gas range?" Oh my goodness, this does drive me nuts. I know they don't mean anything bad by it, but they're just so… I don't know… it seems entitled?
girlfriday: It's just bizarre that they think it's okay to walk into a restaurant and borrow the kitchen. I mean, what?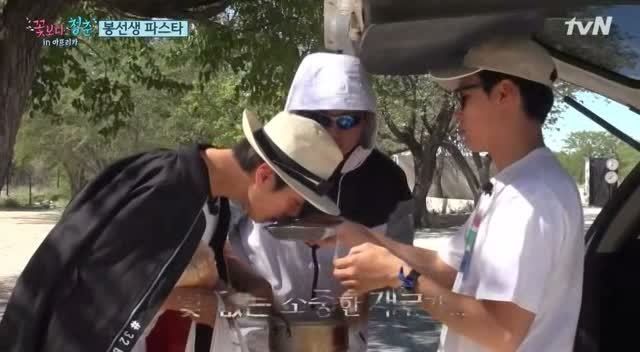 javabeans: It's partly the language barrier that makes the request so blunt, but they don't seem adequately mortified by the necessity of the request. They just tell the bewildered employee, "We want to cook our lunch. We don't have fire, so we [want] to use gas."
girlfriday: They're just lucky that they always run into nice people who are willing to let them use their stoves.
javabeans: I don't know if they'd get such luck if they didn't have a camera crew with them.
girlfriday: That's probably true. I'm just still stuck on why they can't buy firewood.
javabeans: Or an icebox. They find the mushrooms looking suspect… although they decide to include them anyway because they might not be bad and "We won't die."
girlfriday: ACK. That's not comforting!
javabeans: They cook up their pasta soup, and then sit down at a table in the restaurant. Ack. I feel like I'm watching my little brothers and I want to reach into the TV and knock some sense (and etiquette) into them. I love you, but no!
girlfriday: Man, I hope the staff bought something there. I'm just going to keep thinking that to make myself feel better.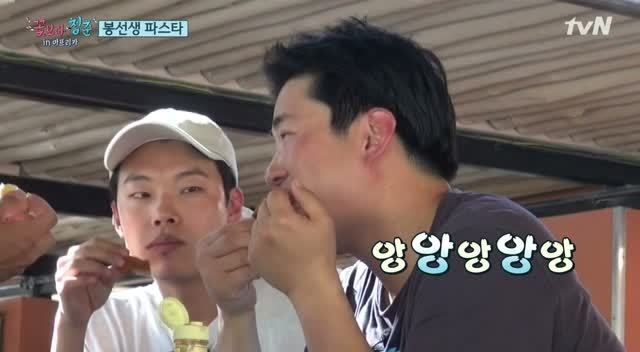 javabeans: I think they do, because a staffer comes over to offer leftovers from their lunch. And despite Jae-hong having just said that he's satisfied with their dish and not at all envious of the crew's food, he sure enjoys that food, ha.
girlfriday: I kinda want to see Jae-hong do a guest stint on Three Meals a Day. He seems better suited for that show.
javabeans: He should go on Fishing Village with Chajumma and be his apprentice.
girlfriday: That would be adorable, and probably infuriating for Chajumma. Love it.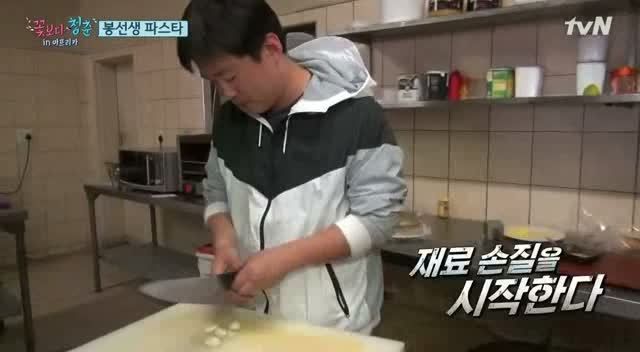 javabeans: Couldn't you just see wifey Yoo Hae-jin getting jealous of the attention Chajumma was giving to his new buddy?
girlfriday: I'm pretty sure Chajumma would be smart enough to make sure Yoo Hae-jin was always loved the same amount. He seems very attuned to Hae-jin's feelings at all times, like they're actually married.
javabeans: That's true. It's why we love them so much.
girlfriday: After lunch, Jae-hong gets behind the wheel as they continue their safari game. I really love how much Bo-gum likes to sing and dance in the car. It's so cute.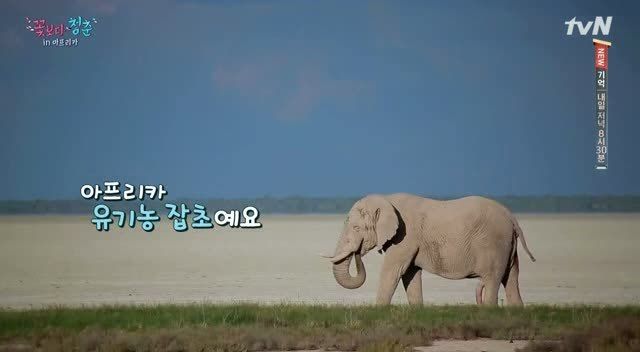 javabeans: They pause at a lookout point to snap some photos, then continue driving and encounter more animals: an elephant, a flock of flamingos, a couple of giraffes that cross right in front of the car. No lions yet, though.
girlfriday: They arrive at their campsite by sunset, and I'm relieved that this place has outdoor grills that they can use with their charcoal.
javabeans: Did they just… leave all that raw meat in the trunk of their car all day?
girlfriday: Yeah I don't want to know the answer to that question. Joon-yeol: "Should we smell the meat?" Jae-hong: "Don't smell it."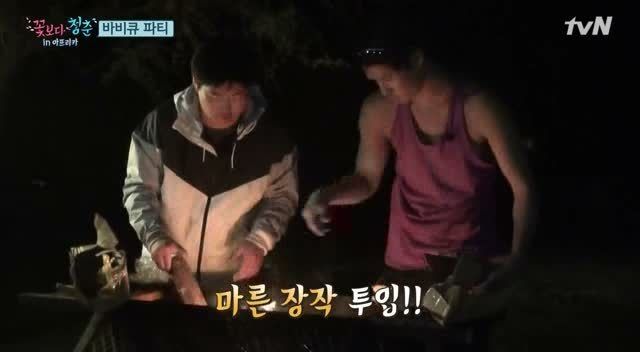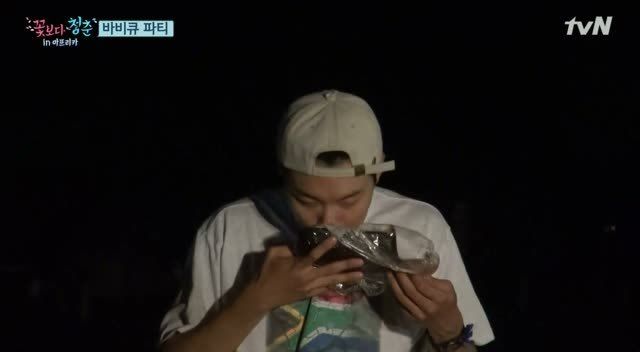 javabeans: That's such a dude way to handle it. They'd rather risk food poisoning than be safe and go hungry. Apparently it tastes good, although I suppose that won't keep you from getting sick.
girlfriday: A staffer asks if they're not sick of meat every day, and Joon-yeol admits readily that they are sick of it. But I think they're pretty limited in terms of what they can cook on an outdoor grill, hence the daily bbq party.
javabeans: As Bo-gum cooks up meat with Kyung-pyo, he mentions going back to work right away when he gets home, and shares that once he'd told his father that work was hard. Dad had reminded him that he's doing what he's always wanted to be doing, which put things back in perspective for him.
girlfriday: It does really seem like his "be thankful" attitude is real, like it's from his daily life. Side note: I can't believe he's still eating. That boy eats a lot.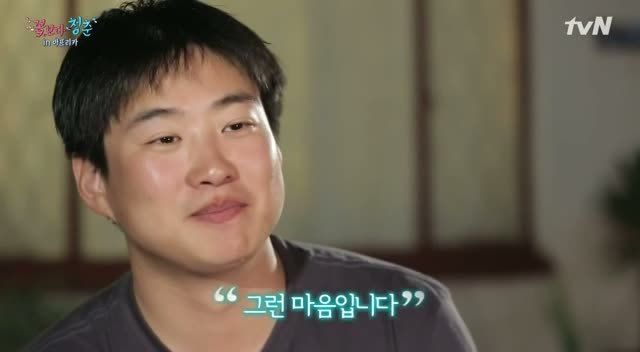 javabeans: Jae-hong seems to take particular care in looking after his hoobaes, and Kyung-pyo explains how Jae-hong looked after him a lot when they were at school, him being four years older. They've known each other for seven years now, and we get a montage of their close brotherly moments on the trip.
girlfriday: Jae-hong interviews that he would like to stay friends till the end, and Kyung-pyo gets teary-eyed as he says he feels the same way, and how grateful he is for hyung.
javabeans: They settle down for the night, and in the morning they get ready and see that they are completely out of food. Joon-yeol jokes that they'll have to hunt, and licks some of their MSG salt.
girlfriday: They really are the worst planners in the history of ever. How do you just run out of food?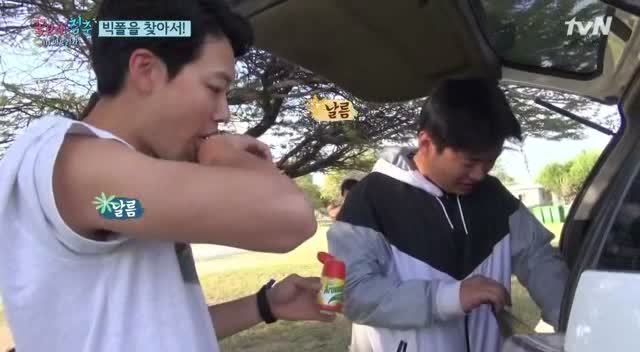 javabeans: Shouldn't they have protein bars or backup food or something? They bought raw meat, some salt, and a pot. For now they pack up and head out of the national park, continuing on the road to their eventual destination, Victoria Falls. They stop for a fast-food lunch and look up lodgings for tonight, and then Kyung-pyo asks for everyone's opinions on whether they need to eat dinner. Ack, are you running out of money already?
girlfriday: Oh noes. I know I said they would, but I didn't REALLY think they would!
javabeans: He says that they have to either skip one meal or eat lightly or make it out of things they already have. He interviews that he feels bad to be the one telling them they can't eat something, but he feels the responsibility of his treasurer position to make sure they stay on budget. We see clips of him throughout the trip constantly worrying about the cost of everything, and when he hands over an envelope of all the receipts they've amassed thus far, the PD laughs, "This is the first time someone's given us this!"
girlfriday: It would've been nice to see this earlier on, because it seemed like they were spending so willy-nilly. On their way out of lunch, one of the staffers belatedly realizes that she threw away the little butter knife that the boys have been using to cook with, and they demand the crew pay for the memories associated with the knife, which are priceless. They eventually bargain down to one meal, and figure it's a win.
javabeans: Lol, that lost knife might keep them from going hungry. I'm glad they aren't above guilting the staff. They finally arrive at their lodgings, their last night before making it to Victoria Falls tomorrow. From the brief preview, it looks like it'll be a day of extreme sports.
girlfriday: Are people swimming at the very top of the waterfall, right up to the edge? You can do that??
javabeans: But you… could… die…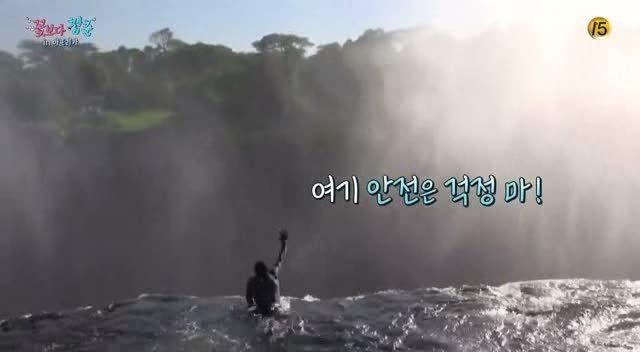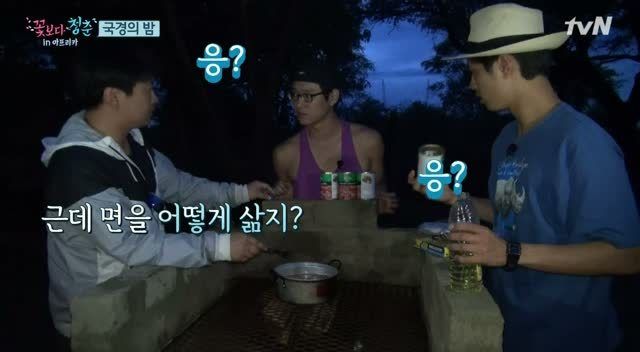 girlfriday: I guess that's why it's named Devil's Pool? So that there are no surprises in case you die?
javabeans: That evening, the boys get revved up cooking dinner outside their guesthouse, pouring cans of tomato sauce into their one and only pot… before asking the question, "How do we cook the noodles?" Blank stares all around.
girlfriday: HAHAHA. I won't lie. I've lived that moment before.
javabeans: They have to resort to pouring the tomato sauce back into the cans so they can boil the pasta, heh. Jae-hong cracks me up: He comments that dinner might not taste great, and Bo-gum says in a quiet voice that everything he's made has been good so far. And Jae-hong acts modest but directs, "Say it louder."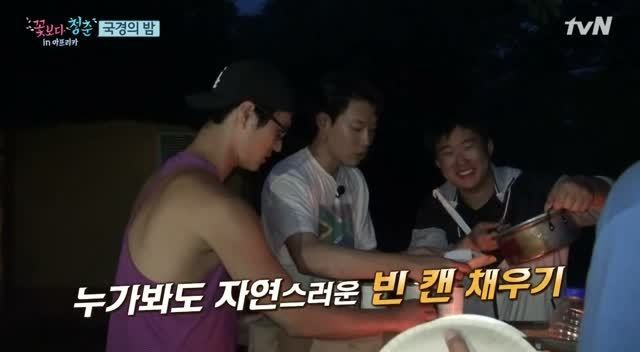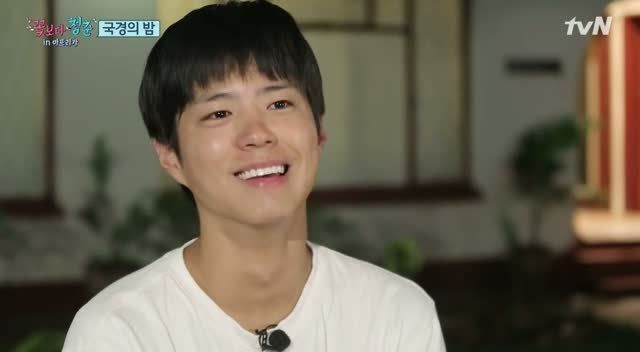 girlfriday: As with most of Jae-hong's dishes, it somehow ends up looking right by the end, and they eat it up and even cook up a second batch of sauce to eat with bread.
javabeans: There are only three spots to sleep in a bed, so Bo-gum offers to sleep on the ground instead of Jae-hong, insisting that he's comfortable that way. Jae-hong calls him on the bluff, saying Bo-gum can sleep on the ground while he sleeps in the car (leaving one bed empty), but Bo-gum has a hard time accepting the bed.
girlfriday: Bo-gum insists that the hyungs do everything and he's done nothing on this whole trip, except we see him clean up after every meal and sleep in the car every night.
javabeans: The PD points that out too, but there's no convincing Bo-gum that he's as useful as they say. Aw. Then again, he does seem exceptionally sorry for everything, like his car being too small for his kidnappers.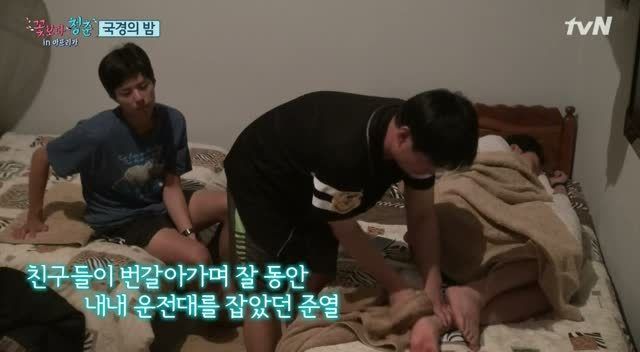 girlfriday: That was the best. He'd have offered them tea and crackers if he could.
javabeans: He did, he totally offered them beverages!
girlfriday: Aw, Jae-hong must just be a caretaker by nature. He notices that Joon-yeol has fallen asleep without a chance to wash up, and goes over to wash his feet for him while he sleeps.
javabeans: He's very sweet, and definitely the one who's always aware of the situation and trying to find little ways to make things comfortable. Aw, did Kyung-pyo and Jae-hong both end up sleeping on the floor? I find that hilarious and sweet. I feel like with enough liquor, we could've seen a situation where they all declared they'd sleep on the floor together and left all the beds empty.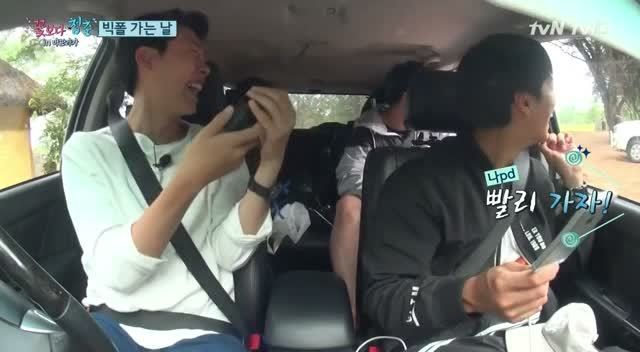 girlfriday: That would've been hilarious. They wake up super early to make the long drive across the border, and when Joon-yeol starts off the day by giving a long tour-bus speech into his walkie-talkie, Na PD shouts back, "Let's GO!"
javabeans: Ha, that's a great punchline moment. It's a four-hour drive till they arrive at the border, leaving Namibia for Botswana, and then Zimbabwe. It's a lot of checkpoints and border crossings today.
girlfriday: Yeah there's a whole lot of driving and stopping and running and stamping and running again.
javabeans: Finally they arrive at Victoria Falls by the evening, and everyone's excited about all the activities available — except Kyung-pyo, who's done the math and realizes they can't afford everything. I hope somebody's watched 1N2D and knows to make deals with Na PD for things!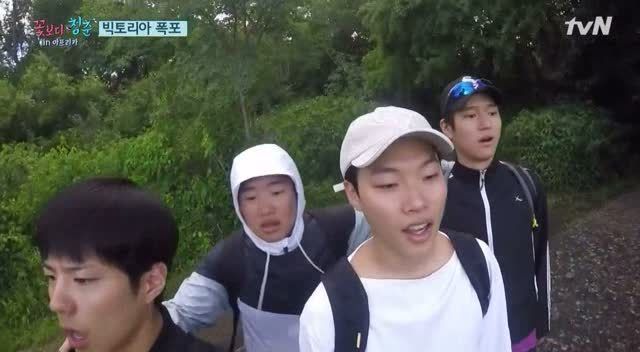 girlfriday: I know. All you have to do is threaten to turn off the cameras! He'll cave to anything, really.
javabeans: They lack the stonewalling sternness of Seojinnie, though, who totally would just sit back and refuse to do anything until the crew paid for it. I still laugh thinking of that time he led the halbaes in saying, "We don't have to see this. Let's just go" and the staff hastily bought tickets. And Seung-gi would just find a game to play for allowance rights.
girlfriday: It's why they're good at variety. At least for today, the boys only have to pay to get in and see the falls, so we haven't run out of money yet.
javabeans: The view really is amazing, and jaws drop to see their first glimpse of the falls. We've seen waterfalls on this show before, but this is on a different level.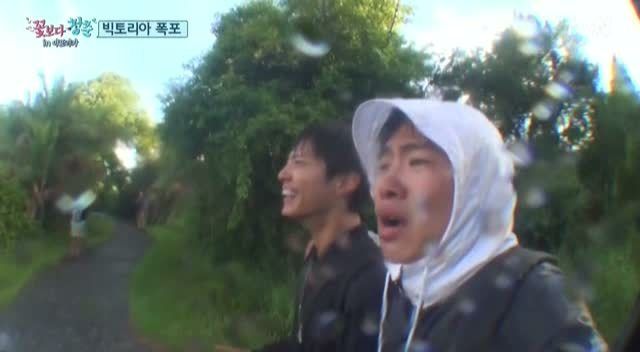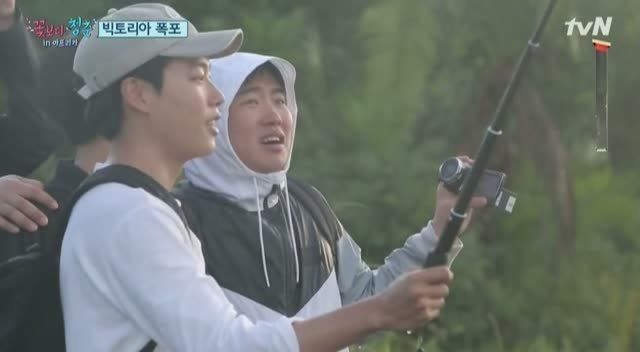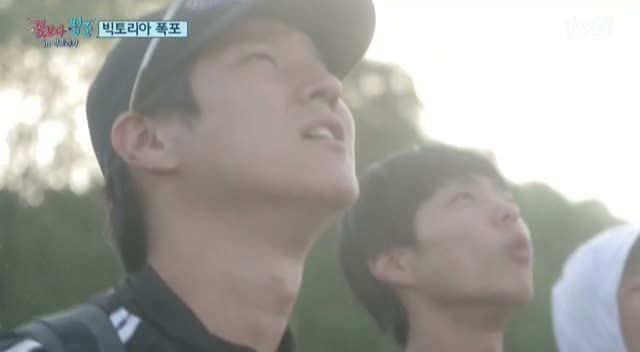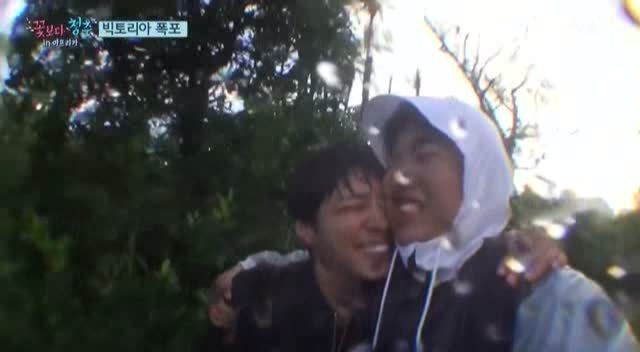 girlfriday: Yeah no kidding. It already looks huge from the ground, but the view from the helicam shows that it stretches on and on.
javabeans: It makes them speechless and happy, and they get increasingly giddy as they continue along, getting drenched by the spray.
girlfriday: They chase the end of the rainbow and jump around in a group hug, endlessly excited, and then follow the trail all the way to the edge of the waterfall, jaws permanently dropped in amazement.

RELATED POSTS
Tags: Ahn Jae-hong, featured, Go Kyung-pyo, Park Bo-gum, Ryu Joon-yeol, Youths Over Flowers