Beans of Wisdom, ahoy!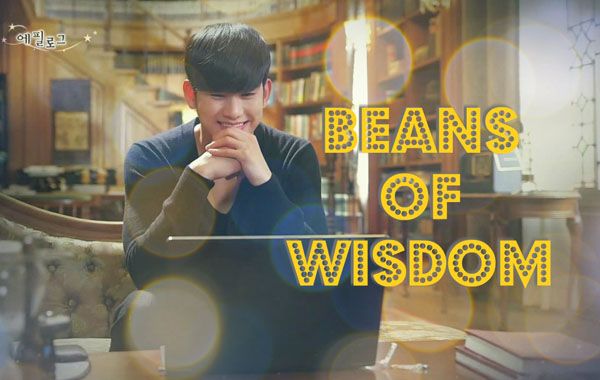 It's time for more comments of the week! It seems you guys are enjoying this feature, and we're glad about it because your contributions are a big part of what makes this site fun to read. We've collected another round of thoughtful, funny, and insightful comments from the past week, aided in part by crazy plot turns and laughably weird moments, like the ones we saw in Jackpot this week.
For instance, in "Jackpot: Episode 5," YY made this eulogy for our beleaguered hero in comment #29:
Dae-gil's epitaph:
Here Lies Dae-gil
Gone But Never Forgotten
Who Died of Natural Causes
At the Ripe Old Age of 1001
His Most Amazing Feat
They Cut Off His Head
He Grew A New One Instead
And here's Sue in comment #24 of the same recap thread:
Personally after eps 5 and 6 I'm finding myself liking this drama more and more. There is just something about JKS's [Jang Geun-seok's] character that is growing on me. I must say that I find it ironic that everyone keeps saying how lucky he is. He has been thrown twice from a high place into water, shot with an arrow twice, stabbed with a knife AND an arrow, had almost every limb broken, and has been beaten to a pulp at every opportunity. How lucky is that? BUT Dae Gil keeps coming back for more.

It reminds me of King Arthur's fight with the Black Knight from Monty Python's Holy Grail. The Black Knight gets his arms and legs cut off and still insists he can fight. In case you haven't seen it, here is a portion of the scene.

King Arthur: [after Arthur's cut off both of the Black Knight's arms] Look, you stupid bastard, you've got no arms left!
Black Knight: Yes I have.
King Arthur: Look!
Black Knight: It's just a flesh wound.
[the Black Knight continues to threaten Arthur despite getting both his arms and one of his legs cut off]
Black Knight: Right, I'll do you for that!
King Arthur: You'll what?
Black Knight: Come here!
King Arthur: What are you gonna do, bleed on me?
Black Knight: I'm invincible!
King Arthur: …You're a loony.

Dae Gil is kind of like that.
In "Drama Hangout: Ms. Temper and Nam Jung-ki," Andrea made a strong case for the show in comments #22.1 and #32.2:
I LOVE seeing Ok Da-jung break the glass ceiling with every episode! I'm so invested in her story, and the story of everyone at Lovely.

I also *really* appreciate that this drama shows how fraught the working world can be for women. This show has not been shy about calling out sexism in the workplace, and showing how successful women suffer hits to their reputations and honor.

The whole Mi-ri sexual assault plot line broke my heart, in so many ways. First, obviously, the sexual assault itself. Second, when poor Mi-ri thought that Deputy Park was in on the assault (can you imagine how horrified she must have felt?), and then a different kind of betrayal when Deputy Park didn't immediately support her when she asked him to be her witness. Third, when her happiness and pride in her work was overtaken by her worry about fending off more advances from Manager Slimeball. Fourth, when President Jo didn't fire Manager Slimeball right away.

I was so happy that Manager Slimeball got called out and shamed in front of his peers, but I am still quivering with rage that he wasn't fired. He's a sexual predator, and he's not going to stop abusing his female subordinates. I wish that they had gone farther and gone to the police!
and
I agree with you about how brave the subject-matter is in this drama! They have really called out slut-shaming in a way I've never seen before in a Korean drama.

Ugh, speaking of which, did anyone one else actually reel back from the screen with hurt during Da-jung's flashback when her first husband called her a slut? I'd felt okay-ish about him up to that point, but once I saw that, he was dead to me.
You know what? Sold. After that description, I can't not check it out.
Lime Chilli summed up "Page Turner: Episode 3 (Final)" in comment #42:
This drama packed the perfect amount of heart, action and story progression into 3 awesome episodes. There's no unrealistic unnecessary middle third filler complications, no glaringly unwanted PPLs and gasp, not even a forced love triangles. The hint of possible romance was perfect without it taking over every aspect of the story, and we saw growth in every single character (well maybe except Jin Mok's Dad). I usually like my dramas all wrapped up with a neat and tidy bow, but I am shocked how satisfied with the ending. It is quite possibly the first time that what ISN'T shown in the ending is what makes me appreciate the drama more, and the fact that I can IMAGINE how the characters will carry on after the ending speaks volume about how well they have been written and how "real" they are when I've only known them in 3 episodes.
Alessar makes a good point about "Vampire Detective: Episode 3" at #1:
I'm a tad disappointed by the low amount of vampire hijinks. I really feel they're already wasting Lee Joon. I mean, if this was "Lee Joon and the Scooby Gang" it'd be fine. But you load something up with expectations when you slap Vampire on it. Plus it's ridiculous that we're in episode 3 and the guy doesn't apparently know he's a vampire or half vampire or something yet. I mean he may be suspicious but he's way too chill, especially when so much is super-obvious to the audience. (Revealing too much to the audience and leaving the characters running around blind is certainly not a problem unique to this show. See the original cut of Dark City for the worst example ever – a V.O. at the start of the movie SPOILERS the entire premise and the main character figures it out 2 minutes before the end.)
Here's an exchange in the post "SBS, KBS fight over rom-com Jealousy Incarnate," beginning at #8:
jessi:
Might as well be a mad lib: "Jealousy Incarnate will air TWO DAYS OF THE WEEK starting in MONTH on A BROADCASTING STATION."
Flightey Gazelle:
Bwahahahaha!
Chandler:
ROFL. I love this.

Someone should write a mad lib book about dramas.
In the same post, Nafiza raised this point at #14:
I really don't understand why one actress has to be raised at the expense of another. Honestly, the drama world is large enough to sustain more than one actress who can wear the same title. Why do people think it is necessary to malign one to raise up another? It doesn't need to be that way…? I can like HJE [Hwang Jung-eum] and GHJ [Gong Hyo-jin] without compromising myself (I hope, hah). And I can like GHJ and say PSH [Park Shin-hye] without needing to throwing shade at one or the other. Doing anything else is kind of hypocritical…I feel. But you're, of course, free to disagree with me.
If you've ever wondered about the daily drama format, chasen8888 gives a pretty good description in "News bites: April 9, 2016" at #17.1:
Watch a daily drama at your own risk of insanity – cursing, viewer tantrums, hair pulling & addictive watching. Be advised that at times it makes other makjang dramas look like child's play especially with the nonsensical. The synopsis always appear appealing like a tasty appetizer but the actual taste of the whole meal is completely different.

The heroine is likely to go through feats that makes her applicable for sainthood and although the synopsis gives the impression that she is somewhat smart in the first place also she is never rich, she later goes on to make decisions that makes the stupid person looks intelligent. These shows have acts of crimes which are prosecutable yet they will rarely if ever see the light of day in court much less the so called police station. There is so much done to the victim/prey by the predator/s, yet there is so much secrets kept of these sins for the so called sake of a loved one. There is many "forgiveness", "betrayal", "forgetfulness", "ineffectiveness" & "blame game" to name a few. It would be same regarding the various villains/predators and just about everyone is connected. Also the hero and heroine will have to go through so many trials/tests of their love its a wonder/miracle to know that it was a relationship in the first place & that they are supposedly meant to be together.

All I stated so far is the base foundation of a daily drama (30-53 mins) – 120/150 episodes. All of this dragged on madness will surprisingly either make you become an addict, question yourself as why did you start watching this in the first place/ if you are "completely pabo". So future daily drama viewers you were forewarned. I have relegated myself to the pabo list as of late as I have just restarted watching them, but in a way its easier to view the clips and read the comments of the episode at soompi so I do not consistently watch them and lessen the insanity factor of wanting to pull my hair or cuss a few choice words.
Here's a pair of comments from "Ji Sung goes from sham to sincere for SBS's Entertainer," starting with Chandler at #8.4:
Well, I'm a tad disappointed in the Hyeri-Ji Sung pairing too, but not for the same reasons as you. I honestly have no problem with older actors getting paired with younger actresses, especially considering the amount of noona romances in dramaland (Witch's Romance is definitely not an exception, believe me). In fact, for a while, there were so many noona romances that I actually felt an absence of older man- younger woman pairs. I do wish that more dramas had a 6/7-year gap a la Coffee Prince, instead of 12-20 year gaps though.

Honestly, what bothers me more than anything is that we term 'noona romances' as such, and not the other way around. As if it's standard for older men to be romancing younger women, but when it's a women it's some big deal. But, in the end, I recognize the term partially came about because of the sheer amount of them in dramaland and that softens my reaction to the term.

That said, my issue with this pairing has more to with her not being able to hold-up her end of the romantic chemistry. I look forward to seeing Hyeri improve in this project and do think it's possible for her to be cute with Ji Sung. And, who knows, maybe her character will actually get a chance to show us her feelings for her love interest and that will make all the difference. But, as for feeling a 'spark' between them…I'm not all too sure about that. Willing to give it a chance though!
Followed by flamingotamer at #8.4.1:
@Chandler thanks for bringing that up, you have a totally valid point about noona romances not being rare and Witch's Romance definitely not being an exception. (ie Biscuit Romance, Flower Boy Ramyum Shop, I Need Romance 3, …yeah the list is pretty ample with examples) In fact, that was something I really liked about K-drama when I first started, the plethora of noona romance options, a category that doesn't as much exist in other countries' media and definitely not with a selection the caliber of K-dramaland.

I guess how I should have better phrased my annoyance was how "natural" and "normal" people and the media seem to take it when a man is 15-20 years older than the female in a romance, whereas if the tables were turned it's a special category of its own, a noona romance, as you also pointed out. It's actually not that number age matters, but this idea in the media to portray an aesthetic and "beautiful" couple the woman must look young whereas the man can be at whatever age he may be.

Hyeri might be hot right out of Answer Me, but I wish a female lead of a closer age difference could have been casted (I don't see how that should heavily affect the story either). Giving the opportunity to an older actress would have also touched on and answered another problem in media and Hollywood, the pay gap that grow as men and women age because older women are less likely to be casted and have to choose to settle.

For me personally, when I first saw the preview, it felt a little weird because I'm familiar with both actors and KNOW of the size of the age gap before having to look them up or anything so looking at them together in a love line feels a bit unnatural to me though I'm curious if they seem to go well together to someone who saw the preview without knowing their age gap?
Meanwhile, in that post, I'd noted, "Even Chae Jung-ahn started out as a pop singer (remember her techno queen days?)" This was an important discovery for some, for instance mary, who reacted at #5:
What????

WHAT?????

*goes to google*

*starts techno party*
Followed by james94131:
So true!!!

But this is an even better back in the day clip of Chae Jung-Ahn:
Mindy:
Oh my GOD. Everything about that performance is so 2000. The music, the dancing, her outfit, the dancer outfits… also, she can NOT dance at all. I LOVE IT.

Was she really popular back then?

Man, now I'm on an early-2000s nostalgia kick. And I was only 5 in 2000! Lol. Takes me back to my dancing-to-Britney-Spears-in-my-bedroom days.
mary:
This video is a work of art. XD
Kehinde:
Loved this video!!

I agree with Mindy, she CANNOT dance lol
Kit:
Ohh myyy… Hahaha! I did not know about her pop singer past.
You're welcome, everyone.

RELATED POSTS
Tags: Beans of Wisdom