Drama Hangout: Mrs. Cop 2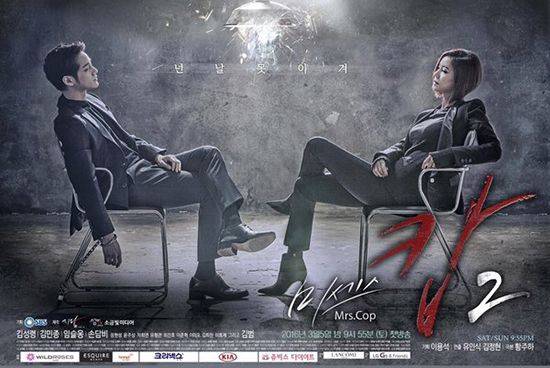 There was a palpable feeling of unease when Mrs. Cop 2, the sequel to the moderately popular Mrs. Cop, announced that it would be bringing back only one original cast member. The fact that said cast member wouldn't even be the titular heroine only added to the general feeling of "But why?" that surrounded the early promos.
Now that we're four weeks into Mrs. Cop 2's run, it's safe to say that it's its own show, so much so that it probably would've been fine as its own show rather than a sequel. It's faring decently in the ratings despite always pulling up the rear, though that seems poised to change as it inches ever closer to the 10% mark. Not a runaway hit for sure, but one that has a steady (and growing) audience.
For those who aren't familiar with either show's premise, Mrs. Cop 2 focuses on a hot-tempered ajumma cop (Kim Sung-ryung) who works to solve a murder case that may or may not be related to a case from her past. She's joined by Kim Min-jong (the one returning cast member), and opposed by a disarmingly handsome villain in the form of Kim Bum.
Since we haven't gotten a chance to weigh in on this show yet, we're opening the floor to you guys. These Drama Hangouts are for anything and everything related to the show at hand, so have a party! And if that party happens to center around Kim Bum's performance, well, no one here will stop you.

RELATED POSTS
Tags: Drama Hangout, Mrs. Cop 2