Drama Hangout: Ms. Temper and Nam Jung-ki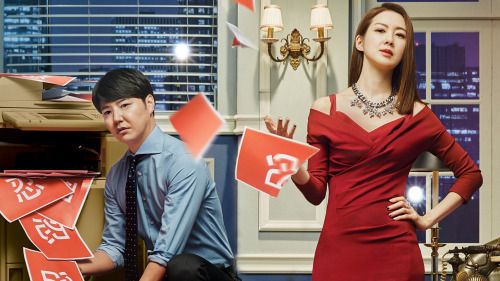 It feels like forever since we've seen Lee Yo-won on the small screen (even though it's only been since 2013's Empire of Gold), but now viewers are getting to enjoy her in a rare turn as a romantic comedy heroine—as opposed to all the dead serious heroines she's played in the past—in Ms. Temper and Nam Jung-ki, the newest offering over on JTBC.
Even before the promotional materials were released, Ms. Temper had my attention when it touted its opposites-attract premise as one involving an almost violently tempermental boss and an employee with the patience of a saint. We've seen that drama in many forms by now, but with the genders switched so that the short-tempered boss is played by Lee Yo-won while the beleaguered employee is played by Yoon Sang-hyun, suddenly it becomes a lot more interesting.
Plus, she'll be graced by cameo appearances in the forms of Song Jae-hee, Lee Jung-jin, and Yeon Jung-hoon as her three ex-husbands. (Yes, three!) Methinks the titular Nam Jung-ki will need some huevos rancheros to go with that endless font of timid resilience if he's to become her fourth, and hopefully last, husband.

RELATED POSTS