Entertainer: Episode 3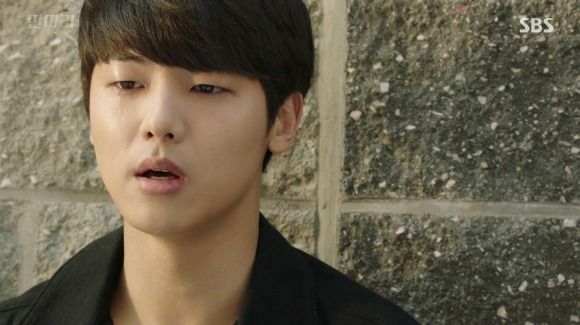 As the newly formed band grows, growth leads to growing pains, and the boys aren't getting along very well. Outed secrets lead to distrust and insecurity, but Seok-ho works hard behind the scenes to give the band a solid start. And if nothing else, the boys have something in common in their love for music, if they can learn to trust each other.

EPISODE 3 RECAP
Ha-neul looks up from the microphone to see Geu-rin rush into the audition room, followed shortly by Seok-ho. Bolstered by their support, Ha-neul sings, and his strong, confident voice practically blows the roof off the place. It's hard to say who looks prouder, Geu-rin or Seok-ho.
Geu-rin leaves right after the audition, saying she has somewhere to go. Ha-neul goes with Seok-ho and the others to eat, and he spends the meal glaring at Seok-ho, and finally asks him if he got those marks on his face from a loan shark. Min-joo tries to correct his tone, but has no effect on the kid.
Geu-rin goes to see Joo-han to ask if there's a trainee named Lee Ji-young at KTOP. Joo-han says that there are too many trainees for him to know them all, but he promises to look into it for her.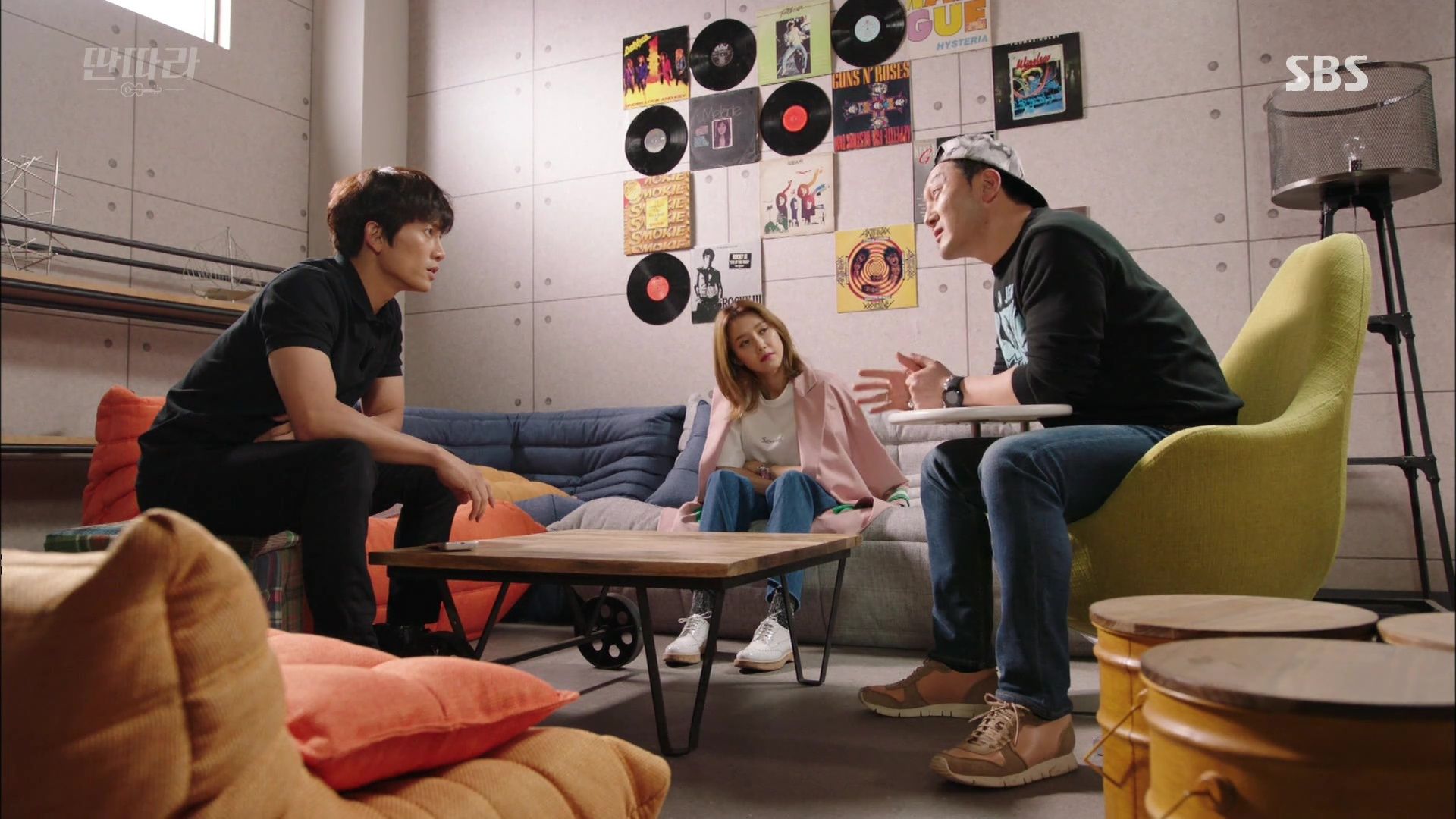 In private, Seok-ho reveals that the boys actually have no chance of making it past this first audition — no agency-represented groups allowed. He only had them go through the motions to gain the trust of Ocean Music, the company that Min-joo works for. He wants her to go back to her boss, Mr. Jeong, and tell him how good they are so he'll invest in an album. That would actually be smart, if the poor boys had been in on it.
He asks Man-shik's honest opinion of the boys, and Man-shik says that music is all about sentiment. In his opinion, Ha-neul has it, that Thing that makes someone a star. Plus, both boys are good-looking, so he thinks they can make it, "As long as you don't cheat." Yeah, that's the kicker, innit?
Joo-han calls Seok-ho to spill the beans that he knows about the new band, and also that Geu-rin keeps coming to KTOP. He says ominously for Seok-ho to keep a close watch on his new boys, and the camera pans around to show us Ji-young, sitting right next to Joo-han.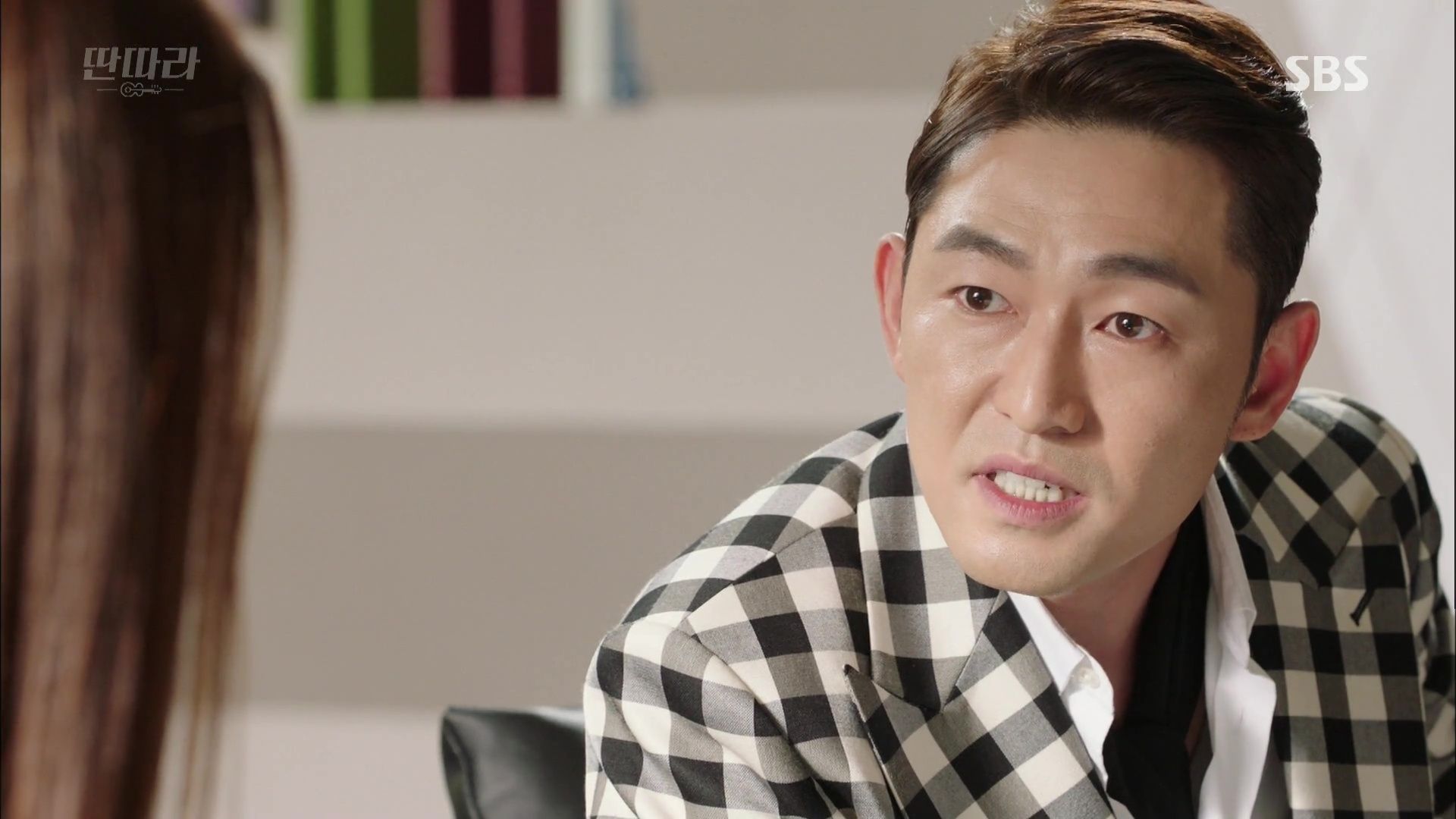 A series of hazy flashbacks show us a bit of whatever happened that night between Ha-neul and Ji-young — the girl cowering in fear, Ha-neul letting himself into her house through an open door, then being led away, protesting, by the police.
Back in the present, Joo-han tells Ji-young that Geu-rin keeps showing up because Ji-young made her upset. Later Ji-young makes an angry phone call to someone, asking if they told anyone that they keep in contact, and she asks them for a favor.
Meanwhile Joo-han reports what he knows about Seok-ho's plans to CEO Lee. Neither of them see Seok-ho as much of a threat, and Joo-han says that he'll take care of it.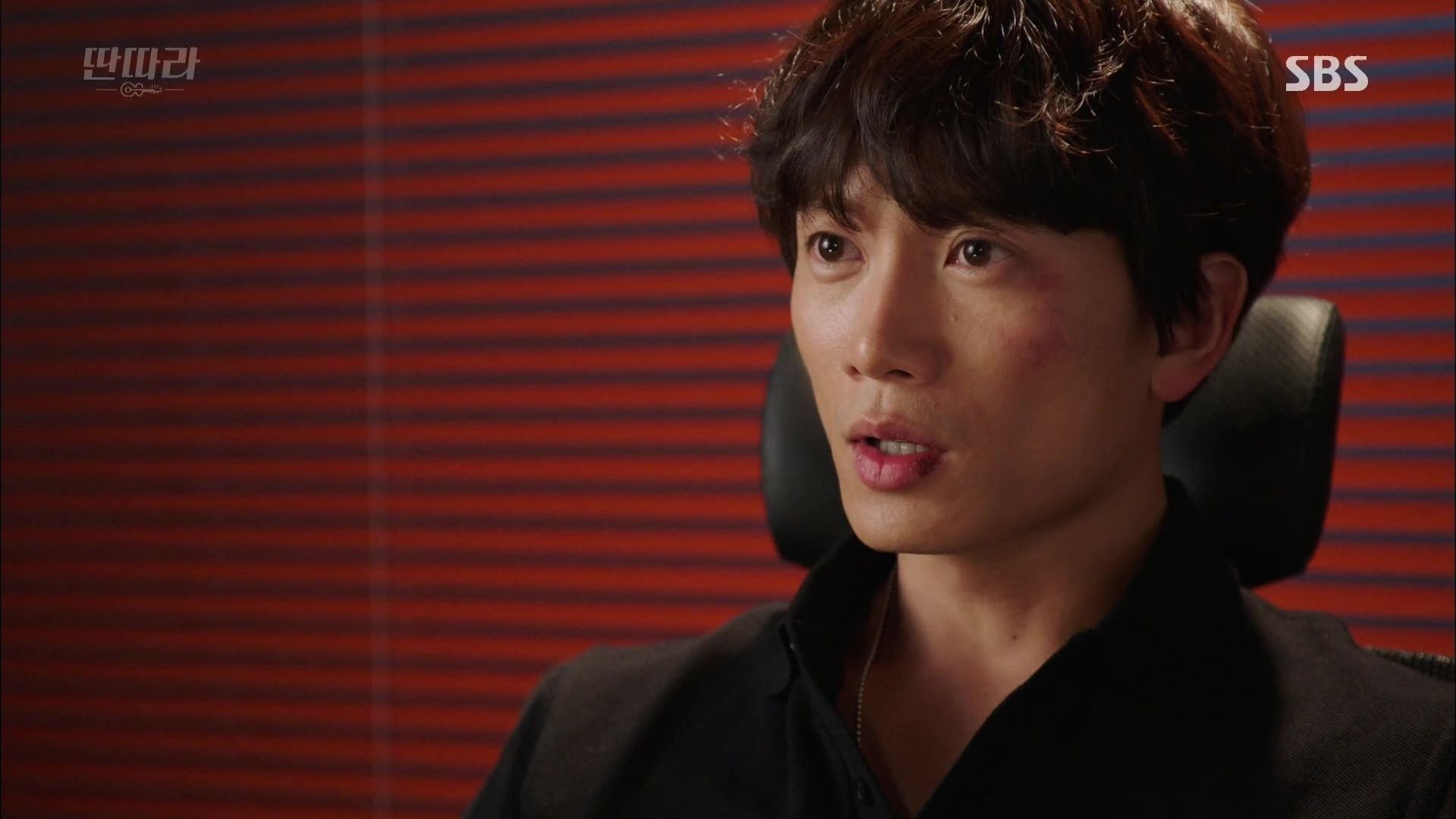 A young man with a guitar strapped to his back wanders into the Mango office while Seok-ho is wondering what to do about Geu-rin, and he introduces himself as NA YEON-SOO (Lee Tae-sun). He'd been playing in the background once while Seok-ho was entertaining a client, and Seok-ho had defended him when he didn't want to lend the drunk client his guitar.
Yeon-soo heard that Seok-ho lost Jackson and is starting a new band, and his bright smile and cheerful nature make Seok-ho suspicious, hee. Seok-ho says they already have a guitarist, but Yeon-soo is more than happy to play bass — I have a feeling everything makes this kid happy.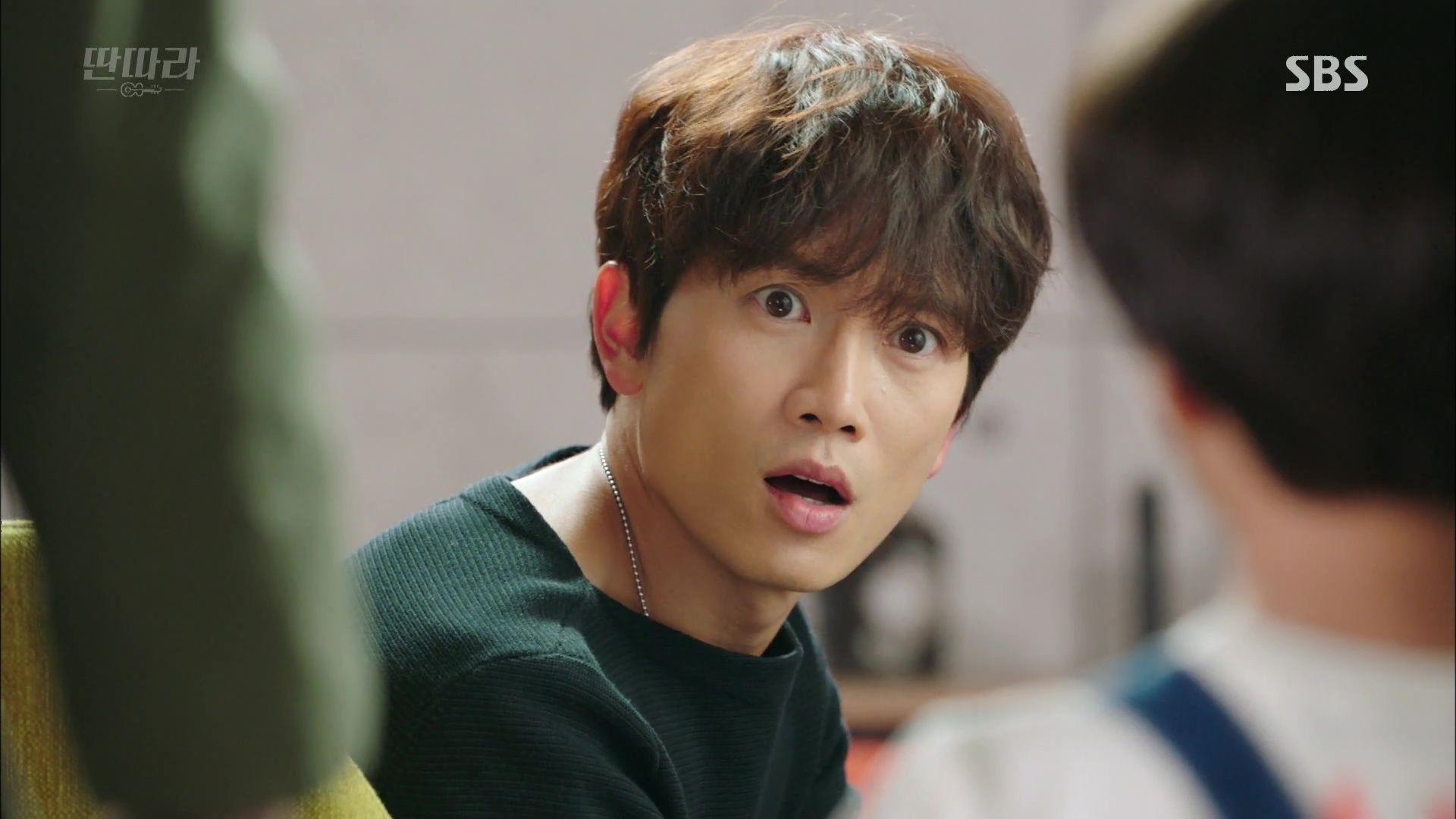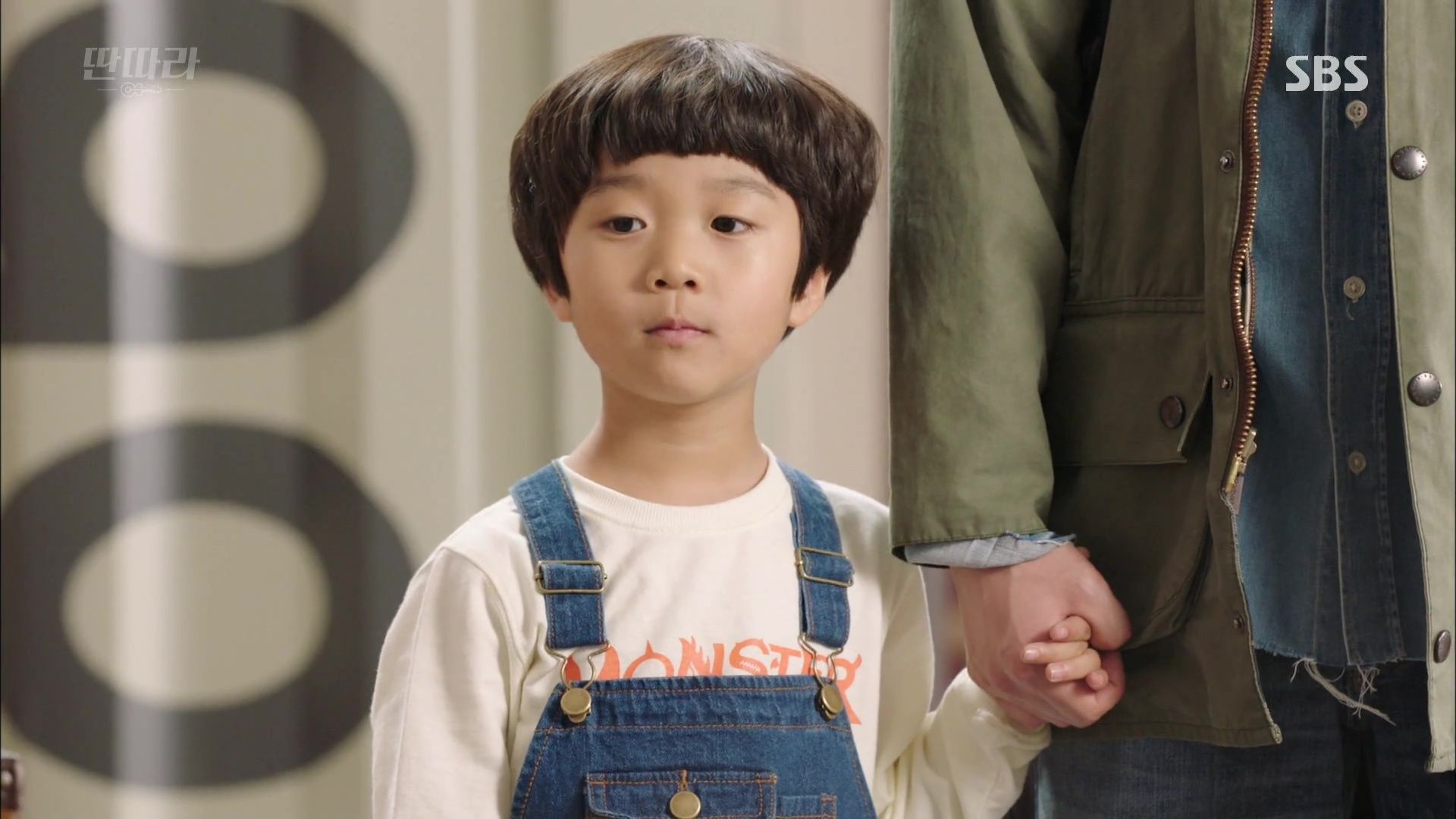 Seok-ho prepares to introduce Yeon-soo to Ha-neul and Kyle, and everyone is shocked when Yeon-soo arrives with his tiny, adorable… son. Oops. Seok-ho grabs Yeon-soo to talk outside, and Ha-neul offers to play with the kid, whose name is Chan-hee. (Shockingly, Ha-neul lights up around the kid, he's a whole different person!)
Yeon-soo admits that he didn't mention his son for fear of rejection, and Seok-ho confirms that a young father can't be a celebrity. He simply can't have a married man in his band… but Yeon-soo says that's okay, he's not married. But but but — that's not better!
Yeon-soo apologizes for not mentioning Chan-hee sooner, and starts to slink off like a whipped puppy, but he turns back to thank Seok-ho for standing up for him that once. He goes back into the office to collect Chan-hee while Seok-ho struggles with his conscience.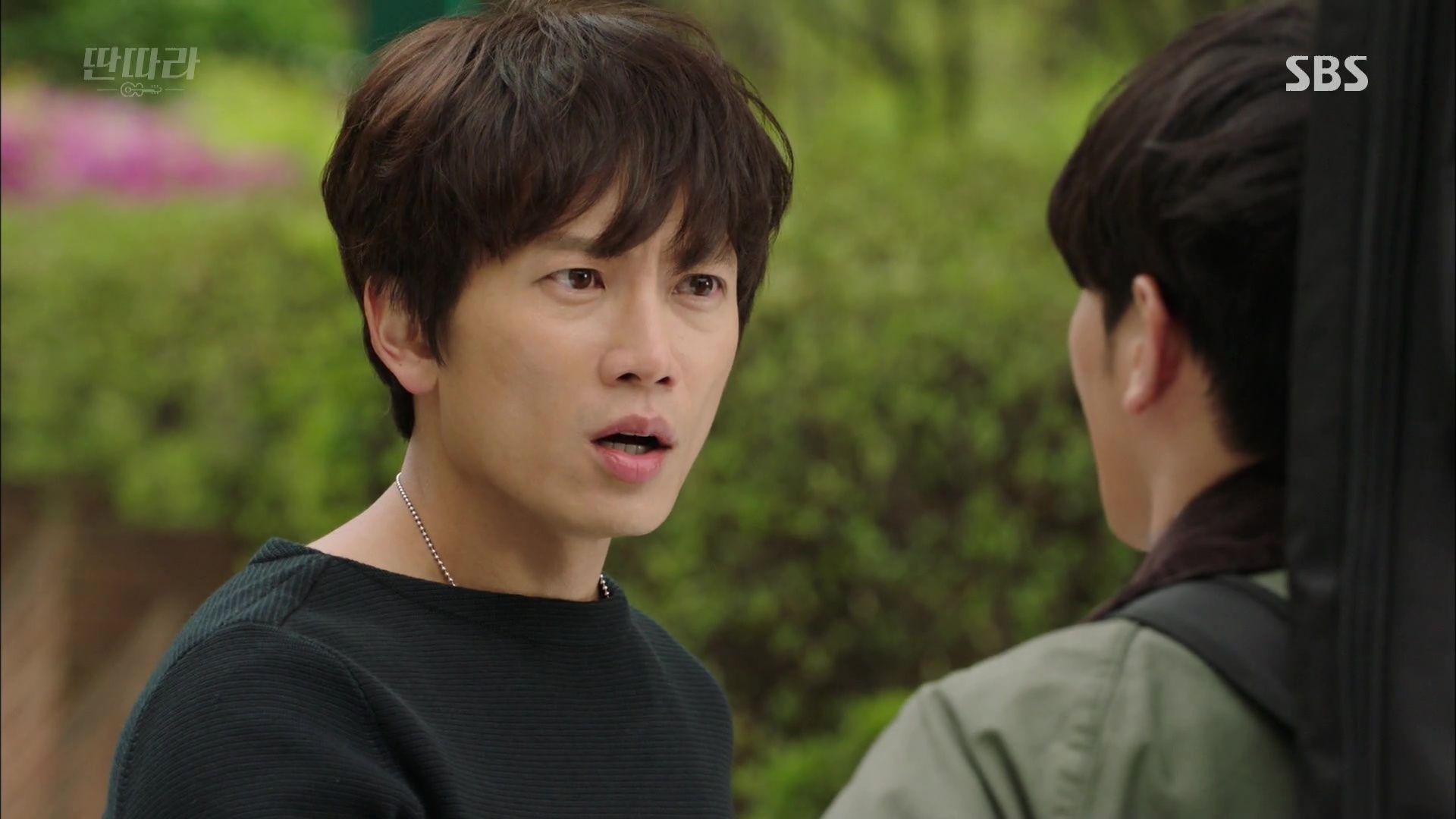 Kyle is happy to see Yeon-soo go, but Ha-neul doesn't think it's fair that ex-cons are allowed, but single fathers aren't. He's got a point. He gets a little revenge on Seok-ho, following him around singing the children's song that Chan-hee was singing, trying to wear Seok-ho down the same way he wore Ha-neul down.
Unable to get Ha-neul's words out of his head, Seok-ho soon finds himself pacing outside the bar where Yeon-soo works, furious with himself for even being here. He finally goes inside and witnesses Yeon-soo being yelled at by a patron, yet still keeping that cheerful smile on his face.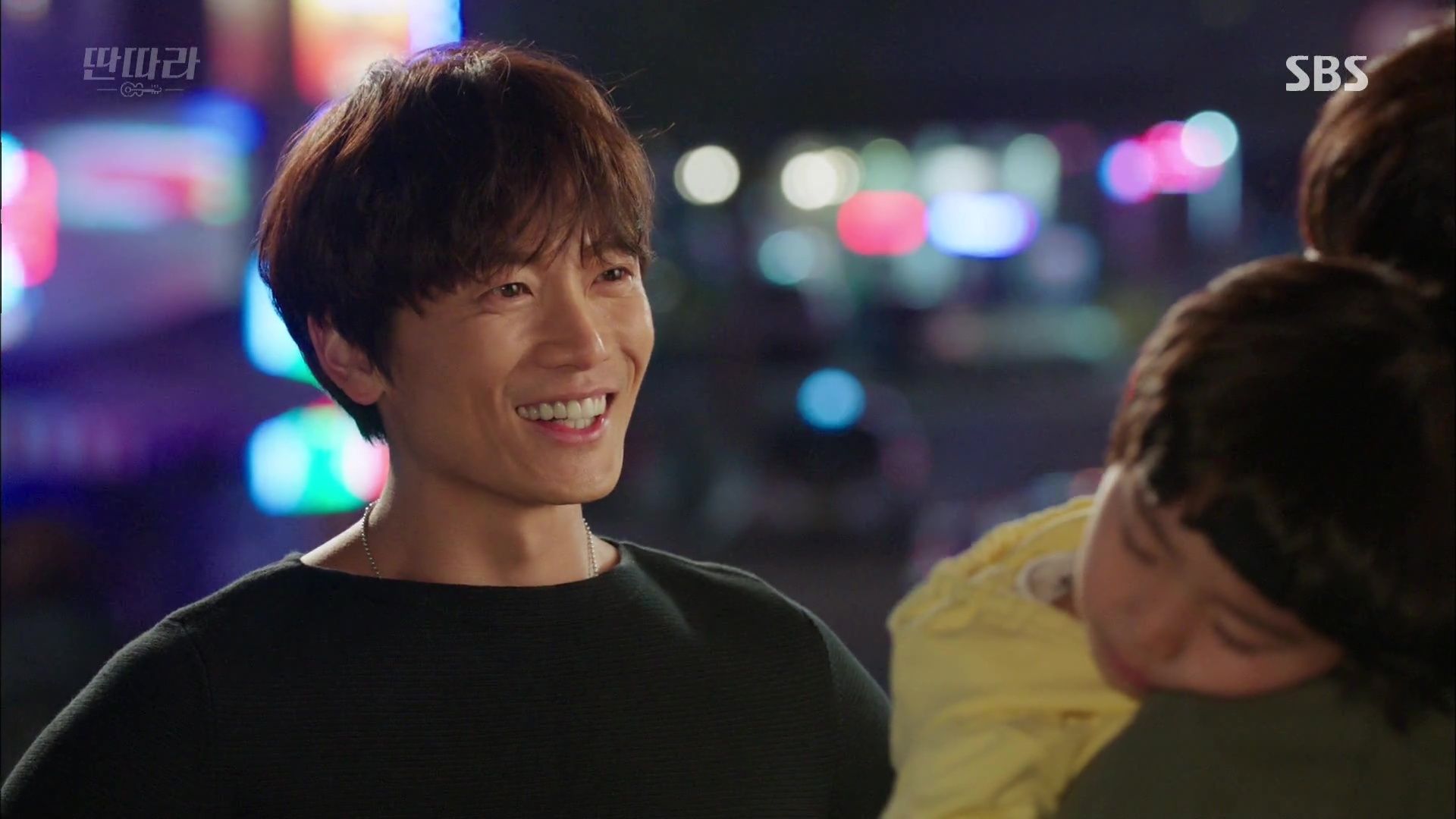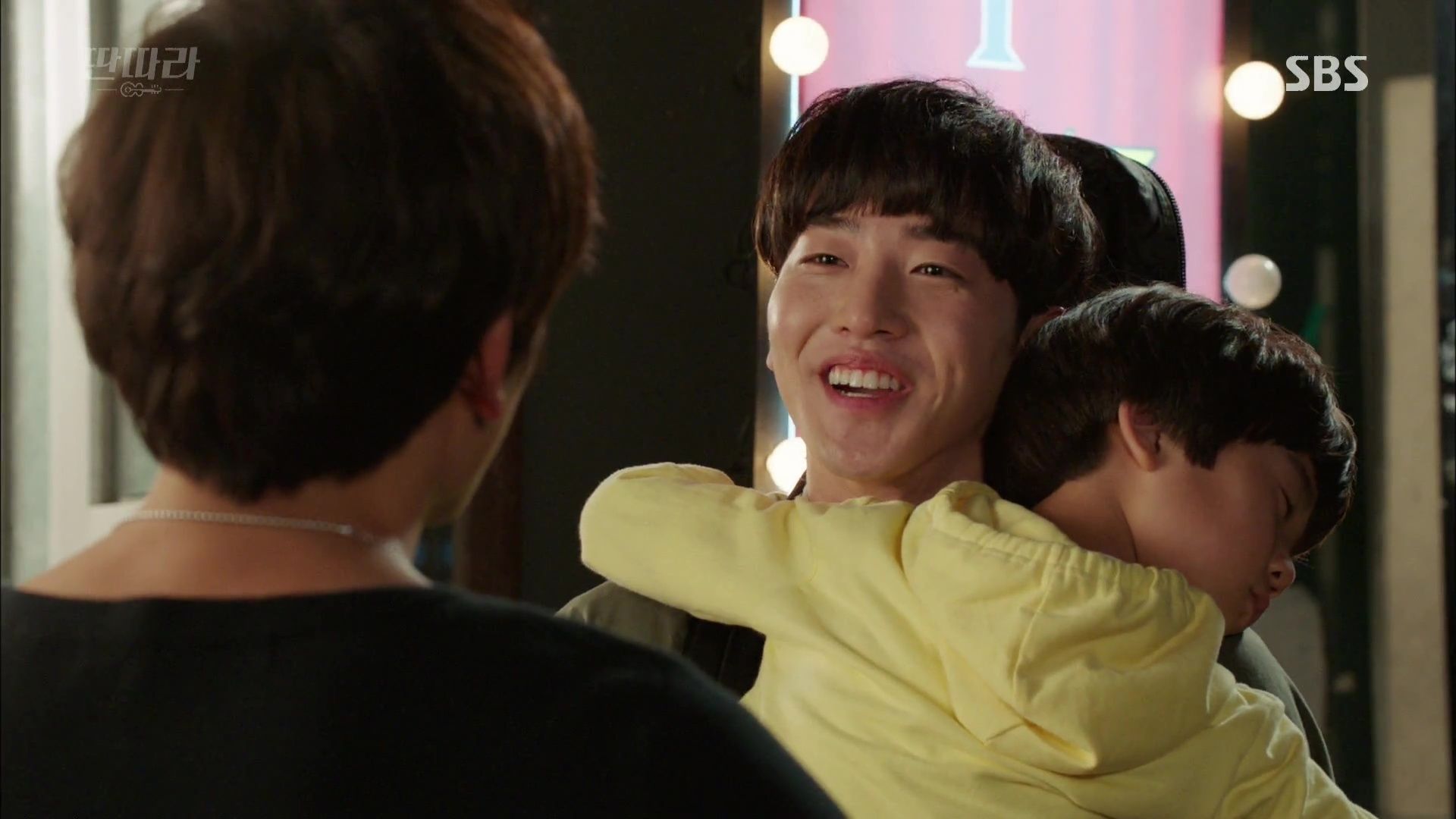 Seok-ho barges into the room and without a word, just gives Yeon-soo a "let's go" nod. Yeon-soo smiles gratefully, and they collect Chan-hee where he's sleeping in an upstairs room and head out together. Seok-ho tells Yeon-soo to find a bass guitar and come to the office tomorrow, and as he walks away, he complains that he'll regret this. Maybe, but you did the right thing. The Tin Man may yet have a heart.
Kyle is comically horrified when he hears Chan-hee's bright little voice in the morning, but Seok-ho warns him to chill and start writing some songs. Yeon-soo is surprised to hear that they only practice on the weekends because the lead vocalist is a high school student, so they decide to go down to Busan to practice during the week.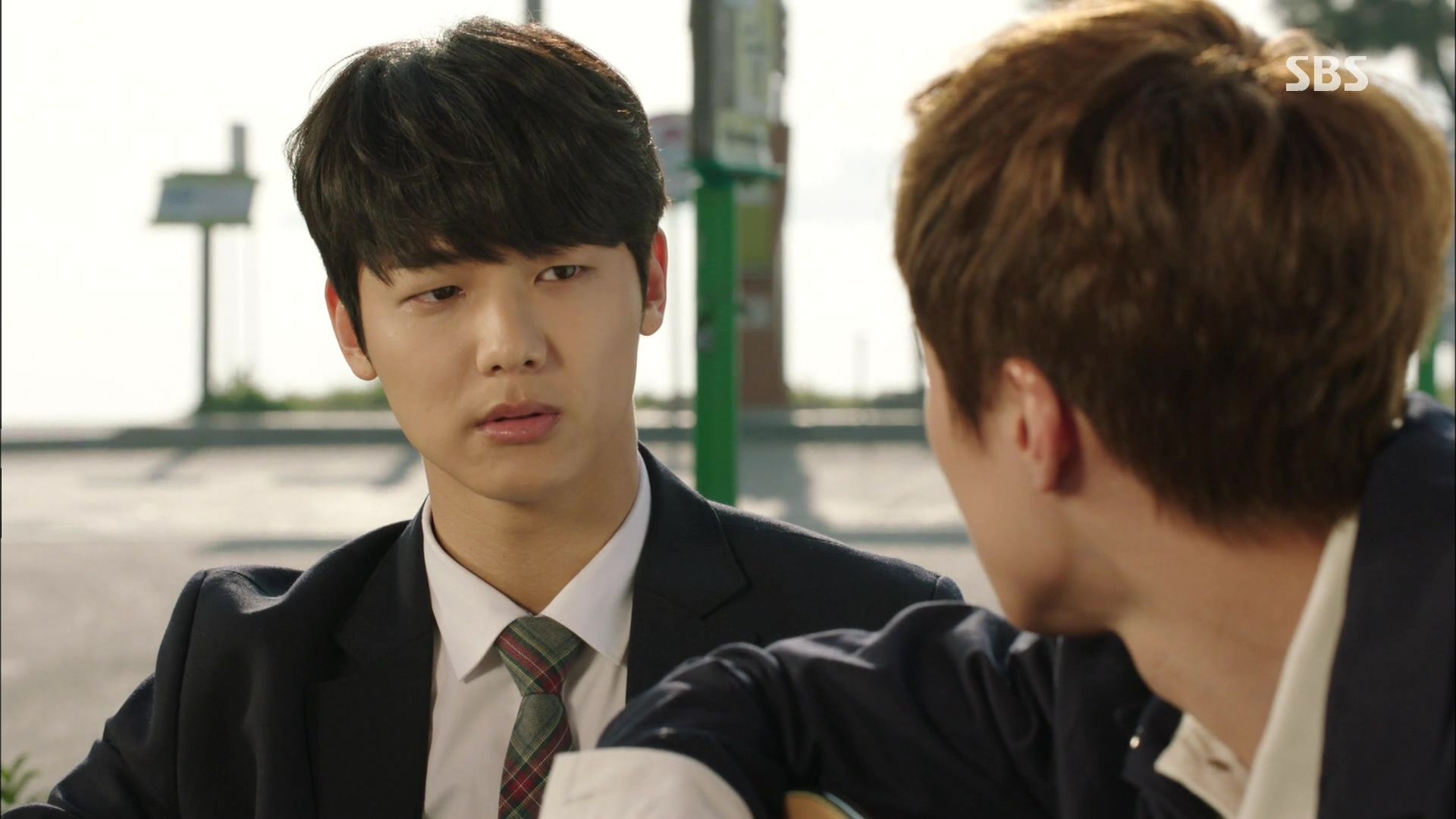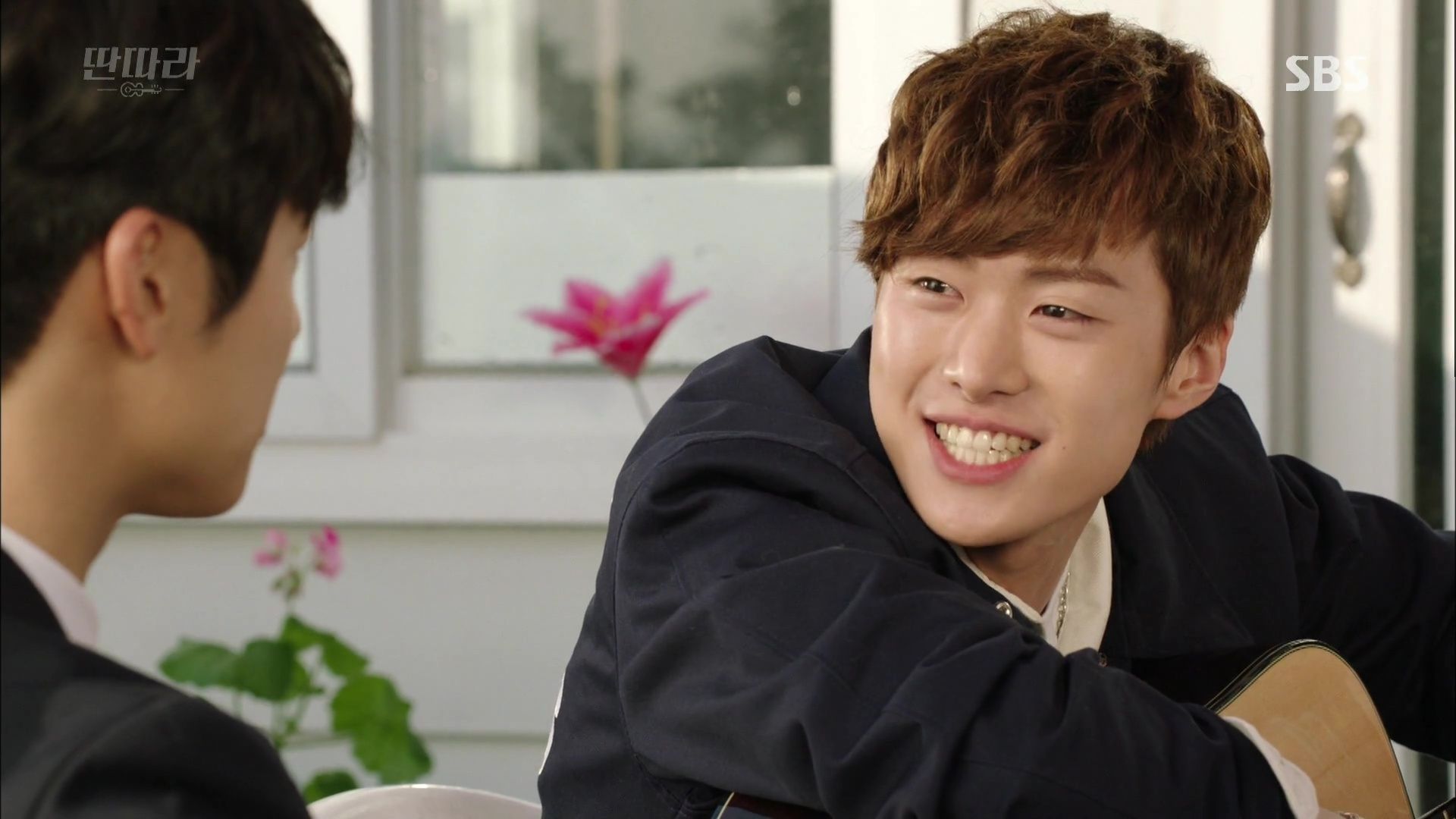 At one point, Kyle slaps Chan-hee's hand away from some snacks, and finds himself on the receiving end of identical glare-hisses from both father and son. I'm going to love those two, I can tell already. Then they figure out that Yeon-soo is the hyung, and he relishes speaking banmal to the ever-more-irritated Kyle.
Ha-neul and Chan-hee are already thick as thieves, and the four boys sit down to finally make some serious music. They disagree on which of Kyle's songs to use, and conversation turns to dating, which Ha-neul nervously swears he has not done. But they figure out that he must like someone, and the immediate cut to Geu-rin can't be an accident.
She's thinking about Ha-neul too, and calls him to see how the band member meeting is going. When she hears that one of them has a child, she invites the whole band to stay at their place.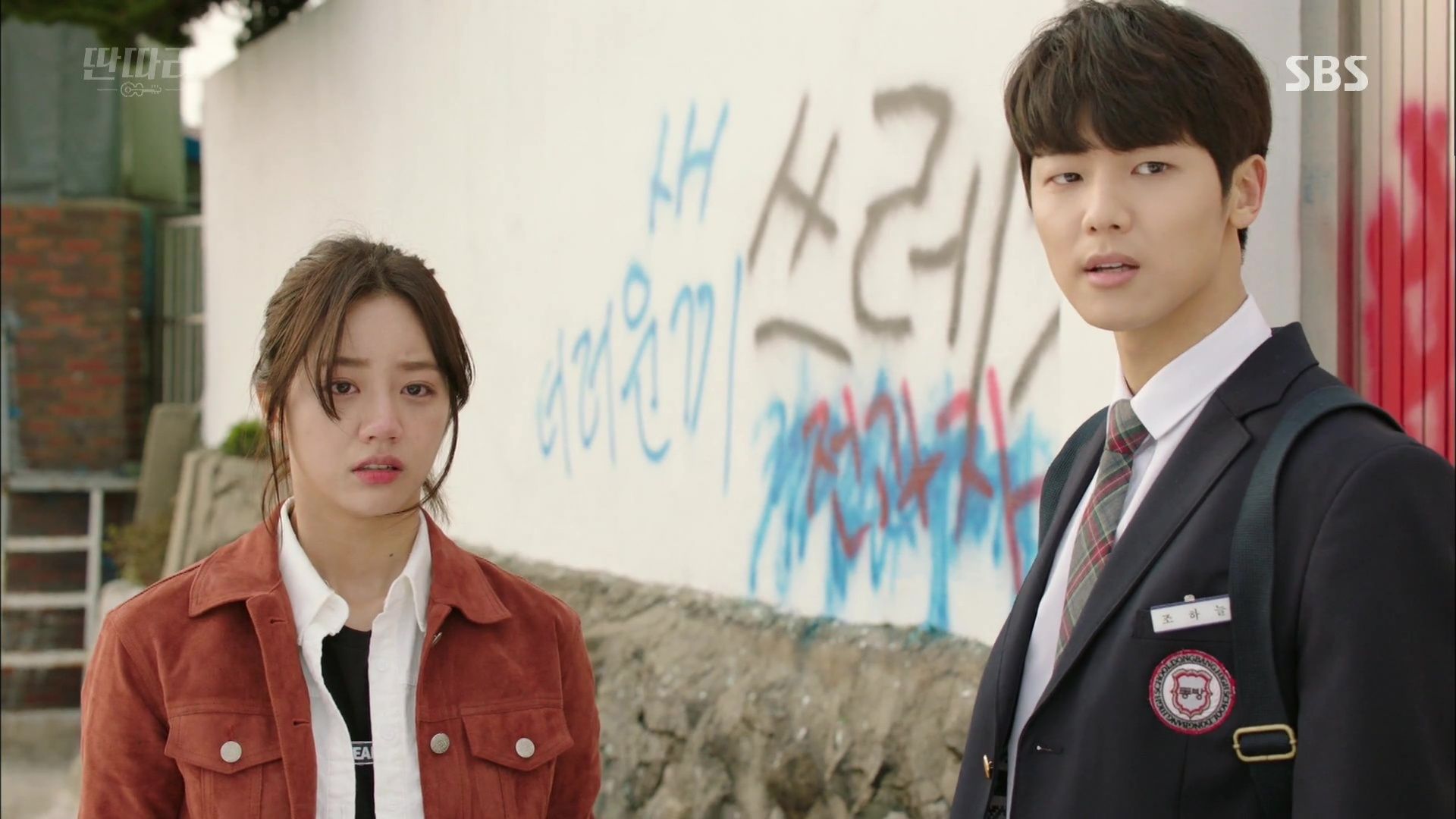 But on her way home Geu-rin finds a group of Ha-neul's classmates vandalizing their street, writing hateful words about Ha-neul on the walls. She chases them off and calls Ha-neul, trying to warn him not to bring his friends here, but his phone is off. She frantically tries to wash it all off before the guys arrive, but she's not fast enough.
Of course, Ha-neul is more concerned with Geu-rin being so upset, and he rushes over to stop her. Kyle reads the word "rapist" and immediately knows that this is what Ha-neul meant by mentioning convicts, and Ha-neul sends them away and pulls Geu-rin inside.
Joo-han attempts to cajole Min-joo's boss, Mr. Jeong, away from his commitment to invest in an album for Seok-ho's new band, promising him an chance to get in on Jackson's next album. And, seeing as how one of their members is finishing his army duty soon and plans to do a solo album, this could be a big opportunity.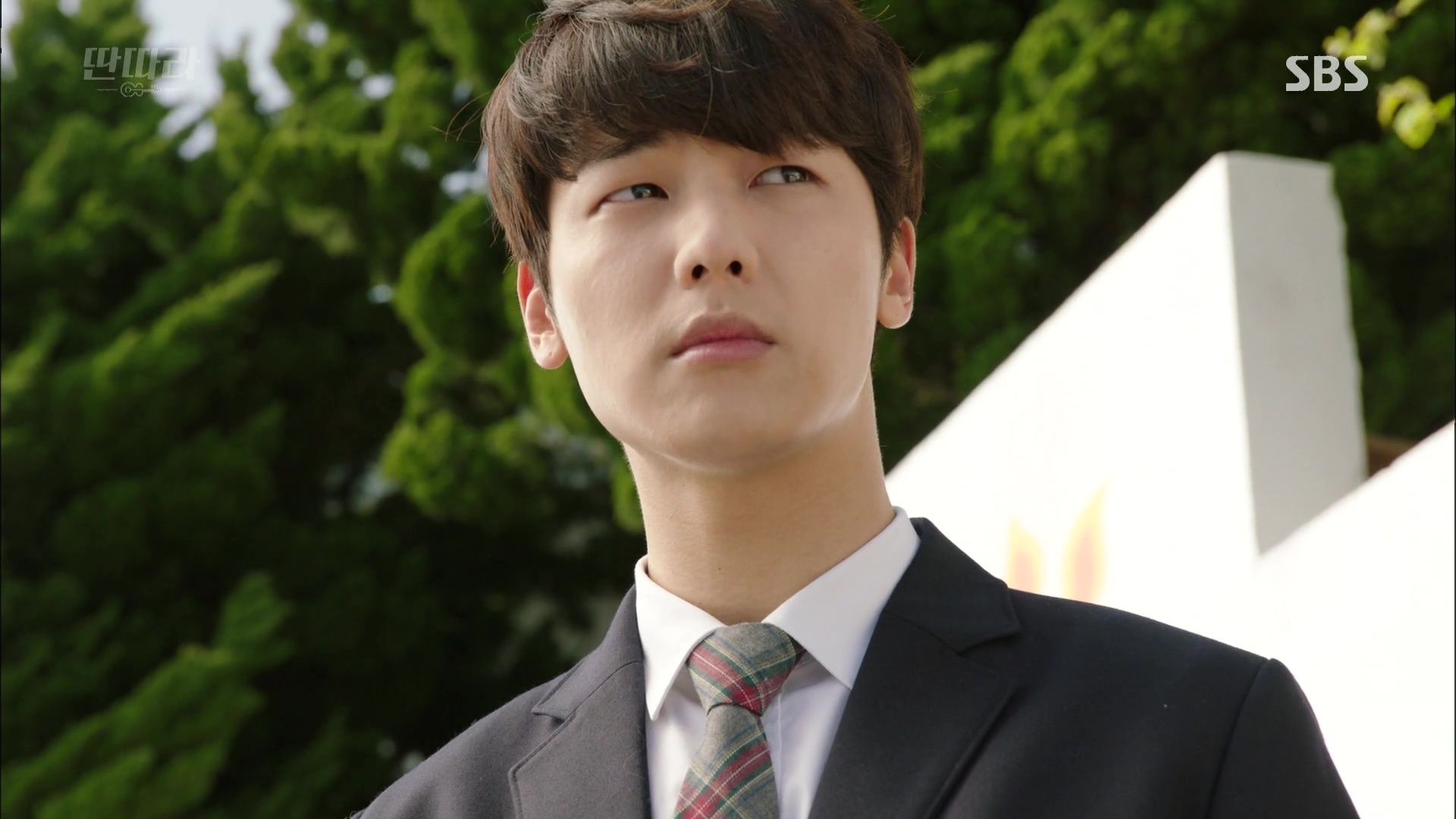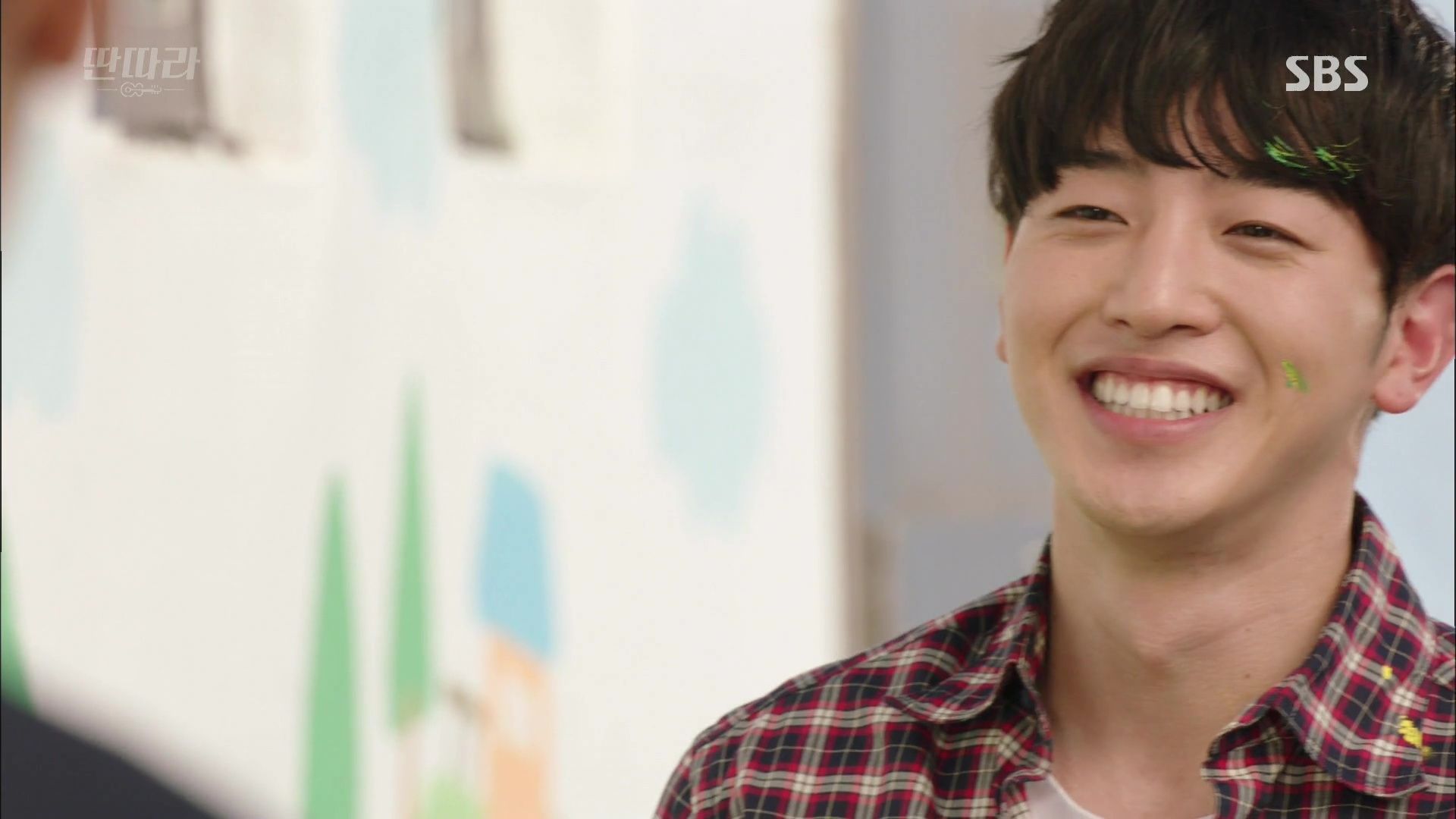 Ha-neul silently fumes while Geu-rin tries and fails to cheer him up, and a commotion outside has him storming to the front door. Awww, it's Yeon-soo and Chan-hee, painting over the vicious graffiti with an adorable mural. I can't even deal with these two. Ha-neul looks like he's fighting tears, and Geu-rin doesn't bother to fight.
Back in Seoul, everything in the Mango office is covered in red repossession stickers when Min-joo next visits. She and Seok-ho go to talk to her boss, but he's gone for the day, and Seok-ho instinctively knows that he's avoiding them. He wants to go to Mr. Jeong's house, alone, to speak with him.
Later that night, Yeon-soo tells Ha-neul to stay positive — sometimes things don't go your way, but he believes in Ha-neul. Ha-neul just sends him back inside to his son and goes for a walk, and Yeon-soo thanks Geu-rin for letting them stay the night.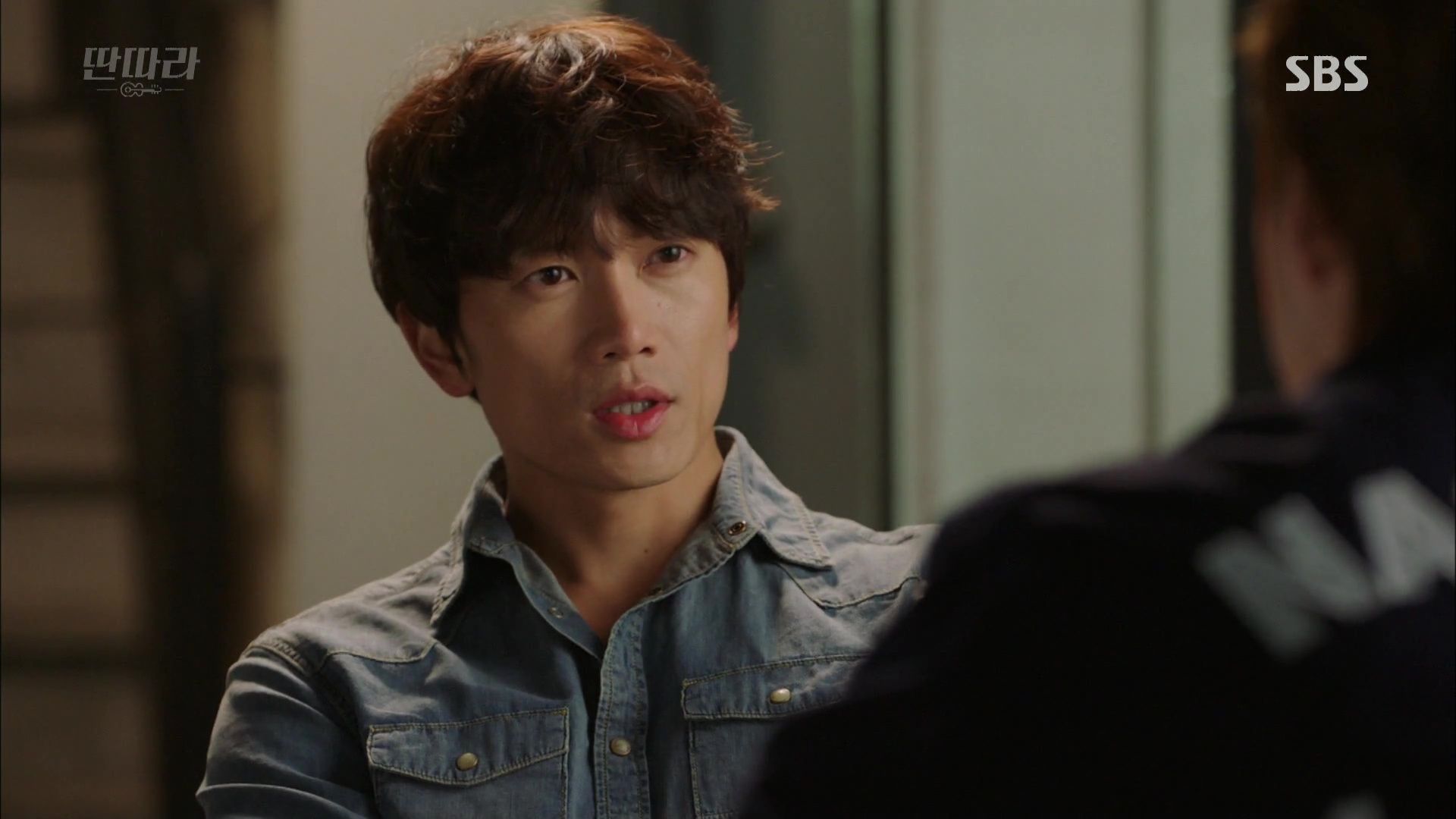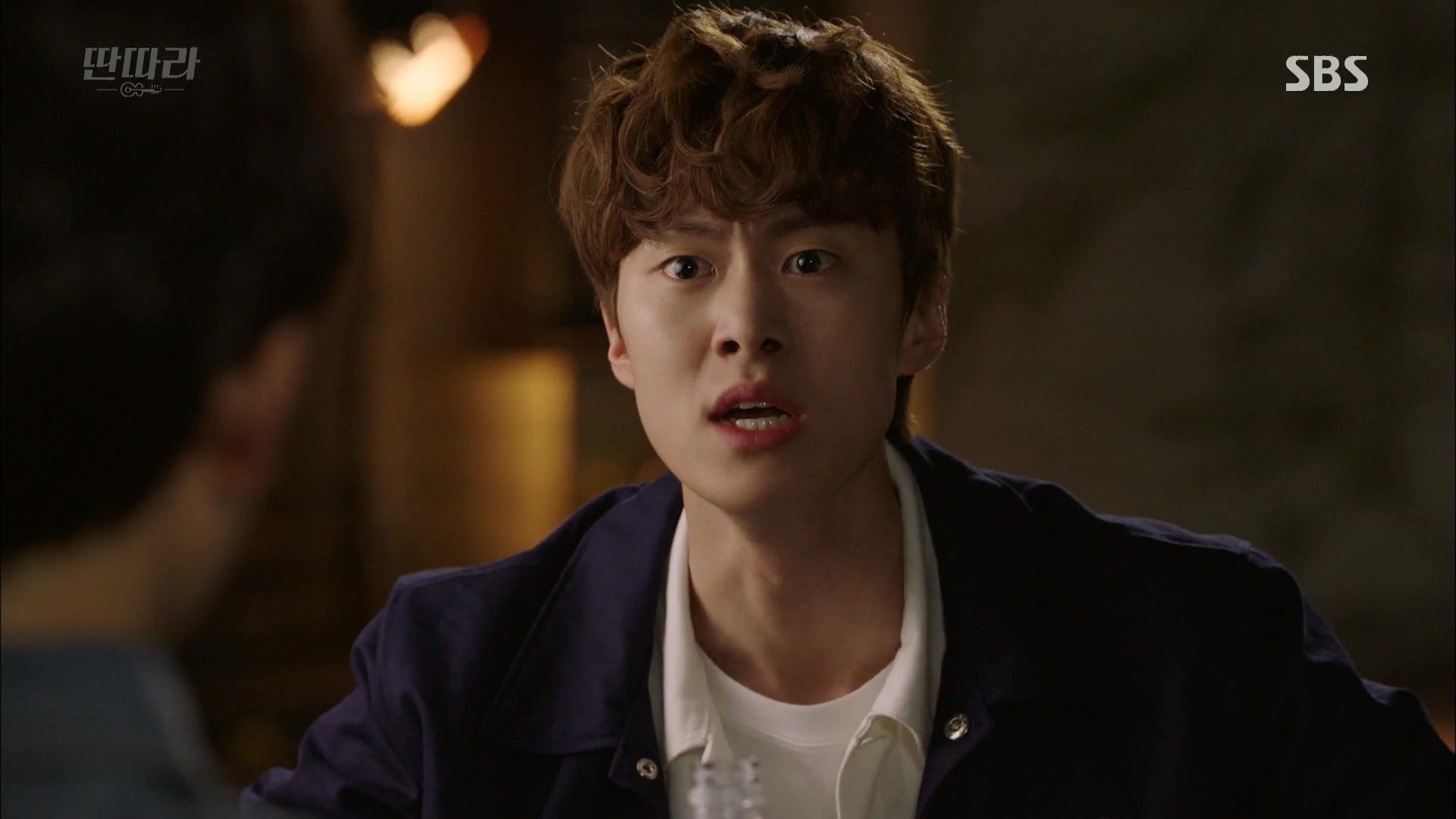 Seok-ho waits for Mr. Jeong outside his house, which gives him a fantastic view of Joo-han taking him home after they've both been drinking. He knows this is why Mr. Jeong will be withdrawing his investment, and his eyes go hard.
He meets with Kyle, who's furious that he wasn't told that Ha-neul is a convicted sex offender. Seok-ho is oddly calm, and asks if Kyle has never been falsely accused of anything before, saying that Ha-neul is innocent.
He admits that he was shocked at first, and debated about it, but he decided to trust Ha-neul. Kyle barks that he doesn't trust anything when they have a sex offender as a lead singer, and says that he won't stay in the band if Ha-neul stays.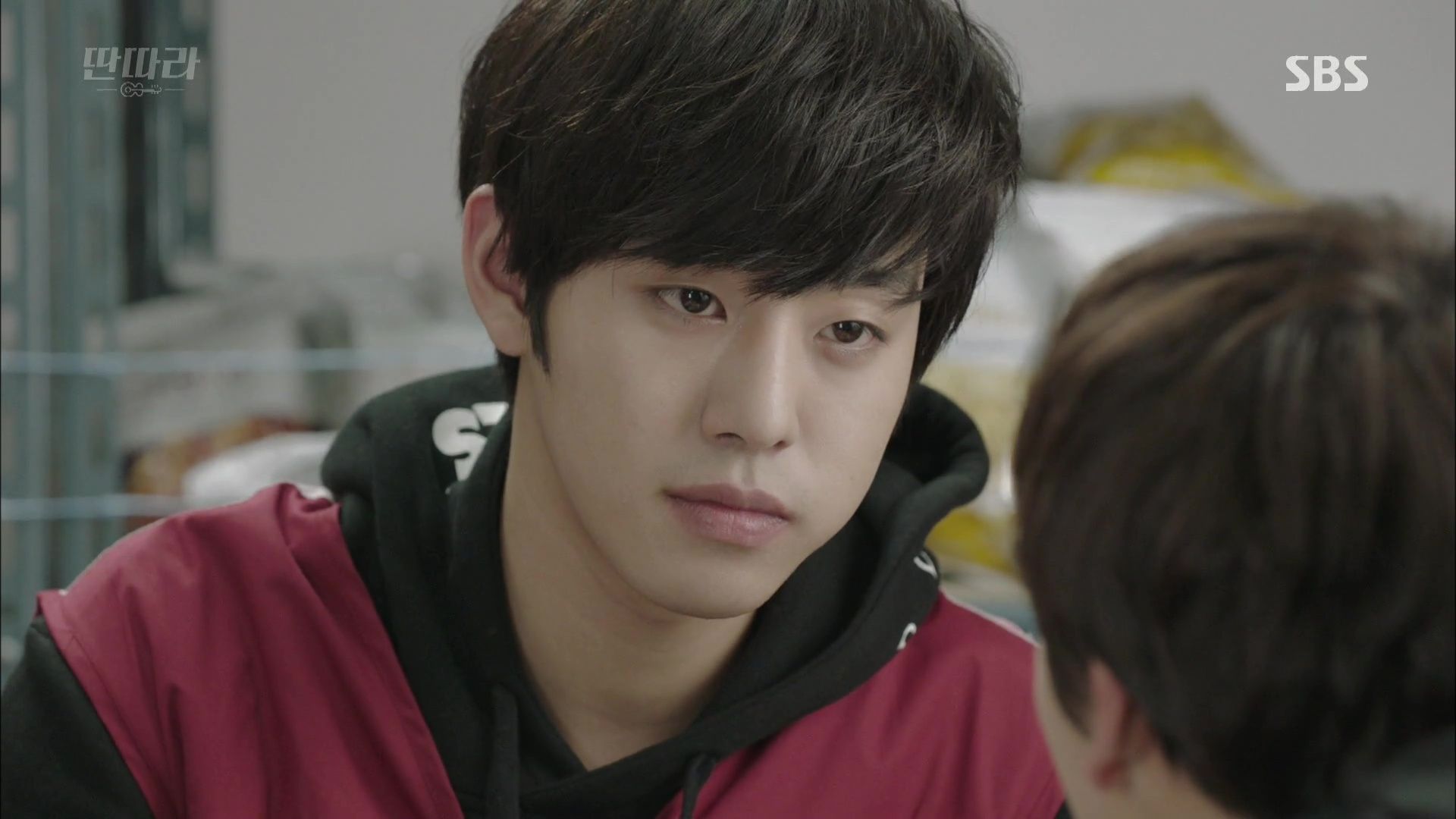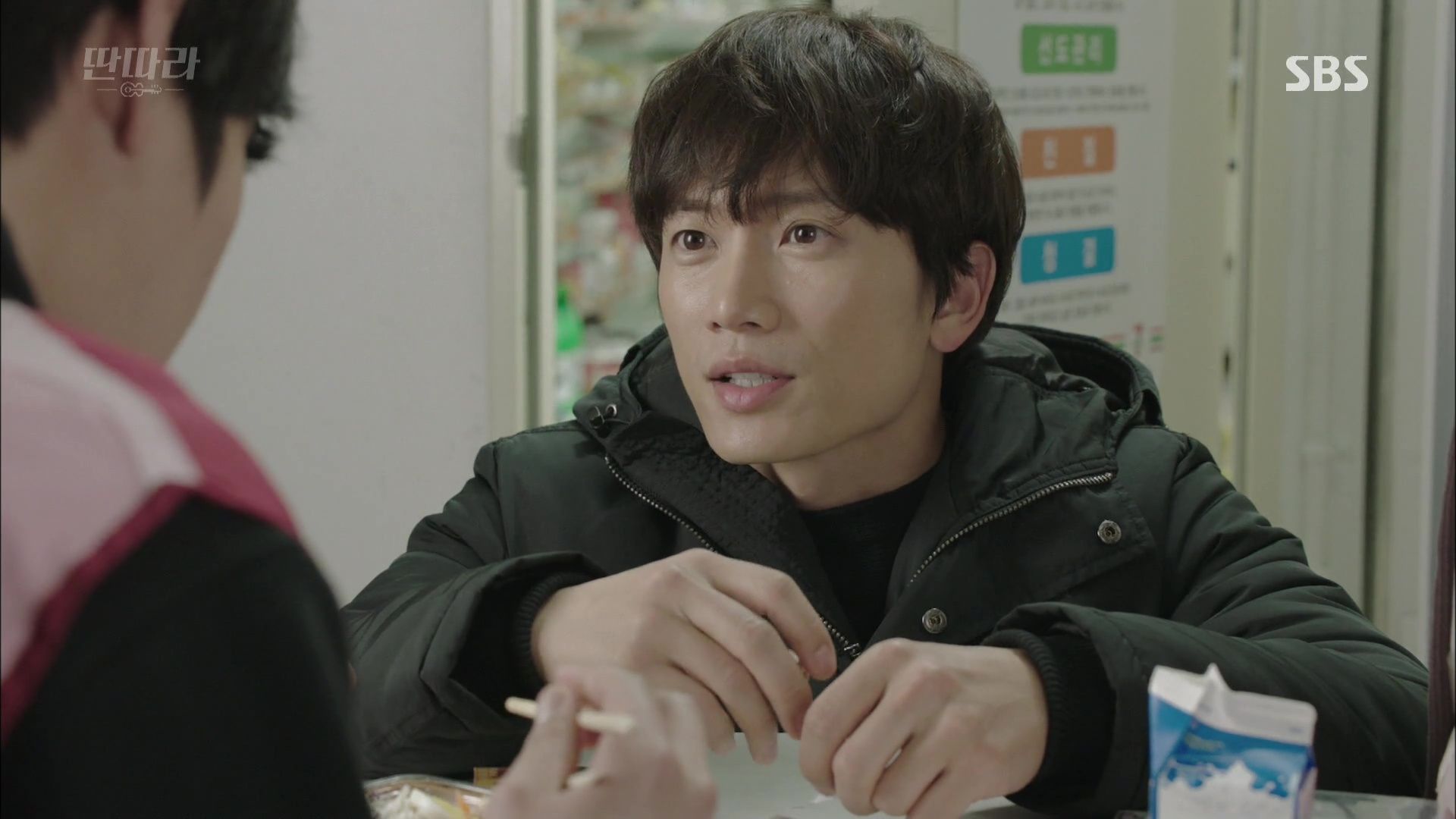 Clearly he's expecting Seok-ho to dump Ha-neul, and he gapes when that doesn't happen. Seok-ho says that he doesn't want to lose Kyle, but if he decides not to be in a band with Ha-neul, then he'll help him find a different band to play in. He tells Kyle to think about it, and they'll talk again in a few days.
On his walk home, Seok-ho passes a Jackson poster and stops to take a closer look. He particularly focuses on Jinu, the leader and member he was closest with. He remembers a time when he'd followed Jinu after he ran away from the agency, not content to be someone else's backup dancer. Seok-ho had asked Jinu to trust him, promising that he'd make him a star.
Min-joo gently breaks the news to Seok-ho that they lost Ocean Music's investment, so Seok-ho goes to see Joo-han about the issue. He says that he's feeling a lot of regret about the way he planned to steal Jackson from CEO Lee, now that he's had them stolen from him by Joo-han.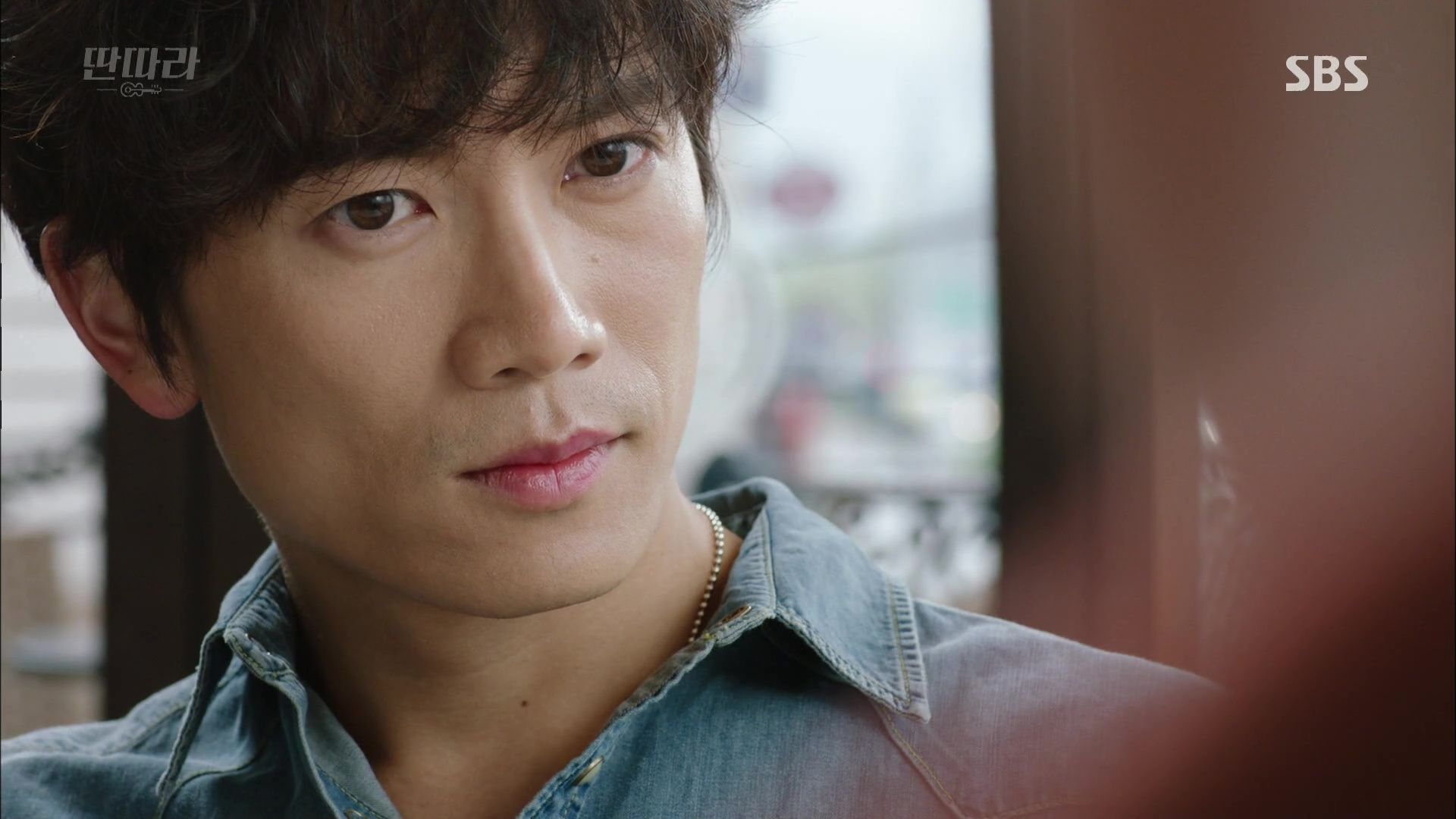 Joo-han grins that that's just the way the world works, and Seok-ho loses his temper a bit, demanding to know why Joo-han is doing this. Joo-han smirks that it's a company secret and Seok-ho doesn't work for KTOP anymore, so he doesn't need to know.
He probably should just stop there, but Joo-han is on a power trip, and tells Seok-ho that he should just quit the industry and open that little seaside restaurant he's thought about. He even offers to invest in it, but Seok-ho declines him smoothly, and leaves.
Seok-ho takes Min-joo some papers for Mr. Jeong, just saying "it's to get back at Joo-han" when she asks what they are. She delivers the documents, which reduce Mr. Jeong to a screaming mess, and he calls Joo-han to yell at him.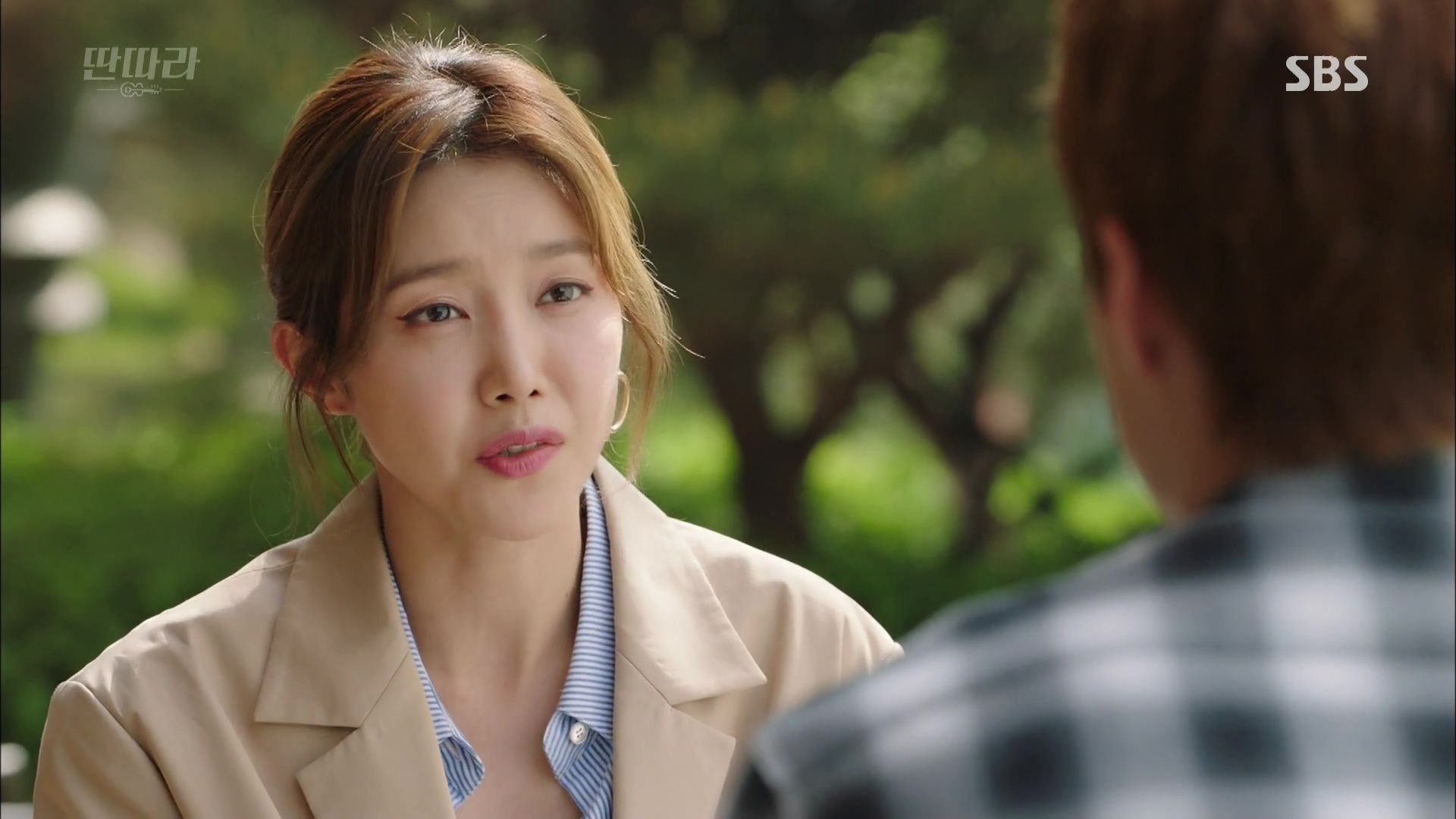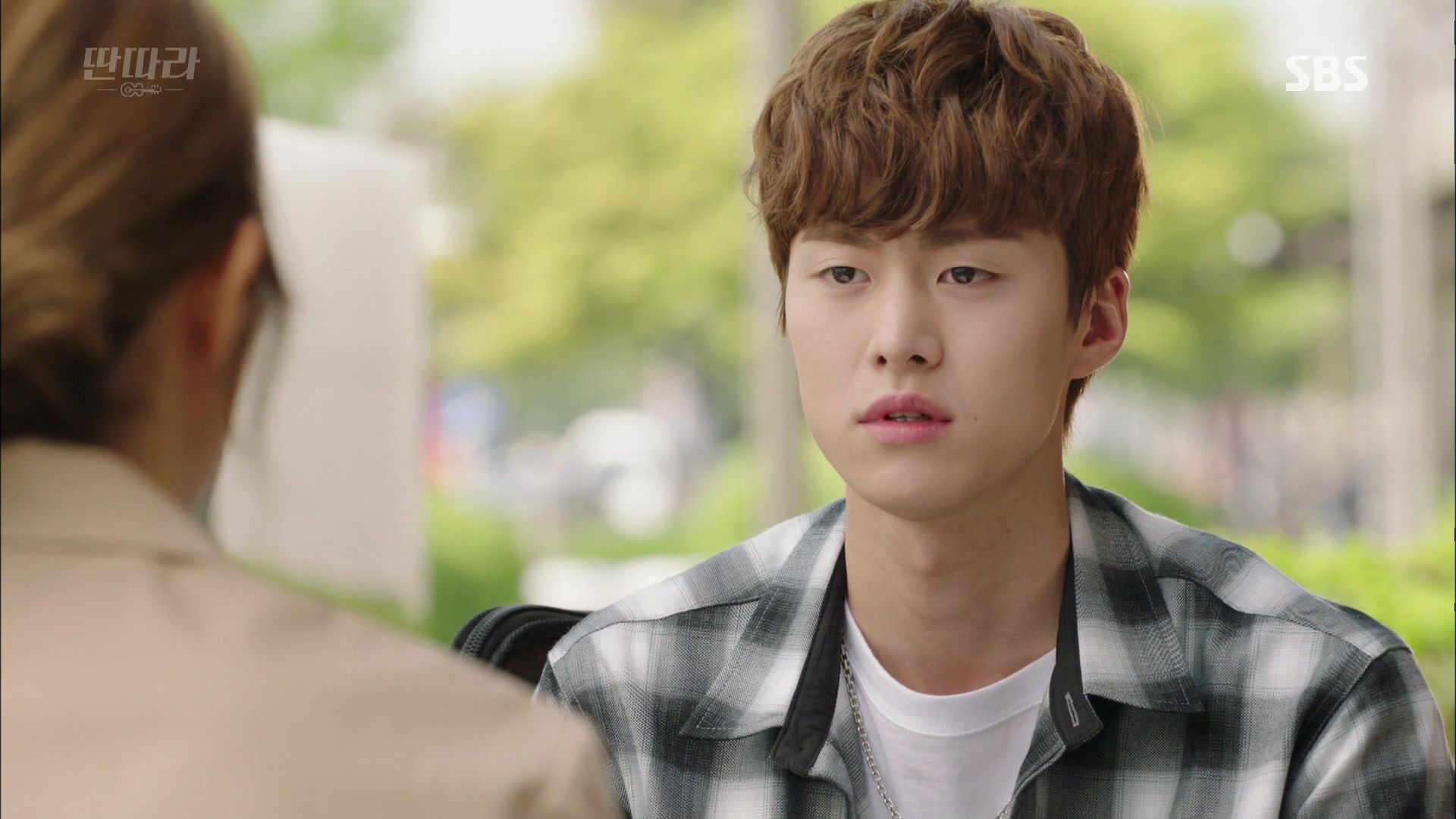 A flashback shows us that Seok-ho and CEO Lee already arranged to produce the returning Jackson member's solo comeback album with a different investor, which renders Joo-han's promises to Mr. Jeong worthless. Mr. Jeong is furious, and Joo-han calls Seok-ho to give him credit for getting one over on him.
Min-joo advises Mr. Jeong to lift the property seizures he's levied on Seok-ho, for fear of professional backlash. With no other choice, Mr. Jeong is forced to let Seok-ho and Mango keep the investment money.
Kyle goes to Min-joo for advice on what to do, and since Ha-neul is coming to Seoul to practice, she asks Kyle not to say anything for now. He agrees, but gives Ha-neul the stink-eye when he shows up, saying that he wrote a great song but he's not sure whether he can trust it to Ha-neul.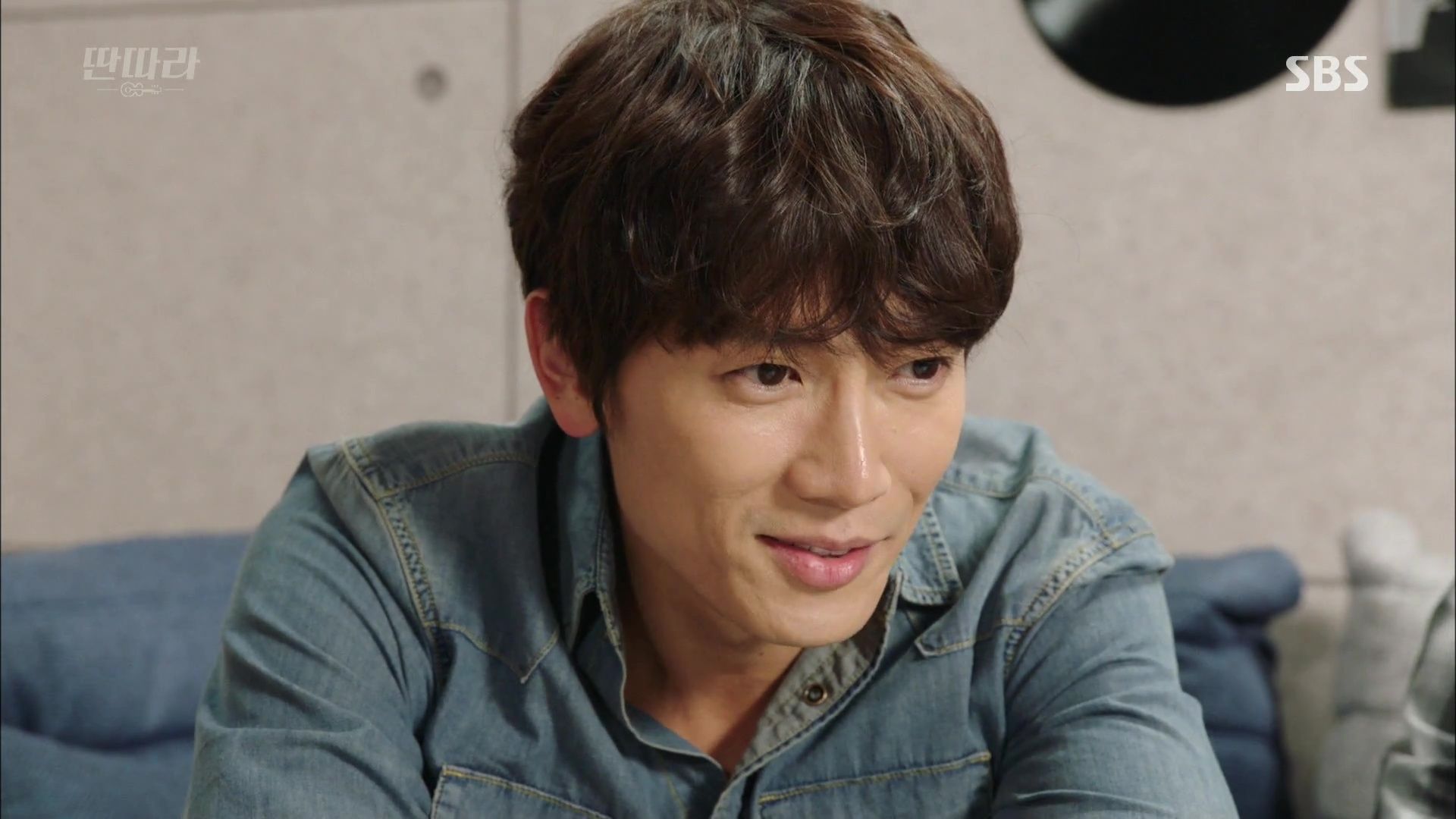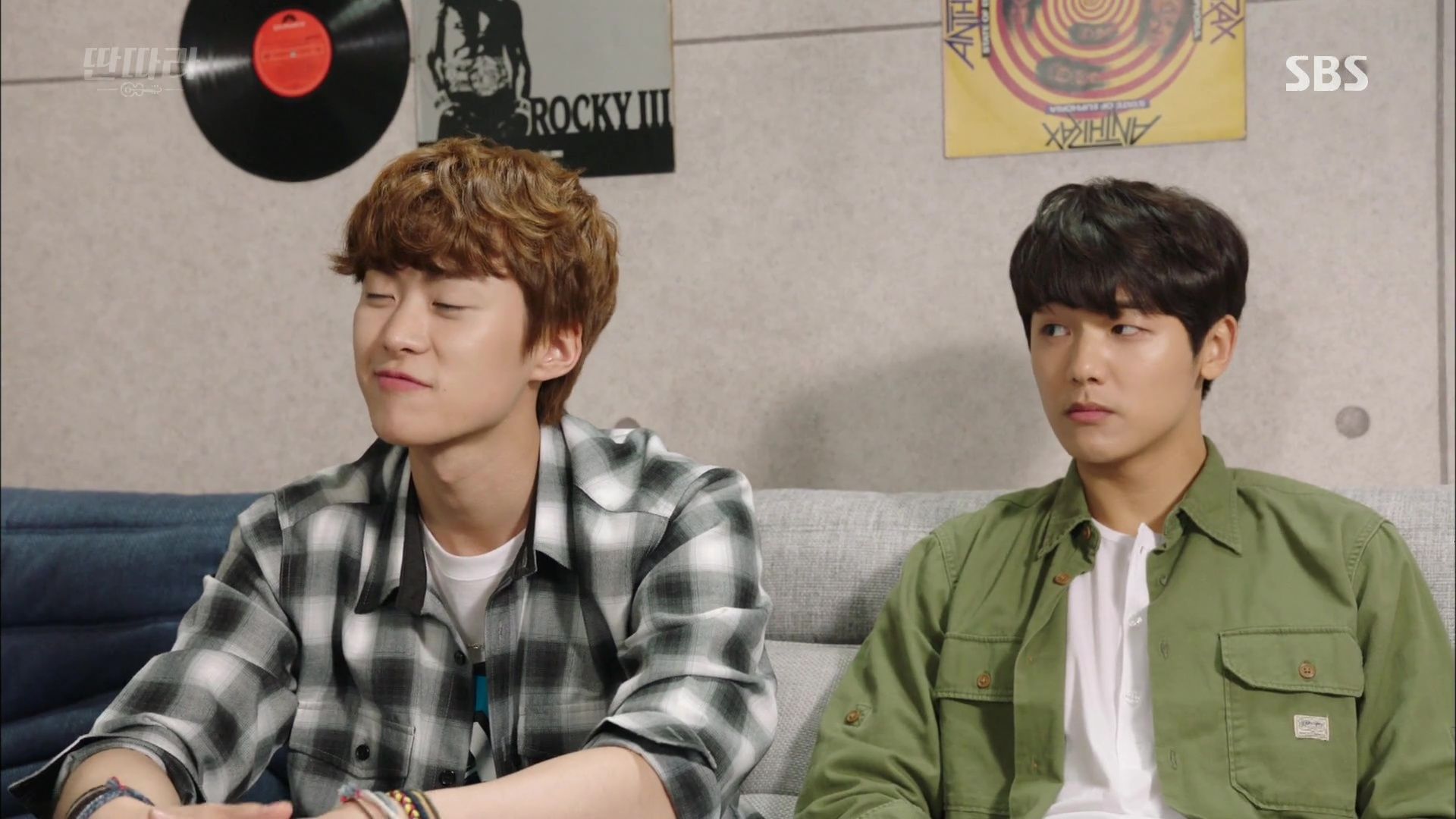 Still complaining, Kyle plays the song for everyone, and it's pretty good. Seok-ho grins that Kyle went to Julliard for a reason, and they all nod to the music until Min-joo arrives with her assistant.
It's the tiniest little cameo by Park Shin-hye, and she barely gets to set the drinks down and say hello before Min-joo dismisses her. HA, that was hilarious. Man-shik joins the group and starts at the sight of Chan-hee, surprised to see a kid here, and mutters that their band sure is getting interesting.
Min-joo pulls Seok-ho aside to ask what he plans to do about Ha-neul's conviction, not accepting his "kids will be kids" brush-off. She tells him that Kyle's concerned and wants them to remove both Ha-neul and Yeon-soo and find new members. She thinks they can be okay with the single father, but Ha-neul has to go.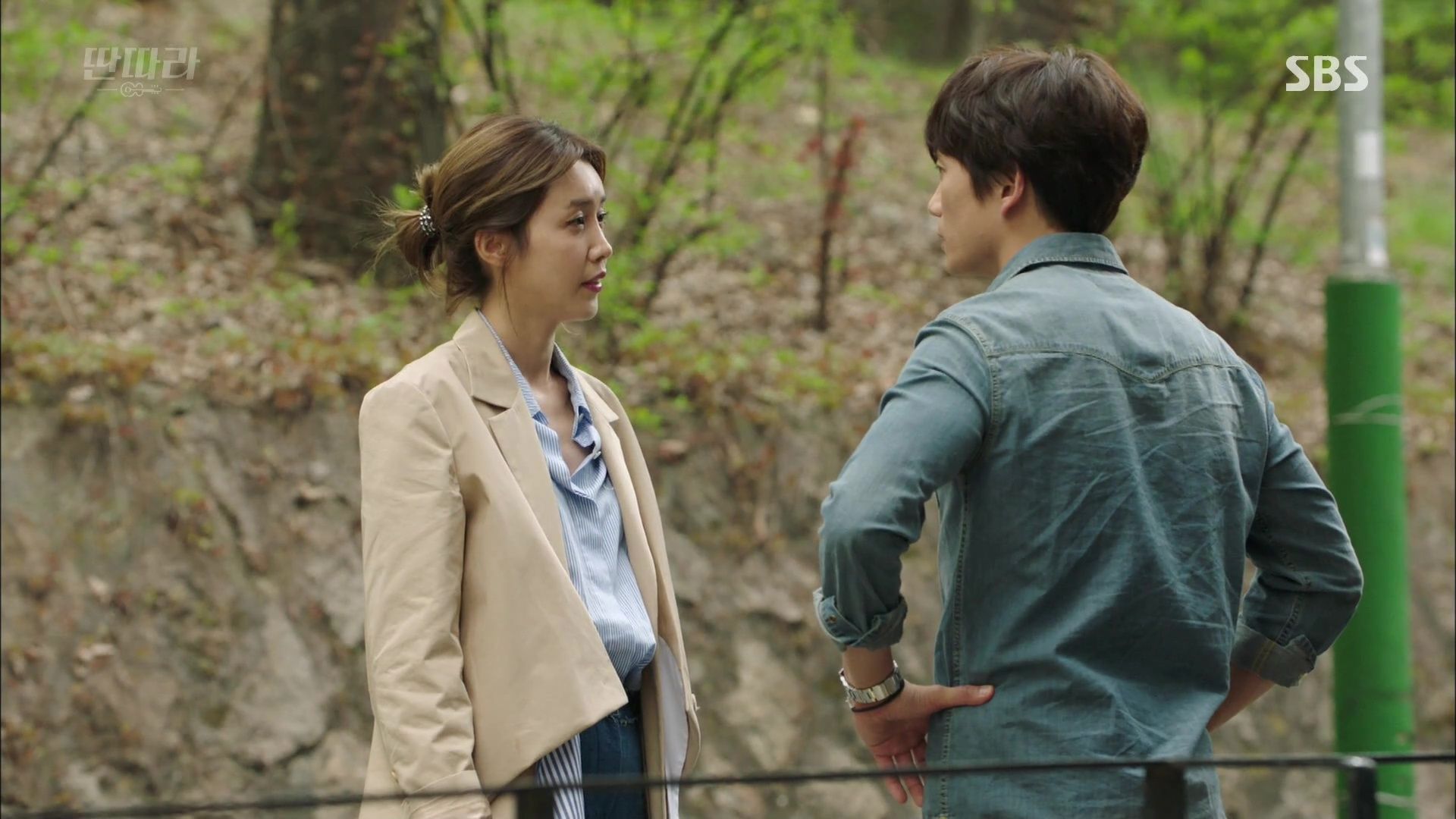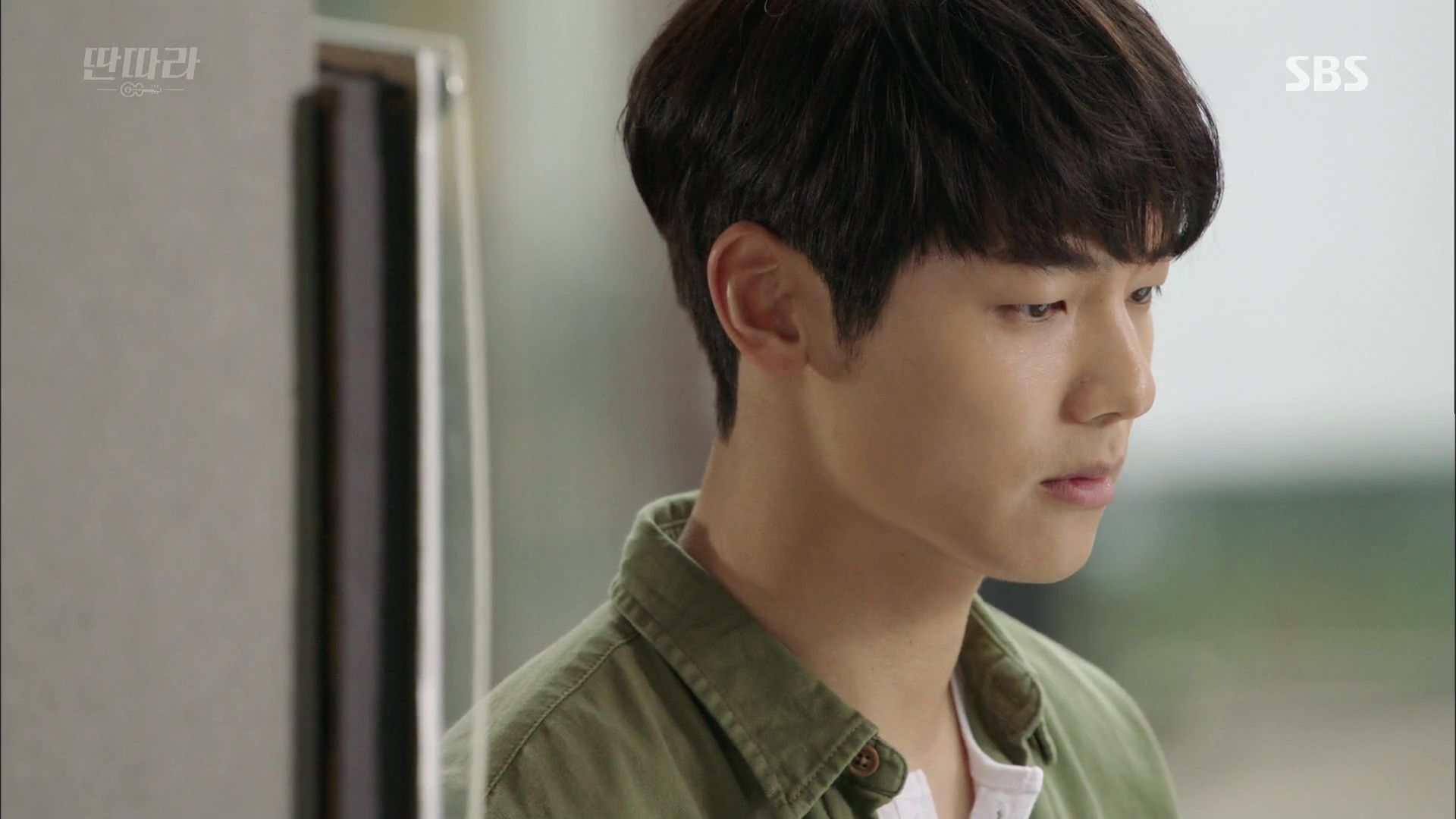 Min-joo doesn't care if Ha-naul was framed — what matters is that this conviction will follow him for the rest of his life. If someone discovers this, it won't just be Ha-neul who's destroyed, it will be all of them. Seok-ho just argues that they can say they're looking for the real culprit, and even says he'll actually do it, though it's obviously not something he's thought about.
Min-joo thinks this is just a terrible idea from any angle, and she warns Seok-ho to get his head on straight. And from the doorway nearby, we see that Ha-neul has come outside and heard their entire conversation. Oof. He wanders the streets, remembering the few happy moments he's had since this whole band thing started, devastated to think of these people he's growing to care for being hurt because of him.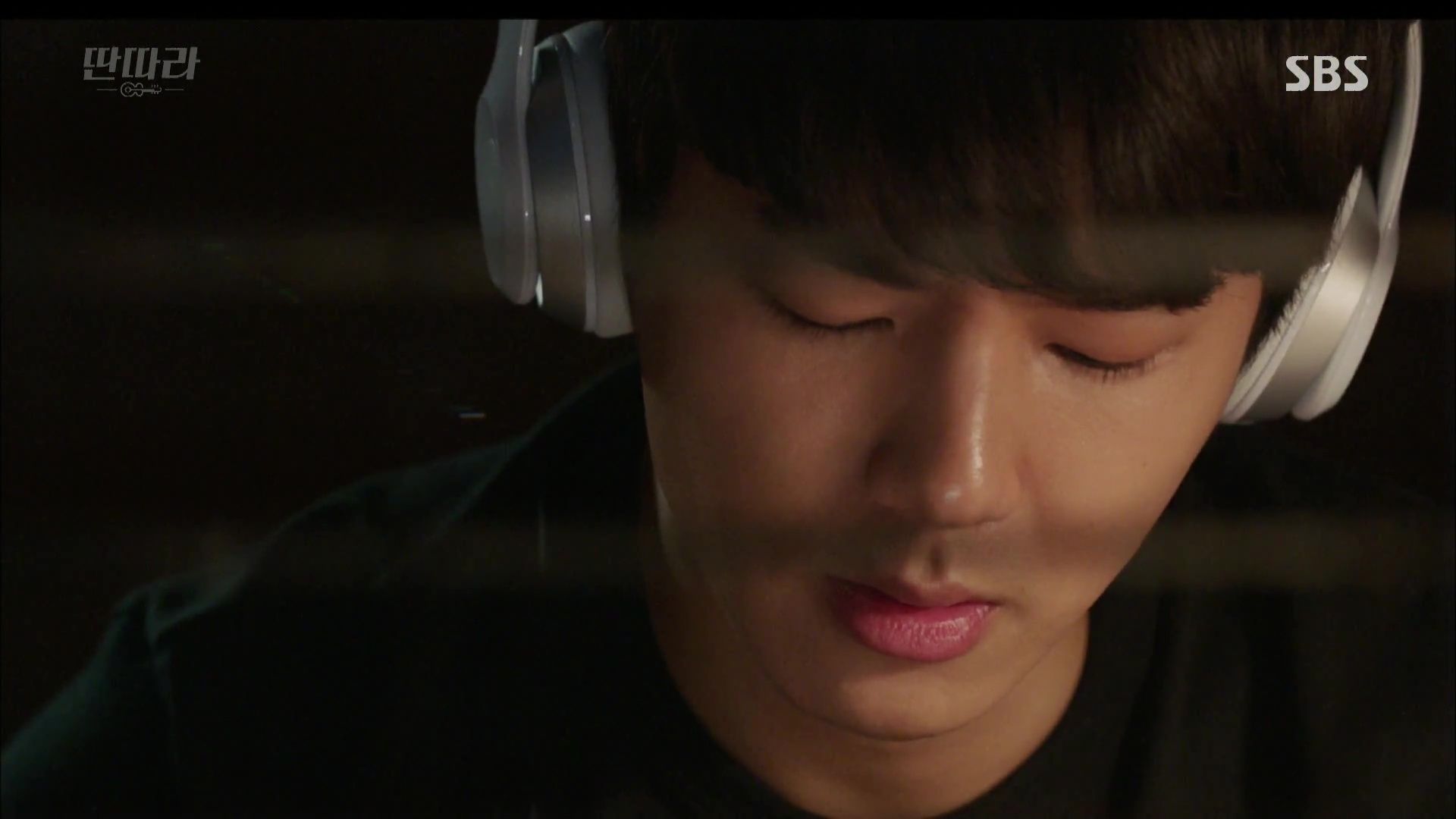 Seok-ho tries to call Ha-neul, but Ha-neul declines his calls (and interestingly, Seok-ho is saved in Ha-neul's phone as "Caramel" — Seok-ho is always giving caramels to Jinu in flashbacks, did he used to give Ha-neul caramels too?). Ha-neul literally collapses in the street, leaning against a wall, paralyzed with indecision.
Seok-ho ends up sending Ha-neul the file of Kyle's song, and despite his conflicted feelings, Ha-neul works late into the night composing lyrics. Geu-rin also can't sleep and she calls Seok-ho, asking him to come to Busan so they can have a chat.
He does, and she tells him that she didn't know Ha-neul could sing quite that well. She wants him to have a better support system, but Seok-ho still thinks she's going behind his back to KTOP, and snarks that she can do whatever she wants, as long as she doesn't go to KTOP.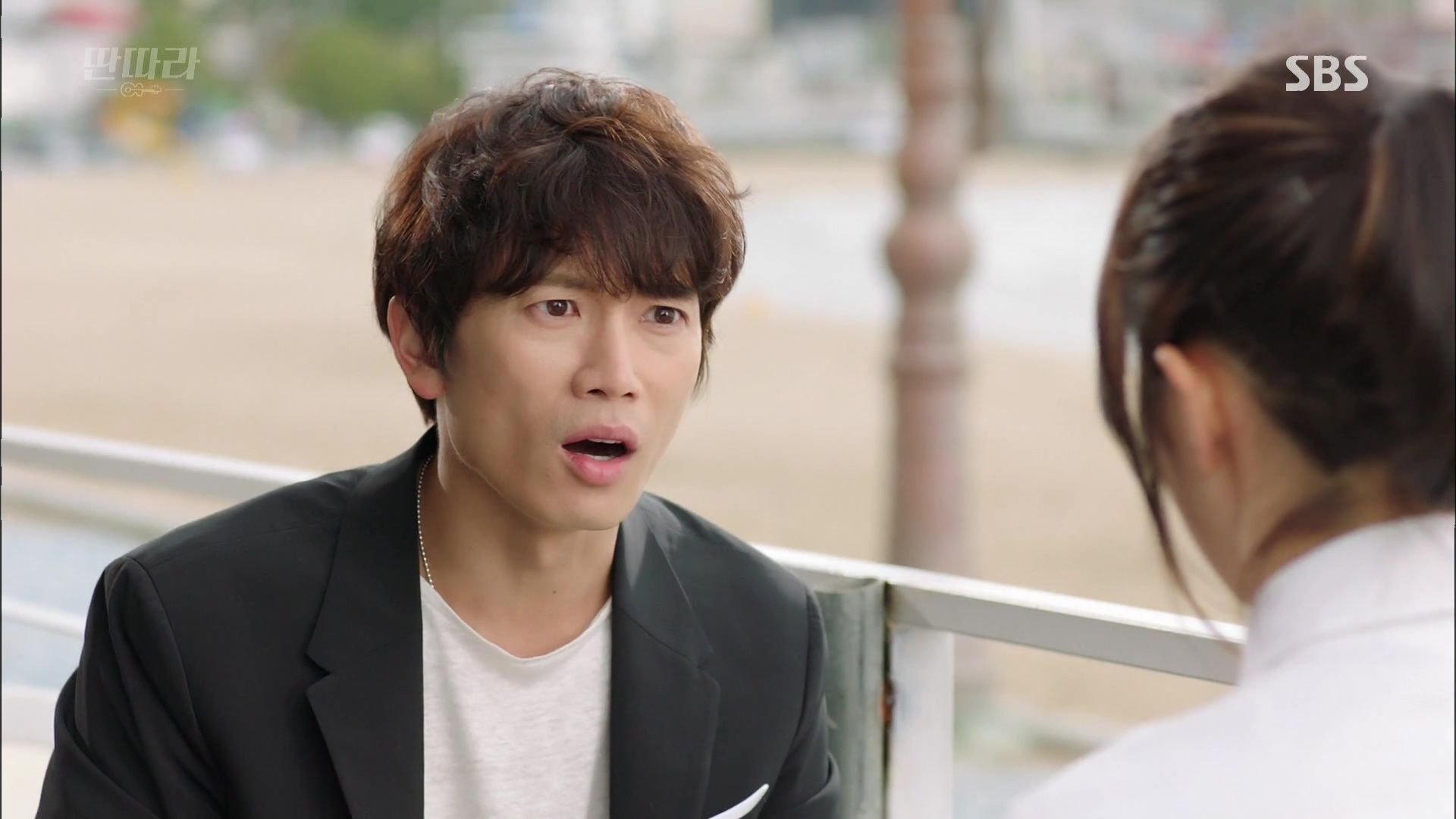 Geu-rin defends that she wasn't there for the reason that he thinks — it was something for Ha-neul's case. Seok-ho immediately goes from snarling pit bull to meek puppy, heh, and says that he'll trust her, then.
He's shocked into silence when Geu-rin says she wants to be Ha-neul's manager, then has the nerve to ask him to teach her how to do that. Seok-ho argues that it's not easy — a manager can't ever leave the client, doesn't get personal time, and doesn't even have time to date. Geu-rin says that all that matters is Ha-neul, and she's willing to sacrifice all of those things for him.
Ha-neul finally calls Seok-ho after he's back in Seoul, and says that he's in town too, having left school early just to bring Seok-ho the song he wrote. Seok-ho laughs but his face falls as he reads the lyrics, recognizing that they're actually very good. But something in Ha-neul's expression reminds me of before he met Seok-ho, and I'm worried.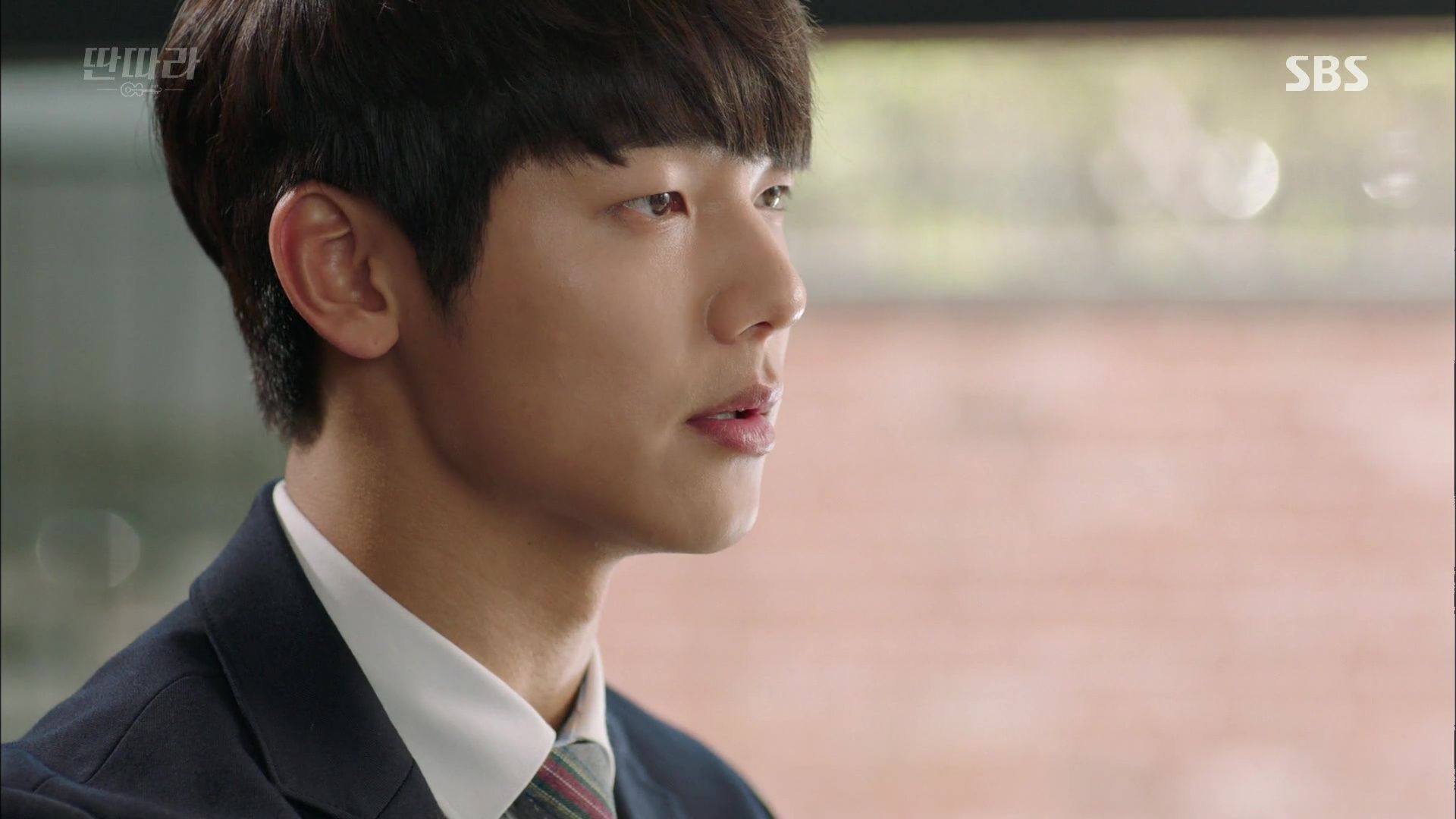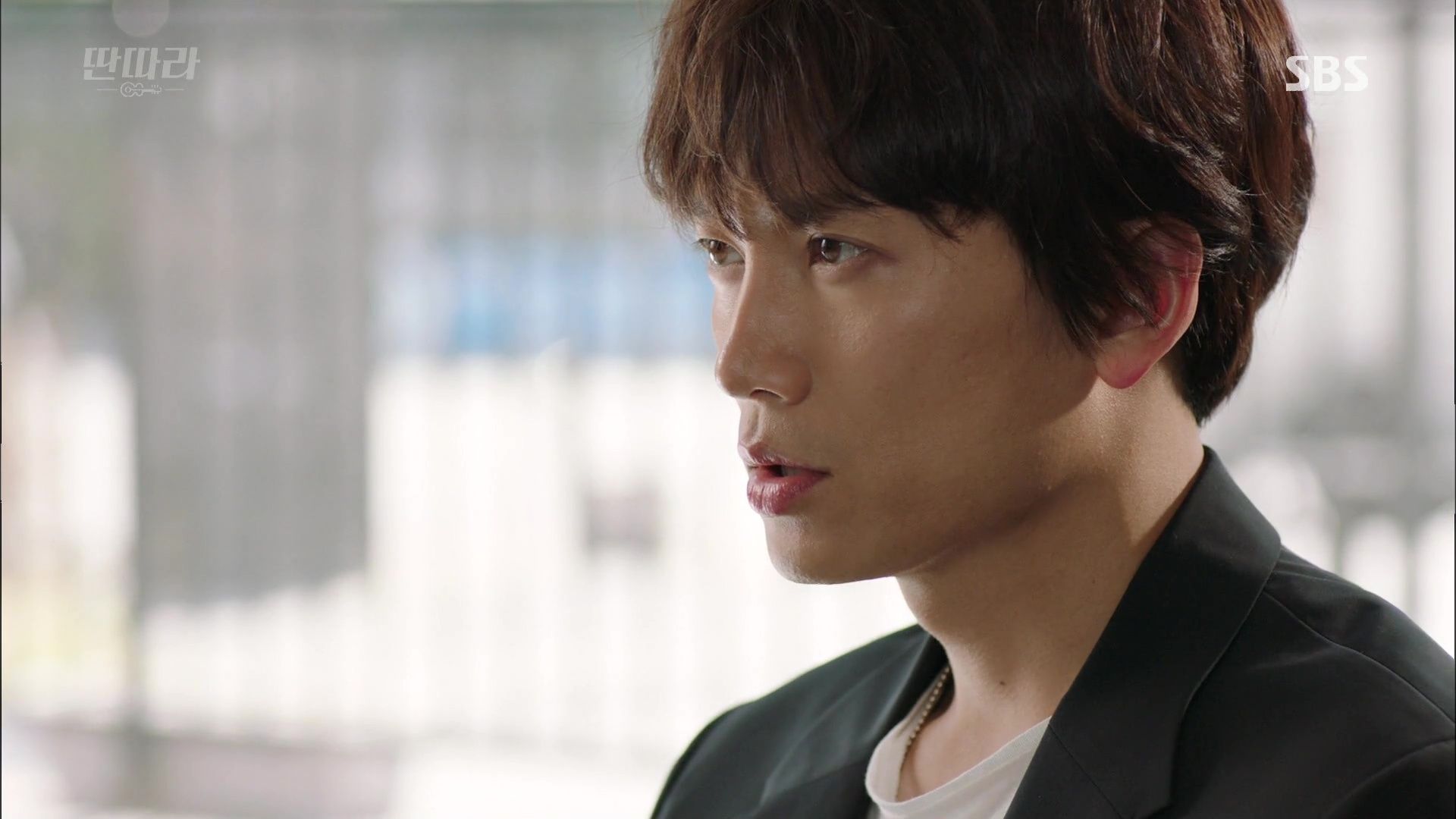 Seok-ho gets starry-eyed thinking of his new band's talent, but Ha-neul came in person for a reason — to tell Seok-ho that he's quitting the band. In fact, he plans to quit singing entirely. Seok-ho's first reaction is anger, that he went through all this and even formed a band for Ha-neul, and now he's just going to quit?
Ha-neul says, still in that dead voice, that he naively thought that people would believe him if he said he was falsely convicted. But he never thought the people around him would get hurt, and now that he knows, he can't go forward.
He sincerely thanks Seok-ho for letting him live his dream, even if only for a little while. He slides Seok-ho a box of those caramels he's always eating, and a Nirvana Nevermind album that we previously saw in the box where Ha-neul kept the photo of Seok-ho, and leaves.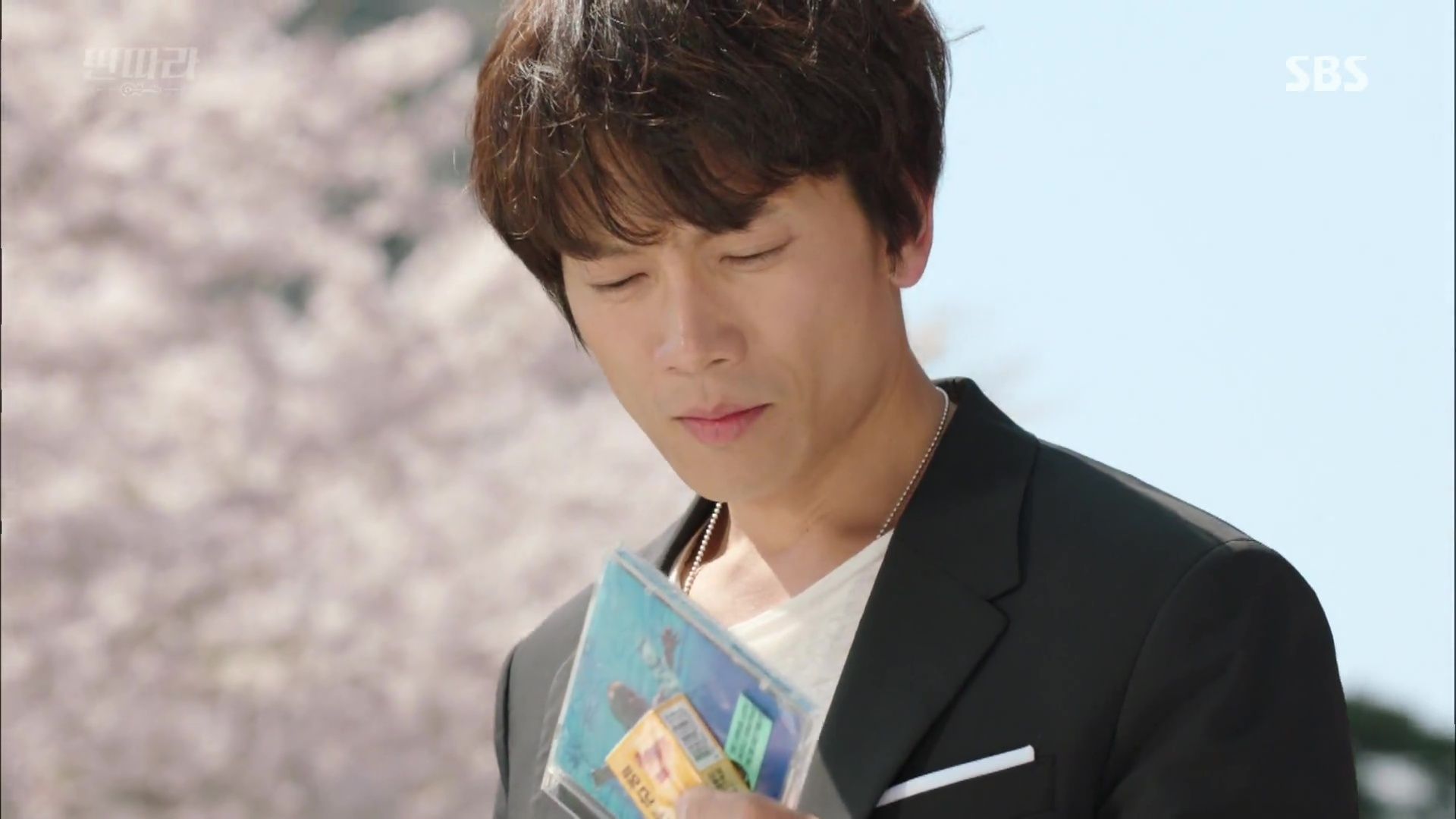 Seok-ho reaches for the box and the album with shaking hands, and his face crumples as the sound of Nirvana's "Smells Like Teen Spirit" swells. He goes running after Ha-neul, but he's already gone.
With the album and caramel box still in hand, Seok-ho finds his way to Ha-neul's family crypt, and stand in front of the photo of his parents and brother with tears in his eyes. Now he remembers Ha-neul: "Sung-hyun, is Ha-neul your younger brother?" There, next to the photo of Ha-neul and his family, is a box of the same brand of caramels that Seok-ho holds in his hand.
While Seok-ho cries at the realization of who Ha-neul really is, Ha-neul rides the train home to Busan, shedding tears of his own.
COMMENTS
This episode definitely felt a lot smoother, editing-wise, and a lot more purposeful with doling out information. Whether that's because all the initial groundwork has already been laid, or whether the show learned from its first-week mistakes, or both, it made events and characters a lot easier to follow. I'm still skeptical of, and confused by, all the Seoul/Busan hopping (I'm pretty sure that Ha-neul's family crypt is in Busan, for example, and many of the in-person conversations could be held over the phone without ten hours on a train being necessary), but it's the least of the show's continuity problems so I'm willing to overlook it as long as the other issues are being addressed. But as far as the story goes, I actually find myself liking the raw, emotional tack the show is taking with Ha-neul and his family background (and whatever is going on with his conviction) because, even though it's not what I was expecting, it's giving the characters a lot more to work with than just "Whee, let's form a band!"
For instance, I really like how the show explores the grittier side of the entertainment industry — the wheeling and dealing, the promises and lies, and more than anything, how it uses young people and their talent and their dreams for its own ends. Our band isn't even fully-formed and yet we have a single father and a convicted sex offender (whether or not it's true), and with the atmosphere of the kpop industry as it is now, either one of these things would be career-ending for a n established band, much less one just starting out. But Min-joo is correct, and whether or not it's right, to have both in one group is professional suicide. So I'm curious why Seok-ho is so determined to go through with this when he knows full well that they'll have more anti-fans than fans, and this band will almost certainly never even get off the ground.
Speaking of which, I really wish we were privy to more of Seok-ho's thoughts at this point. He's a really closed book when it comes to his motivations, and we aren't even given a good narrative reason for him to keep his plans so close to the vest. I want to think he does have a good reason, and it's not just that his character hasn't been fleshed-out enough, but we're three episodes in and I still know very little about him or what he's thinking. I'm still willing to wait and see if that changes and we get a chance to know what he's cooking up, but if we don't find out soon, it's getting chalked up as a narrative flaw.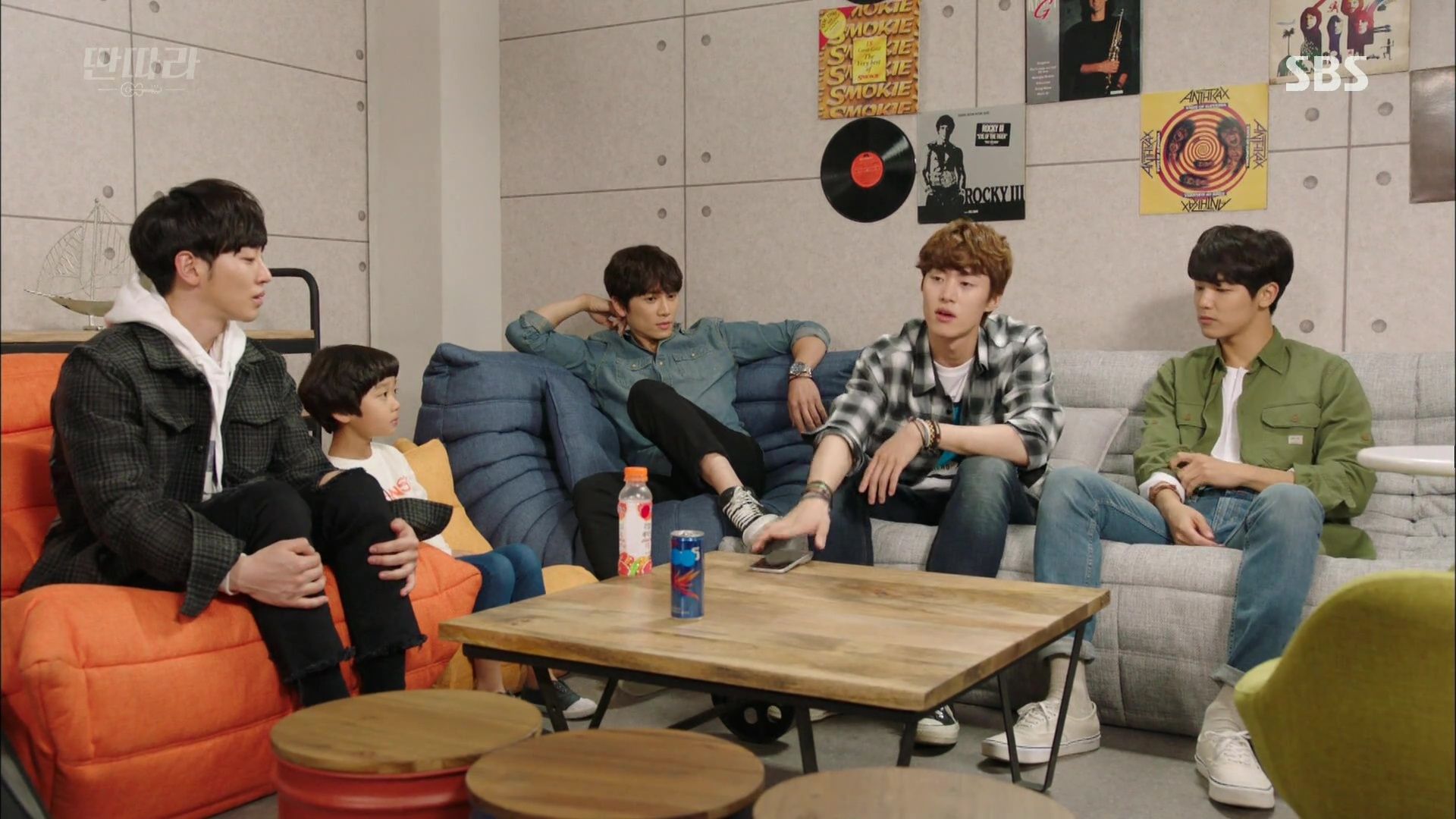 And what's worse, as I feared, it seems that Seok-ho hasn't turned over a new leaf with his recent bad fortune, merely seeing it as something to be endured until he gets back on top again. The fact that he's already lying to Ha-neul and Kyle (about the audition being valid) is despicable, and he doesn't even seem all that sorry about it. He's not even that interested in them, really… they're just the group that will propel him back to success. I have no doubt that, if nothing changed for Seok-ho, and if he does become successful again, "Ddanddara Band" will be the first thing he dumps for the next, bigger, better group. But then there are moments when Seok-hoo seems to be a very caring person, and even though I said last week that I want Seok-ho to just be this horrible, terrible person so that his redemption story is satisfying, after this episode I feel more confused about him than anything.
Ha-neul is really my favorite character so far, and I think Kang Min-hyuk is nailing this role. He's a great foil for Seok-ho, never letting him get away with anything. I especially loves how Ha-neul uses Seok-ho's own words against him — Seok-ho says and does things just to get his own way, but Ha-neul keeps managing to twist them around so that they have a better meaning, and get a better result. He uses the fact that Seok-ho allowed him in the band because it suited him even though he's an ex-convict, to put a burr in his saddle about Yeon-soo being a good man and father, yet he's not allowed to be one of them. Seok-ho may have only bent the rules for nefarious reasons, but when it comes down to it, he can't argue with Ha-neul's logic.
Ha-neul is also a closed-off person, but you're never left wondering what he's thinking or feeling, which isn't an easy thing to pull off. He's actually extremely sensitive and caring, and it's obvious that he already feels devastated to think that he has to choose between following his dream, or putting the people he's already come to care about in harm's way because of his past. Ha-neul has a choice to make, and it won't be an easy one, because either way someone gets hurt. And he's only a kid, without anyone to guide him as to the right thing to do. It's Ha-neul's journey that I look forward to watching the most.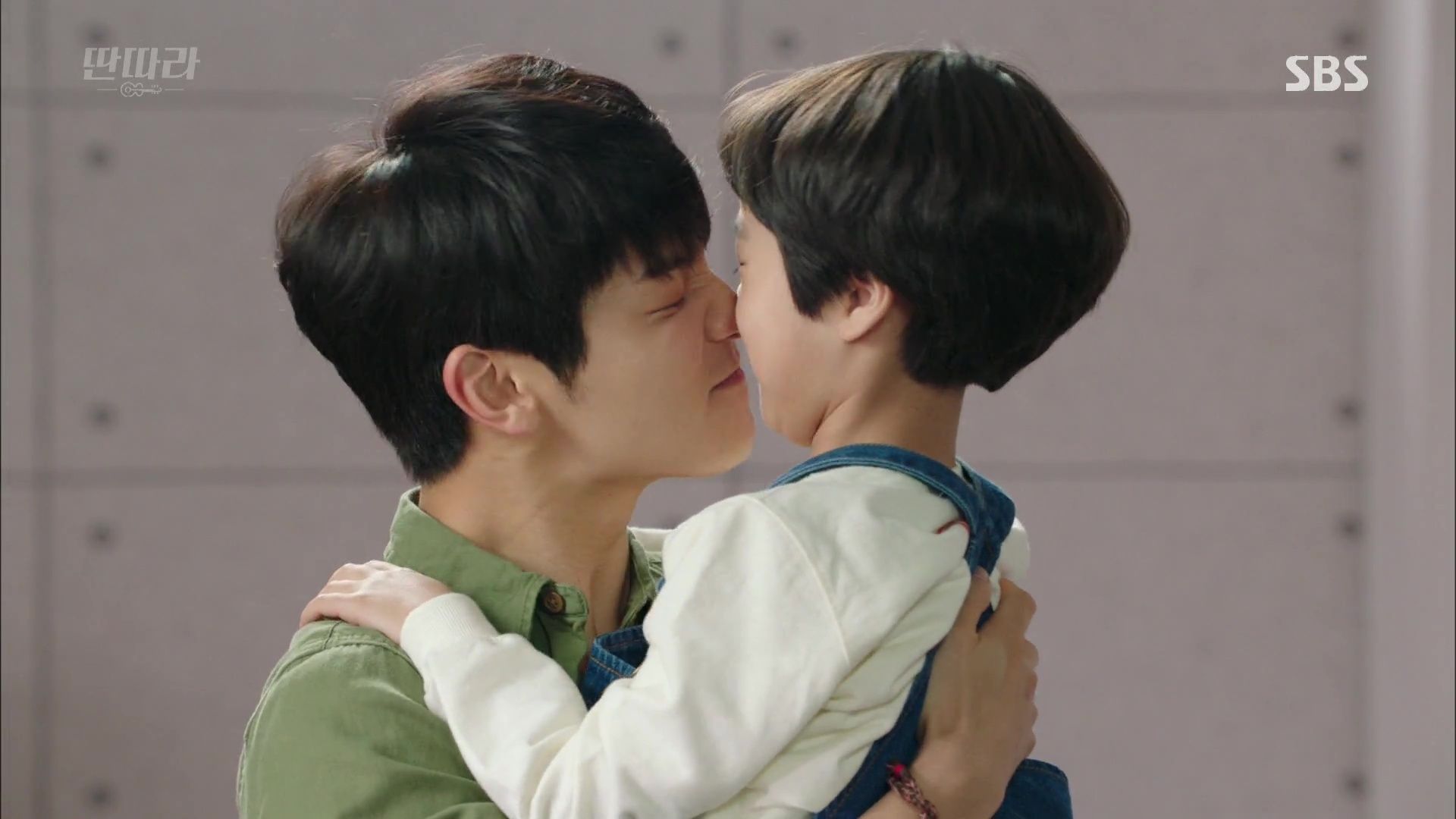 RELATED POSTS
Tags: Entertainer, Episode 3, featured, Hyeri, Ji Sung, Kang Min-hyuk