Goodbye Mr. Black: Episode 13
It's a tough day for Swan, who gets thrown by some unexpected revelations and continues to bear the brunt of continued noble idiocy. The reveal isn't much of a shocker for us, since this drama never quite manages to make the most of its plot twists, and subtlety tends to get bludgeoned over the head with obvious truths. But it does usher in a light at the end of the tunnel—and for more than one character, at that.

SONG OF THE DAY
Park Shi-hwan – "독한 거짓말" (Cruel lie) [ Download ]
Audio clip: Adobe Flash Player (version 9 or above) is required to play this audio clip. Download the latest version here. You also need to have JavaScript enabled in your browser.

EPISODE 13 RECAP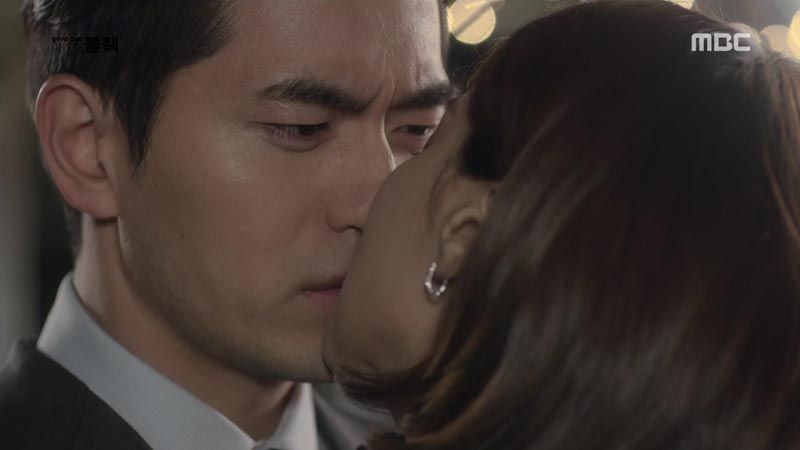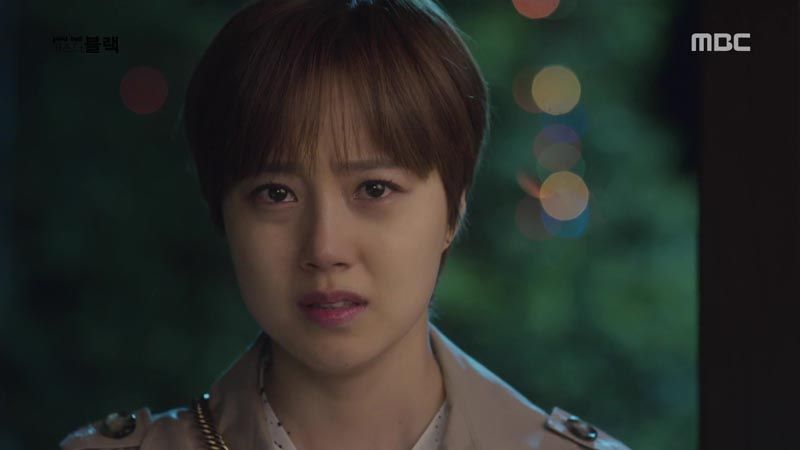 Mari informs Black that they're being watched by Sun-jae—though she ignores the part where Swan is also looking on—and kisses him.
Black pushes her back after a moment, asking how much she knows. She says everything and requests his help, but he declines, saying that this isn't the right way.
Black starts to leave, and only now sees Swan looking at him from a distance with tears in her eyes. She leaves with a bruised heart while Sun-jae fumes and charges in for a fight. Black deflects the blow, and then Mari steps in and turns accusing eyes against him, siding with Sun-jae. Huh.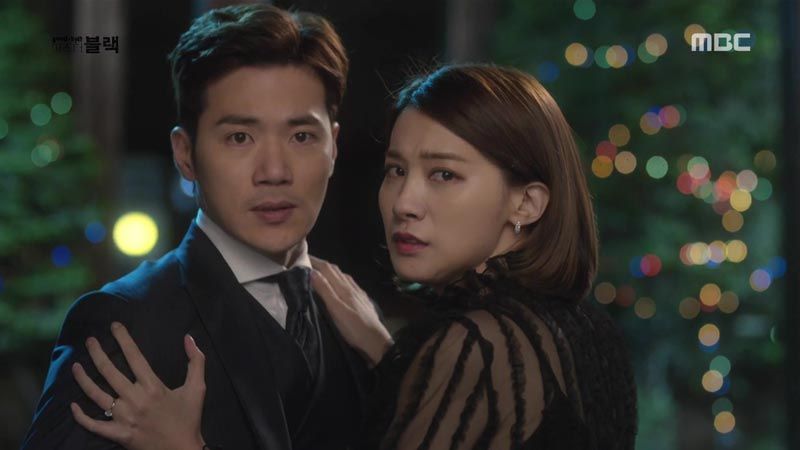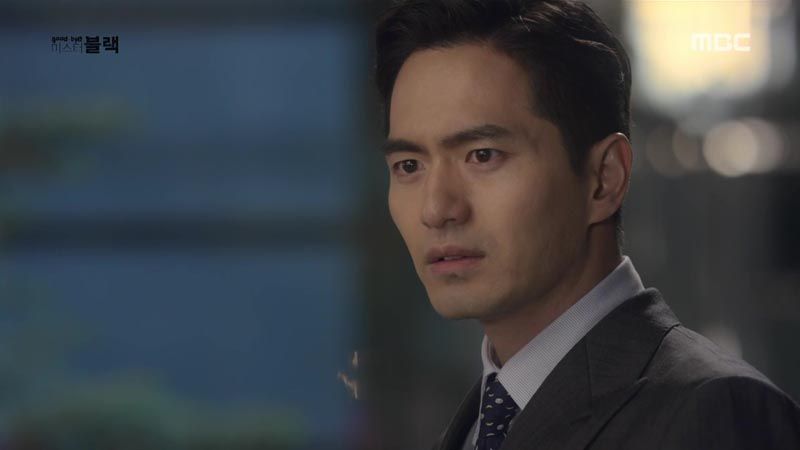 Black leaves the encounter feeling frustrated all around, and catches up to Swan and starts in with a scolding for wandering around on her own, reminding her that she just survived a kidnapping. He says Ji-ryun would blame him if anything happened to her, only to have Swan say that nobody would blame him. She holds out the carved wooden compass and tells him to find his way home now that he's been exonerated.
Black ignores the compass and calls Ji-ryun instead, informing him that he's found Swan and that she'll be home soon. She says she can go on her own, and trudges sadly on.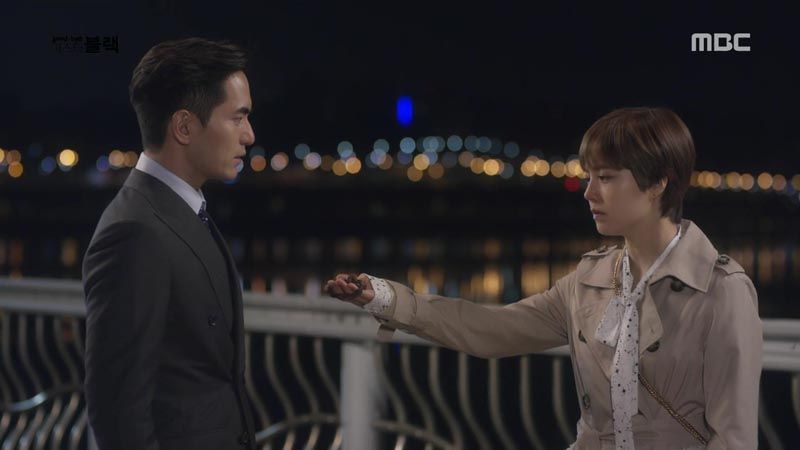 He ends up following her on the bus ride home, standing over her seat like a silent bodyguard. Swan looks toward the window, reaching to touch the reflection of his hand with her own.
Then the bus lurches, and Black reaches for the overhead bar to steady himself, only to have his grip fail him. Swan instinctively grabs his arm, and with effort he hides his shaking hand out of sight. It turns out that when he charged in to save Swan from her kidnappers, the exertion had been too much for him, and Sung-min had warned that he could be beset with pain or lose strength in his body.
At home, Mari lies through her teeth to Sun-jae, acting as though she'd gone to see Black with innocent motives and that he'd surprised her with the kiss. When Sun-jae raises his voice, she cradles her flat belly and tells him that his shouting will alarm their baby.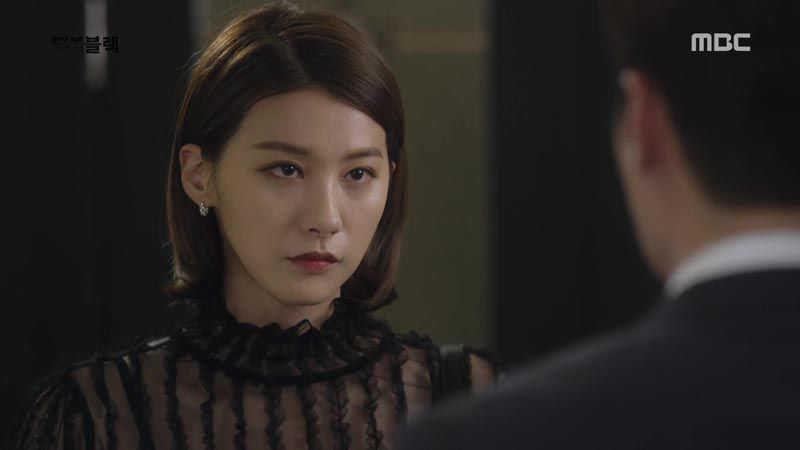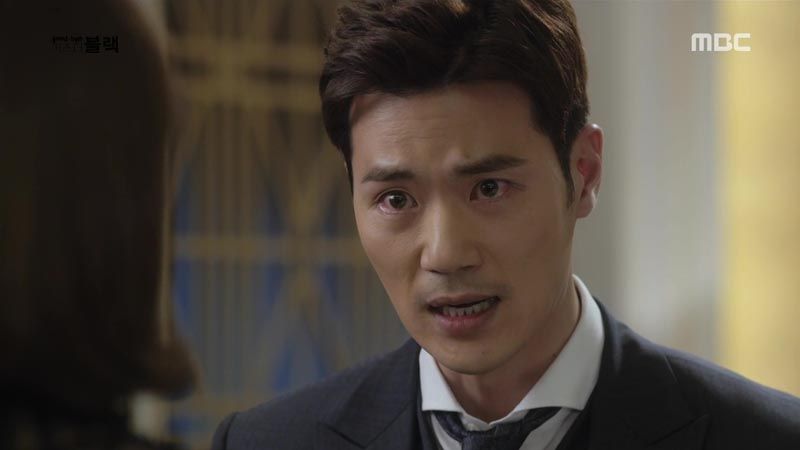 Sun-jae begs Mari not to be taken in by Black, who likes Swan and is only messing with Mari to break up their marriage. She agrees, "Okay, I won't be fooled by him."
Team Black and Team Panda gather to celebrate Black's newfound freedom, though everyone's still waiting for the guest of honor to make it. One of the Panda reporters lets slip that Swan and Black are probably out on a date and calls him her husband, which makes Mom ask what she means. Realizing the slip, the others cover it up and assure Mom that the reporter was just drunk.
Mom says she can finally face the deceased chairman in the afterlife now that his son's been cleared, and suggests that Ji-ryun call a board meeting at Sunwoo Group, since both rightful heirs have returned. Ji-ryun muses that Sun-jae isn't going to let go of his position easily, and Woo-jin adds that either Black or Sun-jae will have to die for this battle to end.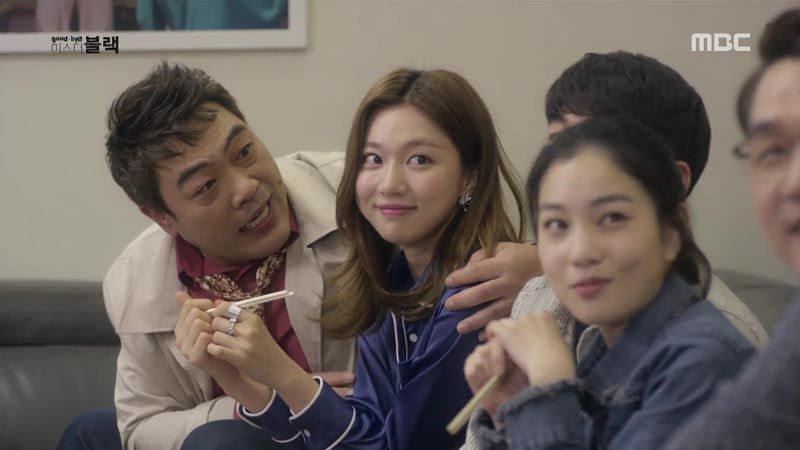 Tipsy, Sung-min reacts to mention of death by blurting that "the poor guy" can't handle it in his current health, which makes everyone wonder if Black is sick. Sung-min has enough sense to recall himself and says that he means Black is too skinny, pointing at his own stocky frame as example of a proper man.
Woo-jin pulls Ji-ryun aside to ask about Swan's background, and Ji-ryun replies that she didn't know her name or her age when she was rescued post-tsunami. Woo-jin doesn't share what he knows about her name possibly being Baek Eun-young, and tells himself that he'll find out.
Black walks Swan home, and watches from a distance as she's met by Woo-jin at the gate and escorted enthusiastically inside.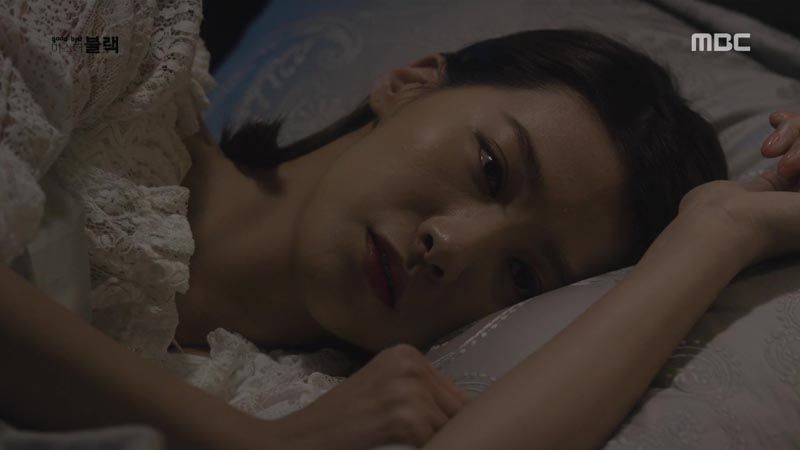 Memories of Mari's kiss with Black keep Sun-jae up at night, and he leaves bed—where Mari pretends to sleep—to down some liquor. His mind recalls an earlier conversation between the two that he'd overheard, where Mari had asked Black shortly upon his return whether he'd take her back if she went to him.
He runs into the housekeeper, who jumps at the sight of him and says nervously that she was asked to make a snack for his father. Hm, she's way too jittery for that simple task, isn't she?
Black toys with a flashlight, flicking it on and off in that rescue signal he'd once showed Swan, and Ji-soo asks who he's asking for rescue from. Excited and hopeful, he asks if she can see the light and is ready to have her undergo examination for surgery. Ji-soo replies that it's only a faint white fog, and is nervous enough at talk of an examination that he backs off, saying she can do that when she's ready.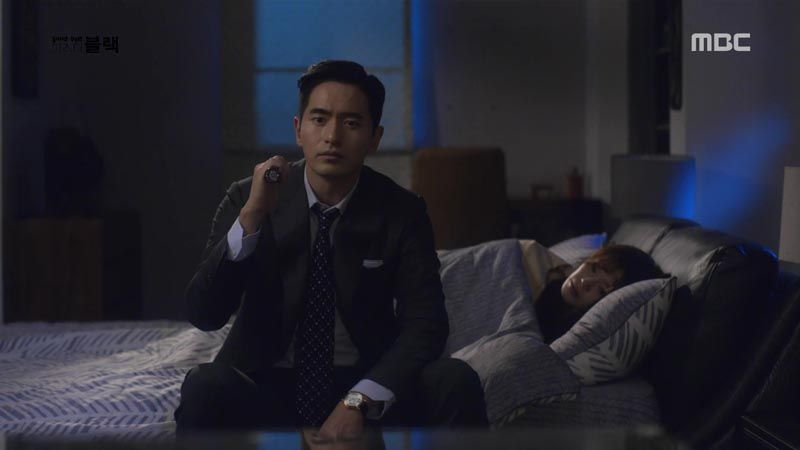 He asks if Ji-soo's ready to face everyone at the emergency meeting of Sunwoo Group's investors, and she nods.
VP Seo readies for the meeting feeling rather assured of his safety, since he'd been technically on Black's side in the power battle. So once he uses his "final card," it'll be Sun-jae and Baek on the outs, and VP Seo will be safe as Black's supporter.
Black helps Ji-soo get ready for the meeting, buying her a chic outfit and bold jewelry. In the store, his glance falls on a pendant of a black swan, and he recalls the conversation with Swan where he'd told her that black swans don't exist, and thus symbolize miracles.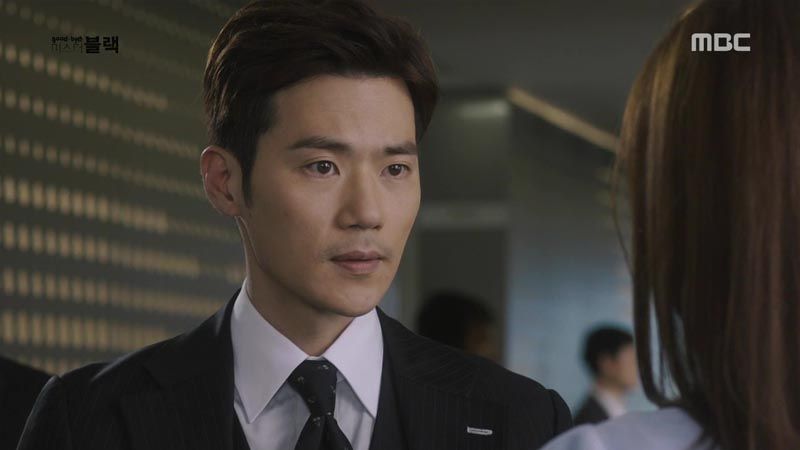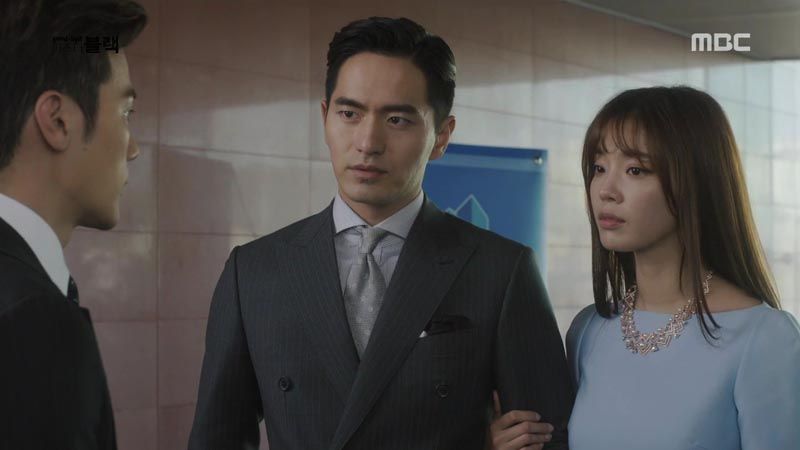 Sun-jae is surprised when Mari shows up for the meeting, though she reminds him that she's also on the board. That's when Ji-soo arrives on Black's arm, and does a credible job keeping her cool when told that Sun-jae is right here. She states that she's come to rescind her power of attorney from Sun-jae, then reaches out for his arm and requests that he escort her into the meeting.
Sun-jae calls out to Mari, deliberately using the word "yeobo" to let Ji-soo know that they're married. Mari looks dismayed to have that truth come out since she'd purposely kept it from Ji-soo, but afterward thanks Sun-jae for saying what she couldn't. Her tone sure sounds sarcastic, though.
Ji-ryun's mother takes the lead in the meeting, reminding everyone that they should be glad to welcome back the former chairman's heirs, and Teacher Baek goes through the motions of apologizing on behalf of the board for their sufferings.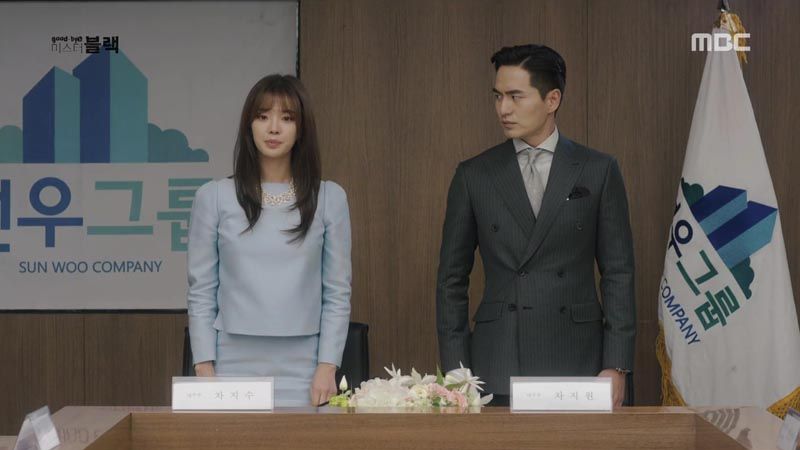 Black starts to address the board, but at Sun-jae's pointed comment about Ji-soo speaking for herself, she steps up instead. She states her intent to reclaim her place alongside her brother, and tells Sun-jae to step back and return to his rightful place. Not betraying any agitation, Sun-jae agrees to have his legal team take care of the matter.
Afterward, Sun-jae and Black speak privately, the air fraught with tension despite their efforts to sound light, mocking even. Sun-jae warns Black to take out his revenge properly and not mess with Mari, while Black scoffs that he's not interested in Mari—his beef is entirely with Sun-jae.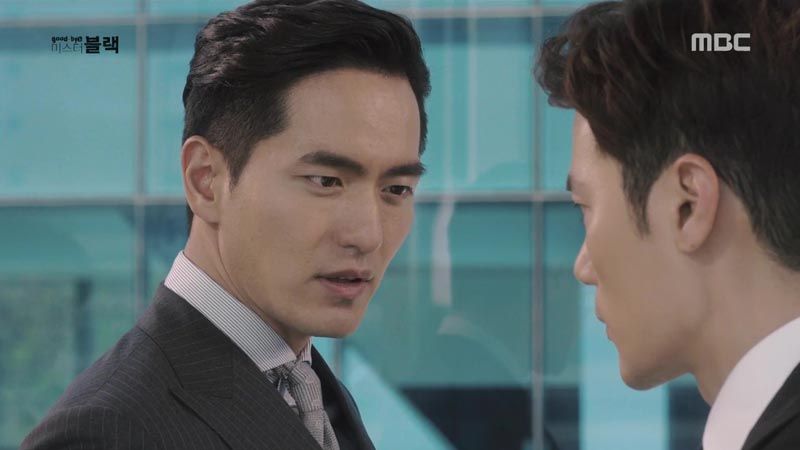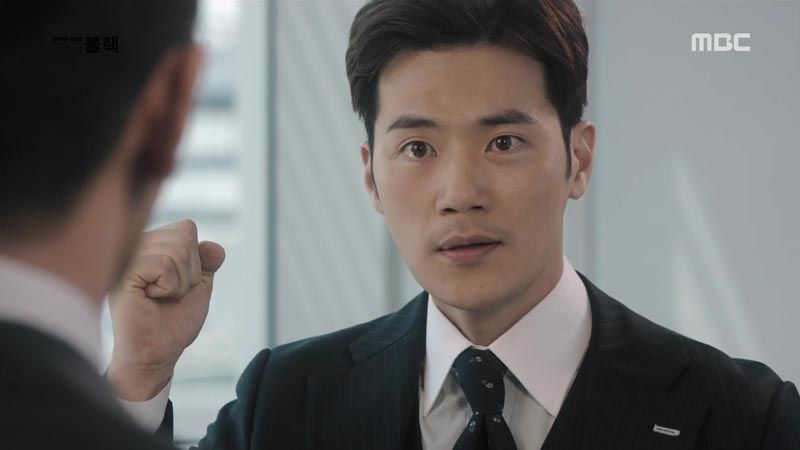 Sun-jae growls that he's the one who grew the company over the past five years, tripling sales and raising its rank with his own two hands. Black points out that those hands are stained with blood, and Sun-jae all but admits to it, saying that the first time is hard, but it becomes easier with the second.
Then he asks how Ji-soo and Swan are doing, indirectly threatening their safety—only Black isn't the least bit cowed, and laughs in Sun-jae's face: "Is that all you can do?" He advises Sun-jae to make his fight with him directly, and they both declare that they're up for the fight.
Mari apologizes to Ji-soo for hiding her marriage, but adds earnestly that she didn't know what had happened to Ji-soo or Black. Saying that she was tricked too, she offers to help them, calling it the path to her own atonement.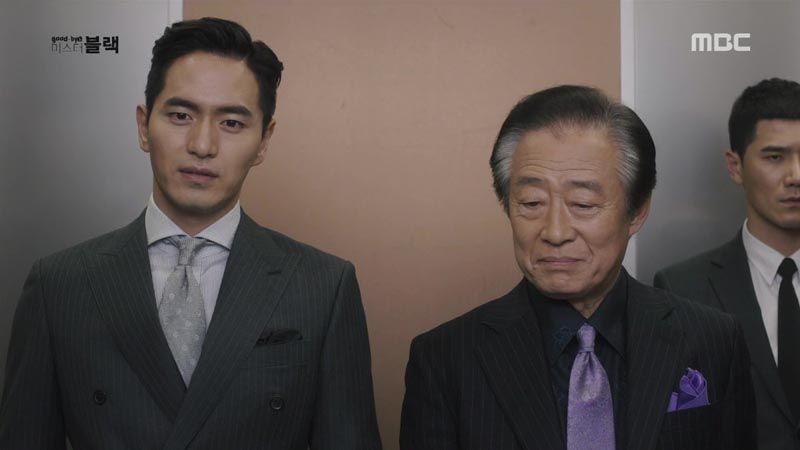 Black runs into Teacher Baek in the elevator, and Baek reiterates (the lie) that he had nothing to do with what happened to Black's sister or father. In fact, he offers to help him become chairman, asking only for the casino resort in exchange.
Black sees through it, asking if that offer worked on Sun-jae, declaring that there's no way he'd side with Baek.
Woo-jin hires someone to look into the case of Baek Eun-young, and the investigator finds it curious that so many people want him to track down Baeks—someone asked him earlier to look into a certain Baek Eun-do, aka Teacher Baek. Woo-jin sits up in interest to hear that the other person is affiliated with Sunwoo Group.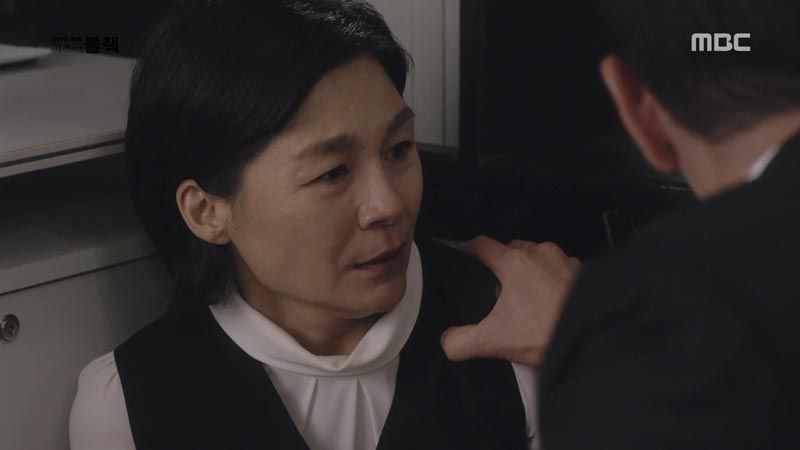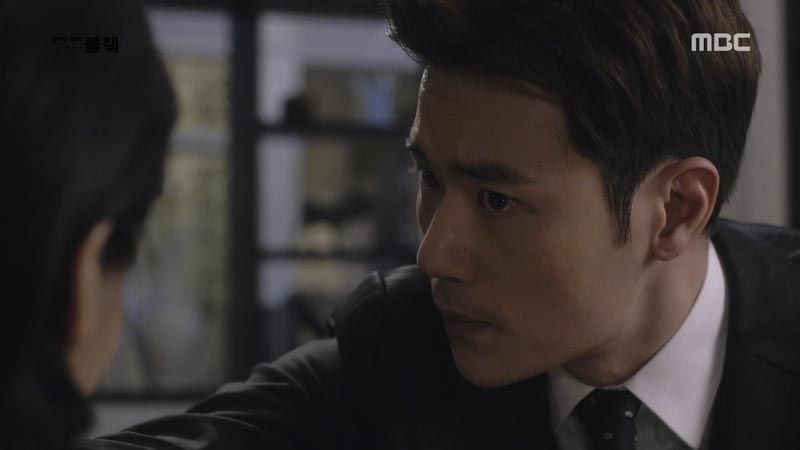 The nosy housekeeper rifles through the study in the dark, but today she gets caught in the act by Sun-jae himself, nearly jumping out of her skin when he appears. He grabs her angrily and demands to know what she's looking for, but Mari waves it aside airily, saying she asked the housekeeper to look for Ji-soo's power of attorney form.
Away from his sight, however, Mari pulls the housekeeper aside and furtively asks what she was looking for. The frightened housekeeper confesses that she overheard something she wasn't meant to, and explains about Sun-jae asking the doctor to cause a miscarriage. She didn't know what to think and was hoping to find the fake medical records explaining things, and is shocked to hear Sun-jae tricked Mari into thinking she was pregnant.
Mari tells the housekeeper that she's the only person she can rely on in this household, and urges her to not get caught by Sun-jae.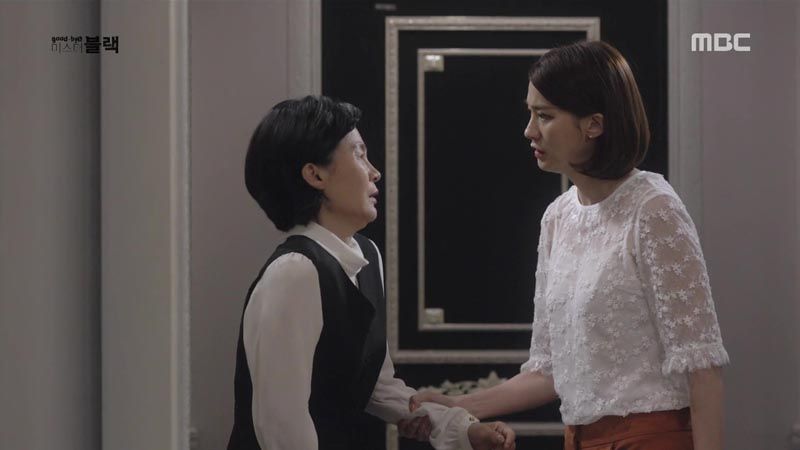 Black discusses his plans to recover his inheritance with Ji-ryun, and asks if Ji-ryun knows anything about his father's will. He says he doesn't have that much time left with his bad health, and states his intent to draw up his own will. Yet after Black leaves, Ji-ryun pulls out the will he'd been sent before Dad had died. Hm, why lie about it?
Sun-jae's father approaches Black hesitantly, apologizing in a general sense for what's happened to their formerly happy circle. He takes the blame for Sun-jae turning out as he did, admitting that he was a poor father and asking Black to understand. Black replies that seeing him reminds him that he misses his own father, and asks him not to come around anymore.
While putting on her shoes, Swan only now notices the note Woo-jin had tucked into one before giving them to her. In it, he makes a Pooh Bear ("Not every day is happy, but happy things happen every day") to say that she's probably feeling down, but that he hopes she'll find at least a fingernail's worth of happiness today. It's sweet, and it makes her smile.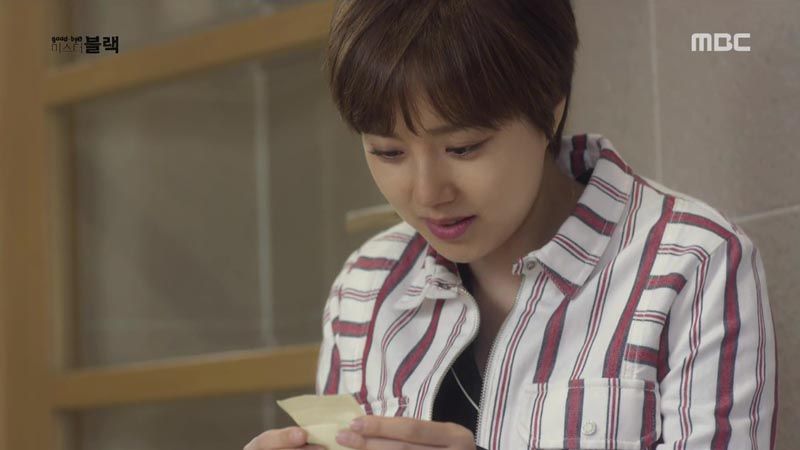 Woo-jin, meanwhile, gets an update from his investigator, who has tracked down two Baek Eun-youngs who fit the general description. One was adopted to the United States, while the other one's whereabouts are unknown—but a family record provides her parent's names. And—surprise, surprise—the father is Baek Eun-do.
Woo-jin starts at that, and asks who the other person inquiring into Baek was. It's Director Nam from Sunwoo (one of VP Seo's subordinates), and Woo-jin asks the investigator to say he doesn't know anything to anybody who asks after Baek Eun-young, calling it a matter of life and death. VP Seo, for what it's worth, gets confirmation about Baek Eun-do's wife and child's names, but hasn't gotten as far as Woo-jin in connecting the dots.
Swan quits her job at Panda News and takes a part-time job at a cafe, where Woo-jin shows up with a resignation letter (hers, I presume) and camps out for hours, to her chagrin. Swan gets called away to search through trash for a customer's lost credit card, and pokes herself in the finger, reminding her of her early encounter with Black.
Woo-jin joins her to stanch the blood with his handkerchief and is all set to take over the search for her just as she finds the lost card. Poor Panda, always one step behind.
Sun-jae gets an update on his plan to turn Sunwoo Construction into an empty shell of a company, secretly diverting its assets away to a new company, Sunwoo Capital. That enables him to siphon away everything before he's forced to return the company to Black.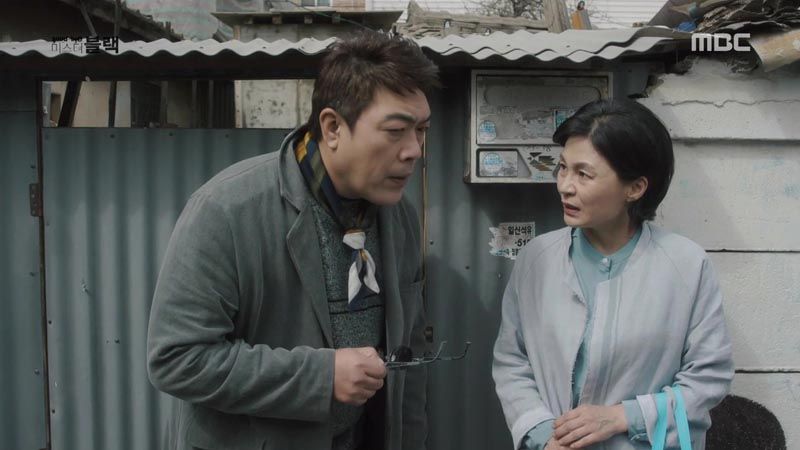 His housekeeper, meanwhile, acquires a tail as she goes about her daily errands, but thankfully she clues into the follower and manages to give him the slip. It's pretty sharp for a mere housekeeper, but it turns out she's also working as a spy—for none other than Sung-min, whom she meets at a house using a coded pattern of knocks on the gate and the password exchange "Jolie" and "Brad Pitt." Pfffft.
The housekeeper is so afraid of Sun-jae at this point that she wants to quit spying, now that she's aware of how dangerous he is. She'd only planted one spycam in his study, but Sun-jae had actually planted a whole slew of them in his own house to blame on Black. Sung-min manages to convince her to stick with it just long enough to find one more thing: that fountain pen Sun-jae had been seen giving to Teacher Baek.
Black watches from his parked car as Swan gets off work at her cafe job, and is approached by Teacher Baek out of the blue. She stiffens as he invites her to dinner and refuses his offer of an interview, and for now he backs off, saying merely that they'll see each other again.
That evening, Swan comes home to find her mother preparing an extensive dinner for very important guests, which turn out to be Black and Ji-soo. Dinner is warm and light-hearted, with Mom fawning over the siblings and Ji-ryun goodnaturedly complaining that Mom favors Black to himself. The mood is cheery, though Swan makes it a point to avoid looking at Black, tensing whenever they catch each other's eye.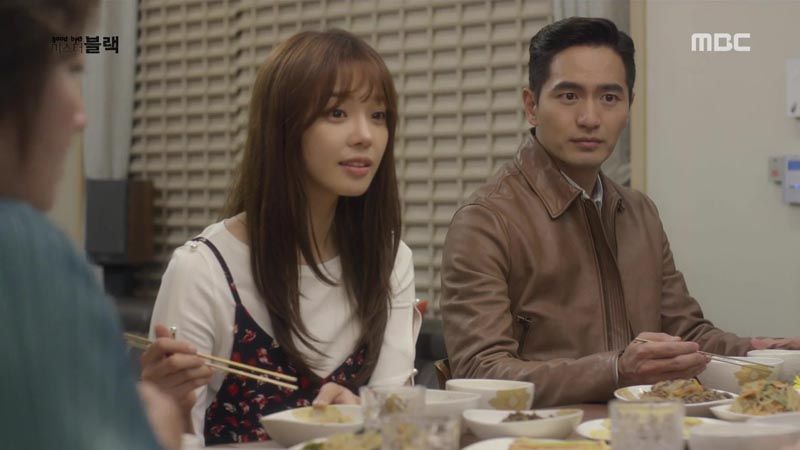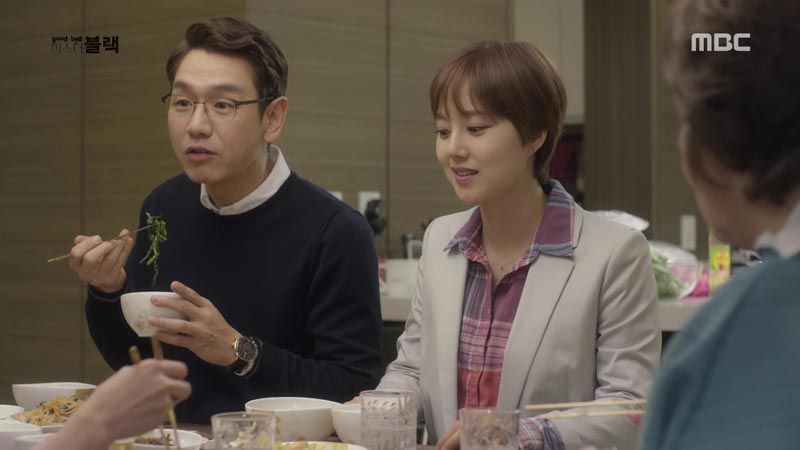 A gift has been delivered to the house for her, and she opens it curiously—only to find the elephant painting that had been hanging in Teacher Baek's house. He's enclosed a note: "I hope you like the painting. Baek Eun-do."
Swan hastily covers it when Black comes by looking for his sister, and he notices the painting hanging on her wall, remembering that she'd painted it in Thailand. He warns her to be careful of Baek, but before he can say much more, Woo-jin bursts into the room, interrupting.
Woo-jin asks to speak with Black, and waits until they're alone outside to ask if he means to take responsibility for Swan through the end. Black's attention shifts to his hand, which twitches uncontrollably, and answers no. Woo-jin interprets that to mean Black is through with her now that his name is cleared and he's got his life back, and when Black agrees to that assessment, Woo-jin grabs him angrily.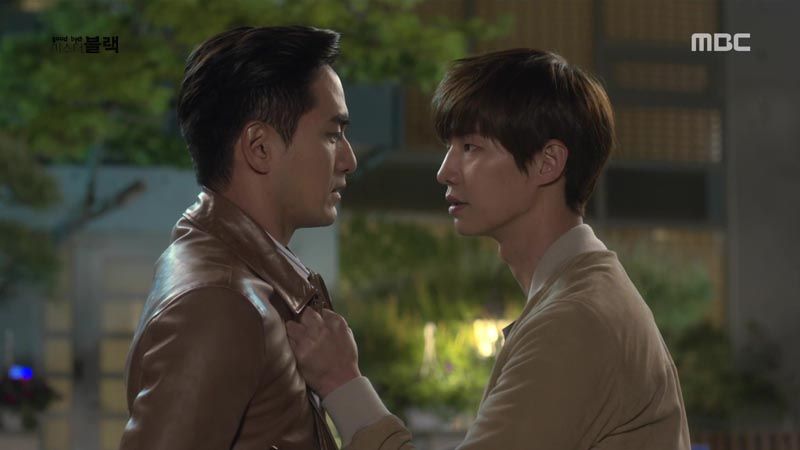 But Ji-ryun and Ji-soo show up, breaking up the tense moment, and Ji-ryun shares that she's agreed to get her eyes checked out. As the siblings head off, Woo-jin watches Black with narrowed eyes, sure that he's hiding something. He asks if Ji-ryun knows anything about it, and Ji-ryun stammers a little as he says no.
That fountain pen is currently in Sun-jae's possession, and it's the secret recording device he'd taken with him to Thailand five years ago. He replays the bit of conversation recorded in it, where Baek offered to make him Sunwoo Group's owner… and from the cracked doorway, the housekeeper hears.
Sung-min drops by Black's place and nags sidekick Gye-dong for not properly looking after Black, now that Black has dumped Sung-min as partner/housewife. That's why he scrambles to hide when Black arrives with Ji-soo, ending up under the kitchen table (in plain sight) and doing so poor a hiding job that even the blind girl figures out he's here. Sung-min points to his head and warns Black that he can always blab what he knows, which prevents Black from kicking him out again.
Swan takes Baek's painting back to his house, and while waiting in his study, she sees the numerous paintings like it hanging in the room. There's a photo of a young girl on his desk, and her eyes widen to recognize herself. It shocks her so badly she drops the frame, shattering the glass.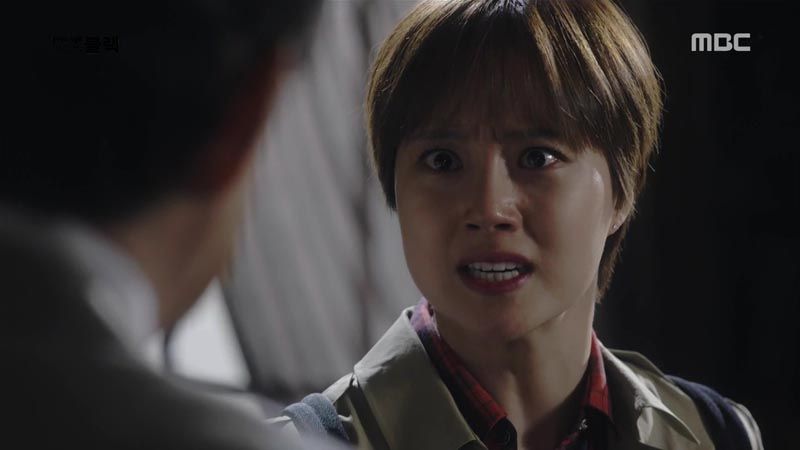 Baek joins her in the room, admonishing her to be careful and saying calling her Eun-young. He notes the resemblance to her mother, who used to sign her paintings with Eun-young's name.
Rattled, Swan calls it a lie and flinches when he reaches toward her. He advises her to accept that she's his daughter, but that makes her angrier and she rushes out of the house, turned upside-down by the revelation. It triggers more memories of her younger self with her mother, and this time Techer Baek is there as well, doting on his daughter. She tells herself fiercely that it's all a lie, but it seems a futile hope.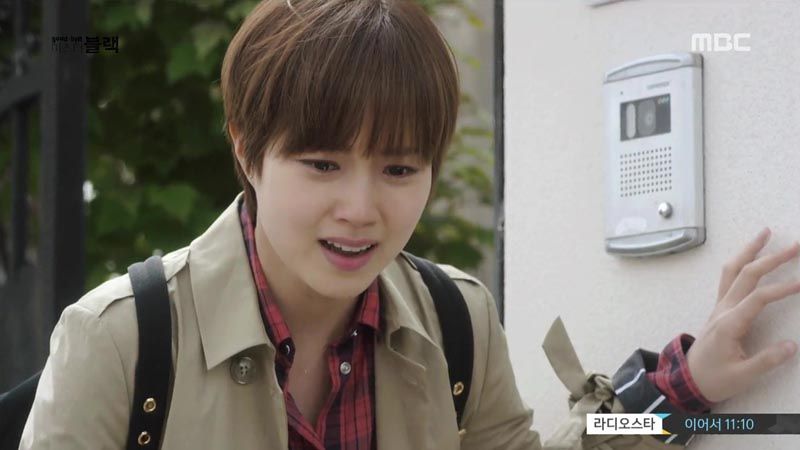 Black has received a call from Baek asking if he was the one to send Swan to him, and it sends him driving furiously to Baek's house. He arrives in time to see Swan staggering along, and getting into a cab before he can get to her.
So he follows the taxi, trying in vain to get through to Swan on the phone. When the cars get stopped at a red light, he even steps out to approach the taxi, only to have the light change and the car drive on, losing him.
Swan ends up by the river, staring blankly off into space. She recalls the time she'd come here with Black and imagines, for a second, that he shows up smiling, and looks disappointed when she realizes it's not real.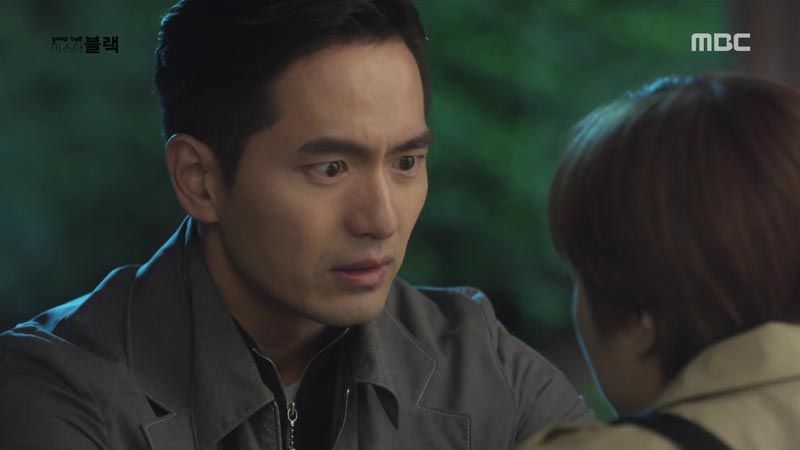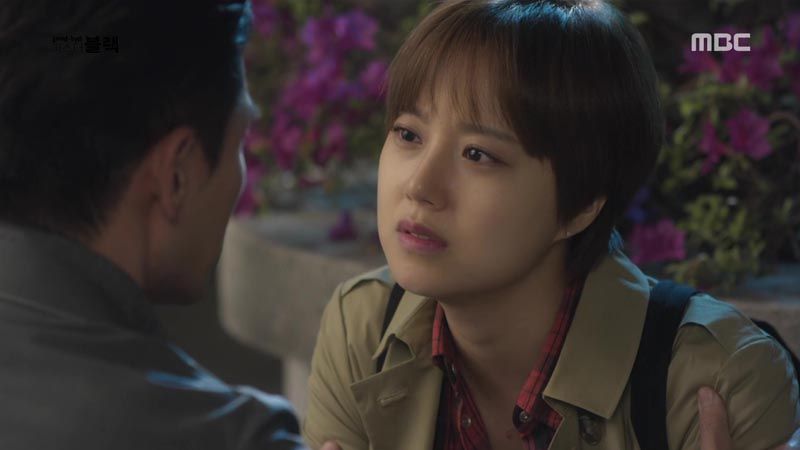 Black scours all the places he can think of to search for Swan, at one point dropping his phone when his hand begins to shake uncontrollably. He forces his hand to pick up the phone and resumes the search, until finally, he sees her hunched over near a building, looking small and lost.
He rushes to her and starts in on a scolding, but Swan cuts him short. In an echo of their first meeting, she repeats his own words back to him: "I have nowhere to go. Put me up for the night."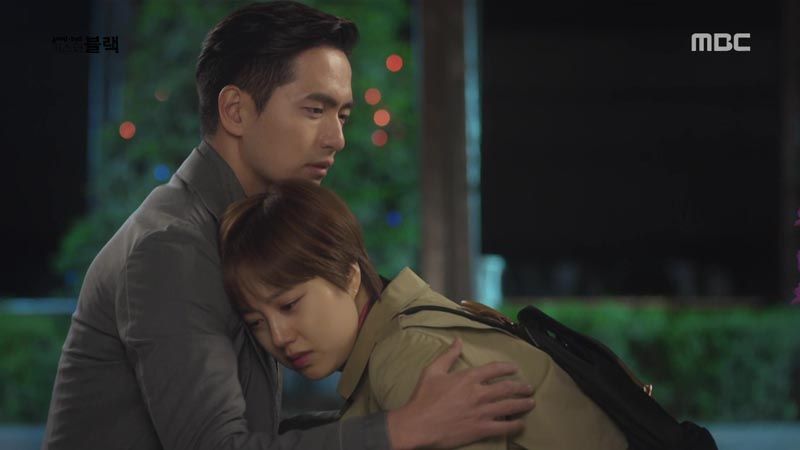 COMMENTS
Aw, that's a sweet way to call back to the start of their relationship. As I said, this drama doesn't quite have the finesse to really make the most of its moments, but I appreciate the way it circled back, particularly since this moment seems to mark a turning point that brings them back around. At least that's what I hope (and about what my patience can take), because I'm ready for the moping party to be over so these sad birds can be happy again.
I actually think that the plot works, on the most basic level—every time I want to hit Black over the head for forcing this separation and acting like a heartless jerk, I do pull back and concede that his reasons make sense. He's got a pretty serious piece of metal lodged in his head, and symptoms of worsening health are growing too strong to ignore with a joke or a smile.
It's a great conflict, in fact, akin to those terminal-illness romances where the patient is trying to make the most of his/her remaining time and wrestling with their mortality. I don't know how this will end, and that unpredictability is welcome; I want the show to keep me guessing. I just wish I could be sucked more into the story, though, because while I find Swan's longing credible, I can't really feel anything from Black, and I want to.
That aside, I enjoy where we're taking the other characters like Mari, who is someone I might not really like on her own but who is made quite interesting by her place in the middle of everything. I believed her when she sided with her husband, blind or at least willfully ignoring the truth to do so, and I believe her now when she's acting against him out of betrayal and anger. But I don't know which side she'll ultimately end up on, because I could see her swinging back the other way again—her emotions can sway her one way or another, making her a curious wild card.
I'm not exactly sure where this Swan-Baek connection will be taking us, since Baek is a villain with a murder under his belt, and yet he seems like a side character when it comes to Black's revenge. So she's the daughter of the enemy, and in case we forgot, Woo-jin is also the son of another opponent, and yet I don't see why that's important in any real sense. They're both good people who don't seem that conflicted by issues of blood loyalty, but will that become a factor? (If not, why make them related in the first place, right?) Of course, those are things I wonder when looking at the drama analytically, trying to make sense of all the pieces—in the end, those aren't things that'll keep me up at night. Mostly, I just want the characters to find their way back to each other and be the big, boisterous extended Black Panda family I know they all wanna be.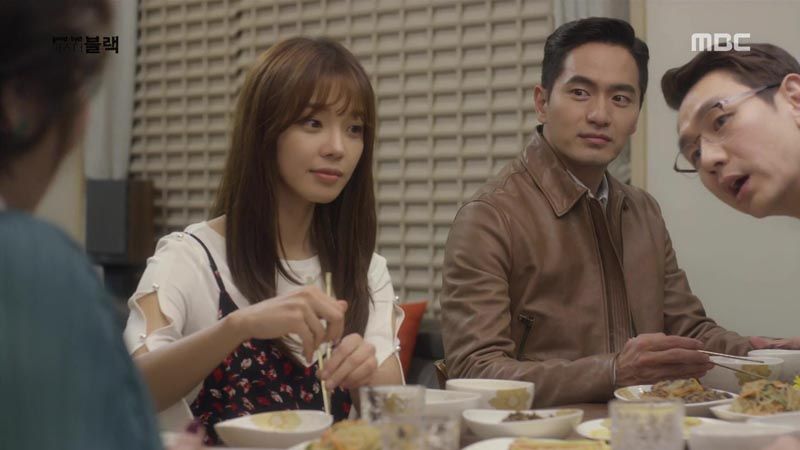 RELATED POSTS
Tags: Episode 13, featured, Goodbye Mr. Black, Kim Kang-woo, Lee Jin-wook, Moon Chae-won, Yoo In-young