Goodbye Mr. Black: Episode 14
It's a good episode for the women in our drama, who both find themselves stuck between a rock and a hard place. Or maybe it's more like an evil bastard and a truth they'd rather not face. In any case, I like it when Swan takes an active role in the story, especially because I'm still mad at Black for being a noble idiot. Thankfully, so is Swan, and she's going to do something about it.

EPISODE 14 RECAP
After discovering that she is the daughter of evil Teacher Baek, of all people, Swan ends up on Black's doorstep, asking him to put her up for the night. He's thisclose to pulling her in for a real hug and taking her upstairs, but he pulls back at the last minute. But when she asks a second time with those pleading eyes, he doesn't have the heart to turn her away.
Black calls and asks his sister Ji-soo to spend the night at Swan's house, and she agrees happily, thinking that maybe he's with Swan right now. Sung-min just sputters jealously next to her.
Swan changes into Black's pajamas and demands ramyun instead of stew, and then demands a hug. She calls it punishment for toying with her and leaving her, guessing (wrongly, of course) that he didn't think much of using her because he found her in the streets digging through trash.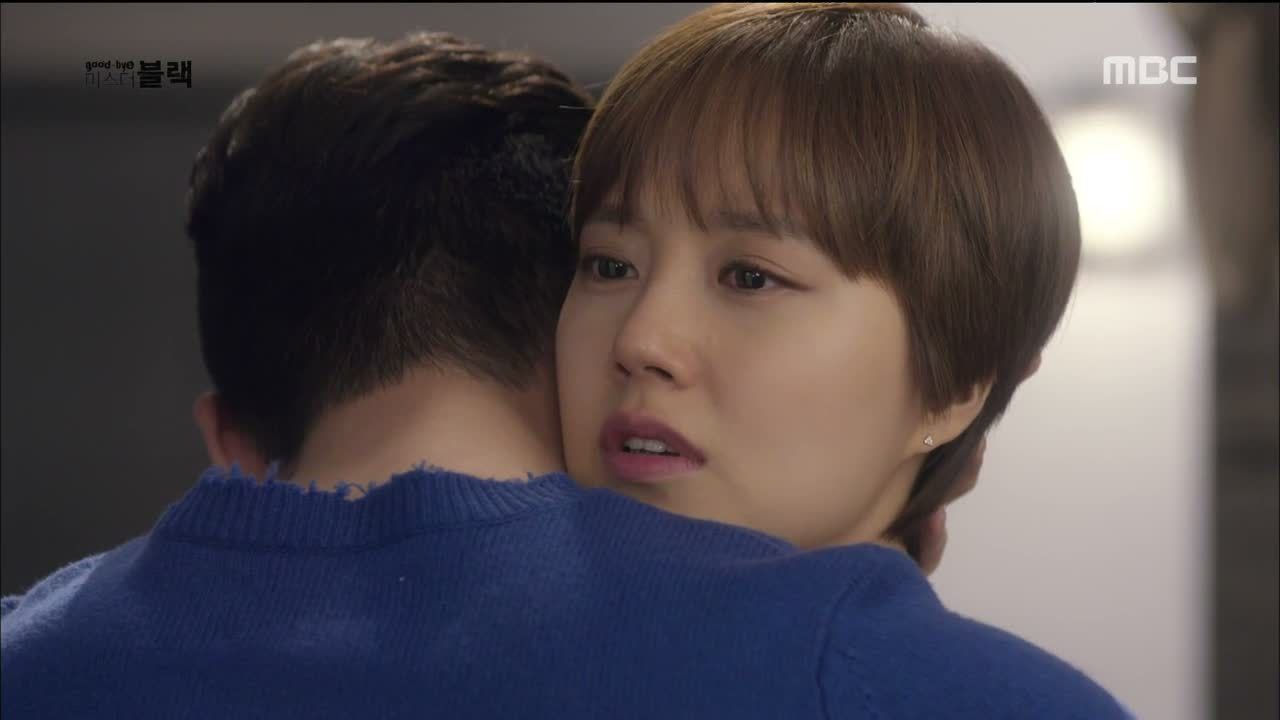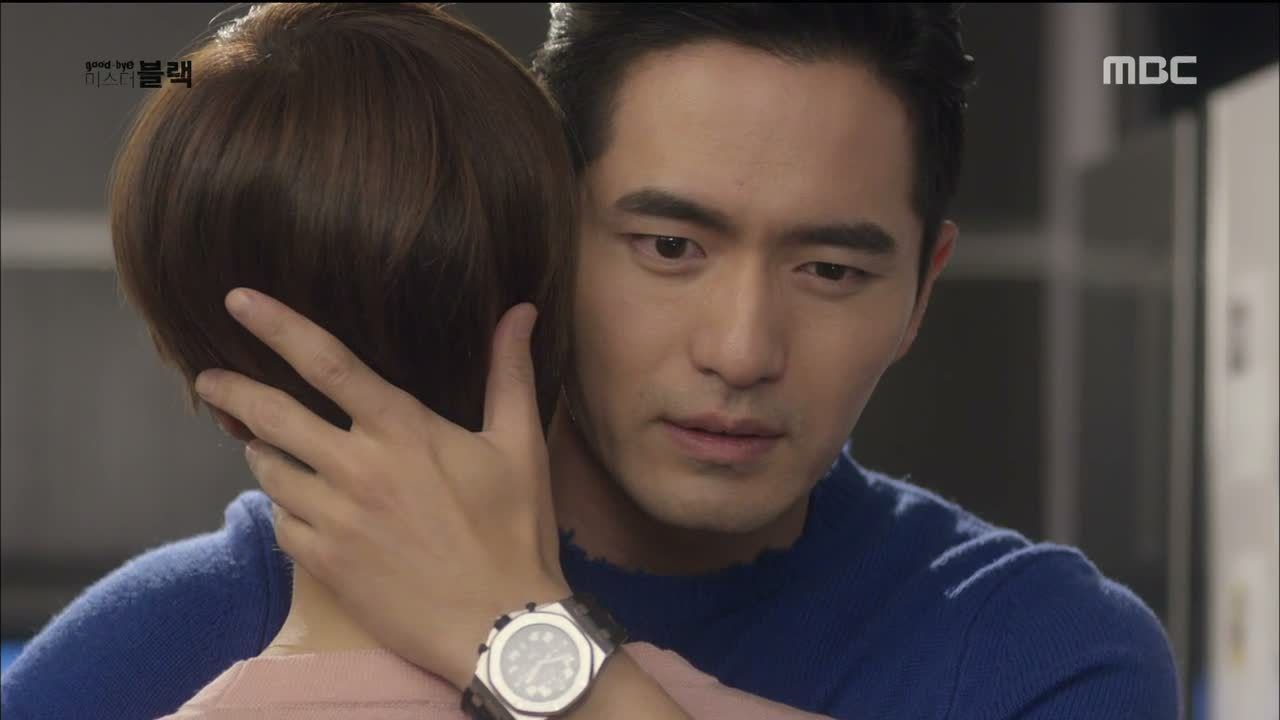 She figures that it's better to punish him now, otherwise her anger will just make her think of him night and day. He smiles and tells her that it's okay to get mad at him all she wants, and she remembers saying that exact thing to Black on the beach in Thailand. He must remember it too, because he says it with tears brimming in his eyes. He tries to deflect with ramyun, but she sticks to her guns and demands that hug, so he complies, making them both emotional.
Teacher Baek calls Ji-ryun over to his house late that night, and at first he gets angry about Ji-ryun keeping his daughter from him all these years. But when he learns that Swan has no memory of her childhood, he quickly backpedals and thanks Ji-ryun for taking care of her.
Ji-ryun has no interest in giving up his sister, and says that if Teacher Baek is truly Swan's father, he should keep the truth a secret for her sake. But Teacher Baek is only too pleased to counter that Swan hasn't forgotten her blood ties because she came here looking for him, and Ji-ryun is furious that she already knows the ugly truth.
Ji-ryun storms into the Panda News office next, demanding an explanation from Woo-jin regarding Swan's birth secret. Woo-jin says it's a good thing to have it all out in the open, since Black has walked away and has no interest in taking responsibility for her. I don't see what that has to do with her father at all, but okay.
They get sidetracked arguing about Black, since Ji-ryun knows he's being a noble idiot due to impending brain implosion, while Woo-jin only sees it from Swan's perspective and thinks Black used her and left her like some heartless playboy.
Ji-ryun tells Woo-jin to wait five years if he really likes her, since that's how long she waited for Black. Woo-jin: "What, if I wait is that bastard Black going to die or something?" Umm. Ji-ryun has this horrified look on his face, but he can't say anything.
Black and Swan watch TV over beers and when he notices a stain on her sweater sleeve, he suddenly says, "Take it off." Well this scene just took a suggestive turn. The temperature goes up a notch as he says he can't take it anymore and leans in close.
He pulls her into his arms and suddenly they're both on their feet… and then we cut to the bathroom where he's washing the stain off her sleeve. Wah-waaah.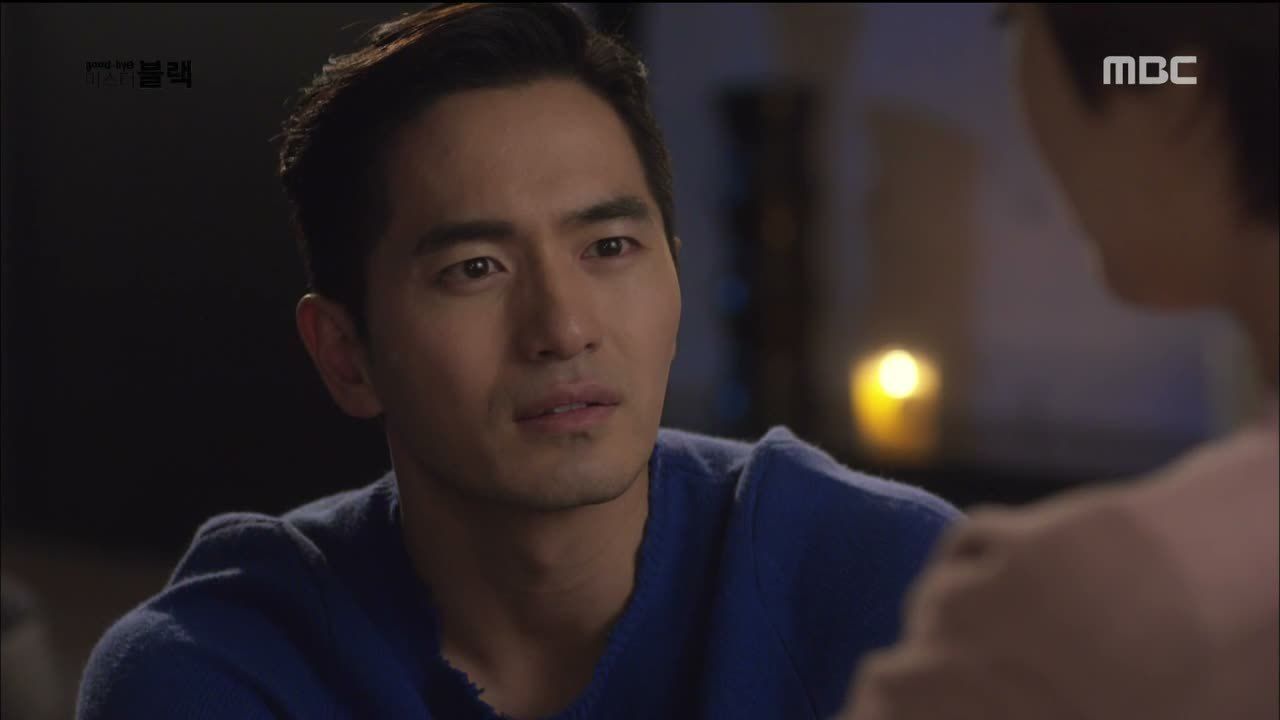 Swan plans to sleep on the couch and tells Black that he has to hold her hand and not let go until she's asleep. He's still being punished, according to her, though we know he's happy to hold her hand all night. She says she did the same thing for him when he was shot back in Thailand, and he asks if she waited like that by his bedside until he woke up.
She ignores the question, which brings tears to her eyes, and suggests making a happy memory tomorrow. He asks softly why she went to Teacher Baek's house today, but she deflects that too, and asks Black about why he became a military man. He says it's because he thought his father looked so cool in his uniform, and remembers fondly how Dad used to stare at his old uniform longingly even after he was retired.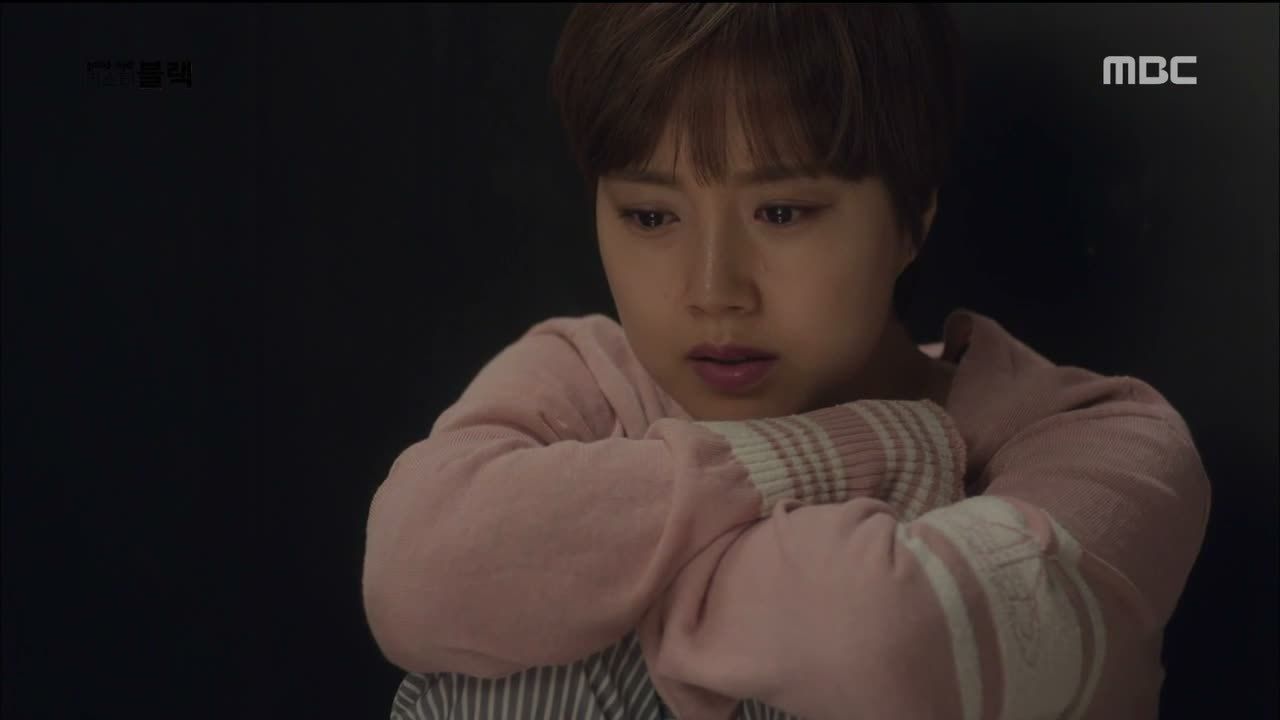 Talk of Black's happy childhood memories of his father just makes Swan feel worse about her own father though, and she ends up huddled in the bathroom crying by herself.
In the morning, Sung-min gets all worked up on his way to Black's apartment, acting like a jealous partner about to bust in on an affair. Sidekick Gye-dong even texts Black a warning that Sung-min is on his way, even though nobody in this triangle is dating. They crack me up.
Black doesn't seem the least bit concerned, but Swan insists on hiding. Sung-min busts in and surveys the apartment looking for clues that Swan was here, which is moot when he catches them red-handed a second later trying to sneak out.
At Sun-jae's house, the housekeeper is anxious to dig around for that recorder pen that Sung-min asked her to find, but Sun-jae's dad won't leave her side.
Mari acts like everything is fine in front of Sun-jae as he drops her off for a doctor's appointment, but as soon as he's gone, she meets with a lawyer in the parking lot and reads over reports on Sunwoo Group's subsidiaries.
As Swan and Black head out for a picnic, Black starts to feel sharp head pains and pulls over to send Swan out for sandwiches, giving him time to take his pills in secret. He does seem to be getting worse lately, and he rubs his hand while wincing.
Mari happens to call Swan's phone, which she left behind in the car, and she's disappointed when Black answers instead. He tells her to stay away from Ji-soo and Swan, and that makes Mari whine petulantly.
Black: "I know you're hurt. But doesn't it occur to you that your actions might hurt others?" Mari demands to know if Swan is that important to him and adds, "I'm having a hard time too!" I seriously don't get her entitlement here. Mari says that it was Sun-jae who shot him and made Ji-soo blind, and Black just answers, "You already knew that."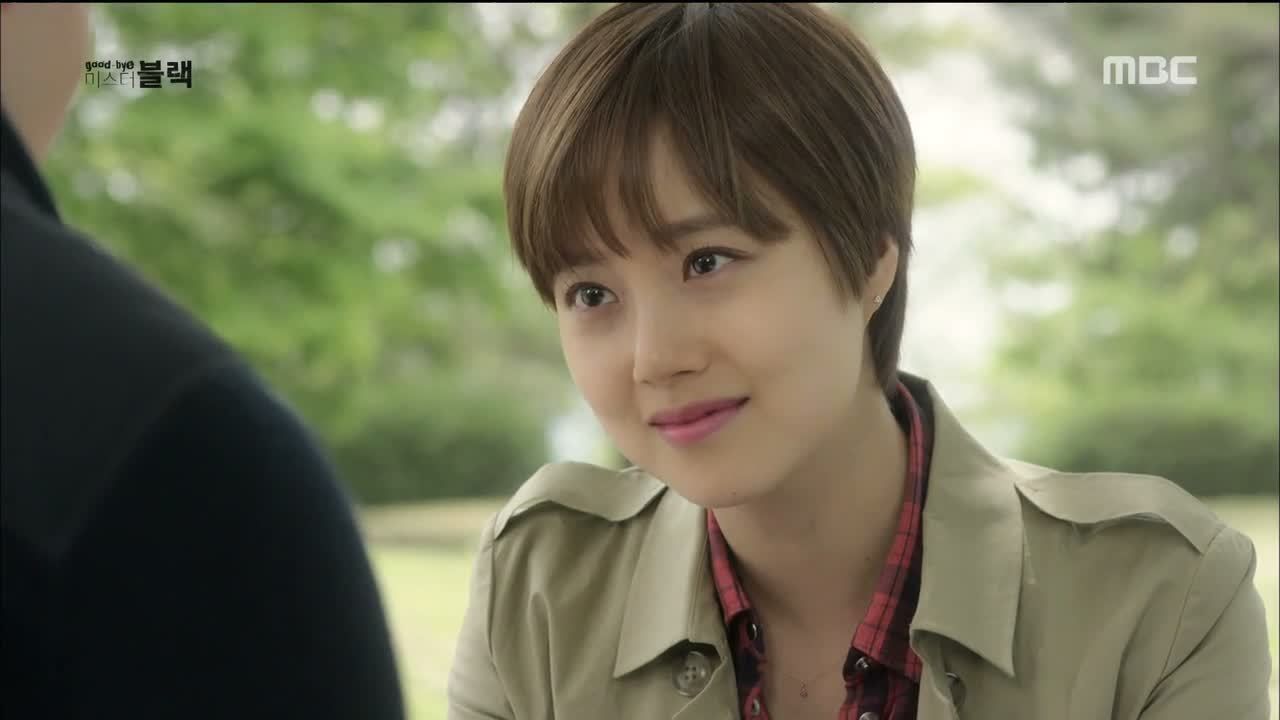 Swan returns with a sketchbook and asks Black to draw her something, to make up for the blank note he left her on his last day in Thailand. So he draws a picture of her, only it's a duckling with an icebox full of mango juice and the compass she made for him. She muses that she's still an ugly duckling in his eyes, and he agrees, adding that when she grows up into a swan, she can fly away.
Swan swallows her tears as she tells Black that she found her father. She doesn't give him any details beyond that, pointing out that it's not his concern since they've broken up. She thanks him for rescuing her from the kidnapping, revealing that she's known all along. She even knows that his feelings for her were sincere, which surprises him.
She knows they shouldn't worry each other, and says that she's just going to a safer place than by his side. She draws an imaginary line between them like she did long ago. "So don't cross it," she warns, willing herself not to cry.
Swan comes home to Mom's nagging, as usual, and over dinner she asks what Mom would do if her birth parents came around and wanted her back. Mom says in her jokey, gruff way that she'd happily send her packing if anyone would take her, and Swan says, "I knew you'd say that. You're saying you'd never give me up." Aw.
Ji-ryun watches the exchange with a heavy heart and then talks to Swan later that night about studying abroad. She wonders why he's sending her away now, and he says with a smile, "Because Kim Swan is my little sister."
He tells her to go study whatever she wants and to pick a place nearby so he can visit often. He reminds her, "You're not alone." Swan bursts into tears and says, "I'm sorry, I'm sorry oppa, but I don't know what to do either. I'm sorry."
The next morning, Ji-ryun and Team Black discuss their strategy in the three-way battle to become chairman of Sunwoo Group. Sung-min thinks they'll have to partner up with Teacher Baek in order to take on Sun-jae, and everyone agrees except for Ji-ryun and Black. Black's plan is to leak all the illegal dealings from the Thailand gas deal five years ago. Sung-min worries that there might not be a Sunwoo Group left to take charge of if he does that, but Black doesn't seem very concerned about that. Shouldn't you be, though?
Mari calls Swan to a coffee shop and says she has a favor to ask, though we cut away before she asks it.
Ji-ryun tells Black that he agrees with the move to go big and expose Sunwoo Group's illegal deals, though he warns vaguely that they might encounter some unexpected bumps. When Black asks about Swan and her father, Ji-ryun remains tight-lipped and tells Black not to concern himself with her if he's decided to push her away.
Meanwhile Swan goes to see Teacher Baek again and says resolutely that she's going to move in here and live with him. What, don't do that! Augh, you're doing this to help Black, aren't you?
Teacher Baek laughs heartily, declaring that she really is his daughter after all, but she clarifies that she isn't doing this because she wants to—she just knows Teacher Baek won't keep this a secret for her benefit, and thinks she'll have nowhere else to go once everyone finds out the truth.
He starts to call her Eun-young, and Swan interrupts to say that if he's going to call her by that name, he'll have to give her something in exchange.
Black has dinner with his sister and tells her that Ji-ryun will take her to the doctor tomorrow. She says she prefers going with Ji-ryun anyway, remembering that he looked like a church oppa when he was in college and she was in junior high.
She asks if he still looks like a church oppa, and Black jokes that it's more like church ajusshi now, and then suggests getting treated for her eyesight so she can determine for herself. I like that he's motivating her with boys, ha.
Black gets up to clear the table when another sharp headache comes on, making him break the dishes in the sink. Ji-soo is alarmed, but he says it just slipped out of his hand. He gives no further explanation, but she hears him opening up a bottle of pills.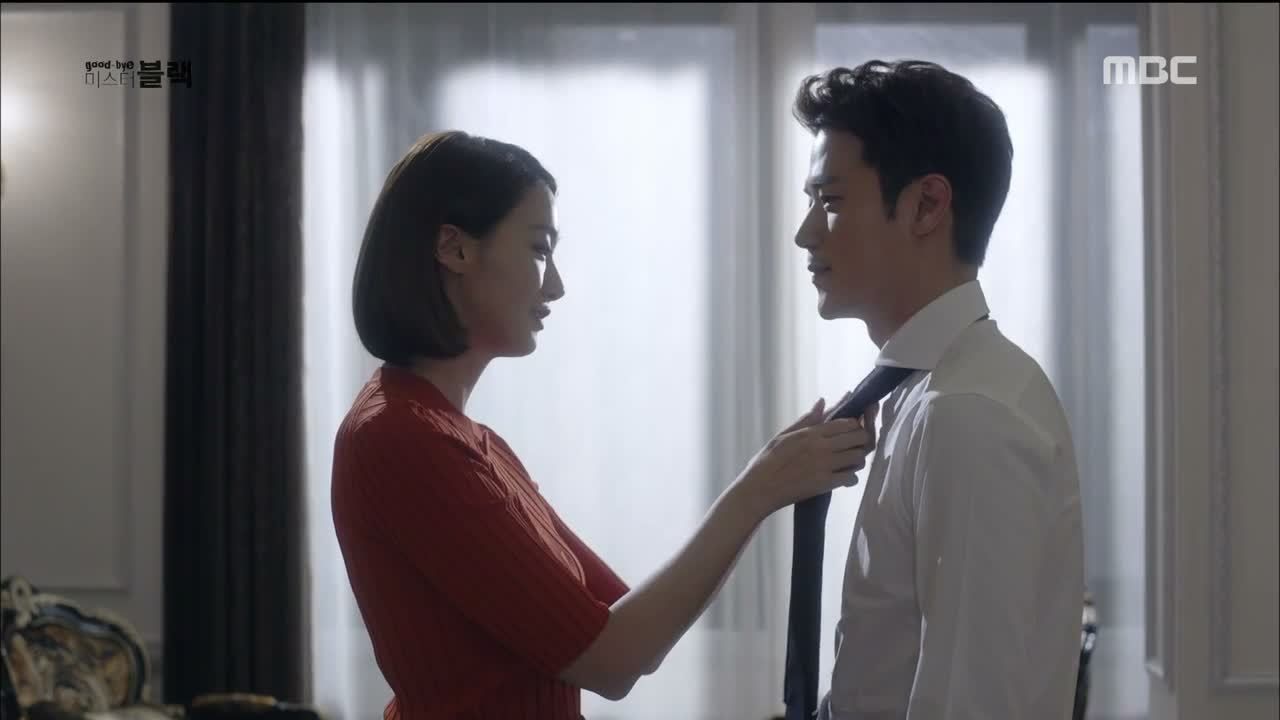 It's the morning of the Sunwoo Group chairman vote, and Mari puts on another sweet, caring wife act for Sun-jae as she ties his necktie. He tells her that his dream is to be with her and the baby, which makes her tighten the tie like she wishes it were a noose. Mari tells him that her dream is for him to become chairman of Sunwoo Group, so he'd better win today.
Ji-soo rummages through Black's closet to pick out a suit for him, and in the process she comes across one of his pill stashes. She's able to hastily pocket one of the pills before he returns. Ji-soo remembers what she overheard in Thailand five years ago and warns Black that Sun-jae didn't act alone, and assures him that Dad will be protecting him today.
Everyone arrives at Sunwoo Group for the big stockholders' vote, and Team Black squares off with Team Sun-jae in the lobby. And then from the side enters Team Baek, and everyone's jaw drops to see Swan standing by Teacher Baek's side.
Teacher Baek relishes the moment and introduces her as his daughter Eun-young, making Swan's mother nearly faint. Black replays all the cryptic things she'd said just days ago, about finding her father and going to a safer place. He stares laser beams in their direction, but Swan won't meet his eyes.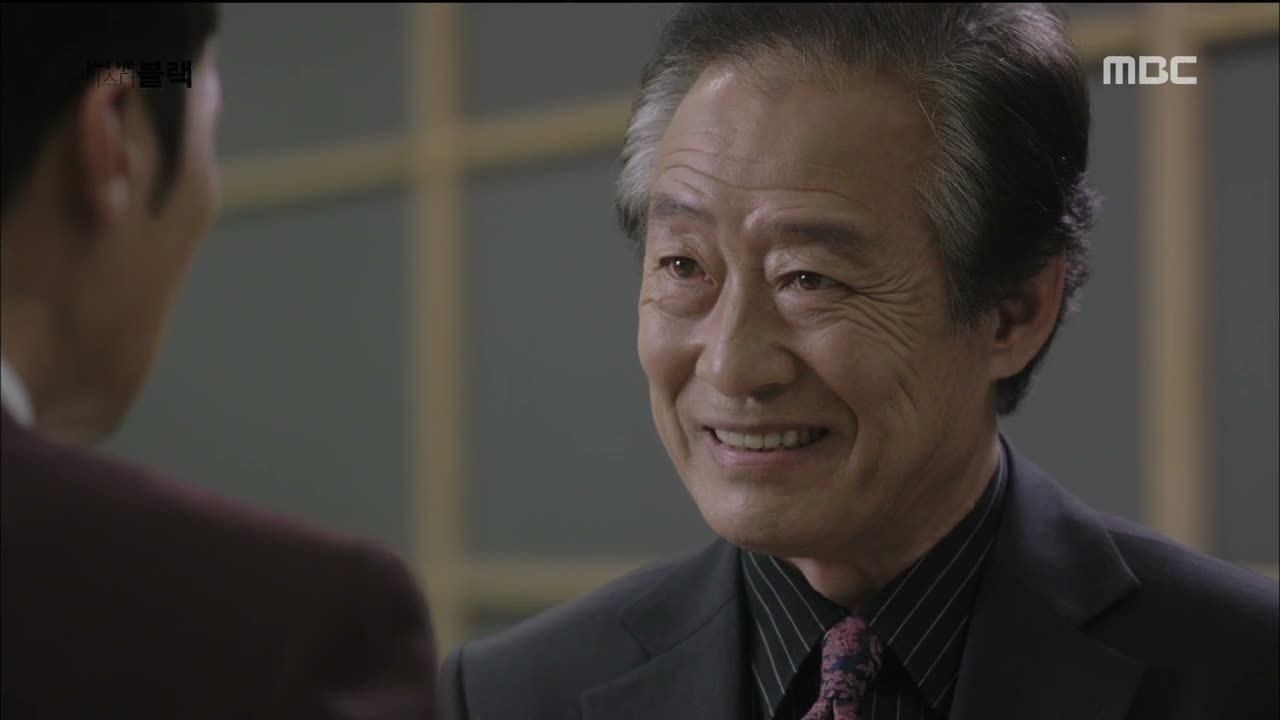 Sun-jae pulls Teacher Baek aside to rant at him, and Teacher Baek just grins like a happy little troll, declaring that he'll just side with Black in the chairman vote today. Sun-jae scoffs that Black would never side with the man who killed his father, but Teacher Baek says he's got the perfect shield now: his daughter. He offers to take Sun-jae's side instead, as long as he hands over the casino deal and more shares of Sunwoo Group.
Teacher Baek doesn't actually care whether it's Sun-jae or Black who accepts his offer, since he just wants the casino for himself. He waits around for Black to come by, but he never does, and Teacher Baek just tells him to ask for his help any time as they pass each other in the hallway.
It's time for the vote, but Team Black is shocked when they enter the auditorium and find it mostly empty, save for the company's directors and other executives. It must be Sun-jae's doing, because he's the only one smirking. Outside, we see a crowd of stockholders held up in a long line, unable to get in before the doors close.
Before Sun-jae gets up to make his speech, he has his assistant text Teacher Baek a copy of the contract that he signed, agreeing to hand over the casino deal. Teacher Baek smiles and texts the whole group of company directors to say that they're voting for Sun-jae today.
The only thing Black does is instruct Gye-dong to get to the security room, and then when it's his turn to speak, he doesn't fight for the chairman position at all, assuming that Sun-jae has already won. Team Black is shocked when he just sits down instead of blowing the lid off of the Thailand gas deal like they'd planned, and Swan overhears Sung-min wonder if he stopped himself because it would attack Swan's father.
The vote begins and Sun-jae is announced the new chairman of Sunwoo Group, and when he gets up to give his victory speech, that's when Black cues up the Thailand gas deal, including footage of the hospital murder. Both Sun-jae and Teacher Baek freeze up, and Black tells the audience that someone will have to take responsibility for these crimes.
Sun-jae counters that Black's father was the chairman of Sunwoo Group at the time, but Black points out that his father died just before this murder. Black says he's willing to keep this an internal matter for the time being, but Sun-jae's first task as the new chairman will be to find the culprit.
That makes Sun-jae sweat, and then Swan stands up with her recorder in hand, announcing herself as Kim Swan of Panda News. Aw, yay! I knew you'd be back on the beat!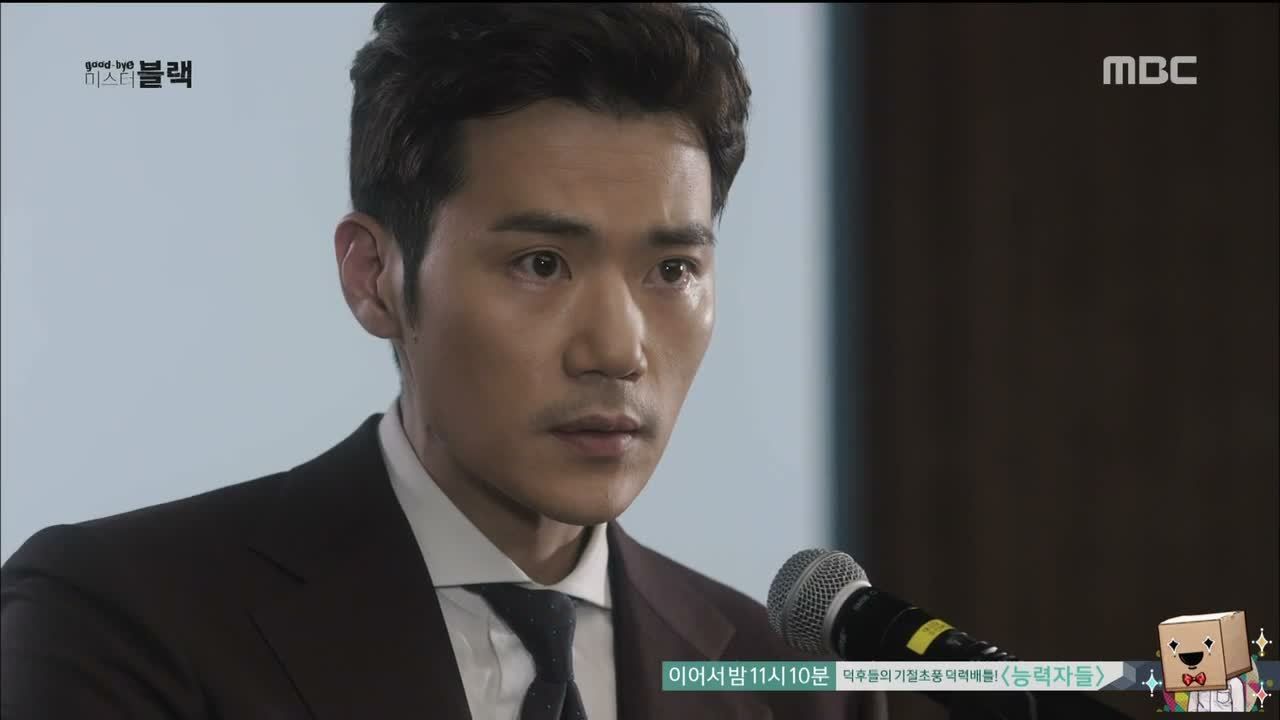 Over at Panda News, the reporters tell Woo-jin that Swan broke another story, and he smiles to see that she's already published an article announcing Sun-jae and Mari's divorce. Ah, this must've been the favor she asked of Swan.
Back in the auditorium, Swan asks if Sun-jae is up to this huge task as chairman, especially in the midst of his divorce. She feigns surprise that Sun-jae doesn't know what she's talking about, and says she's already published a story about it.
Sun-jae looks over at Mari in shock, and she just smirks back at him. Her lawyer announces that he won't be able to make any decisions regarding his shares of Sunwoo Group until their divorce has been settled. Well, she's got him by the balls now.
VP Seo rushes out of the meeting and calls someone to secure some documents, to make sure he doesn't end up the fall guy for the Thailand gas deal.
Sun-jae tries to talk to Mari after the meeting, but she pulls away and tells him coldly not to lay a hand on her body, and then thanks Swan on her way out. Sun-jae fumes and says his deal with Teacher Baek is off, and Teacher Baek doesn't argue.
Swan says this is payback for what Sun-jae did to her, and asks her father to make sure that Sun-jae can't ever touch her again. Black just watches all of this from the sidelines, looking a little impressed at Swan as she exits.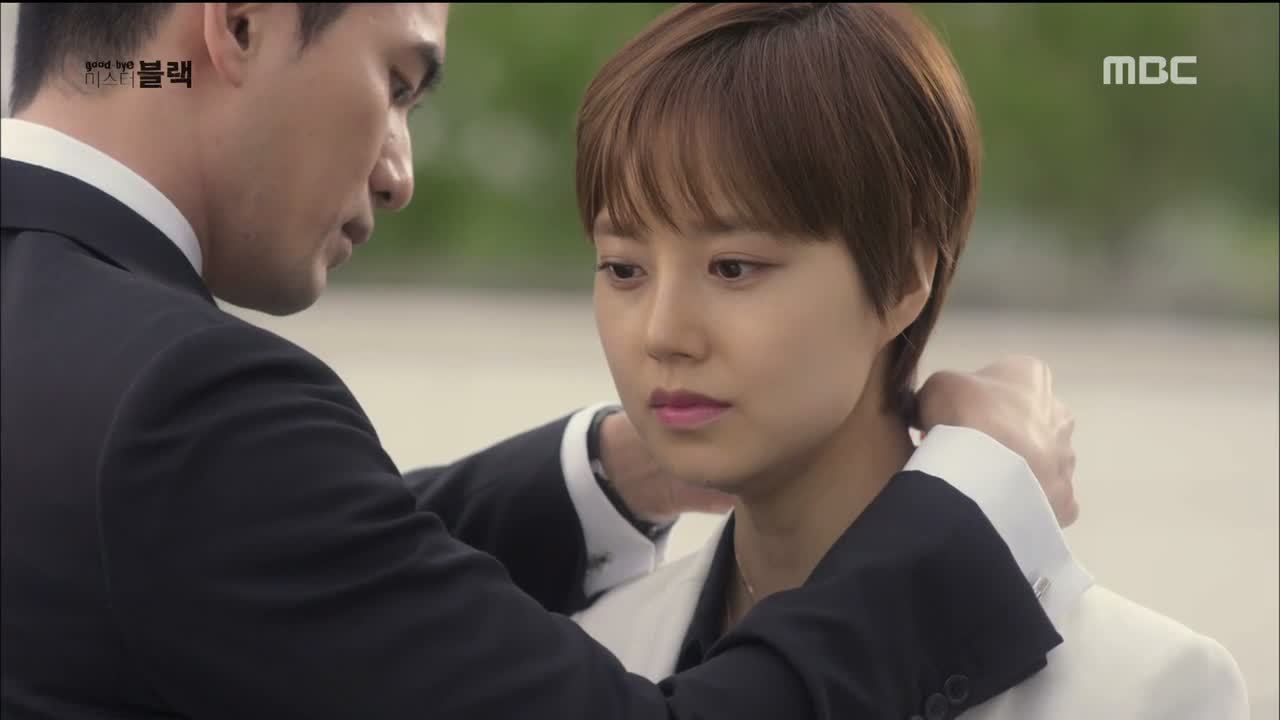 Black follows her outside and says out of the blue that he found it: "I didn't think it existed in this world." He opens his hand and the black swan pendant dangles from his fingers. He calls her Reporter Kim Swan and congratulates her on a job well done, and clasps the swan around her neck.
She tells him not to be used as a pawn or give up because of her, and he counters, "Don't wait for me. From now on, I'll wait for you." Oh. Wait, what does that mean? Hello, mixed signals! Swan doesn't give an answer, and just walks away towards her father.
Sun-jae flails as Mari packs a suitcase at home, and he asks if she's planning on going to Black. He says that Black doesn't have room in his heart for her anymore, and Mari says she knows. Sun-jae's last-ditch effort is to ask how she could do this to their baby, and that's when Mari snaps and screams that there IS no baby, and that's the reason she's divorcing him.
Sun-jae doesn't even miss a beat and screams back, "I wanted to hold onto you that badly!" He becomes soft and pleading with her, begging her to stay and swearing that it was all because he loved her so much. I believe every word, which somehow makes it sadder.
Mari tells him that even with everything that he did to Black and Ji-soo, she fought her conscience and took Sun-jae's side, ignoring the truth because he was the father of her child. She's sick of all the lies now, and says she's never going to forgive him.
Sun-jae drops to his knees, groveling at her feet with tears in his eyes. He begs, "Save me, please. I can't be without you!" It's actually heartbreaking, and Mari's steely resolve cracks a little.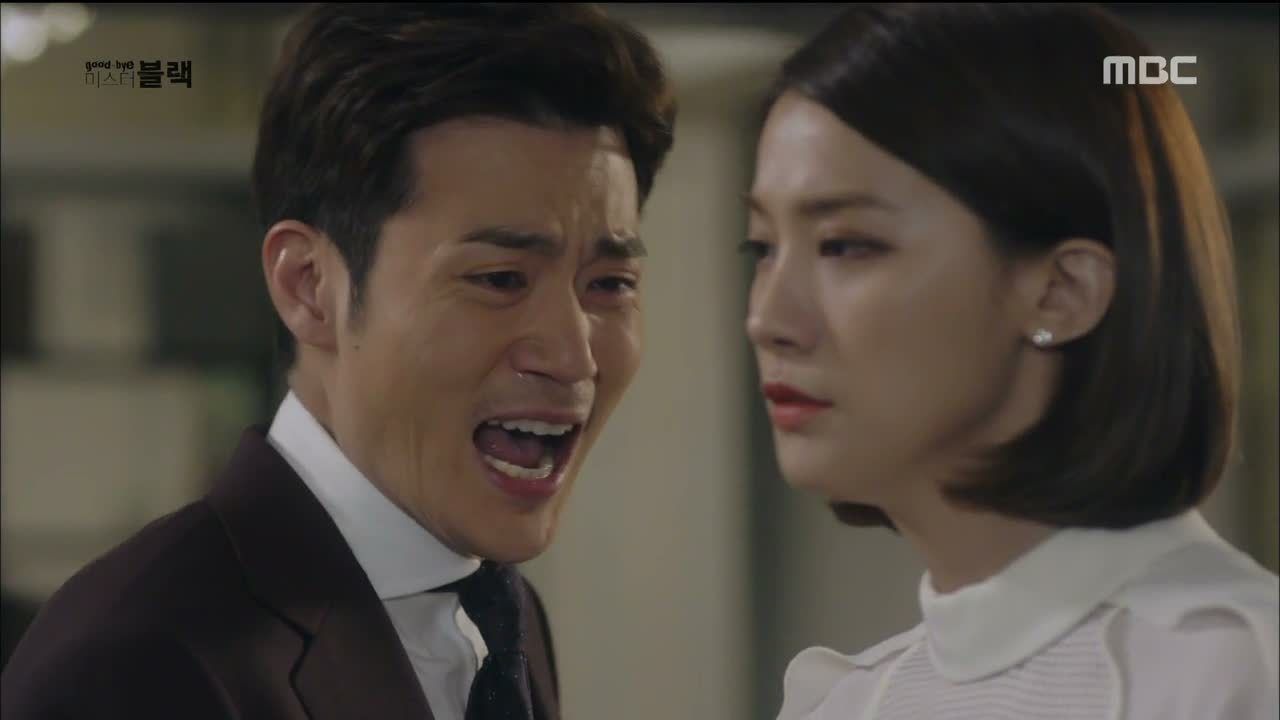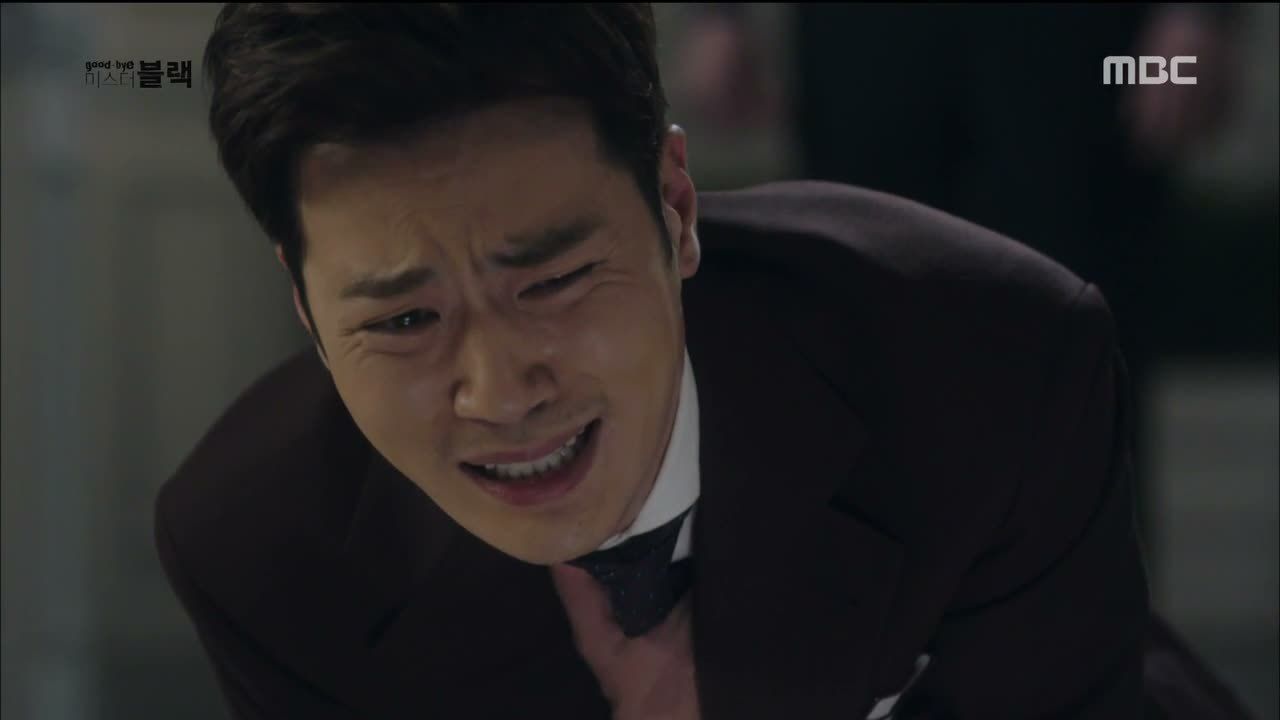 Still, she walks out, and Sun-jae runs after her screaming for another chance. She says she can't trust him anymore, and he holds her back one last time screaming, "DON'T GO!" He actually starts to have flashbacks to that night when he begged Black's father for a second chance and was so coldly rejected, and Mari's response eerily mirrors the scene.
Sun-jae asks the same question he'd asked Black's father that night: "Would you have done the same to Ji-won?!" And Mari answers the exact same way, twisting that knife right into his heart: "Ji-won wouldn't have done this."
She leaves with her suitcase, and Sun-jae collapses to the ground in huge, heaving sobs.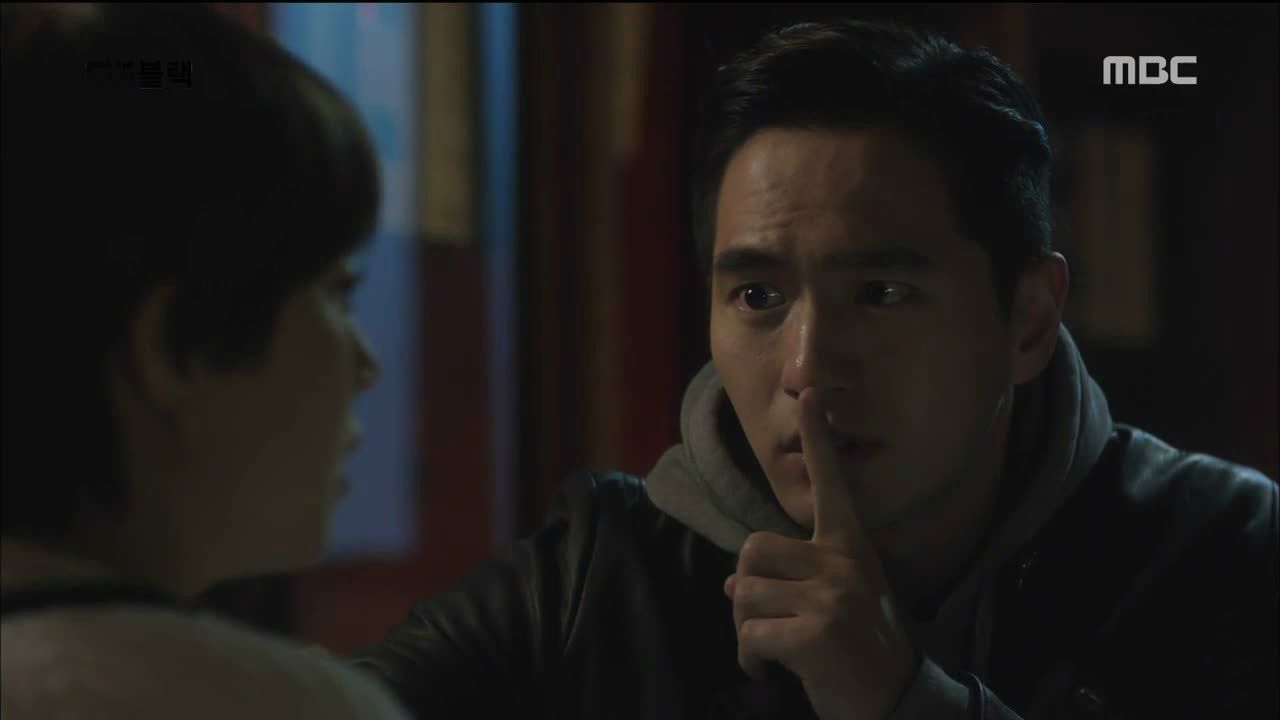 A figure in black (gee I wonder who that could be) breaks into Teacher Baek's house late that night. He's wearing a mask, but it's clearly Black, and he creeps through the house undetected until he gets to Swan's room.
He wakes her up and says, "I'm sorry, I can't wait for you. There's no time. Let's be together." He takes her hand and says, "Let's go," and she looks up at him, hesitating.

COMMENTS
Go, make a run for it! Just ignore the part where his confession doesn't make a lot of sense, and just run away from your scary evil daddy! It seems the thing to do, though I'm convinced that Swan went to Teacher Baek intending to be a double agent for Black, so I wonder if she'll reject his offer to run right now because she has a bigger plan in mind. That would have to be the case for her to leave her awesome oppa and mom, right? I think it's a decent plan, assuming that Teacher Baek is a human with feelings (this is a rather big assumption to make for him, but let's just say he loves his daughter), because Swan has a chance of swaying Teacher Baek's power in Black's favor, or finding real dirt on him, or all of the above.
Frankly I think all the boys in this drama give her too little credit because their love turns them into over-protective oppas, and they ignore how much Swan has done on her own up against men like Teacher Baek. Hell, she did more in that stockholders' meeting to shake up Sun-jae than Black did, all without breaking a sweat. So it makes me happy that she's returned to her job and has started to make her own choices without needing Ji-ryun or Black to make them for her. I especially enjoyed her assertiveness with Black in this episode, because once she decided to agree with the pretense that they were broken up, she found ways to be with him anyway. I know Black has good reasons for pushing her away, but come on, does he really think she'll somehow be less heartbroken by his death if they spend less time being a happy couple?
IF Black's breaking-and-entering stunt is him not being a noble idiot anymore, I'm all for it, though we'll have to wait till next week to be sure he won't pull away again. Maybe seeing her with Teacher Baek made him throw caution to the wind, in which case I'm glad she moved in. At least there's some development on the romance front, because frankly I'm not sure that Black's plan for Sunwoo Group is all that sound, and the writing in this drama has never fully earned my trust to make me think they've got it under control. Does he actually want control of Sunwoo Group, or does he want to raze it to the ground and leave everyone with nothing?
Strangely enough, Black's revenge is actually weaker than Mari's revenge now, which is scarier on a gut level because she can be vengeful and unpredictable even on a good day, not to mention the fact that Sun-jae wronged her in a really twisted, messed up way. I actually expected her to torture him more with head games before leaving him, but I guess with Sun-jae, taking away the only person he's ever loved is the biggest punishment. I'm just always amazed every time I feel pity for Sun-jae, because he's so horrible; but he's so insecure and weak that it makes him human and pitiful, even when he's grasping at phantom babies to try and manipulate his wife to stay. I mean, who does that?! I just wish that Black had a more active hand in masterminding Sun-jae's downfall, because in a better drama that had a little more finesse, Black would've been the one to tip Mari off to the fake pregnancy on purpose, so that she'd leave him. And he would've been the one to leak the truth about Swan's parentage to Teacher Baek, knowing it would drive a further wedge between him and Sun-jae. It's all stuff that's already happening in the story, but wouldn't it be like twenty percent better if Black were actually responsible for bringing the house down? Just sayin'. Revenge is cooler when it isn't accidental.

RELATED POSTS
Tags: Episode 14, featured, Goodbye Mr. Black, Kim Kang-woo, Lee Jin-wook, Moon Chae-won, Yoo In-young