Goodbye Mr. Black: Episode 7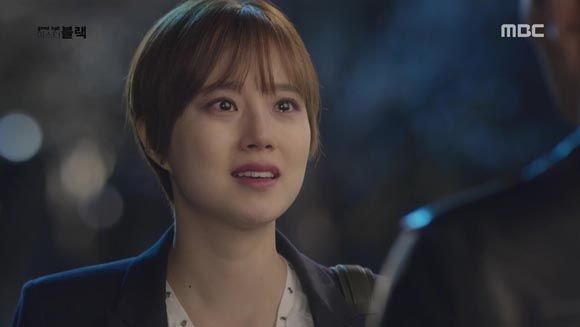 I do think Goodbye Mr. Black is settling into its rhythm, as the various teams (and there are many!) solidify and get to work on their various schemes and goals. Granted, that rhythm is of the awkward and uneven kind, but there's still charm to be found amidst the jerky parts. Most of that charm involves Swan, so I'm always happy to have her onscreen more—even if I have to admit I look forward to her chemistry with a side character more than the main one. Are we doomed on the shipping front? Is there a denial strong enough to float us when things inevitably go the other way?
SONG OF THE DAY
Urban Romantic City – "Brave" [ Download ]
Audio clip: Adobe Flash Player (version 9 or above) is required to play this audio clip. Download the latest version here. You also need to have JavaScript enabled in your browser.

EPISODE 7 RECAP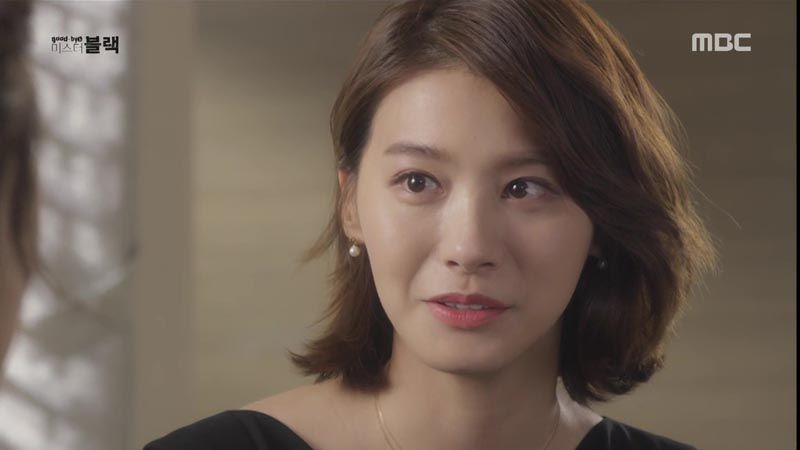 Mari makes a friendly call on Swan's adoptive mother bearing gifts. She calls them a thank-you for being a donor to the foundation, but from the way she casually drops Swan's name and asks about her, it seems more like Mari's out for information. Mom explains how Ji-ryun brought Swan home from Thailand five years ago, and Mari files this away.
Swan is alarmed when the lights cut out while she's in the parking lot, and gets pulled aside by Black, who finally shows his face to her. He quiets her while another scene unfolds nearby—Killer gets confronted by a man on a motorcycle—and Swan can't stop herself from grabbing Black in a hug, saying she knew he'd be alive.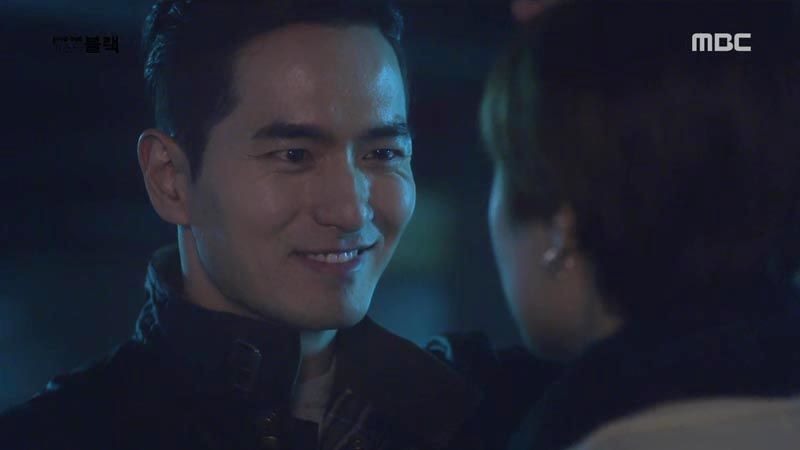 Black takes note of the biker-Killer fight and urges Swan to wait safely in the car, promising to come back. She's loath to let him leave but agrees, and off he goes.
Killer somewhat comically kicks the biker off his motorcycle, but he knows his target is elsewhere and takes off for the building after Black. We see that the biker is Black's sidekick, presumably acting as a distraction.
Inside a dark corridor, Killer calls in to Teacher Baek that he's mid-pursuit, just as Black shows up to knock him down with a swift punch. They grapple and exchange blows, and although Black gets in several good hits, he starts to hear ringing in his head—ack, that shrapnel wound is acting up!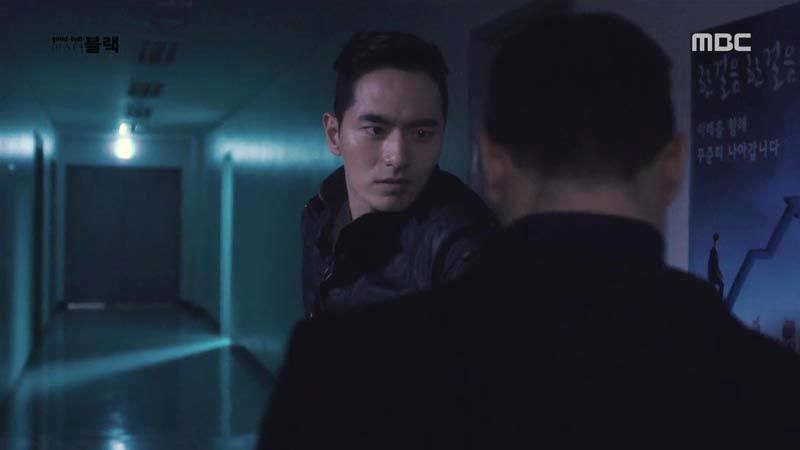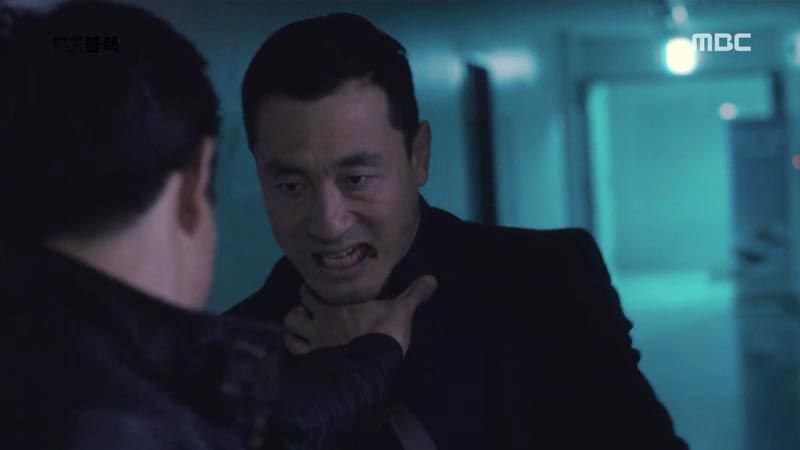 Even so, Black presses on and gains the upper hand, judging from how all the blood shed is Killer's. He knocks him down demands to know who Killer's "owner" is. Killer replies, "Your friend, Min Sun-jae."
Black picks up the dropped phone to resume Killer's interrupted call, asking if the other person is Sun-jae. It's Teacher Baek, but he remains silent as Black warns that whoever he is, he'd better hide carefully if he doesn't want to be caught.
And then, Sun-jae arrives to see Killer tied up and Black keeping watch, and the two ex-friends keep up the ruse that they're still on the same side. Sun-jae feigns ignorance about Killer's identity, while Black plays this like he trusts his friend more, as though it's funny that Killer named Sun-jae his owner.
He puts a hand on Sun-jae's shoulder and informs him that Killer works for the man who killed his father and framed him. What should they do about him? Sun-jae keeps his nerves under control and says they ought to let him go to trace him back to his real owner, and Black grins like that's the best idea ever. He even agrees that Sun-jae was right to convince him not to turn himself in.
Swan waits for Black in her car nervously, telling herself that he promised he'd come back. So she's relieved when he shows up at her window, all smiles, and assures her that he didn't forget her.
Killer gets dumped before Teacher Baek, still tied up, and Sun-jae advises that Baek get rid of him now that his identity has been outed to Black.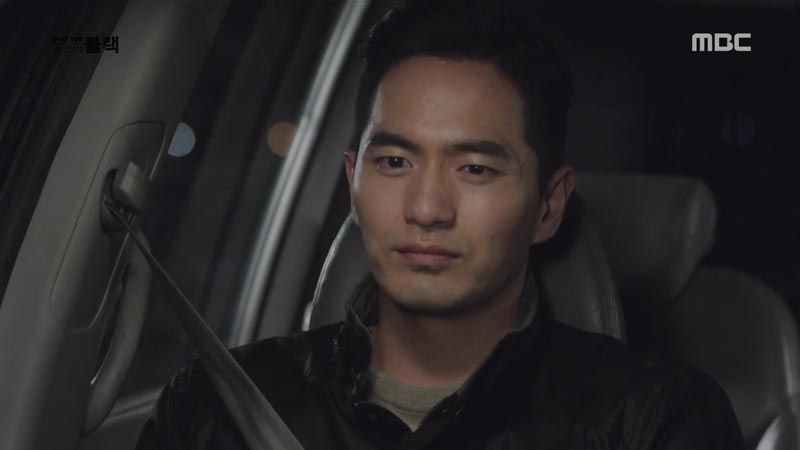 As Swan drives with Black in the car, he quips that it's nice to have a car for quick getaways, rather than running on foot like before. She replies that she liked when they held hands and ran, taking one hand off the steering wheel as though she wants to reach for him. Black notices, and he places his hand on top of hers… to return it to the wheel, advising her to drive safely. Aw, it's still sweet how happy the gesture makes her, and when he nags her to look ahead instead of at him, she teasingly swerves the car.
Mari shows up at Panda's office to speak to Swan, and ends up waiting for a while. Sitting at her desk, she spies part of a photograph, and pulls it out to see Swan and Black together, that one day in Thailand. A reporter calls it Swan's "wedding photo," and that gives Mari quite a shock.
Swan gets a phone call from Editor Woo-jin ("Leech" in her phone, ha) while she's at a cafe with Black, who nags her to get back to the office. She lies about being completely free, wanting to spend more time with Black, and starts to remind him of the lantern wish they made in Thailand.
He cuts her off to ask a favor, though, asking her not to get involved in this whole Sun-jae and Teacher Baek business. She counters that she's investigating for herself, not for him, because she know they killed someone. He starts to say with regret, "If you hadn't met me…"
She interrupts, "I would be digging through the trash." She explains that she knows what it is she has to do now, whereas before she didn't have purpose to her life. "Meeting you, I started to want to live," she tells him, adding that it just happens that her work and his goal are the same thing.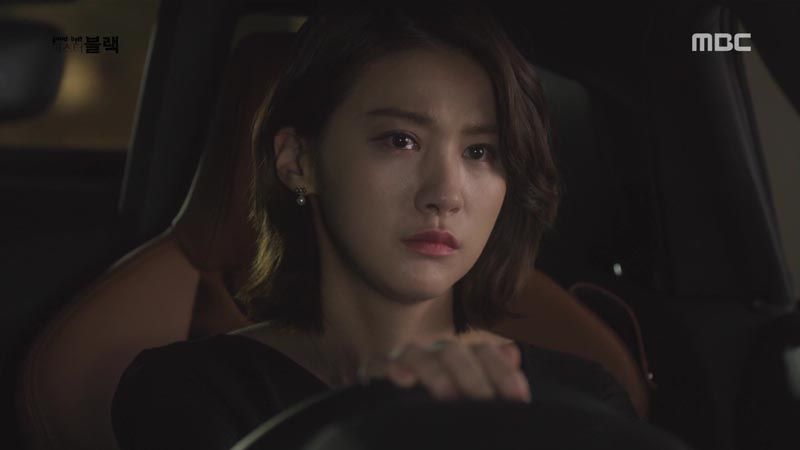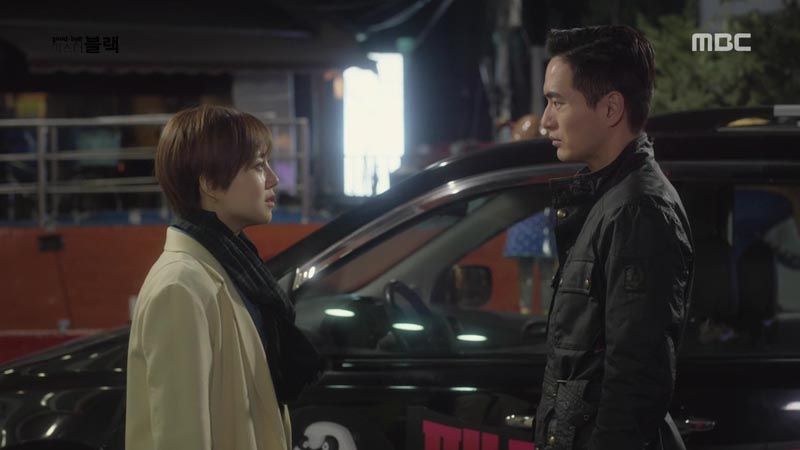 In her car, Mari keeps waiting for Swan outside the news office, rattled by that photograph. It's another shocker to see Black arriving with her, and her gaze hardens to see Swan lingering to see him go.
Swan's in a great mood as she gets to work, and it makes Woo-jin curious and suspicious. He tries to prod her for details on what she was doing and with whom, and if it were anybody sharper than Swan, it would be obvious that he's (cutely) jealous. But Swan's mostly alarmed to hear that Mari dropped by, worrying that she might have seen the "wedding" photo.
At home, Sun-jae gets restless to have Mari out so late, and when he hugs her, she jumps and disentangles herself. He asks if she was with Swan's mother this whole time, watching carefully for her reaction as she says yes, not revealing that he'd just called and confirmed the contrary.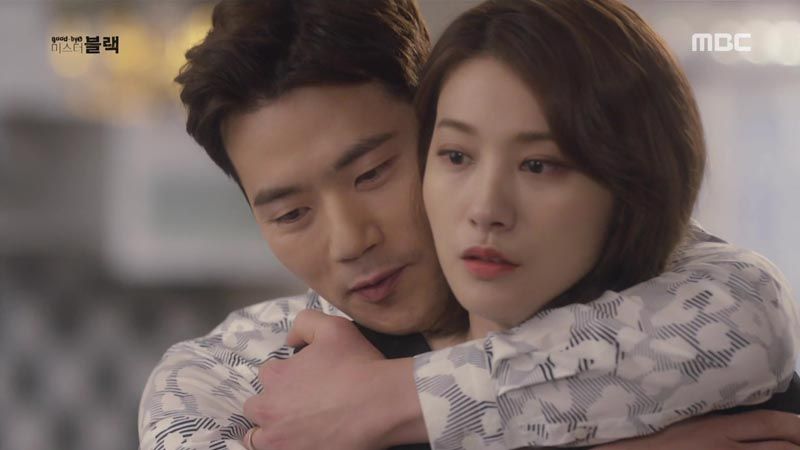 Then late that night, he snaps to alert when Mari slips out of bed and takes his phone to call Black, asking to meet tomorrow. She deletes the record of the call, but Sun-jae has already heard everything. I guess I could feel sorry for him, or for her, but really I think it might be more gratifying to see them shake each other down.
Swan turns in her story about Sunwoo Distribution and the illegal gambling broker, and finally gets Woo-jin's approval to print her story. Although Woo-jin expects an immediate reaction from the company, he admits to being a bit nervous and asks Ji-ryun for any other tips. Ji-ryun informs him of an MOA signing that'll take place between Sunwoo Distribution and MRB later in the week.
Then Ji-ryun takes a meeting with Sun-jae, who requests an extension on their debt bonds because he's working on a deal. He doesn't disclose what it is, but Ji-ryun has been informed by Black, who has asked him to help Sun-jae along in pursuing that casino and resort deal.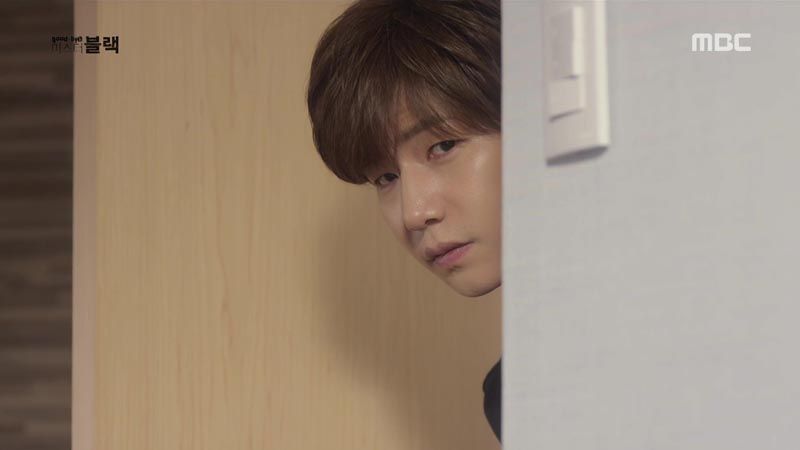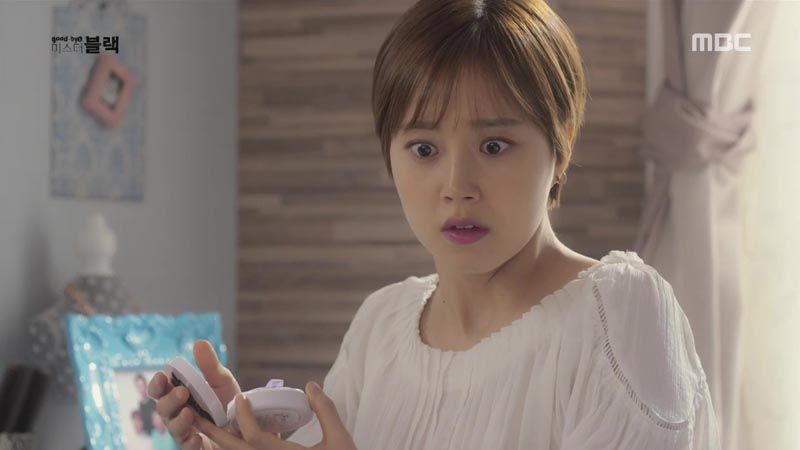 As Swan gets ready to go out, Woo-jin lurks in her doorway like a fool until her mother literally kicks him into the room, clucking at him for stealing glances. He reminds her of their office meeting today, though she points out it's not right now, heading out first to meet somebody.
Her path takes her through a park, where she happens to spot a familiar figure lying on the grass. It's Sung-min, who'd been out for a run with Team Black conspirator May, and now he's collapsed from the exertion.
Swan approaches, and as he yawns awake, they recognize each other. Sung-min covers his face and tries to pretend she's got the wrong person and runs away, but Swan isn't having it and makes a grab for him.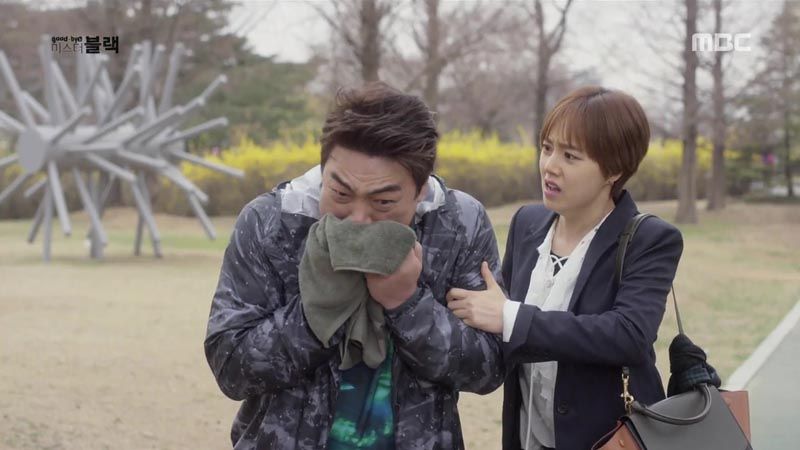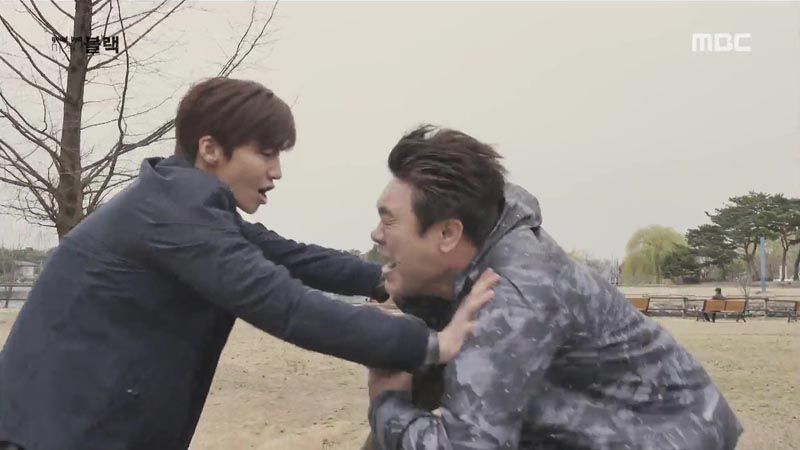 When Woo-jin shows up out of the blue, she orders him to catch the con artist, and Woo-jin takes off. Sung-min gets caught up to in no time, and Swan wastes no time taking him to task for ripping her off. A few of his offhand comments make Woo-jin look up in surprise, since he didn't know Swan used to dig through piles of trash.
Sung-min huffs that they should just go their separate ways now, then reports to Black that Swan will figure out that they're connected and mess up their plan before it even begins. He advises Black to take care of her, and fast.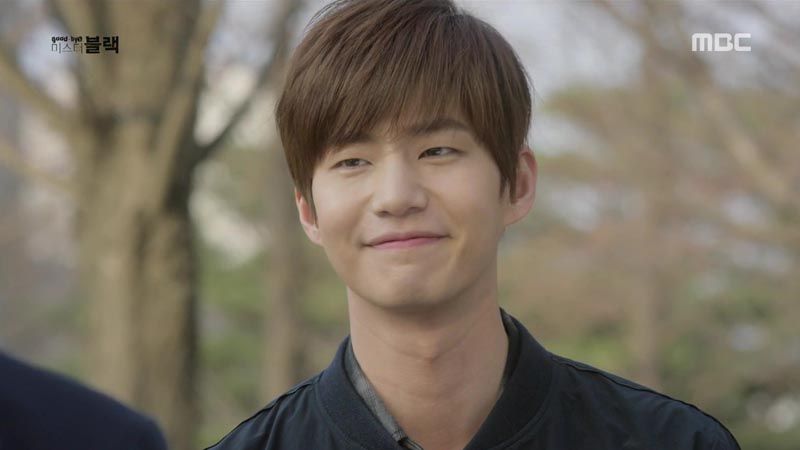 The encounter leaves Swan in a dark mood, and Woo-jin hesitantly trails after her. She figures he was following her, and he sheepishly admits that he was curious about who she was going to meet. But he sees that she's upset and apologizes for it, and gives her an hour off on top of things.
When Swan meets Black, she warns him of her run-in with Sung-min and urges him to beware, thinking Sung-min could turn on him. Black tells her somberly that it was a mistake to show himself to her yesterday, which hurts her feelings, though she insists he take a notebook, saying it might be of help in tracking down his missing sister. She assures him that she won't come here again, and heads off.
Swan perks up when her story pops up online, but when she clicks on the link, she gets an error page. Her co-workers make the same discovery—somehow, Sunwoo Distribution has attacked their homepage and taken down the site to prevent the story from getting out.
Teacher Baek has acted quickly, and in moments gangsters are at their door, ready to do some damage. Woo-jin throws himself at the gangsters to buy his team time to run away, getting thrown around pretty badly while the thugs destroy the office.
That lands him in the ER, where he's visited by his disapproving father. It's only now that the Panda team makes the father-son connection between Woo-jin and VP (formerly Director) Seo of Sunwoo Construction, and they watch as his father rips into him for daring to do something to endanger Dad's career. Sigh, poor son.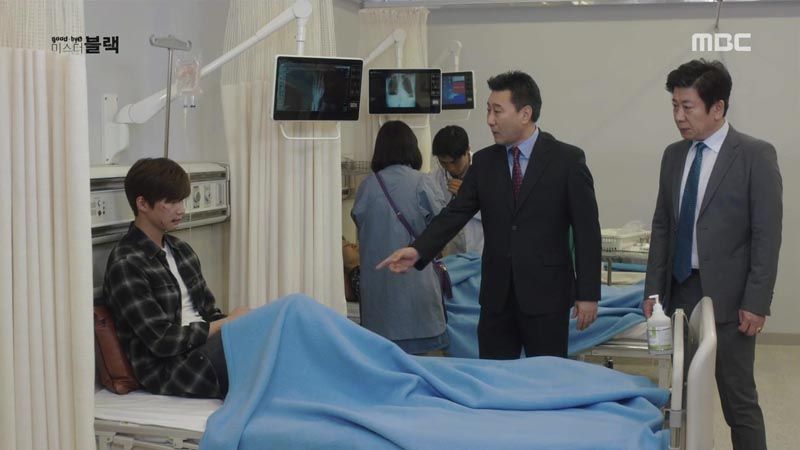 I guess Dad isn't entirely lacking in parental affection (just mostly), because he storms into Teacher Baek's office, thunderous that Baek would dare mess with his son. But Baek replies that if he'd acted, Woo-jin would be dead—whoever did this must be out to ruin Baek.
We cut to Sun-jae, just in case it wasn't clear who that could be, who is meeting with his own money-grubbing father. Dad tries to prey on Sun-jae's insecurities in arguing against Mari's words about returning Ji-won's money to him. But Sun-woo cuts him short, replying that Mari is right, and they should return Ji-won's money: "If there's anything left to give."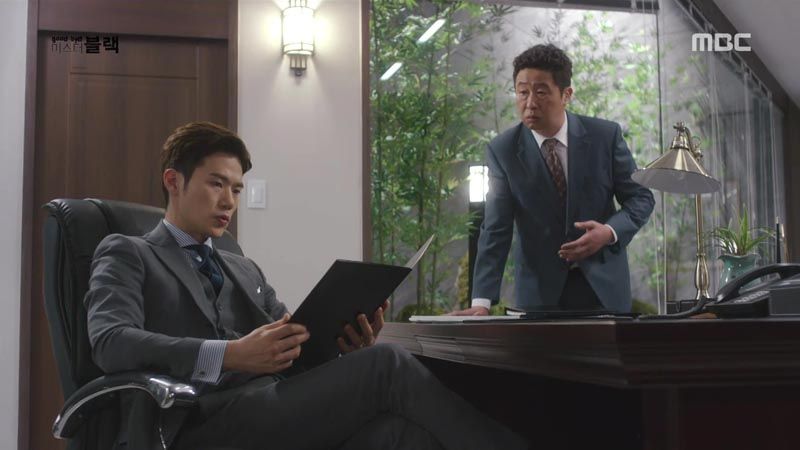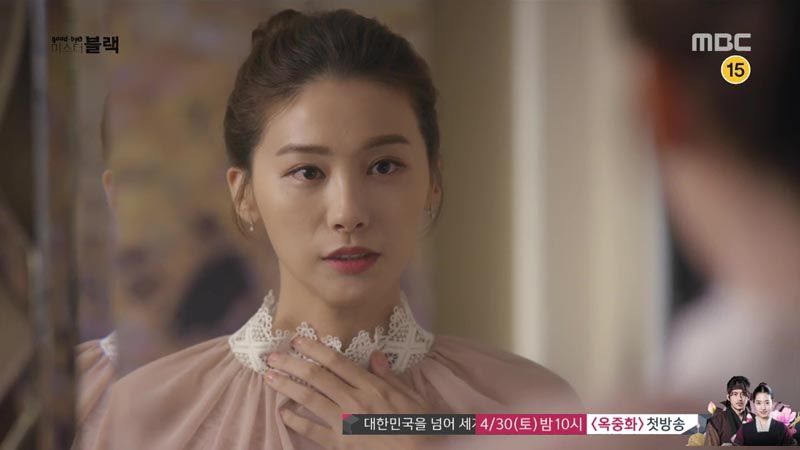 Mari gets extra pretty for her meeting with Black, only to be surprised by a house call from her doctor. Ah, Sun-jae has sent the doctor for a blood test, preventing her from going to the meeting… and then he shows up in her place, acting like it's no big deal that he sub in for his wife. He even calls Mari to tell her to have dinner prepared, since he'll be bringing Black with him.
Team Panda plans its next move, and Woo-jin's got his eye on the upcoming MOA signing. The press has been invited to cover it, and although Panda is likely to be shut out of it, Woo-jin declares that there'll be a way to get in and talk with the other outlets, spreading their story. His team thinks it's unlikely they'll succeed, but he reminds them of the adage that if you're dumb, just be braver. He puts Swan on the task, who's happy to do both those things.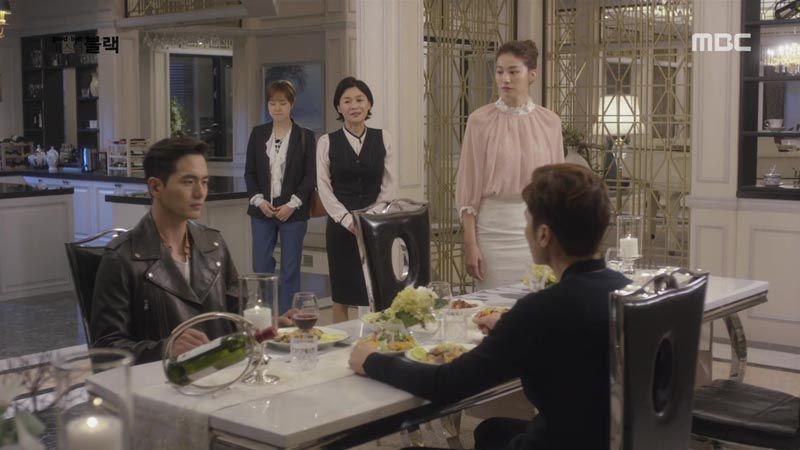 Mari surprises everybody by calling Swan to the house that night, using that promised interview as her pretext, but really wanting to see Swan and Black together. It takes everyone off-guard since it's clear she's got something up her sleeve, though she acts like this is a pleasant dinner and nothing's strange about this collection of people.
Swan offers to leave right away (for Black's sake), but he tells her it's okay, and the four sit down for the most awkward dinner ever. Mari mentions dropping by the Panda office and asking if it's true Swan was married, which makes Black furrow his brow while Swan says that was just a joke. Then Mari offers to introduce her to dates, asking what kind of men she likes, saying pointedly that she likes honest people. Well now that's just a lie, or highly ironic.
It's Swan who breaks first, excusing herself and suggesting a raincheck on that interview. Mari skips the hostess pleasantries to Sun-jae hurries to see her out, explaining that Mari's sensitive these days with pregnancy appointments and the like, and asks Swan to write an article about Sunwoo Group someday. She says pointedly that she wrote one today—didn't he see it?
Alone together, Mari asks Black why he came back. She gets emotional as she asks if he would take her if she went to him, admitting that his words shook up her feelings. Black says with realization, "You don't truly love me now—if you did, you wouldn't be shaken up. You would just come to me."
He excuses himself at that, and when Mari tries to follow him out, Sun-jae steps forward and grabs her arm. He asks harshly, "Do you think I'd let you go? After what it took for me to get you!" Aw, whatta romantic.
Black catches up to Swan outside, but before he can say anything, Swan reminds him that he'd wanted to return home and get Mari back. So go back and steal her away, she says, and offers to explain that she was only a fake wife.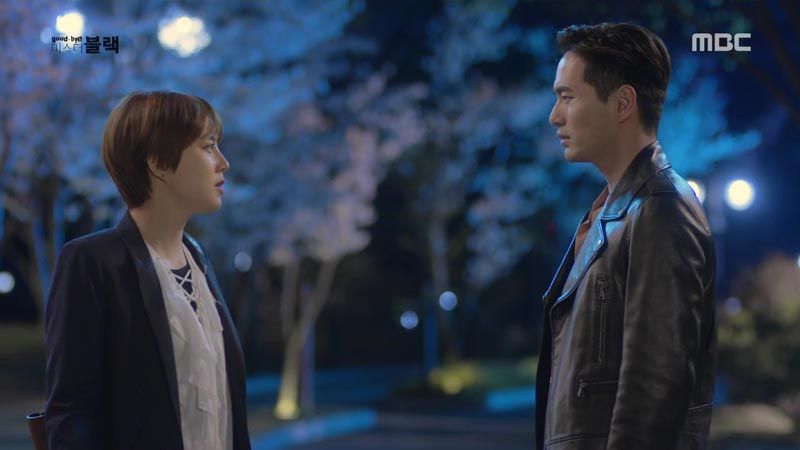 That night, Black reads through her notebook of news clippings and research over the years, and finds a handwritten note using his own words, "Spero, spera" (While I breathe I hope). She's written the encouragement that he'll be able to find his sister.
He asks Sung-min how long he can live. Sung-min answers as though he means it rhetorically ("I don't know, I'm not God"), but from his reaction I'm pretty sure there's a different medical answer.
Media day arrives for the Sunwoo-MRB resort deal, and Team Panda gets ready to make a splash. But when they arrive at the meeting hall, it's empty—the location has been changed last-minute, at Teacher Baek's instruction.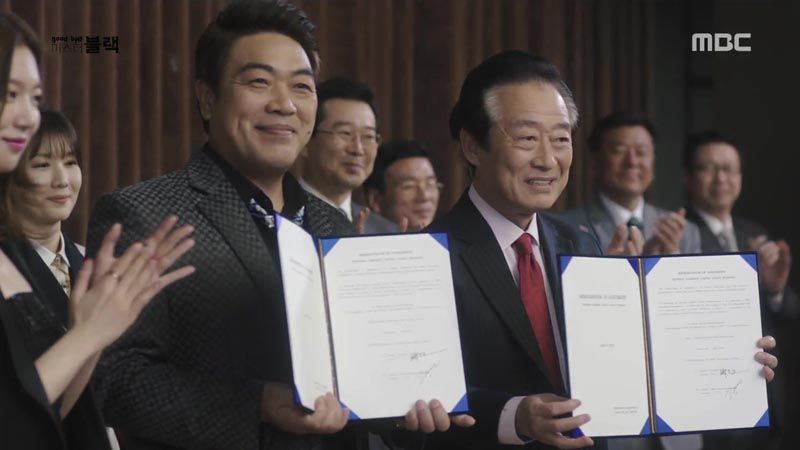 It's so sudden that even May and Sung-min aren't aware of the change until their driver heads for a different location, and Sung-min texts Black to let him know. That means Panda is all the way across town and stuck in traffic by the time the press conference gets underway, and Swan racks her brain for a backup plan.
It becomes clear they won't make it in time, and she makes a last-ditch effort by getting on her laptop and sending texts to the other reporters who are at the event. It's true that they are the reporters who have been approved by Teacher Baek, but she's pinning her hopes on the possibility that there'll be "one human" amongst them willing to go off-script to ask one of her questions.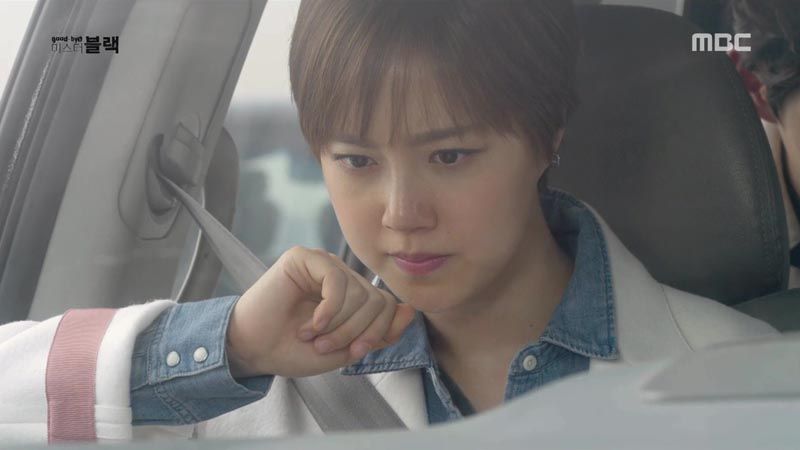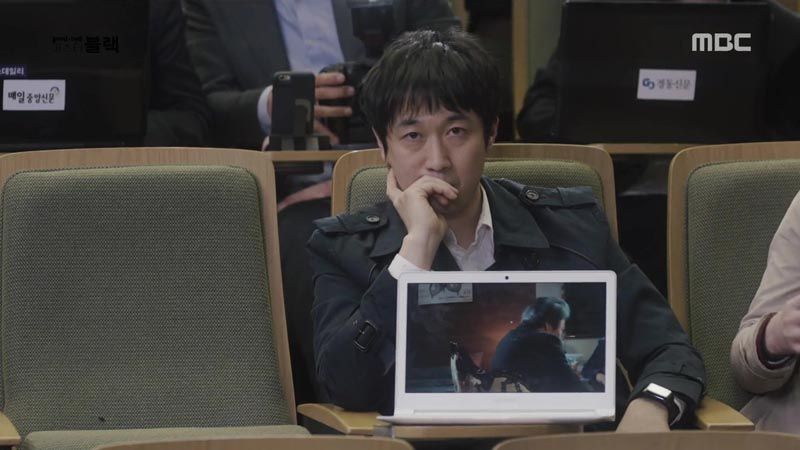 The MOAs get signed with big fanfare and the press is invited to ask questions, and mostly they're safe topics with canned answers about the plans for the resort. A murmur arises when Swan's text message barrage hits all the reporters, and finally one reporter breaks from the ranks to ask about Sunwoo Distribution's involvement in illegal gambling.
The question goes ignored, but the reporter turns his laptop around to play Panda's prerecorded video—it's an interview with that guy from the last episode, gambler and company president Park Ho-shik, who reveals that Sunwoo Distribution has been deliberately setting up and entrapping various company heads in the area to seize their land, which will be where the resort gets built.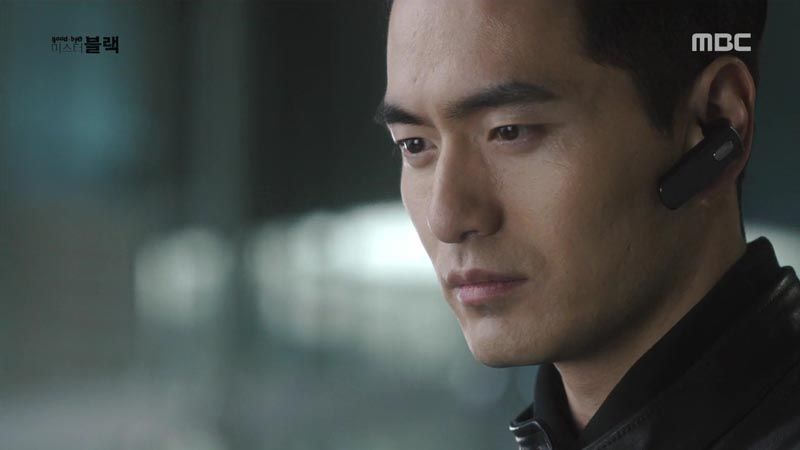 Furthermore, they've been caught forging contracts, dating the documents differently than when they were actually signed. Teacher Baek squirms in the hot seat, keeping his mouth shut while the room erupts into murmurs and speculation, and the MRB side walks out of the room in (feigned?) affront.
All the while, Black watches the proceedings from afar, while Sun-jae smirks in satisfaction. Meanwhile, the rogue reporter is told he'll get his promised position at a big paper—hm, so was this not really Panda's victory then?
Sun-jae dines with the MRB reps, aka Team Black, who act like this is a grave affront to their company. Sun-jae offers a different MOA for the resort deal, wherein MRB will join with his company instead, Sunwoo Construction. They toast.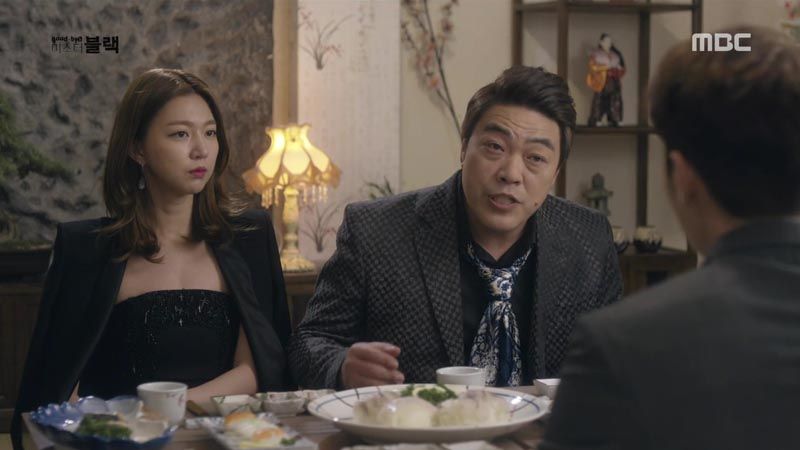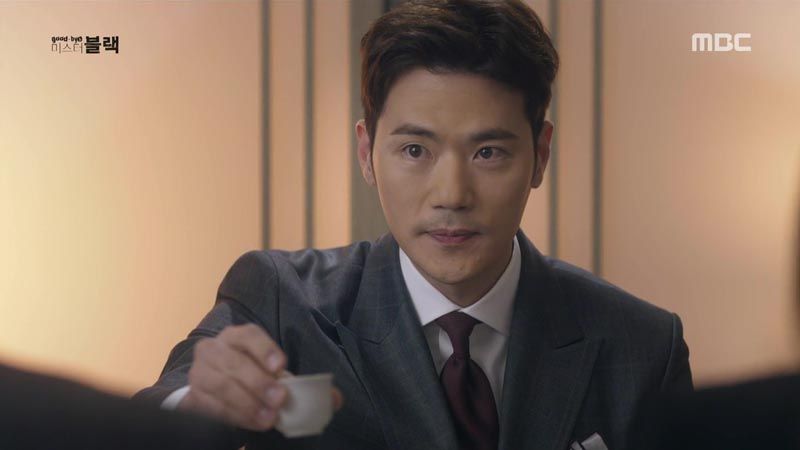 The Panda team celebrates too, with Swan's article still a hot search topic online. Swan's pretty tipsy as she drinks to her success, and demands that Woo-jin start paying her (and stop firing her). When she drunkenly gets up to grab some fresh air, both Woo-jin and Ji-ryun bolt up to accompany her… and it's Woo-jin who wins out. Hm, is that disappointment on oppa's face? Is he destined to play third lead, the way he always steps aside? Is it creepy that he brought her home as his sister if he likes her?
Woo-jin comes up to Swan as she's talking to Black (well, talking to her phone as though it's Black), asking if he saw her article today. Woo-jin asks if she wants to call "the fake husband who's in heaven" and says that he will have seen her in action today. (Wait, is he her fake dead husband? I guess that would explain why he's not around.)
He tells her she did a good job today, and then surprises her by saying his next topic of research will be her—he's so curious to know what's going on in her head that he's making it an official assignment for himself. While she's working out what that means, he leans forward and kisses her—and she yelps, "Are you crazy?!"
Huh, and then from a distance, Black sees the exchange from his stopped motorcycle. He drives on.
Swan starts crying, which is hilarious.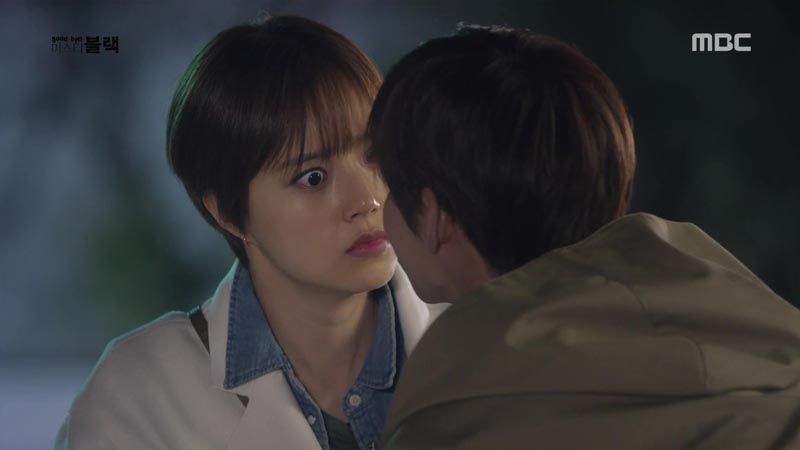 The next day, Black takes care dressing up in—what else?—all black and holds Swan's carved compass in his hand.
Sun-jae is dressed all in white, meanwhile, because Irony and Contrast, and arrives for his meeting with MRB's team and their newly arrived auditor. And who should be sitting in that seat but Black.
Sun-jae's eyes widen as he introduces himself, then proposes, "Shall we begin the inspection of Sunwoo Group?"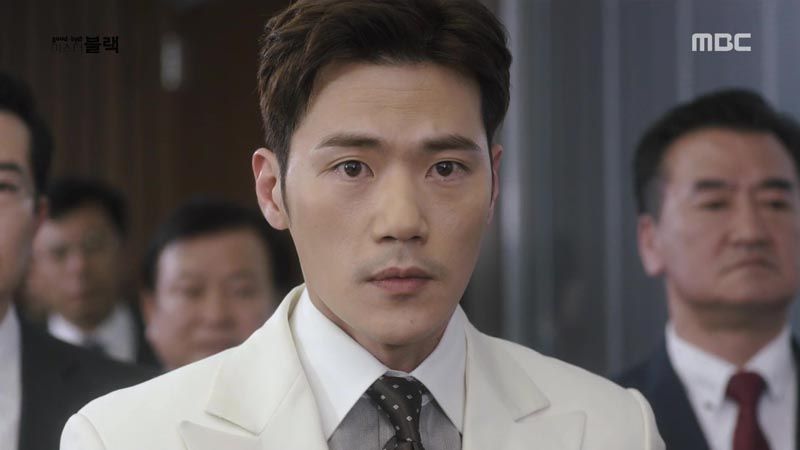 COMMENTS
That ending finally brings us to where I wanted this Black-Sun-jae conflict to go, so okay, you get points for that—I do think this sets us up nicely for future confrontations and butting of heads. I just can't believe the show outed Black ages ago, had him wandering around willy-nilly in Seoul, and then pulled this kind of DUN-dun-dun reveal, because now there's no dun. All the excitement it could have had has already dissipated—and why would you choose that? I'm honestly really confused about it.
I don't necessarily think we had to cut from Episode 4 to Episode 7, because there were events in between that were fine—I enjoyed catching up five years later and easing into this contract war with a few side missions first. But… the choice to have Black show up early and loiter around his old friends' lives isn't just bad because of the anticlimax it brings now, but also because it makes Black seem rather aimless as a character. Swan is running around industriously and Sun-jae's busy trying to take over everything, and Black… mysteriously has a plan that entails him hanging around idly for a while, looking cryptic.
That's part of the reason I find the lead romance a little flat, which is too bad because I don't necessarily think it's a matter of chemistry or even story. When we get reminders of Black's brain injury, I can see why he may be reluctant to commit to anything other than his revenge plan—plus, that kind of uncertain prognosis actually works well with his character, in that it can lend him a recklessness that could be very compelling to watch. He could be stronger, fiercer, and less concerned with self-preservation if he suspects he may go down in the end too. Wouldn't that be exciting?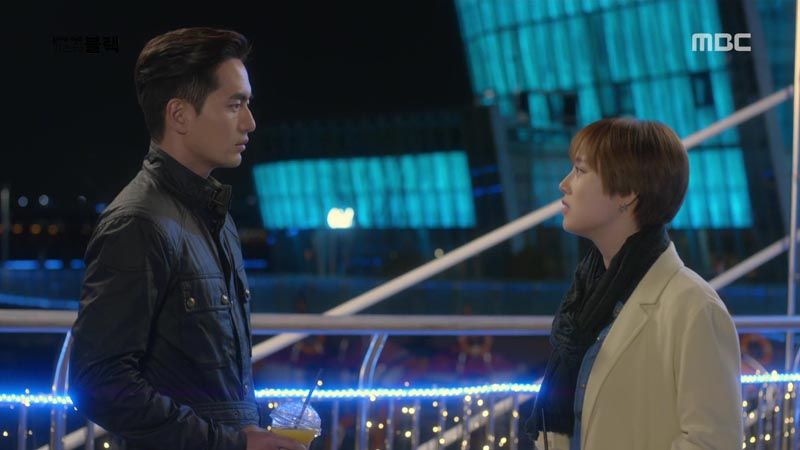 I don't think I'm reading too much into the show to see those elements, but I also don't think the show is doing much to work that angle either. Alas, I think the writing is doing a lot of surface-level work without getting too deep underneath, but since the cast is generally strong, we're getting good things out of the characters anyway.
An example of that kind of surface writing is the press day plan, which turns out to be really quite simple—Woo-jin called it dumb meaning brute-force and simple, but I still thought it should be more clever. I didn't want a rip-off of that great storyline in Healer, but I couldn't help but wish for something clever like that, that showcased our team's resourcefulness and wasn't entirely dependent on the kindness of strangers. (Although I am intrigued about that reporter—was he paid off by someone else? Sun-jae, who looked so smug? Or Black?)
For me, the shining moments are turning out to be the Panda team in action, largely because it puts Song Jae-rim and Moon Chae-won together with their odd-couple dynamic. I love how dense she is about his interest, although poor guy, that interest is so unreciprocated it actually is funny. I mean, you're very cute, Woo-jin, but is that the body language of a girl who sees you romantically? Either way you answer, you're kind of doomed. Poor panda.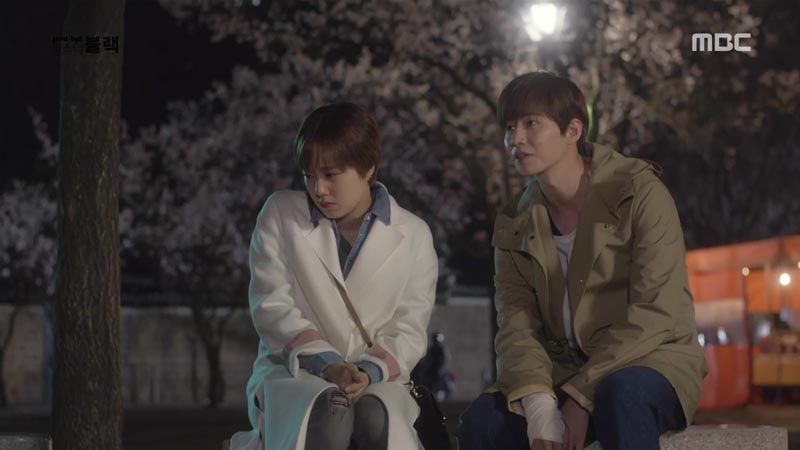 RELATED POSTS
Tags: Episode 7, featured, Goodbye Mr. Black, Kim Kang-woo, Lee Jin-wook, Moon Chae-won, Yoo In-young