Goodbye Mr. Black: Episode 9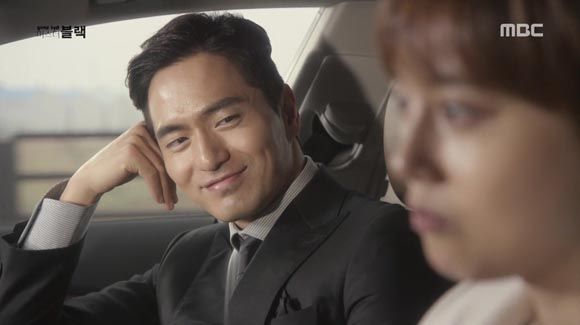 Somewhat to my surprise, things get better this episode! I'm not about to take it for granted, so I'm grateful for the upturn. It's true that the messiness is still messy and the crude editing still feels crude, but I finally felt emotionally drawn in by the plot, and that's a big step forward in my book. We also get a bit of lightness and cuteness mixed in with the emotion, which is fine by me since I do enjoy a cheeky Mr. Black.
SONG OF THE DAY
Bae Soo-jung – "제자리 걸음" (Walking in place) from the Goodbye Mr. Black OST [ Download ]
Audio clip: Adobe Flash Player (version 9 or above) is required to play this audio clip. Download the latest version here. You also need to have JavaScript enabled in your browser.

EPISODE 9 RECAP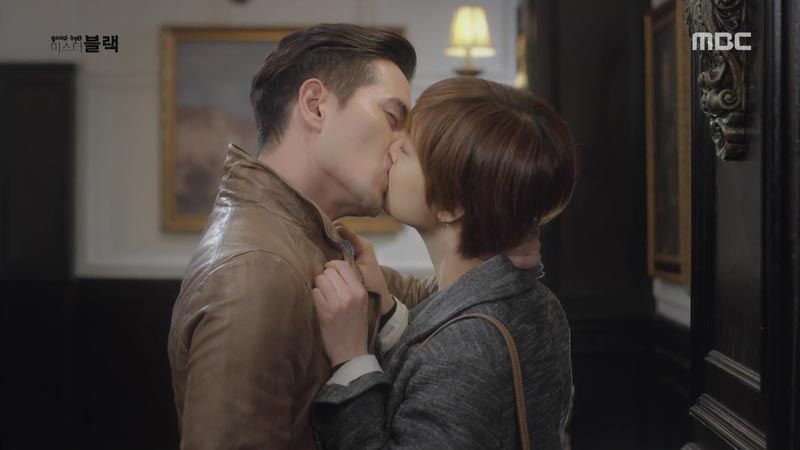 Black swoops in to rescue Swan from Teacher Baek's clutches (although really, I thought she was doing quite well sassing the old man) and pauses in the hall to tell her he was afraid of losing her. Then he adds that he's a murderer (in the eyes of the law) and that he has feelings for her, giving her the chance to run away now.
But Swan isn't about to run after that, and gives him a sweet peck on the lips, which he returns with more ardor.
Sad Dark Blue Panda Woo-jin crouches outside Swan's house, putting the pieces together now, and either guesses that Black is Ji-won or is well on his way to that conclusion. He startles Mom when she steps outside and says he was just resting his legs here, and asks when Ji-ryun will be in.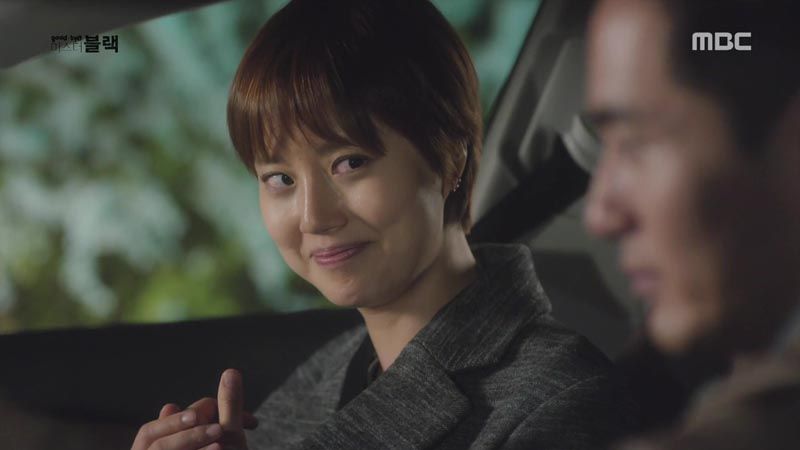 In the car, Swan can't keep the smile off her face, and Black teases her about her comment that she preferred running away on foot holding hands to making a getaway in a car. He offers his hand to her, and she takes it happily.
Black pulls the car over suddenly, and when she looks at him in surprise, he kisses her hand. He asks why she's so shy now when she kissed him first and points out that they were even married.
Then he turns more serious and says, "Because of you, I started wanting to live again. And when you look at me, it makes me want to live even more. So from now on, just look at me and follow me." She agrees readily.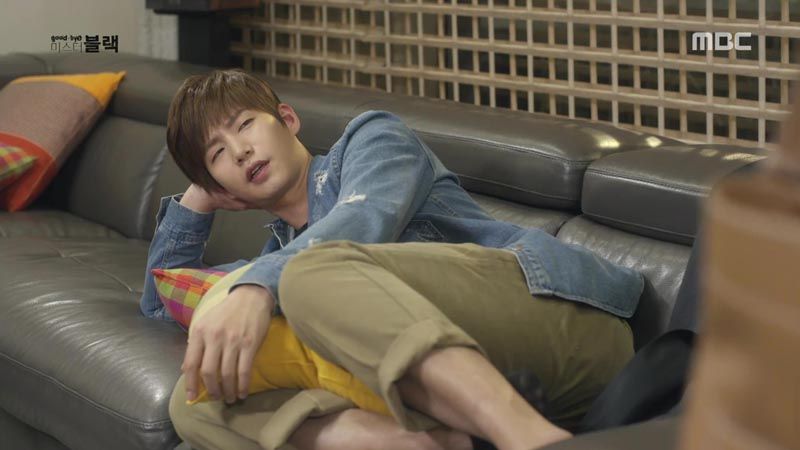 She practically bounces into the house in a great mood, but stops short to see Woo-jin sulking on the couch, who barks at her for not listening to his instructions to come home directly in case her exposé put her in danger. He gets grumpier to hear that Ji-ryun won't be home soon and trudges out huffily. Mom scolds Swan for risking her neck with her latest report, but Swan appeases her with hugs.
Sun-jae requests another favor of the prosecutor, this time to confiscate that damning illegal gambling list in Swan's possession. The prosecutor is less willing to step in a second time, but Sun-jae offers him a sweet deal at the planned casino resort, and just like that, a man's honor is bought.
At home, Swan catches a glimpse of the elephant picture hanging on her own wall and wonders at the elephant painting that was in Teacher Baek's house. They're not the same artwork, but a dark feeling runs through her as she wonders, "Why elephants, of all things?" Do tell us!
Black texts that he'll pick Swan up in the morning, and she calls to ask why. She's pleased when he says he'll take her to work from now on, and they chat lightly in that flirty way that couples do, though Black wraps things up quickly when he sees Sung-min eyeing him suspiciously.
Sung-min nags him like a wife, whining at him for being out all night while he was home worrying, and wants to know if the reason is a woman. Black pointedly avoids answering and deflects with jokey responses, leaving Sung-min hanging.
Ji-ryun comes by with valuable information regarding the Thailand events from five years ago, procured via his extensive network that includes the children his organization has helped over the years. Black entrusts Ji-ryun with the evidence his team has collected, which will help free him if Black is arrested.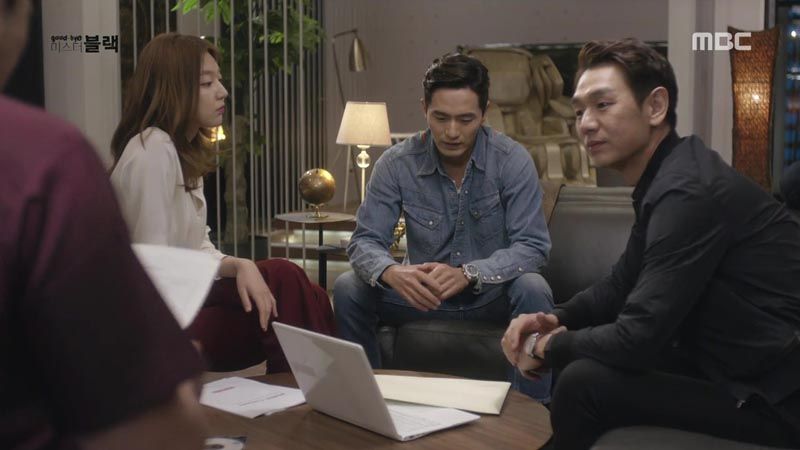 This includes the information they've found in the corporate audit, as well as data stolen from VP Seo's computer. Among them is evidence of Sun-jae's and Teacher Baek's slush funds, and the stolen bid that started everything in Thailand.
Ji-ryun warns that while the information can be used as evidence in court, revealing it could ruin Sunwoo Group—a prospect Sung-min balks at, since a worthless Sunwoo Group means less money to collect for him. Black just tells him to save the dying company, like he saved a dying Black.
Black tells Ji-ryun about Swan being taken by Teacher Baek earlier, assuring him that she's safe but admitting it alarmed him into wondering whether his plan is a good one. He's acting on the assumption that Baek has Ji-soo in his custody, because if Sun-jae had had her, he'd probably have killed her—she wasn't useful once she gave power of attorney to Sun-jae.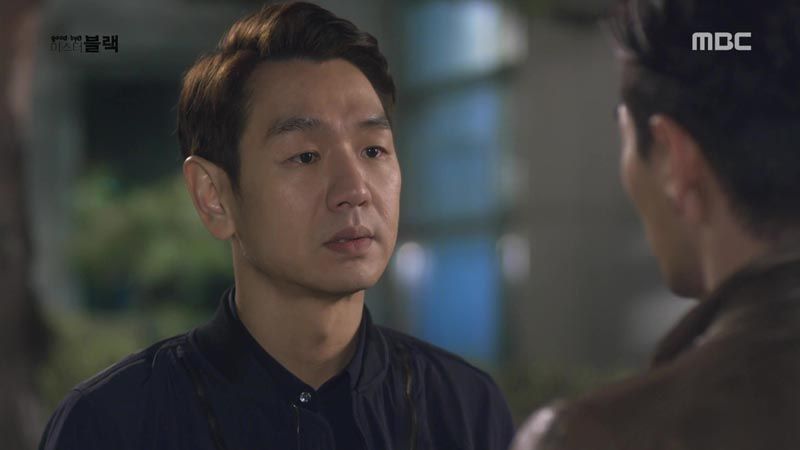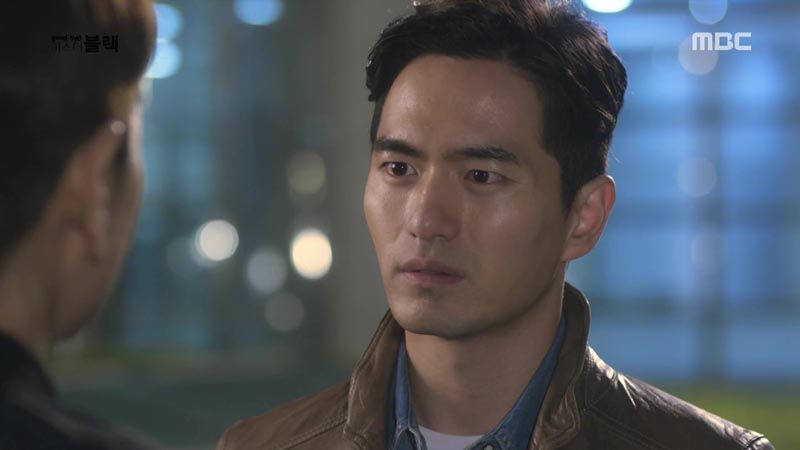 Ji-ryun says encouragingly that he's sure Black's sister is alive, and Black says he'll make sure that Ji-ryun's sister will be safe, too: "I'll keep Swan next to me and protect her so she won't get hurt. Is it okay if I do that?" Aw, it sounds rather like a statement of intent/request for permission, and poor passive Ji-ryun just replies that Swan should be the one giving her permission—if she's fine with that, so is he.
That night, Mari is distracted by the housekeeper's comment that Black's assassin got shot in the shoulder. She asks Sun-jae about that scar on his arm, which he brushes aside lightly as an old training injury. Her question puts him on edge, and he checks with his father later about whether he mentioned it. Dad hasn't, but outside the door, Mari hears the conversation and is shaken by it.
Black gets dressed in the morning with extra care, pinging Sung-min's suspicions again. The questions get deflected as usual, with Black merely saying that he's gotta go to the Sunwoo Group emergency stockholders meeting where Teacher Baek will be fired. Sung-min's not buying it, smelling more in the air than a mere meeting.
Black shows up outside Swan's house, though she pouts a little that he didn't pull his car up to the door and escort her in like they do in all the movies. He puts the key in her hand, though, saying that reality's a bit different, and insists that she drive so he can watch her face the whole way. Which he then proceeds to do, staring openly all the way.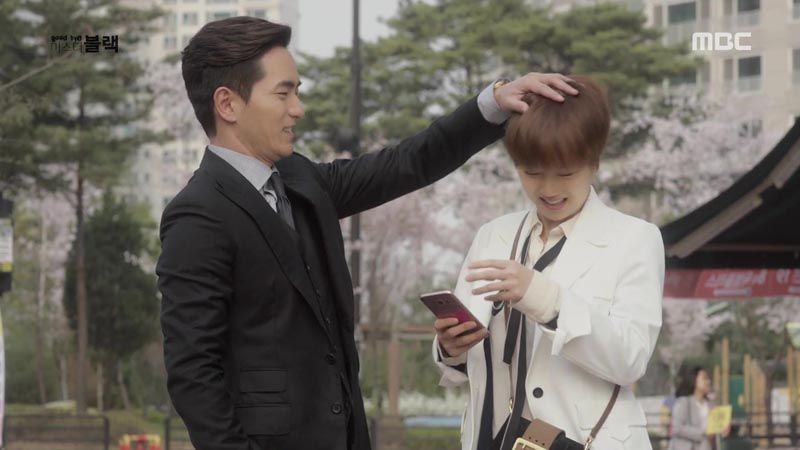 Swan literally stops the car for a PPL break (pay with your Samsung phone!) and sends money to an investigator in China to resume searching for Ji-soo. Black swipes her phone playfully and notes that her account is practically empty, blaming Woo-jin for not paying her enough. She says Woo-jin's even poorer than her, and calls him a defender of the people and a smart law school graduate. Black notes this with a twinge of jealousy, though Swan scoffs that Woo-jin's not a man to her. Poor Blue.
Over breakfast, Mari is withdrawn and a bit testy with Sun-jae, which catches him by surprise, although the housekeeper smooths it over by explaining that pregnancy can make her moody. Sun-jae bolts up when he gets an alarming text message—it's a video of Ji-soo, very much alive.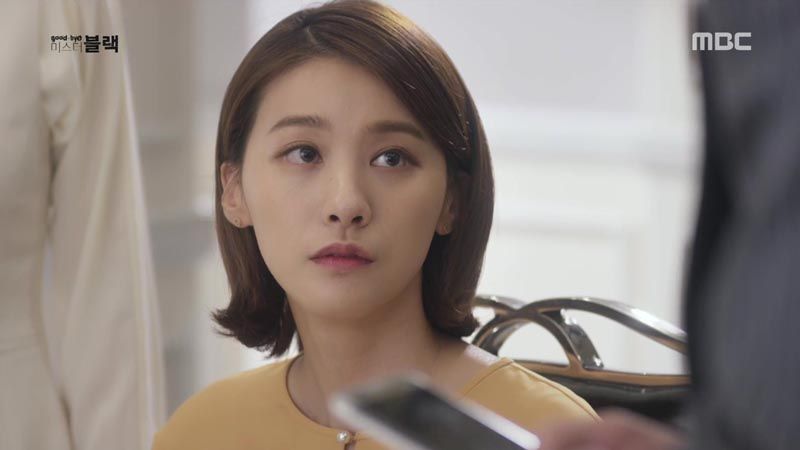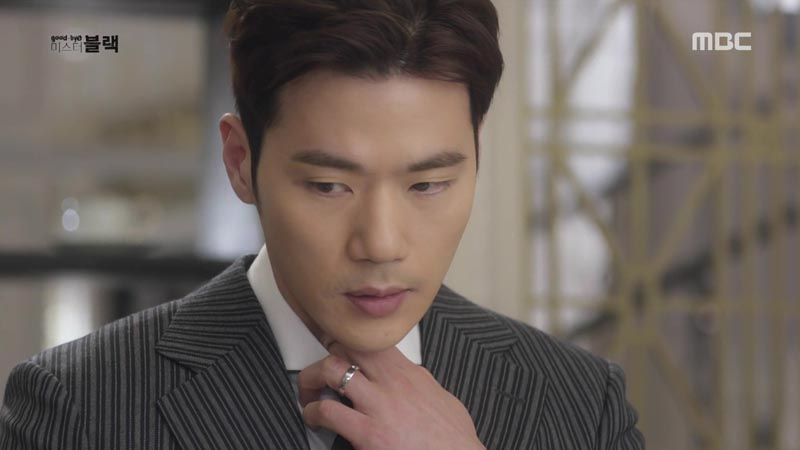 He storms into his office to have words with Teacher Baek, guessing that he's had Ji-soo in his keeping. Teacher Baek doesn't seem worried at all about the emergency board meeting intended to oust him, and insinuates that Ji-soo could waltz in as the true heir and rescind her power of attorney. Sun-jae growls that Ji-soo's appearance wouldn't change anything, but he's certainly unnerved at Baek's threat to tell Mari all about what he did to Ji-soo.
In case we forgot, that includes stuffing her body into a laundry cart intending to dispose of it, if only Killer hadn't been nearby to witness Sun-jae's suspicious activity. When Sun-jae had stepped aside for a minute, it was Killer who carried Ji-soo away.
Teacher Baek says that Sun-jae had better hurry and get to Ji-soo first, before Black can find her. He gives the hotel name and room number, and Sun-jae has to choose whether to go to his meeting or go after Ji-soo.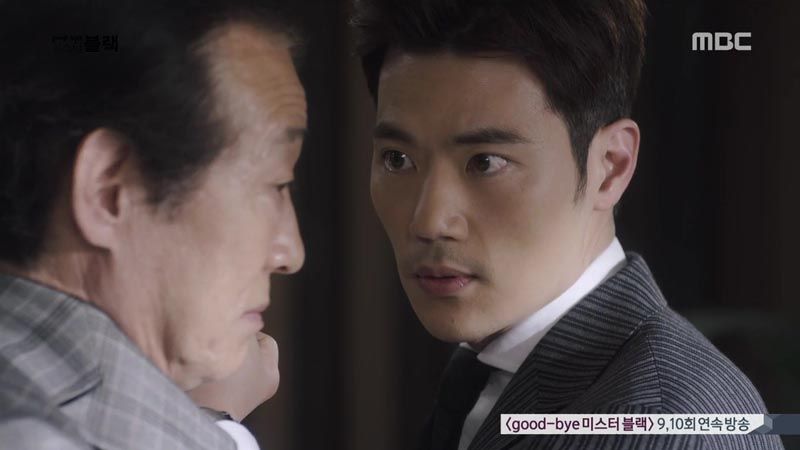 Per the agreement with Sun-jae, officials descend upon Panda News on the prosecutor's office's orders, looking to confiscate the gambling list. Woo-jin assures Swan that she didn't do anything wrong in going forward with the story and hands over the flash drive.
Swan receives a text from her investigator: There's a recent record of Ji-soo entering the country via Incheon Harbor. She immediately bolts and calls Black to let him know. Black aborts his plan to crash the board meeting, heading out with Swan and beelining for the harbor.
That means the executives are left waiting, growing restless at Sun-jae's lateness. Teacher Baek does show, delivering a mighty slap at two-timing VP Seo for daring to try to oust him, and begins the meeting sans Sun-jae.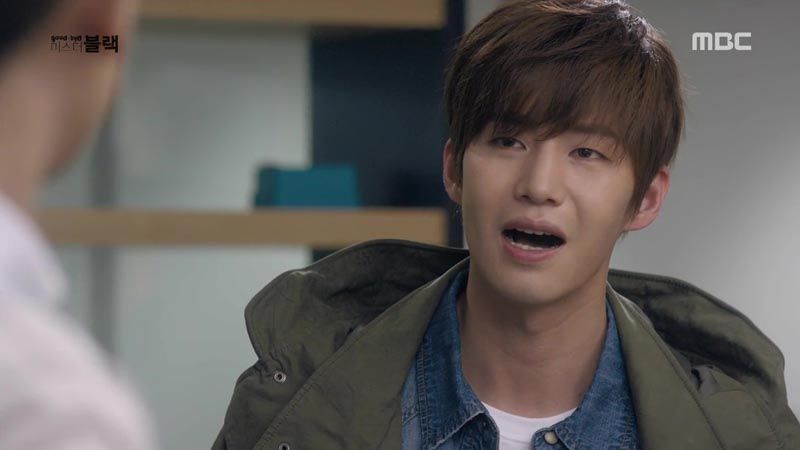 The Ji-soo news spreads quickly, and when Black calls Ji-ryun to let him know, the phone call gets overheard by Woo-jin. He's put enough together to figure out that Black is involved, and that Swan has gone with him, which he does not like at all. He's exasperated at Swan for constantly putting herself at risk, and peevish that nobody else seems to find this as much of a problem as he does. Which is why I love him, even if he's doomed for heartbreak. Doomed, I say!
Even Mari gets in on the news, receiving a text from Ji-soo herself, asking her to meet at a hotel room in Incheon. I'm thinking this info leak about Ji-soo has to be a coordinated effort, but it's not yet clear what the objective is.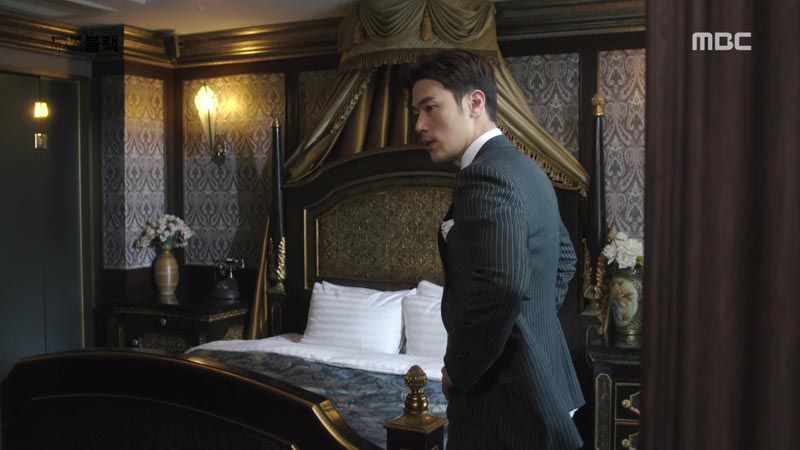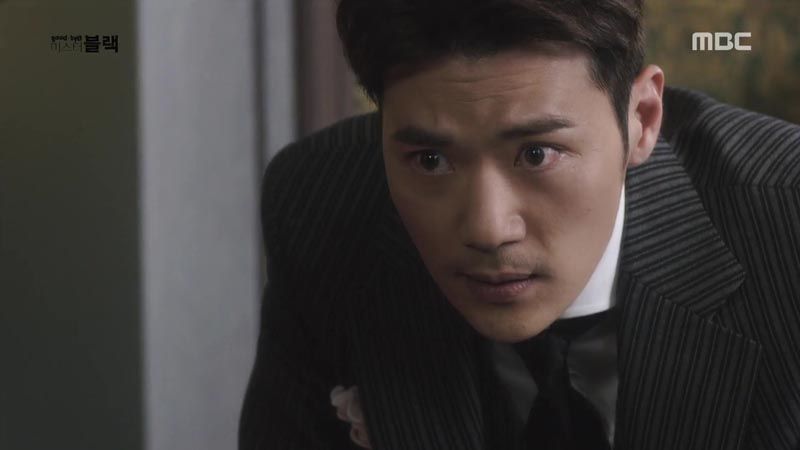 Sun-jae arrives at the hotel suite first while Black and Swan head for the Incheon terminal to scour CCTV footage. Tamping down his apprehensions, Sun-jae cautiously walks in, only to find the room empty. He gets on the phone with Teacher Baek to angrily demand what game he's playing, but Baek just puts him on speakerphone to answer the executives' questions about why he's not at his own emergency meeting.
Sun-jae replies that this meeting is canceled, but states that firing Baek will still be on the agenda at their next meeting—the prosecutors will be investigating that gambling list shortly. He warns Baek to step back voluntarily, for his own good.
Teacher Baek smirks that this is something for the real company head to say, and drops the bomb that Ji-soo will be at the next meeting.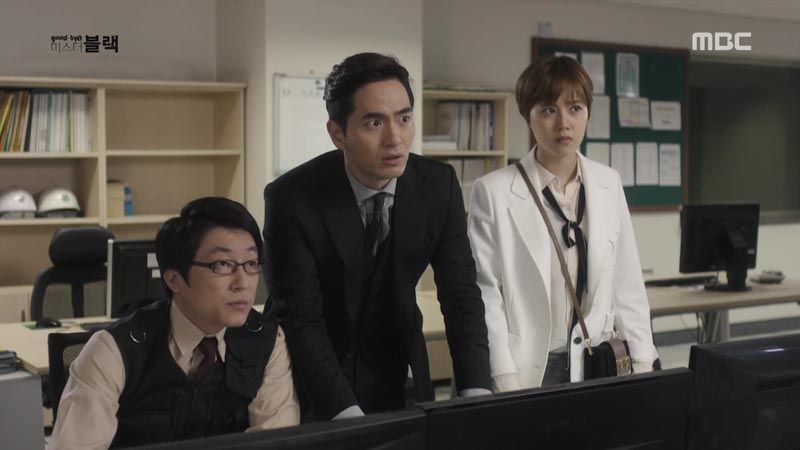 Black catches a glimpse of his sister on the security footage, upset to see that she's in a wheelchair. She's attended to by a middle-aged woman, and when they ask around the terminal, one shopowner recalls that the caretaker spoke with a specific accent and bought seasickness medicine for their boat ride to a nearby island. Black and Swan get on the next boat headed there.
Black's team confirms that Sun-jae never made it back to his meeting, and speculate that he's on the hunt for Ji-soo, too. Sun-jae fights his own mounting panic, recalling the damning information Ji-soo knows—namely, that Sun-jae was in cahoots with her father's killer, and that he tried to get rid of her.
That's enough to get him to back down, and he rescinds the motion to fire Teacher Baek. VP Seo has been left out of this loop and orders his secretary to find out what's going on, and mutters that if Baek knew what he's got, he'd flip out.
Everybody and their mother hears about Ji-soo being on the island, and when Mari and Sun-jae come face to face outside the hotel, she insists on going with him. He barks at her to return home, using her pregnancy as an excuse, and leaves Mari behind.
Mari calls Black to let him know about Ji-soo, and that Sun-jae's also heading for the island. It's sweet how Swan steps aside to give him privacy, but he keeps her firmly with him as he takes the call and thanks Mari for the tip.
Black and Swan proceed to pound the pavement, asking the locals if they've seen Ji-soo or her companion.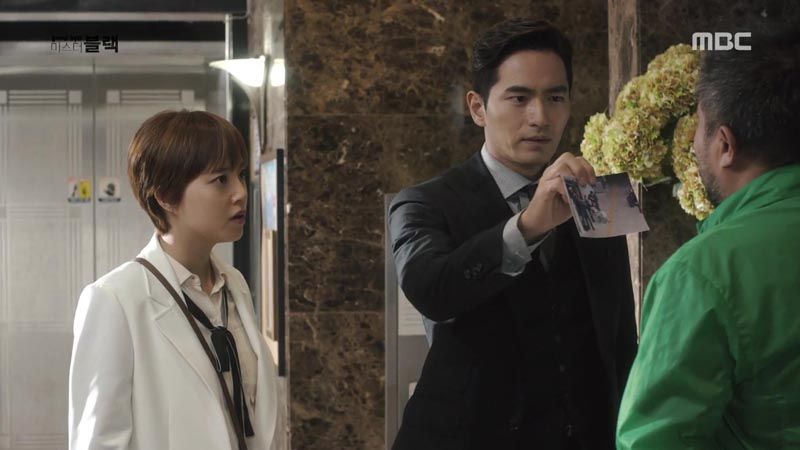 We finally get confirmation that Ji-soo is in fact on this island, and her caretaker checks that she's sleeping in the hotel room before stepping out. The lady pays off the hotel manager to lie about not seeing them, but lucky for our guys, Swan recognizes her when they pass by, and she leads them back to the hotel.
The manager is not forthcoming about having seen Ji-soo, but Black bursts past him as Swan pulls the fire alarm. Ha, I kind of love her. Chaos erupts through the building as guests hurry out of their rooms, and Black pushes his way through the crowd looking for signs of his sister.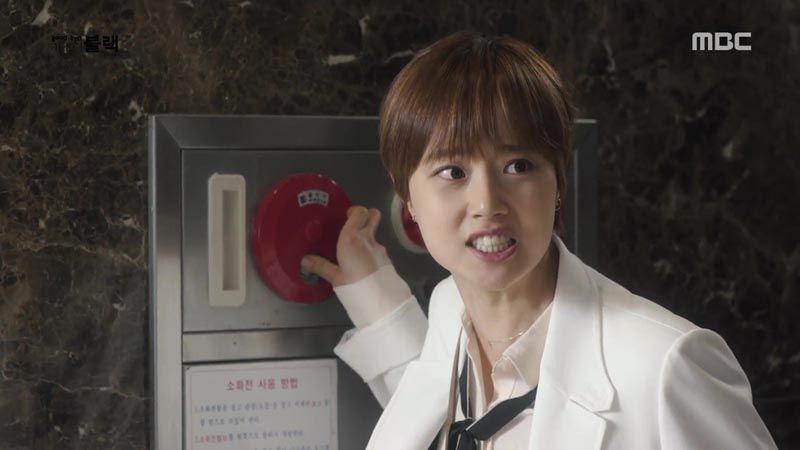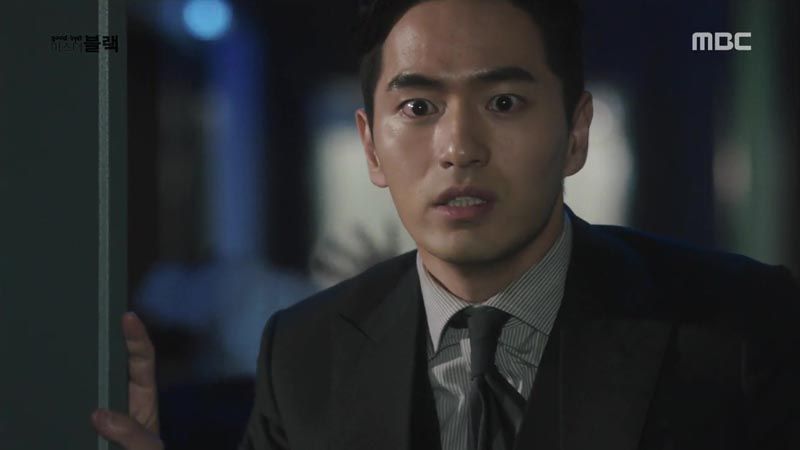 The caretaker freaks out to find Ji-soo's bed empty, then hurries out to join the fleeing guests just as Black sees her stepping out of the room.
Outside the building, an irate manager makes a grab for Swan, ready to call the police on her for the alarm stunt. And who should fly out of nowhere but Woo-jin, who knocks the guy away and frees Swan from his clutches. Ha, I don't see any reason for Blue Panda to be any part of this storyline, but frankly I'll take any excuse to keep him in the mix, all bumbling awkwardness.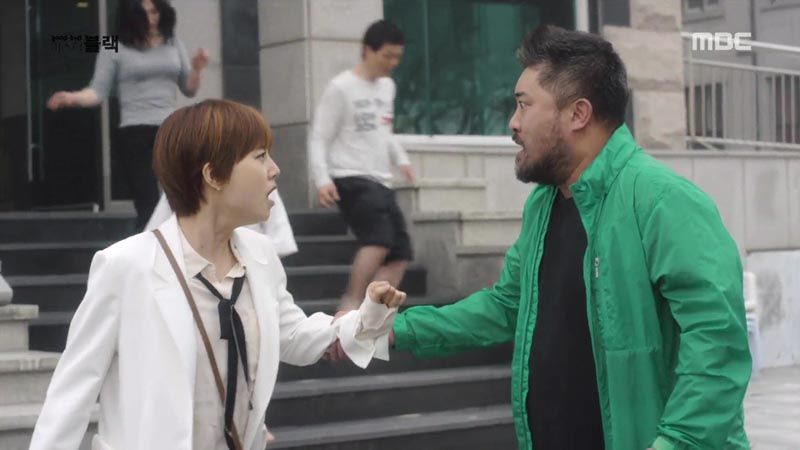 Sun-jae and his gangster army arrive at the hotel as guests are pouring out of it, and he glimpses Black leaving, following the caretaker ajumma. (Followed by Swan, followed by Woo-jin. It's like a clown car of chases. Everything is comically linear in this drama.)
Black corners the caretaker in an alley, and Swan and Woo-jin show up to block her on the other side. The woman nervously disavows knowledge of Ji-soo, but Black calls Ji-soo's number on his phone—and lo and behold, the caretaker's phone starts ringing. Caught in the lie, she admits that she doesn't know where Ji-soo went, and that she'd been sleeping in her room earlier.
Black's temper reaches a boiling point and he demands to know who's behind all this. He slams a fist into the wall next to the woman's head, asking why they're doing this to him, and what he did to deserve all this.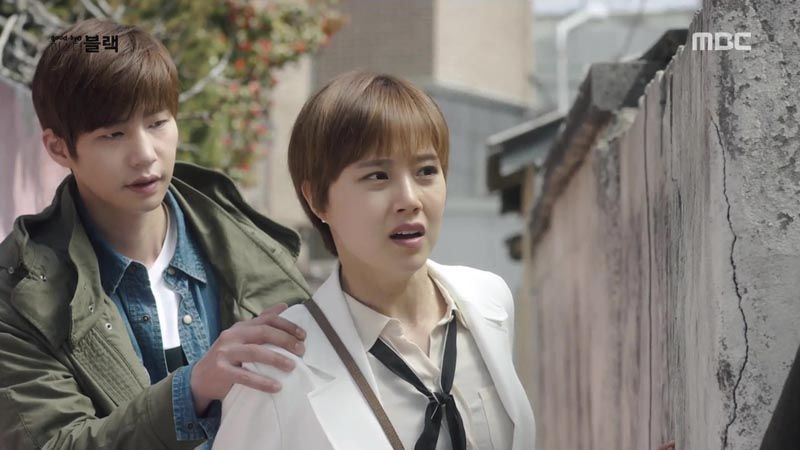 Baek hears that Ji-soo has been lost, but isn't as alarmed as anyone else—he figures that it doesn't matter which man finds her first, and that one of the two will die.
Ji-soo, meanwhile, fumbles her way down an alley, weak but able to walk. Ah, so she's not paralyzed, but she does appear to be blind, which makes sense given her head injury from the fall. We see that when the caretaker had checked on her, Ji-soo had faked sleep and spit out the pill she'd been given. Trouble is, now she's struggling to find her way and falls to the ground.
Sun-jae and his search party just miss seeing her from the street, but she has the good sense to hear them and hide. Sun-jae's frustration grows as he blames Teacher Baek for causing this situation.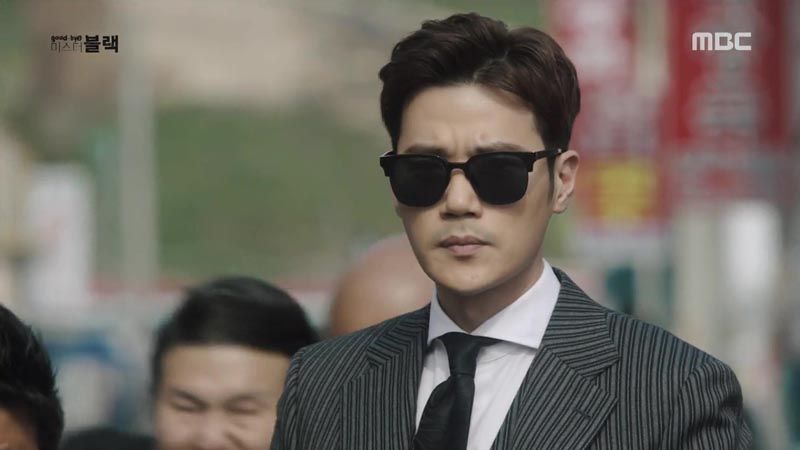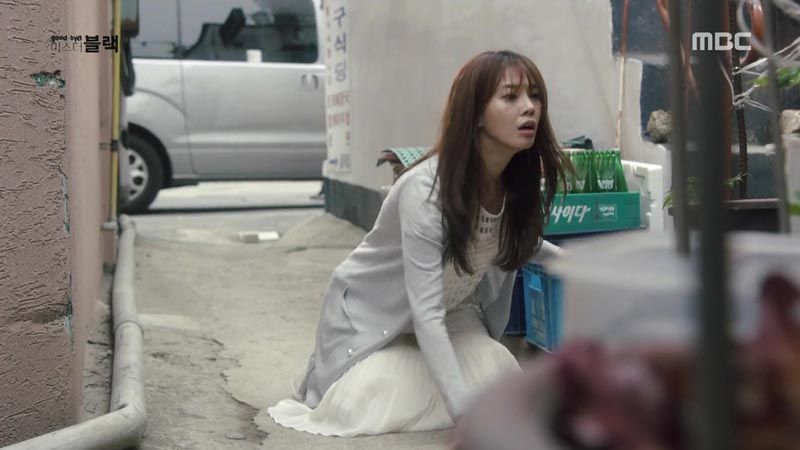 Teacher Baek just says that the siblings are Sun-jae's responsibility, suggesting that he'd better kill them both or face dying himself. He warns Sun-jae, just as he did at the very beginning when he'd offered him power, that he should leave the thinking to Baek and do as he's told. If he doesn't, he risks losing everything.
Sun-jae swears that the old manipulations don't work on him now, but is confused when Baek says cryptically that he'll change his mind when he sees Ji-soo.
Mari calls Black that night to ask how the search went, and encourages him to find his sister before Sun-jae does. The comment's a little strange and makes him furrow his brow, even though she says it's because Ji-soo is his sister.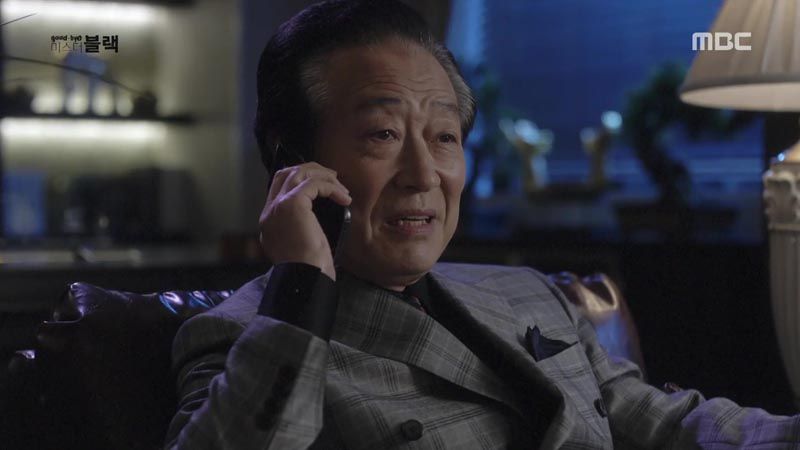 Next, Black calls Teacher Baek—the first time they're speaking in person—to ask for Ji-soo's return. Baek feigns ignorance, saying that he's not the one who has her, and when Black asks if it wasn't enough that Baek killed his father, he replies that it was Sun-jae who did that. He mocks the friendship that kept Black on Sun-jae's side even while Sun-jae was plotting to steal everything away.
Black scoffs, "Are you that dumb?" He doesn't care who Baek is, and just warns him to do a good job hiding, because he'll be going after him.
Swan continues to scour the neighborhood for signs of Ji-soo, while Woo-jin watches. The air is charged as he faces Black in their first official introduction, accusing Black of using his paper to execute his own plan. He advises Black to report Ji-soo's disappearance to the police, wondering if his reluctance is because he doesn't want to turn himself in. Black replies that he intends to surrender himself once Ji-soo is found, but he can't involve the police now because he might never get her back from the baddies.
Woo-jin leaves him with food for thought about what this does to Swan, who refuses his suggestions to rest in her determination to keep searching for Ji-soo.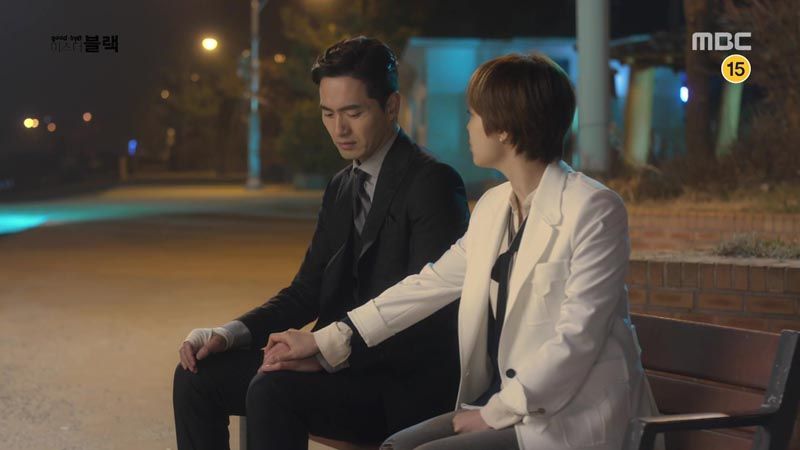 They put up in a motel for the night, and Swan wraps Black's bloodied fist carefully. He leaves her to get some sleep, but she's preoccupied by memories of his outburst and joins him outside, where he asks if she finds it difficult to like someone like him. She replies that it's not difficult in the least, taking his hand. Woo-jin sees them from afar and sighs.
In the morning, Black takes Swan to the port so she can observe everyone going in and out while he continues the search, only Woo-jin's already there. He's a bit grumpy but takes over that task, allowing for Black and Swan to search together.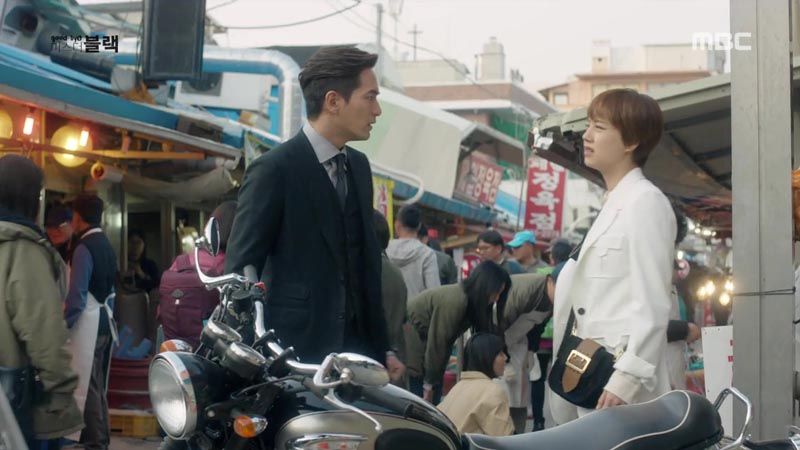 Their movements get noted by Sun-jae's minion, though Black is sharp enough to spot their tail immediately. More maneuverable on his motorcycle, he speeds up and loses the follower, and Swan suggests that they'll have better luck looking in a crowd, where it's easy to blend in and hide.
They head to the marketplace, where Black gets within feet of his sister but just misses seeing her in the crowd. She continues wandering through the street, just as Sun-jae gets word that Ji-soo has been found.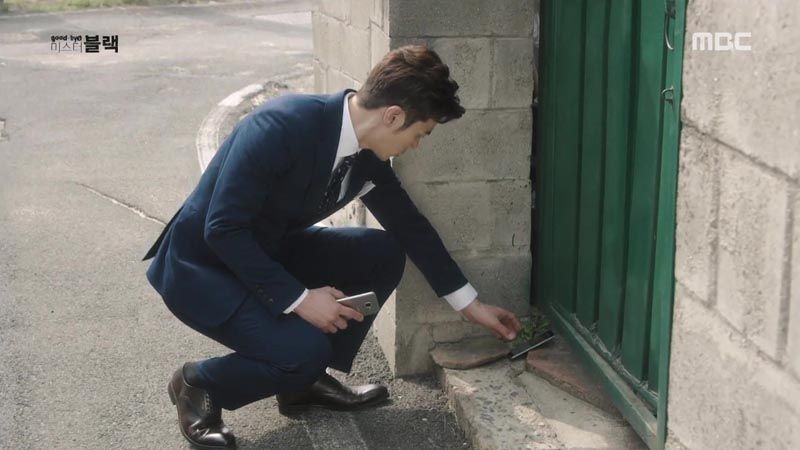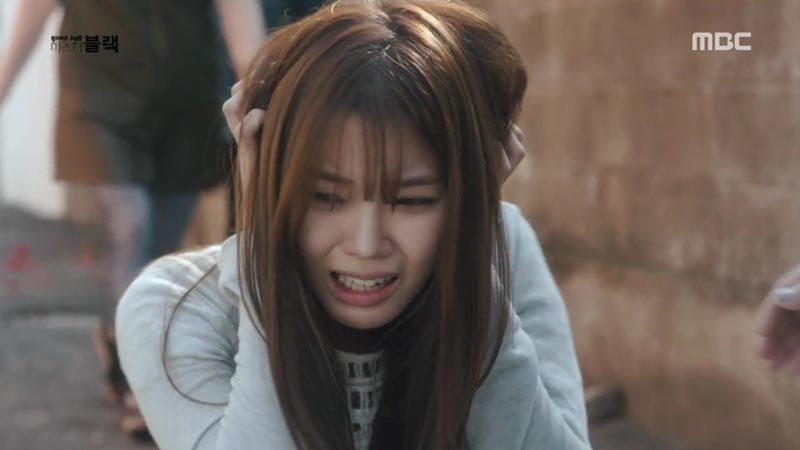 A phone starts to ring near Sun-jae… and he picks up Ji-soo's phone, tucked in a corner by a gate. Ah, Black had anticipated that Sun-jae would attempt to track her phone, which had previously not been transmitting a GPS signal. Once he got the phone from the caretaker, he'd instructed his team to use the signal to send Sun-jae on a wild goose chase. Okay, that's smart.
Nearby, a passerby tries to help Ji-soo, but she flinches at his touch and freaks out when others mill around her to offer aid. Her panic overwhelms her, and she starts to cry and curl herself into a ball.
The sound draws Swan's attention, and they follow it around the street, right to Ji-soo.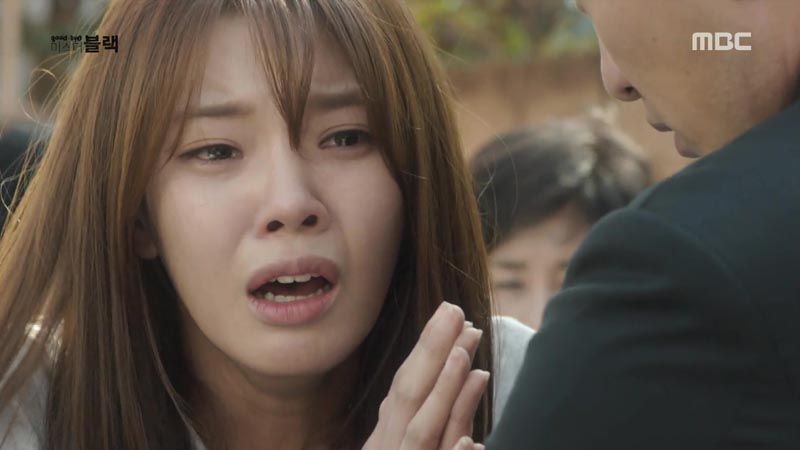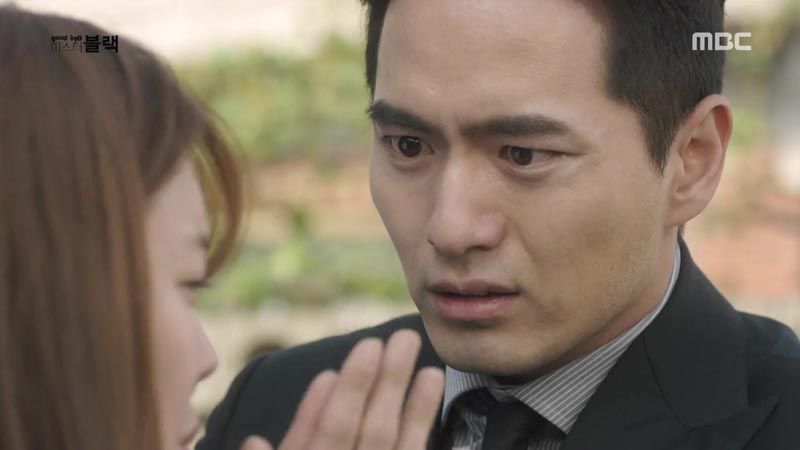 Black hurries to her side and calls out to his sister, but she resists, not hearing him. She recoils and calls out for help, and he grabs her arms and tells her insistently that he's oppa.
Ji-soo puts her hands together in a begging gesture and cries, "Sun-jae oppa, I was wrong, I don't know anything!" Oof, the look on Black's face as he registers her words.
Swan comes forward to hold her comfortingly, telling her it's okay while Black reels and falls to his knees, burning with angry tears.

COMMENTS
Okay, you got me with that ending. Mostly, I found this episode a little bit funny on purpose, a little more funny unintentionally, and interesting more in concept than execution. I can see where the story wants to go and feel like the mechanics of the plot do track (in a broad sense), and it's just too bad the execution is in unskilled hands. Because it means that when people do things, I understand why on the logic front but don't feel it—say, for instance, Black's romantic feelings for Swan, or the enemy back-and-forth between all our parties.
But I did find myself moved by Ji-soo's plight, and Black's reaction to her outburst. I even think the show did a pretty decent job toying with the question of which side would get to her first, and gave plausible setups for either scenario. I wasn't necessarily surprised at the outcome but was relieved when it was the good guys—and I found myself surprised at how sad I found Ji-soo's response to her rescue. I had figured she must have been kept under duress and might have been unwell, but I hadn't expected her to be this broken—drugged and blind and so damaged by her experience that she'd still be in the throes of PTSD. Although in hindsight, of course that makes sense, having lost her dearest loved ones and betrayed by another. I felt a little like Black in that moment—totally caught off guard, even though maybe we both should've been prepared for the possibility.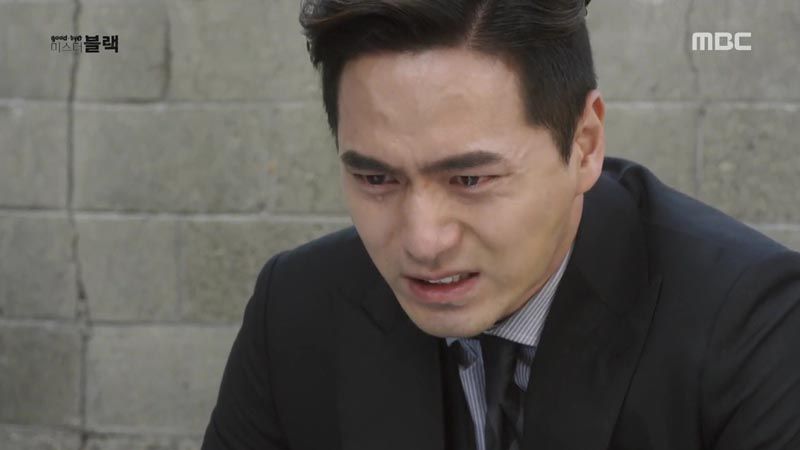 I also hope this sets us up for a darker revenge twist, now that Black has confirmation that Sun-jae tried to kill his sister (and has been informed that Sun-jae killed his father). I mean, really we should have had Dark Black already (it feels entirely appropriate to this drama that non-Dark Black is an oxymoron) and I was perplexed as to why he'd come back with revenge in his heart, only to regard Sun-jae with something more like masked distaste, not seething hatred.
But the level of emotion in his reaction at the end of this episode finally got to the level that makes sense to me. I suppose you could argue (if you reaaaaally wanted to defend this show, which I wouldn't recommend but hey, you're your own person) that Black was holding back until he found Ji-soo before unleashing the brunt of his fury, because he didn't want to harm her by mistake. But once again the reasoning works better than the expression of that reasoning, so I still consider it a drama flaw. But in any case, now I'm eager for his team to take Ji-soo into their fold and really let 'er rip. The romance is budding, the jealousies are brewing (I love jealous Woo-jin and jealous Sung-min! Jealous oppa might just be tragic, but I'll take Panda and Con Man any day), and it's time to go full force. What are you waiting for? *squinty eyes, pouty lip*
RELATED POSTS
Tags: Episode 9, featured, Goodbye Mr. Black, Kim Kang-woo, Lee Jin-wook, Moon Chae-won, Yoo In-young