Jackpot: Episode 6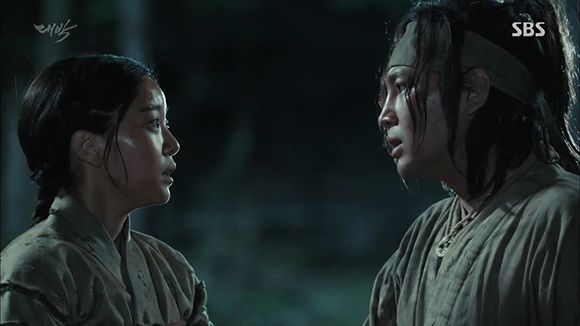 Our hero manages to net himself a few new friends during the somewhat shockingly brief period of time where he gets to live a new life, which only goes to prove that Dae-gil's sense of self runs deeper than his memories. At his core, he's still just as dogged, persistent, and ready to help those in need, even if that comes at the expense of his own body. It helps that he's always got luck on his side—or shoved down his throat, both literally and metaphorically, depending on the circumstances.
SONG OF THE DAY
Lim Jeong-hee – "Crazy" [ Download ]
Audio clip: Adobe Flash Player (version 9 or above) is required to play this audio clip. Download the latest version here. You also need to have JavaScript enabled in your browser.

EPISODE 6 RECAP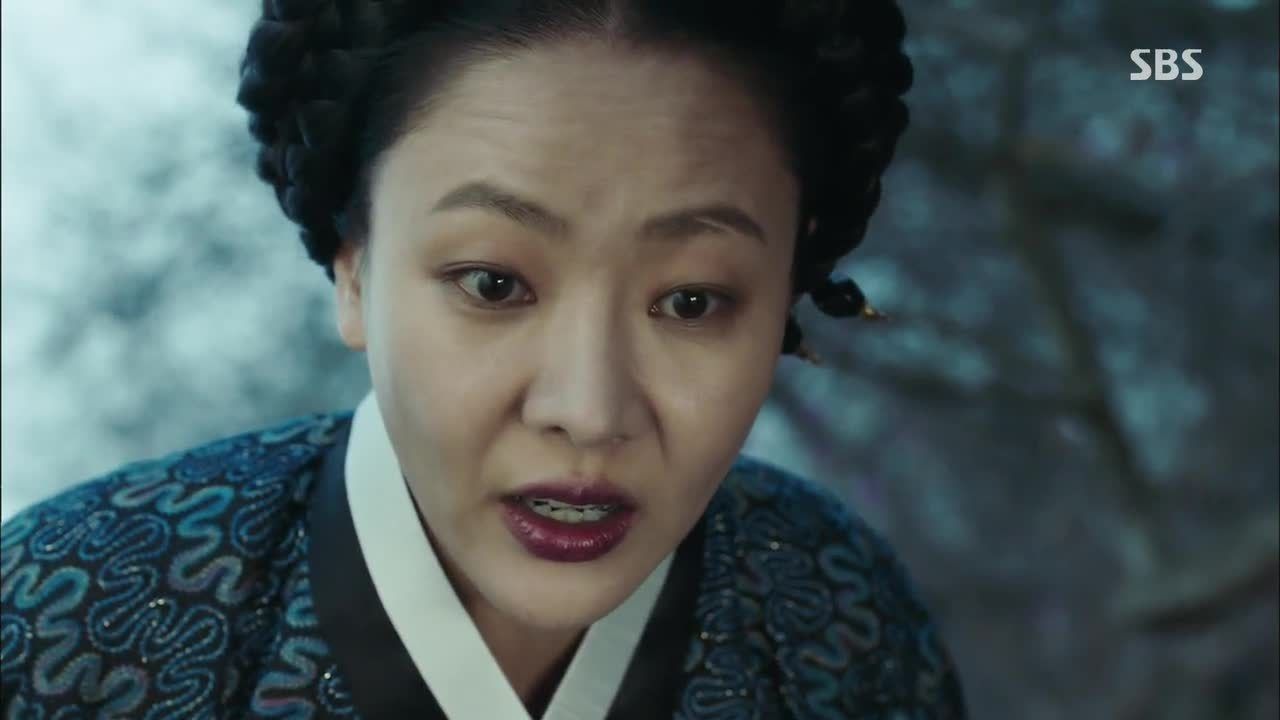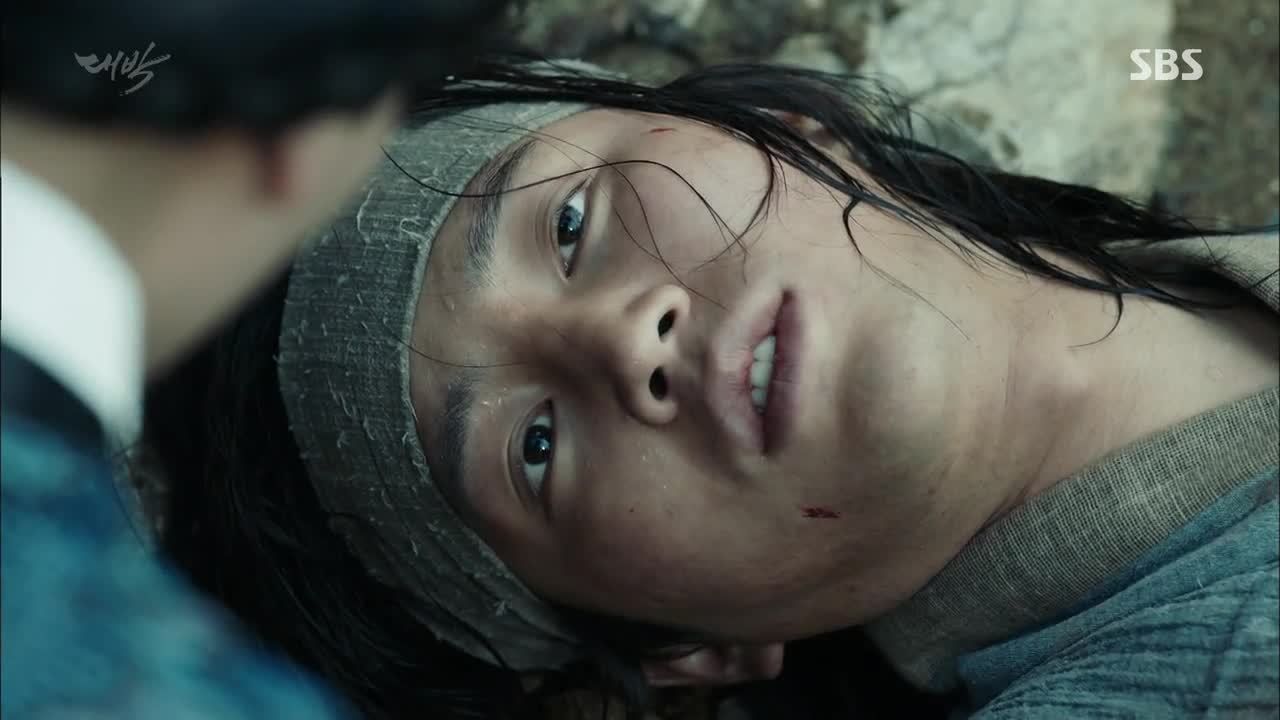 Far from the mud flats the shaman saw Dae-gil buried up to his neck in last episode, he awakens instead on the shore of that not-so-bottomless cliff, thanks to Hong Mae's slapping and prodding.
She complains that she's been looking everywhere for him, but Dae-gil can only say: "Who are you?" Oh noooo. It's amnesia.
Hong Mae capitalizes on this and sells Dae-gil as a slave to an old merchant buddy of hers, with the only condition being that he can't be allowed to return to the capital without her permission. Until then, he can work Dae-gil to death in the salt fields.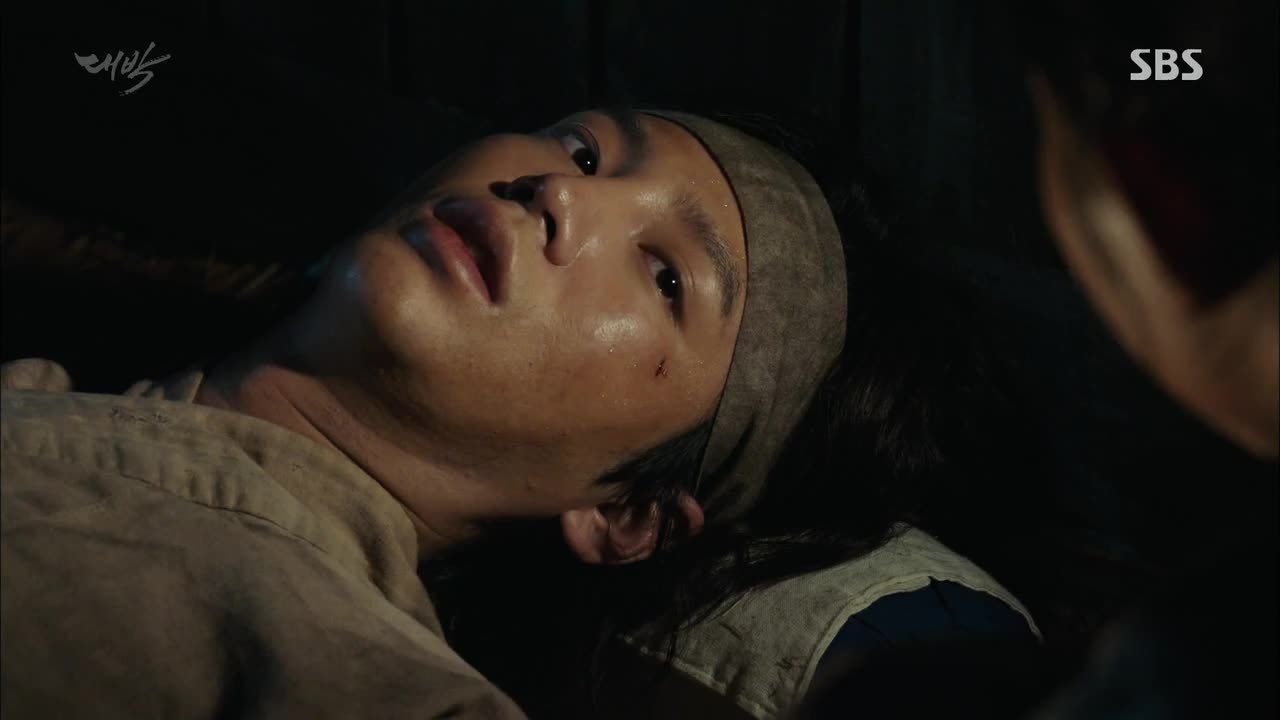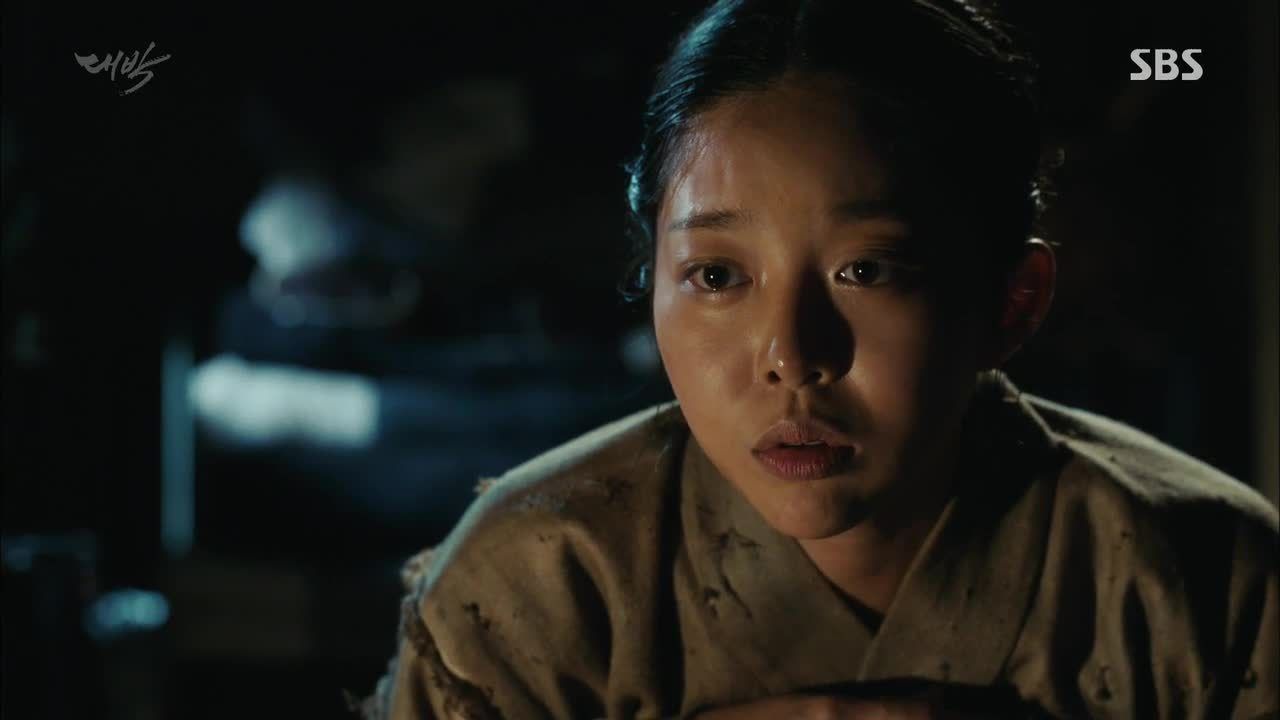 His new owner has him seen by a doctor so he can be made fit to work, and in the process, Dae-gil coughs up the nyang Injwa shoved down his throat. The nyang is quickly pocketed by another slave, GYE SEOL-IM (Kim Ga-eun), who keeps watch at his bedside.
Dae-gil doesn't know who he is or where he is, and spends a surprisingly small amount of time recuperating from his numerous broken bones and injuries. He can only support himself with a cane at first, but is helped along in his recovery by Seol-im, who isn't ashamed to admit she's interested in his good looks.
She's fearful of their master, and warns Dae-gil that he's known as AHGWI, or "The Demon," because of his ruthless nature with his slaves. Dae-gil can only watch from the sidelines as multiple slaves toil away, with Seol-im narrating how poor slaves like the two of them can work their whole lives and still be unable to pay back the price they were bought for.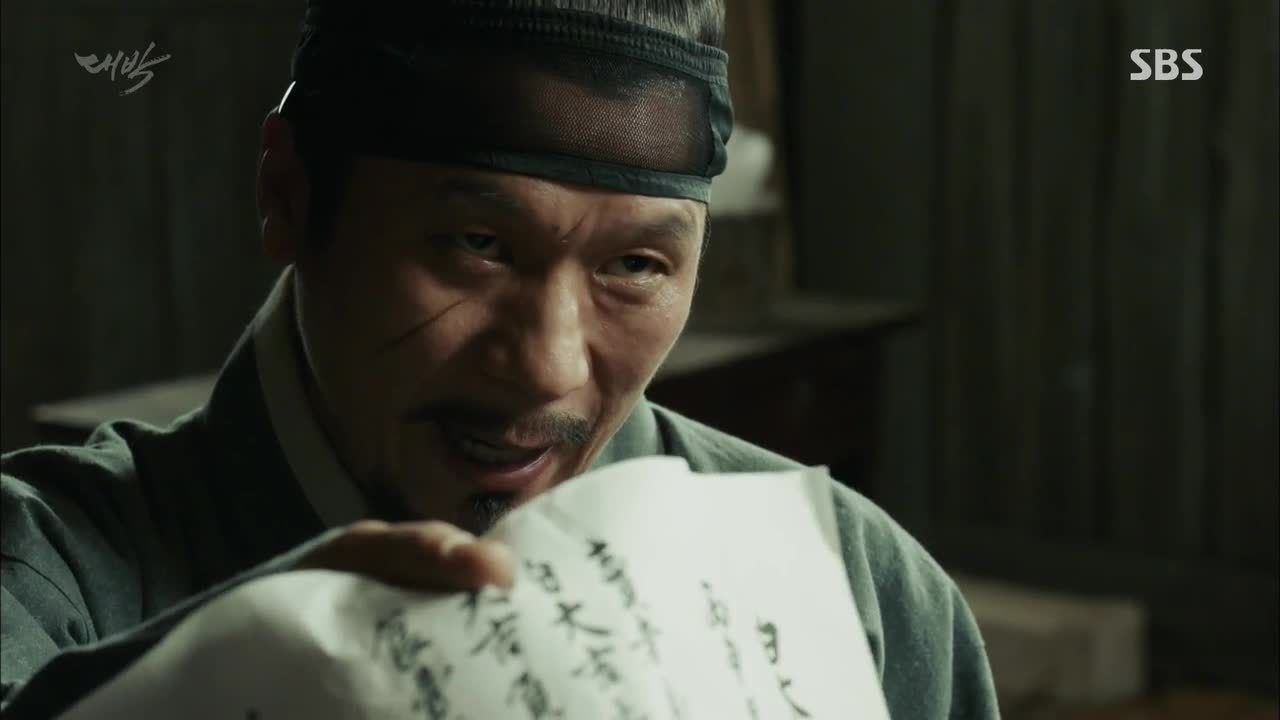 Ahgwi informs Dae-gil that he belongs to him now, and if he ever hopes to regain his freedom, he'll have to pay him forty-five nyang, which is forty more than he bought him for. He even has the paperwork to prove it, even though Dae-gil can't believe it—but at leas the gets to find out that his name is/was Baek Dae-gil.
As for having to work off his debt, Dae-gil challenges Ahgwi on what would happen if he chooses not to, and gets rolled up into a torture taco and beaten for it. His wrist, still healing, is stepped on and presumably broken again so that Ahgwi can forcibly stamp Dae-gil's thumbprint on his own slave papers.
Even with his body not yet fully healed, Dae-gil is put to work. He watches the camaraderie of the slaves as they each strive to take care of each other with what little they have to give. Seol-im is gracious when it comes to food, and always makes sure Dae-gil has enough rice slop to eat. Aw.
He notices the dented nyang she wears as a necklace, which she shyly admits was a gift that came from him. "Why would I do that?" he wonders. "Are we strangers?" she asks jokingly in reply, implying that they're already friends.
Later that night, as a slave is about to be executed, Seol-im again has to hold Dae-gil back from taking action to defend the helpless. He still comes forward after the slave has been killed, and is punished for his impudence with starvation.
Prince Yeoning happens upon the birth date his mother gave the shaman, recognizing it as the birthdate of his hyungnim who died when he was six months old. But if that's so, then why would she be asking a shaman about him?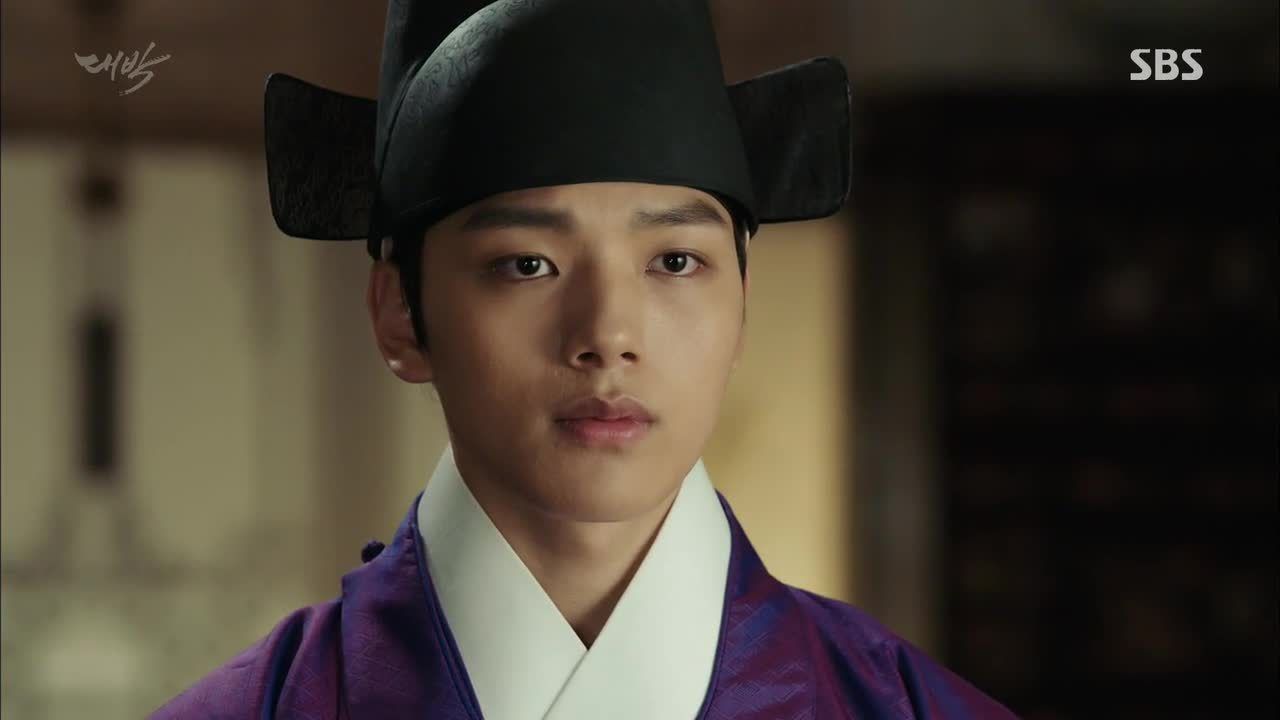 He decides to ask his mother about it directly, but she only tells him that she was curious to know what her son's fate would have been had he lived. Yeoning doesn't seem like he buys it, but has to at least act like he does.
Outside, he's approached by one of the Spooky Eunuchs and taken to a basement room where all sorts of herbs are being crushed into medicine for the ailing king.
"Do you want to become king?" his father asks outright. He's guessed that it was Yeoning's mother who told him to act like a playboy in order to escape notice, a claim which his son fervently denies.
But Sukjong, ever to the point, tells Yeoning to stop with the platitudes and answer him straight: If he were to abdicate the throne, would Yeoning step up to take it? Regardless of who's currently crown prince, Sukjong wants to know if he, Prince Yeoning, would take his place if given the chance.
We don't hear his answer, but only see Yeoning agonizing over what his father asked of him.
King Sukjong makes it clear that he's had it with all the political infighting at the next assembly, and shocks the hall full of ministers when he declares that he plans on abdicating. They all give the necessary woeful cries, but his decision has already been made. He wants to take a break from ruling and allow Crown Prince Yoon to rule as regent in the interim.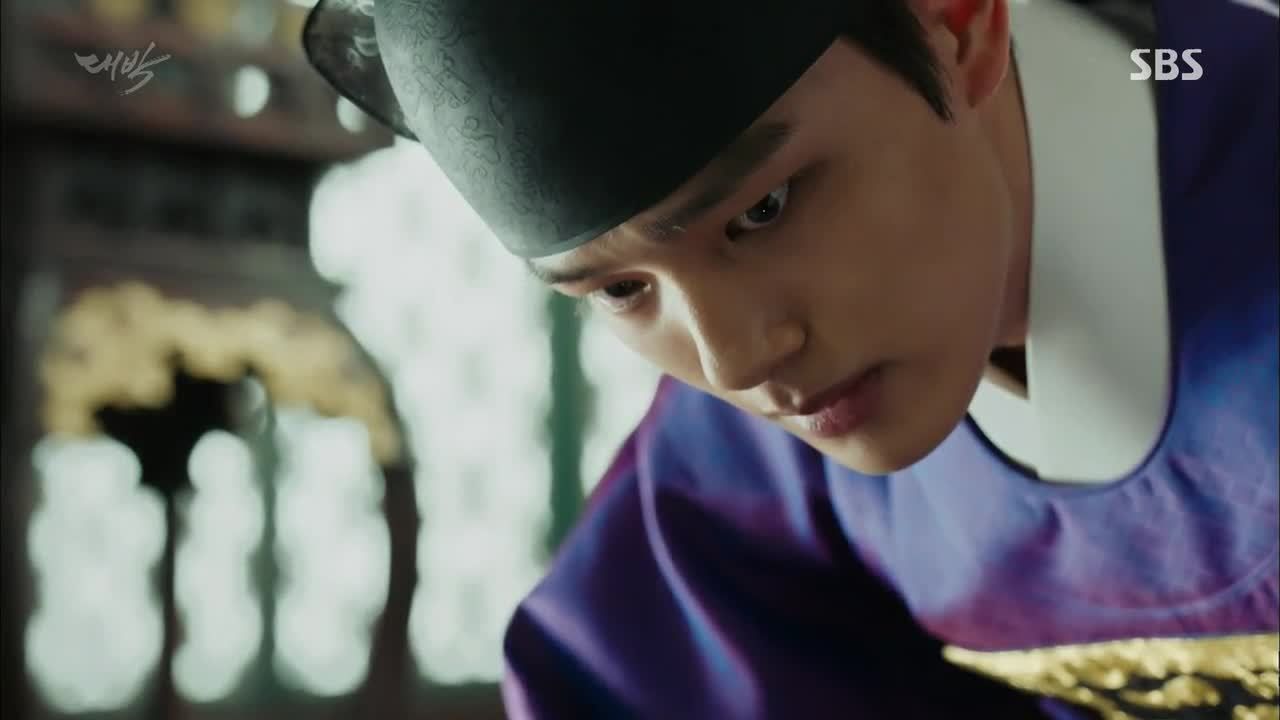 As Sukjong leaves the ministers crying after him, we flash back to Yeoning's answer to his father's question. With all due seriousness, he'd claimed that he would rather hold a sword than wear a crown, so that he could use it against corrupt politicians who exploit the people.
Likewise, he'd use that sword to clear the way for his father, which Sukjong aptly notes as being a job description tougher than that of being king. But it's clear he's impressed by his son's gumption, and says he'll wait to see what kind of sword he'll end up wielding.
Crown Prince Yoon stages the necessary protests against his father's decree, but ends up gaining an audience with Sukjong for a different reason—his eunuchs have seen him coughing up blood, and Dad is not happy that he's been hiding his illness. Regardless, he still has to take the post as regent.
Prince Yeoning knows his brother is sick and worries for him, but his mother tells him to mind his own business in that regard. He can't, and bows before his hyung to ask him to take the regent position—he'll become his shield and do whatever it takes to protect him.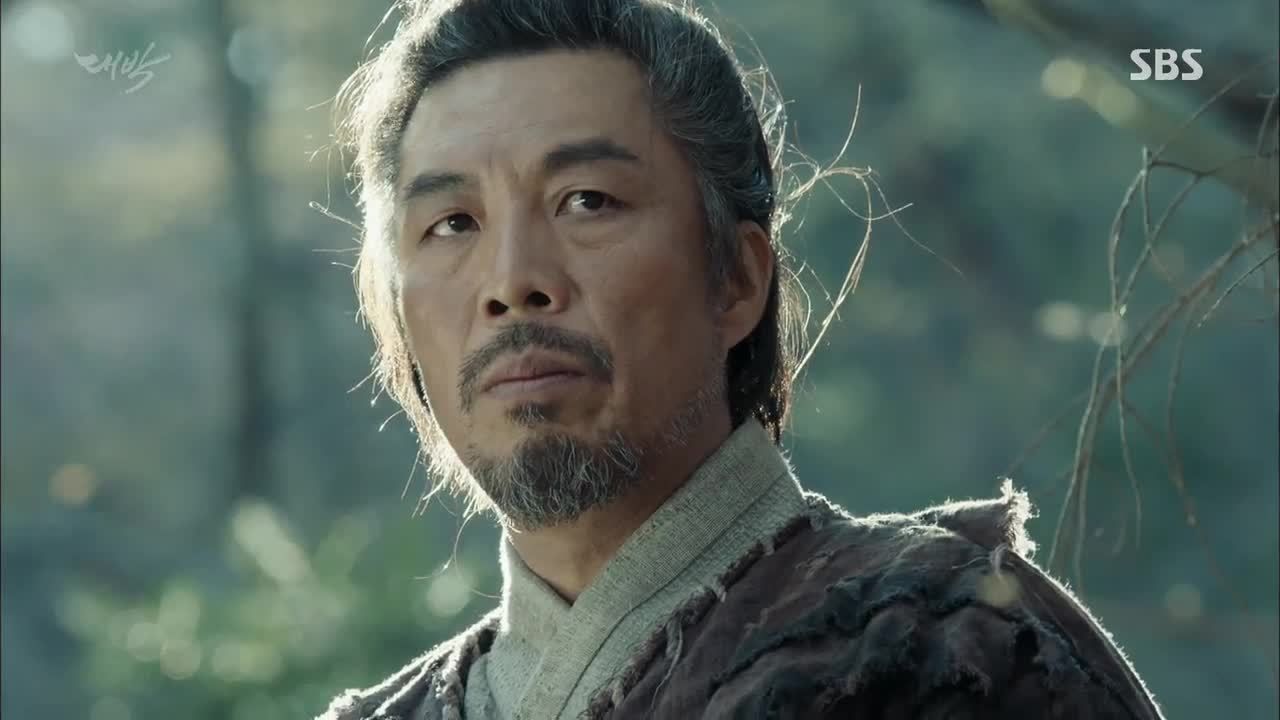 Dae-gil makes an unlikely friend when he comes upon KIM CHAE-GUN (Ahn Gil-kang) in the forest, the man whom the shaman pointed out as being the helping hand that would improve Dae-gil's fate.
They exchange no words, but Chae-gun's look alerts Dae-gil to a nearby snake. He grabs it and tears right into it with his teeth, skin and all. That is a real snake, isn't it? That's some commitment if I've ever seen it.
Ahgwi sneaks into the female slave dormitory that night and starts pawing at Seol-im's clothes in an attempt to rape her, only to be foiled by Dae-gil, who comes running at the sound of her screams and throws her attacker off.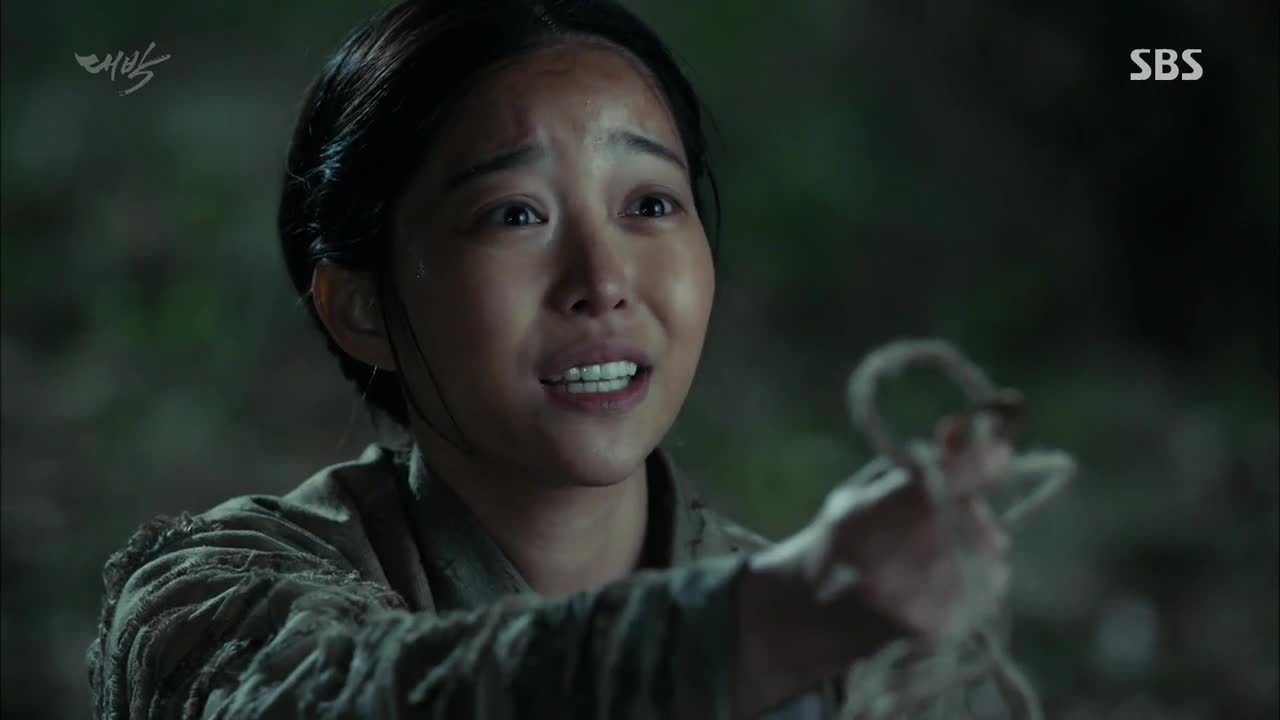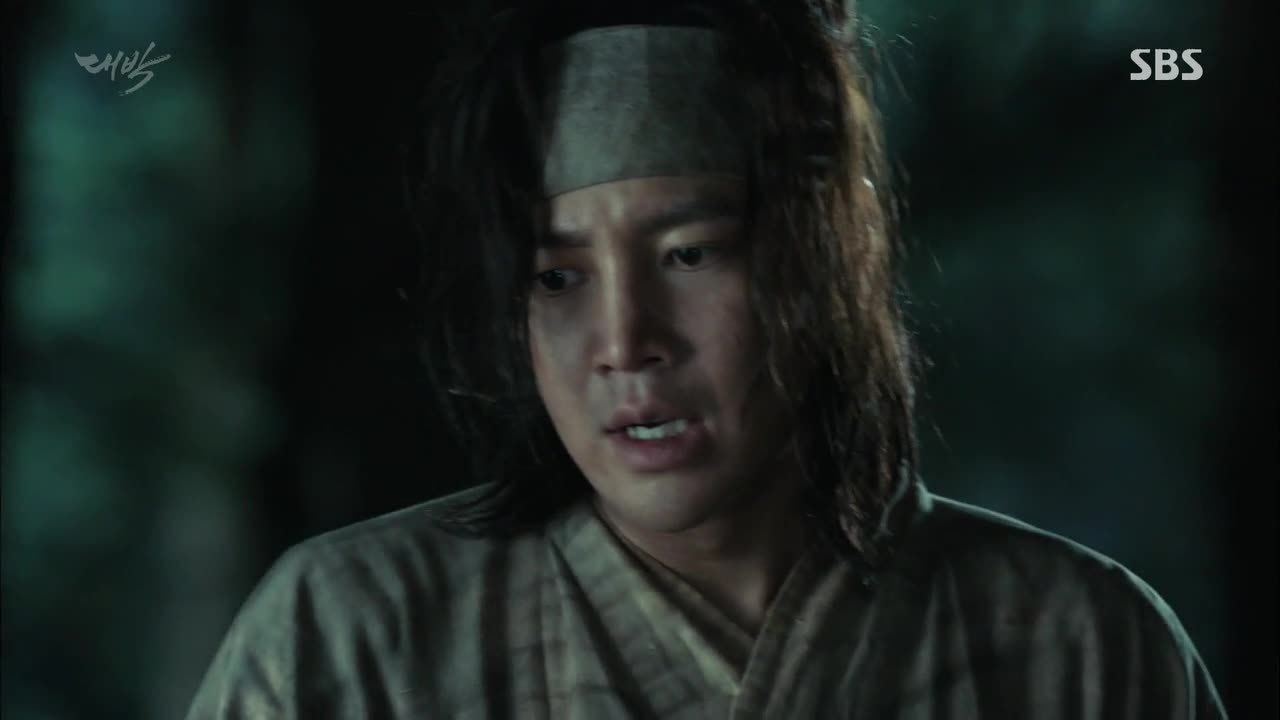 He takes her by the hand and runs into the nearby forest, banking on Ahgwi's men not pursuing them because of the tigers known to roam the woods.
But Dae-gil runs into another obstacle when Seol-im says she'd rather go back to her master and take her chances. When he won't, she gives him his nyang back and tells him to go on his own—he'll have an easier time running away without her.
"No," he says, pulling the necklace down and over his head. "Either we live together, or die together." But they both turn toward the ominous sound of growling, to see the tiger currently prowling toward them. Dae-gil tells her to run away first. He'll stay and deal with the tiger, using only a stick.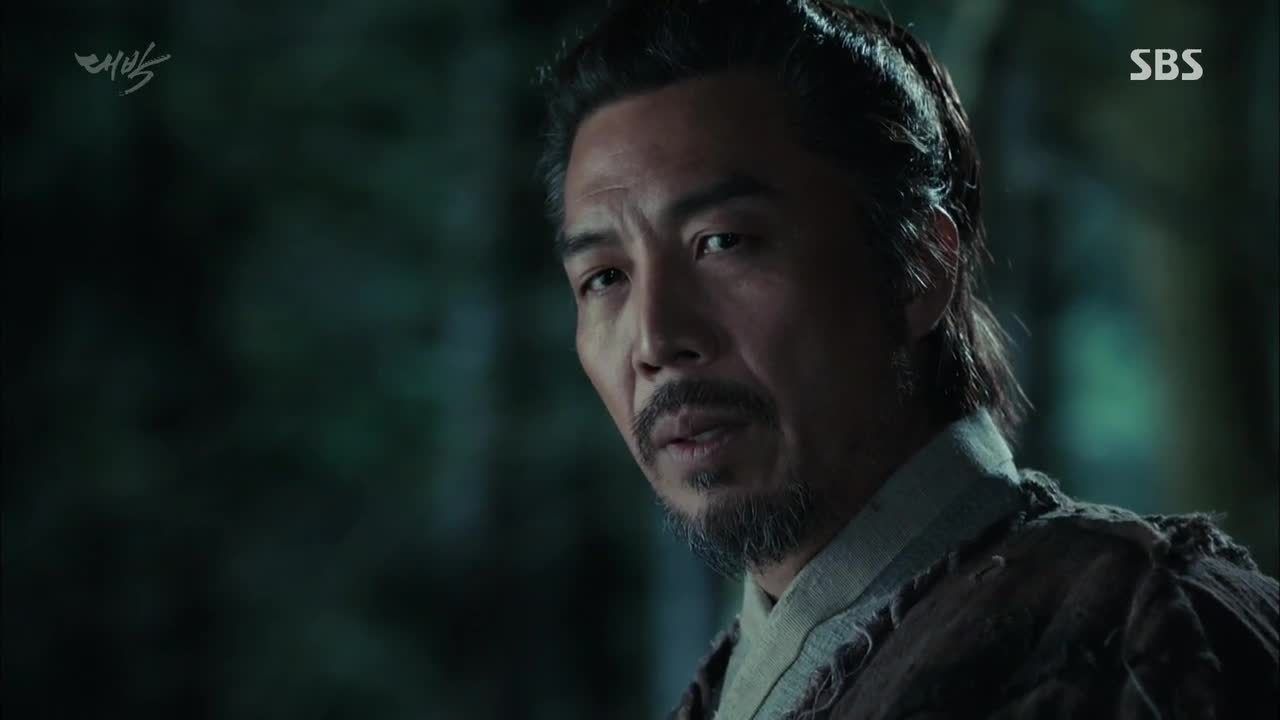 The tiger rushes toward him and pounces, but is cut down by the man from the forest, Chae-gun, before it has a chance to maul Dae-gil even further. Dae-gil looks disbelievingly at Chae-gun, unable to believe that he could kill a tiger with just one stab of his sword.
Chae-gun points out that Dae-gil was planning on using a stick against said tiger, and wonders whether Dae-gil is just that lucky, or just that ballsy. Either way, he says there's a threat worse than tigers in this mountain, and urges Dae-gil to return from where he came or die.
Seol-im, having run right back to their pursuers, brings the men to where Dae-gil and the dead tiger are. Dae-gil is returned to his torture taco and savagely beaten for trying to run away, while Seol-im can only look on and cry.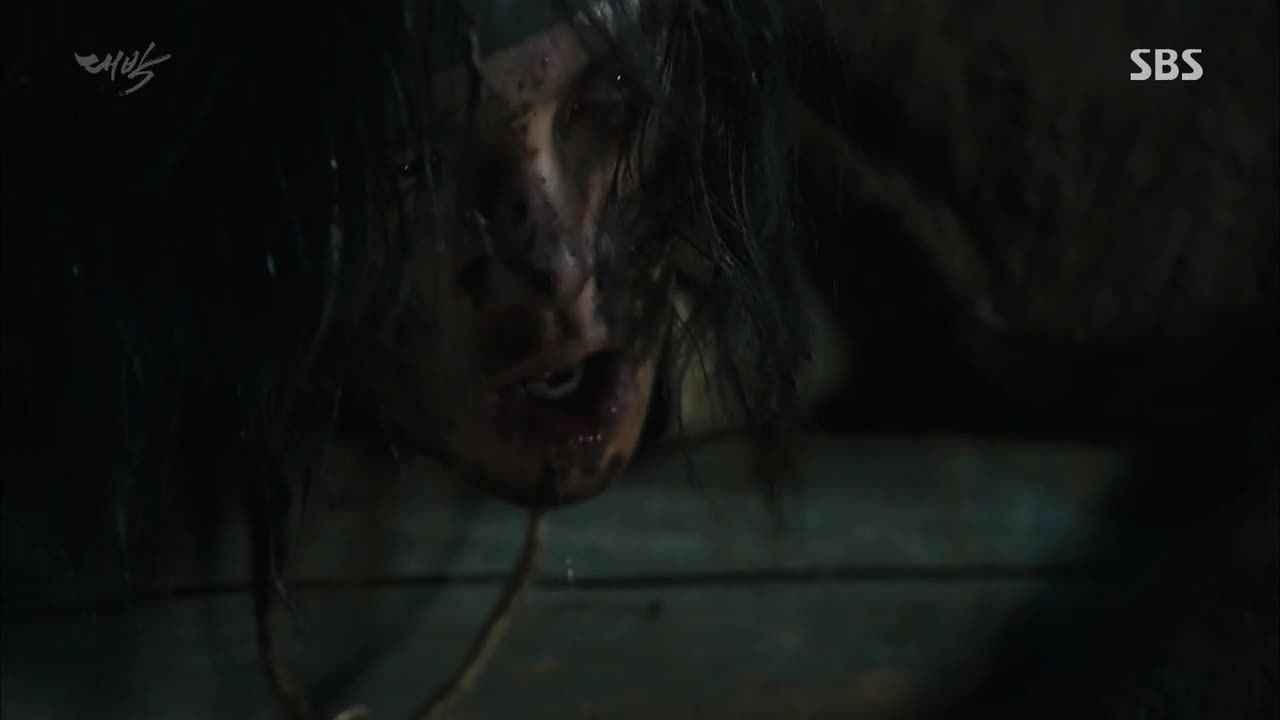 But Ahgwi, deciding that a beating just isn't enough, has Dae-gil thrown into the outhouse latrine so that he defecate on him. Yes, you read that right.
And then, after crawling out of a vat of steaming human feces, Dae-gil gets the nyang that's already once been shoved in his mouth shoved back into his mouth. One of Ahgwi's minions thumps him over the head, which instantly brings back a flood of all Dae-gil's lost memories.
He spits the coin out, remembering its importance to him, and how many times it's exchanged hands while always managing to find its way back to him. A single tear falls down his cheek.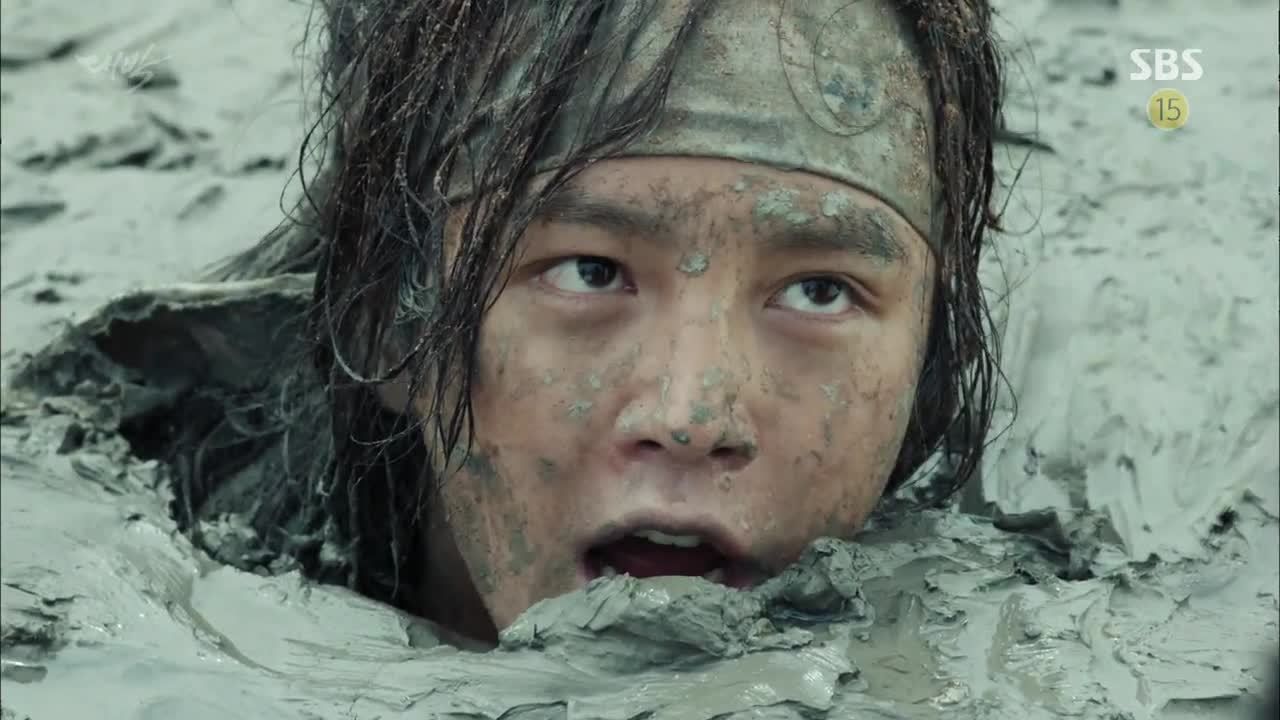 Cut to the mud flats, where we saw Dae-gil buried up to his head at the end of the last episode. This is how Chae-gun finds him, and where Dae-gil asks if he'd like to make a bet on whether he'll live or die.
"You should live," Chae-gun replies, before leaving him there. Dae-gil hallucinates that his retreating back is actually that of his late father's, and remembers the vow he made to return alive. He won't allow himself to die until he's taken revenge on Injwa.
Ahgwi's thugs remove Dae-gil from the mud and bring him back to their master, to see if he's eaten some humble pie. He hasn't, so Ahgwi declares that he'll have his arms and legs broken, to which I say: Not again.
Thankfully, Dae-gil's not keen on going through that again either, and proposes an alternative method to get Ahgwi the money he wants. He challenges him to a game of Tujeon to prove himself, and wins using the sleight-of-hand methods once taught to him by his father.
Ahgwi recognizes Dae-gil's skill, and decides to go against what Hong Mae ordered by taking Dae-gil to the capital so he can play in the big leagues. He's given his obligatory nyang and a bath, which is where Seol-im finds him.
Dae-gil finally asks how Seol-im ended up a slave, and she opens her tattered hanbok to reveal a deep scar on her chest. Her father was a gambler who bet her before he died, leaving her saddled with his debt. "Even so," she admits in tears, "I miss him."
Like Dae-gil, she's holding on for revenge, and hopes to one day take it out on the gambler responsible for her parents' misery. As for Dae-gil, who admits he hasn't gotten all his memories back, she only asks him to not forget her.
Hong Mae is alerted to a new, but not altogether unfamiliar arrival in her casino in the form of Ahgwi and Dae-gil. As for the deal he made with Hong Mae, Ahgwi tells her that she can buy Dae-gil back just like she said she wanted to, for the low low price of five hundred nyang.
Alternatively, she can play a round of Tujeon with Dae-gil. If he loses, she'll get him back, but if he wins, she'll have to buy him back at five hundred nyang. Hong Mae takes the deal, figuring that Dae-gil can't do much harm when he can't remember anything.
And so, Dae-gil goes up against all her best thugs, soundly beating each of them out of their money with winning hands. When it comes time for him to face Hong Mae directly, he claims she looks familiar, but can't place where he's seen her.
Hong Mae knows she's in trouble when Injwa and Dam-seo enter, and tries her best to prevent them from seeing Dae-gil, still very much alive. Injwa is surprised to see him looking so well and playing cards, to which Dae-gil asks, "Do you know me?"
"Of course I do," Injwa replies. "You're Baek Dae-gil." Dae-gil launches across the table to grab Injwa's robes, demanding that Injwa tell him who he is. Injwa says that all that's happened is part of Dae-gil's fate—and if regaining his memory is part of that fate, then it'll come to pass with or without his help.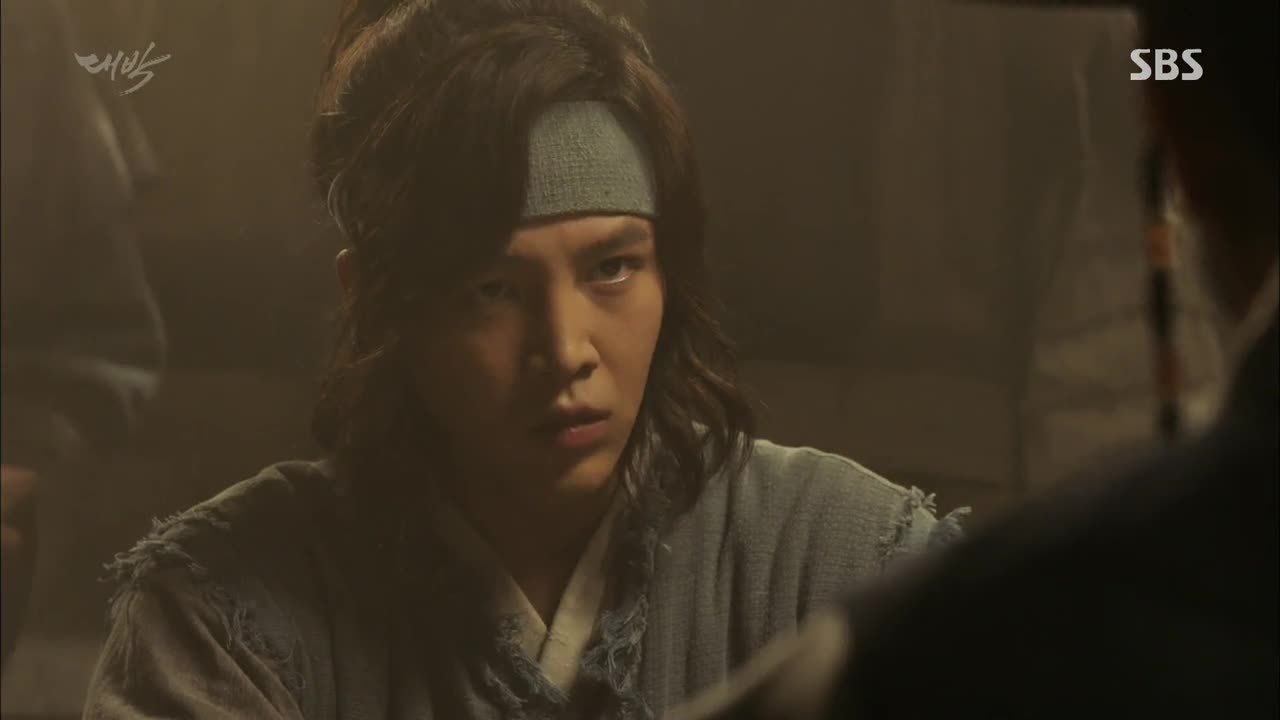 In order to get Injwa to talk, Dae-gil offers to make a bet over a round of tujeon. Injwa agrees to play only one round, and they each pick their cards. "Your fate rests with these cards," Injwa says, in case we weren't sure about that part.
But Dae-gil reveals that he does remember him as he turns over his seemingly winning hand. "Why did you kill him? Why did you kill my father?!" he demands to know, but he won't get his answer—because Injwa's managed to draw the one rare hand that can beat him.
He's taken aback, then, when Dae-gil claims he cheated. It's an offense that'll cost him a hand if it turns out to be true, and Dae-gil's determined to prove it, even though Injwa warns him that he'll never find out why he killed his father if his claim is proven wrong.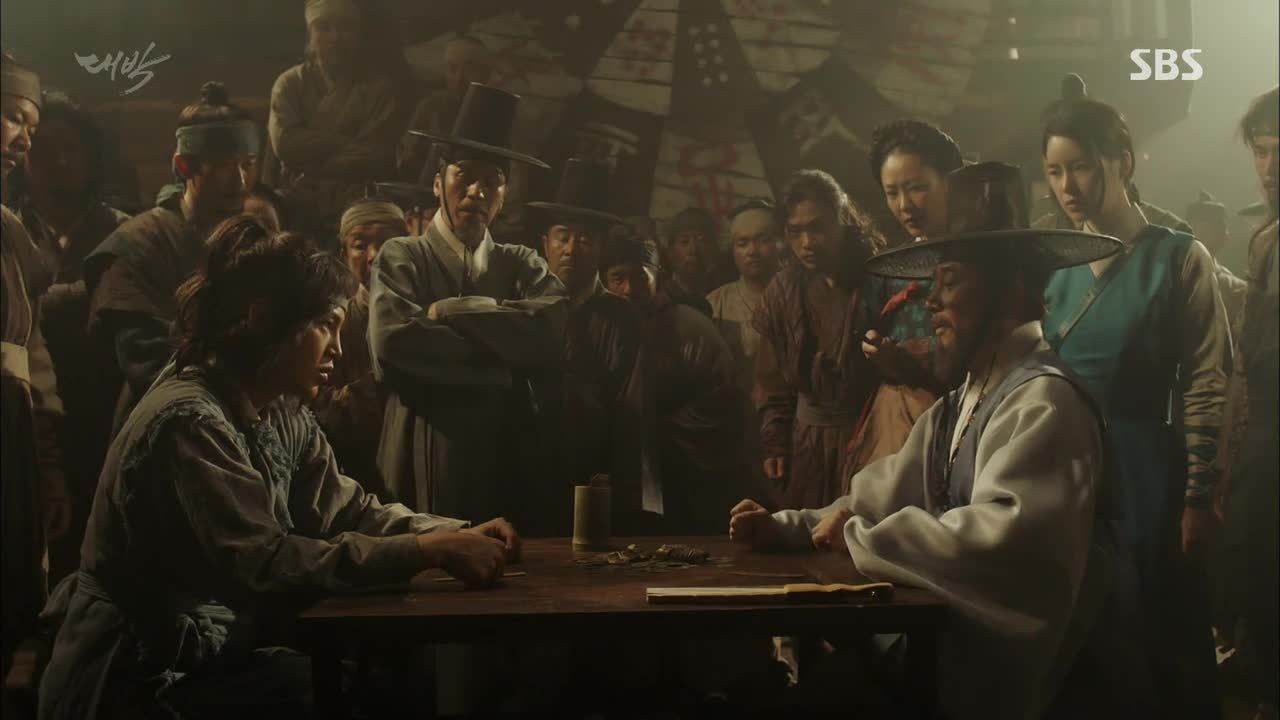 Dae-gil seems sure, and has Ahgwi check his sleeves for a hidden card. Injwa is surprised when he finds one, figuring out belatedly that Dae-gil must have snuck it inside his robes when he grabbed him by the collar.
This puts Hong Mae in an awkward position, since her own rules call for the removal of the cheater's hand. Injwa can only say "Baek Dae-gil" admiringly(?) as Ahgwi swings his axe downward, toward Injwa's vulnerable wrist.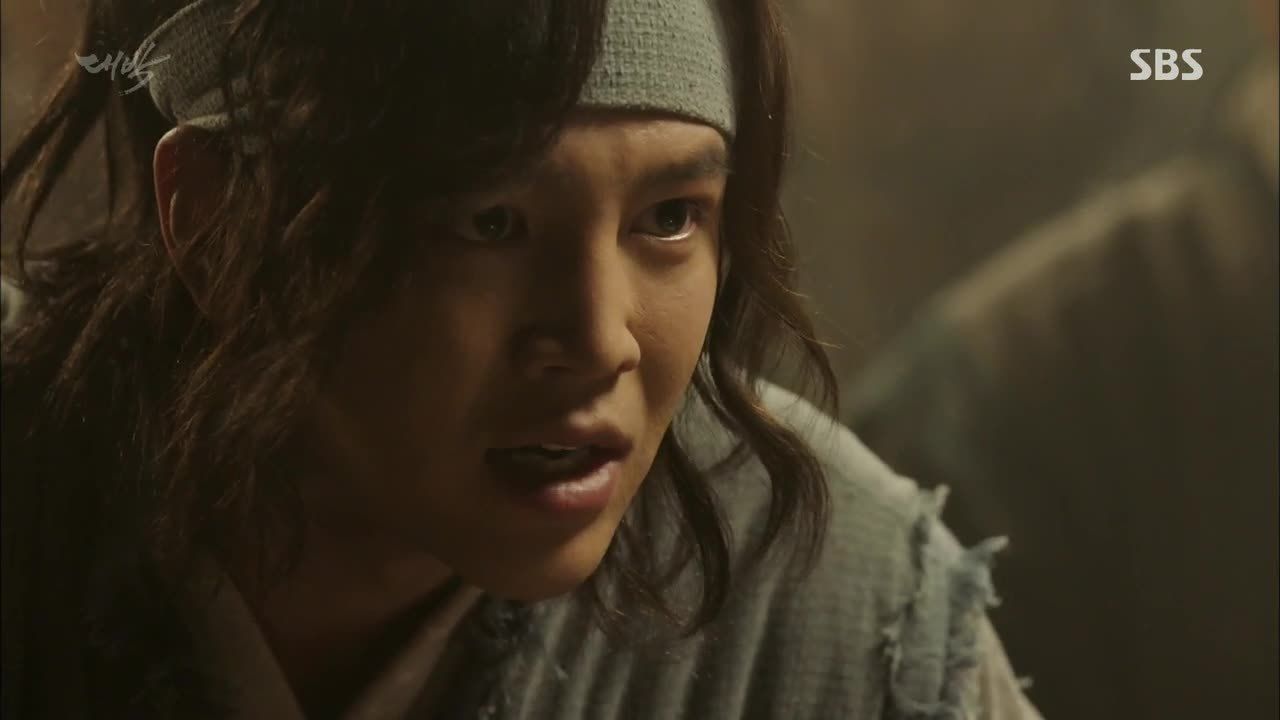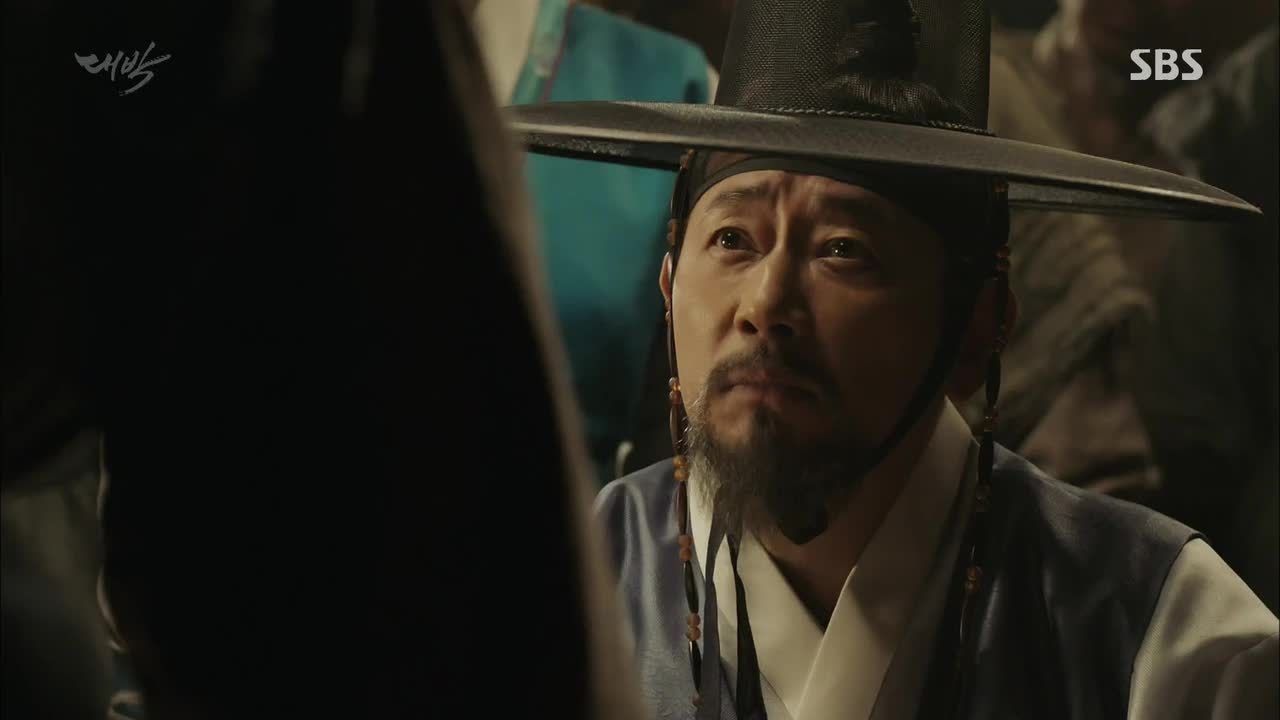 COMMENTS
If the cliffhanger is solely based on whether Injwa will or will not lose his hand, then count me interested to see if that comes to pass. I'd love nothing more than to see Injwa suffer just a little (or a lot), if only because he's always the one dishing it out. So why does that leave me feeling like he definitely won't lose anything, because he never does?
But more importantly, who was it in the chain of command who said and did nothing when the writer presented a script where the hero gets shat upon? I've seen some crazy things in dramaland, and gotten a few good laughs out of some of the more extreme stuff—but after seeing two whole episodes of Dae-gil being relentlessly harmed, that entire sequence was the absolute last thing he or the audience needed.
What's most puzzling about the choices being made in regards to his character are how downright bizarre some of them are, and how colorblind whoever's behind them must be. And, to Jang Geun-seok's credit, he's acting out what's easily been the most grueling few episodes in drama history like a champion. Similarly, the director seems to be pulling his weight, because the shots still manage to hold visual interest. At the end of the day, the frames are still very well-lit and beautiful, which is a feature that's definitely working to elevate the experience.
Which means that somewhere in the process, specifically the scriptwriting process, things aren't going so well. The acting talent is there, as is the talent behind the camera—and the show even has great music to accompany it, which is an even rarer gift. So even if I could buy the argument that all these unnecessarily terrible things had to happen to Dae-gil in order to incite the change that would make him into who he needed to be, which is a blanket argument that could be used for any event happening to anyone anywhere ever, I draw the line at seeing him crawl out of a latrine where he has literally, literally, been freshly shat upon.
Say what you will about Dae-gil needing all that suffering to build character—less is still more. We got the point of his degradation when he was sold into slavery and when he repeatedly found himself powerless to do anything for himself or others, just like how we got the point of his immortality by the second or third fatal injury. There's potential here, don't get me wrong, but you can't keep throwing cliffs and tigers and actual crap at it to make that potential into something useful. If nothing else, I suppose I'm interested to see where the show goes when it comes to new ways to harm Dae-gil, because I'd say we've officially peaked with this episode. (I'm going to regret saying that, aren't I?)

RELATED POSTS
Tags: Choi Min-soo, Episode 6, featured, Im Ji-yeon, Jackpot, Jang Geun-seok, Yeo Jin-gu, Yoon Jin-seo