Lucky Romance's leads get cozy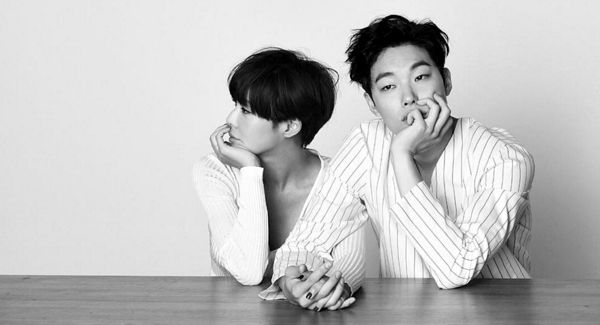 javabeans: Look, photo!
girlfriday: Ooh, Lucky Romance already? They're so cute together!
javabeans: Even if they have the same hair.
girlfriday: I was just thinking, I actually like Hwang Jung-eum's hair! It's a first for me. Even though maybe I like it because it's Ryu Joon-yeol's hair. Don't you think she'll find some way to mess it up for the drama though?
javabeans: We're never safe where her hair's concerned, since she seems to enjoy experimenting with ugly hairstyles. I'm glad to see they look so cozy and sweet together, although I don't think this is necessarily indicative of their characters' relationship in the drama — it's just the first tease released by CJ E&S, right after the cast held their first script reading.
girlfriday: Yeah they'll probably be at each other's throats in the drama, but it's nice to see that there will be chemistry once we get to the happy love part (there is a happy love part, right?).
javabeans: We're not even going to contemplate the alternative. They'll fall in love and be super cute and May and June will be full of bubbly rom-com goodness.
girlfriday: GOOD. Some of us still have emotional scars, yunno.
javabeans: Denial. I highly recommend it.
girlfriday: Who's this Ryu Joon-yeol guy who's never been in dramas before? He's very handsome.
javabeans: I don't know, but I'm sure this will be his breakout role. It'll be great.
Via IS Plus
RELATED POSTS
Tags: conversation post, Hwang Jung-eum, Lucky Romance, Ryu Joon-yeol