Marriage Contract: Episode 11
Denial is a powerful thing — it can make a person want to forget their true feelings, or it can also make you stronger as you struggle not to let go of the truth. But what do you do when everyone around you is urging you to let go and forget, when you know that you're right? Ji-hoon will need to use every bit of his iron will to hold onto what he knows is true.
EPISODE 11 RECAP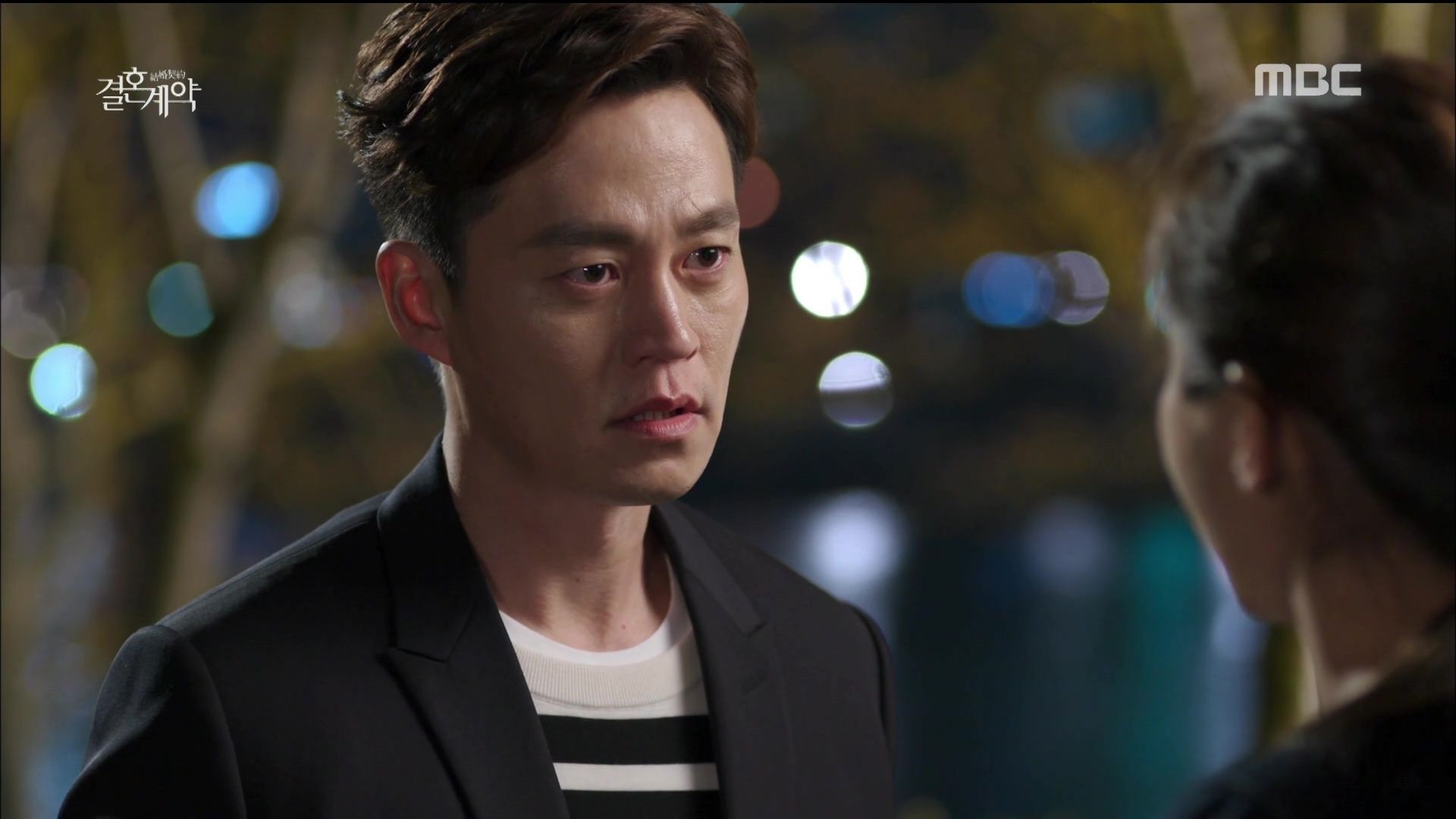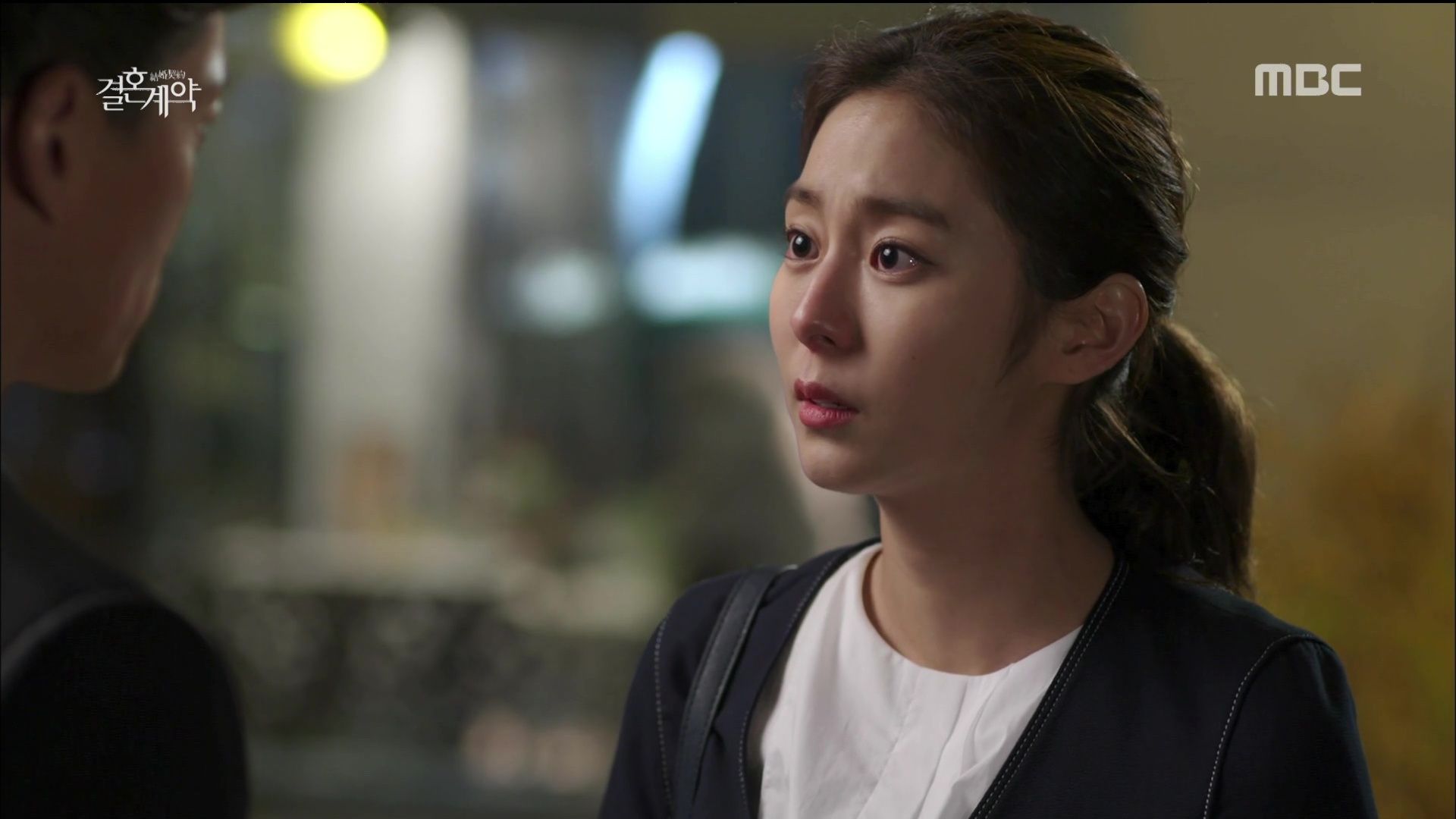 Ji-hoon excitedly gives Hye-soo a ring and suggests they give this relationship a try as a real marriage, but she plasters on a tight smile and says that she got the rest of her money from his father. She lies that she's never had feelings for him, not even once, and though she's not saying it unkindly, her words hit Ji-hoon like a ton of bricks.
He tries to discuss it, but Hye-soo cuts him off at every turn. She says that their kiss that night was a mistake and asks him to forget it, her voice taking on an edge of desperation. He asks her one last time if this is how she really feels, and she says she does, but still with that horrible fake smile.
Ji-hoon's face shuts down as she asks when they should go to the court to file divorce papers, and he doesn't say another word as Hye-soo leaves. But he runs outside after her and stops her, asking what really happened to make her act this way, though she claims that his father has nothing to do with this.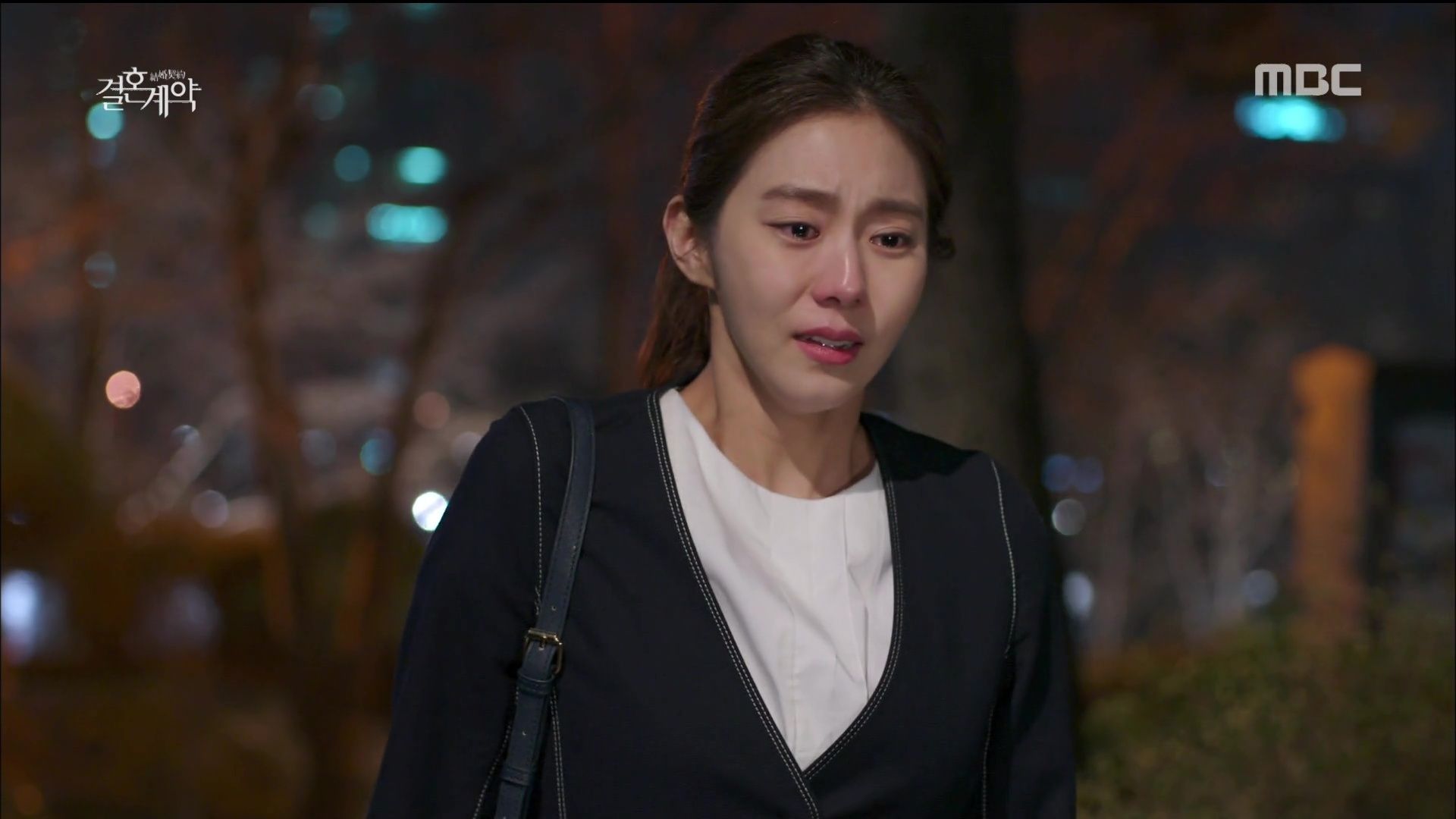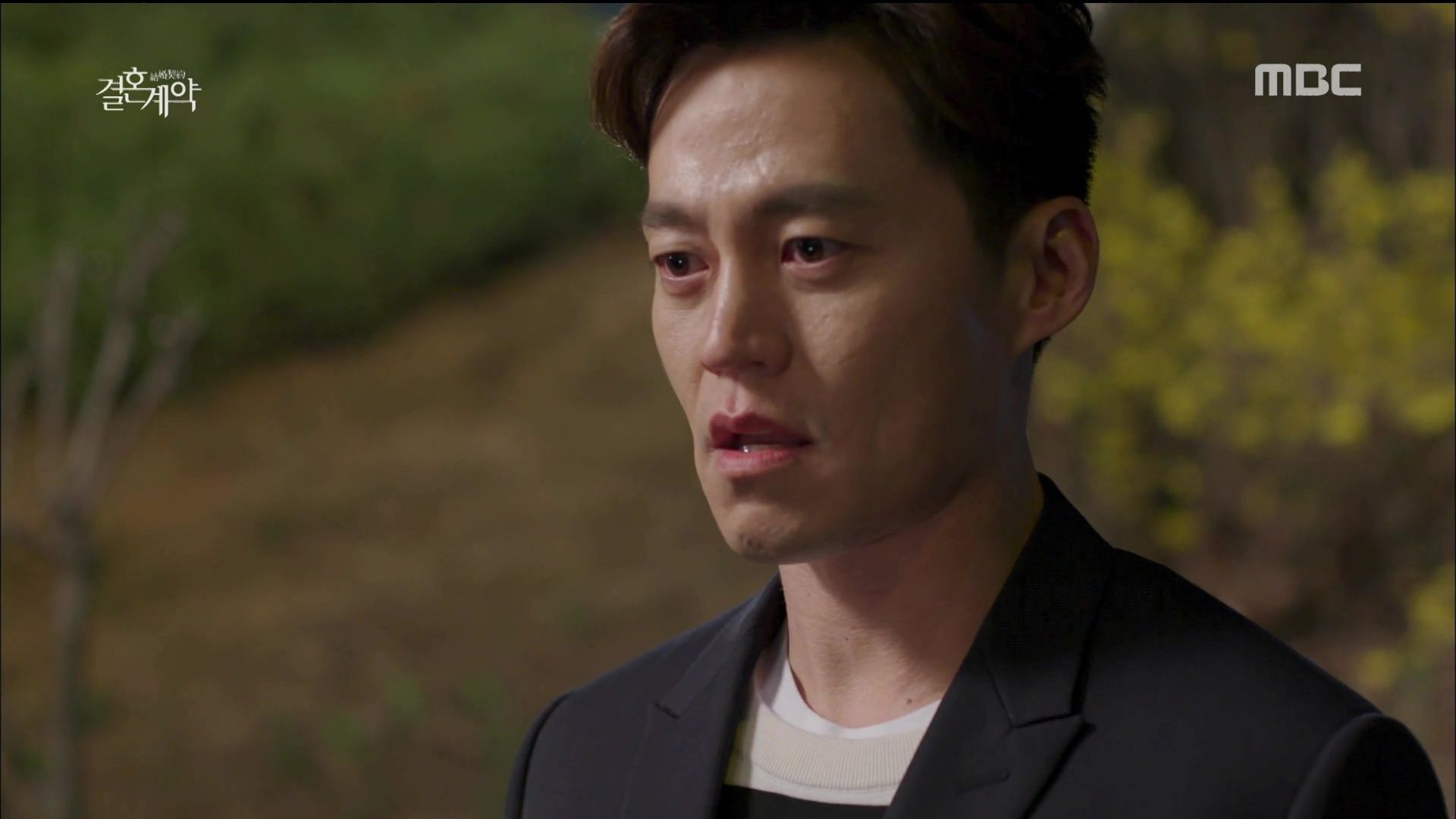 She still maintains that he only became too immersed in their fake marriage and isn't really feeling anything for her. She says that she has no intention of dating him for real, and walks away. Ji-hoon is left behind, fighting back tears, and he doesn't see that as soon as she's out of sight, Hye-soo also starts to cry.
Ji-hoon asks his father later that night if he really paid the balance of what he owed Hye-soo, and Chairman Han tsks that Ji-hoon still doesn't understand what's happening. He's practically giddy, thinking that he was right about Hye-soo all along, and he tells Ji-hoon to get the divorce and go back to where he belongs.
He adds that there will be a meeting of the families regarding his and Na-yoon's wedding this weekend, telling Ji-hoon to prepare. Ji-hoon retorts that he's visiting his mother this weekend, since she's not going to live much longer, and tells his father to reschedule the meeting.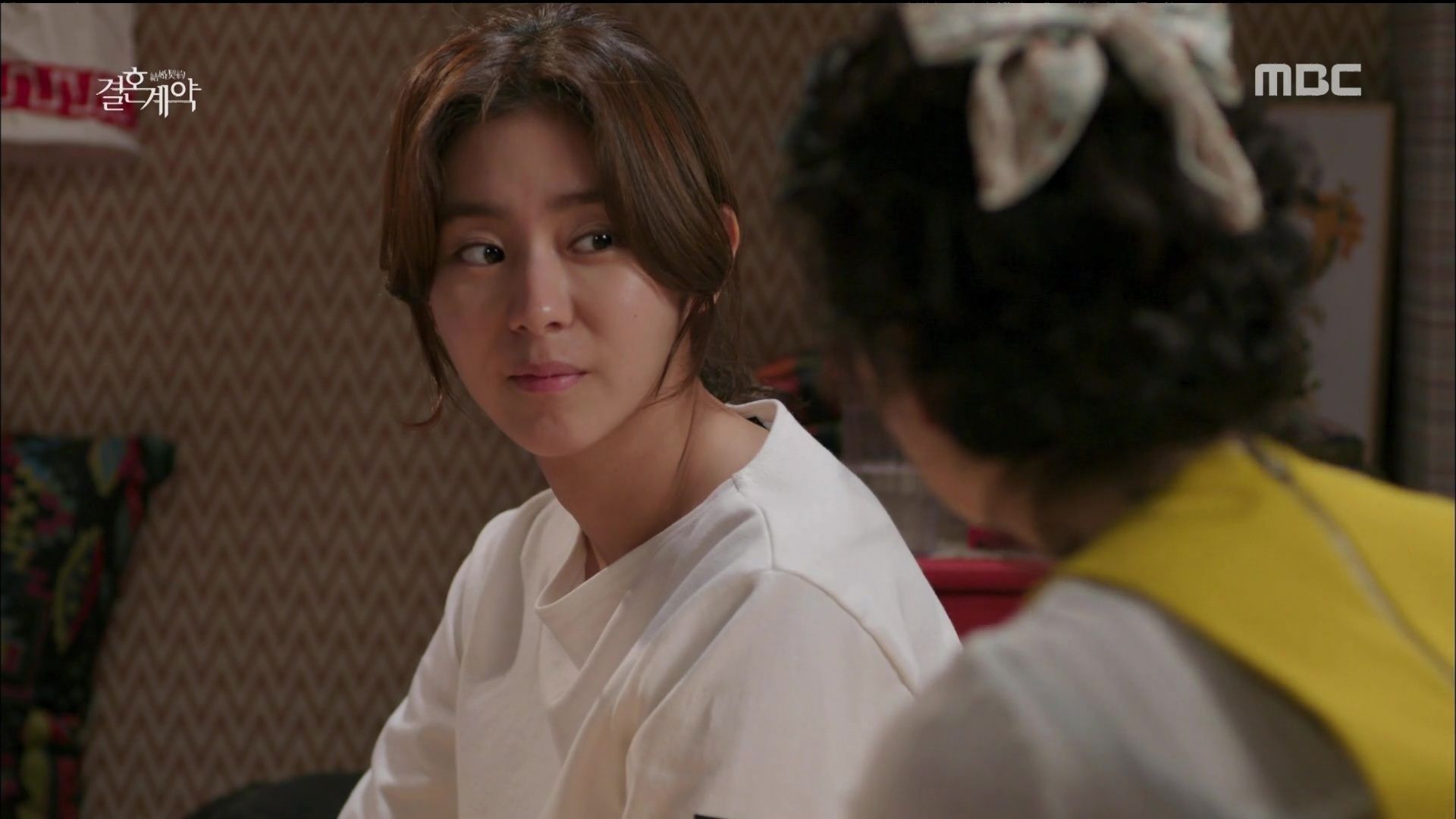 Joo-yeon catches Hye-soo taking her medication, which she claims is cold medicine. Joo-yeon is skeptical, but she's more interested in the fact that Hye-soo got the rest of her money, and she suggests that they open a restaurant together. Hye-soo says she'll think about it.
Joo-yeon admits that she's surprised — she expected Hye-soo to turn down the rest of the money when the surgery was canceled. She's quick to say that she didn't do anything wrong, but Hye-soo makes it clear that she's not planning on spending the money any time soon.
Out on the island, Mi-ran watches her brother docking his fishing boat thoughtfully. He snaps at her to go back to the city and get her surgery, but she insists that she can't because she canceled it. He breaks free of her, but he's soon stopped by Chairman han's assistant, who asks if he's Mi-ran's brother.
He hands him an envelope from Chairman Han, explaining that he's willing to pay for the two of them to move away to a distant town. Uncle knows right away that this as a ploy to keep Ji-hoon from meeting his mother, and he flings the envelope in the man's face, furious. He very nearly tosses the man into the ocean, but Mi-ran manages to stop him.
Na-yoon visits the chairman to find out what happened with Ji-hoon and Hye-soo (ugh, again with the sneaking around), and he's more than happy to tell her that they broke up.
Joo-yeon continues to nag Hye-soo about starting a business together, but Hye-soo reminds her that that money is for Eun-sung's future. Joo-yeon says that she can pay for Eun-sung's future by earning money with a business, and Hye-soo gets perilously close to the truth when she says, "I could die before then."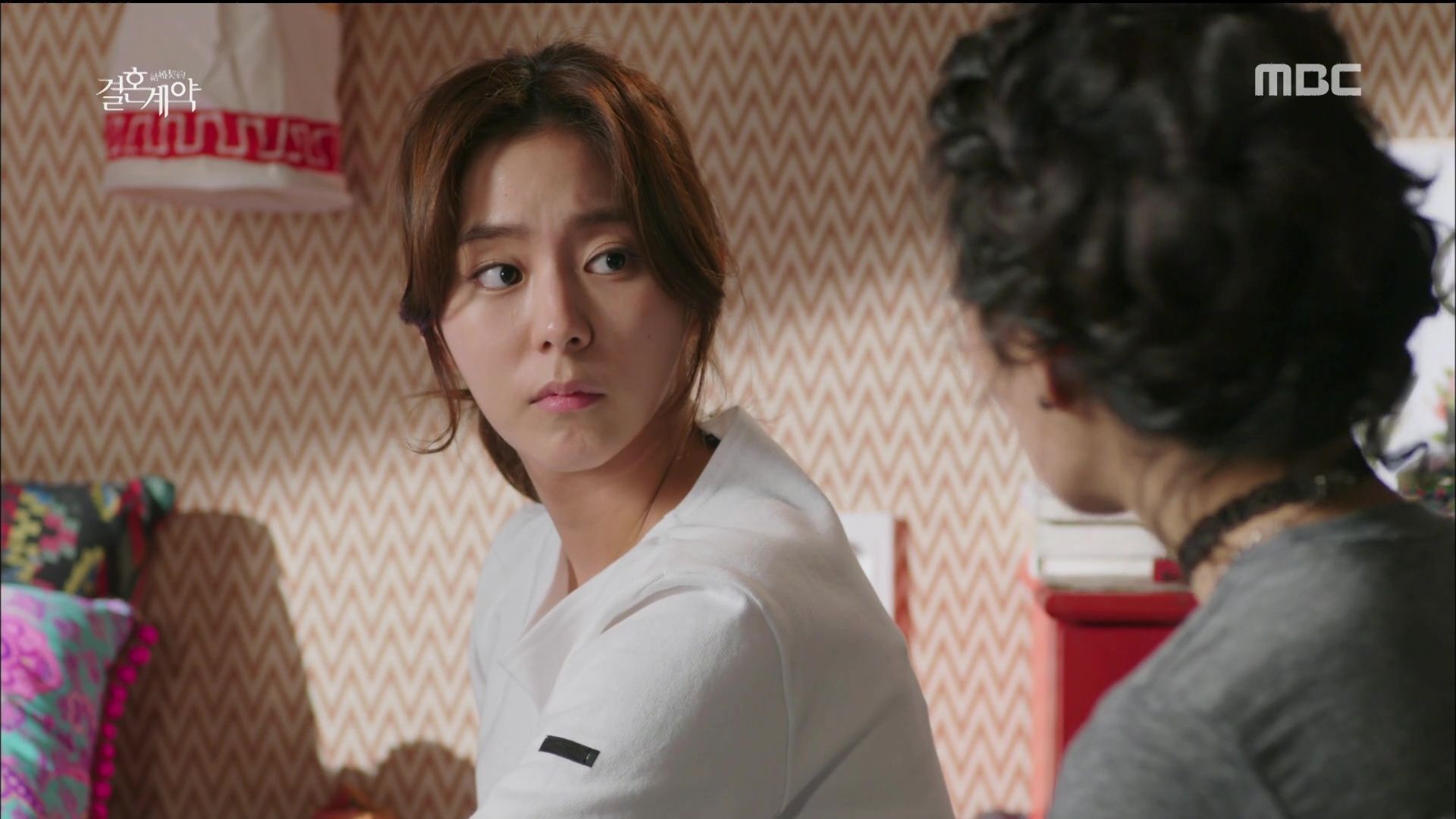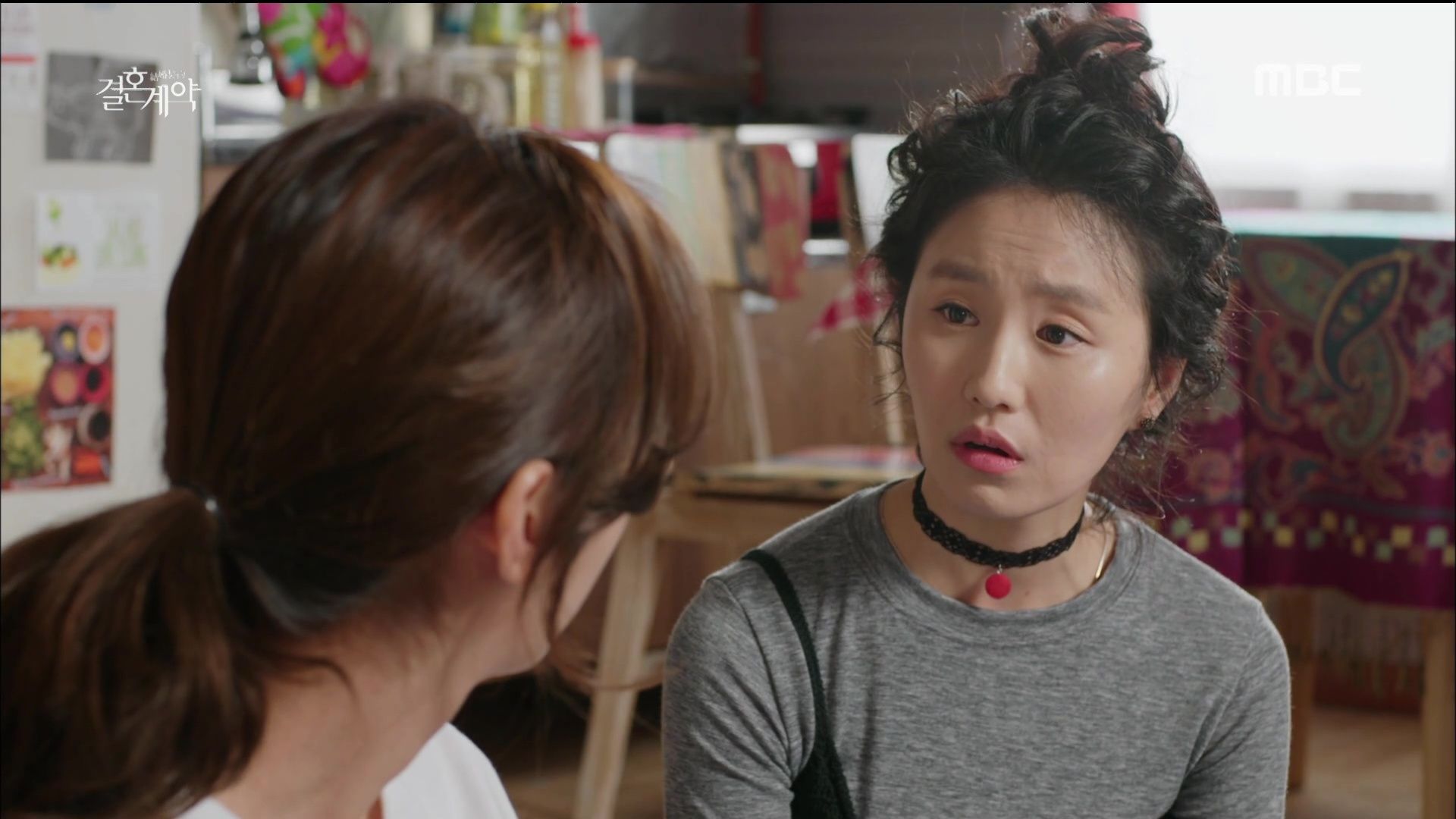 Joo-yeon reminds her that starting a business together was Hye-soo's idea, a little miffed at the thought that Hye-soo might be afraid she'll spend all her money. She repeats that it seems unlike Hye-soo to accept the entire amount when the surgery didn't happen, but she wants them to use that money to start a new life. Hye-soo thanks her, but she's firm that for now, she can't start a business.
She asks Joo-yeon to encourage her, to tell her that everything will be fine. She says that she's not going to die, so she needs Joo-yeon's promise to only say encouraging things. If she does, then Hye-soo will tell her everything. Joo-yeon thinks she's being overly dramatic, but as she looks at Hye-soo's face, she finally realizes that something is terribly wrong.
Na-yoon stops by Promise to talk to Ji-hoon, looking smug with her new knowledge. He doesn't feel like talking but she blurts out that she never liked Hye-soo, which makes him stop. She says that Hye-soo must have no common sense, to accept such an insane proposition.
Ji-hoon tells Na-yoon not to judge someone she doesn't even know, and she reveals that she heard that Hye-soo threatened her father to get her money. Downstairs, bratty hostess Ara listens in, aghast, until Seung-joo arrives and makes her keep moving.
On her way out, Na-yoon runs into Hye-soo and Eun-sung heading to their room, and snippily asks why Hye-soo is here. Hye-soo reassures her that she'll quit her job soon, but she's not quite as accommodating and nice as she's been in the past.
Ji-hoon hears Eun-sung playing with her kittens, and the happiness on his face is blinding. He grabs Eun-sung, swinging her around and kissing her, and she looks every bit as thrilled to see him.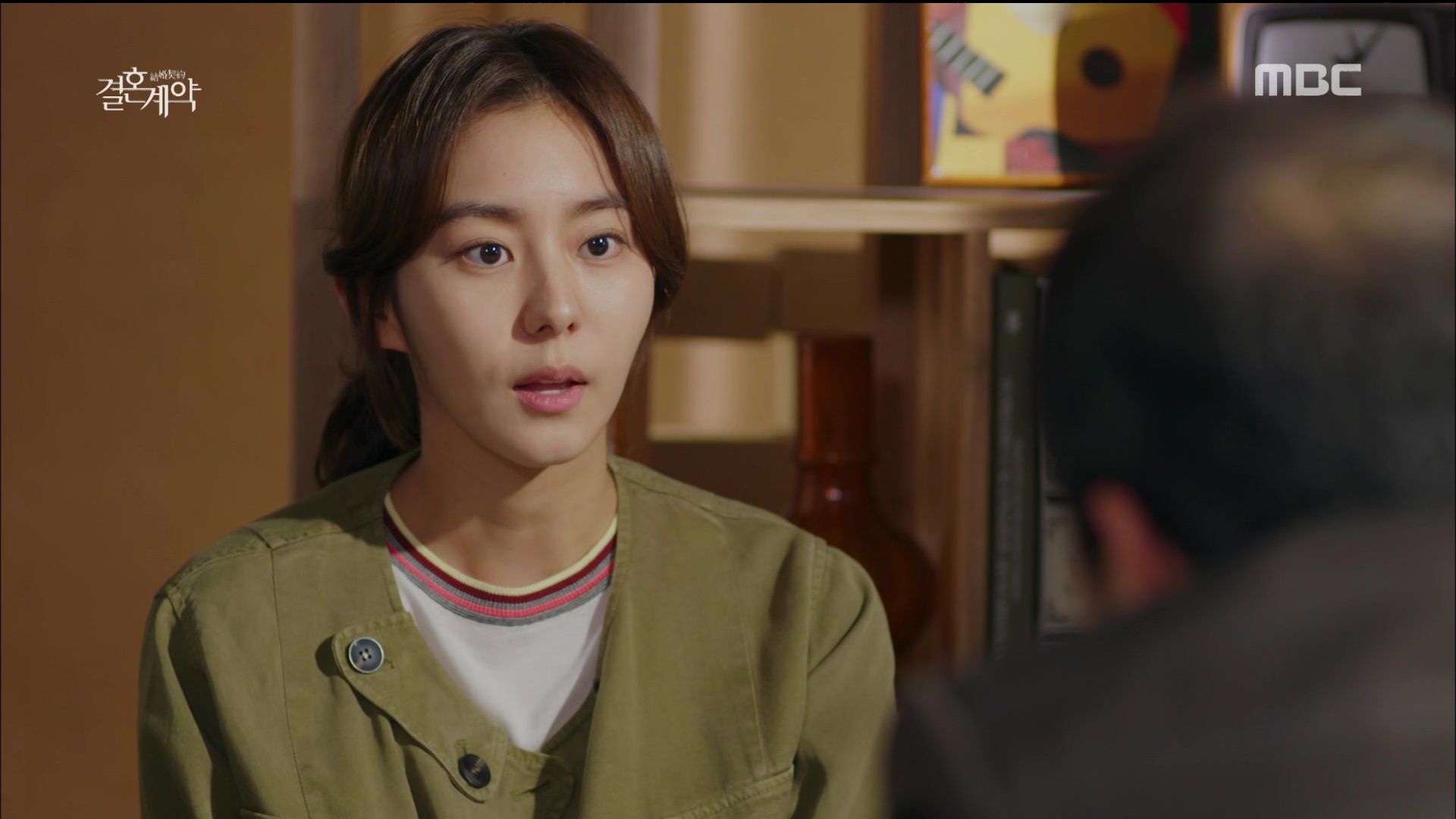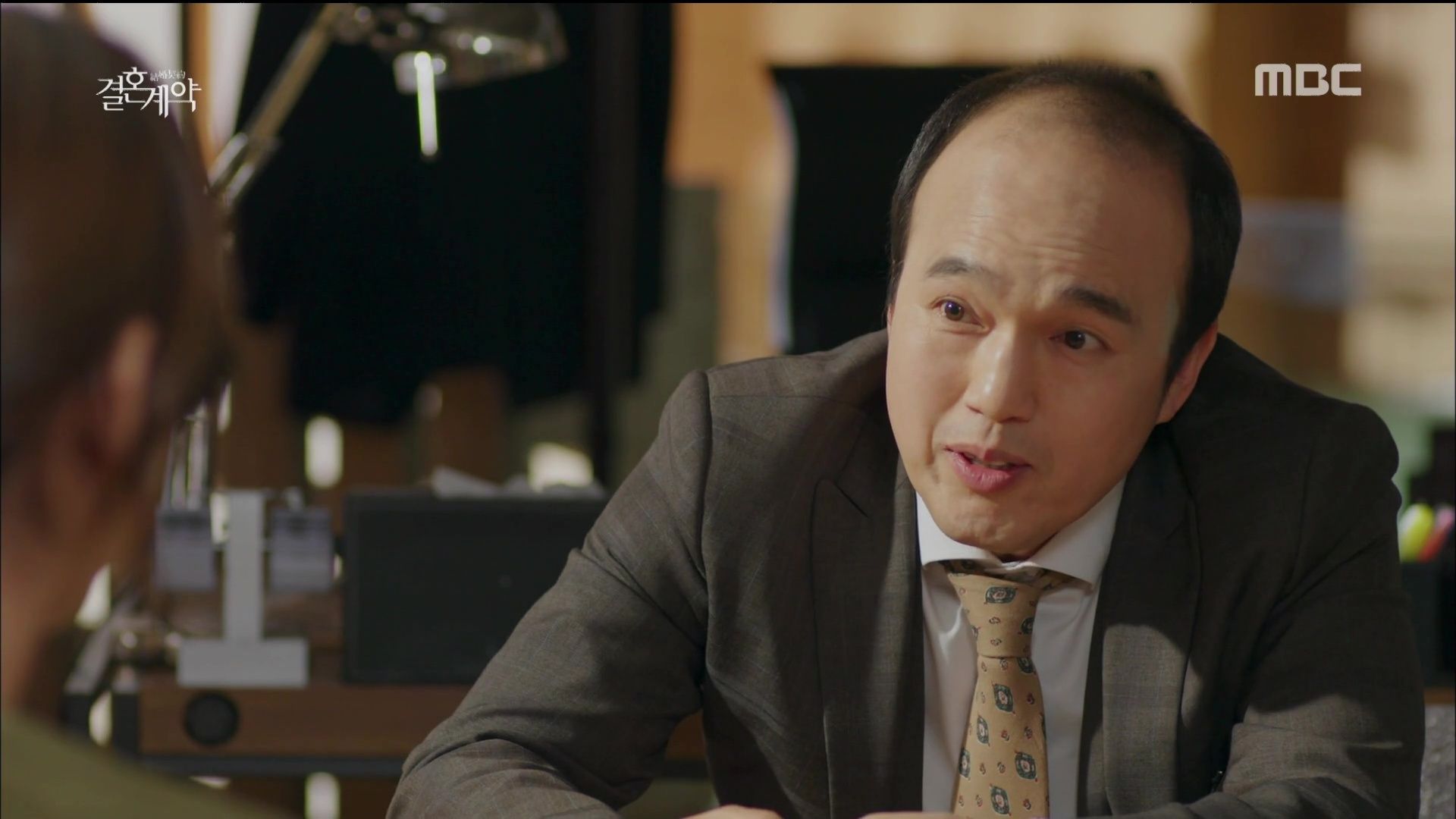 Downstairs Hye-soo speaks with Ho-joon, who rattles on about how he thought there was something between her and Ji-hoon, and how he even borrowed money and sold his belongings to pay her. He thinks she did the right thing by not accepting, unaware that she instead got the money from Chairman Han.
She tells him that she's quitting, which chef Soo-chang overhears, and he angrily demands to know why. Hye-soo agrees to stay a bit longer, and goes up to find Eun-sung.
She's busy jumping on Ji-hoon's bed while he makes her ice cream, but Hye-soo puts a quick stop to that. Eun-sung runs from her and leads her in a chase around Ji-hoon's apartment, until Hye-soo finally catches her and carries her out to their room.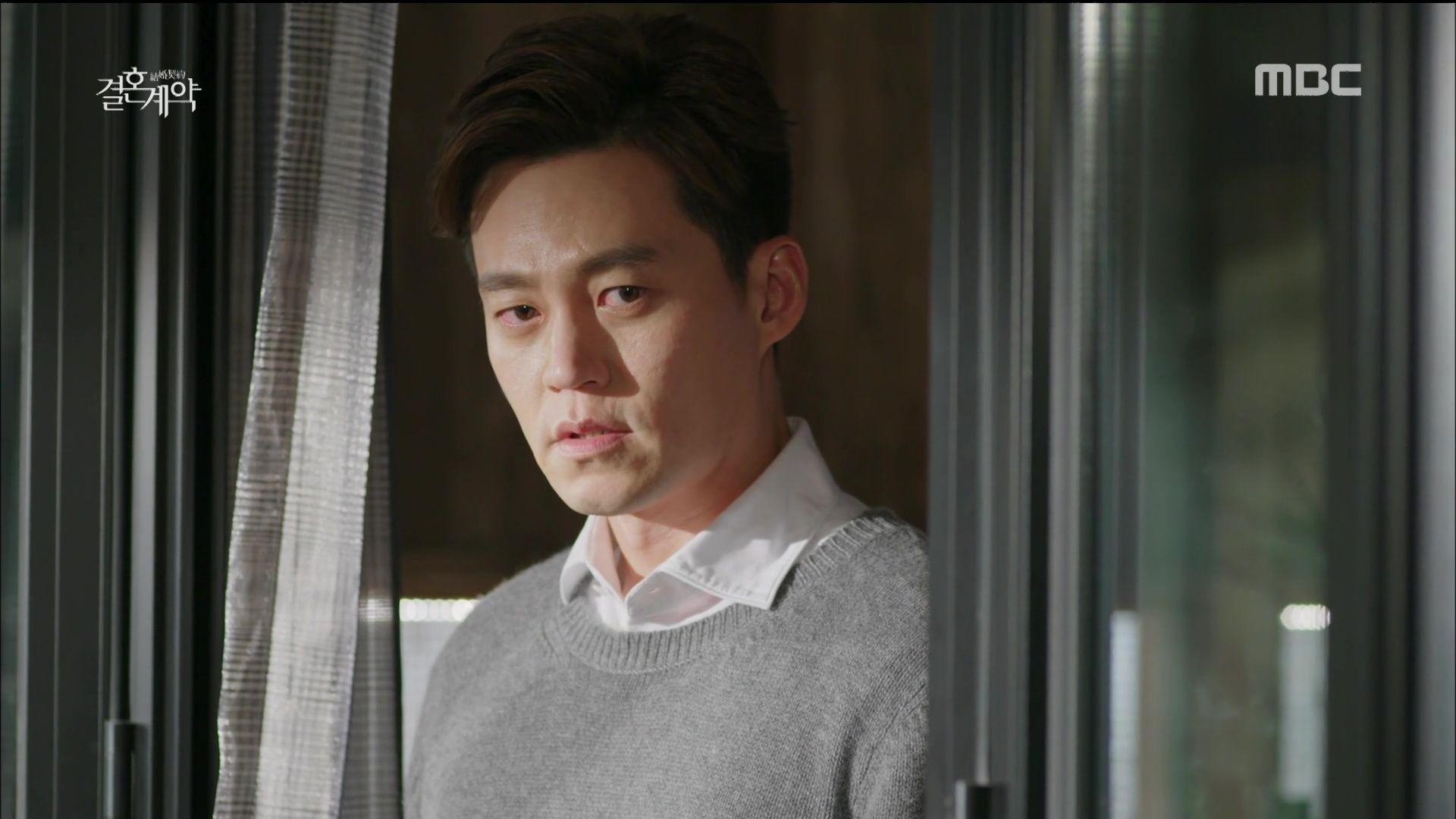 Eun-sung tries to escape back to Ajusshi's rooms, so Hye-soo sits her down for a talk. Ji-hoon can hear them, as Hye-soo tells Eun-sung that they're moving again, and that she won't be marrying Ajusshi. Between Eun-sung and Ji-hoon, it's hard to say who looks sadder, and Ji-hoon looks like it physically hurts not to run to Eun-sung when she starts to sob.
Later, Ji-hoon stops Hye-soo to ask her if he really was nothing to her. He's not so stupid that he can't tell the difference between true feelings and a mistake. Hye-soo gently mocks him, saying that he's hanging onto that kiss like a child, unable to let go. Again, she requests they get the divorce as soon as possible.
Uncle calls Ji-hoon to complain about his father's high-handedness, offended that Chairman Han thinks so little of Mi-ran. He tells Ji-hoon that his father will be punished if he keeps treating people like this.
Jung-hoon meets with the informant he instructed to dig up some dirt on Ji-hoon, angry when he couldn't turn up anything more scandalous than a couple of speeding tickets. But he does perk up to hear that his little brother has been married, and he staggers home drunkenly to confront his parents.
He's all puffed up with his information, delivering it like some kind of hero, but instead of being praised he finds Chairman Han looming over him, furious. He's angry that Jung-joon did a background check on his brother and tells him that he's finished if this gets out. I'd almost feel bad for Jung-joon, if he wasn't such a gigantic tool.
The chairman finds Ji-hoon to ask him again when he plans to get the divorce, and Ji-hoon just tells him "soon." He assures his skeptical dad that he will get divorced, but he's more concerned with his own question: What did he and his mother mean to the chairman?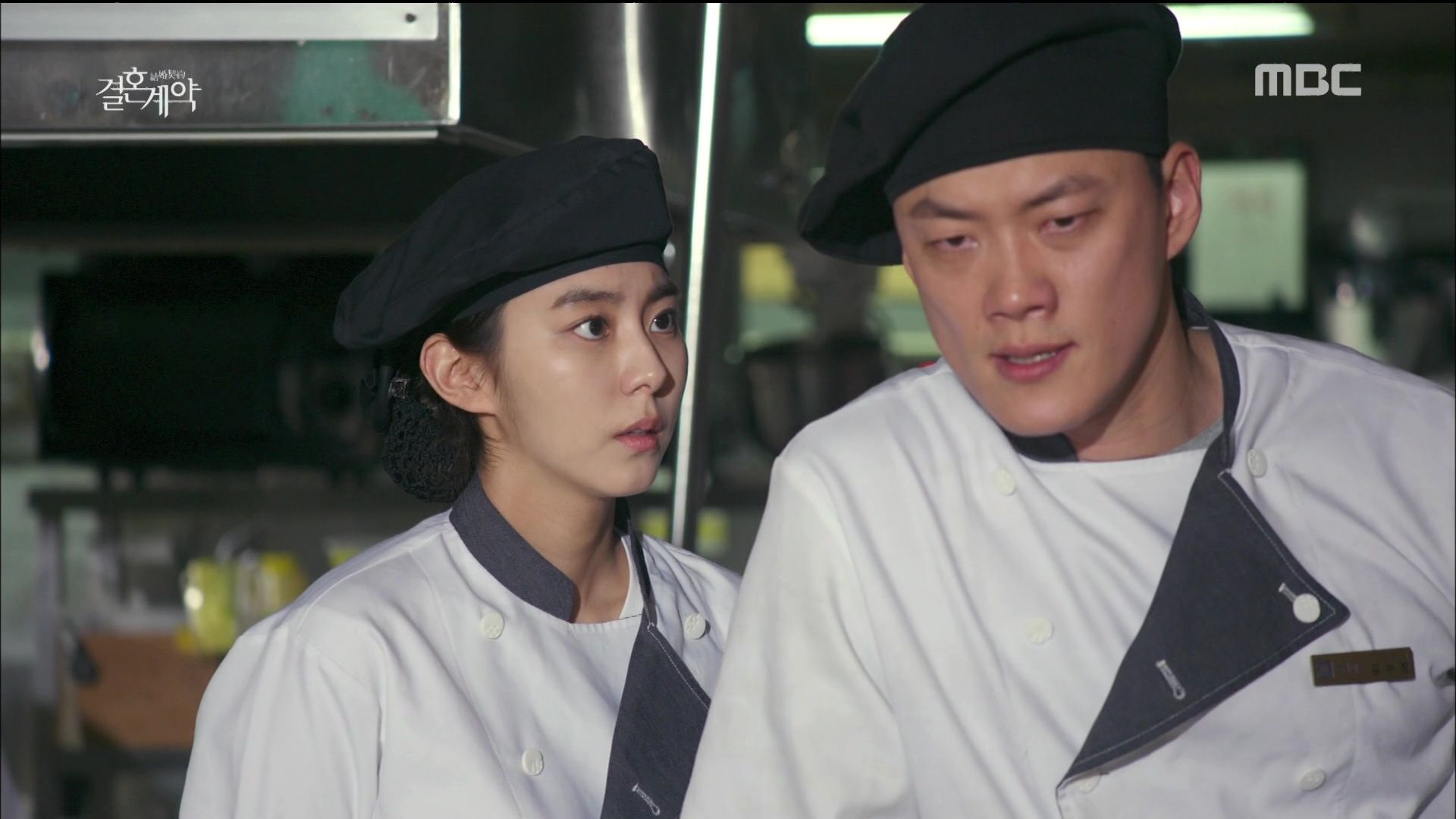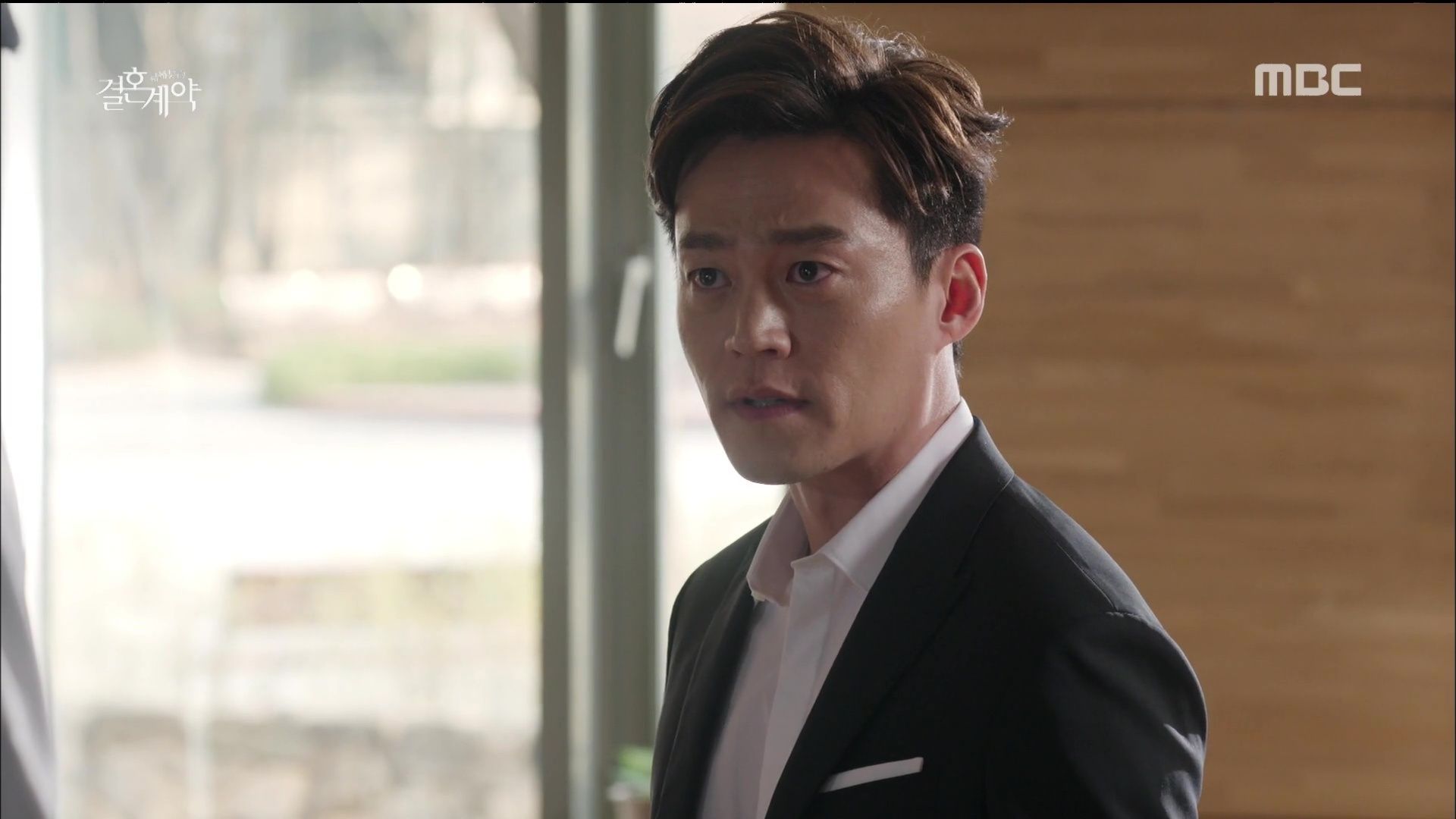 The chairman scoffs that this is a stupid waste of time, and tells his son to focus on his business. I guess, there's Ji-hoon's answer right there.
Both Ji-hoon and Hye-soo overhear others speaking nastily about them — Ji-hoon from his father's employees, and Hye-soo from the Promise servers (led by bitchy Ara, of course). The rumor mill is working overtime in both places, about their marriage and their motivations, none of it flattering.
Having been told off by his father for Promise's lack of increased sales, Ji-hoon blasts the restaurant employees, demanding a whole new menu from chef Soo-chang. He's in a foul mood, and when he's gone, Soo-chang calls Hye-soo over to find out what's really going on. She doesn't answer, but he's firmly on her side, and threatens to thrash anyone who says another unkind word about her. I can't say it enough, I love him.
Ji-hoon can't get Hye-soo out of his mind — the times she's rightly scolded him, and the times she's told others that he has a kind heart under all that gruffness. She's the only one who understood why he was willing to put himself in harm's way to save his mother, and he knows that their kiss was not a mistake or a misunderstanding.
For the first time, Uncle goes to see Mi-ran unprompted, and asks her to have dinner with him. She's sleeping and doesn't wake, and he finally notices that there's blood around her mouth. He calls an ambulance, and word gets back to Chairman Han that she's back in the city, and in the hospital in critical condition.
He goes to see her personally, and when his assistant recognizes and greets Uncle, Chairman Han stops to talk to him. It clearly hurts Uncle when the chairman laughs that this is probably her last few days, and the chairman has the nerve to tell him not to entertain the idea of donating part of his own liver.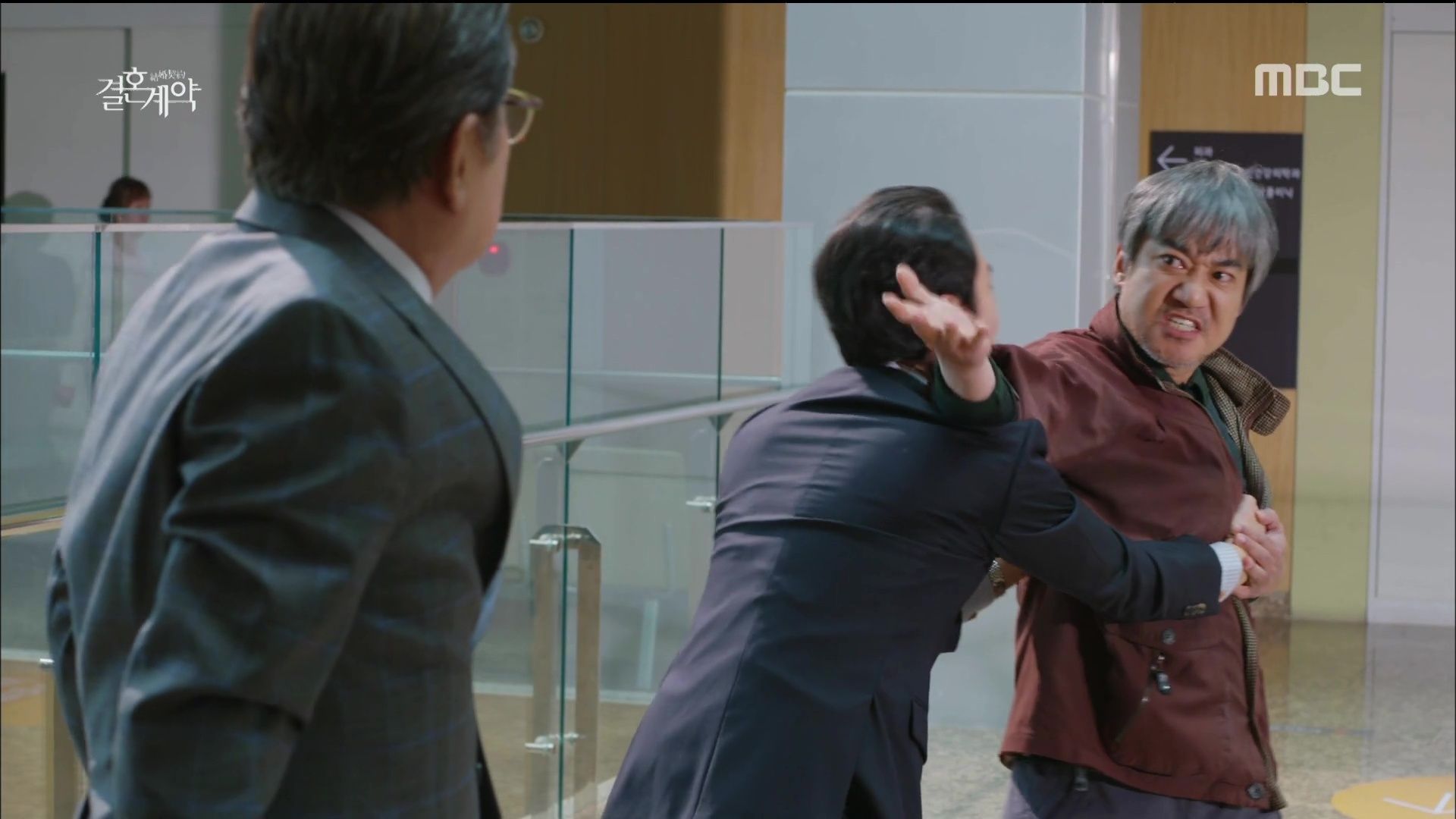 Uncle remains silent during Chairman Han's insulting speech, but when Han tucks an envelope of money in his pocket for funeral expenses, he snaps. He shoves Chairman Han, saying that he'd like to kill him right here and now. He knows why Chairman Han is really here — after ruining Mi-ran's life, he wants to make sure she's really and truly dying.
Uncle throws the money back at him, and lets him know that this has only made him that much more determined to save his sister's life, no matter what it takes.
Hye-soo goes to see Young-hee, and tells her that she and Ji-hoon broke up. Aftera moment of shock Young-hee completely has Hye-soo's back, and she's happy to agree to take care of Eun-sung sometimes.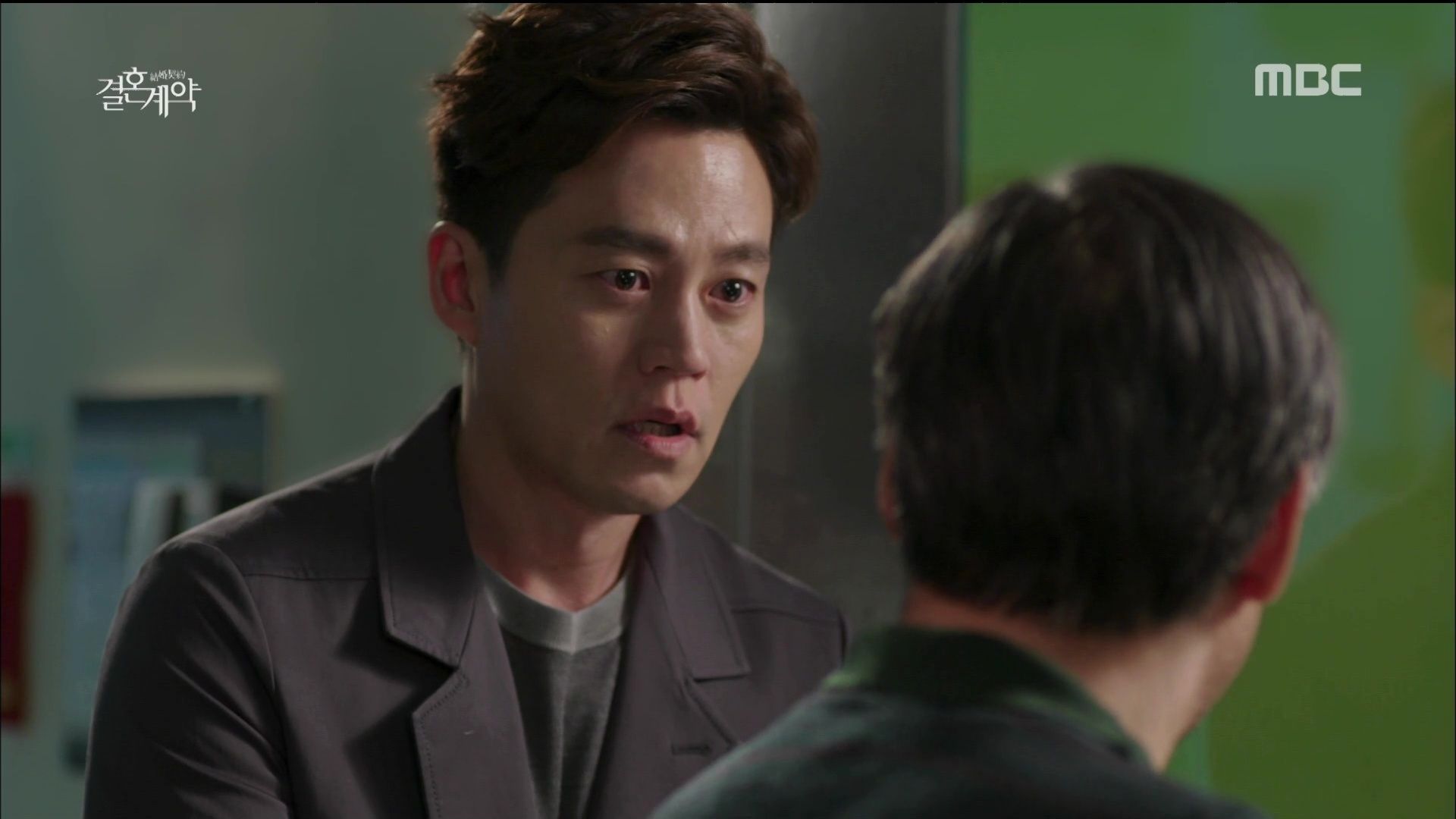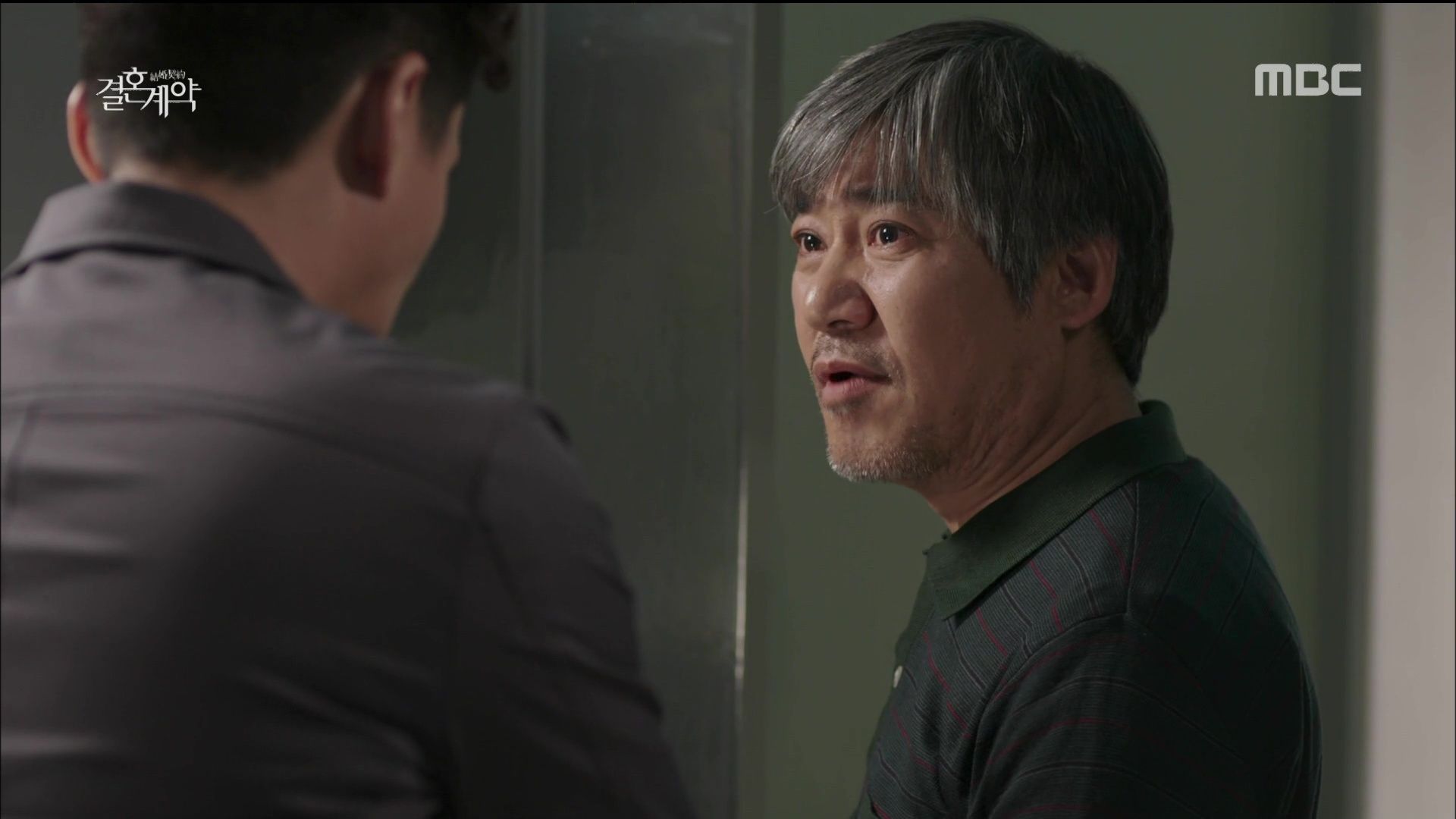 Ji-hoon catches up with his mother and Uncle in the hospital, who called him despite Mi-ran's wishes to the contrary. He tells Ji-hoon about his confrontation with his father, wondering why Mi-ran would waste her life on such a jerk. He says in a deceptively casual voice that he'll donate his liver to her, and Ji-hoon is so grateful he can't speak, and bursts into tears.
Hye-soo gets home just as the restaurant employees are heading out for the night, and Ara starts to complain that she's been gone while they all work. Seung-joo stops her, and Ho-joon sends them all away, staying to talk to Hye-soo.
He tells her that rumors are fickle, and will disappear once people get to know her better. He also tells Hye-soo that Mi-ran is in the hospital after collapsing, then regrets it when he sees her expression.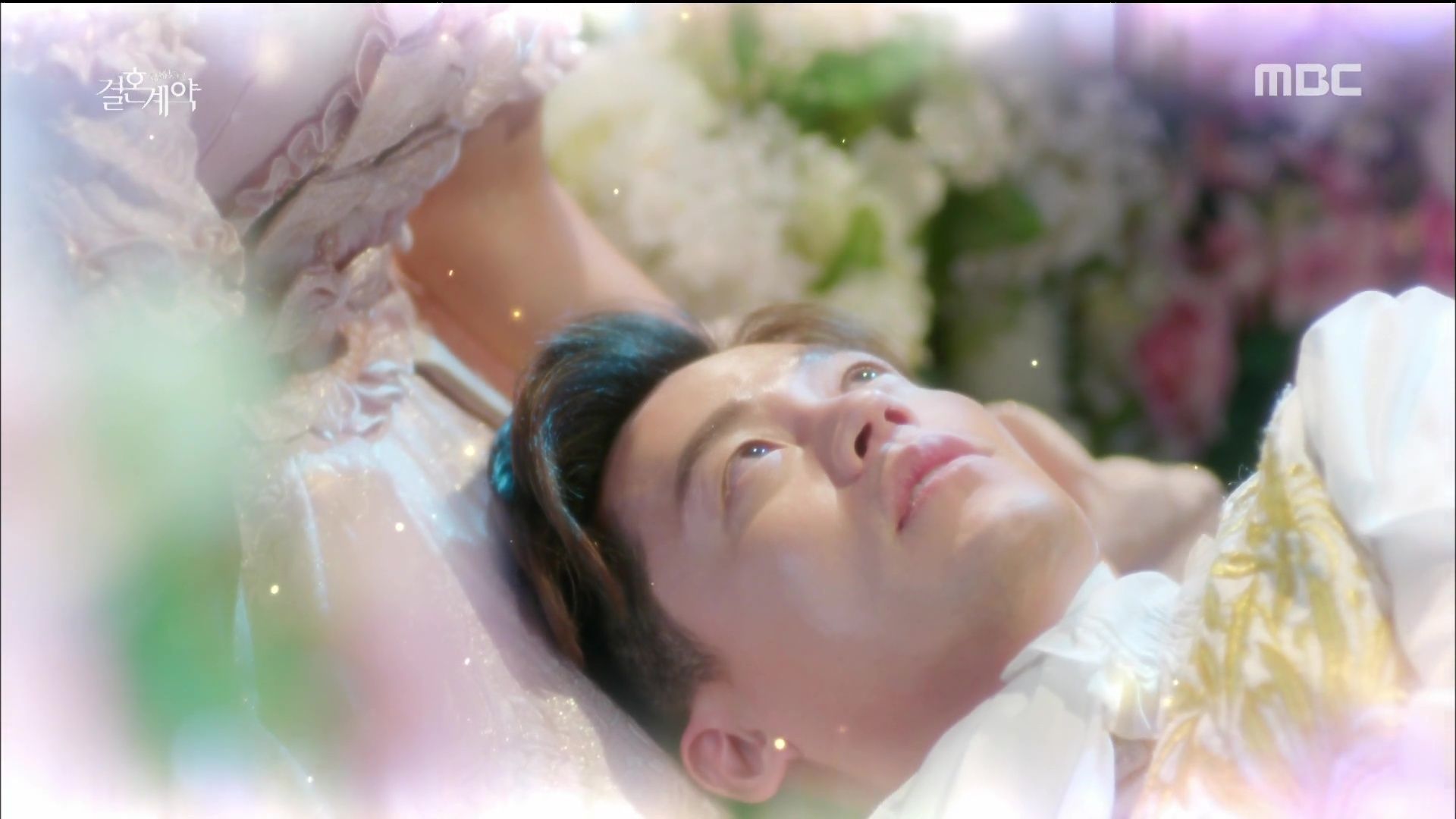 Eun-sung is still angry with her mother, and insists on doing everything herself without any help. Hye-soo feels ill after taking her first treatment that day, though she tries to hide her vomiting from Eun-sung, and she cries in the bathroom.
Joo-yeon is so upset that she can't work, crying in front of her customer and making mistakes. Hye-soo calls her, and Joo-yeon runs right over. While waiting, Hye-soo reads Eun-sung the story of Beauty and the Beast, and Eun-sung sleepily imagines Hye-soo dressed up as Belle.
When the Beast collapses and his beastly face dissolves under Belle's tears, we see his true princely face — Ji-hoon. Hye-soo leans down to kiss him, while Fairy Eun-sung dances around them. Once Eun-sung falls asleep, Hye-soo sits awake, fighting her emotions.
She speaks tearfully to the room in general: "I have so much left to do. I have to read a book for my Eun-sung. I have to take her to her school opening ceremony. In the mornings, I have to tie her hair up. I have so much left to do." She gives in to her tears.
Ho-joon literally pounces on Joo-yeon on her way to Hye-soo's place, but she's in too much of a hurry to stop for coffee. Aww, he really seems to like her, poor guy.
Hye-soo asks Joo-yeon to watch Eun-sung, but Joo-yeon is worried about her, and asks her to tell her what's happening first. Hye-soo says that her first treatment was today but it wasn't as bad as she thought, and she swears she'll recover from this.
Hye-soo goes to the hospital to see Mi-ran, crying to see her surrounded by equipment and looking so ill. She runs into Uncle, and asks him to give her apologies to Mi-ran when she wakes, that she can't go through with the surgery. Uncle says that another donor has been found, so Hye-soo needn't worry anymore.
He's surprised that she didn't hear from Ji-hoon that he'll be the one donating, and Hye-soo bursts into relieved and grateful tears. Oh, I just adore her loving heart.
On her way out Hye-soo sees Ji-hoon and tries to pass him without a word, but he says coldly that their contract is over so she doesn't have to come here anymore. He looks so angry, but he brightens to hear from Uncle that his mother is awake.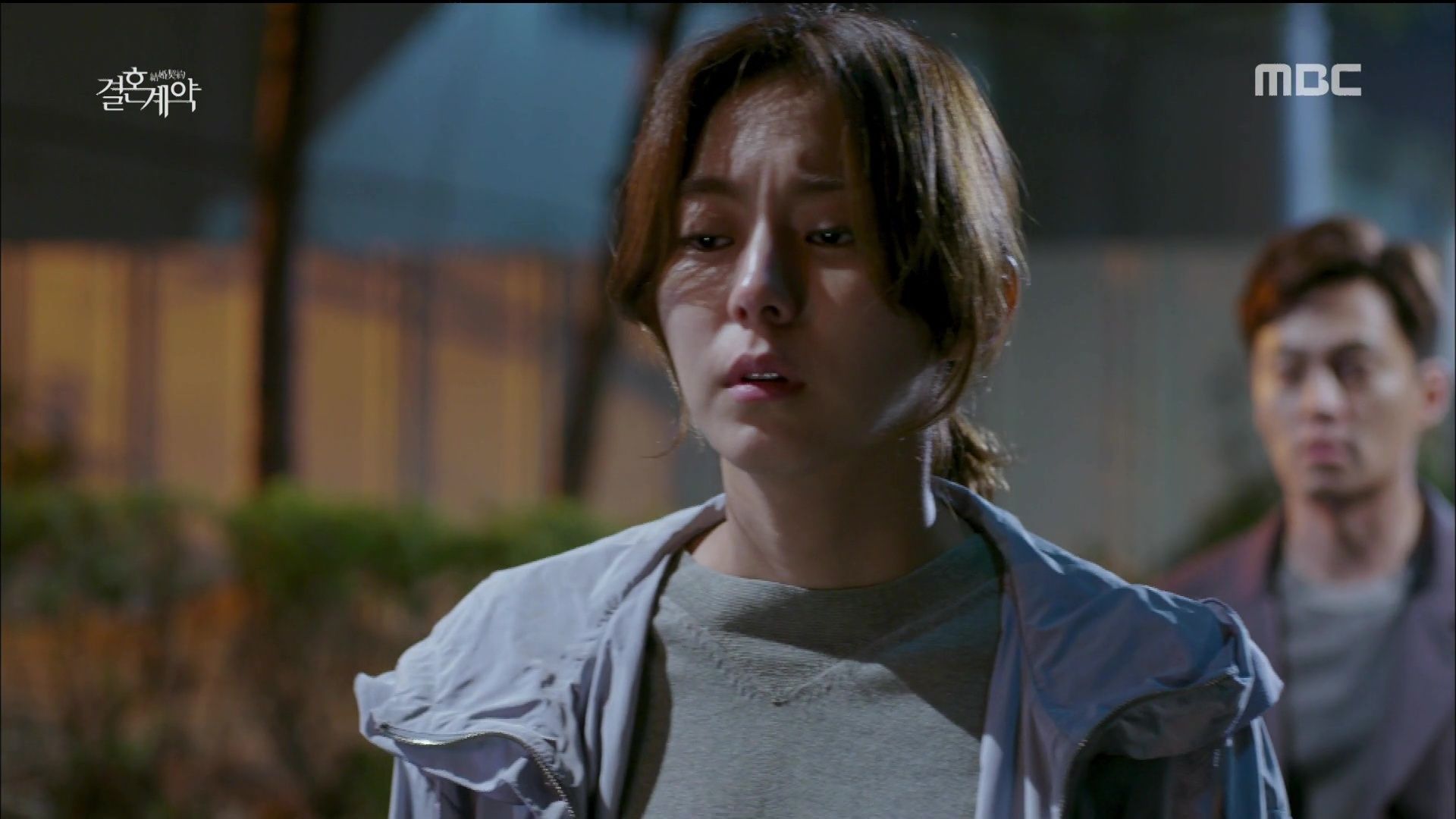 Uncle tells Ji-hoon that Hye-soo came, and asks what's going on between them. He tells Ji-hoon about her reaction when she heard he was doing the transplant, and Ji-hoon realizes that he must have been wrong to believe his father, and goes after her.
He finds Hye-soo outside the hospital and follows closely behind her, but just as she seems to sense him there, her eyes start to roll back and she nearly collapses in front of an oncoming car. Ji-hoon whirls her out of harm's way and yells at her for putting herself in danger, but Hye-soo just pulls herself out of his arms and keeps walking.
Ji-hoon stops her again, saying, "It was my fault. All of it was my fault." Hye-soo keeps walking but Ji-hoon isn't finished, and walks beside her saying that he doesn't know why he's like this around her. He realizes that even though he studied about her for their interview, he didn't really know anything about her.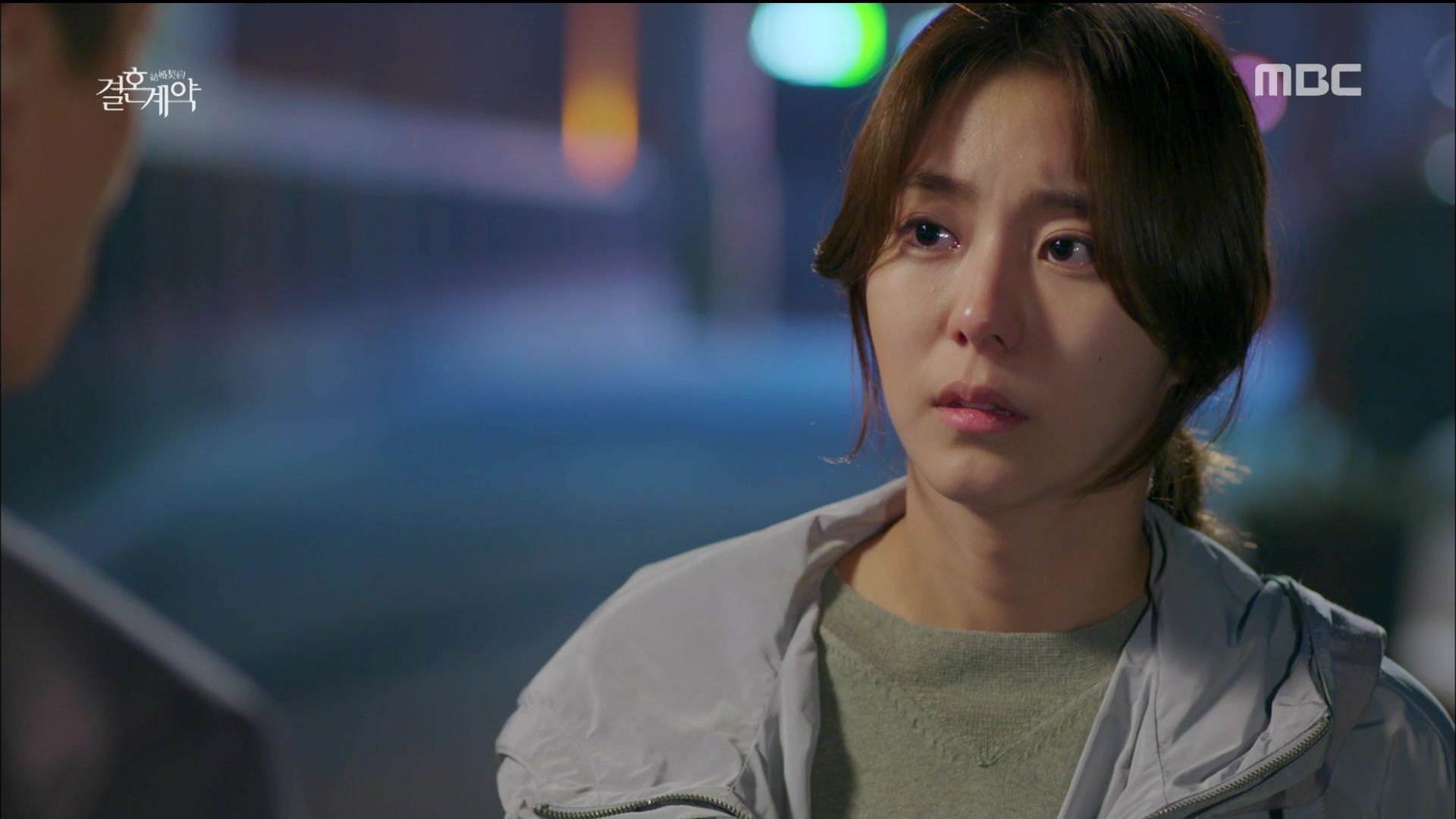 So he asks, if he doesn't know anything about her, shouldn't she tell him? Hye-soo is starting to tear up and she tries to push past him, but he keeps getting in front of her and asking her questions, until she finally stops.
He says that no matter what she says about herself, he's okay with it all. Tearfully, he adds, "I just want you to be next to me. I'll get a divorce if that's what you want, but can't you just be by my side?" By now he's crying shamelessly, his voice breaking as he begs.
He says that he can't forget her, and he's willing to take all the blame for doing this wrong. He begs Hye-soo to forgive him, just this once.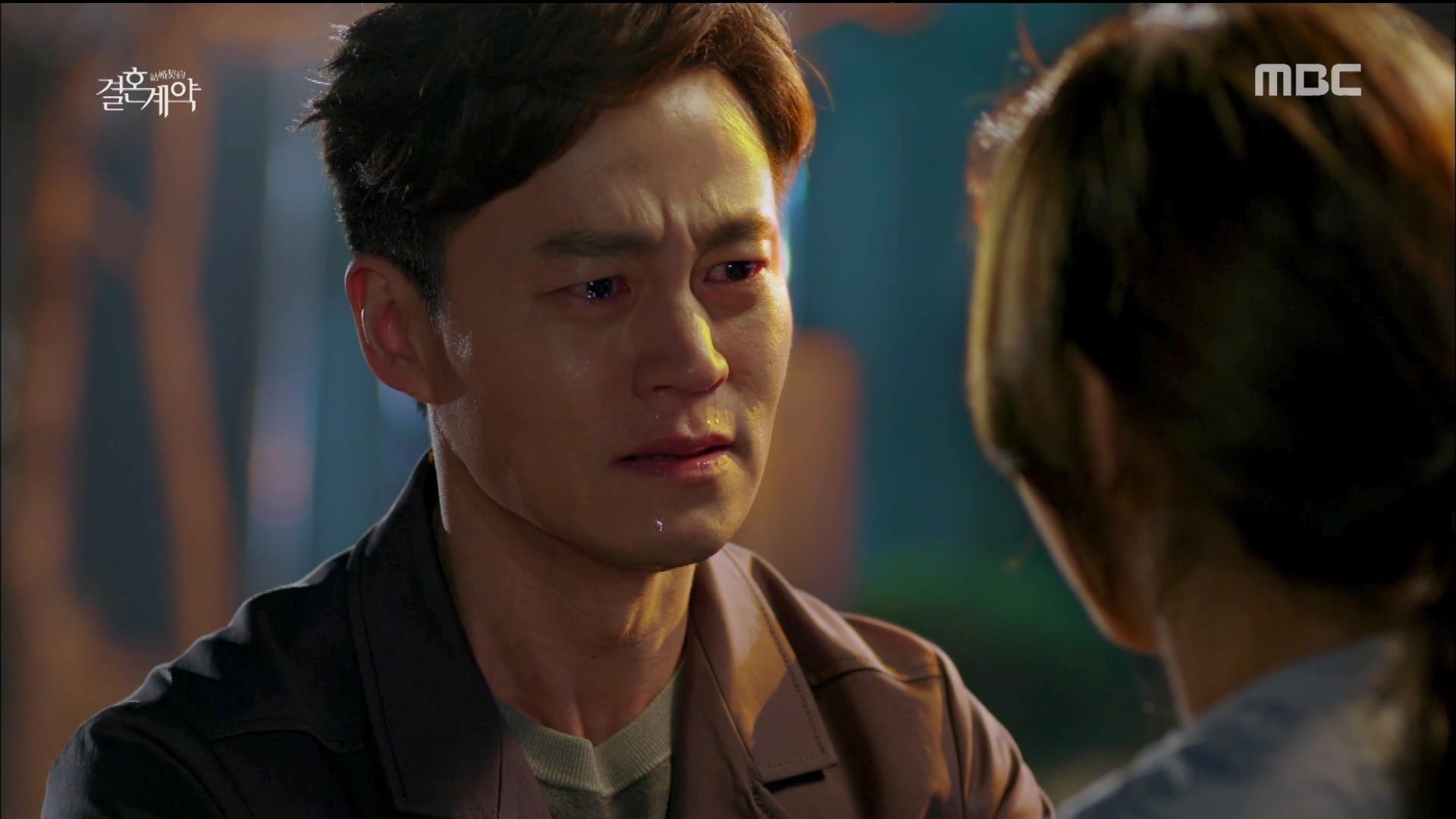 COMMENTS
Well, that was a huge breakthrough on Ji-hoon's part. It's true that he didn't make much attempt to learn about Hye-soo, even when the surgery counted on it. And when he started having feelings for her, he still never just talked to her. But to realize it, and realize he wants to know about her, then to chase her down and try to finally talk, is a big deal for him. He's probably never had to make an effort for a woman, and now here's one who's going to make him work harder than he's ever worked for anything. As much as I would love for Hye-soo to just fall into his arms, I also want her to make him earn it, for his own growth.
Okay, Chairman Han has officially crossed a line, and I'm ready for someone to yank him up short. He's one of the most meddling parents I've seen in Dramaland in a long time, pulling the strings on everyone in his family and beyond. He's telling his sons where to work, where to live, who to marry, and chuckling the whole time as if he's actually enjoying their discomfort at being forced to do things they don't want to do. And when he did everything he could to stop Mi-ran's surgery then told her to go and die, in my mind he pretty much went from "over-controlling father" to "evil puppetmaster." Who does that?? Okay, I get that she's a troublesome past mistress who's made your life difficult, I do get that. But actively stepping in to block a lifesaving surgery is going way, way too far.
But now the chairman is even telling her brother not to consider donating his kidney, and what the hell?! Why does he hate her so much that he is now forbidding people he has nothing to do with to help her? At first I was willing to give him a bit of the benefit of the doubt, that his blocking the surgery was more about controlling his son than anything else. But this right here proves that no, he just flat-out wants Mi-ran dead. It's especially cruel since she has every intention of staying out of Ji-hoon's life from now on — the chairman just doesn't want Ji-hoon to have any soft place to go to, or anyone he can rely on but his overbearing, horrible father. This is so many kinds of screwed up I don't even know where to start. Thank goodness for Uncle, who is guaranteed to do the exact opposite of what anyone tells him to do.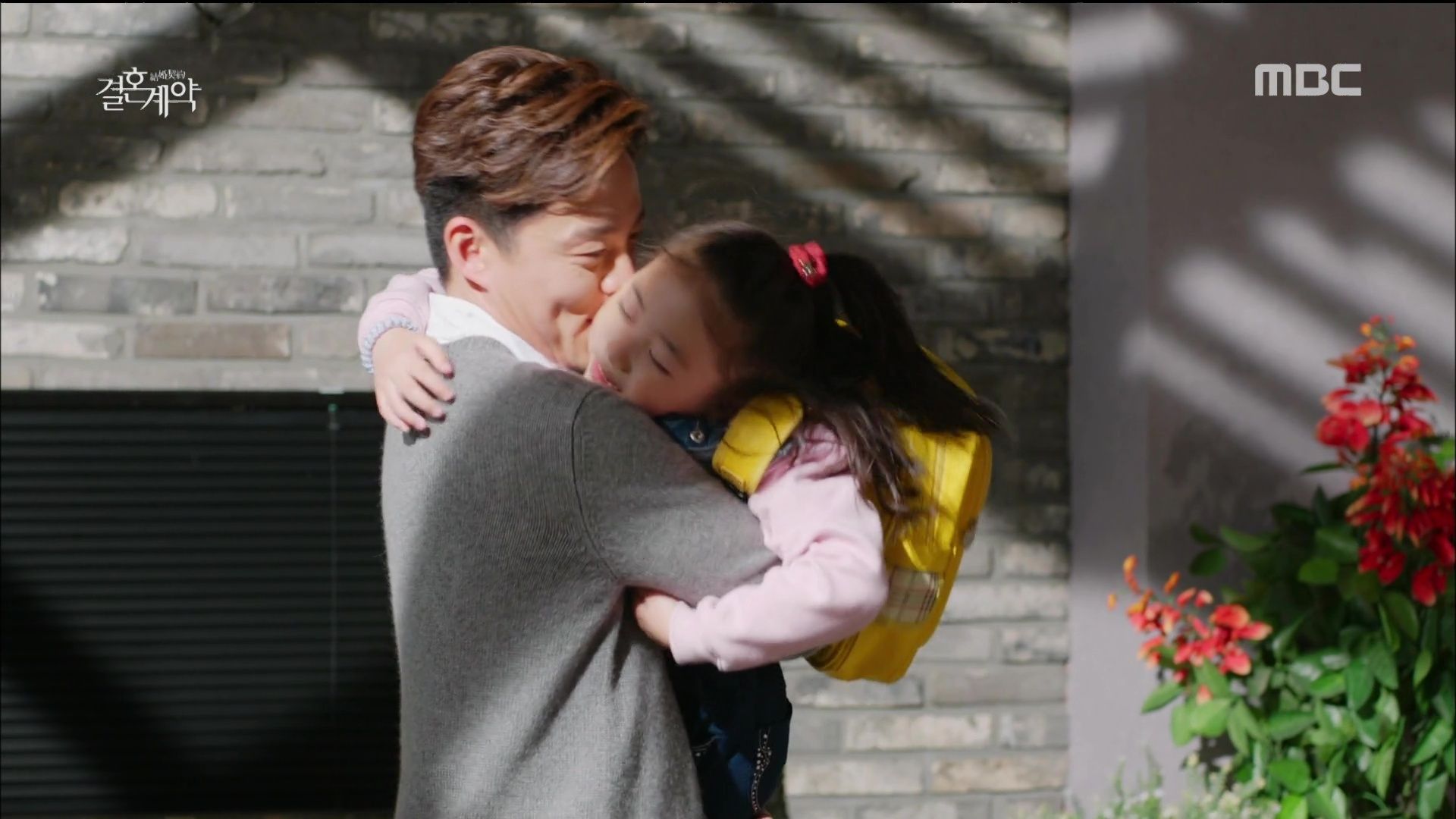 What's great about this drama is that everyone has motivations for their actions that make complete logical sense if you look at things from their point of view (with the possible exception of Na-yoon), so you really can't fault anyone for being an Unnecessarily Noble Idiot. Hye-soo has an exceptionally good excuse for the way she's treating Ji-hoon, because she sees how his mother's illness and possible death is hurting him, and she wouldn't want to be the source of more of the same pain for him. She also knows that no matter what, her daughter comes first, so her priority and responsibility as a mother is to focus all her energy on getting treatment and getting better, if at all possible. I actually think that she believes she will die, but she's willing to do whatever it takes to gain that 30% chance of being alive for five more years.
So she has "selfish" reasons for breaking things off with Ji-hoon, because if she's only going to live five more years, she owes it to Eun-sung to give her every bit of her love and attention for as long as she has left. She's already expressed that she wants her little girl to be able to do things for herself, and has started teaching her, so that it leaves less of a void if (once) she's gone. But while that's a very good reason not to get involved with a man, I also want Hye-soo to see now much Eun-sung and Ji-hoon love each other, and that if she's going to pass away, having a father she loves and who dotes on her could be a better situation to leave Eun-sung in than even with her best friend. Plus, if Hye-soo is going to die, then what better than to leave the two people she loves most, who love each other, to comfort each other?
I'm still hoping, of course, that Hye-soo won't die. The best ending would be for her to beat her tumor and live. But if she only has a few years left, then I want her to have years filled with love and comfort, and Ji-hoon could give her that. He's already so in love it's painful to him, and I have no doubt that he's fully capable of dealing with her loss, if only he had the chance to love her until the end.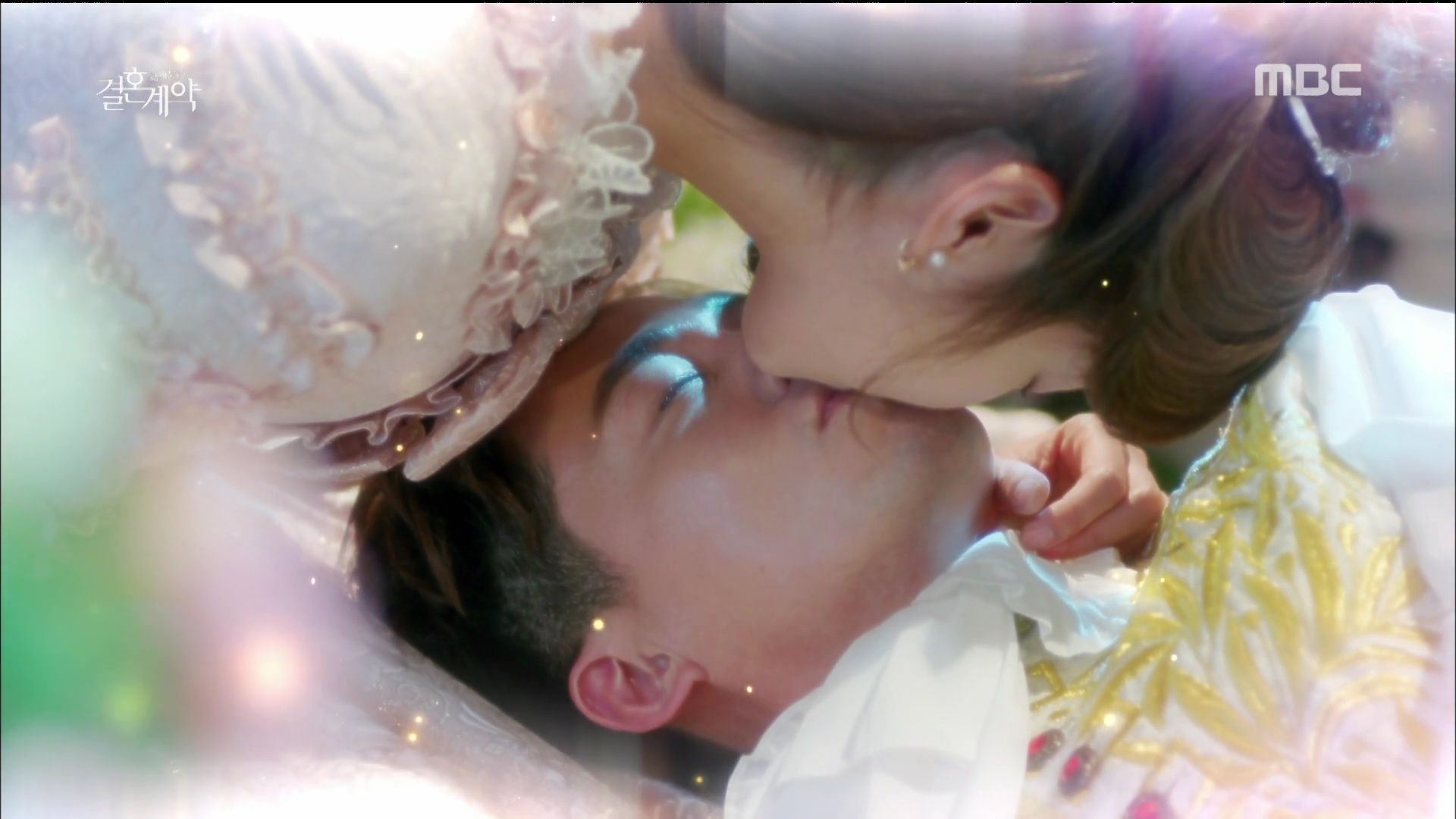 RELATED POSTS
Tags: Episode 11, featured, Lee Seo-jin, Marriage Contract, UEE