Marriage Contract: Episode 12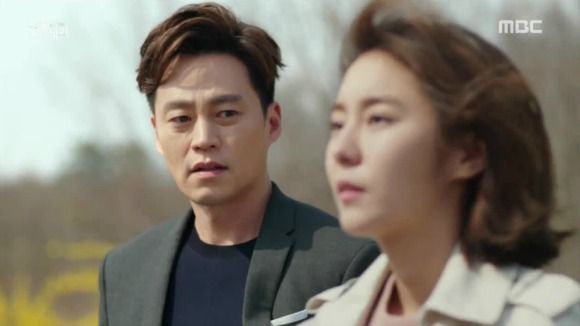 Everyone spends a lot of time alone this episode, struggling to adjust to shifting realities. That you can be right next to someone and yet know nothing about them is one of the hardest things of all to accept. But knowledge demands change, and with so many secrets coming to light this hour, change is surely in the air for everyone. And maybe we can all get off the angst train…soon?
EPISODE 12 RECAP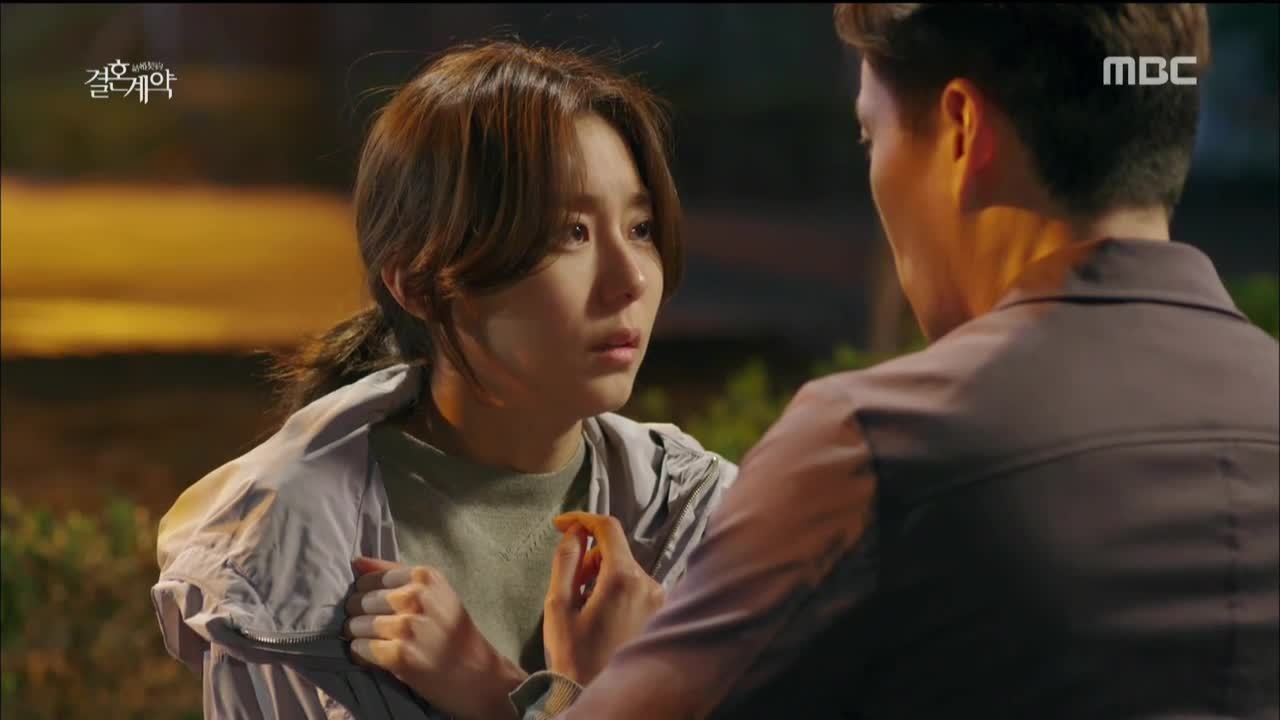 Hye-soo nearly passes out on the street. Ji-hoon whirls her out of the way of an oncoming car and heatedly asks what the hell she's doing. Releasing herself from his hold, she walks on. Stopping her, he gives an emotional and unconditional apology for everything. He's sorry that for all his studying, he doesn't know her at all. But whoever she is, it's okay, he says, voice breaking. He'll even divorce her, as long as she can stay by his side.
Tears running down his face, he begs her to give him one more chance. Her own eyes full, Hye-soo tells him he has nothing to be sorry for, but his carrying on like this is burdensome to her. She steps around him and, walking away, allows her own tears to fall.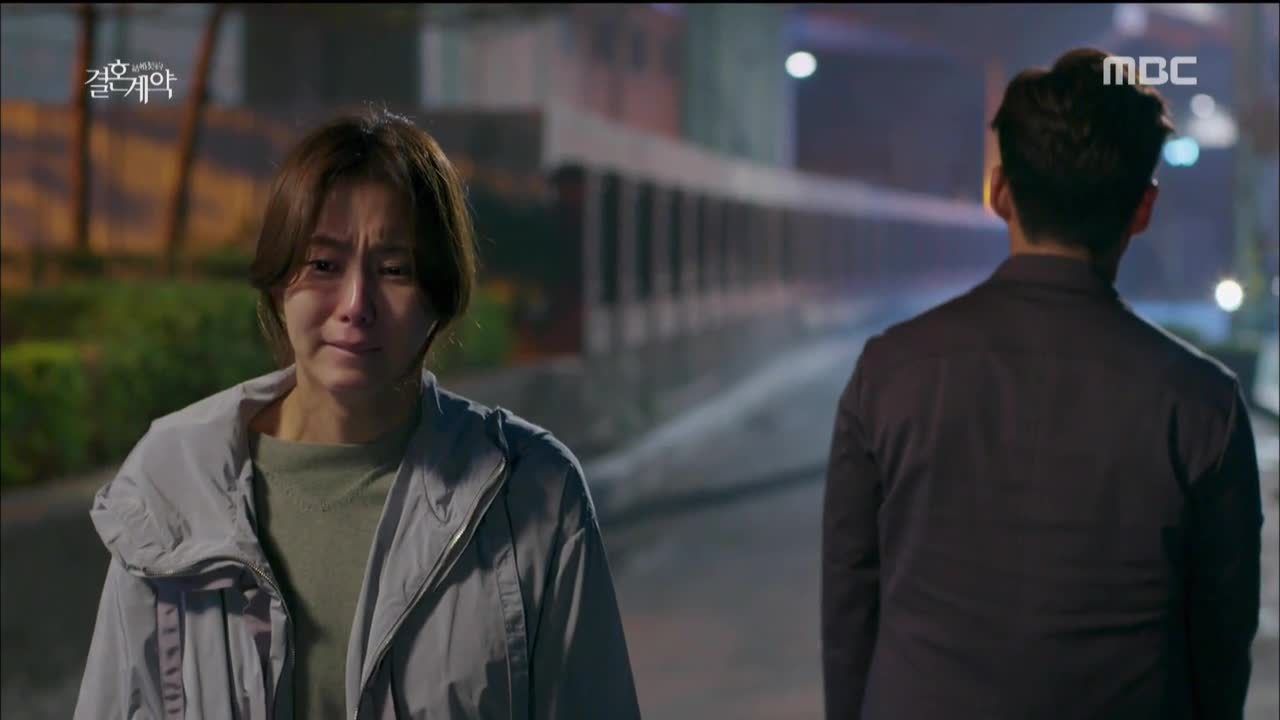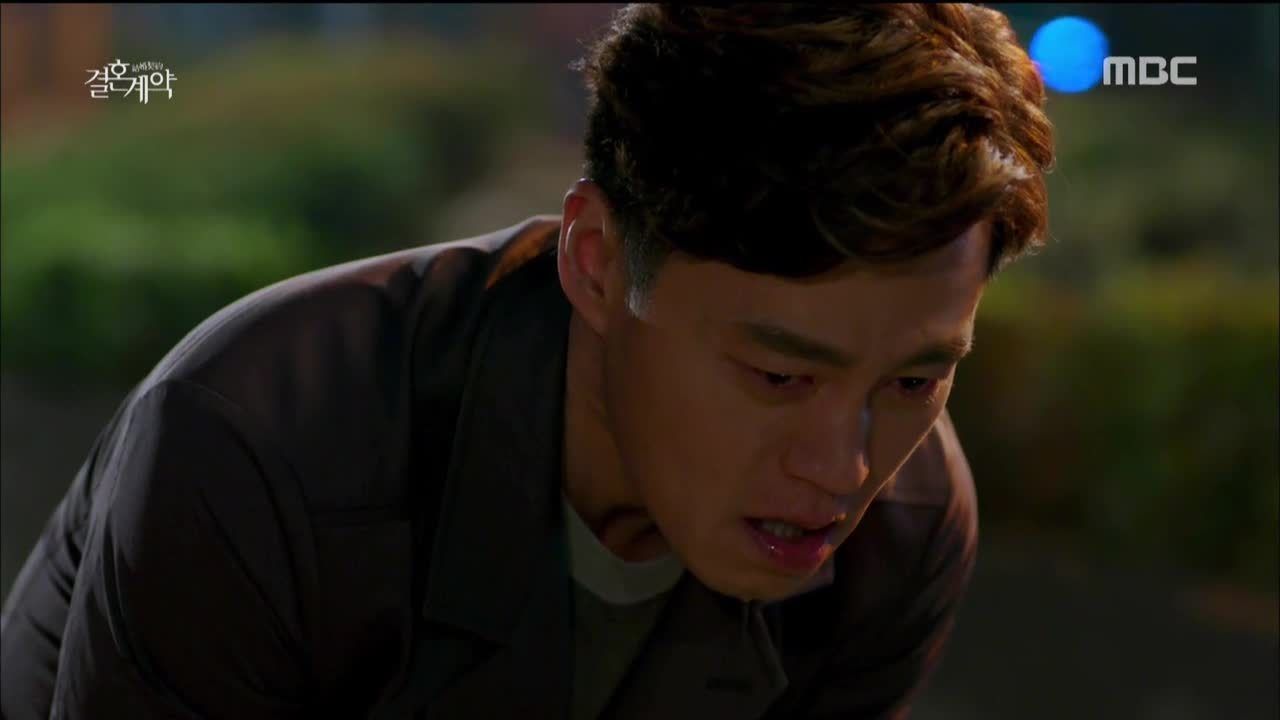 Stranded alone in the middle of the street, Ji-hoon doubles over with little pained exhalations that hurt my heart.
At Mi-ran's bedside, Uncle tells her that she's having the surgery — he's going to save her himself, and she has no choice in the matter. Aw, yeah. In shock, she tries to sit up. Gruff and gentle, he tells her that she has to live well for a long time to make it up to their parents and his late wife. Gratitude and heartache roll of Mi-ran as she gazes wordlessly at her brother. He wipes her eyes.
Uncle finds Ji-hoon in the waiting area, and tells him that he shouldn't come to the hospital anymore. It makes Ji-hoon's father interfere with them, and it worries his mother. He leaves him with an affectionate pat and a warm smile.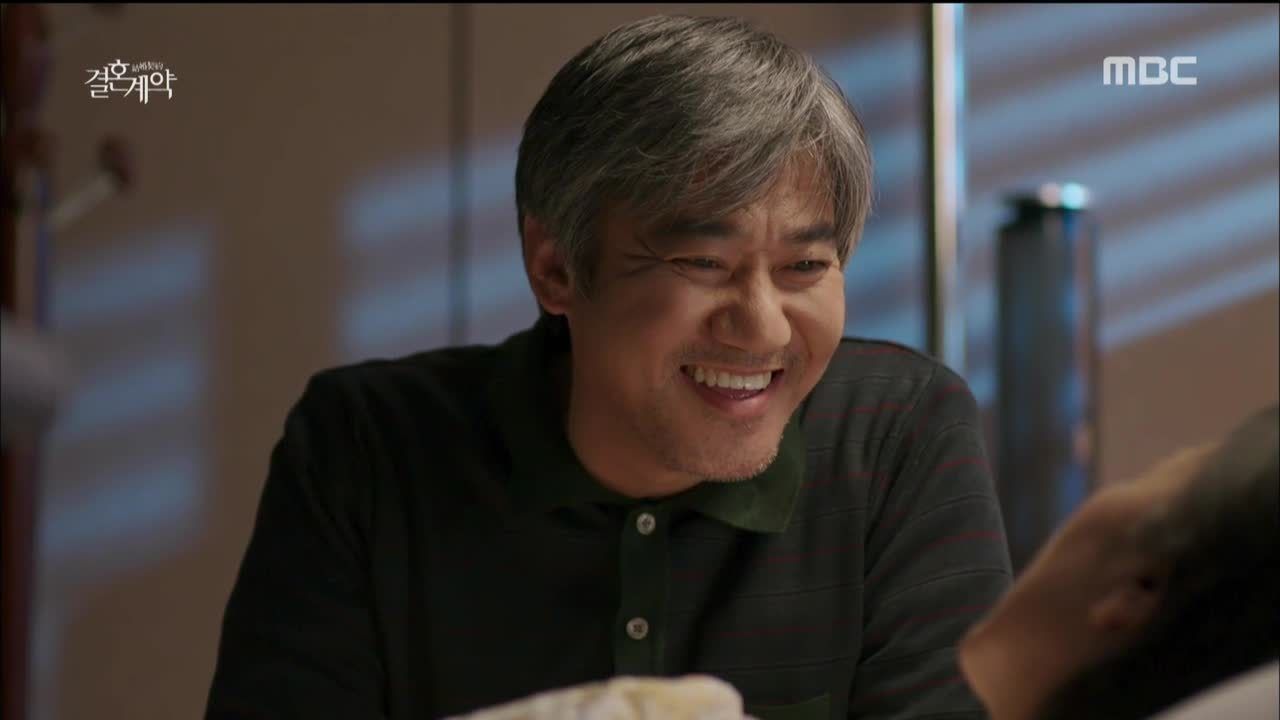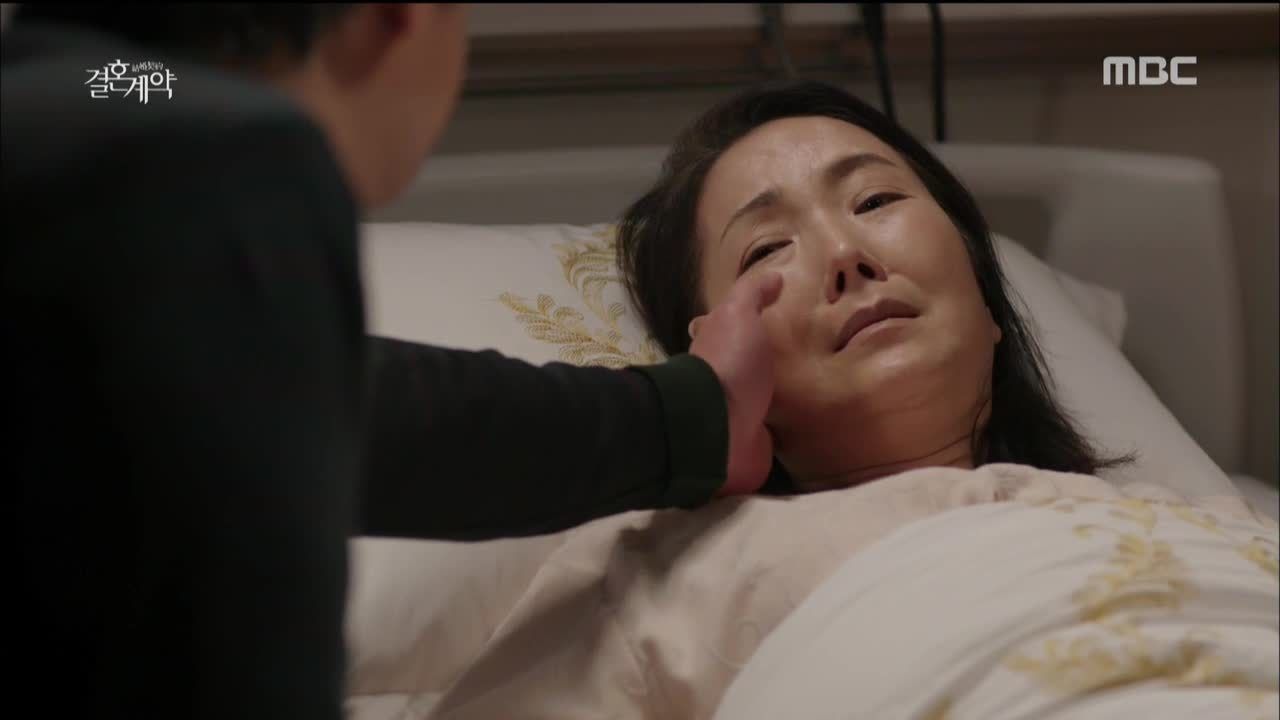 Hye-soo has to run from bed to bathroom again to be sick. reaching to untie her hair, she stops cold when a handful of hair comes away in her hands. She stares at it, and then out the door at her sleeping daughter.
Na-yoon visits Chairman Han. He apologizes for having to postpone the parents' marriage meeting. She reassures him that it's fine if Ji-hoon needs some more time, and he thanks her for her understanding.
She meets Jung-hoon outside the Chairman's office, and he takes pleasure in taunting her about Ji-hoon and his scandals. She keeps a stony face.
Jung-hoon repeats all the rumors about Ji-hoon to his father — that he was had by a scheming woman, and that the Chairman had paid her off. The Chairman's face grows darker and darker, and when his son laughs that that woman even tricked Ji-hoon into marriage, he loses his temper and dashes a cup of coffee over him. Jung-hoon yells, and Dad reminds him that he forbade him to bring that up.
Dripping and aggrieved, Jung-hoon protests Dad's favoritism. Why, why, why does he always take Ji-hoon's side? Is Jung-hoon not also his son? Dad yells back that he should try being half the man his brother is. He tries to dismiss him, but Jung-hoon warns his father that he'll regret underestimating him. Dad gapes like a fish at his threat.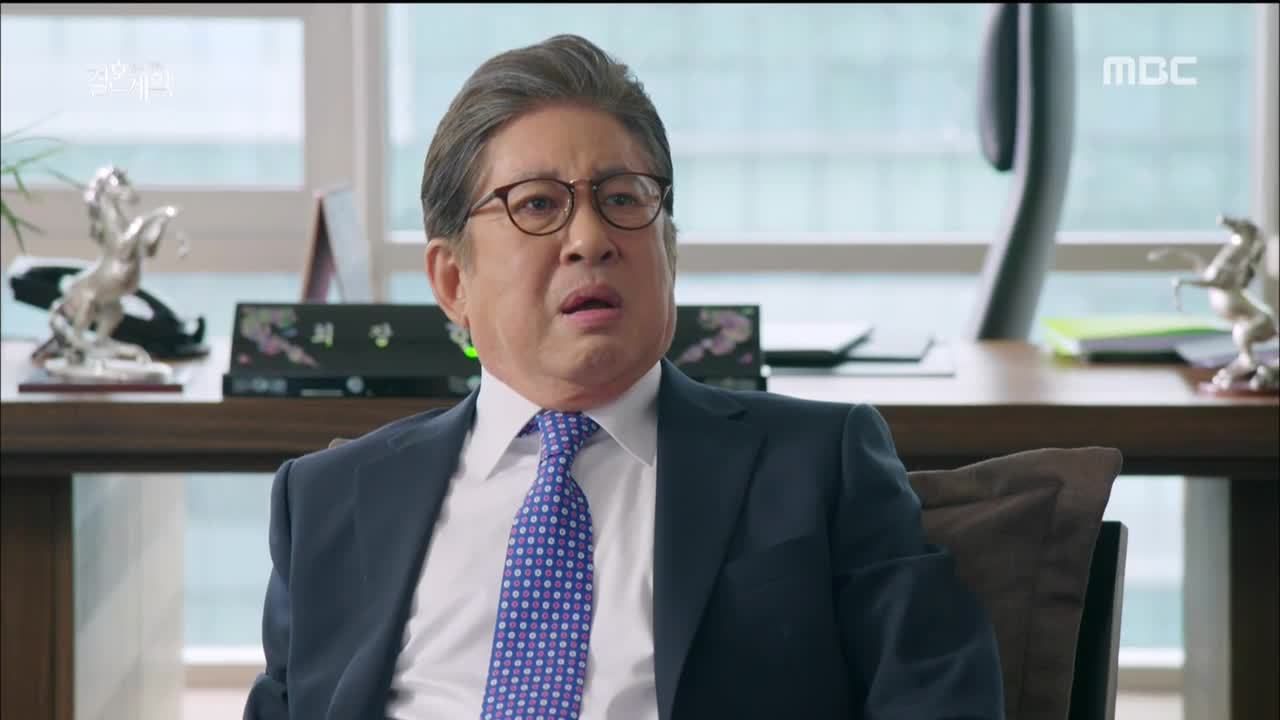 At the back of an elevator, Ji-hoon goes unnoticed by employees gossiping about the two brothers, and the rumors that peg Ji-hoon for a fast-track promotion. The brothers find themselves face to face when the elevator opens on Jung-hoon. He glares at Ji-hoon inside, and lets the doors close.
Chairman Han hears that Mi-ran's surgery has been scheduled, but he doesn't want to hear about her anymore. Instead, he tells his aide to find out what Jung-hoon's up to. He's certain he's about to cause a big ruckus.
Hye-soo moves boxes out of her apartment with Joo-yeon's help. Seung-joo finds them, and wonders if she's moving so suddenly because of the rumors. Joo-yeon drags him away to help her before he can say more. Eun-sung asks Hye-soo if they really have to move. She pleads for them to take Ji-hoon with them, and Hye-soo nips that firmly in the bud: no ajusshi. She's left desolately cuddling one of the kittens.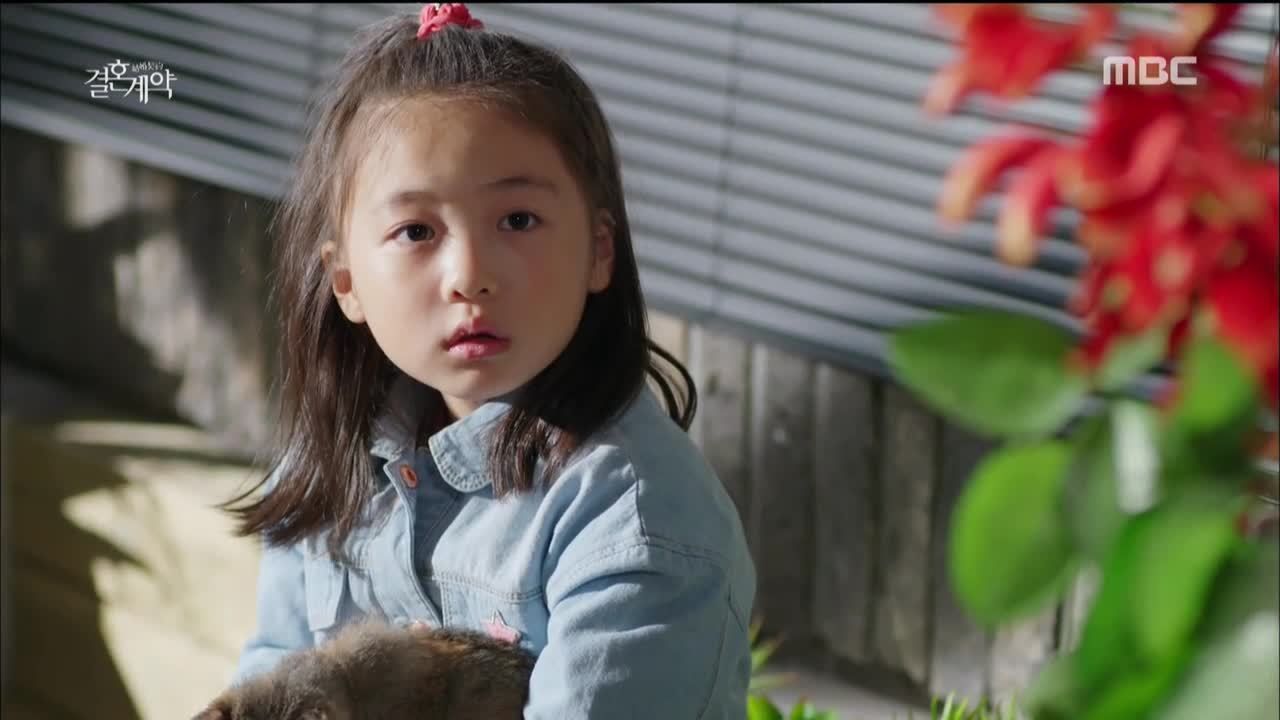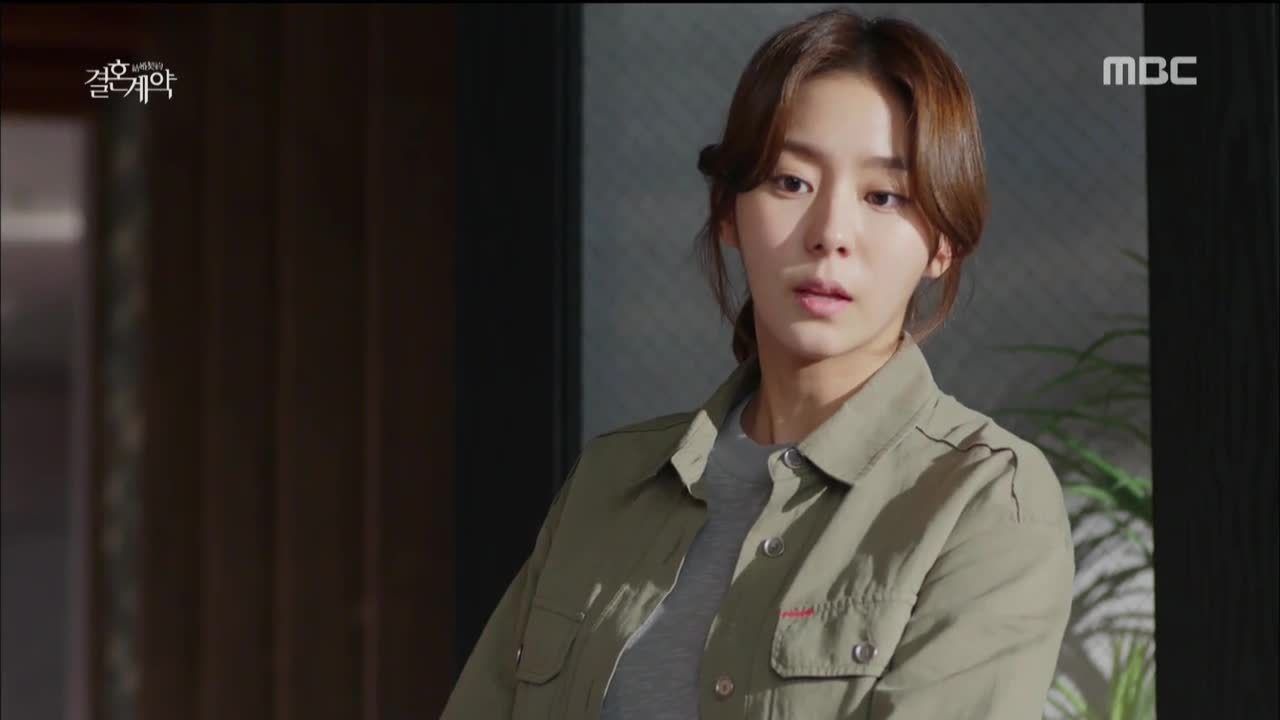 Ji-hoon returns to the restaurant to find Chef gathering all the staff. He singles out snippy Ara as the source of the rumors about Hye-soo seducing Ji-hoon. She indignantly retorts that she saw it herself.
Ji-hoon enters the scene with nonchalance, to the nervousness of the staff. He asks for Hye-soo, but it's her day off. That ahjumma sure is scary, he remarks to Ara — he was going to play with her a bit but he nearly got sued for sexual harassment. Sounding like a slimeball, he tells them he really didn't do anything to her, but if they help him out, he'll give them a little something. They stare at him disbelievingly. Oh, wow, he totally threw himself under the bus for her.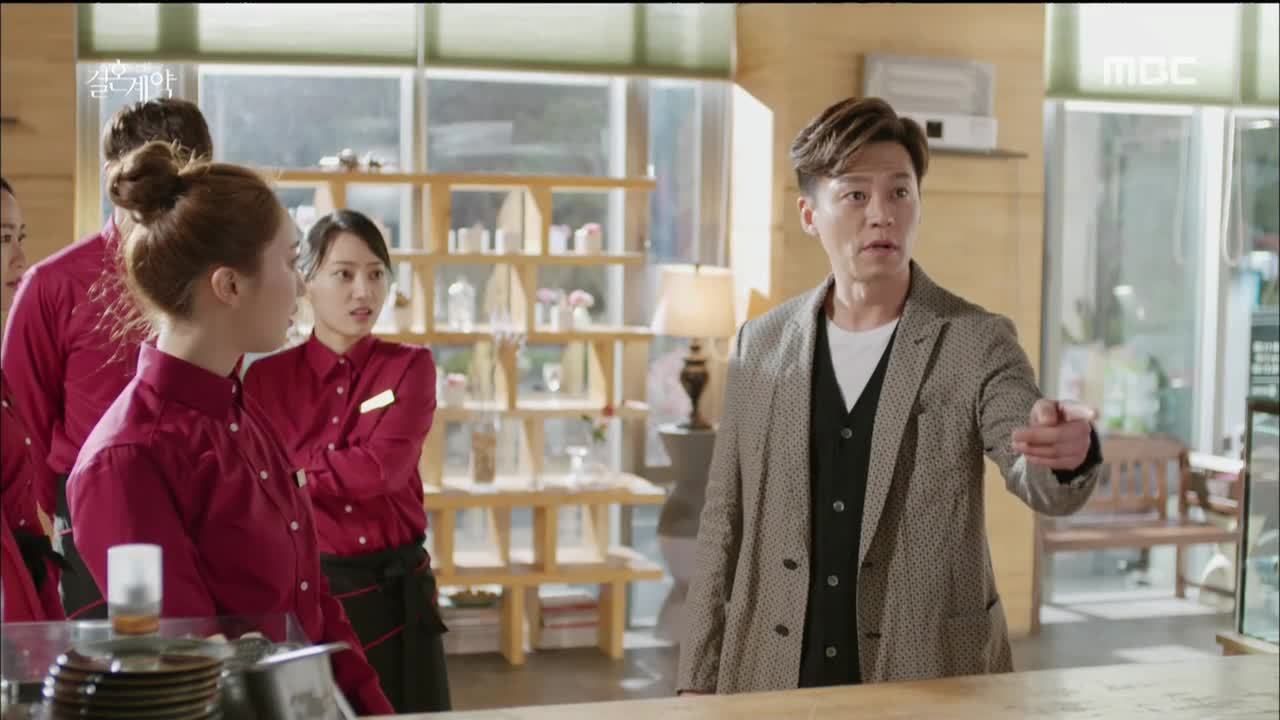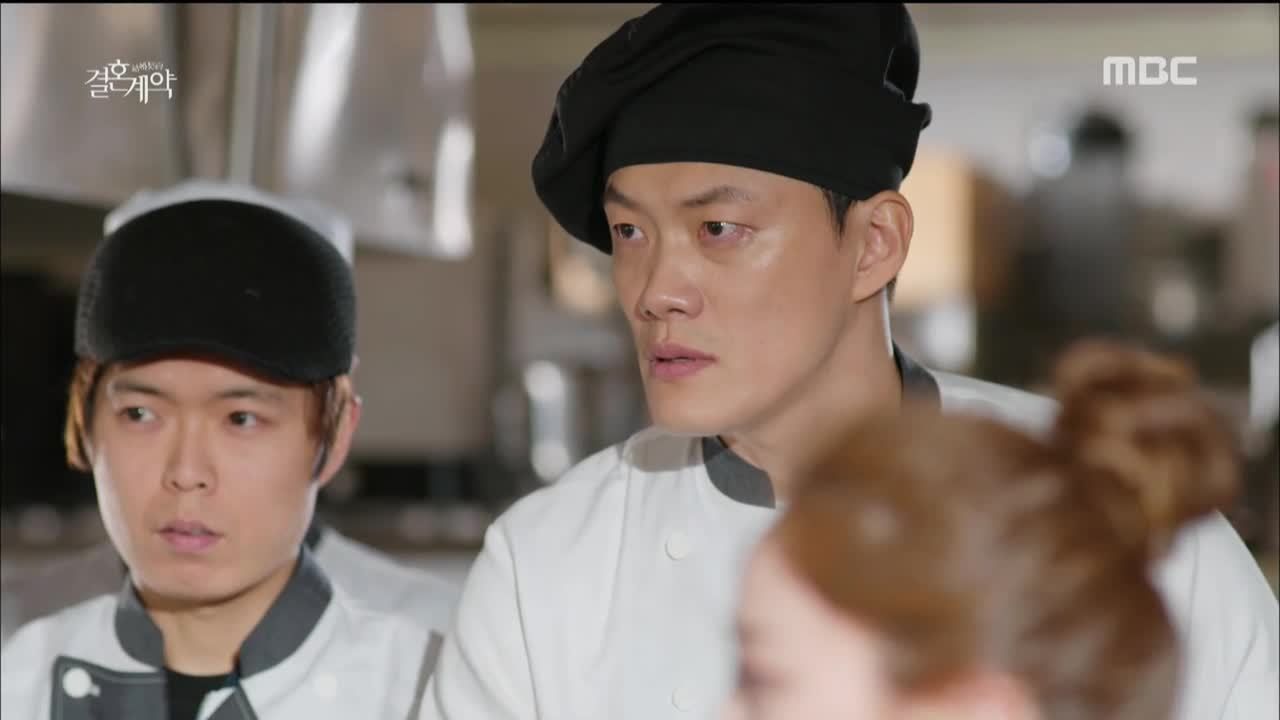 Ji-hoon meets Hye-soo and Eun-sung on their way out, just as the car full of their stuff departs. In response to his questions, she tells him that she is, self-evidently, moving out, as she's free to do. She thanks him for everything he's done and tries to leave, but Eun-sung chooses that moment to run back inside. Ji-hoon holds her back to talk, but she cuts him off and goes after her daughter.
She finds Eun-sung hiding behind a planter in the kitty-corner. She marches her out, but Eun-sung refuses to go. "I hate you, mommy," Eun-sung says tearfully. She hates ajusshi, too — they both lied to her. She'll live here alone, without her mom. Hurt, Hye-soo stares. Then she nods, and tells her to do that — she's going.
Eun-sung can't believe Mom is really leaving without her, and runs after her. Hye-soo strides past Ji-hoon without stopping but Eun-sung halts a moment before she, too, runs past. Catching up to her mom, she takes her hand. Both of them are hurt, and they silently make up. Hye-soo picks her up, and Eun-sung raises a sad hand to Ji-hoon over her mom's shoulder. As sad, he waves back.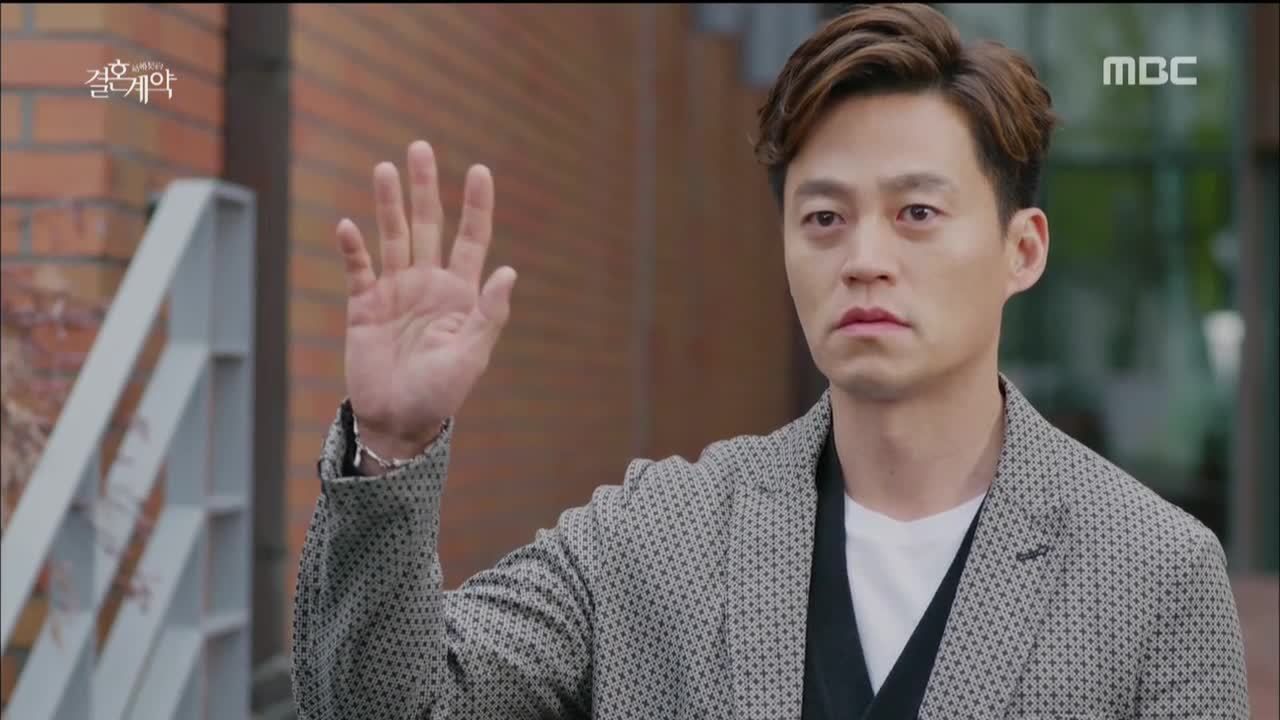 Inside, he finds a letter Eun-sung left behind for him asking him to take care of the kitties, with a picture of herself crying below it.
At Joo-yeon's, the girls unpack and she pleads with Hye-soo to rest. Ominously, Hye-soo forgets that she's already unpacked Eun-sung's clothes, although she makes light of it to her friend.
Hye-soo makes a monster-face at Eun-sung through the window. Failing to cheer her up, she joins her outside, where Eun-sung's chalked "I love you" onto the pavement.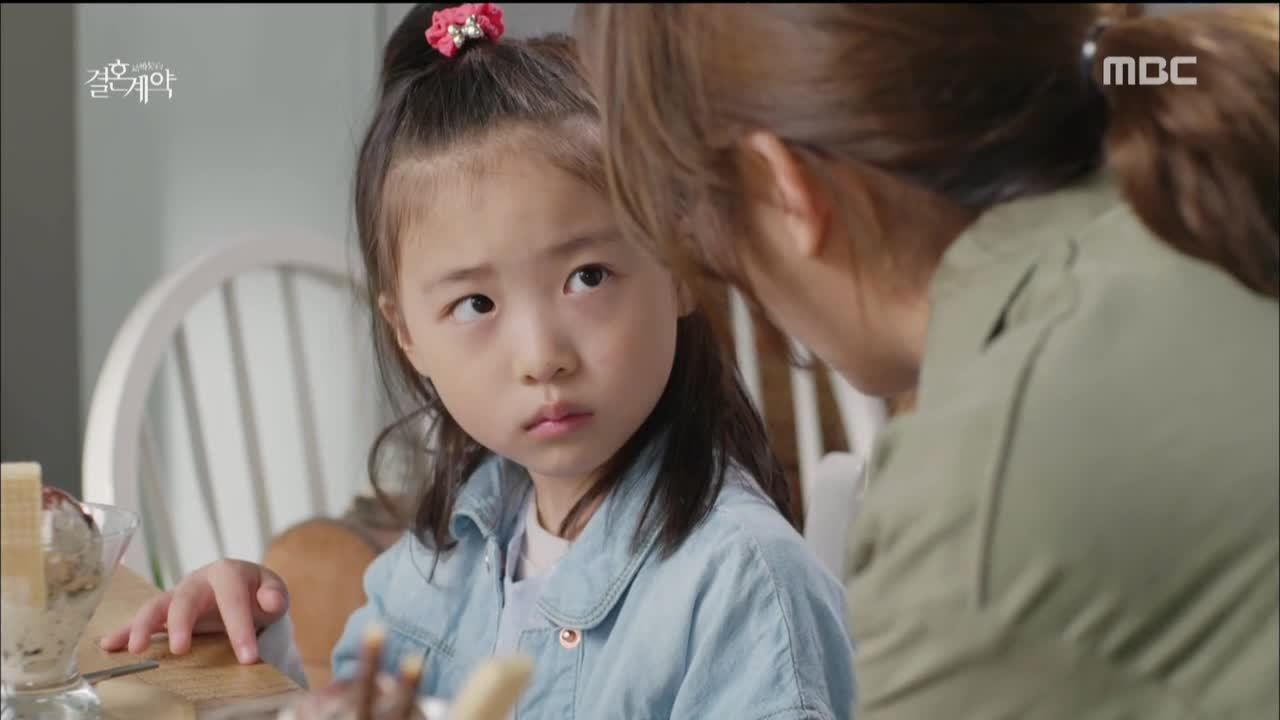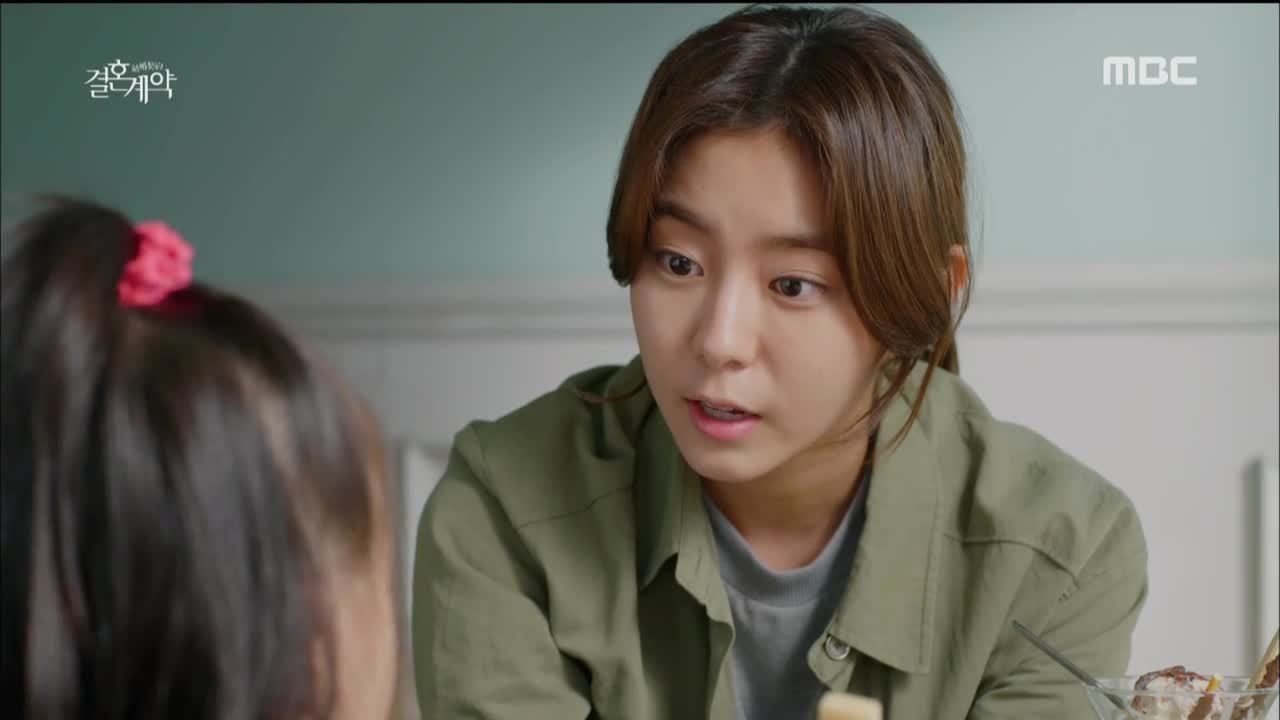 Hye-soo takes her away for ice cream, although Eun-sung remains solemn. She apologises to her mom, regretting that she told her to go away: "I said that because I was angry."
"I know. How would I not know that?" Hye-soo replies. It's okay, because she knows that whatever Eun-sung says, it all means that she loves her. She instructs Eun-sung to remember that Mom always understood her completely, and that she mustn't feel bad over it later, either. She then apologizes to her daughter for breaking up with Ji-hoon, which Eun-sung quietly accepts. Cuddling her, Hye-soo thanks her for being her daughter, and promises to do better.
Night finds Ji-hoon drinking alone, contemplating the ring he got for Hye-soo. Unsteady on his feet now, he throws it away like so much rubbish, and it lands among the fishies.
Hye-soo gets woken up by an insistent knocking and goes to investigate. It's Ji-hoon, much the worse for wear. He tries to push inside — he's here to see Eun-sung — but Hye-soo pushes him out and sends him on his way. Truculent with drink, he takes back everything he said before. He regrets it all — he must've been crazy.
She excuses herself, but he calls out to her again, telling her not to live like that. She tells him to go home, but he grabs her and she struggles as he tries to force a kiss. Guh. Joo-yeon appears in the nick of time, and Hye-soo escapes. She bundles them back inside before Joo-yeon can go at him with her slipper.
Ji-hoon's wits appear to have returned, too, and he screams at himself and kicks a wall. That was a really jerk thing you just did, man.
The next morning, Chairman Han notes Jung-hoon's absence at the breakfast table. Madam Yoon grills him about Ji-hoon's promotion, and still can't understand why he gets so much favor — anyone would think he wasn't his son. To her shock, he agrees: Jung-hoon doesn't resemble him one bit and it drives him mad. Madam Yoon's look of incredulity is priceless.
The Chairman complains that Jung-hoon is a troublemaker who can't even command the respect of his employees. As for whether he'll keep him in the company or not, he has yet to decide. Madam Yoon warns him that if he carries on like this, she'll step up and protect her son.
Madam Yoon meets with Na-yoon, who apologizes to her. She's glad that Na-yoon at least knows she should be sorry, and plainly tells her that she can't marry Ji-hoon. She doesn't understand why Na-yoon won't give up on a man who even married another woman, but Na-yoon responds that the marriage was to save his mom…which is news to Madam Yoon, who demands an explanation immediately.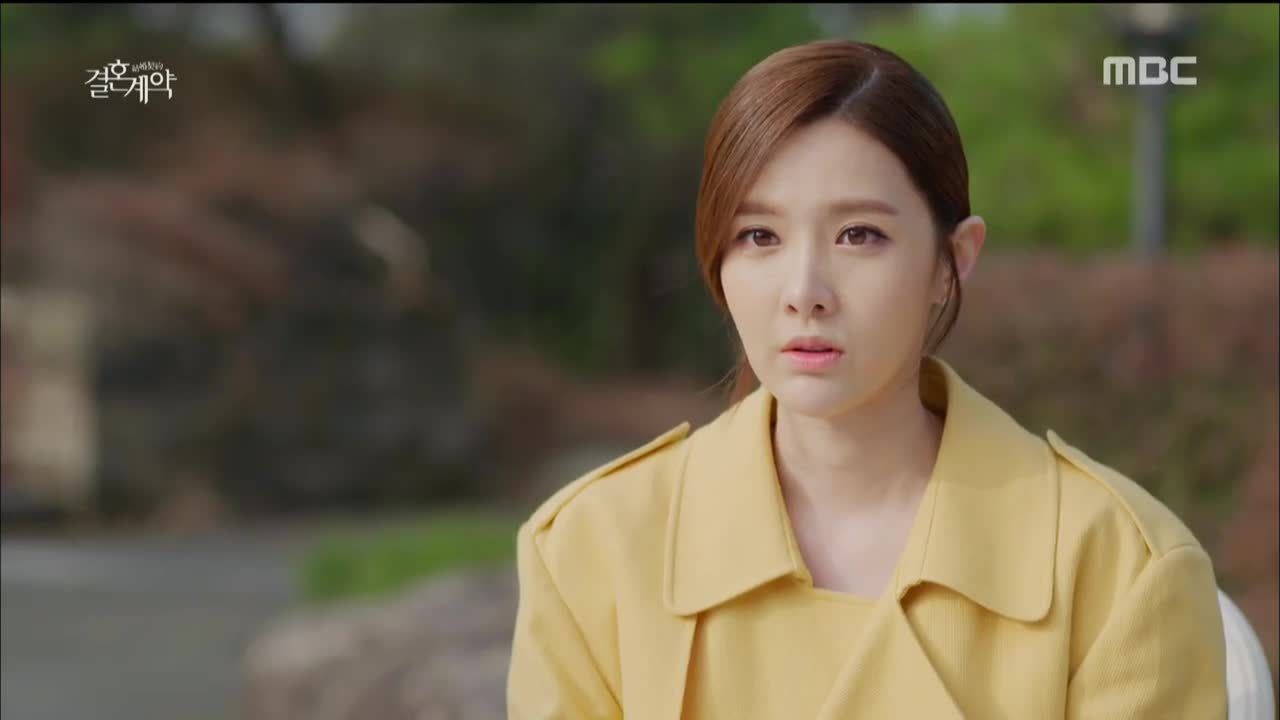 Ji-hoon tells his mom that she made the right decision to have the surgery, although she finds it hard to face him. She asks after Hye-soo, if he's taken care of the situation, and finds his agitation worrying. Barely holding himself together, he starts, "Mom…" before changing his mind and saying goodbye.
At Promise, Chef summons Hye-soo to ask her why she put a bottle of sauce in the freezer. Is she being careless because she's quitting? Why is she so forgetful? Ji-hoon catches the tail-end of her scolding and they uncomfortably meet eyes.
Ho-joon complains about Ji-hoon not taking his father's calls. He tells him that the Chairman wants to know when he's going to file his divorce. Ji-hoon says he'll do it tomorrow, and snaps at Ho-joon for bringing up Hye-soo's name.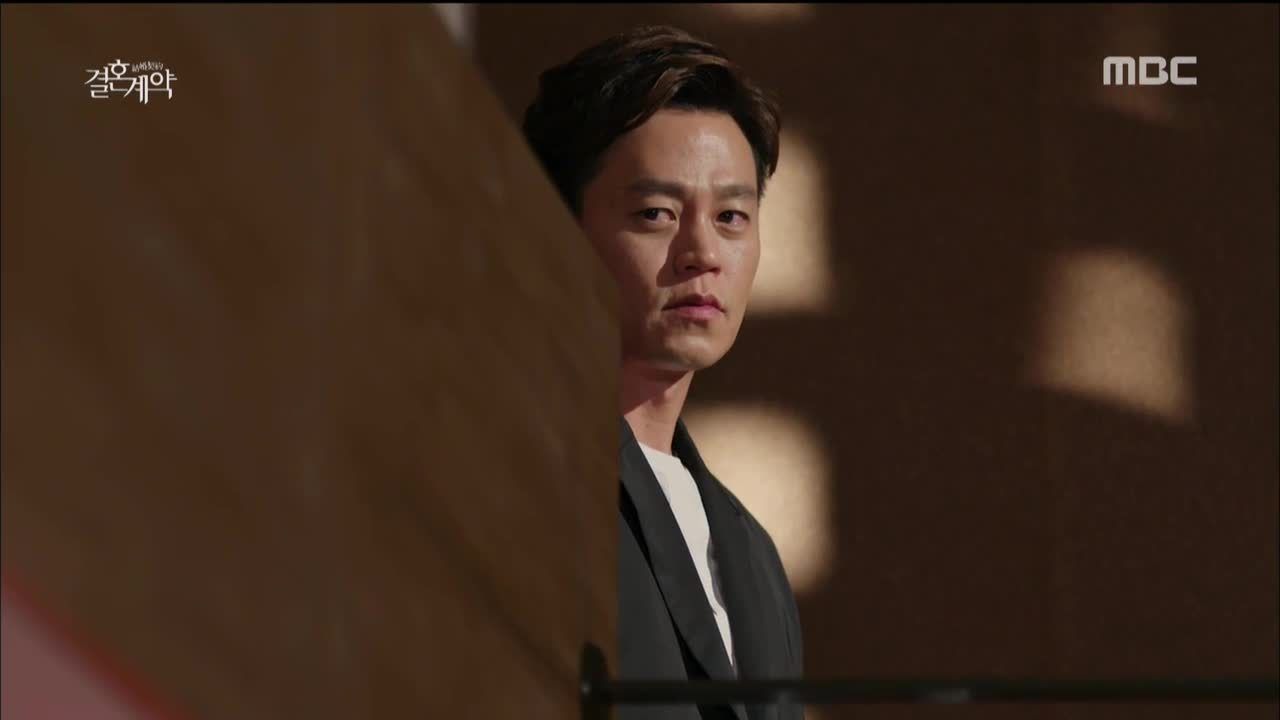 Seung-joo catches Hye-soo finishing up early, and asks her where she goes off to every day. Just to pick up Eun-sung, she tells him. He wants to ask her one more thing: Did she really like Ji-hoon? The question catches her off-guard, and she leaves him without an answer. Around the corner, Ji-hoon overhears the exchange.
Young-hee drops in on Joo-yeon. She's sure something's up with Hye-soo, and asks if she's upset after breaking up with her boyfriend. That gets Joo-yeon on a roll about what a jerk that guy was, and Young-hee agrees that there's no good in a man with dimples. Amen.
Despite Joo-yeon's attempt to change the subject, she still worries about Hye-soo's wraithlike appearance, and asks if she's sick.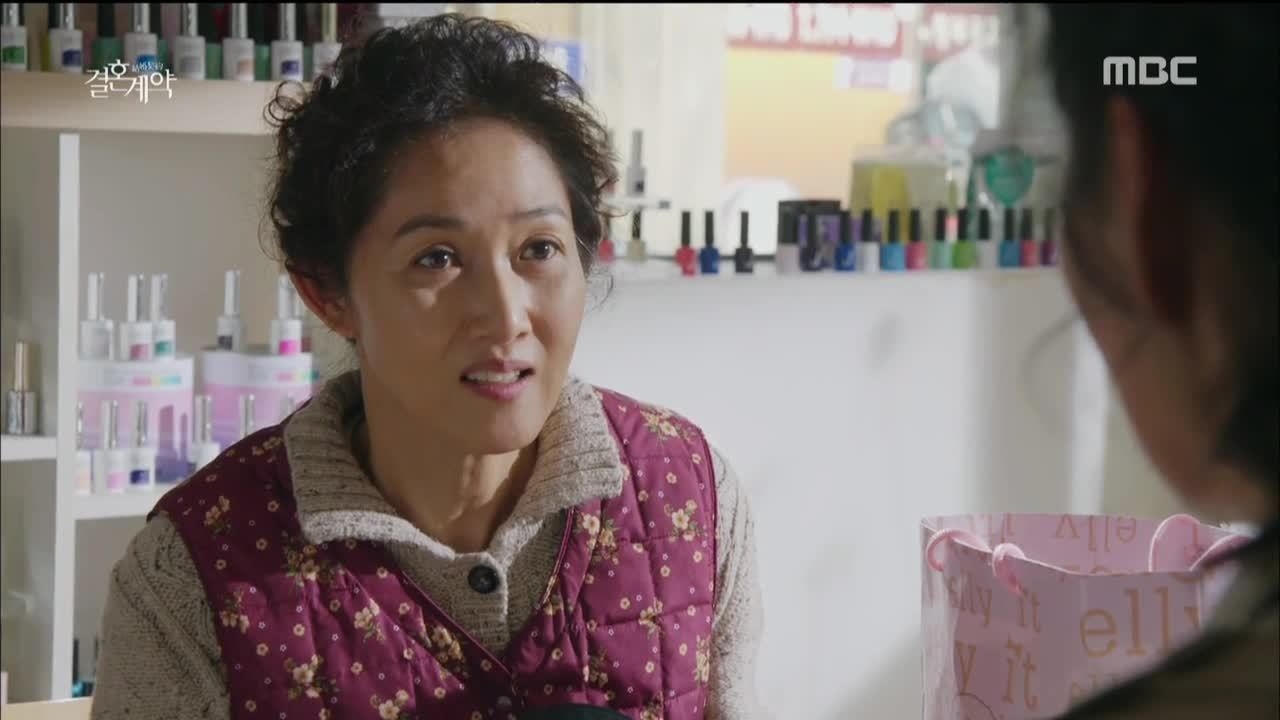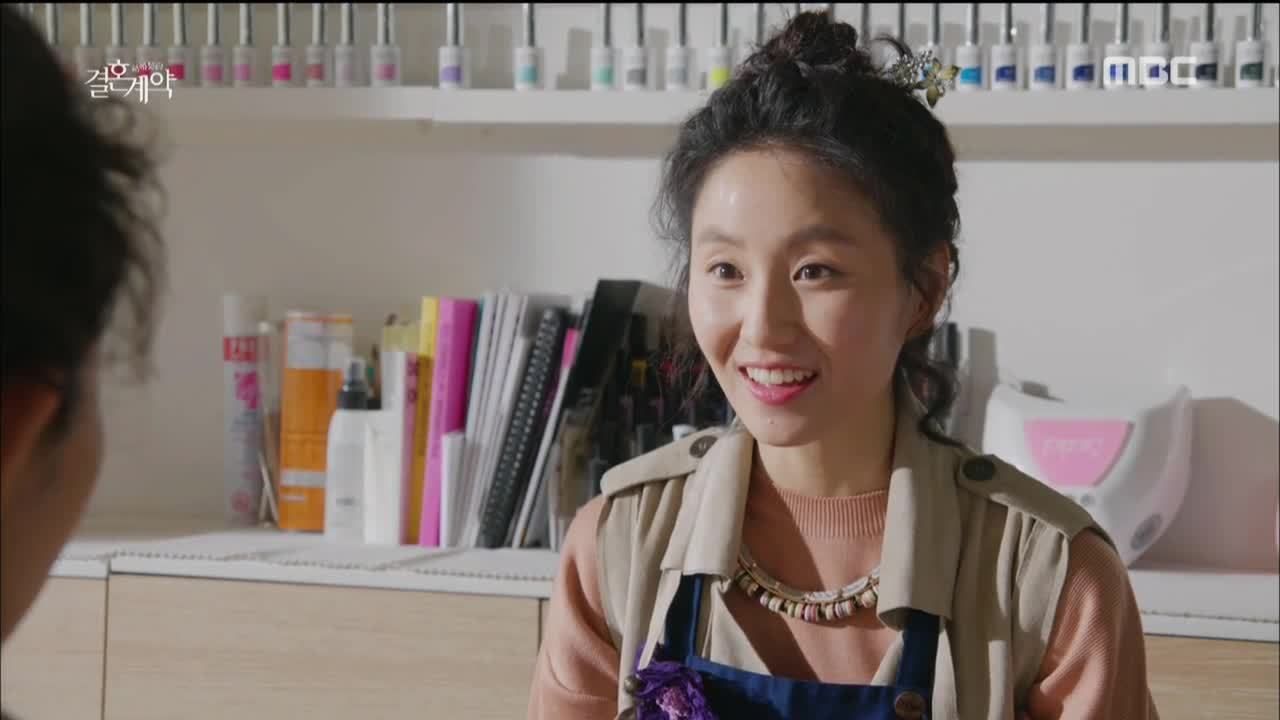 At the hospital, Hye-soo's doctor checks in with her — the treatment is tough, isn't it? She asks if she's having any side effects like dizziness and nausea, but Hye-soo tells her she can still handle it. The doctor instructs her to eat and rest properly.
Hye-soo rests a bit in the waiting area, when a message comes in from Ji-hoon, telling her to meet him at the courthouse tomorrow. We see that her phone wallpaper is now the family photo. The day wears on and Hye-soo remains there, static in the sea of busy people. When at last she departs, she accidentally leaves behind her bag and phone.
Busy working out, Ji-hoon tries to ignore a call from Hye-soo's phone. He eventually answers, but doesn't recognize the person at the other end. He finds out from the caller that she found this phone at a hospital.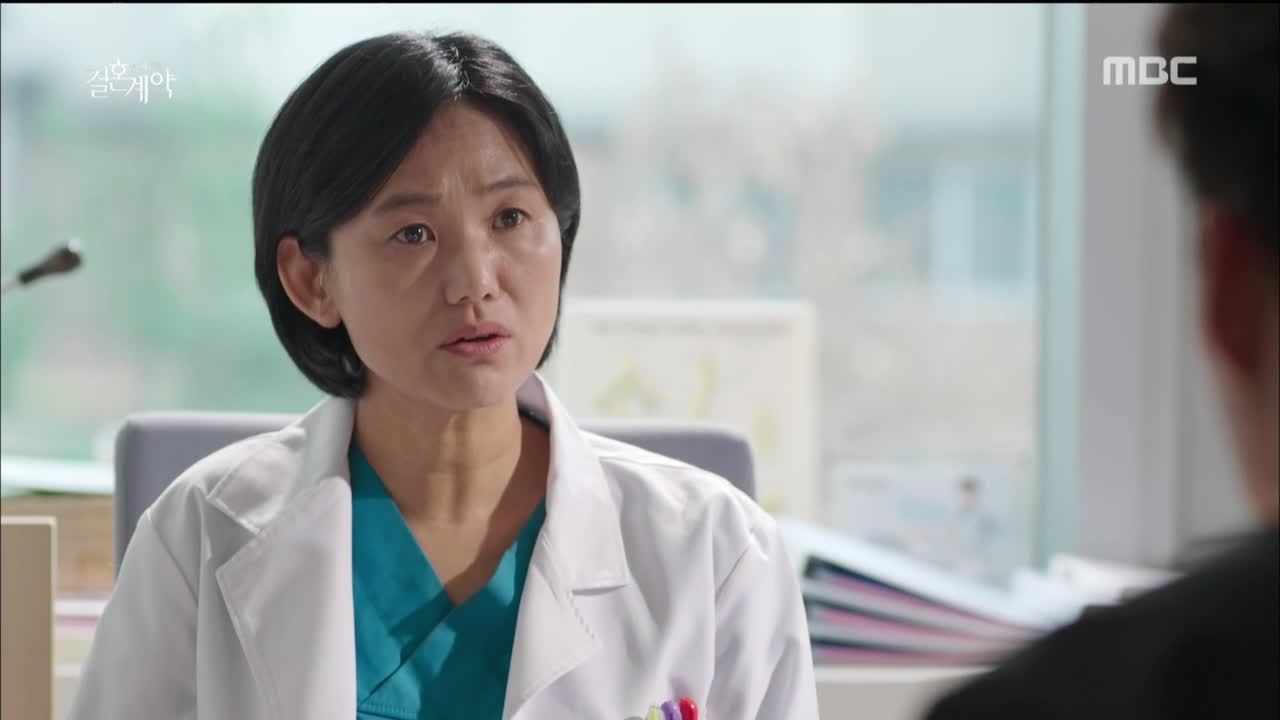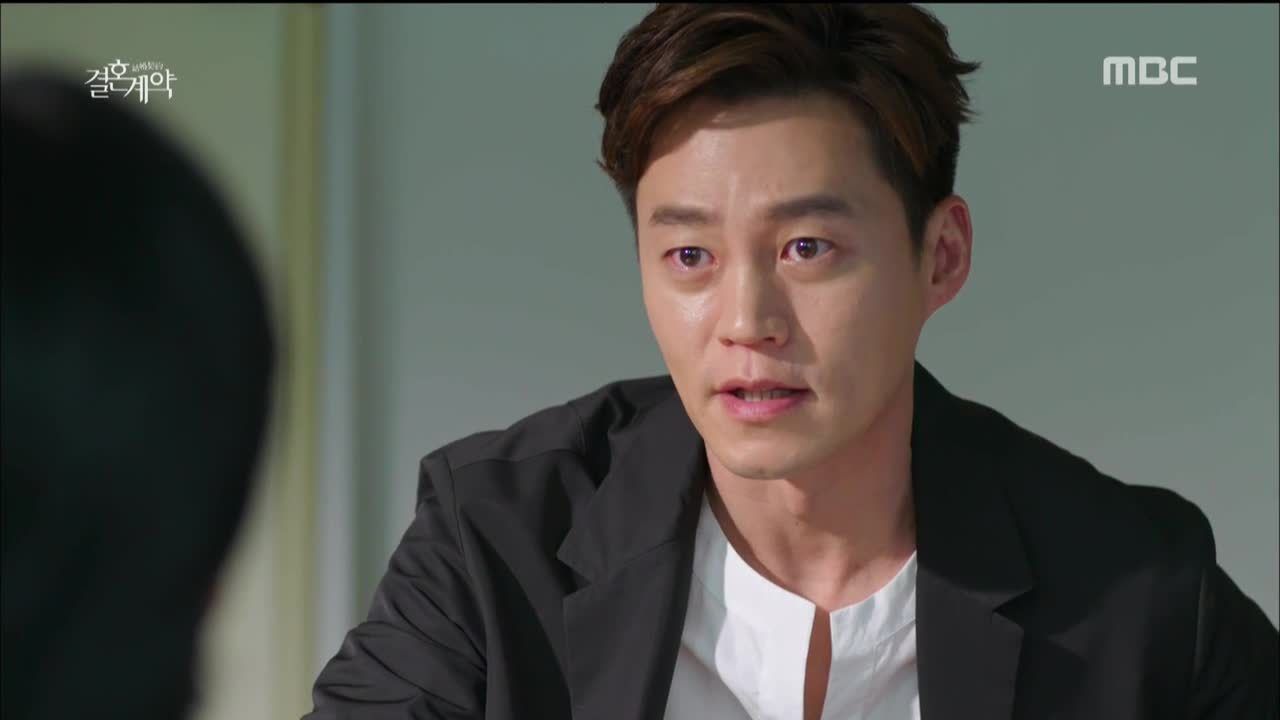 He goes there, and the girl immediately waves him over. She recognizes his face from the wallpaper photo and happily hands over both phone and bag. He smiles to discover the wallpaper picture, but the bag of medicines surprises him.
It leads him to the neurology department and Hye-soo's doctor. He identifies himself as her husband, and she demands proof, unable to believe he knows nothing of Hye-soo's illness. Frantic to know what's wrong, he's shocked to hear that her illness is life-threatening with a low survival rate.
Hye-soo returns to the hospital where she finds her bag handed in at the reception. She takes it in relief, and doesn't see Ji-hoon gazing at her from a far wall, a lump in his throat and tears in his eyes.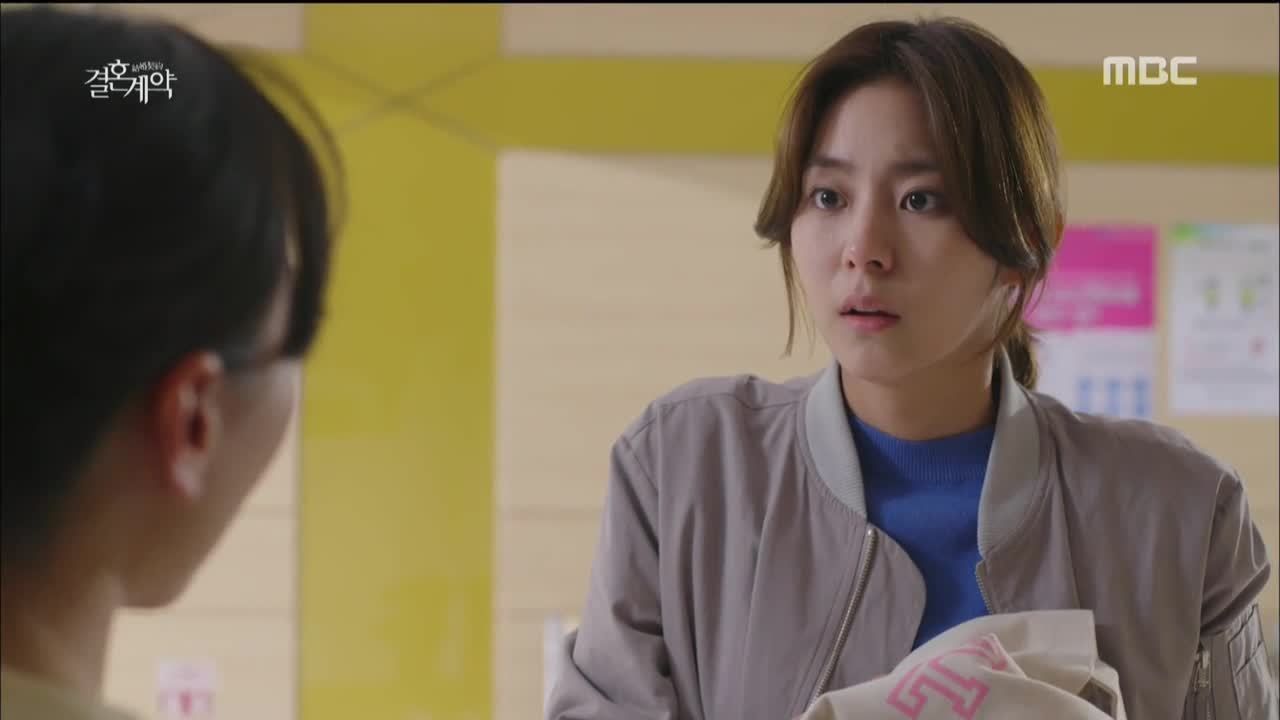 At home, Joo-yeon worries about Hye-soo's forgetfulness, but figures it's understandable given how much she's going through. She sweetly tells her to put her heart at ease and think only good things no matter what.
Hye-soo takes her hand and earnestly asks Joo-yeon to take care of Eun-sung in hear stead, if it should come to that. Upset, Joo-yeon refuses — Eun-sung has a mom and that's that. And if Hye-soo's going to keep saying stuff like that, she can get out right now.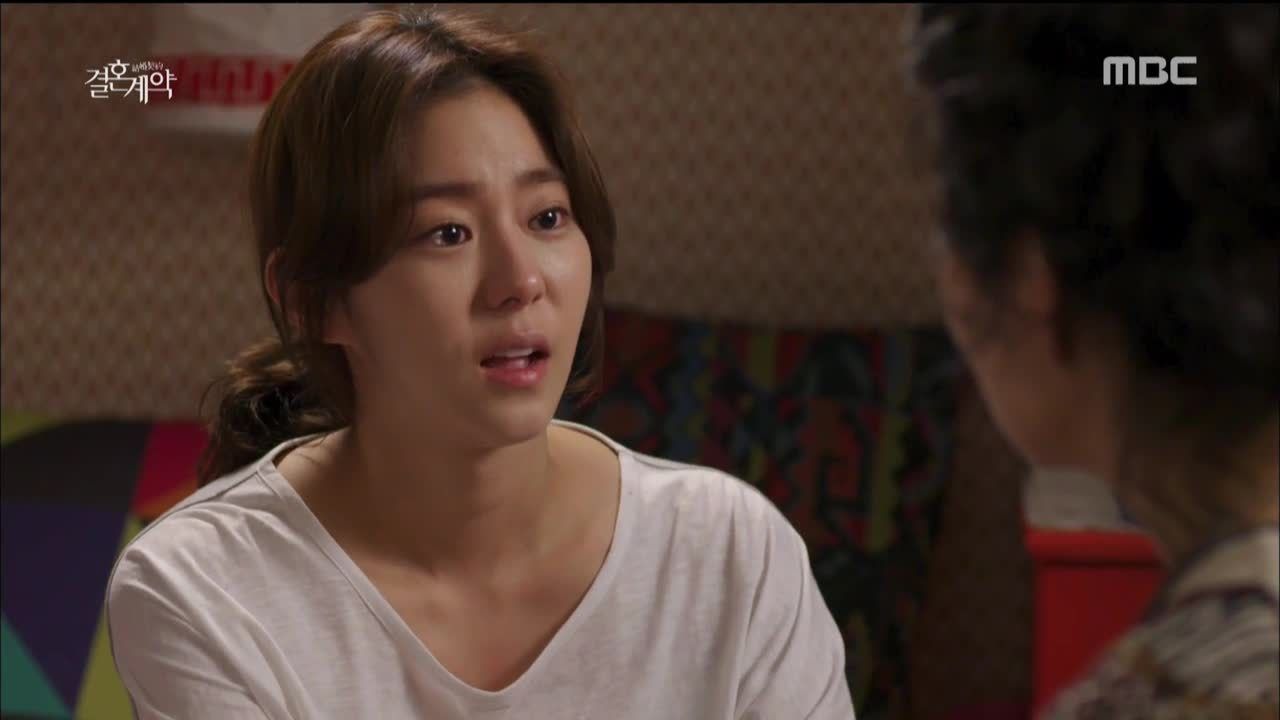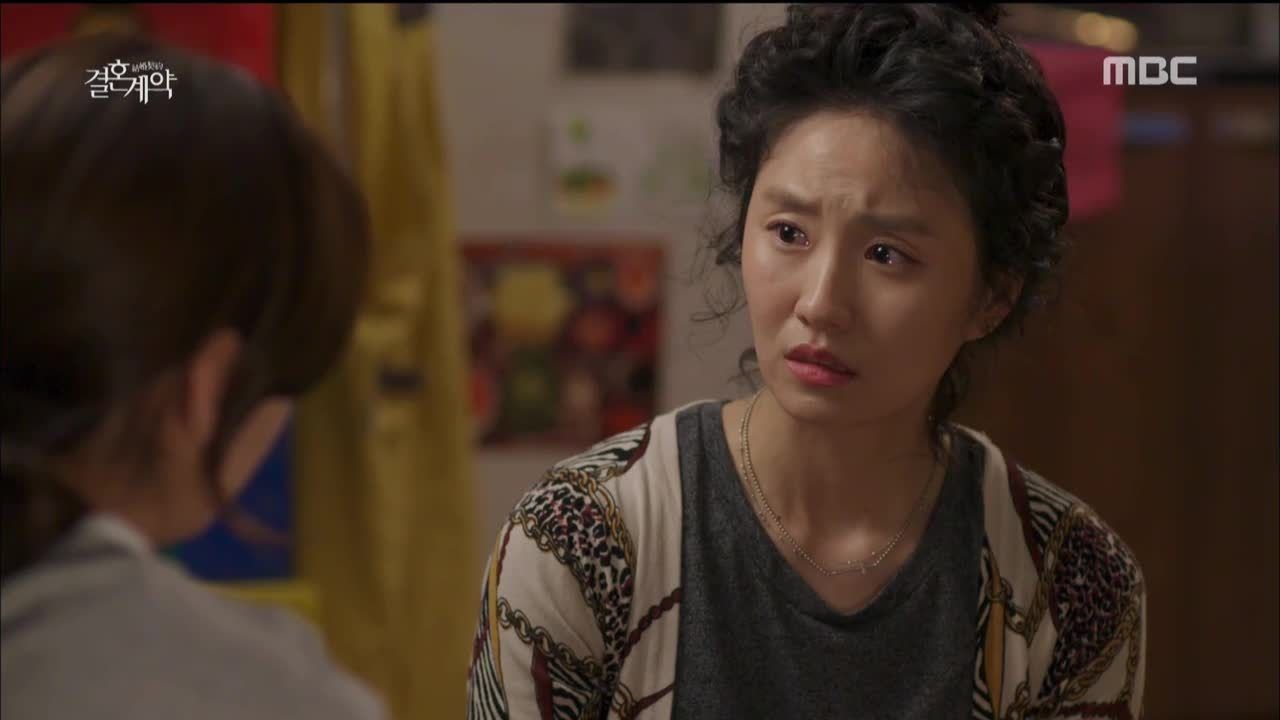 Hye-soo gets herself together and tries to smile. Joo-yeon is still mad-upset, and Hye-soo asks her not to cry, although she's not doing so great at that herself. She burrows into bed and apologizes to her sleeping daughter, too.
Ji-hoon lets himself into the empty apartment that was Hye-soo's. Looking back on Hye-soo's contract demands and how she had said she was putting her life on the line for it, he now sees it all in a different light (and regrets being rude to her even more). But the final straw comes when he finds the drawing Eun-sung left stuck to the watercooler, of their happy family. Crumpling up in front of it, he shakes with silent sobs.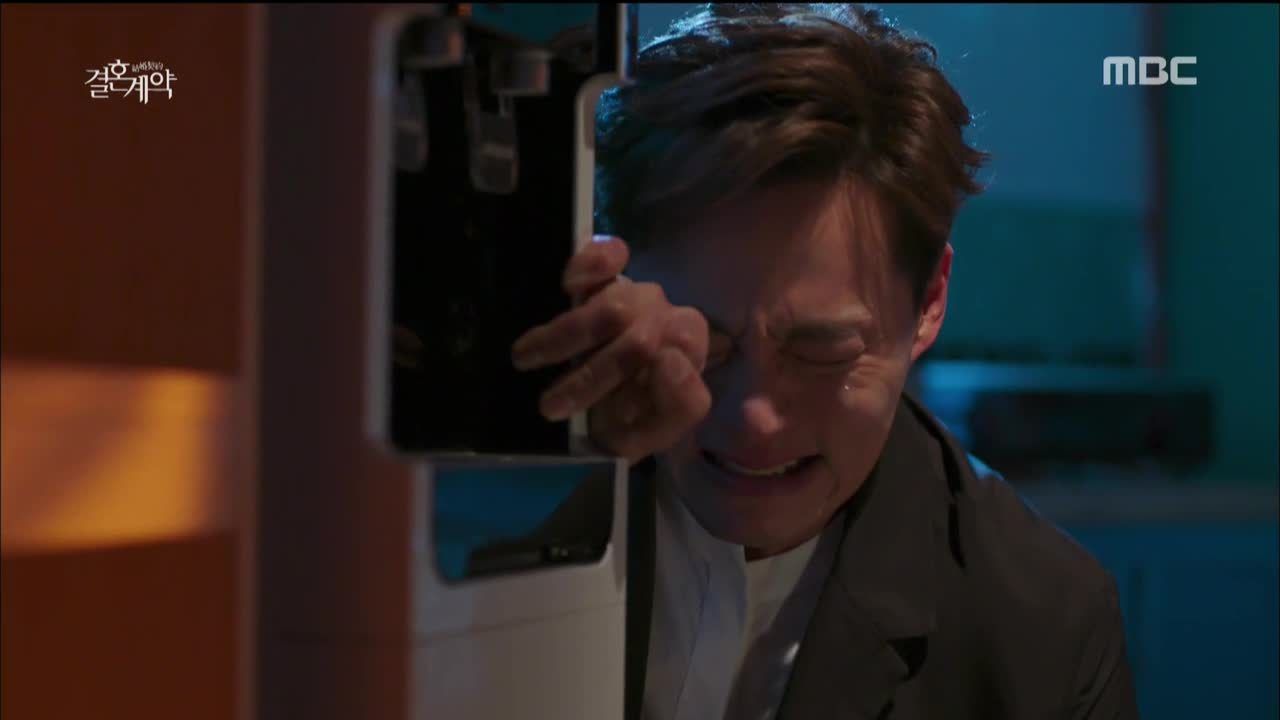 Jung-hoon tries to drink his resentments away, but Madam Yoon takes the bottle from him. He rants about Ji-hoon and Dad, and his mother tells him not to do anything rash — it's that very behavior that makes the Chairman leery of him.
She won't ask him to sacrifice himself for her, she says, but can't he be just a little more reliable for her sake? Does he know how alone and distressed she's been? Jung-hoon complains that she never says anything, so how could he know? And what's that about sacrifice? Mom sighs heavily.
Jung-hoon ends up in a bar with girls draped over him, where he receives an update for his checks into his father's medical records. His secretary says they can use his deteriorating sense of judgement against him, and Jung-hoon wants to turn that into a dementia diagnosis. A newcomer interrupts them and Jung-hoon makes to hit him, but the guy catches his arm. His secretary says this guy can help them — he knows Hye-soo very well. Too right: It's the loan shark. Jung-hoon smirks in anticipation.
Hye-soo and Ji-hoon plan to meet at midday. As she does her hair, more comes away in her hand. Undoing it, slowly and decisively, she picks up a pair of scissors and gathers up her hair. Snip. Snip. Snip. She tries to hold it in, but can't help crying as she struggles to keep cutting. Snip. Snip.
Joo-yeon finds her putting the last touches on her makeup. She's impressed by the image revamp, and Hye-soo smiles that she's off to court to divorce. She wanted to get pretty one last time. Joo-yeon's sweet smile is full of understanding, and Hye-soo hugs her goodbye.
Ji-hoon is stunned by her appearance, and compliments her hair. She's ready to go in, but he suggests eating first.
Over lunch, Hye-soo thanks him, especially for his warmth towards Eun-sung. She tells him to meet someone good, and hopes for his happiness. He huffs, and tells her to finish her food. He then asks her to watch a film with him, as a last hurrah. She laughs, and he smiles, too.
She watches the film, and he watches her, both of them genuinely happy in the moment. Hye-soo's hand starts to tremor, and she nervously checks to see if Ji-hoon noticed. When she turns back to the screen, his smile falls.
They walk back towards the courthouse, and Ji-hoon asks if she doesn't have something to say to him. She doesn't. Then they'll keep walking until she does, he says. But when she addresses him by his title, he stops her. Skipping in front of her (and walking backwards), he says she could call him "Ji-hoon-sshi"…or even better, "oppa". Then he could call her "Hye-soo-ya".
True to his word, he drops to banmal and asks her if she reeeeally has nothing to say. She still doesn't. He's ready to walk the whole of Seoul until she does, but when she addresses him formally again, he gets upset at her keeping him deliberately at armslength — is that all he is to her? Startled by his own outburst, he collects himself. "Okay, fine. Let's go and get divorced," he says, leaving first.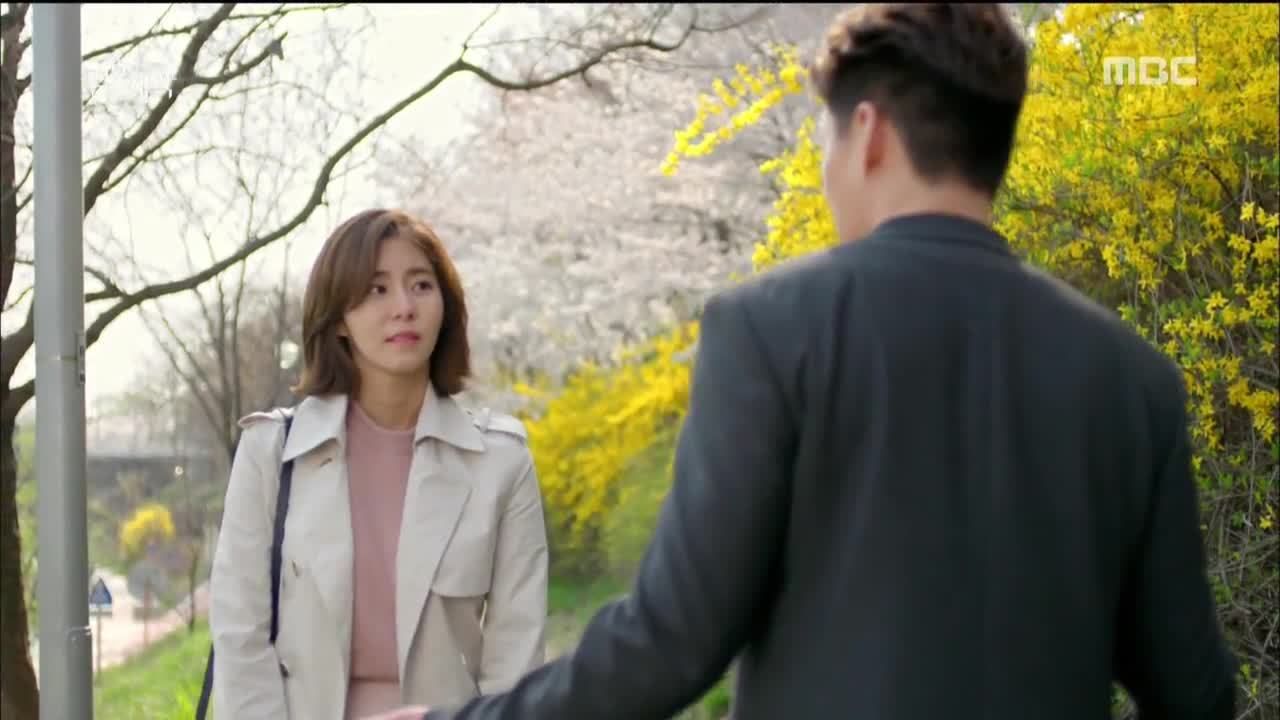 They both stamp their seals on the form, when all of a sudden, Ji-hoon snatches the form from Hye-soo's hand. He crumples it up, and tells her he can't divorce, "So sue me."
Striding out, he tears the form to pieces and throws it to the wind. Furious, she asks what on earth is up with him.
"Let me save you," he says. Since she saved him, now she has to live. She backs away from him but he seizes her in frustration, and she gazes fearfully into his eyes.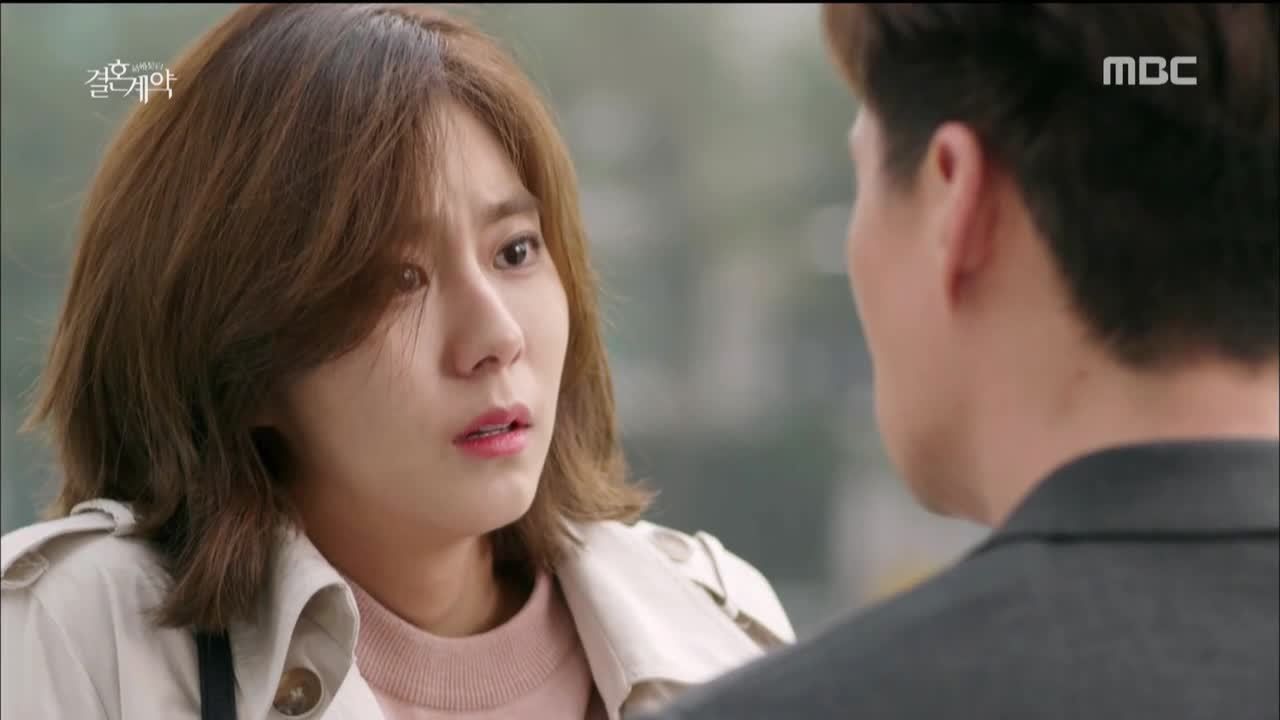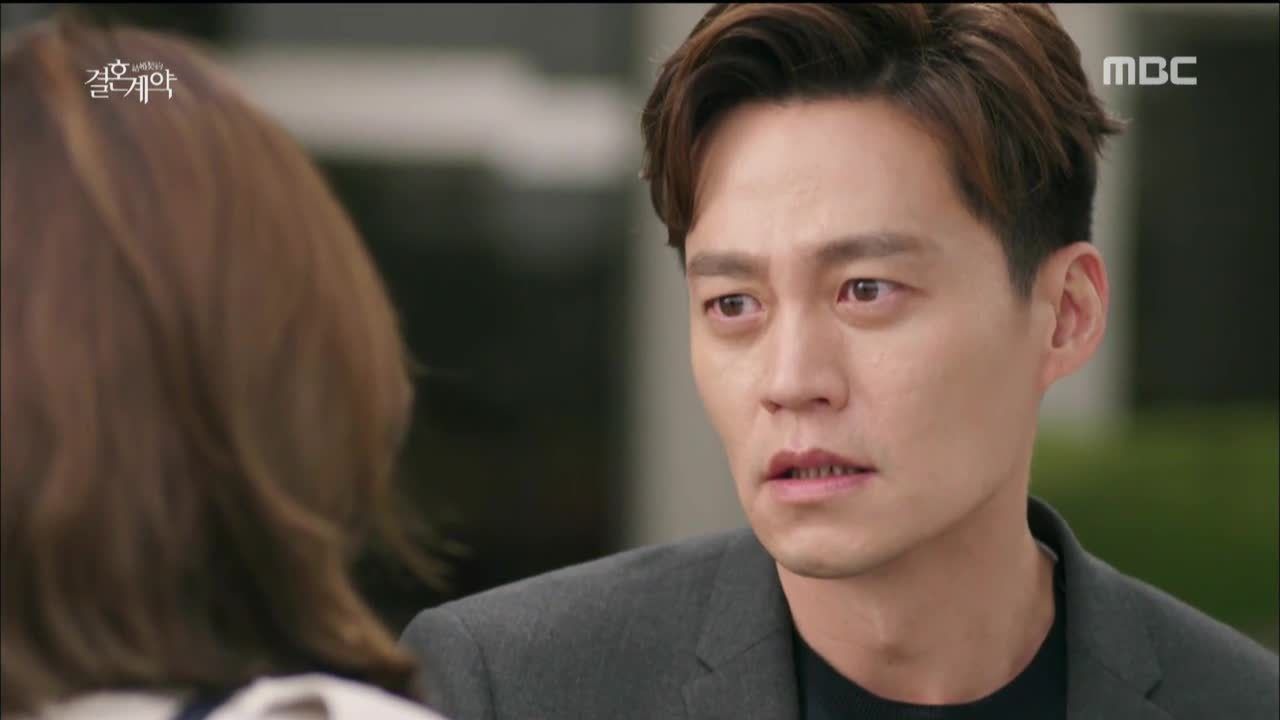 COMMENTS
I'll be honest: Ji-hoon's drunken advances this episode nearly ruined his character for me. But it also made me realize something important: His immaturity hasn't gone away, it just had less sway when a better self and reasons to be good came to the fore. I'm sure there's an intellectual argument somewhere that his erring is human, but I think that leaves too much leeway for people to be very, very wrong, when there are things that should just never be done. Ever. Drunk or not, depressed or not. To sum it up, yes, it makes him human, but it also makes him bad, and it's important for our romantic hero not to be, well, Jung-hoon.
Speaking of Jung-hoon, I could write this whole comment about him, if only because he offers such a lot to unravel. I don't like him, but I do feel pity for him. I think, in a better situation, he'd have had a chance to be a better person. It doesn't absolve him of his own responsibility to be a decent human being, but the odds laid against him certainly draw a clear map to how he became this way.
I find the relationship between him and his mother an interesting one, too. Madam Yoon is a clever woman, and she knows her son is not as sharp. But he's no less her son, and that love she has for him is natural and right. Unsurprisingly, the burr in the blanket is the Chairman, who doesn't appear to have shown any kind of affection to any of his immediate family ever. Such a selfish, materialistic man. It's a wonder that Madam Yoon isn't a bitter, scheming harridan for the scorn and disregard she's received all this time. Instead, she keeps a level head and though she's as prone to emotion as anyone else, she isn't ruled by her impulses.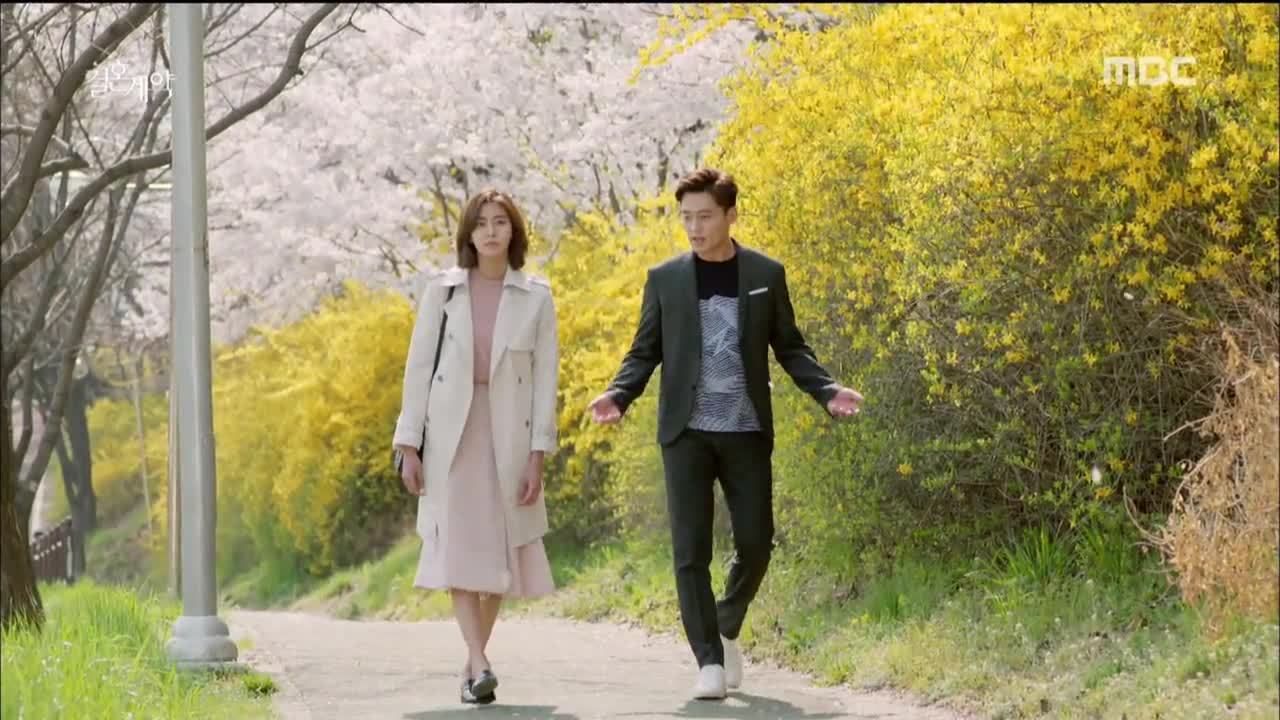 Back to Ji-hoon, though. His frustration over the distance between him and Hye-soo is very palpable, as is his grief on finding out the truth she's been hiding. His words at the beginning of the episode, about not knowing her at all, clearly foreshadow this moment, and we're really made to feel just how crushing that truth is to him. He knew he didn't know, but he didn't know what he didn't know, and knowing it changes everything. There's a line in Anne of the Island that immediately came to my mind: "There is a book of Revelation in every one's life… Anne read hers that bitter night, as she kept her agonized vigil through the hours of storm and darkness." Ji-hoon reads his that bitter night.
I found his attempt to close that distance in the simplest of ways — just by lowering their speech, getting her to use his name — quite profound. It seems to sum up their whole relationship, doesn't it? In as much as Ji-hoon has a core immaturity, he also has the positive side of that, in the loving, childlike nature hidden beneath his jaded exterior. It makes him very eager to please and just as easy to hurt. And willingly or unwillingly, Hye-soo has that power. It's not that he's willing to be vulnerable in front of her — he just is, and has been right from the start. She's always had that privileged access to him that bypassed all walls. He never pretended or needed to pretend, and the contract even facilitated their closeness.
But the same can't be said in reverse — the access she's had and the vulnerability he's shown weren't returned, though he's only realizing now how unequal their agreement made them. And while his regret might weigh heavy for the offhand way he's treated her, I don't really think he can be blamed for not knowing, and I hope he doesn't blame himself. He did the best he could with the information he had. I don't think Hye-soo would blame him either.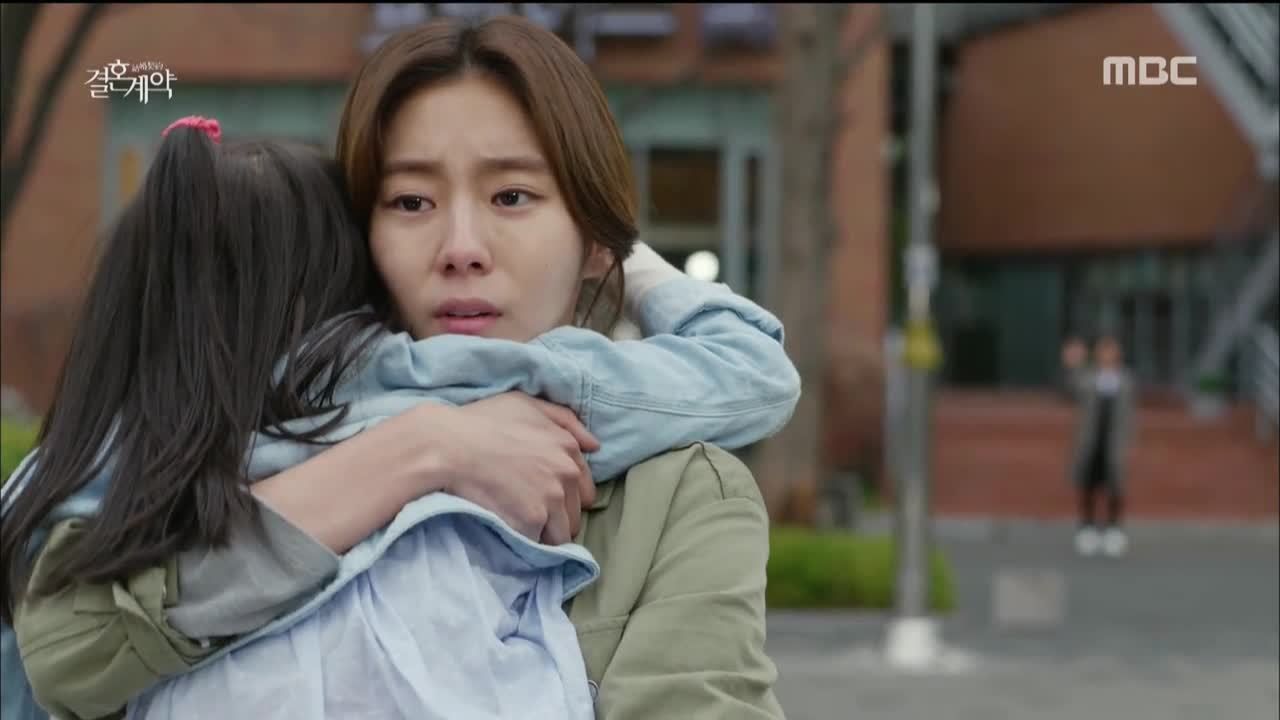 There's also the tragedy of Eun-sung that lies between them. We can't forget how Ji-hoon's bond with her is its own creature, but the problem is, his relationship with her can only exist though his connection with Hye-soo (for the obvious reasons). In short, without Hye-soo, there can be no Eun-sung for him. The sad irony is that Ji-hoon wholeheartedly wants them both, the whole package, and on their own merits.
Hye-soo's struggles with her illness are ever-changing. Starting from her diagnosis, she's had to climb mountain after mountain. Each challenge leads to another, and each one brings her a step closer to living or dying, but her agony is that she doesn't know which it is. She has to find the courage to look mortality in its frightening eye and both accept it and deny it. She wants to live, but she could die. It's…what is it? An impossibly difficult contradiction to live inside. I'm really glad she finally told Joo-yeon. Any later or any other way would've been a disrespect to their friendship — a friendship which, as the show goes on, reveals itself to be really quite extraordinary in its depth of loyalty and understanding.
As we've noted before, Marriage Contract's greatest artistry lies in its smallest, quietest scenes, and in this episode, it was Hye-soo cutting her hair. Cutting hair has always been symbolic, especially as a rite of grieving, so that's a subtext that immediately underlies the whole scene. But there's also something renewing in it — she tells Ji-hoon that she cut it for spring, and I think there's a truth folded-up in there. She's ushering in a new period of her life, where everything going forward is going to be different from everything that went before. So while it's intensely sad, there's also a quiet empowerment in it: She won't be a victim to her illness. But I do think she needs reminding of that a lot…but that's why Ji-hoon is there.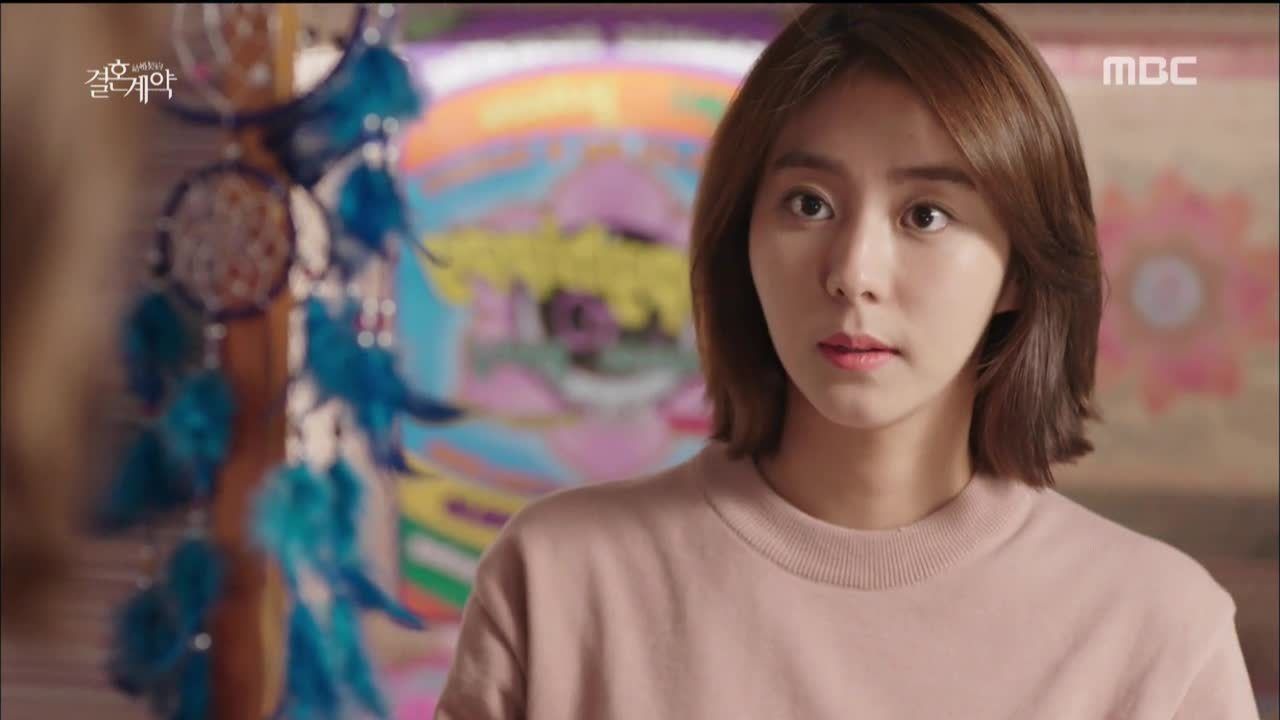 RELATED POSTS
Tags: Episode 12, featured, Lee Seo-jin, Marriage Contract, UEE