Marriage Contract: Episode 13
No man — or woman — is an island, and we all need someone to lean on in times of need. Hye-soo has gotten so used to being on her own that she's grown fearful to trust anyone, so it's Ji-hoon's mission to convince her that he's someone she can count on. If she won't believe his words then he'll just have to show her, and there's nothing that says he can't be completely adorable while doing it.
EPISODE 13 RECAP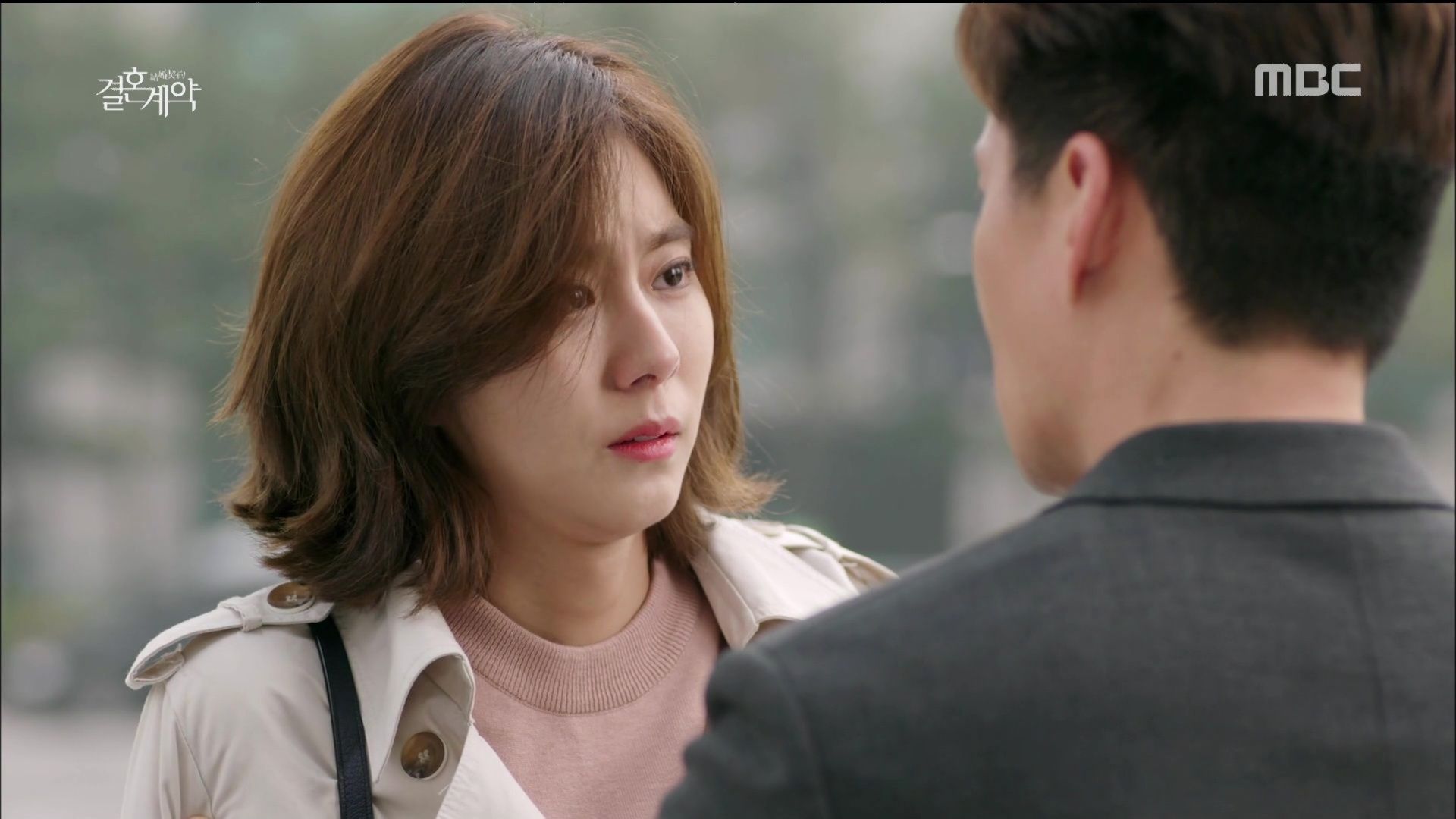 Ji-hoon snatches the divorce papers from Hye-soo and runs outside to rip them to shreds and fling them away. Hye-soo asks what the hell is wrong with him, and he looks her in the eyes and says, "You. Let me save you. I'll save your life."
Hye-soo starts to back away in denial that he knows her secret, but Ji-hoon turns her back to face him. He yells at her to let go of her pride, and asks if she already knew about her illness when she signed that contract with him. She gives the tiniest of nods and confirms it, and Ji-hoon asks what she would have done if she'd died (while donating her liver).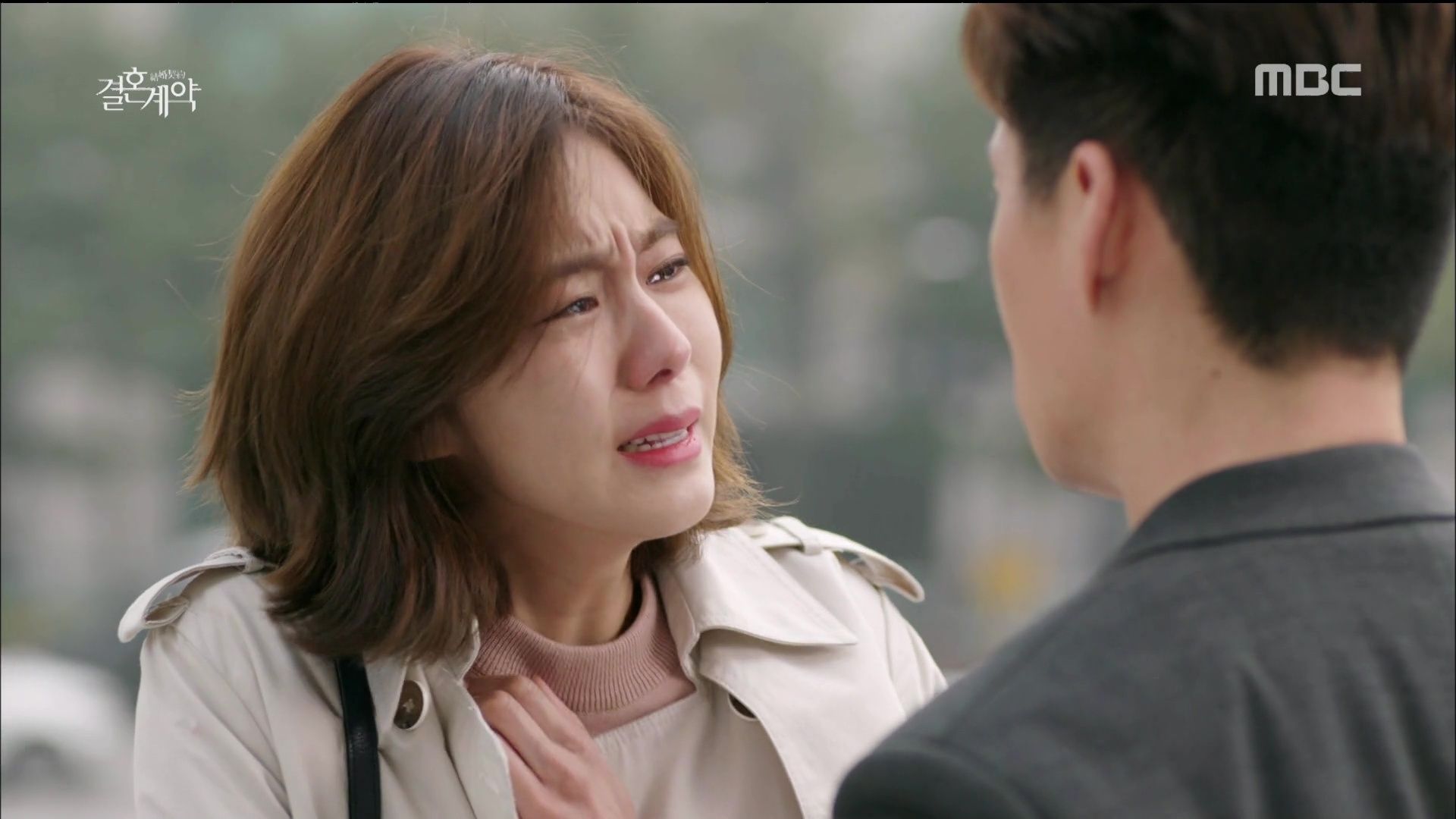 He asks if she was really so desperate and again she nods, saying that it was the only way out of her situation, and asks him again to divorce her. "I have many other things I need besides you." Oof.
Ji-hoon is willing to be used for his money, practically begs Hye-soo to use him. But Hye-soo just screams for him to divorce her, crying that this marriage is torture to her, and Ji-hoon finally relents in the face of her obvious pain. But agreeing to the divorce doesn't mean he plans to give up on Hye-soo, so he asks for a promise from her — to do things his way from now on.
Hye-soo fights, silently and internally, until she finally gasps out a sob and collapses in Ji-hoon's arms. She alternately hits him and clings to him, and Ji-hoon just holds her while she grieves.
The loan shark (and I have no clue what his name is, we'll just call him "Shark") shows up at Promise while talking to Jung-hoon on the phone, who is literally twitching in excited anticipation of the trouble this is going to cause. Shark saunters inside, loudly taunting the employees and demanding to see Hye-soo, but chef Soo-chang warns him off for now.
Ji-hoon shows up at Chairman Han's office to tell his father that the divorce has been finalized. The chairman is practically giddy about it, and suggests they have dinner with Na-yoon's family tonight. Ji-hoon goes along with it, but he's a little too agreeable, which makes me suspicious.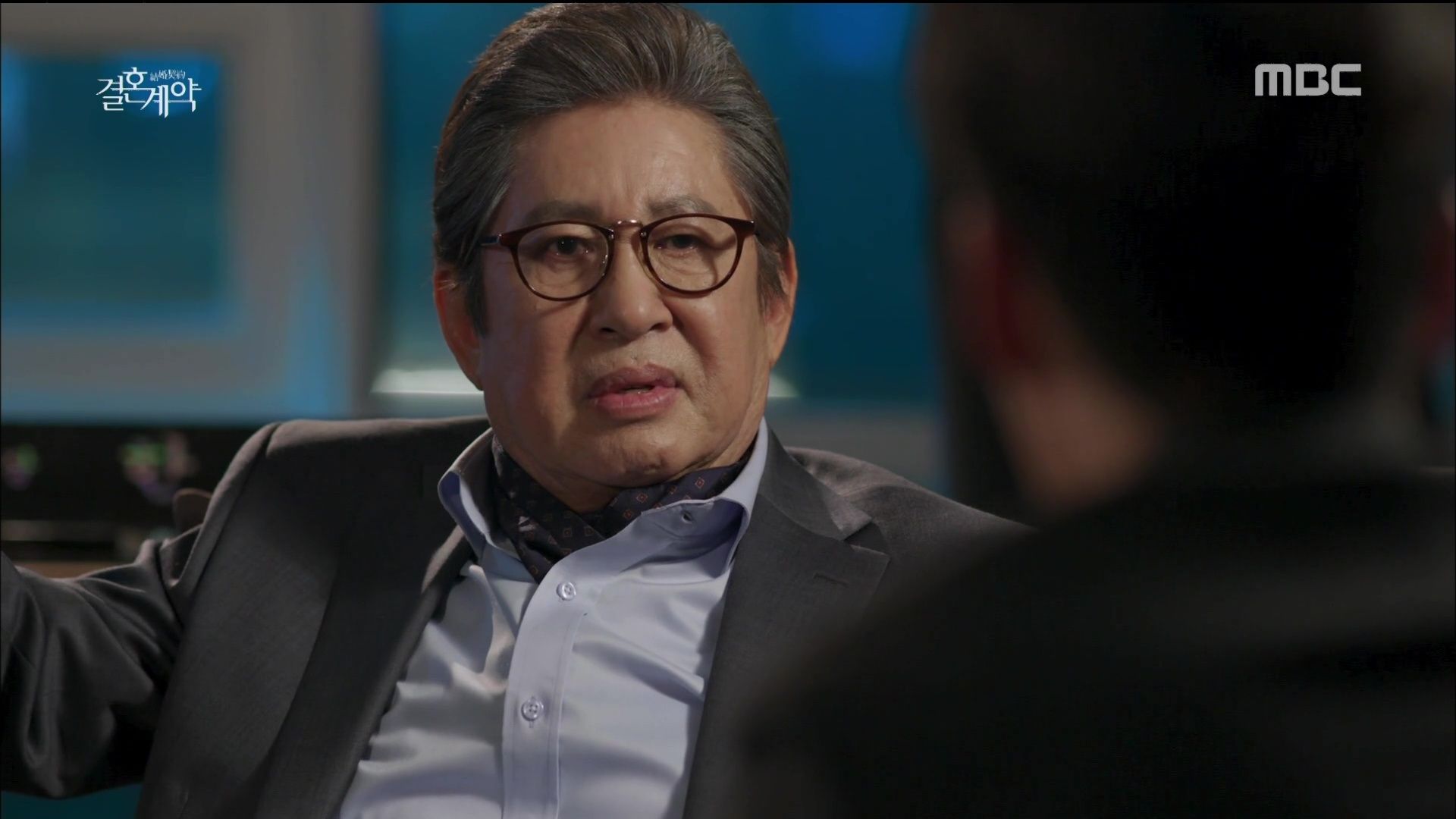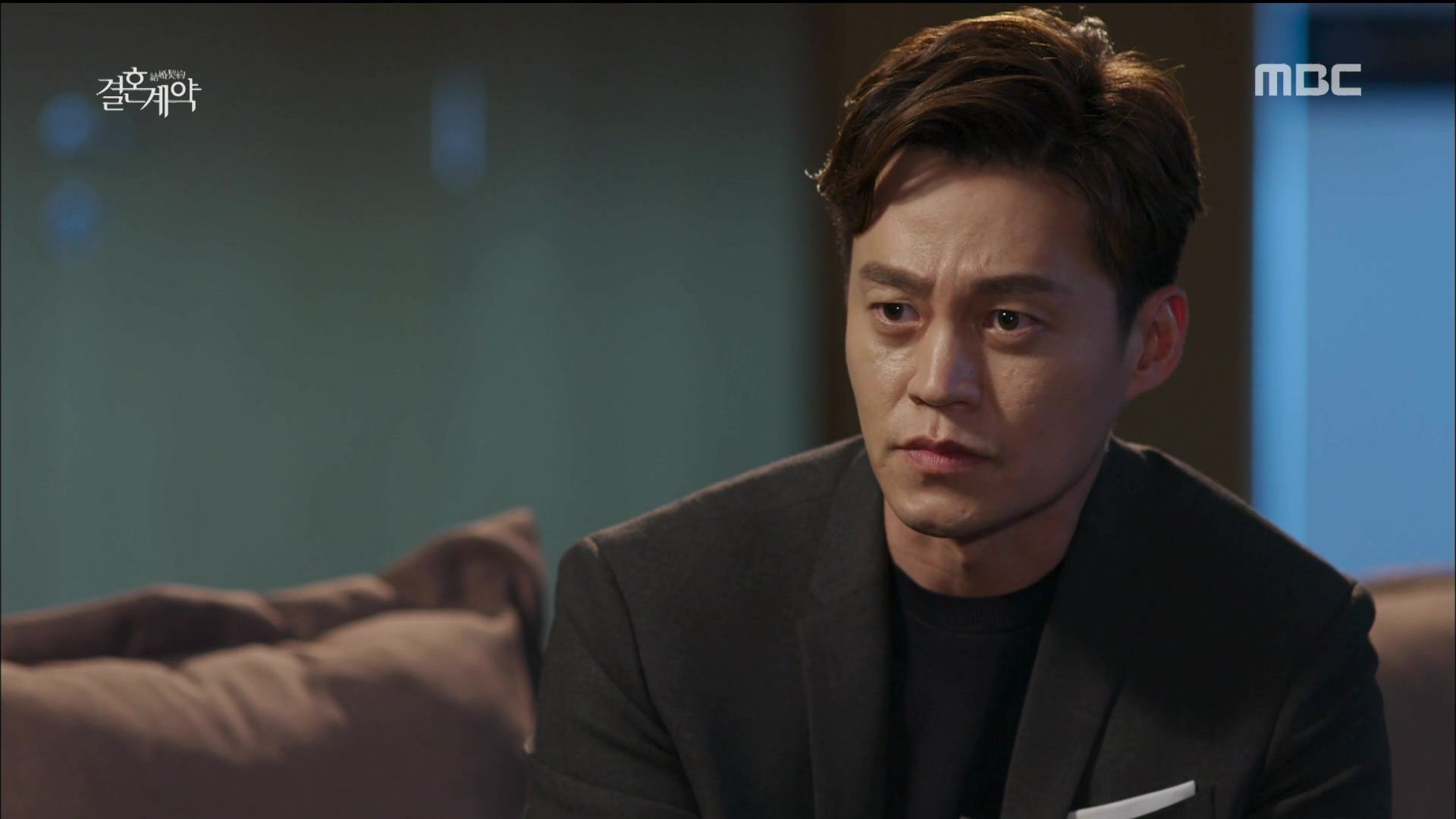 So it's no surprise when he asks his father to let him just date Hye-soo, and in return he'll do whatever else his father wants. He can make up in ability what they lose by not marrying into Na-yoon's family. He says that he'll date Hye-soo even if Chairman Han doesn't agree, and the chairman calls him crazy. But is it me, or is his father starting to look tired of fighting?
Joo-yeon brings home snacks for Hye-soo, and they talk about when they were kids and Joo-yeon used to always go to Hye-soo's house after school. She notices that Hye-soo seems off and asks if she loved Ji-hoon very much, and wonders why she didn't beg not to get divorced. Hye-soo sighs and admits that she should have, but her laughter has an edge and seems forced.
Ji-hoon gets copies of Hye-soo's medical records from her doctor, and forwards them to a specialist. Meanwhile Hye-soo officially quits her job at Promise, and Soo-chang adorably grumbles that Ji-hoon better not have bullied her into leaving.
He asks about her debt, which she says is handled, and he doesn't tell her that the loan shark was there. Hye-soo gives him a hug, which makes him so uncomfortable that he cringes and makes everyone laugh.
Ho-joon takes Hye-soo outside to talk privately, and says that in his twenty years of knowing Ji-hoon, this is his first time seeing him act the way he does because of her. He apologizes for not doing more to help them, but Hye-soo tells him it's okay. He asks after Joo-yeon, and nervously tells Hye-soo to bring her around some time.
Jung-hoon is literally singing with happiness, though he tells his mother that he can't believe Ji-hoon actually engaged in organ-selling. He claims to be sooo upset, though he's almost bouncing with glee. The chairman comes home in a foul mood, not even bothering to nod to his family.
Another treatment leaves Hye-soo feeling weak, and when she sits to rest in the hospital hallway, Ji-hoon silently shows up to offer her a drink of water and the sweetest smile you ever saw. Too tired to object, she accepts the water, and Ji-hoon complains about how thin she's getting.
He takes her to eat, but the food upsets her stomach, though Ji-hoon pretends not to notice. He cheerfully says that he may have good news soon, reminding her that he promised to save her life this time.
Hye-soo tells him not to come to the hospital anymore, but Ji-hoon argues that her doctor is too scary not to obey her orders to take better care of Hye-soo. He marvels at her strength, coming alone for her treatments, even though Hye-soo says it's no big deal.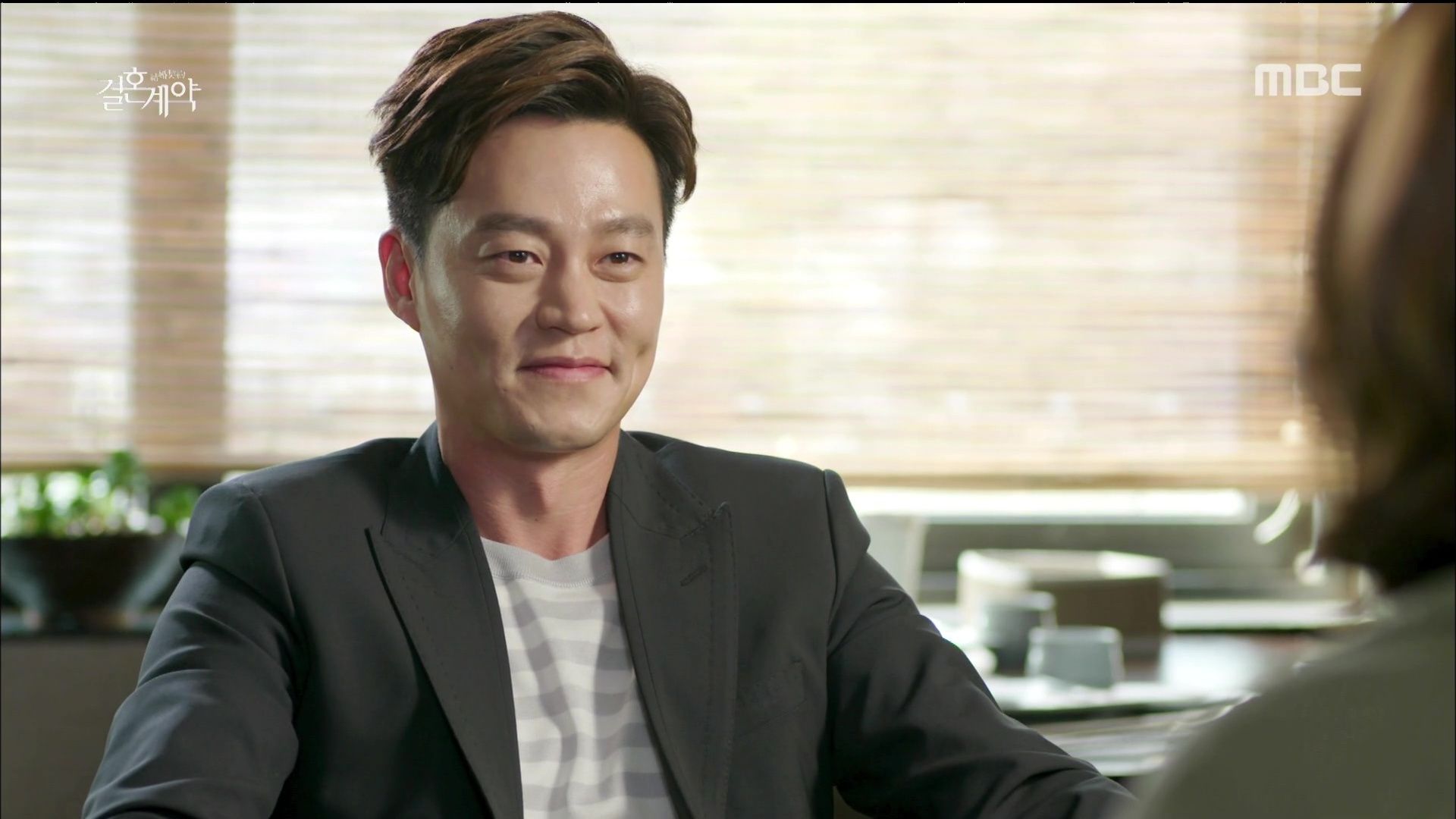 Ji-hoon grabs her phone to do something, and fusses at her when she addresses him formally again. He changes his name on her phone to "Ji-hoon Oppa" and makes himself her number one contact, and tells her to call him any time, for any reason, and he'll answer. If she's bored, hungry, or just needs a hug or kiss, he's available. Hey, I saw that smile, Hye-soo.
Ji-hoon jokes that she should feel depressed — there are so many things she hasn't gotten to do with him yet. He still feels bad that he nearly dumped her without knowing why, and when Hye-soo just says she wants to go home now, he tells her not to pretend she doesn't like being with him.
He tells her that he plans to show up tomorrow, and the day after, and the day after, and that he has no plans to let her go. He grandly announces that he'll follow her around forever, though when Hye-soo quietly gets up from the table, his confident smile slips a little.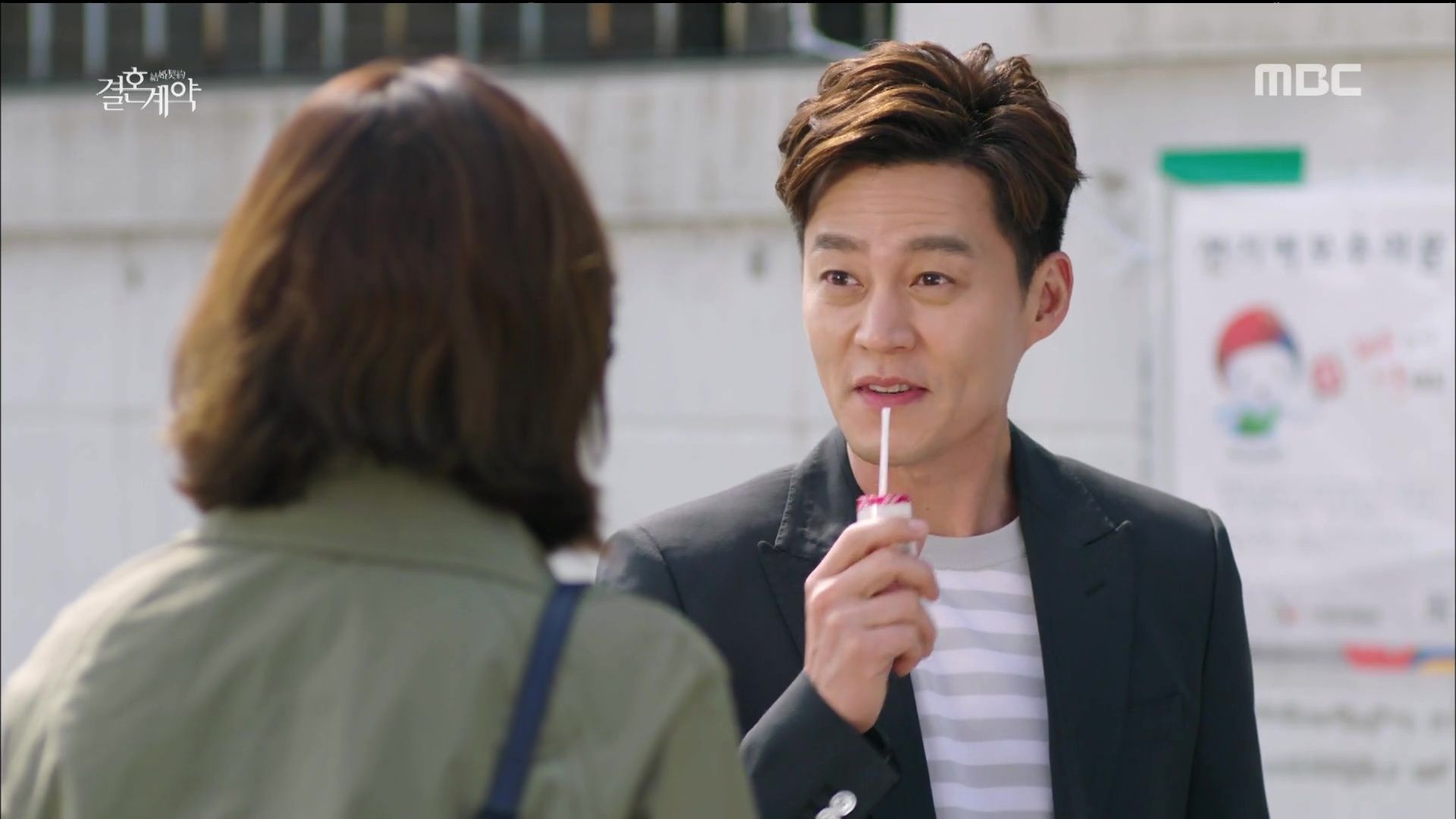 He follows her home, though she tries to lose him unsuccessfully. He reminds her that she made him a promise in return for their divorce, and when she says she doesn't remember any such thing, he just breezes that he'll follow her until she remembers. (Also, how can a grown man be so cute drinking a yogurt??)
Hye-soo loses her temper and yells at Ji-hoon to go away, but he just lights up that she just spoke banmal to him for the first time. She draws up and tells him (in jondae again) that he makes her uncomfortable, and that she feels free now that they're divorced. Ji-hoon just scoots closer to her as she talks, looking about five years old, hee.
Hye-soo shoves him and walks away, but this time when he doesn't follow her, she slows down a little and looks disappointed. Ji-hoon lets her go, for now.
Hye-soo finds herself blocked by Shark just as she's arriving at Joo-yeon's place, and she angrily tells him to buzz off, that their business is finished. He claims to miss her, making nasty insinuations about how she was able to raise the money to pay off her debt. He thinks she did sell her liver, and Hye-soo freezes — oh no, what does he want now?
He makes Hye-soo take him for coffee and gives her some papers to sign. It's a statement swearing that Ji-hoon convinced her to sell her liver, claiming that he threatened her and gave her no choice. Hye-soo asks who's behind this, and Shark claims he's working on his own, and even offers to pay her a massive sum to sign the papers.
Hye-soo isn't even a little bit tempted, and spits at Shark to go away and never come back. He tries one last time — it's a lot of money and she wasn't too shy to take money from Chairman Han, so signing this should be nothing.
For a moment it looks as if Hye-soo might sign, but instead she rips up the paper. When Shark produces a second copy, she pours her coffee over it and says that even if she is crazy about money, she's not that crazy. Slow clap.
She tells Shark to call off whoever has hired him to do this, that Ji-hoon is not at fault. She says that this is beneath even him, and that he'll regret this if he does it. Shark says he'll come back tomorrow, but Hye-soo retorts with fire in her eyes that if he does, she'll kill him.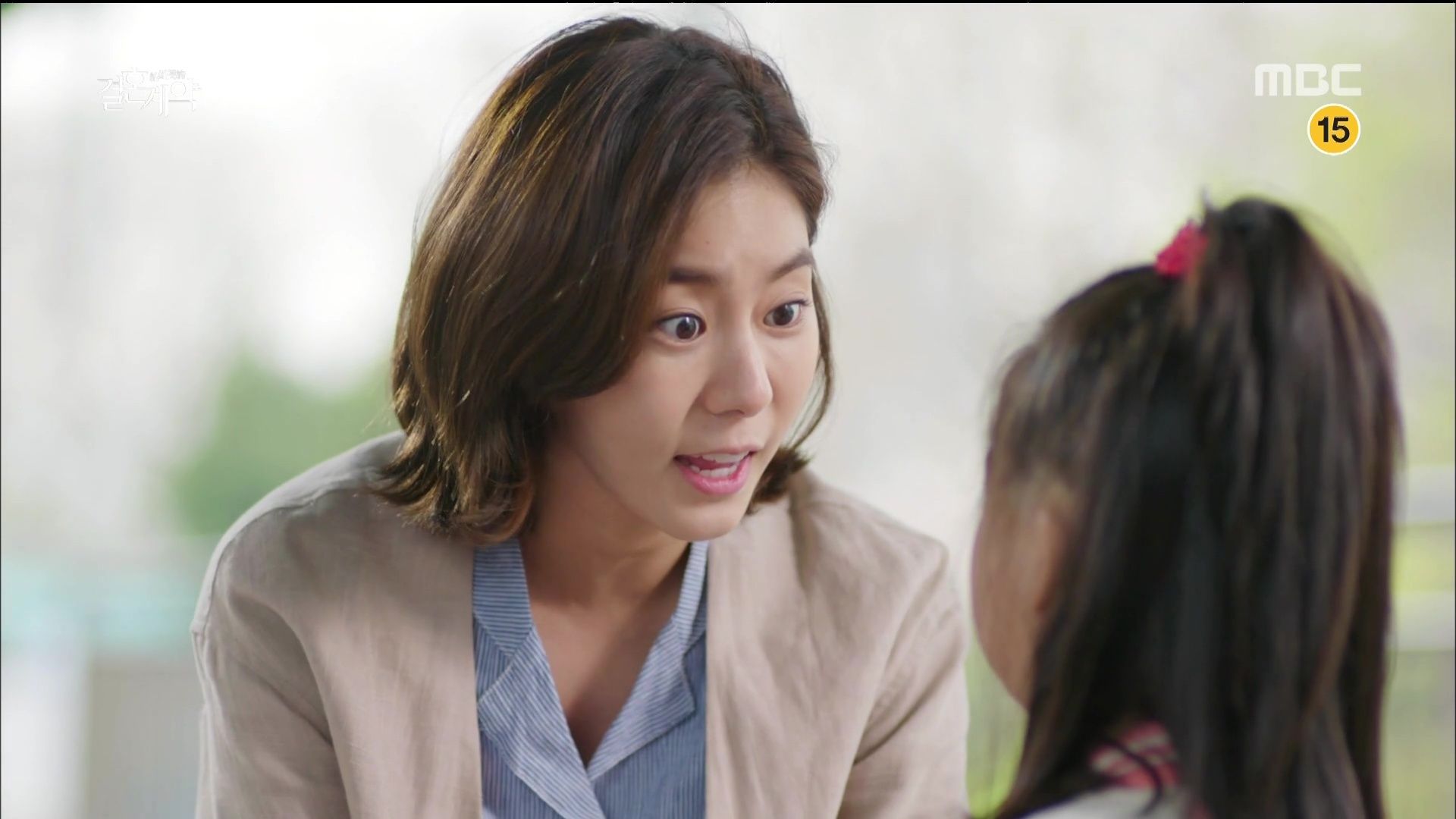 Shark reports to Jung-hoon that he hasn't convinced Hye-soo yet, and Jung-hoon belittles him and bounces food off his head. Shark allows it for now, but judging from the look in his eyes, Jung-hoon is going to regret that. And I'm going to love seeing it.
Joo-yeon notices that Hye-soo is distracted and asks if she's gotten bad news from her doctor, but Hye-soo denies it. She says that she's going on a trip tomorrow, alone, promising to take her medicine and that she's not planning anything bad.
The next day she takes Eun-sung to stay with Young-hee, and tells her daughter that the nice ajumma is actually her grandmother. She explains that her grandmother loved her father so much that she was very upset when he died, and that's why they haven't seen her until she met Eun-sung, which helped heal their rift.
Young-hee is so happy to see Eun-sung that she nearly squishes her, and with the wisdom of childhood, Eun-sung tells her to laugh instead of cry, if she's so happy. Eun-sung asks Young-hee to take care of Eun-sung for a little bit, and Young-hee is thrilled to get more time with her granddaughter.
Ji-hoon is climbing the ladder at work and proving that he's more than capable on his own merits, regardless of being the chairman's son. Jung-hoon corners him and tells him to resign, saying that there's a rumor going around about him and Hye-soo and their contract.
Ji-hoon grows angry, demanding to know where Jung-hoon heard about this, and Jung-hoon warns him to resign and go to America before he brings the company down with him.
Mi-ran is given a new surgery date, and her doctor is pleased — the donor being her brother, the match is even better than it was with Hye-soo. But Mi-ran misses Hye-soo and asks Ji-hoon to bring her around after her surgery, and even asks after Eun-sung.
Ji-hoon runs into Na-yoon on his way out, who came to bring Mi-ran flowers. He updates her on the surgery, and lays down a kind but clear boundary — he's not interested in her anymore. His feelings for her in school were sincere, but he doesn't feel anything any longer, and he asks her to move on.
Later Ji-hoon tries repeatedly to reach Hye-soo, but she's turned her phone off to avoid his calls and texts.
Chairman Han gets a physical, and learns from his doctor that Jung-hoon got a copy of his medical records recently. And despite having been asked to keep it secret, he tells the chairman that Ji-hoon asked him for a brain tumor specialist referral. The chairman gets ahold of Hye-soo's medical records somehow, and learns that she's the one with the brain tumor.
Shark has taken to hanging out at Promise, though nobody can (or will) tell him where Hye-soo is. Soo-chang refuses to serve him one bite of food, demanding to know why Shark is here when Hye-soo paid him. Shark just creates another loud scene and leaves, for now.
Jung-hoon calls him on his way out to berate him for not getting faster results, and Ji-hoon pulls up and overhears Shark's end of their conversation. He remembers Shark from before and whaps him upside the head, neatly avoiding Shark's wild swings and landing a few good ones of his own.
Soo-chang comes to help, pinning Shark to his car while Ji-hoon picks up his dropped phone. He sees that the last incoming call was his brother, and demands that Shark tell him what he's being paid to do to Hye-soo.
Ji-hoon finds Jung-hoon when Shark won't talk, asking what he said to Hye-soo and why he's having Shark follow her around. Jung-hoon just snarks that Ji-hoon and Hye-soo are both low-quality people, and threatens to sue Hye-soo for extorting money from Chairman Han.
Ji-hoon yells at Jung-hoon to leave Hye-soo alone, and Jung-hoon hollers back for him to resign and disappear, then. He shoves Ji-hoon outside the gate and tells him never to come to the family home again, shutting the gates in his face.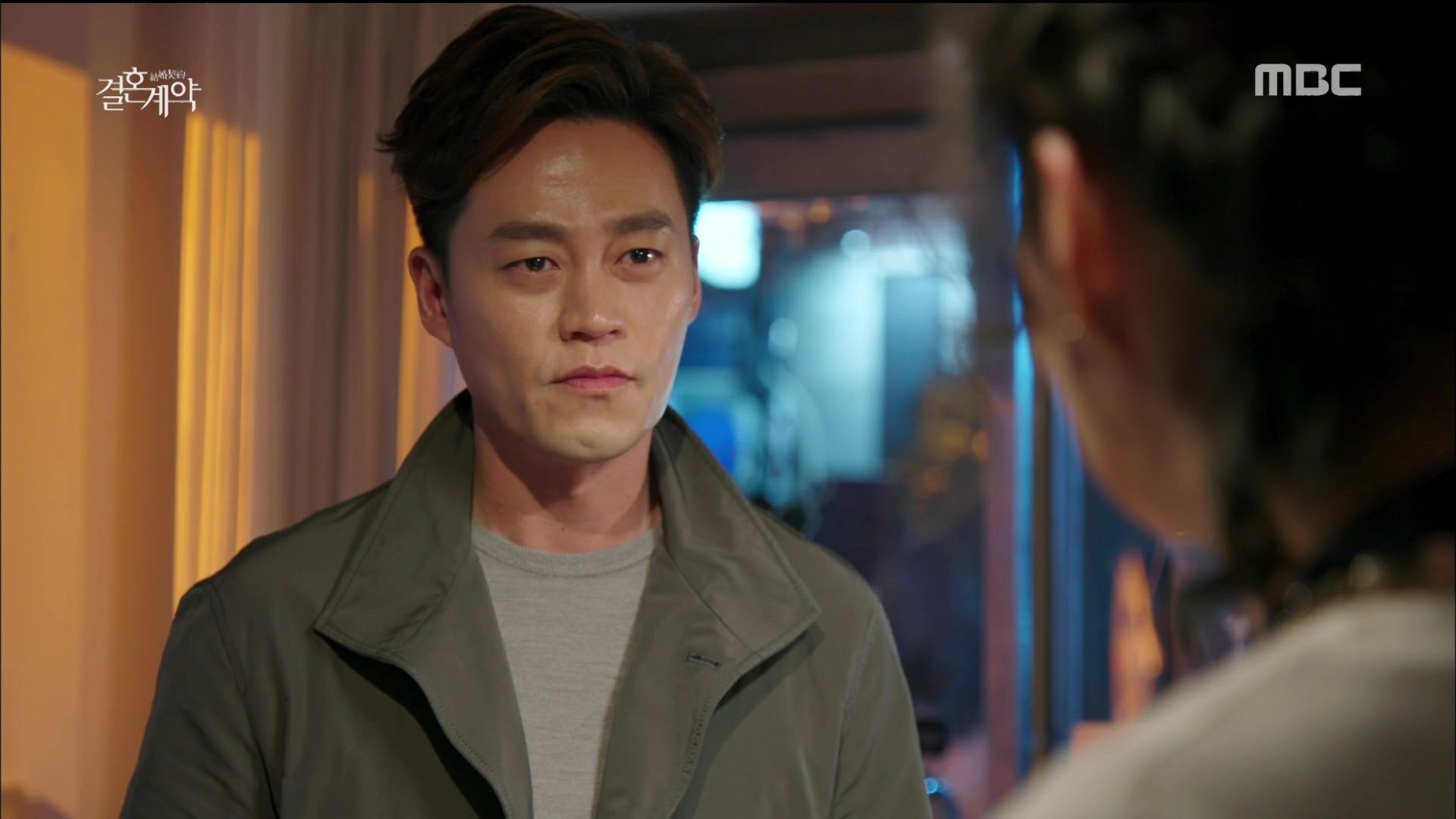 Hye-soo walks the beach alone, remembering racing with Ji-hoon and how they'd watched the sunset together. She thinks of her dream of opening a small restaurant, wondering now if it will ever happen.
Ji-hoon asks Joo-yeon where Hye-soo is, and loyal Joo-yeon just tells him she's away at her mother-in-law's. She asks him, as a favor, not to mess with Hye-soo's feelings — she's going through enough without heartache on top. Ji-hoon just asks where her mother-in-law lives.
Young-hee and Eun-sung team up to get Hye-soo to call them, with Eun-sung leaving an adorably worried message for her mom. Young-hee goes in to make dinner, and Eun-sung lights up when Ji-hoon shows up, though she tells him that her mom isn't here.
Young-hee isn't happy to find Eun-sung draped all over Ji-hoon, and curtly orders him to leave. He asks where Hye-soo went but Young-hee snaps that they broke up and she's not telling him.
Hye-soo, it turns out, has gone back to her old hometown. She passes a restaurant that still holds ghost of the past — she sees herself and Joo-yeon, young and happy, watching her grandmother cook. Hye-soo tells the memory of her grandmother that she's an adult now, and apologizes for not being able to live a great life.
Ji-hoon tries calling Hye-soo again when he arrives home, leaving her a message asking where she is so that he knows she's safe. Hye-soo wakes that night in her hotel room to take her medication, her head pounding. She sings Eun-sung's tomato song to distract herself, though tears run down her face. She listens to Eun-sung's message, soothed just to hear her daughter's voice.
There's a message from Shark, and next she nears Ji-hoon's voice asking if she's safe. As her headache worsens, she starts to wail in pain, unable to hold it inside. She reaches for the phone, and with a shaking hand, calls Ji-hoon.
He's busy looking for the ring he threw away, but he abandons the search when he sees that Hye-soo is calling him. She's in so much pain she can barely speak, but she manages to ask him a question: "I am ruined. I am ruined, and I will only get worse. I might look like someone you don't know. The person you knew before won't be the same anymore. Is it okay? Is it still okay?"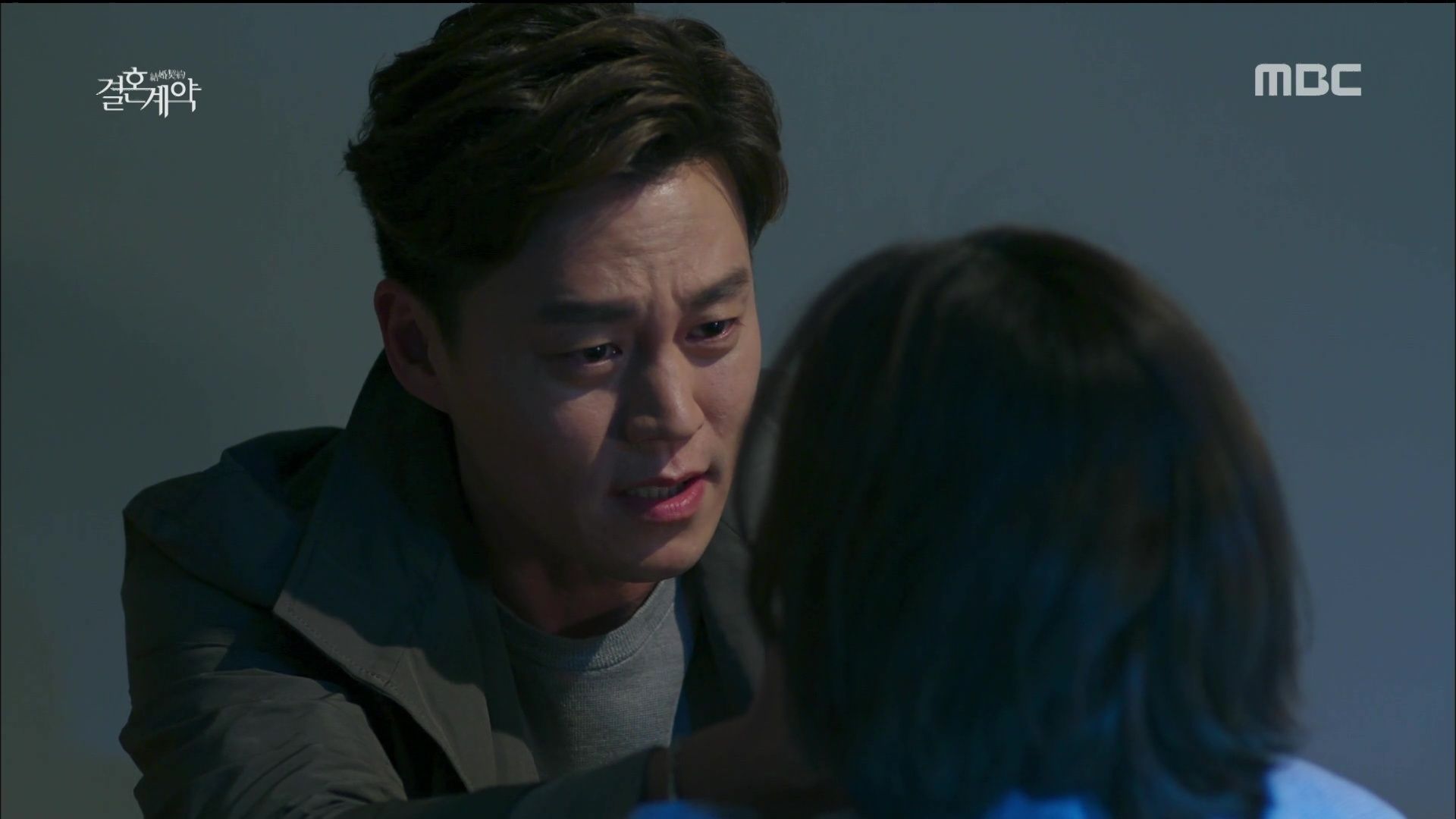 Ji-hoon rushes to her side and finds her curled into a ball, and she slowly raises her head to look at him. Ji-hoon crouches in front of her and takes her face in his hands, telling her, "It will be okay, it's all okay. Even if you look ugly it's okay. Even if you look one hundred or one thousand times more horrible, it's okay. No matter how you look, I'm fine with it. No matter what, I like you as you are. You're my Kang Hye-soo-yah."
Hye-soo launches into his arms, clinging to him desperately. He whispers over and over as she cries, that it's all going to be okay. And despite her upset and her illness, Ji-hoon smiles like the happiest man in the world.
COMMENTS
Oh finally, I can breathe. I don't think I could take much more of Ji-hoon and his emotional bleeding. I just love that, for a man who's kept his feelings under tight control probably for most of his life, something about Hye-soo has him practically falling over himself to show her how he feels, every time he sees her. I liked that we got a lighter side from him in this episode, though still just as intense and determined as ever, as he did his best to win over Hye-soo. And his determination finally convinced her to let him be there for her, which makes me wildly happy for them both. This won't be an easy time for them, but it will be easier if they have each other.
I want to address Ji-hoon's behavior last week, because I just can't let that go without comment. I strongly agree with Saya, that Ji-hoon's drunk attempted-kiss last week was hard to watch, and very nearly turned my opinion of him to the negative. He's a hard guy to like anyway, his foremost redeeming feature being his love for Hye-soo — and because I love Hye-soo, I love anyone who loves her. Trying to force her to be physically affectionate was a low-down dirty thing to do at best, and a violent action at worst. But as I thought about it during the week, I came to understand a bit why he did it. I think that at that point he was still stuck in that one perfect moment between them, on that beach when she cried and kissed him back, and he knows that the passion he felt from Hye-soo wasn't fake or a mistake.
So I believe that he was just drunk enough to believe that, if he could get her to kiss him again, she would feel what they felt that night and admit that she loves him back. I don't think that intentions override actions, and I'm not in any way excusing what he did, but I do sort of understand why he broke down in that moment and tried to force that kiss. I also believe that he immediately regretted it, and that it truly was a one-time misstep on his part. Ji-hoon is in the process of a pretty wrenching and painful growth period in his life, and I'm willing to give him one pass. One.
I was so proud of Hye-soo in this episode, standing up to Shark the way she did. She's got every reason to quake her her boots when she sees him, yet she has always stood up to him and fought back, and does so again now. I love how she looks at him like he's something nasty stuck to her shoe, and speaks to him as if he's barely worth the breath it takes to form the words. She just oozes disdain when she talks to him, and I love it.
I think her confrontation with Shark was a turning point for Hye-soo, and that when she said she's not so desperate for money that she'd throw Ji-hoon under the bus, she was actually realizing it for the first time herself. She's fighting her feelings so hard, but she can't find it within herself to actually harm him to benefit herself.
I adore Hye-soo for her strength, but her core of steel just made it that much more meaningful when she finally broke down and reached out to Ji-hoon. That took more strength than anything else she's done, to admit that she needs him and let herself be vulnerable. She's spent so many years on her own, with nobody to help her, so it's a relief to see her admit that she doesn't want to do it on her own anymore. I'm also happy that now, finally, she has someone she trusts who she can lean on. I do think she trusts Joo-yeon, but having the support of your oldest friend is sort of a given, and gaining the love and support of a man who just wants to take care of you and help you for no other reason than that you deserve it, is entirely different. Hye-soo has never had that — her father died when she was young, her husband was (by her accounting) overly trusting and left her too early and in a bad, scary situation. I can understand, even without her illness, how terrifying it would be to let herself ask for and receive help from a man, especially one who matters so much. But Hye-soo is finally letting Ji-hoon matter, and finally letting him into her life and her illness, and no matter how things turn out for her, I'm happy that she has that now.
RELATED POSTS
Tags: Episode 13, featured, Lee Seo-jin, Marriage Contract, UEE