Page Turner: Episode 2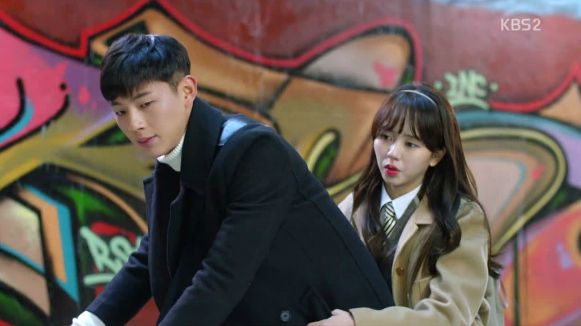 Our caustic heroine meets her match in the sweet, dumb jock who's so earnest that her insults just bounce off of him like he's surrounded by an invisible shield of positivity. It's the beginning of a beautiful friendship, methinks, or at least a hilarious one. I'm really enjoying this little youth drama, and this episode is all about dreams: One of our youths discovers a new dream, one reconsiders an old dream, and another rediscovers the dream she thought she'd given up on.

SONG OF THE DAY
Beethoven, Arr. Liszt – Symphony No. 9 in D Minor Op. 125 [Download]
Audio clip: Adobe Flash Player (version 9 or above) is required to play this audio clip. Download the latest version here. You also need to have JavaScript enabled in your browser.

EPISODE 2: "Those who have gained true friendship"
The opening montage this time is about choice, not between a good guy and a bad guy, but between "a bad guy and a worse guy," which the captions tell us is far more common a set of options you'll encounter in life. In a preview, our two boys fight over which of them will get to protect our heroine, while she rolls her eyes.
Former athlete Cha-shik lingers around the piano in the subway tunnel, and asks the man selling stuff nearby if it belongs to him. The ajusshi shakes his head, and Cha-shik is pleased to confirm that anyone can come by and play it.
Former first-place piano prodigy Yoo-seul must be headed back to school after her accident, because she's wearing her uniform. She insists that she can brush her teeth without Mom's help and feels her way into the bathroom, determined not to rely on anyone despite her blindness.
And former second-place piano student (soon to be first?) Jin-mok gets ready for school and looks guiltily at the crucifix on his desk. He still thinks that Yoo-seul's accident is his fault, because he was so mad at her that he prayed for God to strike her down. He decides to put the cross away in a drawer.
Cha-shik packs a bag and runs off in a big hurry, and Mom wonders why he's suddenly busy when he dropped out of school. But we see on his computer screen that he's been looking up Han Joo Arts High School.
That's where Yoo-seul and Jin-mok go to school, and that morning Jin-mok overhears his classmates speculating about why Yoo-seul quit piano, and he flashes back to her tearful speech about being sick of piano and sick of hating him. He suddenly has second thoughts about getting on the bus and goes running down the street. He passes Cha-shik, who kisses a letter before dropping it into the post. It's addressed to his father, the famous pianist he only just found out about recently.
Yoo-seul sets out for school on her own and tells Mom not to come with her. Mom doesn't understand why Yoo-seul is being so stubborn and rebellious about this, and wonders what she did to make Yoo-seul hate her.
There's just no talking her out of it though, and Yoo-seul says she'll get help from friends at school, but refuses to let Mom come with her. Mom mutters that she has no friends, and points out that Yoo-seul still has a curler in her hair. Yoo-seul just yanks it out and continues on her way, determined to walk to school by herself.
Jin-mok witnesses all of this and follows her to school, being careful to stay just a few feet behind her. That's adorable. At one point, a car zooms by and scares Yoo-seul, and Jin-mok reaches over to keep her from falling.
Yoo-seul assumes that Mom's been following her all this time and yells at Jin-mok calling him Mom, lol. She says over and over that she can see the look on Mom's face, and warns her not to follow anymore.
But Jin-mok stays behind her the whole way, silently stepping in to tap his metro card when she can't quit find the censor, or running ahead to open doors for her. When they arrive at school, he stoops down to put her slippers facing forward, all without her ever knowing he was there.
The chatty classmates see this and wonder what's gotten into him, and interrogate him at lunch. Jin-mok just lets them believe he was picking up money on the ground, though he looks interested when they mention a teacher asking for a volunteer to be Yoo-seul's helper for community service credit.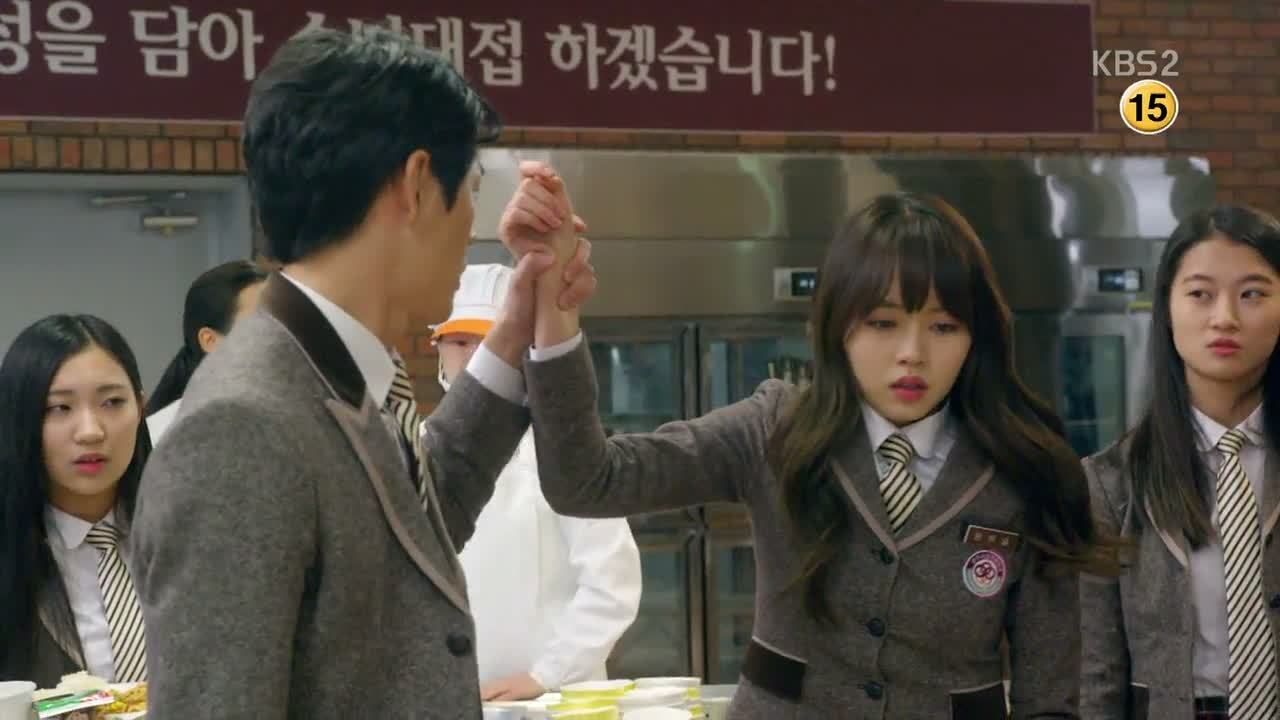 They're interrupted by a loud clang and a shriek in the cafeteria—Yoo-seul has collided with a student and spilled her tray all over another girl, who acts like she's been stabbed or something. Yoo-seul's eyes sting with tears as she apologizes, but no one even helps her up.
Finally a hand reaches in and yanks her up. It's Jin-mok, and his friends' jaws drop.
Cha-shik just saunters into the school and begs a teacher to let him enroll here, but all he gets is a flat denial. For one, a spot would have to open up before they'd take a new student; and two, they don't take just anyone here. Cha-shik insists he has talent to back up his ambition, but the teacher just laughs.
On the other side of the office, Yoo-seul's teacher tells her that there weren't any volunteers to be her helper, so they're going to have to ask her mother to come to school with her. Yoo-seul refuses and says she'll ask her friends, when suddenly Jin-mok submits his application and says he'll do it. For the community service credit, he insists. Uh-huh.
The teacher knows they don't get along and wonders if Yoo-seul will be okay with it, but Yoo-seul gets up and declares that she'll find someone else, anyone else but Jin-mok. He says he's thinking of her by volunteering, but she snaps at him to stop thinking of her at all: "The thought that you're thinking of me makes me want to vomit."
Yoo-seul says she'd rather not have a helper at all, but both Teacher and Jin-mok agree that she can't go it alone. He promises to do his best, and says with some difficulty, "I'll protect you." Yoo-seul does not look happy about that prospect, but she's even more disgusted by the idea of having Mom here…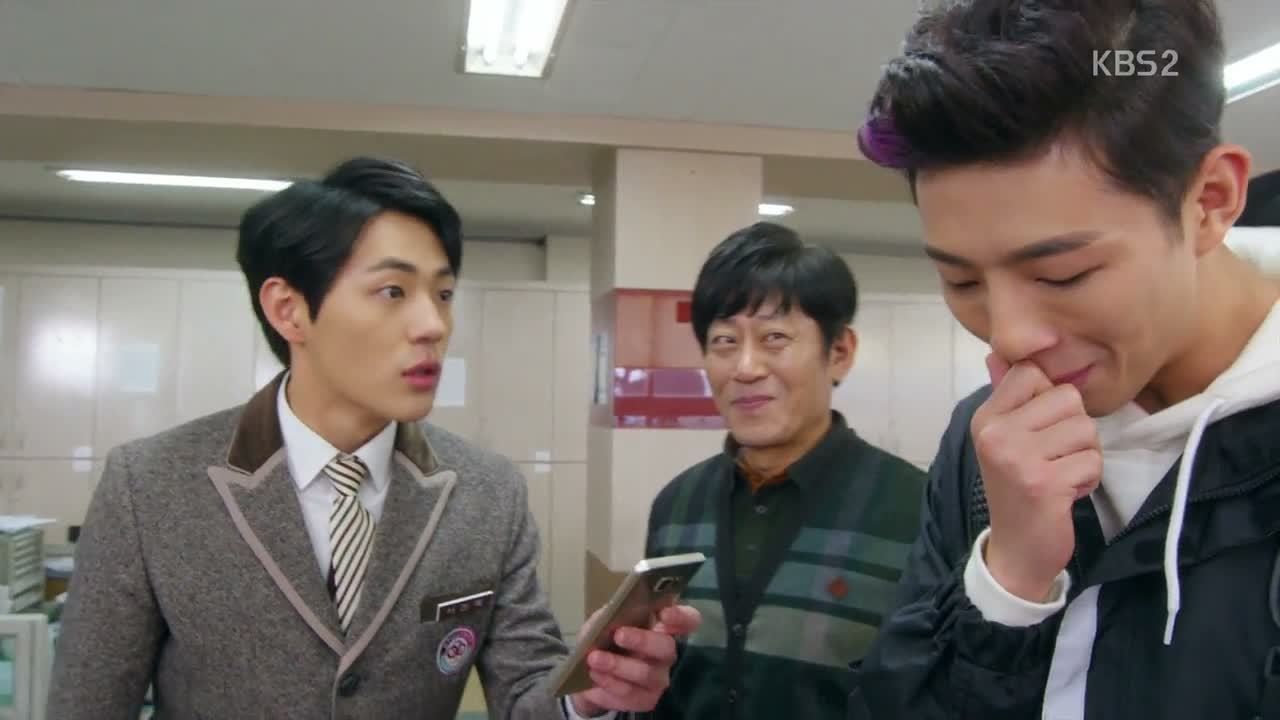 Suddenly a voice booms, "Can I be that helper?" It's Cha-shik, who bounds up with a big smile and says he just dropped out of school and has nothing but time. Yoo-seul remembers his voice from the hospital rooftop, as the wacko who told her to go ahead and die. Cha-shik: "Yup, that was me!"
He swears he's living with a whole new purpose in life though, and is no longer that guy: "I'm like a butterfly!" He cracks me up. Cha-shik gets on his knees and tells Yoo-seul that he's kneeling for forgiveness, and asks to be her helper.
The teacher who just kicked him out comes over to drag him away, but Cha-shik swears he's not trying to enroll here—since they won't let him, this is a way for him to sit in on classes here, by helping Yoo-seul. Cha-shik says it's pretty clear that she doesn't like Jin-mok, but Yoo-seul clarifies that she hates them quite equally, ha.
Jin-mok grabs Cha-shik and complains, "You don't even go here!" But Cha-shik says that Yoo-seul's mom isn't a student here either, which Teacher can't exactly argue with. There's a whole aside where Jin-mok pauses to ask why Cha-shik keeps calling him Sam-shik, and he actually stops to look it up on his phone and finds out that it's an ugly fish (which Cha-shik is saying looks like him). Yoo-seul just rolls her eyes. Repeatedly.
Jin-mok grabs Cha-shik by the collar and the teachers have to break them apart. Cha-shik just tells Jin-mok to go ahead and do his best to insult him back, and all Jin-mok can think to call him is a grub worm. It's not very effective.
Yoo-seul finally has enough and declares that she'll make a choice, and both boys freeze and look over at her expectantly…
In class, Jin-mok gazes over at Yoo-seul, when Cha-shik creepily wheels sideways into frame with a triumphant smile on his face, blocking his view. Pwahaha. Cha-shik rubs in his victory and tells Jin-mok to look elsewhere, then winks at him. This is gonna be so awesome.
It turns out that Cha-shik isn't a whole lot of help during class though, because he can't read all the fancy foreign names, or words like "allegretto," which he reads as "arigato." It earns him snickers from Yoo-seul's classmates, and he tries his best to keep up by looking things up on his phone. But after a while, Yoo-seul just gives up and puts her headphones on, ignoring him altogether.
Yoo-seul makes her way to a sink on her own and struggles to turn the water on so she can brush her teeth. Jin-mok steps in to help her and wonders where her helper is, and asks why she chose that dummy over him, "Not that I wanted to be your helper or anything."
Yoo-seul clarifies that she didn't choose Cha-shik because she likes him; she chose him because she hates Jin-mok that much. Ouch.
Jin-mok reminds her that she was the one who was tired of hating him, and says he feels the same way (aw). He asks hesitantly if they can't be a little more comfortable with each other. But of course it has the opposite effect, and Yoo-seul gets bristly. She asks if he's suddenly feeling confident because she can't see, or he feels sorry for her.
He tries to explain that it's not that, but Yoo-seul says with an edge to her voice that what he's doing doesn't feel protective; it feels hostile. She says that if she ends up in first place again and he says the same thing, she'll believe him then and think about being friends. Yoo-seul: "But what'll you do? That day will never come, because my eyes ended up like this."
Cha-shik returns from his outing and announces proudly that he's gotten a backseat added to his bike, but Yoo-seul just ignores him and takes the subway. He tells her when a seat opens up, but again she shakes him off coldly.
Cha-shik guesses that she's still mad about him embarrassing her in class because he said dumb things, but he says that's kind of his style: "I'm like an unscratched lottery ticket. I look like a worthless piece of paper at first, but if you scratch me, you hit the jackpot!" He promises not to embarrass her anymore and assures her that in no time she'll miss him if he's not by her side and be happy at the sound of his voice.
He asks what time he should pick her up for school tomorrow, but Yoo-seul says he needn't bother—she just needed an excuse to be free of her mother, and he needed an excuse to attend her school, so he can just do the bare minimum and act like her helper at school. She says she doesn't need him for anything beyond that… and then walks herself into a corner. Pffft.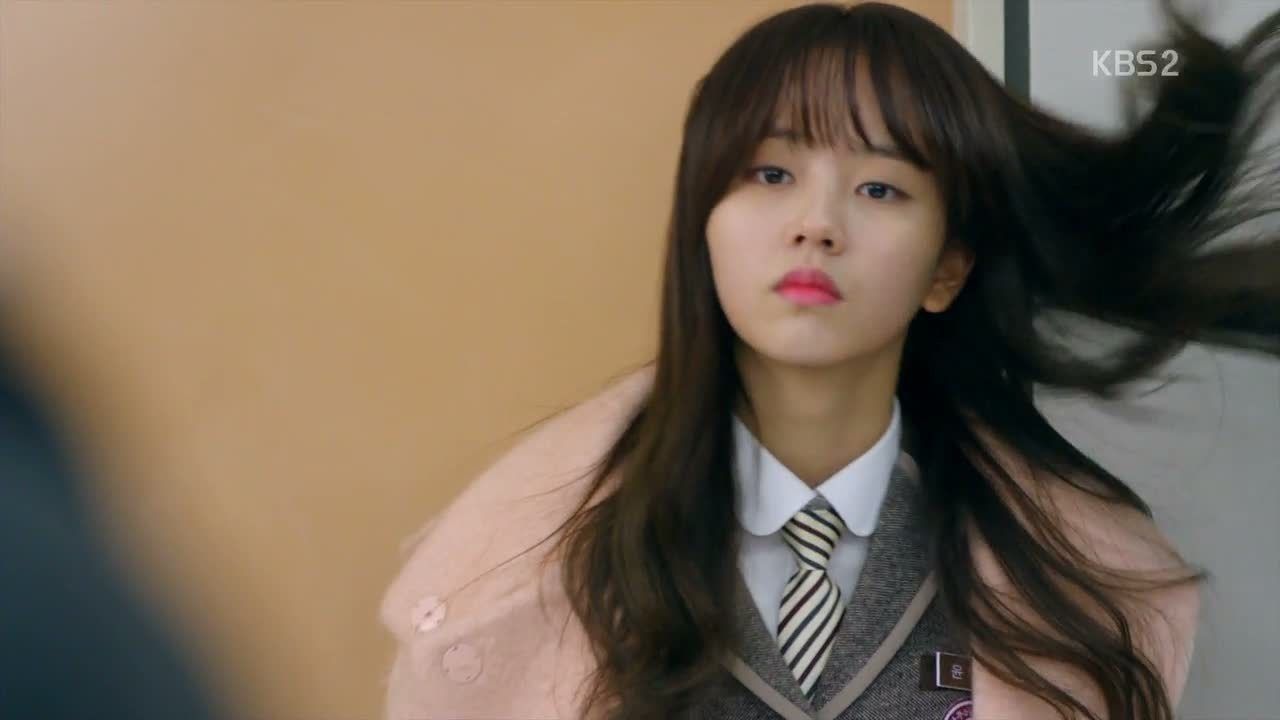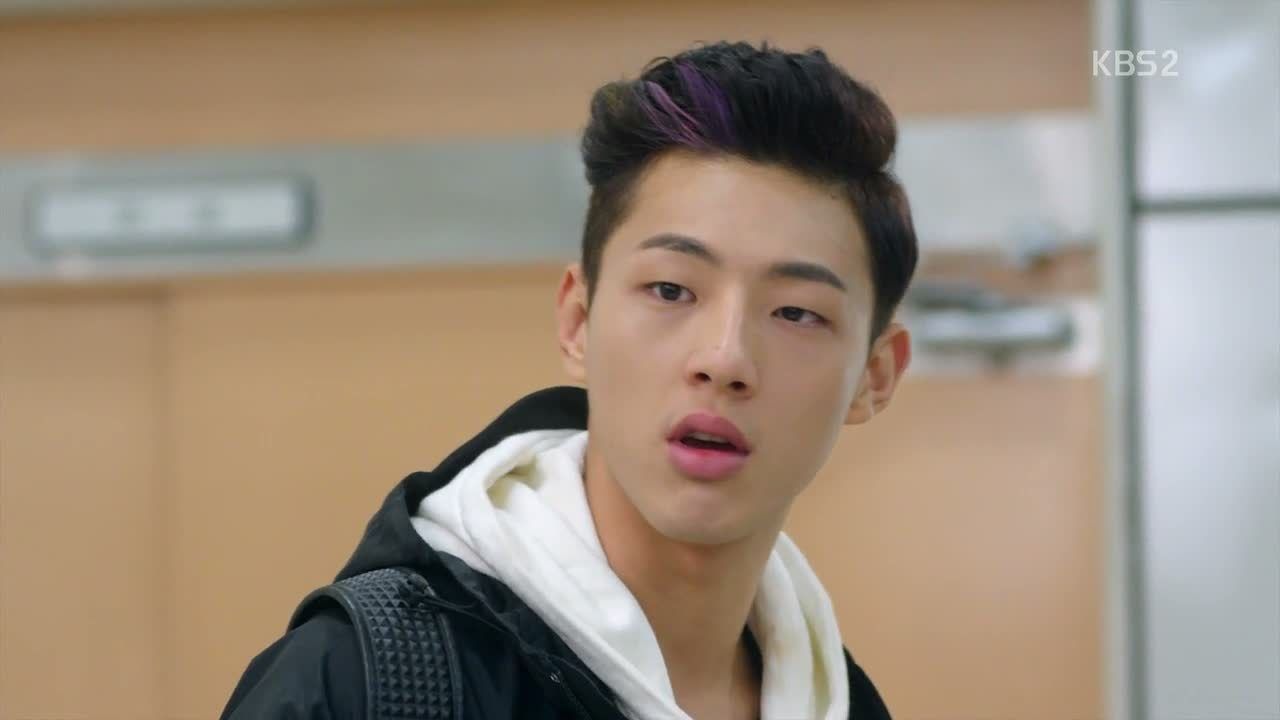 Cha-shik tells her to turn around because the exit is the other way, and Yoo-seul twirls around as she declares, "I know," and then flips her hair before strutting away. She's hilarious. (And that hair flip to cover up her embarrassment is straight out of I Hear Your Voice.) Cha-shik gapes at her rudeness, but it only fires him up even more to meet the challenge.
Cha-shik's mom wakes up in the morning to find her bathroom mirror covered in post-its, all study notes about musical terms and composers. Cha-shik runs off to the library early on a Sunday to go study, and sends off another letter to Dad in the post.
The studying pays off right away in class with Yoo-seul, when Cha-shik wows the whole class by reading and understanding everything that's up on the board. He stands up to give a little victory wave, heh. Yoo-seul looks surprised, not that she gives him any credit.
He continues to read her assignments as they walk home from school, expertly shielding her from an oncoming soccer ball without missing a beat. He asks if she's still not going to ride his bike, and she walks away from him as her answer. Cha-shik sighs and heads towards home, figuring that surely by tomorrow when it's been a full month, she'll look for him and be happy at the sound of his voice. He doesn't look very convinced at his own pep talk though.
Suddenly Yoo-seul screams in the distance as a dog barks, and an ajusshi yells at her for beating his dog with her walking stick. The man lies about having had the dog on a leash and threatens to call the cops, taking advantage of the fact that she's blind.
She's brimming with angry tears as she tries to defend herself, when Cha-shik shows up shouting that he saw the whole thing. He points out the security camera overhead and says they should go to the police right now so he can have the ajusshi and his dog jailed, and the man scuttles off.
Cha-shik isn't done giving the man a piece of his mind and starts to chase after him, but Yoo-seul grabs his hand, shaking with fear. Yoo-seul: "Jung Cha-shik! Take me home."
They start walking home, with Yoo-seul hanging onto his jacket, but he notices her limping and wonders if she's okay to walk. She says it's no big deal, but that gives Cha-shik an idea and he asks hesitantly, "Do you… want to ride my bike?" She gives a little nod and a smile.
Cha-shik looks SO happy to have Yoo-seul riding his bike, and he points out that today was the first time she's ever called him by name. He tells her to hold on tight and goes faster, and Yoo-seul looks captivated by the feeling. She holds her hand out and feels the wind through her fingers, and actually looks happy for the first time ever.
They arrive in front of her house, where Mom is waiting impatiently. Yoo-seul drops her walking stick at the sound of Mom's voice, though Mom is very pleasant with Cha-shik and invites him over for dinner sometime.
Cha-shik is surprised to find that Mom is very nice, that is, until he finds Yoo-seul's walking stick and approaches the door to return it. He overhears Mom screaming at Yoo-seul for riding a bike and endangering her hands, and for hanging out with some dumb gangster punk like it's an act of rebellion.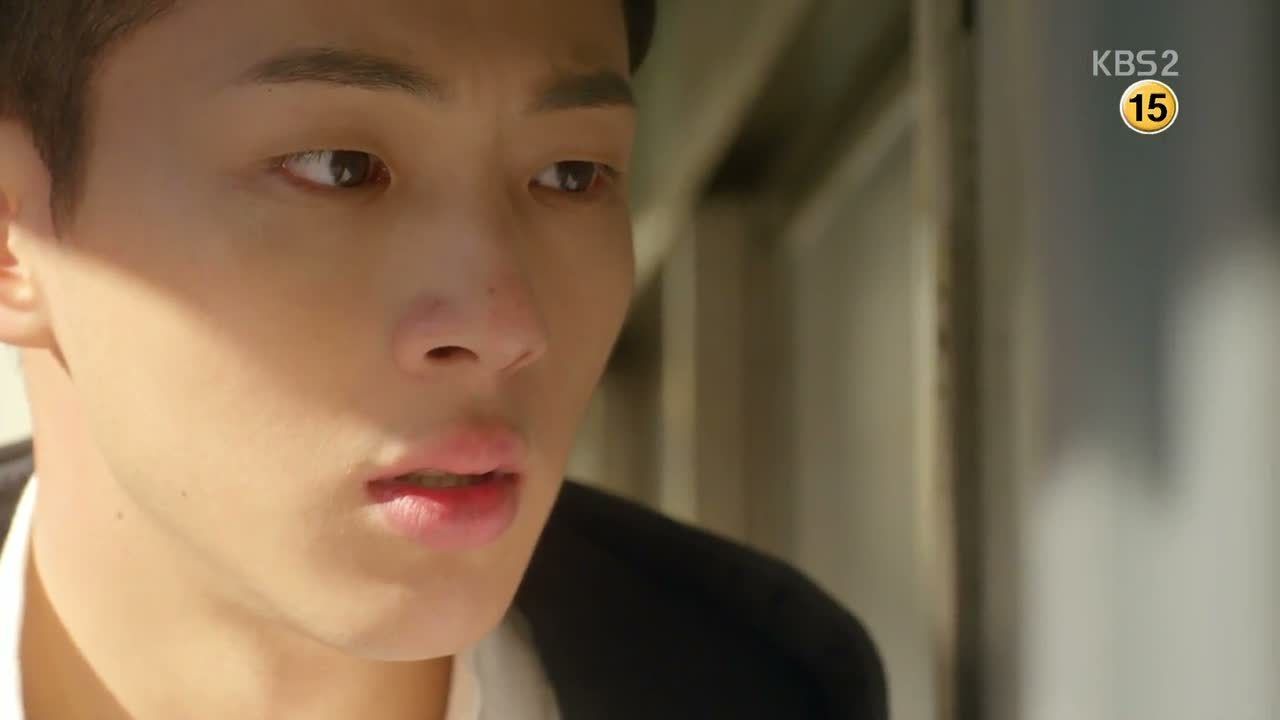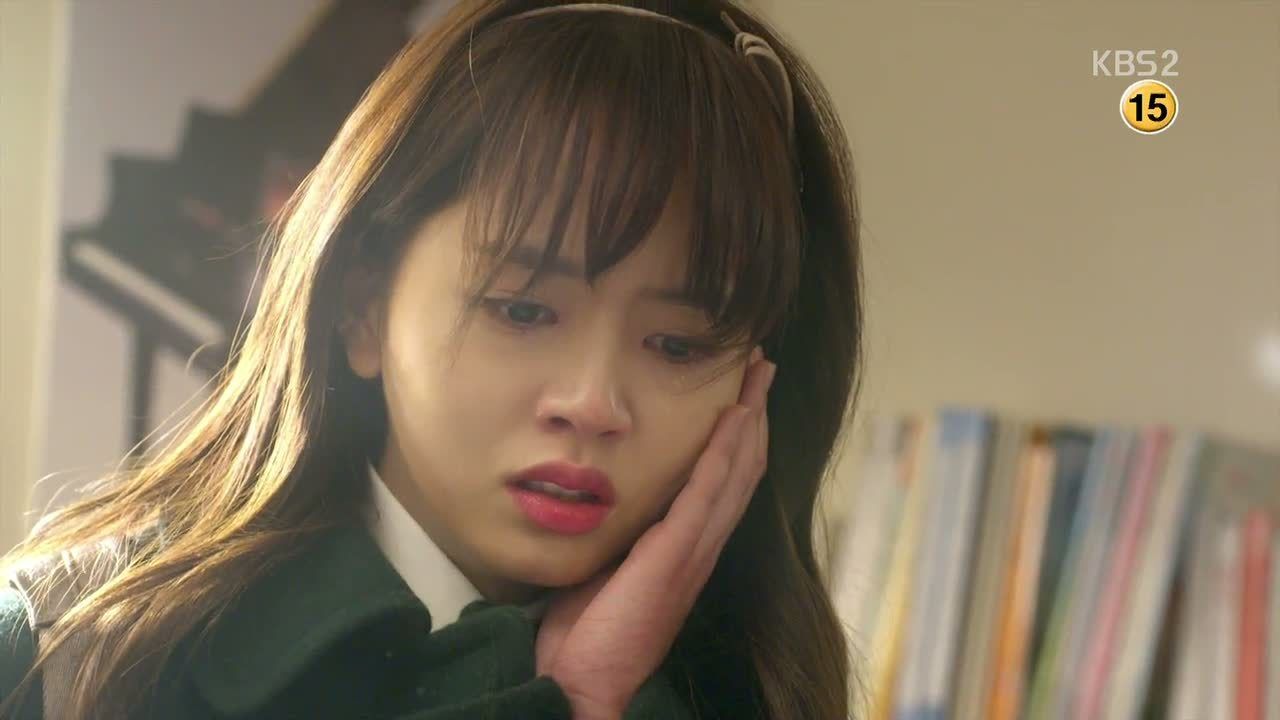 But Yoo-seul fights back with her tears in her eyes: "Cha-shik isn't dumb, and he's not a gangster!" Mom argues that Yoo-seul can't even see that he looks like a vulgar punk, but Yoo-seul defends him vehemently, saying that Mom's the one being coarse and vulgar right now.
Mom slaps her across the face and reminds her that she's given up her whole life for Yoo-seul: "You know that, and you're disappointing me like this?" Yeesh. Yoo-seul says she's doing this in an effort not to hate Mom anymore, and says she rode a bike today for the first time, and it was so great that she thought, "How amazing would it have been if I could see? I regret so many things now that my eyes are like this."
She thinks she should've gone to the ocean, or the movies, or the zoo, and regrets all the things she couldn't do. Mom argues that she gained so much by giving up those things, and asks if that wall of trophies isn't worth that and more.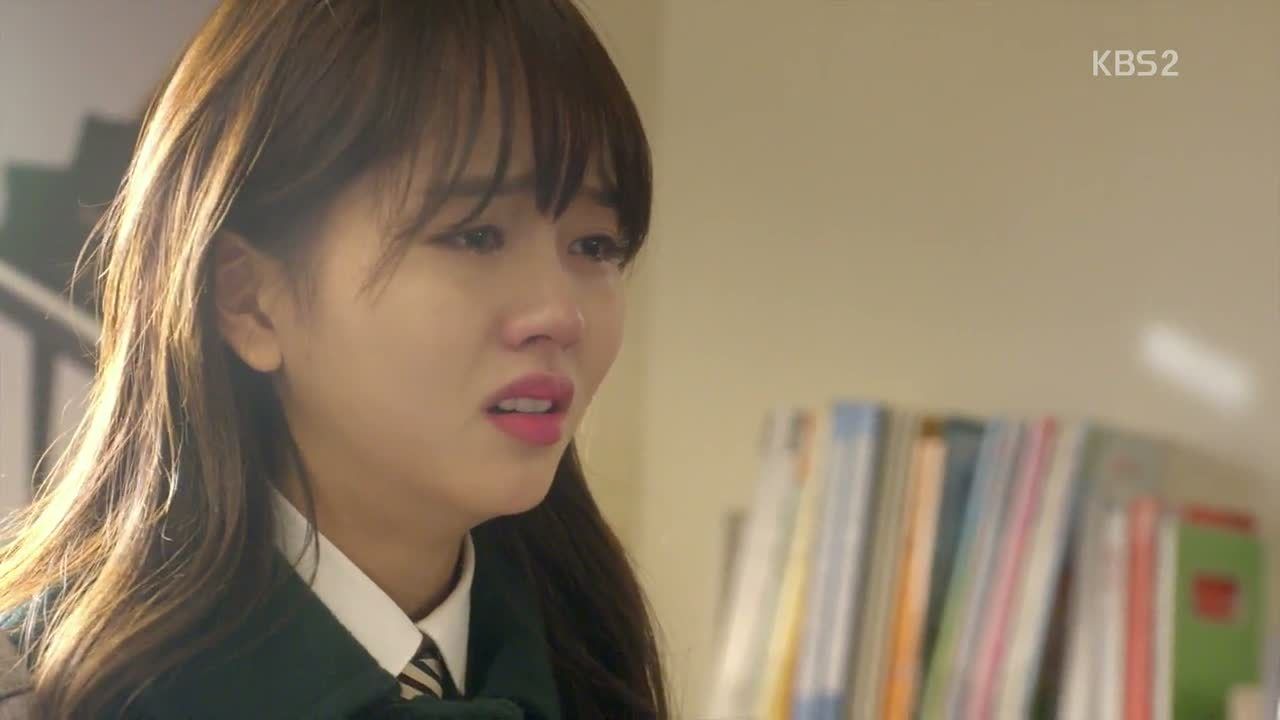 But Yoo-seul says those trophies never made her happy, because she's never once thought of them as hers: "Living the life you chose makes me hate you every time I have regrets. It's my life. I can't always blame you, can I?" Slow clap.
Yoo-seul swears this isn't some act of rebellion, and that she's going to make her own choices from now on and deal with the consequences, because she doesn't want to hate Mom anymore.
That seems to finally get through to Mom, and later she sits in front of Yoo-seul's wall of first-place trophies and notices for the first time that Yoo-seul isn't smiling in a single one of the photos.
The next day, Cha-shik shows up in a suit and dress shoes, and has died the purple streak out of his hair. Oh, kid. You are too sweet for your own good. He asks Mom if he looks like a street punk today, and Mom looks him up and down and says no, today he looks like a loan shark gangster. Geez.
Cha-shik's mom gets riled up when she hears this and asks if he just stood there and took it. He says of course not… and then we see him apologize to Yoo-seul's mom and ask what specifically he should change about his fashion for her to like him. Ha. Mom thinks he's doing this on purpose to mock her, but he says it's because Yoo-seul chose him, and he wants to do everything to make her not regret that choice.
Aw, even Yoo-seul looks moved by that, and today she doesn't kick up a fuss about walking to school with her hand in his coat pocket. They ride his bike once Mom is out of sight, and Yoo-seul asks if Cha-shik wants her to buy him something. It's her way of trying to make up for her mom, and at first he declines, but then he thinks of a favor she can do to repay him.
He takes her to the piano in the tunnel and asks her to play it for him, which of course she refuses. But then he guilts her by pointing out that she doesn't really seem very sorry, and must have a habit of going back on her word. Dinging her pride works like a charm, and he happily leads her to the piano.
In her head, Yoo-seul wonders, "Will I be able to play it?" He requests a song he would know, and she asks if there are any. She runs through a scale and scoffs that the piano sounds just like him—countrified and obtuse. Cha-shik: "Are you and your mom my anti-fans?"
She makes him promise never to tell anyone that she played here today, and he swears to take the secret to his grave. Except that we cut to the scene where he's recapping all of this for his mom as they post advertisements for her writing services, and Mom points out that he just tattled. Heh. Cha-shik is all offended, insisting that he's making a special case because she's his mom.
Mom easily lifts his mood by asking what Yoo-seul's piano playing was like, and he lights up as we rewind to her playing Beethoven's 9th in the tunnel. Cha-shik says, "It sounded like a pretty rainbow, the kind that's so pretty that it makes people look like angels and the world look like heaven. Where looking at it makes you so happy that you hope it never goes away—that kind of rainbow."
Mom: "It must've been really pretty." Cha-shik says he's even dreamed of the song since, though he doesn't remember the dream, only the song. Mom gets a call from a client wanting a refund when the bio she wrote didn't get him a job, and though Cha-shik gets angry on her behalf, Mom sighs that if she were any good, she wouldn't be struggling for work right now.
Cha-shik promises that he's going to become someone great and buy Mom a building so that she doesn't have to work or tape up signs anymore, and will never have to cook or clean again. Mom struggles not to cry and says that she can guess what Yoo-seul's piano-playing was like: "What you just said—it was like that rainbow." Awww.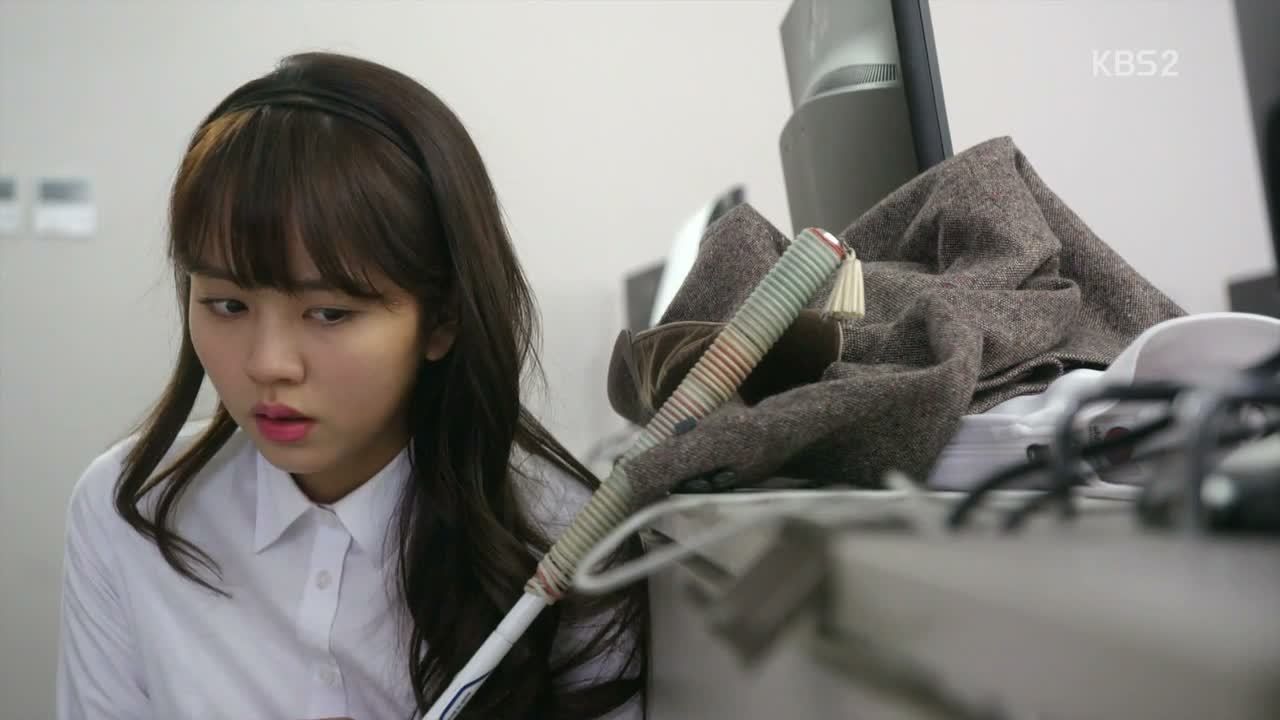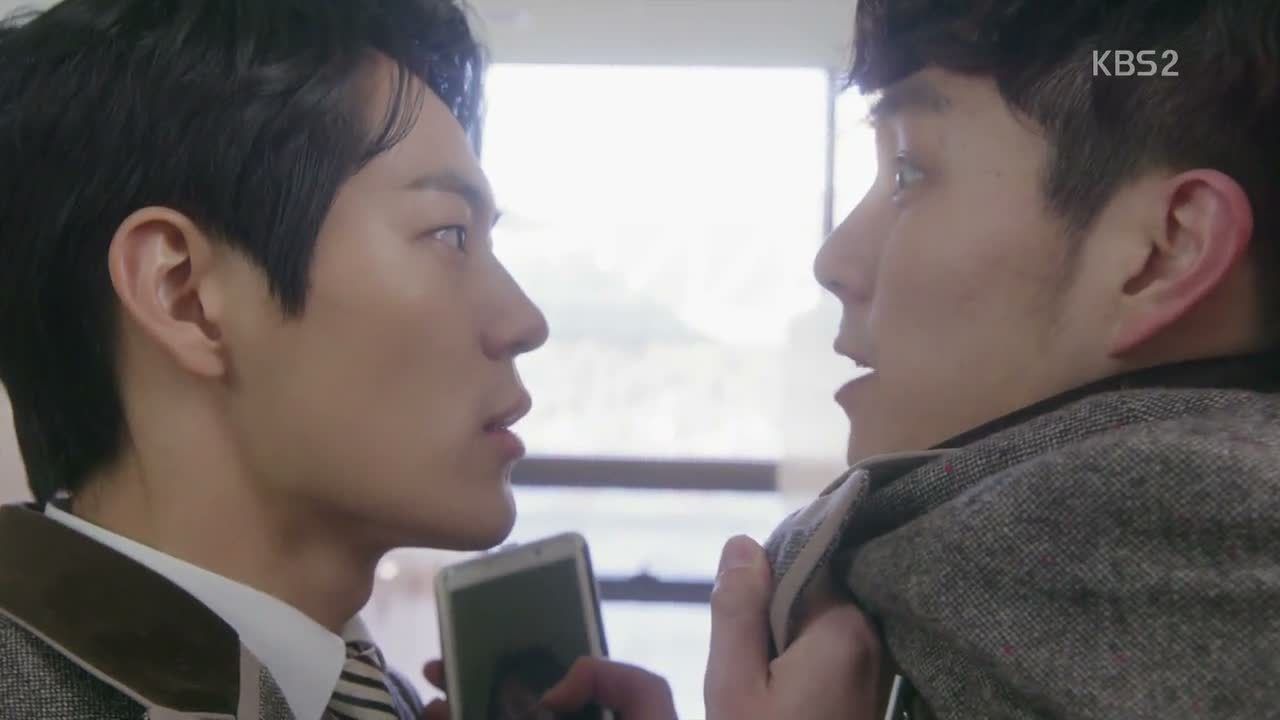 At school, the boys file out of class so the girls can change for gym, and one of the girls wonders if Yoo-seul will be okay changing on her own. Cha-shik finds an empty classroom for her and Yoo-seul has to beat him with her stick so that he'll leave.
But when she starts to change, some creeper comes by and shoots video of her through the window. Ack! Thankfully she's only taken off her jacket by the time someone else calls out to the creeper very loudly, and Yoo-seul quickly ducks for cover.
It's Jin-mok who caught Creeper Boy in the act, and he slams the kid against the lockers and throws his phone to the ground. Creeper gets all huffy and says Yoo-seul will never know anyway since she can't see, and then Jin-mok loses it and attacks, until their classmates come to break up the fight.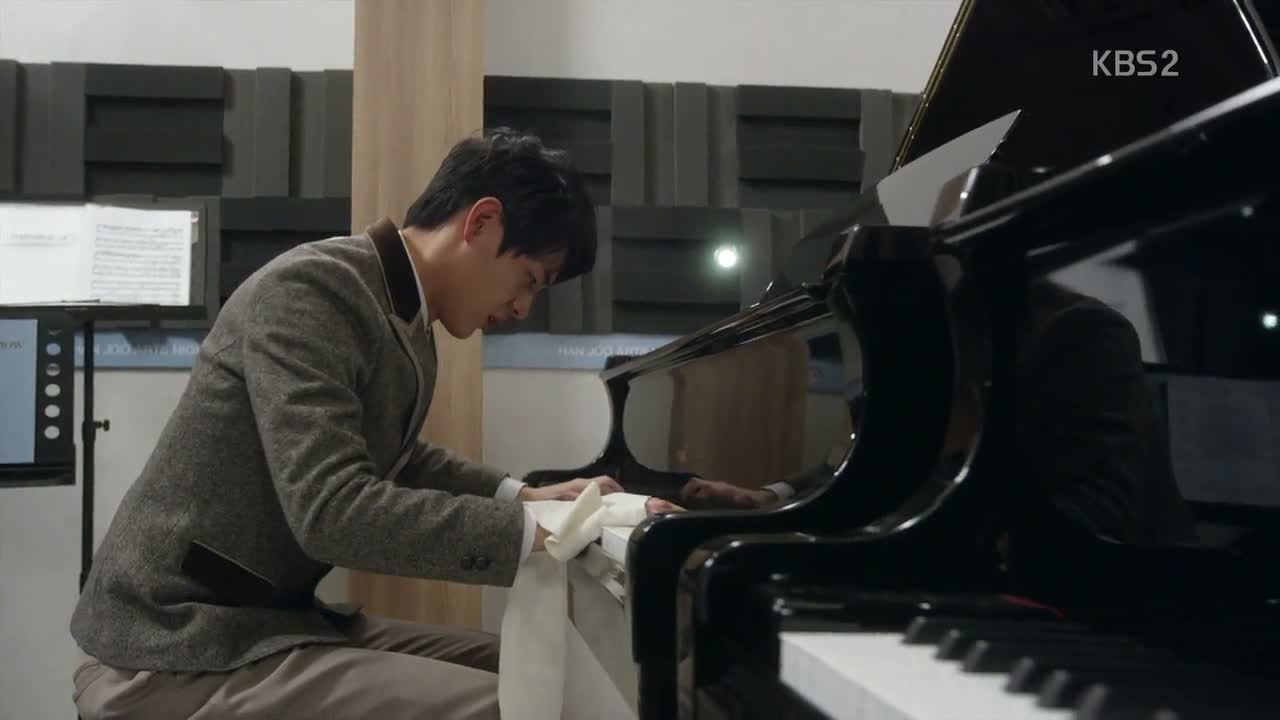 Jin-mok ends up injuring his hand in the fight, and he trudges home and tells his parents that he can't play at the wedding they've booked him for. Dad worries about them finding someone else to fill in, and Jin-mok asks if that's all the cares about, and if Dad isn't worried about his pianist son injuring his hand.
But Dad is even more heartless than that, and says that Jin-mok is whining for attention because he's not confident in his own skills. He says that Jin-mok had everyone fooled with his middling talent, but will only get more hurt the longer he goes on. Well now we know why the kid is so angry all the time. He takes his anger out on the piano even with his injured hand, pounding on the keys relentlessly.
Cha-shik joins a group of students standing around a new poster for a two-piano concours, and he murmurs excitedly that it's just like in his dream. He asks how he can participate, and Jin-mok replies that he just needs to be reborn as someone else. Cha-shik insists that he has an innate ability, and when they make fun of him, he declares that famous pianist Hyun Myung-se is his father.
The kids all laugh and call him a liar, and point out that the photo of his mom with the pianist doesn't prove a single thing other than her being at one of his concerts. That just riles him up even more, and Cha-shik asks if he wins first place at the concours, they'll believe him. They agree to believe him if he even makes it into the competition, figuring it'll be a miracle if he can find a partner.
They predict Yoo-seul's reaction perfectly, right down to the inflection: "Are you crazy?" Cha-shik says it's months away and he could learn one song well enough to play it, but Yoo-seul says it'd be impossible even if he were Mozart's son, and that if he really wants to prove his parentage, he should order a DNA test.
He asks if she really thinks he doesn't have a shot, and Yoo-seul puts it in terms he'd be familiar with—if she trained her hardest and went out for a pole vault meet in a few months, could she do it? He says no, and she points out that he's talking about doing in a few months what others have spent ten years doing. Cha-shik deflates and says she's right, and he apologizes so quickly that Yoo-seul feels a sheepish for raising a fuss.
Cha-shik is quiet on their bike ride home, and Yoo-seul picks up on his somber mood. Cha-shik thinks to himself about the dream he's been having ever since he saw Yoo-seul play the piano, which he obviously lied to Mom about not remembering. He thinks to himself that he finally does have a secret now, and we see the dream he's been having, as he describes it:
Yoo-seul and Cha-shik sit at pianos facing each other on a big stage. She's in a gown and he describes himself as "not looking like a punk or a loan shark gangster, though maybe a little like a gigolo," ha. "In the dream, Yoo-seul isn't blind, and often she looks at me and smiles. And that smile is drop-dead pretty."
He thinks that his dream is so grand that he'd like to live in it, and stops his bike in front of the piano in the tunnel. He asks if Yoo-seul will acknowledge him if he can play the song she played for him, and she accuses him of trying to con her because she's blind, by bringing one of their classmates here to play in his place.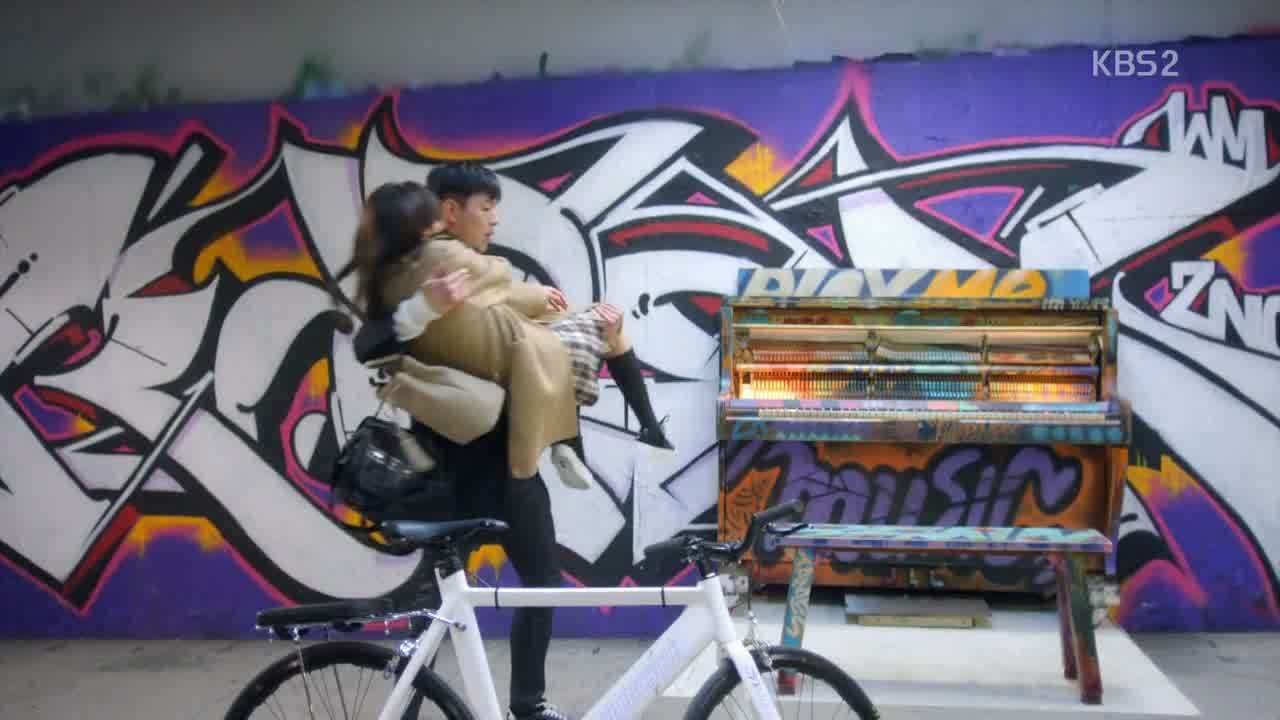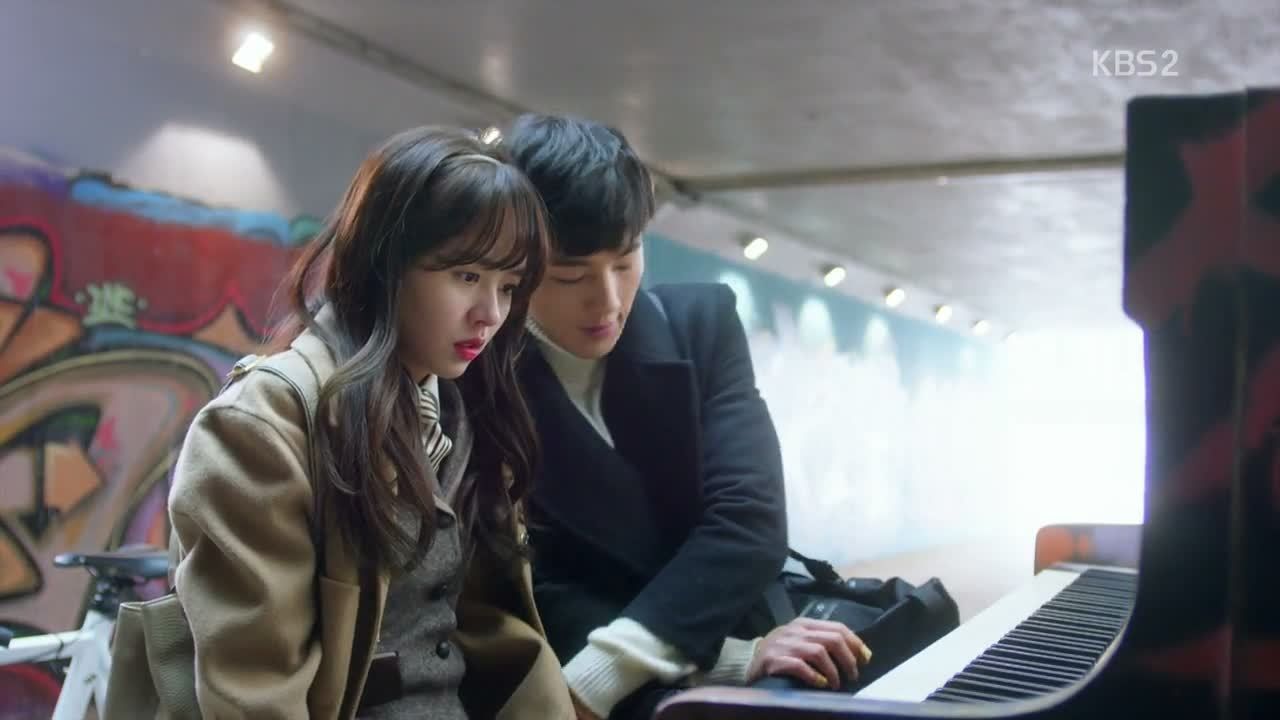 Cha-shik laughs and just scoops her up in his arms and places her down on the piano bench. He sits down next to her and puts her hand on top of his, and begins to play Beethoven's 9th. Yoo-seul pulls her hand away and begins to listen, as Cha-shik narrates in voiceover that it was a fleeting dream, but he didn't want it to end, so he decided to turn it into reality.
We see in flashback that he'd bought introductory books on how to play piano, and literally taught himself from step one. He then parked it at that piano in the tunnel day after day and night after night, fumbling his way through the piece until the street peddler who sits there every day had to start wearing earmuffs.
Cha-shik stuck with it, no matter how frustrating and slow, until his fingers bled and he had to bandage them. We fade from that into him playing it now, as passersby stop to listen, and the street peddler even takes off his earmuffs.
Yoo-seul is stunned, and Cha-shik asks if it's still nonsense for him to enter the concours. She says it might not be nonsense after all, so he turns her toward him and asks her to enter to concours with him. She smiles and gives a little nod, and Cha-shik thinks, "My dream has started to come true."

COMMENTS
Okay, it's a little unbelievable that Cha-shik taught himself to play, but at least they're making a point of him being an extreme case. It's also the result of persistence and laser focus, which I find to be consistent with his bullheaded athlete character—he would've just practiced something to death until he either got it or broke his fingers trying. At least they're not saying he listened to her playing it once and then repeated it, because we really don't need two geniuses in one drama. Realistically it should've taken much longer, no matter whose son he is or isn't, but I like the general point that he's someone who has to work insanely hard to master a piece.
What's great about Cha-shik is that he's not the talent—Yoo-seul is—he's the one inspired by music and moved by it, and he may just ignite a love for music in Yoo-seul and get her to look past technique and trophies and her mother, and just enjoy playing the piano. I'd love for her to hear the way Cha-shik described her playing, because I doubt she's ever heard anyone describe her performance in those terms. It's what he has to offer as an outsider who knows nothing of technique and doesn't care about perfection. He just hears something beautiful and thinks she's beautiful for making it happen. Even if the vision he had in his dream of them playing together on that grand stage never happens, I'm just happy about the fact that Yoo-seul looked genuinely moved by his performance and excited about playing piano again.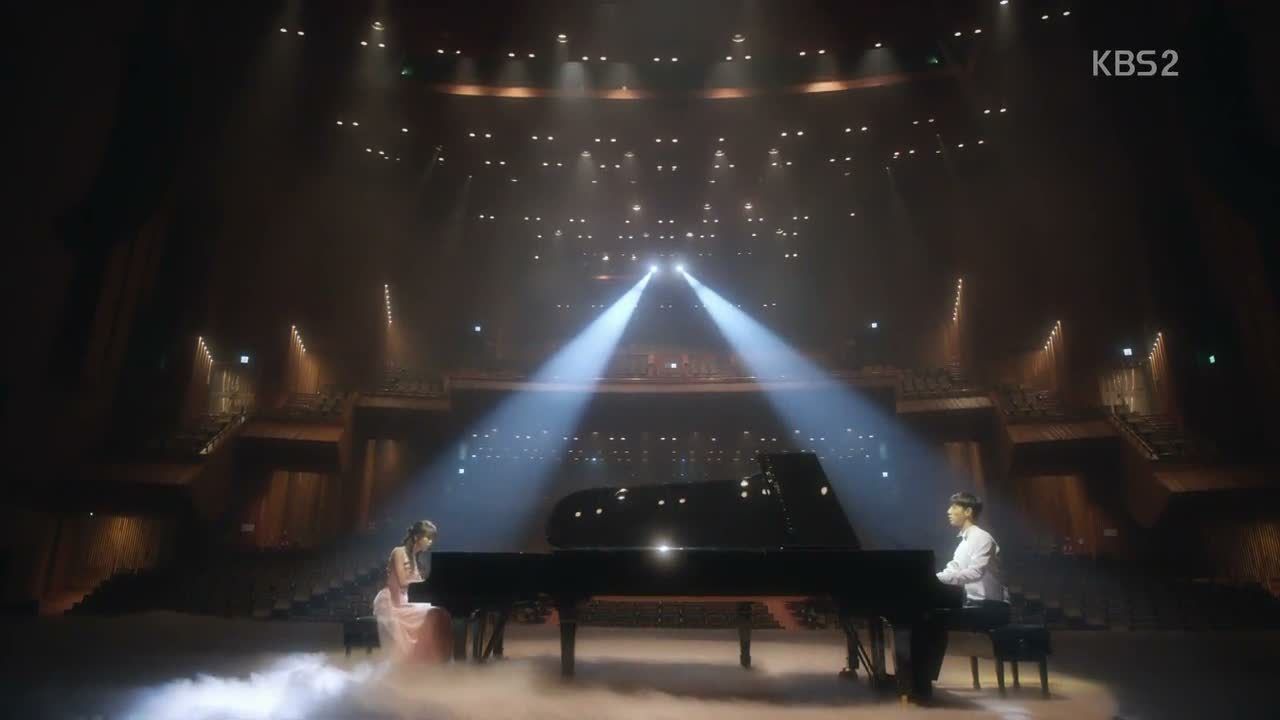 But what I really love is the combination of Cha-shik and Yoo-seul's personalities, and the progression of their friendship in this episode. Yoo-seul is a pill, and it's no wonder she doesn't have any friends when her first instinct is to lash out at everyone. She's a porcupine through and through, and it's probably the worst blow to her pride that she has to rely on other people now that she's blind. But Cha-shik's bullheadedness is perfect for that too, because he just keeps at it faithfully until she finally lets herself rely on him a little. The small victories were priceless, like how happy it made him when she held his hand, or called him by name, or rode his bike. And it takes some serious strength of character not to hate her mother, and to try and earn her approval by changing his appearnce. He's so endlessly positive and sincere that it eats away at Yoo-seul's negativity and sarcasm, and it's so great to see her enjoying a bike ride and trying to be nice to him, even defending his honor to her mother.
I hope that poor Jin-mok will get a little recognition for everything he's doing to help Yoo-seul too, because I just love all the silent gestures. Him walking behind her all the way to school was especially heartwarming, and even though his rivalry with Cha-shik is really funny, I want them to all become friends more than anything. I mean, if he turned prickly Yoo-seul into a friend, surely befriending Jin-mok is like taming a docile puppy by comparison. There's a lot of work to be done with only one episode left to go, but I think we've seen enough of Cha-shik to know he's got it in the bag.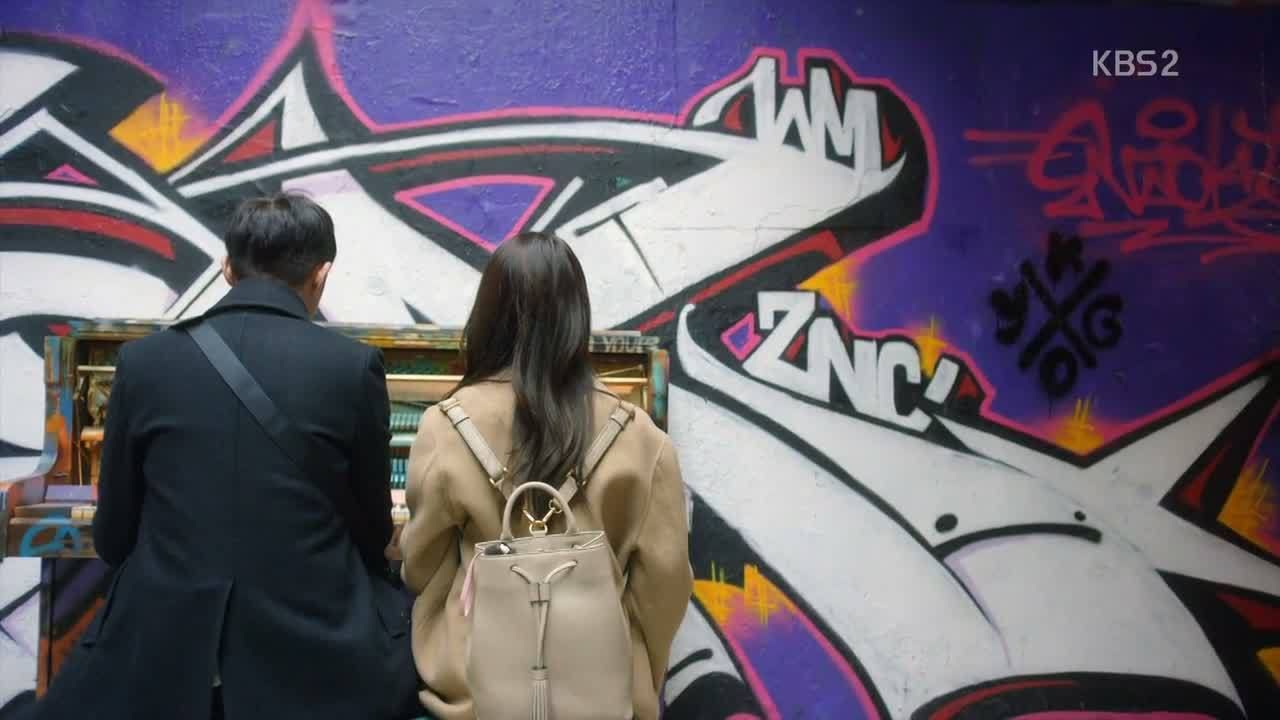 RELATED POSTS
Tags: Episode 2, featured, Ji-soo, Kim So-hyun, Page Turner, Shin Jae-ha