Pick a card, any card, for Oh Hae-young Again
The upcoming rom-com Oh Hae-young Again does seem cuter the more I see of it, and now we have a full set of character posters to introduce our main cast, featuring Seo Hyun-jin (Let's Eat 2, Three Musketeers) and Jeon Hye-bin (Joseon Gunman) as two very different women both named Oh Hae-young, and Eric (Discovery of Romance) as the man who gets caught up with both of them.
For instance, in his solo poster below, the copy reads, "The woman who screwed me over, the woman I screwed over, both Oh Hae-young!" His character is a film sound director and possesses the ability to see the future, although one wonders why he couldn't pick the card he wanted, then — he wants the successful, pretty "Gold Hae-young" played by Jeon Hye-bin, but gets stuck with plain, ordinary "Dirt Hae-young" instead.
Seo Hyun-jin, whom I love as the everywoman — she has a knack of giving her performances an added oomph, making her characters real and relatable — poses in her poster with a (frankly creepy-looking) crying doll. Her copy reads, "I'm just Dirt Hae-young, she's Gold Hae-young!" It's got to be aggravating to always be cast in the shade of someone who's better off than you, which is exactly her dynamic with the Other Hae-young, who went to school with her and now also works with her (in a higher position, to boot). In her poster, Jeon Hye-bin holds a shiny Barbie and smiles confidently while her tagline says, "That's right! You're Oh Hae-young too?"
Yeh Ji-won (Page Turner, The Producers) holds a champagne bottle in one hand and a baby's milk bottle in another. She plays Eric's older sister and Seo Hyun-jin's superior at the large-scale catering company where both Oh Hae-youngs work. Yeh Ji-won can be a comic scene-stealer when the occasion calls for it, and I'm hoping for her quirky side to come out, given her poster's tagline: "My nickname is Crazy [ddorai] Director [isa], so they call me Isadora."
Kim Ji-suk (Sassy Go Go) plays a lawyer who doesn't quite fit his profession's image of smart polish: not only can he barely sit still for a moment, he's also dense about reading situations. But at least he'll be good-natured, being a cheerful chatterbox — perhaps frustrating to other characters, but fun for us. When an "irreversible mistake" happens between our two leads, it's Kim Ji-suk who hangs his head and says (in his poster), "I'm a jerk, I'm a bastard, for inciting you foolishly."
Last but not least, Lee Jae-yoon (Dazzling Temptation) takes up the role of Seo Hyun-jin's ex-boyfriend, and apparently that didn't go too well since he's now in a prison uniform clenching his fist and thinking, "If you ask what my crime is… it's for wanting to marry Oh Hae-young." Well, I'm going to guess there's also another crime involved, given the whole jail aspect to his character.
I'm hoping that Oh Hae-young Again pulls off the zippy comedy of the PD's last drama, Marriage Not Dating, which became a sleeper rom-com hit and sparkled with chemistry. I always imagine this show's title being roared in a comically exasperated way, "Oh Hae-young! Again?!" accompanied by futile fist-shaking at the sky, and the promos are playing up Eric's character as a memorable one. Let's just hope it lives up to the promises.
Oh Hae-young Again will follow Pied Piper as tvN's next Monday-Tuesday drama. It premieres on May 2.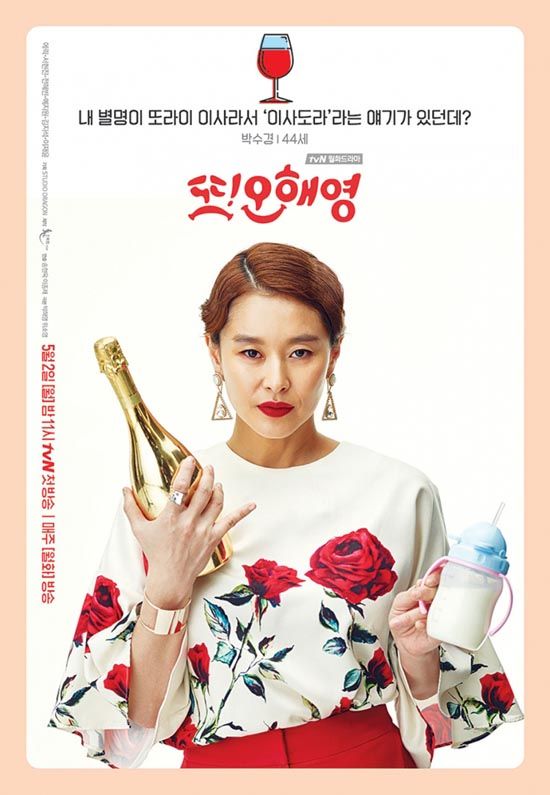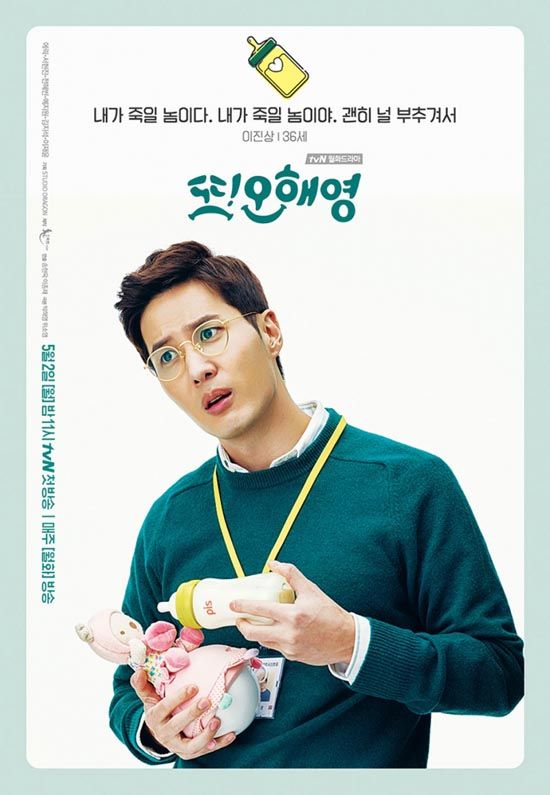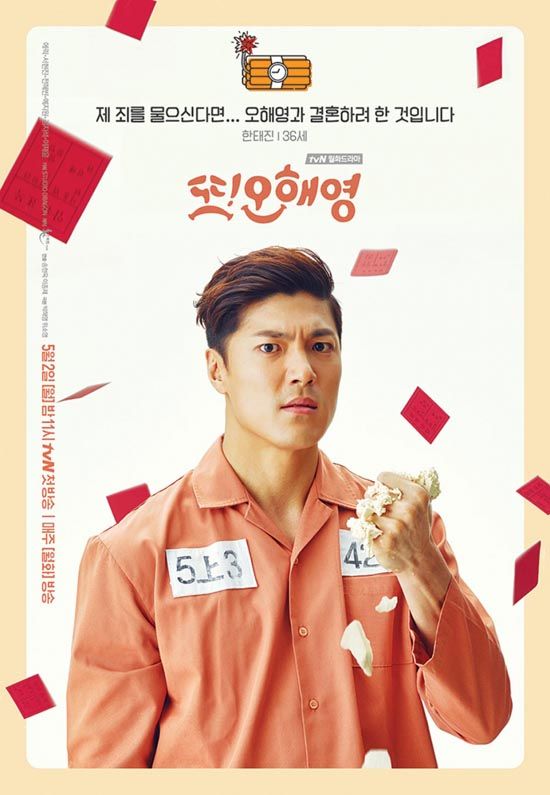 Via Donga
RELATED POSTS
Tags: Eric, Jeon Hye-bin, Kim Ji-suk, Lee Jae-yoon, Oh Hae-young Again, Seo Hyun-jin, Yeh Ji-won