Running Man: Episode 295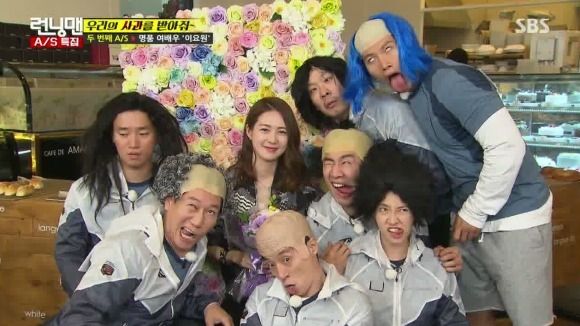 With the hundreds of guests that have appeared on this show over the years, not everyone has had the easiest time. So this week, our cast will seek out those whom they've felt most guilty towards, offer up their apologies, and give them a chance to redeem themselves. Once they've cleared the air with other celebrities, they'll spend some time to look inward and examine their own hearts with the people who matter most in Running Man: each other.
EPISODE 295. Broadcast on April 17, 2016.
Today's preview hints at an amusing but emotional special, which starts off with our cast on their way to filming in their respective cars. On the radio is Kim Chang-won's show This Beautiful Morning, who has a special segment this morning: song dedication from one RM member to another.
The first is from Suk-jin, who apologizes for calling Kwang-soo "Song Joong-ki's foot sole" a few weeks back. He only said it for the chuckles, having no idea the crew would then add in a CG sole on his face. And then Suk-jin is surprised when the song is Shin Il-soo's "Sole".
The second dedication is from Haha to Gary, for starting the "squid" joke in the X-Man special. Gary has a funny photo to share of his own: Haha's contorted face while throwing the first pitch at a Lotte Giants game.
The last one is from Kwang-soo to Haha, who'd given him three coupons for yaja time (a chance where the younger get to speak informally to someone older and/or superior, and the latter must show respect to the younger person). Unfortunately, he's already used them all.
So when they gather for the opening at the SBS building, Haha says he's given Kwang-soo plenty of "chances" apart from those three. Kwang-soo drops to banmal right then and there, then immediately apologizes.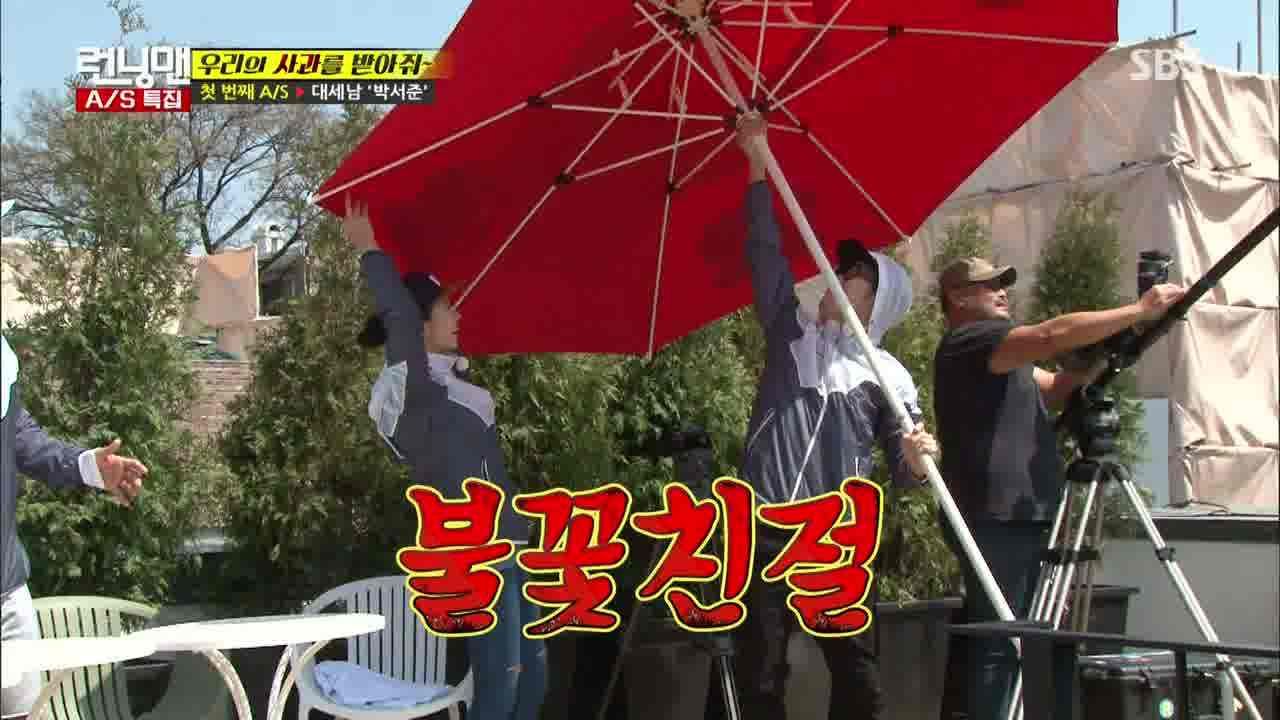 A large banner reveals today's theme of "I'm Sorry, I Love You", where the cast members will visit the guests they felt most sorry for over the years. Jae-suk teases that among those, he feels bad for their longtime guest, Kwang-soo.
In the van, Suk-jin says he still feels sorry towards BESTie's Haeryung, and they all feel bad for GD. But the first person they visit is actor Park Seo-joon who's busy filming a commercial.
Ji-hyo notes that Seo-joon's such a big star now that he has these huge umbrellas blocking out the sun for him. And the next thing you know, she and Haha take out a patio umbrella for him.
The cast and crew are here to apologize for putting Seo-joon through so much, and for erroneously captioning his name as "Lee Seo-joon" in the Beautiful Youth Special. Seo-joon jokes that it hurt to see his family name written as such, so the guys decide to throw him up into the air to make him feel better.
Now Seo-joon can admit that on his very first appearance, he pretended that it wasn't cold out because it was his first appearance. That, and he came down with the flu the next day because of the exposure to the icy water.
In order to make up for that, the cast insists upon washing his feet. Off come the socks so they can give him a foot massage, and wow, Jae-suk goes in between the toes. Once they're clean, Kwang-soo even gives the foot a little kiss. And THAT freaks everyone out.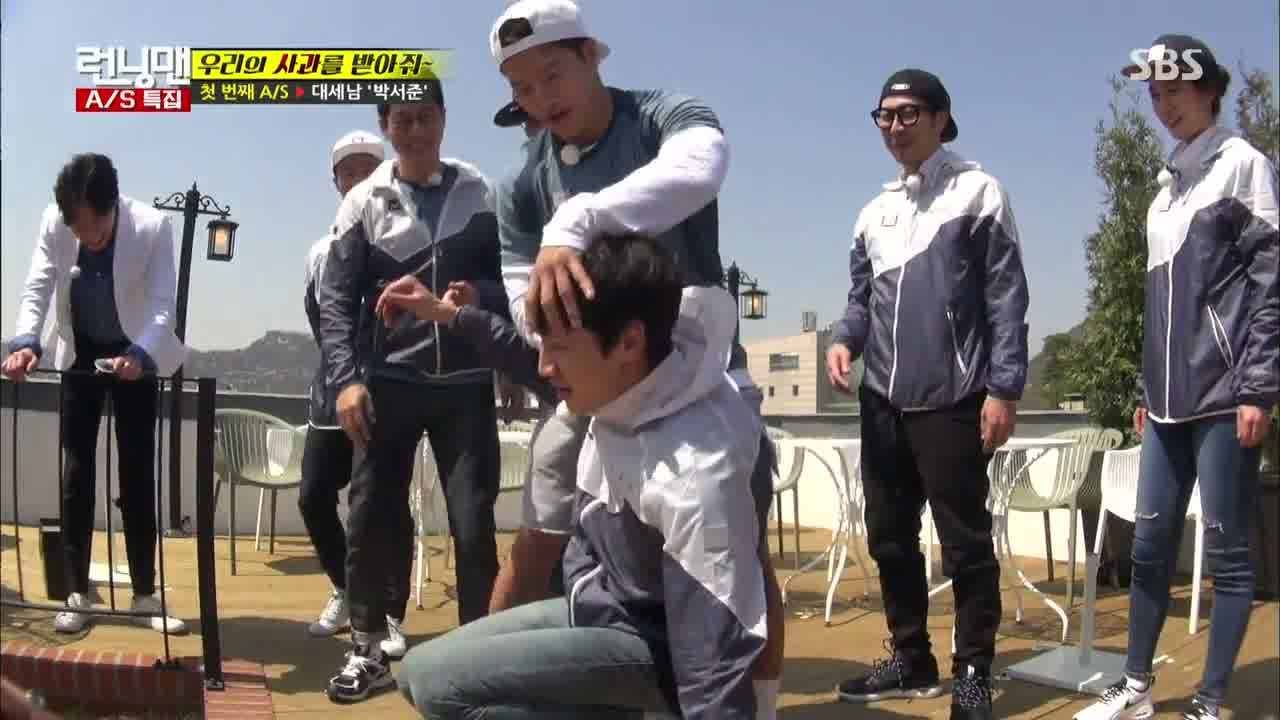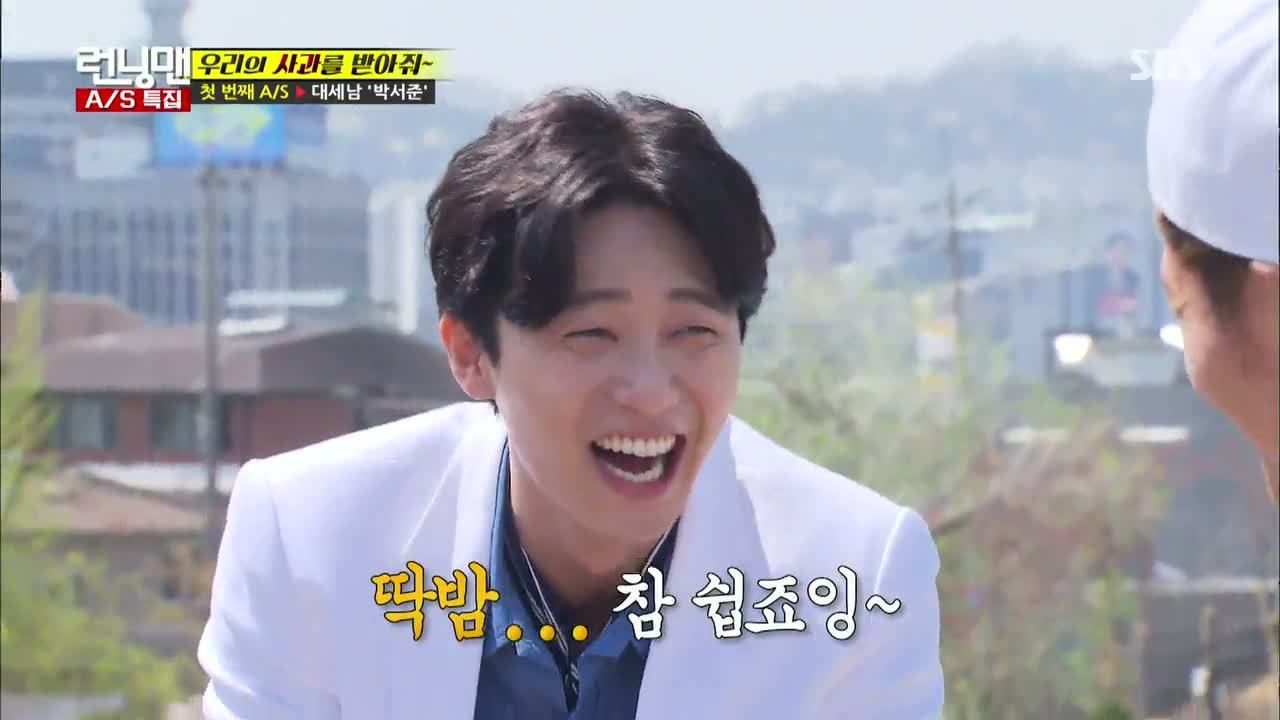 To top things off, Suk-jin takes a whiff of Seo-joon's sock and says it doesn't smell at all. Pfftt. Over lunch, Jae-suk mentions how Suk-jin goes around saying that he's in his 30s. Seo-joon agrees that's a bit much, and when Suk-jin returns how it would feel to be asked if he is in his 20s, Seo-joon answers, "But I am."
Lastly, the crew still feels bad of how impatient Ji-hyo got with Seo-joon once, so they'll be playing charades again. But this time, if any of them can't guess the answer within 10 seconds, they'll get a slap to the forehead.
Jong-kook is up first, but as expected Seo-joon doesn't know how to express "spring". The timer runs out, and when everyone approaches, Jong-kook says it's Seo-joon who has to hit him. But the actor feels bad, so Kwang-soo offers to help, and then Jong-kook says he'll gladly show how it's done… on Kwang-soo. And Jae-suk.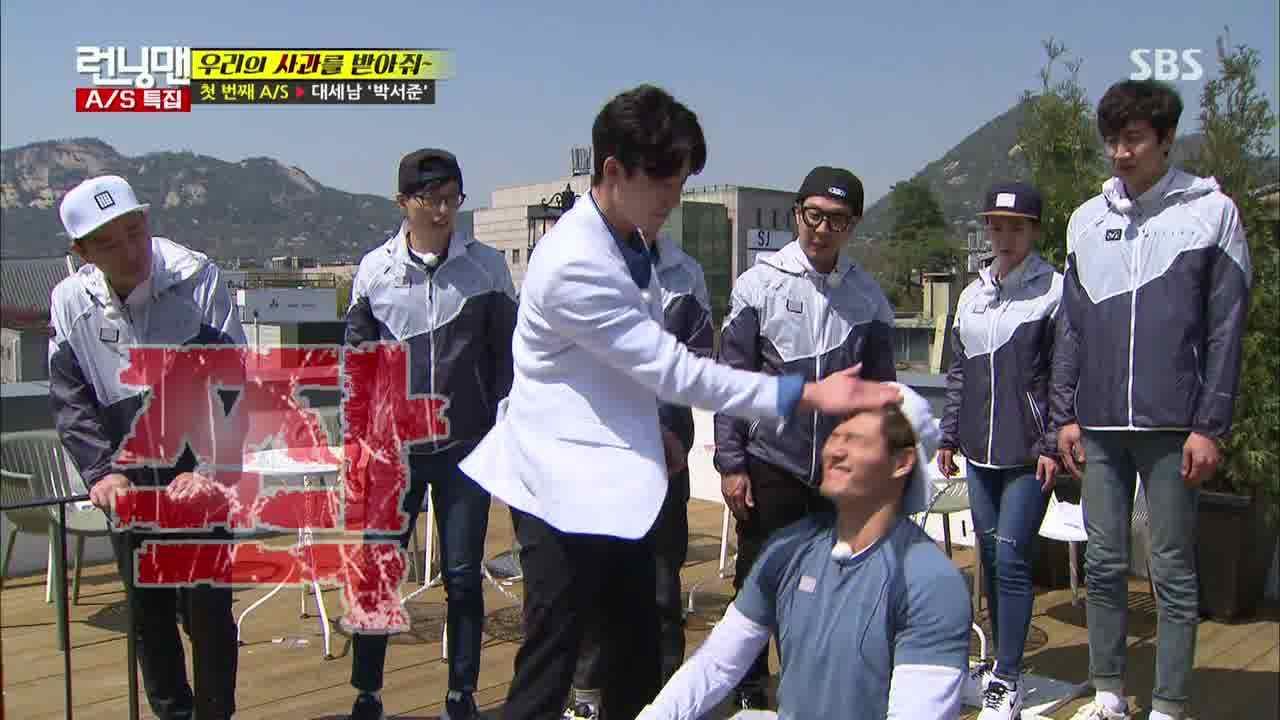 Seo-joon apologizes once more before he goes for it, and… SMACK. Yeah that sounded like it'd hurt. Next up is Kwang-soo who has to guess "squid" but the others distract both him and Seo-joon until the timer runs out.
This time, Haha is at bat, as he wets his hand before the slap. Finally it's Ji-hyo's turn, and Seo-joon acts out an Australopithecus. When she runs out of time, she cries out, "Australia pithecus!"
Kwang-soo steps up for the hit and promises to be gentle… but you can hear the slap. She charges at him and they swipe at each other like siblings. At last, the cast presents Seo-joon with a basket of sagwa (aka apples, a homonym to "apology" in Korean).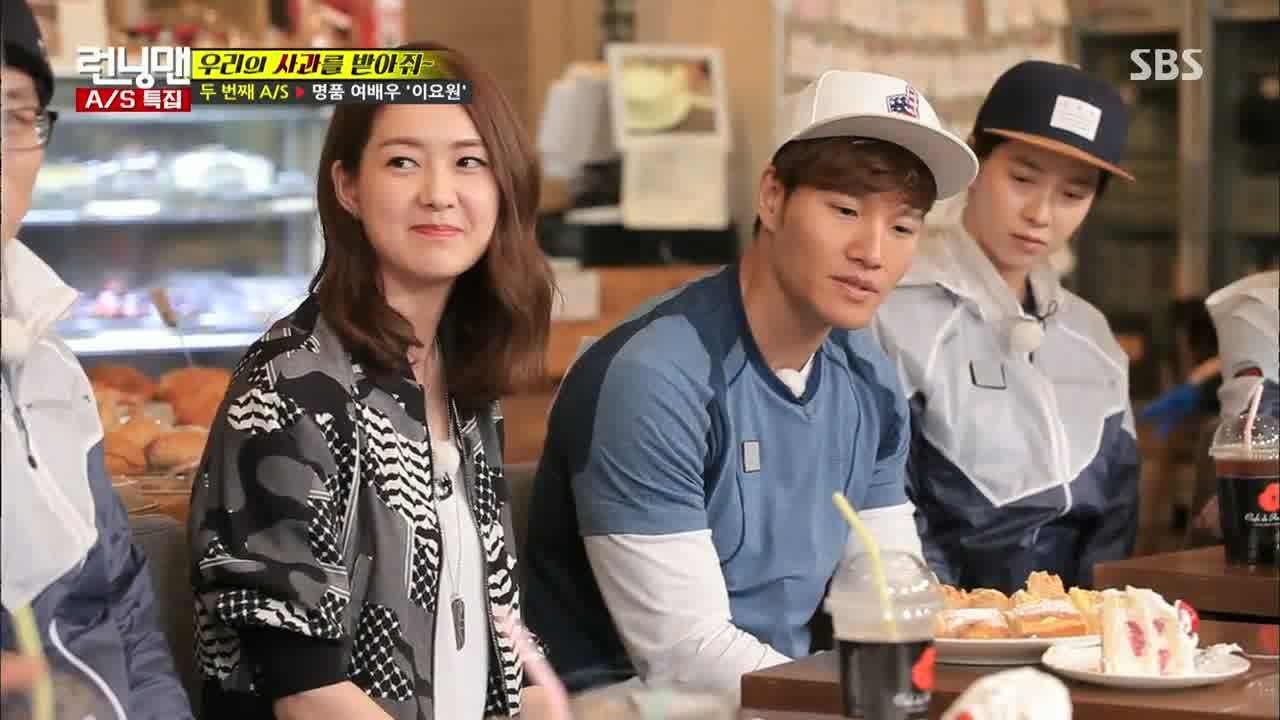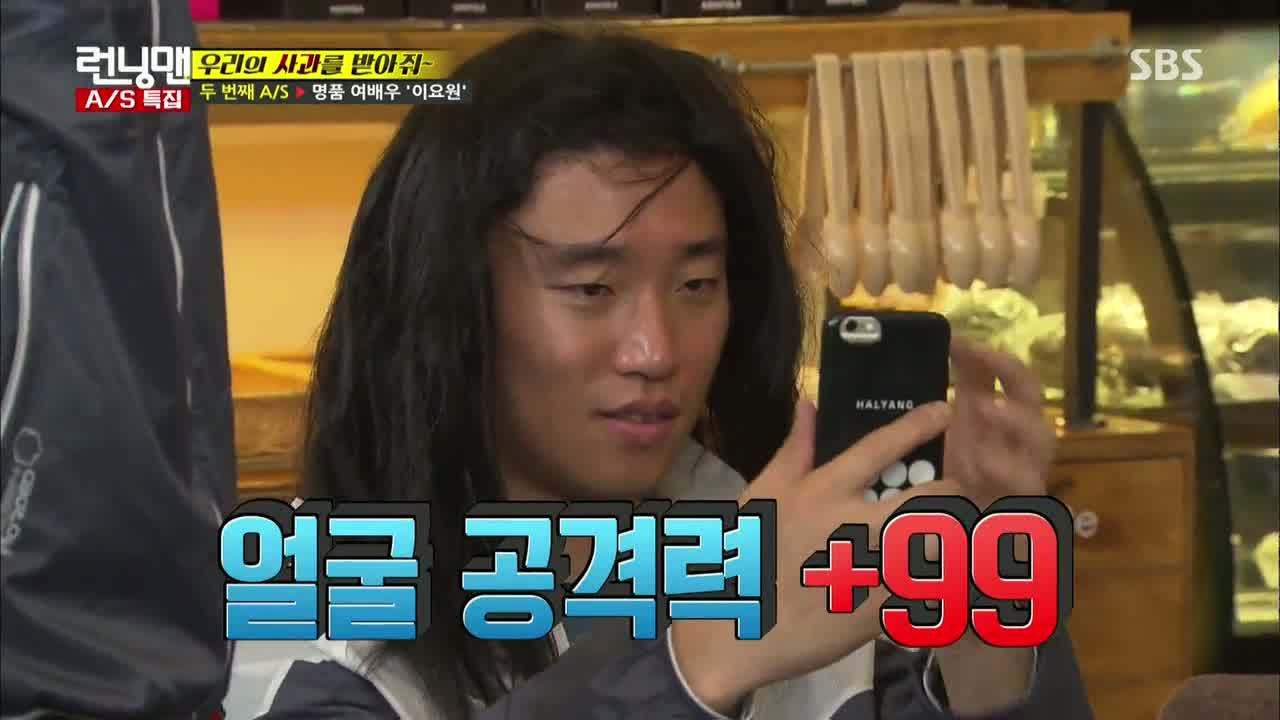 We then cut to a cafe for our next guest, actress Lee Yo-won (Ms. Temper and Nam Jung-gi). After listing everything they're sorry for, Suk-jin says all that exposure was good anyway, right? Er, you're here to apologize, aren't you?
At the photo of her haggard appearance by the swimming pool, Yo-won explains that she'd forgotten that the cameras existed by that point. To make up for it, everyone puts on crazy wigs. HA, Gary looks like he came straight out of a sageuk.
They take a crazy group selca, and Yo-won has trouble choosing the most normal-looking person in the shot. She picks Suk-jin and warns him that she's packing a lot of heat. She goes for it and Suk-jin goes down.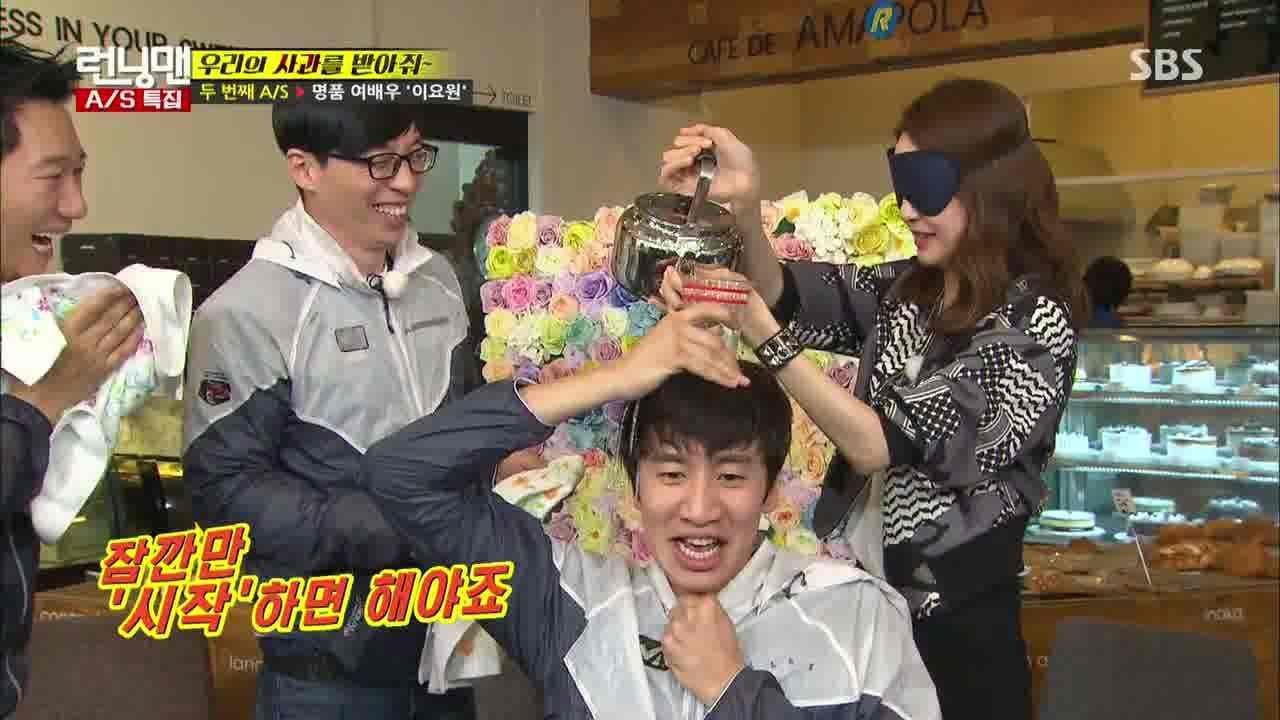 Next, the game: Pour water into a cup over someone's head while blindfolded. But punishment awaits if they go over the limit by throwing that same cup into their teammate's face. Yo-won tries her hand first, then stops after the cup overflows just over the brim.
Still, that counts as unsuccessful, but she does succeed with Haha. However, Suk-jin grabs his arm when he goes to show the staff, which results in Haha throwing the contents into his face.
Kwang-soo is next, but she completely misses the cup. That means the water pours onto his head and down his body. What the—did he not even realize any water made it into the cup?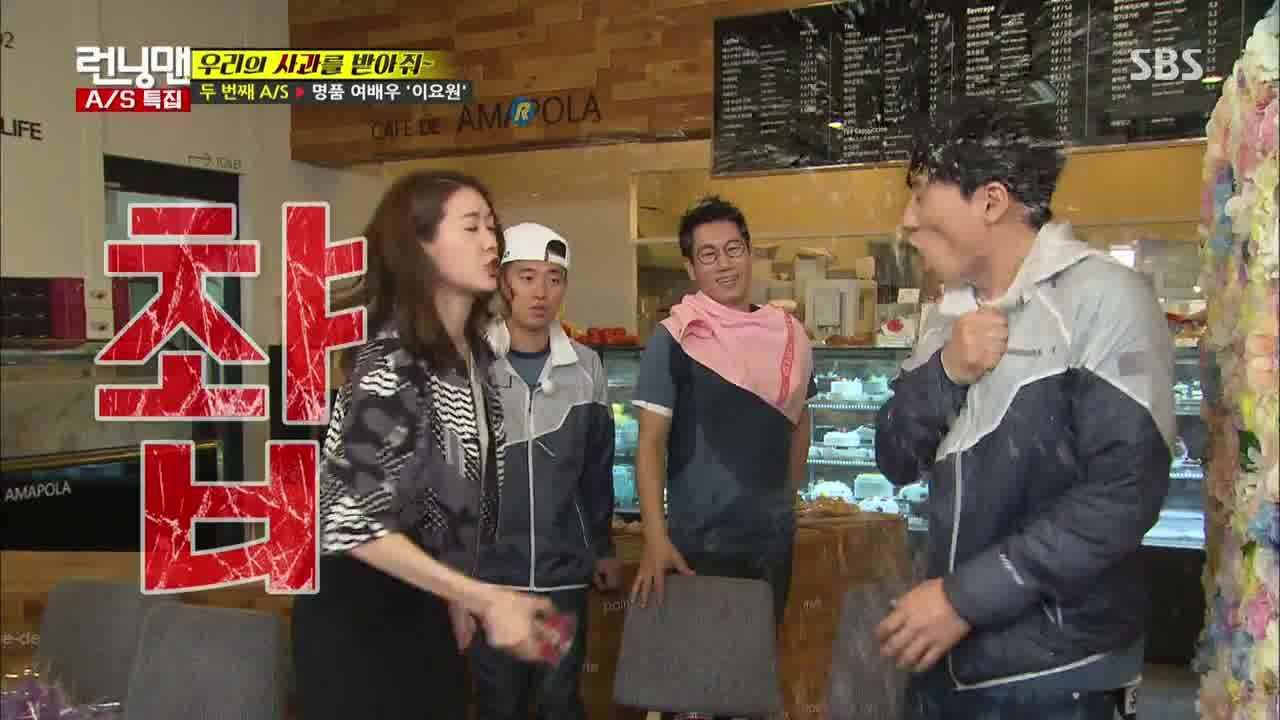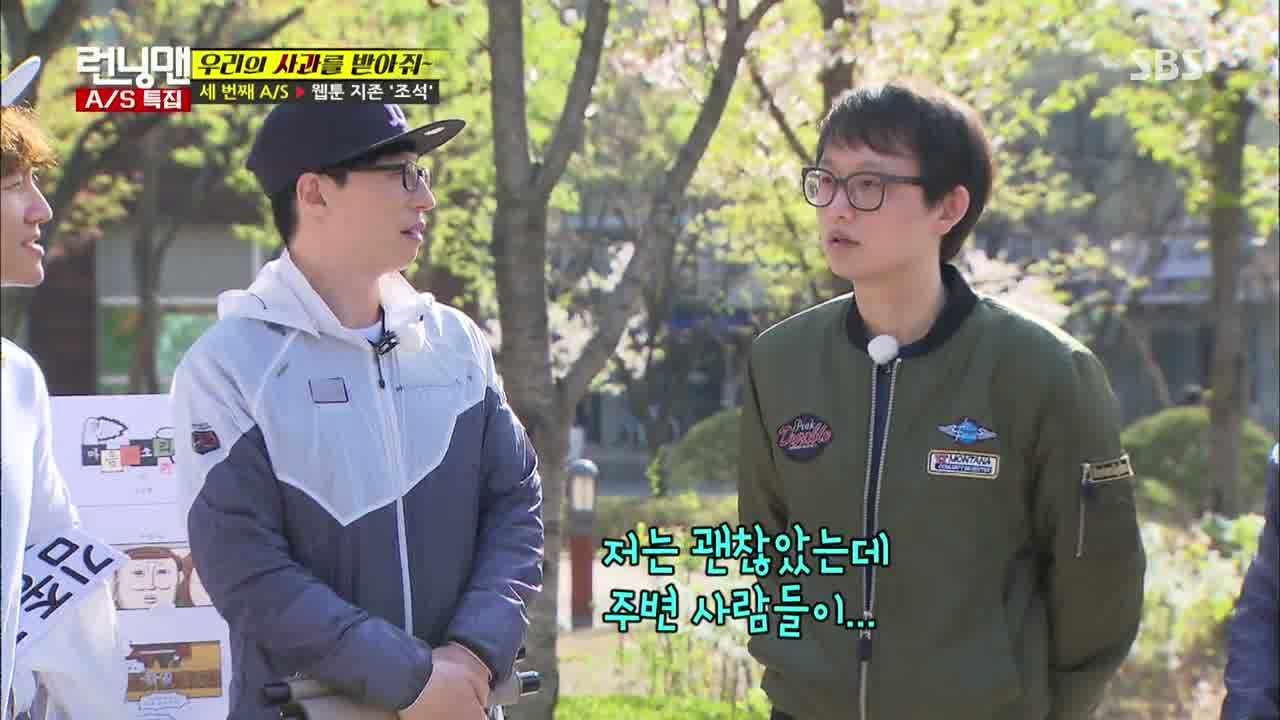 Yo-won prepares to throw the cup of water in Jae-suk's face, an action she's used to while filming her latest drama. They re-enact that scene to perfection, and Yo-won is given apology apples as well.
Their next guest is webtoon artist Jo Seok who illustrated his short-lived appearance in his work, Sound of Heart. He says it's because no one knew that he was actually on the show, and had no idea he'd be invited again.
In the comic, he'd asked if he'd participate in the nametag rippin' segment, so the staff had prepared his own nametag. Aww. Jo Seok smiles then says he'd like to try and rip Jong-kook's nametag.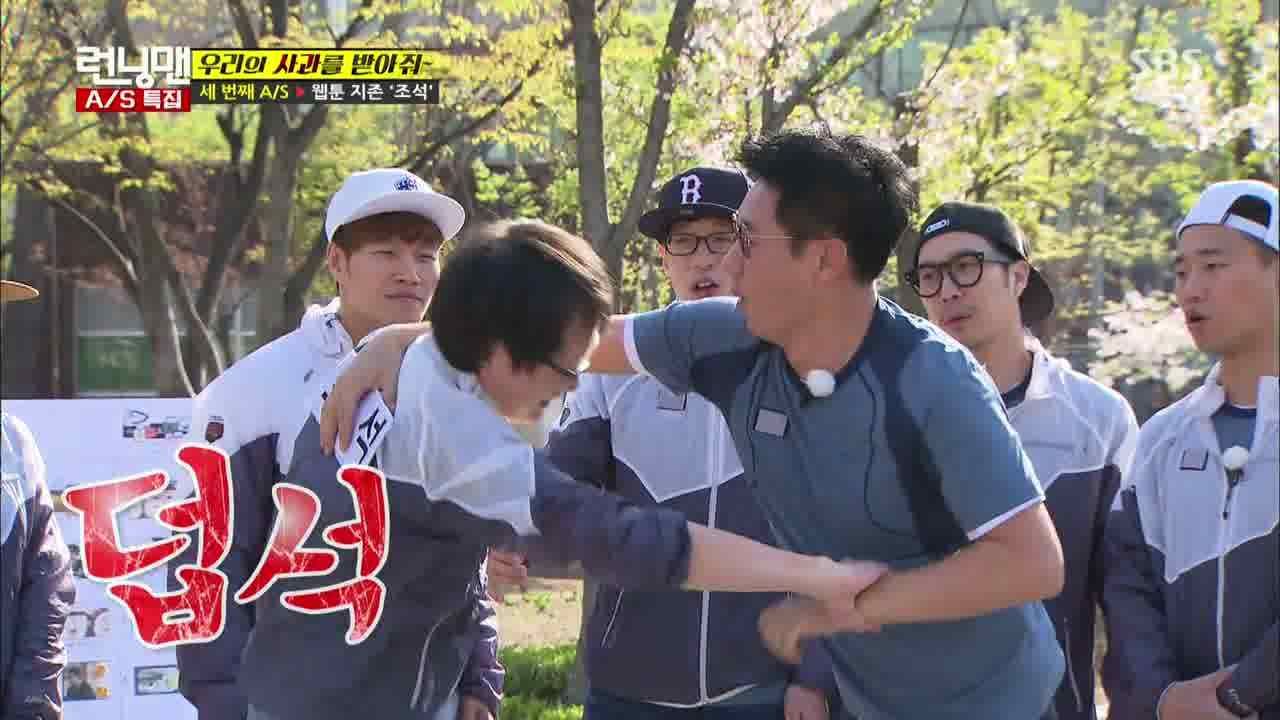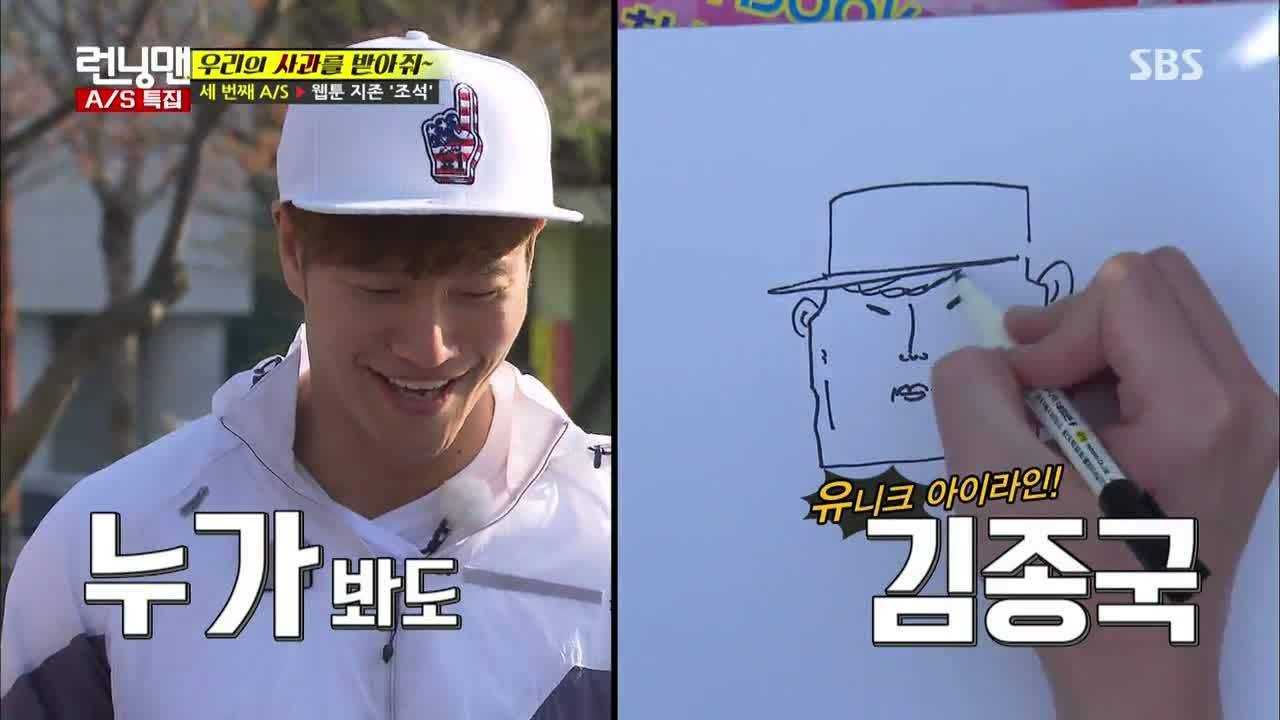 They engage in a 1:1 battle, which Jong-kook wins easily. Jo Seok loses to Gary, and Kwang-soo too. Feeling bad, Suk-jin steps up and Jo Seok says he won't draw anything like that again—he just wants to go home.
Suk-jin gives him the opportunity for attack, and they both grab each other's backs simultaneously… and Jo Seok rips off Suk-jin's nametag first. Aw yay!
He draws caricatures for all the cast members, and later presented with apology apples and a gold nametag.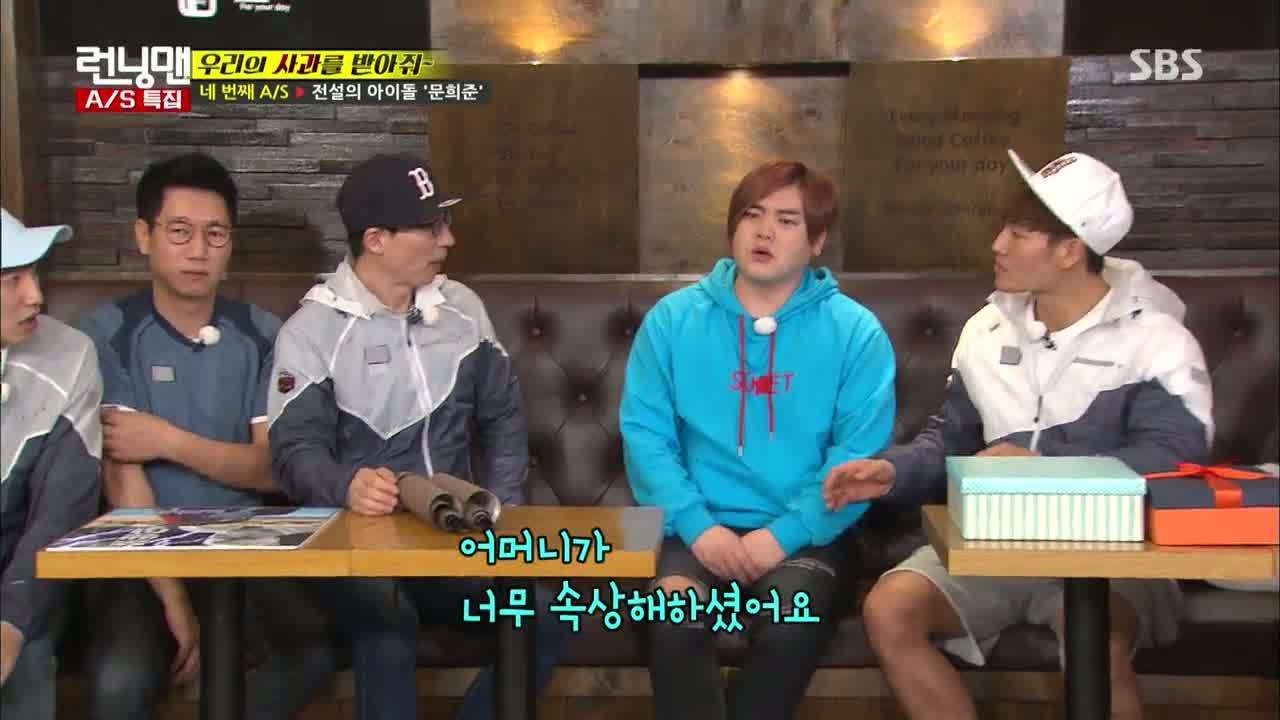 The cast thinks of more people they feel bad towards in the van. They call up Super Junior's Kyuhyun, but he's in Japan, so Gary promises to visit him in Fukuoka. That leads to a preview montage of Gary actually visiting him in Japan.
But for now, our next guest is former H.O.T member Moon Hee-jun whom Jong-kook called a "fatty". Jae-suk points out that if something like that had happened during the idol group's heyday, Jong-kook would've been brought down by the passionate H.O.T fans.
So when Hee-jun shows up, he greets Gary as an almost-H.O.T member. He says the search terms after that episode are what hurt most: "Fatty Moon Hee-jun" "Moon Hee-jun Fatty" and just "Fatty. He even mentions that his mother was so upset that she cursed out Jong-kook for insulting her son.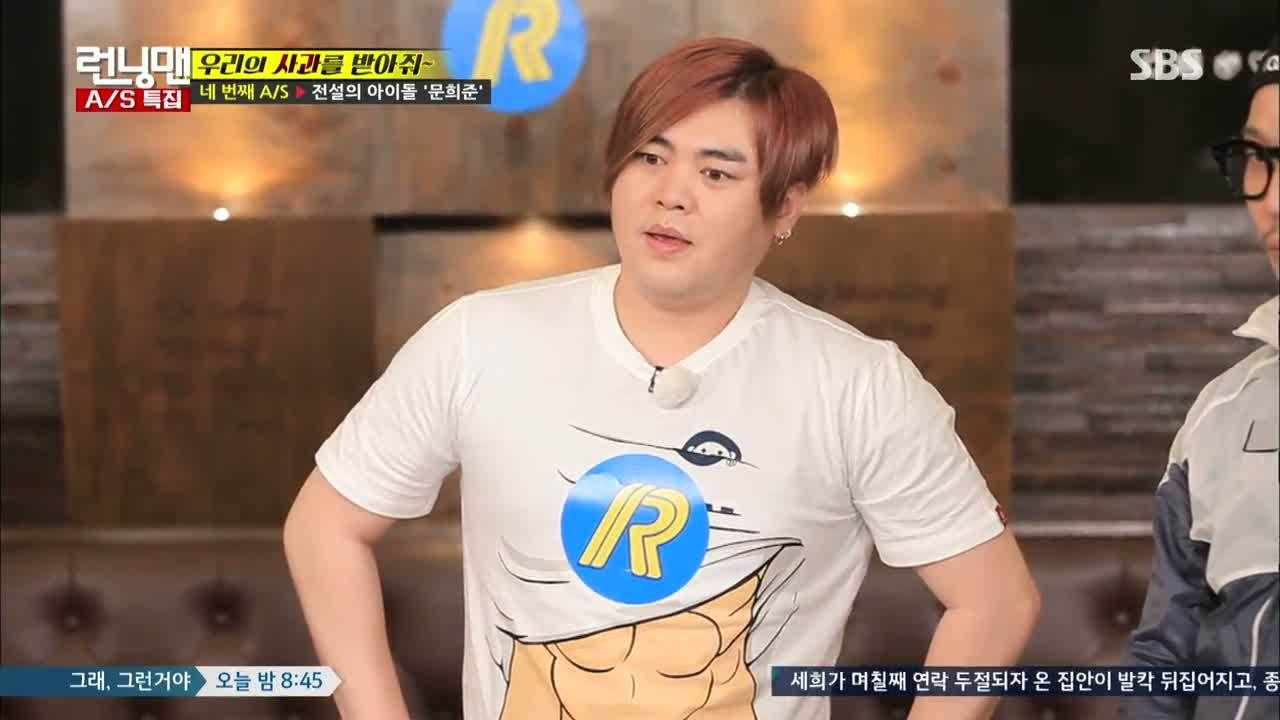 With that Hee-jun calls his mother, who still sounds angry about that moment, and hands the phone off to Jong-kook. Then Hee-jun's mother tells him that after that episode aired, Hee-jun's niece calls him a "fatty" too. As an apology, Jong-kook offers to personally get Hee-jun into shape.
Hee-jun's first present is a muscle t-shirt, and then he bites into the apology apple.
Night falls as the cast travels to a camping site meet their final guests of the day: each other. Everyone is instructed to write a letter to the rest of the cast, but Jae-suk takes a long time contemplating what to write before he picks up his pen.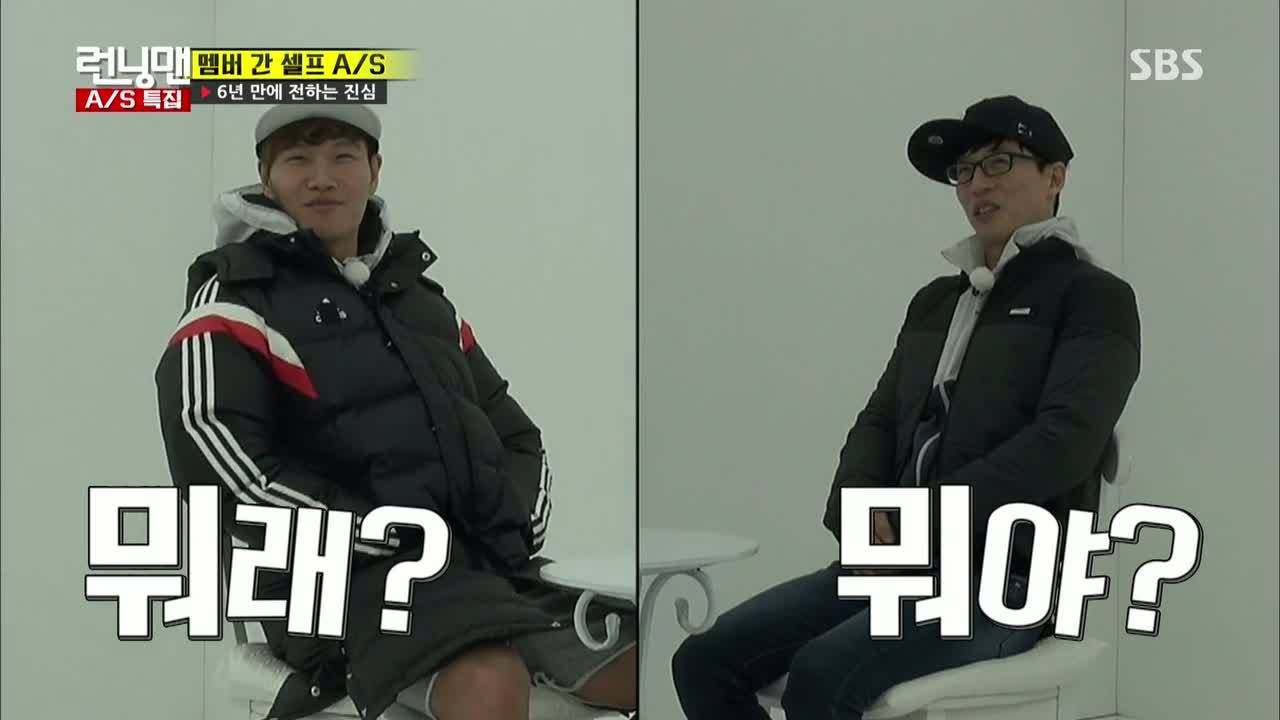 Jae-suk is sent to a separate room, and isn't the least bit surprised to see Jong-kook join him. They both acknowledge that it feels awkward to be placed together like this, but it's Jong-kook who opens up first.
He knows that all of his nicknames give off a strong and devilish persona, and admits that he had to force himself to say things he didn't mean to keep up that image. He knows it's just a variety show, but there are moments he wonders if he crossed the line and unintentionally hurt his fellow members.
There are more things he's unable to do now that he's getting older, and the thought of being unable to meet those former expectations is a cause of concern for him. He had worried that if he doesn't keep up this strong man image, then he might not appear on any other show in the future. As a seasoned veteran, Jae-suk is understanding to Jong-kook's concerns.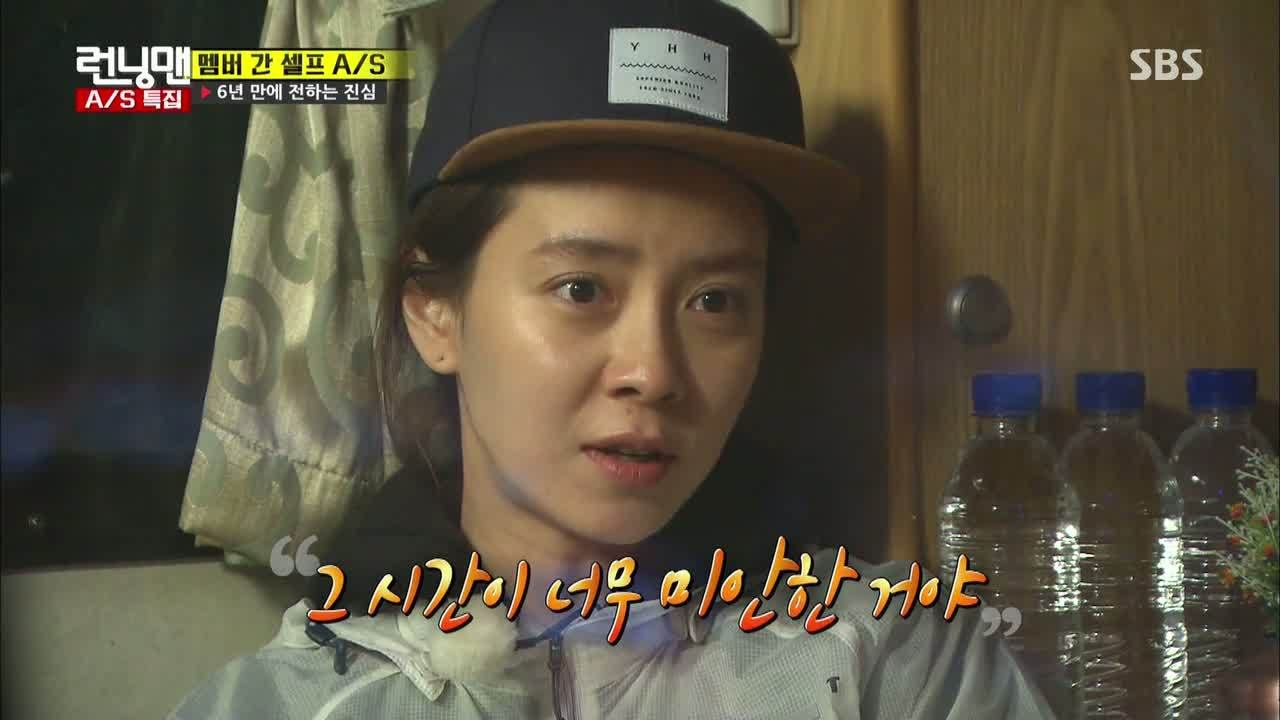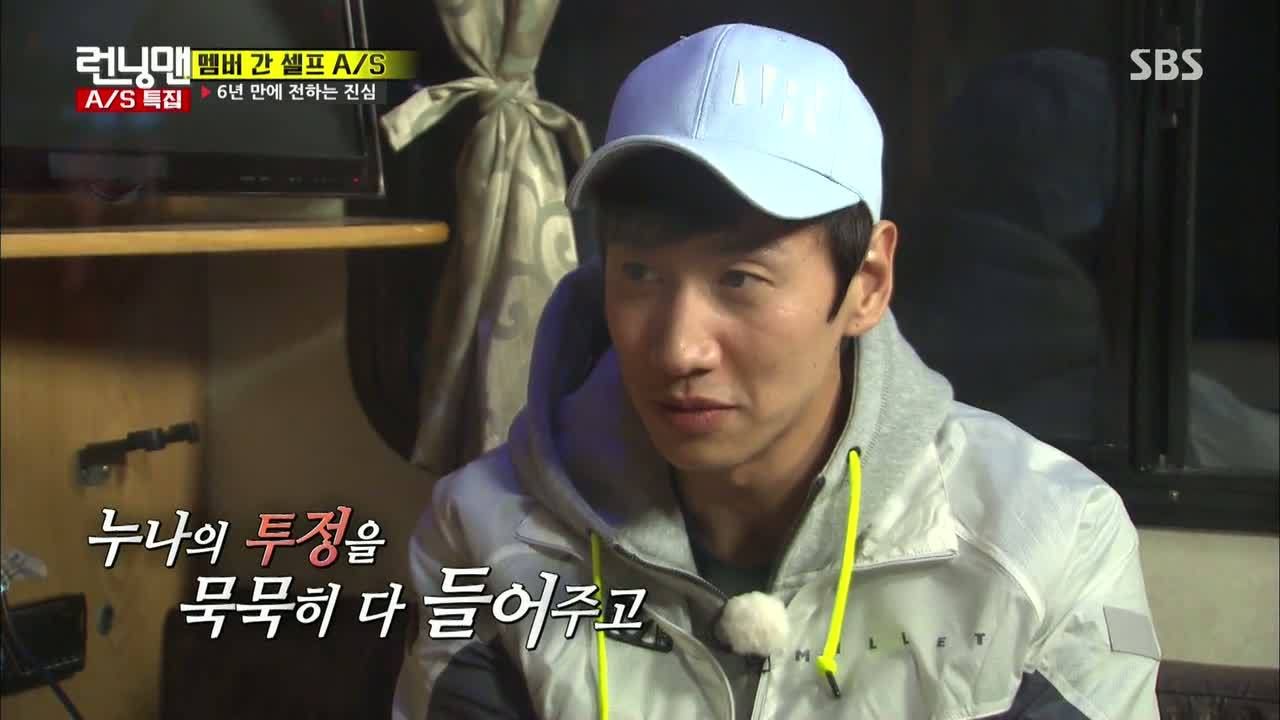 Meanwhile in the RV, Kwang-soo busts a gut when he sees Ji-hyo. She decides to share first, revealing that her letter was for him. She's so grateful towards him because when she first joined the show, she'd been concerned that she wouldn't find a fit with the other guys.
She shrinks as she tells him how thankful she is because Kwang-soo accepted her and listened to all of her rants. She tries hiding the oncoming tears, pulling the "I'm not crying; I've just got something in my eye" line.
She tries keeping the conversation light, but then Kwang-soo apologizes for his behavior towards her on the show. He knows there were things he's done and said that he knew would upset her, and he feels sorry because he did all those things for the sake of entertainment.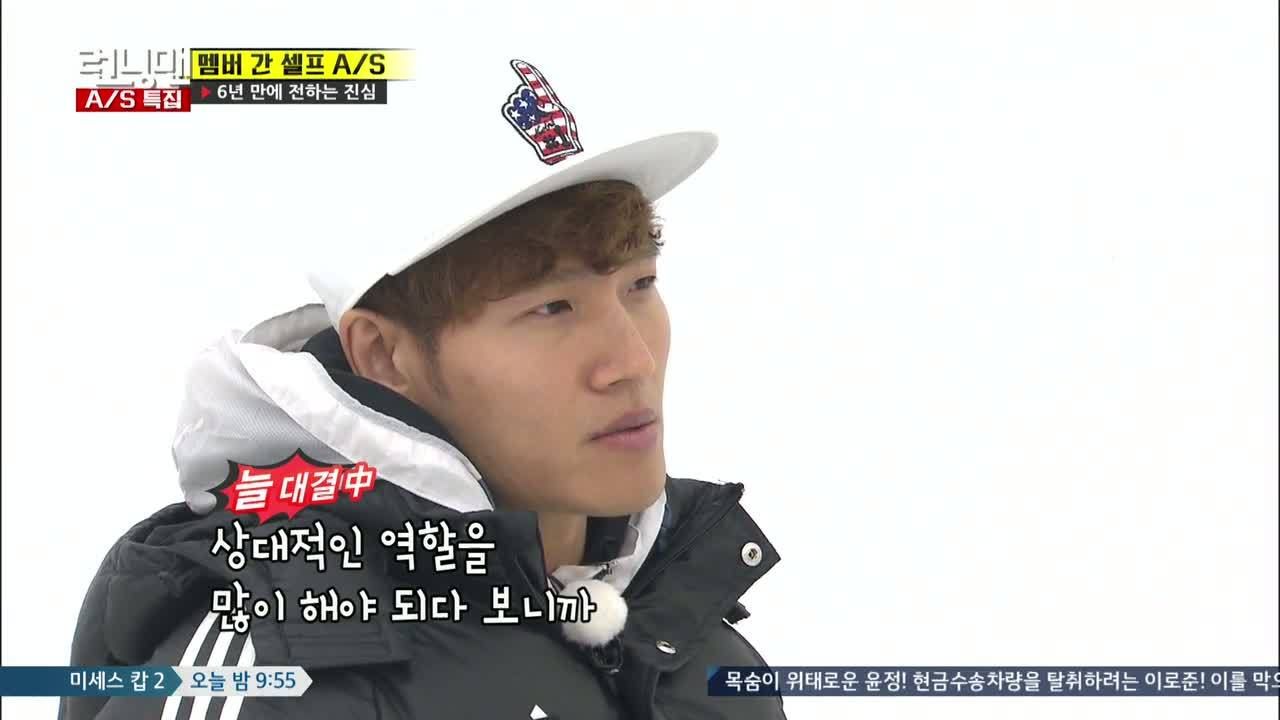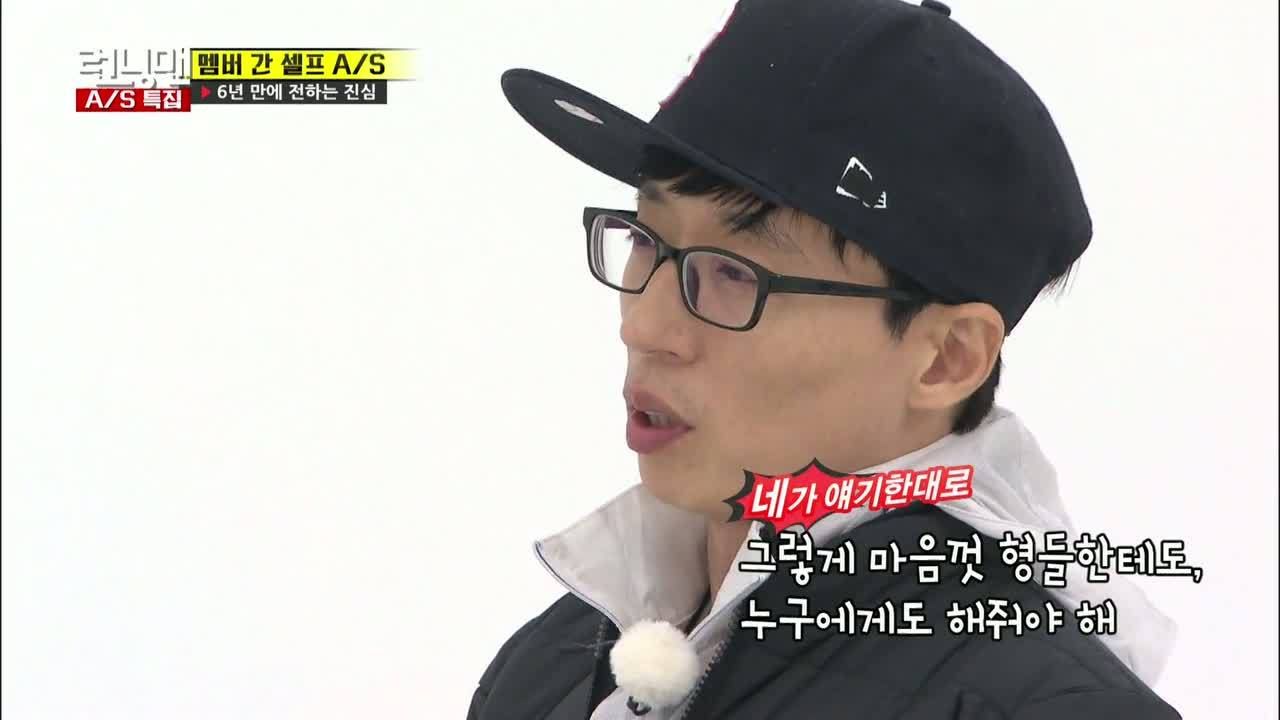 He would want to apologize, knowing it shouldn't happen again, but he'd do something like that again the following week. Ji-hyo says she never takes those moments to heart, adding that that dynamic works for them for the show.
Back in the room, Jong-kook shares how uncomfortable it gets being known as an enemy to someone like Jae-suk on this show. He tries to forget those times as time passes, knowing that it was a role he had to play despite all the flack he'd get for it.
Jae-suk advises Jong-kook to share his feelings to others like he did in this room. He believes the show has sustained itself over the years because all the cast members have played their roles.
He vows to be more mindful of Jong-kook, who says he wants Jae-suk to take care of his health. Jong-kook hopes he can find another angle to hold onto for this show, and with that, their heart-to-heart wraps with an awkward hug.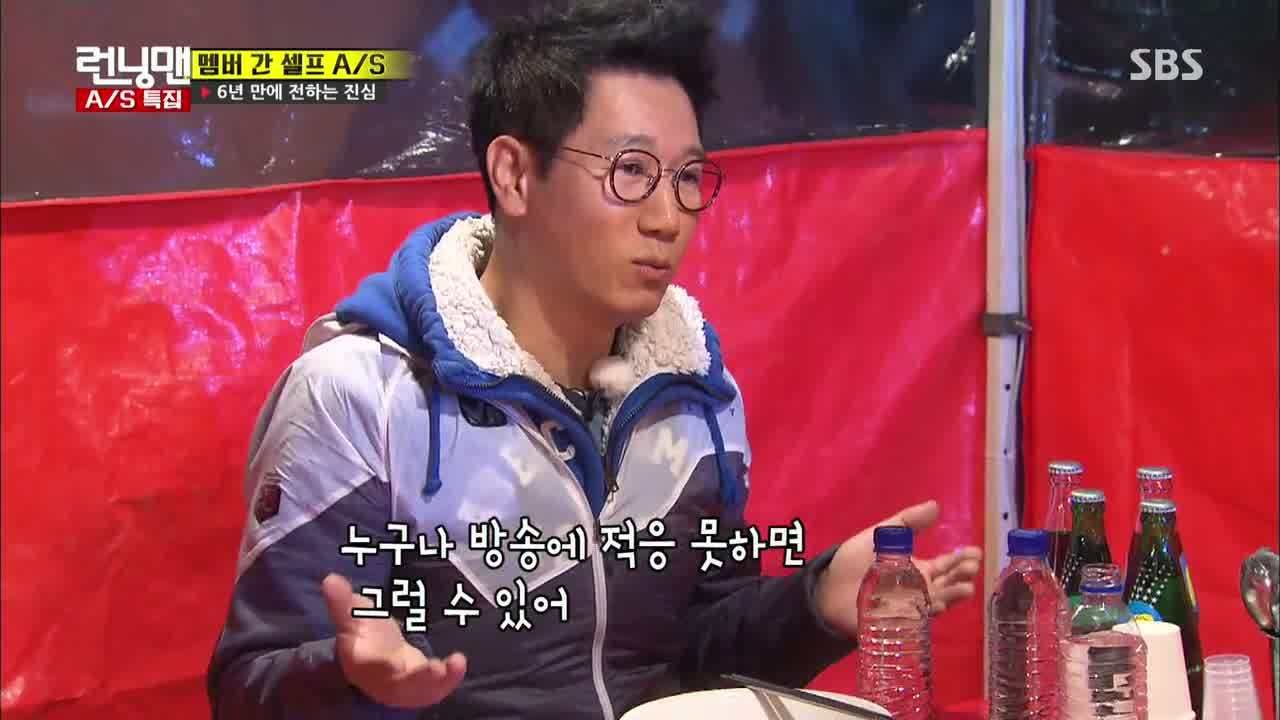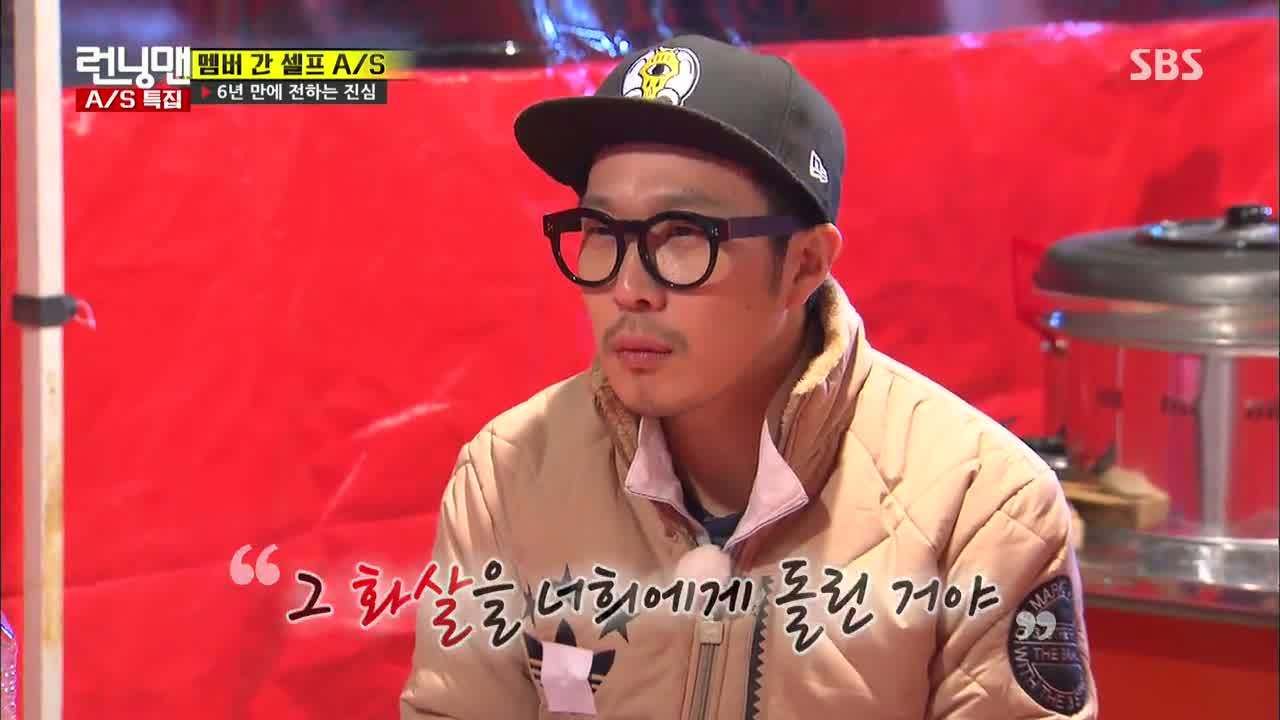 Over in the pojangmacha, both Suk-jin and Haha laugh upon seeing one another. Haha feels uncomfortable as soon as Suk-jin mentions how sorry he feels towards him. In the beginning, Suk-jin questioned why he was even on this show because the genre was so different than what he was used to—in other words, talk shows.
He later realized that he directed all that pent-up frustration on the rest of them, who only wanted to make him feel more comfortable on the show. He learned to accept his persona around the time the "Race Start" nickname came about, and he felt so sorry to everyone else.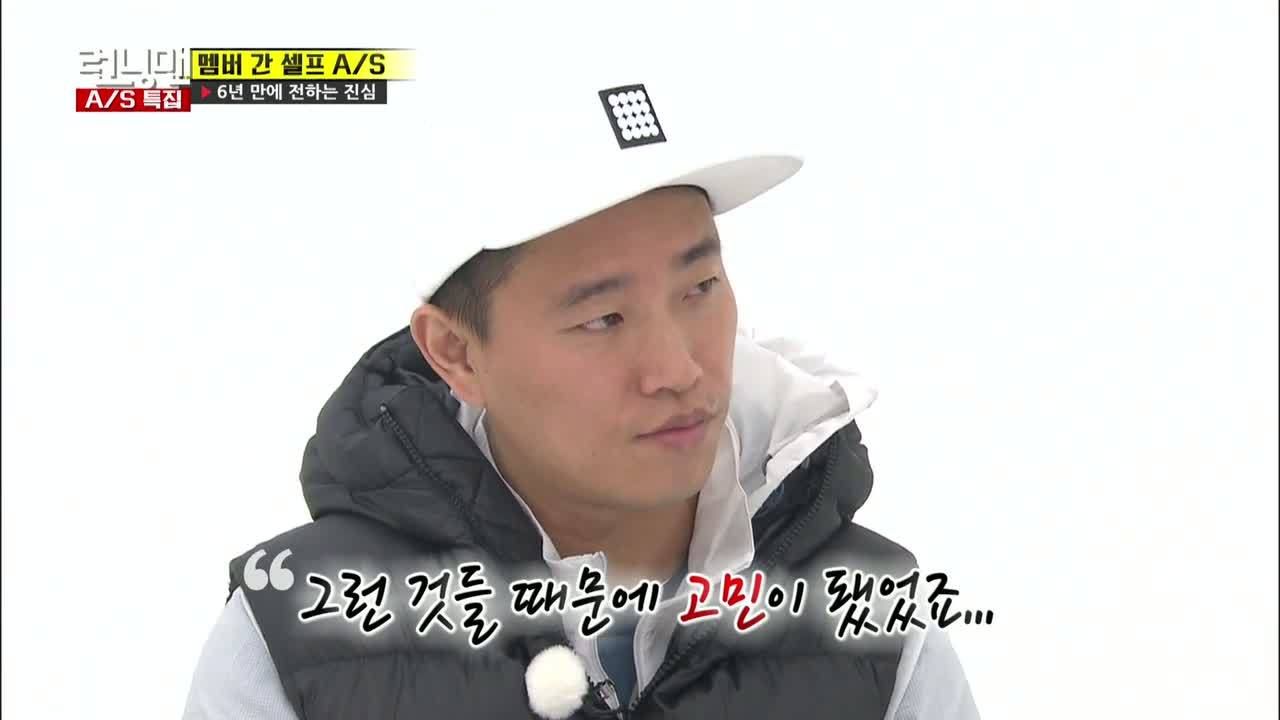 Jae-suk then sits with Gary, who shares his worries about how his Running Man appearance has shaped him and his music. There were times he just couldn't focus because of the pressure, even when they were filming.
He mentions that there were times when he thought that it'd be better for the show if he'd left. To that, Jae-suk says those feelings are normal, and this show is in a transitional phase.
He likens being on a show to a kiddie ride in an amusement park—it's fun when you're a kid, but you can't always go on the kiddie ride forever. The novelty fades over time, but their job now is to think of novel ways to keep this show fresh, together.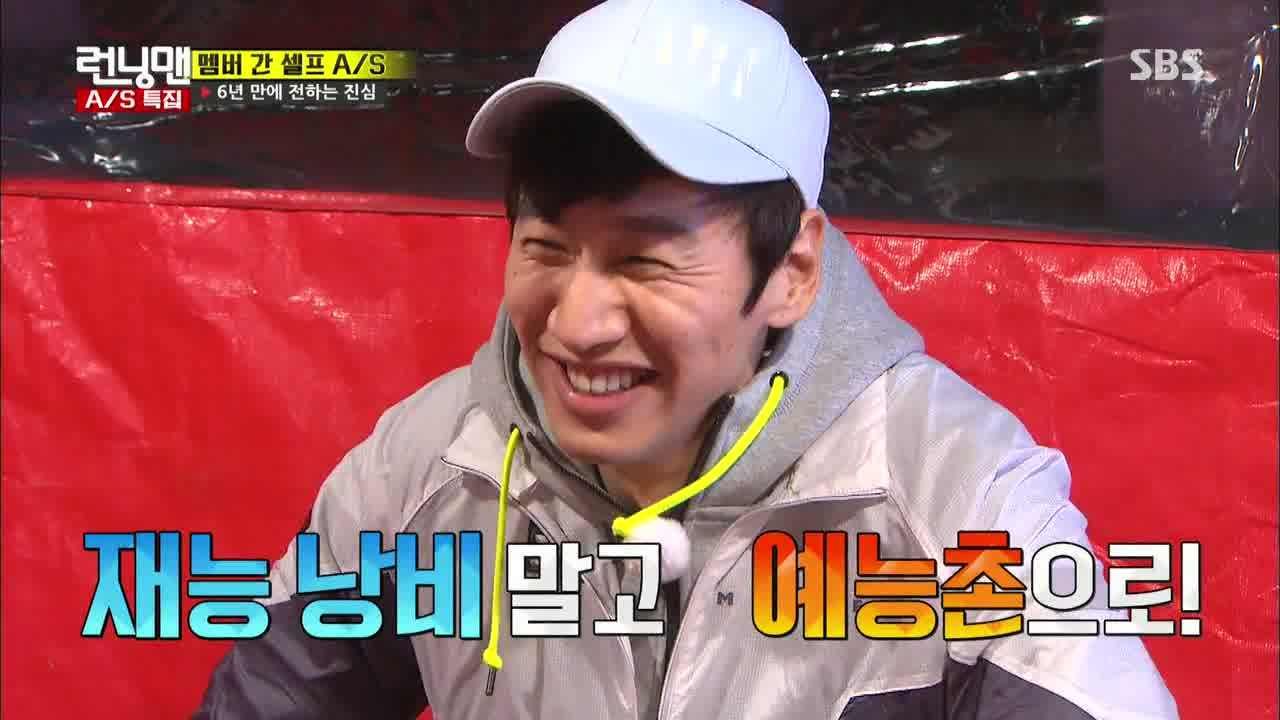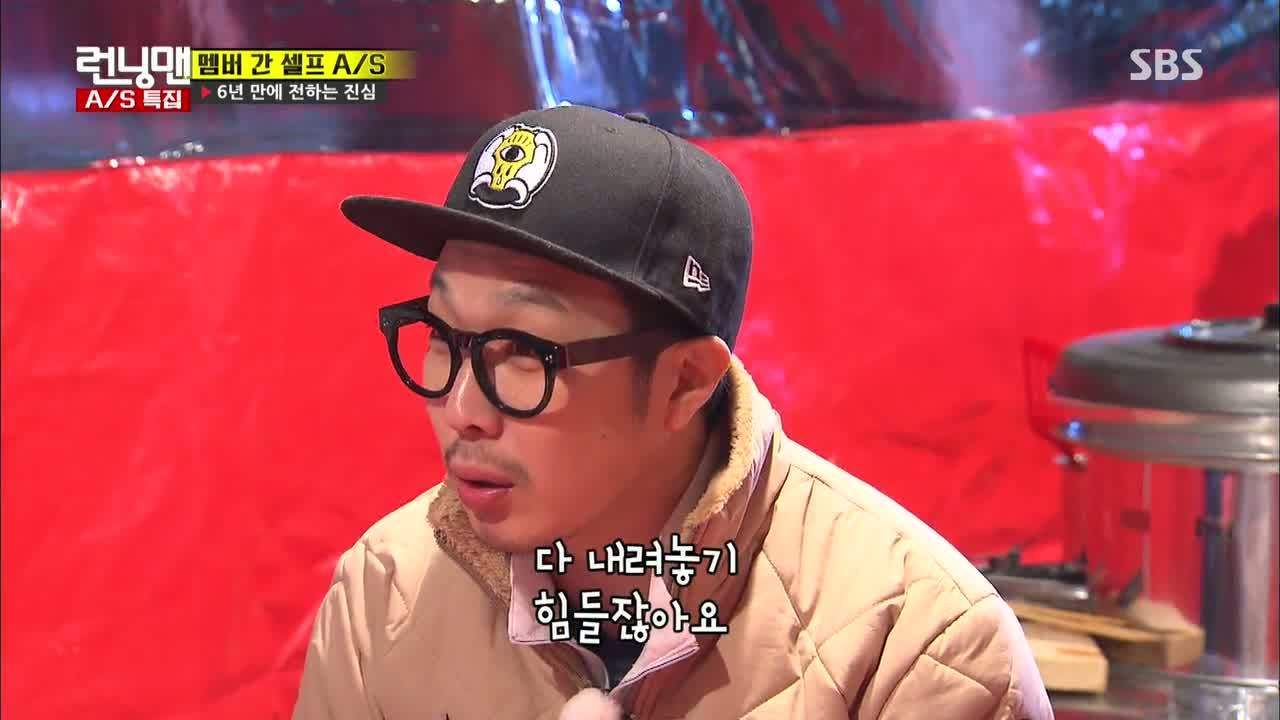 Kwang-soo joins the pojangmacha in time to hear Haha share his heart. He's smack dab in the middle of the age spectrum, but Kwang-soo's the maknae of the group. Kwang-soo used to come to Haha about his concerns, but then he became more popular.
He knows it's hard for Kwang-soo to ruin his image as an actor, but he thinks it's better for Kwang-soo to keep pursuing variety.
Last but not least, Gary sits down with Haha. Cue awkward silence. Haha apologizes for saying that Gary is ugly, to which the rapper replies, "Well, it's not like you're wrong."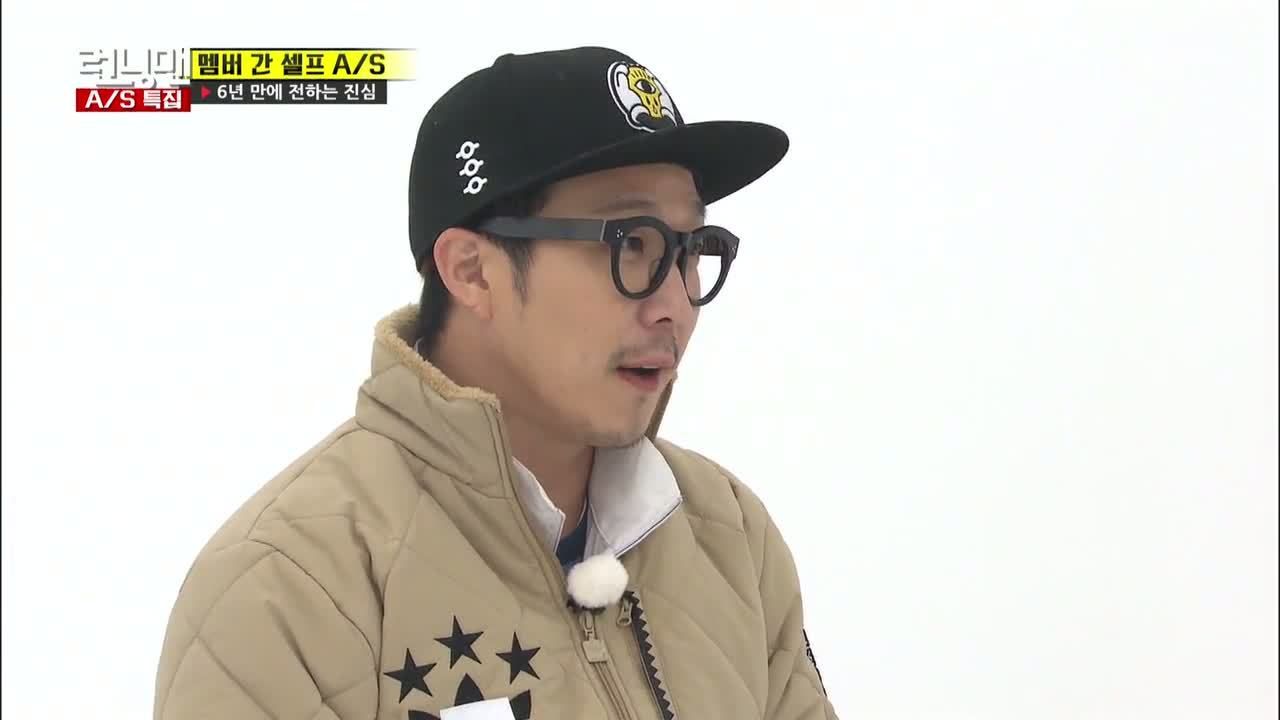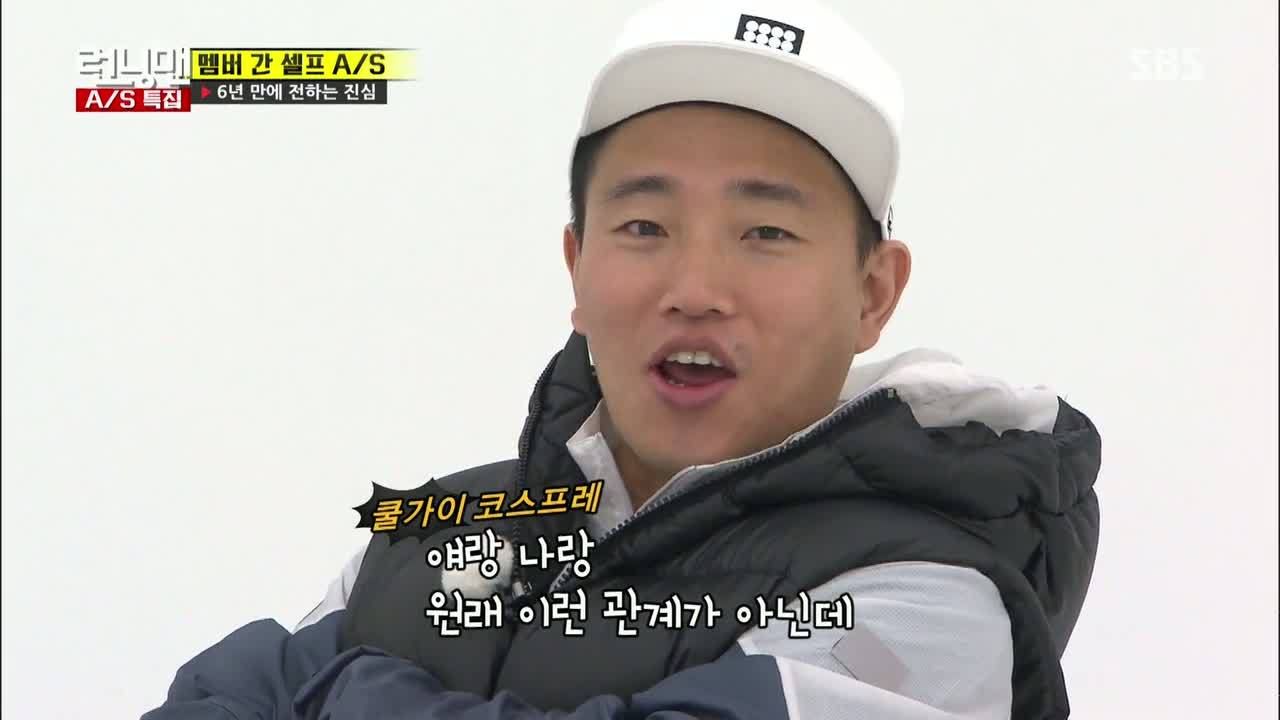 In a serious voice, Gary names Haha as the variety sunbae he looked up to when he first joined. Embarrassed, Haha bursts laughing, and they gruffly end this exchange by telling each other that they're grateful for one another. Haha: "You're the best in my life. I love you. You know what? I'm a fan of yours."
Everyone gathers together again for the closing (Gary and Haha adorably share a blanket). They burn all their letters, and Jae-suk thanks all the nearly 300 guests who have appeared on the show.
It may not always have been easy over the past six years, but it warms my heart to know that no matter what we see onscreen each week, nothing will change the fact that these guys are a family through and through.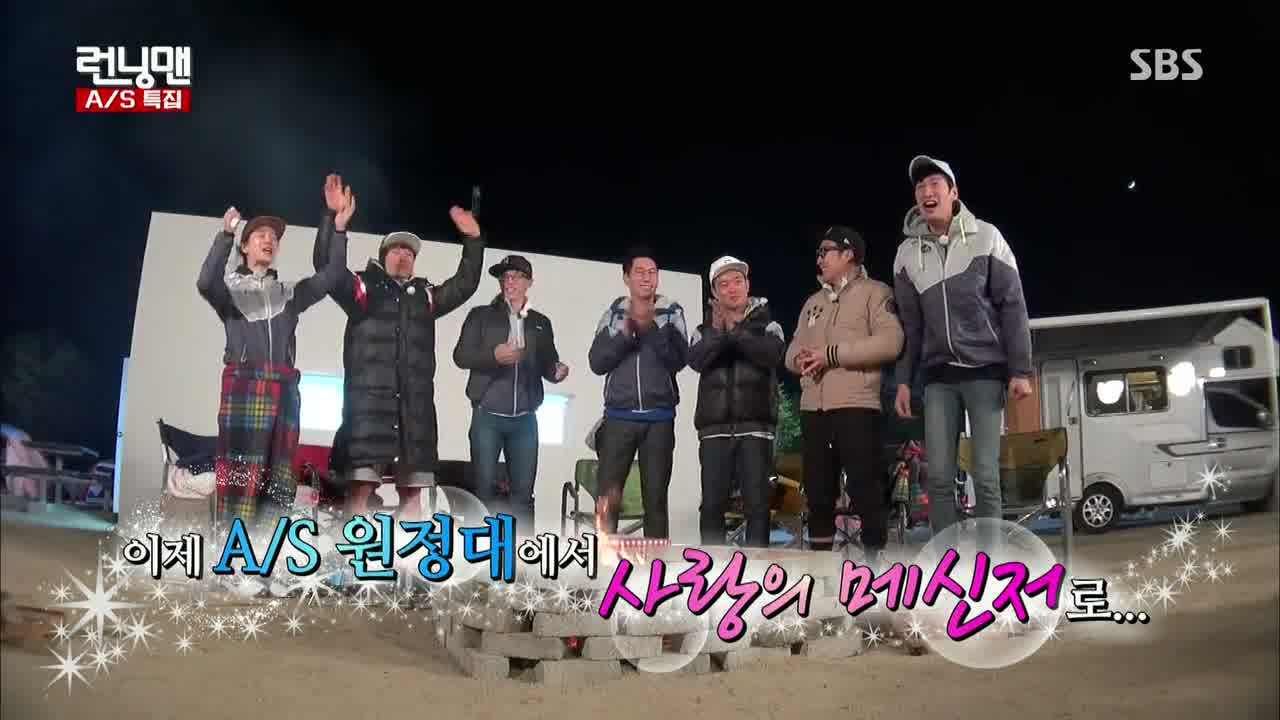 RELATED POSTS
Tags: featured, Haha, Ji Suk-jin, Kang Gary, Kim Jong-kook, Lee Kwang-soo, Running Man, Song Ji-hyo, Yoo Jae-suk