Running Man: Episode 296
Some memories don't fade with time but grow deeper as the years pass. This week is dedicated to the seven most important people in the lives of our cast and highlight how their presence, however brief, has affected another person's life. Get ready for an episode of high school reunions, childhood crushes, close friends, family, and mentors that all of us can relate to.
EPISODE 296. Broadcast on April 24, 2016.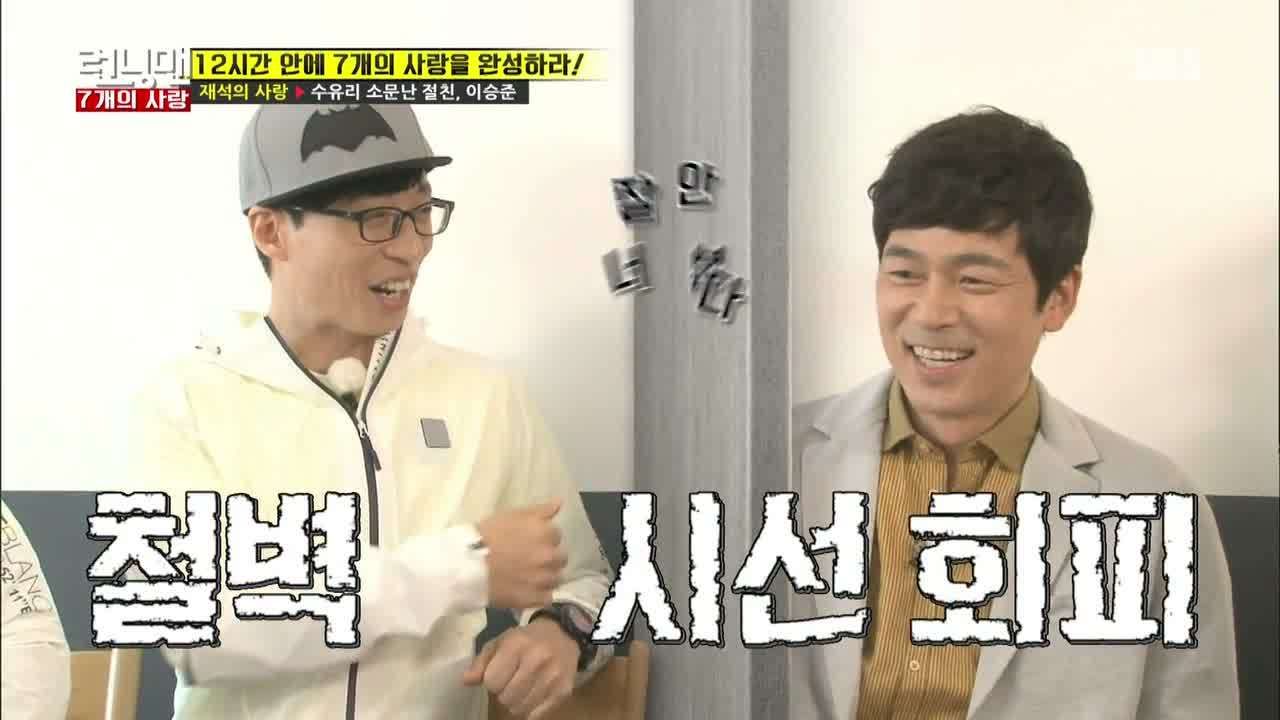 After catching up with familiar faces last week, this second half of the "I'm Sorry, I Love You" special will focus on the people who have shaped our cast members' lives. The goal: clear the missions at seven different locations within 12 hours.
First stop is Yongmun-dong, where Jae-suk spent his growing years at. It's been decades since he's been in this area, and he describes how his dear childhood friend is now a huge star. Cue actor Lee Seung-joon (Descended From the Sun, Hyde, Jekyll, Me).
The others are quick to point out the awkward hug he and Jae-suk share, to which Seung-joon attributes to not seeing each other for 26 years. He admits they were close when they were younger, even if it's hard for him to look at Jae-suk now.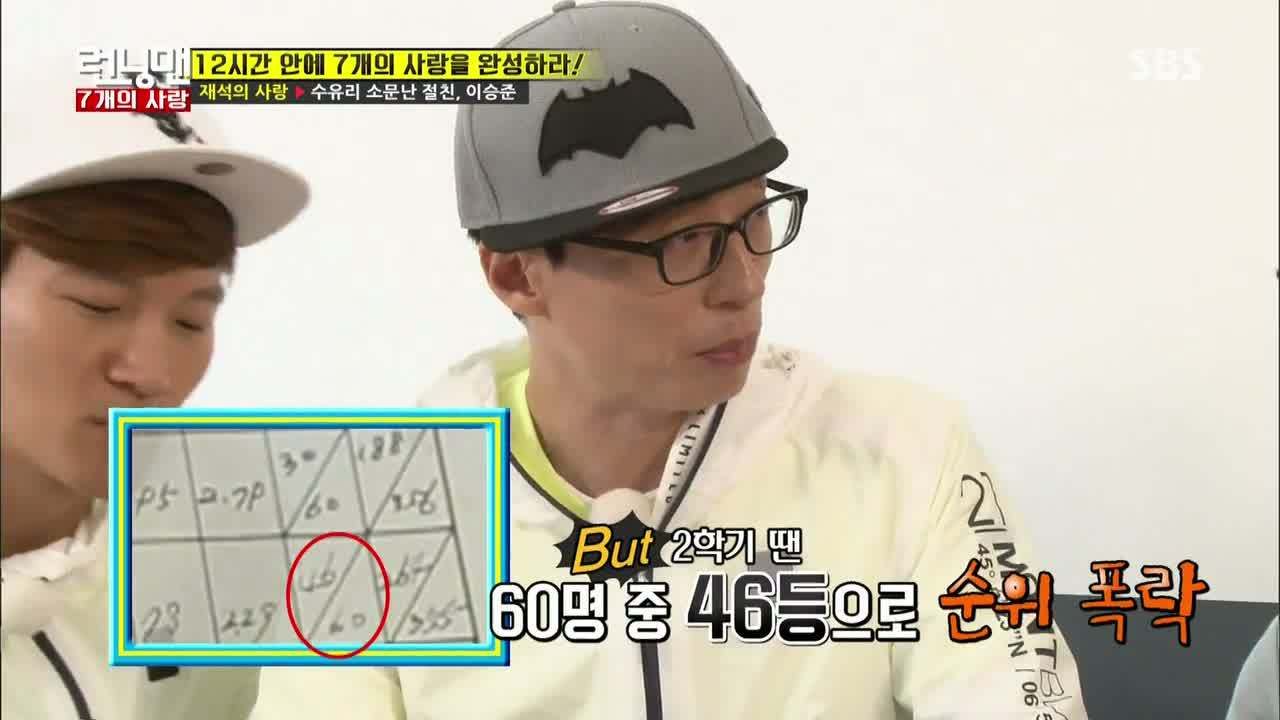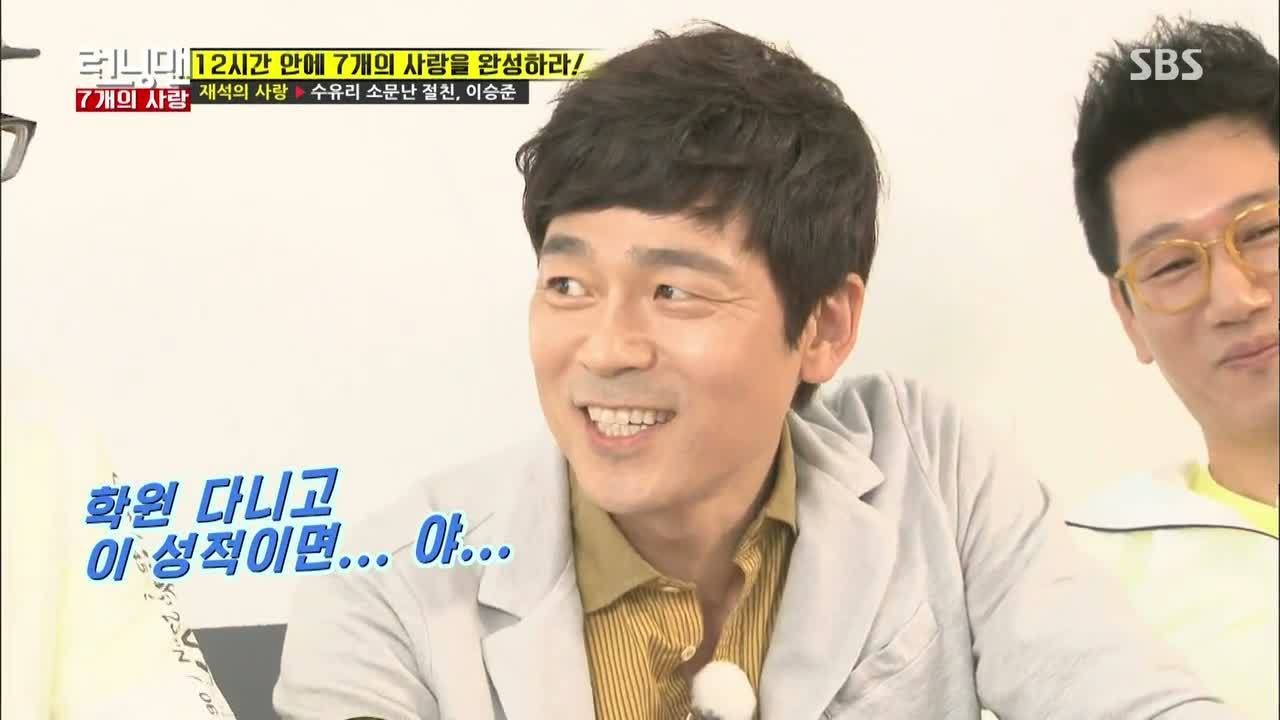 Looking at their grades from school, Jae-suk ranked within the top third of his grade in his first year of high school… but then dropped to near the bottom of his class the next year. It's at this moment Seung-joon explains how Jae-suk attending private academy didn't help his grades.
Seung-joon describes Jae-suk as a class clown, a quality that the girls liked at first. He even says Jae-suk had a long-term girlfriend, and when Jae-suk rises from his seat, the others hold him back so Seung-joon can spill more high school secrets.
Seung-joon even remembers what she looked like: "She was tall… but wasn't pretty." In short, Jae-suk was whipped as a boyfriend. To that, Haha tells Kwang-soo that this is why Jae-suk tries to give him dating advice because he sees so much of himself in him.
Kwang-soo: "I'm so not like what you were back then! I don't like tall girls who aren't pretty." Seung-joon says there was another girl Jae-suk dated for a month in their final year of high school, and Jae-suk confesses he did go out with her… once.
Pointing out that Seung-joon had a cutie face when they were young, Jae-suk pinches his cheek. Seung-joon doesn't appreciate it, and immediately returns the favor.
Seung-joon remembers one time where he and Jae-suk had argued (over what, he doesn't remember), and he'd later gotten a call from a mutual friend asking why he hadn't come out to hang out with everyone. So he'd run out, had seen them across the road, then knocked Jae-suk down with a flying kick. Jae-suk: "Did you hit me?"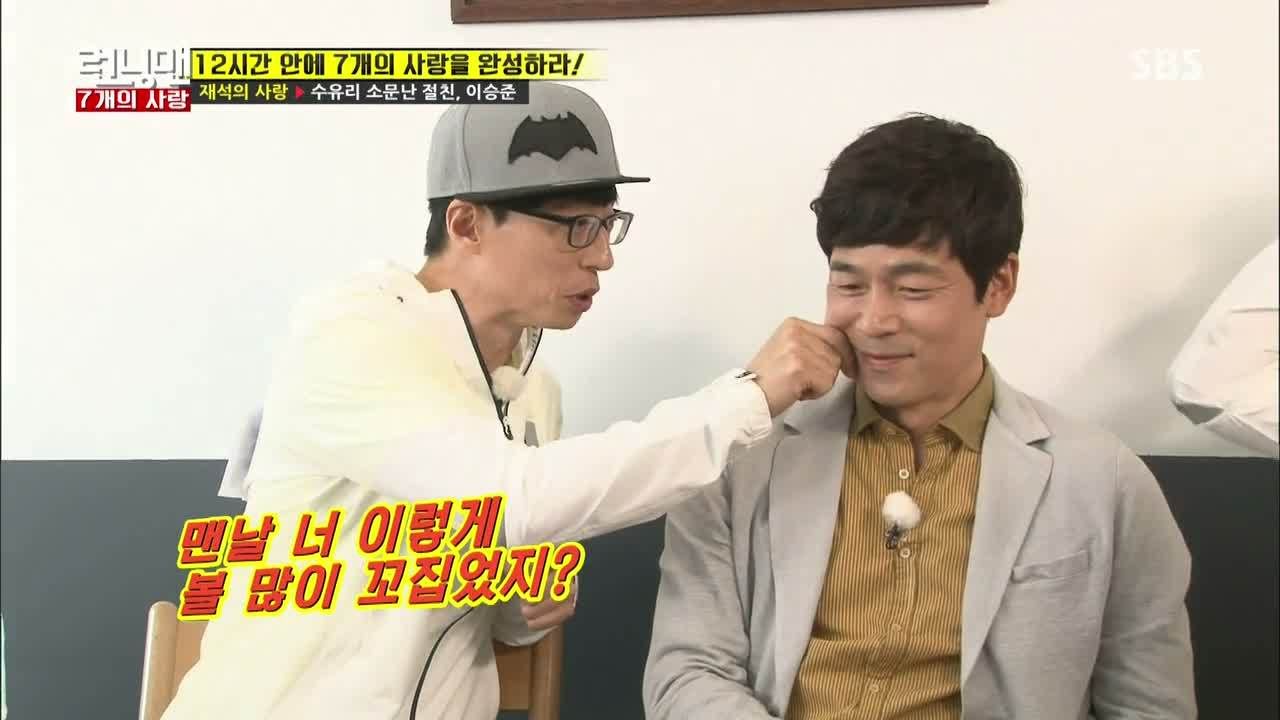 Seung-joon still feels bad about it now, and he apologizes. However he'd like to point out that he has no recollection of Jae-suk hitting him back then. Jae-suk has a funny story to share too: a group of bullies had approached him while his friend had gone out for ice cream. That friend had stopped in his tracks when he'd returned, then left again.
So naturally Jae-suk had thought he'd gone to the police, but then that friend came back… with even more ice cream. LOL.
Seung-joon doesn't miss an opportunity to reveal more of Jae-suk's past upon mention of how they used to prank call another classmate. Jae-suk used to call at 2 AM claiming to be a radio show host, and his buddies found it hilarious.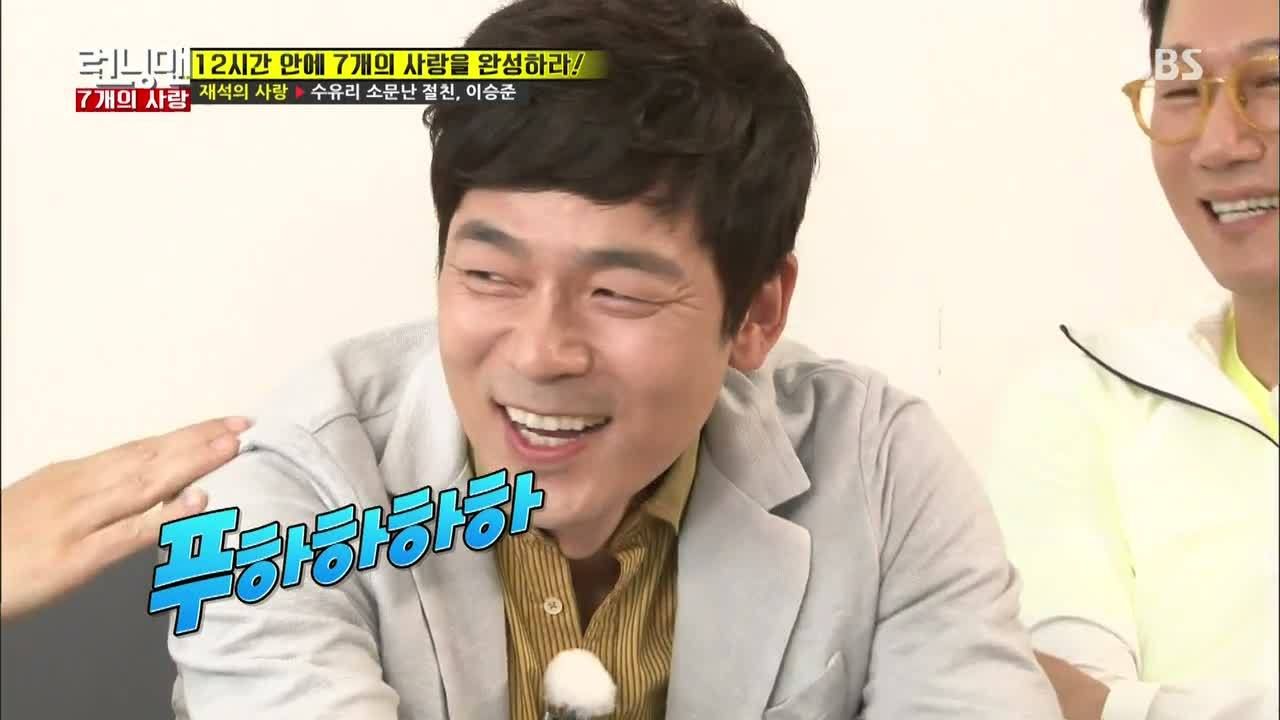 Both Jae-suk and Seung-joon admit that they drifted apart in college, but Seung-joon disagrees that the acting department were ever rivals with Jae-suk's department.
They take a walk down memory lane with a pop quiz about their past, but then Jae-suk stumbles on the last question: What's the name of Seung-joon's character on Descended From the Sun? He knows it's "Doctor Song (Sang-hyun)", which is an acceptable answer.
Seung-joon is given a locket that contains a picture of them both, and the old friends part ways with a hug.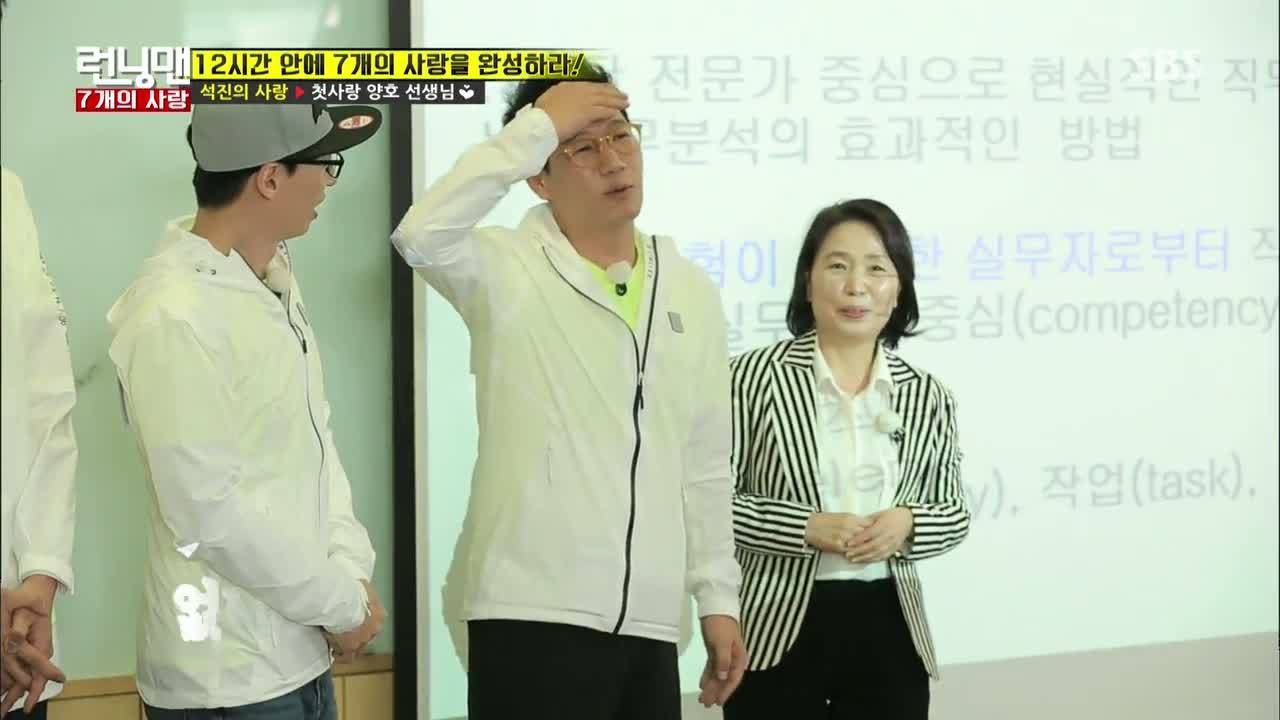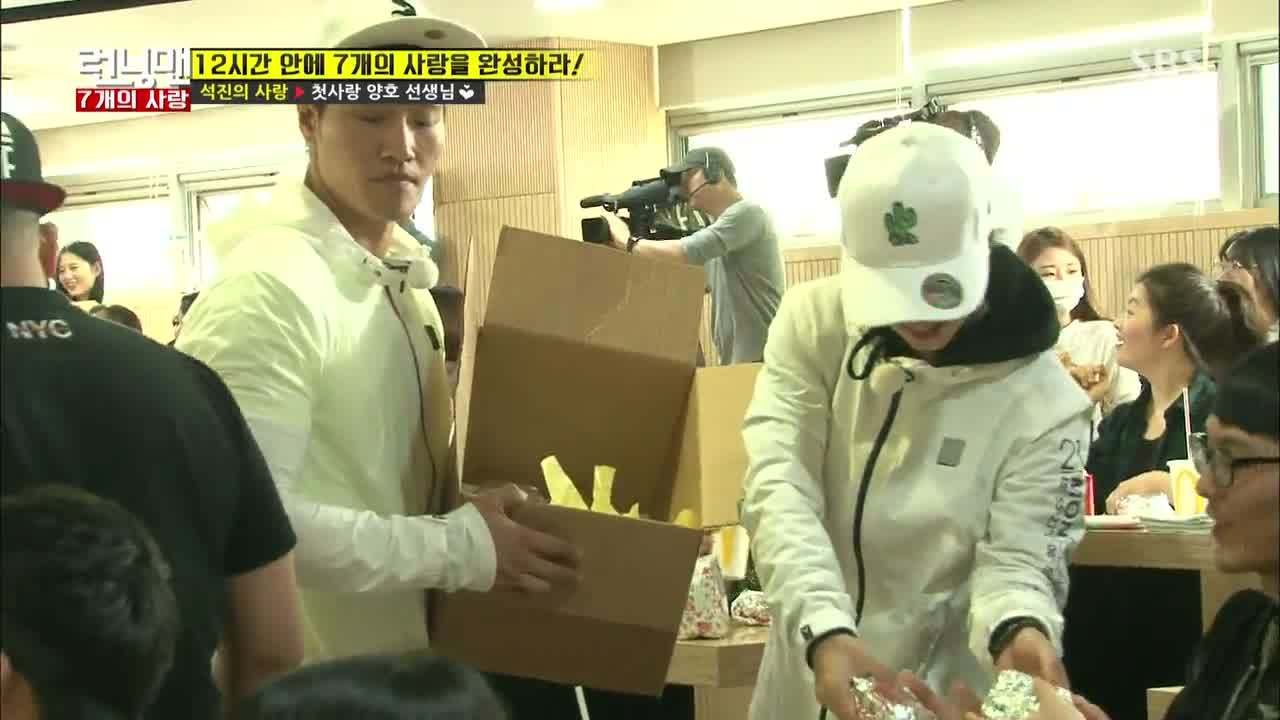 Hanging out with Seung-joon shaved off a good 2.5 hours, so now they're headed off to meet Suk-jin's childhood crush: the school nurse from junior high. She's a college professor now, and his face reddens to see her again.
Asked if she remembers Suk-jin, she hesitates. She says there were a lot of students who faked being sick back then, and Jae-suk notes how awkward it sounds when the professor calls Suk-jin "our Suk-jin".
Suk-jin's mission is to treat the whole class to lunch, and he presents his childhood crush with a locket.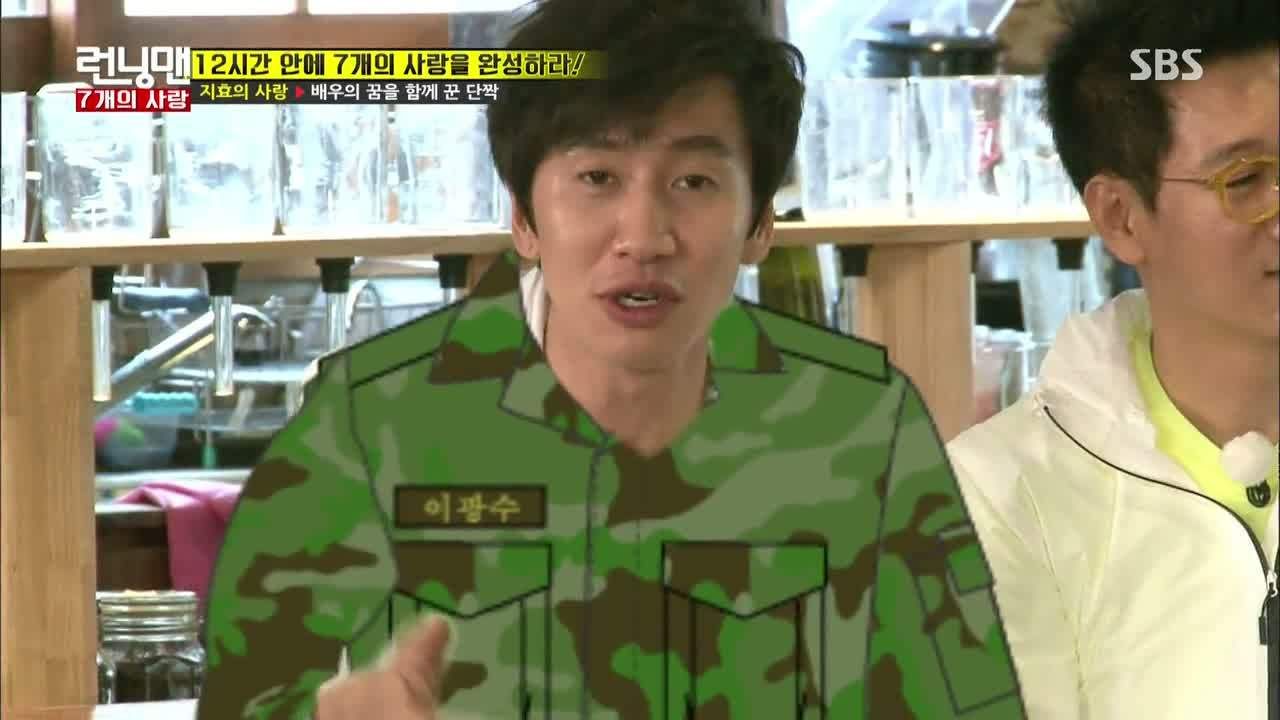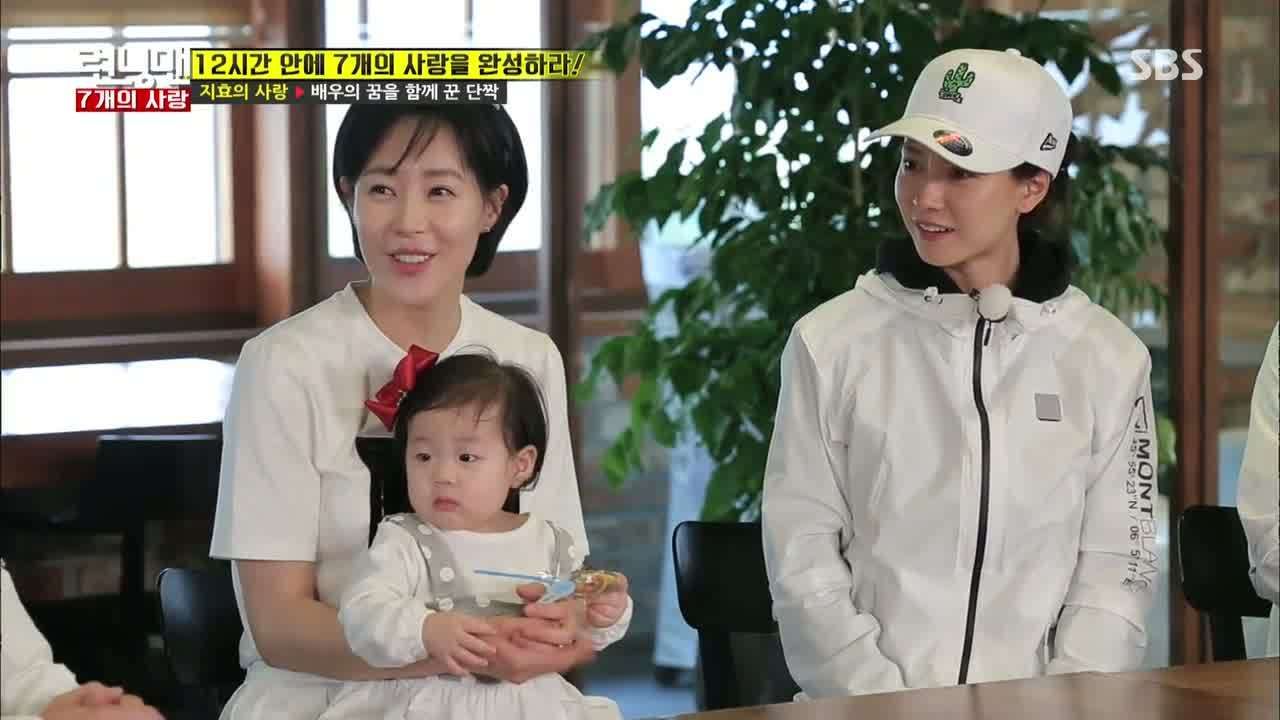 Next is Ji-hyo, who lights up to see her friend Chae Young-in arrive with her infant daughter. As an actress in Damo and Temptation of Wife, she also appeared in X-Man. However, Kwang-soo knows her from her girl group days in Red Sox, whom he followed during his military service.
Young-in still vaguely remembers the lyrics and moves from "Sweet Dream", then shares how she and Ji-hyo would talk about boys back then. That makes Ji-hyo flustered, and Jae-suk says that's exactly how he felt earlier.
She says Ji-hyo's boyfriend back then was a celebrity, but doesn't share any other clues. Their mission here is an elaborate one that involves completing a series of tasks within 100 seconds.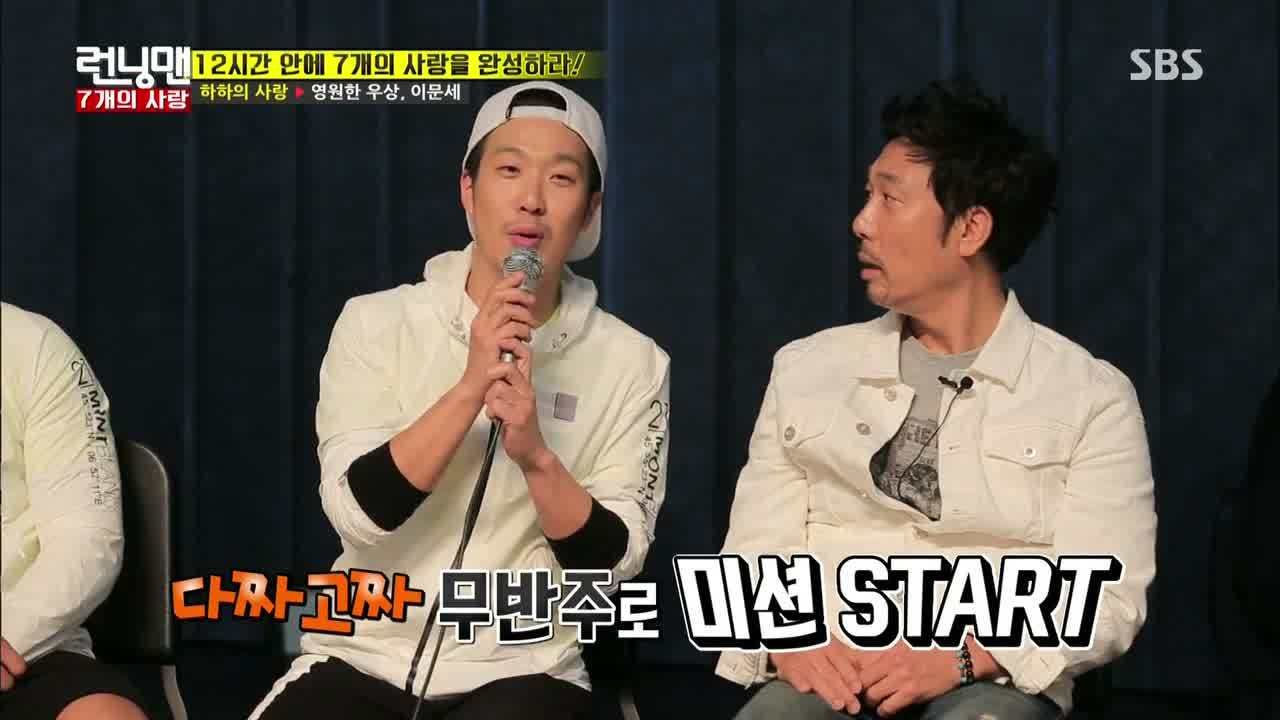 It starts off with reenacting a scene from Temptation of Wife and Young-in screaming Ji-hyo's given name (Chun Sung-im) to hit way past 120 dB: 137.8 dB. Then Kwang-soo removes the post-its from his face using only his facial muscles, and then he bounces a ball he and Ji-hyo must catch together. The first time's a dud, but they get it the second time and succeed.
Haha doesn't know who his person is, but they arrive at a theatre to meet singer Lee Moon-sae. The singer thought Haha would be coming alone today, then shares how Haha was a surprise guest at his album showcase last year.
He's happy to see the cast, and the mission here is to hear a specific compliment from Moon-sae ("Wow, you sing really well."). Haha sings the song "Girl", only to get his mic stolen by Jae-suk, and Suk-jin steals the mic from him.
They choose a different song "Old Love", but when Moon-sae isn't impressed by the singing, Haha says they have to get going. Moon-sae: "I haven't been on TV in a year!"
After getting to hear a bit of the singer's voice, it's off to Anyang to see Jong-kook's mother, Jo Hye-sun. She's hoping her son would get married soon, and her top requirement would be that her future daughter-in-law would be a good cook (but would need to fix breakfast at 3 AM to work around Jong-kook's schedule).
The cast can't believe that Jong-kook would ever be like a daughter to a family of all sons. She shares how Jong-kook would pack two lunches to make sure a fellow classmate would get to eat, an endearing story none of them can truly believe.
They have four and a half hours remaining, and Jong-kook's mission is to cook a meal and write a handwritten letter for his mother. Meanwhile in the living room, Jong-kook's mother says she's gotten so impatient that she would be okay if her son gave her grandchildren first before marriage.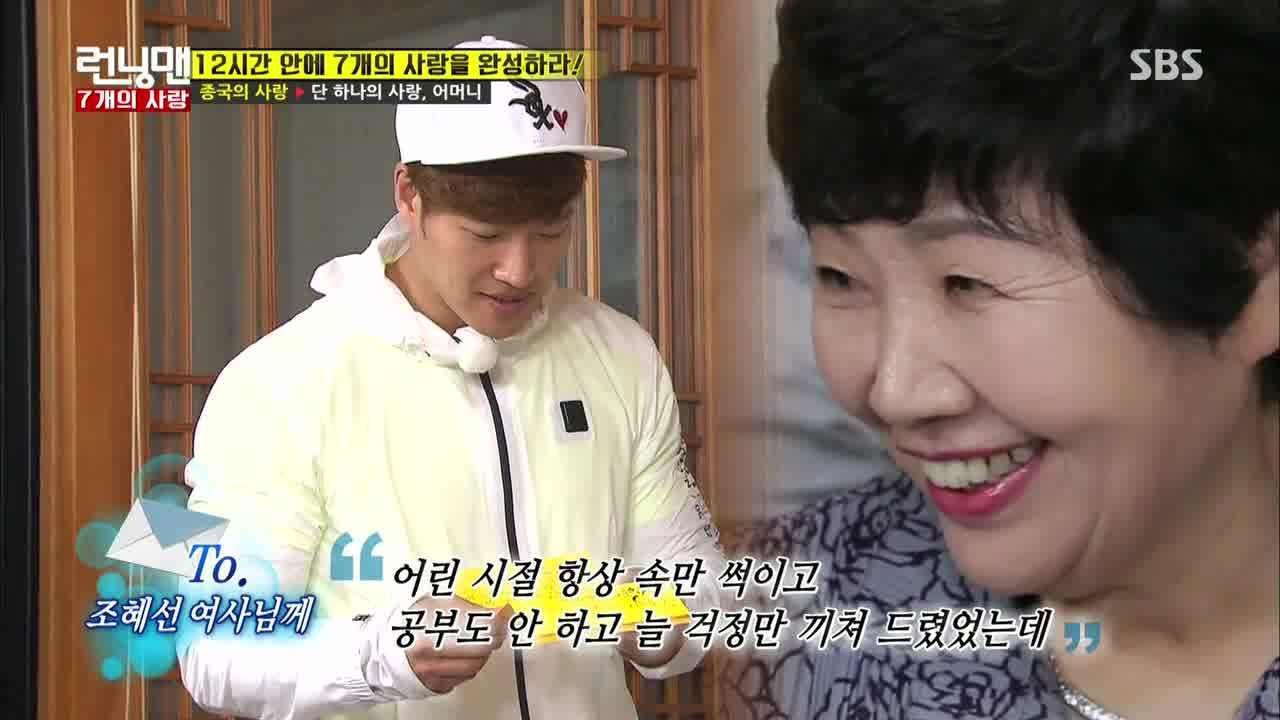 She laughs warmly at her sons leading successful lives, and Suk-jin notes how she's always smiling. In the kitchen, Jong-kook prepares samgyetang for his mother, then writes her a letter.
He reads said letter to her aloud after she tries his dish; it's heartfelt and full of love, and now I'm about to cry.
With barely two hours remaining, the cast is then headed off to meet Kwang-soo's first love. He says it would be 25 years since they last saw each other, and calls her up. When he explains who he is, she responds with his childhood nickname: "Oh, King Kong?"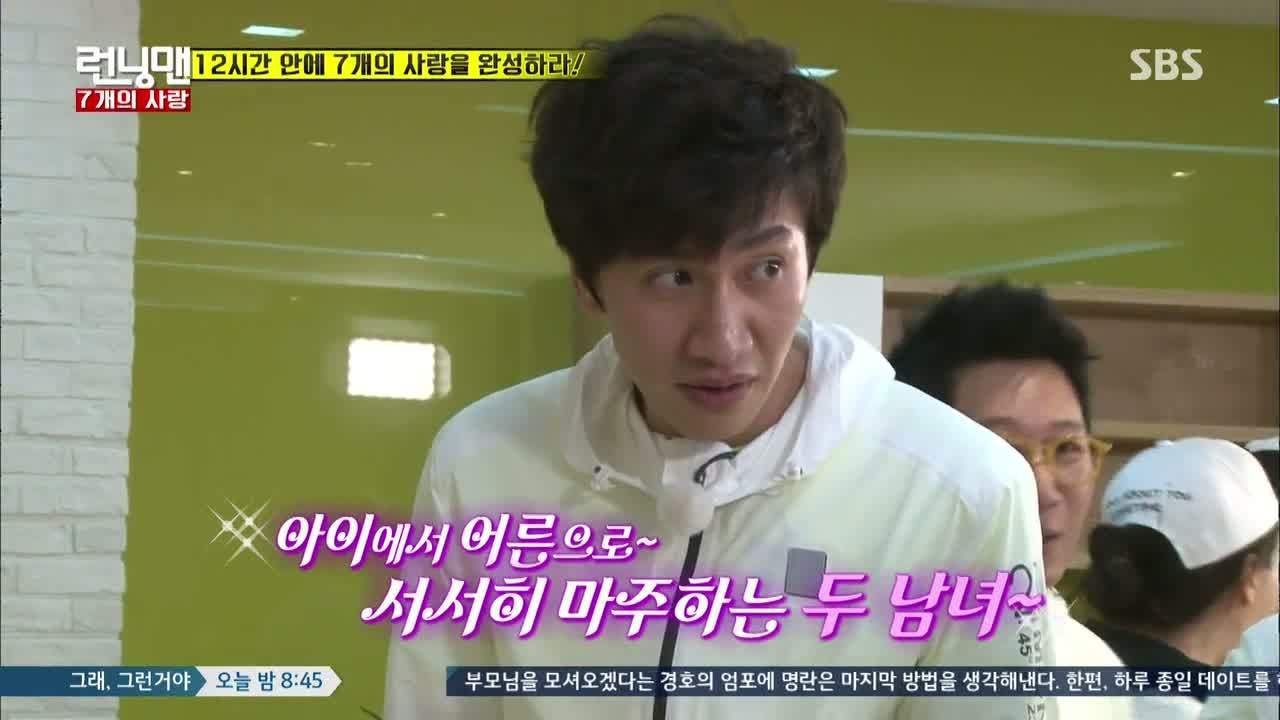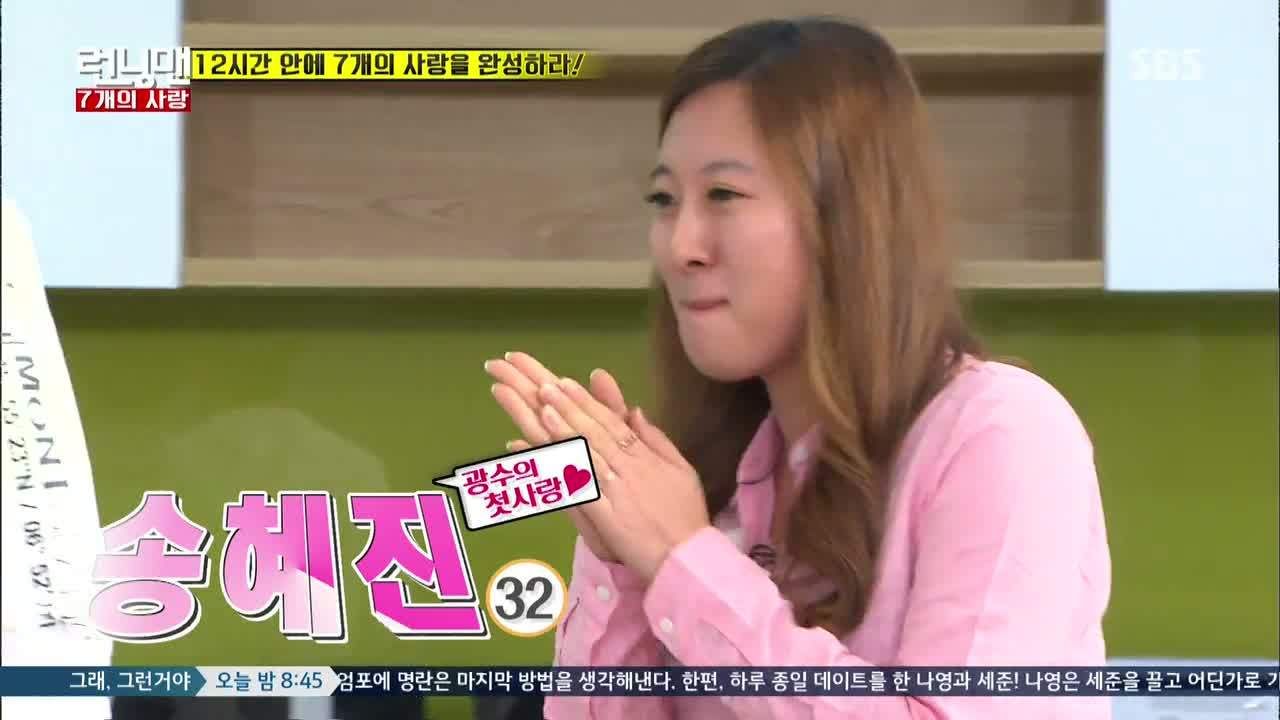 She coolly acknowledges that she'd be Kwang-soo's first love, and they're off to meet her: Song Hye-jin. Kwang-soo has his back turned when she walks in, though acknowledges that her voice hasn't changed one bit.
He turns… and they both burst out laughing. Yeah, it's awkward. He goes to pat her head, and she backs away. The wall between them breaks down when they talk about their childhood days—she admits she was popular, but he wasn't.
Hye-jin also remembers beating up the kids who bullied her friend, and Kwang-soo recalls their first kiss: they'd been looking out the window and she kissed his cheek. Hitting him, she vehemently denies it. LOL.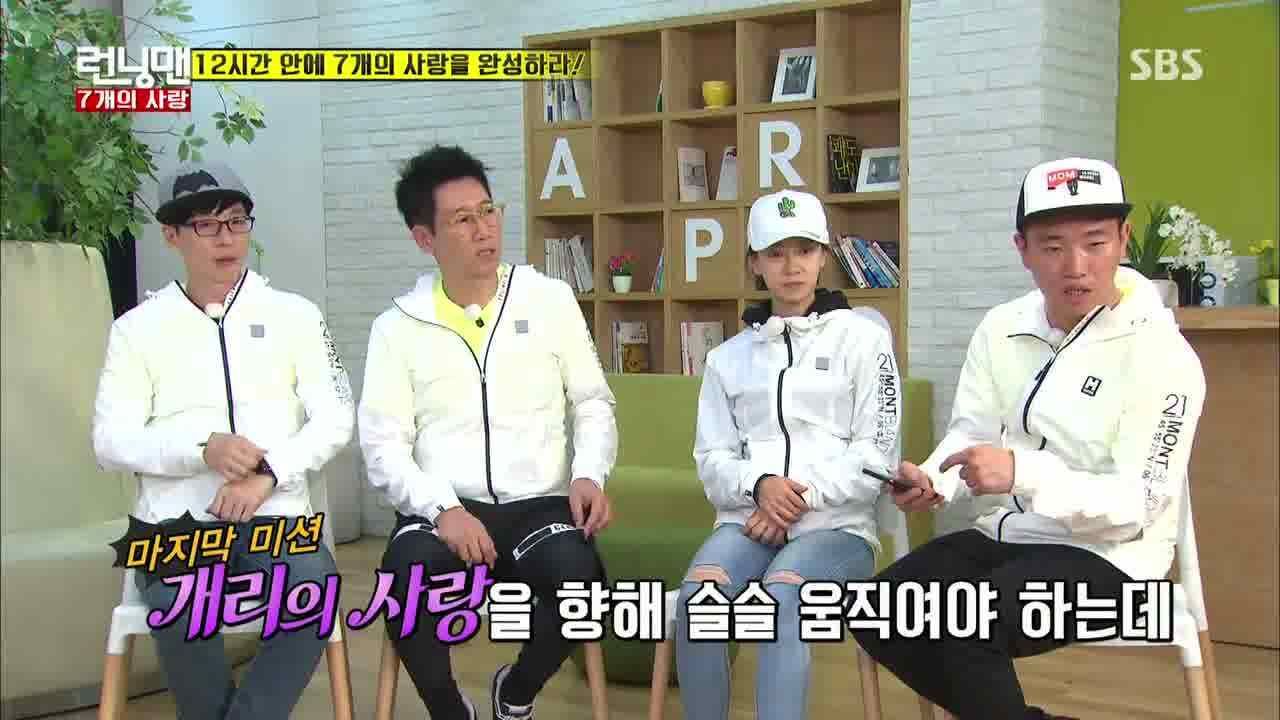 Jae-suk asks if Hye-jin is seeing anyone nowadays… and she says she's married. When asked in what year, she says " '14" which the cast initially misinterprets as 14 years ago. Kwang-soo has nothing but best wishes for his first love who's now a married woman.
Hye-jin is asked for her insight on what kind of woman Kwang-soo should be with, and she says someone who's good to his parents. Haha points out the tears in her eyes as she said that, and Gary jokes that those are tears of regret.
As Kwang-soo walks Hye-jin home, the others hurry to meet the special someone in Gary's life. They text Kwang-soo to meet them there, and he gets there before they do with 20 minutes left on the clock.
That someone is singer Yoon Gun, who will make coffee for everyone while Gary runs out to buy snacks. He runs to the convenience store and buys everything but the chips Yoon Gun wanted.
He runs to another store for those, then runs back to the cafe… with three minutes remaining. Now they can freely talk about how Yoon Gun helped Gary out with side jobs and featurettes, and how Yoon Gun gave him a melody in return.
It may have been a whirlwind of a day visiting these special people in our cast's lives and reminiscing about the past. One can only hope that the future will be filled with even greater memories.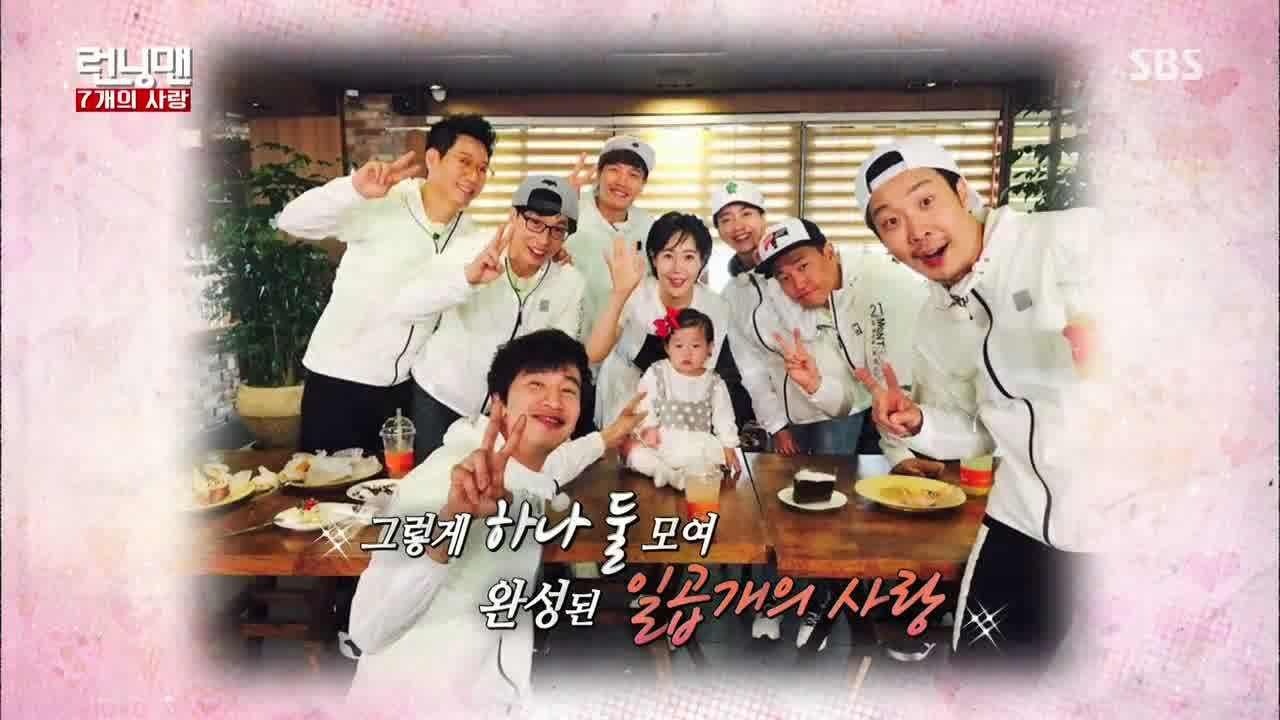 RELATED POSTS
Tags: featured, Haha, Ji Suk-jin, Kang Gary, Kim Jong-kook, Lee Kwang-soo, Running Man, Song Ji-hyo, Yoo Jae-suk