Vampire Detective: Episode 3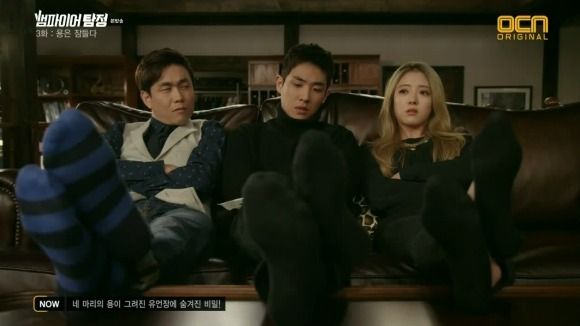 Now that San is a part of the undead, he must use the most important instrument at his disposal for this week's case: his brain. When a mobster passes away and leaves his children to figure out a puzzling will, it'll be up to our private investigation team to dig for answers. And while a battle for inheritance threatens to break up a family, Vampire Detective reminds us that there are some bonds in this dramaverse that are thicker than blood.
SONG OF THE DAY
DAY6 – "Blood" [ Download ]
Audio clip: Adobe Flash Player (version 9 or above) is required to play this audio clip. Download the latest version here. You also need to have JavaScript enabled in your browser.
EPISODE 3: "The Dragon Sleeps"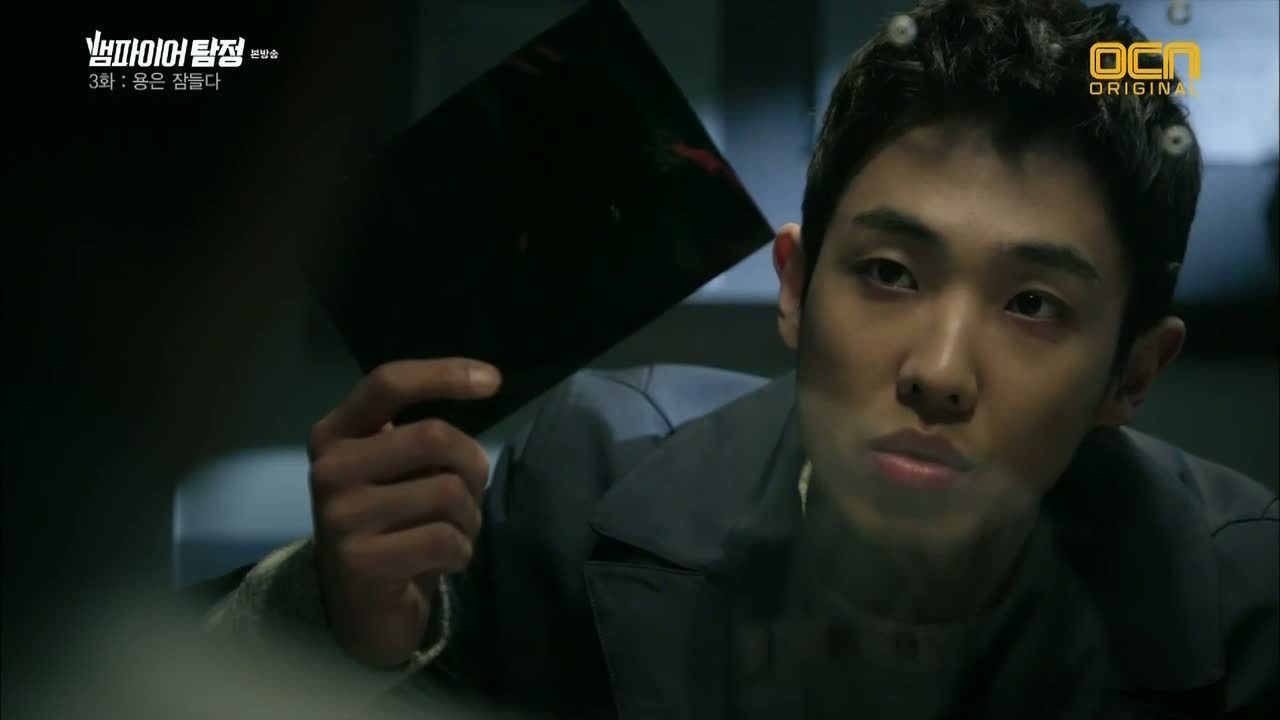 In his search to find out who the mystery woman is, San pays a visit to Jung Ji-woong in prison, who eyes him dubiously. His face falls upon seeing the obscured photo and draws near, asking: "Who are you?"
San says he's a dog sniffing for clues at present, but he could be something more depending on the answer. And to that, Jung describes the woman as the devil incarnate and warns San from digging any further.
"Jung Yoo-jin," San snarls. "It's her, isn't it?" But the inmate simply smirks and leaves.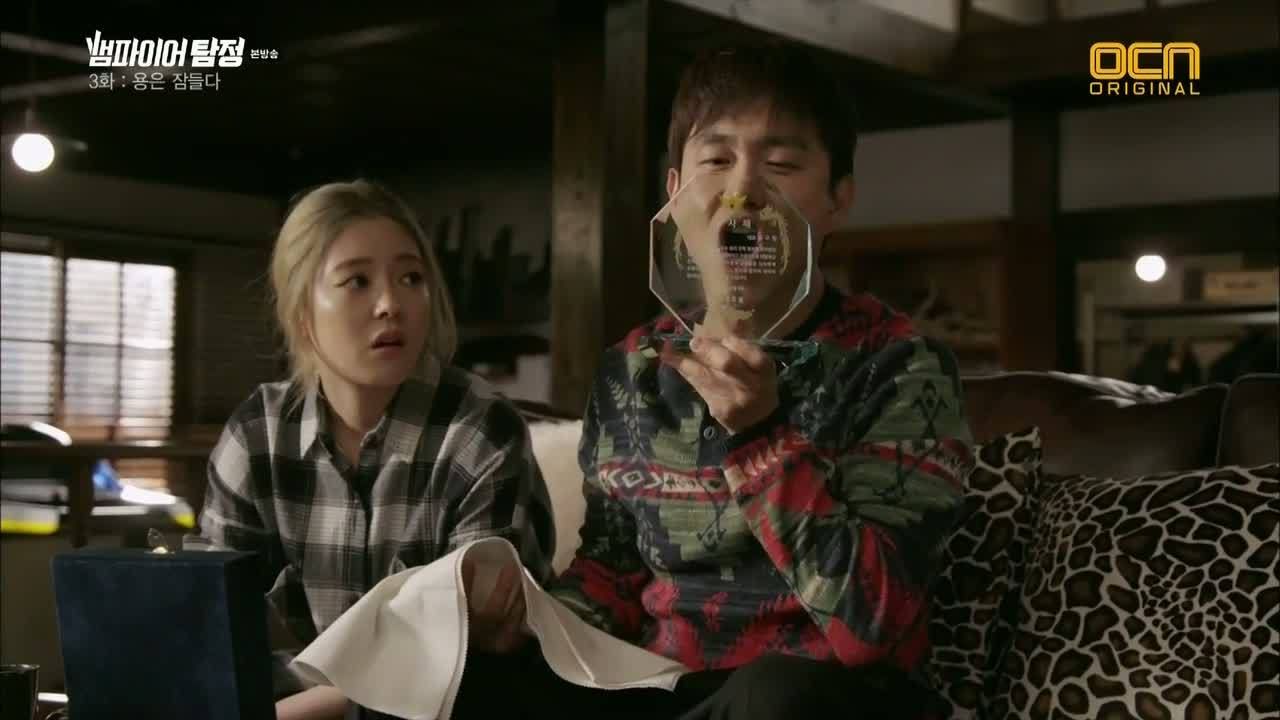 At a hospital, CHOI SUN-YOUNG flashes at her police badge to a group of suits. She's still denied entry into the hospital room, however, until a man steps out to invite her in and join her brothers.
She's told that her father died moments ago, then she takes a beat before saying she has no business here then. Except that her father has left something behind for his children.
Over at HQ, Gu-hyung is the only one excited about the award given to their team whereas Gyeo-wool would rather have a monetary award. She wonders if San was out investigating what happened to her oppa, adding that she should be kept in the loop.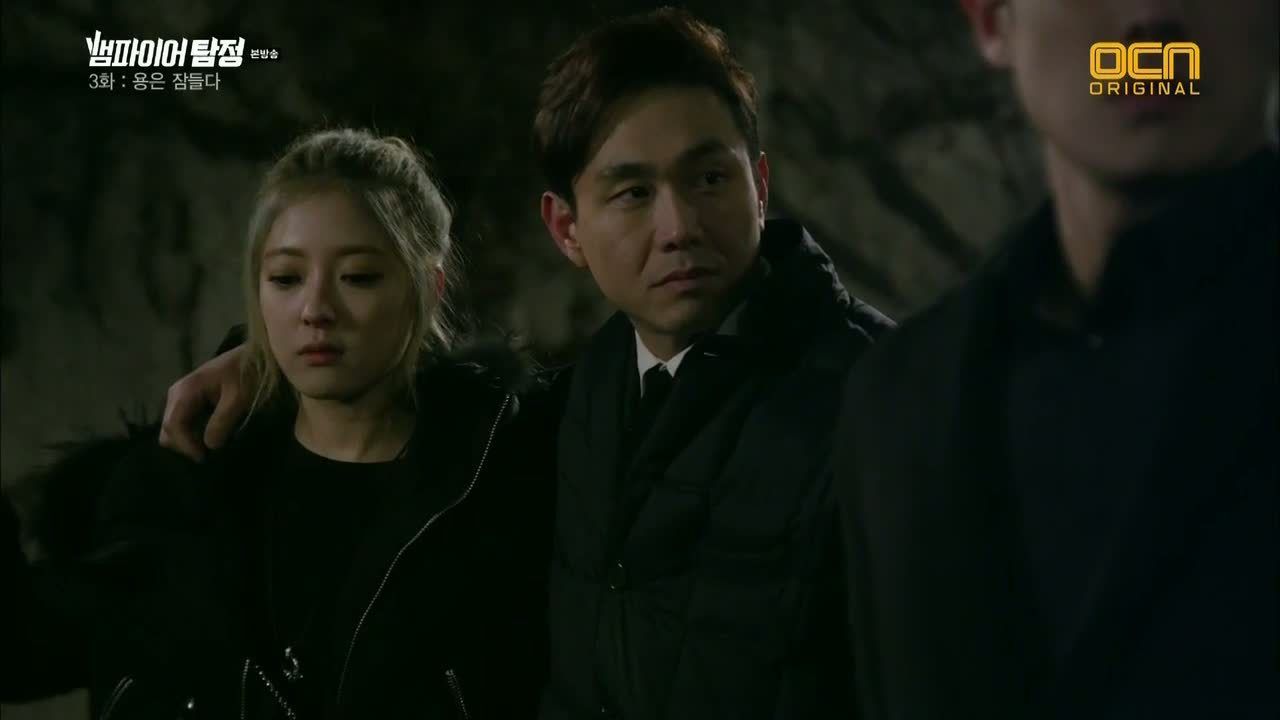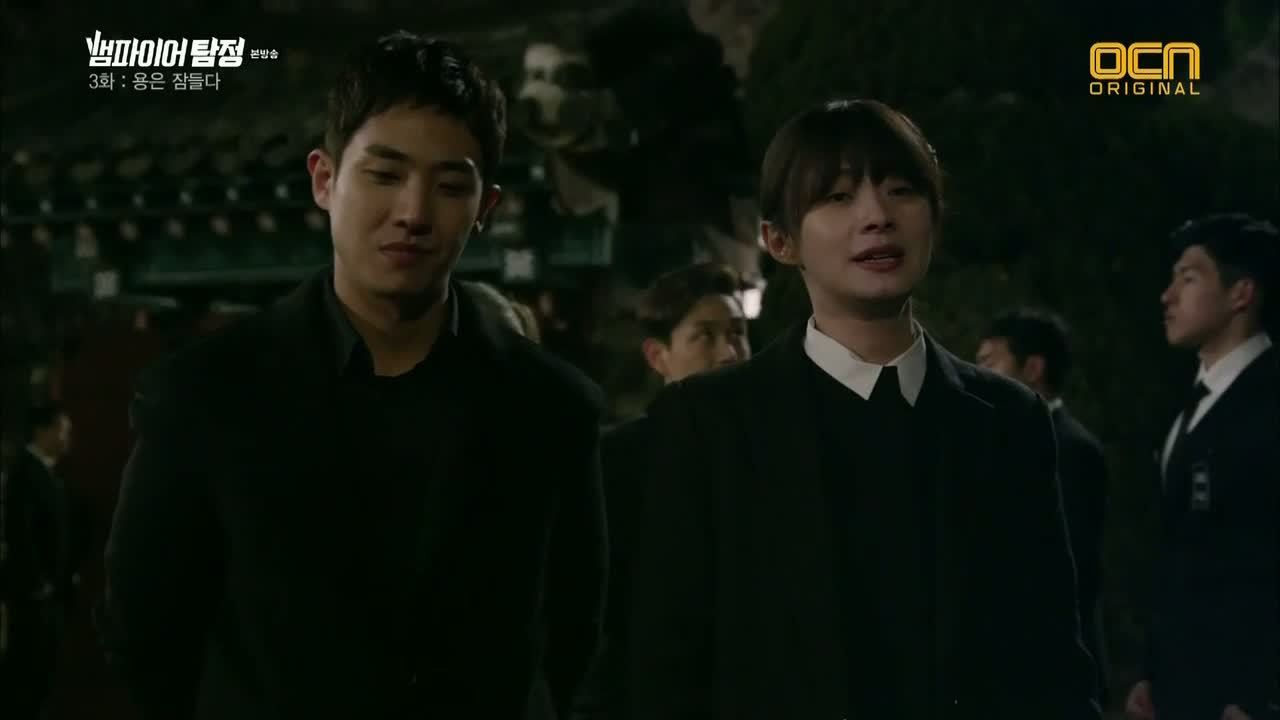 But right now, the team is called to the Sun-young's father's funeral. Gu-hyung chuckles when he stumbles upon the conclusion that the deceased was a mob boss who was estranged from his daughter.
They're met with a prickly welcome; Gyeo-wool's sharp tongue gets a gangster riled up, and San blocks the oncoming punch. He doesn't let go, crunching the guy's arm and kicking him down until Sun-young arrives to break it up and greet her guests. Ha, I love how Gyeo-wool plucks the arm Gu-hyung has off of her shoulder.
Sun-young is San's hoobae from the police university, and when she introduces her brothers, it's apparent that they aren't quite bright. When the eldest oppa asks if being a detective is an actual career, the younger one scoffs that detectives have been around since the Joseon era. "Haven't you seen the movie Detective K?" HA.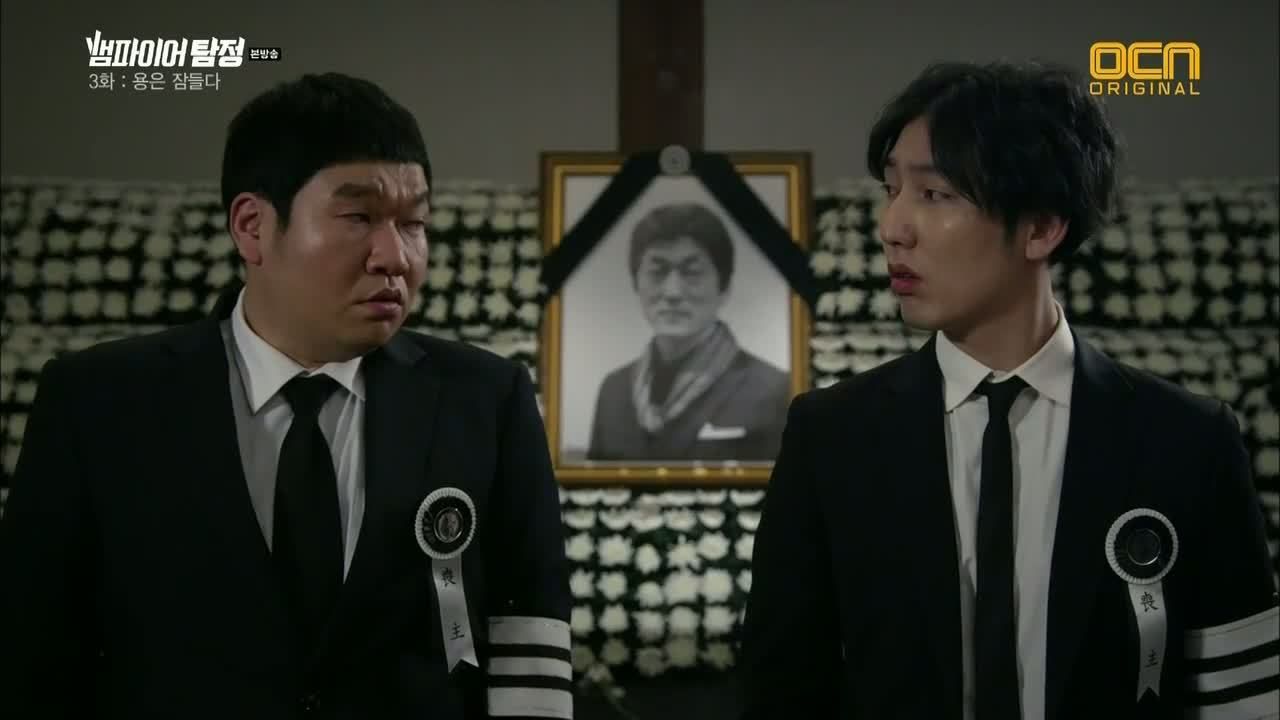 The man at the hospital is introduced as Attorney KANG SE-HO, who hands over the late Boss Choi's peculiar will: an ink illustration of four dragons. Sun-young has called San and his P.I. team in because they can't figure it out, though both oppas think the will is about them alone.
We only get a glimpse of younger oppa Chul-woo's tattoo, and Sun-young purses her lips as her brothers get worked up over any trivial matter.
Sun-young later explains that her father painted an illustration of a dragon when each of his children were born. He had exceptional natural talent, and she believes that the fourth dragon represents her father.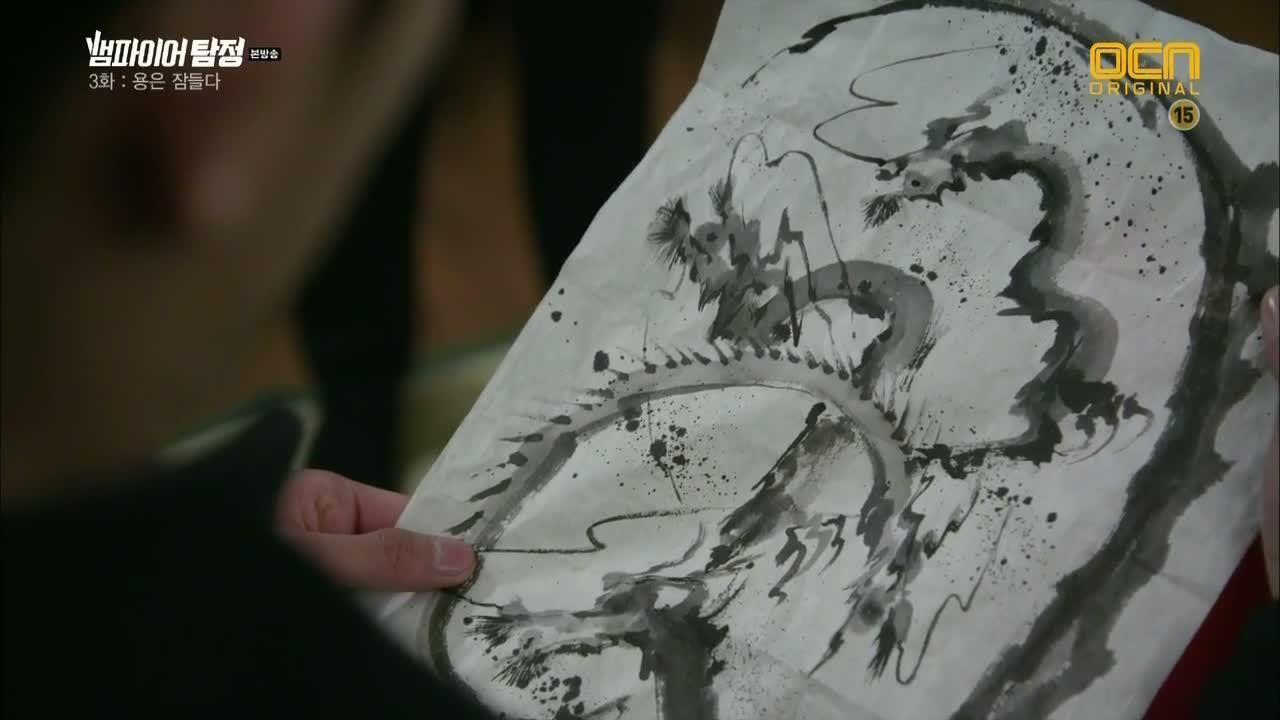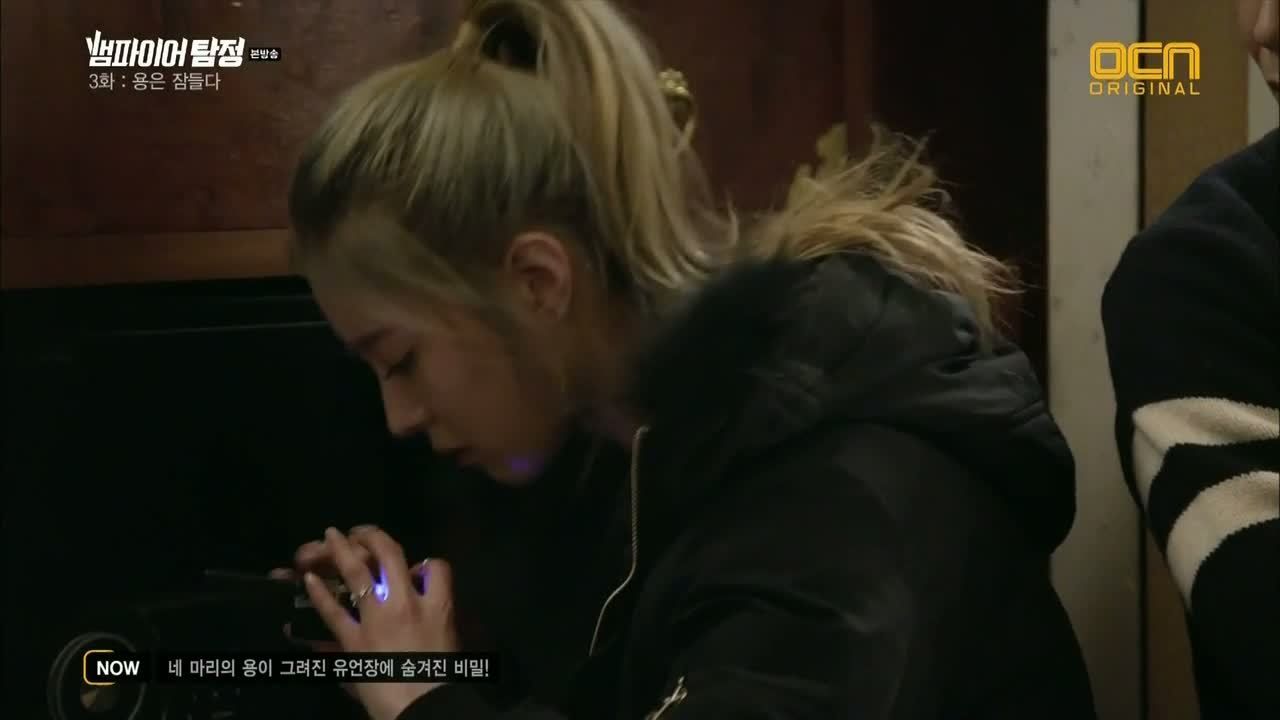 Furthermore, she thinks it's a clue to the passcode on her father's safe which likely contains the true will. Asked why he would go to such lengths, she explains that a mobster's life is always shrouded in secrecy. She cut ties with her father once she found out what he did for a living and chose to become a cop because it was a secure job.
Her father probably thought the best way to protect his loved ones was by taking his secret to the grave. "Point someone one way and run in the opposite direction," she muses—that was his modus operandi.
As the resident hacker Gyeo-wool steps up to the plate, but she backs off, saying there's a booby trap. This is no surprise to Sun-young, as she and Gyeo-wool explain that the contents will self-destruct after ten failed attempts.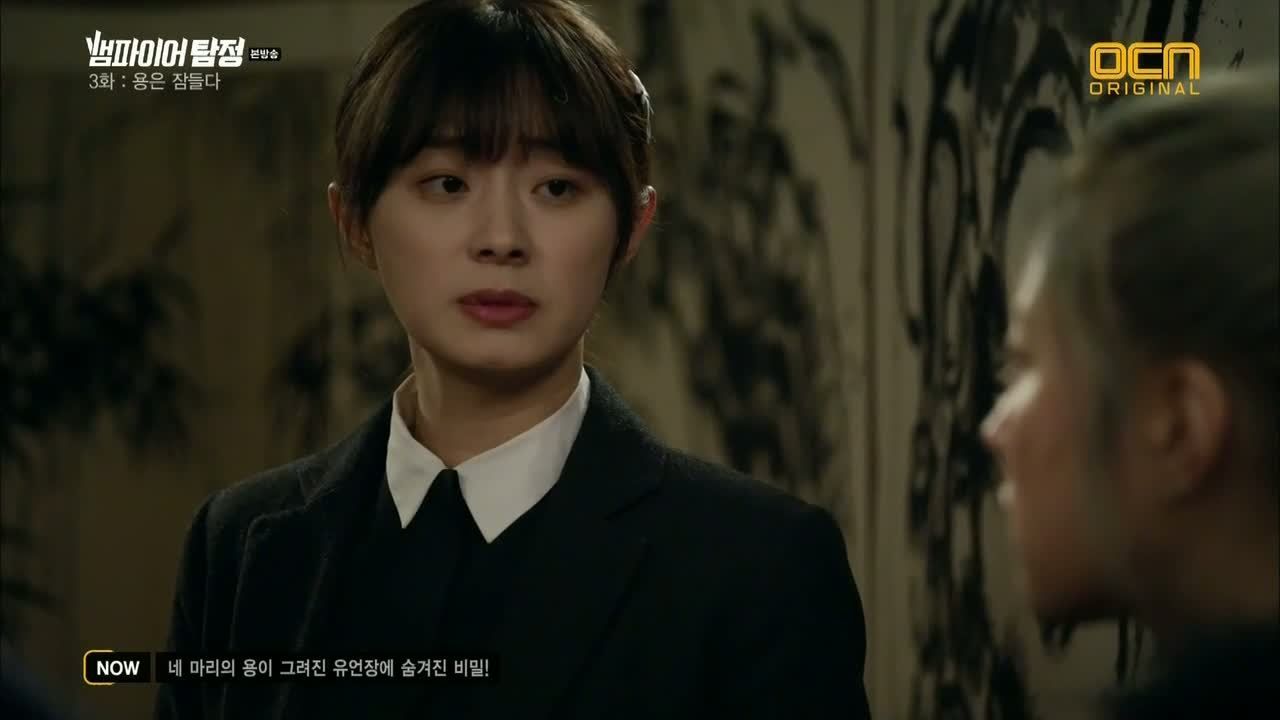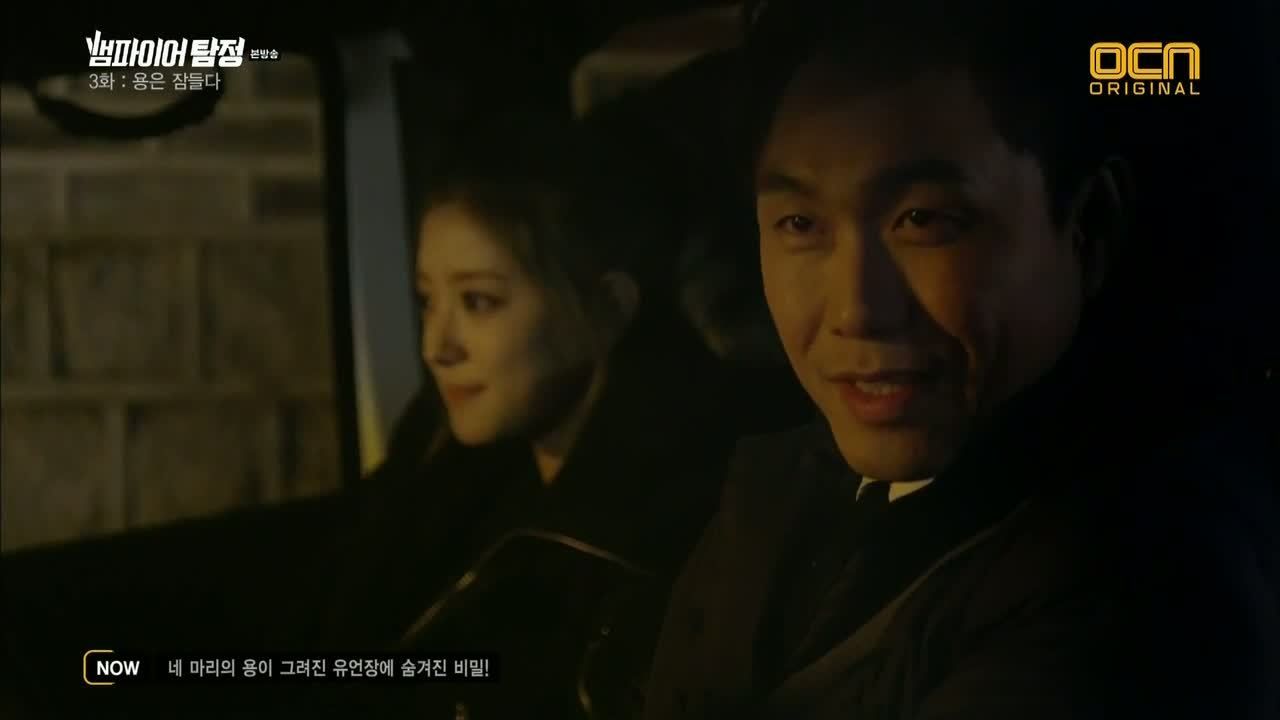 And because Sun-young has faced seven failed attempts, the team only has three tries remaining. In the car, Gyeo-wool chuckles at how Gu-hyung admires Sun-young's beauty. She asks if the reason why San isn't a cop anymore has to do with a woman, to which Gu-hyung gives a vague answer.
When San asks why Sun-young came to him instead of the police, she replies that she has no real interest in her father's will, but she had to tread with caution since she comes from a mobster family. She allows San to take the illustration for the time being, and asks that the investigation be over by the end of the mourning period.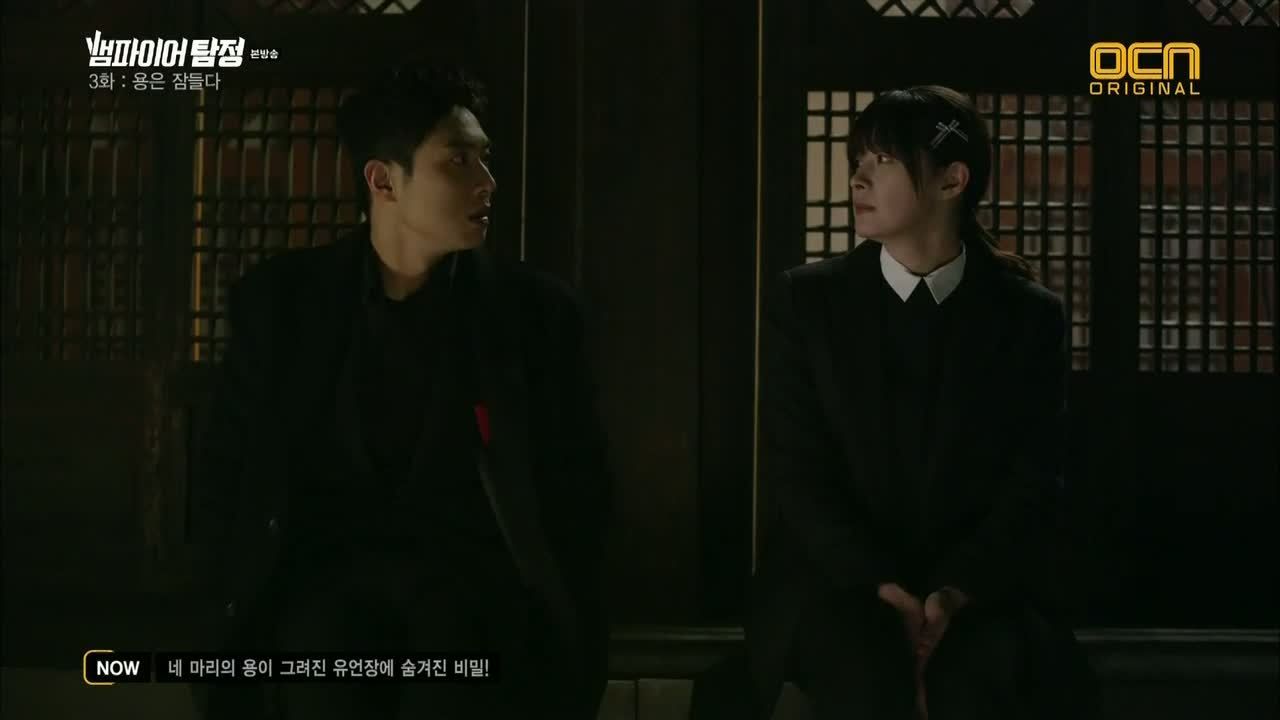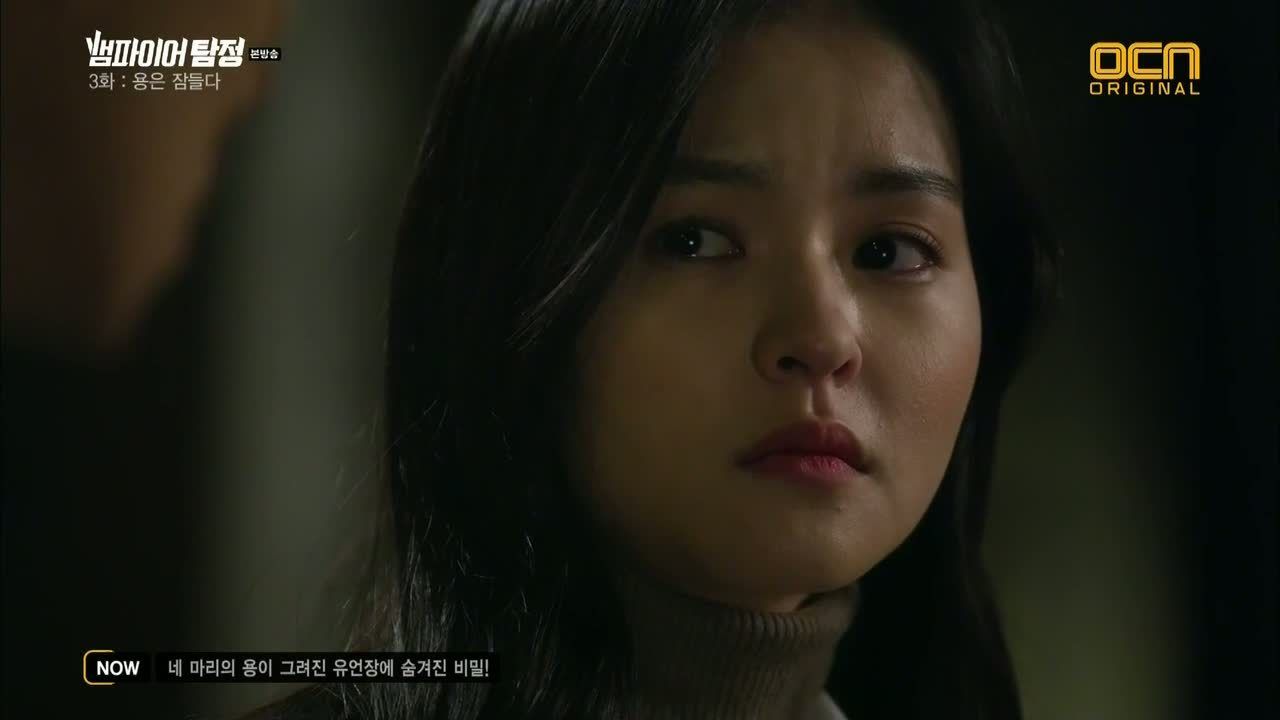 With a heavy heart, Sun-young asks if San still hasn't gotten over Tae-woo and Yoo-jin. She apologizes for not being able to help in any way, adding that everyone had hoped San would eventually move on. San says he's doing fine, and as Sun-young says she's sorry…
… she momentarily transforms into Yoo-jin before his eyes. "Sorry," Dream Yoo-jin tearfully tells him. Dude, I think we should take these hallucinations as a serious concern.
Once they're alone, Sun-young describes San as a friend she can trust and someone who can make the impossible possible. She says her father wasn't as lucky because he couldn't trust his closest friends, to which Attorney Kang replies that he had children he could trust instead.
Gyeo-wool scours Boss Choi's accounts for anything he might use as a passcode. She doesn't find anything, so she asks what the other attempts were. Those included birth dates and phone numbers, and Gyeo-wool asks if they actually believe those mobsters will leave them be even if they successfully crack that safe.
San guesses that the late Boss Choi must've held the idea of a dragon dear to his heart. Upon learning that the mobster's birthplace was Incheon Chinatown, the three head down to a restaurant Boss Choi used to work at called the "Black Dragon".
And lo and behold, hanging in the dining room is a grand ink illustration of a dragon.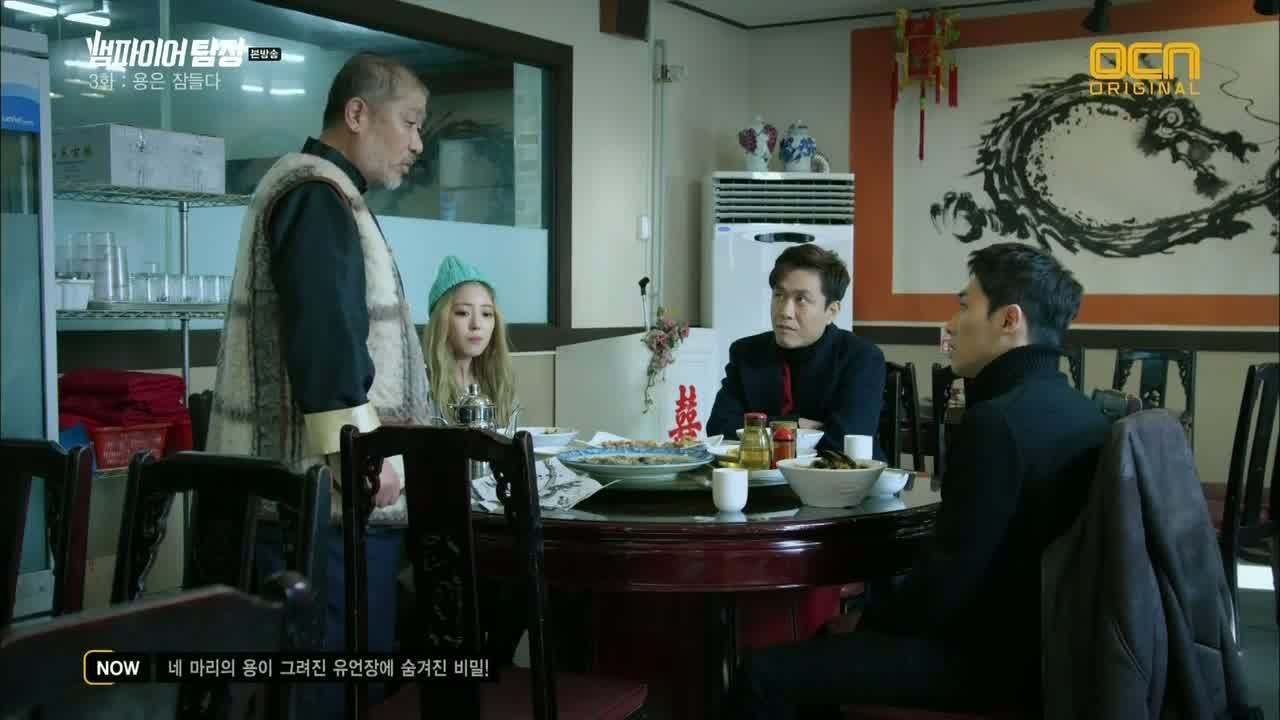 Over in prison, Jung Ji-woong warns the attorney sent by the mystery woman that they better find a way to get him out of here soon. He hints that someone else paid him a visit, and that he won't stay silent forever.
Our private eye trio sit down for lunch—again, San doesn't eat, but he does show the restaurant owner the illustration. The elderly man instantly recognizes Boss Choi's work and describes him as a popular man who helped him boost business and whose name was well-known.
Boss Choi's name alone is a touchy subject around these parts, so it's in their best interests to quietly leave once they finish their meal. Even when they leave, San is sure that there's a clue within the restaurant and then looks back to see a shifty-looking employee.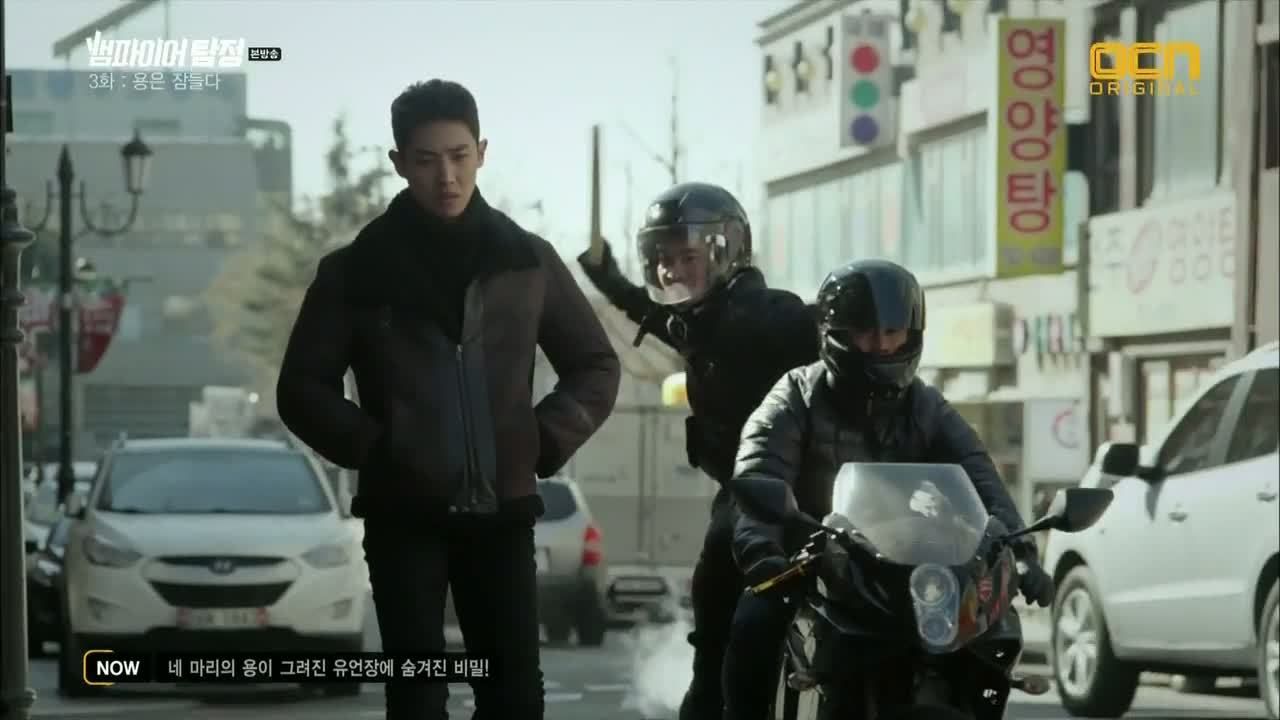 He doesn't think much of it, but he barely takes a few steps from the restaurant when a pair of guys approach on a motorcycle and one guy hits him with a wooden plank. San collapses and while his attacker searches his pockets, San's eyes fly open again.
The attacker grabs a knife, but San swiftly pins him into the ground. He doesn't get much of an answer from him, but he does spot a sword-like tattoo on his wrist before he hears sirens wailing in the distance.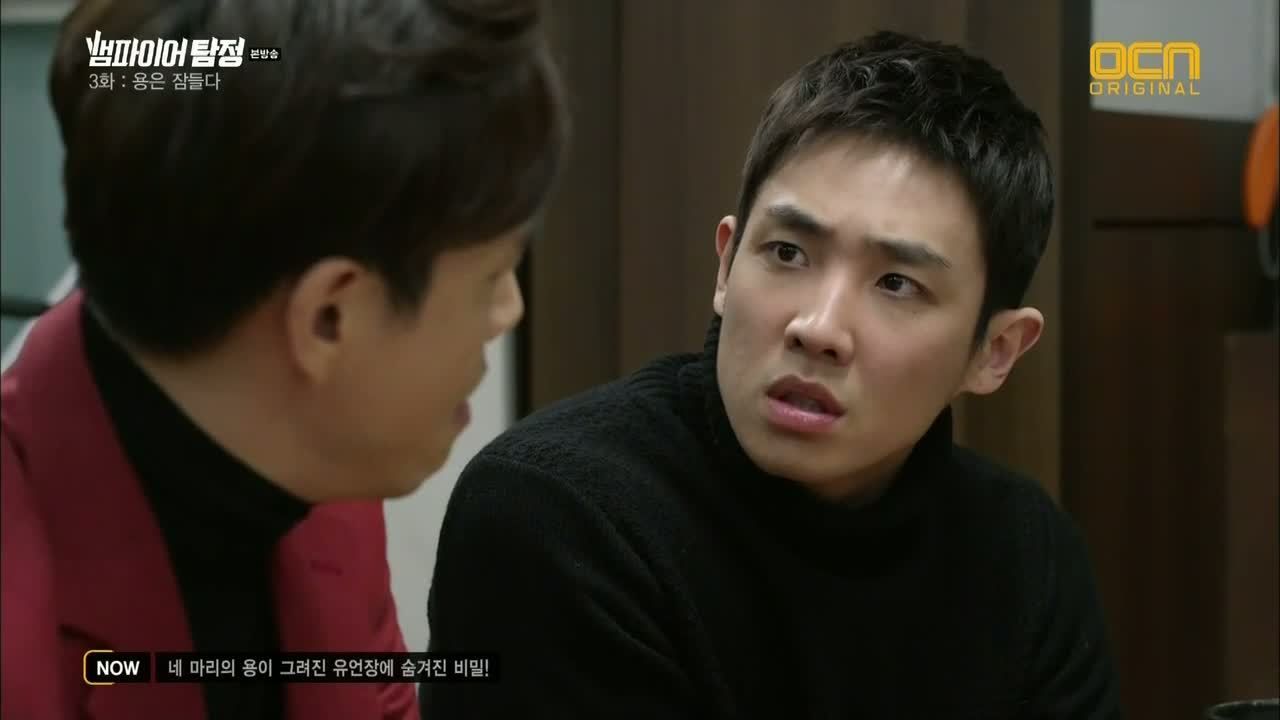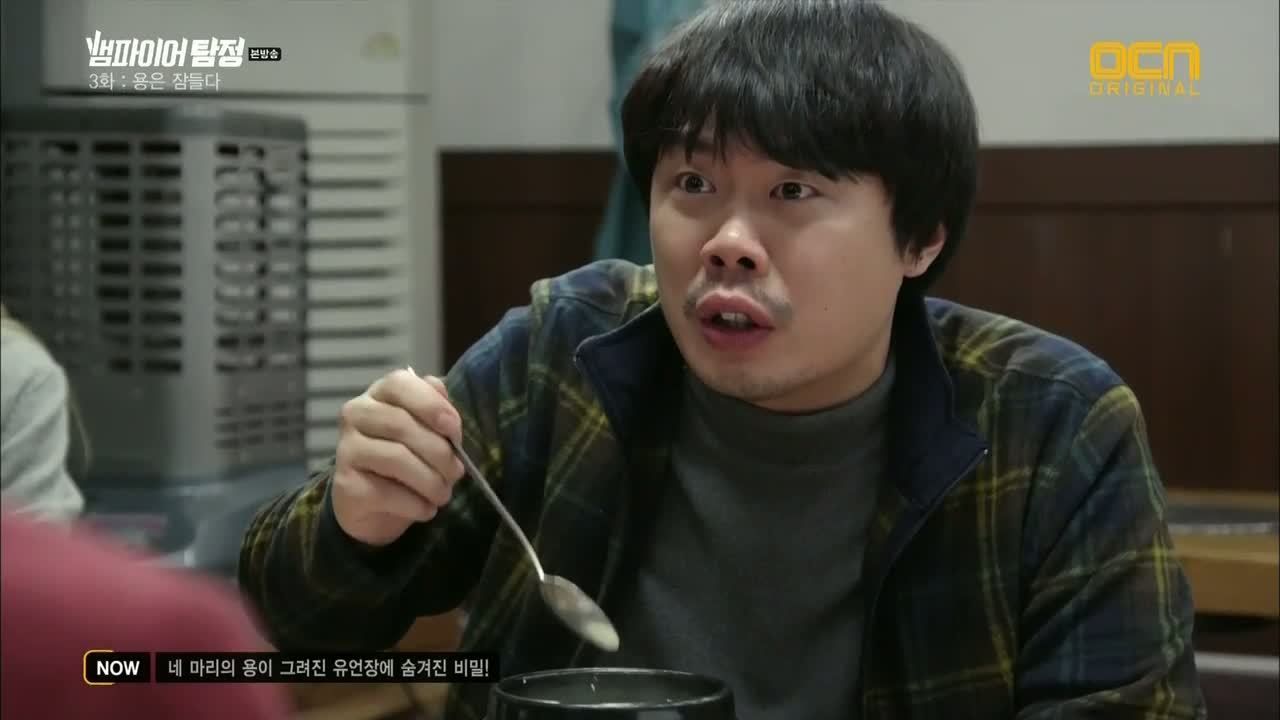 Detective Park gets him out of trouble with the police, so San agrees to buy him a meal to thank him. That gives the team an opportunity to ask about San's attackers, whom the detective says were Chinese sojourners who illegally crossed the border.
San entertains the idea that Boss Choi could've had an active group in Incheon—though frankly he's taken everyone's ideas into consideration in this case—but he's still fixated on the wrist tattoo. Detective Park quickly dismisses the idea that it belongs to some prison gang before telling his silent neighbors to eat up.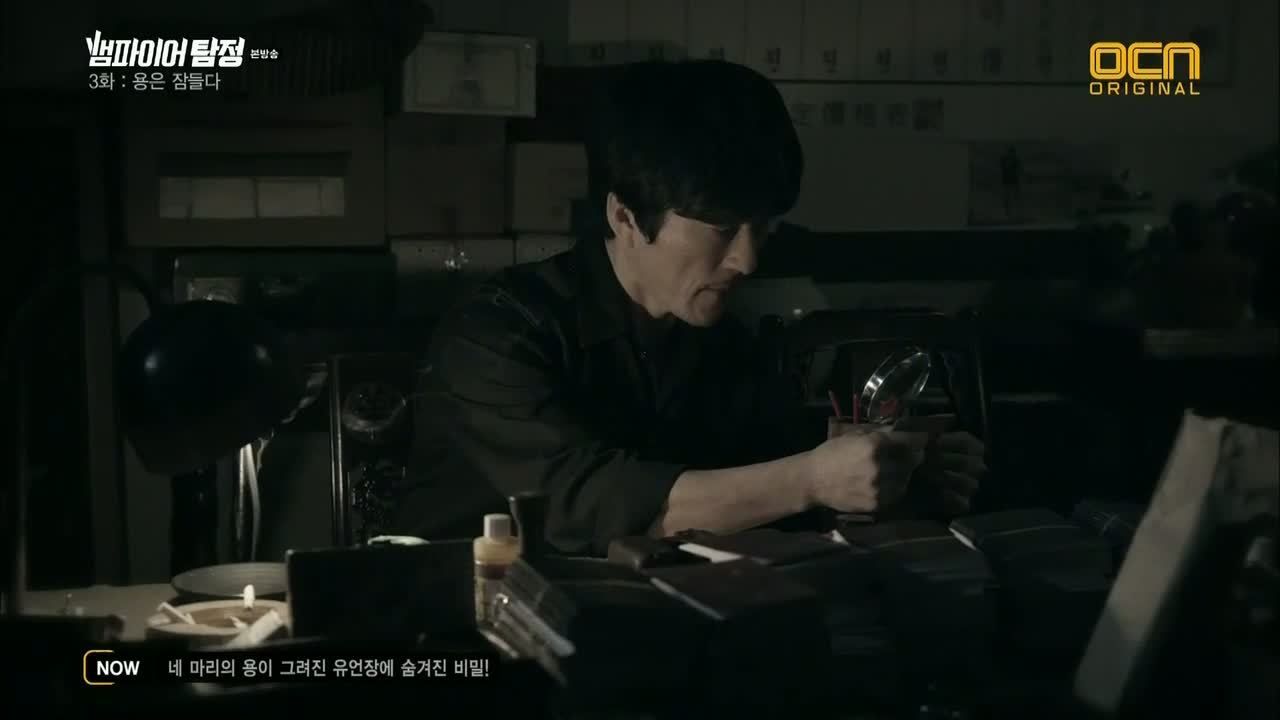 San returns to the cafe to confront the shifty chef, who responds to his accusations of betraying Boss Choi by attacking him with his butcher knife. The restaurant owner arrives before things get too out of hand, and when they sit down to chat, he sighs to hear that Boss Choi has died.
The elderly owner describes Boss Choi as a diligent worker who also had a special talent in painting. But soon word got out about his artistic skills, which were used to create counterfeit identification cards and passports.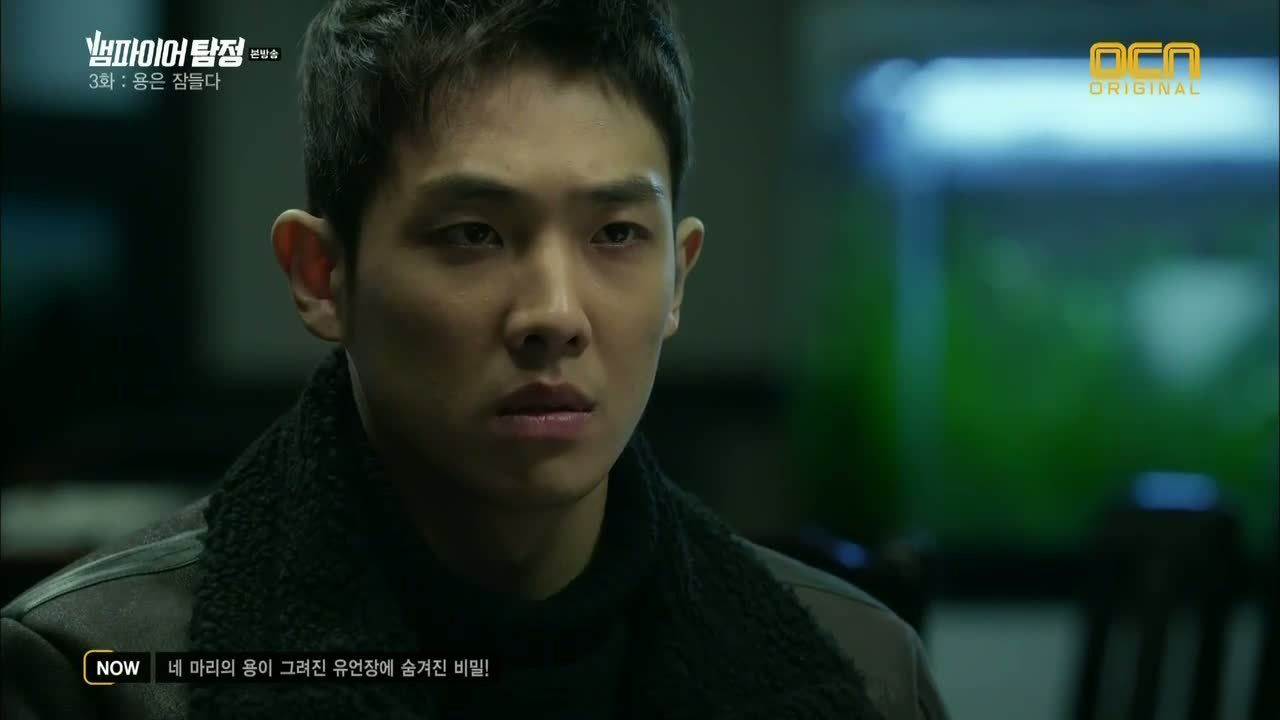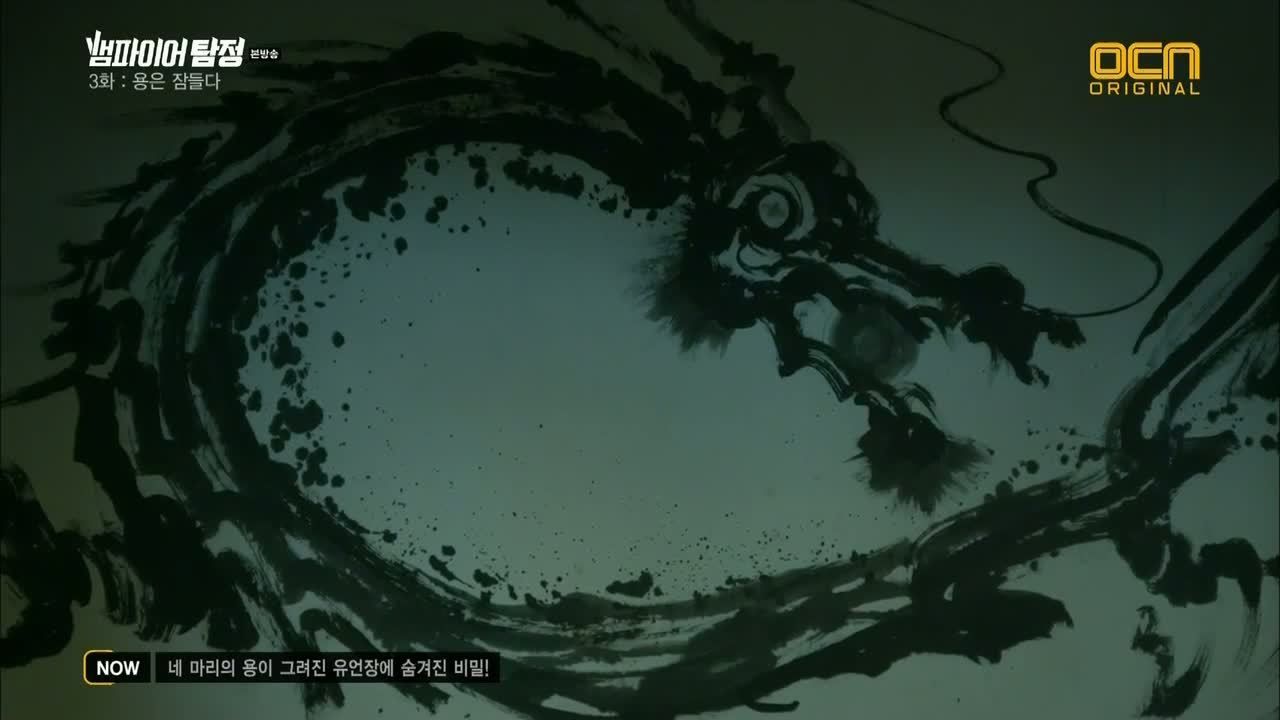 As word spread about his talents, he left Incheon upon receiving an offer to relocate to Seoul. There, he made a name for himself and dipped in business. So the Chinese immigrants in this town are indebted to Boss Choi, and their loyalty to him naturally means they would be skeptical about a private investigator like San.
San asks what he thinks of the meaning behind this illustration, to which the owner says one must find what the drawing is trying to teach its audience instead. "It could also be teaching someone too," he adds.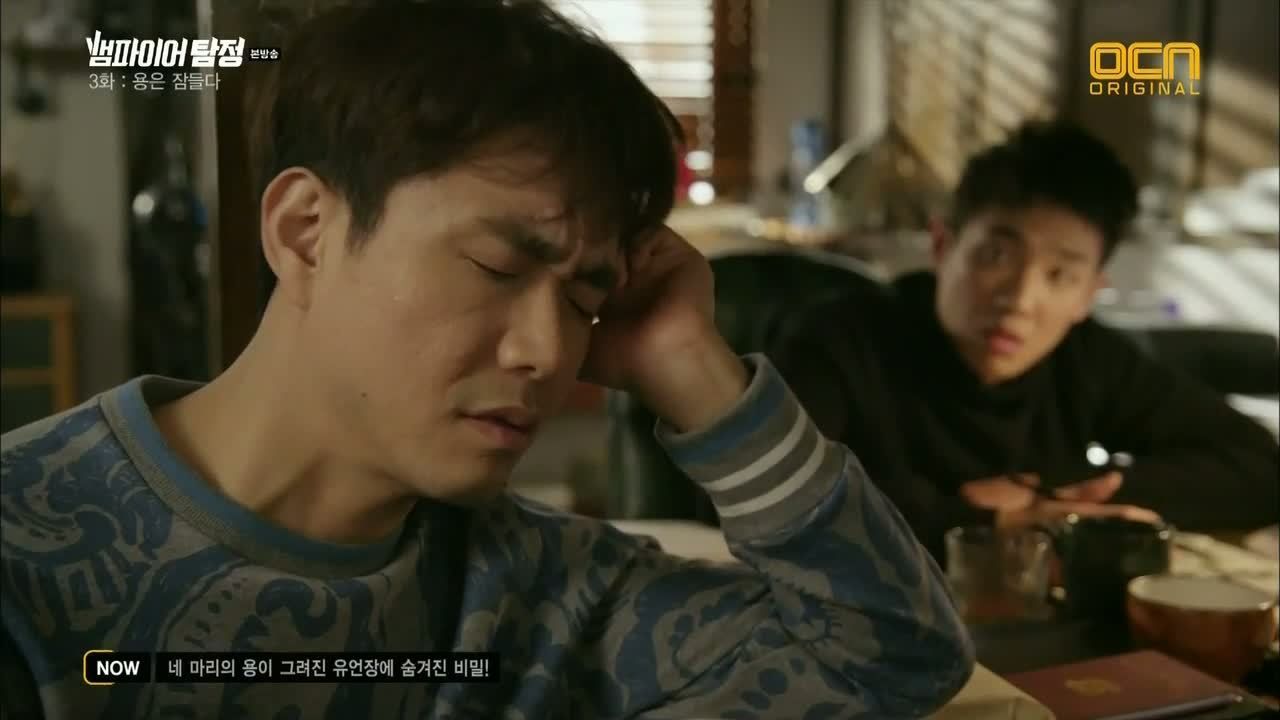 Gu-hyung and Gyeo-wool find San at his desk after pulling an all-nighter. He wonders if they should go about the will in a different angle—what if they looked into the recipients of that will aka the children rather than the author?
It could be that Boss Choi trusted someone who wasn't his flesh and blood, so it's back to the estate. Gu-hyung meets with the eldest oppa Chul-yong, who asks that Gu-hyung suggests the will is about him. Gyeo-wool chats up younger oppa Chul-woo, who promises to give her anything her heart desires.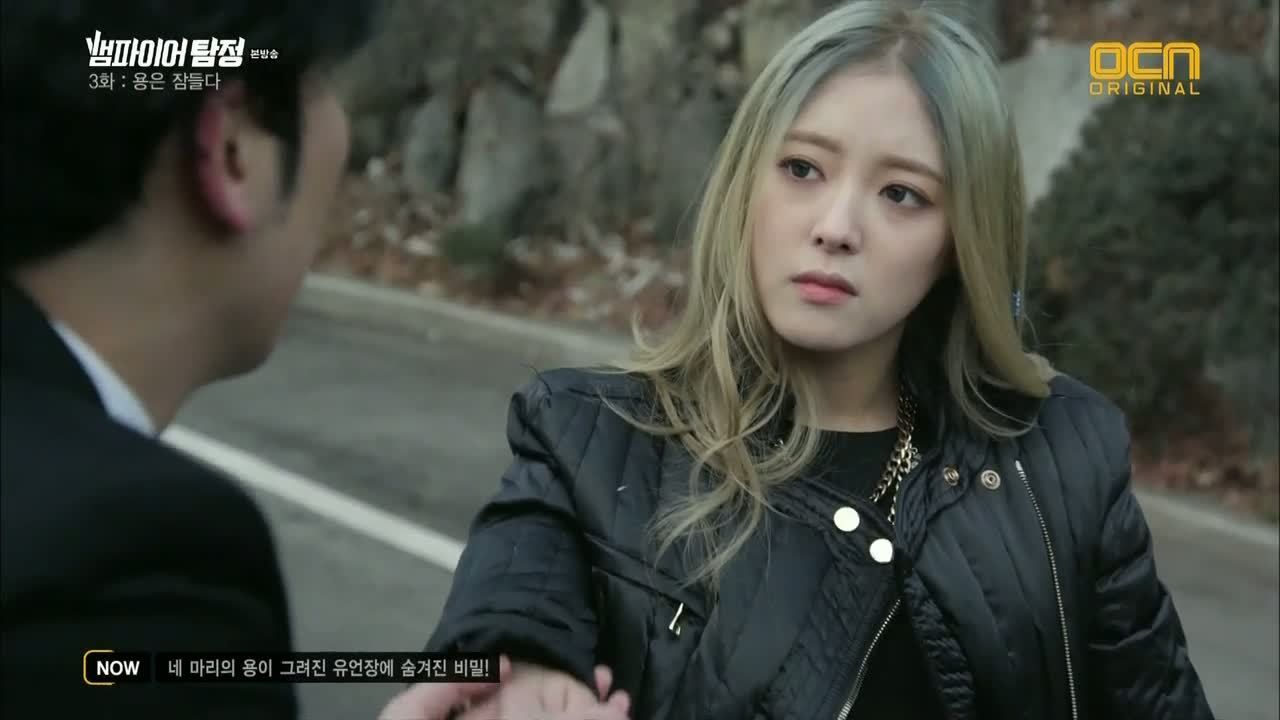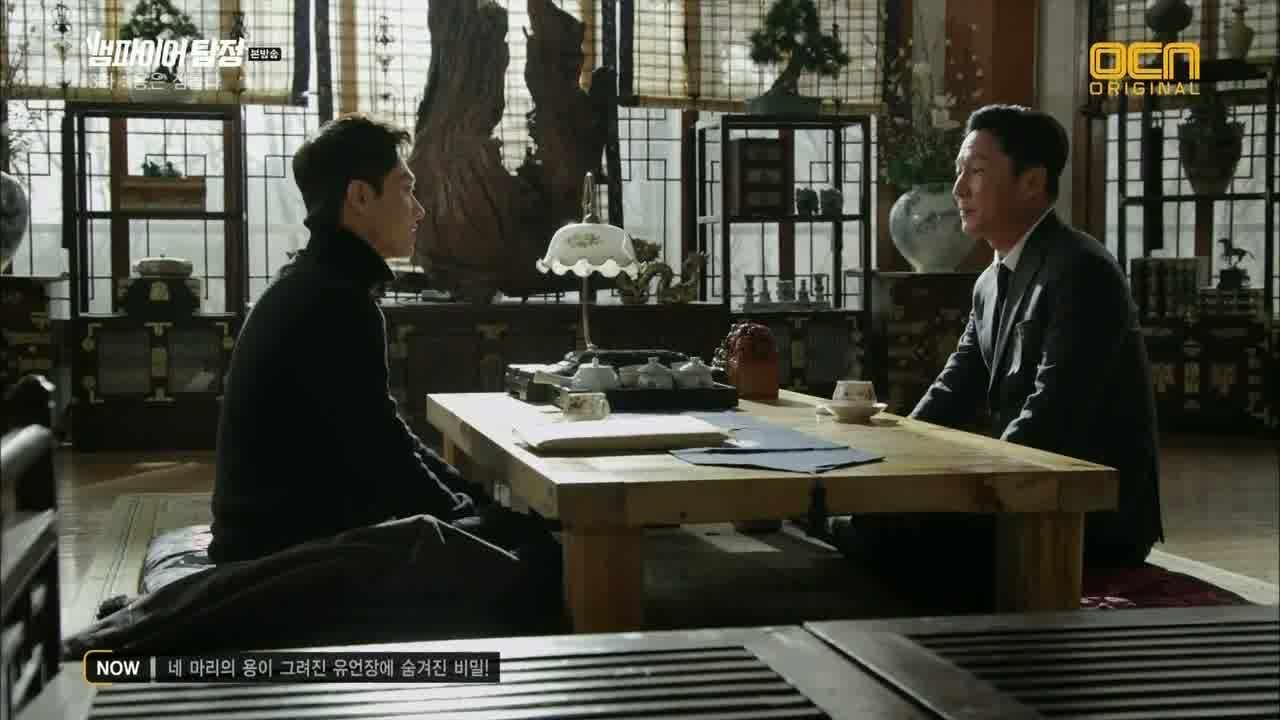 Gyeo-wool can put up with all of his cheesy lines, but then he crosses the line when he takes her hand and kisses it. She's quick to set him straight which only makes her look more appealing to him in his eyes.
San sits with Attorney Kang, whom he recognizes as someone Boss Choi truly trusted. There's something about the attorney that we don't get to hear, but do see Attorney Kang's surprised reaction to.
When San speaks with Sun-young later, she says her father always drew flowers in his dragon paintings, but she never knew why. She doesn't mind sharing what made her father and her drift apart: there was a woman his father met in secret.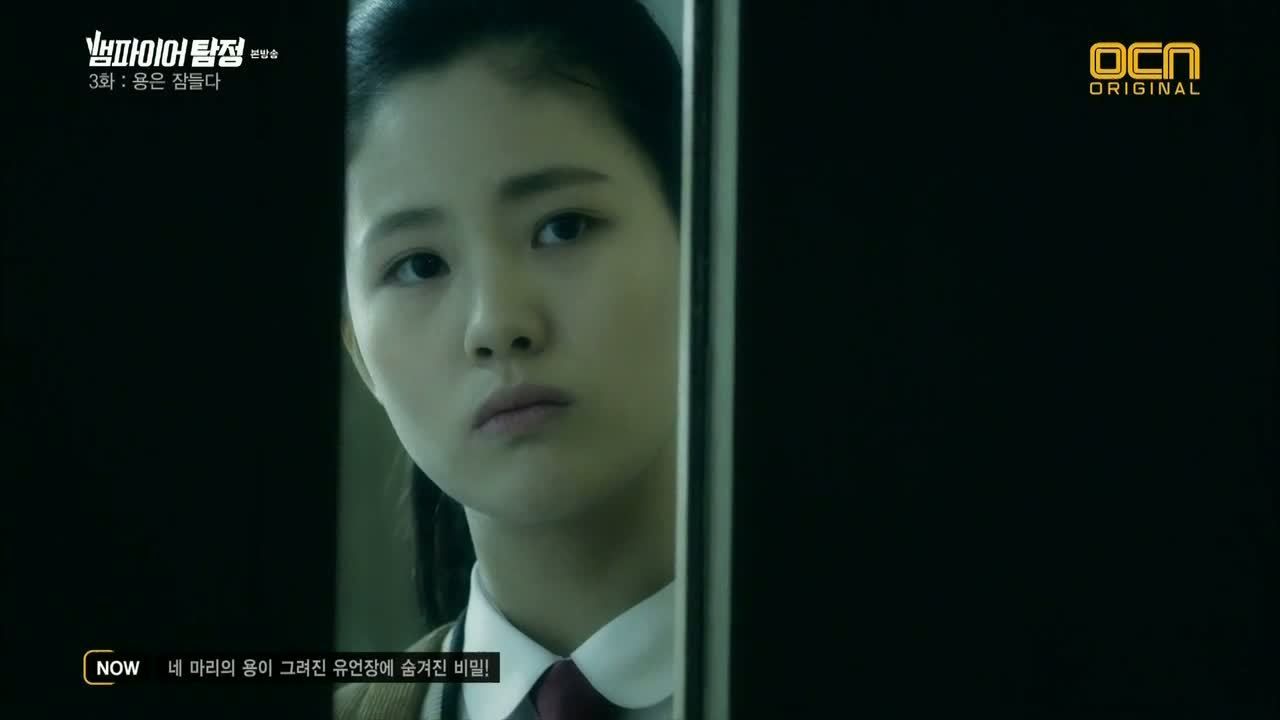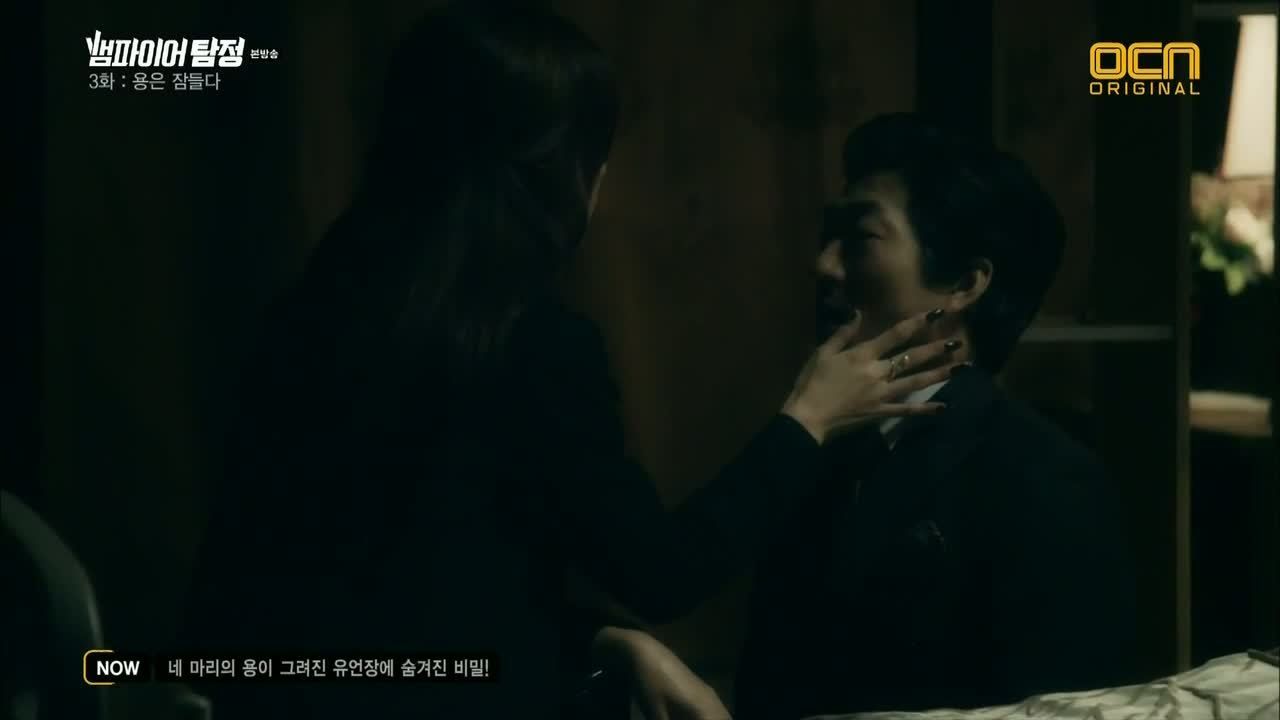 Her mother had been ill, so when she went to visit her in the hospital, she saw her father with a mysterious woman. Not only was her presence off-putting, she found her father's submissive reaction even more disturbing. It was like that woman was preying on him, she says.
Her oppas arrive just then and take offense at hearing this revelation. She barks back that they don't know much about their father either, but when Chul-yong says he was loyal to their father, Chul-woo is quick to argue that he was too.
Back at HQ, our trio wonders if Boss Choi could've been in cahoots with the mystery woman. San seeks out the elderly restaurant owner again to point out that all of Boss Choi's dragon paintings also had flowers except for the one hanging in the restaurant.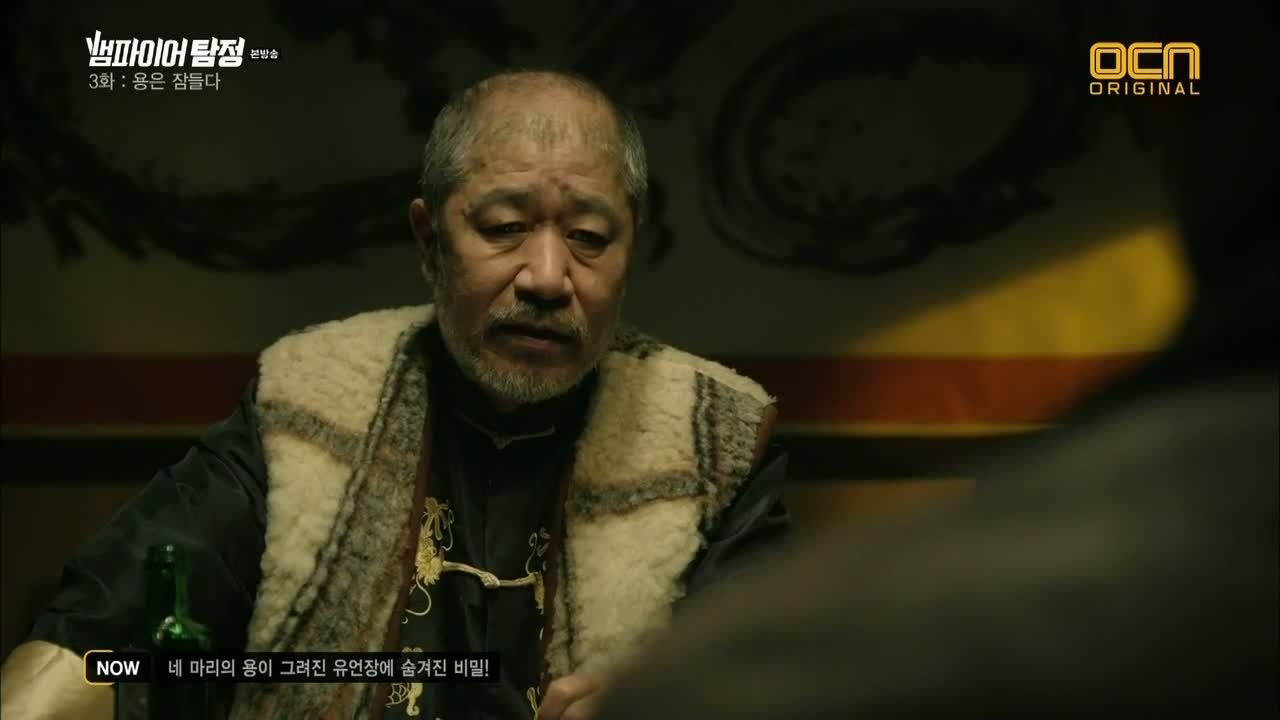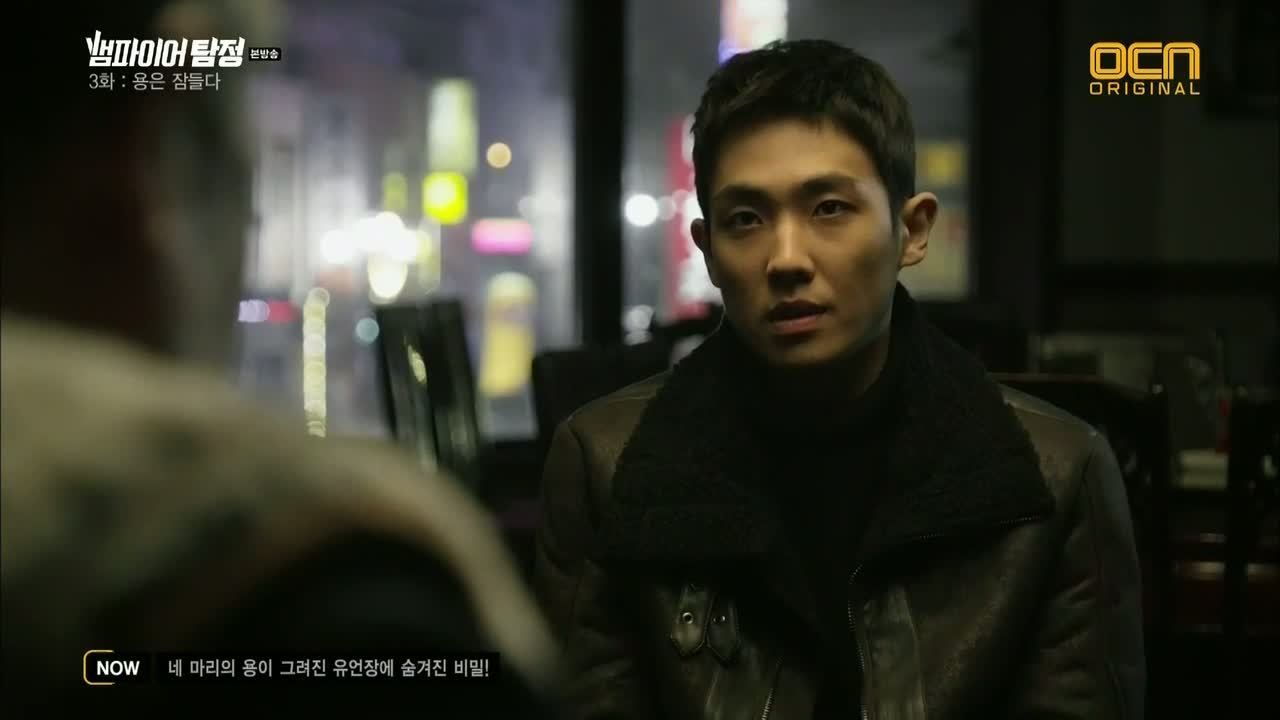 In fact, this illustration looks like something was blacked out—does the elderly man know why that was? When the owner says he has nothing to say, San asks if there was a woman. Sighing, the owner says Boss Choi used to meet up with that woman in this restaurant—she would appear whenever Boss Choi would stay late, drinking alone.
There was a mysterious aura about her, but the owner doesn't know who she is. He has no interest in finding out—his instincts told him that he should never approach this woman.
When San points out that the shifty chef appears to be out, the owner cryptically says he is "no longer of this world" and was found as a corpse … as we see that the chef was bitten by a vampire.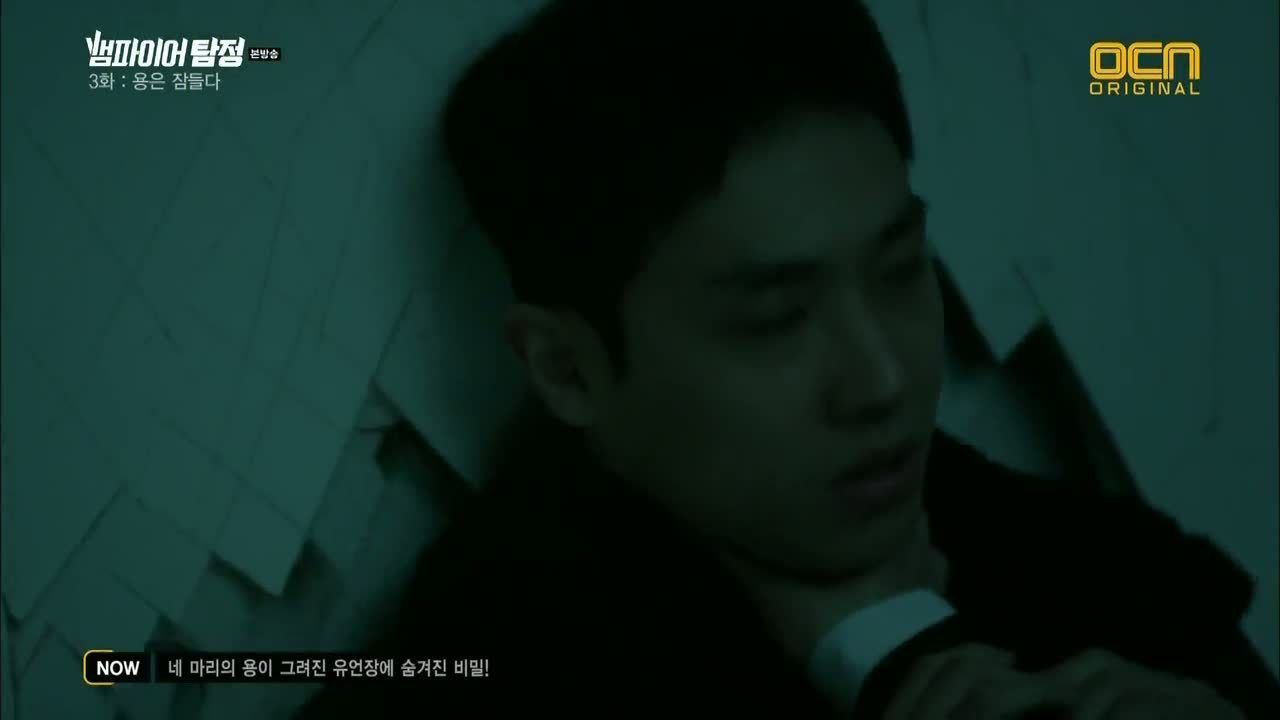 As soon as the owner leaves, the restaurant goes dark and a shadow flies past San. His eyes turn yellow at the sight of blood and his vision is like seeing through night vision goggles. However, the shadow flies past again, knocking him into a pillar.
San rises to his feet as the vampire charges at him. He tries getting a few punches in, but then the vamp has him in a chokehold, which he gets out of by swiping at him. The vamp punches him even more, chokes him once more, and watches as San goes limp.
The vamp swipes the illustrated will in San's coat pocket and kicks San down once more for good measure. It's unclear how much time as passed before San comes to, but at least he actually wakes up this time.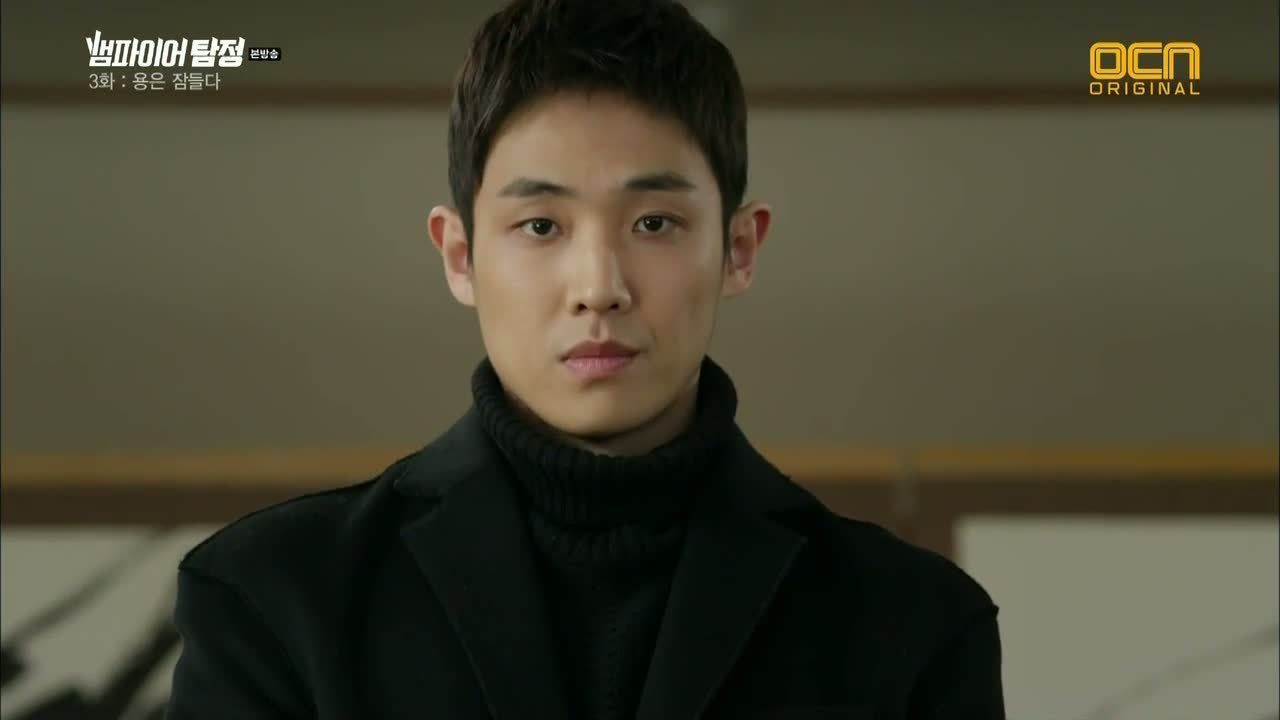 The vamp drops off the envelope to the mystery woman, who admires San's Sherlock-esque business card tucked inside. Oh, did San anticipate that he'd be attacked? She burns the card, and the camera pans down to her sun pendant.
This means that San still has the illustrations of the four dragons when he sits everyone down to explain the meaning behind the painting. The explanation of how Boss Choi painted a dragon after his three children were born is old hat to Chul-yong, who just wants to hear the kicker. Who is the dragon illustration about?
San says these four dragons represent his children… all of his children. That statement is met with puzzled faces, so San looks to Boss Choi's actual firstborn: Attorney Kang whose real name is CHOI CHUL-HO.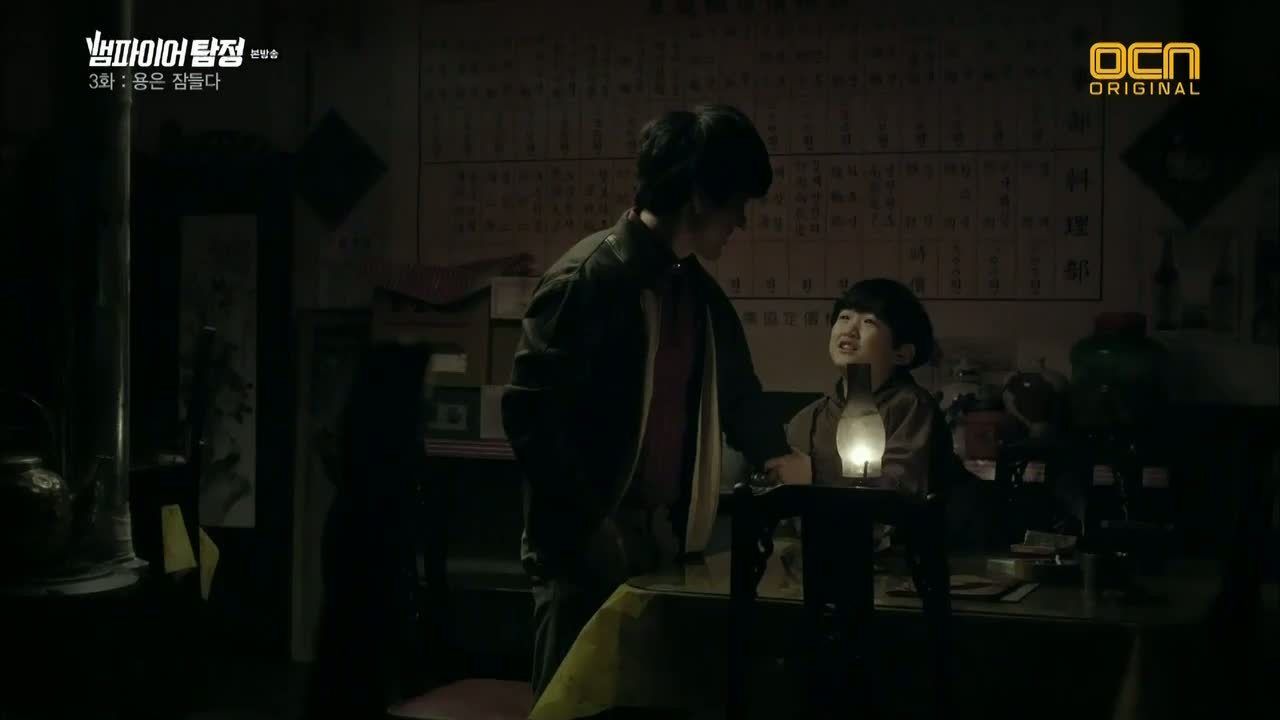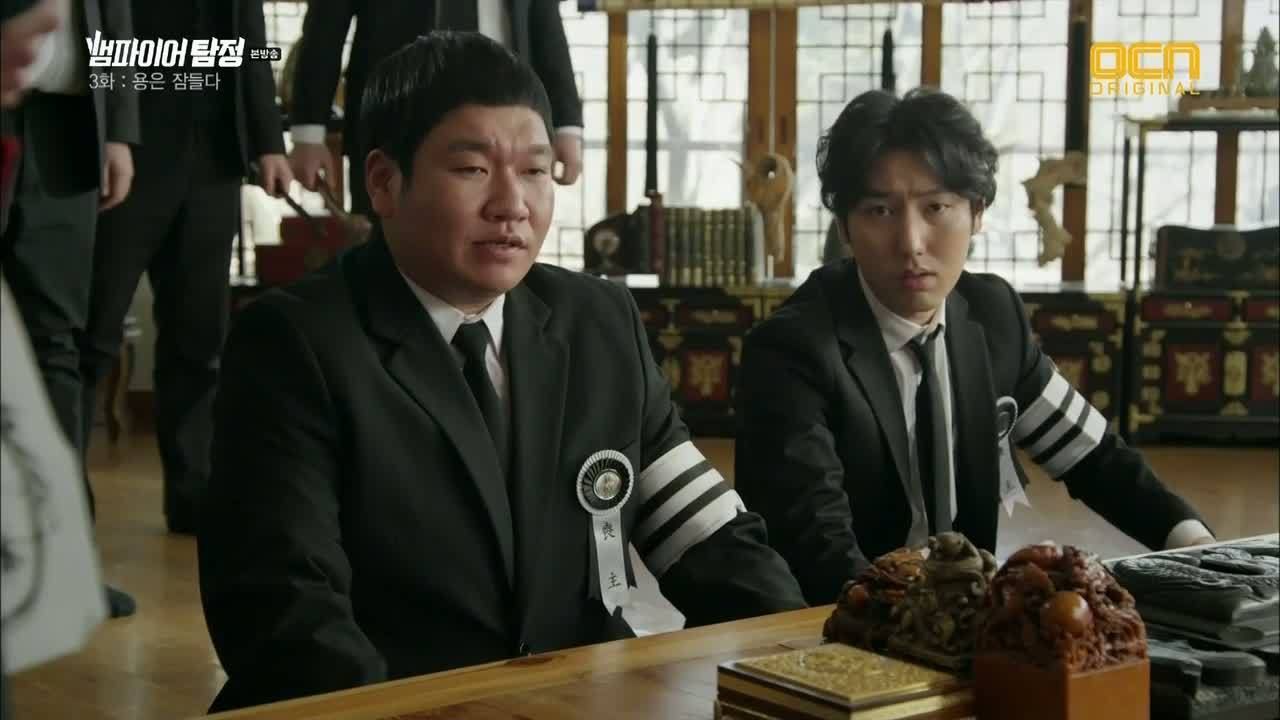 Many years ago, there was a man who antagonized his father at the restaurant. He had fatally stabbed him in retaliation, and Boss Choi had created a new identity for him. His father took the blame and was arrested, and they weren't reunited until he was already an attorney by a different name.
Boss Choi was the best father he could've asked for, Attorney Kang says. Chul-yong calls in his men and says he'll let them all go peacefully if he is related to Attorney Kang. If not, it'll be San's wrist.
San is unfazed, explaining that there's another dragon painting hanging elsewhere: the Black Dragon restaurant. That one dragon represents Chul-ho, which would make a total of four dragon illustrations Boss Choi painted for all of his children.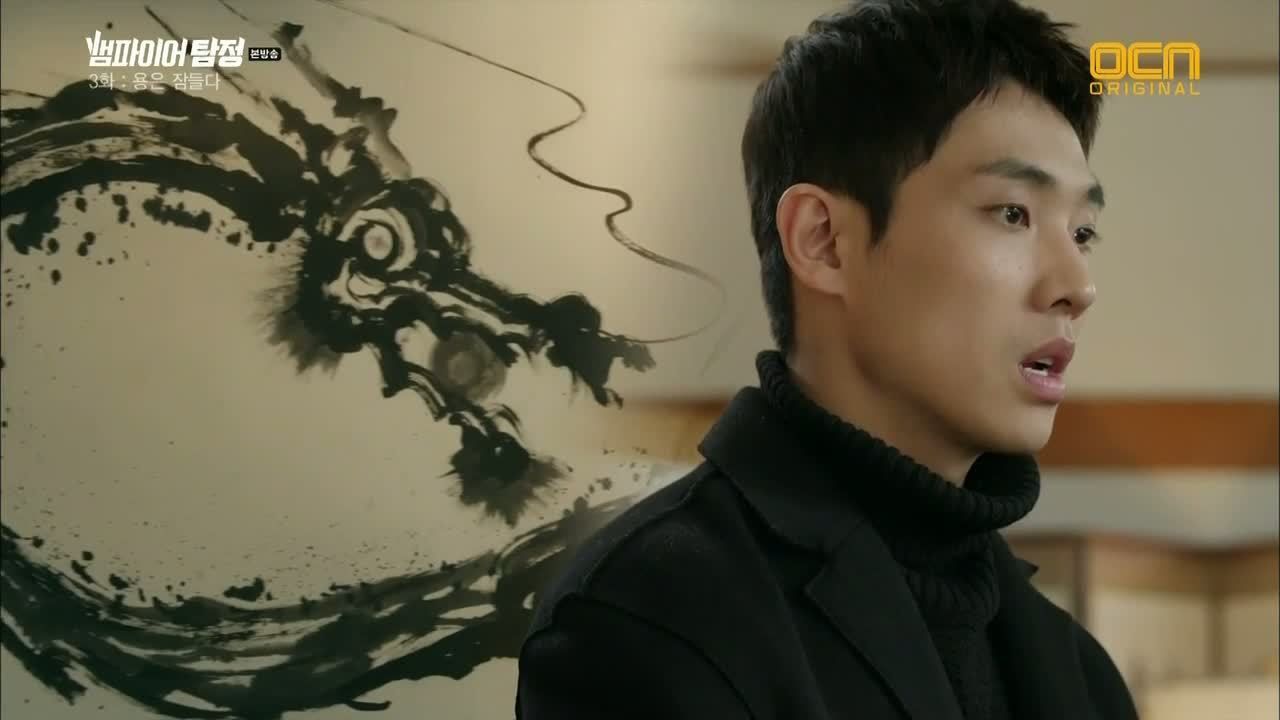 But unlike the other paintings, the other dragon illustration doesn't have a flower in its mouth. Chul-woo interprets that as enough possible reason to conclude that Attorney Kang isn't related to them after all, but San says there was once a flower, though only traces of it remain today.
By erasing the flower in the dragon's mouth would mean that the child it represents is dead, which is the case for Attorney Kang, who now lives by another name. Chul-yong finds this all amusing, and San takes a moment before asking what month they were all born in.
While Chul-yong was born in May, Chul-woo and Sun-young were born in February. Attorney Kang declares he was born in January, and San matter-of-factly reveals that that's the passcode to the safe: 5-2-2-1.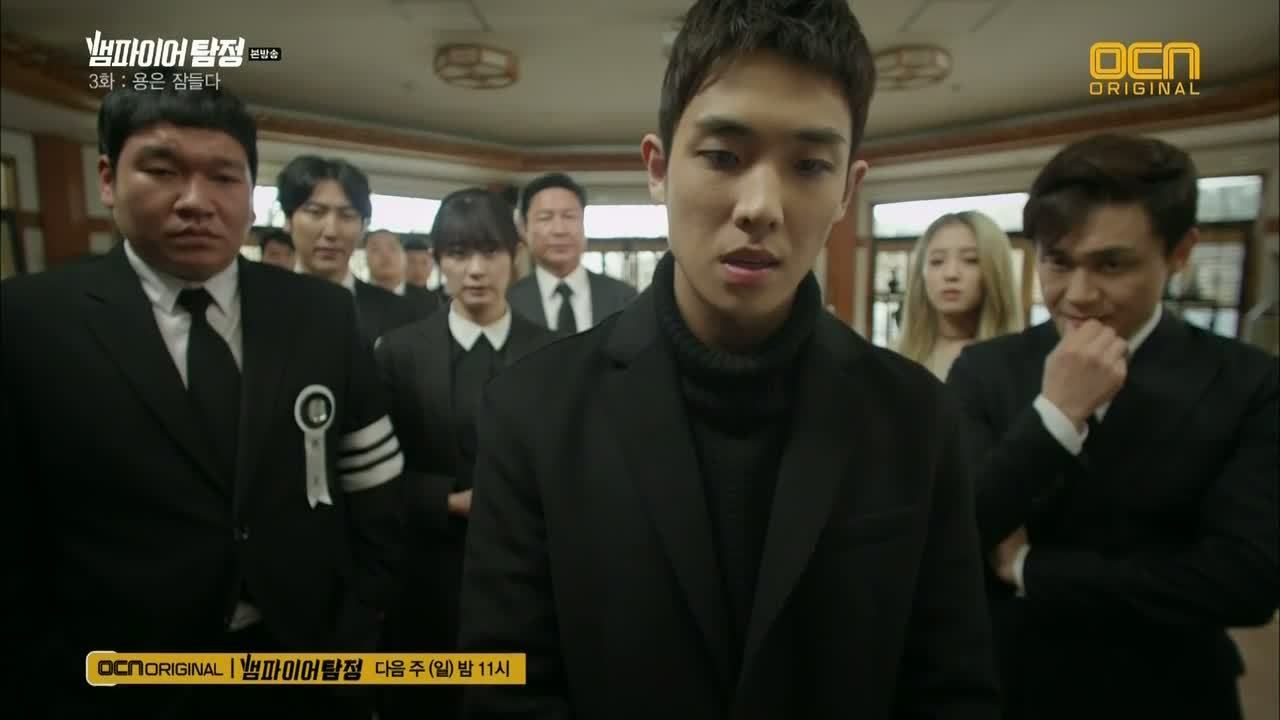 Everyone gathers around the safe and waits with bated breath as San's finger hovers over the numbers… and Gu-hyung's interruption scares the bejesus out of everyone. He says the passcode should be 1-5-2-2 if they're going by birth order. Plus, San's wrist is on the chopping block.
San takes a deep breath and inputs the code… which is incorrect. He asks what Attorney Kang's birthday is under his new identity, and is told that it's in September. Thus, San tries 9-5-2-2. And again, it's wrong.
So San closes his eyes and concentrates, remembering that Boss Choi's life motto was to point someone one way while running in the opposite direction. Then he inputs the numbers in reverse order—2-2-5-9—and eureka, it opens.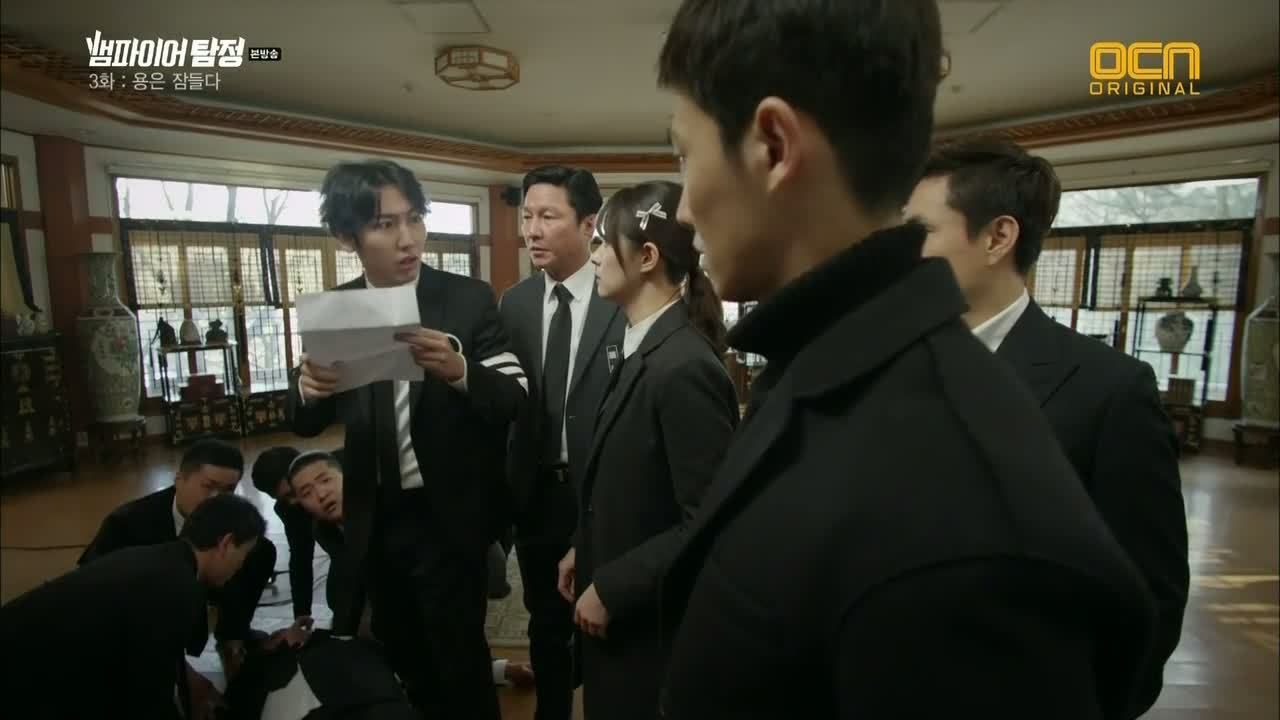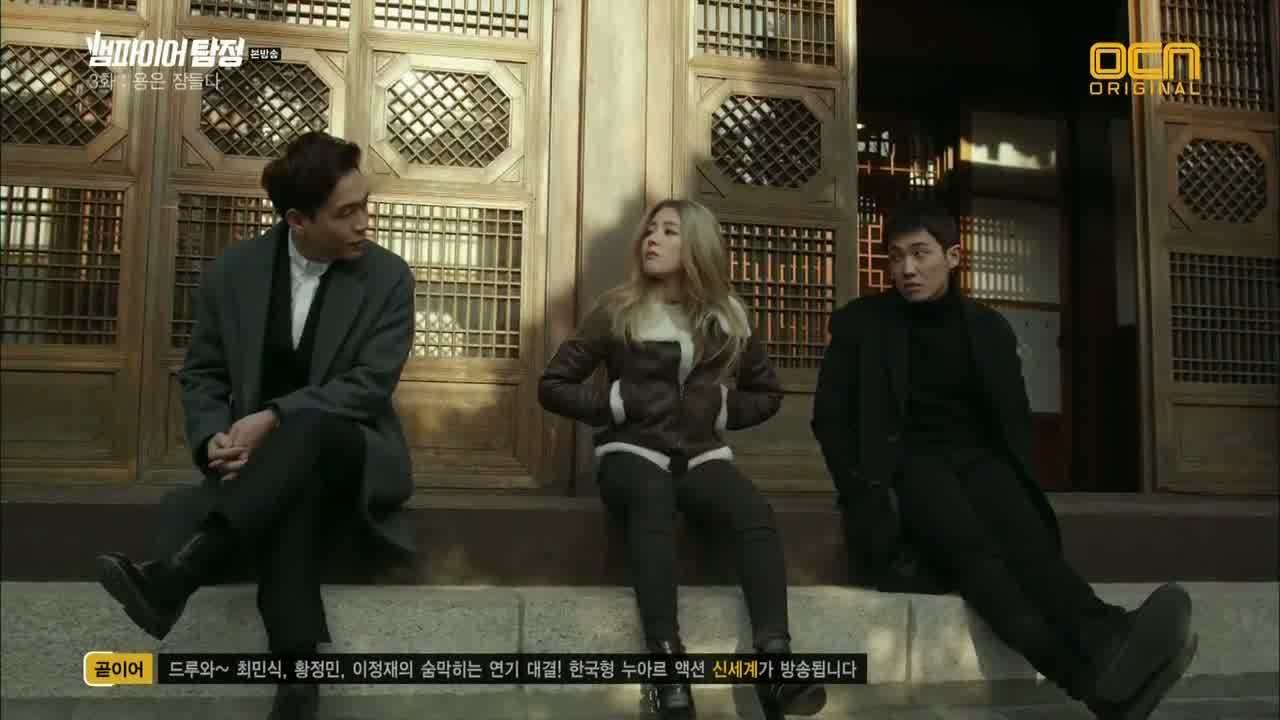 San swiftly removes the envelope and hands it to Chul-yong, who faints upon reading the will. Chul-woo also cries out in alarm. So I suppose the wealthy mob is no more?
Our private eye trio step outside, where San avoids answering how he figured out the code on the final attempt. Gu-hyung and Gye-wool step aside so Sun-young can speak with San, as she tells him that her father left everything to her.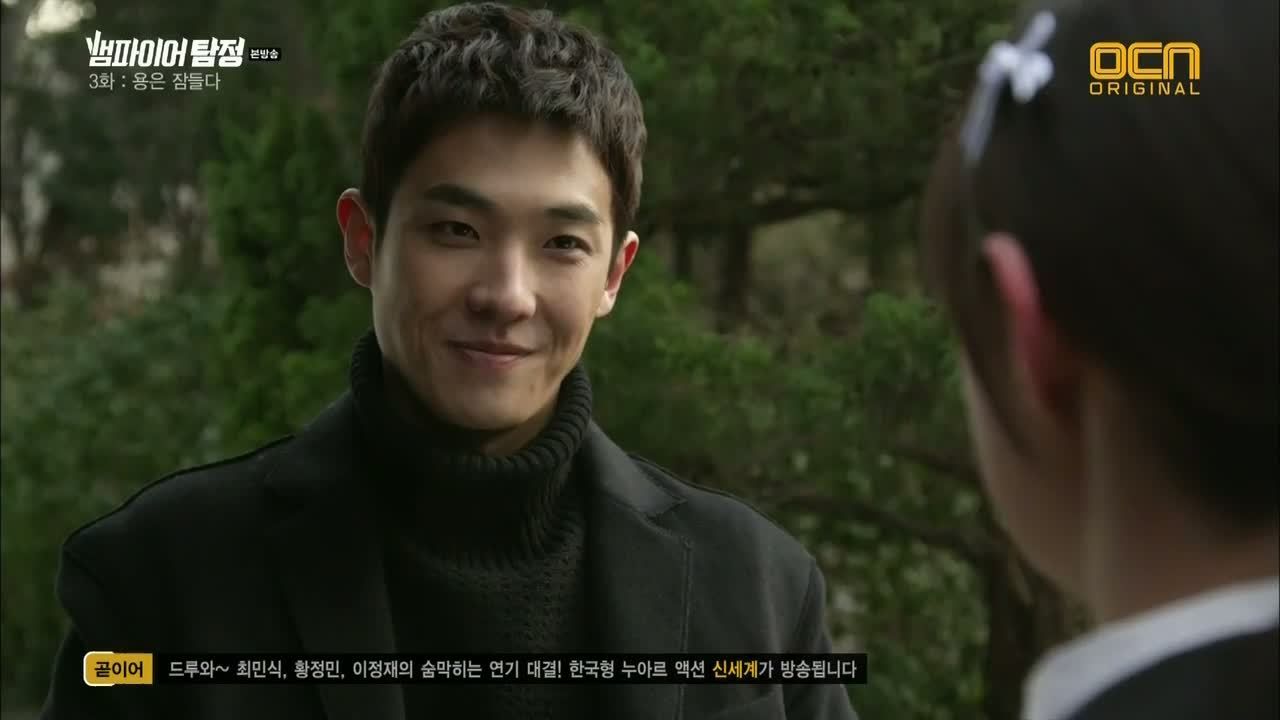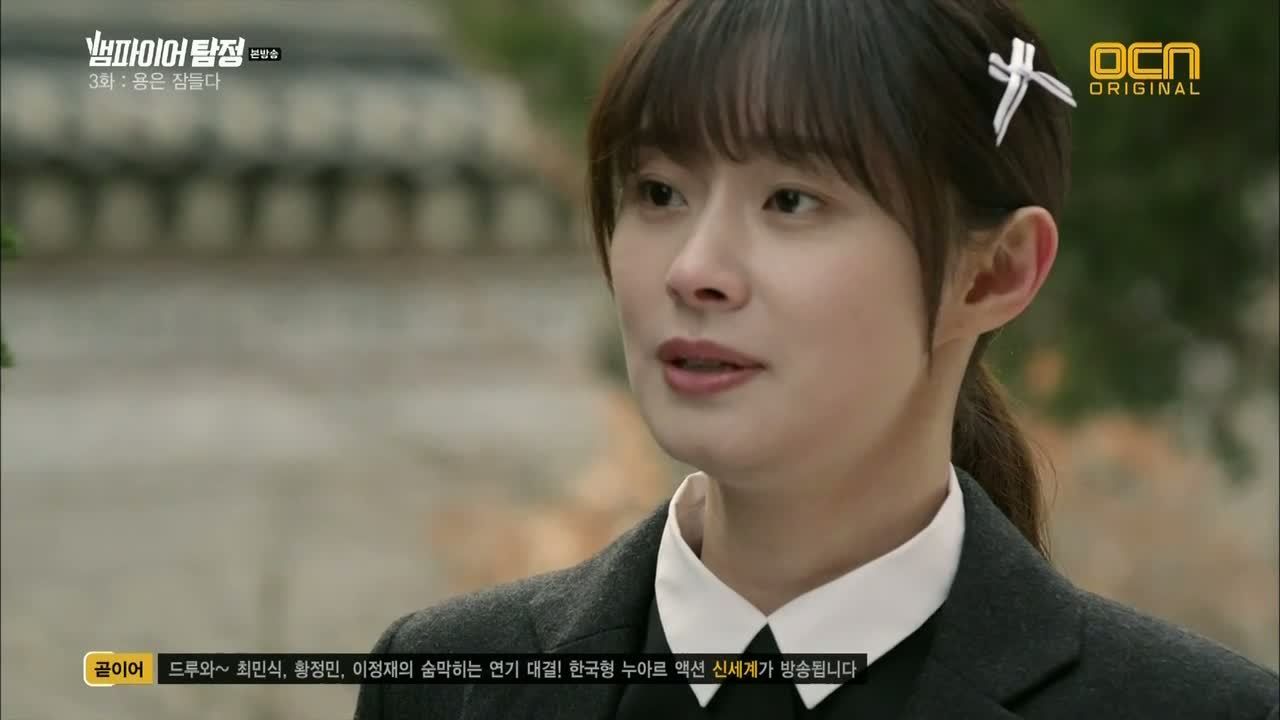 Her father also asked that she dismantle the mob he led, but he's taken care of his two sons by creating new identities for them in the hopes they'll start their lives anew. Even with all that said, Sun-young says it's possible that her father may have had a few VIP clients who tapped into his counterfeit expertise.
She hands him an envelope that was found in the safe, which may be of use to him. He's shocked when he recognizes the pictures tucked inside: Yoo-jin and Tae-woo.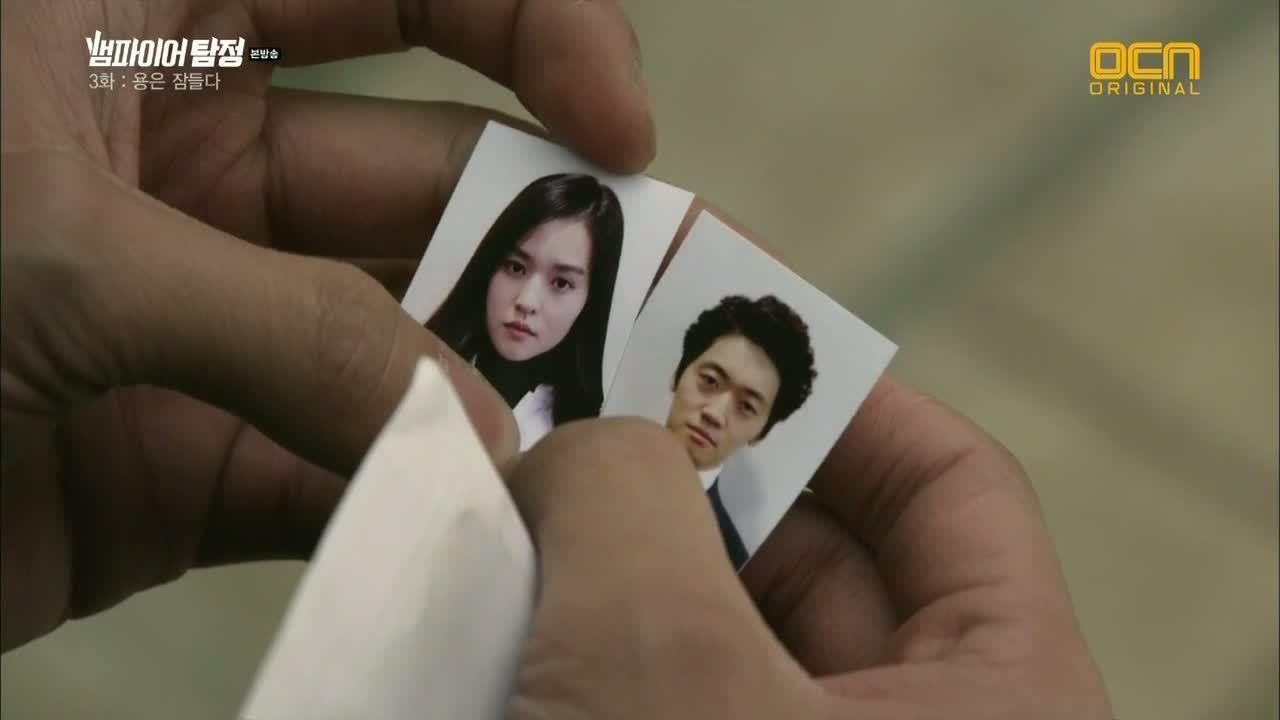 COMMENTS
Now that Vampire Detective has settled into its story, we can now see the general pattern of the case of the week mixed in with morsels of the supernatural element. And while I see the attempt on the writing's part to incorporate the cases into the greater narrative, the occasional vampiric moments do little to drive the story forward. It makes me wonder if there isn't much of a supernatural mystery to tell because at this point, there's not much that makes San any different than any other human private investigator.
In a way, I'd been hoping that we'd get to explore more of San's vampiric abilities this week because we weren't given the range and limitations of his new undead status. So when today's episode was also absent of that explanation and added on a new power—night vision—it's like we skipped an important step in San's character development. He may still have the same subdued personality regardless of his condition, but it's as if we've missed the adjustment from his usual human to vampiric lifestyle. Surely turning into a vamp and living as one (an evolved one, no less) couldn't be that easy.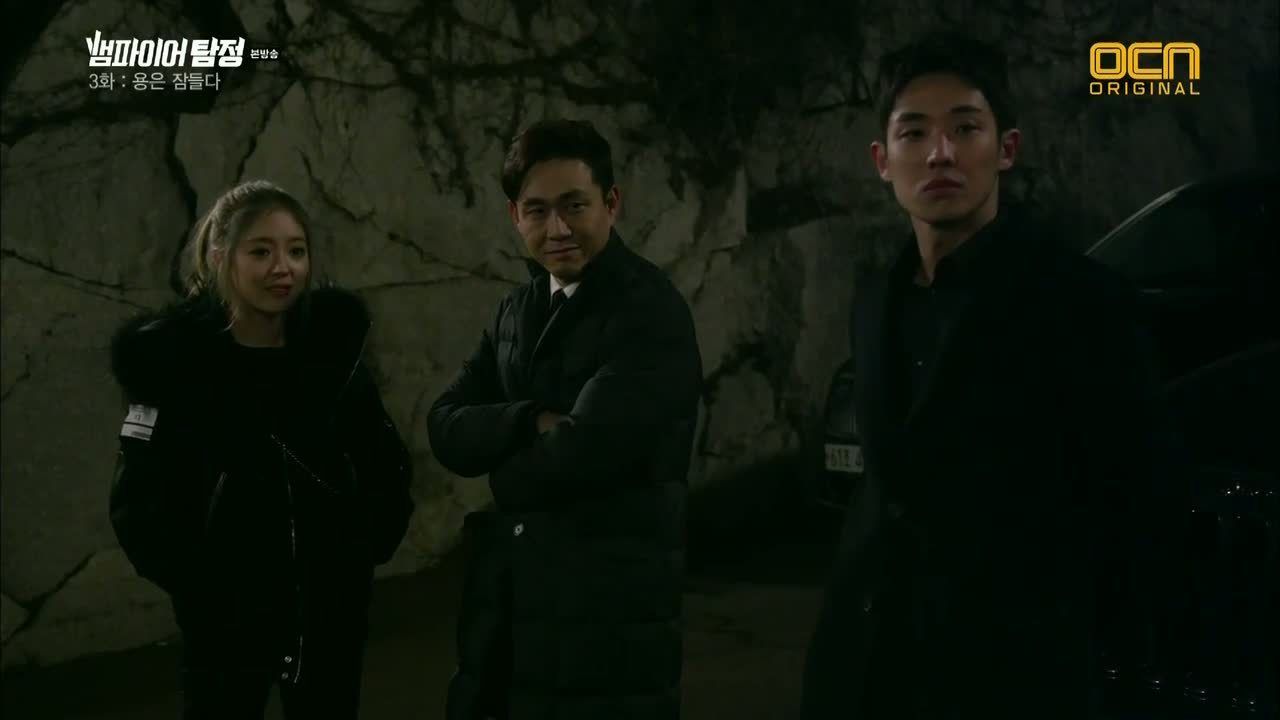 So it's a pity knowing that there are so many avenues that Vampire Detective could explore, but aren't because they're devoting more time to the case of the week. Call it optimism when I say it's possible that the writing is saving its narrative cards for later, but then why would you save any good piece of writing when you have the opportunity to present them now? And especially when you have a case that is narratively simple like this mobster-hidden-sibling case.
Still, I have to give the show credit for showing its first vampire that wasn't anyone who turned into ashes, injected with a syringe, or an obscured face. Even if it was just a lackey, it's a reminder that San isn't the only hemovore running around these parts. As for the mystery itself, I do wonder what the mystery woman wanted with Boss Choi. Did she perhaps use him to create fake identities for the vampires who work for her?
For the show's sake, I dearly hope that they spend more time on this overall mystery, or just on San being a vampire because goodness knows it's so easy to turn to any given moment in an episode and mistake him for being a human who doesn't eat. We know that you're a detective—now it's time to show us that you're also a badass vamp.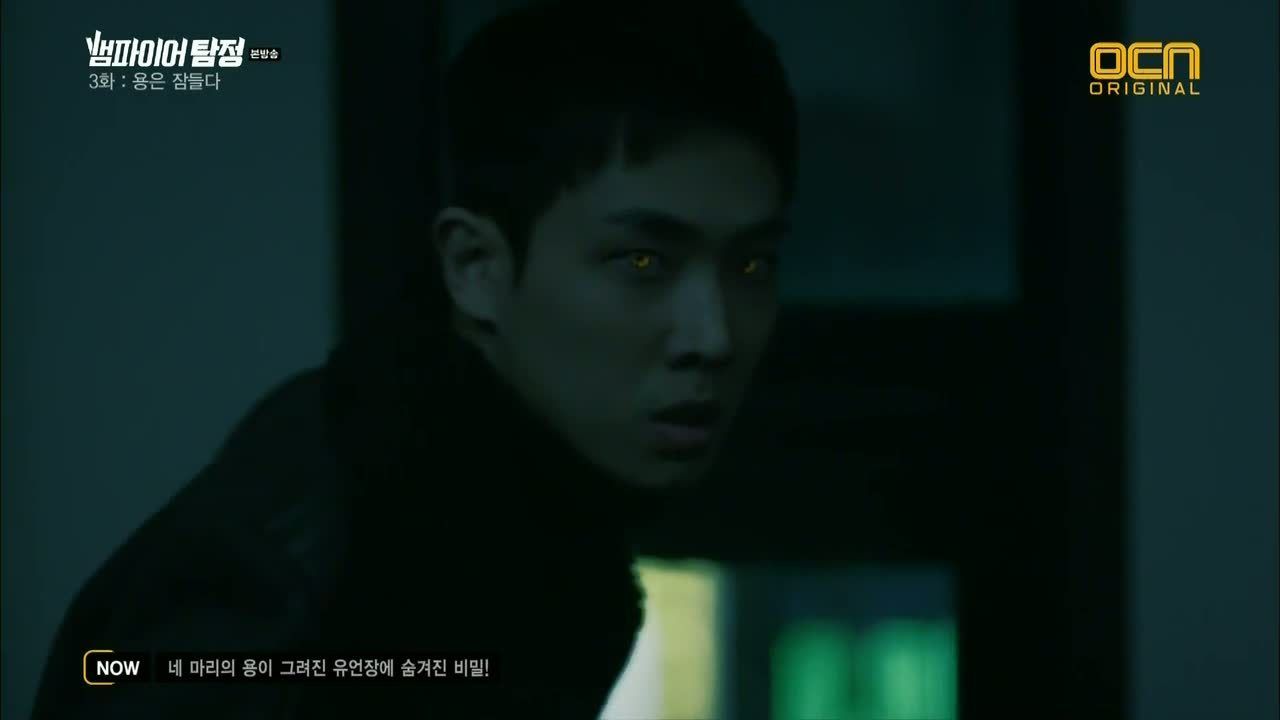 RELATED POSTS
Tags: Episode 3, featured, Lee Joon, Lee Se-young, Oh Jung-se, Vampire Detective