Vampire Detective: Episode 4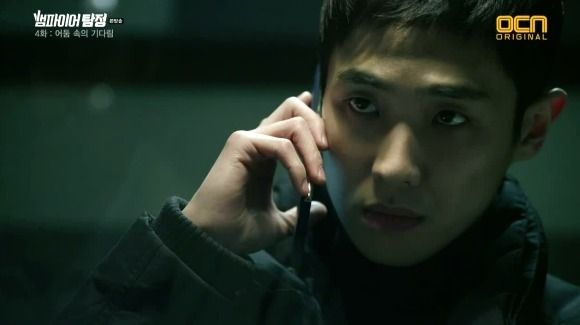 Well, it's about time. Vampire Detective has a new case to solve but also shifts its gears back to the overarching mystery that looms over our hero. We're finally introduced to the evil puppeteer this hour, one who lives up to the terrifying and powerful reputation that precedes them. San is faced with more than one dangerously close call when tackling this week's serial murders, and discovers that learning more clues to the past will only leave him with more questions for the future.
SONG OF THE DAY
BTS – "House Of Cards" [ Download ]
Audio clip: Adobe Flash Player (version 9 or above) is required to play this audio clip. Download the latest version here. You also need to have JavaScript enabled in your browser.
EPISODE 4: "Waiting In the Darkness"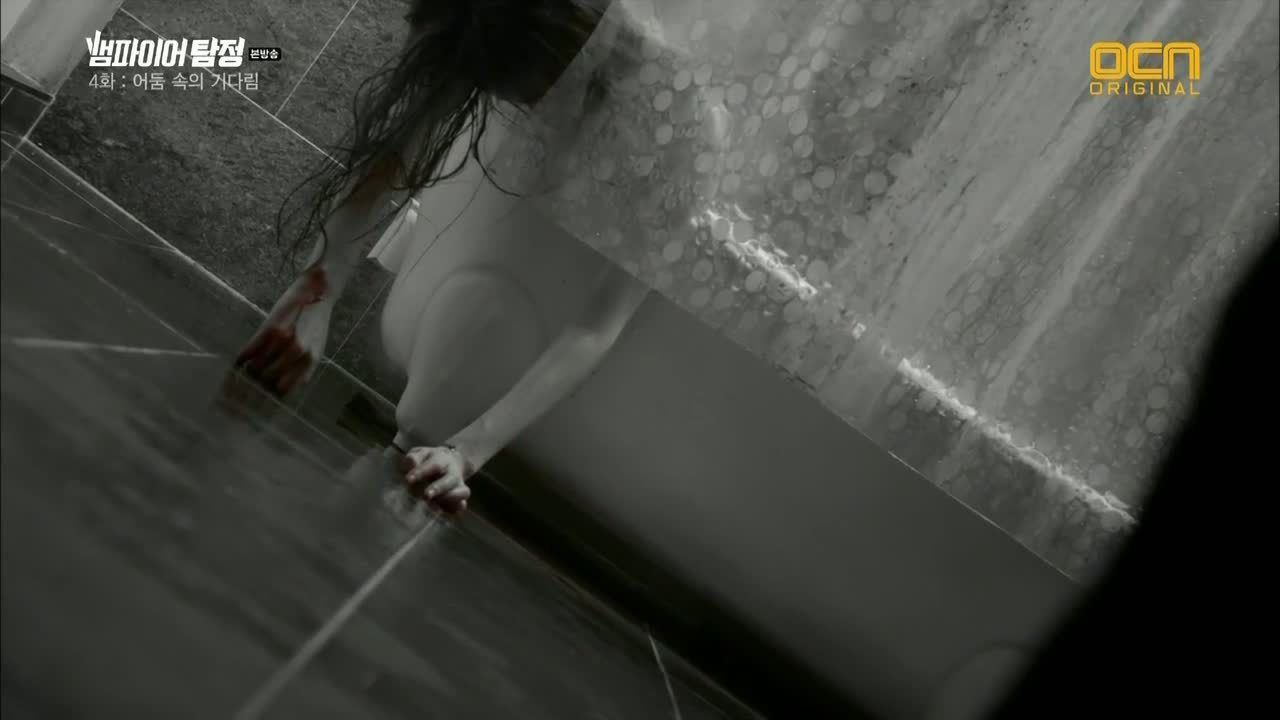 We open at a studio where a model takes a minute to review the proofs of the photo shoot. What she doesn't know is that someone else in the shadows is still clicking away with his own camera.
She takes a bath that evening and shrieks to discover that the tub is filled with blood. She slips and falls unconscious, as a pair of feet approaches.
It's early morning when Sun-young takes San to a printing shop where the forged IDs and passports were created. She's looking into why Yoo-jin and Tae-woo were among her father's clients, and San has trouble swallowing the very idea that his fallen ex-comrades sought out forged identities—if anything, he'd like to think that they're still out there somewhere, living in secret.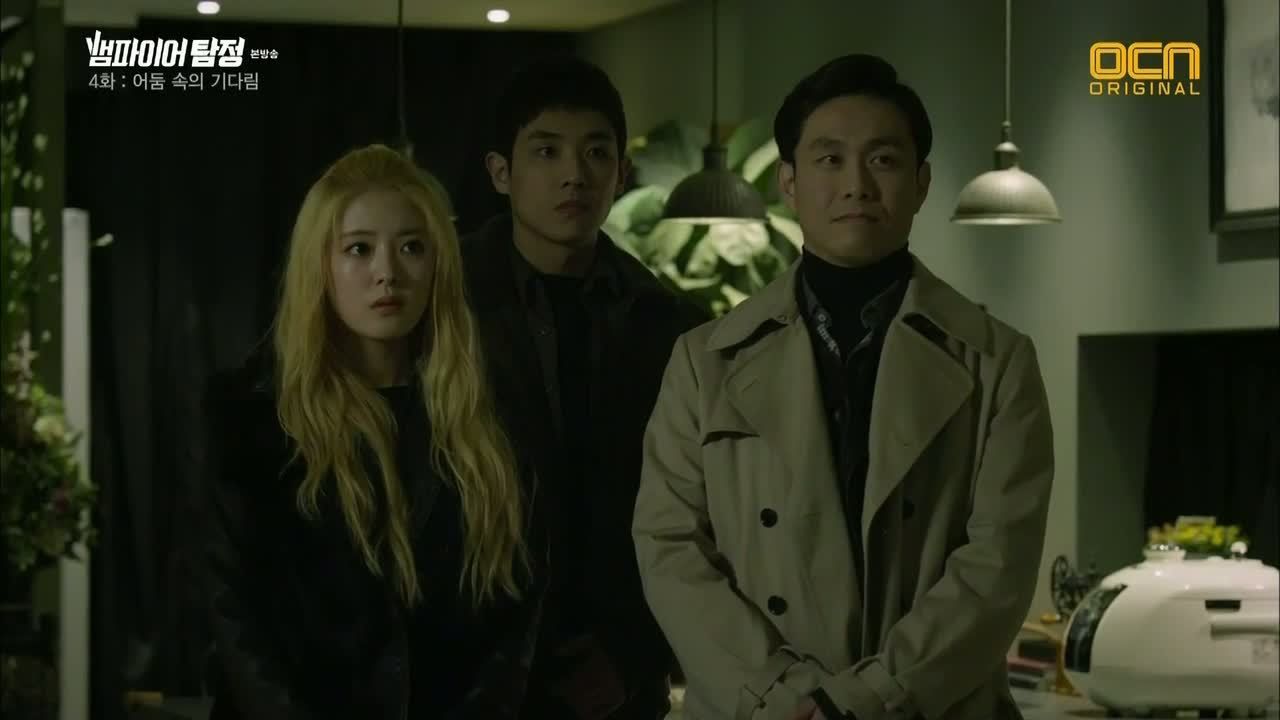 Back at home, Gyeo-wool wonders when they'll look into her brother's case. Gu-hyung's only half-listening until the phone rings, and the lovely voice of their newest potential client grabs his full attention.
He can tell that she's pretty just by the sound of her voice, and they grab San just as he arrives home. They head over to the client's house and are greeted by a young woman MOON MI-JIN (Lee Chung-ah), whom they immediately notice is blind.
San gets up to offer some help, which she politely declines. But that's when she knocks over a glass, an ice pick, and a bucket of ice, and she softly says it wasn't always like this. She explains she lost her sight a few years ago due to an accident, and San insists on cleaning up the mess because of the broken glass.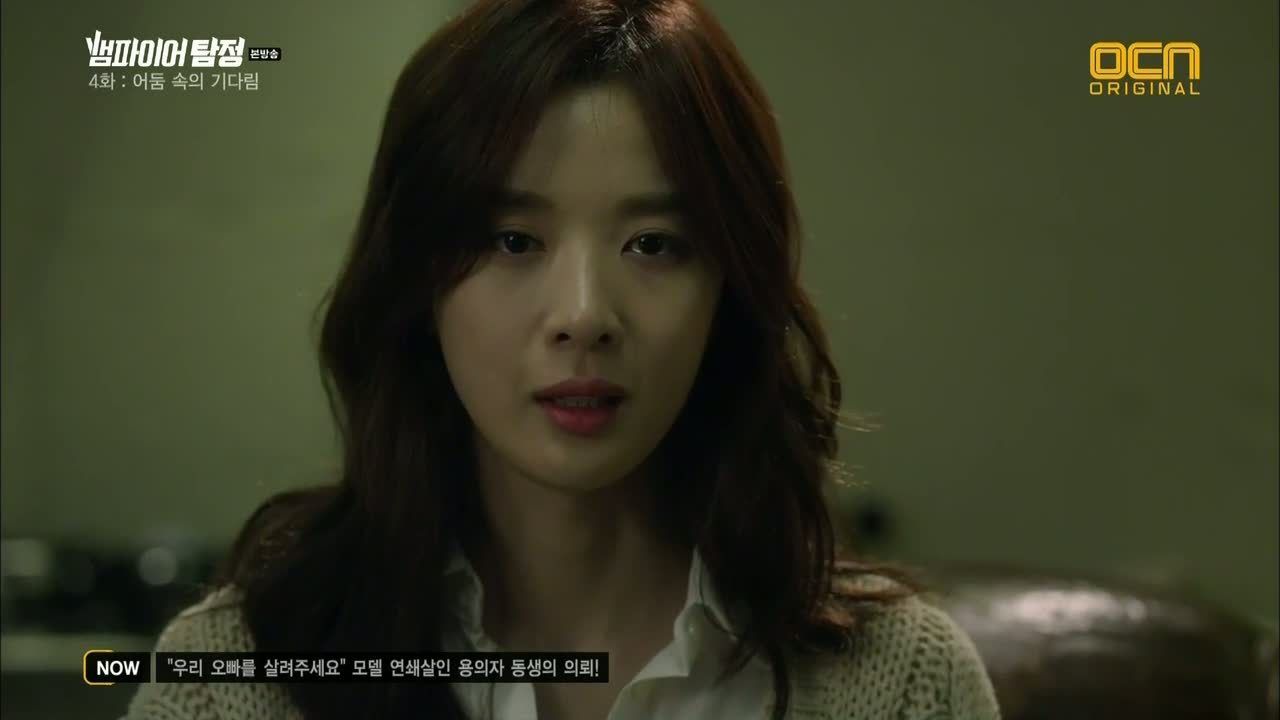 Once they sit to chat, Gu-hyung scolds Gyeo-wool for mentioning their fee right off the bat. It's then Mi-jin asks the trio to help her oppa, a suspect in the recent string of serial murders targeting models. Gu-hyung has heard about it too, but the suspect was a much older man and a possible stalker.
To that, Mi-jin explains that her much older brother practically raised her after their parents died when she was young. Tension fills the air as she elaborates how his blood was found on a kitchen knife, and her brother confessed to the crime.
Gyeo-wool blocks Gu-hyung's mouth just as he says there's nothing that can be done now. Mi-jin agrees, but her brother has a solid alibi: Around the time of one of the murders, she heard her brother working in the darkroom.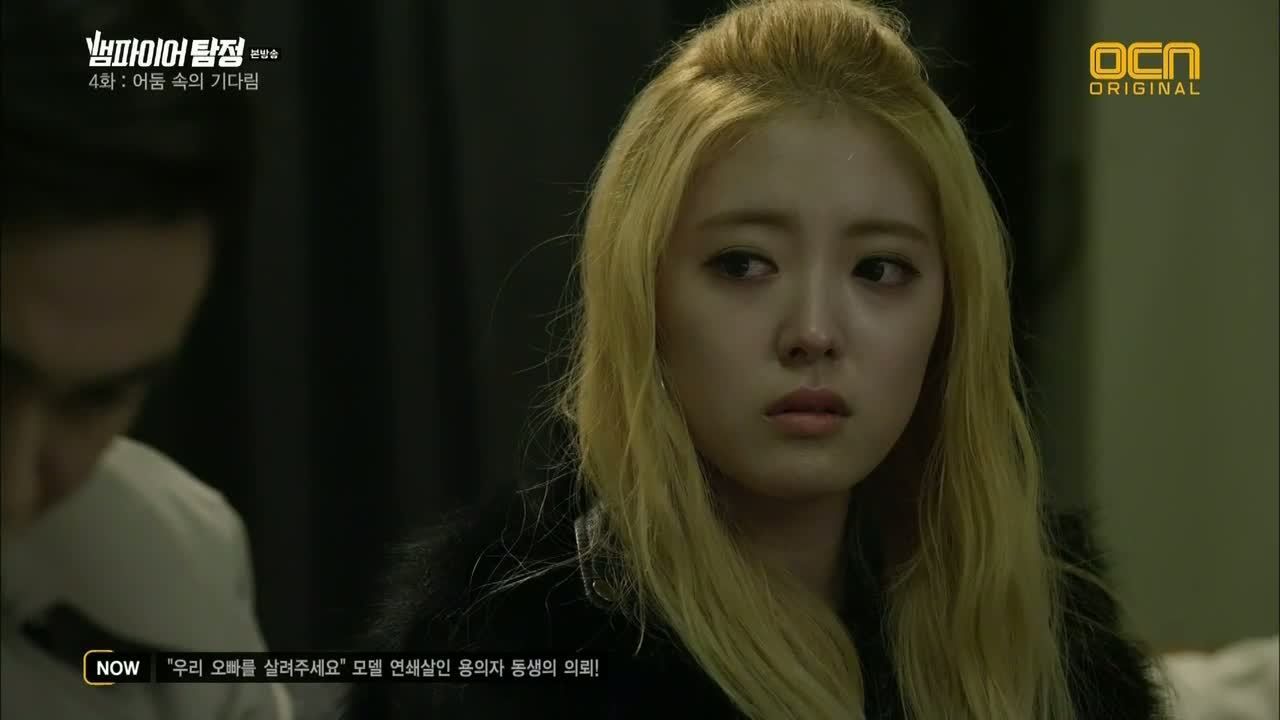 She can feel their reservation, which the police shared as well—how would she know what time it was if she can't even see a clock? Tears well up in her eyes as she stresses her conviction that her brother is innocent.
Gyeo-wool looks upon her with empathy as she asks for their help not to be left alone. "Please believe me." A tear falls from her eyes as Gyeo-wool answers, "We'll believe you. We'll help to make sure no one takes your brother away."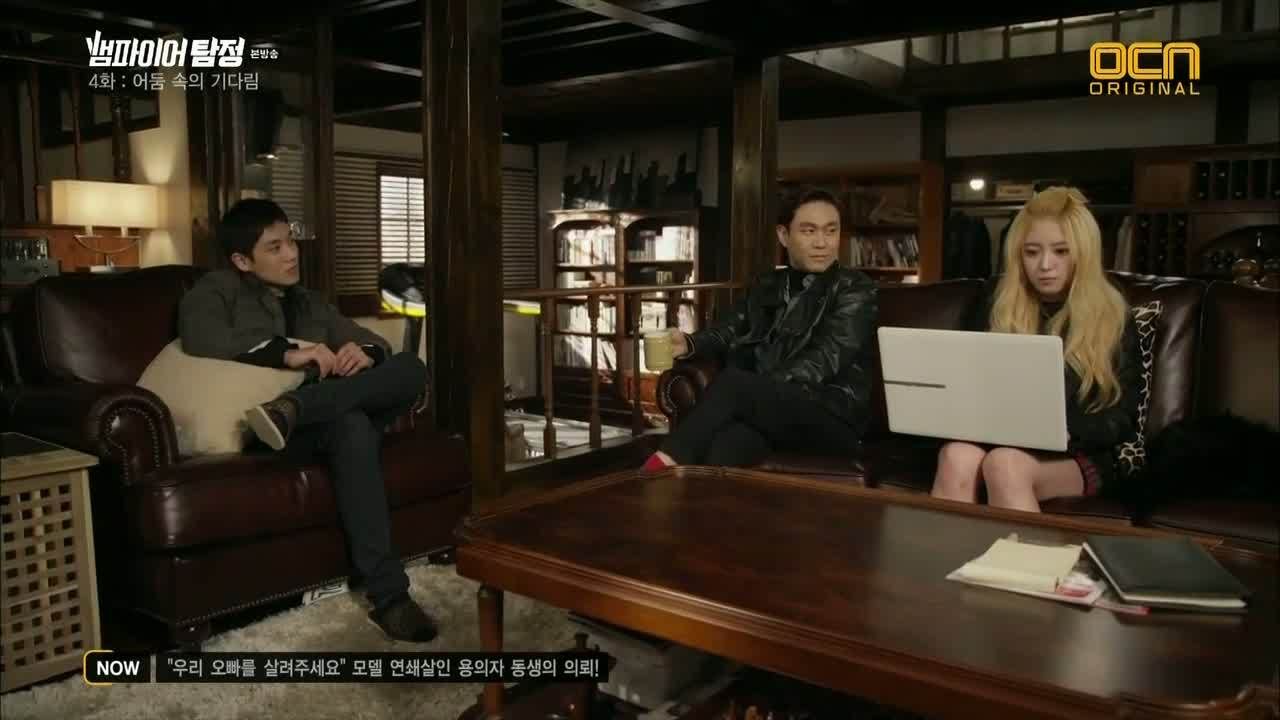 As Gyeo-wool looks up the murder case online, she concedes that she agreed to this case because she knows what it's like to try and save a brother better than anyone else. Gu-hyung finds it amusing that she actually has a heart, and she changes the topic to the murder case.
The suspect (and their client's oppa) is a photographer: MOON KYUNG-HO, who admitted to killing two models after their respective photo shoots. Both cases were initially thought to be suicide because of cuts on the victims' wrists, Moon was the last person they spoke to on the phone, and both were discovered in a bathroom.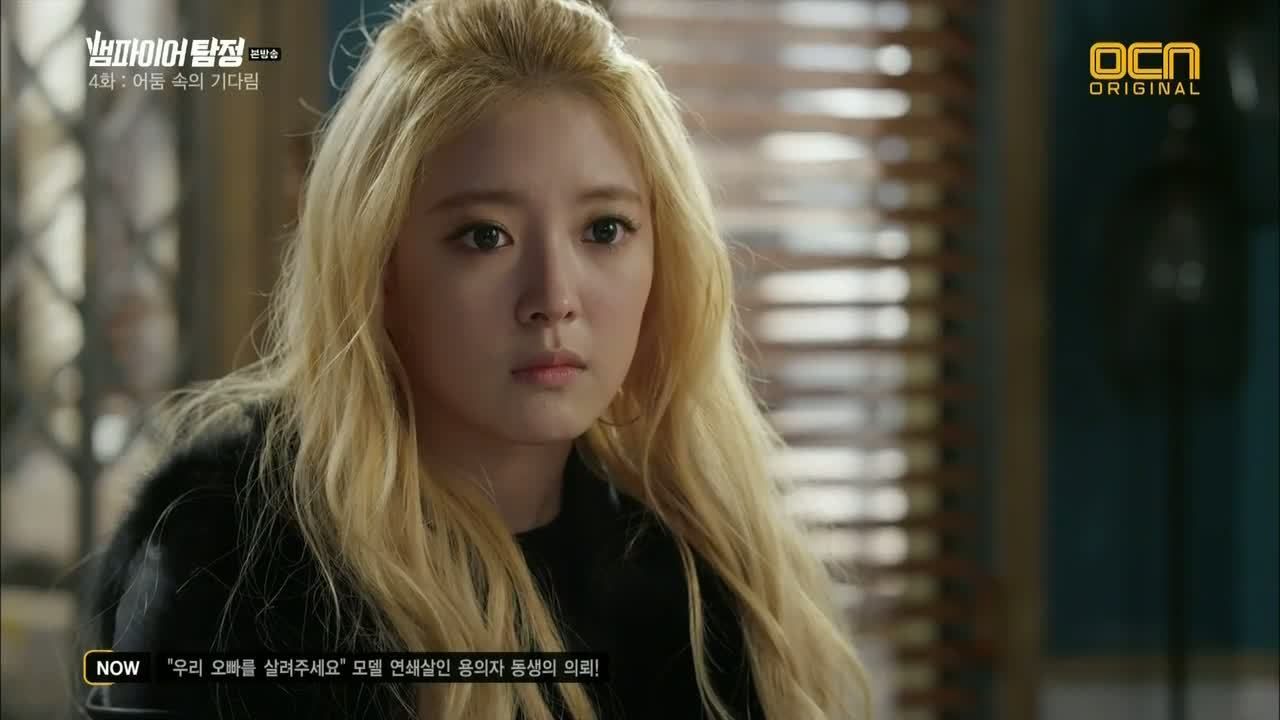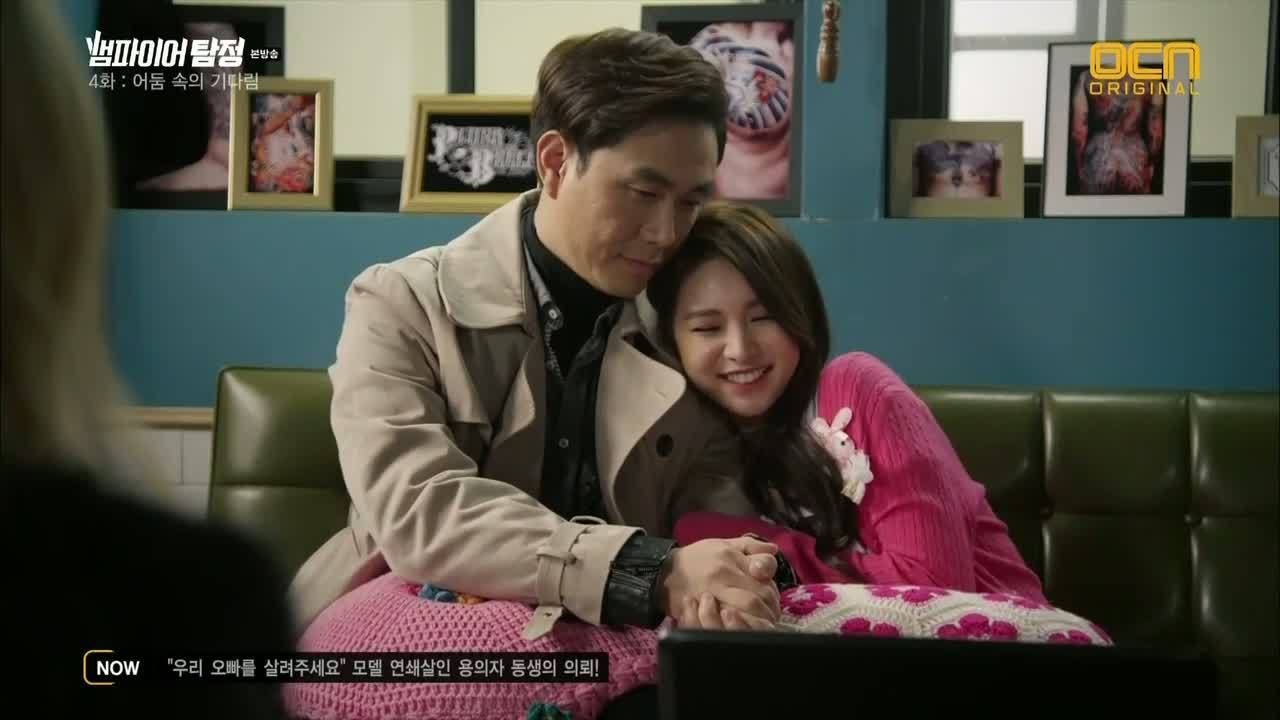 One of the photos online point them to Se-ra, who recognizes Kyung-ho as a photographer oppa she knew back when she was training to be a model. Gu-hyung beams at her answer that an older man is always an oppa in her eyes, and Se-ra can't even fathom the idea that Kyung-ho would be a murderer.
But San says no one ever knows a person's true colors, even if they come back from the brink of death. Gu-hyung guffaws at that expression, only to apologize at the uncomfortable silence that follows. Gyeo-wool has no idea what they're talking about, so they change the subject.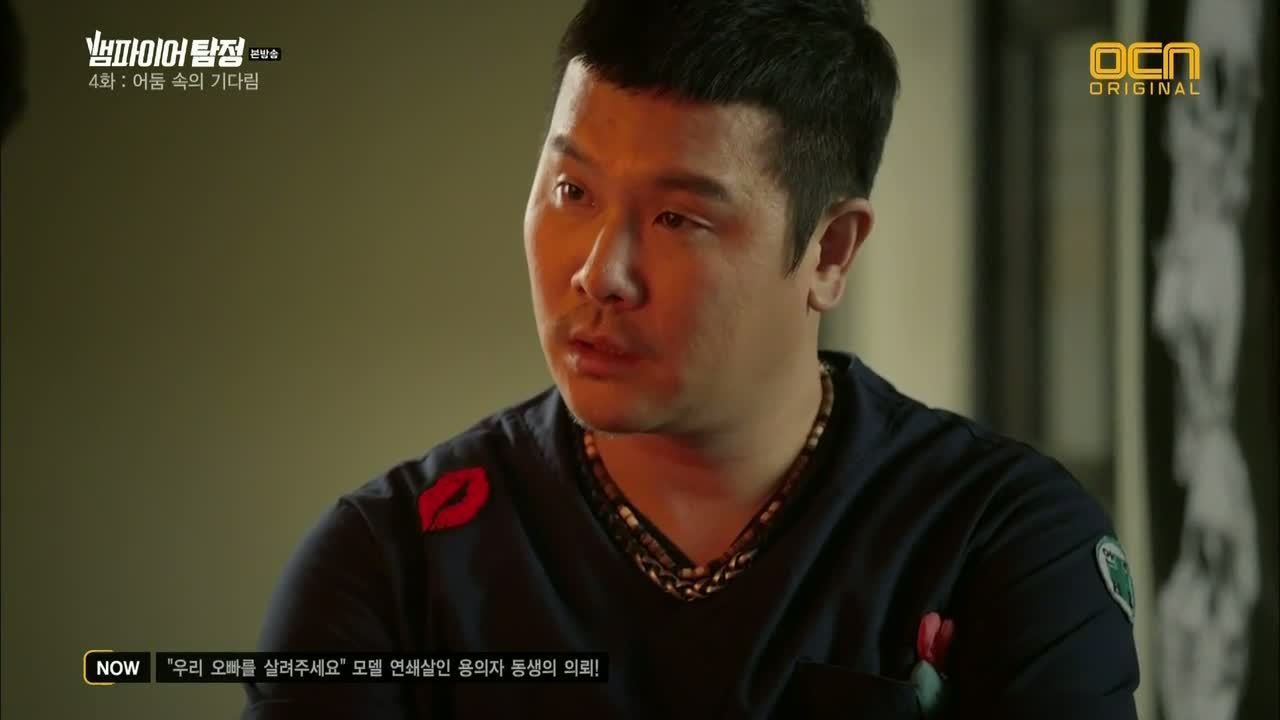 Se-ra wasn't aware that Kyung-ho had a blind sister, a revelation that strikes odd to the others. She takes Gu-hyung's hand and entreats him with puppy eyes to solve this case.
Doctor Hwang pulls San aside to talk about Gyu-min's notebook, which describe a type of blood that cannot exist in this world. However, there's one being that does possess that strain: San. San can consider himself as patient zero, and no one knows how this strain will affect him and to what extent.
As they leave Doctor Hwang's, Gyeo-wool finds out that both victims belonged to the same agency. San believes that it's worth looking into the CEO because both women died just before their contracts were about to expire. Hm, why do I get the feeling that the man passing through them isn't mere coincidence?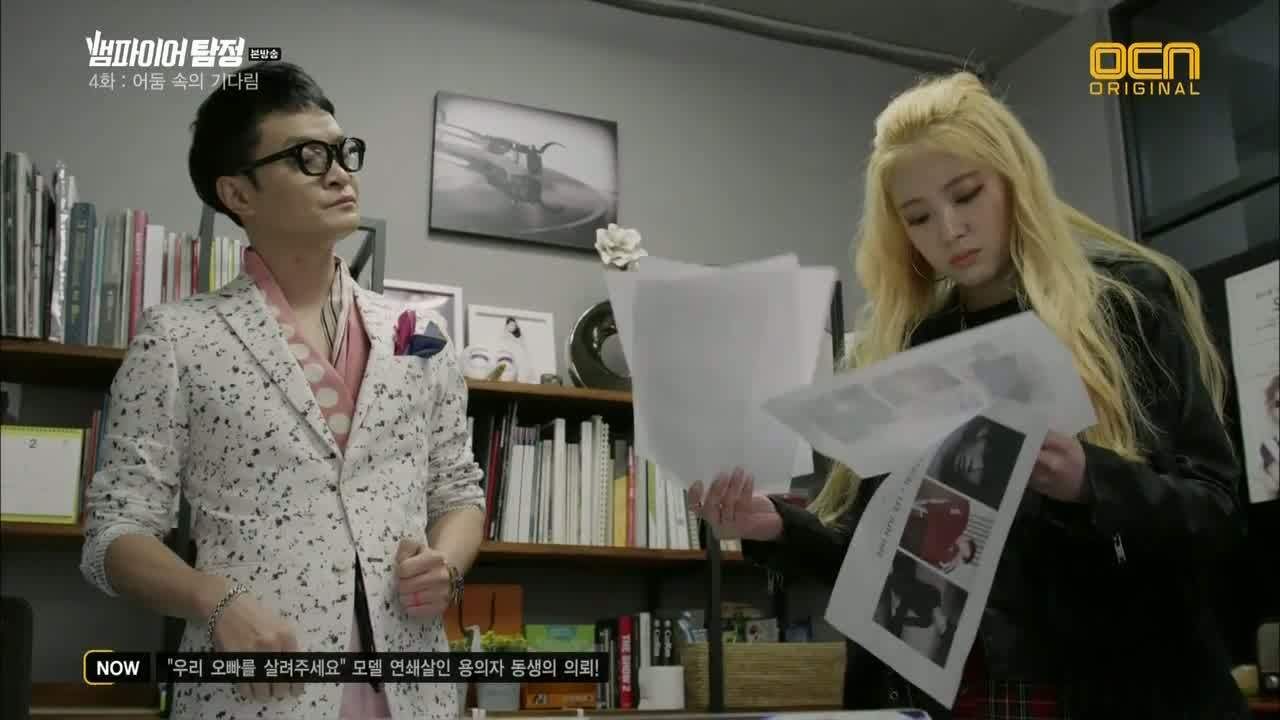 That's how Gyeo-wool meets with CEO Park, who gets all uppity with Gyeo-wool rifling through his desk. He's still upset at the profit losses caused by the deaths of his top two models, and says his next best option, JOO HA-YOUNG, isn't all that great compared to the other two.
He grows livid at the insinuation that he would do away with his own talent, and Gyeo-wool is more than happy to leave.
San sits down with a forensics analyst who remembers that one of the victims showed evidence of being pierced. That has San recall the ice pick that fell with the bucket of ice back at the client's home, and then he's turned away from seeing Moon Kyung-ho in prison.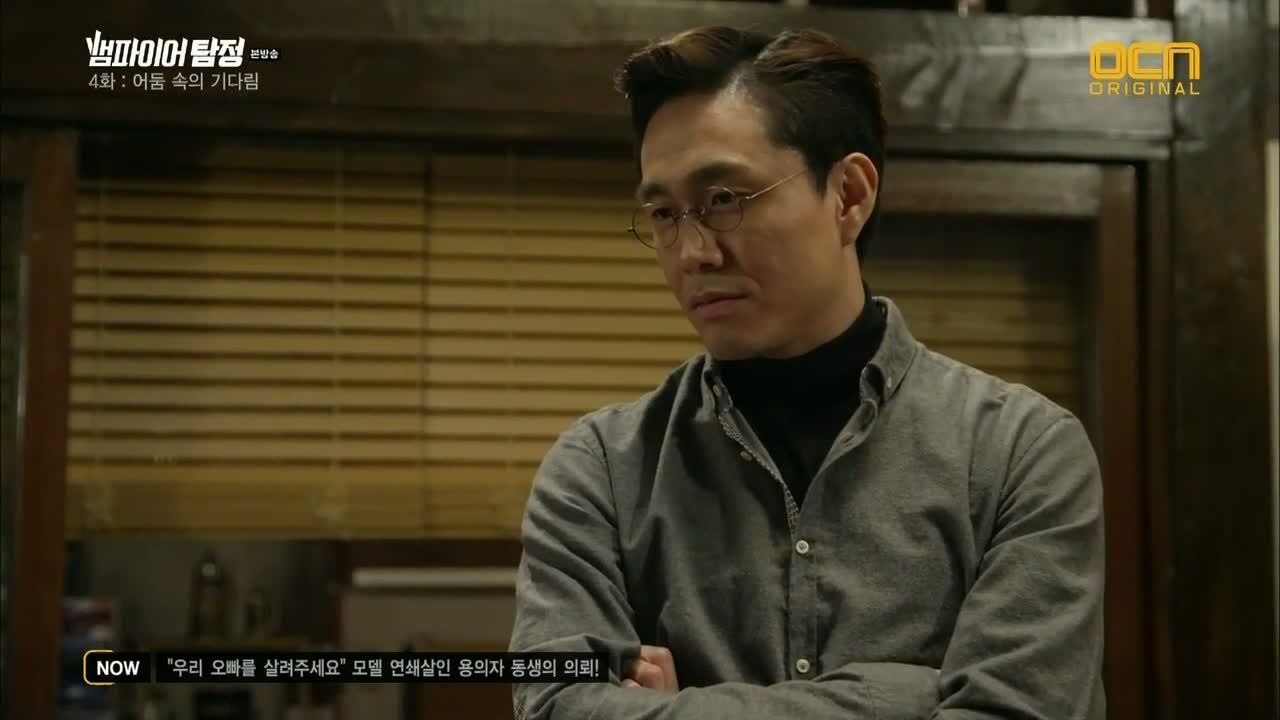 Gu-hyung ignores Detective Park's warning not to snoop around too much, then pays for the files he's sent over. He and San join Gyeo-wool at the photoshoot, where she crosses CEO Park off of the suspect list. Afterwards, they speak with model Joo Ha-young, who shares that she heard that one of the victims left a clue that pointed to Moon Kyung-ho.
Cue exposition speech as Gu-hyung explains how a dying message can leave a clue about the murderer. For instance if the victim's hand pointed towards the audio system, they can surmise the murderer's name is a palindrome ("audio" is pronounced oh-di-ohin Korean). The second victim, Jung Han-na, wrote "MM" in blood, and the "M" then pointed to Moon Kyung-ho.
Gyeo-wool finds it a bit too convenient—Moon Kyung-ho only has one M in his name. Looking at the crime scene photos, San ponders over Mi-jin's claims that she heard her brother working. Realizing that they never checked whether or not there was a darkroom in the house, they head back to their client's home.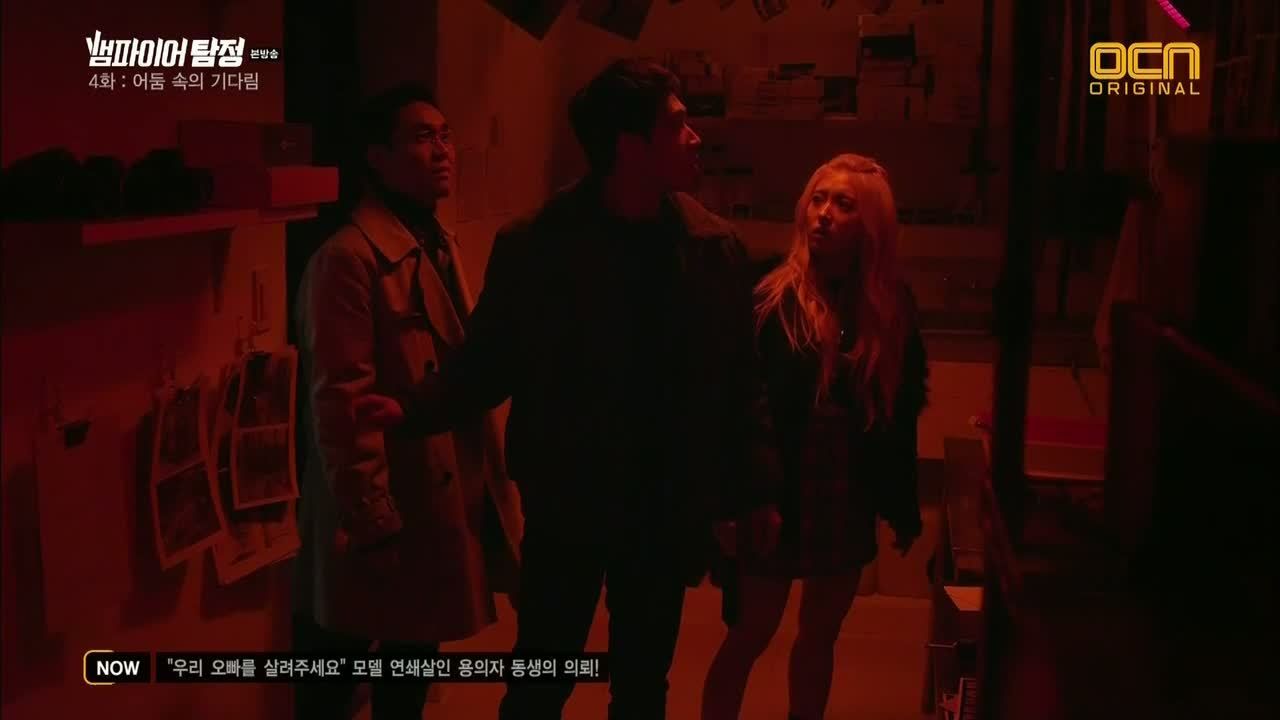 No one answers the door, and at Gyeo-wool's worries that this investigation will only bring more pain to Mi-jin, San says it's better that they discover the truth. So Gyeo-wool proposes they snoop around while their client's away and hacks her way inside.
San sees the ice pick in the kitchen, then the group finds the darkroom which is filled with photos of women's legs. As San checks the only digital camera in the room, the front door clicks open for Mi-jin.
The trio silently sneak out into the hall, only for Mi-jin to turn in their direction and call out, "Is someone there?" They freeze, then Gu-hyung and Gyeo-wool stick to the wall as she approaches.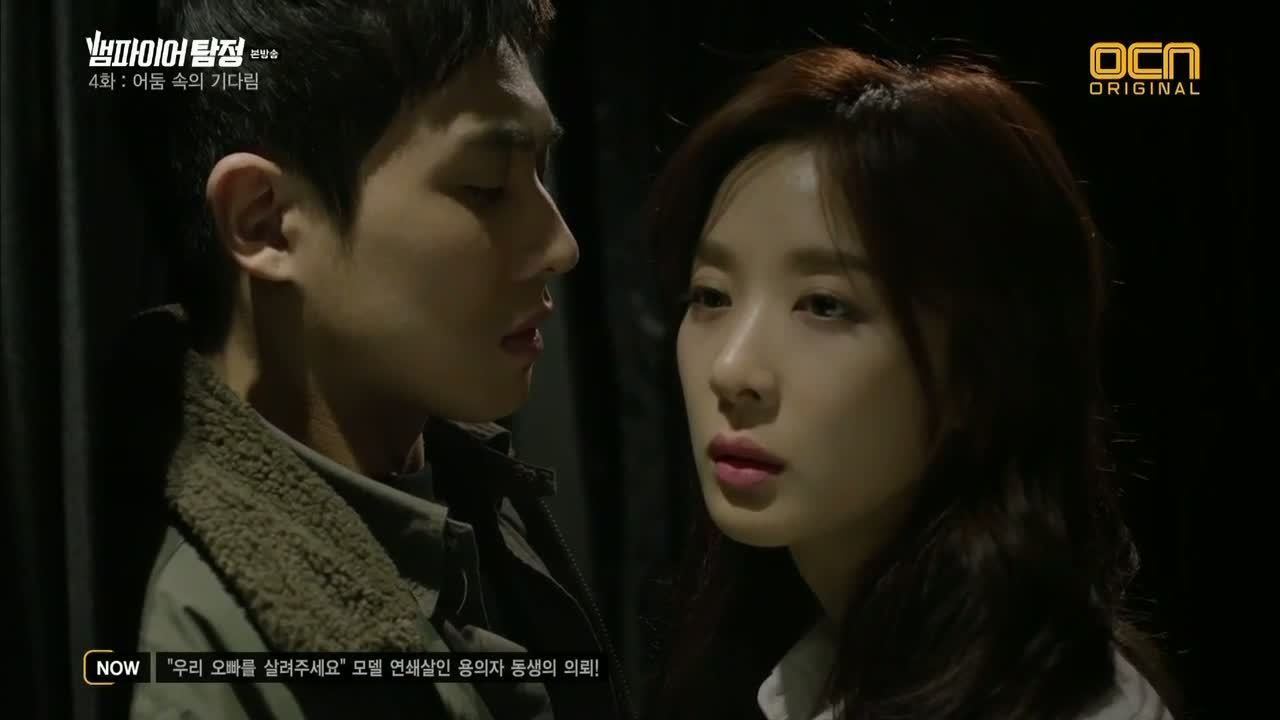 She passes by San and faces the door, then turns around. San remains still as Mi-jin's face is mere inches to his, and he closes his eyes as she partially undresses before him. He opens them again for a moment when she turns away, only to close them again until she's in the bathroom.
Now that they're out of the woods, San shows his teammates one photo on the camera. It's one unreadable photo, which must be important if Moon Kyung-ho thought he needed to hide it in his darkroom. Gu-hyung can understand why Gyeo-wool wishes that Moon Kyung-ho is innocent, but everything about this looks like a stalker who then turned to murder.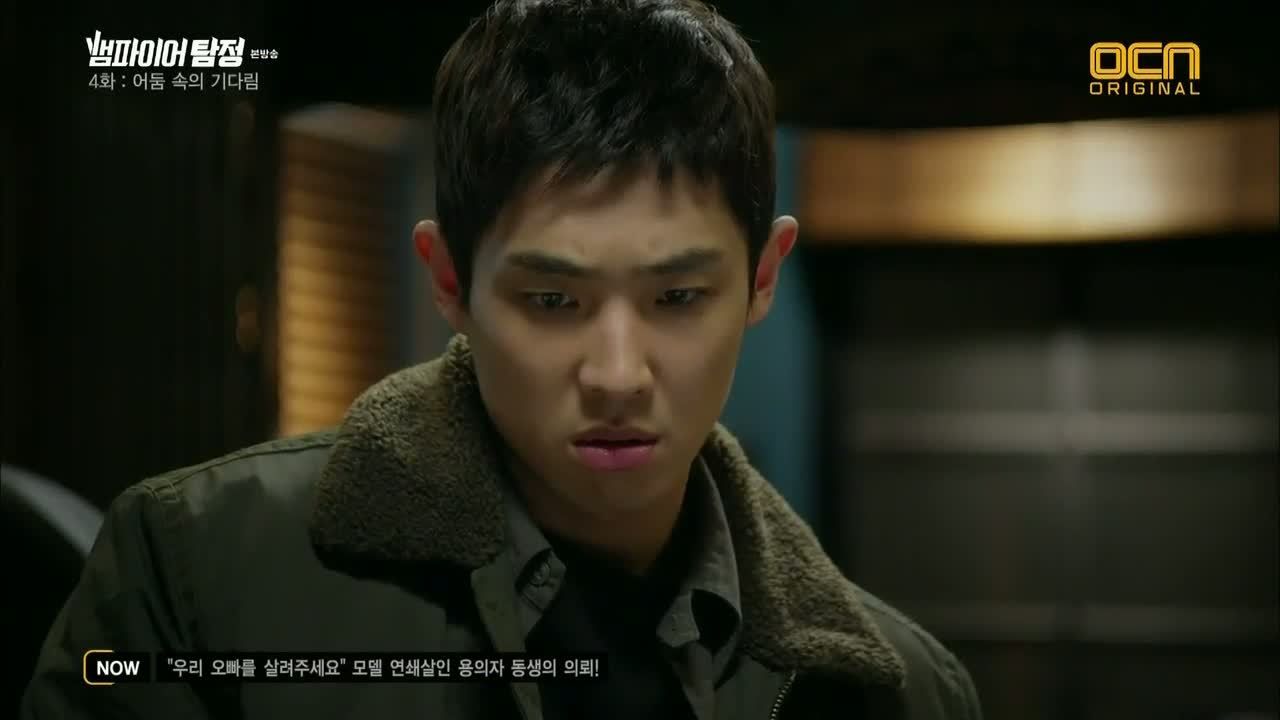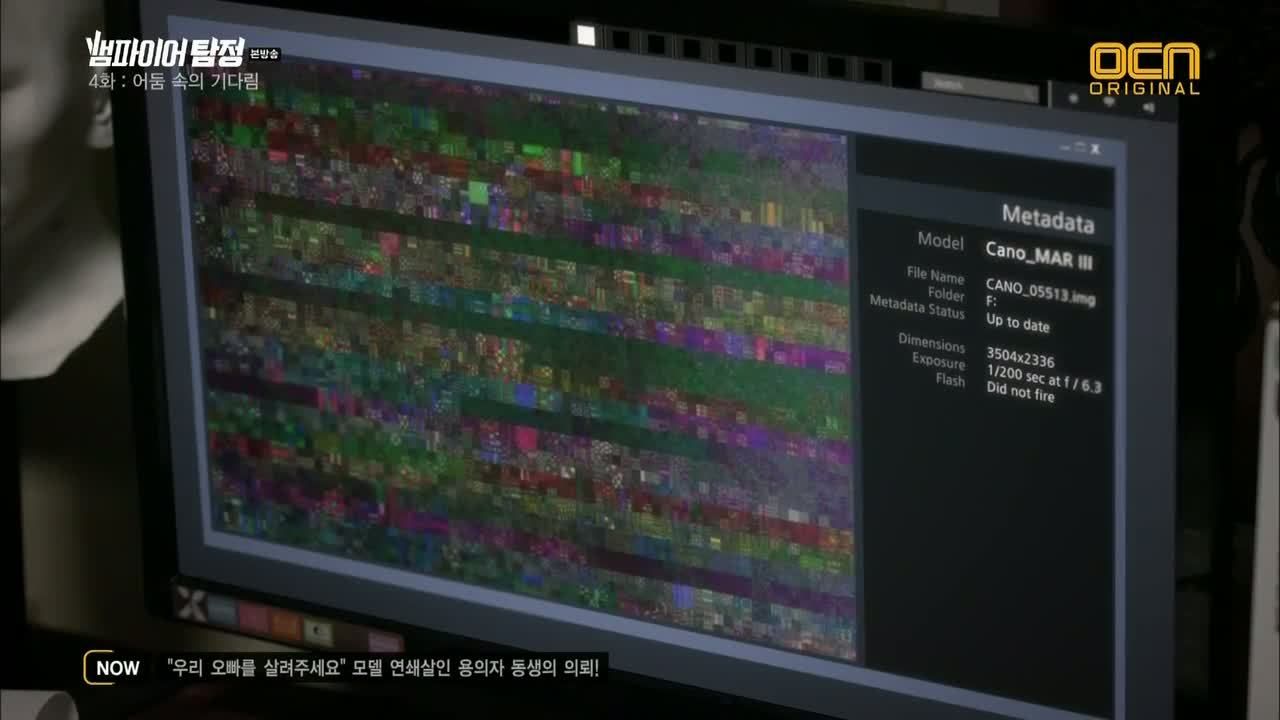 San agrees that they should look into the photo, and Gu-hyung knows someone who can help them. Cut to: Doctor Hwang reluctantly agreeing to analyze the memory card.
Looking at the metadata, San identifies that the listed model doesn't correspond with this camera model. That suggests someone planted a different memory card into this camera body, and San asks if they can check out the crime scene.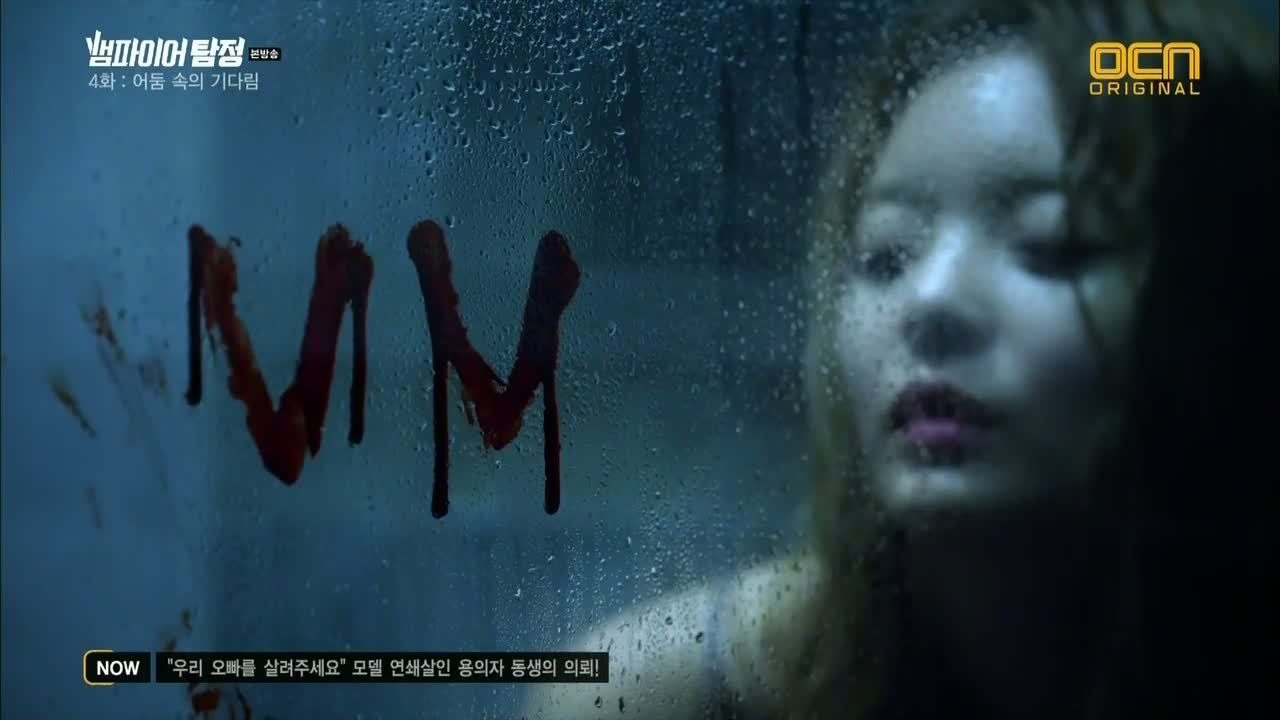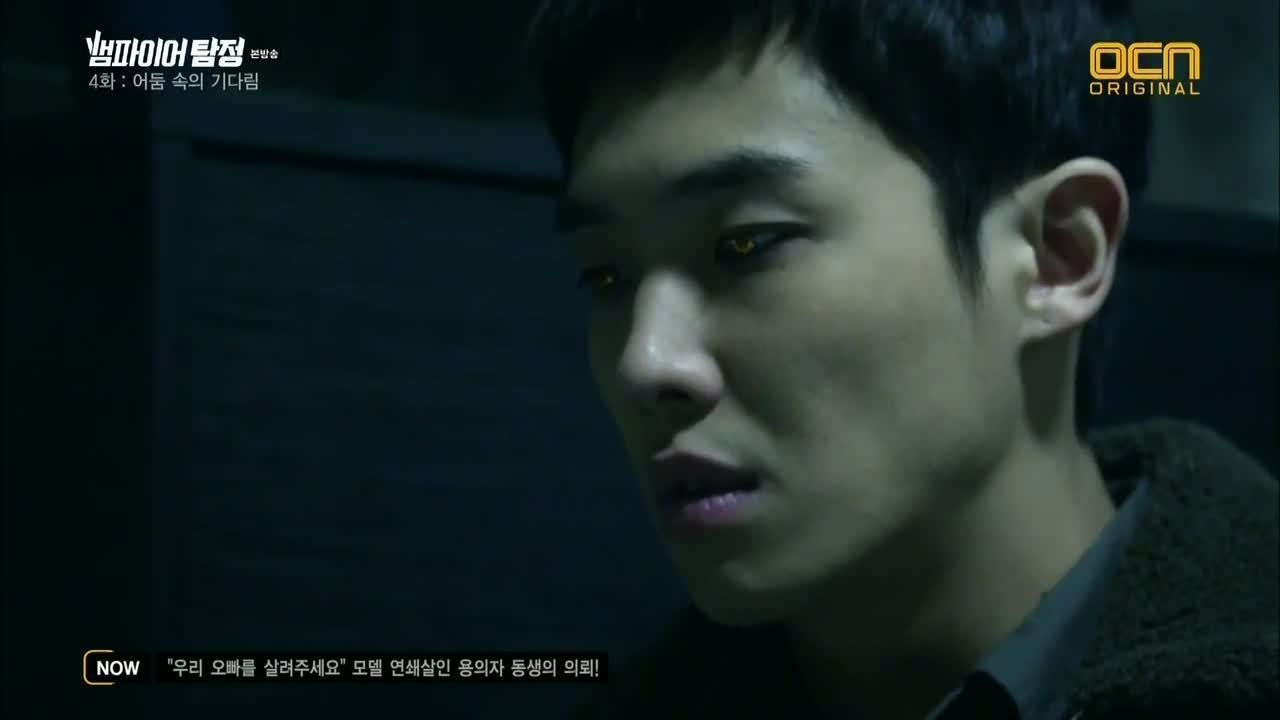 San and Gu-hyung explore the victim's home (thanks to Detective Park). As soon as San sees the blood on the shower wall, his eyes flash yellow, and the crime is reimagined before him: the victim was strangled by a strong hand who possessed dark nails. Once she was let go, she left behind a bloody dying message of two Vs, but the blood dripped down to make the letters look like Ms.
Just then, San grows dizzy, and he takes two puffs from his blood-filled inhaler. Back at the tattoo parlor, Doctor Hwang sighs at the pixelated photo. He shifts uncomfortably in his seat when Se-ra closely looks over his shoulder, and pulls back so he's not so close to her chest.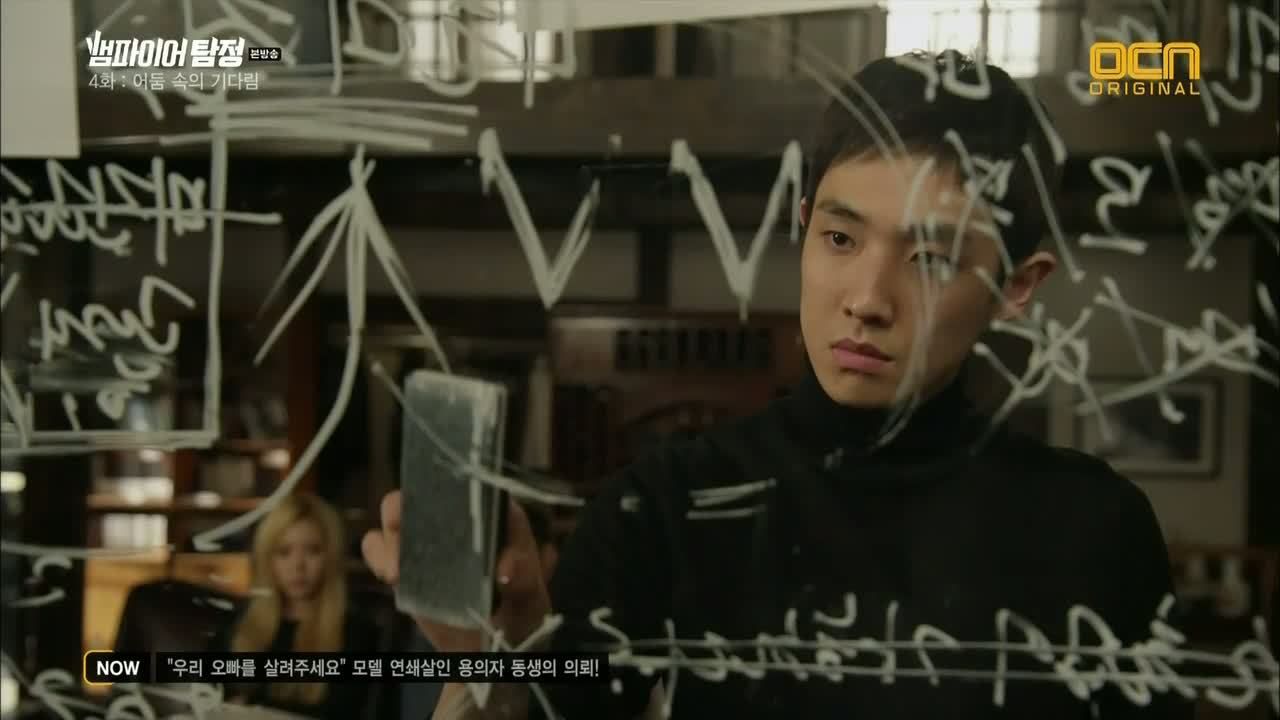 Over at home, San informs his teammates that they misinterpreted the bloody clue. The victim had drawn two Vs, but these weren't letters—this was an illustration of the last image the victim saw.
He explains that there was evidence of the victim being pierced, but then the murderer sliced the victim's wrist to cover it. To that, Gyeo-wool questions how San knew that the Ms were in fact Vs, and Gu-hyung steps in to say that all detectives just know.
San is finally granted an audience with Moon Kyung-ho, who flatly confirms that he was the murderer. San pries for details, then shows Moon a photo of the dying message.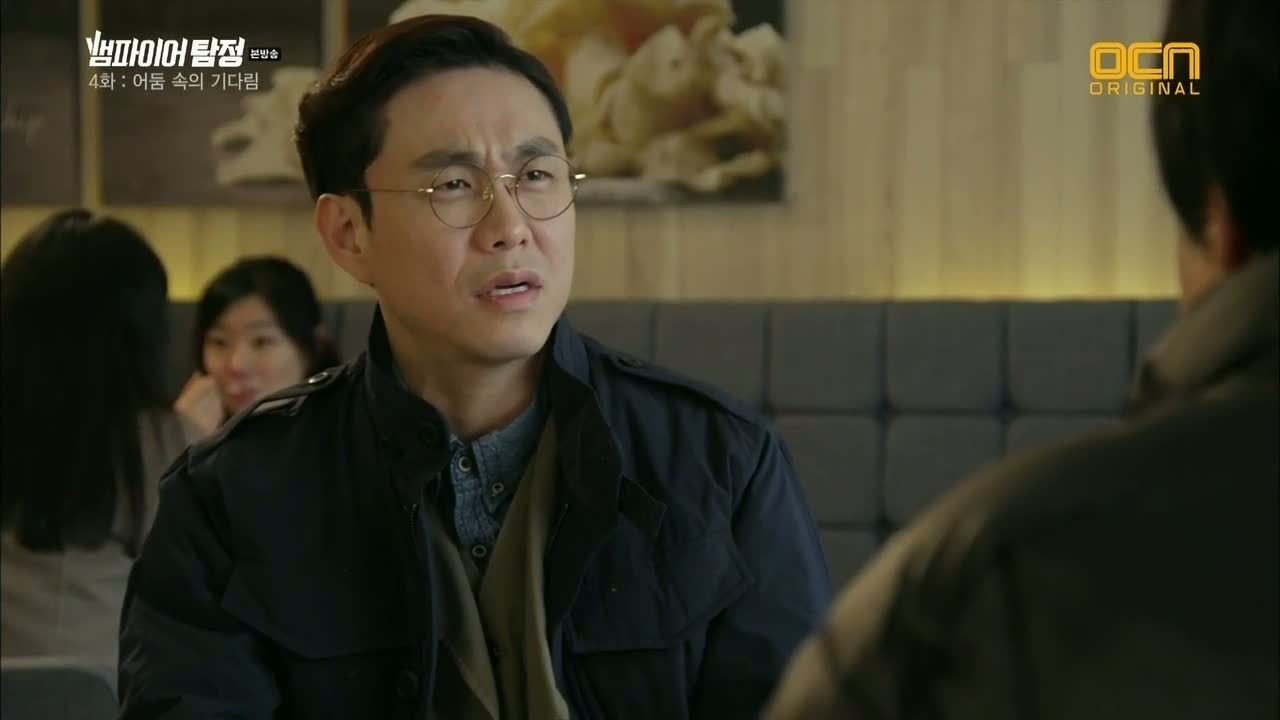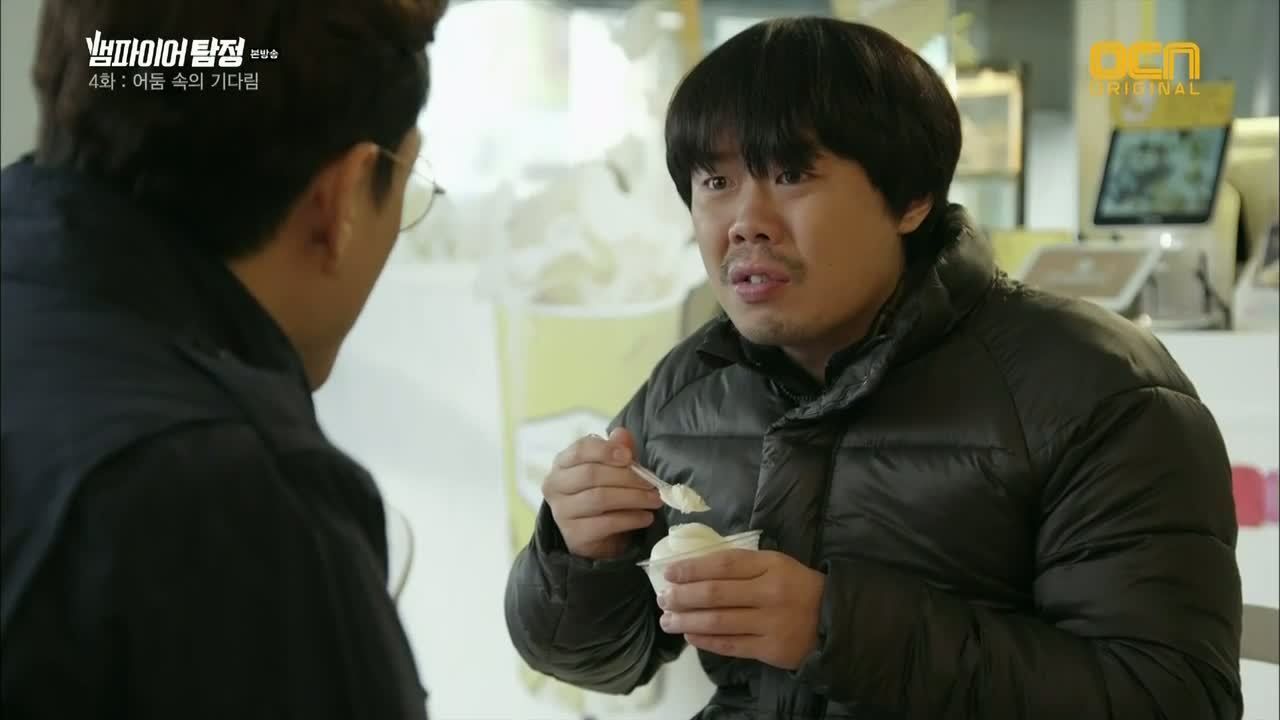 Gu-hyung meets up with Detective Park to return the files he requested. He's convinced that all roads lead to Moon Kyung-ho, but Gyeo-wool has a soft spot for the the suspect's sister, Mi-jin.
But Detective Park says Moon Mi-jin isn't related to the photographer at all—in fact, she only started living with him after losing her sight following an accident. He shows Gu-hyung a photo of the real Moon Mi-jin, which is forwarded to San.
San shows the photo to Moon Kyung-ho, who identifies the woman as Mi-jin. Confused, he asks about the woman in his apartment then, but Moon doesn't know of any woman. At that moment, Doctor Hwang decodes the photo, revealing the "Mi-jin" the team met, and sends it over.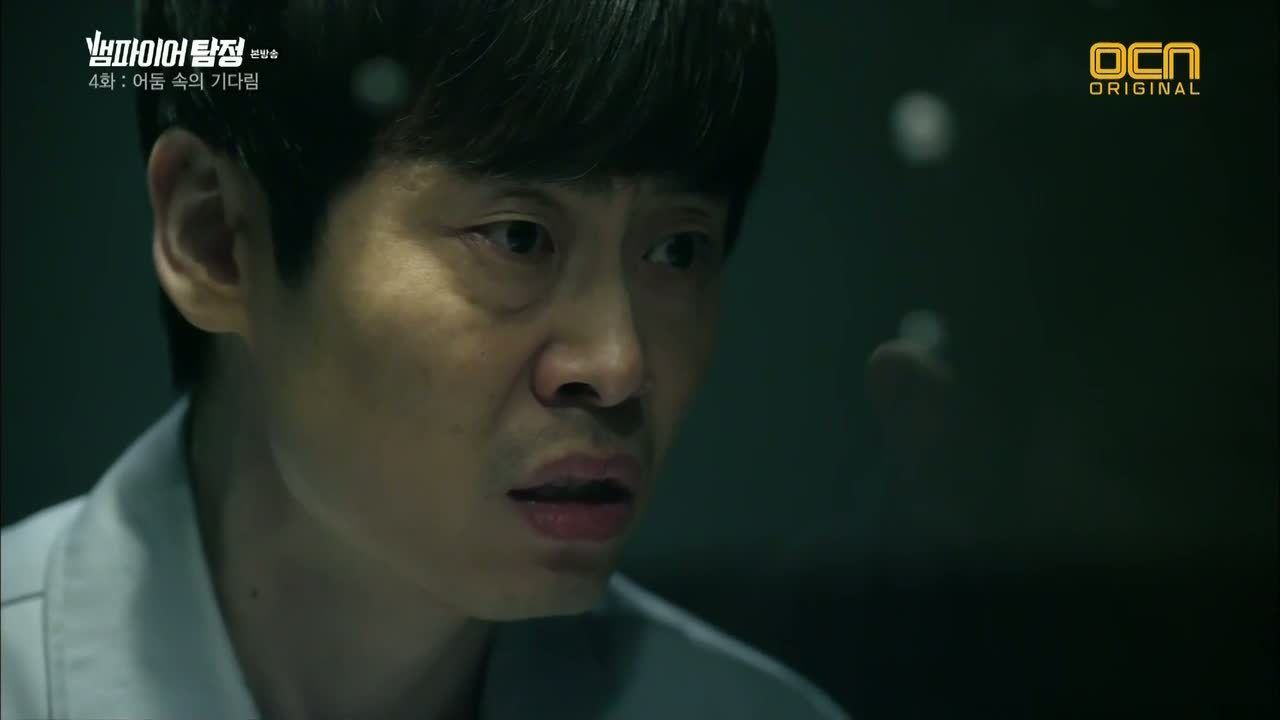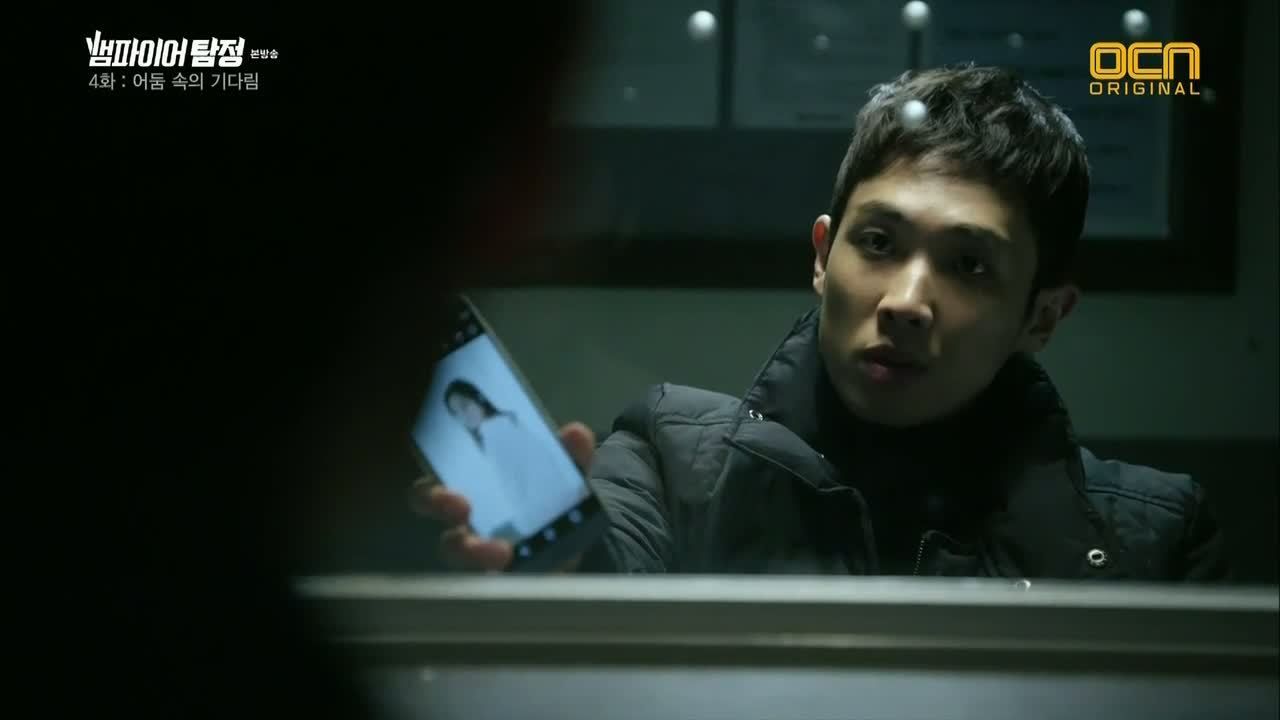 Looking at the photo, Moon Kyung-ho identifies that woman as someone who threatened him to take the blame. "Don't you get it yet?" Moon asks. "You don't know what those Vs mean?"
San realizes that the close call was intentional—she'd known he was there. And the Vs? Fangs. Moon Kyung-ho had agreed to take the fall in exchange for Mi-jin's safety, and demands to know what happened to her.
Speaking of which, Not Mi-jin opens the trunk of a car where Mi-jin is bound and gagged. And now we see the crime in its entirety: Not Mi-jin had strangled her victim in one hand while biting into her wrist. "Did you sleep well?" she asks tauntingly.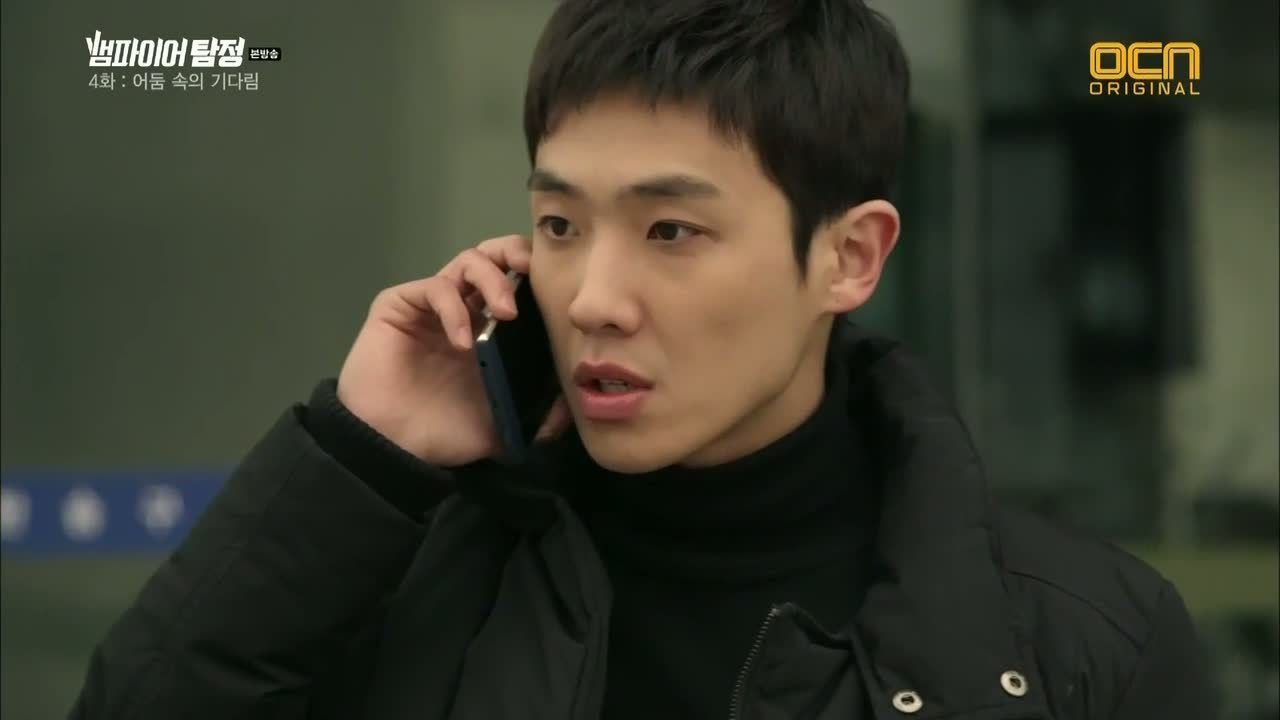 San gets a call from Not Mi-jin, who wonders if he's a little too young for the more affectionate term "oppa" (Answer: No, but let's move on). She's impressed by how San figured out the riddle to Boss Choi's will, and it tore her heart to see him be shot by his girlfriend all those years ago.
She takes his silence to mean that he hasn't forgotten about Yoo-jin, but he has more pressing matters to take care of, like saving the real Moon Mi-jin. She'll give him one hour to save her, lest he wishes to pick up a corpse instead.
Night falls, and Mi-jin is bound to a chair in a darkened room. Mi-jin can't see her abductor, who says she's vital for this test she's putting someone through. There's one thing they share in common: neither of them can see the sun.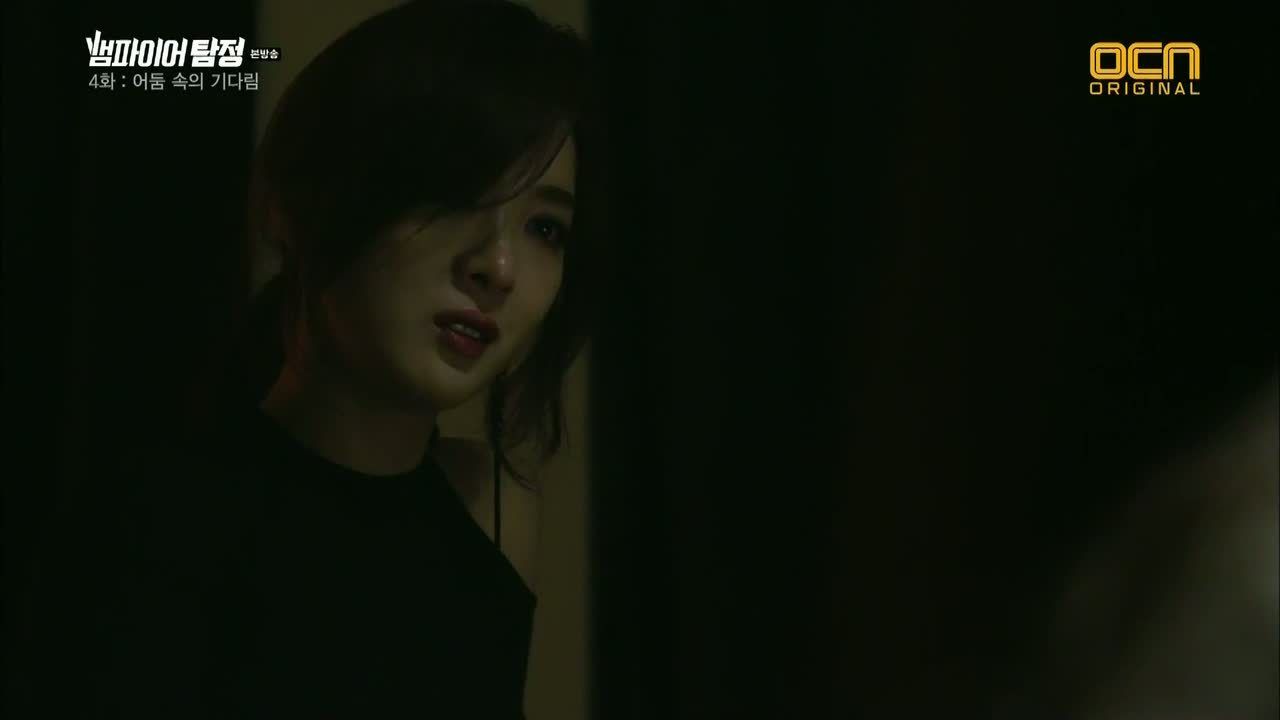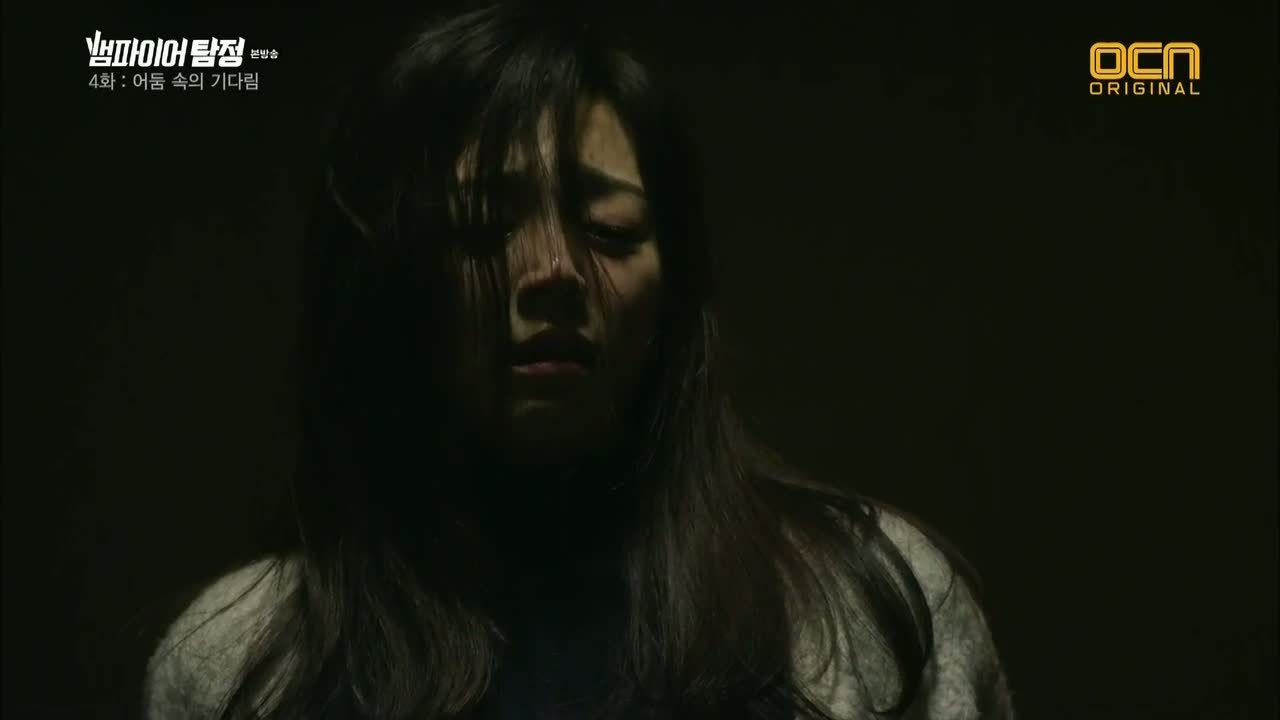 The only difference is that Mi-jin can feel the sun's warmth if she so chooses, and Not Mi-jin says she can relate to Mi-jin's blindness—she has to remain in the darkness too. "Although… nothing suits a bad girl like the night," she smiles.
Not Mi-jin smirks when Mi-jin declares that she knows Moon Kyung-ho is innocent. She's more than happy to strip Mi-jin of that delusion, suddenly desiring to see her suffer. "What would your face look like if your soul was wounded, too?"
We flashback to when Mi-jin was still a model, and Moon Kyung-ho had failed in trying to talk to her after a photoshoot. He captured photos of her legs, photos which now adorn the darkroom.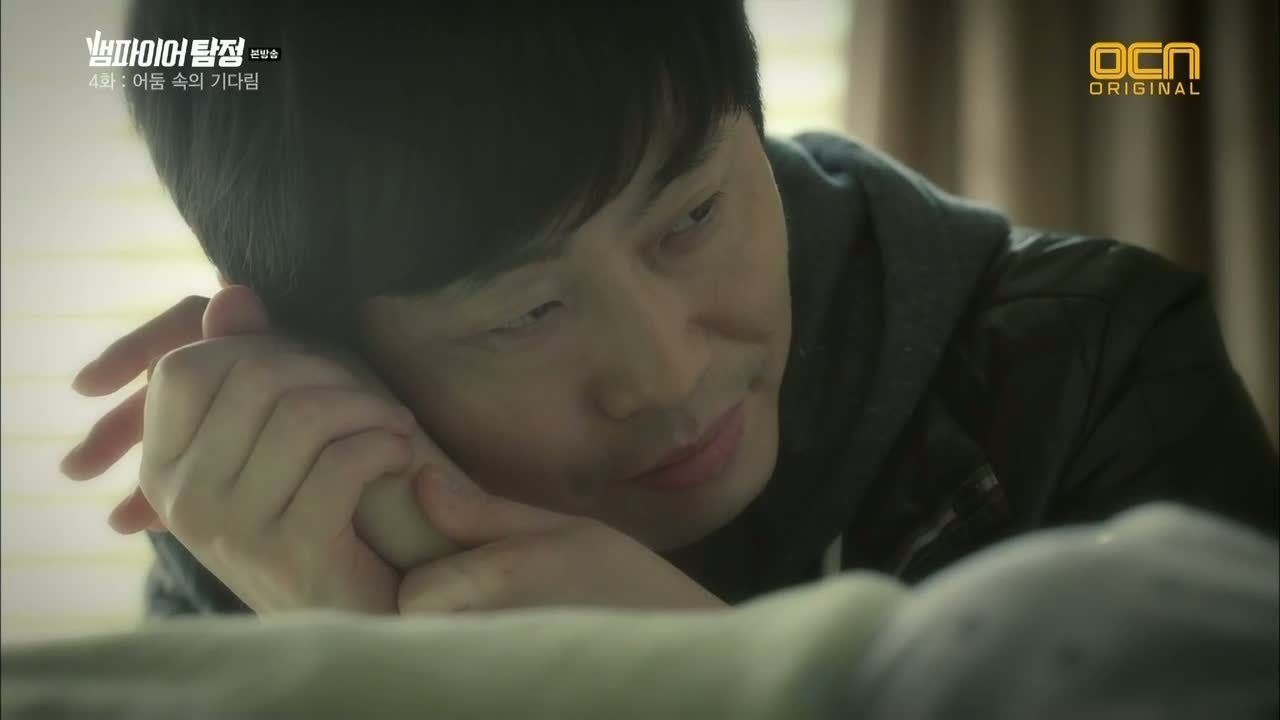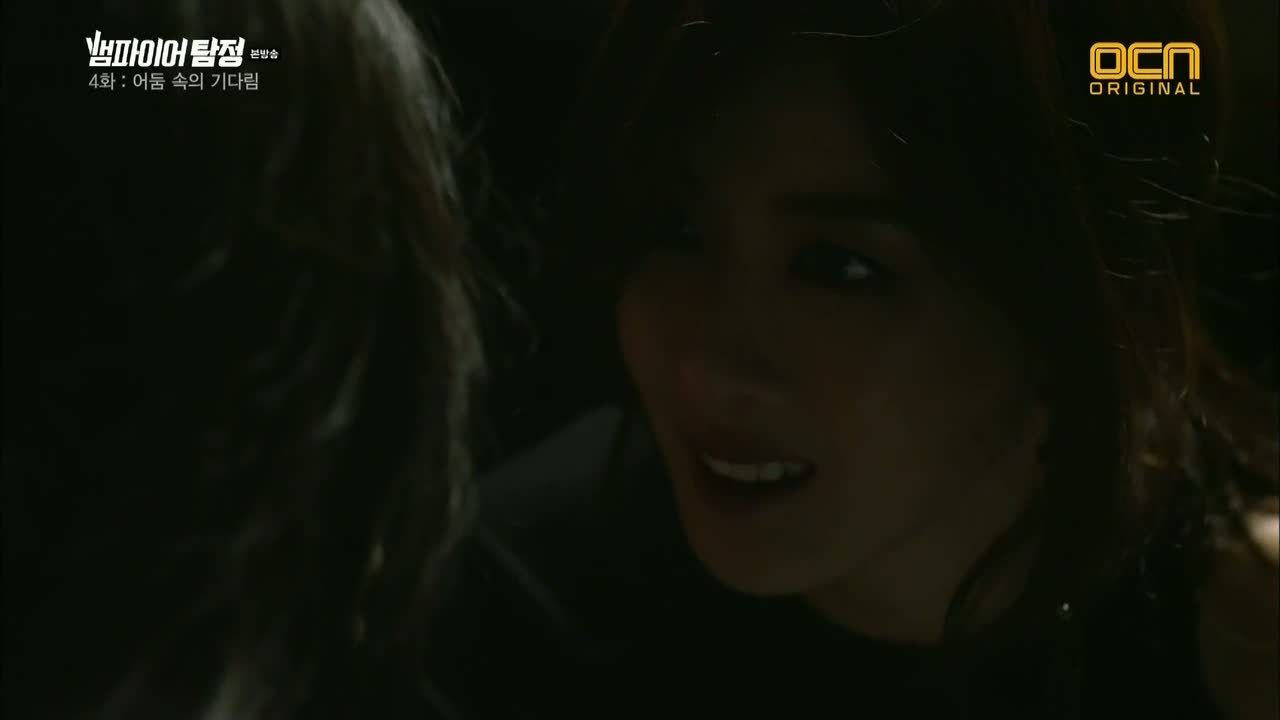 Someone had jumped her when she got home—that was Moon Kyung-ho, who then blinded her with drops while she was unconscious. That's how much he wanted her by his side, Not Mi-jin tells her. "Do you think there's such a thing as real love in this world?"
"Don't be ridiculous… that doesn't exist. And… nothing is forever in this world," she sneers.
San and Gu-hyung are armed with tasers as they approach Moon Kyung-ho's apartment. The door is ajar, and they see the real Mi-jin crying in her chair. San unties her, but that sets off the timed contraption above them.
The seconds count down, and Gu-hyung and San brace for the explosion. The contraption spits out a shower of confetti, and Mi-jin passes out from shock. Unsurprisingly, Gyeo-wool waits in the parking lot, and makes a move when a gloved hand rests on her shoulder.
Not Mi-jin appears from behind her, saying how she never liked how Gyeo-wool spoke to her in banmal. She thought about killing her, but then decided not to when Gyeo-wool responded to her sob story.
Gyeo-wool asks why she went through the trouble to concoct a fake story: "I believed you." Not Mi-jin tells her, smiling: "That's why… trust no one."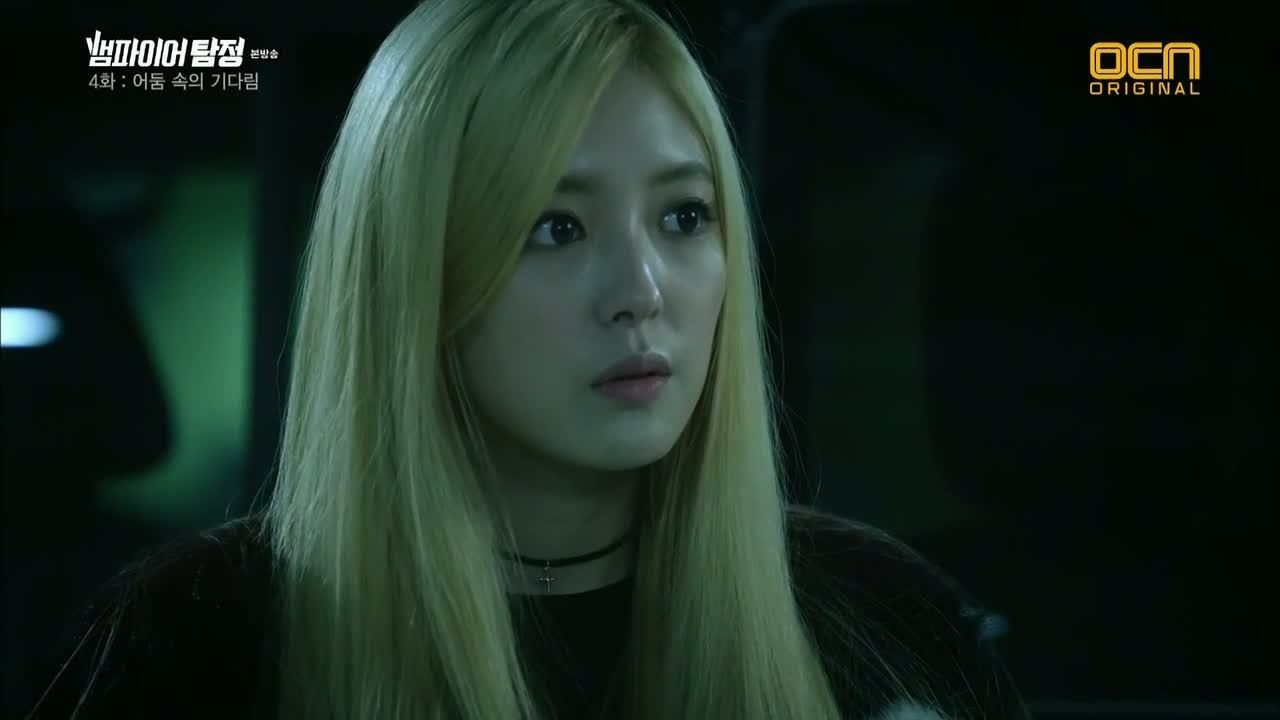 Not Mi-jin can see Gyu-min's likeness in her, adding that she shared a very special relationship with him. Also, can Gyeo-wool not see her? Gyeo-wool asks what happened to her brother, but Not Mi-jin merely bids her farewell ("Goodbye, liar") and disappears.
When her teammates return, Gyeo-wool says she's determined to catch the woman who knew her brother.
San pays a visit to Mi-jin some time later, informing her that Moon Kyung-ho will likely be found non-guilty in this re-investigation. She breathes a sigh of relief, but doesn't know if anyone else knows about the darkroom.
He wonders who it could've been, explaining that it's possible that mystery person could be trying to help them or issue a warning. He's about to leave when Mi-jin says she now knows why Moon Kyung-ho took the fall and why she lost her sight, all thanks to her abductor.
Now that her kidnapper snubbed the only light in her life, she'll likely wander in the darkness for the rest of her life. She doesn't think she'll be able to forgive Moon Kyung-ho, a man she grew to love because he cared for her. "But getting hurt by someone you love… is like being constantly pricked by a thorn deep inside your body."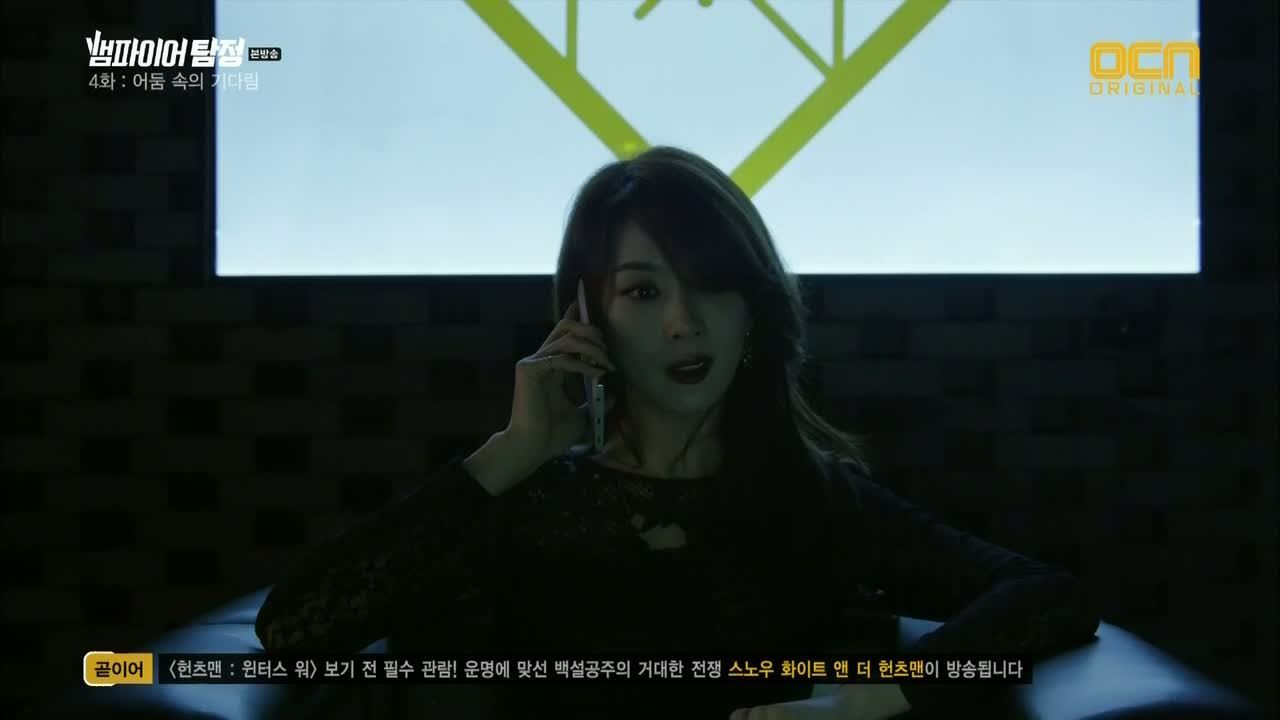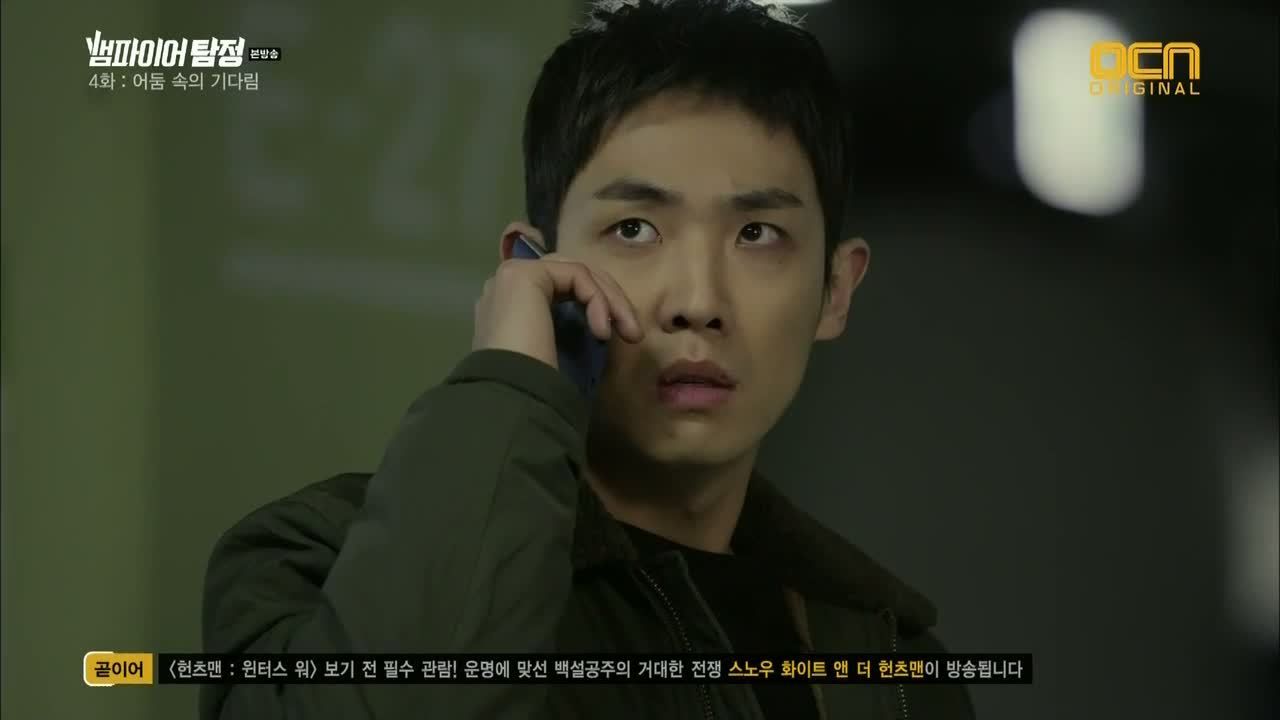 When San gets an unknown call in the parking lot, he knows who it is. "Did you have fun last night?" Not Mi-jin rings. Seeing as she saved her life, she kept her end of the bargain, unlike "that liar."
"Who are you?" San asks. Now we learn the mysterious woman's name—Yo-na, who hints that the woman San is looking for looked great on camera. That suggests he needs to find the CCTV footage from the parking lot, which Sun-young is happy to provide. When she asks what he's looking for, he answers, "Should I call it… hope?"
As San reviews the footage at home, he sees a figure hiding just behind a pillar. It's Yoo-jin, who had taken photos of Yo-na pretending to be Mi-jin. She had then taken that memory card into Moon Kyung-ho's darkroom and switched the memory cards in the camera.
And if these photos were taken recently… could Yoo-jin still be alive?

COMMENTS
Let me take a minute to breathe a sigh of relief, because it finally feels like we're building towards a larger world than the microcosm consisted of our private eye trio and their client of the week. Don't get me wrong, I love seeing these relationships blossom, especially the bickering between Gyeo-wool and Gu-hyung (more on them later), and the solid bromance between San and Gu-hyung. But for the past two weeks, it felt like the series was spinning its narrative wheels in place, biding for time it couldn't afford to waste.
But we're finally introduced to our Big Bad in Yo-na, who lives up to her frightening reputation. Given the character posters, it'd be silly of me to assume that I wouldn't know who Lee Chung-ah would be as soon as she appeared on our screens, so in a way, it's a pity that seeing her face in the promos took away from the dramatic oomph of her reveal, and instead simply… waited until she would reveal herself.
Still, that doesn't take away from the fact that we have a female villain on our hands, one who has known San from afar for years. As a vampire, the alluring quality about her isn't that surprising, but the slightly crazed personality is intriguing. She enjoys watching people suffer and toying with people, as evidenced by Mi-jin's kidnapping. At first I wondered if the the burned down nightclub affected her storage of blood enough that she had to start killing, but seeing as her chair looks fine, I'm more inclined to think that these deaths were more to grab San's attention. And if that's true, well she's got a screw or two loose.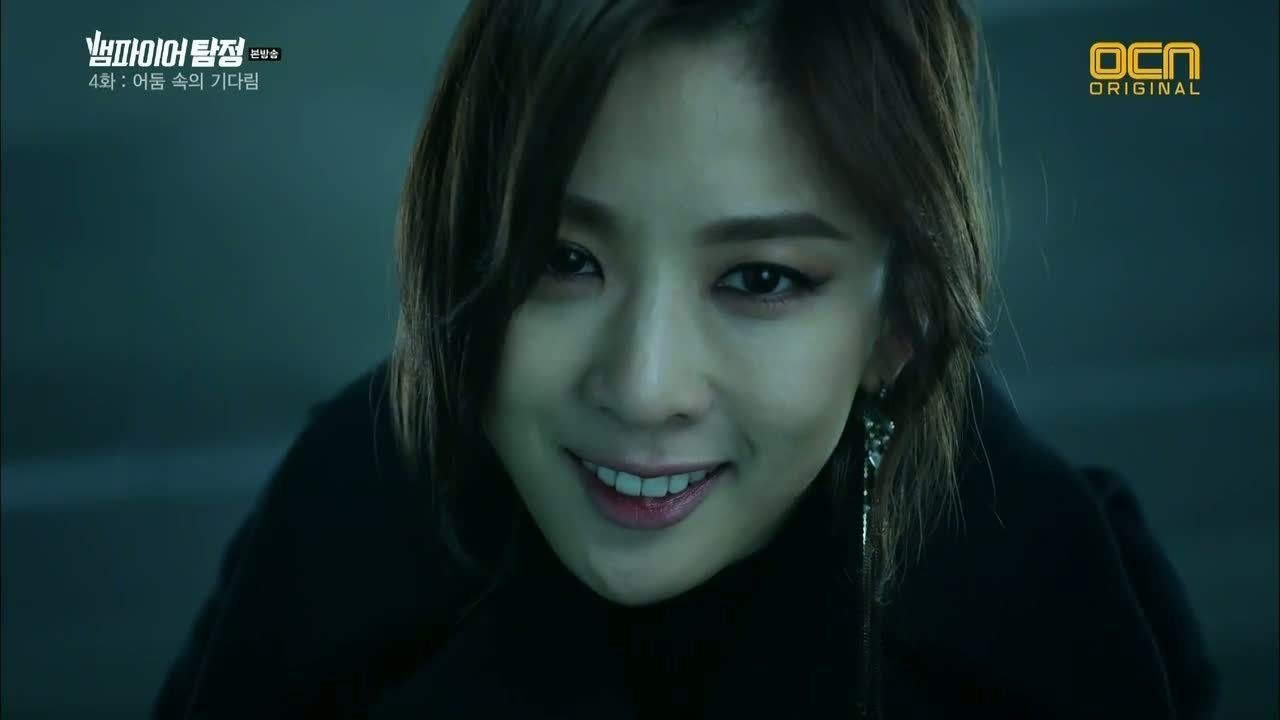 And while we know that Yo-na was working with Gyu-min to create a new strain of blood, it's unclear whether she knows San is injected with that strain. Which is why I think it was a misstep on the show's part to clue us in about Gyu-min's notebook two weeks after we'd long forgotten about the notebook's existence. Additionally, we had already known that San would be patient zero soon after he'd turned, and despite Doctor Hwang's concerns about the potential side effects of this unknown strain, we really haven't seen major side effects and San seems to mostly be in control of his abilities as it is.
Which brings me to how much San actually does know about himself. We know how much Doctor Hwang has shared with him, but we don't know for certain if Gu-hyung has. It's confusing when San and Gu-hyung share a knowing glance whenever Gyeo-wool asks how San was able to deduce anything thanks to his vampiric abilities, or simply avoid talking about how San nearly died twice already. So what frustrates me is the order of the plot point reveals when it comes to the supernatural element, because some of our characters simply operate without much explanation. And when San takes a few puffs of his blood inhaler, how does he know to take it in that moment? Does he know that it's blood?
But back to our overarching mystery and the potential role Yoo-jin has to play in this. It's possible that the figure behind the pillar could be anyone, and that San's eyes are playing tricks with him again. Like Mi-jin said, an emotional scar left by a loved one continues to hurt. But what if Yoo-jin didn't betray San, and there's a seed of truth in his hope that she's out there somewhere still alive and still fighting?
RELATED POSTS
Tags: Episode 4, featured, Lee Joon, Lee Se-young, Oh Jung-se, Vampire Detective