Dear My Friends: Episode 3
The aunties prepare for death even as they embrace life. Wan begins to realize that perhaps there is more to these old ladies than meets the eye, and behind those wrinkles are stories worth telling. Their friendships are on full display as they gather around to support and protect each other. The wounds of the past are still very present, however, although some wounds may not be as obvious as others.
EPISODE 3: "On the road with ripped jeans and no bra"
Not wanting to be a burden to anyone, Hee-ja steps into the middle of the road, arms wide as she peacefully accept her fate. But the truck of doom swerves around her and then the driver stops to yell at her. Is she crazy? If she really wants really wants to die, why doesn't she jump off a bridge instead?
That gives Hee-ja a new mission, and alone, she stands in the middle of the bridge, momentarily enchanted by the lights of the city on the water. Then she very deliberately sets her purse down and steps out of her shoes. She's had a good life — now it's time.
Just as she's struggling to get a leg over the railing, the sound of a police whistle catches her attention. It's too late, she tells him, as she continues to ease herself over the railing, but the policeman drags her back down to safety.
While Jung-ah watches a travel show about Italy, Suk-gyun carefully balances their books, making sure to track down every last penny they have spent — or, rather, that Jung-ah has spent. When he questions her about an ice cream bar (hmm, perhaps the one she bought as a peace offering for Hee-ja?), she digs around in her purse to pay for it from her personal money rather than the household account.
Suk-gyun even crawls under the table to get the coin that rolled under there, and he grumbles that he could make it so Jung-ah would have to pay $600 into the household account like he does, instead of just $400. Wait, so she pays for nearly half the shared household expenses and for her mother's nursing home care, just from the money she makes taking care of her daughters' households? Yikes.
She gets a phone call from the police station — they have Hee-ja, who refuses to tell the police how to contact her family. Hee-ja grabs the phone from the police officer, threatening Jung-ah that if she tells them Min-ho's phone number, she'll really die.
Ever the loyal friend, Jung-ah gets ready to go the police station herself, but Suk-gyun yanks the coat (her beloved coat!) out of her hands, telling her it's none of her business. Just then her phone rings, and it's Soon-young, Jung-ah's eldest daughter. She asks her mother to come over, but before Jung-ah can get more information, Suk-gyun snatches the phone from her. Ooooh, Soon-young's husband lies to Suk-gyun that it's nothing, but we see that he beats his wife.
As they get ready for bed, Suk-gyun keeps demanding a glass of water. Jung-ah brings him one, but only after she spits in it first. Ha! He gulps down the spit-water, grumbling that Soon-young too easily complains about have a little cold, like it's Jung-ah's fault in raising her. As soon as he's asleep, she texts Nan-hee to go to the police station for Hee-ja.
The aunties wait with Hee-ja while Wan tries her best to sweet-talk the police officer into letting Hee-ja off just this once. The cranky officer reiterates that she can only be released to her children or guardian, neither of whom are any of the women gathered here. Nan-hee, Wan, and Jung-ah attempt to persuade Hee-ja in their different ways to tell the police Min-ho's phone number, but she stubbornly refuses.
Just then Young-won waltzes in, greeting one of the higher ranking officers with familiarity. Everyone (except Nan-hee) is pleased to see her, since it means Hee-ja can go free. Young-won cheerfully warns Hee-ja not to try it again, since the police will arrest her instead of Hee-ja. Then she asks if Hee-ja wants to stay with her. Aw.
After a disdainful good-bye to Young-won, Nan-hee demands Wan's car keys. As the aunties tell Hee-ja not to try and go to heaven before her time — it'll cause too much of a headache for God — Nan-hee gets Wan to hand over her car keys so Jung-ah can give Hee-ja a ride home, per Hee-ja's wishes.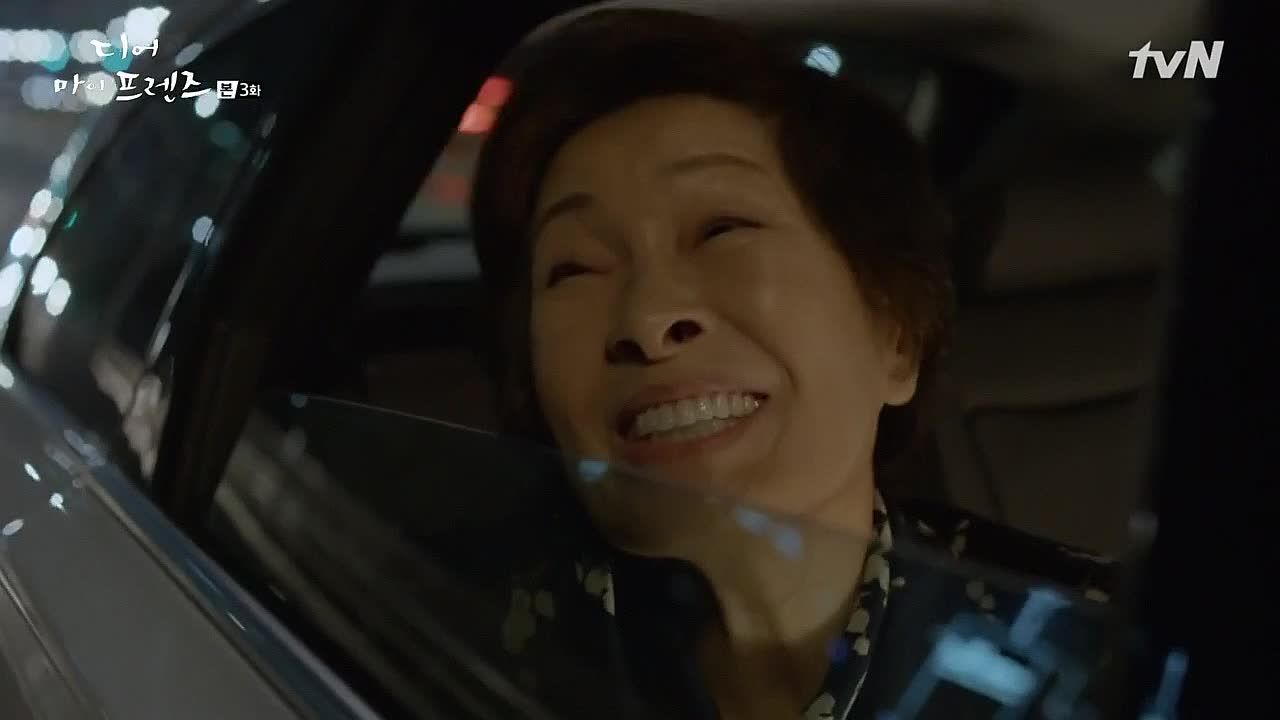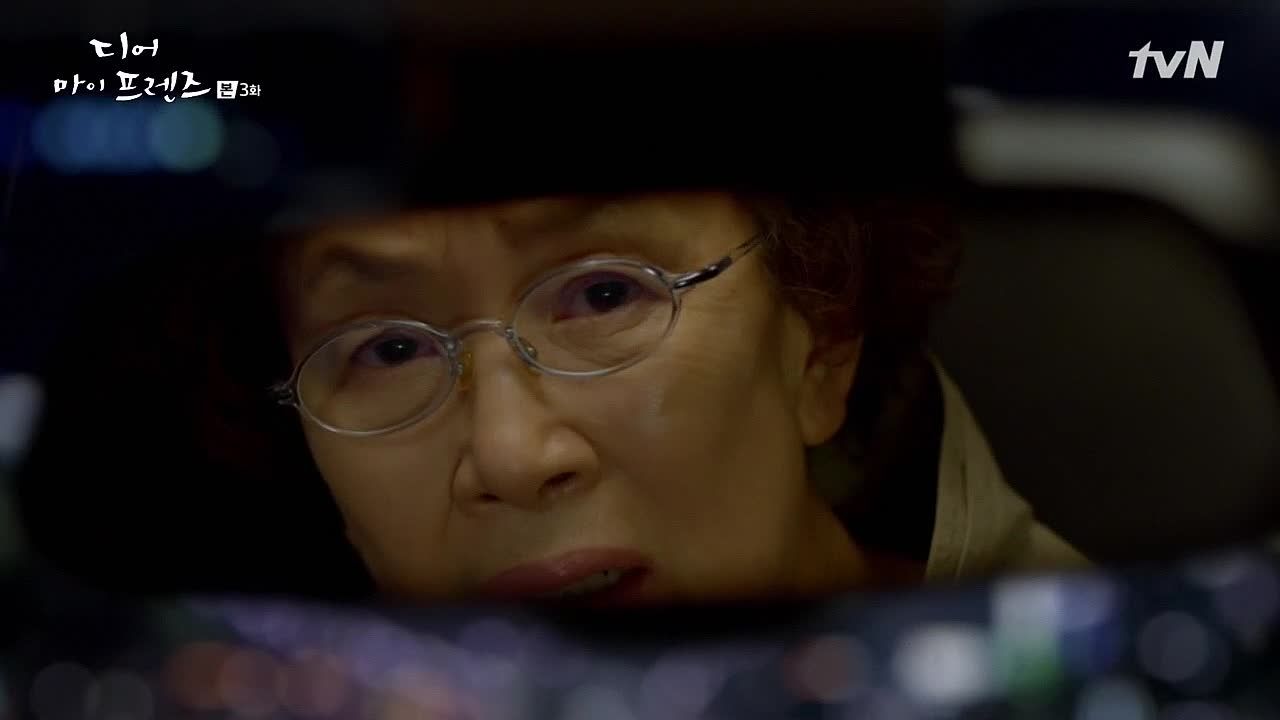 As the ladies drive along, Hee-ja pokes her head out of the window and happily sings. Even when Wan yells at her to pull her head back in, Hee-ja just smiles and says she feels so alive. That's quite a switch from trying to kill herself, as the aunties point out. Why did she do it, anyway? Why did she want to die?
Hee-ja simply explains out that she couldn't even change a lightbulb on her own, plus the doctor said she's delusional. If she has dementia, it would make Min-ho angry and exhausted trying to take care of her. Jung-ah bursts out that they promised they would die together — if Hee-ja dies now, what will happen to her? Where's her sense of loyalty?
In a voice-over, Wan says that it's easy to describe Hee-ja in a few words: childish, stubborn, and from another world. It's hard to believe that someone like her would try to commit suicide. She has the lingering image of Hee-ja, well-dressed to keep from looking pathetic, walking alone down the bridge. The urge to commit suicide is momentary and the reasons one wants to live could be as small as the lights on the bridge or the breeze. Wan confesses that she's too young to understand Hee-ja's motivations.
The peaceful moment is broken when someone cuts in front of the car, causing nervous driver Jung-ah to swerve and Nan-hee to stick her head out the window, unleashing a torrent of curses at the offending driver. When Wan goes to answer Jung-ah's phone, she asks who is the "Jerk" listed in the caller ID. Jung-ah barks at her to hang up without answering. Ah, it must be Suk-gyun! Wan asks if it's true that Suk-gyun won't go on the world tour with her, what will she do? Jung-ah matter-of-factly tells them that she'll either divorce him or destroy him.
Jung-ah asks Wan to read a text for her — it's in English, so she has no idea what it says. Wan translates the message from Mark Smith, Hee-ja's handsome photographer neighbor. He asks her to come visit again and that her smile is so pretty. He even sent a few of the pictures he took (so cute!), and Jung-ah happily says she's going to use it for her funeral portrait. Wan suddenly realizes that this must be the famous photographer Mark Smith, and Nan-hee decides that all the aunties and Granny should stop by tomorrow and get their portraits taken, too, for their own funeral pictures.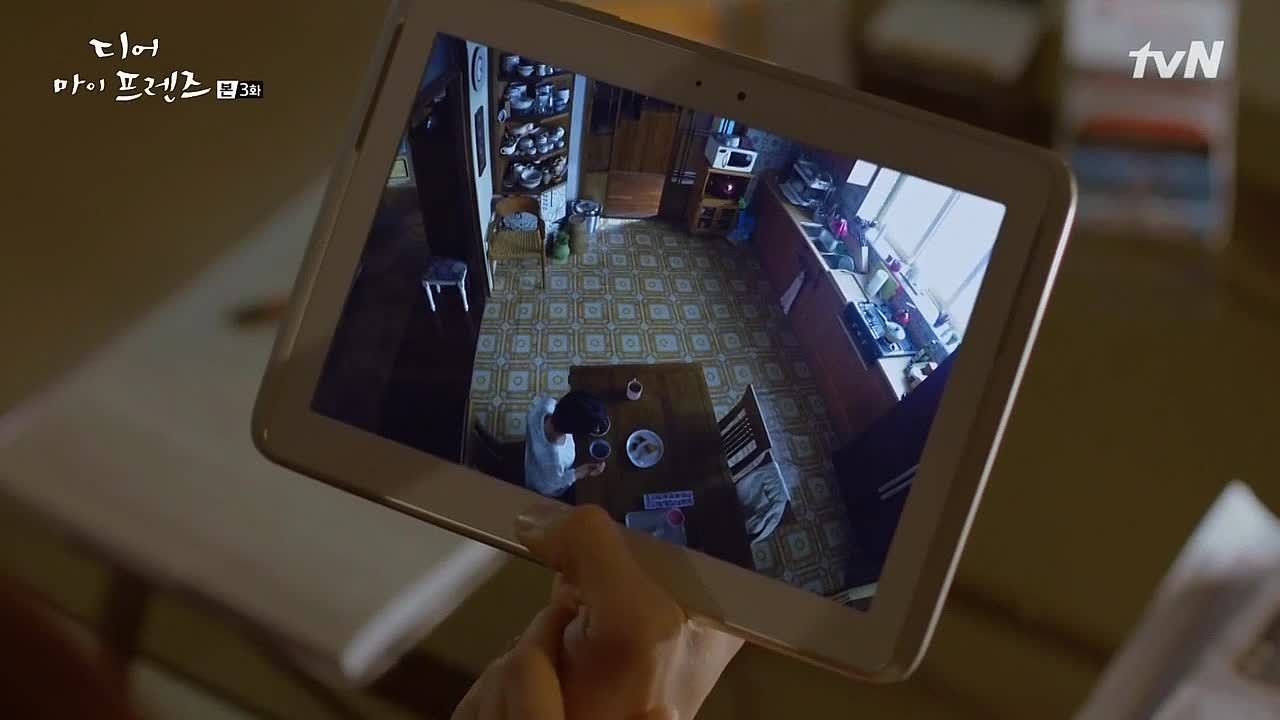 That night, Min-ho and his wife view the security footage of his mother in her large, empty house. He silently cries as he watches his mother go through her simple, solo routines.
As Wan gets ready for bed, she receives a call from Yun-ha. She ignores it in order to work, but she reads the messages from him, asking her not to avoid him unless she wants to end the relationship. She turns on her computer and he's waiting for her on the other end.
Avoiding his leading question about their relationship, she easily falls into easy chatter of the weather and his scrambled egg recipe. He asks her if she really wants to discuss this or if she just wants to avoid talking about his legs. When she doesn't answer, he sighs and tells her he'll show her his recipe. As he prepares the eggs, he realizes that his sister put the frying pan in another spot, and when he goes to get it, we hear a crash and he's no longer on the screen.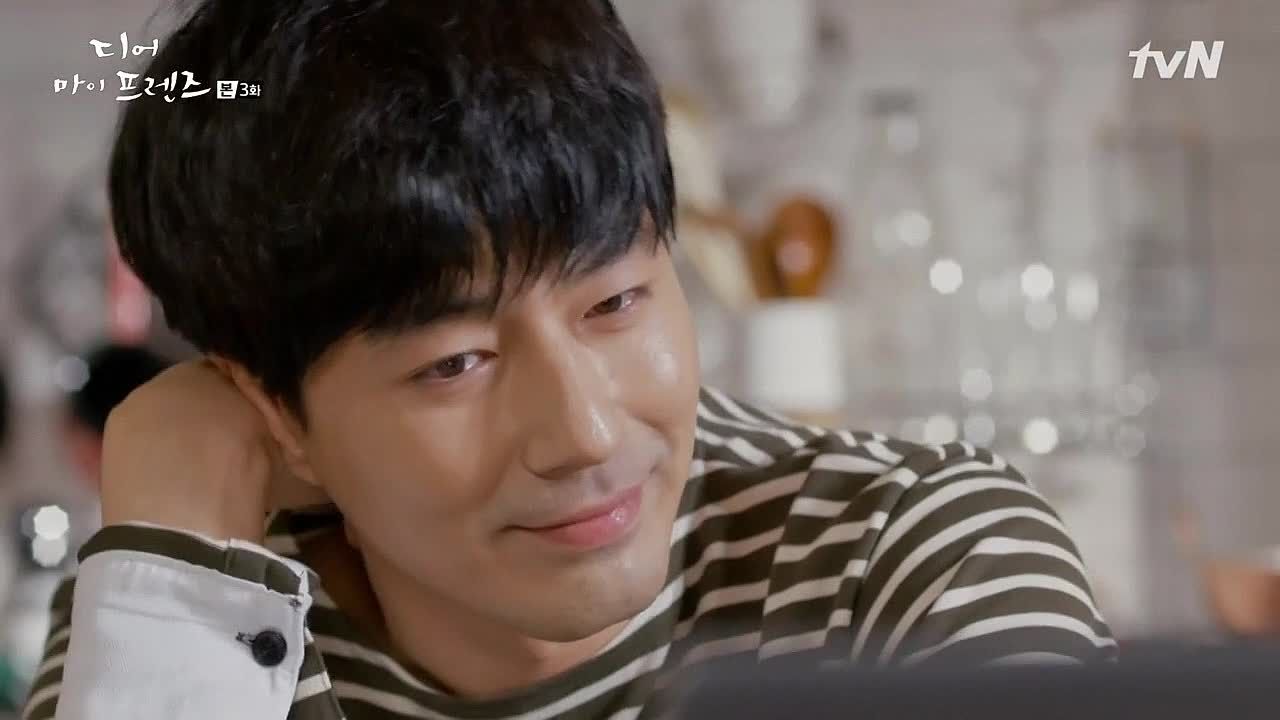 Wan worries about him, but he pops back into frame, showing off the frying pan. She's concerned that he hurt himself, but he simply tells her it's just difficult because he can't use his legs. At Wan's silence, he confesses that he misses his legs. Even if his family avoids talking about it with him, but does that mean he still shouldn't miss his legs?
He just wants to talk about it with someone, anyone. He knows there's nothing he can do about it, but is it so wrong for him to confess out loud that he wishes he could go walking, or swimming, or running with her? If he can't talk about it with her, then perhaps they should end things right here. He waves "bye" as he shuts off the video off.
Wan, silent all through that, tries to distract herself with her work, but instead she can't stop crying. She calls Dong-jin, asking where he is. While Yun-ha rolls his wheelchair to the window and stares out at the view of Slovenia, Wan avoids her grief by drinking, dancing, and singing at a noraebang with Dong-jin and the other publishers.
Picture day! Wan picks up Granny and Choong-nam from their homes and brings them back to Seoul. Hee-ja's offered the use of her house for the ladies to primp and prepare, but when Young-won shows up, Nan-hee is unsurprisingly displeased. With Choong-nam as mediator, they take their argument outside — while Jung-ah and Hee-ja lean out the window to try and hear what they're saying.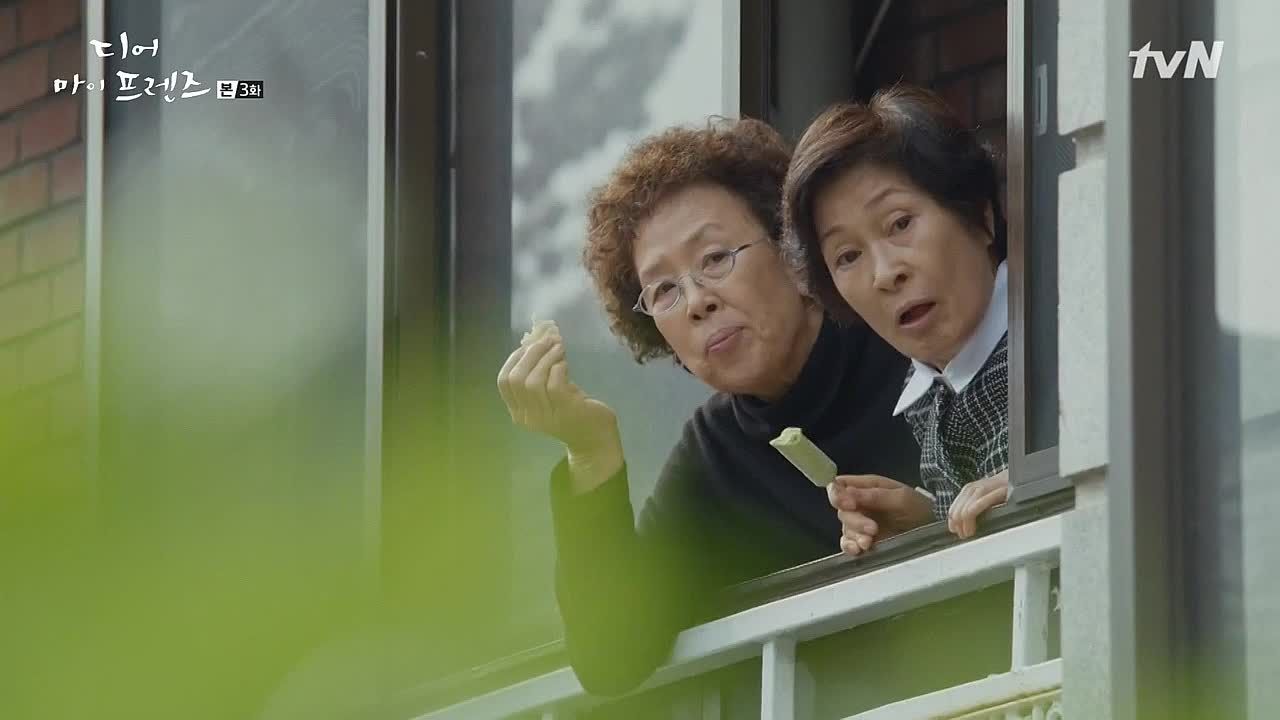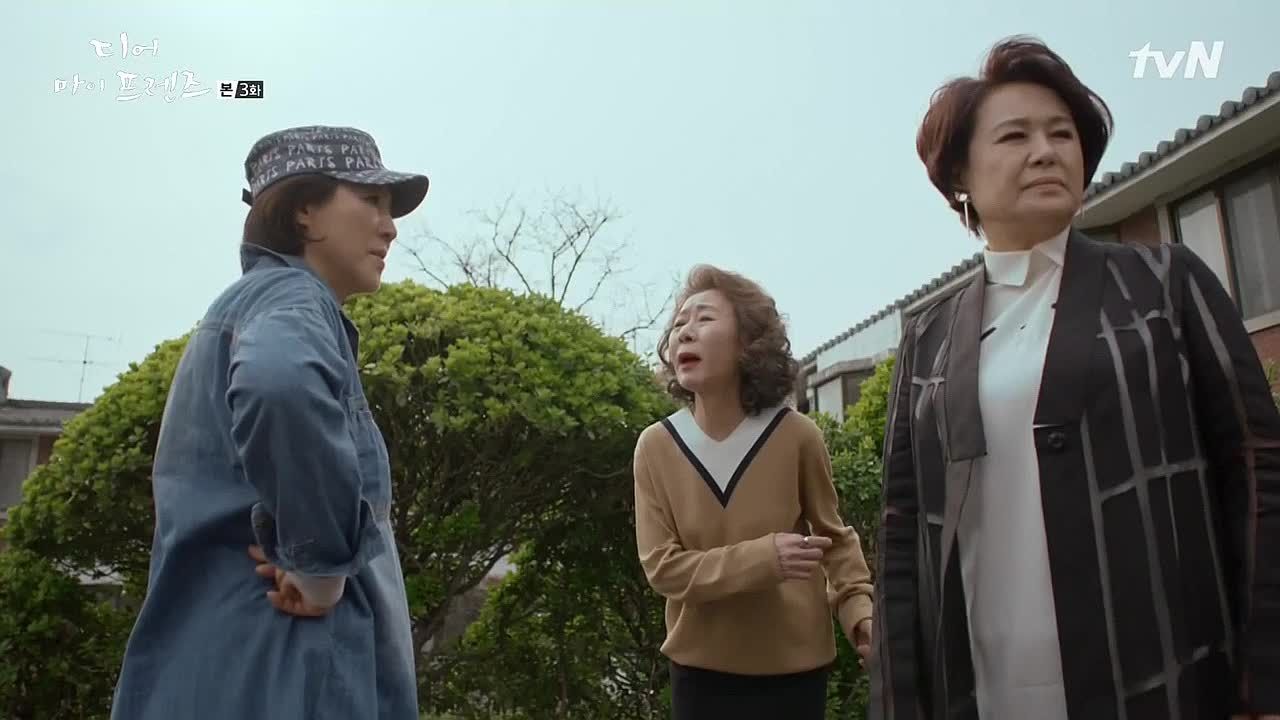 Nan-hee refuses to let go of her thirty-year-old grudge, blaming Young-won for telling Sook-hee that Nan-hee would be out of the house all day, so her bed would be free for her to have an affair with Nan-hee's husband. Young-won refuses to do more than offer a simple apology, but Choong-nam tells her that this is the time to come clean about what really happened.
Young-won explains that Sook-hee had begged her to let her have a chance to see Nan-hee's husband one last time, promising it would be the last. Furious, Nan-hee points out that they cheated on her for three years — Young-won is stupid if she accepted Sook-hee's explanation. Sighing, Young-won admits she is pretty stupid, having been dumped by her two previous husbands who took her for a ride.
Nan-hee doesn't care, though, still insisting that Young-won should avoid coming to the reunions, and Young-won maintains that Nan-hee shouldn't be the one to go if it bothers her that much.
Mark Smith kicks the ladies out of his studio, explaining that he doesn't take pictures of women wearing makeup. Once Wan translates, the aunties find that explanation ludicrous, but accept his decision. Except for Choong-nam, who pounds on the door, demanding Mark take their pictures. She furiously tells him that they've all worked their lives on a farms or various businesses, where there was no reason to wear makeup. She doesn't want her or her friends to have bare faces for their funeral portraits, and besides, she bets that his mother would have liked to have worn makeup, too.
She's speaking too quickly for Wan to translate (and Nan-hee asks why Young-won doesn't speak English if she lived overseas, and she says there's no reason to know more than the basics if you're living in Koreatown. Pfft), so she speaks one short sentence before nodding at Wan to translate. Ha, she's pulling age rank, and when Mark sees a good shot of Hee-ja naturally attending to Granny (who's oblivious to everything so long as she has her game on her phone), he relents — he'll do one picture their way, and one his way.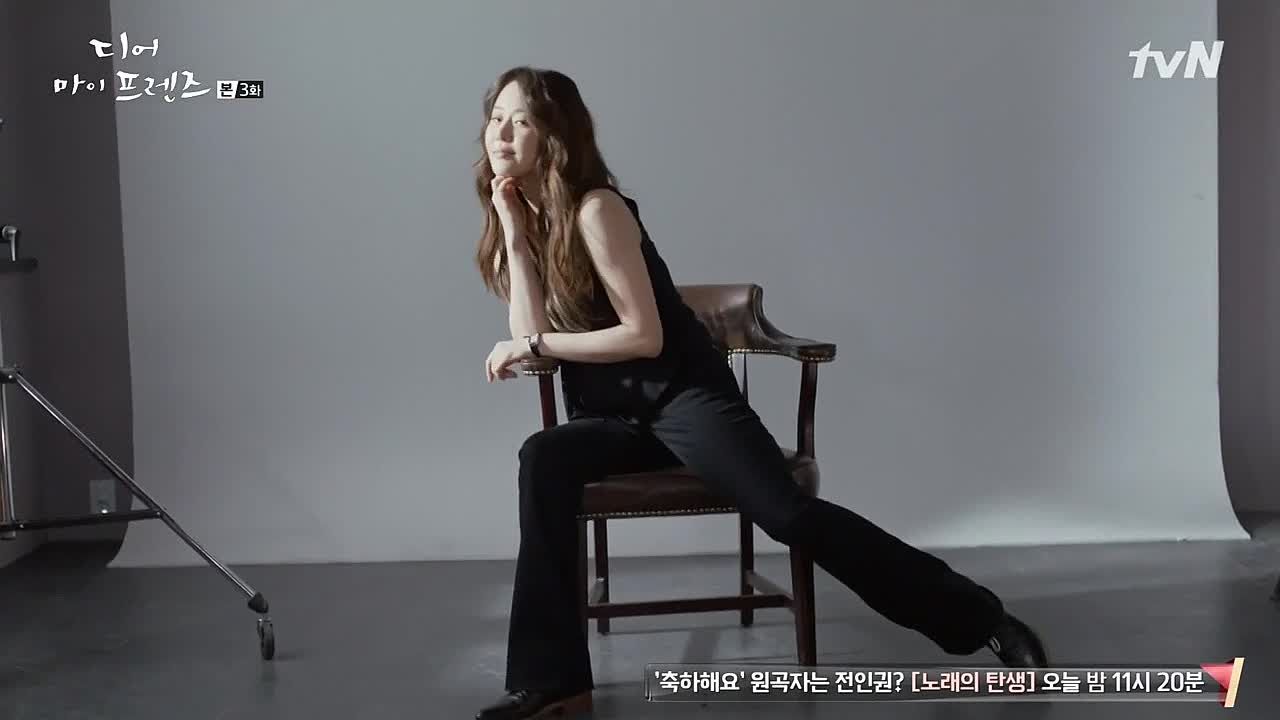 All the ladies are delighted to get started, but Hee-ja sits just outside the studio, watching them work. The aunties take turns posing, and Nan-hee is offended by Young-won's glamorous poses: "Is this for a funeral portrait?" Even Wan gets into the action, and aww, Jung-ah mimics her poses for fun.
Wan steps outside for a smoke, but quickly hides her cigarette when she sees Suk-gyun arrive. Of course he couldn't pass up the opportunity to get a free funeral portrait. He chides her for smoking, and she groans that her mother will find out about her habit now.
As Wan adjusts Granny's hanbok, she tells her to think of it as just getting her picture taken and not for her funeral. Granny pinches her cheek, telling her she better cry when she dies. She knows she's almost there, but right now the work on her farm is more urgent than dying. Aw, Wan hugs her, and in a voice-over notes that "We all have a time limit."
Everyone gathers around Granny for a group picture, and Wan continues her voice-over: for the first time, she's curious about her mother's friends. They're all having fun getting their funeral portraits taken, and Granny, who's nearing her end of life, is more concerned about her work on the farm. "We all have a time limit," she repeats. But she can't really believe that such a seemingly everlasting moment could ever end.
Later, as Mark studies his photos, Hee-ja arrives, demanding a picture. Her only caveat is that he doesn't ever tell her friends about it. Aw, she's so cute as she giggles while he snaps some photos.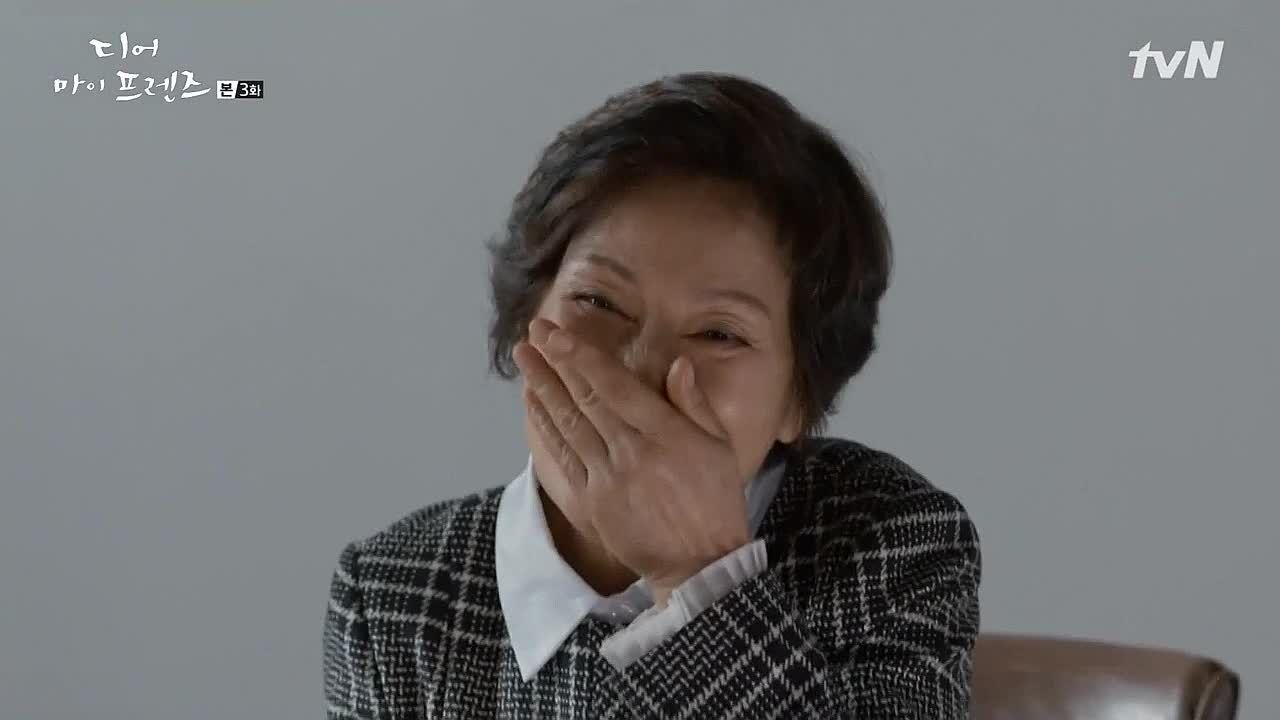 In the end, there's an entire wall in Mark's studio dedicated to the aunties. In voice-over, Wan says that she later asked Hee-ja why she didn't wear makeup to the photoshoot when she normally doesn't like looking old, and Hee-ja told her that when she saw all her friends getting their pictures, she realized that this would be their youngest moment.
Jung-ah stops by her daughter Soon-young's house, as per her usual schedule, but this time her husband is home — and the house is wrecked in what was clearly a fight, with broken furniture and knickknacks and blood on the floor. Soon-young's husband lies to Jung-ah that no one is home and the door is broken, and then he calls Soon-young, telling her if her mother calls, to tell her she's out with friends.
She does so, except it's clear that instead of out with friends, she's at the hospital due to the injuries caused by her husband. Jung-ah is irritated that Soon-young is blaming her for not coming over the night before. Wan voice-overs that Soon-young is Jung-ah's sore spot.
When Jung-ah was first married, she had difficulty getting pregnant. She miscarried the first time due to her mother-in-law beating her, and she lost two other pregnancies due to preeclampsia. Then they adopted Soon-young, and Jung-ah's proudest moment was when Soon-young got married. Except now Jung-ah is beginning feel like her sore spot is growing painful again.
At his job as a security guard, the elevator is out-of-order, so Suk-gyun staggers up the stairs to the apartments carrying a heavy load of boxes. The next box he's supposed to deliver is for the fifteenth floor. Are they trying to kill him? His other security guard warns him to keep from complaining because he could get fired. The HOA are discussing getting rid of the older security guards, which means Suk-gyun would be one of the first to go.
After church, Hee-ja tells some of the ladies that she's interested in volunteering. They insist it will be too hard for her, knowing that she's had an easy life. She admits that the only issues she's had have been her oldest son dying when he was a baby, and her husband passing away — plus a few health issues as she swallows a fistful of pills. One of the church ladies warns her about Seung-jae. She's noticed that he keeps staring at Hee-ja, and she whispers that he's just a playboy (or worse, Satan himself) and Hee-ja should stay away.
Seung-jae follows Hee-ja to the bus stop, where she tries to ignore him, but finally turns around to ask him where he's going. When he answers informally, she curtly tells him to speak formally since they're strangers. He's amazed that she doesn't really remember him, but she's just horrified that, at his age, he thinks he has a chance with her.
He meets up with Suk-gyun and another friend over some dinner and drinks. They get caught up on each other's lives, and they ask him about seeing Hee-ja, his first love again. They tease him about sleeping with Hee-ja back in the day, and he just laughs it off, preferring to talk about his life now. He's a retired lawyer who owns three buildings, and who sent his children abroad to study where they stayed there and got married.
At home, Jung-ah watches Thelma & Louise, imagining her and Hee-ja in the titular roles.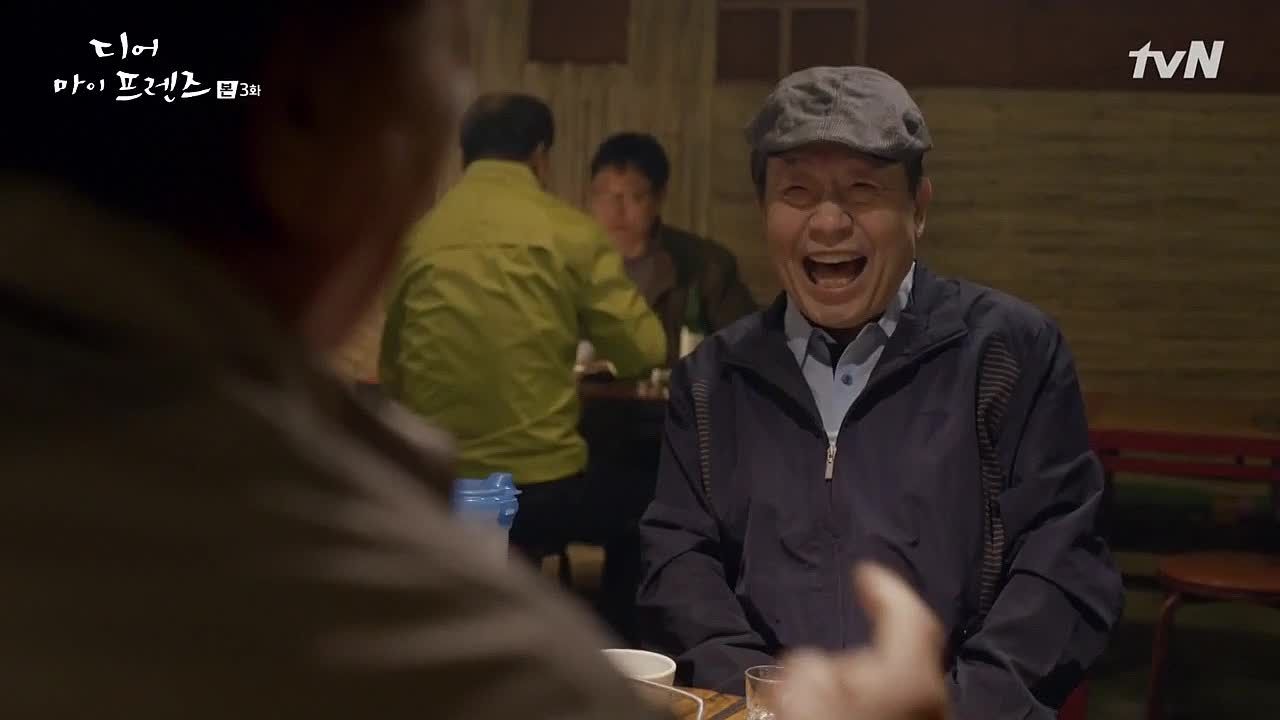 After their drinking session, Suk-gyun staggers his way home, grumbling about Seung-jae's perfect life. If he's doing so well, why did he only pay for the soju instead of the meat? To make matters worse, he steps in dog poop, and as he yells at the dog, it slips its leash and runs after him. When he returns home, Jung-ah attends to his wounds, marveling that they're just superficial and the dog didn't bite him to death.
She tries to get him to read a tour book, but instead he reads the classifieds, worried about being fired and having to find a new job. But him being fired means he'll finally be free to go on their trip around the world. He tells Jung-ah to forget about it — they don't have the money. He only kept promising her that so she would stay with him, and they should be more concerned about the costs of potentially living to a hundred.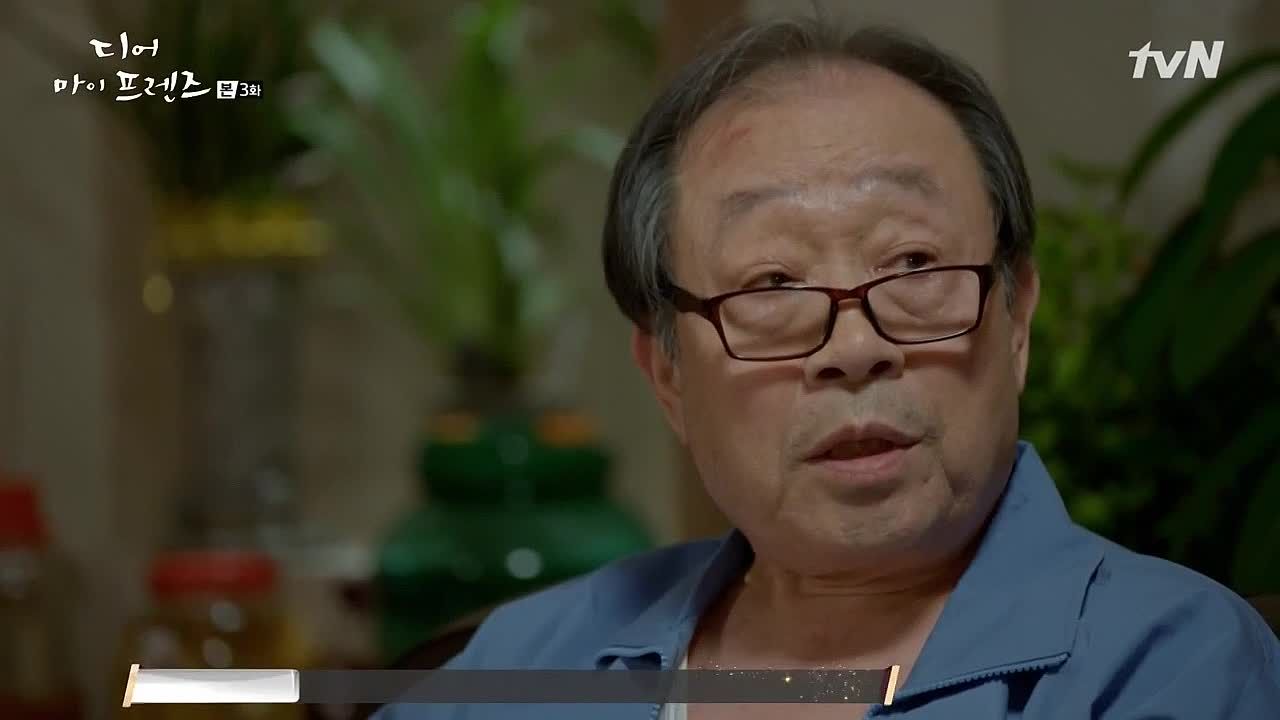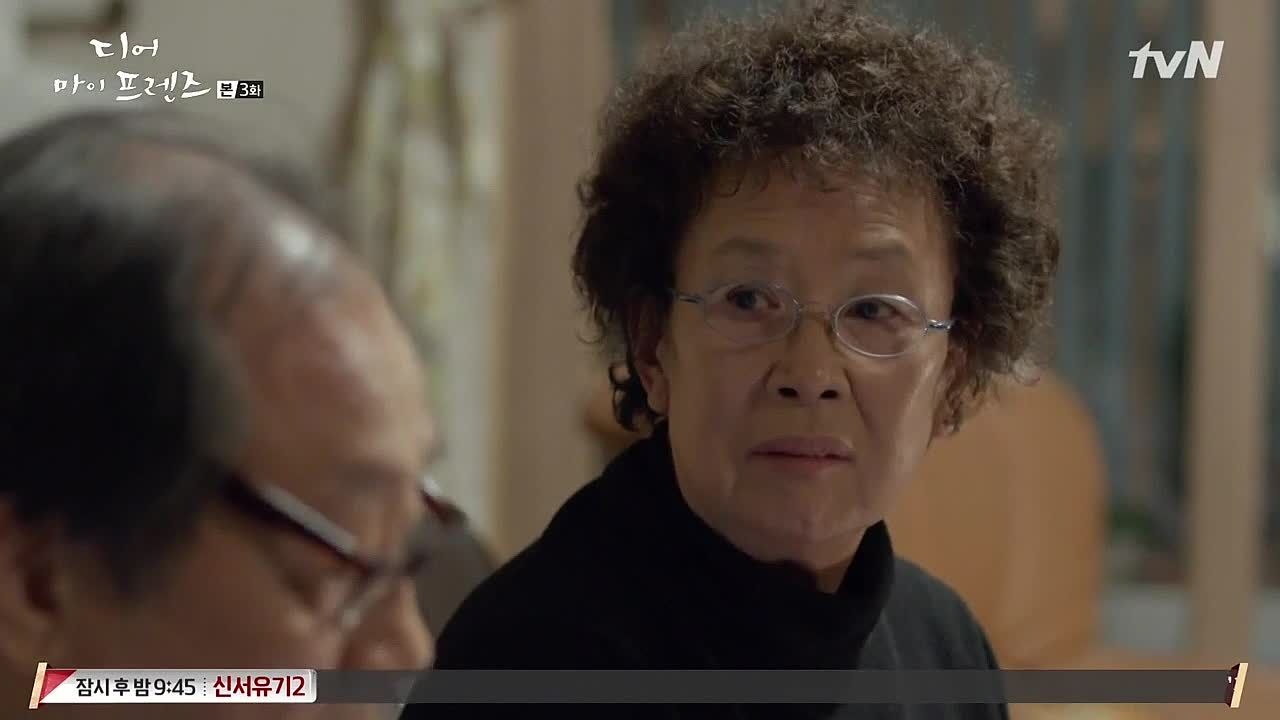 He tells her to use her own money, if she wants to go that badly, but of course she doesn't have any, having spent it to support his family, their household, and her mother. Jung-ah dreamily says that she refuses to die like her mother, in a nursing home. She'll fly away like a bird.
Ever the non-romantic, Suk-gyun points out that her mother is in a good nursing home so she's comfortable, and that Jung-ah is too heavy to fly away, anyway. Instead of responding to his order to get ready for bed, she grabs her coat and his car keys, and, despite him yelling at her to not go anywhere and waste gas, she leaves.
As Hee-ja practices her calligraphy with such mundane phrases as "I can live alone" and "Bad Ki-ja" (their gossipy friend from the reunion), Jung-ah calls her, asking to come over to where she's at a gas station. She didn't think about the fact she didn't bring any money with her.
Jung-ah tells Hee-ja about Suk-gyun refusing to take her on a world tour. Sweet Hee-ja points out that at least she has a friend, and suggests that they take Suk-gyun's car and visit Jung-ah's mother. Jung-ah agrees, adding they could just poison Suk-gyun, take his money, and go on a trip themselves. From your lips to God's ears.
The women sing along to the radio while Hee-ja does a video call for Jung-ah's mother to watch them drive along. They promise to be there soon, and Jung-ah cheerfully navigates the darkened, foggy roads. Up ahead, a drunken man staggers along the road, and the fog gets thicker. Hee-ja thinks she sees something and tells Jung-ah to break, but Jung-ah panics and can't remember which pedal is which, and instead floors it. There's a crash and then Jung-ah finally slams on the breaks.
Hee-ja and Jung-ah shakily ask each other what it was they hit, and then nervously turn around to look back as Jung-ah wonders if it was a person.
COMMENTS
I love the slow reveals about the characters, but I also kinda hate them, too, because it makes me believe I know a character only to realize I only think I know them. It also concerns me, because maybe I'll find myself being sympathetic to a character I currently can't stand. Is there a way to redeem Suk-gyun? Because I'd be happy to spit in his water all day if only he'd show a little bit of kindness to his wife and her friends. Actually I'm pretty sure I'd be happy to spit in his water, no matter what.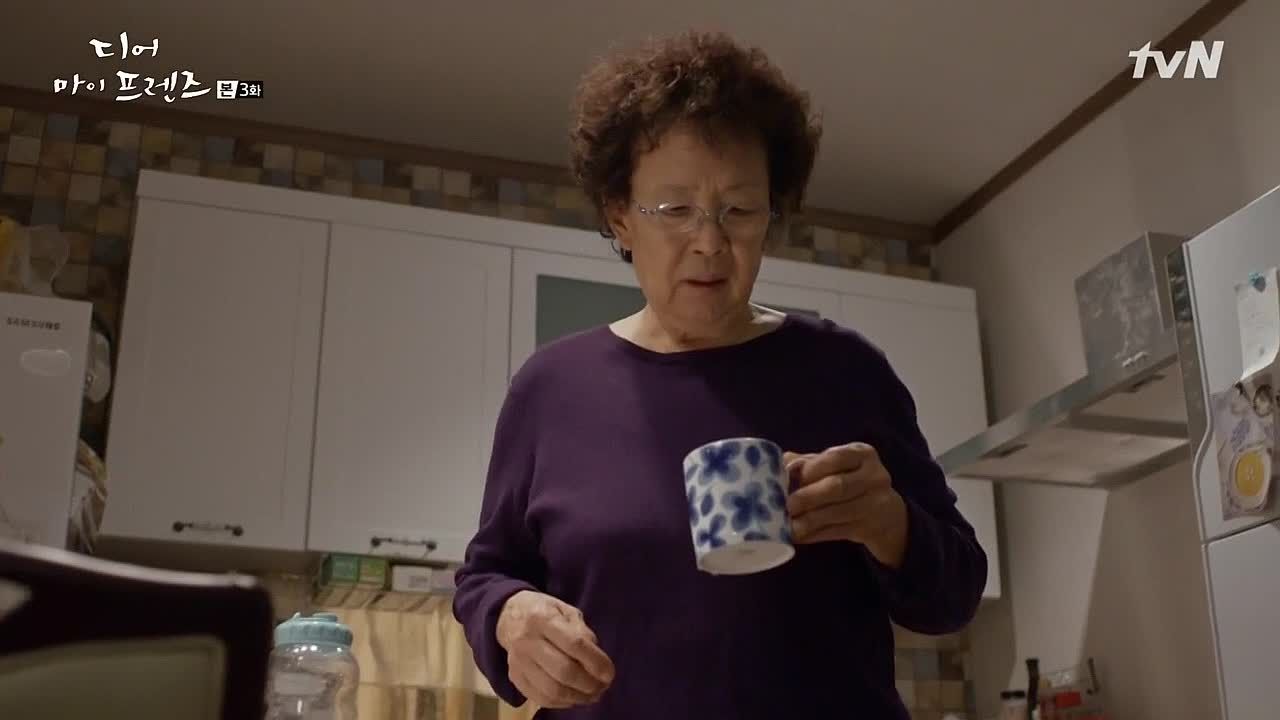 It makes me so angry realizing the many years Jung-ah has patiently suffered (or sorta patiently), taking care of her home, her mother, her husband, and her children. All those years, having to help scrape together money under the assumption that her husband would be giving her the one dream she's had all her life — only to find out he was just stringing her along. My blood is boiling just thinking about it, especially how clueless he seems to be about his family. Jung-ah seems to sense that something is wrong with Soon-young, but she's helpless to intervene — largely thanks to Suk-gyun.
We finally get our Yun-ha reveal, though! I'll admit I did briefly consider him to be handicapped, but Wan's reaction to him was so strong that I thought it must be something more severe. So now I'm left wondering if perhaps she feels some guilt about what happened to him — was she responsible for whatever caused him to lose the use of his legs? It would certainly explain her stiffness whenever he brings it up. I feel that her grief-like reactions are more than just "my mother wouldn't want me to date someone who's handicapped." There is definitely more to this story, but since secrets are carefully doled out little by little, I shall try to be patient while I wait to discover more. (Emphasis on try.)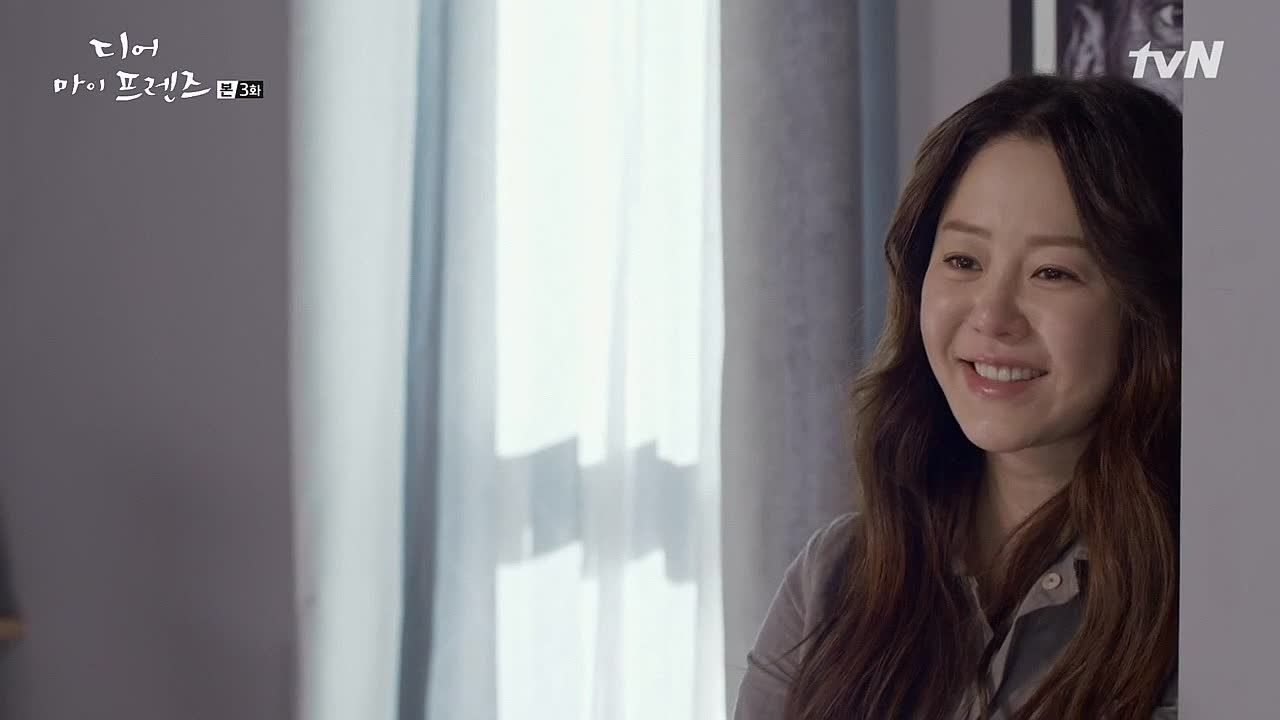 I'm enjoying seeing more of the characters' personalities come out, bit by bit. That entire scene with the funeral portraits was just a beautiful look at everyone, watching them laugh and goad each other on and just generally be supportive (even if they're frenemies). I loved that it was Choong-nam, the one who usually avoids being considered "old," who pulled rank and demanded to be respected because of her age. I loved that each style of portrait was so reflective of each woman (and man). There was such an atmosphere of unbridled life considering the end-product was for death.
Which is why I really appreciated that that was the moment Wan realized these women were more than just the nagging aunties she's known since her youth. These women who are facing death, however near or far it might be, are still somehow young and vibrant, whether they be in their sixties or their eighties.
So here's hoping that Jung-ah and Hee-ja didn't actually hit a man with their car, since I don't want anything to hinder their sudden dash for adventure. Although, if they did, it would definitely lend some veracity to their their Thelma & Louise road trip.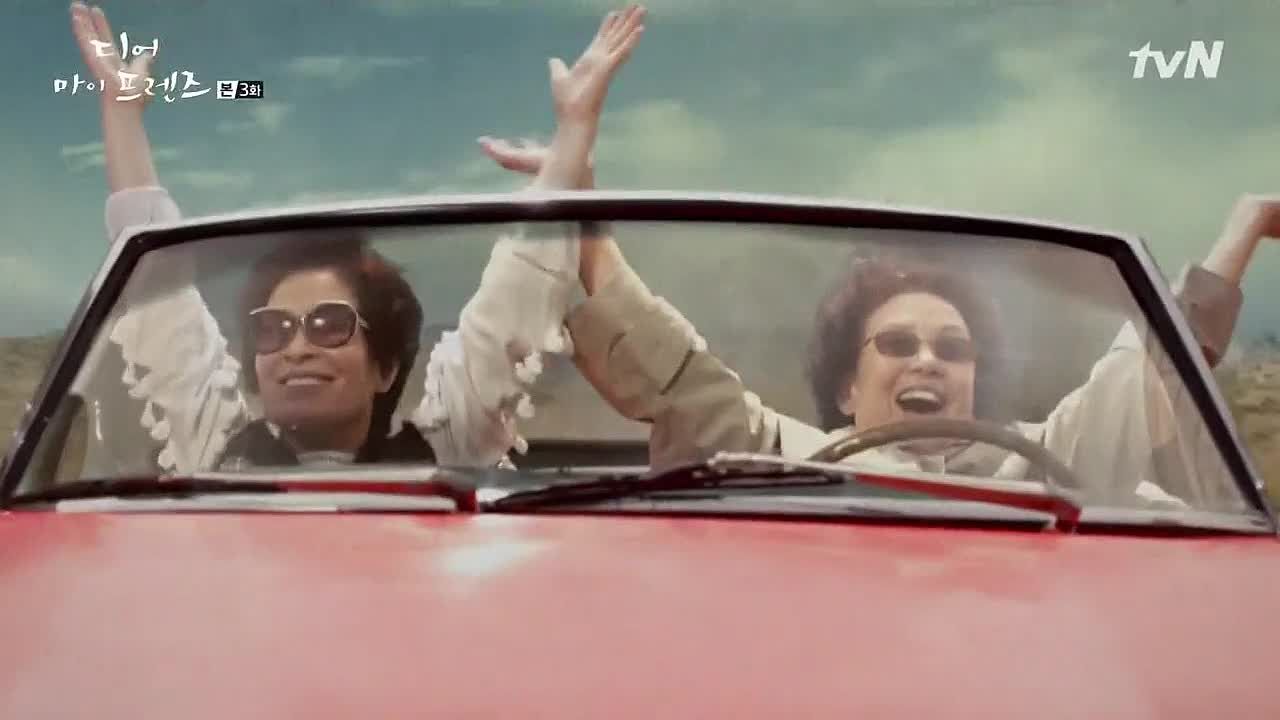 RELATED POSTS
Tags: Dear My Friends, featured, Go Du-shim, Go Hyun-jung, Kim Hye-ja, Na Mun-hee, Shin Gu, Yoon Yeo-jung