Dramaworld: Episodes 4-6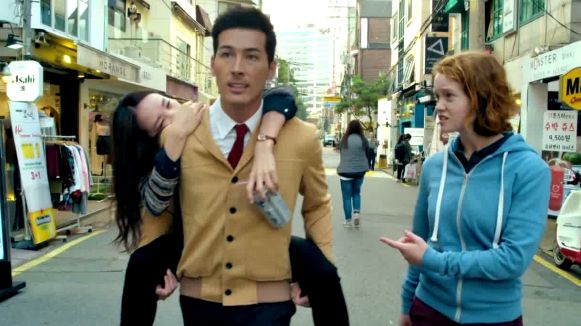 javabeans: We're back for more Dramaworld! It sounded like you guys liked the show and wanted us to keep going with it, and it is, thankfully, a very conveniently bite-sized show, so we figured we'd keep going with it to see if Claire destroyed Dramaworld by loving it too hard, like every second lead who can't get a clue. Or will she save it? Frankly it's not looking so great for her right now…
girlfriday: Well, you did bring a fangirl into the middle of the thing she loves more than life itself, so asking her to get a grip was clearly not going to cut it. So, continuing on with Episode 4…
javabeans: HA, serial killer wall! A man in black has our characters mapped out in a character map (isn't that hilarious when there are only like four characters to start with?), and Claire gets added to the wall.
girlfriday: Seth (Justin Chon) explains a few more of the rules of Dramaworld to Claire, and she particularly likes the one that says no lead or second lead can let a woman fall to the ground. To test it out, she faints, a man comes out of nowhere to catch her. Ha. (Below: Watch Episode 4.)

Source: Viki
javabeans: SIWON! He makes a pretty grand entrance, in that he gets launched into the air ten feet when he's hit by a car and is miraculously still alive. Of course he is. He could probably still fend off a North Korean soldier in his condition. He looks up at Claire with wonder and declares her his perfect type, and Seth has to drag her away before Siwon imprints on her as a narrative development.
girlfriday: That's hilarious. He's kicking away the heroine from his drama to chase Claire down, and she might've just messed up TWO dramas now. I'm sad that Siwon's cameo isn't longer. Come back!
javabeans: Is the lesson to take away here NOT that you could, theoretically speaking, steal ALL of the heroes of Dramaworld and make them fall in love with you? Asking for a friend.
girlfriday: Of course that's the lesson. It's just been proven scientifically.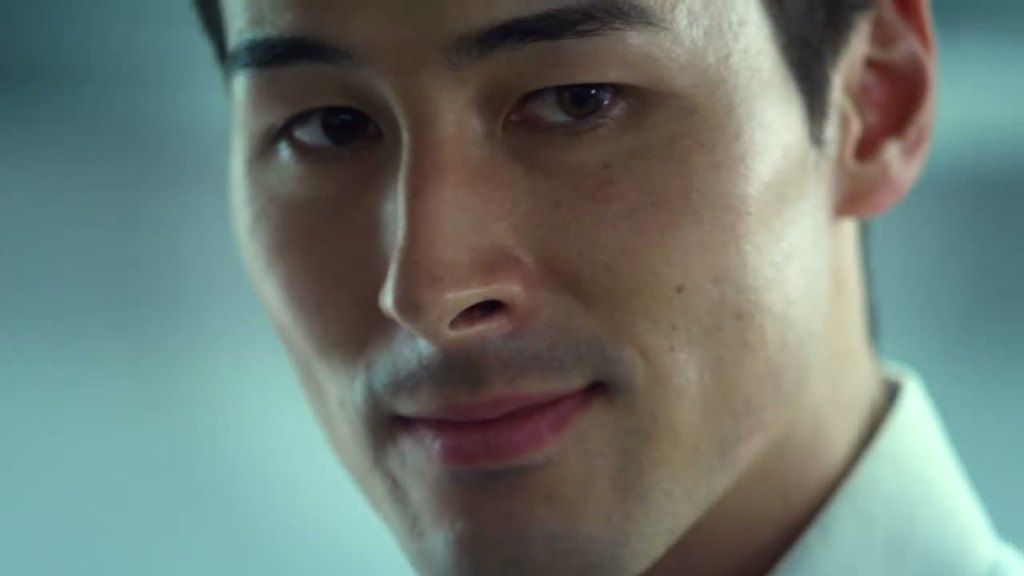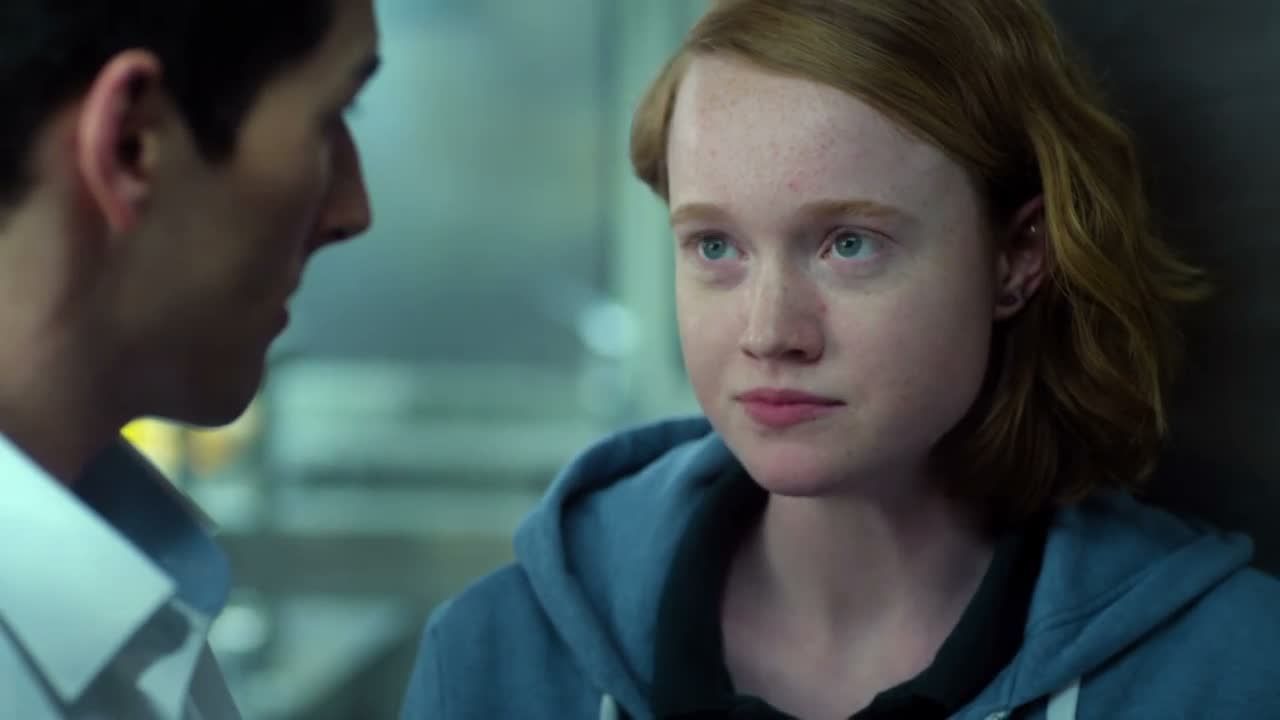 javabeans: While Seth goes to clean up the mess she made with Siwon, Claire goes to clean up the mess she made with Dramaworld hero Joon (Sean Dulake) and tries to remind him why he should bring back sous chef Seo-yeon, whom he fired (Bae Nuri). He's stiff to the idea at first, but she does manage to appeal to his wishes for the restaurant as a place of warmth, aided by her encyclopedic fangirl knowledge of Joon's life, no doubt.
girlfriday: I think she's trying to launch him into a flashback, but it doesn't seem to be working. Worse yet, she touches him during her speech, which may have sparked some unintentional feelings?
javabeans: I do like the bit of PPL, because they at least tried to work with it — Seo-yeon's florist buddy offers her a drink, and when she declines, he holds up a makgeolli face mask and makes her laugh. But this interlude, as well as Joon and Claire cooking together in the kitchen, feels like the romance is heading the wrong direction. Joon even opens up to Claire about his father's death, and she cuts her finger. Oh noes! She's getting all the dramaworld moments!
girlfriday: Ack, no! This is bad. Seth is going to be very angry about this…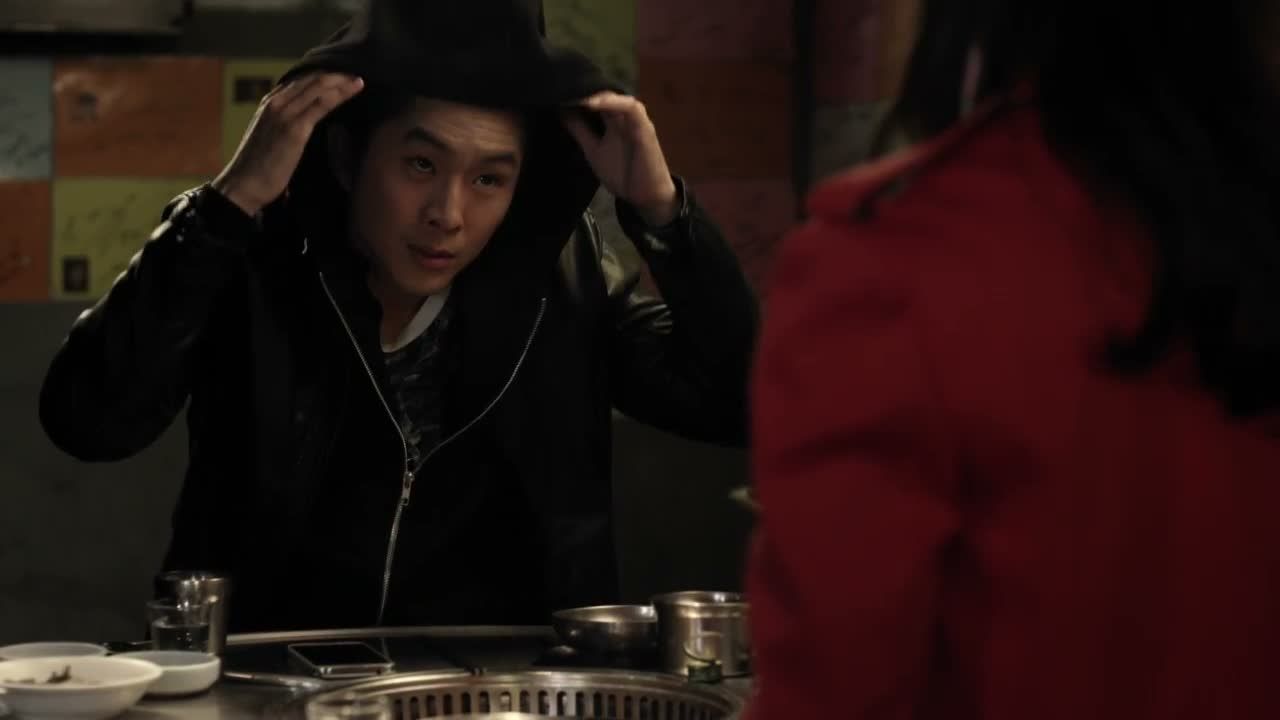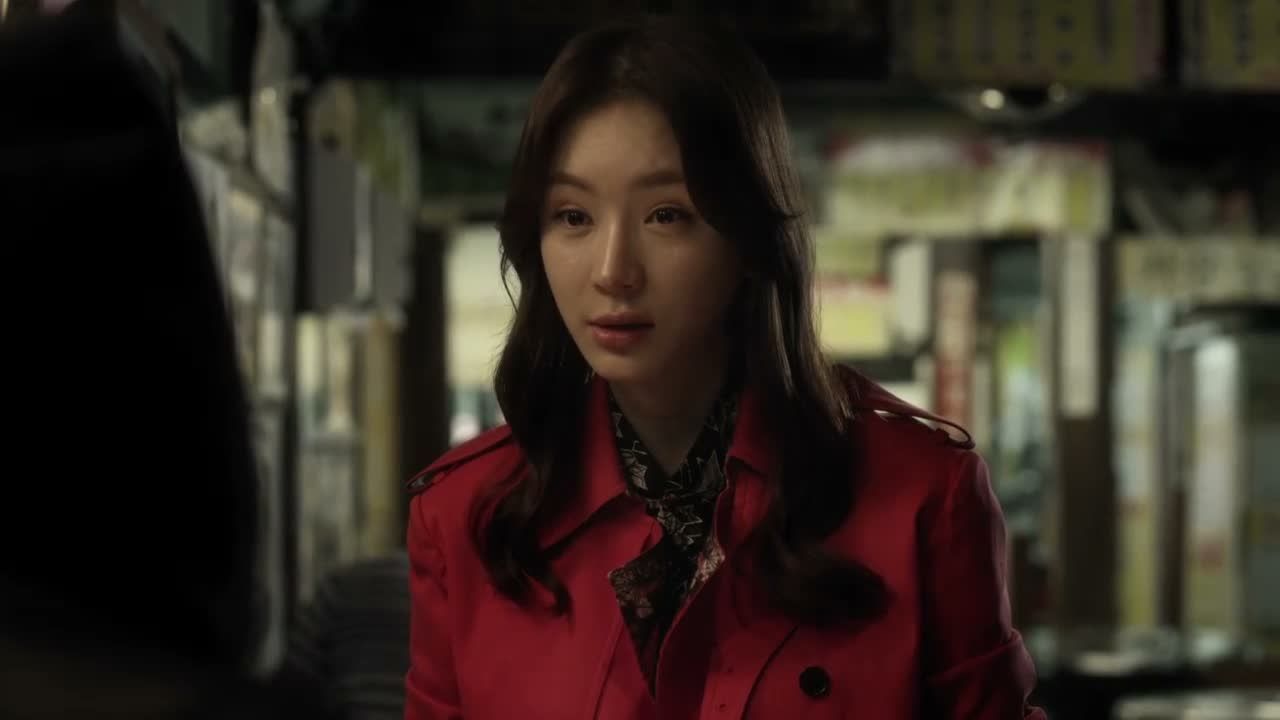 javabeans: As it turns out, Joon's non-apology to Seo-yeon doesn't make her magically eager to come back to work, imagine that! Sly Second Lead Ga-in (Kim Sa-hee) is unhappy about Joon's coziness with Claire… then consults with the man with the serial killer wall in an ominous secret meeting. You know, I would actually find Dramaworld's format of jumping from trope to trope to be jarring, if I hadn't gotten used to the tonal jumbling of dramas like Let's Eat, so now it doesn't feel quite as strange.
girlfriday: I like the drive-by references, like Joon just suddenly piggybacking a random drunk girl as they walk down the street, like he can't not do it. It's a little weird since Dramaworld keeps making me think actors are programmed like dolls or something, but the moment is funny.
javabeans: Wait, Man in Black is… Dark Seth? Is he using his powers for evil? Plot twist!
girlfriday: Aw nooooo! Not Seth!

Source: Viki
javabeans: (Above: Watch Episode 5.) Next up in the cameo parade: Ji Il-joo, aka Healer's daddy. Aww. He gets maybe two seconds on screen as the delivery guy, and I wish everyone had longer cameos.
girlfriday: And then Lee Jia comes out in her bathrobe to claim the package.
javabeans: Which, of course, is just another chance for Claire to interrupt another Dramaworld meet-cute, when she realizes she got in the way of Ji Il-joo and Lee Jia meeting. Maybe Claire should just… I don't know, try harder or try less hard? I can't tell. If she doesn't, she's going to end up like Back to the Future and negate her own existence!
girlfriday: Yeah so far she only seems to be mucking things up, but now that we know Seth might be eeeevil, maybe he brought her here on purpose to screw up Dramaworld? Anyway, Joon is standing on Seo-yeon's doorstep doing a terrible job apologizing yet again, and Seo-yeon slams the gate shut when he can't manage a simple "I'm sorry."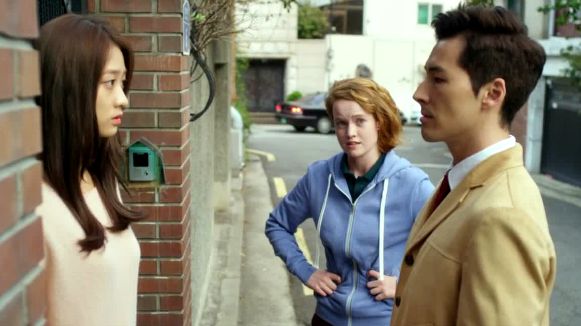 javabeans: Does Dark Seth actually take out a hit on Claire? Meanwhile, Joon and Claire continue to bond inadvertently, and Claire almost interrupts another romantic moment when she starts to save a girl from an impending accident, only to see that her hero steps in just a second later. Basically, Claire needs to stop being the hero, I guess.
girlfriday: Somehow I feel like she learned the wrong lesson from that and plans to drop a sign on Seo-yeon's head or something.
javabeans: Close. Hot oil bomb, it looks like. What could possibly go wrong with this idea? Ack, Dark Seth douses the kitchen in gasoline and drops his ID tag into the liquid, chirping that he doesn't need it anymore.
girlfriday: Do you think Seth is tired of being the extra in the background? Why am I more interested in his backstory than anyone else's?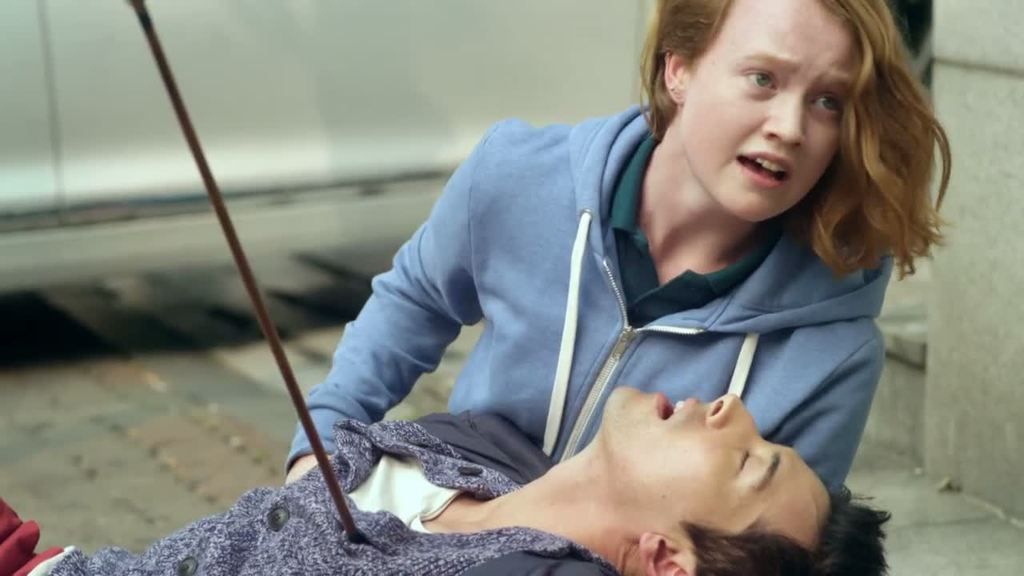 javabeans: Doesn't he seem like the villain in The Incredibles? Like, his super-love turned him twisted?
girlfriday: Totally. I hope we get to find out.
javabeans: The restaurant is on fire by the time Seo-yeon gets there, and right behind them are Claire and Joon. Claire urges him to save Seo-yeon inside… just as he sees Seth's archer assassin aiming for her. I guess his drama hero DNA won't let him not save her, and he ends up shot instead. Why is this so hilarious? I'm laughing but it's so cheesy, ack make it stop!
girlfriday: He does this whole dramatic death scene, and the whole time Claire is all, "Only a leading man can save her! You have to wake up!" But maybe this is exactly the chance that Seth was looking for, because he runs inside the restaurant to save Seo-yeon, finally getting to be the hero.
javabeans: I do love Claire's exasperation when she realizes everything's gone askew: "OH COME ON!" Then we move on to Episode 6, which you can watch below.

Source: Viki
girlfriday: Episode 6 starts with Joon and Seo-yeon being rushed to the emergency room, and meanwhile Dark Seth pays off his hired assassin, even if Claire didn't die.
javabeans: I'm confused by the assassin's request to take him back to his world. Is it that he feels out of place in Dramaworld, because he's obviously from a sageuk, but he doesn't know he's only a character?
girlfriday: Or maybe he's a facilitator in sageukland? Who knows.
javabeans: Joon has an eerie dream sequence where he essentially has to choose between saving the restaurant or saving Claire, and he chooses Claire. He doesn't realize his dreams are being manipulated by Ga-in and Dark Seth, and when he jolts awake, he decides to quit the restaurant. Seth plants the idea that if he's going to give up on it, maybe he should give the restaurant to Seth. Aha! He's totally planning to become his own drama lead, isn't he?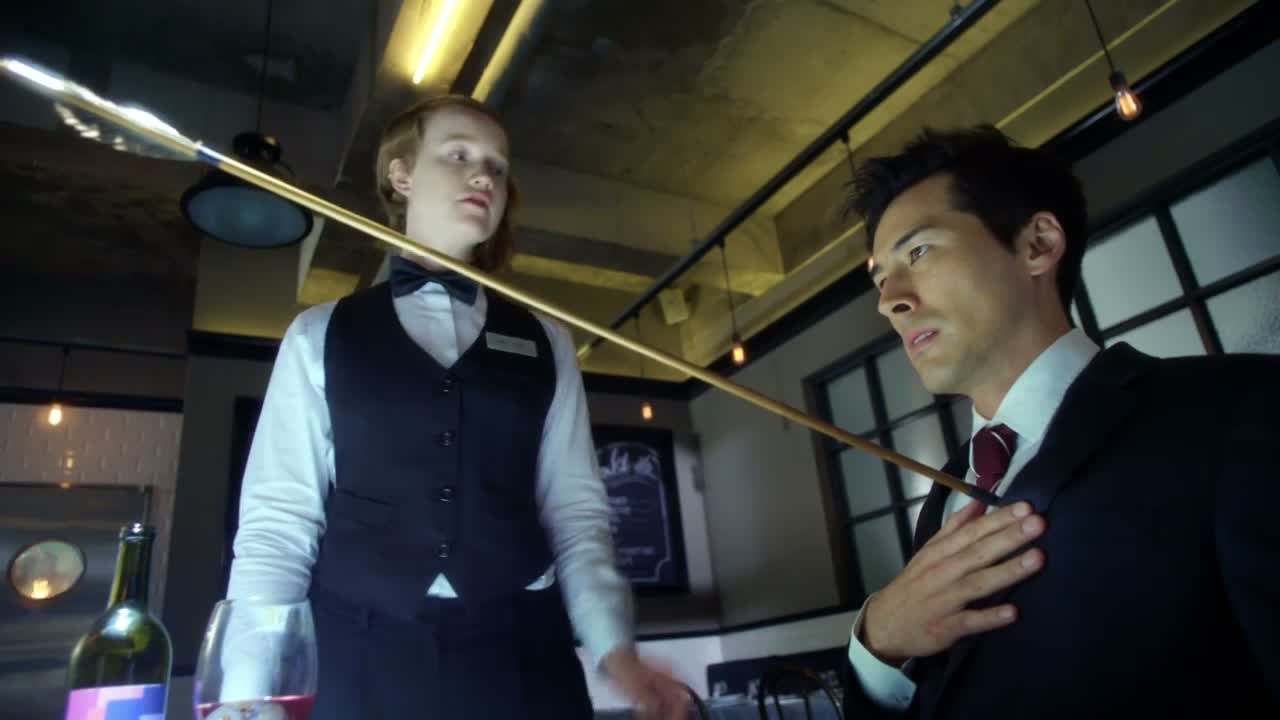 girlfriday: He is! Although if his plan was to get Claire to romance Joon, I wonder why he tells her she's better off going back home.
javabeans: Do you think he has to hijack an existing dramaworld, rather than create a new one? Claire reads the rule book and sees that her two options for leaving Dramaworld are to wait for the series to come to its natural end, or to die in a way that facilitates the proper storyline. I believe this is what we call noble idiocy, for obvious reasons.
girlfriday: She actually figures that her funeral will be a chance for Joon and Seo-yeon to reunite, and steps onto the ledge of a tall building. She cries because she loves this place so much, and then gets a flashback sequence of her own. But at the last second, there's a flash to Dark Seth pushing Joon's father off a building and Claire's struck with the question of who actually benefits from this—just as she steps off the ledge.
javabeans: Dun dun dun! I'll give it to this show, it has consistently good cliffhangers.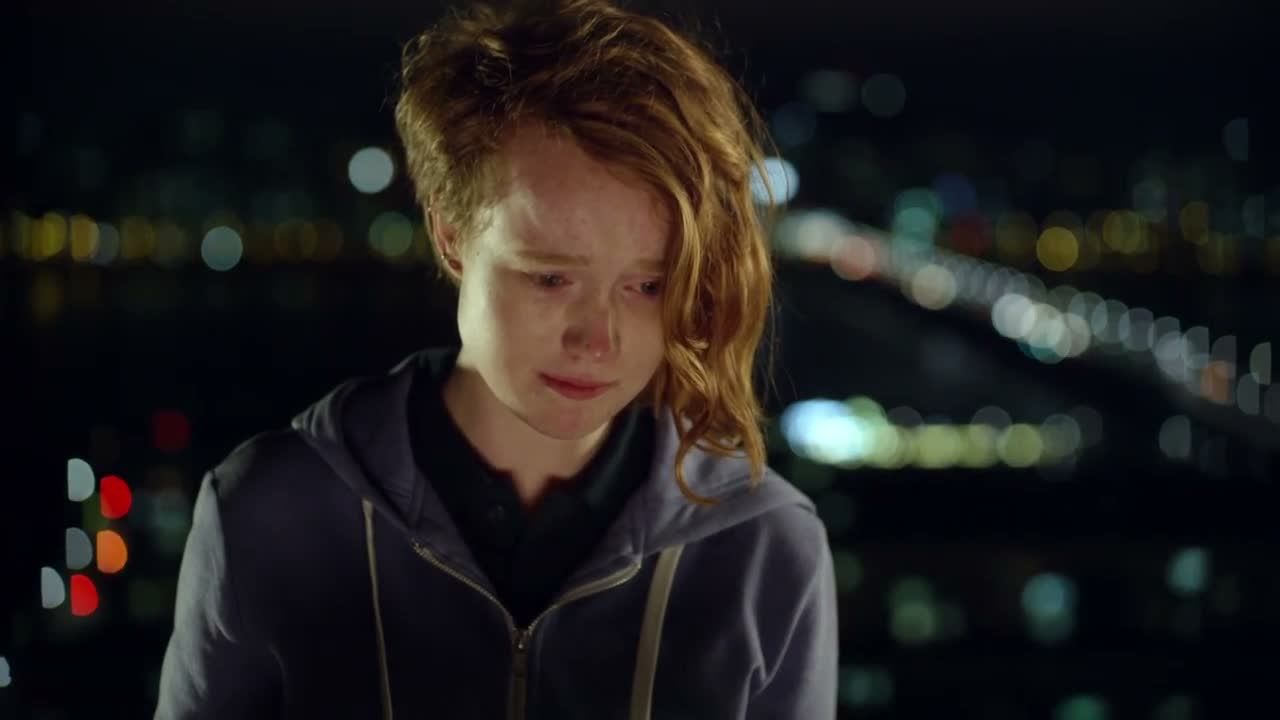 RELATED POSTS
Tags: Bae Nuri, conversation post, Dramaworld, featured, Justin Chon, Kim Sa-hee, Sean Richard, web drama