Entertainer: Episode 11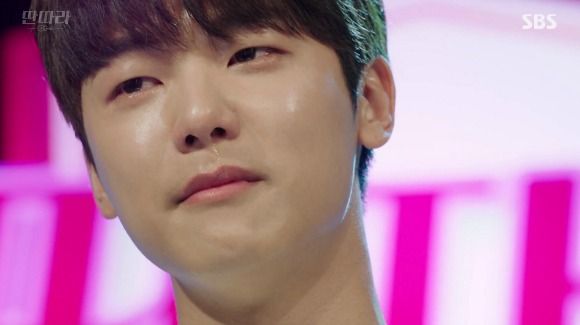 This is really Ha-neul's episode, as he and the band deal with the fallout of his very public scandal. The best way to face criticism is with honesty and sincerity, and if there's anything Ddanddara band has in spades, it's that. But they can only tell one side of the story, and they're going to need a little help if the whole truth is to come to light.

EPISODE 11 RECAP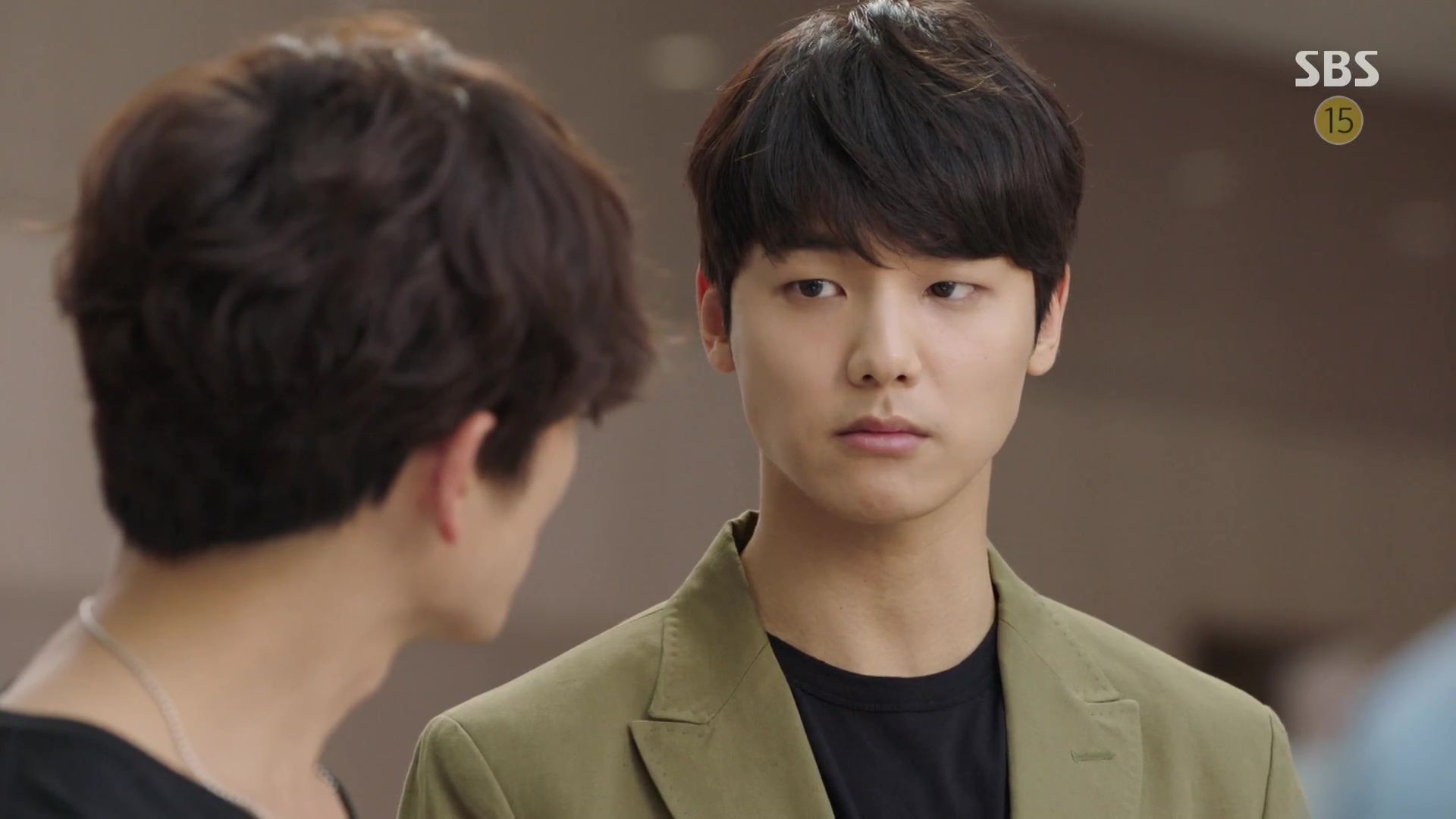 Ha-neul's story telling his side of his conviction goes public, and the band find themselves greeted by a wall of reporters. Ha-neul looks like he wants to escape, until Seok-ho takes his hand in support. Geu-rin takes his other hand, and Ha-neul is able to face the reporters.
On the ride home Seok-ho asks them not to read any news stories for a while, especially not the comments. But Ha-neul looks anyway, and the fan response is not good. As his manager, Geu-rin tries to confiscate his phone for a while, but he takes it back and promises to stop reading.
Seok-ho isn't nearly so confident in front of Min-joo and Man-shik, and he talks to Mr. Byun about it, and how the actual offender is in KTOP. He hasn't told anyone else that part, and Mr. Byun doesn't seem one bit surprised that CEO Lee would stoop so low.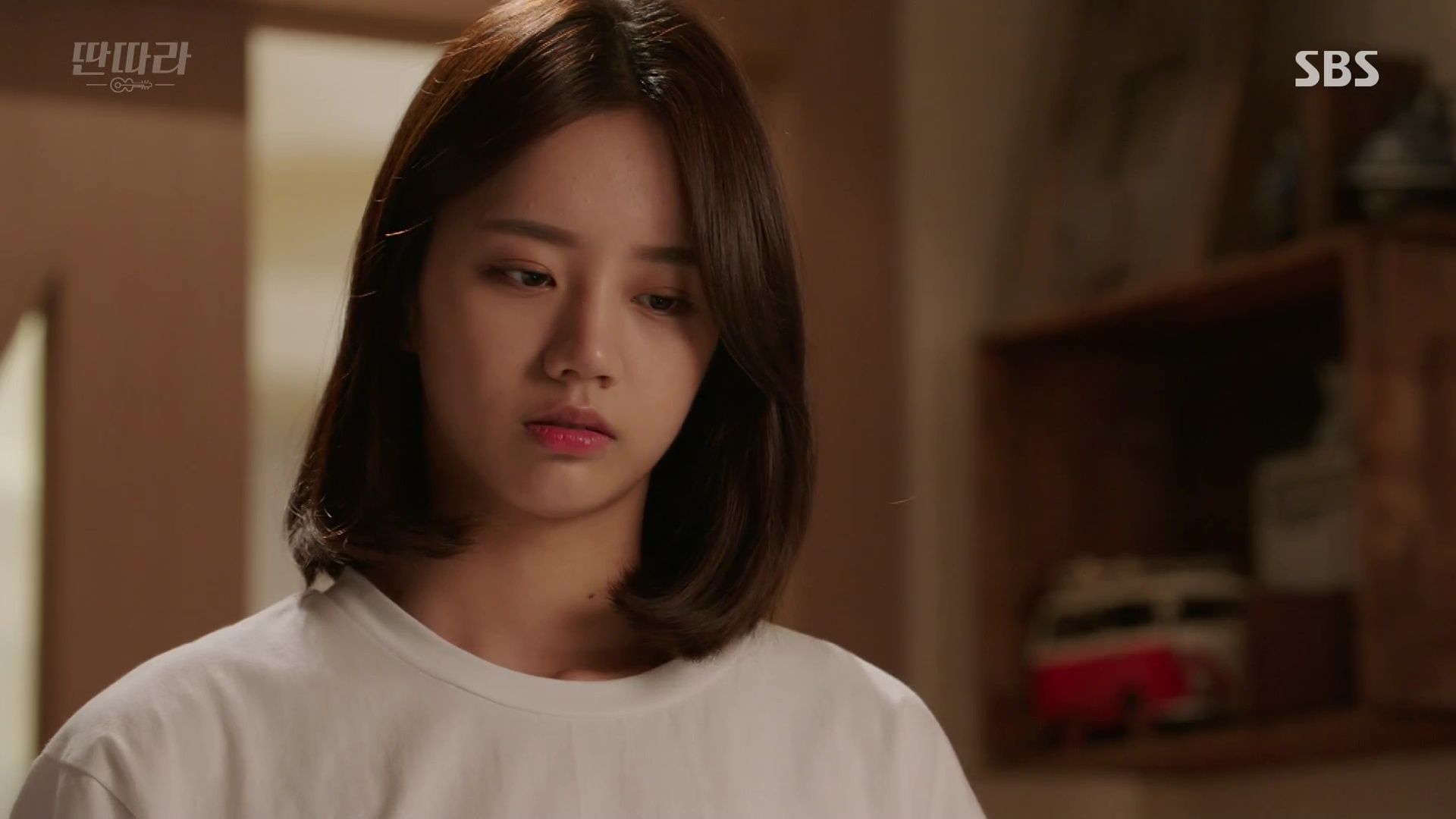 When Ji-young sees the articles she texts Ha-neul, saying that the one being destroyed isn't her as he said, but him. Jinu also sees the stories, and slumps in frustration.
Mr. Byun confronts CEO Lee, making it clear that he knows the true offender is here in KTOP. CEO Lee plays innocent, and Mr. Byun almost looks as if he pities the man. He mentions an artist named Choi Jun-ha, whose second album's success practically made KTOP what it is today, and CEO Lee starts to squirm.
Mr. Byun wonders out loud if he should tell the world that the songs on that album were stolen from Sung-hyun, unless CEO Lee tells the truth and clears Ha-neul's name. CEO Lee laughs that semi-unhinged laugh, and asks how Mr. Byun plans to even find Choi Jun-ha for proof when he's been in hiding for a decade? And that's assuming he'd even be willing to tell the truth.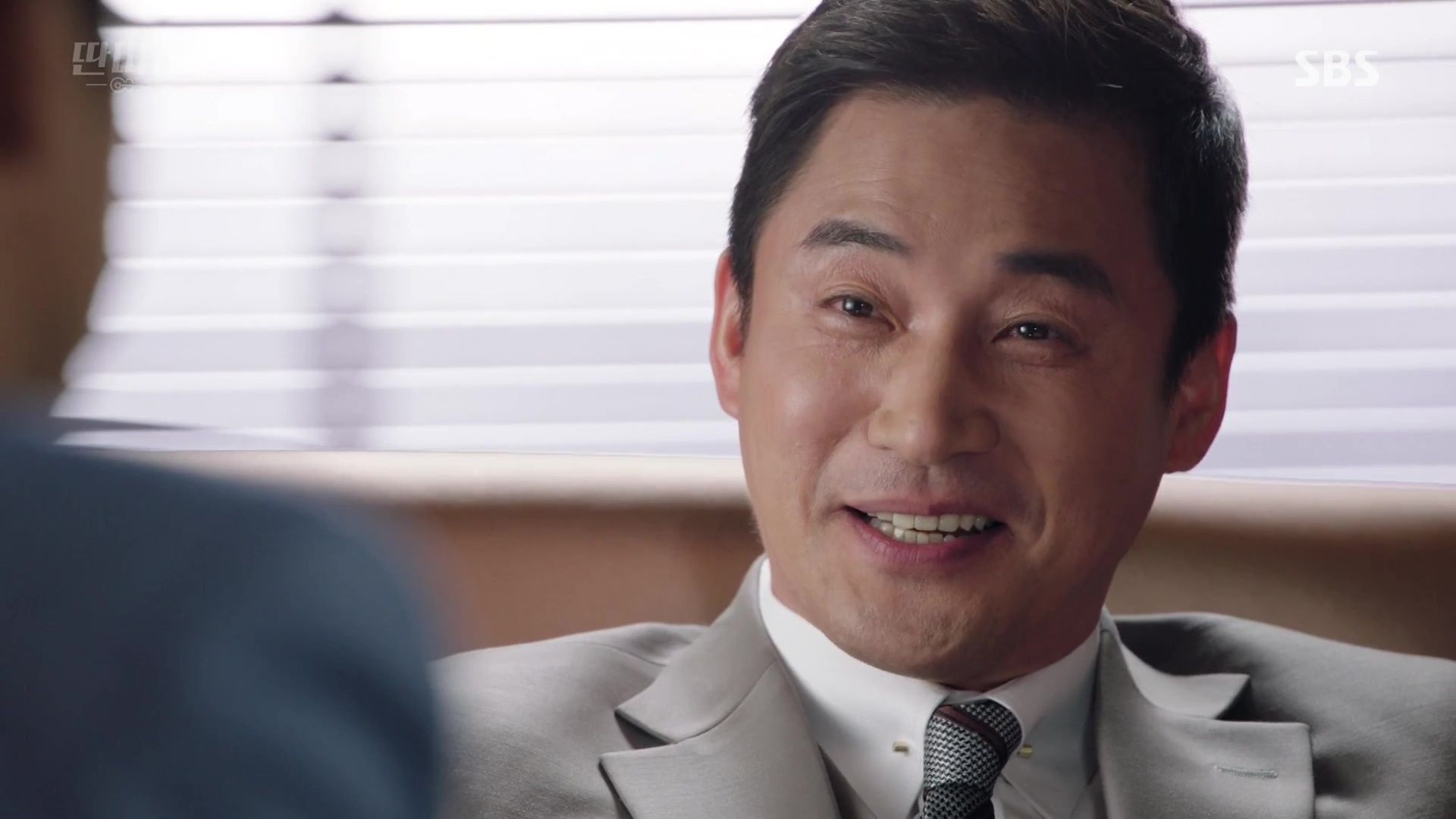 CEO Lee pretends that his main concern is Ha-neul, and how he'd feel if he knew who it was that handed over Sung-hyun's songs to Lee in the first place. But Mr. Byun knows the truth behind that, too — Seok-ho only gave CEO Lee those songs to prove Sung-hyun's talent and ask Lee to promote him, not to give to another artist.
But CEO Lee has another ace up his sleeve — Seok-ho thinks Sung-hyun died of a heart attack. How would he react to know that it was suicide? He tells Mr. Byun to bring him something better if he wants to make any deals, and Mr. Byun accepts his challenge.
Yeon-soo is in full-on mother-hen mode, making sure that Jae-hoon isn't being harassed at school and asking Kyle not to make jokes about Ha-neul's situation. They're all worried about Ha-neul since he's got his phone off, and they bark at him in unison when he walks in with Chan-hee like nothing's wrong, ha.
Over at KTOP, Jinu isn't doing so well, and he asks Joo-han to help him hold a press conference to confess the truth, that he was the true "aggressor" and Ha-neul is innocent. But he's barking up the wrong tree, especially since CEO Lee is furious that Ji-young's name is already being bandied about as the one who framed Ha-neul.
When Joo-han is called to CEO Lee's office, Jinu swipes the phone he left behind, and sees that Joo-han has the incriminating video still on it. He quickly texts it to someone (himself maybe?) and then deletes the evidence.
Joo-han is scared of what Ji-young will do if KTOP does anything to her because of the scandal, so CEO Lee tells him to rewrite her contract to reflect that she was signed by KTOP six months before the scandal. He also gives instructions to get rid of the weak link — Jinu.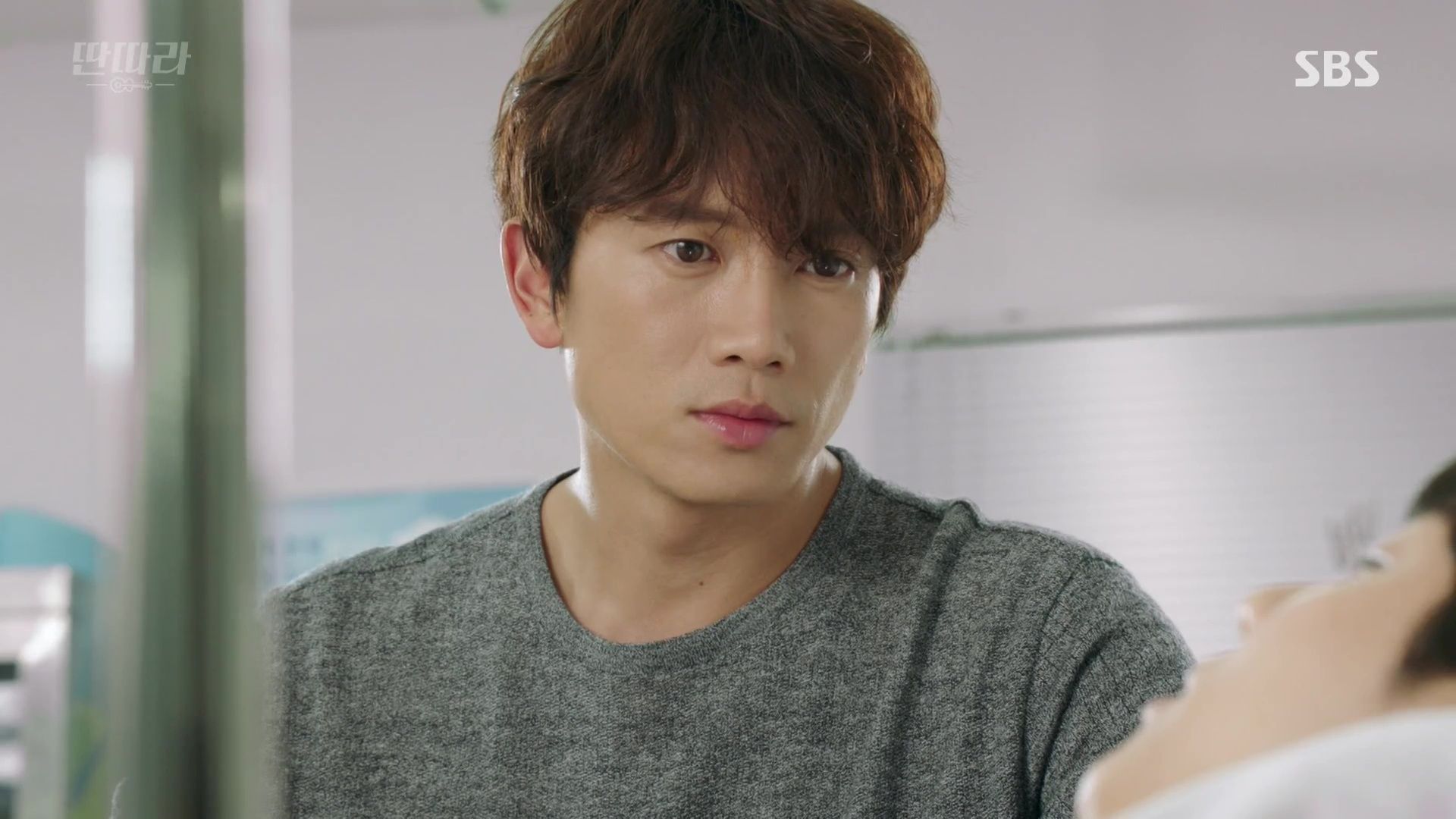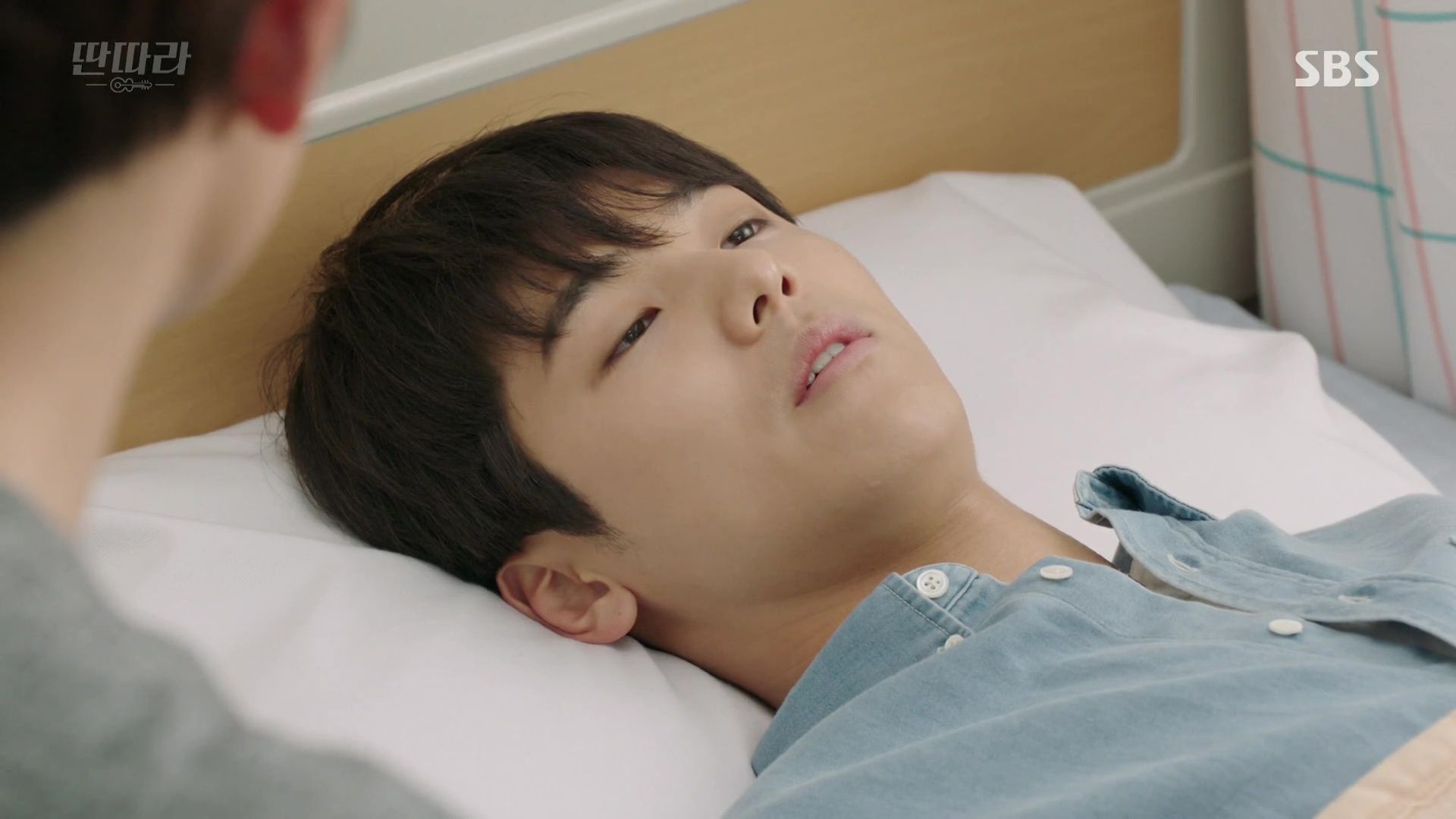 Ha-neul may be presenting a brave face to the band, but when he's alone, he's tempted to check the online articles anyway. Whatever he sees shakes him and he passes out, and thank goodness Seok-ho arrives in time to get him to the hospital.
Once he wakes he admits that he looked, because he hoped that by telling the truth people would trust him. But the reaction is overwhelmingly negative and for the first time, he truly felt like he was the predator they think he is.
Seok-ho confesses that he used to think that even negative attention was good, but now he knows that's not true. Ha-neul apologizes for not being able to hold up like he promised, but Seok-ho wants to take the blame, so they promise each other that they will both stop feeling responsible.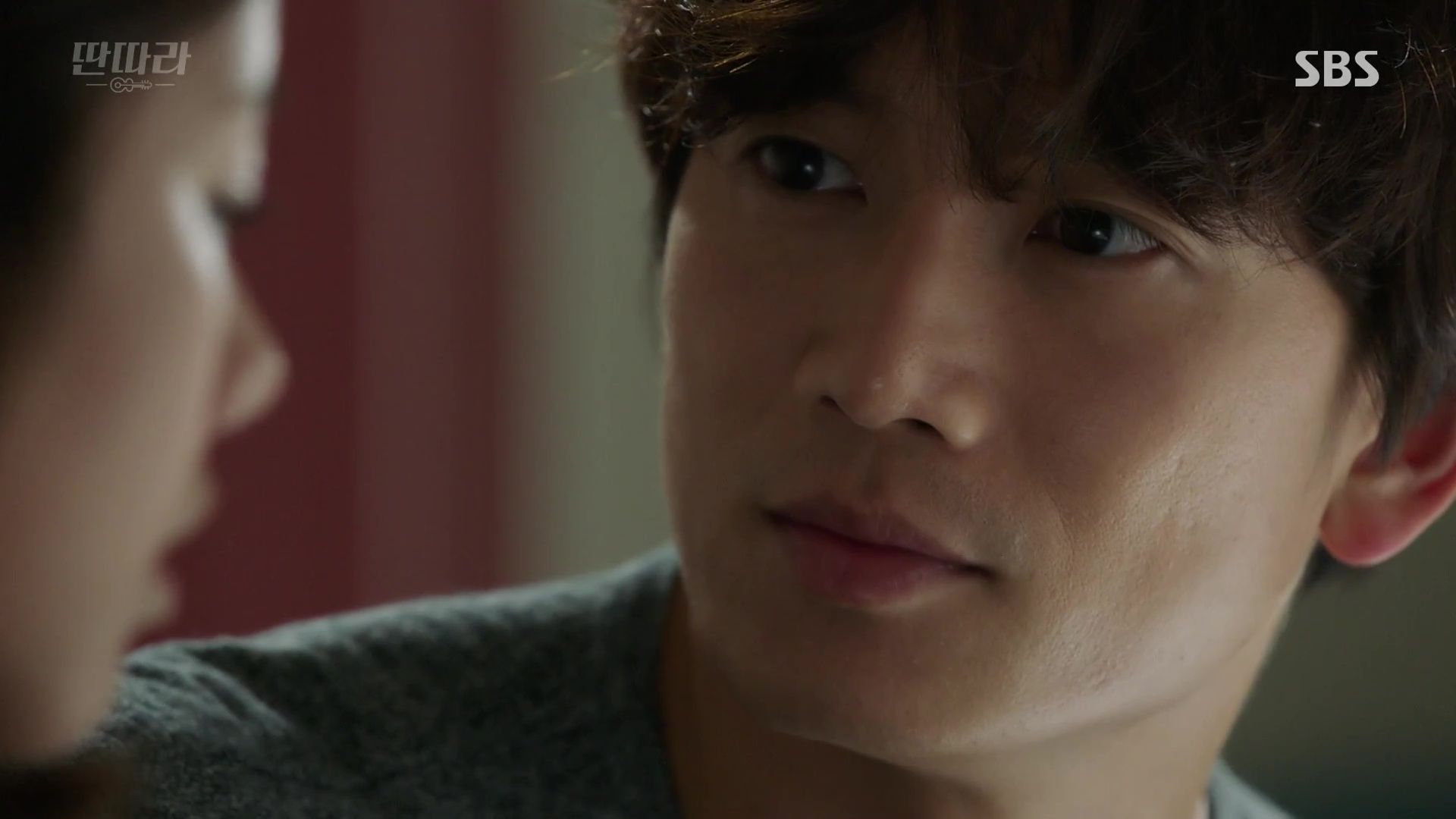 Later Geu-rin finds Seok-ho looking guilty anyway, and she sits with him, trying not to show her own worry and failing miserably. She says that she wishes Ha-neul's parents were here with him, and Seok-ho tells her that no matter how hard she tried to be a good guardian, she was really still too young herself.
He assures her that Ha-neul will be okay, calling her by name for the first time. He says that Ha-neul has her standing with him, and she has Seok-ho standing by her. She's not alone anymore, so she doesn't need to be scared.
When Ha-neul seems more worried about Geu-rin than she is about him, she comments that he worries too much for his sister. He tilts his head at her thoughtfully and asks, "Is that what you think this is?"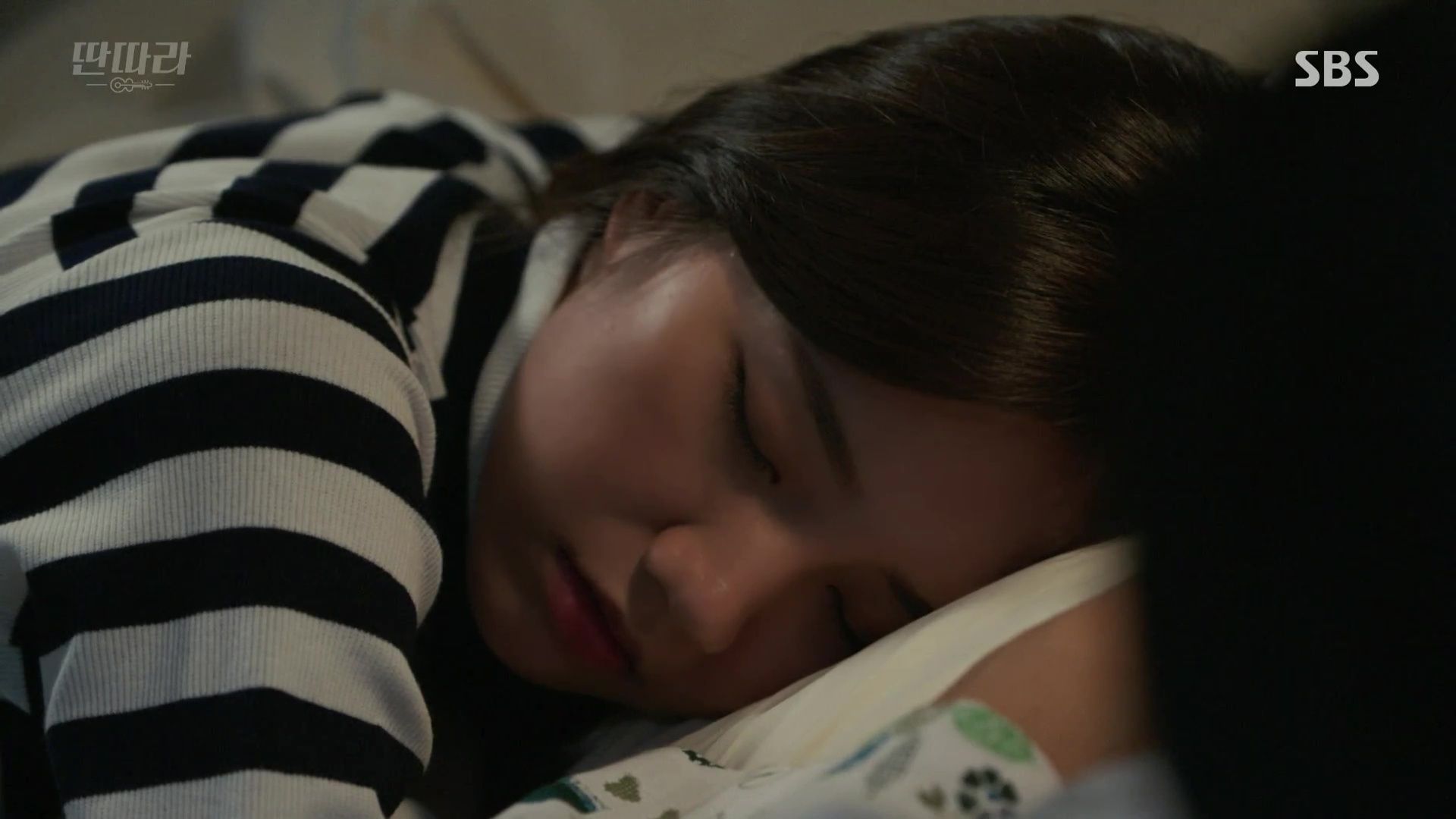 He gets about halfway through an actual, real live confession, but he's interrupted by Min-joo, Man-shik, and Mr. Byun. He'd be more disappointed, except Man-shik brings news that he's got a new song for Ddanddara Band, which puts a big gorgeous smile on Ha-neul's face.
Man-shik wants to do something to cheer the band up, and Mr. Byun suggests they pool their money to do something for them. They could use a boost, and to know that they have supportive fans out there.
That night Geu-rin falls asleep with her head on Ha-neul's hospital bed, and he reaches over to stroke her hair, but he stops himself. He does put his hand over hers, gently enough not to wake her, and lies there watching her sleep.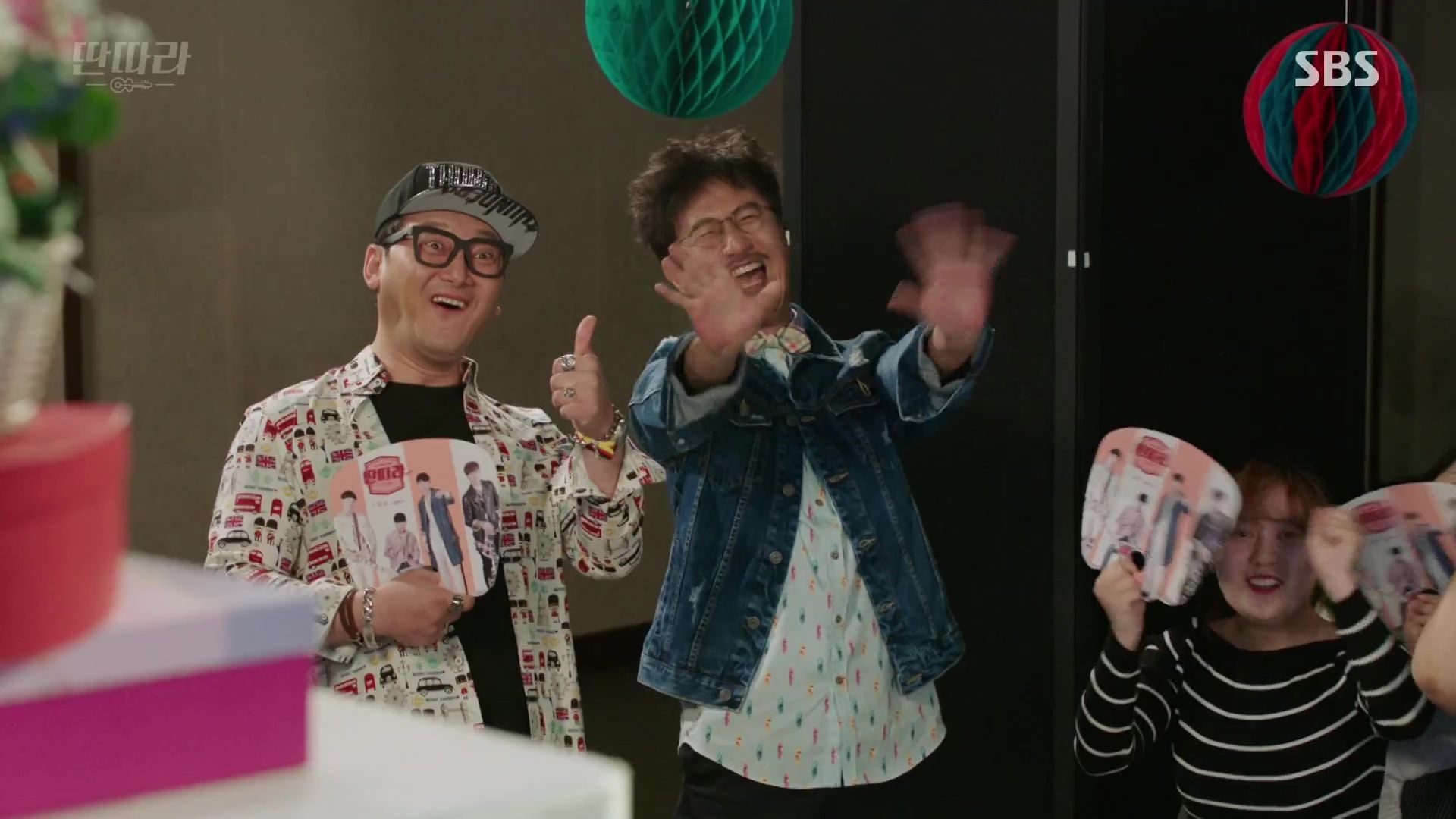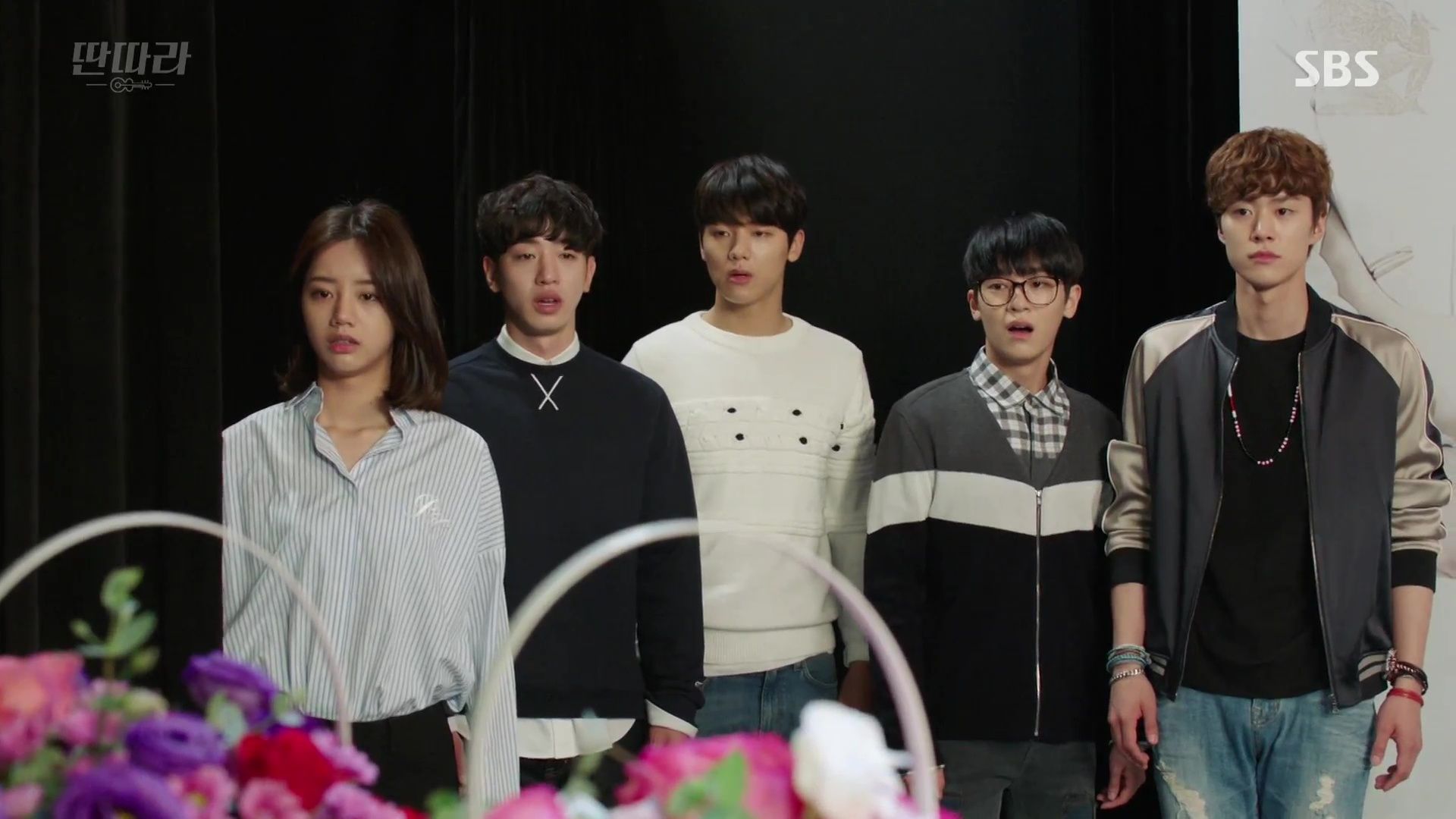 The next day Seok-ho sits to compose another article offering more details of the day of Ha-neul's incident. Man-shik calls to summon him to… something, with the rest of the band as well.
Min-joo is upset that it means Yeon-soo will miss an event at Chan-hee's school, and gets all squirmy when Man-shik tells her to go instead: "I'm not his mom!" The way little Chan-hee has been calling her pretty and favoring her lately makes her nervous.
Geu-rin and the boys release Ha-neul from the hospital and head to whatever Man-shik has planned — aww, it's their very first fan meeting, and the auditorium is packed! Mr. Byun and Man-shik are beaming, while Ha-neul looks so touched he could cry.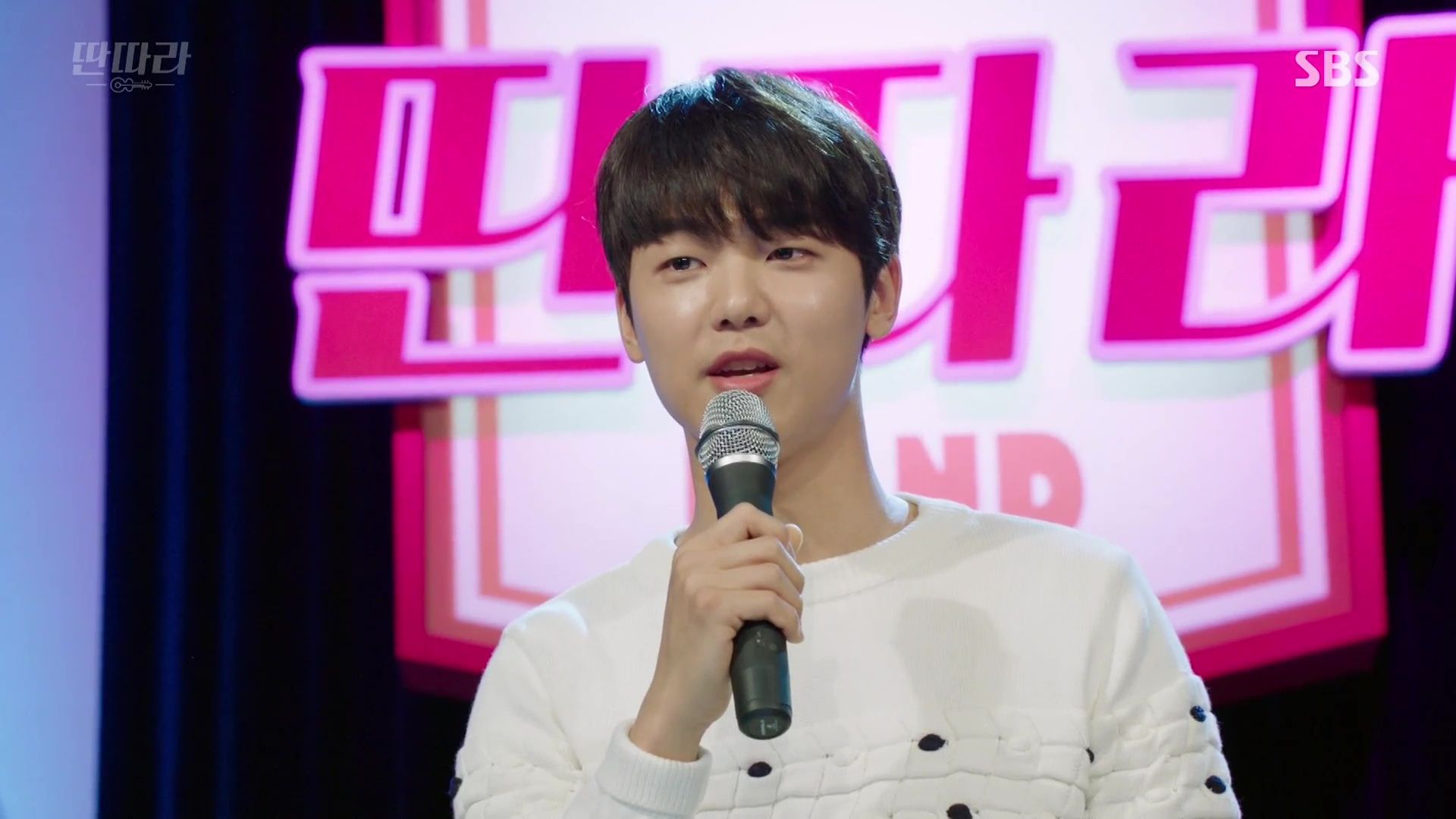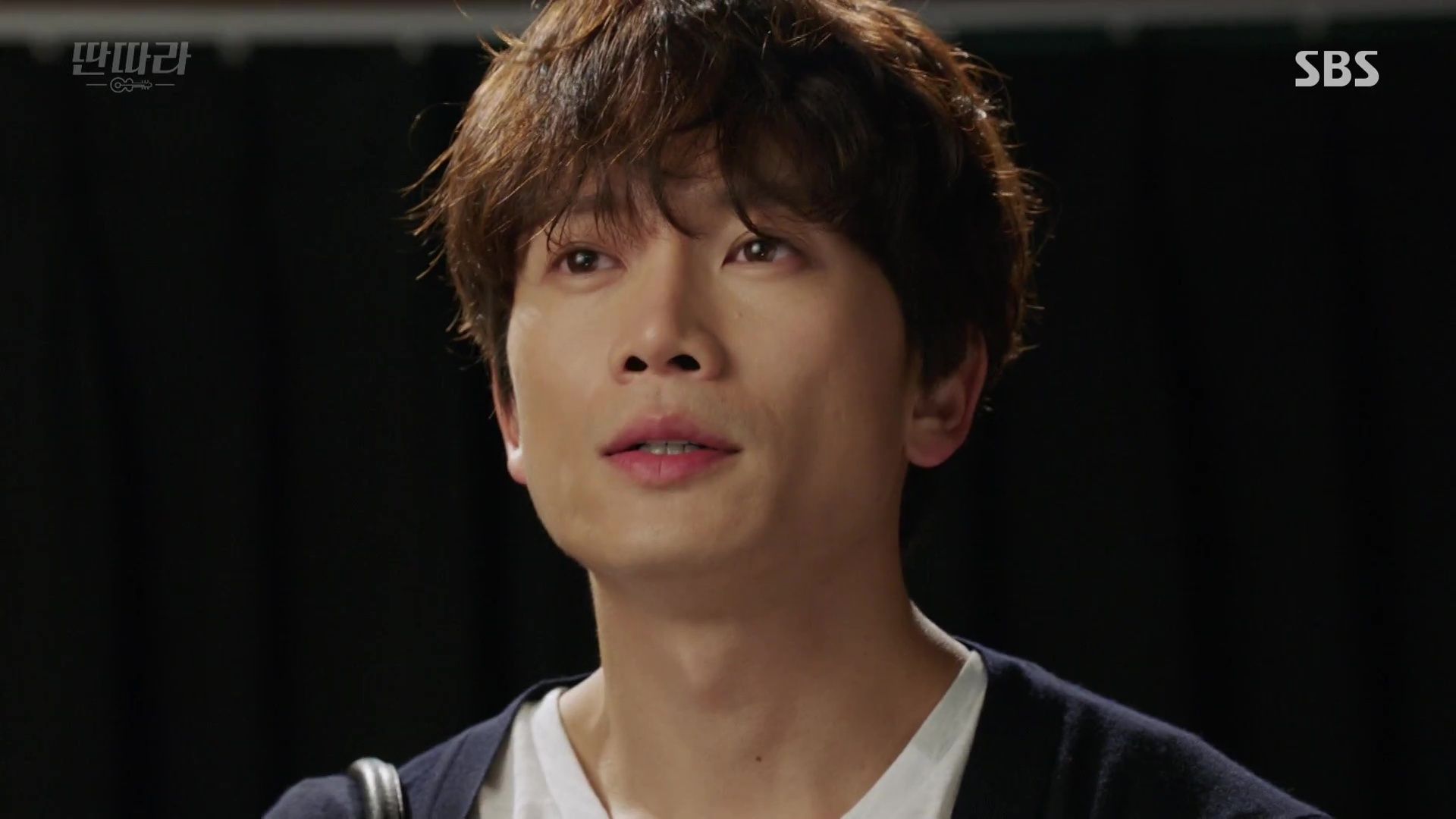 When he's asked to say a few words, Ha-neul lets himself be vulnerable, and confesses that he just came from the hospital. He says that he was very worried, because even though they're cheering for him, he's a tainted person. He's scared that if he can't prove his innocence, nobody will stand by him, or listen to their music.
His lip quivers as the fans start to chant, "It's okay! Don't cry!" and there's not a dry eye in the house. Seok-ho is moved as well, though he notices a girl in the back of the auditorium who looks sad, and she turns to leave.
Min-joo picks up Chan-hee at his school event and brings him to the fan meeting. She doesn't look happy to ask him not to say "Daddy" out loud, but he already knows, and smiles that he'll just say it with his eyes. The sad girl happens to see them and stares at Chan-hee when Min-joo says his name… is she his mother? Crying now, she follows him.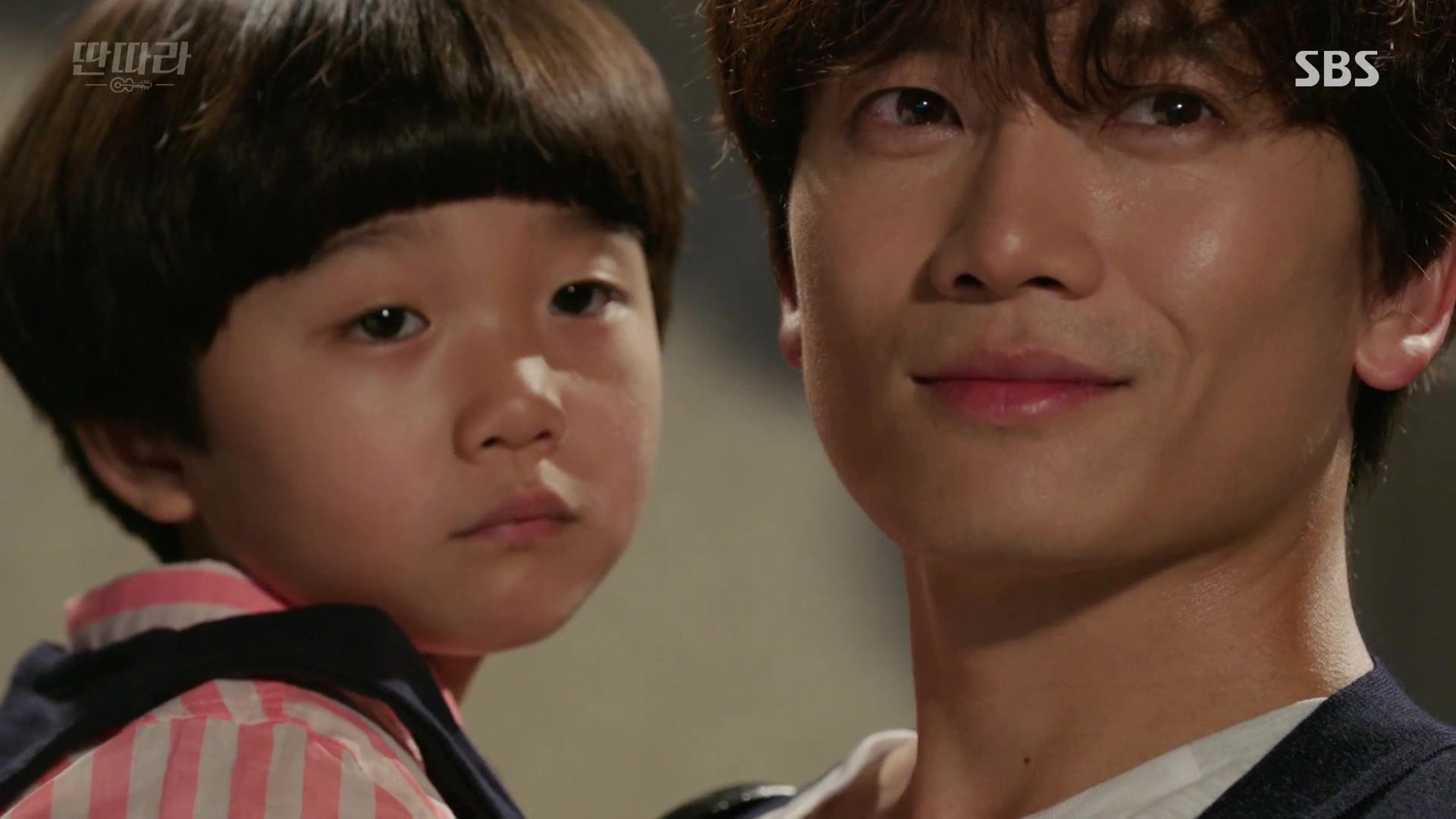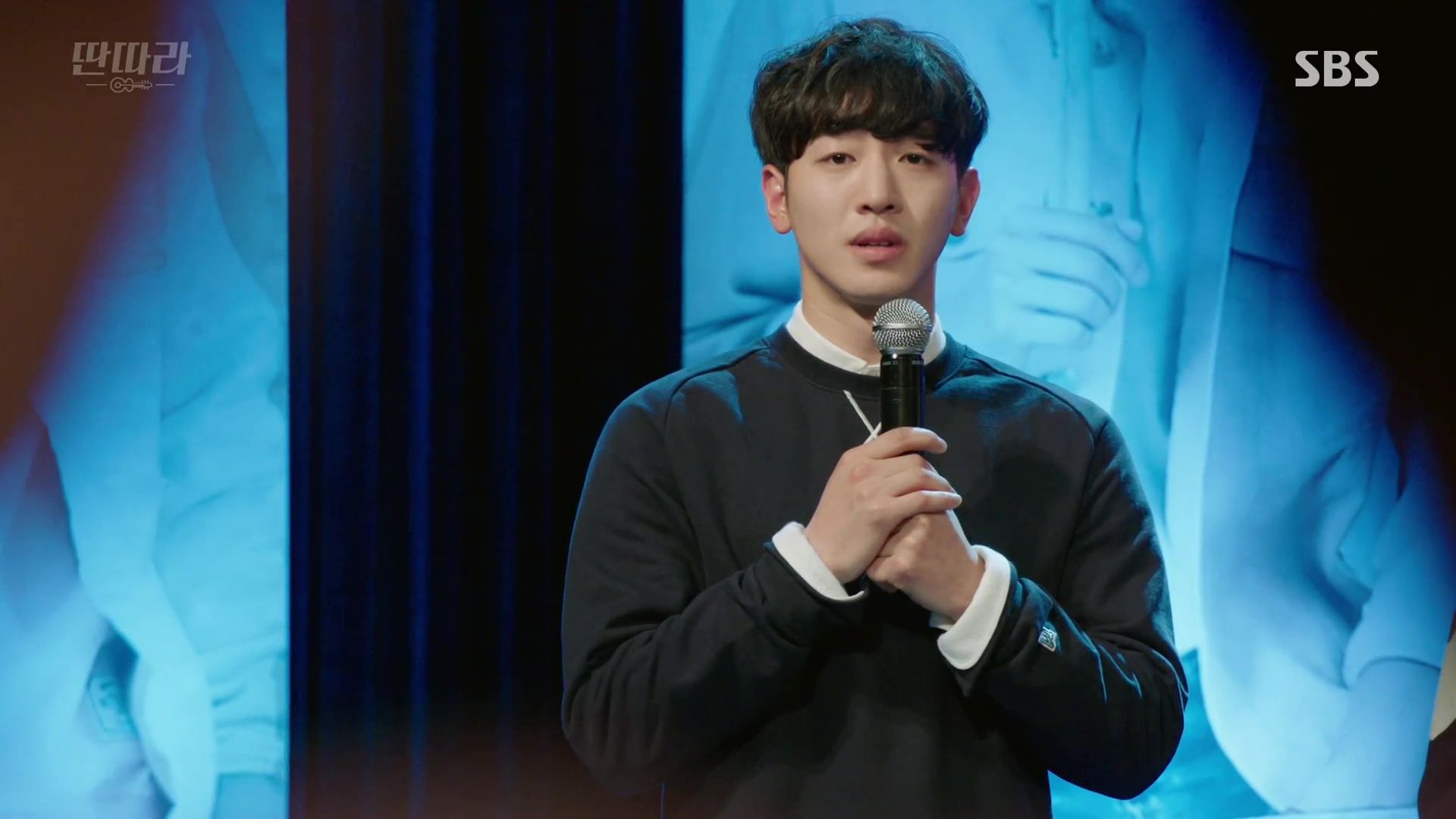 Out on the stage, a fan asks Yeon-soo if he has a girlfriend, and he says shyly that he doesn't. He does say that he's dated before, just as Min-joo, Chan-hee, and the sad girl come out into the audience. Yeon-soo is asked to describe the girl, and his answer makes the sad girl take her eyes off Chan-hee and pay attention.
He says she was nice, and too good to be true. He continues that he wanted to marry the girl he was with, but he was too poor and not good at expressing his love. He wanted to do everything for her after becoming successful, but he waited too long and couldn't stop her from leaving.
But Yeon-soo says that she left him a gift, and at that, Seok-ho gives him a small nod. "I have a little son," he says, and calls Chan-hee up on the stage. Chan-hee runs to his daddy, and the audience, though surprised, show their approval. Seok-ho can't help but tear up again in pride, and the sad girl quickly leaves before anyone sees her.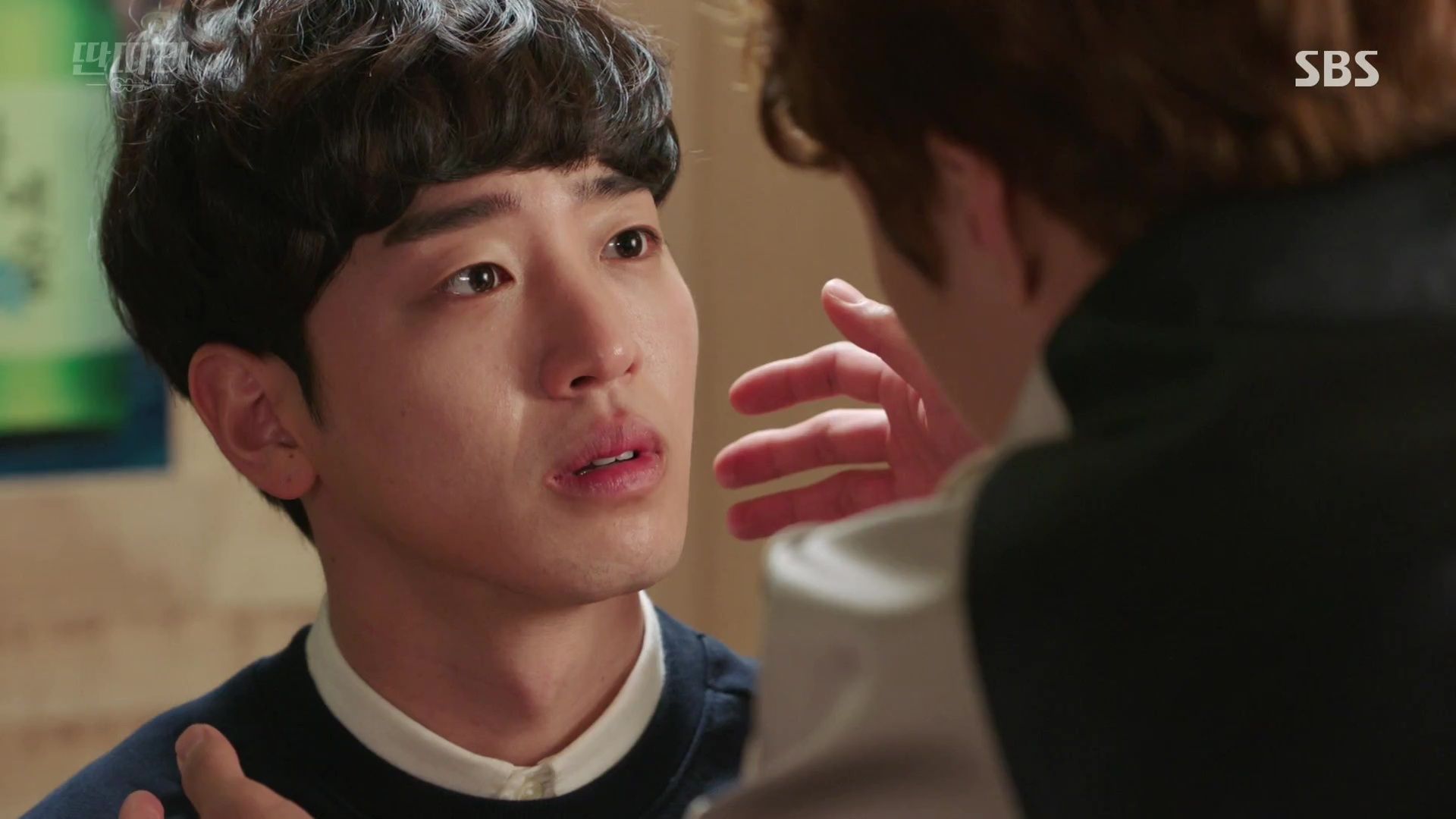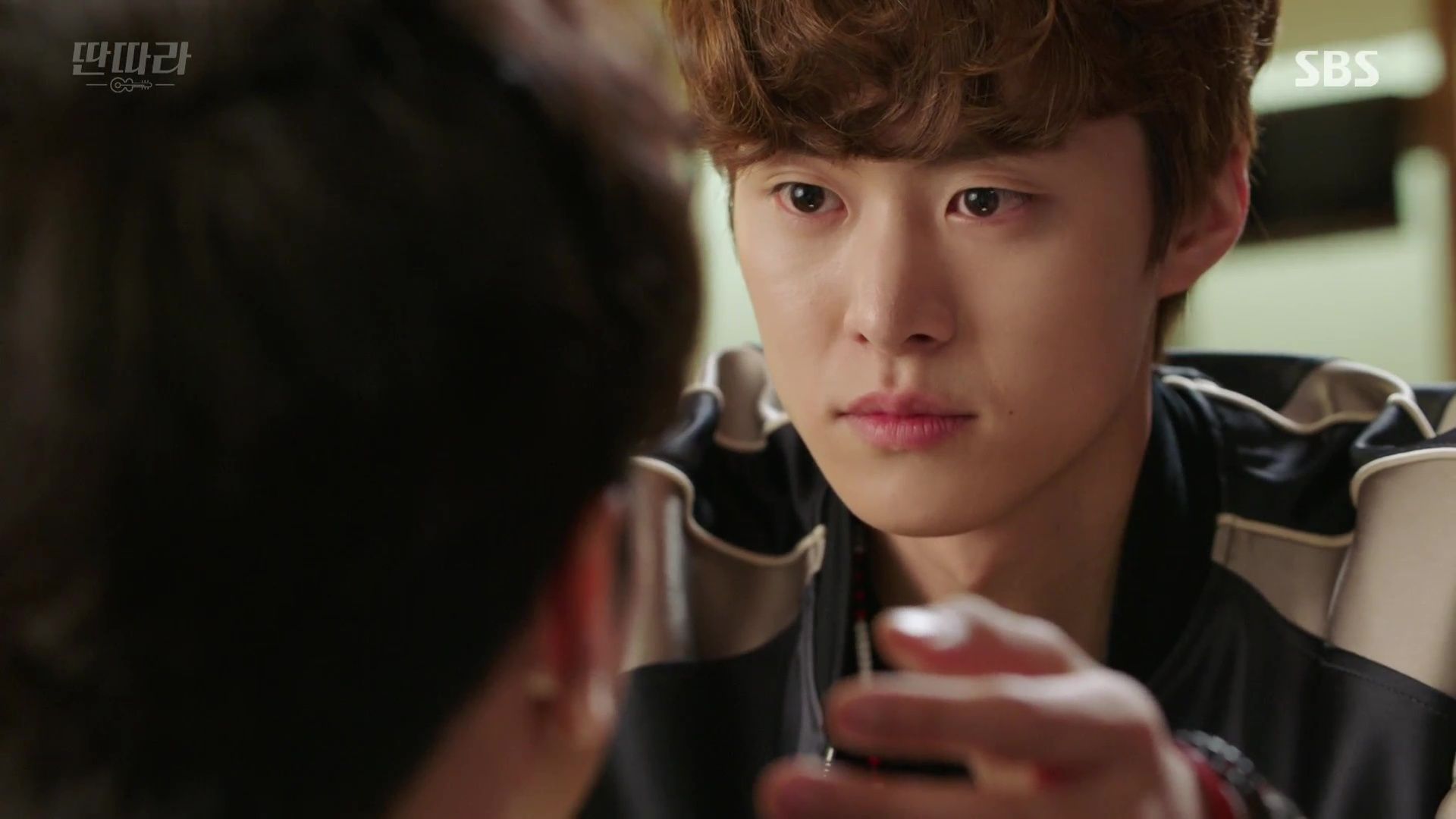 After the fan meet, Kyle makes faces like he reeeeally wants to say something to Yeon-soo, and Ha-neul finally tells him to spit it out. Even Yeon-soo says he'd feel better if Kyle just cursed at him, ha.
But Kyle only gripes that raising a child isn't something to be cursed over, and Yeon-soo blinks in confusion at this turnaround. Then Kyle hugs Chan-hee, and starts to hug Yeon-soo… and realizes what a weirdo he's being and leaves. Pfft. Yeon-soo really is worried that he screwed up and took over Ha-neul's spotlight, but Ha-neul is actually glad the focus was taken off of himself for a bit.
Seok-ho decides to have a press conference to just get all the secrets out, and show that they're doing everything they can to clear Ha-neul's name. Mr. Byun agrees, knowing that people are most likely to believe whatever they hear first, so they need to put out the truth that he was framed as soon as possible.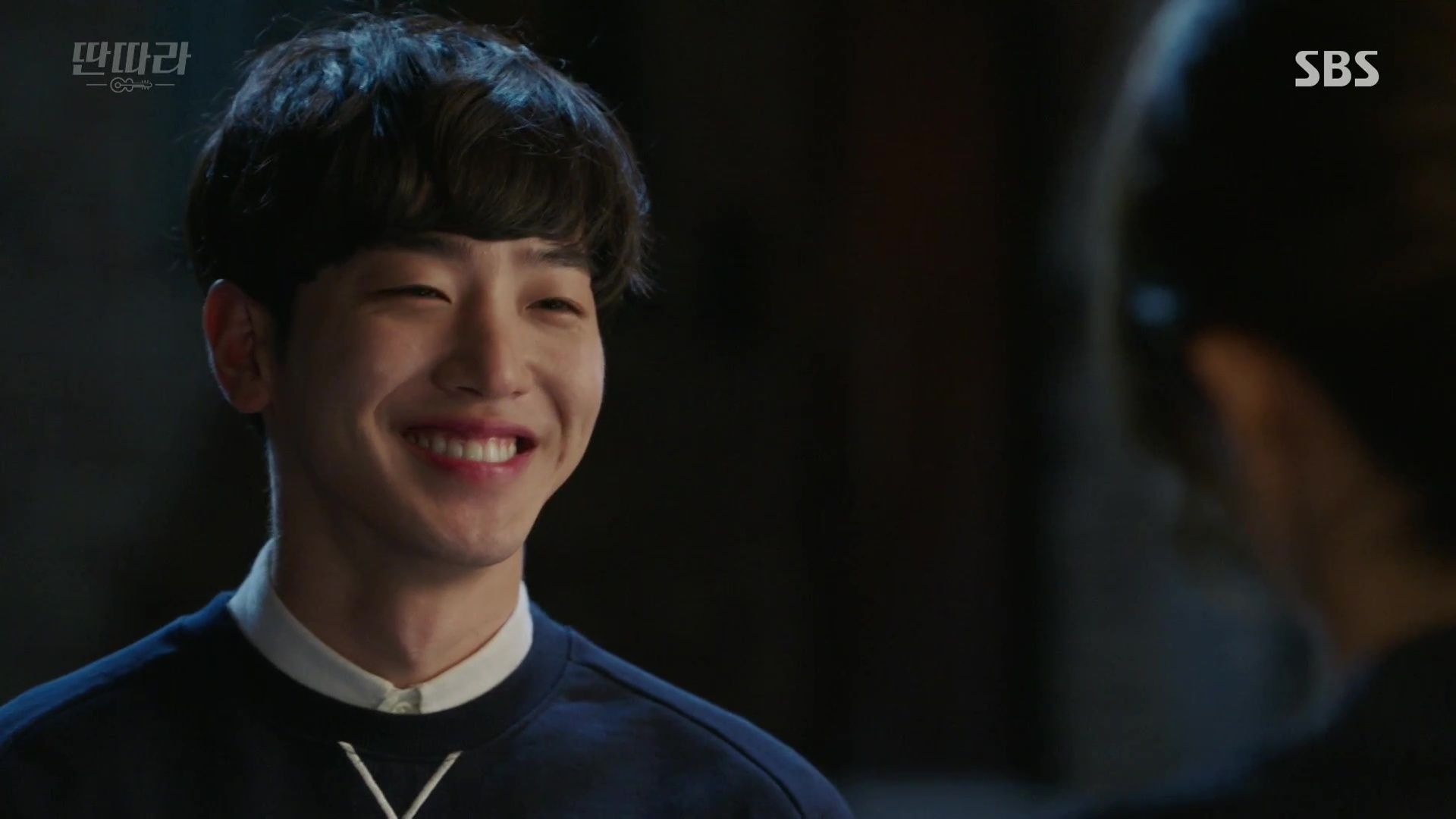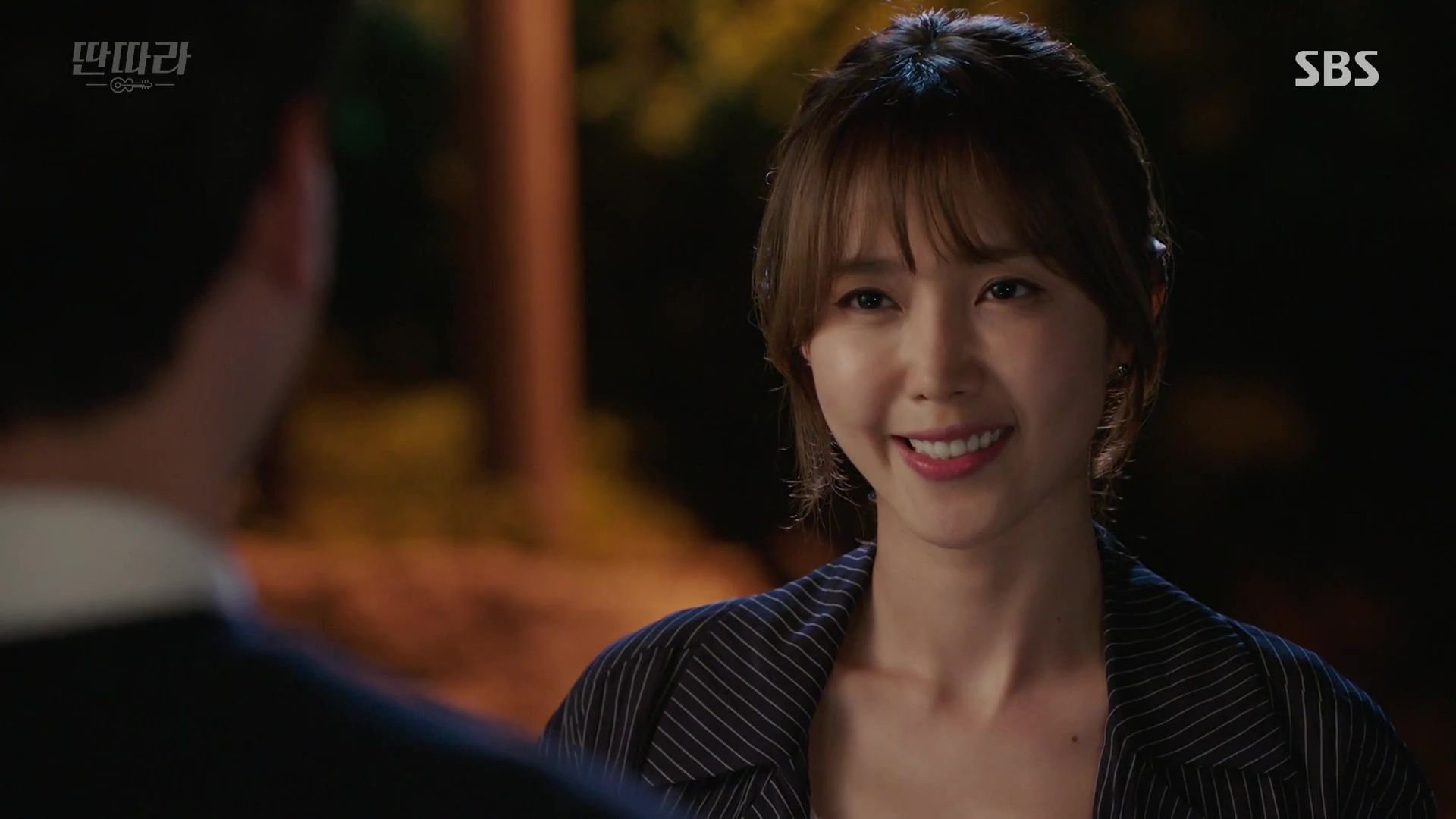 Min-joo and Geu-rin prepare the boys for the press conference, and the fact that until Ha-neul's name is cleared, they may not be able to perform. In the meantime they can practice their new song, and do their best to stay healthy.
Min-joo gasps dramatically at the baby abs that Chan-hee flashes when she talks about working out, and Yeon-soo goes all googly-eyed, seeing her with his little boy. He follows her out to thank her for taking care of Chan-hee today, and tells her that someday, she'll make a great mom. In turn she praises him for telling the fans about his son today.
Jinu did send that video to himself, and he watches it over and over, focusing on the person behind the camera's shoes. They're a special edition that he gave to Joo-han as a gift, which means he knows exactly who took that video.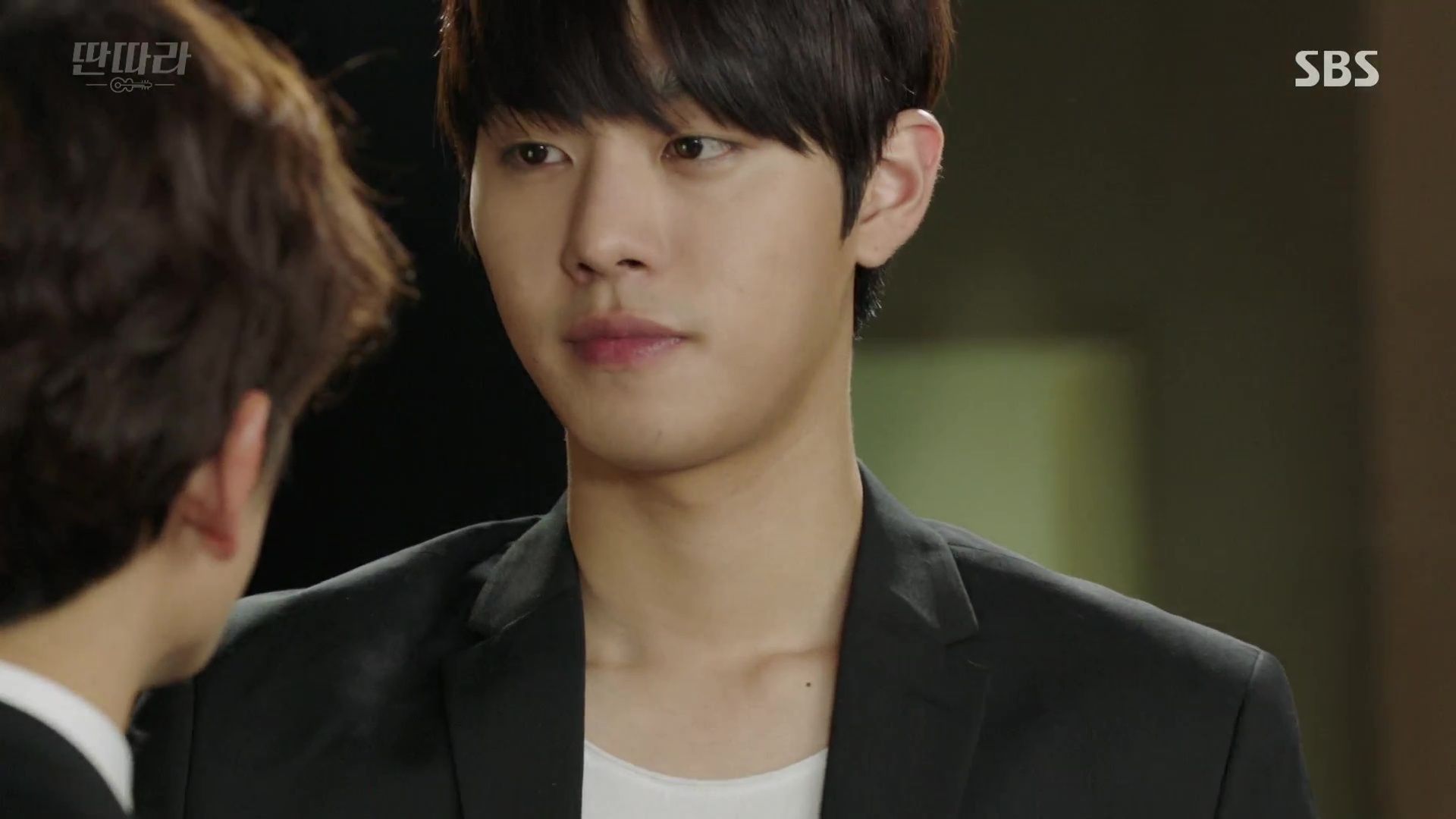 Seok-ho calls him to tell him about the press conference the next day, and reassure him that they're only telling Ha-neul's side. They won't out Jinu, but he says he wants to resolve this quickly, for Ha-neul and for Jinu. Jinu watches the video again, and seems to make a decision.
The next day Jinu crashes the press conference, creating a stir. He actually looks better than he has in ages, and tells Seok-ho it's okay, and takes the microphone to announce that Ha-neul is innocent. Seok-ho jumps in front of Jinu and tries to stop him, but Jinu nods at him and just says a comforting, "Hyung."
KTOP is actually holding a press conference at the same time, to apologize for the confusion surrounding Ji-young (whom they refer to as Miss A). Joo-han tells the trumped-up story that she was already a trainee at KTOP at the time of her assault, and that she framed Ha-neul in order to protect Jinu.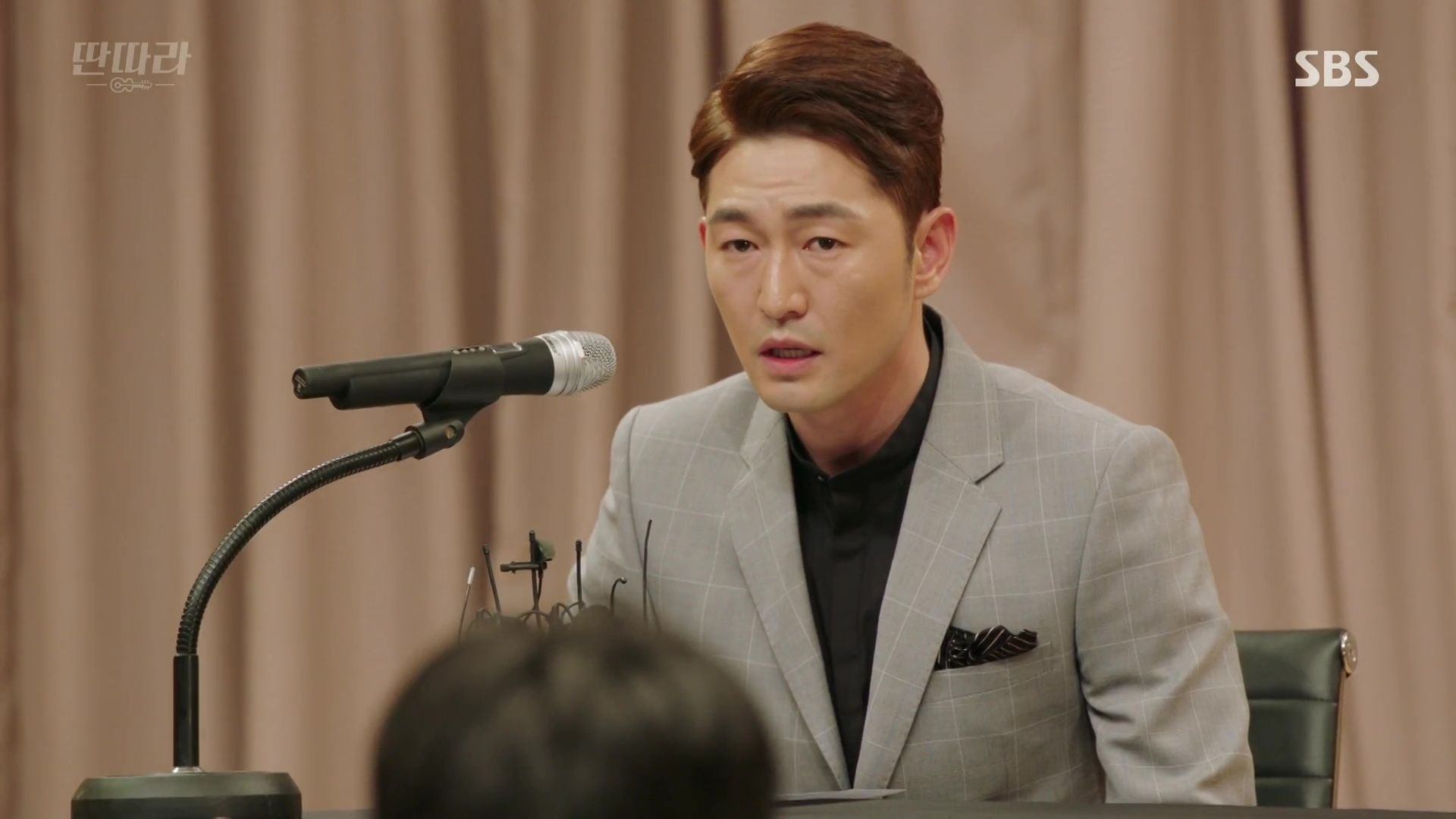 They make her sound all innocent and fragile, claiming that she's been in therapy since the incident and that when Ha-neul's story went public, she just felt so bad that she begged KTOP for help in telling the truth. Joo-han throws Jinu under the bus, naming him as the true attacker… though in his defense, he doesn't seem happy about it.
KTOP's press conference goes out before Jinu has the chance to tell his story, but he takes it in stride and states that yes, he was there at the scene of the crime. He admits that he was inebriated and doesn't remember much, but he knows that Ha-neul tried to stop things and was attacked himself.
Jinu has the proof in the from of the video, though Seok-ho again tries to stop him. Still with that serene determination, Jinu says that this is the only way he can go on living, and plays the video.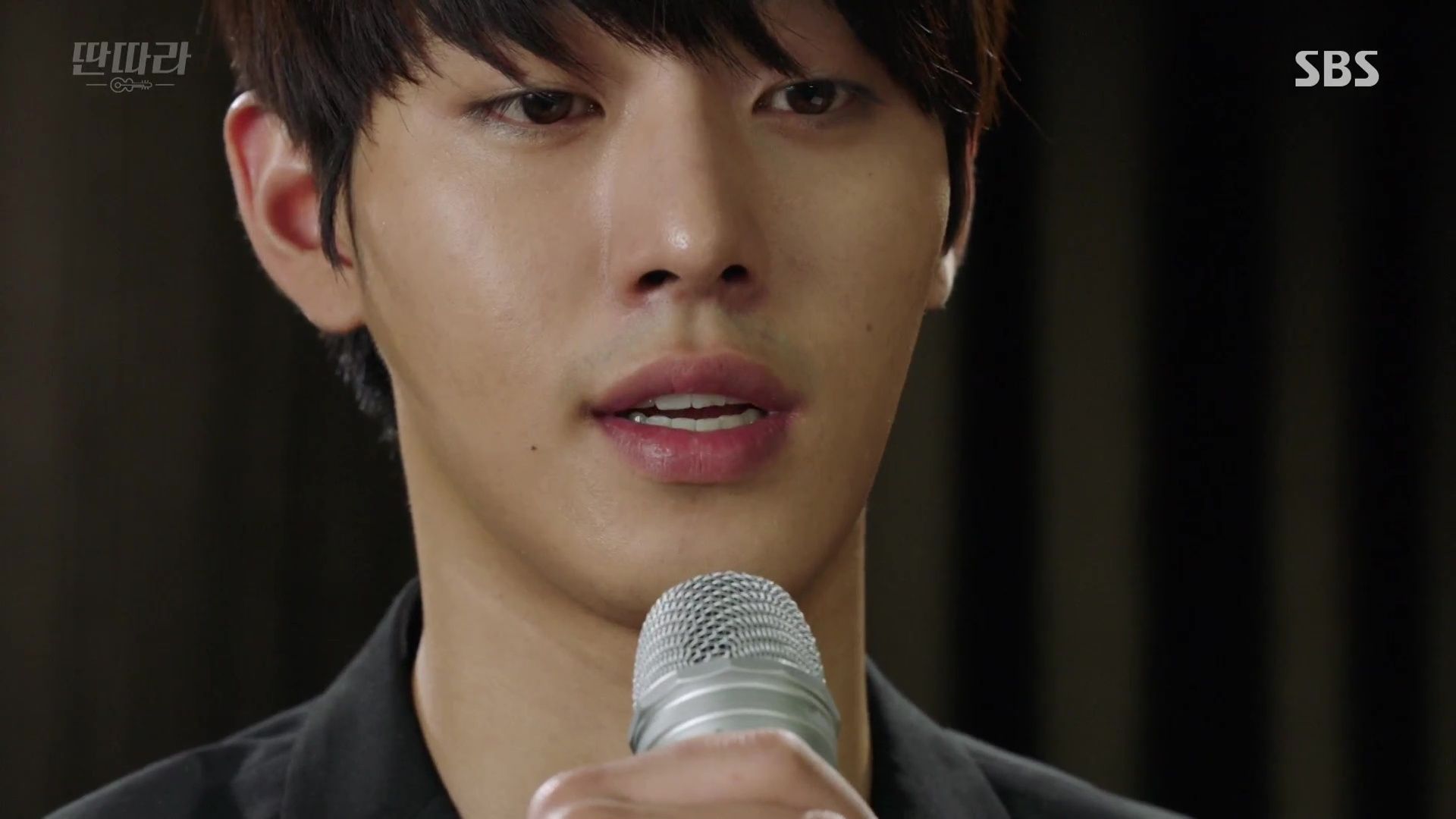 Jinu tells the reporter that it's him in the video, and that he's not making any excuses for himself. He was so drunk he couldn't make good judgements, and that he tried to harm another person. He accepts that he should be punished, but his main concern is that they understand Ha-neul didn't do it.
He goes on to say that he wishes he could remember exactly what happened that day, because of the shoes they see in the video. That person was there, and recorded everything, and didn't try to stop anything that was happening.
Seok-ho pulls Jinu aside after the press conference to ask what he's doing, and Jinu says the truth would have come out eventually. He wanted to confess first, but CEO Lee beat him to it.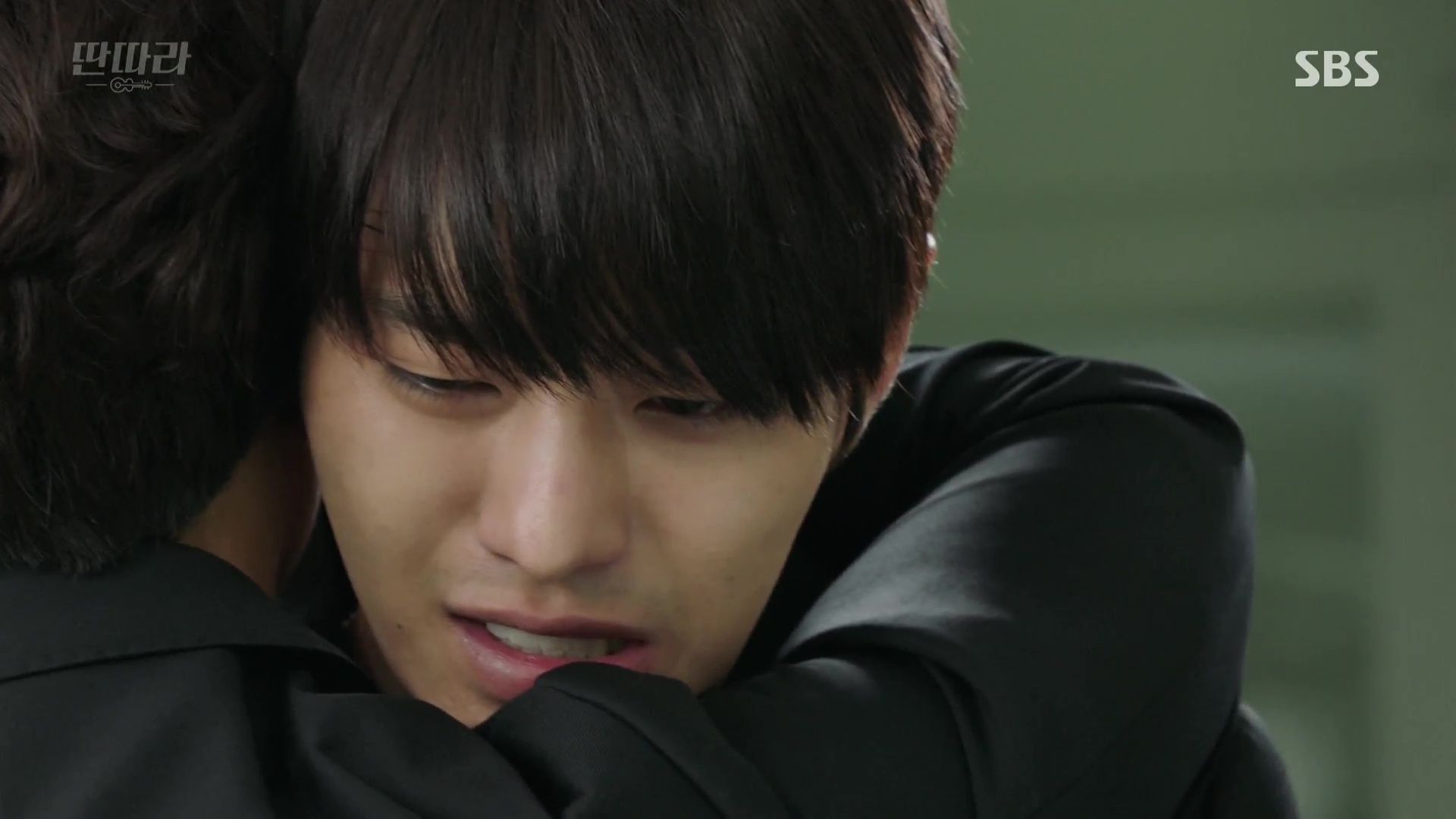 Seok-ho wants to know about the video, and Jinu tells him he got it from Joo-han, who said he got it from Ji-young, and used it to control Jinu. But the shoes in the video, he says, are Joo-han's.
He says he didn't tell Seok-ho his plan earlier because he knew he'd try to stop him, that Seok-ho wouldn't be able to let him do it, but he says he's okay. He asks Seok-ho to apologize to Ha-neul for him, and asks for a hug, which Seok-ho easily gives.
Seok-ho asks Jinu to wait, and he'll make Joo-han confess. He'll expose everything, he swears, and begs Jinu not to do anything he can't take back. Jinu is struggling, but he tells Seok-ho that he trusts him.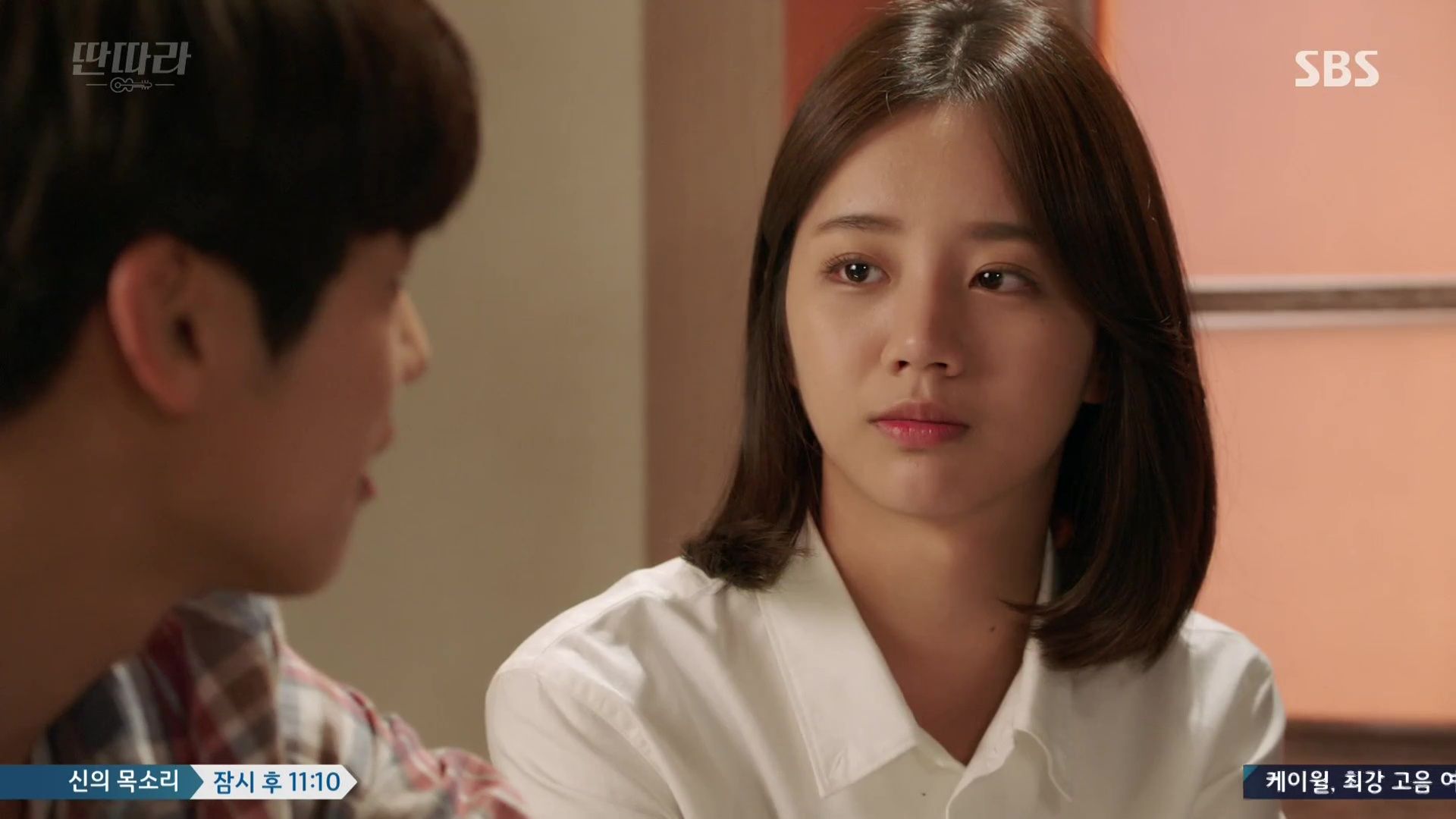 When Ddanddara Band finds out about Jinu's confession, they're stunned — at least now they know why KTOP has been trying so hard to ruin them. Seok-ho praises them for their loyalty to each other, and promises it's uphill from here. Ha-neul is worried about Jinu, and Seok-ho says that he has to save him, too.
Later that night, Geu-rin asks Ha-neul if he knew Jinu was the real culprit, and he lies that he didn't. Geu-rin is furious with Ji-young for lying to get into KTOP, but Geu-rin reminds her that Ji-young isn't the real problem — someone set this up on purpose. He says that Jinu is a victim too, and they have to figure out who's behind it.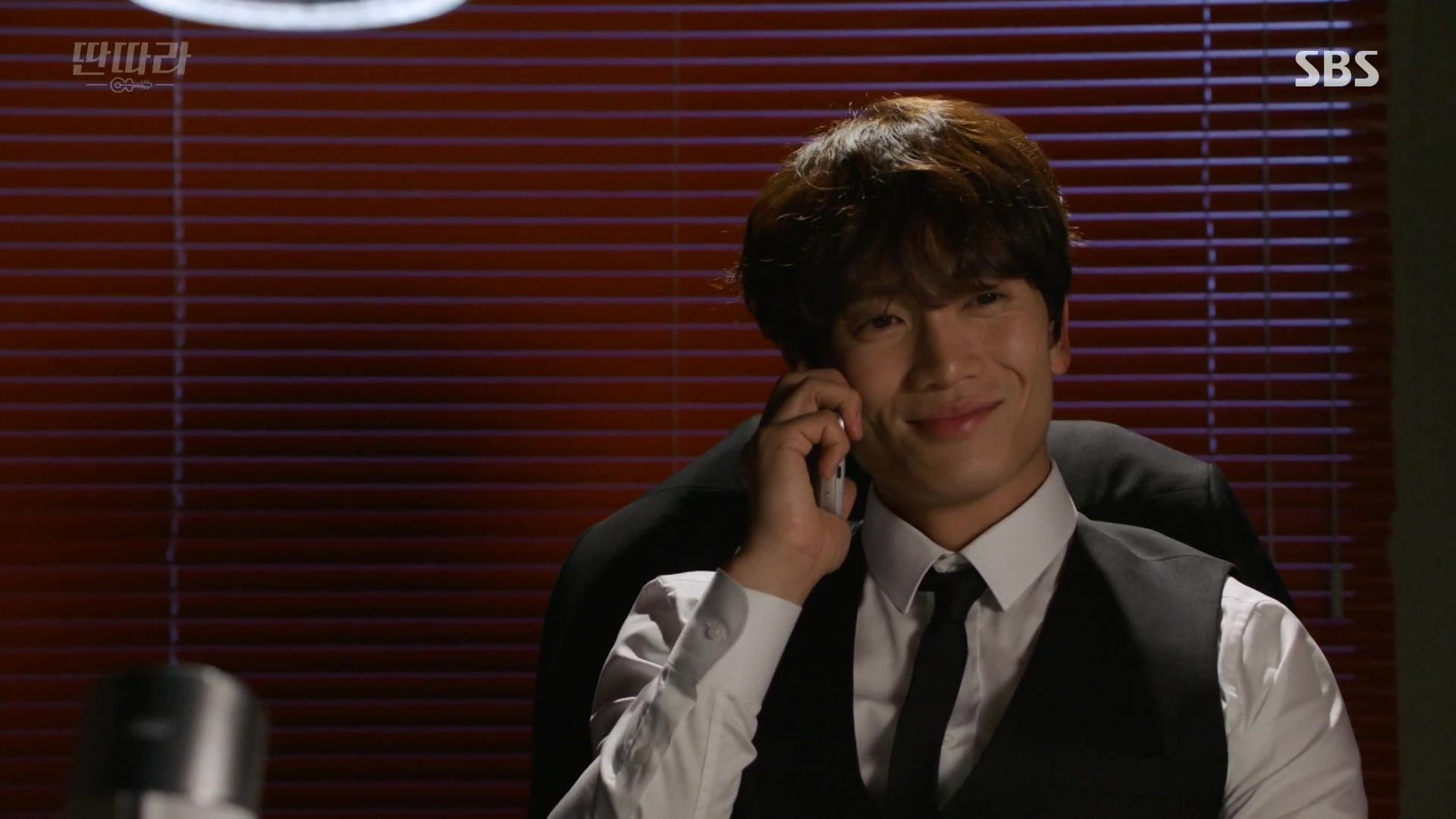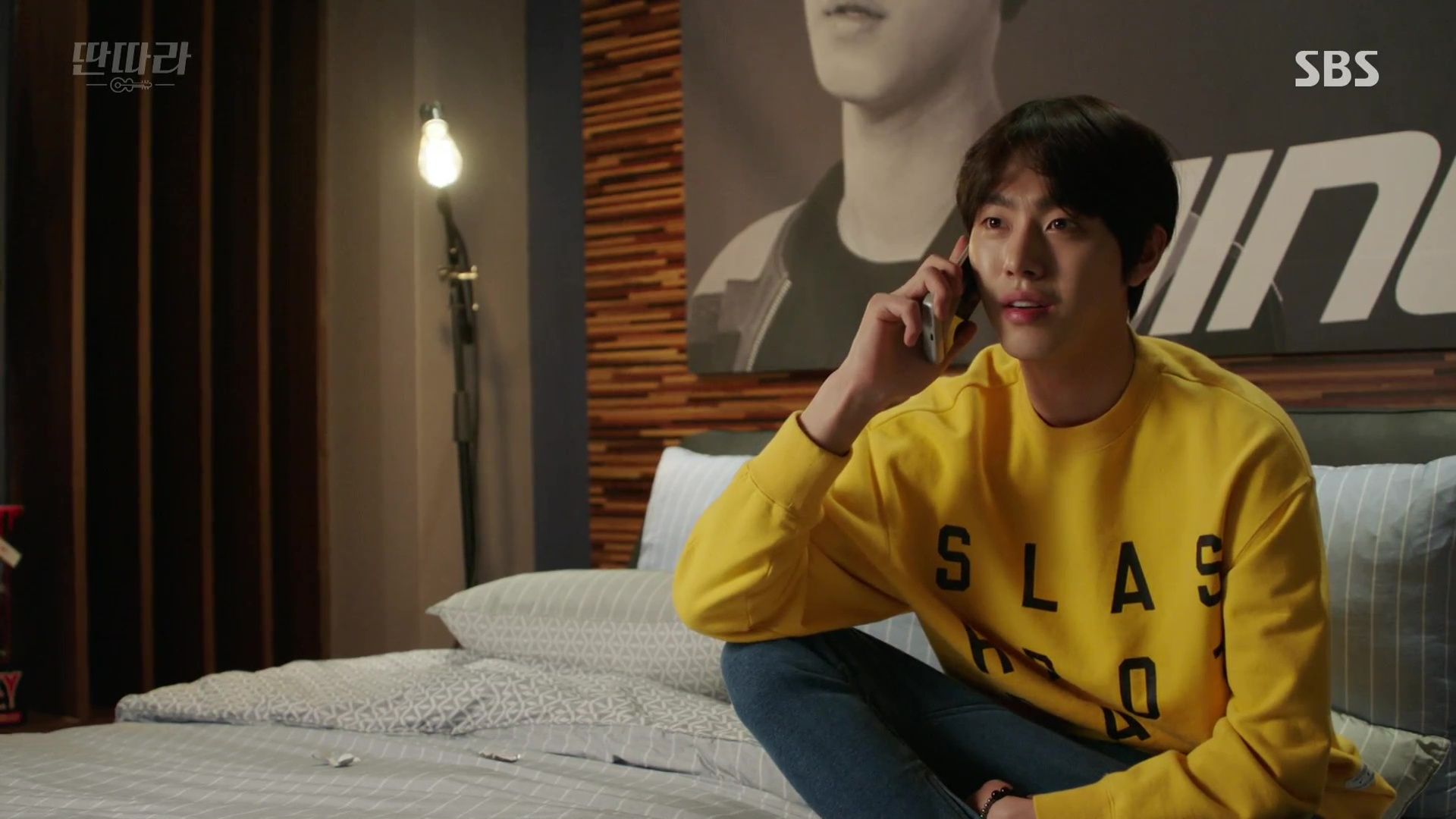 Geu-rin suddenly understands why Seok-ho drew himself walking in a downpour, and she has a million questions for him, but Ha-neul tells her to leave him alone. He's still worried about Jinu, and has enough on his plate. She agrees, but swears that when this is all over, she's still going to make sure Ji-young begs for forgiveness.
CEO Lee is predictably furious that the video got to the press, and warns Joo-han that he and Ji-young will be the next targets.
Awww, Jinu is eating Seok-ho's signature caramels when Seok-ho calls him that night, and he's happy to report that he can sleep for the first time in a long time. Seok-ho knows the war isn't over yet, and he swears to make Joo-han pay and clear Jinu's name as well.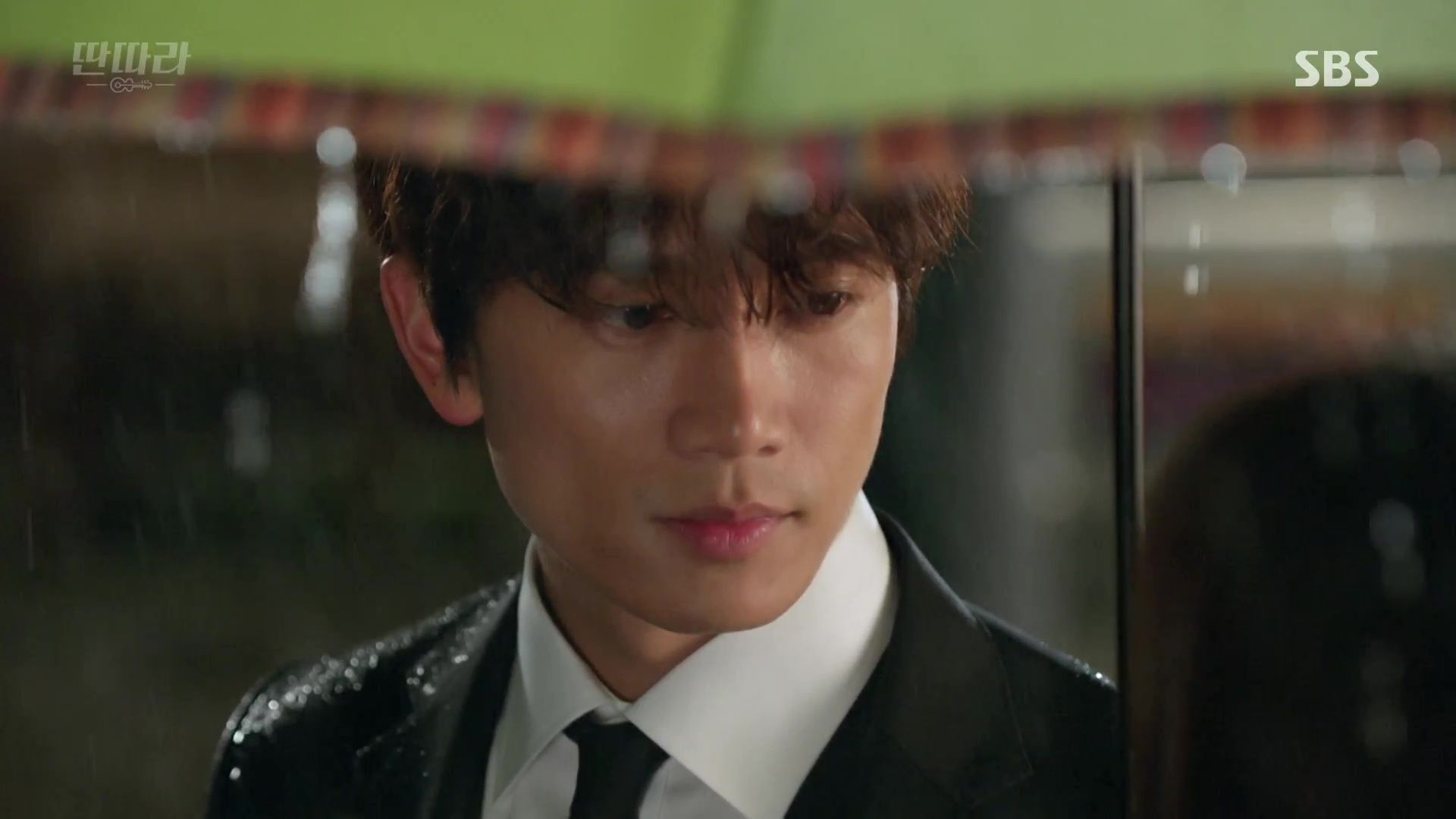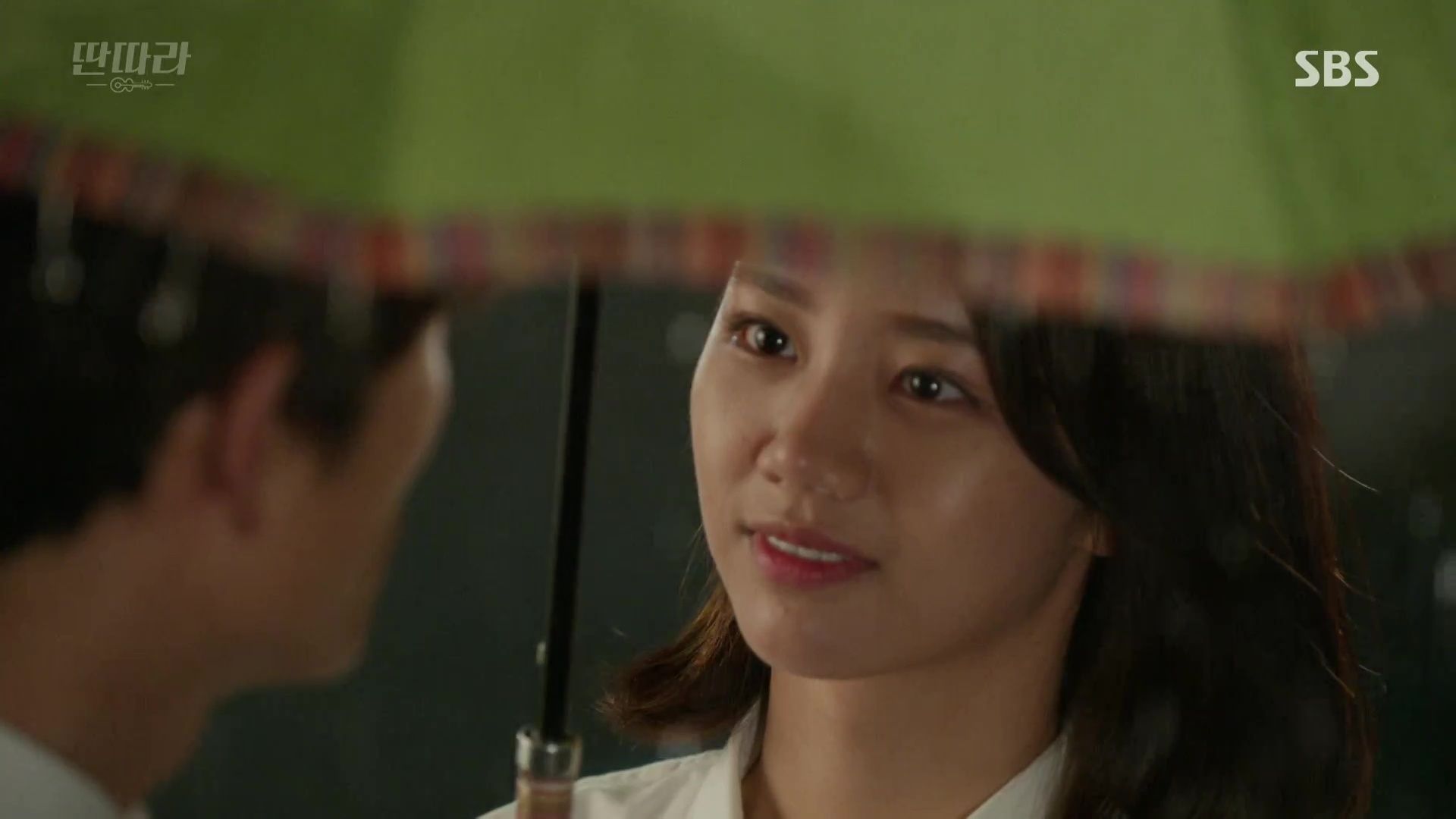 He takes some strength from his picture that Geu-rin drew the green umbrella on, then heads out to go home. It's pouring down rain, but suddenly a real green umbrella appears to shelter him from the rain. It's Geu-rin, here to be his umbrella just as she promised.
She thanks Seok-ho for proving Ha-neul's innocence, though he gives Jinu the credit. He asks her to buy him a drink if she's that thankful, and they take off. Behind them, Ha-neul watches them go, sheltered under the umbrella together while he stands out in the rain alone.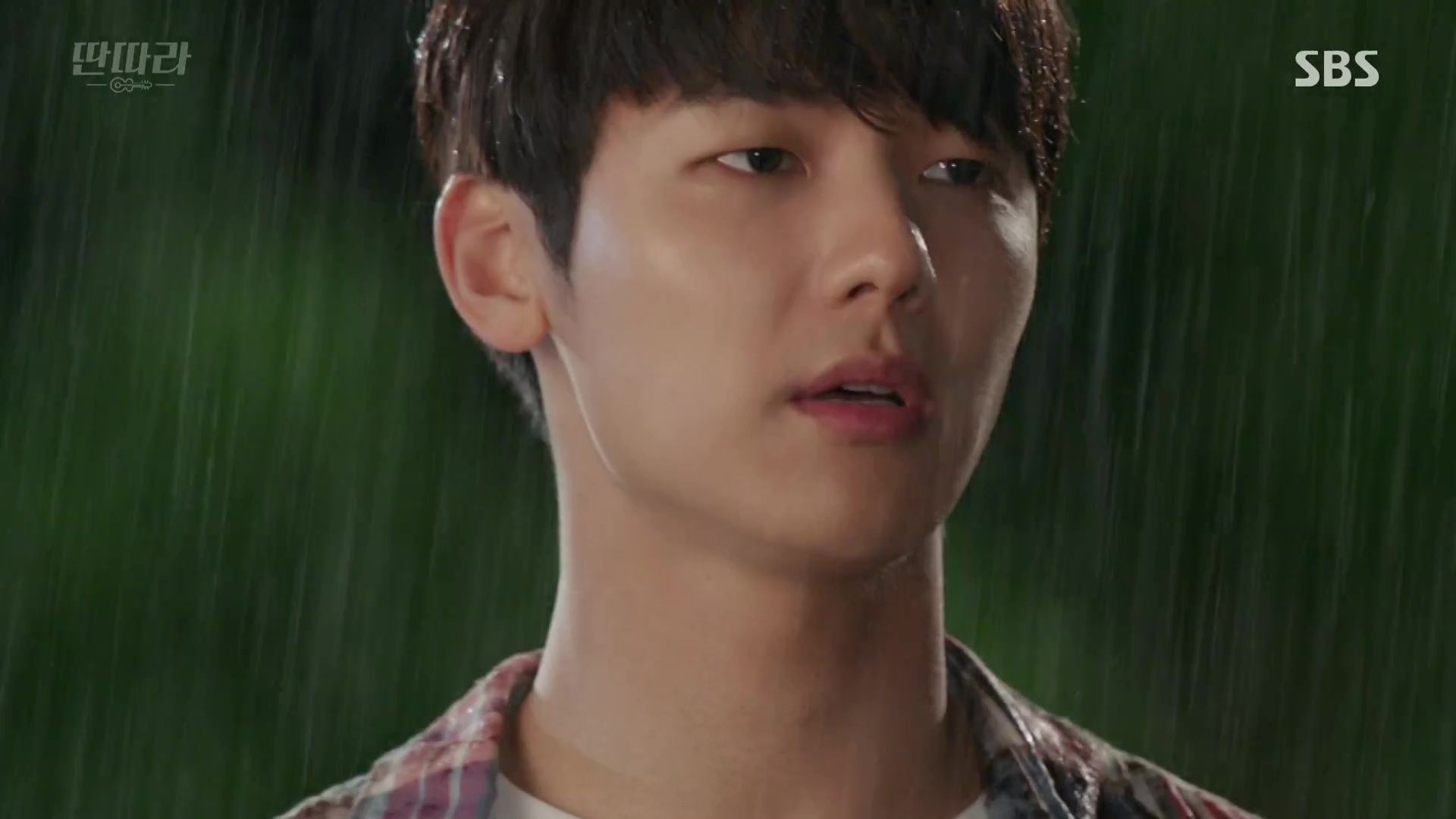 COMMENTS
I really have no idea where this love triangle is going, though with this episode, for the first time I find myself actually caring. Both Seok-ho and Ha-neul could arguably qualify as leading-man material, and I can see the romance going either way at this point. I don't know exactly what changed, but Geu-rin seems more mature suddenly, which makes me able to see her ending up with Seok-ho much more easily. On the other hand, I just want Ha-neul to get the girl so badly, and he's loved her for so long and they've been a family for so many years, it feels almost like he deserves to be with her. Not that Geu-rin is a prize to be won, and it's not a contest, but if there has to be a love story (and I'm still not convinced this show needs one, but it looks like we're getting one regardless) then I'm still rooting for Ha-neul. I will admit though, the show is making a strong case for her to fall for Seok-ho… and maybe it's Geu-rin's newfound maturity, but this is the first time I've felt like they've had some real chemistry that didn't feel forced.
I really love how each member of Ddanddara Band has such a rich and interesting life story, and how the show allows each of them to shine in their own time. Whatever weaknesses it has, one thing Entertainer does well is make its characters complete and interesting, and you really feel as though we're just peeking into a part of their lives, which existed before and will go on after this story is over. Though he's spent a lot of time flying under the radar, Yeon-soo is one of my favorite drama characters right now, and I've been curious if we'd get to know more about his background and whether Chan-hee's mother would show back up. I should have known the show wouldn't let his story stay surface-thin, though the introduction of Chan-hee's mother (almost certainly anyway) in this episode still came as a pleasant surprise. Yeon-soo has shown that he regrets how things went between them and blames himself, but I liked seeing that she also seems to have unresolved feelings. I do hope she shows up again, and that we get to learn more about her side of things… regardless of Yeon-soo dragging his feet about marrying her, why would she leave the man she had a baby with, and why would she leave the baby as well? At this point I trust the show to give us resolution one way or another, in its own good time.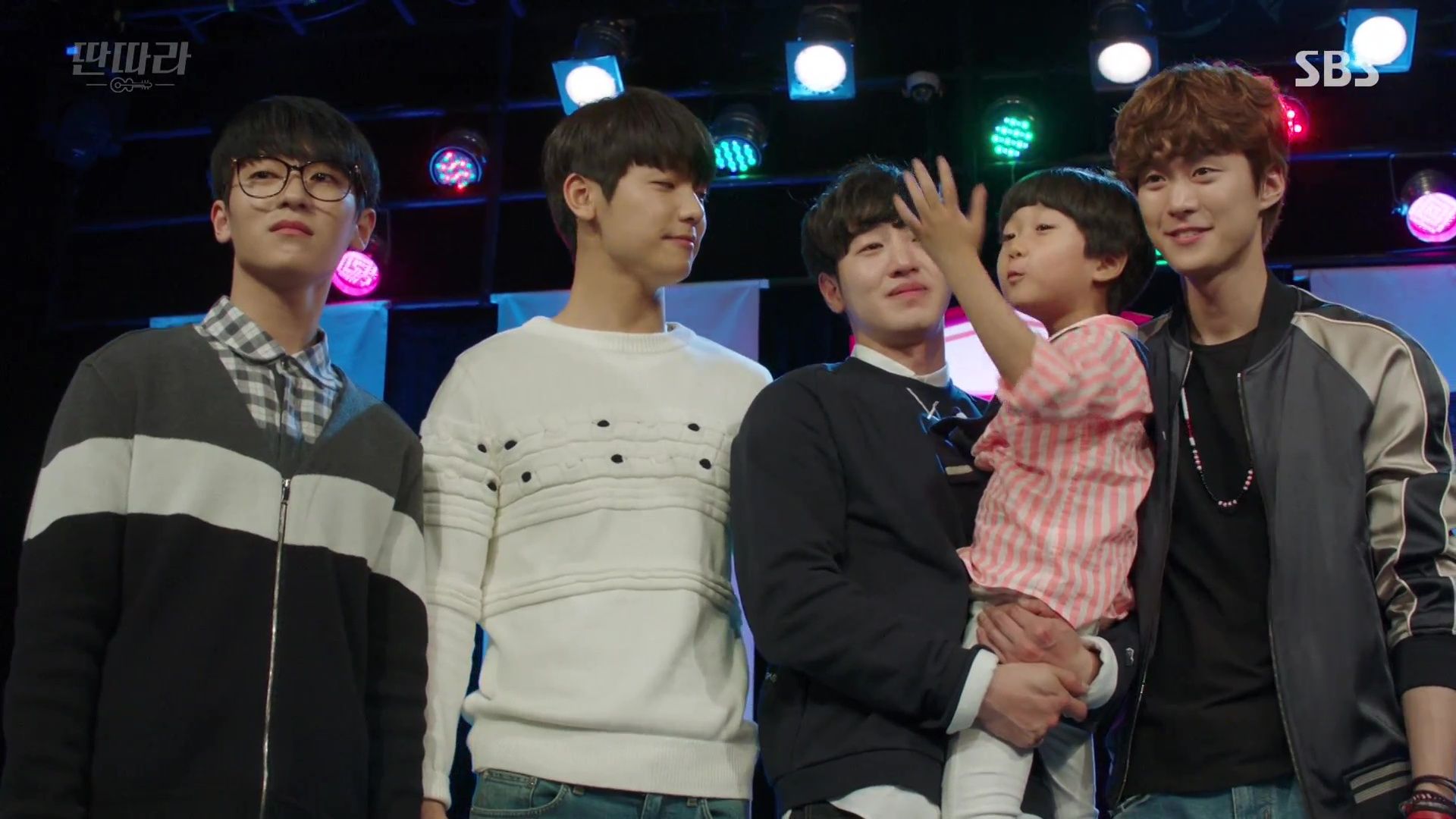 I'm also happy that the real truth, the whole story is finally out, for both Ha-neul's and Jinu's sakes. Ha-neul has done a better job of holding it together, but he and Jinu both have been in danger of breaking down for a while now, Jinu especially. It's true that the truth will set you free, and that's proven by Jinu's expression when he comes to Ddanddara Band's press conference — just having decided to tell the whole story seemed to have caused quite a bit of healing already, for him. He wasn't in too good of shape before all this happened, and having the weight of this secret bearing down on him, plus I'm sure the guilt of knowing that an innocent man was paying for his mistake had to be excruciating. I'm glad that he found the strength to admit his own responsibility in his bad judgement, and take charge of the situation, and point the finger at the true culprit — the person who stood by, recorded everything, and did nothing.
But the real truth is that both boys are, if not completely innocent in Jinu's case, at the very least not ultimately responsible for what happened that night. Clearly this was a scheme cooked up by KTOP, Joo-han, and Ji-young, though I'm still fuzzy on the exact reasons why other than "to get Seok-ho." I think there's still more to be revealed regarding the details of the plan, and I have no doubt that CEO Lee is at the very bottom of it. He still strikes me as unstable and unreasonable, so I don't expect his motivation to carry too much logic, but I'm still interested to learn the all the details of Ha-neul's brother's death and how it relates to current events. CEO Lee has a lot to answer for, for the lives that he's ruined, and those that he's still trying to ruin.

RELATED POSTS
Tags: Entertainer, Episode 11, featured, Hyeri, Ji Sung, Kang Min-hyuk