Entertainer: Episode 5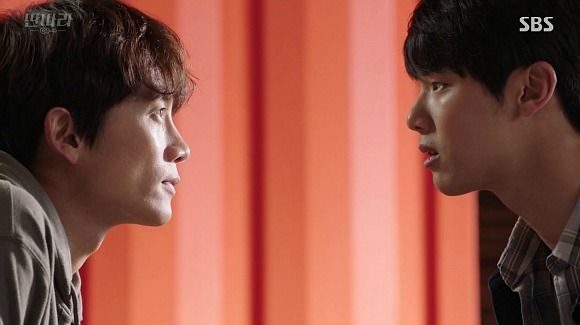 At some point you gotta put up or shut up, and that time has come for Seok-ho. Does he give up and let the bad guys win, or stand up and fight back? It's not just about himself anymore — he's got people who are counting on him. If only he can find a way to feel worthy of their trust. It's obvious that they're ready to trust Seok-ho, but the hard part will be convincing Seok-ho to trust himself.

EPISODE 5 RECAP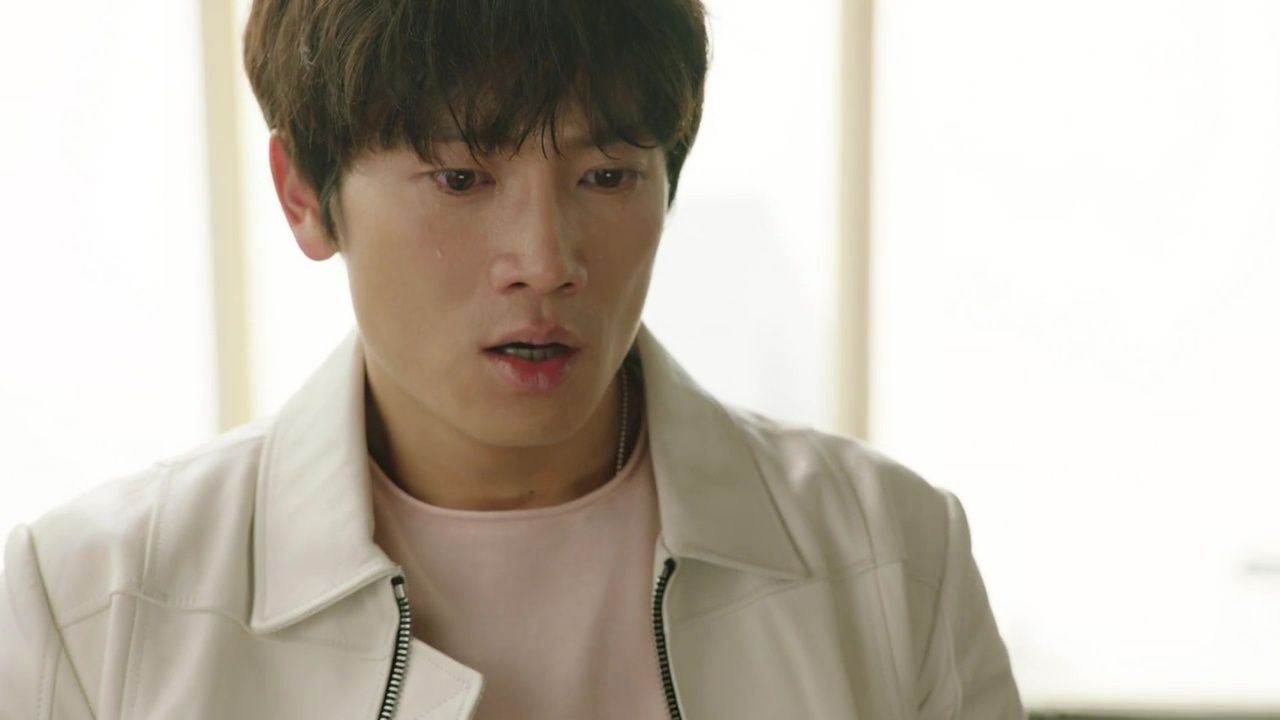 Joo-han lures Seok-ho to the KTOP headquarters with the promise of revealing the person who framed Ha-neul for sexual assault. Seok-ho is eager to find out who the scumbag is, but he's shocked to the core when the person who walks into the room is his protege, the leader of Jackson, Jinu.
Disbelieving, Seok-ho shouts, "Why are you here?!" but Jinu looks terrified, and flees the room. Seok-ho's knees give out and he sinks to the floor, but he emphatically denies that Jinu would do such a thing. Joo-han agrees that he's not that kind of a kid, but reveals that he does pop pills for stage fright, and had asked Joo-han not to tell Seok-ho.
Crying now, Seok-ho asks why he'd go to Busan and do such a terrible thing, and Joo-han says it's because of Ji-young. She's a girl who knows how to manipulate people to get what she wants.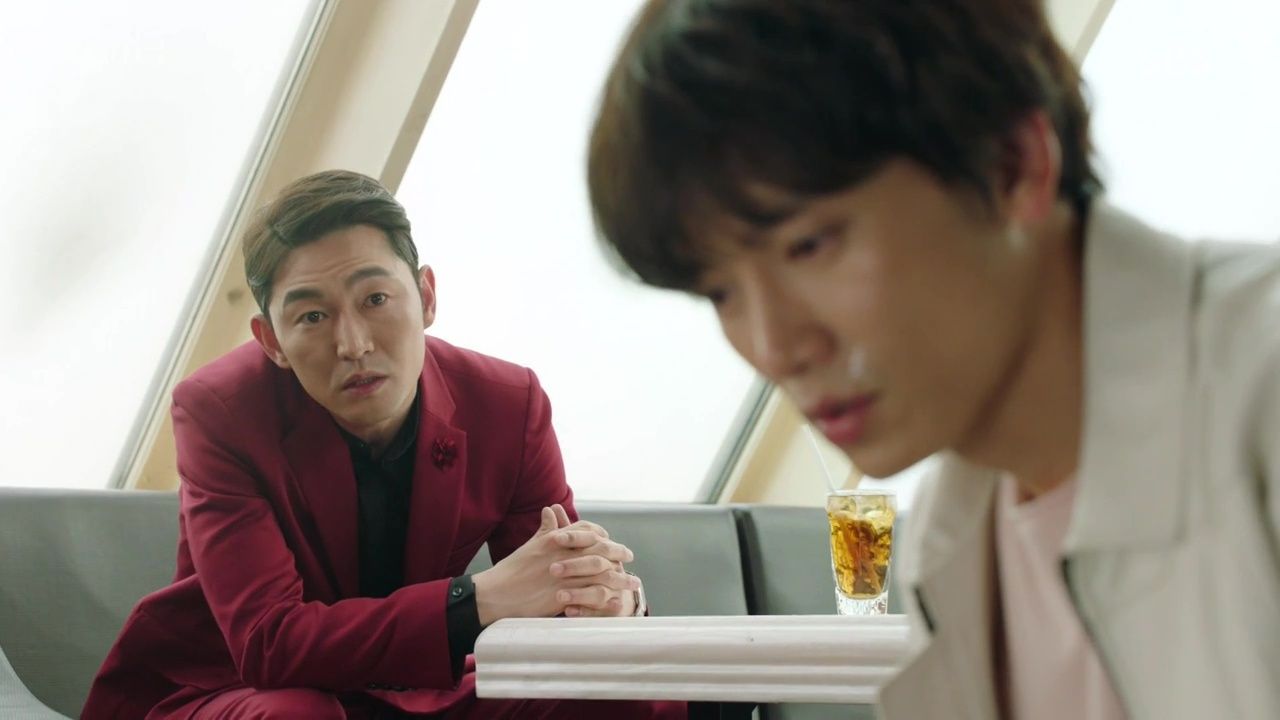 Now we see the full truth of that night — Jinu was drunk, and Ji-young had taken him to her secret hideout. The alcohol mixed with his depression medication caused him to collapse on top of Ji-young (or more likely, she pulled him there), which is when Ha-neul found them and assumed Ji-young was being assaulted.
Seok-ho asks if it was Joo-han who hit Ha-neul, but he swears he arrived after Ha-neul had already been knocked unconscious. He says that Ji-young used them all to become a trainee, claiming that he's a victim as much as any of them. But that doesn't stop him from warning Seok-ho that if he tries to clear Ha-neul's name, it will mean putting the blame on Jinu.
Seok-ho goes straight to CEO Lee's office to confront him, and he doesn't bother denying that he knew all about this. He tells Seok-ho that this is none of his business, regardless of how he feels about Jinu.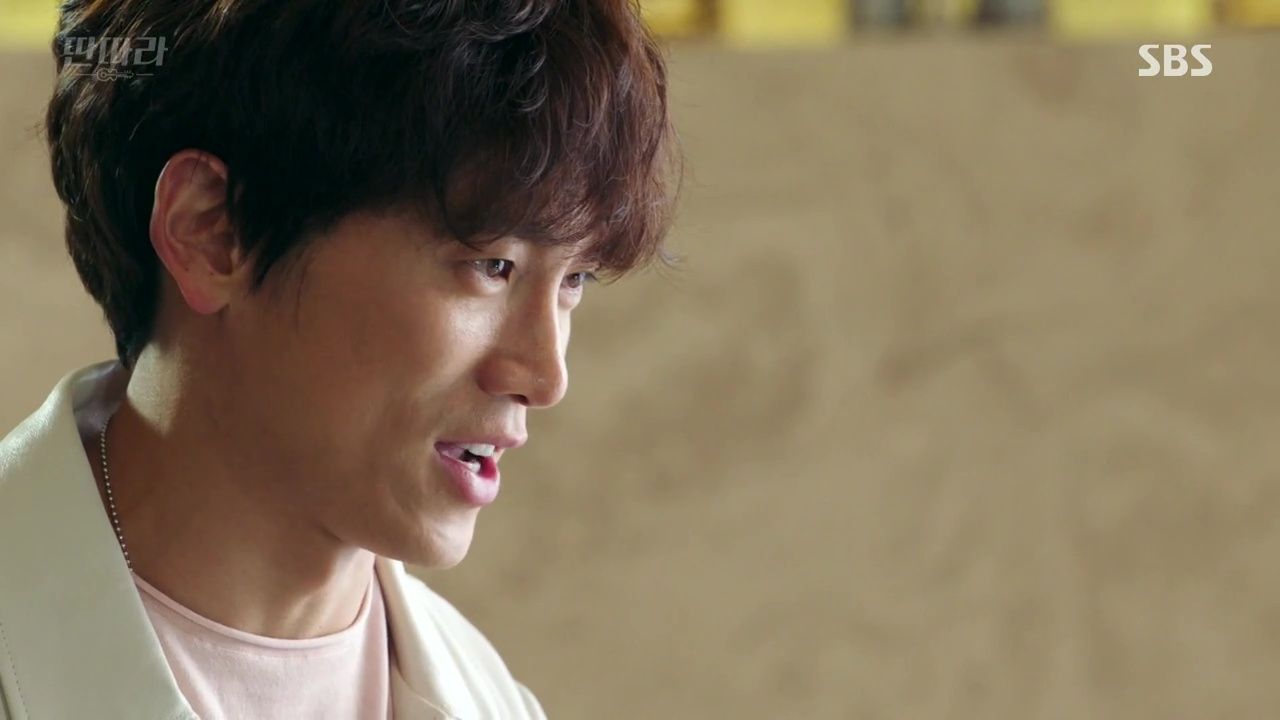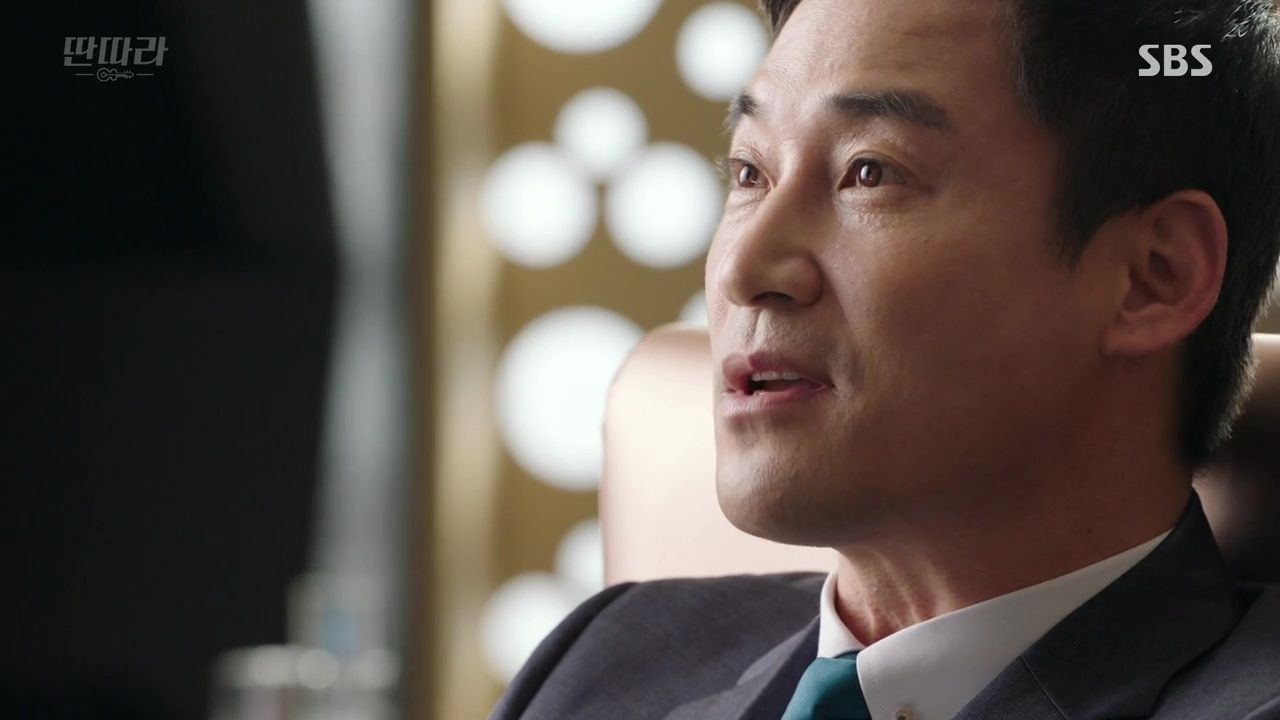 Seok-ho demands that CEO Lee help Jinu confess what happened, swearing to destroy both Jinu and Ha-neul if he doesn't. CEO Lee says that he can't — he has to choose one or the other of the boys, and casually throws out that Jinu just might do something to himself out of his depression.
Seok-ho doesn't back down, and says that if Jinu doesn't confess the truth, an innocent person's life will be ruined. Just because Ha-neul isn't famous, doesn't mean they can just do what they want to him. CEO Lee says fine then, try to make Ha-neul into someone important if he wants. But he thinks Seok-ho isn't capable of that — he'll fail, and both he and Ha-neul will be miserable.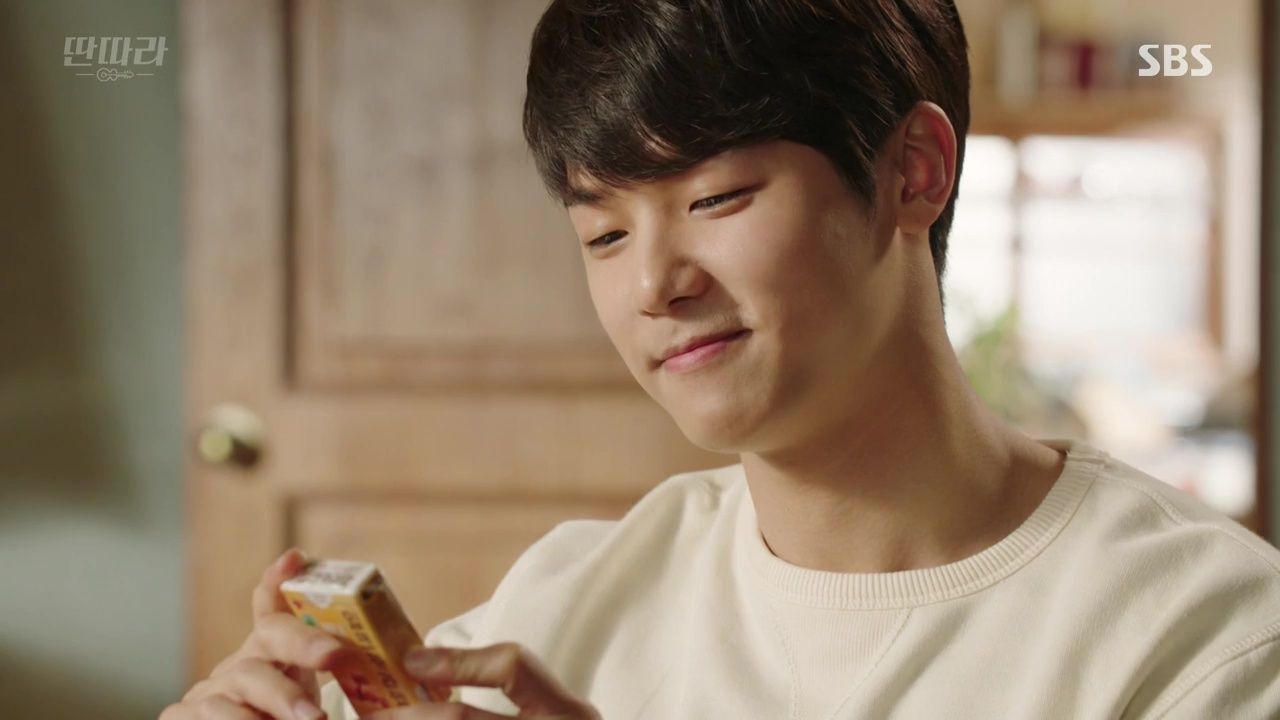 Meanwhile Ha-neul is unaware of everything Seok-ho is going through, and he finally lets himself remember his hyung's old friend with a smile. The caramels had been something special that the brothers shared, but little Ha-neul had let Seok-ho have some, saying that sweet things make you feel better. Now Ha-neul tries to reach Seok-ho but he's not answering his phone.
Once Seok-ho leaves the KTOP building Jinu goes back to Joo-han in a fury, demanding to know why he told Seok-ho the truth. Joo-han plays innocent, claiming that he only meant well.
He tells Jinu that Seok-ho would have found out the truth anyway, but he promises the kid that Seok-ho won't take things any further than this. Seok-ho calls Jinu, and the two meet to talk.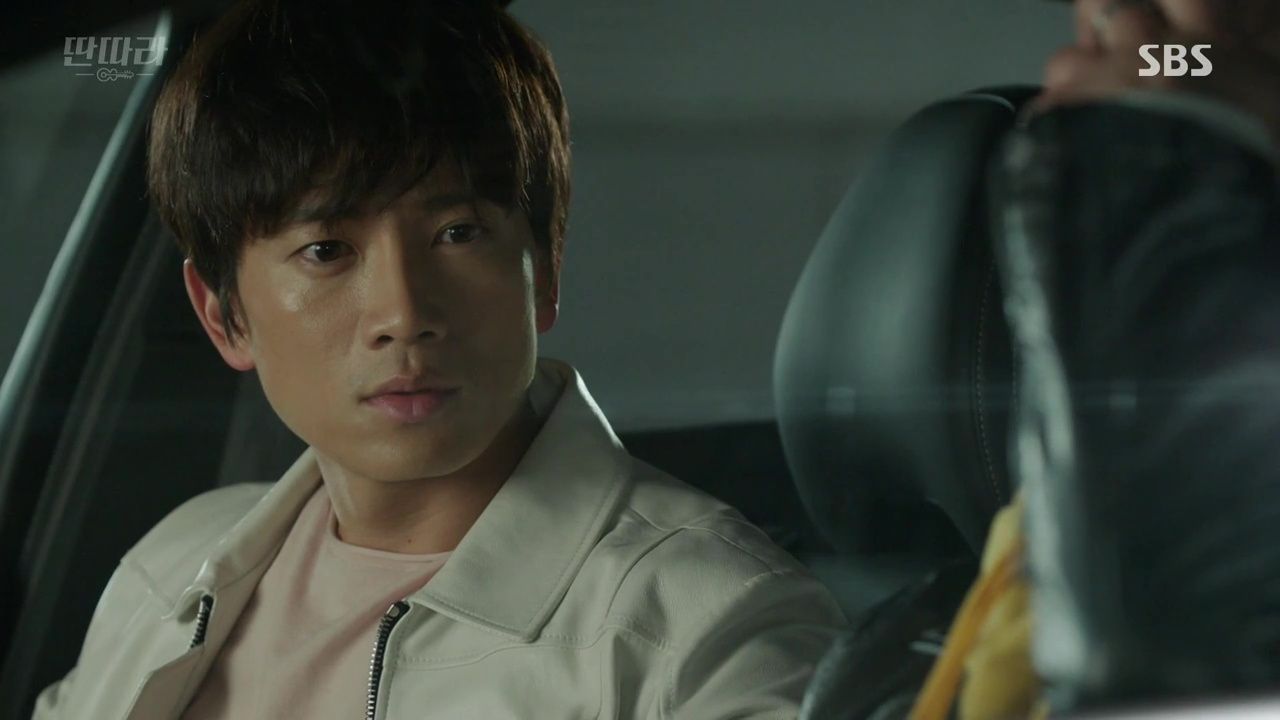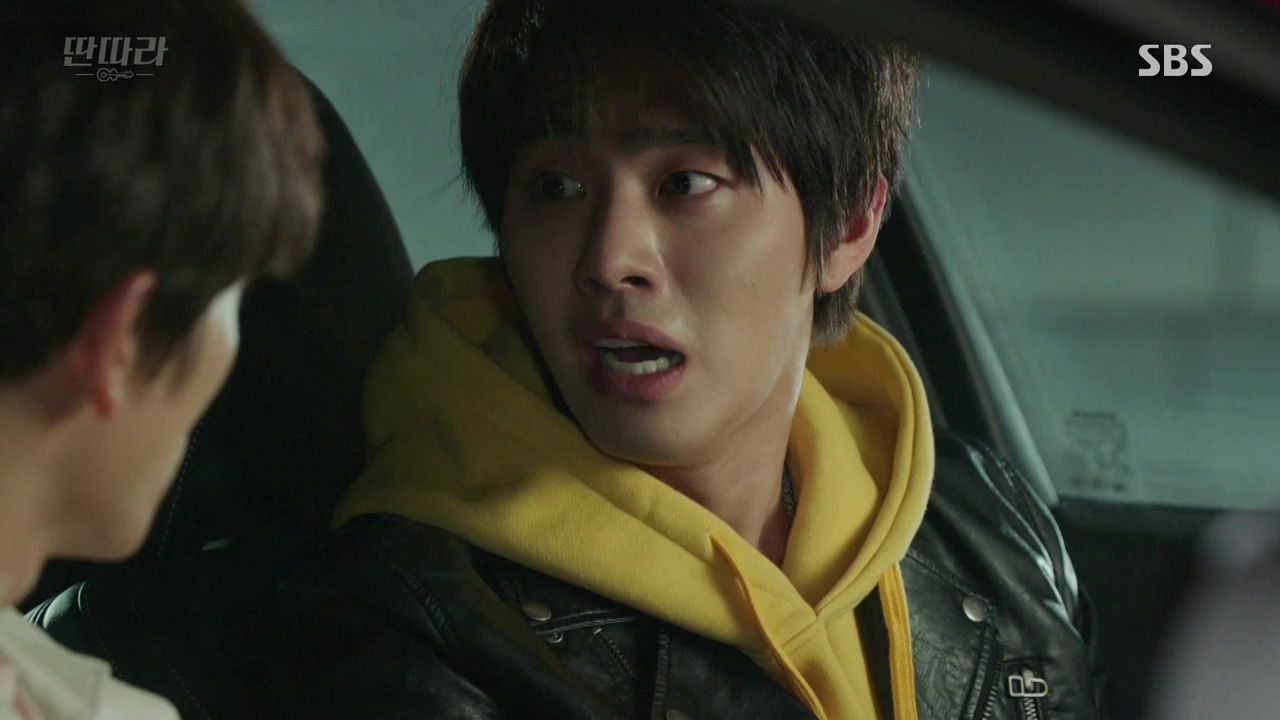 Seok-ho urges Jinu to turn himself in, other wise he'll be under KTOP's thumb forever because of this. Jinu is frantic, seeing no way out — he refuses to fess up, but he's so famous there's nowhere he can hide. Seok-ho says that's why he needs to turn himself in, but Jinu won't even consider it.
The poor kid is conflicted and lost, crying that he hates himself, and Seok-ho realizes how much of a hard time he's been having. Jinu barks at him not to be nice, it's not like him, but he doesn't know the changes Seok-ho's been going through. Seok-ho just says that Jinu doesn't need to feel sorry for him, but he does need to think about the person who's taking the fall for him.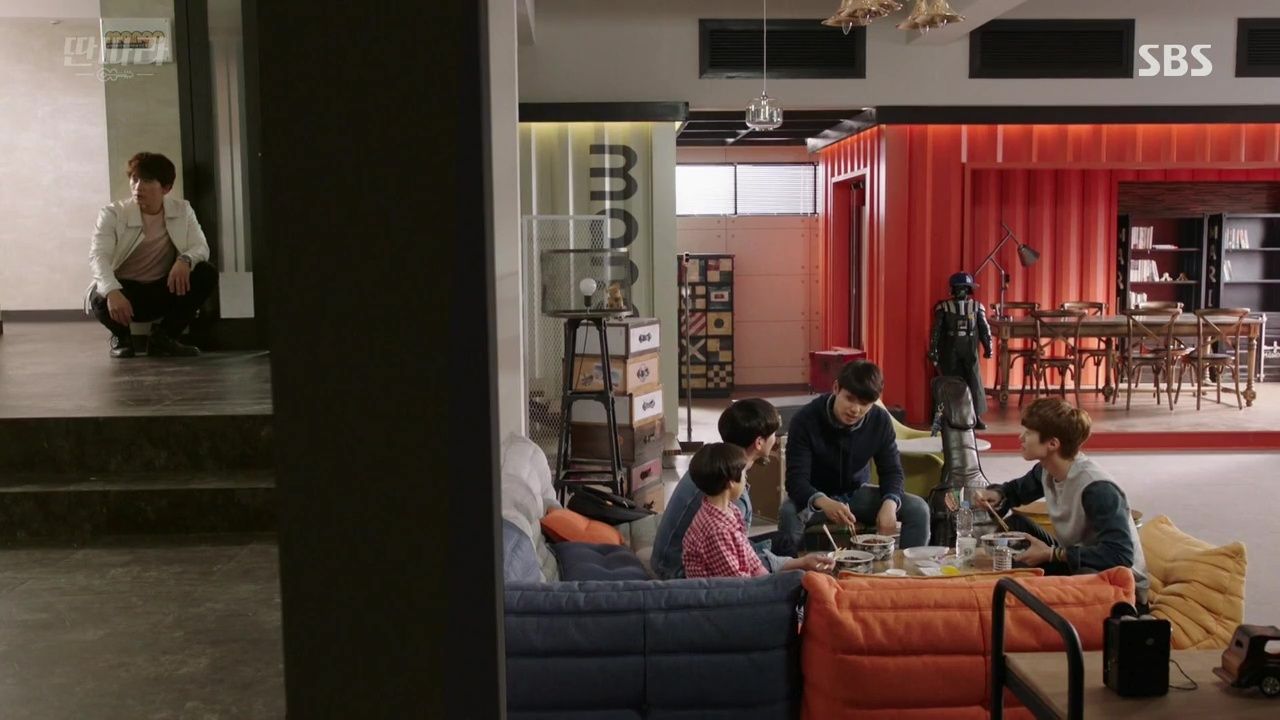 Seok-ho arrives back at the Mango office to find all the boys there, having a little "welcome back" party for Ha-neul. Seok-ho doesn't intrude, just lingers in the hallway listening to their relaxed banter, wondering what to do next.
He takes Yeon-soo and Chan-hee to a park, and tells Yeon-soo not to work clubs anymore. Yeon-soo says that he's spending all his time practicing bass, but Seok-ho tells him that Ddanddara Band fell through. Yeon-soo thinks he's being kicked out again, but Seok-ho promises him that's not the case — he's just telling him privately in case Kyle pitches a fit and scares Chan-hee.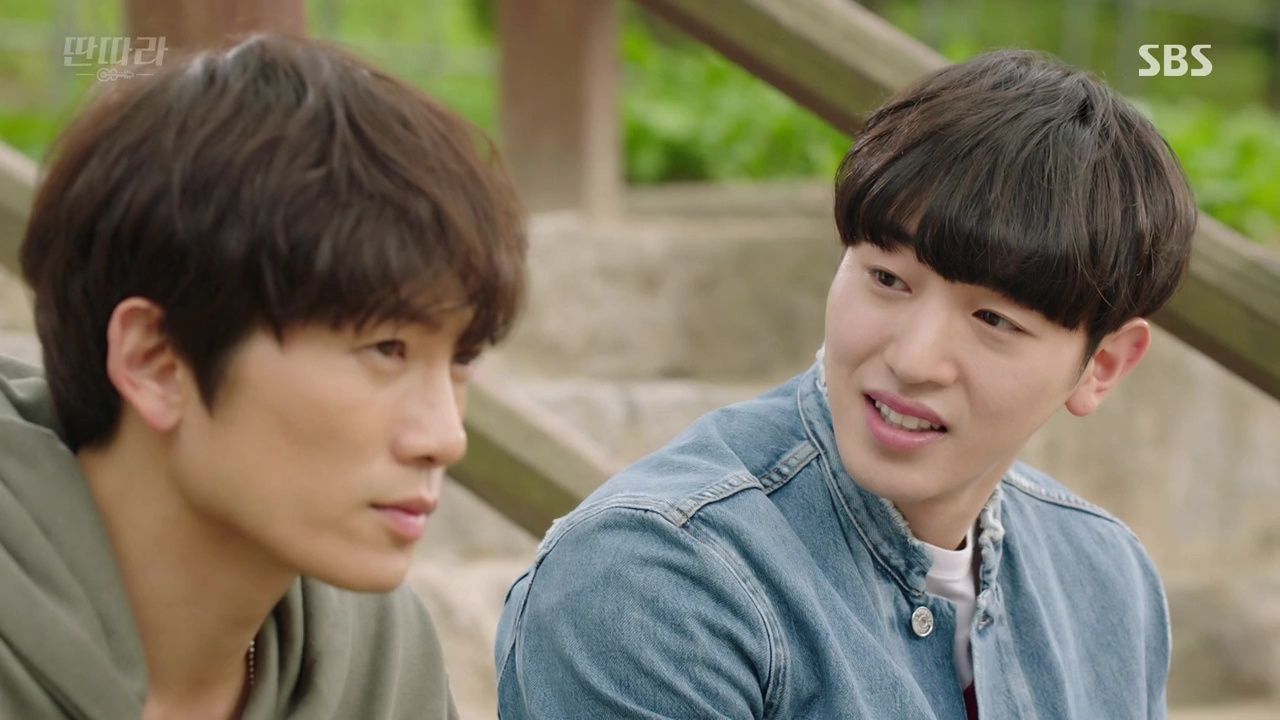 He gives Yeon-soo some money and tells him that he's gotten him a job as a guitar teacher, calling it payment for giving him false hope. Bless his sweet heart, Yeon-soo seems more concerned about Seok-ho, saying that he doesn't look well, but Seok-ho says he's just getting too old for this business.
He starts to leave, but Yeon-soo chases him to give him the money back. Awww, he's already crying, and something about his fierce smile while tears fall is already making me cry. Yeon-soo swears he just cries easily and says that it wasn't false hope — thanks to Seok-ho, he was able to quit working in those disgusting clubs.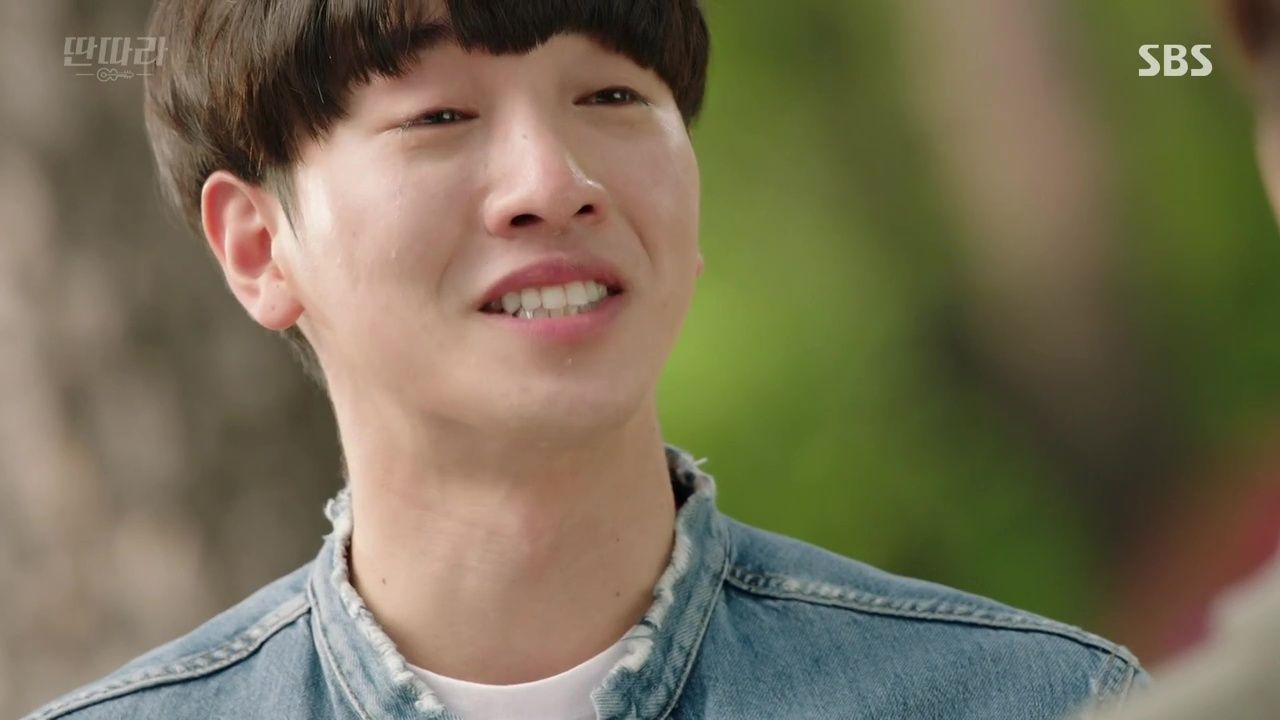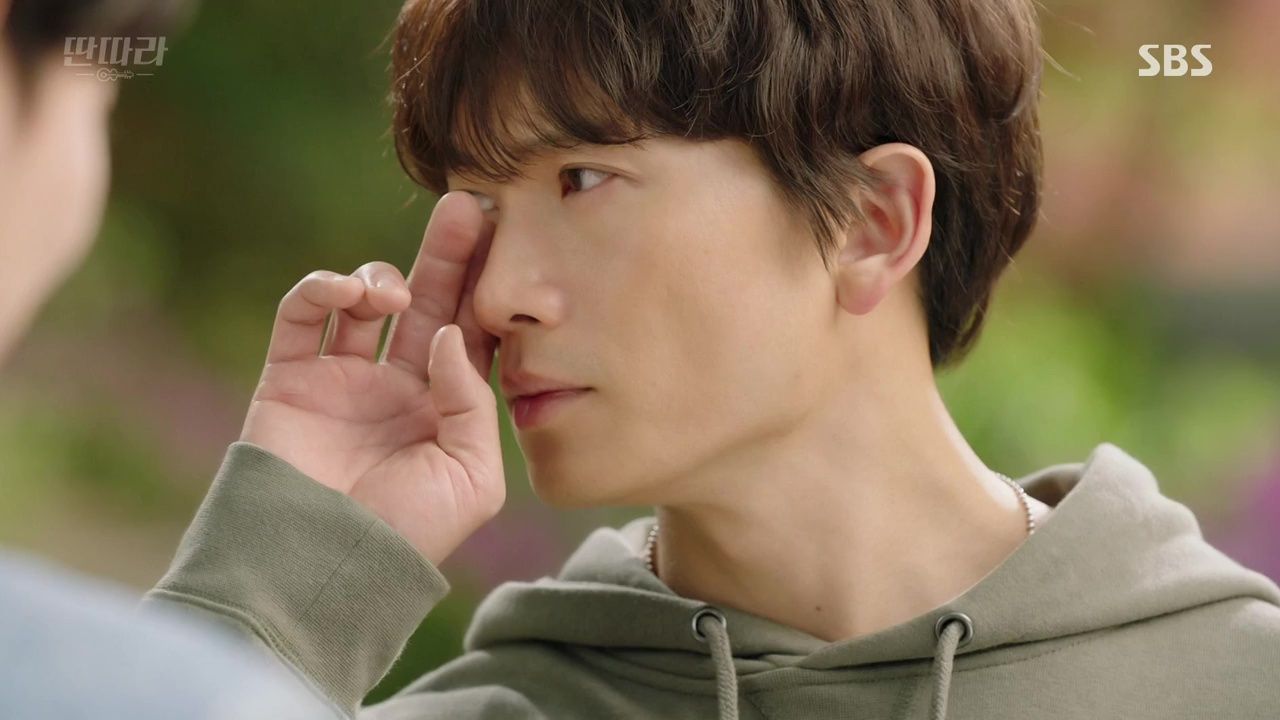 He'd kept telling himself he would quit soon, but he'd never been able to do it. He cries that it was hard to live that way, but he thought it was the only way to hold onto music. Seok-ho helped him get free, so it was the opposite of giving him false hope.
By now Seok-ho is crying too, and even Chan-hee starts to wail. Seok-ho takes Yeon-soo's face in his hands, then gives him the money, and walks away. To his back, Yeon-soo says one more time, "Thank you."
Seok-ho was right about Kyle, who starts yelling when he hears the news. He's arranged for Kyle to join another band while their guitarist does his army service, but Kyle doesn't want to go. He fights back until Seok-ho finally yells that they have no money to form Ddanddara Band.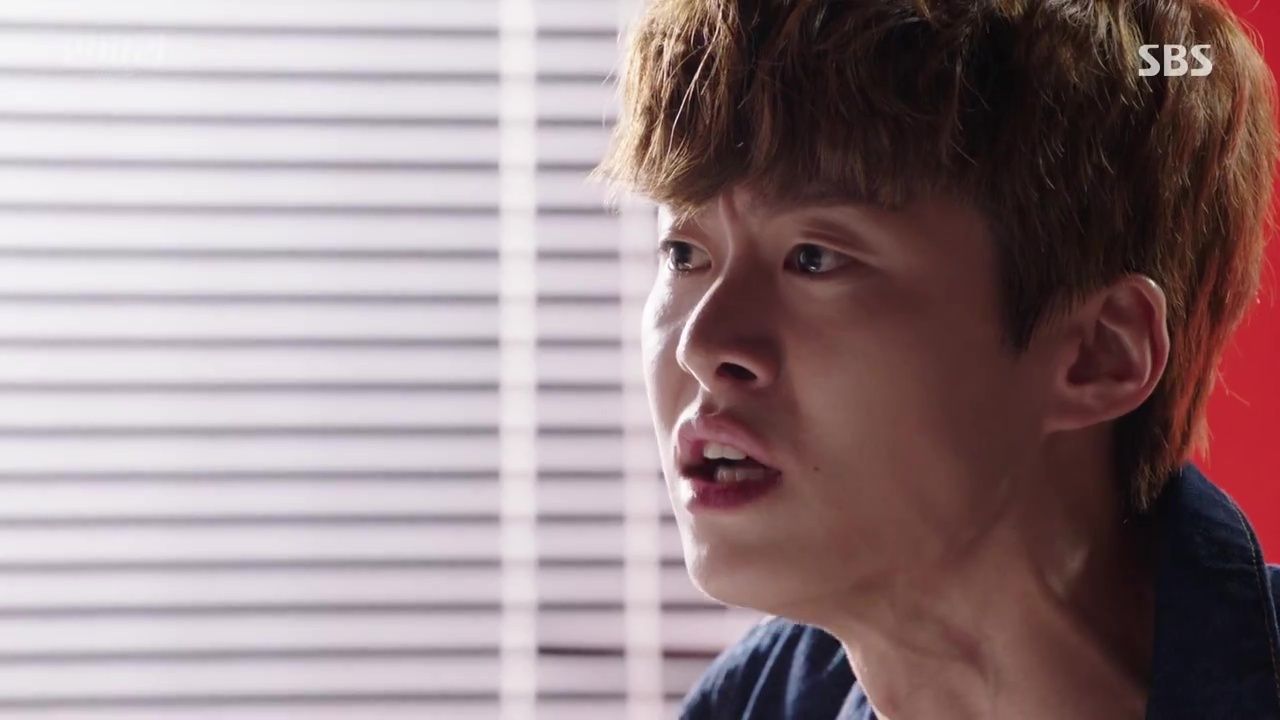 He's so frustrated that he blurts out his whole plan to just use Ddanddara Band to make one album then dump them. He yells that he's not an orphanage — the investment money is gone, and he can't afford to take care of them. Kyle says that he didn't ask Seok-ho to take care of him, he just wanted to be in this band.
Kyle calls Ha-neul to ask what he thinks about all this, which is the first Ha-neul is hearing of it. He can't reach Seok-ho to talk to him, and he wonders out loud who Seok-ho was going to meet that night he told him he'd be in the band. Geu-rin knows, and tells Ha-neul how Joo-han hid the fact that Ji-young was at KTOP.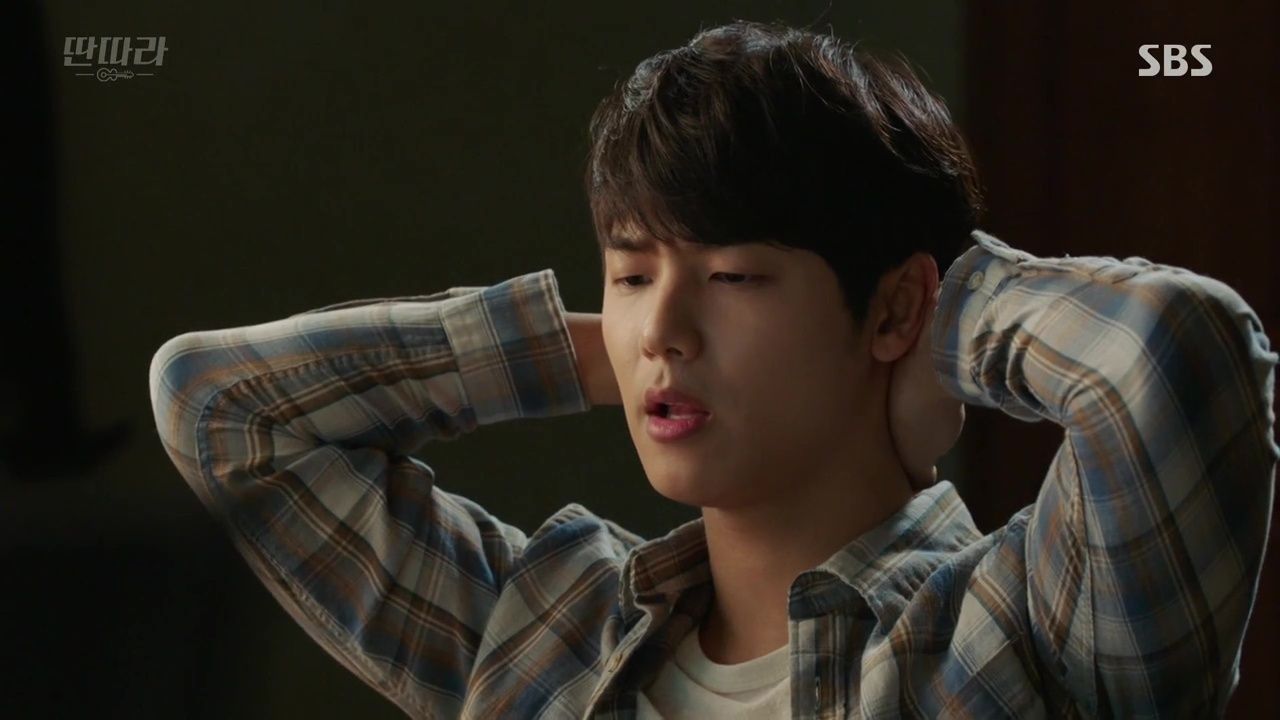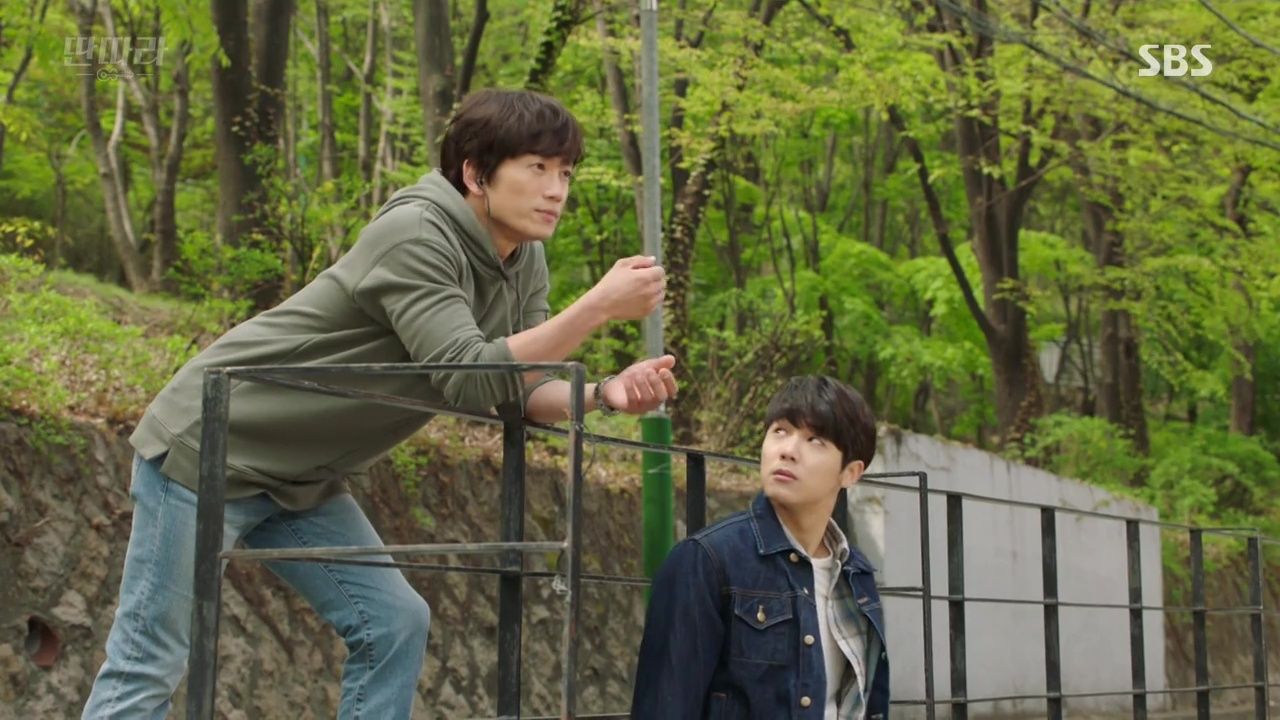 Ha-neul stays up late putting together the clues, sure that Seok-ho wouldn't disband Ddanddara without a good reason. He goes back to the day of his incident and does some research, and realizes that Jackson was in Busan on that date. He knows how much Ji-young loved Jackson, and that she was in KTOP after the night he was framed, and puts together that Jackson must somehow be involved. Smart kid.
He's waiting at the Mango office when Seok-ho shows up the next morning, and the first thing Ha-neul says is, "Jackson, right?" He tells Seok-ho that he's pieced together the truth, that somehow Ji-young and someone from Jackson framed him and that's how Ji-young, who failed all her auditions, within a couple of months got accepted by a top agency and added to the group Twinkle.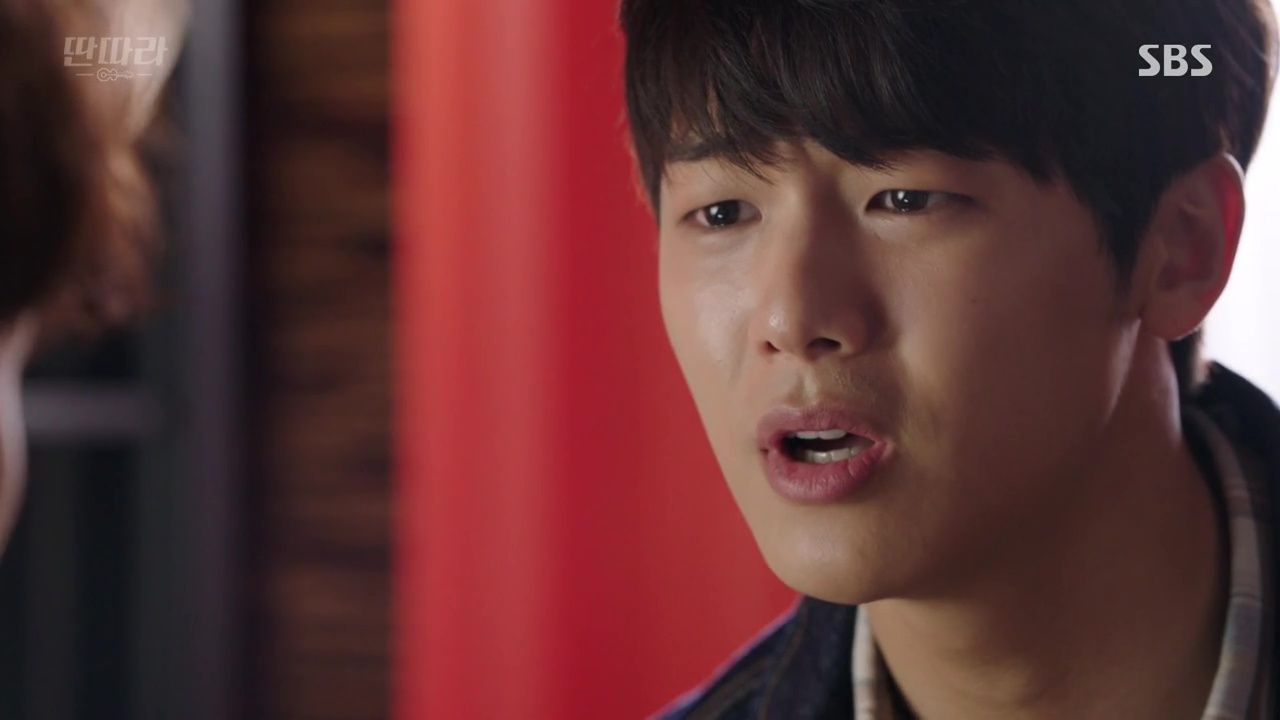 He says that disbanding Ddanddara is something the old Seok-ho would do, but not the one Seok-ho knows now. Seok-ho just tells Ha-neul to drop it, but Ha-neul wants to become famous then expose the true wrongdoers.
Seok-ho looks Ha-neul right in the eye, and says that he can't become famous, and the real culprit is too big to fight. He'll never be as famous or powerful as Jackson, and KTOP would do everything possible to stop him, for no other reason than that they're associated with Seok-ho.
As much as Seok-ho desperately wants Ha-neul to become famous, clear his name, and be wildly successful, he says that he'll never be able to do it with Seok-ho along.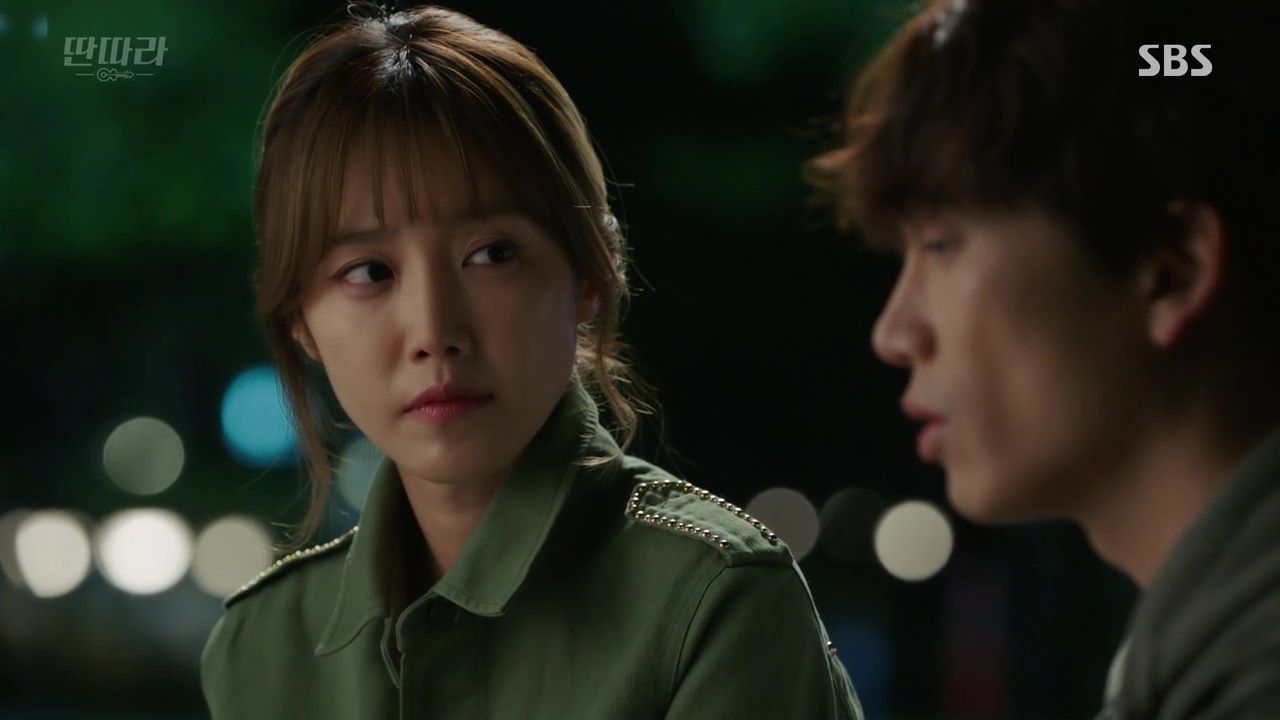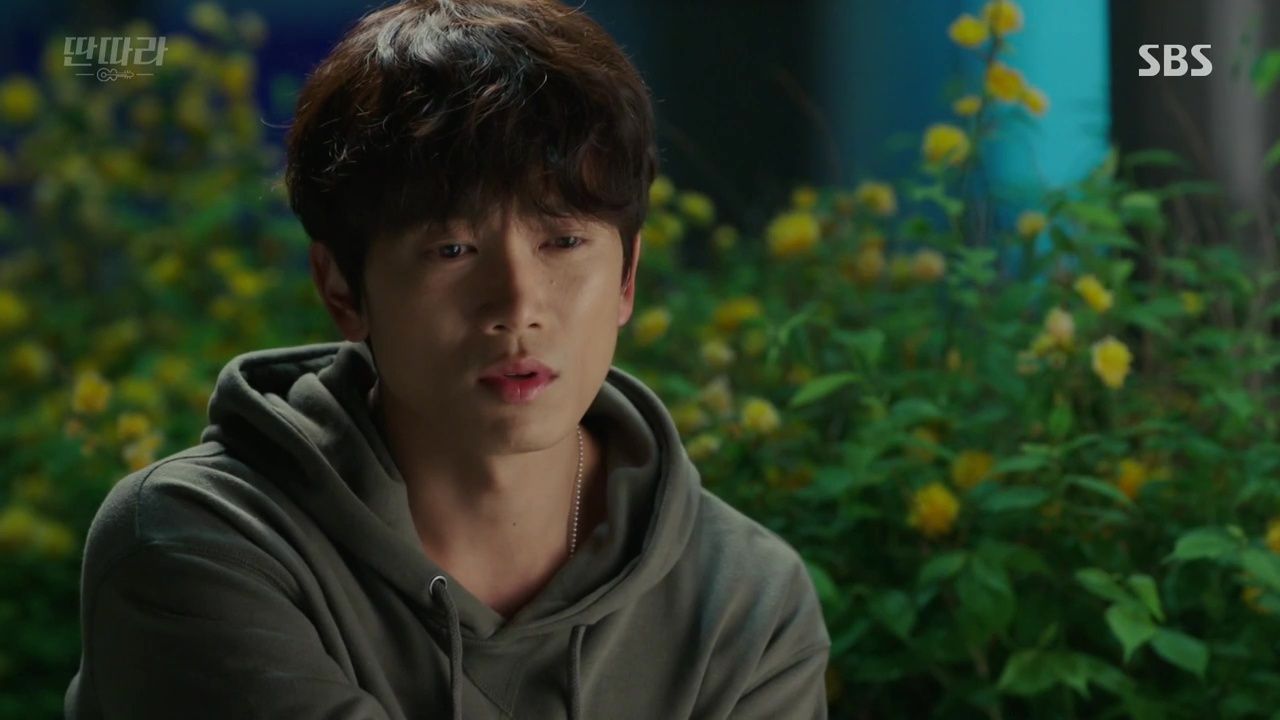 Ha-neul takes one shaky breath, and says that he doesn't expect anything. "But my dream… don't ignore my dream." His dream is to remember his brother through his music, and do what Hyung wasn't able to do. With Seok-ho. He begs Seok-ho not to take his dream to make music with him away.
Seok-ho is too floored to respond, and Ha-neul says he'll be back this weekend to practice and heads home, as if that's that. Seok-ho goes to see Min-joo, who tells him to take a break for a few months. He asks if she ever feels like this, like her heart is pounding out of control and all her blood is being drained, which just makes her suggest he see a doctor.
He tells her that when she found him in his office after having been beaten up, that it had been done by the brother of the songwriter who killed himself. Since the day he killed himself, Seok-ho has had trouble sleeping, as if he doesn't deserve to rest.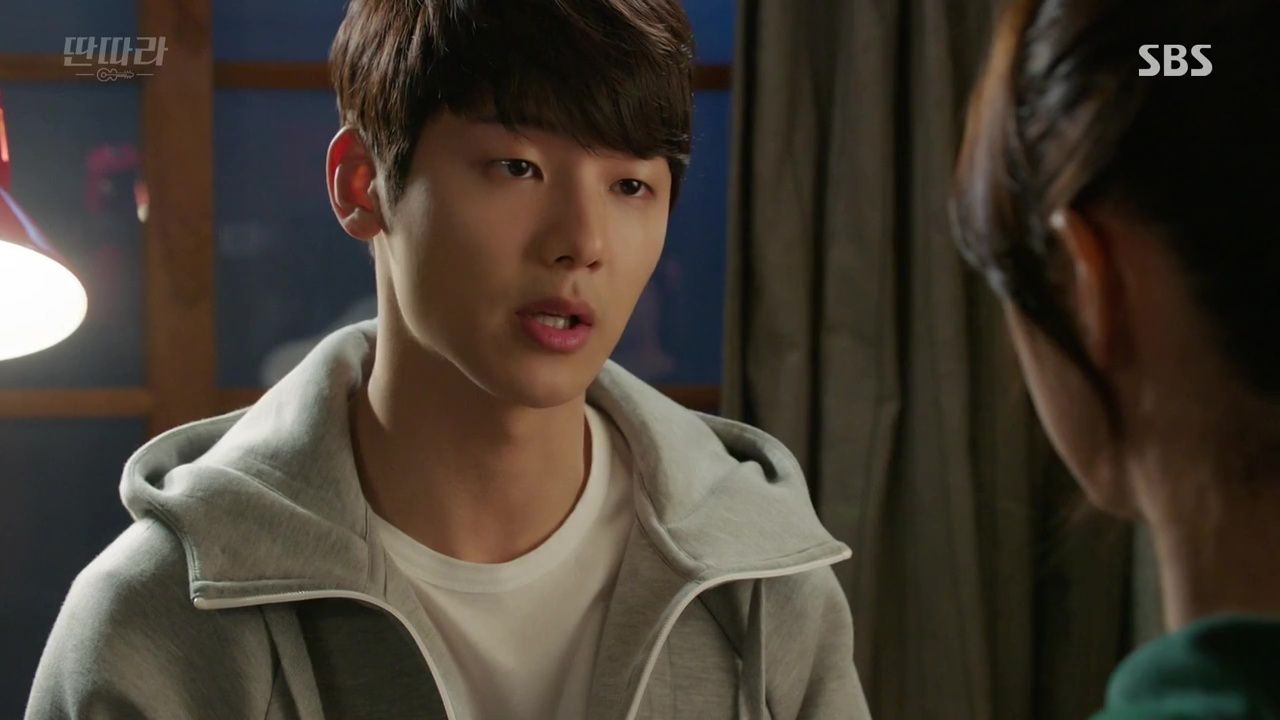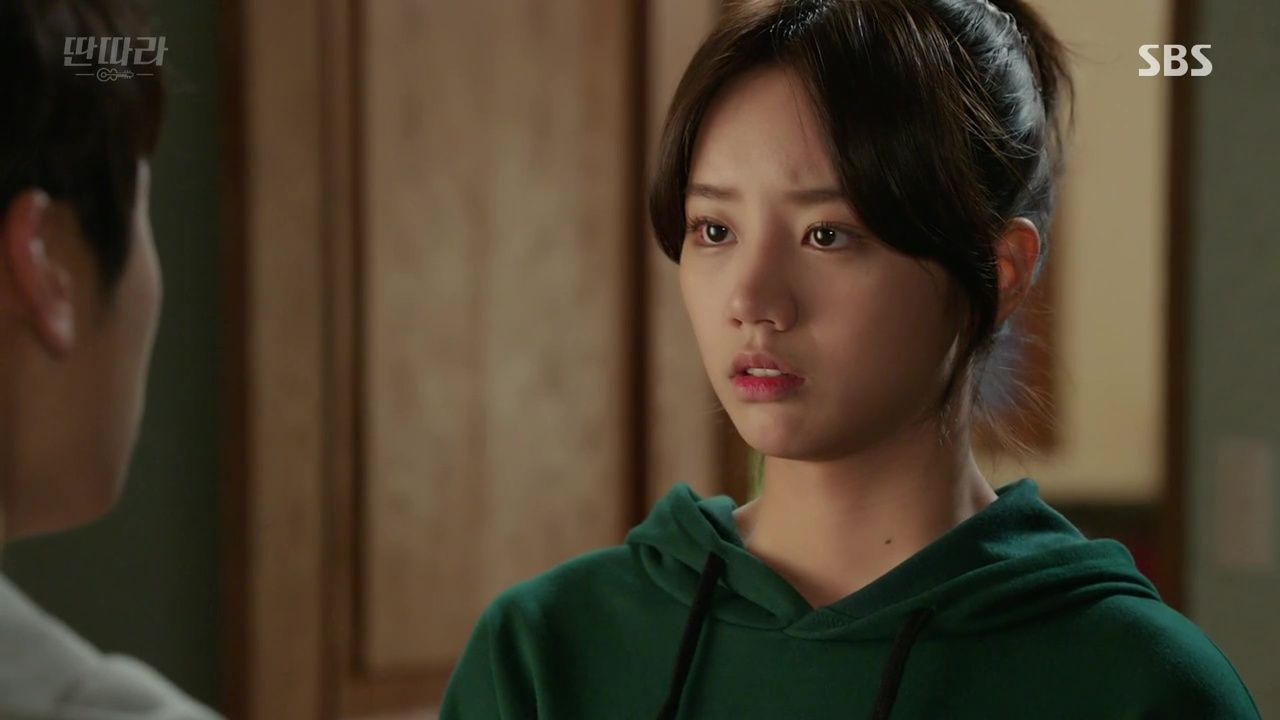 Min-joo urges him again to take a break, but Seok-ho says that the guys from Ddanddara are counting on him. He doesn't feel worthy to lead them, afraid they'll take after him and change for the worse, like Jinu did. He goes back to the Mango office and takes down the sign, fighting tears and losing.
Ha-neul goes home to tell Geu-rin that the band is breaking up, but he stops her from going to talk to Seok-ho herself. He tells her to give Seok-ho time to think, to wait for him like he waited for Ha-neul to make up his mind.
Geu-rin remembers Seok-ho's confession that he's a scam artist, and that he originally planned to scam Ha-neul, but he changed. He'd promised to make Ha-neul famous, so she decides to trust that he'll keep that promise.
But Seok-ho sends Min-joo a message to clear out the Mango office and disappears. She tells Man-shik that they should pay off his debt to her office and help him save Mango, but Man-shik is broke, heh.
So Min-joo braces herself and goes to see her father, who she seems to have an affectionately antagonistic relationship with. He's a big-shot chaebol and she prefers to stay on the down-low, so he threatens to tell the reporters who she is so that she'll stop avoiding him.
It's all talk, and she gives back as much sass as she gets, they're pretty cute together actually. She has to humble herself to ask for money, which looks like it's killing her, ha. Despite Dad's blustering, it's clear she's got him wrapped around her finger, and he lends her the money (with interest).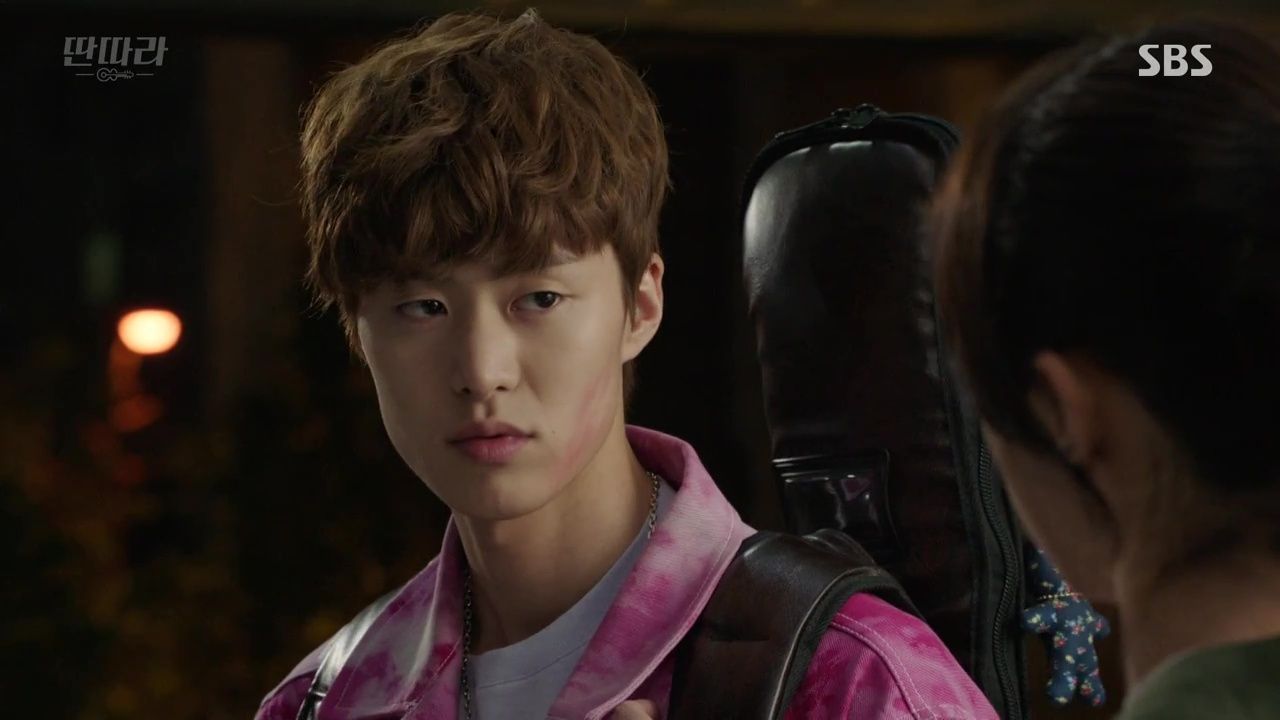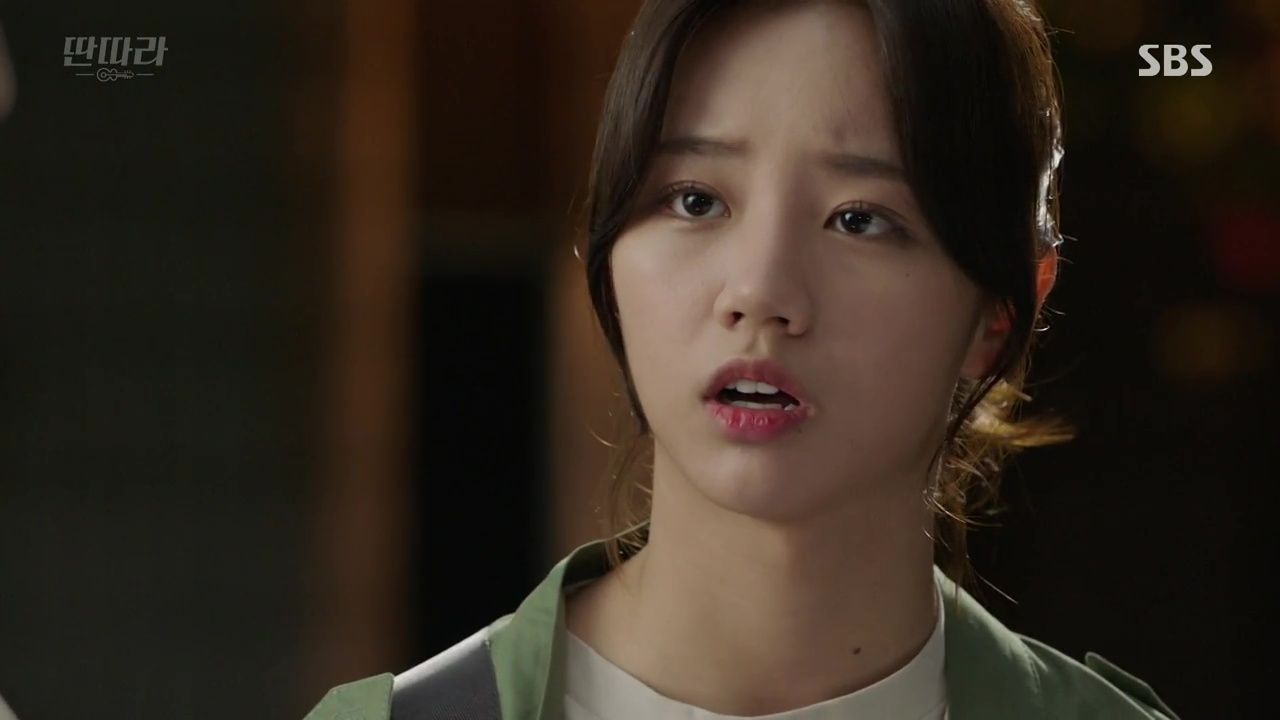 She pays Seok-ho's debt to Ocean Music with the money, and presents her letter of resignation at the same time. Good girl!
Kyle calls Geu-rin when he ends up at the police station after getting into a fight with his new band, and they pretend she's his noona. The other guy is hurt worse but Geu-rin gives him a scary verbal lashing and threatens to sue — damn, someday she's going to be a formidable ajumma. He thanks her and would leave on his own, but she turns that scary attitude on him and drags him home with her.
Ha, Ha-neul's face when they show up bleary-eyed after all all-night bus ride. Kyle wonders where Seok-ho ran off to, and it's funny how Geu-rin and Ha-neul both fuss at Kyle for calling Seok-ho by name.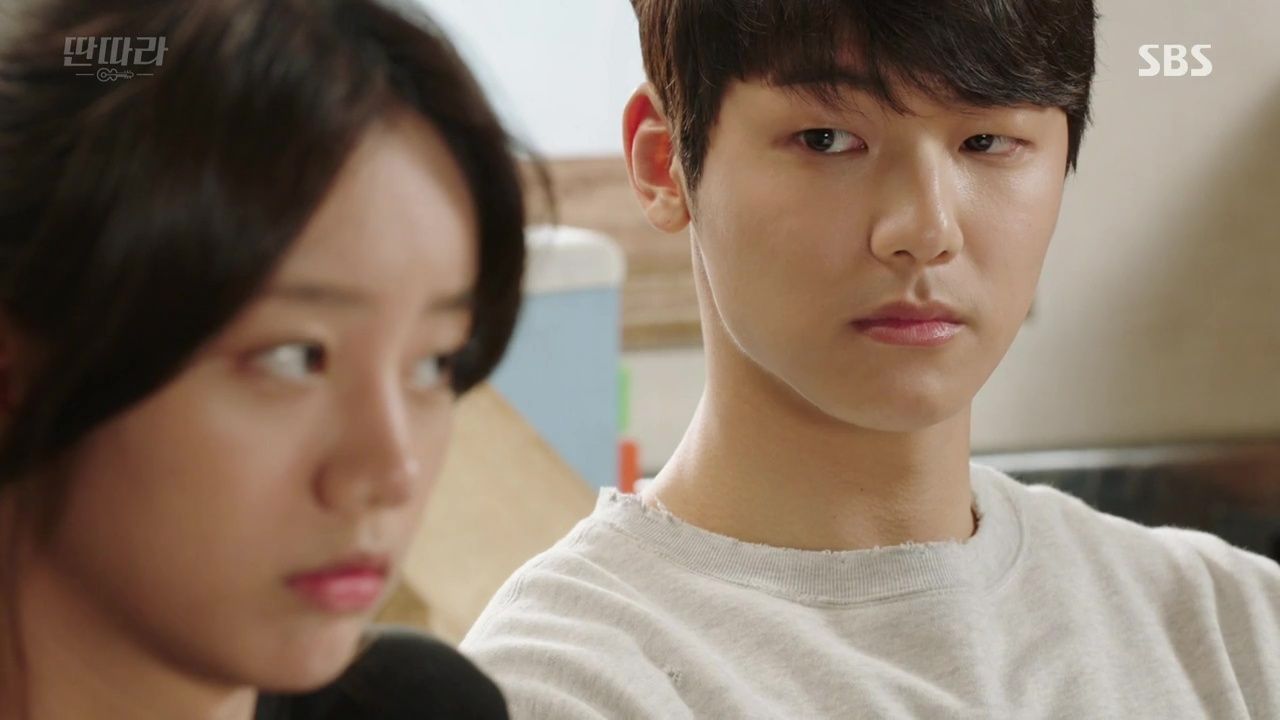 Geu-rin is confident he'll come back, saying that Seok-ho confessed to her, meaning that he confessed his plan to scam them. But Ha-neul visibly flinches when she uses the word "confess" (it can also mean to confess one's feelings).
Just then Yeon-soo calls Kyle to ask for money — Chan-hee's been hurt. Kyle and Ha-neul rush over, but Chan-hee is perfectly fine, he just slipped and bumped his head and overprotective Daddy freaked out.
While they're there, Yeon-soo's boss calls and fires him for bringing Chan-hee to lessons. Great, now none of them have jobs.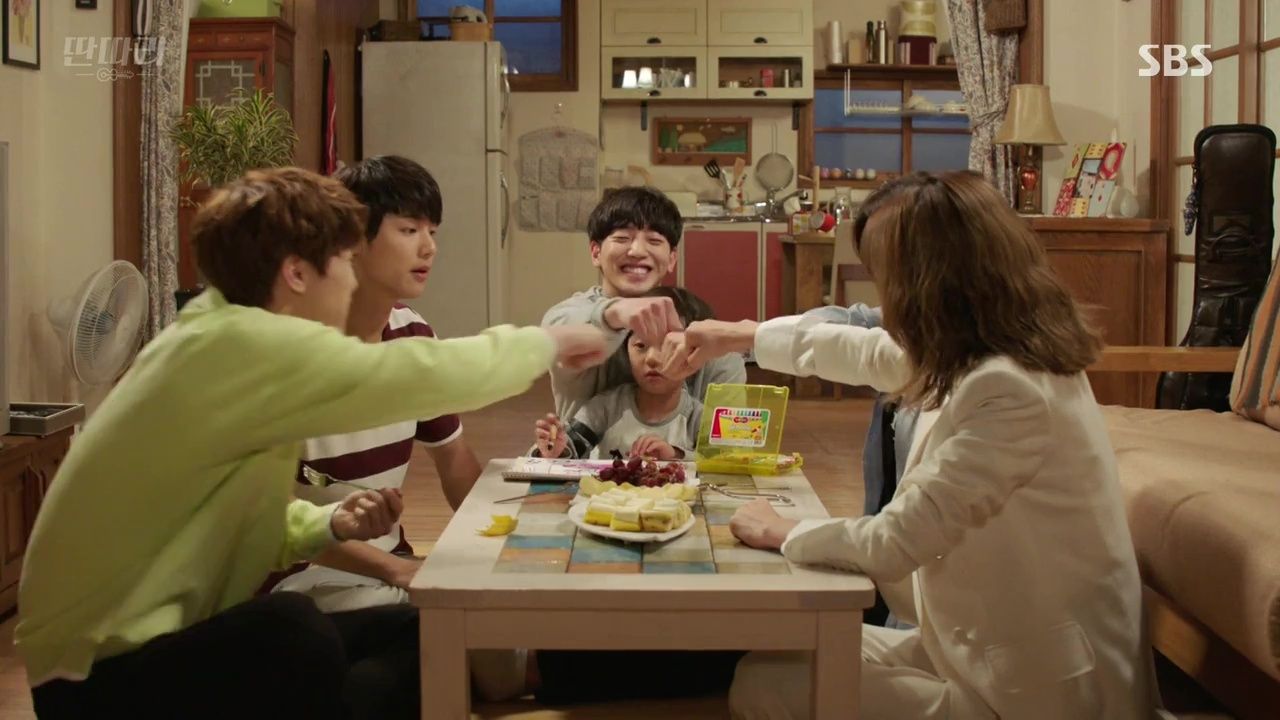 Meanwhile Geu-rin meets with Min-joo, who tells her that she still hasn't heard from Seok-ho. But they're both confident that he'll come back, so they decide to get the band ready so that when he does, they can surprise him.
They all sit together at Geu-rin's place, deciding to go ahead and start working on their album while they wait for Seok-ho. Yeon-soo wants to at least look for him, guessing he may be in touch with family, but Min-joo says she and Man-shik are already looking.
Kyle chirps that Seok-ho will definitely be back since he confessed to Geu-rin, and again Ha-neul reacts to the word "confess." This time Kyle notices and asks why Ha-neul is so touchy about that word, but Geu-rin explains that he confessed his plans to make Ddanddara Band famous.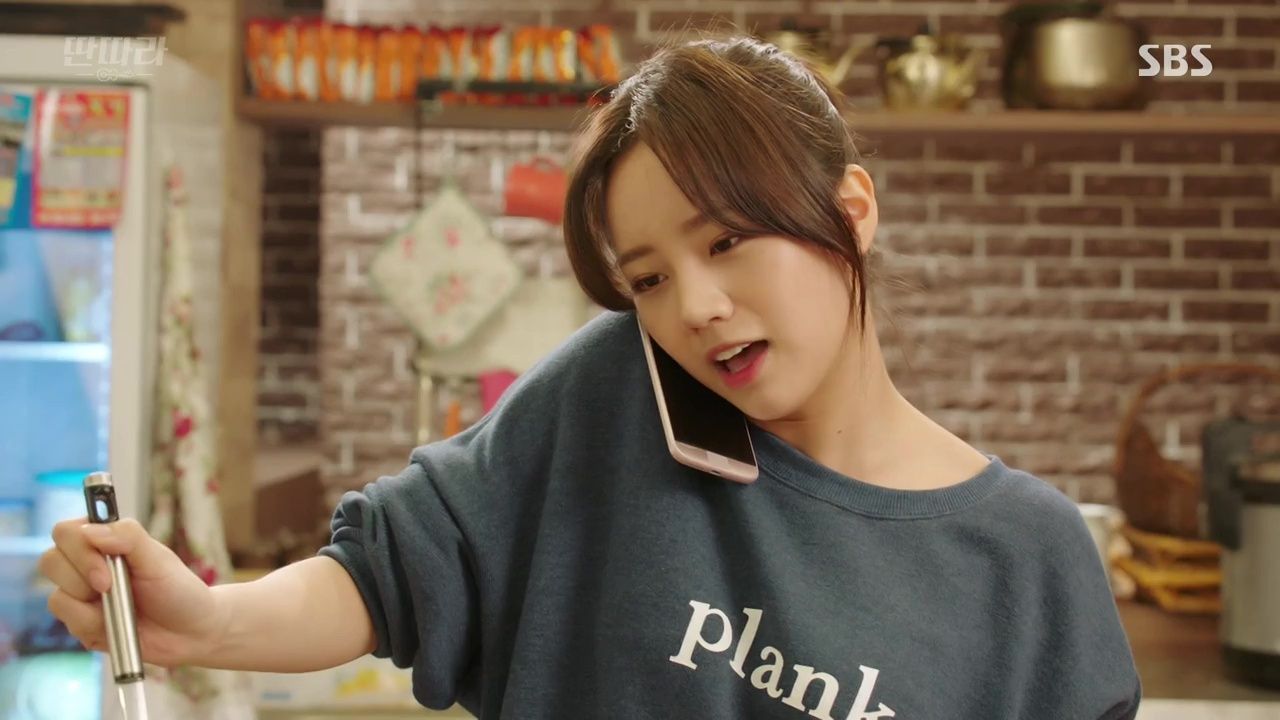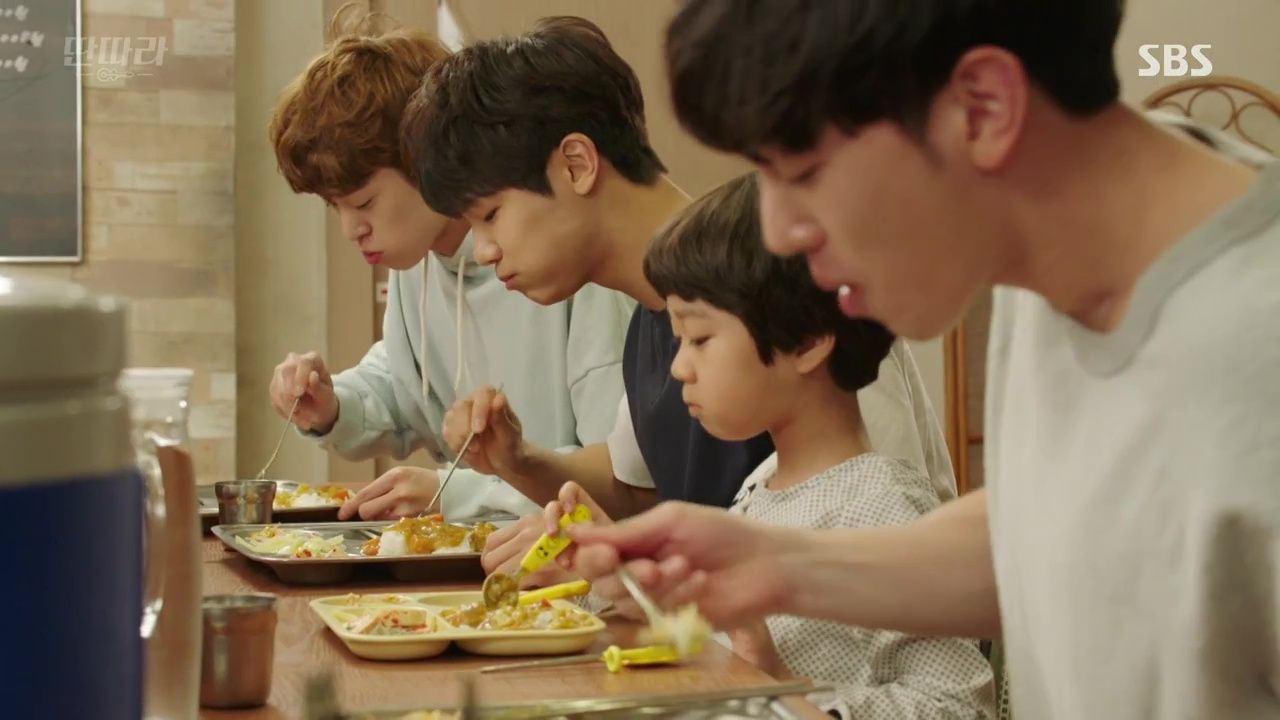 Geu-rin decides to find a house in Seoul for her and Ha-neul to move to once he graduates high school — they can't keep going back and forth from Busan. They decide to keep this house, since it holds so many memories of their family, and they can rent it out.
They find a place for all of them to stay, the whole band and little Chan-hee, which is the best thing. They're the cutest family ever, with Geu-rin taking care of all her boys, more like a mom than a manager. She and Min-joo put the Mango sign back up, and the first order of business is to find a studio to practice in.
Ji-young is taking full advantage of her leverage with KTOP, already showing up in advertisement signs (which Geu-rin tears down) and demanding a role in a new drama. Joo-han argues that she's moving too fast and will destroy Twinkle's teamwork, but she laughs nastily that Twinkle already considers her an outcast.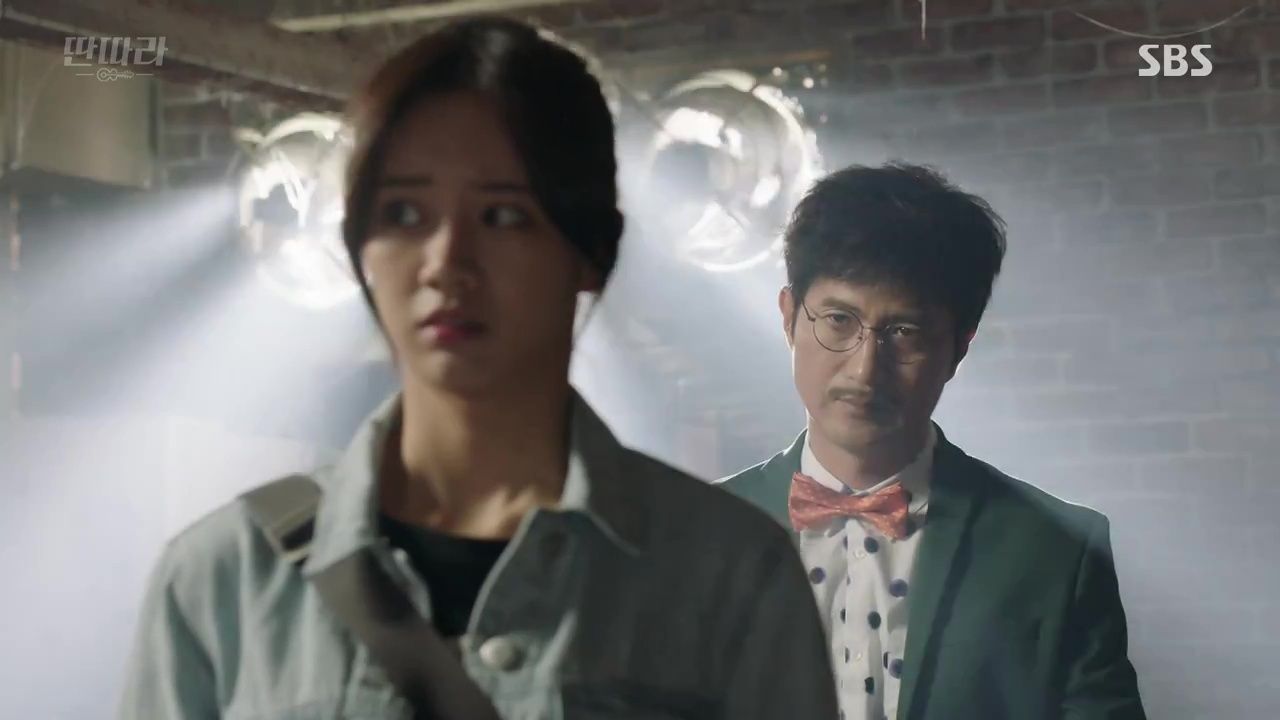 Geu-rin goes to check out an available studio space for Ddanddara to practice, but the owner is kinda sleazy looking and the space is like something out of a horror flick. The owner watches Geu-rin with this expression like he's about to pull out a knife and murder her, but he's perfectly safe, just a total weirdo.
Unfortunately Geu-rin already put down a deposit, so she's stuck with the filthy space and Mr. Byun, the freaky landlord.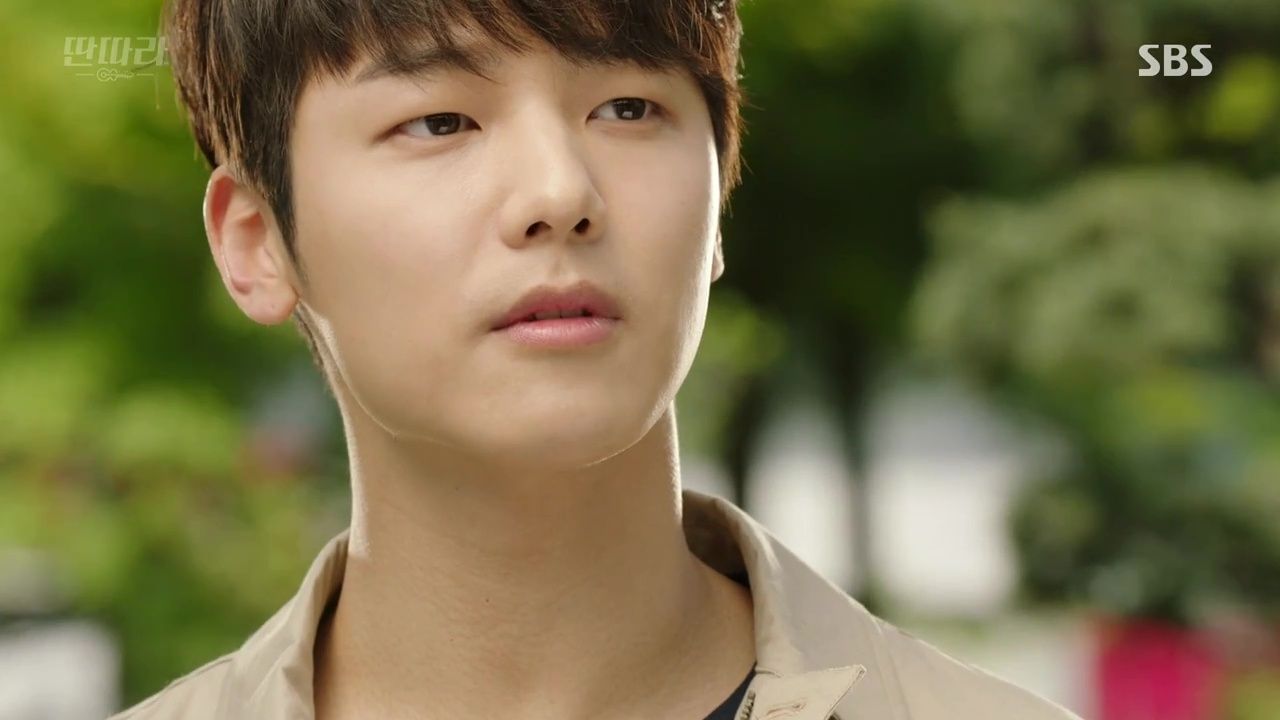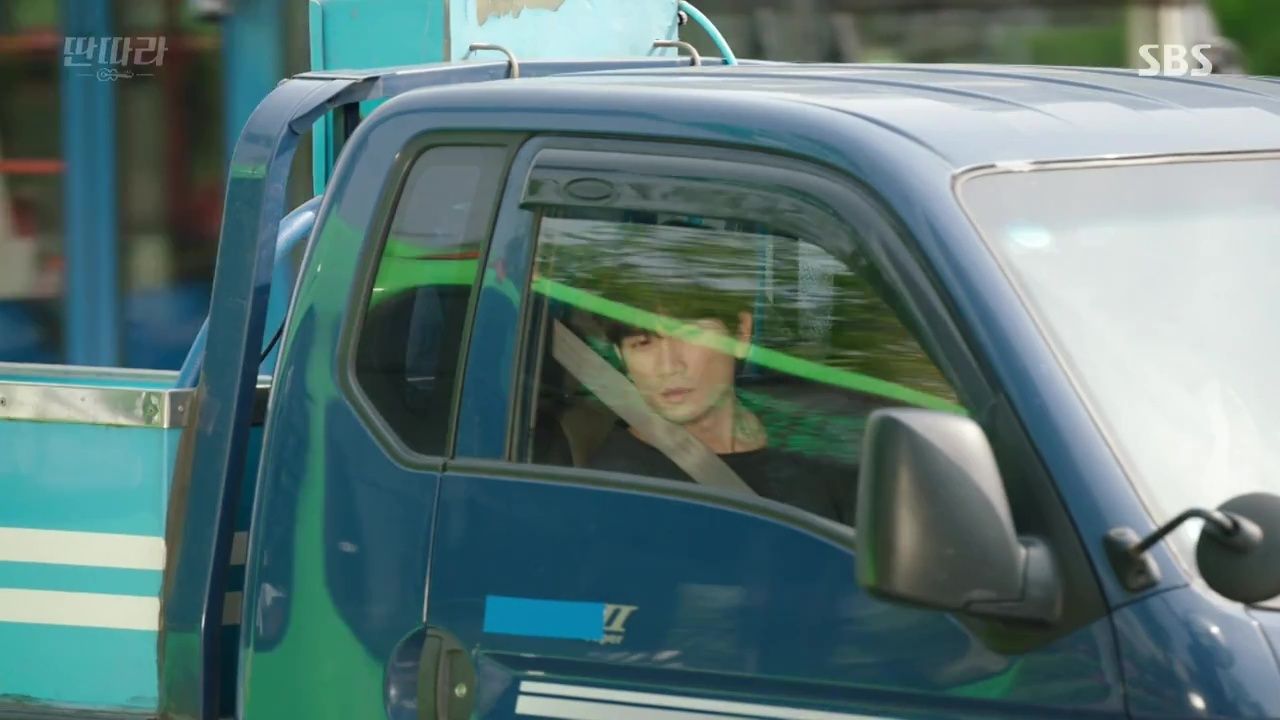 Ha-neul just happens to catch sight of Seok-ho riding in a truck, and he runs after the vehicle, screaming Seok-ho's name. Seok-ho doesn't see him, but Ha-neul takes note of the business name on the truck, Chungjin Seafoods. He goes looking for the company, and eventually finds Seok-ho sitting under a lighthouse at the end of a dock.
So many emotions cross Seok-ho's face when he sees Ha-neul, it's impossible to read them all. Before they even speak, both men start crying.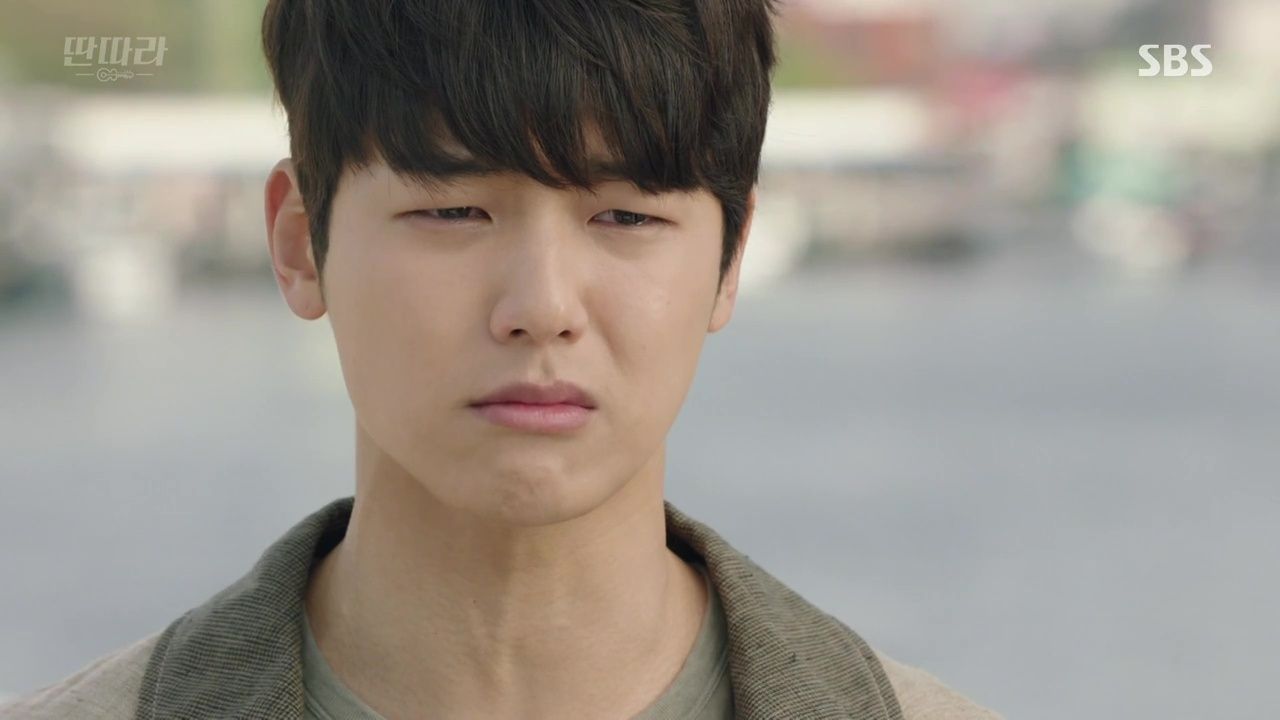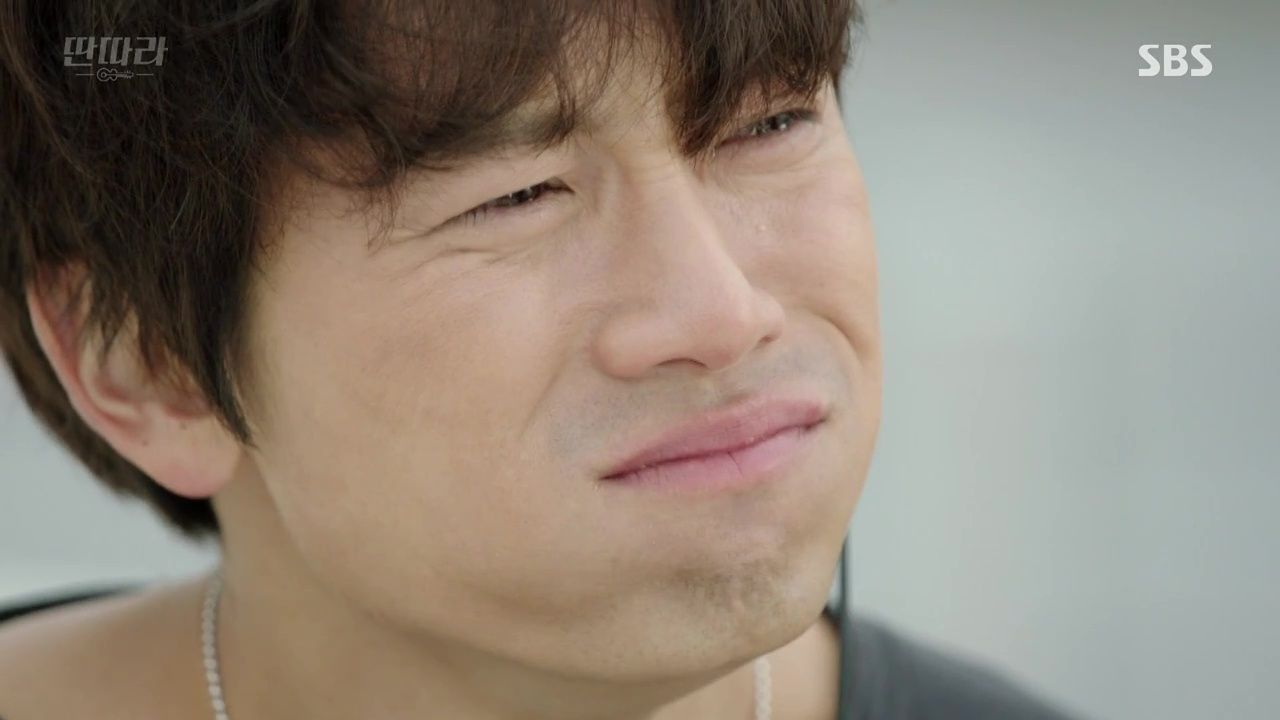 COMMENTS
It feels as though the show has found its direction, now that all the characters are introduced and the plot trajectory is established. I think it just didn't have a good sense of how to present the setup, so the first couple of weeks felt shaky and uncertain, but this episode has a very different, solid feel to it. Now we know what happened before, why people are behaving the way they are, and where the show wants to go, and it feels much more sure and steady. I almost didn't even realize that I was feeling this strange sense of What are you doing?? towards the show until it was gone, but without that worry hanging over me, I was able to relax and enjoy this episode much more. I think the trick was to slow down, which this episode definitely did, letting its emotional moments breathe and letting us as viewers really feel what the characters were feeling. I felt a lot more emotionally invested in this episode, especially since all the inter-band angst is over and they're forming the most adorable family ever, and I like that feeling. I hope it continues, because it's on the right track.
I wasn't sure at first, but now I'm actually finding myself liking the way the conflict is shaping up for Seok-ho and his boys — on the one hand, we have KTOP, who are using their professional weight to cover up Ji-young's tricky plan and Jinu's involvement, and not caring who goes down in the meantime. But on the other hand, they have Seok-ho and Ha-neul, who have a personal history and a cosmic wrong to right, with Hyung's death and their desire to do what he couldn't do… make music. I love their connection to each other, bow they both feel that doing this together is what Hyung would want, but they also actually like each other enough that they're not just doing it for that reason — somehow, for both of them, making music wouldn't be the same without the other. Their relationship has such a solid foundation and reason to exist in Hyung's memory, but they also just respect each other for who they are, which just gives me the warm fuzzies.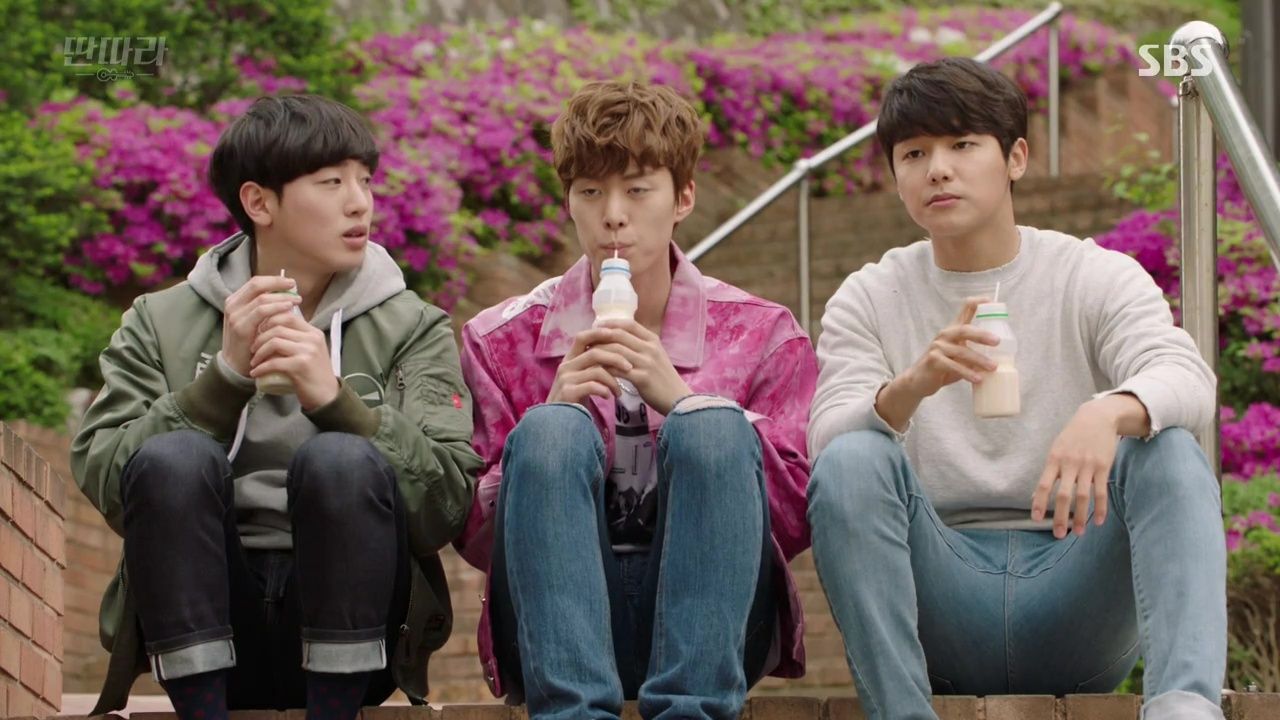 There are still a lot of things about the night Ha-neul was framed that don't add up: why the door lock was taped open, and who else was there to knock Ha-neul unconscious. The fact that the door was rigged open tells me that this wasn't an impulsive thing — it was planned ahead of time. I think it's probably pretty close to accurate to say that Ji-young set things up (with someone from KTOP maybe?), and rigged the door so they could get inside. Then she was going to bring Jinu and make it look like he was assaulting her, they would record it, and that would get her into KTOP. But who did she scheme with, and what were they getting out of it? I think it's likely that it was Joo-han, since he admits that he knew about Jinu's medication so he'd have been able to tell Ji-young that getting Jinu drunk would also render him very malleable. I think there's still a lot more to this than we already know, and I have no doubt that Ji-young is behind it all.
As for Seok-ho, I think he needed to get away to think, and wallow in his misery for a little while. As much as he's been through, he needed a chance to just step away and really deal with it. I think it's a good sign that he feels responsible for everything, because it shows that his true nature isn't to be selfish, he just changed when he became successful. So it's not that he's changing for the better, but that he's reverting back to his default nature.
He thinks that he failed Jinu by not being there when he needed him (he didn't even know Jinu was on medication), and I'm betting that whatever happened with Ha-neul's hyung, Seok-ho feels the same responsibility for his death. Now he can't even help Ha-neul, and the weight of everyone counting on him to do something for them just became too much. It's not surprising that he just bailed, probably thinking he was doing the right thing by not dragging the Ddanddara guys down with him. He's going to be in for quite a surprise when he finds that they're all determined to bring him home and make him part of their family again.
Speaking of which, that family is wonderful. I love that they're all living together now, committed to making this band work, and to making sure that Seok-ho is part of it. This is what I wanted this show to be, and though it took some roundabout paths to get there, it's finally here and it's exactly as good as I hoped. If the show keeps on going this way, it's got the potential to be something special.
RELATED POSTS
Tags: Entertainer, Episode 5, featured, Hyeri, Ji Sung, Kang Min-hyuk