Goodbye Mr. Black: Episode 19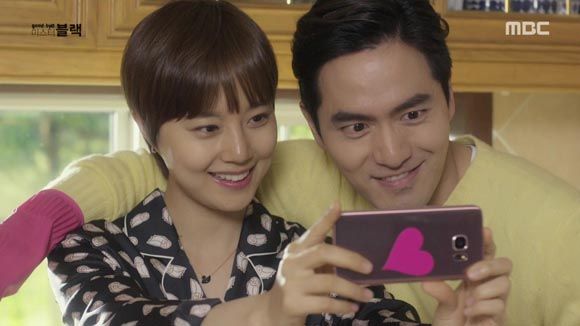 We're almost at the end! While I'd like to tell you all that my excitement is because we're nearing the climax of a thrilling ride and about to get answers to the questions that have kept us guessing all along, I can't quite bring myself to see the glass being that half-full. Mostly I'm glad that the story is being wrapped up so we can move on; I actually think the show has been improving in the past couple weeks, but (1) the clumsy directing continues to be the show's undoing, and (2) improvement is a relative term.

EPISODE 19 RECAP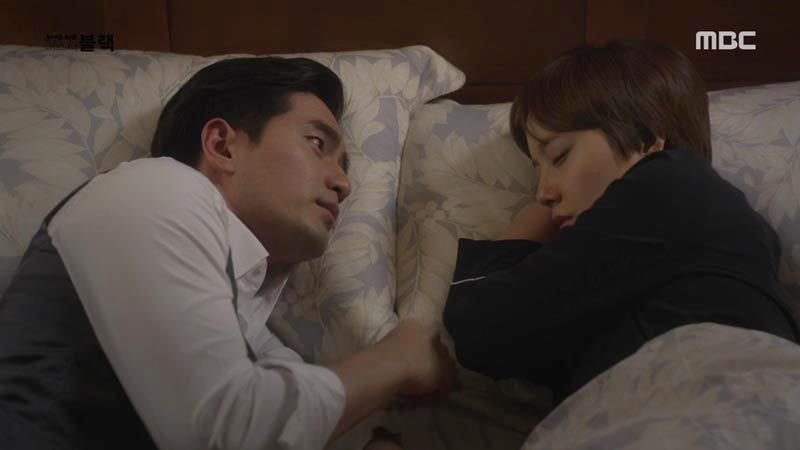 Swan finally remembers the crucial scene in her childhood that she'd forgotten: Teacher Baek killed her parents, and when she'd left the house crying for help, the tsunami had hit.
Black consoles her and tells her not to remember. He looks after her as she sleeps, thinking, "Don't worry. Baek Eun-do—I'll make sure he doesn't live in your world."
Then he gets dressed in his all-black man-of-action gear and leaves a drawing message for Swan, showing a car heading to a house.
It's Teacher Baek's mansion he ends up at, slipping into the study to look for clues and lift fingerprints. He notices that the desk drawers are locked, but when the secretary drops by to drop off a folder (with Black hiding just out of view), he leaves a drawer unlocked. Convenient, that.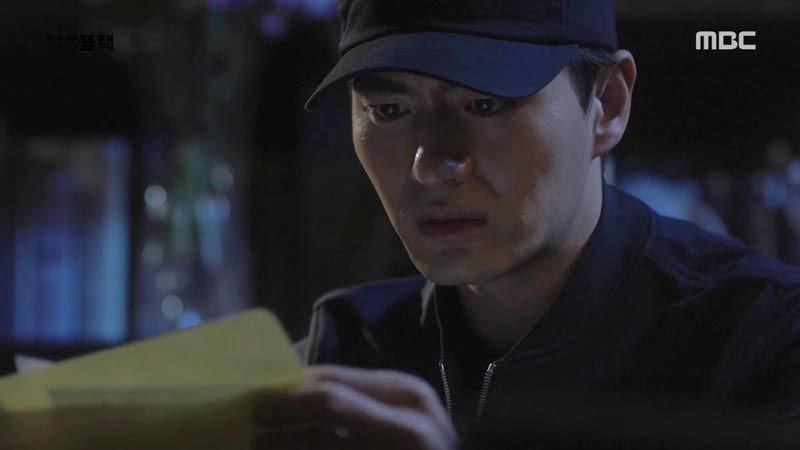 Black rifles through and finds an envelope inside, and inside are photos of Swan as a child, her mother, Teacher Baek, and another man who must be her real father.
Black connects the dots immediately, and informs Woo-jin about the discovery: The younger man is the real Baek Eun-do. The man we know as Teacher Baek stole his identity after killing the couple in Thailand, and the chaos that arose in the wake of the tsunami helped him get away with it. Teacher Baek is currently still being detained for interrogation, but they understand that if he realizes they're onto him, Swan will be in danger.
Teacher Baek remains calm in custody, pointing out that the prosecutor has no evidence of his crime, only an accusation from the victim. He challenges him to finds some.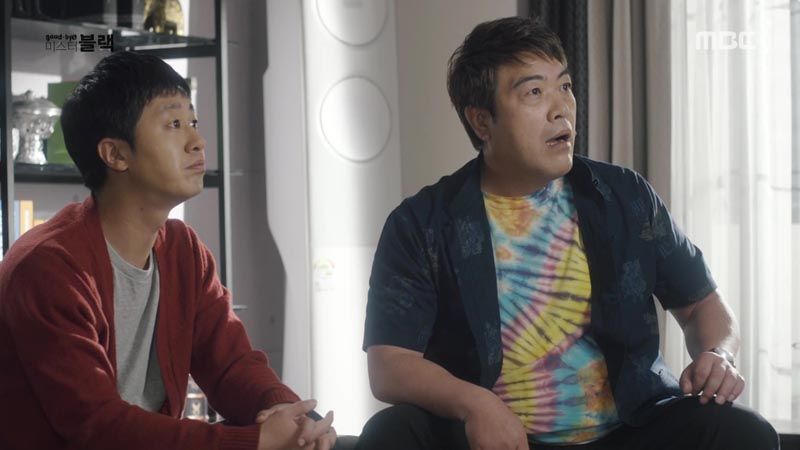 Woo-jin gets busy tracking down the real Baek Eun-do, while the rest of the team is informed of the situation. They snap to attention when news breaks that Sun-jae has admitted to his crimes, and protest indignantly when it's announced that Teacher Baek has been released. They need more evidence in order to nail him for good, and that requires the fountain pen recording in Sun-jae's possession.
Black visits Sun-jae in prison and says he knows that he wasn't the one to kill his father. He urges Sun-jae to tell the truth of Teacher Baek being the murderer, warning that Sun-jae will end up the fall guy otherwise. He knows that Teacher Baek has left Black alone to some extent because Black taking out Sun-jae would work nicely with his plans.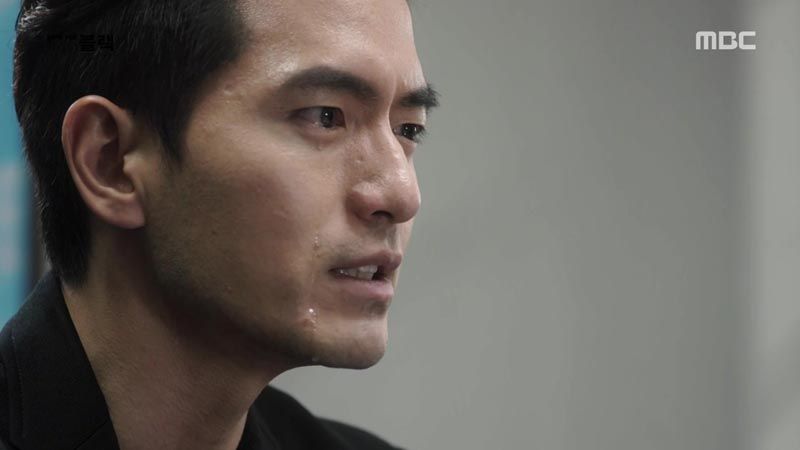 It's a hard pill to swallow, and Black grits out, "I can't forgive you. I hate to forgive you—but that's the only reason for me to forgive you."
Except Sun-jae isn't at all grateful, yelling at him to stop acting so almighty: "Who the hell are you, to forgive me, who has done nothing wrong?" O…kay. I was with him for a second, but Sun-jae's revisionist memory is at it again, painting himself as the misunderstood victim.
Sun-jae balks at the idea of Black rescuing him from Teacher Baek, rattling his handcuffs as he insists that he's chosen his path, and whether he lives or dies will but up to himself. "Don't interfere," Sun-jae says. "You're going to die soon." He asks if it makes Black sad to have stolen everything away from him, only to realize he's going to die anyway.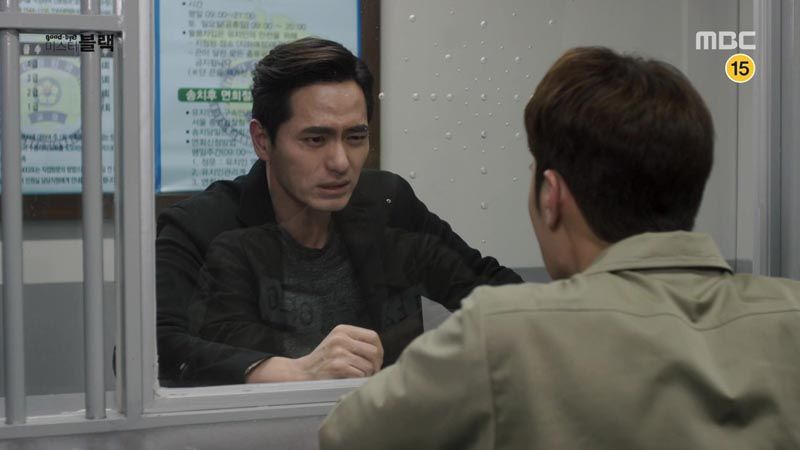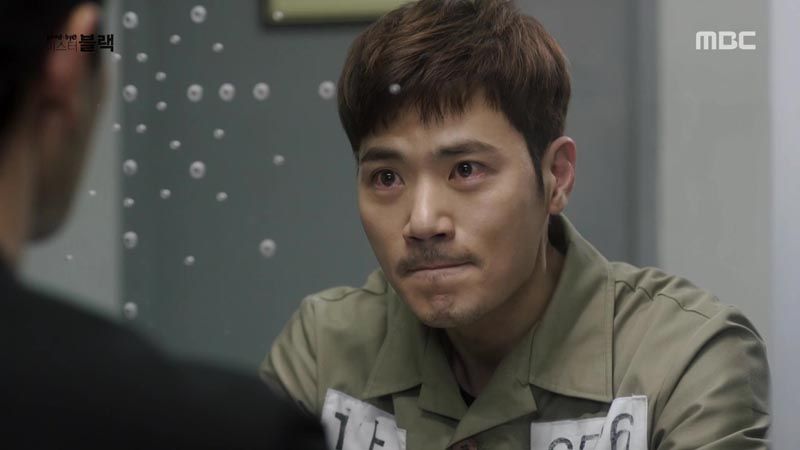 "I lived like that from the moment I was born!" Sun-jae yells. He says that no matter how well he did, Black always beat him. Should he have to sit here listening to Black just because his father took him in? "I didn't know then," he laughs bitterly. "That you and your father used me to act almighty and feel good. I didn't know then that you looked down on me, and would throw me away!"
Angry and hurt, Black starts to yell back, but the shrill ringing in his head hits him with a wave of pain. He gets out, "Sun-jae-ya, I'm sorry. I didn't know you hated me so much. You were my best friend." He doesn't hide his shaking hand and explains that he isn't here to beat Sun-jae, but because he wants the woman he loves to live in a world without Teacher Baek. He has to catch Baek before he dies.
Black asks for the fountain pen. Sun-jae takes this in, and returns, "Then get me out of here." Sun-jae points out that he's safe from Teacher Baek while he has the pen, and he urges Black to cry in his woman's arms.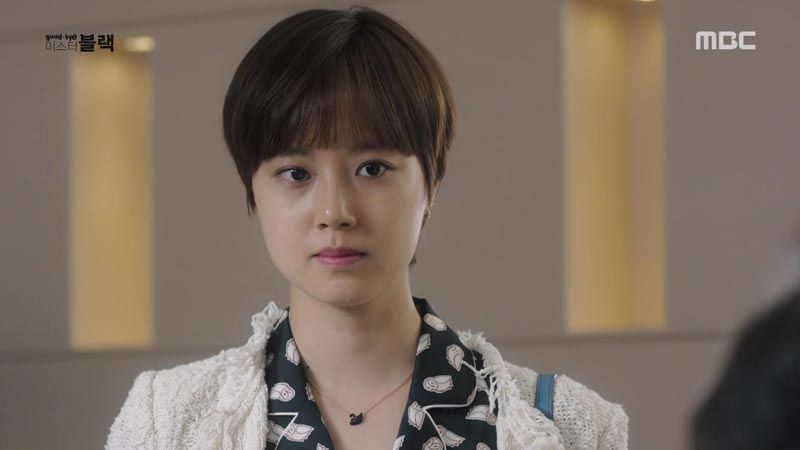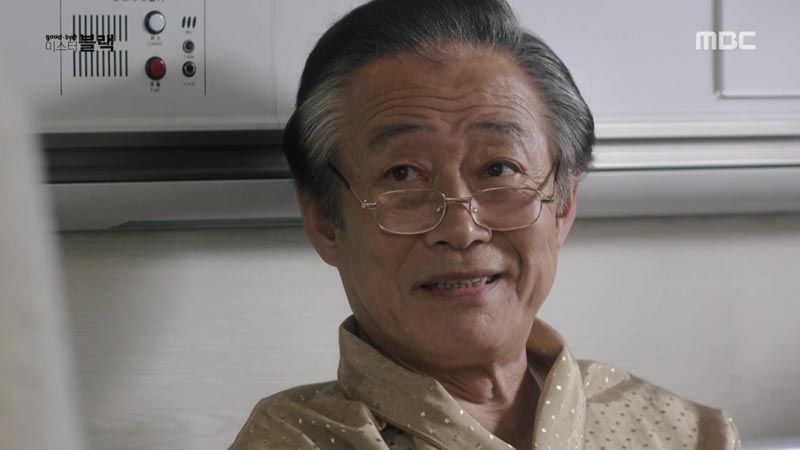 Swan visits Teacher Baek in the hospital, doing her best to swallow her anger as she plays the part of dutiful daughter, saying that he's the only family she has. He's pleased with that attitude and tells her to get over Black, who used her to get him, saying that that's the way a daughter ought to respond.
He looks surprised when she agrees, and she adds meaningfully, "A person can't toy with someone like that. To use me—I can't forgive that." She promises to return what was done to her, since she's Baek Eun-do's daughter.
Mari is released, now that Sun-jae has admitted to the crimes she was accused of. When she returns home, the housekeeper is there to comfort her as Mari breaks down, admitting how scared she'd been.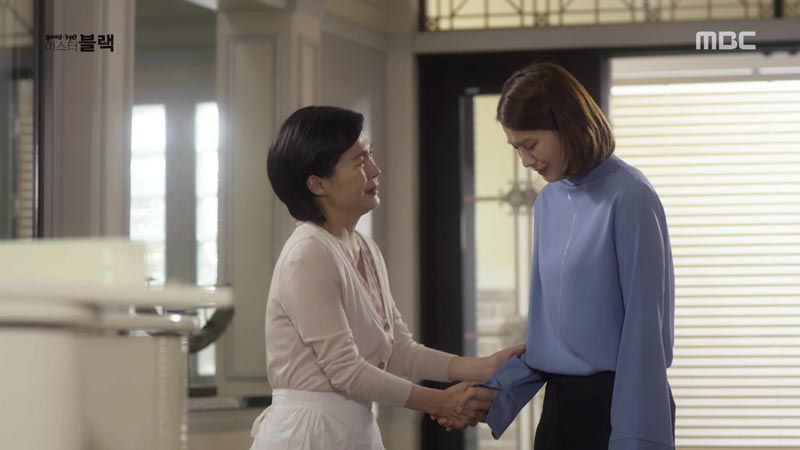 The housekeeper reminds Mari for some inexplicable reason that Sun-jae did genuinely love her, and urges her to persuade Sun-jae to beg for Black's forgiveness, since Mari is the only one with the power to sway him. Er what? Are we just going to ignore all that threatening and baby-faking and terror and spying and… you know what, we are. Let's move on.
Mari says she won't see him again, but not with much conviction.
Swan sits outside in a park with a heavy heart, when suddenly Black shows up on a bicycle with an icebox and acts like a mango juice peddler. He compliments her in broken English and says she should be his wife, and Swan smiles at the memory of their early days in Thailand. Circling her on his bike, he repeats sunnily, "I love you! I love you!"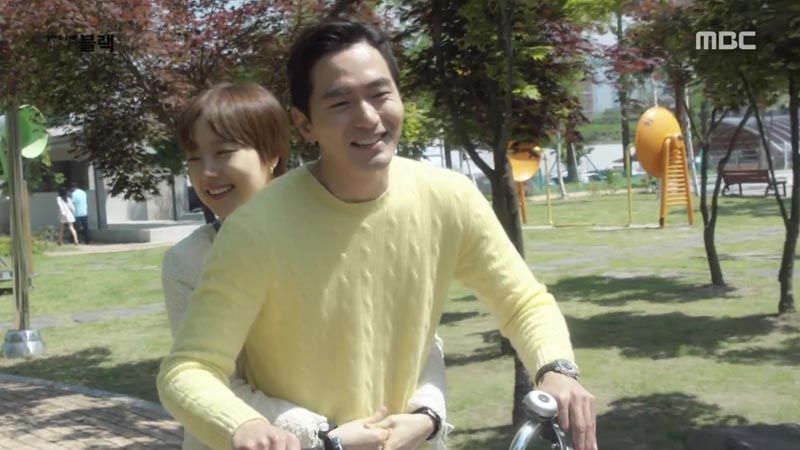 As she rides on the back of his bike, they think fondly of their days in Thailand and suggest jokingly going back there to sell juice again and make their fortune. They head back to their new house and keep the mood light and playful, though she does make him pause with an earnest "I love you."
Swan's (Ji-ryun's) mother calls to check in and tells her she won't be extending the loan repayment date to Teacher Baek's company after all, since that would upset him the most.
Swan says wistfully that she thinks of her dead parents as having led her to Black, and he says the same for himself, that his father sent him to Thailand to meet her. She asks him to hold her, and they settle down in bed together.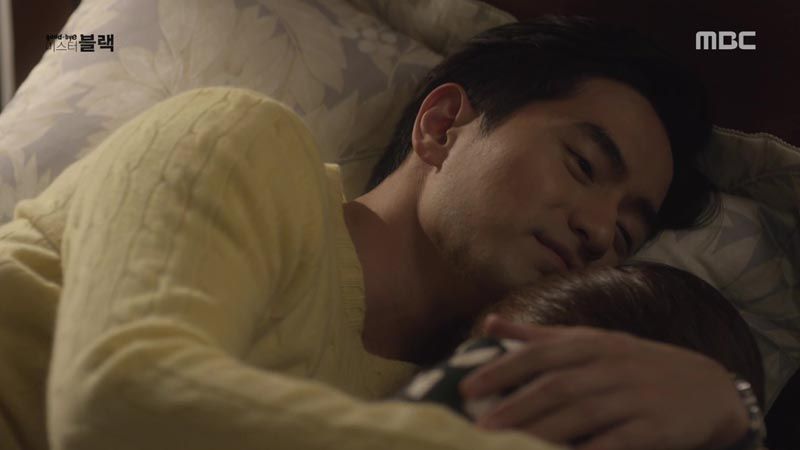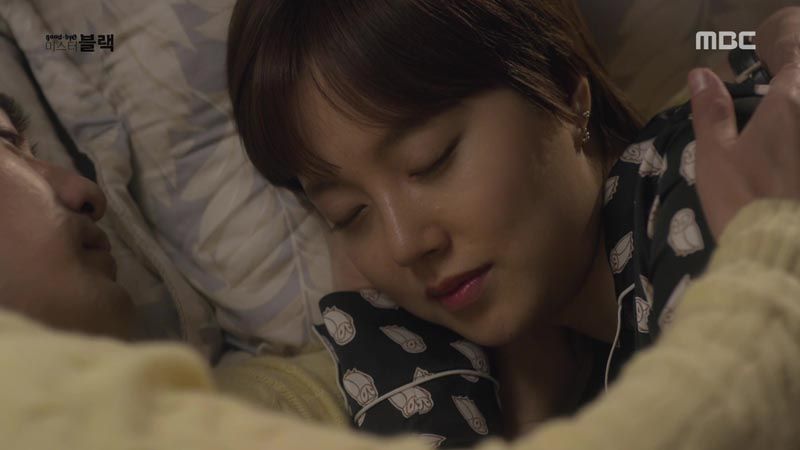 Again, Black stays awake as Swan sleeps, and writes a letter. He finishes that, and starts another, saying that there are so many things he wants to say and not enough time. His right hand gives him difficulty and his head rings, but he presses on.
Swan wakes in the middle of the night to an empty room and goes searching for Black. She finds him huddled in pain, and ignores his attempts to push her away, begging him to let out his pain instead of repressing it, which is worse for his condition. Black starts to groan and wail, and she urges him to continue.
Teacher Baek has Sun-jae's secretary tortured for information about why Sun-jae turned himself in. The secretary breaks and shows the scan of Black's brain, saying that he doesn't have long to live, and Baek cackles in glee.
Sun-jae meets with his lawyer, and things aren't looking great for him, and Black's warning about Teacher Baek rings in his ears. He doesn't yet know that his secretary now works for Baek, who's content to let Sun-jae rot in prison.
Panda News revisits that buried story about the illegal gambling list, going public with the full list and speculating that the authorities may have colluded with the wrongdoers—the public prosecutors had taken the list from her, but cut the investigation short. The first to come under fire is a prominent assemblyman whose son was named on the list.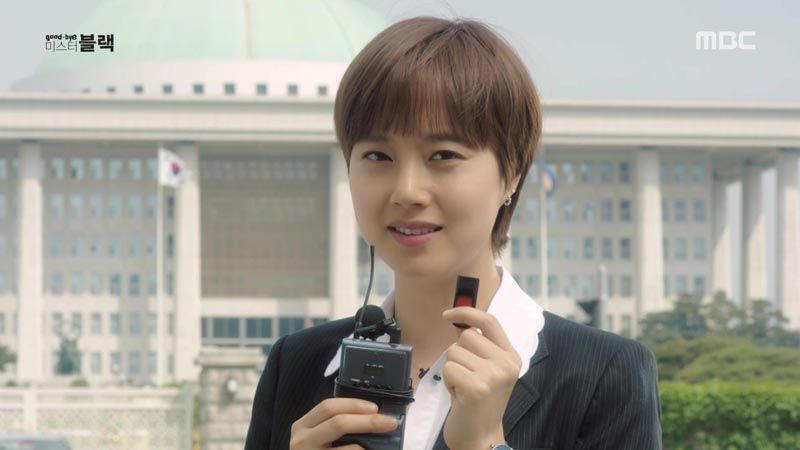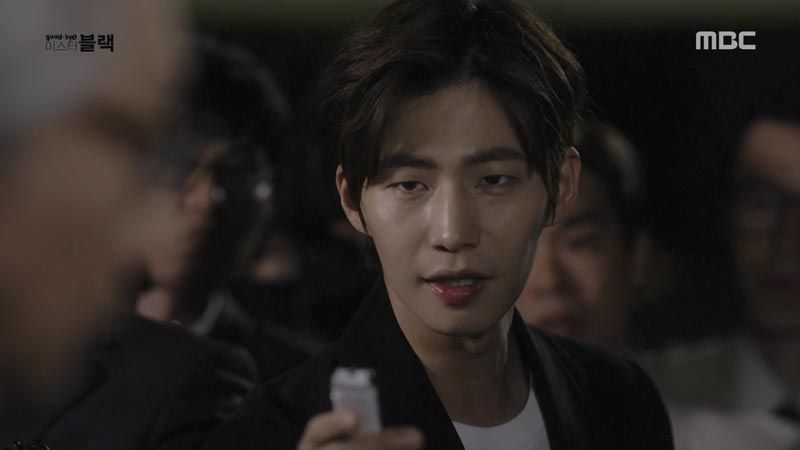 Swan gets the scoop on the story and its updates, with Woo-jin going after the politician, one step ahead of all the other reporters. This enrages Teacher Baek, who decides that it's time to wrap everything up.
Baek's henchmen tamper with a car under the hood and plant documents in the glove compartment. But the target, another henchman, has his suspicions aroused and searches his car for possible evidence, finding the bankbooks that have been planted there—along with a suicide letter. In it, he supposedly confesses to kidnapping Ji-soo and names Sun-jae as his boss, which neatly absolves Teacher Baek of guilt.
Black, who's been monitoring the opposition's movements, hears that the would-be target, Henchman Ha, has disappeared. He has his team get to work tracking him down, although it seems Teacher Baek has the same idea. Suspecting that Henchman Ha may go to Black, he orders Black followed.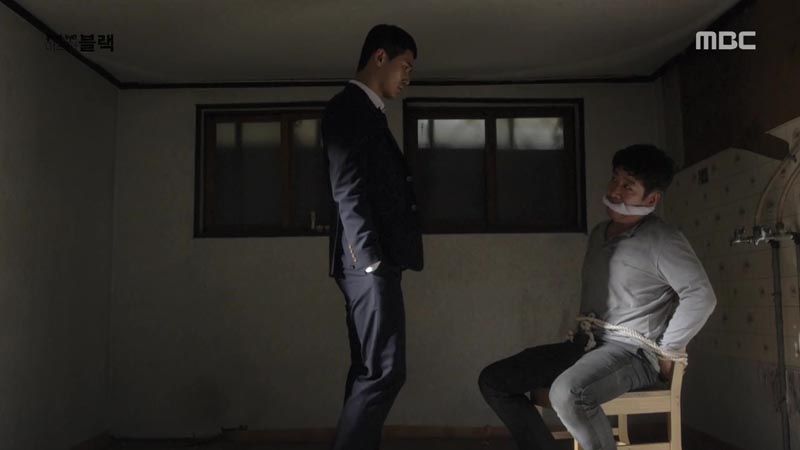 Black's search points him in the direction of Henchman Ha's family home, and in the meanwhile, Henchman Ha rejoins the captive he's been holding—aha, it's Director Nam, who wasn't in fact killed after recovering the old chairman's corpse. Must have just been knocked out.
Henchman Ha offers a deal to team up with Director Nam, but the latter is suspicious and catches him by enough surprise to make a break for it. Black and Gye-dong arrive in the neighborhood to witness the chase (crawl) in progress, and while Henchman Ha gives up right away, Nam keeps running.
Black's leg fails him mid-run, but thankfully Gye-dong is on hand to round up Director Nam. Not so thankfully, all this is being watched by Teacher Baek's other henchman, who reports back to the boss.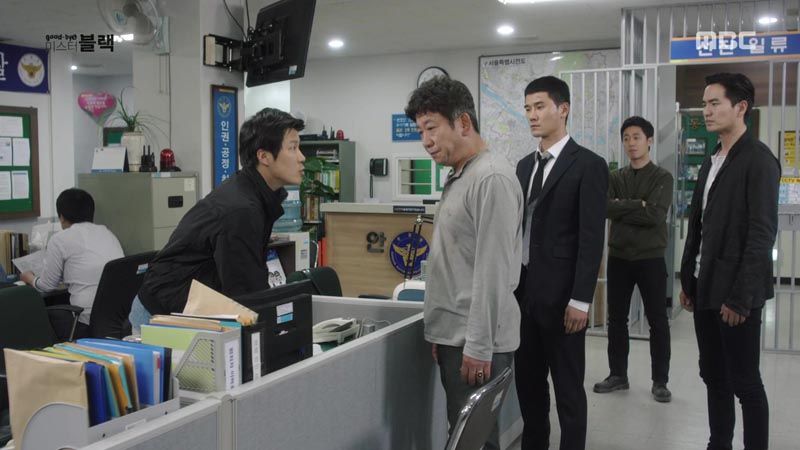 Black hands over Nam to the police, and the Panda News team gets ready to make their next report.
Teacher Baek visits Sun-jae in prison, and Sun-jae informs him that Black asked for the pen, but says he'll only make deals with Black. Teacher Baek calls him naive for thinking he had the leverage to make a deal, showing a whole slew of photos of Mari, taken by the man he'd ordered to watch her every move.
Sun-jae growls that he'd kill Baek if he messes with Mari, but it's a threat that holds no weight now. He challenges Sun-jae to turn in that pen recording, but warns that Mari will be the first to die. He offers to not kill her… on the condition that Sun-jae take on the crime of killing Chairman Cha.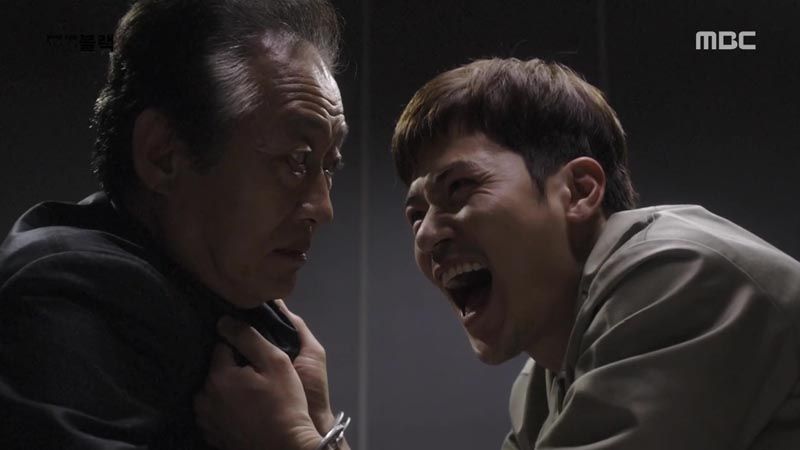 Sun-jae scoffs, saying that Mari betrayed and left him—there's no way he'd take on that crime for a woman like her. But Teacher Baek calls his bluff, knowing that Sun-jae talks big when he's scared. He points out that he'll always beat Sun-jae, because Sun-jae has someone he wants to protect, and Baek has nobody.
Baek tsk-tsks Sun-jae for not following his initial orders five years ago, to merely follow and not make any choices on his own, blaming him for his own situation now. He says he won't wait long for Sun-jae's answer, and leaves Sun-jae desperate and scared for Mari's safety.
At the police station, Black stands by as the two men—Henchman Ha and Director Nam—are questioned. They both name Teacher Baek as the culprit, but neither of them were eyewitnesses to the chairman's murder and can tell who pulled the trigger.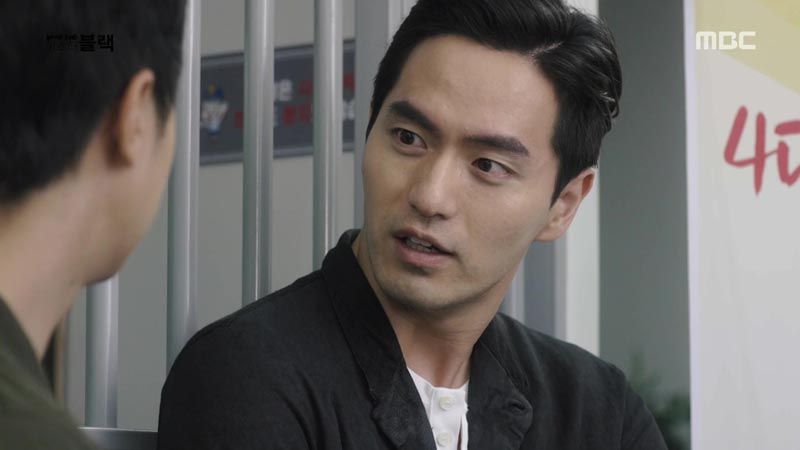 A wave of pain hits Black, and when he's joined by Gye-dong and Sung-min, he starts talking like it's the old days back in the Navy. It's alarming, but the buddies let the moment pass, and then Black is back to his current self.
When cops arrive at the hospital to take Teacher Baek into custody, he fakes heart problems to buy himself an excuse, and his doctor insists that he can't be moved in his current state.
Sun-jae wrestles with his dilemma, thinking of the threat to Mari's life, and finally makes the confession. He admits to every crime—killing the chairman, kidnapping Ji-soo—and says he was acting alone. Baek is off the hook, again.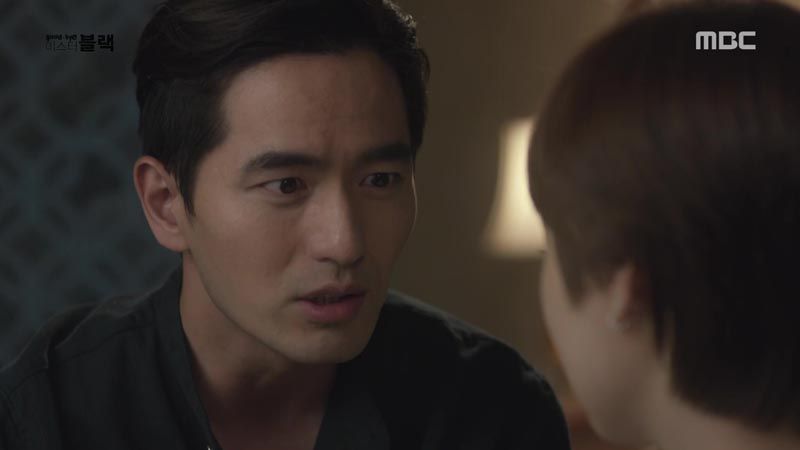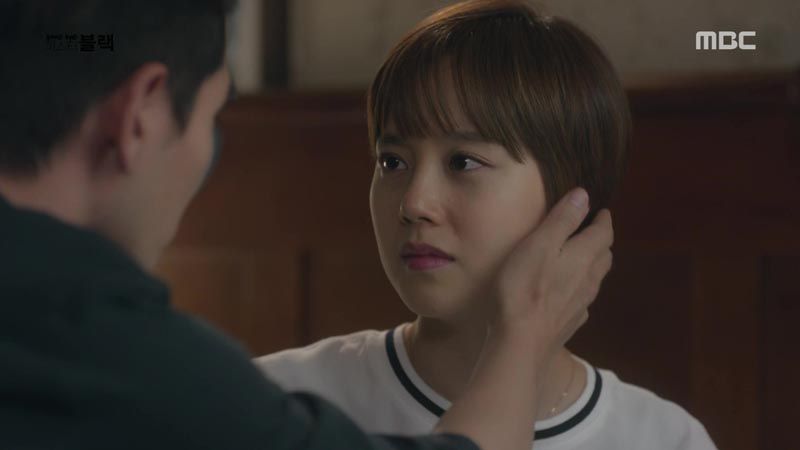 Swan comes home to see Black struggling with his head pain again, and we see that she'd been warned by Sung-min of his memory lapses. He'd asked her to not make a deal of it, so she forces a smile as she joins Black and suggests lightly that they put this all aside and go to their Thai island.
Black knows what's worrying her, and promises that he won't forget her. He tells her reassuringly that it'll all be over soon, and that they can go to their island then.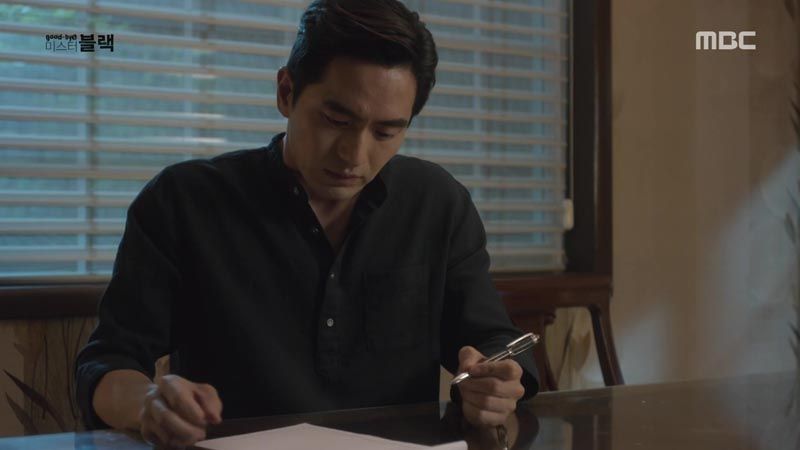 As Swan sleeps that night, Black turns back to his letters, joking that she has to return that wooden compass if he "goes" first. He writes that she shouldn't come join him too quickly just because she misses him, encouraging her to have fun, see lots of things, and make lots of memories to tell him about when they reunite.
And when the pen slips out of his trembling grasp, Black switches to his left hand and continues, writing laboriously, "If you miss me…"
As Mari heads to her car, she hears footsteps approaching from behind. Turning warily, her eyes widen in alarm.
In his jail cell, Sun-jae jolts awake in a cold sweat, hit with a wave of fear over Mari's safety. He screams for guards to bring Black to him, frantic that she may be in danger.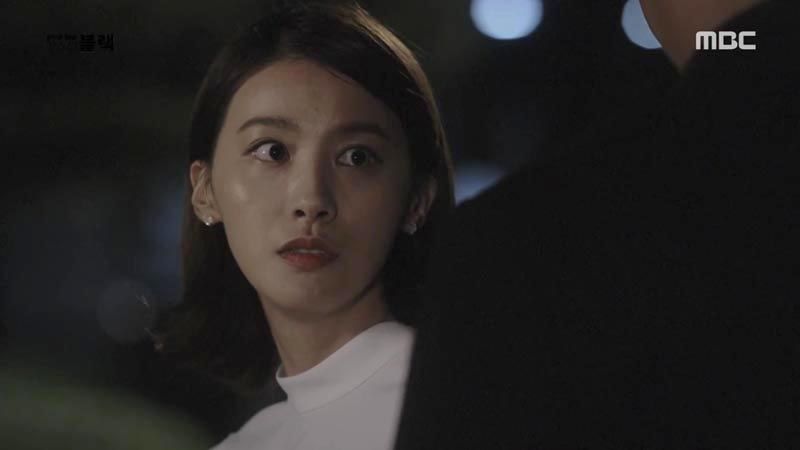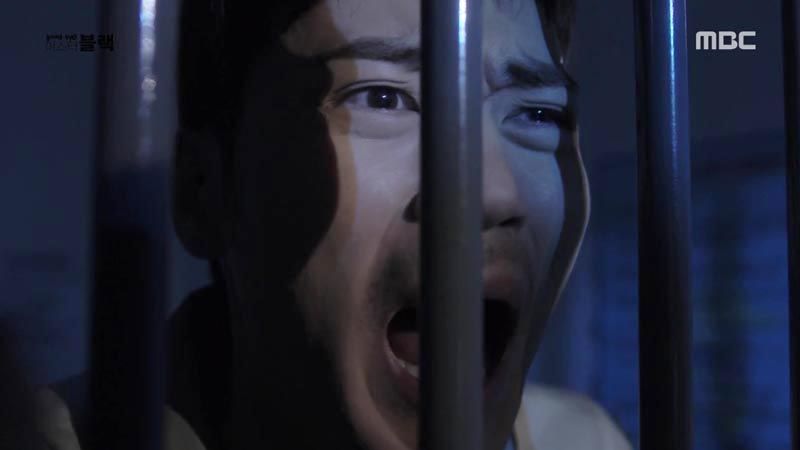 When Black does come in the morning, Sun-jae begs him profusely for help. He exclaims, "We're friends!" and blubbers in agitation, only calming when Black interrupts to say that Mari's been taken to a safe place.
That would be Team Black headquarters, where the housekeeper explains that she's in danger and can't stay in a hotel as she wants.
Sun-jae's momentary relief passes, and he works himself into a frenzy exclaiming that Teacher Baek must be stopped, because he'll be a danger to Mari as long as he's at large. When Black says there's no time, Sun-jae insists that Black can do it: "I can't trust anyone but you. Promise me you'll kill Baek Eun-do."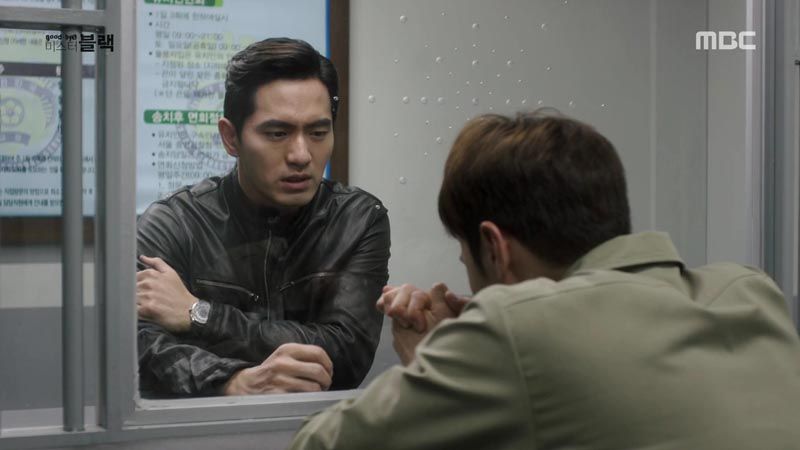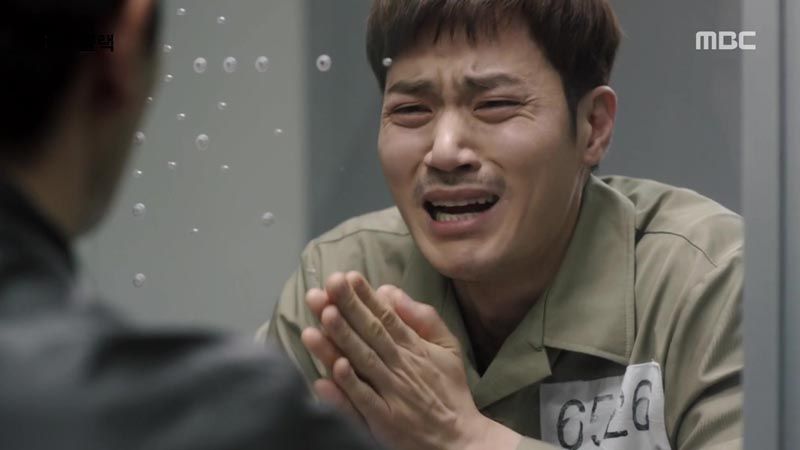 Black says it's too late to call on their old friendship, but he does now see just how much Sun-jae loves Mari. He makes the promise, saying that before he dies, he'll do what he can to make sure Baek pays for his crime.
Swan goes ring shopping, and Black calls to tell her to go home and wait for him, so that they can have a party. He'll join her after attending Sun-jae's first day at trial.
Swan finds a spread already laid out at home, with flowers and food and pictures, and also Black's series of letters.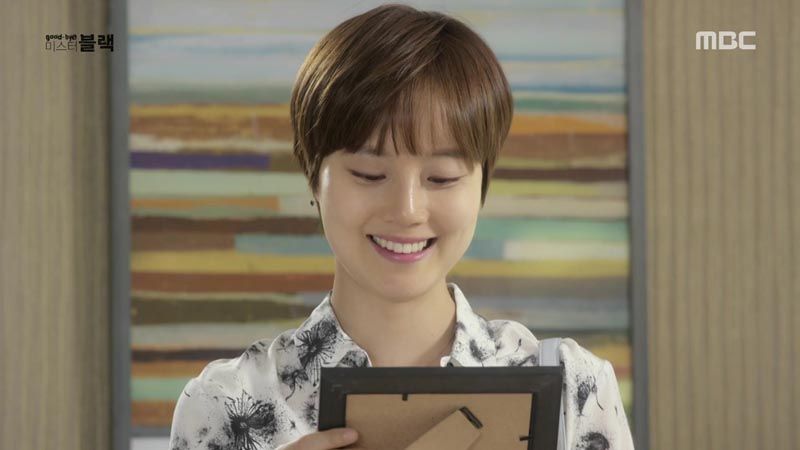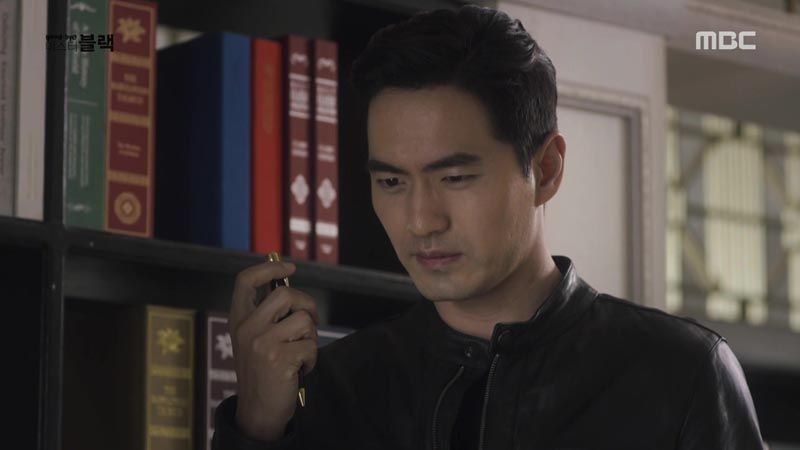 Teacher Baek feels pretty smug to have everything going his way, but he hears that Sun-jae met Black before his trial and is immediately suspicious that the recorder pen may make its way to Black. He orders his army of gangsters into action, and they storm Black's office and home to search for it.
Black, meanwhile, heads to Sun-jae's house and finds the pen in its hiding place, having been directed there by Sun-jae. He's filled with relief and heads out to take the evidence to court, where Sun-jae nervously waits with his eye on the clock, hoping for Black to arrive soon.
But Baek's army storms into Sun-jae's house next, and Black has to fight his way through the crowd. He first wraps a handkerchief around his hand that's clutching his golden compass, presumably for moral support I guess, and launches himself into the fight.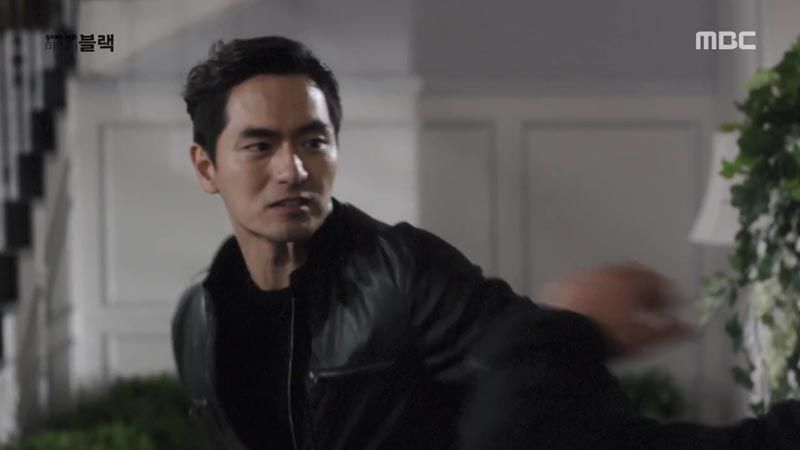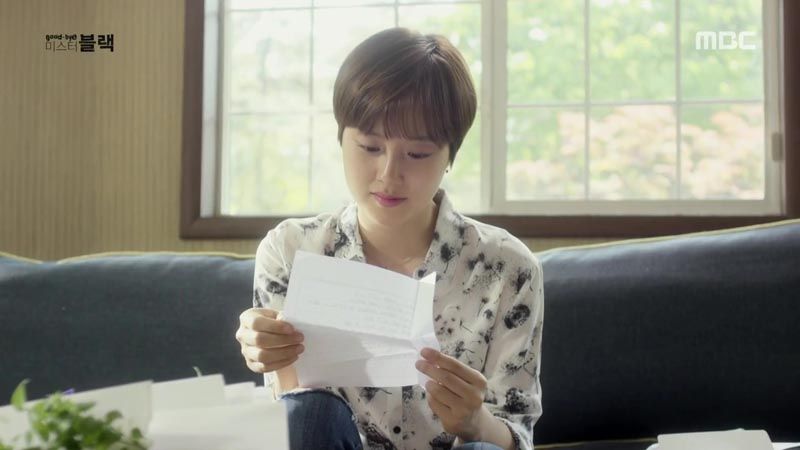 Unaware of all this, Swan starts reading the first letter, smiling as Black admits that he's glad his illness forced him to confess his love for her. The scene intercuts with Black's fight, and we hear his voice reminiscing on all their moments together as he throws punches—and takes a few of his own.
Woo-jin succeeds in digging up a name—which turns out to be Teacher Baek's real identity. Jo Sung-bae.
In court, Sun-jae sweats more and more as his crimes are cataloged and the prosecutor requests the death penalty, and still no sign of Black.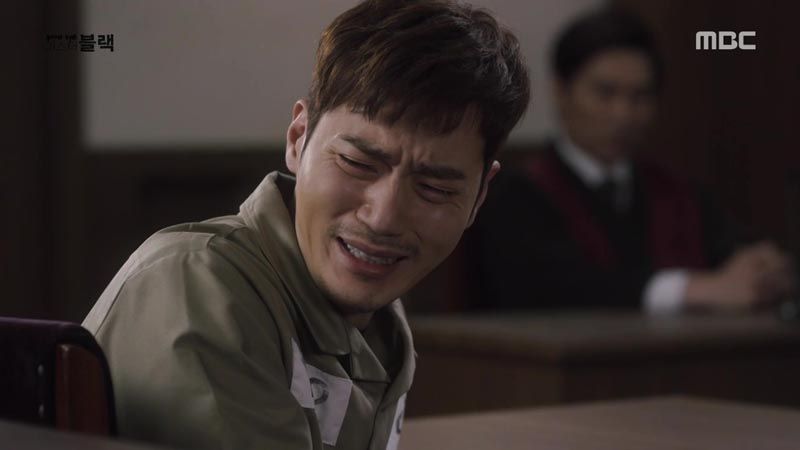 The fight isn't going well, and Black takes a blow to the head and finds himself kneeling on the ground, holding himself up rather limply, clinging to consciousness. And then, a gangster takes a swing with a two-by-four… and BAM! It strikes him squarely on the head. He falls to the ground.
In court, Sun-jae turns back to see Mari sitting in the audience, and asks tearfully, "What do we do? Ji-won must have died."
Still blissfully ignorant of all this, Swan finishes reading the letter and sprays fake snow, to mimic the day of her fake wedding with Black. A cloud of white falls all around her while Sun-jae sobs in court.
And in Sun-jae's house, Black lies in a puddle of blood, and closes his eyes.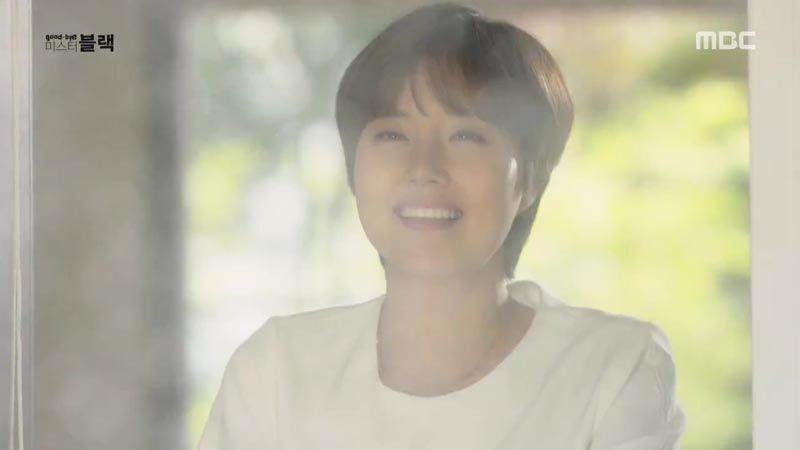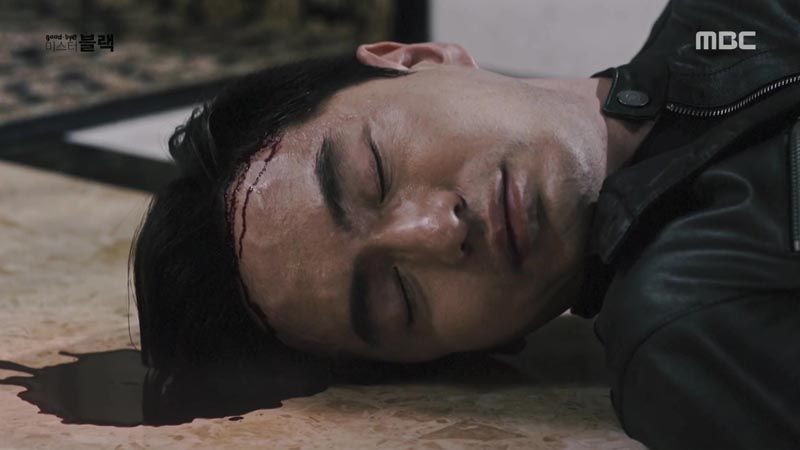 COMMENTS
I wish—I really wish!—that this cliffhanger were an edge-of-your-seat, nail-biting moment of angst, but I have to admit to being rather checked out by this point, which is a shame because I do honestly think the last two episodes were pretty good, relatively speaking. I liked the twists and late-game revelations, I like what they portend for our characters, and I particularly like this love-hate conflict coming to a head between our old friends, in a way that feels credible without providing too much of an easy out or quick redemption.
But the problem with Goodbye Mr. Black is that everything is handled in a dumbed-down, crude way. Imagine a child taking a classic story and retelling it, losing big chunks of key plot and motivation and fixating on randomly odd scenes instead, and giving that story to a director who learned his craft purely by mimicry, trying to ape other directors without really understanding how to achieve what they do. Then dim the lighting, sap the colors of brilliance, and muddy up the contrast. Throw in an oppressive power-ballad soundtrack. That's Black.
But that feels a bit like beating a dead horse, so on to the episode. I was surprised that they gave Black that big whack to the head, because they've been portraying his condition as pretty dire already, and my assumption is that he could have keeled over from nothing more than a slight wind. The knock to the head and the pool of blood are pretty hardcore, and while I don't actually think he'll die, it certainly is meant to make us fear he just did.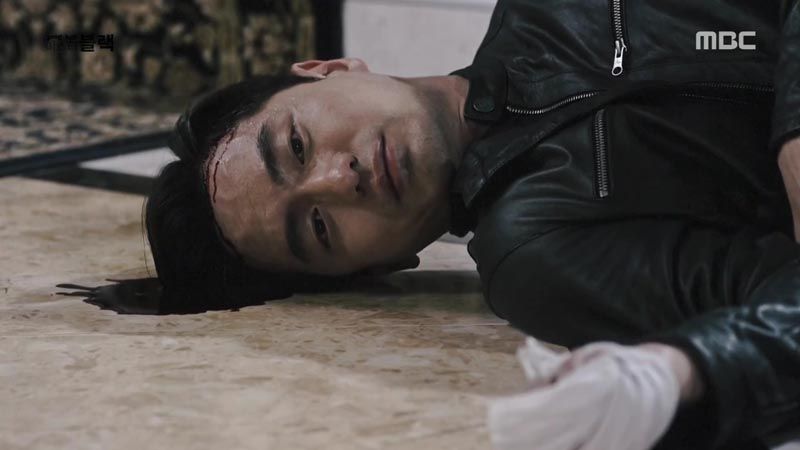 Throughout the course of the show, Sun-jae has been one of the highlights for me, because as a villain he was always given a lot of layers, in a way that Teacher Baek just isn't conveying. (And I mean the character, not the actor, though neither is particularly stunning.) I cringe when Teacher Baek cackles—it's over-the-top in a comical way, sadly unintentionally—but Sun-jae is always interesting, especially when he's in a position of weakness.
A lot of that is Kim Kang-woo's performance, and I'm both glad he's committed himself so fully to the role and a little sad for him that he's the only one who's so invested. It almost seems like a waste of all that effort, even though I know it probably isn't; if he weren't still giving it everything, I'd find Sun-jae laughable or one-dimensional.
As we head into the finale, I do think we're well-poised to resolve the outstanding conflicts, because despite the sloppiness of the show, I do actually expect it to arrive at a reasonably satisfying resolution for the conflicts still in play—namely, nailing Teacher Baek, saving Black's life, and salvaging Mari and Sun-jae's relationship in a bittersweet sort of way. If it can at least pull that together, I'll be satisfied that the show stayed consistent and did what it wanted to do, even if it didn't know how to do it better. Hey, not everybody can be a dramaland genius, okay?

RELATED POSTS
Tags: Episode 19, featured, Goodbye Mr. Black, Kim Kang-woo, Lee Jin-wook, Moon Chae-won, Yoo In-young